Yamaha is one of the most well-known names in the music industry. Its long lineage begins with its high-quality acoustic pianos, which they've been making since the late 1800s.
The Clavinova series is marketed as Yamaha's high-end digital piano line, which means they were consistently out of reach to the general public.
For frugal spenders, Yamaha offers its YDP line, which is more affordable, but at the cost of certain features.
We've previously covered the YDP-164 and the YDP-144, both good digital pianos that offer good value for money, though we penalize them a little due to the lack of features such as effects and an intuitive control scheme.
One thing that's obvious here is that Yamaha 'borrowed' some aspects from their Clavinova series, particularly 2017's CLP-635.
You will be hard-pressed to differentiate the YDP-184 and the CLP-635. As a fan of the sound and feel of the luxurious Clavinovas, I was very interested to see how the YDP-184 performed.
Let's find out if this digital piano meets our expectations.
Yamaha YDP-184 Specs
88-key fully weighted keyboard with simulated Ivory & Ebony keytops
Graded Hammer 3 (GH3) action
Touch Sensitivity (5 types, OFF)
Sound: CFX Sampling
Simulated acoustic elements: Damper/String/Key Off Resonance (VRM), Smooth Release
256-note polyphony
24 instrument sounds (5 pianos)
50 preset piano songs + 14 demo songs
Modes: Dual, Split, Duo
Lesson Function (ability to practice each hand's part separately)
16-track MIDI recorder, 250 songs
Metronome, Transpose, Fine-tuning
Intelligent Acoustic Control, Stereophonic Optimizer, Acoustic Optimizer
Speakers: 30W + 30W (2 x 16cm)
Connectors: USB to Host, USB to Device, MIDI In/Out/Thru, Headphone jacks (2), Line Out (R, L/Mono), Audio In (mini jack)
USB Audio Interface function
W x D x H: 57.5″ x 18″ x 36.5″ (146 x 45.9 x 92.7 cm)
123.4 lbs (56 kg)
Release Date: February 2018
Check the availability and current price of the Yamaha YDP-184 in your region:
The YDP-184 is not available in Europe. Consider the CLP-625″ or CLP-635 as an alternative.

Design
First, let's cover the build quality.
The YDP-series has always been characterized as console-style digital pianos, though they're more streamlined than the 'grander' CLP-line, with a heavier duty, wooden-style chassis that looks and feels premium.
The YDP-184 feels like a cross between both series. In fact, it shares the same size and weight as the CLP-635. That also means you're getting that Clavinova line's faux wooden finish, which is a plus.
The YDP-164 and YDP-144 we've reviewed in the past put more of an emphasis on slimness, with a more compact stand and chassis. The YDP-184, on the other hand, emulates the look of a concert grand's front panel.
In terms of dimensions, the YDP-184 is 57.5″ x 18″ x 36.5″, and weighs 123 lbs. For comparison, the previous YDP-181 was 53.7″ x 20.2″ x 33.5″and weighed 110.2 lbs (50 kg).
As a console-style digital piano, the YDP-184 is not portable and is not ideal for people with smaller living spaces or who are constantly on the move.
While the YDP-184 is a bulkier digital piano than its predecessor, they did find a way to reduce the depth, which makes it feel more compact.
I find this design more suited for cramped living spaces, as it takes up less space from front to back.
One of the main changes made to get this reduced depth is the new control scheme, which in my opinion, makes the YDP-184 better than its predecessor.
If you've read our reviews on the YDP-164 and the YDP-144, you'll know that I disliked the controls, or more accurately, the lack thereof.
Button-key combinations are perfectly fine as a cost-saving measure, but they're unintuitive and require a manual to fully utilize the piano to its maximum potential.
Thankfully, the YDP-181, and by extension, the YDP-184, features Clavinova-style buttons, which instantly removes my biggest gripe about other YDP models.
The prior YDP-181 followed the designs of the CLP models of the time and placed the buttons above the keys.
The new YDP-184 uses the modern design instead, placing the controls to the left of the keys, hence an increased length and decreased depth.
With the YDP-181 and the corresponding Clavinova models with buttons above the keys, the convenient controls lend themselves to frequent changes of settings, which detracts from the main point of digital pianos, to practice.
Since we're on the topic of controls, it's hard to ignore the new monochrome LCD screen that provides a multi-line interface to make navigation and modifications easier.
Notably, the screen enables Yamaha to do more with less. The cursor buttons and screen deliver an easy-to-use navigation scheme, which I'm glad to see incorporated in the YDP-series.
If I had a single complaint about the YDP-184, it's the lack of color options. You only get a dark brown model, which looks good but doesn't catch my eye. This is a small nitpick, but something worth noting.
A minor detail to note is the triple pedal set up. These pedals are nearly indistinguishable from those on real concert grands, and they feel excellent.
The damper and soft pedals also include highly detailed sensors and let you customize the half-pedal points down to a specific level via the internal settings menu.
Overall, I'm happy with the design of the YDP-184. It's streamlined, easy-to-use, and great in look and feel. As a fan of the Clavinova line, the YDP-184 exceeds my design expectations.
Keyboard
As the saying goes, looks are skin deep. One of the most important aspects of any digital piano is the keyboard itself.
The keyboard on the YDP-184 is identical to the YDP-164. This means you're getting Yamaha's Graded Hammer 3 (GH3) keybed, with synthetic ebony and ivory keytops.
The plastic keytops are textured, and so it's less prone to slipping when played with sweaty hands. While this isn't necessarily 'realistic' (most true acoustic pianos use smooth, untextured keys), it adds to the 'premium' feel.
The GH3 key action is used in older Clavinova digital pianos. It's a triple-sensors key action that uses hammer feedback to recreate the feel of acoustic piano keys – to great effect.
We praised the GH3 keys in our YDP-164 review the same thoughts apply to the YDP-184.
As the name implies, the GH3 action is graded. The lower range keys feel heavier than those at higher registers. This is the same behavior you'd get from acoustic pianos due to the difference in string/hammer structure.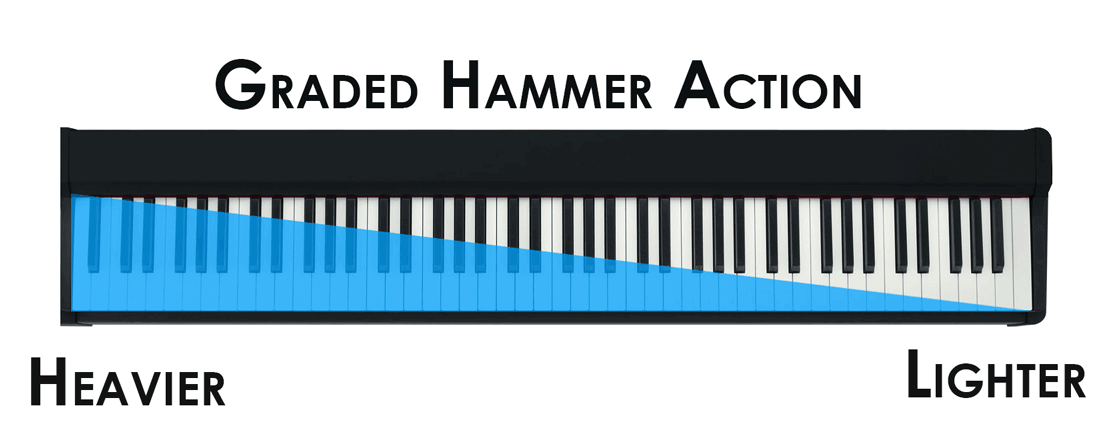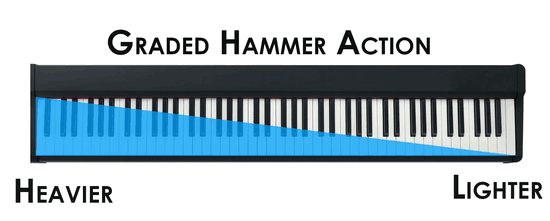 Touch sensitivity comes in 5 different dynamic levels, plus a fixed option. This ranges from Hard to Soft and offers a good degree of customization. In comparison, the YDP-164 only had 4 options.
In terms of feel, the GH3 action feels great as an analog acoustic piano. Still, it feels a little heavy compared to other digital piano actions, which might not be what you're looking for.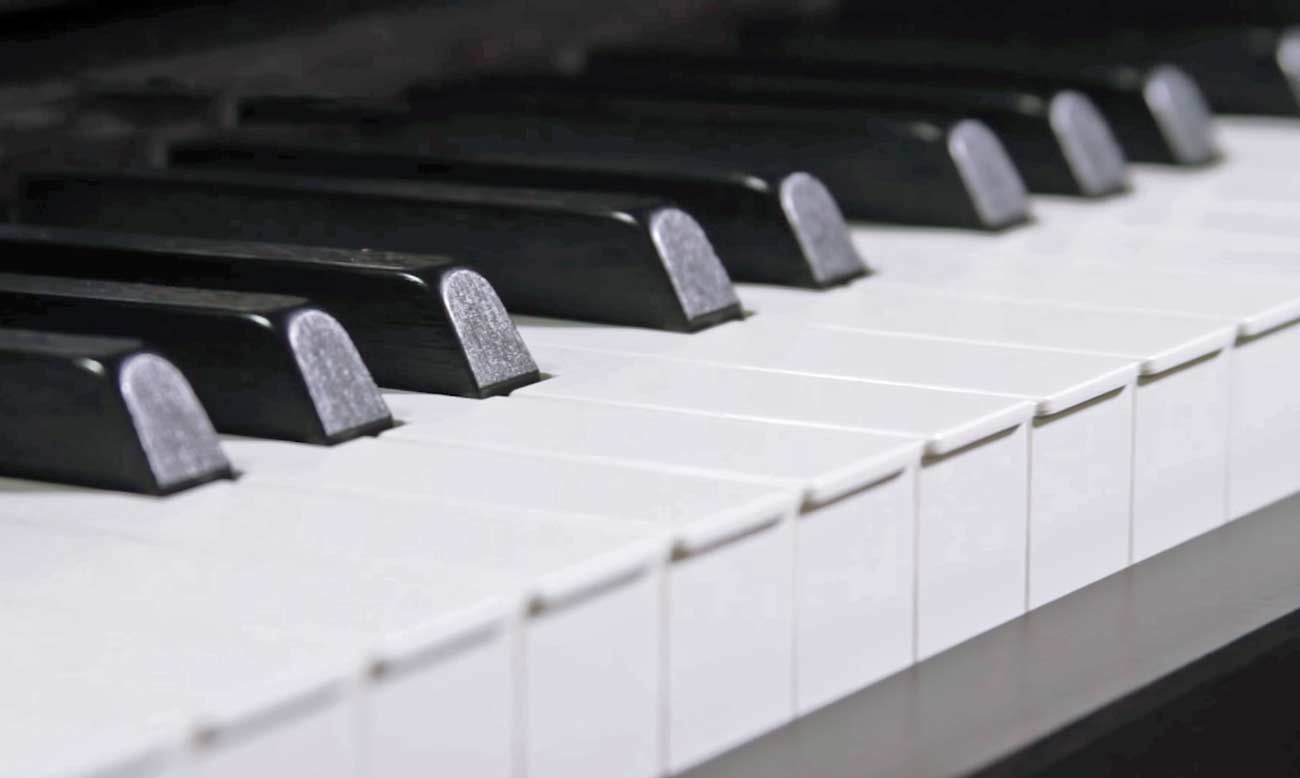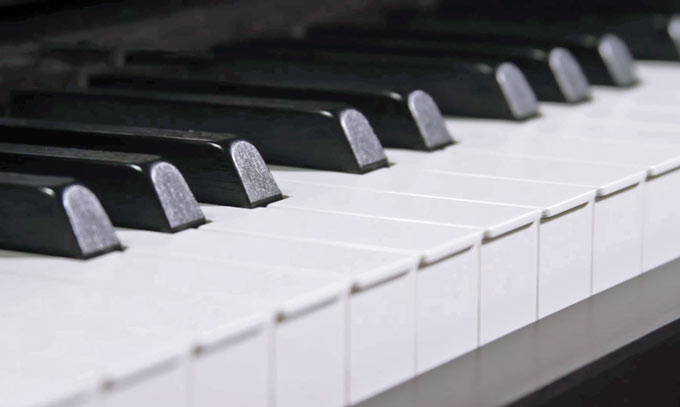 This action is no longer used in the Clavinova line, having since been replaced with the GH3X action (like on the CLP-635). However, it's far from obsolete and still feels good as far as digital pianos go.
However, I wish that Yamaha included the GH3X action instead, as that would help put the YDP-184 a step up beyond the YDP-164, which is quite similar otherwise.
Sound
I've always liked Yamaha's musical instrument sounds. Their acoustic pianos consistently sound great, since they've got a good source of sounds to use in their digital instruments.
With the YDP-series, Yamaha uses its newish CFX sound engine, which carries over from the older flagship CLP-series models. This is a step up from the previously used AWM Dynamic Stereo Sampling system featured on the YDP-181.
The CFX sound sampling engine, as the name implies, samples Yamaha's popular 9' CFX concert grand, a modern take on the bestselling C-series, including the amazing C7 grand.
Beautiful sound characterizes the CFX grand, with powerful, resonant bass and sparkling, brilliant treble.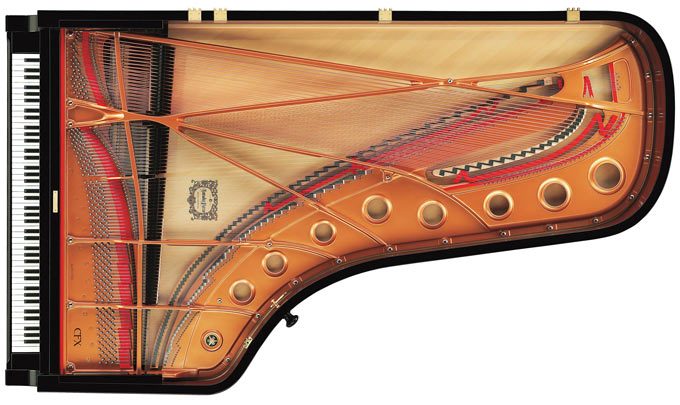 Unlike grand pianos from Steinway or Bösendorfer, Yamaha's piano focuses more on delivering a clean, direct sound, as opposed to a classical bass-focused tone.
The samples manage to capture the nuances of the CFX grand beautifully, and I confidently say that the YDP-184 sounds incredible.
It's worth noting that the YDP-184 includes an upgraded version of the engine when compared with the YDP-164 we reviewed earlier, though it lacks the Binaural Sampling and Bösendorfer samples on the CLP digital pianos.
The new sound engine allows for a higher degree of customization, conveniently located in the Piano Room menu.
Piano Room is Yamaha's take on the user-modifiable modeling software of other manufacturers like Roland. It enables the pianist to change parameters to shape the sound to his liking, tailoring the fine details of your piano with the given tools.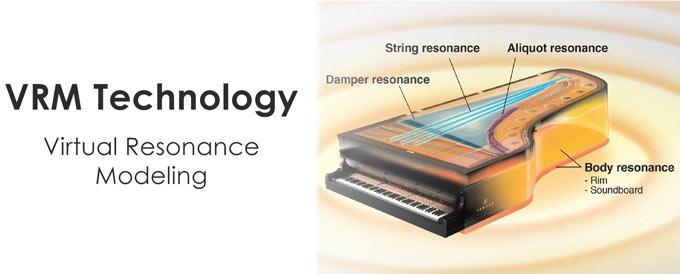 The parameters include Virtual Resonance Modeling (VRM), which is a more fully-featured take on the simulated Damper and Resonance of the lower-end YDP-series.
You get a modeled variation (as opposed to sample-based) that simulates the sympathetic vibrations in the strings and soundboard.
Note that the YDP-184 also includes half-pedaling support for both the damper and soft pedals. These are also customizable via modeling software.
These sounds are great all-round, and I can confidently say that there are no duds.
The pianos are the most important part (this is a digital piano after all!), and they're undoubtedly the best. The sampling is well-done, and the sounds are great coming from the speakers.
When you combine these sounds with the realistic GH3 keys, you've got an excellent playing experience.
The CFX grand piano is the main sound I use for most cases. It demonstrates how versatile the CFX grand truly is, working fine for both classical pieces and modern accompaniment.
The sampling doesn't just cover the sound of the hammers striking the strings. It also covers more subtle aspects like resonance, release, and even damper pedal noise.
As discussed earlier, you've also got the Piano Room to tweak the sound further to your taste, so there's modeling at work.
While some purists might not like digital 'enhancements' to the sound, I think it sounds natural and welcome its inclusion. You can also opt to turn these bells and whistles off.
---
Other Sounds
While the YDP-184 has your piano needs covered, it also includes many other sounds that add further versatility to your performances and practice routines.
The Electric Pianos are well-sampled sounds from a tine-based electric piano, likely a well-maintained Fender Rhodes.
They are very responsive, being sampled at a good variety of playing intensities, and feature different preset sound settings (such as Chorus and Vibrato) that tailor the sounds to different musical styles.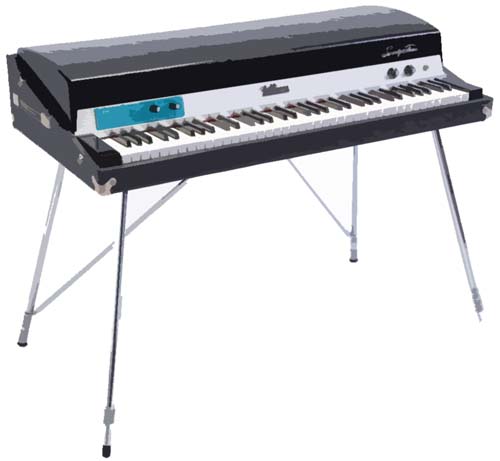 The DX EP sound's name says it all. As Yamaha's classic synthesizer, it defined the sound of the 80s, captured with great detail here (after all, Yamaha made the original).
A subtle chorus effect is included to make things even more authentic. Having played the original DX7, I attest to the realism of the sound. It even recreates the responsiveness of the original.
Organ sounds are equally well done and sound very good, despite the piano's focus on grand piano tones. An authentic simulation of the rotary speaker effect further enhances the experience.
There are also some tweaks you can make through the YDP-184's software, to change the rotary speaker speed and chorus depth, matching it with a song's requirements.
Bass sounds are present and can be used to practice jazz accompaniments when combined with the Split mode, which we'll discuss further in the Features section.
Harpsichords and Vibraphones are included and sound good enough for practice purposes. In fact, it's rare to find digital pianos that include multiple variations of harpsichords. The YDP-184 includes 2.
Two variations of guitars are included and, as usual with Yamaha keyboards, they sound good (if a little unrealistic if played without the right finesse and control, since a guitar has only 6 strings, so some control of the sustain pedal is required).
Strings, choirs, and pads are included and are more likely to be used as layered tones over another of the sounds. These sound good as layered tones, though they're less impressive when played in isolation.
Overall, the piano sounds are the highlight, though I do like the other keyboard instrument sounds, particularly the E. Piano voices Yamaha included.
The YDP-184 sounds excellent and offers a decent enough palette of sounds for practicing different playstyles.
---
Effects
The YDP-184 includes all the effects available on the prior YDP-series models, along with a few extras that increase its versatility and power.


The reverb unit is improved over older models and includes some new algorithms, including:
Recital Hall
Concert Hall
Chamber
Cathedral
Club
Plate
The default Recital Hall preset is applied to the standard CFX grand sound and gives a spacious tone that isn't swamped with overwhelming reverb tails. While I didn't switch settings around too much, more options are always welcome.
Other sounds have specific default reverb types tailored to suit the individual sounds.
Chorus is also included on the YDP-184 and comes in 3 variants with modifiable depth. These sounds sound good when combined with the electric piano presets.
Brilliance lets you change an equalizer curve from mellow to bright in 7 differing intensities.
Part of Yamaha's magic sauce is the Intelligent Acoustic Control (IAC) and Stereophonic Optimizer technology that enhances the sound via speaker and headphone enhancements.
The documentation explains the IAC effect poorly, but it 'adjusts sound quality dynamically during play' and helps ensure that you always hear the necessary details of selected sounds.
From what I can tell, the IAC is most pronounced when you're playing a song with a large dynamic range, such as a piano piece that varies from pianissimo to fortissimo. Even when you play at high intensities, the IAC behaves intelligently, like a compressor.
The Stereophonic Optimizer is only active when you're using headphones and simulates a faux-surround sound effect that delivers a wide feeling of space.
This sounds great and is even better when paired with a large hall reverb algorithm. Do remember to turn this off if you're playing on external speakers connected via the headphone port.
---
Piano Room and Virtual Resonance Modeling
The settings you can modify include the following:
Lid Position (Open, Half Open, and Closed)
Brightness/Brilliance
Touch
Reverb Type and Depth
Master Tuning (414.8 Hz to 466.8 Hz in 0.2 Hz steps)
Virtual Resonance Modeling (VRM)

Damper Resonance
String Resonance
Aliquot Resonance (high notes have free strings not affected by the damper)
Body Resonance

Key-Off Samples
Half Pedaling Point
Virtual Resonance Modeling is a highlight, adding subtle nuances that make the piano sound even more realistic. These effects can also be modified in intensity and may even be turned off separately.
While I'm not particular about the specifics of piano design, it does feel liberating to have the freedom of 'creating' your individualized piano via this menu. For most of us, using the defaults should be perfectly fine.
---
Other Effects
These effects are less obvious, but they include some staples that are useful for practicing electric piano or electric organ parts.
Examples include:
Delay (2 variations)
Echo (Tape-style delay)
Cross Delay
Symphonic (Ensemble Chorus effect)
Rotary Speaker
Tremolo
Vibraphone Rotary Vibrato
Auto Panner
Phaser Auto Wah
---
Polyphony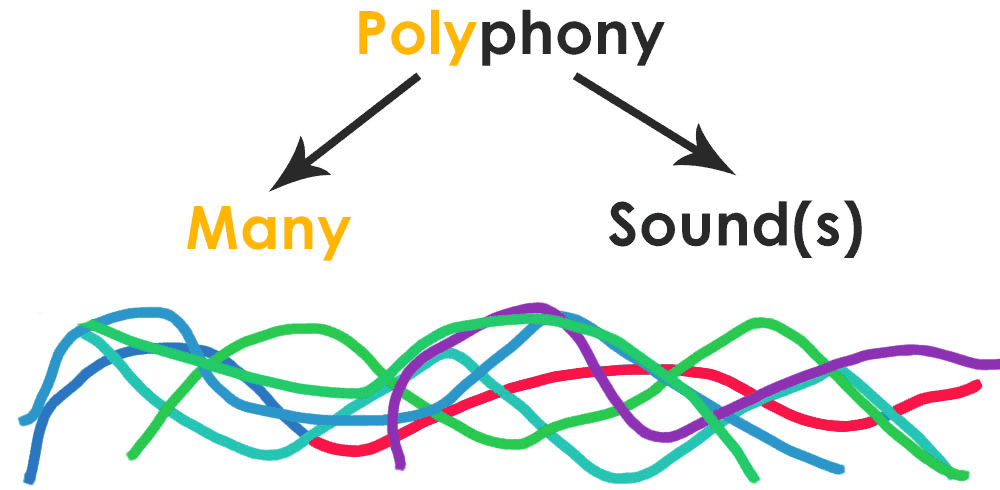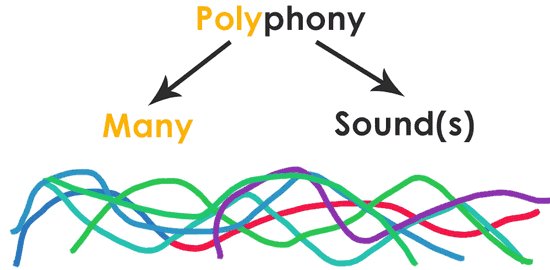 The YDP-184 comes with a maximum polyphony count of 256 voices, and that's well warranted considering that the YDP-184 includes backing rhythms and a detailed Layer Mode. You won't be hearing sound cutoffs with the YDP-184.
---
Speakers
I've consistently liked Yamaha's speakers. Even their affordable keyboards include speakers that barely distort, even when pushed to high gain levels.
The YDP-184 features dual 30W speakers, a step up from the dual 20W speakers on the YDP-164. These speakers are identical to those on the CLP-635, which is a sign of quality!
As you'd expect, these speakers sound superb. The downward-facing speakers are clean and are great at recreating the sound of a grand piano.
Powerful speakers are a plus, as they also vibrate the digital piano's wooden chassis, adding even more acoustical detail.
They're loud enough to fill a room at half volume and can be pushed even further for larger venues. Of course, avoid pushing the volume too high to avoid hearing damage.
Features
So far, the YDP-184 has proven to be a complete package. Now, let's consider its features.
Modes
Yamaha includes the Dual Mode, which is identical to the Layer mode featured on most digital pianos and keyboards. It allows two voices to play simultaneously for richer tones.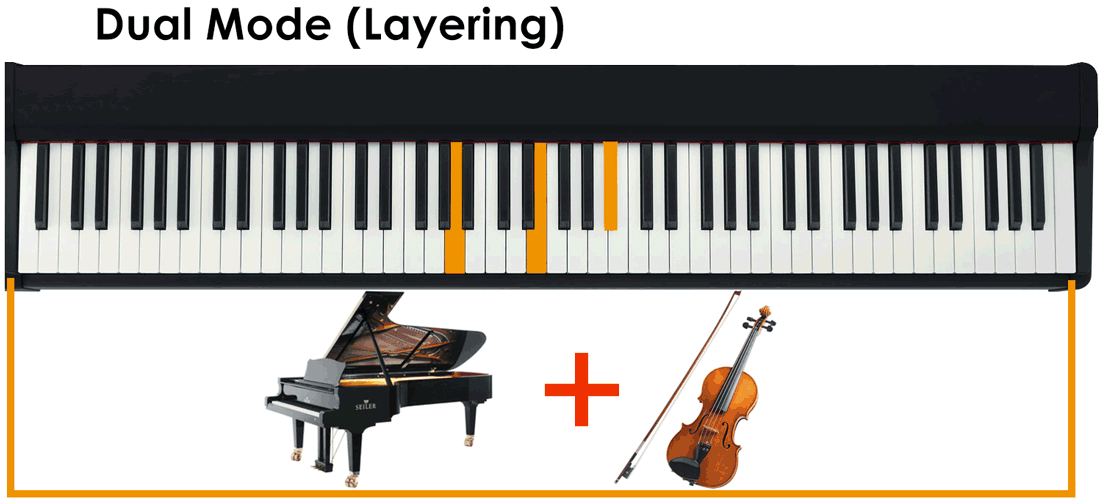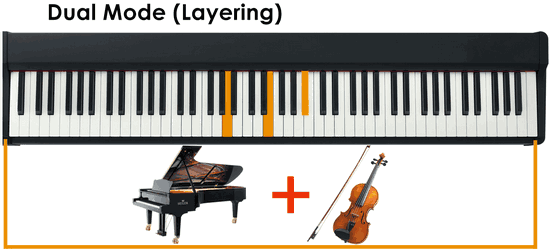 Also, Split Mode is included, and instead, allows the pianist to play two different voices on the left and right side of the keyboard.
This is commonly used by jazz keyboardists with Bass sounds on the left, and an electric piano sound on the right.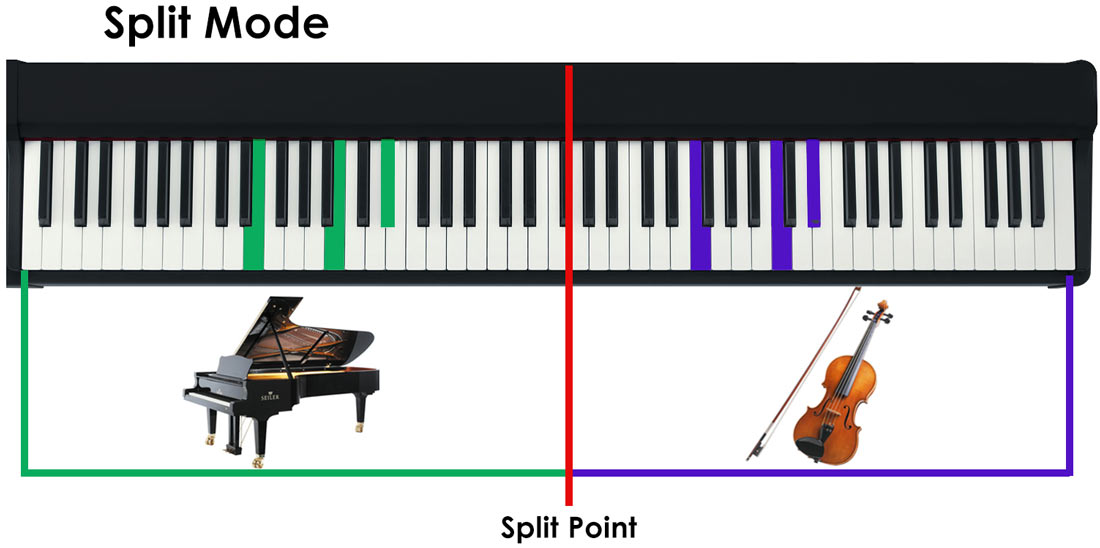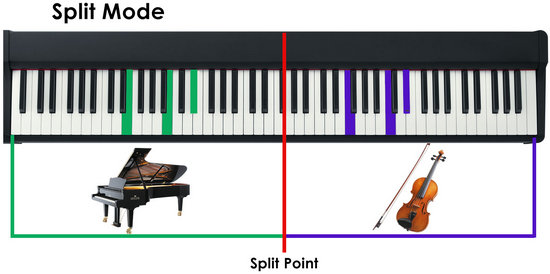 These modes are easy to use with the dedicated Dual/Split button. Thanks to the dot-matrix screen, you can easily create custom splits and combinations.
Also, you can combine both modes simultaneously. You can have a single tone on the left, but a layered tone on the right. In terms of versatility, this is always a plus.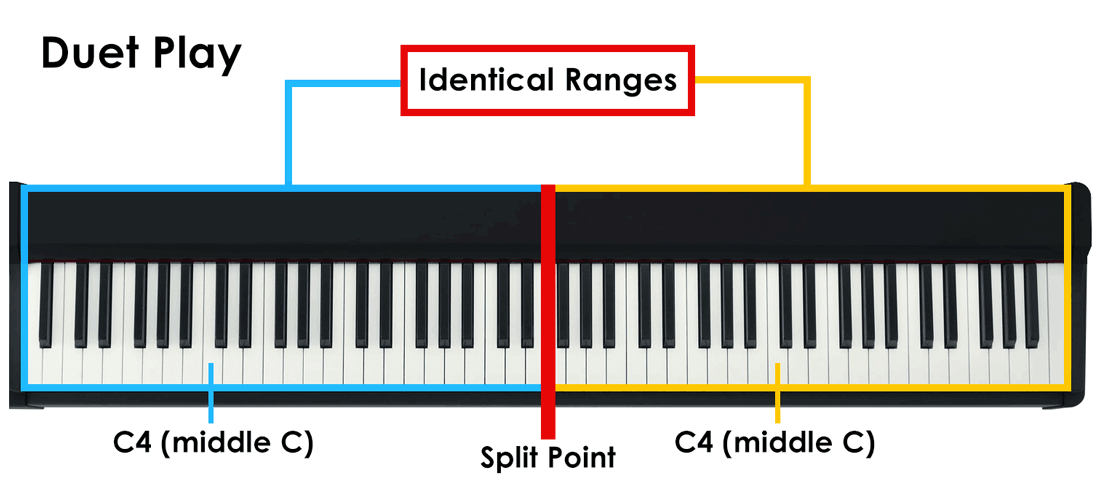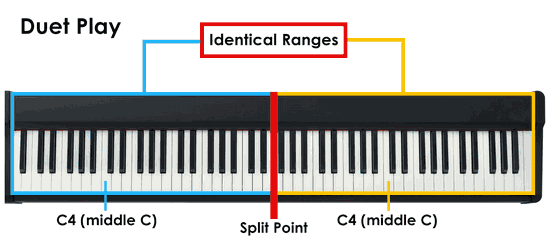 If you're using the YDP-184 as a learning tool, Yamaha included Duo Mode, which splits the keyboard into two equivalent octave ranges, allowing the teacher to sit alongside his/her student to demo correct technique.
Of course, the split point is user-defined.
---
Rhythms and Metronome
A metronome is mandatory for practice, and the YDP-184 comes with one built in, which can be triggered and modified with a dedicated button located on the left of the keyboard.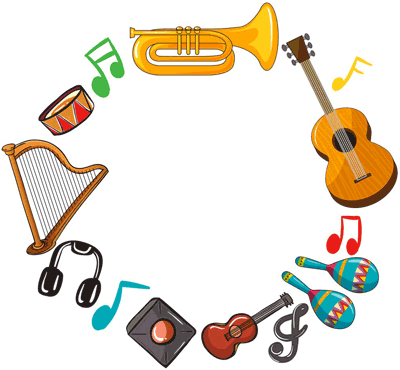 The tempo can be modified at will, and there are multiple time signatures as well, including the typical 2/4, 3/4, 4/4, and so on. More esoteric time signatures like 5/4, 9/8 are also given.
A highlight here is the inclusion of rhythms, which feature intro and ending variations to help spice up practice sessions.
For accompanists, these rhythms are backed with good samples, so they're very usable in performances, though a lack of a variation switch hurts slightly.
Either way, the YDP-184 comes with 20 rhythms covering Pop, Rock, Jazz, and Latin beats.
---
Song Recording
Song Recording on the YDP-184 happens in MIDI format. These recordings can be saved into the internal memory or to a USB drive connected to the YDP-184.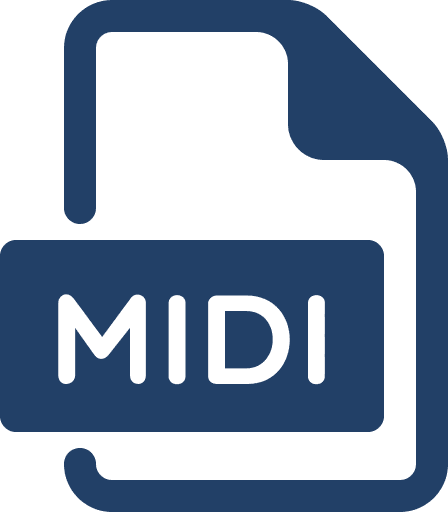 The MIDI recording functionality can record the left and right parts separately for practice purposes, but the YDP-184 includes up to 16 tracks in total.
The Rhythm Playback can also be recorded, though these take up 2 slots in the 16-track limit.
Note that recording to a USB drive doesn't mean you save the rhythms though, and playback is only possible when you move the song files back to the YDP-184.
To capture a performance completely, you need to use the USB to Host port, which we'll discuss in the Connectivity section.
The YDP-184 also comes with 14 Voice Demo Songs and 50 Classics that you can use for your listening enjoyment or practice.
---
Smart Pianist for iOS and Android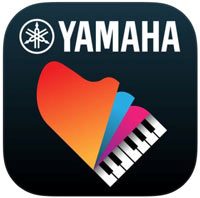 The Smart Pianist app was an extra I highly recommended when reviewing the YDP-164 and YDP-144. These pianos lacked good controls, despite their many features.
The Smart Pianist app adds a graphical user interface that allows you to change parameters and keyboard settings without much hassle.
This is still helpful, but I feel it's less important here, considering there's already a good control scheme. If you prefer a touch-based interface, this is always an option.
---
Functions
A few settings and extra functions are included. It's much easier to change these settings using the screen, as opposed to the button/key combos as with the YDP-164.
These settings include:
1) Transposition. Move up 5 semitones or down 6 semitones, giving you access to a full octave of expanded range.
2) Metronome. The Metronome button on the front panel turns the metronome on or off and enables the modification of settings via button key combinations.
3) Metronome Settings. Change the tempo (from 40 to 240 beats per minute), the time signature and volume of the metronome click.
4) Scale Tuning. 5 different scales, including Equal Temperament, Pure Major/Pure Minor, Pythagorean, Mean Tone, and Werckmeister/Kirnberger
5) Scale Base Note. Determines the root note for the selected scale and tuning.
6) Pedal Points. Modify the half and soft-pedal parameters.
7) Pitch Bend Pedal Range. If a pedal is set to trigger the pitch bend on certain sounds, this changes the range from 0 to 12 semitones up or down.
While other features are available, they are mainly for MIDI features and control, though we won't cover them in detail.
While the feature list may seem small, it's worth noting that certain features were discussed in previous sections. The YDP-184 is a robust piano with all the necessary features to deliver a complete experience.
Connectivity
At first glance, the YDP-184 seems to have a sparse selection of connectors. However, most of the necessary connections are accounted for, so there isn't much to complain about.
Two 1/4″ stereo phone jacks are included, which means you can connect up to two pairs of headphones at the same time.
A USB to Host port supports the transfer of MIDI data via USB. The port is also the point where you can add in Wireless MIDI functionality with an external adapter, though this might be subject to latency under less than ideal conditions.
If you use legacy gear, old-school 5-pin MIDI In, Out, and Thru ports come included.
An Auxiliary Input stereo mini-jack allows you to connect your music playback devices for practicing alongside a backing track.
An Auxiliary Output (Line Output) also comes with the YDP-184 in the form of left and right jacks, with the left jack doubling as a stereo jack if the right jack is disconnected.
You can also use these to connect the YDP-184 to amplifiers or external speakers. You can also use these ports to capture performances alongside the rhythms via an external USB Audio Interface.
Finally, the YDP-184 comes with a USB to Device port. This is where you can save recorded songs. The internal memory clocks in at a measly 1.5 MB, which is not much. Saved songs are in the form of MIDI files.
---
USB Audio Interface
While an Audio Interface is normally required to record Direct In signals, it is not necessary with the YDP-184.
The USB to Host port includes USB Audio Interface functionality, allowing you to transfer audio data via the port.
The nice thing about this is that you can record the YDP-184's quality CFX samples without resorting to VSTs and MIDI. This also reduces the risk of audio degradation through cables and the audio interface's built-in amplifiers.
As someone who uses a DAW consistently for recording, this is a notable feature for sure.
Accessories
Side note: it's strange that Yamaha chose to include differing packages per region. Generally, it seems like Yamaha keeps things consistent worldwide.
Either way, the main thing to note here is the optional bench, which is important for this furniture-style digital piano.
As always, we advise checking the AC adapter's voltage rating, especially if you're importing the YDP-184 overseas.
---
Wireless MIDI Adapter
A wireless MIDI Adapter is required to connect your smartphone/iPad to the YDP-184 wirelessly, as Bluetooth connections are absent.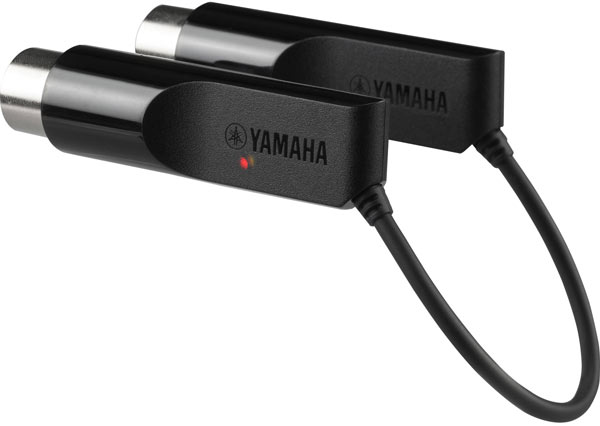 This allows you to use Yamaha's Smart Pianist app for further control, as well as to access deeper features.
This isn't too important though since the YDP-184's controls are robust enough to not require additional application support.
If you want to avoid the hassle of cabling, you can go with Yamaha's MD-BT01 Wireless MIDI Adapter, which adds the Bluetooth connectivity feature that the piano lacks.
This connects directly to the MIDI ports of the YDP-184 and doesn't require an external power source.
---
Headphones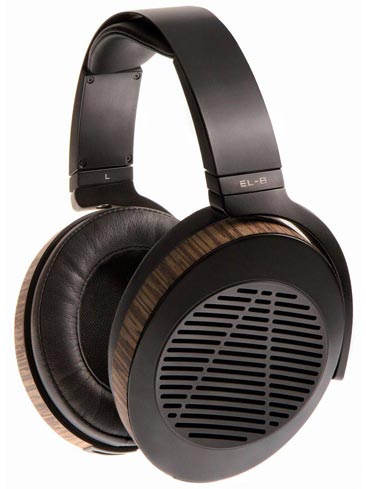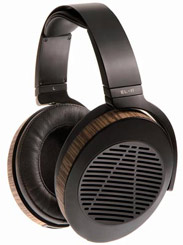 Headphones come in very handy when you want to practice in private, focusing solely on your playing and not disturbing others nearby.
Moreover, a good pair of headphones will provide a clearer and more detailed sound compared to the onboard speakers.
Check out this guide to learn how to choose the best-sounding headphones for your digital piano.

Summary
Pros
Beautiful design, solid construction
Handy Clavinova-style controls
Good reliable GH3 key action
Excellent tweakable CFX concert grand piano
24 sampled sounds are very decent all round
Feature complete
USB Audio support
Cons
No Bluetooth
No audio recording functionality
Relatively heavy
---
I'm very satisfied with the YDP-184. It's an excellent console-style digital piano. If you're in the market for a furniture-style digital piano, it is worthy of your consideration.
Unlike other digital pianos in the YDP-line, the YDP-184 puts greater effort into delivering better quality, taking design cues from the Clavinova series.
In my opinion, this makes the YDP-184 a valid choice, even for people wanting a high-end instrument.
The biggest improvement over the YDP-164 is the control scheme. The Clavinova-line's dot matrix screen and dedicated buttons combat the biggest flaw of the YDP-line's other instruments, which was lackluster controls.
If you read our review of the YDP-164, you'll know we liked it and had minimal complaints apart from the controls. The YDP-184 is an improvement in nearly every way.
The CFX concert grand samples are enhanced by the VRM technology which reproduces even more nuances of the piano sound. A few added bonuses (like rhythms) also add more versatility to the mix.
The GH3 keyboard feels good and is a good practice and performance choice, especially regarding piano sounds. That said, while the GH3 keys feel realistic, they're on the heavy side.
Finally, the body construction feels great, though that's a given throughout the YDP-line. While you won't be hauling this digital piano around for gigs, it's always nice to know that a few bumps and scratches won't ruin it.
The only complaint here is price. The YDP-184 retails for over two grand, while the YDP-164 (similar apart from the enhanced sound engine and controls) costs considerably less.
That's quite a price hike as you go from the lower side of midrange digital pianos to the higher end.
You may want to consider a Clavinova flagship, the CLP-635, since the YDP-184 is based on it.
This costs a bit more, but you get the improved Graded Hammer 3X keys, binaural sampling on the CFX samples, a sampled Bösendorfer Imperial, and a whole lot of extras that justify the price hike.
I'm not saying the YDP-184 costs too much – far from it. The YDP-184 offers a lot of value for the money and is a good choice for anyone who wants a digital piano to serve them well regardless of skill level. However, there are other good options to consider at this price point.
Check the availability and current price of the Yamaha YDP-184 in your region:
The YDP-184 is not available in Europe. Consider the CLP-625″ or CLP-635 as an alternative.
Alternatives
For a more complete list of alternatives, check out our list of Top Digital Pianos Below $3000 article where we list our top choices.
Yamaha YDP-184 vs  Yamaha YDP-164 (Full Review)
We briefly covered the YDP-164 in our article, as it's the next digital piano in the YDP-line. We have a full-fledged review of the YDP-164 available, and it scored a pretty impressive 8.3/10.
That's not too shabby, considering it costs more than half a thousand less.
The YDP-164 resembles the YDP-184, with a few extra features knocked off to hit the lower price point.
At first glance, the biggest difference is the chassis. The YDP-164 uses particleboard and looks less bulky, which is the norm for the YDP-line (barring the YDP-184). Of course, it's still a looker and might be what you prefer.
Despite visual differences, you get the same GH3 keyboard, which we've praised above. The same CFX sound engine is also included, though you lose the Virtual Resonance Modeling (VRM) and Piano Room.
That isn't a huge loss though, as the sounds are perfectly fine without the extra bells and whistles.
There's a lot to love with the YDP-164. I'd even call it a miniature, compact YDP-184. However, there's the glaring issue we highlighted in our review – a lack of controls.
If you want to use the YDP-164 to its maximum potential, you'll need to keep the manual by your side or utilize the Smart Pianist app to get a more convenient user interface.
Despite its flaws, the YDP-164 is a good digital piano worth considering if you want a digital piano that sounds and feels as good as the YDP-184. It also comes in different colors, which is a plus if you're fashion-conscious.
---
Yamaha YDP-184 vs  Kawai CA48 
Kawai's CA48 is an alternative option if you're looking for a console-style digital piano with a look that echoes acoustic concert grands.
Fun fact! The CA in the name stands for 'Concert Artist,' and Kawai has definitely made a looker here.
While the YDP-184 uses Yamaha's CFX concert grand as a sound source, the CA48 uses Kawai's Shigeru SK-EX and the Kawai EX concert grand piano instead.
These, like the CFX, sound modern and clean and are not overly bass-heavy. Personally, I prefer the CFX concert grand in terms of sound, but it comes down to your preferences.
For the sampling, Kawai's Progressive Harmonic Imaging (PHI) sound engine is used, which combines modeling techniques with meticulous sampling to recreate the sounds of Kawai's Concert Grands.
Kawai's Virtual Technician is also included and is a solid alternative to Yamaha's Piano Room software.
The CA48 uses Kawai's Grand Feel Compact wooden keyboard action, which is a highlight here.
The action resembles the action of a real acoustic piano, using long one-piece wooden sticks and a seesaw action design, as opposed to the "folded" action found in the YDP-164.
I love Kawai's wooden actions and the GFC is no exception. To my feel, it beats Yamaha's action when it comes to expressivity and realism. These keys also include textured ivory surfaces and are triple sensor keys.
While we're comparing details, I'd like to bring up the CA48 speakers. The Kawai includes dual 20W speakers, slightly less powerful than those on the Yamaha.
To my ears, however, they're equally good in terms of sound quality and manage to recreate the body vibrations that make acoustic pianos special.