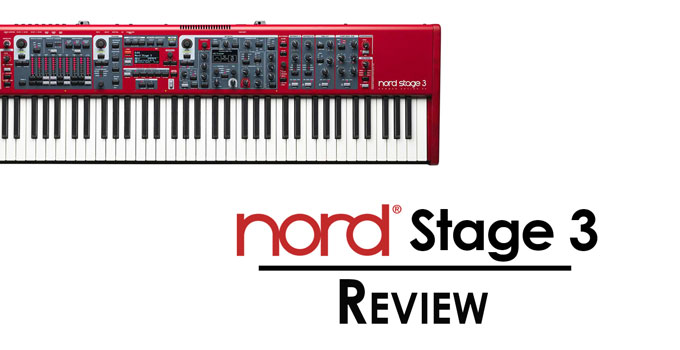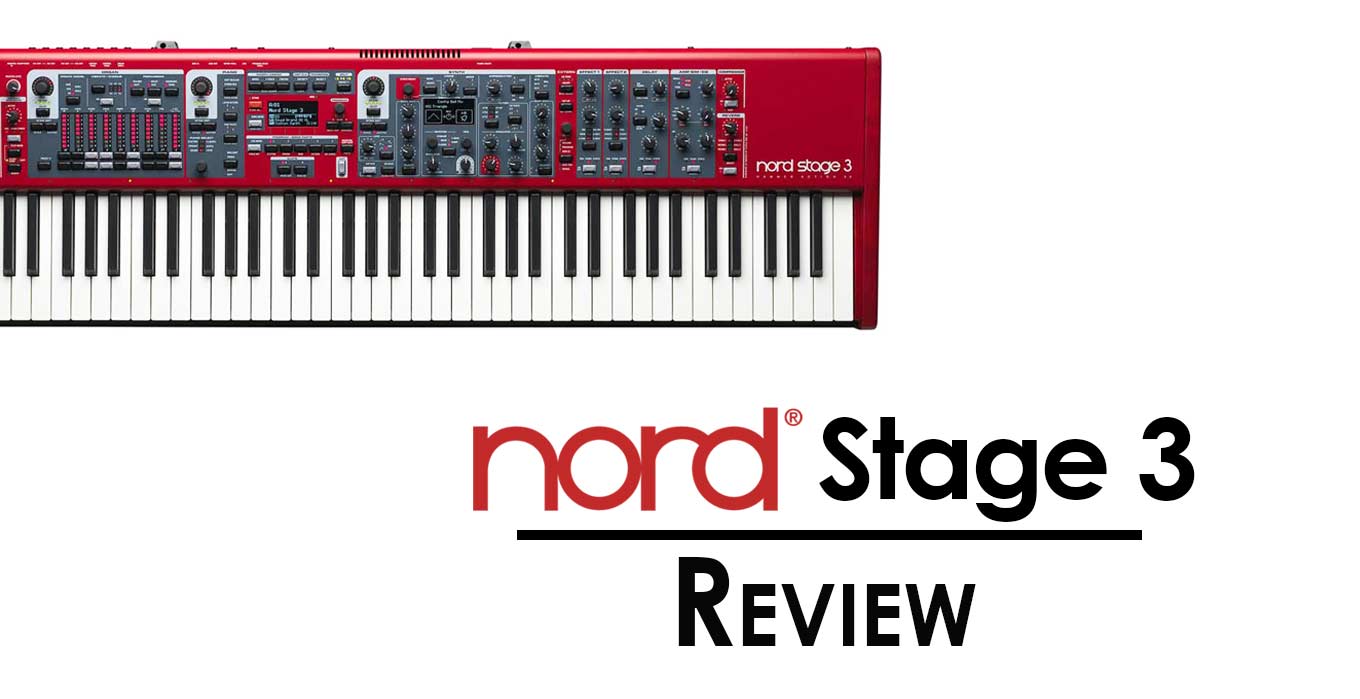 Clavia may not be as well known as the big names, but their Nord instruments easily match up with the likes of Yamaha and Korg.
What's more, their stage pianos, synthesizers, performance keyboards, and even organs are arguably the best in the business.
The Nord Stage 2 was released 8 full years ago and alongside its successor, the Stage 2 EX, it has become a favorite among performing musicians.
Though the Stage 2 has formed the basis of many gigging keyboardists' rigs in the past decade, keyboard tech has evolved significantly since then.
The Stage 2's piano section was impressive at the time, but the synth and organ sections leave much to be desired today.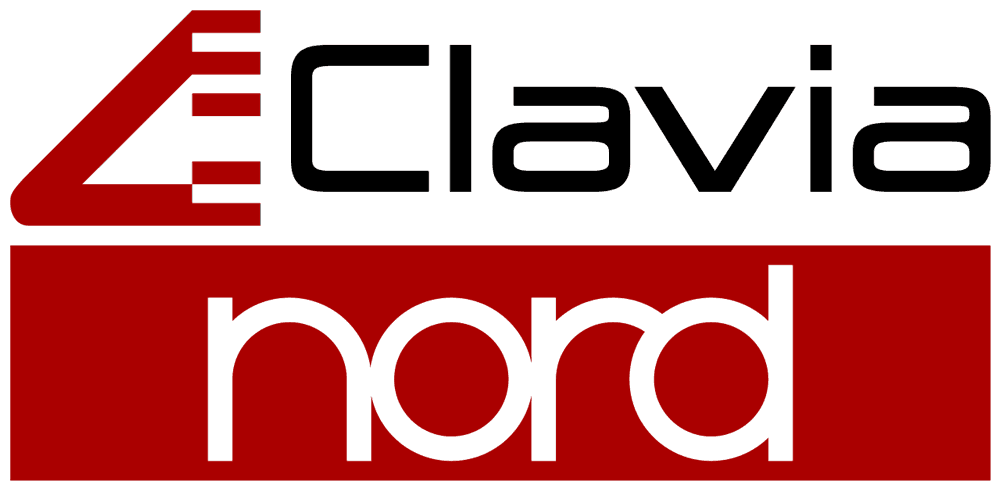 In the years since the Stage 2's release, Clavia released the Nord C2D organ and the Nord Lead A1 virtual analogue synth.
These became modern classics in their own right and many Stage 2 owners clambered for a new Stage update to include these new sound engines.
The 2015 Stage 2 EX, while a welcome upgrade, did not include the new features.
Since its release, the Stage 3 has proven to be an excellent stage keyboard and is an instrument many musicians covet.
If the Stage 3 is a tried-and-true workhorse, then why review it? Well, it's not cheap.
The Nord Stage is a big investment, but do its fancy features justify the cost?
Let's find out.
Check the availability and current price of the Nord Stage 3 in your region:
Variants (73/76/88 keys)
First things first. Let's describe the 3 main variants of the Nord Stage 3.
The flagship version is the Stage 3 88, which is also the largest.
This full size keyboard features 88 fully weighted hammer action keys. The 88-key version is ideal for piano players, having a full keyboard ranging from A to C.
A more portable version is the Stage 3 HP76.
As the name indicates, it has 76 keys and a lighter action known as Hammer Action Portable. It is marketed towards players who want to increase portability without sacrificing playability. It has a key range from E to G.
Finally, the Stage 3 Compact comes with 73 semi-weighted keys ranging from E to E. It resembles Nord's C2 organ series and is ideal for organ players.
In fact, this is the only Stage 3 version that comes with physical drawbars, allowing players to take full advantage of the digital organ models on offer.
A quick summary of the dimensions and weight of the three variations is shown below.
Apart from the dimensions, weight, and keyboard style (as well as the Stage 3 Compact's physical drawbars), there aren't any differences between the three.
All share the same sound engines, front panel architecture, and build materials.
Design
Nord instruments share the same distinct look, with a striking, bright red livery and solid construction that is Clavia's signature.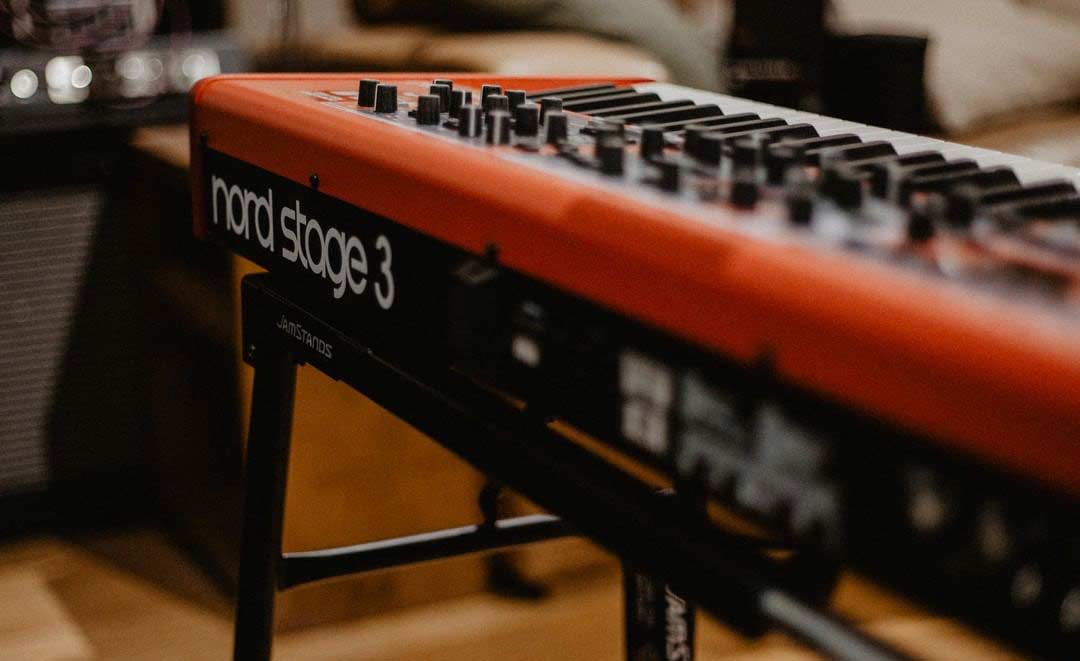 The Stage 3 shares the same design ethos and is easy to recognize, even from afar. The body features smooth metal all round and feels premium.
While I can't attest to its durability, an acquaintance of mine's Stage 2 has survived multiple falls and collisions throughout the years and still functions like new (barring a few dents and scratches). This keyboard is designed to last.
If you're unfamiliar with Nord keyboards, you should know that they provide a lot of control.
Everything from their early Nord Lead synthesizers to modern Nord Pianos have front panels with a ton of knobs and buttons.
Depending on your experience with keyboards, this will either be a liberating experience or an extremely daunting one.
For people who are very particular about their sounds, having every specific parameter available at their fingertips is an amazing scenario.
On the other hand, someone who just wants solid sounds out of the box might find the cluttered controls somewhat scary.
Personally, I'd say stage performers will love this high degree of control. Having things laid out, like on the Stage 3, is extremely helpful.
If you need to tweak your delay times, there's a knob for that. Need to turn down the reverb intensity? There's a knob for that as well.
Basically, if you need to do something on the Nord Stage 3, chances are you'll be able to do it with a simple turn of a knob or press of a button.
If you've ever been on stage playing a synth solo that just fails to slice through the mix, you'll appreciate being able to add some drive or open the filter at will.
The layout is very organized. Everything is right above the keyboard and is separated into specific sections.
These include the Organ, Piano, Synth, and Effects sections, as well as an External section.
We'll cover the sound engines and effects in detail in the Sound section of this review. For now, just know that the knobs and buttons are tactile and solid.
Everything here feels great. In fact, they feel every bit as good as the knobs and buttons on premium or boutique synths and keyboards.
The simple act of turning the knobs delivers a perfect amount of resistance, making smooth swells and sweeps easy to do.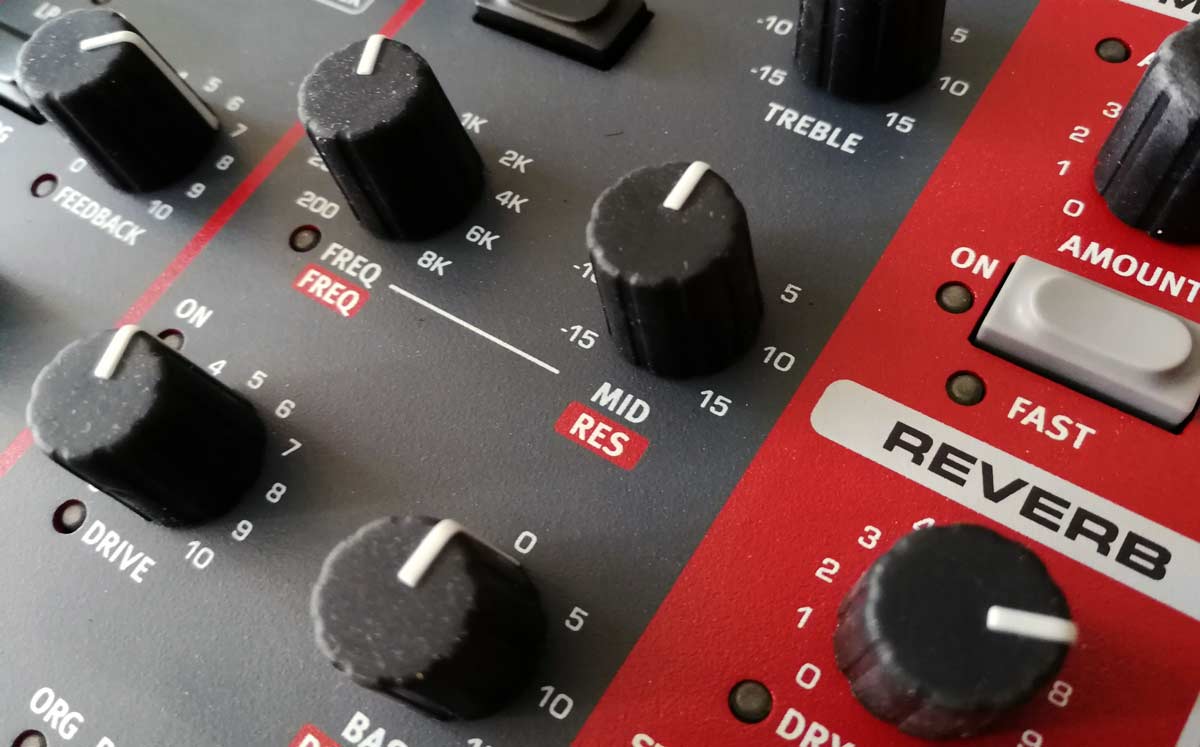 The most noticeable improvement over the previous Stage 2 is the inclusion of two OLED displays.
These monochrome displays are placed at the program selection and Synth section of the Stage 3, and are a welcome addition.
The obvious screen use-case of viewing presets is nice. There's also a new Song mode that makes preset management far more convenient.
On the Synth section, the screen is even more involved and helps you utilize the unique A1 synth engine, which relies heavily on visual feedback.
A common complaint about the Stage 3 and its predecessors is that things aren't necessarily streamlined.
While you can't deny the amount of control you will enjoy, many controls are multi-functional, requiring a combined press with a Shift button.
While this is definitely not ideal, it is fairly standard among feature-rich keyboards. Though I can see merit in arguing for arrangement, in use, the controls do make sense.
Making changes on the fly is simple once you get used to the layout. In fact, most features that see regular use are accessible without the Shift key.
Further simplifying things, the design integrates visual cues that help during sound design and set up.
Keyboard split points are marked with green LEDs, and the same LEDs mark parameters that can be assigned to the Morphing function.
Overall, the control scheme is great, and the screens solve one of the most common navigation complaints from previous models.
Whether you're designing sounds at home or making tweaks on the fly in a performance, this won't let you down. Some practice is necessary, but definitely worth it.
I'd say the mantra "if it ain't broke, don't fix it" rings true here.
The Stage 2 won the 2011 Musikmesse International Press Award the Best Stage Piano, and the same design is retained here, with small but significant innovations that just make the experience a lot smoother.
The Stage 3 later won the prestigeous TEC Award (Technical Excellence and Creativity) for Best Musical Instrument Hardware 2017, at NAMM Show 2018 in Anaheim, California.
Keyboard
Since the three variants have different keyboard types, we'll be covering them individually.
Stage 3 88
Nord's Stage 3 88 shares the same keyboard with the Nord Stage 2 EX. This means you're getting an 88-key weighted keyboard.
As you may know, Clavia doesn't make their own keyboard actions.
In many of their fully weighted keyboards, Clavia uses key actions produced by Fatar, an Italian key bed manufacturer.
While I wouldn't say that Fatar actions are incredibly realistic from a pianist's perspective, they're certainly playable and adequate for stage performances.
Most likely, the 88-key version of the Nord Stage 3 uses the Fatar TP/40 key bed used by its predecessor.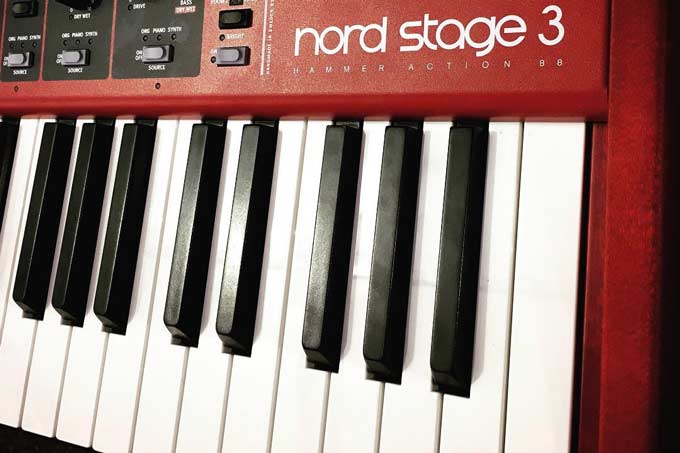 There's a natural heft to keypresses, as you'd expect from real concert grands (slightly lighter), but the keys return smoothly and quickly, making swift glides and licks quite playable.
Unlike the Nord Piano 4, which uses a more sophisticated key action with a 3-sensor detection system, Virtual Hammer Technology and a more piano-like feel overall, the Stage 3′ action has a 2-sensor system and feels not as heavy, accommodating organ and synth playing.
If you've tried doing organ swipes on heavy weighted keys before, you'll be happy to know that these keys work fine for that.
Overall, I'm quite happy with how these keys feel, though I can't say I'm overly impressed by them.
There are definitely digital pianos on the market with a more realistic key action. However, that would make the Stage 3 less versatile and enjoyable to play with tones other than piano.
---
Stage 3 HP76
The Nord Stage 3 HP76 comes with 76 hammer portable keys. The main difference with these keys is in heft. They feel pretty light and not realistic by any means.
Even so, the instrument is far more portable than the 88-key variant (the P in the name stands for "portable"), with a keyboard weight that's lower by 6.5 kg.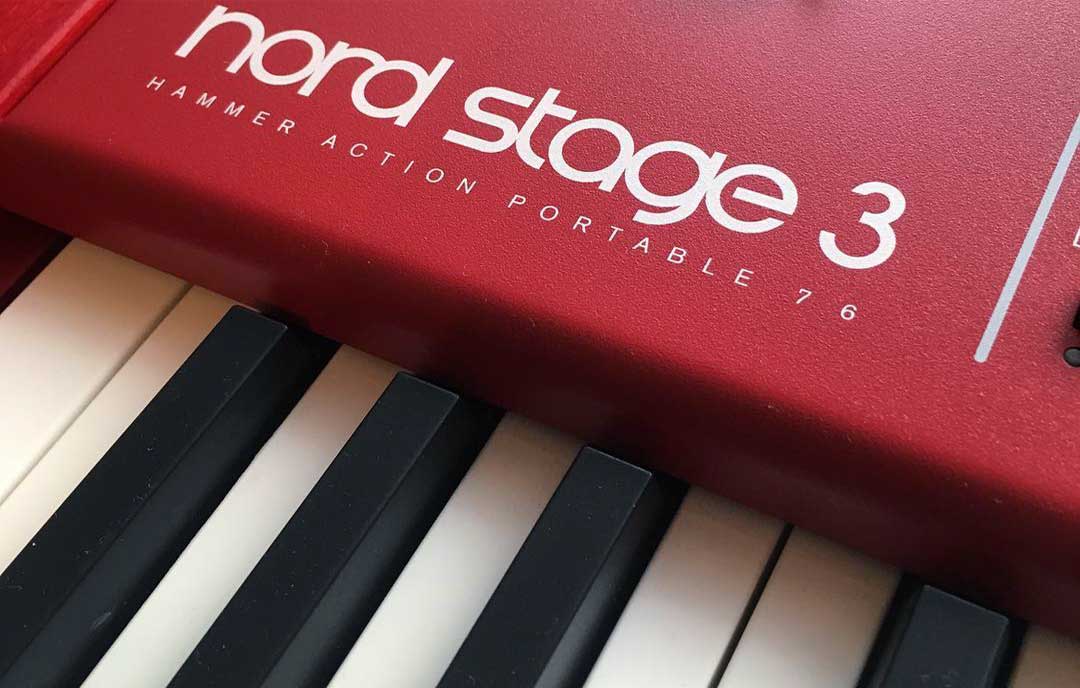 While the keys compromise realism, they are still quite playable. Velocity sensitivity remains accurate. After practicing, you can play piano parts in a near-identical fashion to what you're used to.
Do note that these keys are a bit noisier and feel a bit clunkier, though this really doesn't matter on stage.
That said, the lighter keys cause increased sensitivity to aftertouch, making expressive synth parts that much easier to play.
I'd say the HP76 is perfectly viable if you're not a fan of the Stage 3 88's heavy bulk.
While these keys won't appeal to everyone, you'll come around with time. But if portability isn't a concern, get the 88.
---
Stage 3 Compact
The Stage 3 Compact comes with 73 semi-weighted waterfall keys. These keys lack the lip commonly seen on grand piano-style keys, making them ideal for quick organ shreds and synth glides.
This is the lightest action of the three variants, and Clavia clearly markets the Compact to organists.
This is even more evident as the Stage 3 Compact is the only Stage 3 variant with physical drawbars. On the other 2 versions, you're stuck using increase/decrease buttons on the Organ section.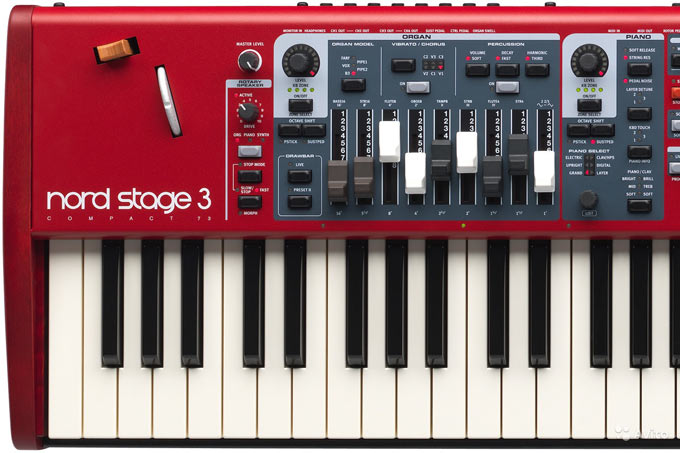 These keys are also ideal for synthesizer players, and I personally prefer these to the keys found on the Stage 3 HP76.
Even when playing piano parts, the disregard for realism works out and delivers an enjoyable experience.
Of course, this is coming from the perspective of someone who's played a ton of digital pianos (as evidenced from the many reviews on this site).
I might be less forgiving to the HP76 due to expectations. So if portability is what you're after, try both the HP76 and the Compact, then pick what you prefer.
Other Aspects
Apart from the keys, it's worth noting that Nord keyboards always come with a unique pitch bend and mod wheel.
The pitch bend is handled with a "pitch stick" with a cut-out lip. This is not a standard pitch wheel and will take some getting used to. However, it does excel when used for vibrato and full bends.
The main complaint I have is its small size. There's not a lot of space between the two extremes, which – depending on your playing style – might be an issue, especially if you incorporate slow bends or halfway bends in your playing.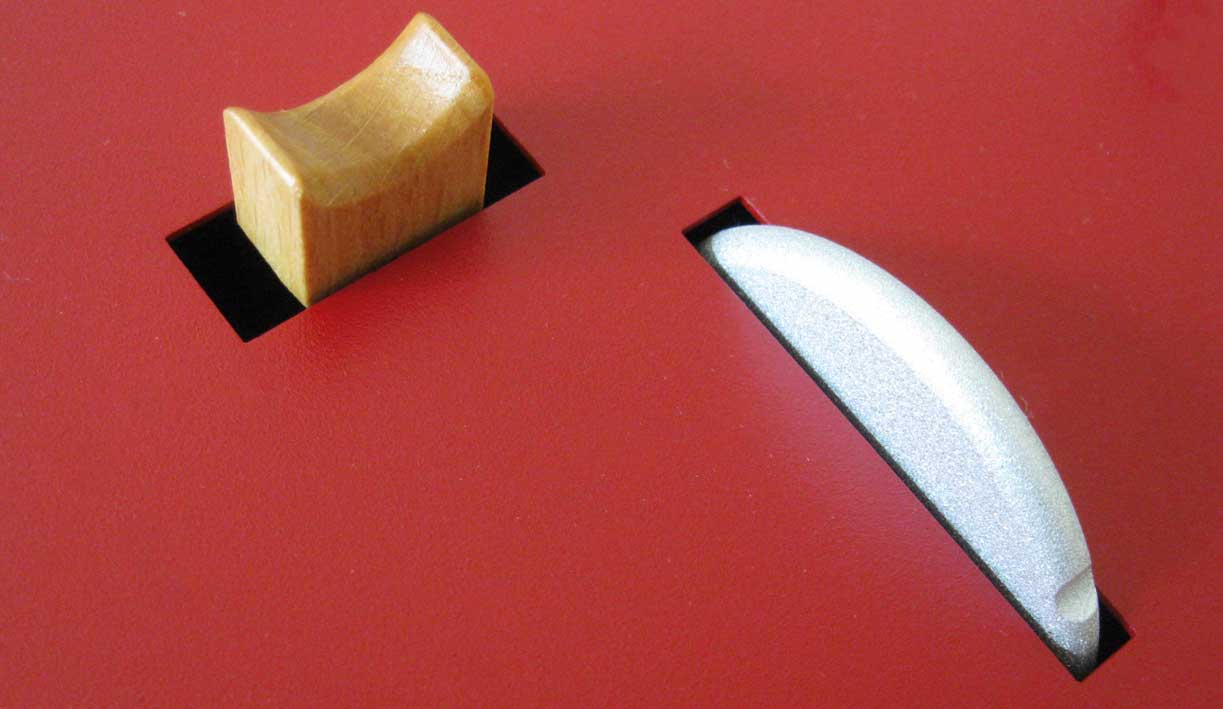 On the other hand, the mod wheel feels excellent. It's very thin, so you might need time to adapt to it; but it's solid. There's a good bit of resistance on it that feels just right, and you can easily make precise changes to any point.
A feature some might be less familiar with is aftertouch, which continues detecting pressure sensitivity even after you're pressed each key, while the keys are being held down.
A neat example of this is when you link the volume to aftertouch. This allows you to make the sound louder by placing higher pressure on the keys and vice versa.
Overall Thoughts
The keys, regardless of which version you choose, are all quite good.
My complaints mainly stem from the price of the Stage 3. For either version you're paying a premium, so I expect top-tier components, and the keys are no exception.
Overall, I'd say the Stage 3 88 and the Stage 3 Compact are the ones to look at.
The keys on the 88 may be the definitive experience, while the Compact's physical drawbars and great waterfall keys make it ideal for organ and synth players.
Sound
Since the Nord Stage 3 has 3 main sound engines, we'll cover each one in a dedicated section.
Piano Section
Sounds
The Nord Stage 3 has an in-depth piano section. The digital pianos used on the Stage 3 are sample based, so you can swap out the piano samples on demand with a USB connection and provided Nord Sound Manager.
To store samples, you get 2 GB of memory dedicated to the Piano section.
This comes preloaded with the highly praised Bösendorfer Grand Imperial XL, which is featured on previous Nord Stage iterations, as well as the Nord Piano and Nord Electro.
With the expanded memory, Nord has also included a new "large" piano, the Royal Grand 3D YaS6 XL that takes up much of the memory along with the Grand Imperial XL.
Again, this is a very well-sampled piano with a slightly brighter timbre.
Using both the Grand Imperial and the Royal Grand does eat up a ton of memory, so make your choices wisely.
This covers your bread-and-butter grand piano sounds and is well sampled all round, with nicely simulated velocity transitions and string resonances.
Check out the video below to see how the White Grand sounds (spoiler: incredible).
At the same time, there's an impressive suite of various sampled pianos, including some well-known grand piano models like the Steinway Model D, Yamaha C7, Kawai SK-7, Fazioli, plus some nice upright pianos.
The 2 GB of space limit means you'll need to pick and choose.
Thankfully, each of these piano libraries come in 4 different sizes (XL, L, M, S), which are conveniently available for download on Nord's website.
The XL samples have the most detail, with a fully mapped keyboard and string resonance samples.
As you move towards the Small samples, you lose detail, but available samples are still multi-sampled with detailed velocity mapping.
You can mix and match pianos of different sizes to adapt to your needs.
The XL samples are the best and sound amazing even in solo work. The rest of the samples are good enough when used in a band context and are great for layering as well.
Below you can listen to all the grand pianos available from the Nord Piano Library (all the tested sounds are XL):
Of course, you are missing out on some of the more detailed piano simulation options, such as those from Roland's SuperNATURAL sound engine, but the base samples here are excellent.
Many critics agree that these are some of the best grand piano samples on the market, so you'll get your money's worth.
For electric pianos, you get two main sets – tines (which include the Rhodes Mk I, Mk II, and Mk V) and reeds (your Wurlitzers). I'm satisfied with all the offerings from this section.
All the samples are great bases to build on, and the effects section really helps them shine. Adding some subtle tremolo and rotary cabinet simulation to the mix delivers excellent results.
Clavinets are included and sampled with good detail, having 8 selectable pickup combinations.
The uneven sampling rears its head here, but running these through the amp section delivers the bite you'd expect from a real Clavinet.
For most people, this is more than enough to cover their needs, but purists may feel slightly disappointed with the lack of options.
Finally, harpsichords include French and Italian variants sampled in different variations.
These are well done and I'm particularly impressed with the realistic release tails, something most included harpsichord sounds fail to achieve.
For polyphony, you get a solid 120 notes, good enough to cover classical pieces with no cutoffs.
Overall, these pianos are very good – and some are exceptional; there are gems in every section.
I'd suggest using the Sound Manager software to remove the sounds you don't like after giving them a try. If you're planning to use the Stage 3 for piano playing, you're good to go.
Controls and Specific Features
The main complaint I have about the Stage 3 is that you need the Nord Triple Pedal to get pedal noise, half-pedaling, sostenuto, and other 'soft' functions.
This adds several hundreds to the MSRP, which feels painful considering the high price of the instrument already.
Another complaint I remember from the Stage 1 EX era was the sample release times. This was fixed with a Long Release option that is on by default.
This is also helpfully restricted to this section, meaning your organ and synth sounds retain sharp and precise release times, which can be turned off at will.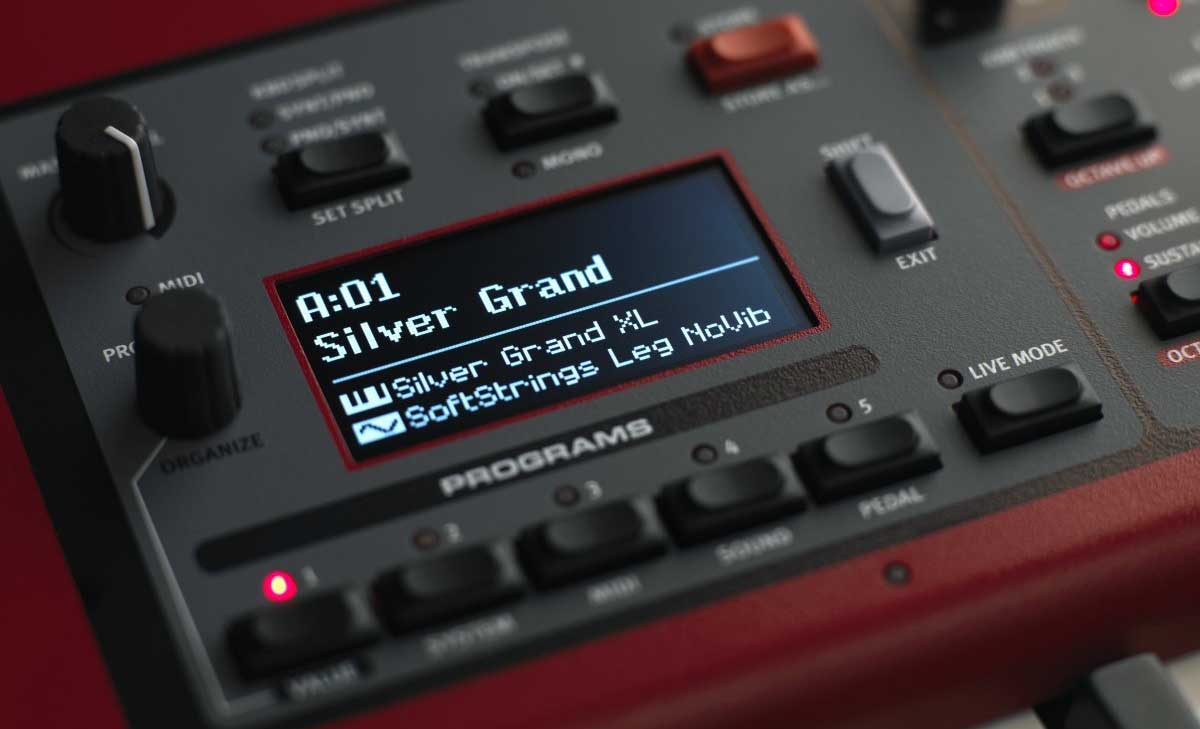 In terms of touch sensitivity, you get 3 main settings. You can also edit the sensitivity in detail, through the menus, if you need specific values.
Finally, a small but helpful addition is the piano filters. You access this function via the clavinet pickup switch. It is essentially a tuned EQ for your piano.
You get 3 settings: soft, mid, and bright, which give an increasingly bright piano sound with emphasized treble.
This seems like a minor addition, but its surprisingly intuitive, allowing you to inject some brightness to your solo immediately, or salvage a bad stage mix with a few quick button presses.
---
Organ Section
Sounds
Most people considered the Stage 2's Organ section to be its weakest part (though still definitely serviceable).
With the Stage 3, Clavia listened and delivered a stripped-down Nord C2D organ engine and with corresponding algorithms.
The models on offer here include classics like the Hammond, Vox Continental, and Farfisa. These will be familiar names to people who've owned previous Nords.
The Hammond nails the sound of the B2 almost perfectly, containing the "click-ey" keys, percussive elements and authentic chorus and vibrato effects.
Many Hammond fanatics have praised Nord's implementation, so this will probably be your main organ choice.
The Vox Continental and Farfisa models are also good but are often criticized for being unrealistic.
The emulation lacks the aggressive drive of the real model and uses a different drawbar configuration.
While you can use the amp section to add the bite, it's less than ideal (for reasons that will be explained in the Effects section).
The new additions are two pipe organs. Pipe 1 is not the most impressive, sounding synthetic rather than realistic. Even Clavia describes this as a B3 organ, minus the artifacts and digital simulations.
Pipe 2 is where its at, sounding very genuine.
Overall, the organs sound good. Though I'm not too particular with authenticity, these sounds work great for what they're designed to do and will satisfy most organists regardless of preference.
I find myself turning to the Hammond model for most uses, a sentiment shared by other Nord Stage users. Whether you're doing Jazz or Rock, these organs have you covered.
Controls and Specific Features
The controls are far more involved than in the Piano section.
The most defining feature of this section is the drawbars (digital or physical depending on model).
The button-based digital drawbars are decently tactile and allow you to make quick changes easily during play.
The physical drawbars are superior in this regard, though their digital counterparts are still very usable.
There's a dedicated vibrato and chorus on this section and each comes in 3 models. You can't change much here, but each has a pleasing character that adds to the organ sounds.
Much like the Piano section's Long Decay, you get 3 options in the Percussion section. These buttons allow you top toggle softer volume, a faster decay, and the third harmonic.
I tend to retain the presets since I'm not an organ maestro, though the options are there for sound designers.
I discuss the Rotary effect in the Effects section below, as it can be used by all sound generators.
---
Synth Section
Sounds
As someone who loves Nord Lead series, I'm very impressed with the new Synth section. The synth section is a carbon copy of the Nord Lead A1 synthesizer.
For synth aficionados, this is purely digital, as is every other synth from Nord.
Despite not being analogue, just know that its cut from the same cloth as the Nord Lead 4 synthesizer, which is well known for being one of the best virtual analogue synths available.
The A1 synthesizer doesn't follow conventional synthesizer structure, but if you've got experience, it's not hard to grasp.
Add a dose of modulation and effects, and congrats – you've got a fascinating sound!
While this is a simplified description of subtractive synthesis, simplicity is the focus of the A1 synth.
The main section that defines the A1 synth engine is the Oscillators. They don't limit you to the typical Saw, Square, Triangle, and Sine waves.
Instead, you get the option of using classic analog waveforms, additive Waves, chorused S-Waves, vowel F-Waves, and samples.
You can load up to 480 Mb of your own samples via the Nord Sample Manager.
Highlights here include sampled Mellotron sounds, which, when combined with the filters, give a very realistic approximation of the real deal.
Speaking of the samples, there's a lot on offer here. Orchestral strings, brass, winds, and choirs are included right off the bat. These are excellent both for playing and layering alike.
To check out all the samples that come preloaded on the Stage 3 follow this link.
S-Waves are new to the Stage series and are a good emulation of the classic Roland Supersaw and Access Virus TI sound, something notably missing previous Nord Stage keyboards.
If you were always missing that ubiquitous Avicii-style synths or lush synth strings, then these have you covered.
You can choose from 12 oscillator configurations, which include the following:
Single oscillator
Mix – both oscillators are independent and can be balanced
Detune – 2nd oscillator is a detuned copy of 1st oscillator
2 variants of Mix Noise
Oscillator Sync
2 and 3 operator frequency modulation (FM) synthesis
Ring modulation (RM)
Amplitude modulation (AM)
Each oscillator configuration has a specific controllable parameter. While this isn't a lot of control, it does provide a simple way to experiment.
With the release of the Nord Lead A1, Nord reps said that the synth was designed for novices who wanted flexibility without too much underlying complexity. I'd say this definitely achieves that goal.
Polyphony-wise, bring digital has its perks, and you're getting 34-voice polyphony, which is more than enough to cover huge pads and synth strings without cutting off.
The single multi-mode filter has 6 main types:
24dB/oct 'classic M' filter – Moog-style transistor ladder filter
Clavia 24dB/oct filter
Clavia 12db/oct filter
High-pass filter
Band-pass filter
Parallel LP/HP filter
Note that the first 5 types are capable of self-resonance, allowing for ringing oscillation when the resonance control is pushed.
Speaking of 'pushed,' three levels of overdrive are available on the filter. This is a simple way of adding some subtle (or not so subtle) saturation to your sounds.
The main modulation sources for the filter are the dedicated low-frequency oscillator (LFO), and either the velocity or the modulation envelope.
Common ADSR (Attack, Decay, Sustain, Release) envelopes are missing, and you get ADR and ASR envelopes instead.
The Mod Envelope controls a parameter determined by the oscillator configuration and the filter cutoff frequency. The other Amp Envelope controls the output levels.
The envelopes range from a snappy 3 milliseconds to a drawn-out 45 seconds. This means everything from percussive basses to atmospheric pads is covered.
Not only that, these envelopes are velocity sensitive, allowing you to add further expressivity.
Finally, you get a Unison mode that adds 1, 2, or 3 additional detuned sounds to the mix, giving an even richer, wider sound.
In terms of sound, I'm was quite impressed with the A1 on release, and this is coming from someone who uses a rack-mount Nord Lead Rack 2 regularly, a rack with many more features.
Despite these limitations, the simplicity encourages experimentation. The highlights are the oscillators, which are very flexible and allow you to dial in diverse tones with minimal effort.
I had a blast designing sounds on this synth, and the presets are good, too.
This section is the highlight of all the sound modules, and I'm sure even absolute beginners will be able to create custom sounds with ease.
While you might lament the fact that this isn't analogue, the Nord series has proved to be one of the most flexible, whether as virtual analogue or unabashedly digital.
Controls and Specific Features
The synth comes in polyphonic, monophonic retriggering, and monophonic legato modes and has a basic glide control for adding portamento to your sounds.
Apart from that, there's an arpeggiator with Up, Down, Up/Down, and Random configurations.
The arpeggiation can also be used across 1-4 octaves, and you can choose for the arpeggiator to keep on ruing even after you've released the keys.
This is standard enough, though I find it helpful that you can now link the arpeggiator rate to the master clock, which means you'll always keep tempo.
The same is true for the LFO modulator, which can have a manual rate or be synced to the master clock.
The single LFO might feel limiting, especially since it only offers 5 waveforms, though Sample and Hold (S&H) is included.
Having only 2 destinations (oscillator and filter cutoff) is also a bummer.
Finally, there's a vibrato control that you can delay or link to the mod wheel or aftertouch.
The delayed option is welcome and will be appreciated by players who like adding tension to their transitions.
The Morph mode can be assigned to the LFO rate, arpeggiator rate, filter modulation, and oscillator modulation with the morph mode.
This is where it shines, as you can easily inject a lot of personality into an otherwise static sound with a few quick assignments.
Effects
Most performance keyboards and workstations include onboard effects. The Nord Stage 3 is unique because it places the controls on the front panel, reducing the need for menu diving.
The major upgrade from the Stage 2 is that effects are independent on your A and B panels, which adds to the flexibility of your presets.
The only exception to this rule is the Compressor and Reverb sections, which are applied across all sounds.
While you can still layer different sounds with different effect settings using the A/B panel, you cannot, say, use a delay for the Piano and Synth section simultaneously on a single Panel.
I'd say this is where the biggest limitations lie.
---
Rotary Section
No organ emulation would be complete without a rotary speaker effect. The Stage 3 comes with a basic but pleasing emulation from the Nord C2D digital organ.
You can now independently affect the speed and acceleration parameters for the horn and rotor, as well as the distance of the virtual mic.
Do note that this is the one effect you can't adjust between panels, so you'll be restricted to the current speed settings across the A and B panels.
The cool thing about this rotary speaker is that you can link its speed to the Morph controls.
Linking the speed of the rotary speaker to aftertouch allows you an extra layer of expressiveness, enabling you to control the speed of the 'rotation' by changing how hard you're pressing down on the keys.
Apart from that, you get a basic drive control on the rotary module, which allows you to add the bite you'd expect from legitimate Farfisa and Vox organs. Again, there isn't much for control, but it does sound like a pleasing tube-based distortion.
Do note that the rotary module isn't limited to the Organ section. The same effect can be applied to the Piano and Synth sections as well.
---
Effects 1 Section
The 1st effects section covers the following types:
Tremolo
Ring Modulator
Auto Panner
Wah-wah
2 variants of Auto Wah
These effects cover the more experimental and niche styles, though I find myself using the Panning and Tremolo effects a lot with the Piano section, particularly on electric piano sounds.
Control-wise, you get a basic Rate and Amount control, and the rate can be linked to the master clock, which is perfect for the tremolo and auto panner.
Similarly, both controls can be linked to the Morph control, enabling further expressiveness.
---
Effects 2 Section
This section covers the following effects:
Flanger
2 Phasers
2 Choruses
Vibe
This section takes care of stereo-focused effects, and I really did wish I could use these on more than one sound generation section.
The choruses in particular are very nice in subtle amounts and can add a lot to slow organs, ballad pianos, and lush synths.
While you may find the Rate and Amount controls somewhat lacking, I'm fine with that since the base algorithms here are tuned nicely.
---
Delay Section
Delay is an essential part of most songs, making the detailed Stage 3 Delay section very welcome.
The Stage 3 improves upon previous models by adding tempo sync and analogue-modeling to the mix, both of which are helpful upgrades.
Changing the tempo (or falling out of tempo!) on the Stage 2 was tedious. Yet thanks to the new master clock sync and tap tempo buttons, it's easy to get back on track.
If you prefer a manual rate setting, that's still available.
The analog mode comes in the form of a filter (High, Low, and Bandpass) that affects individual echoes.
People expecting tape-style echoes will be disappointed, though these filters are the same analogue-style filters you get on the Synth section, providing a bit of warmth to the delayed repeats.
A Ping Pong delay toggle, Feedback, and Dry/Wet mix control complete the section. The tempo, feedback, and mix control can be linked to the Morph mode.
Overall, this is a simple yet flexible delay, a solid addition to the Stage 3. It's just disappointing that you can use this section on a single sound source.
---
Amp Sim Section and EQ
The amp sim section is fairly straightforward and comes in the following varieties:
Small Amp – Wurlitzer 200A internal speaker emulation
JC – Roland Jazz Chorus speaker cabinet speaker emulation with tube pre-amps
Twin – Emulation of classic Fender Twin tube amplifier and speaker cabinet
When active, you can tweak the Drive knob to affect the gain of the tube preamps. This parameter can be Morphed.
If no amp models are selected, the Drive control adds tube overdrive without the corresponding speaker simulation.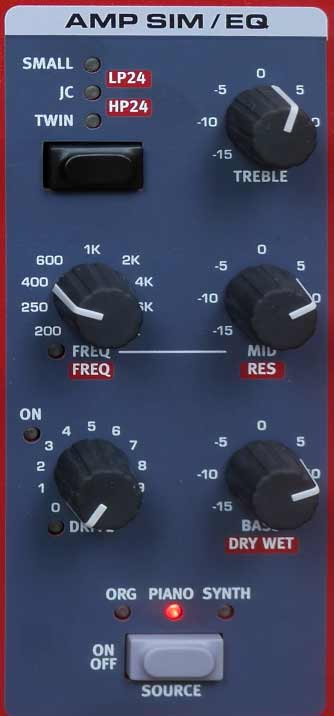 The EQ section is standard and has Treble, variable Mid (with modifiable frequency), and Bass controls, ranging from -15 dB to +15 dB. These are particularly helpful for cutting out muddy frequencies and emphasizing specifics.
While I could complain about the limitations yet again, the addition of a Piano Filters section helps remedy the 1-sound source limit a lot.
You no longer need to devote this EQ section to achieve the bright highs of a piano. I'll give Clavia a pass on this, though more flexibility would be welcome.
The new addition here is the inclusion of the LP24 and HP24 filters, which are similar to the 24dB per-octave filters in the Synth section.
When active, the Mid and Bass controls become frequency, resonance, and a mix control, giving a way to emphasize frequencies while injecting extra warmth.
For personal use, I find this section goes to the Synth section, being used to clear out the muddy lows from the more complex waveforms.
However, if you're using a preset dedicated to a single sound, the 3-band EQ remains a welcome addition.
---
Compressor
This section has always been basic, even since the Stage 2, but it delivers disco/dance style pianos so effectively that I can't help but love it.
The addition of a Fast mode may appeal to dance musicians who like the pumping effect, though I'm not exactly a fan. Your mileage may differ.
A singular amount control is not much to work with, though the standard attack and release times seem short, nearing limiter levels. For that classic M1-style piano though, this is just right.
The main problem here is that the effect is applied across all 3 sounds, which isn't always ideal if you only want the reduced dynamics on a specific section.
---
Reverb
The reverb remains the same from previous Stage models and comes with 6 algorithms:
I'm somewhat disappointed that there's only a Dry/Wet mix knob here. You can't modify the size, pre-delay, damping, or character of the reverb.
This feels like a missed opportunity, especially since the Stage 3 is competing with full-fledged workstations due to its price.
Also, this is shared across all sound sources, which could be good or bad depending on the needs of the song.
I liked the simple settings of the Stage 2, but it's been half a decade since then and even cheap practice keyboards give you more than the Dry/Wet mix.
That said, it's hard to deny the quality of the algorithms here.
Most people will probably be satisfied with what's available, though as someone who's used to more control during performances, I can't help but want a little more.
A nitpick is that the Reverb gets applied pre-Rotary, which means you lose out on the room mic component of the Rotary speaker, which is awkward.
My recommendation? Get a dedicated reverb unit if you're planning to use the rotary and reverb on the same sound.
---
Externals Section
This is low-key my favorite part of the Stage 3. This section allows you to integrate separate equipment into your performances with ease, which means you can use soft synths, rack-mount modules, and other keyboards by connecting them to the Stage 3.
Thanks to the many connectivity options on the Stage 3, the external modules receive MIDI, MIDI Continuous Controllers (CC), and MIDI Program Change (PC) signals.
This integrates beautifully with the preset changing and Song mode on the Stage 3, making things as seamless as possible.
At the same time, you can also send the Master Clock signal through here and nearly every voicing parameter on the Stage 3 can be modulated via external MIDI CC.
As someone who found the limited amount of modulation sources restrictive, being able to link this to Ableton Live for more control was greatly appreciated.
It might seem cumbersome to work with this section at first, but once everything is set up, integrating the rest of your gear is a breeze.
Using the Stage 3's keys (instead of moving around to access another MIDI keyboard) is something many performing keyboardists will enjoy.
Other Features
Since the Stage 3 offers so many features, there are more that aren't related to the sound modules.
Splitting
The Stage 3 allows you to split sounds across 4 sections of the keyboard. The splits are helpfully highlighted with green LEDs, so you won't get confused when switching through presets and panels.
While this is very convenient, there is an issue. The splits are limited to specific points on the keyboard (10), so you can't assign other keys as split points. This is one of the biggest Stage 3 drawbacks.
As a solution to the problem, Clavia implemented gradual splits rather than the abrupt splits you'd see on other keyboards.
This means you get 3 options for each split point: the classic abrupt, a small gradual, and a large gradual split.
With a gradual split, the sound doesn't just change when you pass the split point.
For a small gradual split, the sound on the left gradually grows softer 5-keys before the split point, as the next sound introduces slowly.
The large variant is the same, only spanning a full octave rather than 5 semitones.
This is a helpful inclusion, especially when you're playing solos, though I can't help but feel that a more detailed splitting option would be superior.
Regardless, having 4 sections is nice and is more than enough. If you want, you can use the 3 sound modules and an external unit on the same full-range keyboard with no overlaps.
Overall, it's a decent system, though being able to use specific split points would definitely be better.
---
Morphing
Morphing has been a common feature on most Nord keyboards and it's present here as well.
Assigning morphs is simple. The Stage 3's assignable parameters are marked with a LED below. You only need to hit the corresponding Morph Assign button.
You can assign morphing to the mod wheel, aftertouch, or a connected expression pedal. These assignments are easy to do and you can assign a minimum and maximum value to each parameter.
---
Panels
We've been referring to the A and B panels a lot because they are essentially a quick switch between two states of the keyboard.
At its core, this is a way of switching between two different setups with dedicated Organ, Piano, Synth, and external settings.
While this is the standard use case, you can also use the two panels simultaneously, using the other panel's same section to layer sounds.
This gives you multitimbral synths and detuned pianos – even dual-manual organs.
It might be better to consider the B panel as entirely separate from the A panel, as you can even set a certain sound section to be triggered via external MIDI so you can mix in more MIDI controllers.
The panel features here are very involved. Once you grasp all the intricacies, you'll be able to set things up your way. While this requires a lot of effort, the flexibility is worth it.
For example, you can have an external MIDI keyboard triggering the Synth section on Panel B, while you play your own synth section on Panel A using the Stage 3's keys.
This is a basic example, but it shows how powerful the panels system can be with the right setup.
To get a better understanding of how layers and splits work on the Stage 3, I highly recommend checking out the video below:
---
Program Management
There are two ways to access your designed sounds – through the standard Program mode or through the newly introduced Song mode.
Program mode has a total of 16 program banks (labeled A-P), split into 5 pages of 5 programs each.
This is a typical method of navigating presets that is made somewhat easier with List control, by which you move through banks rather than individual presets. Props to Clavia for organizing sounds into categories that make sense, too.
12 banks are already taken by the factory presets, which you can change and modify depending on your needs.
Check out the video below to listen to all the factory presets on the Nord Stage 3:
If, at some point, you want to restore the program memory to its original state, you can easily do that by downloading the original program banks from Nord's website.
There are also 4 empty banks (100 program slots) where you can store your own programs.
Song mode is a welcome addition, enabling you to use programs from Program mode in self-designed sets, which is ideal for performances involving various songs with differing sound sets.
Do note that the programs are shared in their entirety, so any changes you make will apply across both the initial program and the corresponding song mode copy.
---
Seamless Switching
Normally, when you switch through sounds on a keyboard, the previous sound cuts out abruptly. However, the Stage 3 enables the previous sound to keep on ringing, even after a program change.
While this seems like a small deal, it's terrific for songs that require switching programs mid song, making the transitions less jarring.
Connectivity
As you would expect from a stage performance keyboard, the Nord Stage 3 offers a full suite of connectivity options. That said, there's a few omissions I don't prefer.
Four standard 1/4" Line Out jacks offer four audio channels. By default, channels 1/2 cover your main stereo outputs. You can configure channels 3/4 to separate sound sources from the internal system menu.
You can also opt for sounds to output in mono. This isn't ideal, though the biggest flaw of this system is that you essentially have only 2 stereo outputs.
Dedicated outs for all 6 sound sources (across both panels) would definitely be ideal. That said, channels 1/2 are sufficient for standard use.
A 1/4" stereo headphone jack outputs the same signal as channels 1/2 and can be used for monitoring.
For pedals, you get an Organ Swell jack, a Control Pedal jack (for your expression pedal), and a Sustain Pedal jack.
You lose out on half-pedaling and pedal noise if without Nord's dedicated 3-pedal setup.
A new inclusion is the Program Up/Down pedal jack, which allows you to move through programs with a dedicated 2-button pedal.
If you need to switch through many sounds throughout a song, you'll love this feature, since you won't need to stop playing. We've provided a 2-button pedal recommendation in the Accessories section of the review.
A 1/8" Monitor-In jack is included as well that sends the signal to channels 1/2. You can also use this input for smartphones, music players, and metronomes for practice purposes.
Since this "monitor signal" routes through the main outputs, I found it more ideal to use as an additional sound source input.
I used this to integrate my Korg Electribe Sampler without conversions (as the Electribe has a 1/8" headphone out), and you can also directly connect your laptops here to save a mixer slot.
Speaking of connecting to laptops, there's a USB Type B port that supports MIDI (but not audio).
The main reason for connecting to your computer will be for software updates and for using Nord's Sound Manager and Sample Editor. These programs are how you load your custom samples for the Synth section and pianos for the Piano section.
If you've got external gear, know that the MIDI In/Out jacks use standard 5-pin connectors.
Note that MIDI-through-USB and the MIDI jacks are identical, so the CC64 on both control the same parameter (in this case, Sustain).
Speaking of CCs, you can control parameters with MIDI CC signals.
If you've got external envelope generators or LFOs, or even extra modulation sources, you can use these to control individual parameters.
The manual gives the full list, and there's a total of 119 parameters to modulate.
Like I said, you get a full suite of connections. I only wish they had dedicated outputs for each individual section, though that's just me wanting more control.
What you get is already more than sufficient, and sometimes limitations force you to balance your sounds well (your mix engineer will thank you!).
---
Nord Sound Manager
This is an essential part of the Nord Stage experience, as it allows you to do the following:
Manage programs, presets, and songs
Manage piano sounds for the Piano section
Manage samples for the Synth section
Back up programs to your computer
Back up bundles containing programs and their associated samples
Back up your full instrument
Restore your instrument with a backup file
This program is available for OS X and Windows and features a simple, straightforward user interface.
I highly recommend loading your own samples or those made by other users.
There's a huge community of not just Nord Stage users, but sampler users, out there, and there are a ton of well-designed and exotic one-shot samples that work great with the Synth section's sample functionality.
---
Nord Sample Editor
If you're going to load your own samples into the Stage 3, you'll need the Nord Sample Editor to convert them to the new NSMP 3.0 format.
This allows you to tweak the sound and set loop points, pitch, and level. The program automatically maps your samples to the keys that correspond to their pitch, making the process a breeze.
This program is available on OS X and Windows and requires the keyboard to be connected.
Since you're limited to a maximum of 480Mb in sample storage, a tracker shows how much space remains.
Accessories
The included sustain pedal is a full-sized pedal that doesn't support half-pedaling. As previously stated, you'll probably want the Nord 3-pedal unit to fully maximize the Piano section's capabilities.
The Nord Piano Library DVD comes with a decent selection of pianos, as well as the necessary software (Nord Sound Manager) to load them onto your keyboard. You can download more sounds from the provided Nord links, too.
The included USB cord is mainly used to update the OS, though it can also be used for USB MIDI computer connections after the fact. A warning accompanies the shipping that tells you to update the OS immediately to keep things up to date.
Finally, the AC adapter will be region-specific, so be sure to check if your AC mains match the voltage rating on the adapter, especially if you're buying used.
The internal transformers might not match your country's values, so be sure to check this before turning on the system.
A stand is not included, though it is compatible with most stands on the market.
Since the external section encourages the use of external sound sources, you might consider a multi-keyboard stand.
The following are some recommended purchases to enhance and complete your Stage 3 experience.
---
Music Rest
The Nord Stage 3 doesn't come with a music stand. If you play classical music and want to be able to conveniently put music sheets in front of you, you'll have to invest in the Nord Music Stand, which is sold separately.
---
Stand
When it comes to keyboard stands, there are usually two ways you can go.
One is to consider a wooden furniture-style stand, which would be a good option if you're going to use your instrument mainly at home and want something sturdy and nice-looking.
For their 88-key instruments, Nord designed the Nord Wood Keyboard Stand, which looks and feels luxurious but so is the price.
Personally, I wouldn't want to spend that kind of money on a stand, especially considering that there are so many quality generic X- and Z-style stands out there, which cost only a fraction of what you'd pay for the Nord furniture-style stand.
Here are a few generic keyboard stands that I recommend:
---
Nord Triple Pedal
Clavia's main triple pedal lets you access the otherwise hidden pedal noise features of the Stage 3. For authentic sounding pianos, this is a must.
The price is not cheap, adding a few hundred dollars to the MSRP.
The sostenuto and soft pedals also come with this pedal, enabling you to play classical pieces.
Unfortunately, the pedal noise is exclusive to this pedal, especially since most keyboards and software VSTs achieve the same effect with third-party pedals.
Regardless, if you're not particular about minute details like pedal noise, feel free to skip this.
---
2-Button Footswitch Pedal
These might uncommon with piano players, but guitarists know about 2-button footswitches.
The Stage 3 allows program switching with a 2-button footswitch and most guitar footswitches work with this.
If you're looking for value, the Peavy multi-purpose 2-button footswitch is cheap and solid. Despite being made for Peavy's guitar amps, it works fine through the Stage 3's Program Up/Down jack.
For a more advanced and substantial 2-button footswitch, check out the Boss FS-6 and Boss FS-7.
---
Expression Pedal
The Organ Swell and Control Pedal jacks are designed to work with an expression pedal.
Depending on your style of play, an expression pedal might not be needed, though I find having an extra mod wheel that doesn't require my hands is quite helpful, especially for organ and synth pad playing.
There are many expression pedals out there. However, unlike sustain or damper pedals, most should work fine since they all follow the same principles and design.
If you're looking for a high-quality expression pedal, I recommend the Moog EP-3 expression pedal, which is very well-built and responsive.
The Yamaha FC7 is another great option, which is considered an industry standard.
---
Gig Bag/Case 
Since the Nord Stage 3 is a very popular gigging keyboard, chances are you'll want to move it around from time to time.
In that case, you'll want to ensure easy and safe transportation for such a high-end instrument, which can be tricky considering the size and weight of the Stage 3, especially its 88-key version.
Nord offers a few soft cases designed specifically for their keyboards. Depending on the length of your keyboard, you'll need a different case.
While they are robust and high-quality just like Nord instruments themselves, they are quite expensive and, in my opinion, are slightly overpriced.
I recommend taking a look at Gator soft and hard (for long-distance travel) cases that are very well-regarded in the music community and are extremely durable.
Just check the dimensions of your Nord keyboard and see what Gator case will fit best (see the dimensions specified in the description for each keyboard case):
---
External Amplification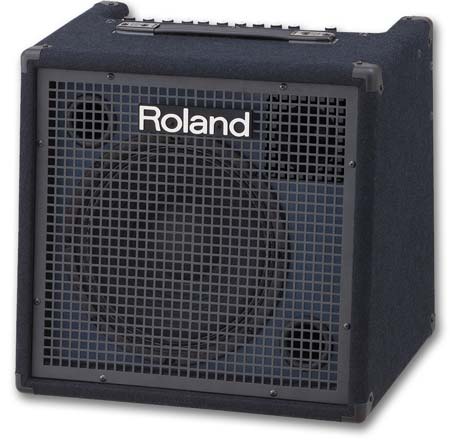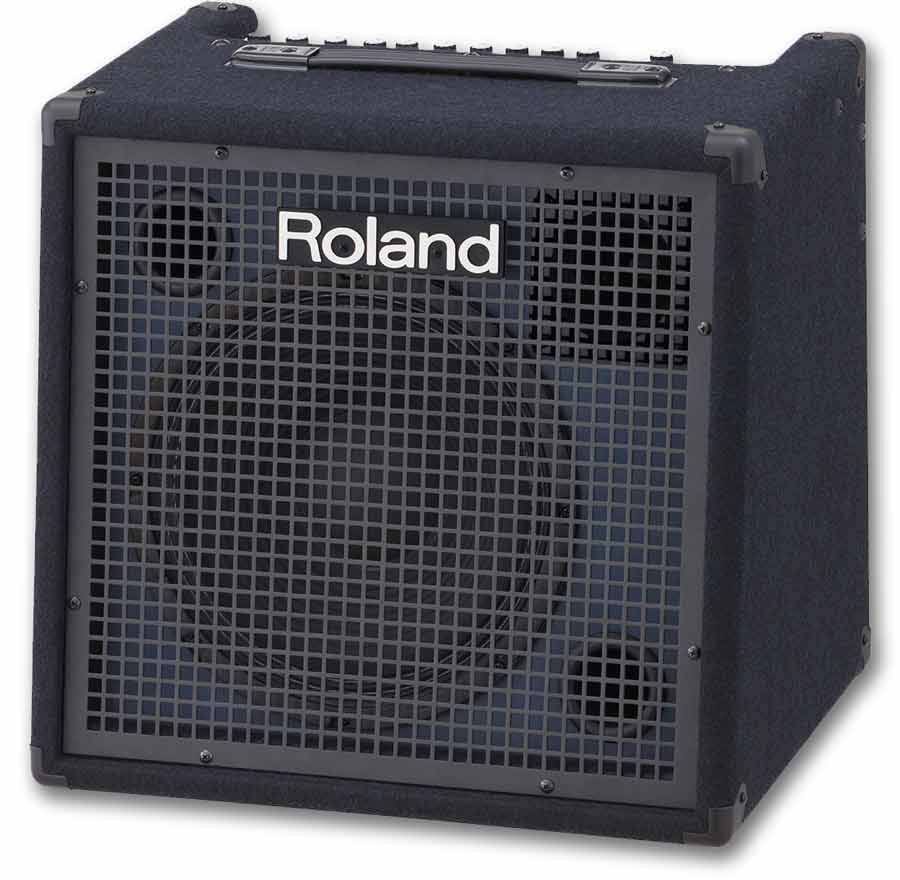 Like most stage pianos, the Nord Stage 3 doesn't have built-in speakers, which means you'll have to rely either on headphones or an external amplification system such as a keyboard amp, a PA speaker, or something else.
---
Headphones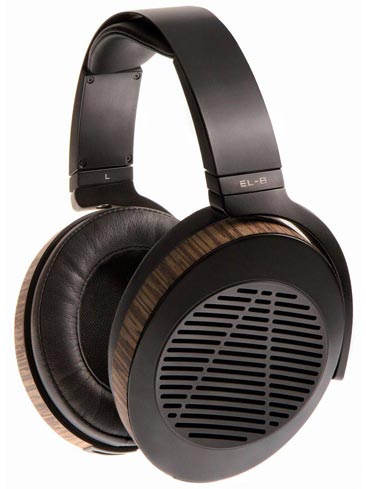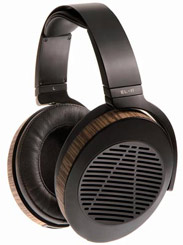 Headphones come in very handy when you want to practice in private, focusing solely on your playing and not disturbing others nearby.
Moreover, a good pair of headphones will provide a clearer and more detailed sound compared to onboard speakers.
Check out this guide to learn how to choose the best-sounding headphones for your digital piano.

Summary
Pros
Excellent build quality
Great keys
Detailed and beautiful Piano and Organ section
Simple yet effective Synth section
Extensive easy-to-control effects
Huge number of presets
Encourages sound design
Easy preset navigation and saving
Up to 4 split zones (10 split point options)
Intuitive controls
Handmade in Sweden
Cons
Very expensive
Only limited to predetermined split points
Each effect section can only be used for 1 sound source
No dedicated outs per section
---
People still crave the Nord Stage series today, even its 1st iteration. It's obvious why – everything works!
The Nord Stage 3 follows the same formula and adds commonly requested features, like a dedicated screen and the Lead A1 synth being incorporated into its latest rendition.
This is, at the time of writing, one of the best performance keyboards available.
Now that's saying something, especially with the lack of obvious features, like self-defined split points, a more versatile effects section, and so on.
This is due to a combination of a rugged yet striking metal chassis, simple controls, and amazing sound quality all in a single package. It's an expensive package, but an impressive package, nonetheless.
Personally, I'm torn. As someone who likes value for money, there's no way around the fact that workstation keyboards have more features and cost less!
Yeah, I'm talking about the Roland FA-08, Korg Kronos, and the Yamaha's Montage8, of course.
Despite that, none of these are as intuitive. While they are certainly more powerful (not even Nord denies this), none of them come close in terms of ease of use (especially in live situations).
The knob- and button-infested front panel is a blessing in disguise that allows changes to be made very quickly.
As I've said from the start, it takes some getting used to; but once you're familiar with the Stage 3, controlling it becomes second nature. You'll be able to adapt to the needs of your performances with ease.
The alternatives come with cleaner front panels but hide most controls in their touchscreens. This is always less than ideal, especially when on-stage panics and mishaps occur.
Part of me wants to recommend that you go with any other flagship workstation for the price, giving you all the power you'd ever need and more.
But at the same time, I can't help but recommend the Stage 3. Simplicity is the driving factor here, and if the Stage 3 ticks all the boxes on your wish list, then why not?
I know friends who still use the Stage 2, and they love it to bits despite owning top-end Korgs and Yamahas.
The Nord Stage 3 is an amazing keyboard. If it sounds right to (and if your pockets are deep enough to buy one), you'll probably love it as well.
Check the availability and current price of the Nord Stage 3 in your region: