In this review, we are returning to Yamaha's Arius series of digital console pianos and taking a look at the Yamaha YDP-105, which replaces the YDP-103 as the entry-level model in the Arius lineup.
Let's take a closer look.
Yamaha YDP-105 Specs
88 weighted keys with matte black keytops
Graded Hammer Standard key action
AWM Stereo Sampling sound engine
64 voice polyphony
10 onboard sounds (2 pianos)
Reverb (4)
10 voice demo songs and 10 piano preset songs
Speakers: 2 x 12 cm speakers (6W amplifier per)
Playing modes: Dual, Duo
Connections: USB to Host (Type B), two standard (1/4″) stereo headphone jacks, DC in, pedal connector
Dimensions: 136 x 42 x 82 cm (53.4" x 16.6" x 32")
Weight: 37.5 kg (82 lb. 11 oz.)
Release Date: May 2022
Full specs available here
Check the availability and current price of the Yamaha YDP-105 in your region:
Design
The YDP-105's design is virtually identical to the YDP-103 and matches the clean, modern lines of the other pianos in the Arius series.
Yamaha's marketing materials make clear that these pianos are aimed at a home market, and their design successfully combines musical functionality with an attractive piece of living room furniture.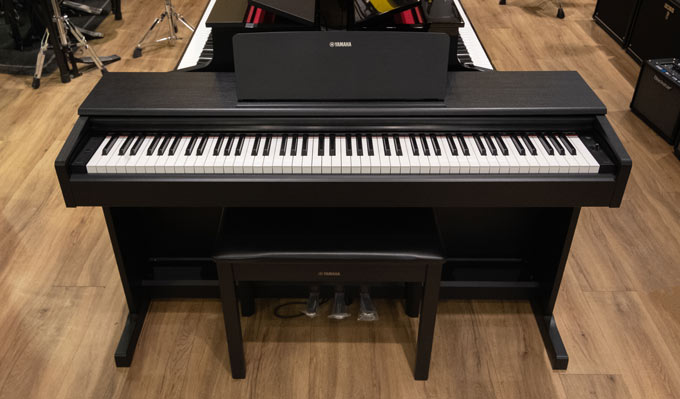 The instrument arrives as a kit consisting of the main unit, pedal box, two side boards, a back board, and hardware.
Assembly is straightforward, requiring only a Phillips-head screwdriver and (highly recommended) second set of hands. While the owner's manual is clear, Yamaha provides detailed assembly instructions here.
Note that while most retailers offer the YDP-105 with an included bench (which appears to be the Yamaha BC-108 bench), the owner's manual indicates that the bench may not be included in all regions.
Available in Black and Dark Rosewood, the YDP-105's cabinet sports an artificial (but attractive) wood grain finish. The finish is resistant to fingerprints, which can plague smooth plastic finishes.
The integrated fold-down music stand and slide-out key cover reinforce the look and feel of an acoustic spinet piano. Red felt accents at the back of the keys and around the pedal openings add a premium touch to the YDP-105's design.
With only three controls adjacent to the keyboard, the YDP-105 takes minimalist design to an extreme. From the standpoint of aesthetics, this is a feature, but for functionality, it might create a challenge.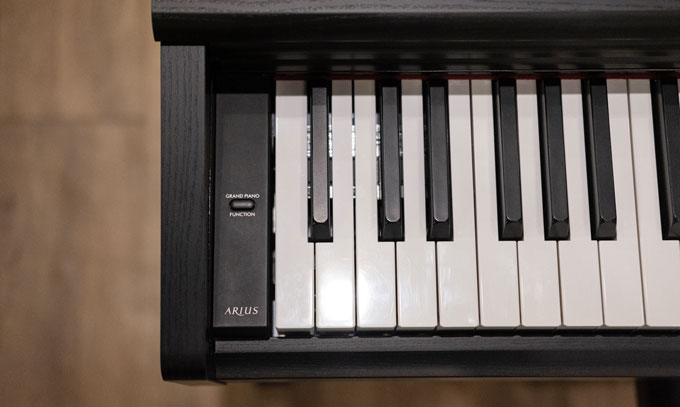 To access any of the piano's functions beyond playing the default piano voice, you will need to memorize function key/piano key combinations or at least keep a copy of the quick operation guide close by.
Yamaha's Smart Pianist App (more below) greatly alleviates this functionality challenge.
If this instrument were aimed at gigging musicians, I would definitely critique this design choice as a bug. However, given the clearly intended market, I think the minimalist approach works well to reinforce the YDP-105's acoustic piano feel.
With only ten voices and a limited selection of effects, I was able to quickly memorize the functions I would most commonly use.
As with an acoustic piano, the YDP-105 comes with a triple pedal unit that supports Damper, Sostenuto, and Soft pedal functions. The Damper pedal also supports half-pedal functionality for the two piano voices.
When in Duo or side-by-side playing mode (more below), the pedal unit operates such that the left-hand pedal acts as the damper pedal for the left-hand keyboard range, the center pedal operates as a damper pedal for the entire keyboard range, and the right-hand pedal acts as the damper for the right-hand keyboard range.
The cabinet is solid, and as long as the floor adjuster beneath the pedal unit is set properly, you should experience virtually no flexing or wobbling even with hard play.
Keyboard
As you might expect in a digital piano at this price point, the YDP-105 uses Yamaha's most affordable GHS (Graded Hammer Standard) keyboard action. This is the same action you will find in most of Yamaha's entry-level digital pianos.
Featuring 88 weighted keys with a built-in hammer action, the GHS keyboard does a decent job of emulating the touch of an acoustic piano.
The keyboard is graded, with keys in the bass range requiring a heavier touch and keys in the treble range having a lighter touch, simulating the behavior of an acoustic piano.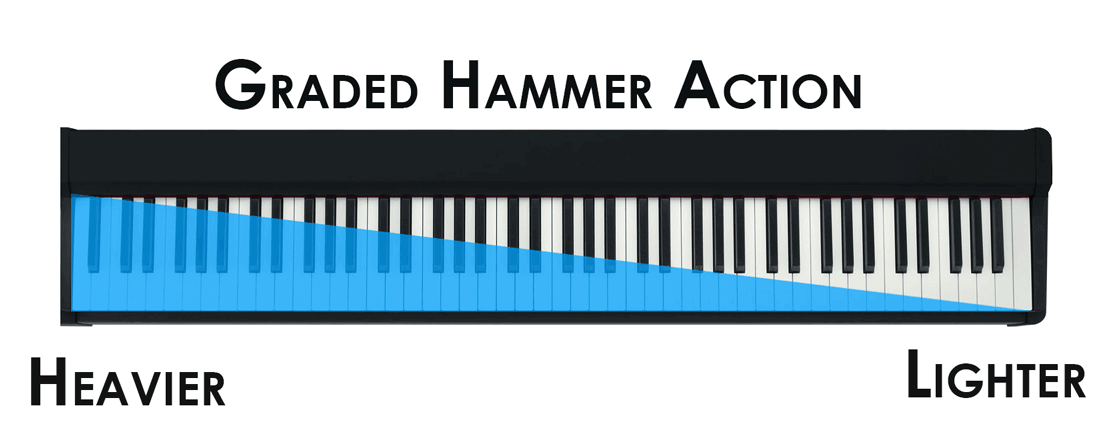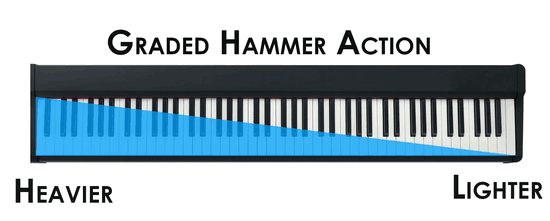 The black keys feature a matte finish that prevents your fingers from slipping even after a long playing session.
I personally found the touch of the YDP-105 nicely responsive, albeit a bit lighter than the entry-level actions from Korg and Roland.
I would note that I could not perceive any escapement in the action (where the action emulates the rapid fall-back of an acoustic piano hammer after striking a string).
You can adjust the responsiveness of the keyboard to match your own playing style with four touch sensitivity options: Hard (requires strong playing for high volume), Medium (default), Soft (even light touches can create high volumes), and Fixed.
When in Fixed mode, the piano's volume remains constant regardless of how hard you strike a key.
As the YDP-105 aims at the beginning player, it is important to ask whether the action is close enough to a real piano to develop pianistic technique. I would say that this particular action is well-enough suited for players from beginner to intermediate level.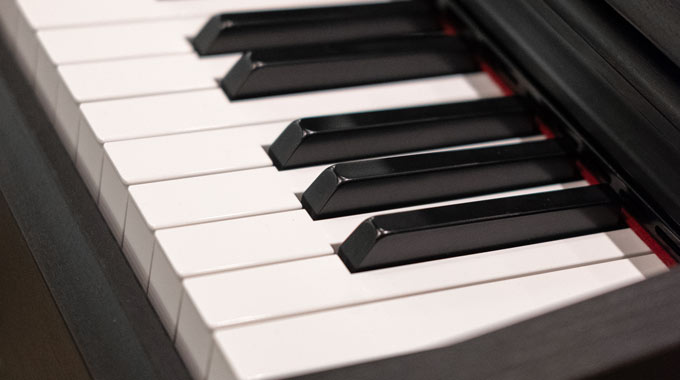 Beyond that, an aspiring pianist will need to move to a higher-quality digital instrument or a real acoustic piano.
Finally, as with any piano (digital or acoustic), I highly recommend that you test the action before purchasing, as the feel is very much a personal preference.
Sound
Based on my ear and the available documentation, the ten voices included with the YDP-105 are identical to Yamaha's YDP-103 and P-45 digital pianos.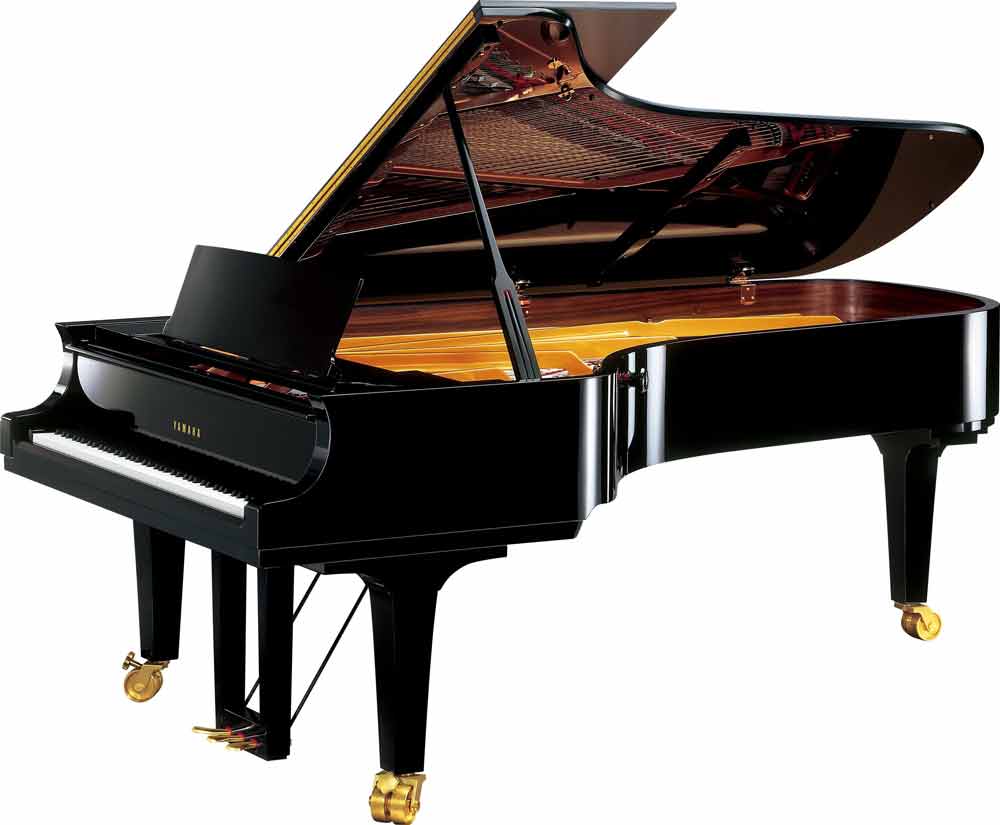 Included sounds:
Grand Piano – a warm, rich piano tone appropriate for most solo classical repertoire
Bright Piano – brilliance and clarity allow this voice to "cut through" in ensemble settings
Stage E. Piano – the Fender Rhodes workhorse sound for jazz, rock, and pop
DX E. Piano – the definitive "bell tone" that defined the Yamaha DX-7 sound in the 1980s
Organ Principal – a convincing 8'-4'-2' pipe organ principal ensemble
Organ Tutti – the full pipe organ sound with principals, mixtures, and reeds
Harpsichord 8' – the definitive baroque keyboard sound (no touch response)
Harpsichord 8'+4' – identical to the other harpsichord voice with an additional octave for added brilliance
Vibraphone – emulates the orchestral tuned percussion played with soft mallets
Strings – a workable classical string ensemble, especially useful when layered with other sounds
These sounds are created using Yamaha's AWM Stereo Sampling engine.
AWM (for Advanced Wave Memory) is Yamaha's term for their proprietary process of creating stereo PCM samples from acoustic instruments.
The YDP-105 also includes damper resonance technology (one of the two documented updates to the YDP-103), which simulates the resonance of the strings of an acoustic piano when the damper pedal is pressed.
The YDP-105 allows you to apply reverberation effects to the sounds.
You can select from Hall 1, Hall 2, Room, and Stage reverb types and adjust the depth of the effect from 0 (no effect) to 10 (maximum depth).
---
Polyphony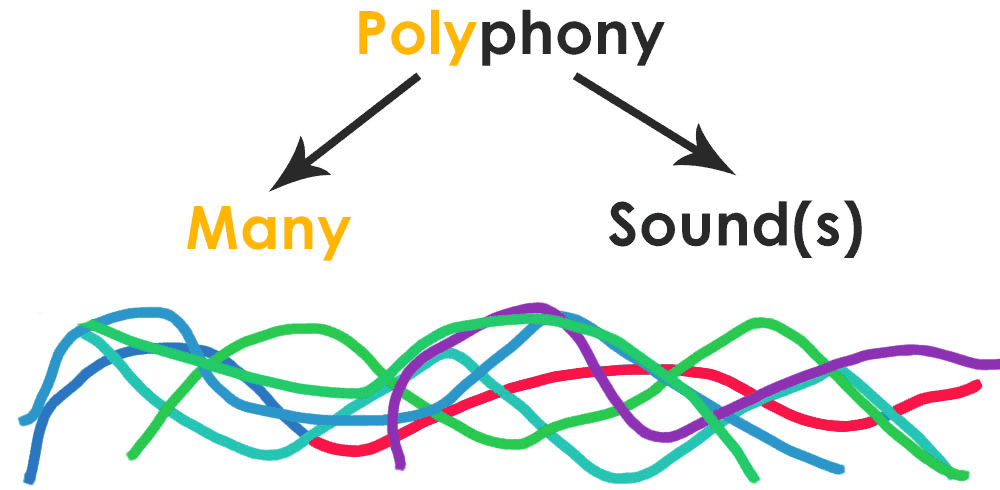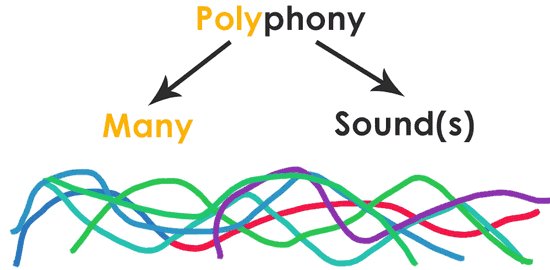 The YDP-105 provides 64 voices of polyphony, identical to the YDP-103.
While this should be suitable for most classical applications, extensive damper pedal use or layering of sounds in Dual mode could potentially bump up against this limit.
This is definitely an area where Yamaha falls short of its competition. Other console pianos close to this price range (the Roland RP107 & F107, the Kawai KDP75, and Casio PX-770, among others) feature from two to four times as many voices of polyphony.
---
Speakers
The two 6W speakers will struggle to fill a large room, but should be fine for most average home living room settings.
This piano is not intended for gigging, so unless you really want to push it, you aren't likely to need an external amplifier.
Onboard Features
---
Playing Modes
Yamaha offers two playing modes in addition to the default single voice mode: Dual mode and Duo mode.
Dual mode is Yamaha's term for "layer" mode. While this mode is engaged, two voices will play simultaneously across the entire keyboard range.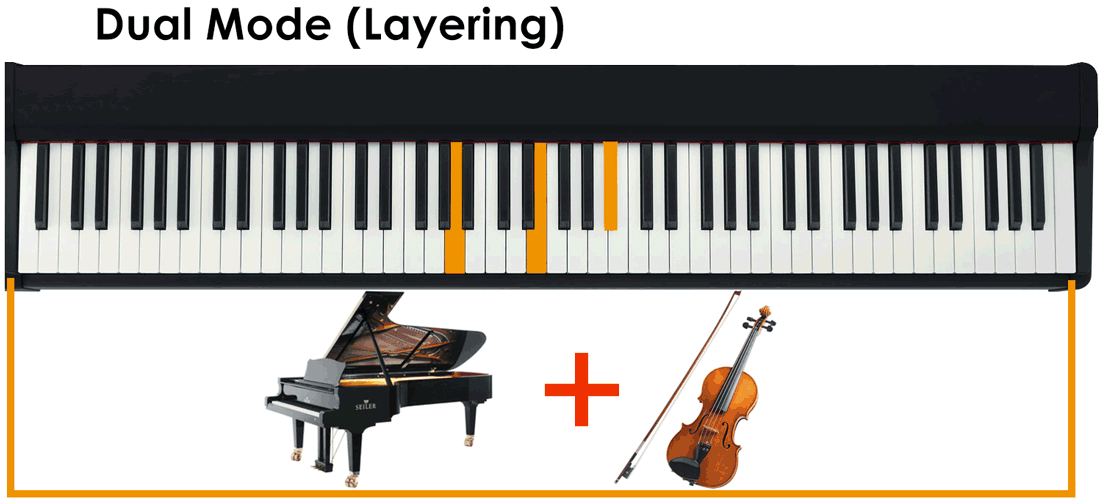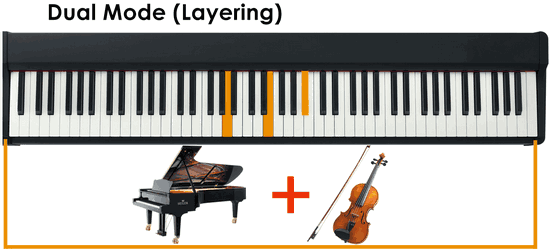 When selected, Duo mode allows two different players to play the instrument in the same octave range, on the left and right side of the keyboard, with the E3 key as the split point. The split point cannot be adjusted.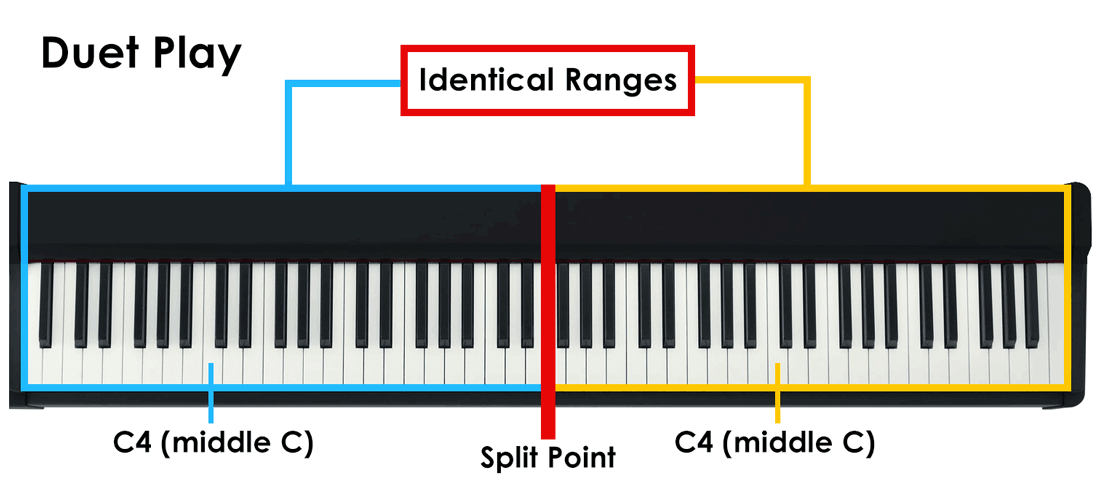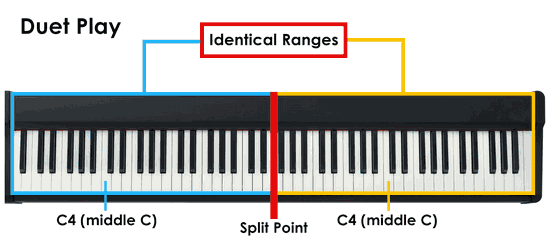 This mode is especially useful for teaching, allowing a teacher to demonstrate lesson material simultaneously with the student emulating the same notes at the same time. It can also permit a limited range of two-part performances on one instrument.
---
Songs and Recording
The YDP-105 comes with 10 voice demo songs and 10 preset piano songs.
The piano does not come with an onboard recorder, but the USB to Host port supports both MIDI and audio transmission.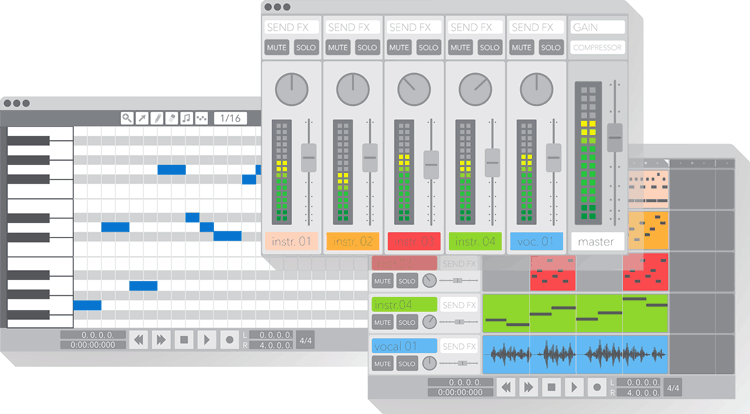 With this functionality, you can connect directly to a DAW (digital audio workstation) without any need for an additional interface and record both MIDI and audio data into your computer.
This USB Audio feature is the other notable upgrade to the YDP-103 provided with this instrument.
---
Additional Features
As is typical for most digital pianos, the YDP-105 provides metronome, transposition and tuning functions.
The volume control also includes a limiter function, which is especially handy to protect your hearing while playing through headphones.
---
Smart Pianist App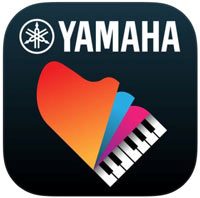 Yamaha's free Smart Pianist app (available for iOS and Android devices) addresses and overcomes many of the design limitations and absent features in the YDP-105.
If you have an Android or iOS smart device, this application seems to be a requirement to getting the most out of the YDP-105.
When connected via the USB to Host port, the Smart Pianist app integrates seamlessly with the YDP-105's operating system. You will need to provide your own USB cable.
After connecting the YDP-105 to your phone or tablet, you can use the touch screen to select voices, set up layers, choose and adjust reverb effects, save preferred configurations as presets, and perform every onboard function that would otherwise require a function key/piano key combination to achieve with the hardware alone.


The Smart Pianist app further allows you to play along with songs from your music library. In addition to playing the song through your piano's speakers, the app analyzes the chord structure of the song and displays the chords on the device screen to make your accompaniment easier.
It can also extract and create a score from pre-recorded music in your library to assist with sight reading. (Yamaha notes that certain songs may not lend themselves as well to the automatic chord analysis and recommends a variety of songs guaranteed to work properly).
For learners, the app also contains hundreds of built-in MIDI songs (with additional songs available for purchase from Yamaha) that display sheet music on the smart device screen as you play along with the recordings.
Finally, in addressing the YDP-105's lack of an onboard recorder, the app supports recording to the app in both MIDI and audio formats.
Connectivity
The YDP-105 offers a limited set of connectivity options appropriate to a console instrument intended for home use.
Apart from the DC in jack and the pedal unit connector socket, the YDP-105 provides two 1/4" standard phone headphone jacks and a USB to Host jack, all located on the underside of the piano.
As noted above, the speakers on the YDP-105 are just sufficient to fill a living room with sound. If for some reason you are playing the piano in a larger space and desire external amplification, you will need to purchase an appropriate adaptor to route the output from a headphone jack to the input(s) of your external amplifier.
To use headphones with the YDP-105, you may find the location of the jacks a bit awkward.
A standard set of cabled earbuds will likely not provide enough length to use these jacks effectively, so you may want to check out a set of monitor headphones using our headphone purchasing guide.
Also, as noted above, the USB to Host connection supports both MIDI data transmission and USB audio (44.1 KHz, 16 bit stereo), so you can record high-quality sound directly to your DAW (or other compatible audio recording program on your home computer) without an audio interface.
Accessories
Yamaha provides the following accessories with the YDP-105:
User Manual
AC Power adaptor
Bench (may not be available in certain regions, per Yamaha)
Online Member Product Registration card
The User Manual is well-formatted, clear, and concise (only 20 pages!) with embedded links and QR codes to access additional resources online.
If you opt not to use the Smart Pianist app, I would highly recommend downloading and printing the quick operation guide to keep handy as you become acquainted with the instrument.
As I mentioned earlier, the most common function key/piano key combinations are not difficult to memorize but anything more advanced will require the quick reference chart to figure out.
Summary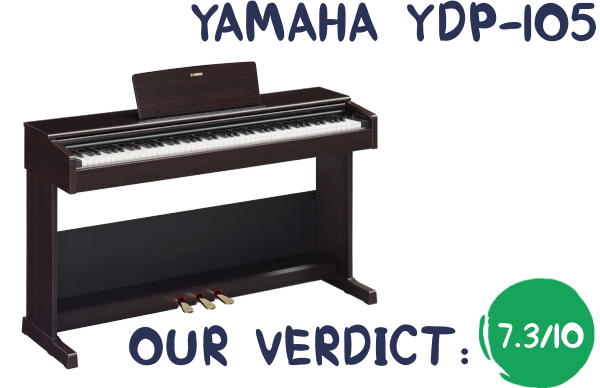 Pros
Attractive minimalist design
Quality construction
Basic but good sounds
Integration with Smart Pianist app
USB Audio support
Cons
Clunky function key/piano key interface
Limited speaker power
Limited feature set
---
Yamaha's online marketing materials pitch their Arius pianos as bringing concert piano sound to the home in an attractive and elegant package. Based on that standard, I think the YDP-105 succeeds.
However, from the innovation standpoint, the YDP-105 is merely a repackaged YDP-103 with Damper Resonance and USB Audio functionality.
If Yamaha included a few more useful sounds for layering (synth pad, choir) and an onboard recorder, I think this piano would be a nearly unbeatable bargain at this price.
Competing console digital pianos offer additional features at close to the same price. In addition to the polyphony advantage provided by the Roland RP107/F107, the Kawai KDP75, and Casio PX-770 as noted above, each of these competing models includes more sounds, competitive effects, and onboard recording.
If you prefer the Yamaha sound and keyboard action, then I would say these competitors' features are not likely substantial enough to opt for them.
But if that's the case, then Yamaha's Arius YDP-S35 could represent a compelling alternative. With a similar MSRP, some retailers may actually have better pricing on the fuller-featured YDP-S35 than the YDP-105, so it would be worth checking out.
The simplicity of the interface reinforces the "home piano" aesthetic and allows the musician to focus on playing piano rather than learning how to navigate a complicated menu structure.
Check the availability and current price of the Yamaha YDP-105 in your region:
About the Author – John Lanius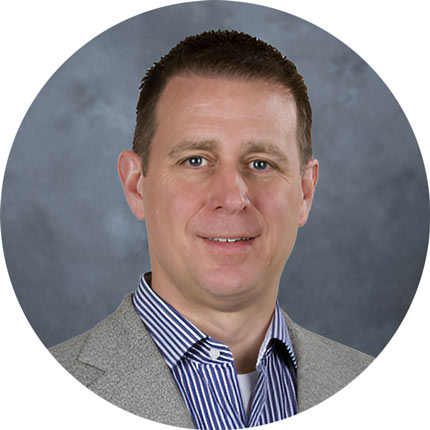 John is a writer and music producer/composer based in the Dallas, Texas area, where he moonlights as a technology attorney during the day.
He studied organ performance at the University of Texas and now balances solo composing and music production from his home studio with playing keyboards in a popular local cover band.
John enjoys reading and writing about the interaction between technology and music.