So, you've just bought your first microphone. You rush home, excited to pair it with your keyboard and start producing the next 'Bohemian Rhapsody'.
But as you tear at the box, discarding the tape in a frenzy of artistic desire, you realize something. You have absolutely no idea what to do next.
How will you manage to get your spectacular vocal recordings off of the mic and onto the computer?
Enter the audio interface.
In the following sections, we'll cover a ton of cool and important things about audio interfaces and explain technical concepts and terms that you may be unfamiliar with.
If you're a seasoned producer/musician who knows their way around audio interfaces, feel free to skip the following sections and jump to the crème de la crème – the best audio interfaces on the market in 2021.
Best Audio Interfaces
There are so many options for interfaces in any price range that it can make you dizzy just looking at them.
But choosing one doesn't have to be an arduous task – if you keep in mind what we've discussed throughout this article and know the features you're looking for; it can be a fun and exciting process.
Below are some of the best audio interfaces for home studios.
For Beginner Studios (Under $200)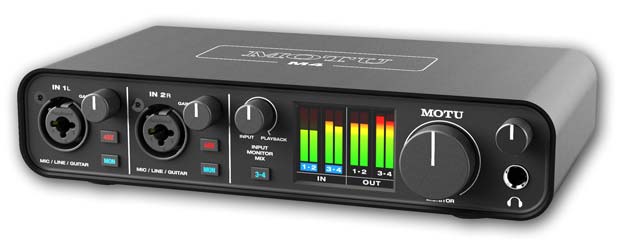 ---
Main Features: 2 combo inputs (Microphone XLR/Line TRS), 2 line outputs (1/4" TRS), headphone out, MIDI In/Out, phantom power, power switch, USB-C functionality, Bus-powered
Comes with: MOTU Performer Lite, Ableton Live 10 Lite, Bundled Loops/Sounds
Review: MOTU are a big player in the professional and intermediate market for audio interfaces, responsible for crafting some of the most well-respected pieces of hardware among studio engineers.
Previously such equipment was expensive and only accessible to serious musicians, however MOTU's entry into the beginner audio interface market has been very well-received.
Lauded for its fantastic preamps, high-quality converters and sleek design, the MOTU comes with drivers for a Loopback program which allows for internal recording — that is for example, feeding sound from a YouTube video into your DAW.
Let's not forget about the M2's fully coloured LCD screen. While it is no more functional than any other interface's volume indicators, it looks really cool.
The only real downside of the M2 is that it isn't suited for heavy-duty recording applications – you wouldn't set out to record a 5-mic drum kit with it, due to its lack of ins and outs. This applies to every other beginner and even many intermediate interfaces, so isn't really that relevant.
Moreover, the MOTU M4 exists, so if you feel that two inputs isn't enough, the M4 with its four inputs will have you covered.
The war for cheap audio goods is intensifying, and this is only positive for us — because more brilliant yet affordable products continue to get ushered out every year.
But for now, the MOTU M2 reigns as king. Who will dare attempt to claim its throne?
---
---
Main Features: 1 mic input (XLR), 1 instrument input (1/4″ TRS), 2 line outputs (1/4″ TRS), headphone out, USB-C connectivity, Bus-powered
Comes with: Ableton Live Lite, Pro Tools First Creative Pack, Red Plug-in Suite and Focusrite Plug-in Collective access
Review: Focusrite are one of the biggest names in beginner audio interface's today, with Solo being the quintessential basic interface.
Containing a microphone and instrument input, the Focusrite Solo provides you with all the basics required to plug in your piano, guitar and microphone and start recording.
Since it only has one instrument input, it's either piano or guitar – but not both simultaneously. These line inputs contain an instrument/line or 'hi-z' switch, making it perfect for recording both guitars and keyboards.
If you feel that you may need more than just one instrument input (e.g. want to record your digital piano in stereo), for about $50 more, you can get the Focusrite Scarlett 2i2 with 2 combo XLR/TRS inputs. This is another highly popular option for beginner studios.
A benefit of purchasing Focusrite products is the software that comes with it – including entry-level DAW suites and a number of free plug-ins that can help expand your VST library.
While the audio quality of Scarlett's preamps is more than serviceable, they are known for having a lower gain signal than other entry-level interfaces.
In spite of this, the Focusrite Scarlett Solo is a solid first audio interface providing beginners with high-quality hardware at an affordable price.
---
---
Main Features: 2 Combo (Microphone XLR/Line TRS) inputs, 2 Line outputs (1/4″ TRS), headphone out, Bus-powered, MIDAS preamps
Comes with: Tracktion DAW and 150 VST plug-ins
Review: Another of the audio interfaces around the 100-dollar mark, the U-Phoria UMC202HD is a solid little unit for all your recording needs. It contains more versatile inputs than the Focusrite Scarlett and has high-quality MIDAS preamps, which is quite an endearing feature at its price point.
Tracktion isn't the most popular DAW yet is perfectly useable for any number of compositional situations. The inclusion of over 150 downloadable plug-ins is a nice benefit of purchasing this interface too.
While some argue that the U-Phoria has superior functionality and preamps than the Focusrite Solo, certain users have reported driver issues on Windows devices.
That being said, many have also had absolutely no issues with the Behringer firmware and customer service, so your mileage may vary.
---
---
Features: 2 Combo (Microphone XLR/Line TRS) inputs, 2 Line outputs (1/4″ TRS), headphone out, MIDI In/Out, Bus-powered, External power compatibility
Comes with: Steinberg Cubase DAW
Review: The Steinberg UR22 MKII is slightly more expensive than the others in its price range, however boasts a number of great features that justify its increased cost.
It comes with 2 inputs and outputs like the Behringer U-Phoria. Like its contemporaries, the UR22 MKII has a dedicated 'Hi-z' switch for its second line input, meaning that the preamps are not 'driven' – perfect for guitars or instruments with magnetic or piezo pickups.
The preamps on this interface are Steinberg's D-PRE – good, clean preamps for the price point. The Steinberg's drivers are generally well-received, and their customer support is rock-solid.
---
Summary
All four of these beginner's interfaces will provide your home studio with a fantastic boost in terms of quality, usability and overall convenience. Though opinions on which hardware is superior vary from person to person, their functionality, price-point, and preamp quality is all very similar.
Due to its recency, slick design and wonderful preamps, I personally prefer the MOTU hardware to the other's mentioned, however my opinion is biased by what my ears can hear. You might find yourself loving the Scarlett interfaces, or the U-Phoria's firmware – it all comes down to user preference.
For a cheap interface to get you started on your long and fruitful musical journey, be it for recording, jamming or anything your heart may desire, any one of these devices will set you on the right track.
It is worth noting all of these interfaces provide up to 24-bit/192kHz sample rates.
---
For Intermediate Studios
---
Main Features: 2 Combo (Microphone XLR/Line TRS) inputs, 2 Line TRS inputs, 4 Line outputs (1/4″ TRS), headphone out, MIDI In/Out, Bus-powered
Comes with: Ableton Live Lite, Pro Tools First Creative Pack, Red Plug-in Suite, one free XLN Addictive Keys instrument, and Focusrite Plug-in Collective access
Review: The Focusrite Scarlett 4i4 is wildly popular among bedroom producers and amateur studios. It carries two 3rd-generation Scarlett preamps, 4 analog outputs and 2 line inputs, allowing for greater flexibility with analog hardware than any of the lower-tier interfaces.
Scarlett interfaces contain an 'Air' recording mode, which colors the preamps to give you a brighter, clearer sound.
Though many may not care about this element, there's no denying this interface simply looks good – it has a clean design, is relatively small and has a sleek red coat encompassing its body.
The interface also has halo indicators – circles around the gain knobs which indicate the current input signal level.
Some users have complained that the 4i4's line inputs are "too hot" for guitars, meaning guitars directly plugged in produce a signal that is constantly on the verge of clipping and distorting. This issue seems to have been largely resolved in the 3rd generation of this model.
If your budget allows it, you may be interested in the Focusrite Clarett 2Pre. It has better-quality AD convertors, MIDI In/Out functionality, really good microphone preamps, and 8 additional digital inputs through ADAT.
Also, you can connect it to your computer through USB-A or USB-C (cables included). With this interface you can achieve near-studio quality recording.
---
---
Main Features: 2 Combo (Microphone XLR/Line TRS) inputs, 2 analog outputs (1/4″ TRS), 1 direct Line input (D.I), headphone out, USB connectivity, Power expansion compatibility, ADAT/S/SDPIF compatibility for additional 8 inputs
Review: I'm going to preface the summary of Audient's iD14 by coming clean. I'm totally biased. I adore this unit. Having trialed all of the previously mentioned interfaces, this has been my favorite. But don't let my opinion sway you too much – let me tell you why first.
Audient are one of the few intermediate manufacturers to boast Burr-Brown AD/DA converters – while earlier in this piece I downplayed the significance of converter quality for lower-tier interfaces, it is still nice to know you're working with a good product.
Audient's preamps are truly fantastic for its price range, providing 66+ dB of clean gain.
It works at a slightly lower sample rate than other interfaces, offering 24-bits and 96kHz, but there is minimal noticeable difference between recordings in 128kHz and 96kHz – most home studio DAW projects are only 48kHz.
---
---
Main Features: 2 Combo (Microphone XLR/Line TRS) inputs, 2 Line outputs (1/4″ TRS), headphone out, USB/iOS (PC, Mac, iPhone/iPad) connectivity, Power expansion compatibility, MIDI to USB compatibility
Review: A hefty price tag compared to others in the intermediate range, the Apogee Duet is a powerful audio interface that sees both amateur and professional use.
Though originally designed for exclusively Apple products, Apogee have expanded their firmware to support Windows DAWs, though the cross-platform drivers can be a little bit buggy. Much like the Audient, it is a compact device that helps keep your workspace nice and tidy.
The converters and preamps on this unit are extremely high quality, beating out nearly every one of its cheaper and more expensive competitors in each category.
Perhaps the biggest drawback of this unit is its design – the inputs are not embedded in the interface, but instead connectable via an external cable.
This can lead to tangled cables and extra stress on the external jacks, potentially resulting in faulty signals coming to and from the unit.
Relative to the pros of this interface, I would say that this negative is largely irrelevant – it's easy enough to work around a few extra cables in exchange for superior audio quality in nearly every respect.
---
Summary
These are three great interfaces that offer a little more oomph than those designed for beginner home studios.
Not only is there an improvement in AD/DA connecters, the preamp quality, number of inputs and outputs and overall functionality is worth the relatively small jump in price.
As mentioned earlier, I would go for the Audient iD14 as the best value product here, but all three are fantastic interfaces that will serve most purposes.
---
For the Serious Home Studios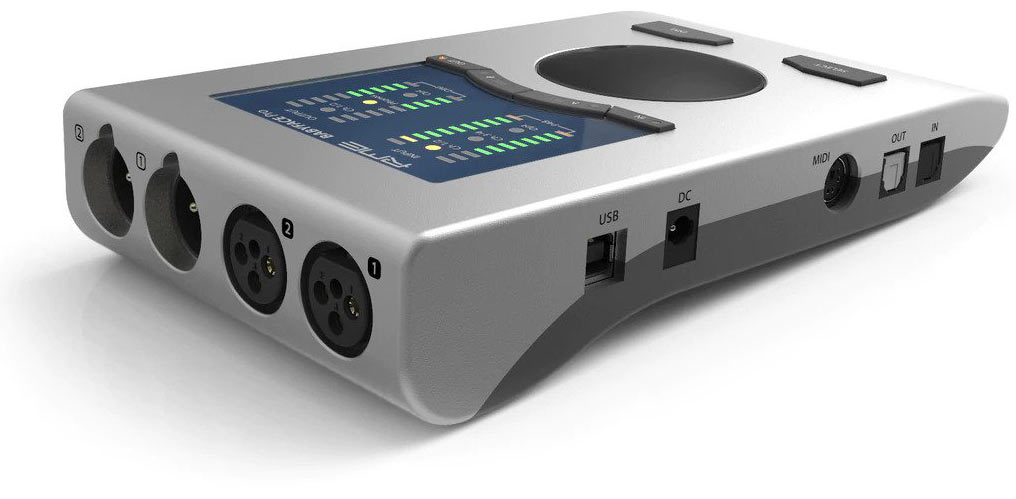 ---
Features: 2 Microphone inputs (XLR), 2 line inputs (1/4″ TRS), 4 Line outputs (2 x XLR, 2 x Phones), MIDI port, USB connectivity, Power expansion compatibility, ADAT/S/SPDIF compatibility
Comes with: TotalMix FX software
Review: The RME Babyface Pro isn't much more expensive than the Apogee Duet, but offers a step up in terms of driver support.
Designed to be bus-powered, RME has an overwhelmingly positive reputation for developing some of the lowest latency products on the market, and the Babyface Pro is no exception.
Having shoddy drivers is a nightmare for any new audio interface owner, so you can rest easy if you decide to purchase this unit. Much like the previous 3 products, the RME has a compact design unbecoming of its powerful circuitry.
Interestingly, the included TotalMix FX software allows all sorts of abstract uses, including being able to record various computer-based media sources, which is another benefit of the Babyface.
The preamp and converter quality equate to the price – top-notch. A device like this is recommended for studio, live, amateur or literally any use imaginable. It's just that good.
---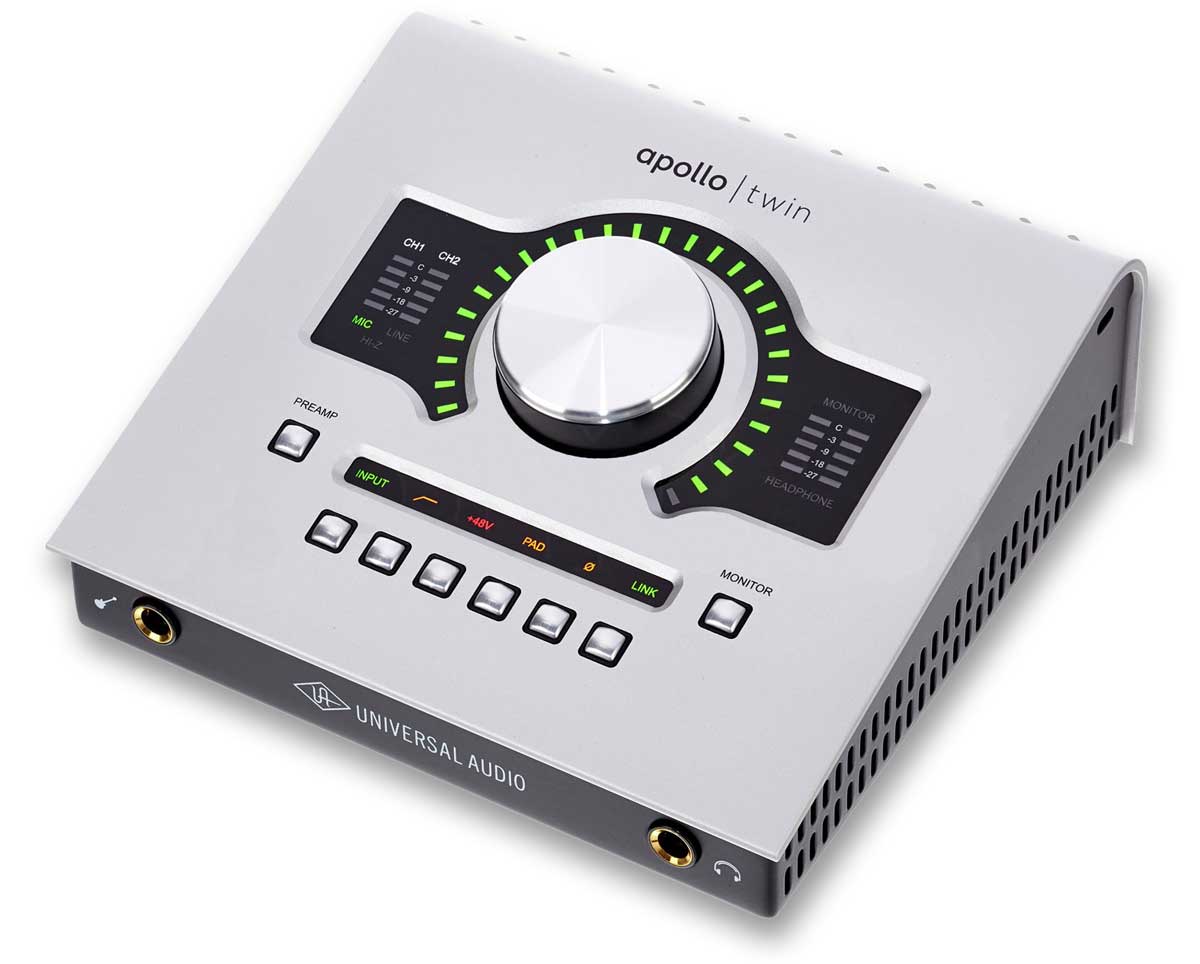 ---
Features: 2 Combo (Microphone XLR/Line TRS), 4 Line outputs (1/4″ TRS), headphone out, USB connectivity, Power expansion compatibility, ADAT/S/SPDIF compatibility
Comes with: Analog Classics UAD VST Bundle
Review: Another powerhouse of the audio interface market, Universal Audio's Apollo Twin is a beautifully designed, high-quality unit suitable for anyone with a larger budget.
While many of the other interfaces come with great software, the VSTs you get alongside the Apollo Twin are unbeatable in terms of versatility.
VSTs like the EQP-1A and the LA-2A Audio Leveler are powerful pieces of software that will substantially improve your plug-in library no matter what type of music you create.
The preamps, converters, physical interface and functionality of this unit are all tremendous. The monitoring signals on the hardware's face are beautiful and easy to read, allowing for real-time tracking of input and output signals.
This unit also allows for live processing of the included plug-ins with analog instruments and vocals, making it a perfect interface for recording and performance.
---
Summary
Once you get to this price range it's extremely hard to find many cons of hardware, and interface's like the Apollo Twin and the RME Babyface are perfect examples of 'what you pay for is what you get'.
There's not much separating the two – they offer similar functionality, similar quality and are both beautiful physically. Your best bet would be to look up YouTube shootouts and lurk the gearslutz forums for advice.
If I had to choose, I'd go with the RME, but in reality I'd probably just end up getting both.
---
The Mansion-interface
---
Features: 8 Combo (Microphone XLR/Line TRS), 2 instrument inputs, 8 Line outputs (1/4″ TRS), 2 headphone outputs, MIDI In/Out, Wordclock compatibility, ADAT/S/SPDIF compatibility, Ethernet compatibility, USB connectivity, Power expansion compatibility
Review: I'm not going to lie to you here. I've never used this product, and probably never will. Chances are not a single person reading this article has the kind of money, time or necessity of buying an interface like this.
However, this is close to the crème de la crème of the audio interface world – and I should think so, given its price tag – so it's interesting to observe what separates it even from the more expensive interfaces listed above.
No doubt there's a big jump in preamp and AD/DA converter quality, as well as the functionality to perform literally any task that a paid sound engineer might require.
Having 8 on-board microphone/line inputs is perfect for live band tracking, and this interface is a staple in professional recording studios.
There's just so much potential for a unit like this that it's almost impossible to fathom.
Obviously the need for an interface like this in an amateur home studio would be somewhat superfluous when the money could be better spent on elements like acoustic treatment, outboard gear, or plug-ins, but it would just be nice to have.
Ah well. We can always dream.
What is an Audio Interface?
Every computer comes with a sound card – that is how music, YouTube videos and Netflix audio is transmitted from the digital realm onto your headphones or speakers.
An audio interface is, in its most basic form, an external replacement for that sound card. Based on this information it may seem like a redundant piece of hardware.
Not only will the audio interface boast superior sound quality – for both recording and playback – they often come with a number of inputs suitable for microphones, guitars and MIDI.
To fully comprehend the role of audio interfaces, we must first understand the way microphones, sound cards and computers interact with audio signals.
All sounds are fundamentally vibrations in the air. A microphone, guitar, or other instrument will interpret these vibrations as audio and send this signal through its electrical wiring to a desired destination.
The signal traveling from the instrument is an analog signal, which in its current representation, cannot be interpreted by most computers.
For analog instruments to be processed by computers, this analog signal must be converted into a digital signal. This is where audio interfaces come into the picture.
Some analog instruments have in-line audio interfaces which allows for plug-and-play functionality (such as USB microphones), however most require an external audio interface to be effective.
Such external audio interfaces contain 'AD/DA' converters, which transmits the instrument's original analog signal to the computer's digital signal, followed by converting the computer's digital signal back to an analog one for speaker and headphone outputs.
Following so far? If not, the image above demonstrates the process in a very condensed manner.
What Are Audio Interfaces For?
Great, so we now know the significance of audio interfaces in allowing DAWs to process analog sounds and provide higher overall audio quality than on-board sound cards. But what other functionality do audio interfaces provide?
The aforementioned conversion process has a potential for greater application than just the use of instruments with a DAW (Digital Audio Workstation).
Though analog hardware is slowly being usurped by cheaper, digitally modeled VSTs, many professional and amateur studios still use a variety of analog compressors, reverbs, preamps, delays, etc.
Much like analog instruments, such hardware requires converters to be effectively recorded on a computer, and many sound engineers live by the concept of analog hardware providing a level of warmth and authenticity that digital-only processing fails to replicate.
Depending on budget, requirements and product, audio interfaces also deliver an array of compatibility with electrical signals and cords that a standard computer sound card can't process.
Here's a list of potential jacks that audio interfaces can have in the form of outputs and inputs (both analog and digital).
Significance of Audio Interface Ports
While the list of potential cords that are compatible with certain audio interfaces looks impressive, this information is relatively useless without any context as to their purposes.
Below I will discuss the 3 most significant ports available on an audio interface.
Many audio interfaces offer a MIDI input for keyboard controllers or digital pianos to plug into. While MIDI to USB is a very popular and cheap solution for aspiring home musicians, such a connection has a couple of limitations compared to using an interface's midi port.
The biggest benefit of this setup is the ability to record a MIDI track, send it out to an analog synth or piano, and then back to your DAW as an audio track, thus using a specific setting of your digital piano you can't use a VST for.
In conjunction with this, you can alter the sounds of your MIDI recordings with analog hardware that could otherwise not be achieved without an audio interface.
Perhaps the greatest calling card of the audio interface is the addition of preamps to the aforementioned AD/DA converters.
Preamps are an essential piece of hardware and the quality of an interface's preamps often correlates to a steep incline in price.
Shoddy, quiet or over-textured preamps can result in an untrue representation of an artist's instrumentation – due to changes in sonic character, high levels of untamed noise or even harsh clicks and pops.
More than anything, it is the utility of the audio interface that propels it to being a must-buy piece of hardware for any home studio.
The ability to convert analog to digital signals, improve outboard sound quality and the inclusion of preamps all in one box provides budding and professional sound engineers/musicians with an unbeatable level of convenient functionality.
Okay you've convinced me – but…
At What Point In My Journey Should I Purchase an Audio Interface?
The reality is that there's no one hard-and-fast rule about when to pick up an audio interface.
Some hobbyists get away with simple USB setups – USB to MIDI keyboards and USB microphones for example – and that is enough to serve their purposes.
In some instances, those with no intentions of ever recording can find a use for an audio interface as a method of improving the sound quality of their speakers when casually listening to music.
It nearly always depends on the requirements of the consumer. With that in mind, I will suggest a few times where audio interfaces are highly recommended.
---
After purchasing a microphone
Most microphones are powered by XLR cables, responsible for transmitting the air vibrations picked up by the microphone's circuitry from point A to point B.
Traditionally you would use an XLR male to female connector for any given microphone. Recently the necessity for this has hypothetically dissipated, due to the advent of XLR to USB cables.
But frankly, in my experience, XLR to USB cables suck. Essentially these cables have their own miniature audio interface embedded into the cord, allowing for the conversion of digital to analog signals.
Though exceptions can be made for really expensive XLR to USB cables, they often lack power, muddy the signal and introduce latency issues.
As discussed earlier, many microphones require phantom power to produce a signal, something that most audio interfaces have and most XLR to USB cables do not.
To get the best results from your new, shiny microphone, it might be time to fork out for an audio interface.
---
When you're recording more than just ideas
That thirty second little guitar melody you jotted down on Audacity with your gaming headset's mic, paired with a loosely timed piano piece on might be all you want out of your music studio, in which case an audio interface probably isn't necessary.
However, in nearly every other situation you would benefit from the addition of an interface to your equipment.
The interface's sound cards handle audio projects much better than your computer's does, and this allows for greater artistic control throughout the entire creative process.
If you want to include guitars, microphones, digital pianos, VSTs and nearly every other imaginable element of a song – do yourself a favor and get an audio interface.
---
When jamming with a band or by yourself
You don't believe me, do you? I know what you're thinking: "How could an audio interface be essential for a band that's jamming in a garage?"
To a degree you'd be right – an interface is absolutely non-essential for this practice. You can just yank a few amps up to 10, plug the microphone into whatever will take it, bash on the drums and you're all set.
However, an audio interface offers more to artists than just the ability to record their jams. Adding this piece of hardware to your band's arsenal gives great flexibility and potential for experimentation during live performances.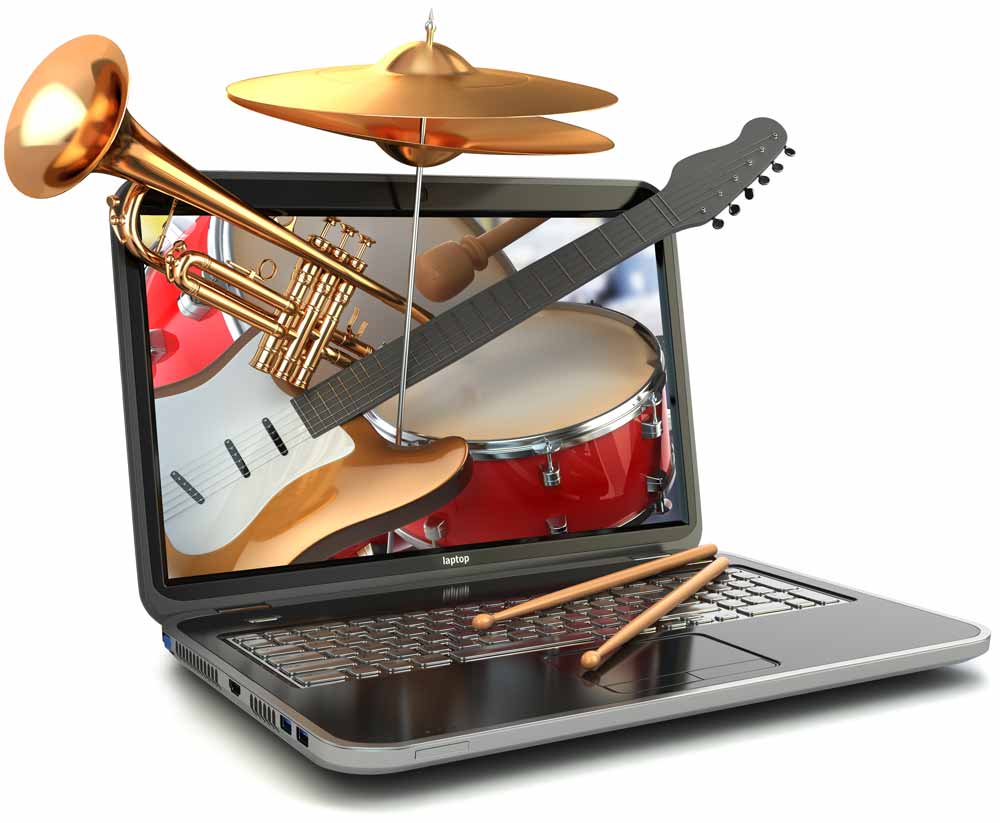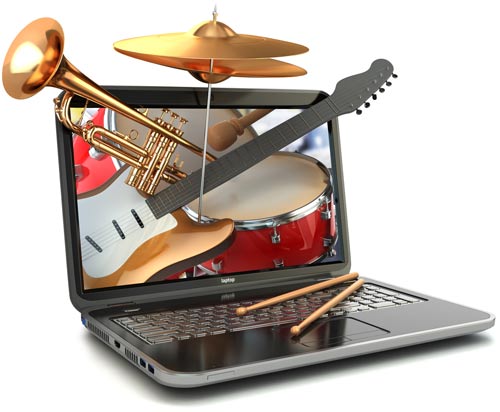 The near endless spectrum of available VSTs, the ability to program supporting instrumentation, the possibilities of combining analog and digital effects adds up to a whole new world of sound bands can introduce to their sets.
The process of deciding when to purchase an audio interface can be a daunting task. There are so many options and so many things to consider – but there really aren't that many ways to go wrong.
Anyone who is remotely serious about music – be it recording, listening or just jamming; beginner or pro; tight-budgeted or ready to buy a mansion – should strongly consider the wealth of pros that come alongside acquiring an audio interface.
Features Worth Considering When Looking at Audio Interfaces
This is where it gets juicy. Audio interfaces range from simple boxes that convert signals to monstrous entities that consume an entire desk, and the elements worth considering go well beyond physical features.
I will take you through practical, applicable and digital features that exist in interfaces to help you finalize a decision on the interface that is right for your new, world-dominating home studio.
Space available
This does seem rather obvious, but trust me, it should be your first consideration.
It's easy to get excited about a great deal on Craigslist for a behemoth of an interface only to look down at your desk, see all the half-full cups of coffee and skittles packets strewn everywhere and realize you have no conceivable way of getting this interface into a convenient location.
It's not a particularly pleasant experience.
---
Budget
Another obvious factor that will be touched upon more later, it is always a worthy internal debate of: "should I fork out that extra hundred dollars to get an interface that so-and-so from PianoDreamers.com suggested?"
Though it's an obvious consideration, there's no obvious answer. It depends on what you need out of your interface. For heavy duty recording purposes, it's probably worth that extra hundred. For lo-fi bedroom pop practice? Probably not.
---
I/O
The number of inputs and outputs (channels) an audio interface has is a significant determiner of how expensive the hardware is. Price is the trade-off here for functionality.
The more inputs you have, the more instruments you can simultaneously record. So for example, if you want to record drums most engineers recommend using at least 3-4 microphones, which would require an interface with 4 or more inputs.
If you plan to track songs as a full band, having an extensive number of inputs is extremely important – especially if you don't own an analog mixer.
To record a keyboard, or any instrument for that matter, in stereo, this would require two line-ins, one for the left spectrum of audio and one for the right.
It is worthwhile to consider your recording requirements when choosing your number of inputs – how many instruments do you plan to track simultaneously and do you want the audio in stereo or mono?
In conjunction with this, the more outputs you have, the more variability with recording you have.
An interface boasting 10 outputs could be used to hook up multiple pairs of studio monitors, analog hardware like compressors, and headphones that receive effects separate from what exists in the main mix.
While such flexibility is nice, it is certainly not a requirement for creating an effective home studio.
Choosing the number of inputs and outputs on your audio interface can be a little confusing, and many home studio users record by themselves, meaning they there's no necessity to reach deep into their pockets for extra I/O.
That being said those recording in a band, using analog hardware or want superior adaptability should aim for more ins and outs.
---
Compatibility
Think carefully about what equipment you want to use with the audio interface that you currently own, and more importantly, plan to own.
For example, a number of audio interfaces don't contain MIDI inputs, meaning you would need a dedicated MIDI to USB cable or controller for your digital piano.
As I touched on previously, though you would lose a little functionality this wouldn't be a big deal – but it is beneficial from an organizational sense to have all of your cords coming in and out of the one place.
Certain pieces of hardware require specific connections to be compatible with your audio interface.
This might include a separate preamp or interface which only accepts ADAT connectors, meaning you would want your interface to contain such functionality. Though cable converters exist and are generally easy to find, this isn't always convenient.
It is worth considering what expansions you plan on making to your studio in the future to avoid having to upgrade your interface soon after purchasing it.
---
Converter quality
Ugh. This is a topic that is somehow both sparsely informed yet hotly debated. Earlier in this post, we looked at how interfaces convert analog to digital sound and then back again.
The quality of this conversion does affect your overall recordings and what you hear, however a consensus of how much is almost impossible to establish.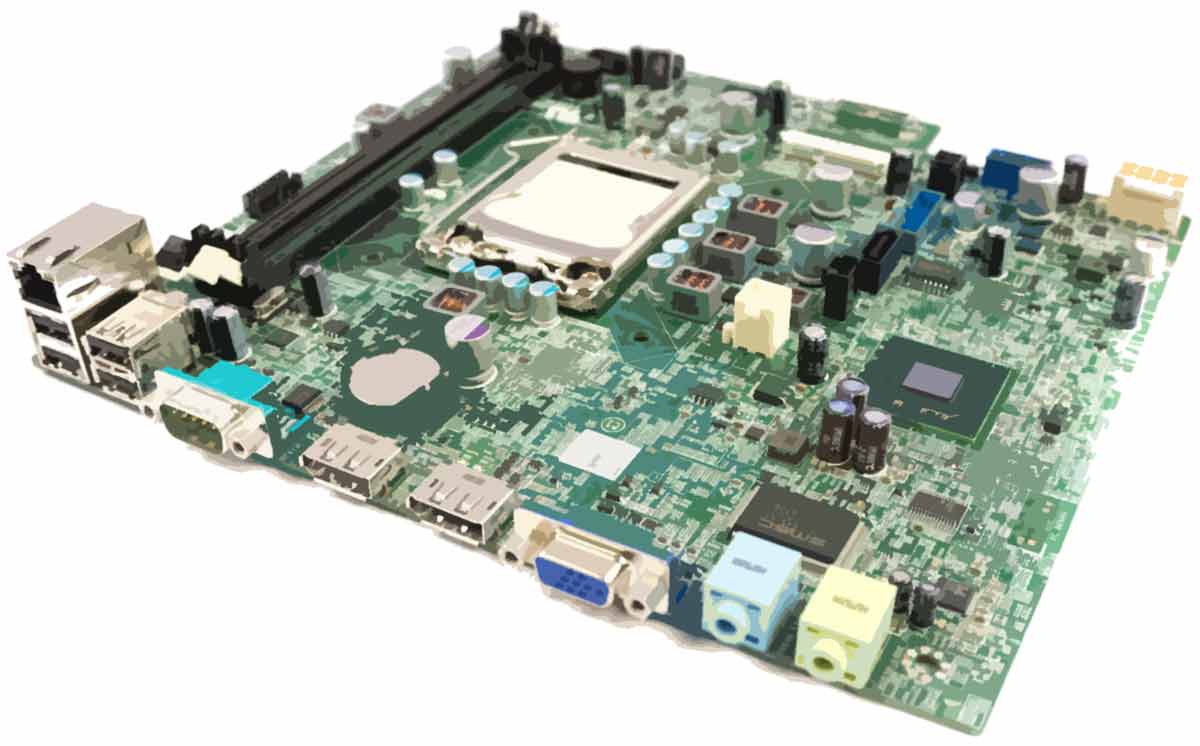 Double-blind tests are hard to find on this subject, and really, unless you're building a professional studio or dishing out your retirement fund for an interface the difference in quality won't be hugely noticeable.
The quality of AD/DA converters is generally consistently high, even in cheap builds, so this is a matter I personally wouldn't worry about too much when choosing your first audio interface.
---
Preamp quality
Preamp quality is the other big determining factor in price and superiority of the audio interface journey you are embarking on.
Though most cheap options will contain suitable preamps, there is a noticeable difference as you ascend in value.
Earlier we touched on why preamps are a super important element of the interface – as lower quality preamps will negatively affect any sounds you record.
The best way to decide which preamps you believe will be the best to set you on your way to recording your coup de maître is to ignore what people like me say and listen for yourself.
Watching videos like this will provide you with a better understanding of the preamps you're selecting from – just be careful where you listen as some companies pay reviewers to make their product sound superior to others.
---
Sample rate and bit depth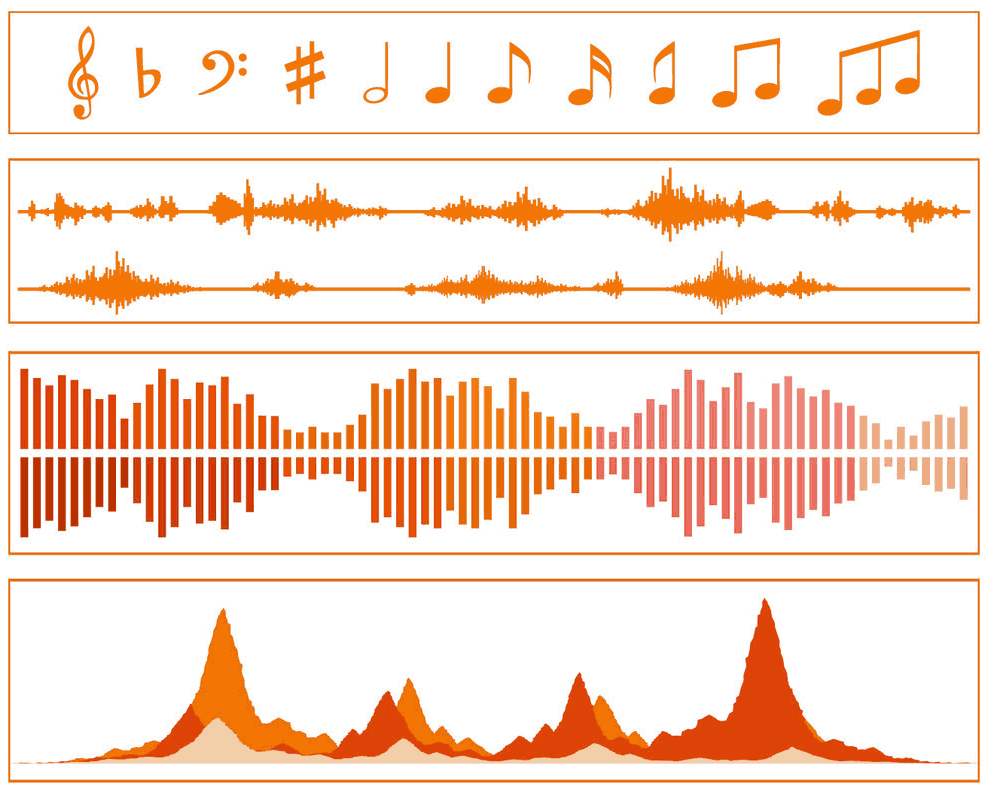 Sample rates and bit depth are the technical terms for how a computer interacts with an audio signal.
Essentially, sample rates refer to how many times a sound is sampled before being processed by the computer, and bit depth refers to how many 'bits' of information each sample has.
The majority of modern audio interfaces will provide you with 24-bit depth and 192kHz sample rate, so this shouldn't be a huge consideration unless you plan on buying an older interface.
---
Drivers and latency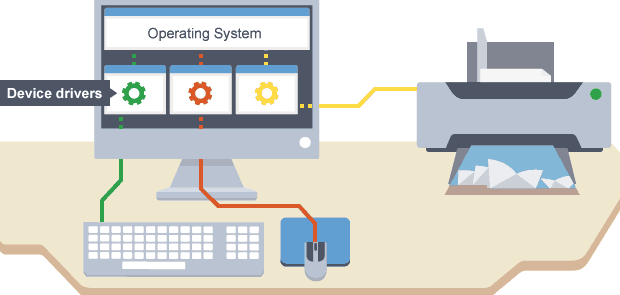 Have you ever played competitive online games with lag before? It's horrible right? Well, recording music with shoddy drivers and high latency is equally as frustrating.
To work on your PC or Mac, an audio interface installs a driver which allows it to interact with the computer and vice versa.
Most audio interface companies have well-updated drivers and are aware of issues, however it is good practice to research customer reviews for various interface producers and ensure they have reliable customer support and minimal compatibility issues.
---
What comes with the interface?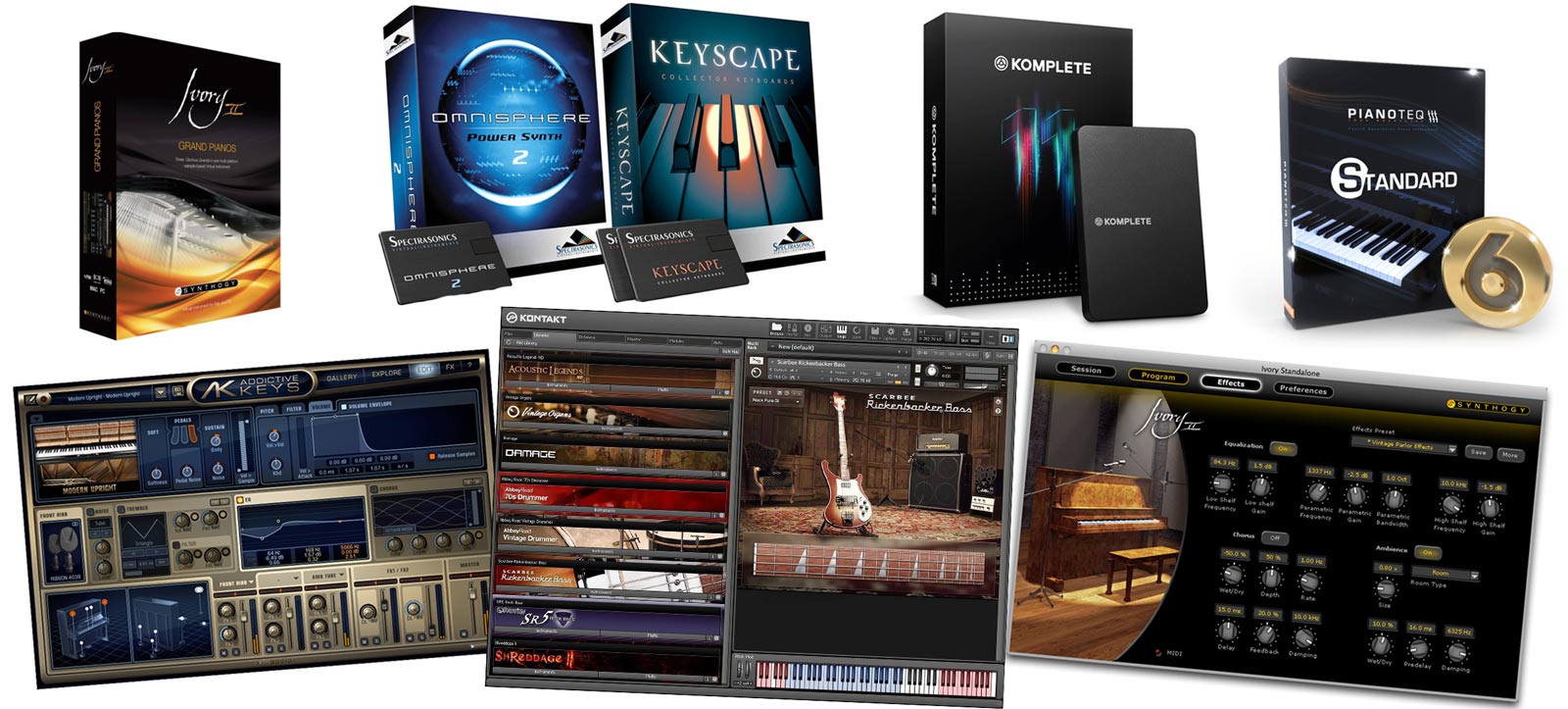 Many of you reading this may already be equipped with a DAW – but for those that aren't, it is a worthwhile consideration to see what the interface comes paired with.
Many audio interfaces come alongside lite versions of DAWs like Reaper, Ableton and Pro Tools, as well as VST packs that would otherwise set you back an extra few hundred dollars.
I will get into which popular interfaces come in such package deals later on.
---
Other bits and pieces
– Consider how the audio interface connects to the computer. Most employ USB connections, however some also use Thunderbolt and Firewire instead.
– While many interfaces are powered solely through their USB ports, consider if it also requires an external power adapter. Certain interfaces can struggle to fully provide phantom power to their preamps due to the limitations of USB power voltage. This depends on whether the USB type is 2.0, 3.0, or C. You can read more on this matter here .
Okay, I know what I'm looking for in an interface. What are my options?
Final Thoughts
Hopefully by now we've managed to navigate through the complicated world of audio interfaces to the point that you could confidently teach your grandmother's grandmother about the finer details of this essential piece of hardware.
Selecting any piece of audio equipment can be a stressful task due to the sheer potential of options available, but armed with the knowledge in this article, I can assure you the umming and ahhing you do will be worth it when you open that shiny box and start recording the music of your dreams.
---

Loading ...
---
You might also like:
Build a Home Recording Studio With Me: Step-by-Step Guide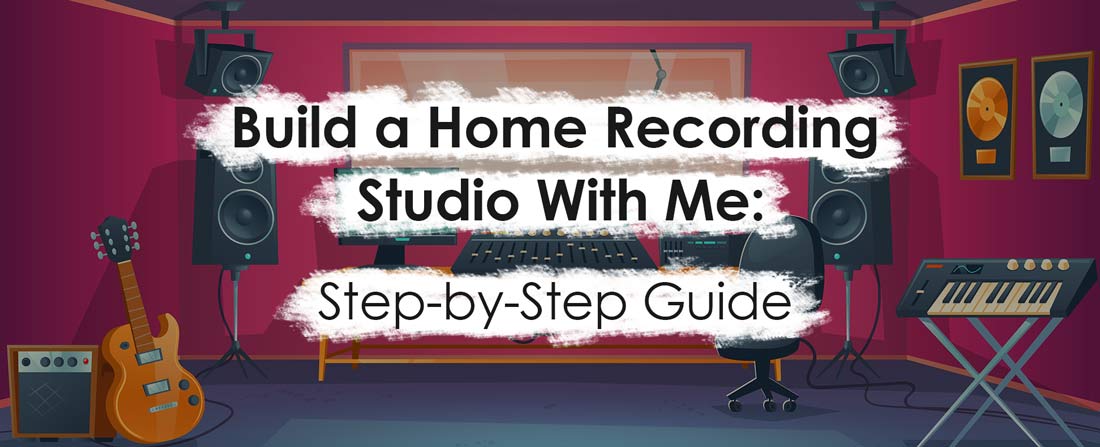 Best Studio Monitors: The Ultimate Buying Guide
How to Choose the Right Microphone for Your Studio
Best MIDI Keyboards: An In-depth Look At the Market