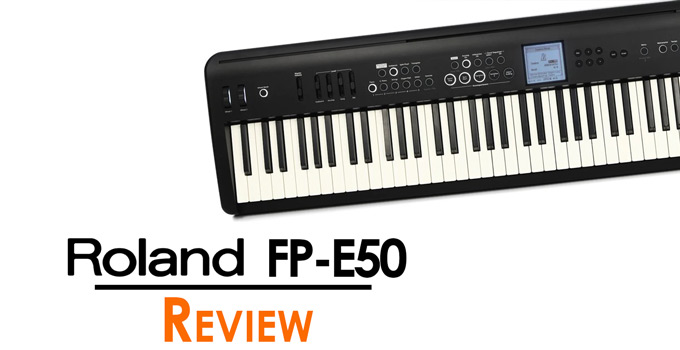 Today we are looking at Roland's latest addition to Roland's FP family of portable digital pianos, the FP-E50. While the 2021 FP-X lineup implemented incremental upgrades to existing models, the FP-E50 stands as an entirely new model.
It retains the features you would expect from an FP piano while adding arranger functionality and Roland's highly expandable ZEN-Core sound engine to the mix, all at a price roughly halfway between the FP-30X and FP-60X.
Related to arranger functionality, we have reviewed the Yamaha DGX-670, Korg XE-20, and the Casio PX-S3100 all within the past year.
Each of these are 88-key digital pianos with arranger functionality, and all are available at a slightly lower price than the FP-E50.
So how does the FP-E50 fit in both with its heritage and its competition?
Let's dig in:
Roland FP-E50 Specs
PHA-4 Standard Keyboard: with Escapement and Ivory Feel
88 full-size fully weighted keys
Sound Engines: SuperNATURAL Piano and ZEN-Core
256-note Polyphony
1018 instrument sounds
Effects: Ambience, 3-band EQ, Rotary Speaker, Mic effects
Speakers: 11W x 2 (two 12 cm speakers)
Automatic Accompaniment: 177 preset styles
Chord Sequencer: 144 presets; 256 user chord pattern slots
Connections: USB to Host (MIDI & Audio), USB to Device, Headphone jacks (2), Pedal jacks (2), Audio In (stereo mini jack), Line Out (L/Mono, R), Mic In (1/4″)
Display: Monochrome LCD, 160 x 160 pixels
Bluetooth Ver. 4.2 (Audio and MIDI)
W x D x H: 51.2" x 12.7" x 6.9" (130 x 32.2 x 17.4 cm)
37.75 lbs (17.1 kg )
Release Date: February 2023
Full specs can be found on Roland's site here
Check the availability and current price of the Roland FP-E50 in your region:
Design
Since the FP-E50 is an entirely new model, Roland could easily have gone with a new or experimental design. But I'm glad to see that they have kept essentially the same look and feel as the FP-60X and FP-90X (which adopted the award-winning design of the FP-90).
The family resemblance shows itself in the top panel's clean layout, matte finish, and style of buttons and faders. The FP-E50 is only available in black.
The FP-E50's backlit round buttons are identical to those of the FP-60X and FP-90X.
These buttons have the same satisfying tactile response on every key press due to their use of elastic coil springs. As this piano is priced more on the entry-level end of the product line, I really appreciate that Roland has kept this premium feature.
To the far left you will notice that the FP-E50 has two control wheels, marking a first for the FP brand. As you might expect, these control pitch bend and modulation by default, and you can switch them to "assignable" mode by pressing the Wheel Mode button.
Long Press Buttons: This is a good place to note that Roland uses context menu shortcuts with sixteen of the FP-E50's buttons. One of my biggest frustrations with keyboard interfaces is menu-diving, and I really appreciate the ability to take a shortcut to the relevant page in the system settings via this feature.
Moving to the right of the wheels we find the master volume fader. I personally prefer knobs for the master volume, but the fader here is good quality with decent resistance.
To the right, you will find four more identical faders as a sub-mixer to adjust the relative levels of Keyboard, Accompaniment, Song, and Microphone volume in your output mix.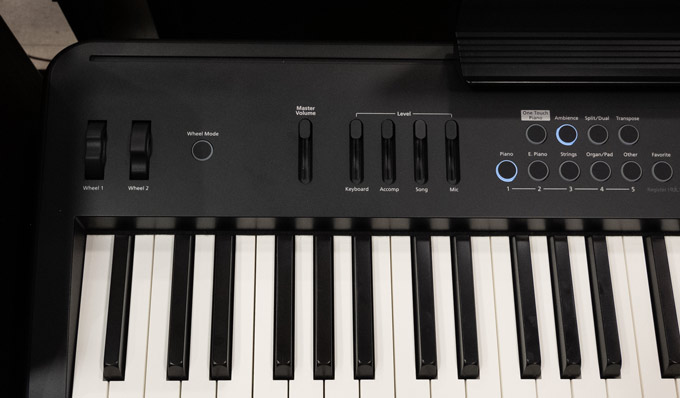 There is also the oddly satisfying One Touch Piano button that returns you to the Concert Grand preset from anywhere in the menu hierarchy. This is a nice feature shared with the Roland RD-88.
The area of sound selection highlights one drawback with the FP-E50's design, namely providing only Dec/Inc buttons to navigate menu pages.
Organizing your tones with Favorites and Scenes (more below) should help offset this drawback. This is such a common omission in affordable keyboards that I can almost overlook it.
Speaking of the display, you will appreciate the FP-E50's 160 x 160 pixel monochrome display. It has just enough space to navigate a reasonable amount of readable information at a time without excessive scrolling. The menus are clearly laid out and the size of the display is sufficient for the functions it enables.
Compared to the competition, if you've played the Yamaha DGX-670, then you've almost certainly been spoiled by their generous 480 x 272 high-resolution color display.
But compared to the much smaller displays on the FP-60X and FP-90X as well as the Korg XE-20 and Casio PX-S3100, the FP-E50 has a distinct edge in this area.
Weight is an important factor in design, and Roland markets the FP series as "portable" pianos. If you gig frequently, you have your own personal definition of portable.
My own threshold is around 40 lbs. With that in mind, the portable FP-E50 measures 51.2" x 12.7" x 6.9" (130 cm x 32.2 cm x 17.4 cm) and weighs in at a manageable 38 lbs (17.1 kg).
These dimensions place the FP-E50 on the slightly larger side of many portable digital pianos in this price range but compares favorably to both the FP-60X and FP-90X as well as other brands' premium portable pianos such as the Nord Stage and Korg SV-2.
Keyboard
Now that we are set up and familiar with the layout, let's talk about playability. The FP-E50's 88-key keyboard uses Roland's three-sensor PHA-4 Standard action with escapement and ivory feel.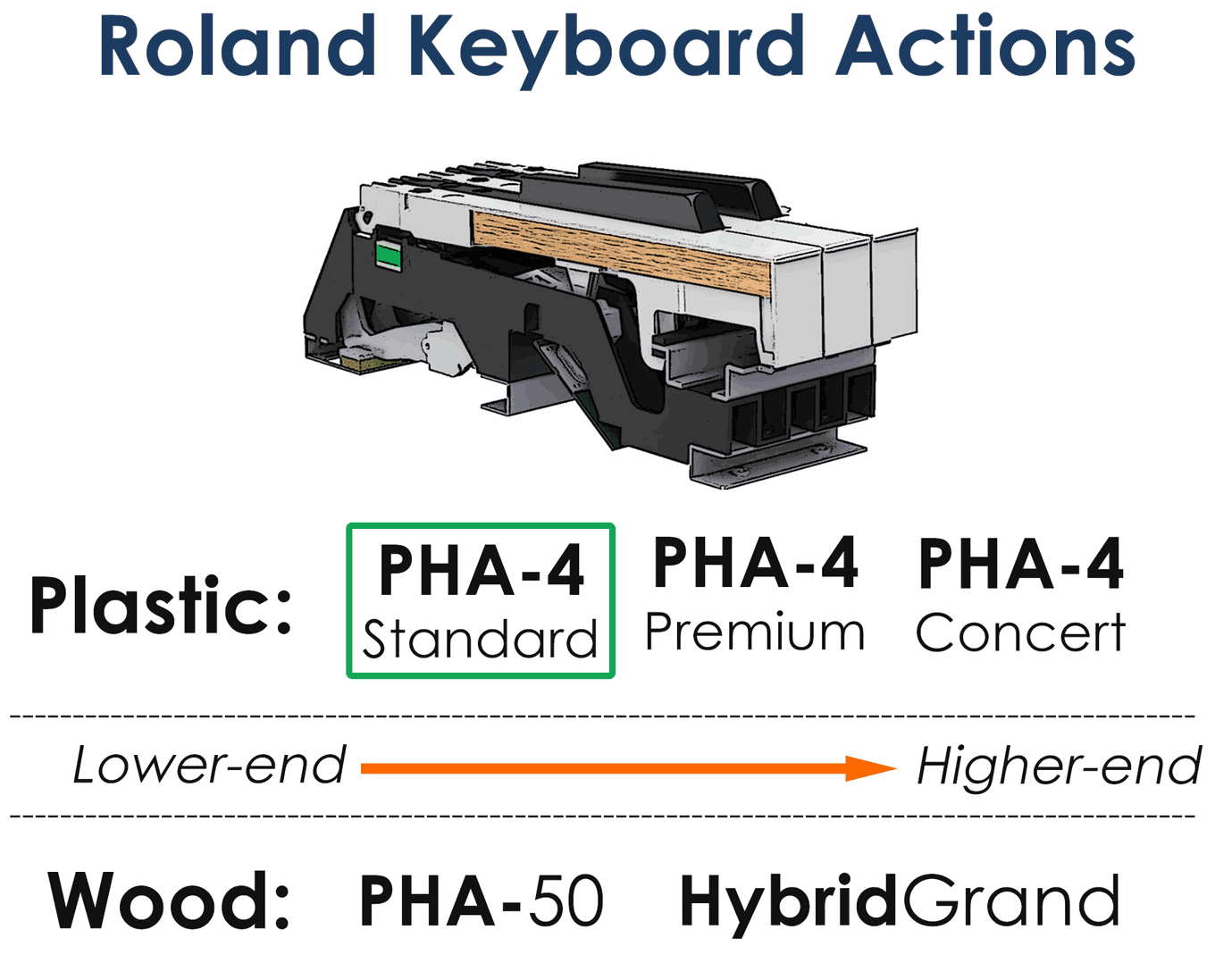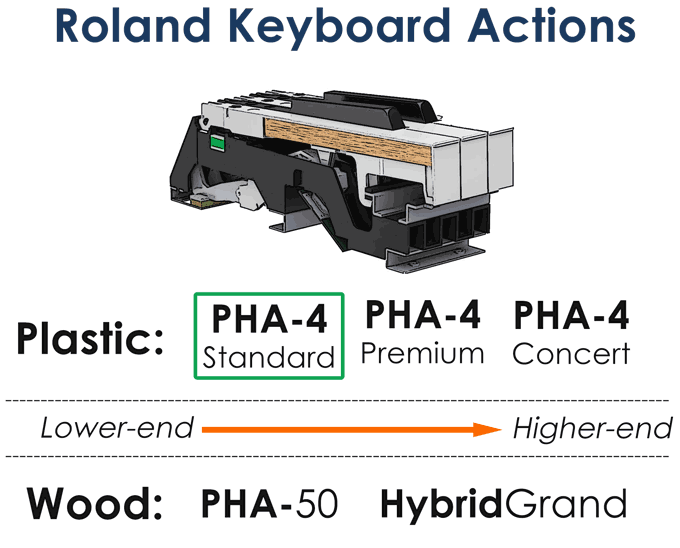 Roland has been innovating progressive hammer actions for more than three decades and this entry-level action has been on the market for several years. You can find the same action in the FP-10, FP-30X, FP-60X, and RD-88 models.
With this kind of action, the amount of force you use to strike a key increases as the pitch moves lower. This mimics the characteristics of acoustic pianos, where the hammers are larger and heavier for the lower strings and decrease in size as you move up the keyboard.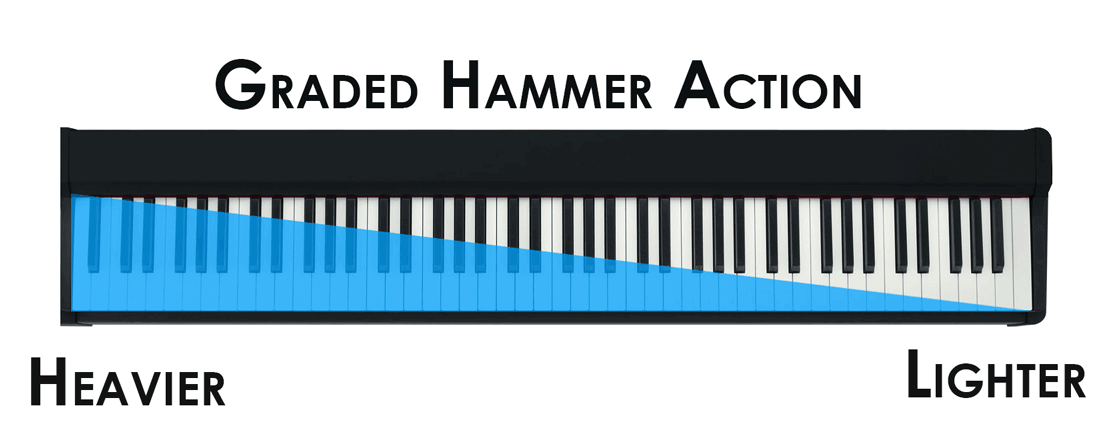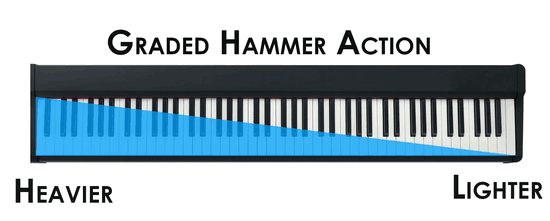 The escapement feature emulates the real-world design of an acoustic piano, where the hammer "escapes" or bounces back off the string after striking it.
From within the system settings, you can tweak the hammer response (from 1-10), which adjusts the time from when you play a key until the piano sound is heard.
The PHA-4 action has a shorter pivot length (distance from the front of the key to the hinge) than Roland's premium digital piano actions. But with three MIDI sensors, the action accurately detects velocity and related data.
With this data, the FP-E50 enables you to set touch sensitivity to your taste from 1-100. This is the same level of sensitivity offered by the FP-60X and FP-90X and is a step up from the FP-30X, Yamaha DGX-670, and Casio PX-S3100 (each with five levels of touch sensitivity).
While the PHA-4 assembly consists entirely of plastic, the action is substantial and provides satisfying physical feedback through the entire range of the key strike.
The white keys have a very subtle texture and the black keys have a matte finish, both of which provide a better grip than glossy finishes.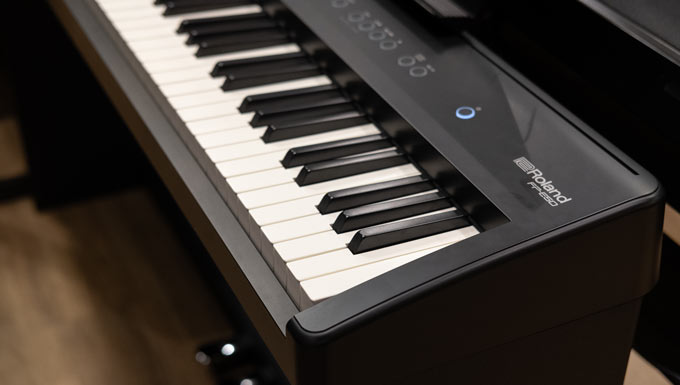 The PHA-4 Standard action has a reputation for being a bit on the heavy side. Based on my own field tests in this price range, the action is not noticeably heavier than Korg's or Yamaha's.
I would add that all Casio pianos at this price point have a lighter touch. I feel that the PHA-4 keys rebound slightly more slowly than the competition but for what it's worth I was able to pull off a decent two-hand, one-note trill (a la Billy Joel's Angry Young Man).
Ultimately, how you respond to any keyboard action will be subjective, so I suggest you test the action yourself before purchasing.
Sound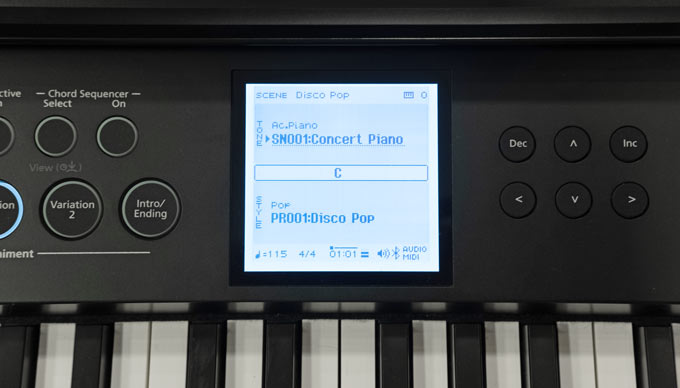 The Roland FP-E50 comes with two sound engines: the SuperNATURAL piano engine and the ZEN-Core cross-platform sound engine.
We'll talk more about ZEN-Core below, which allows you to access tones from other compatible hardware (such as Roland's Jupiter X synthesizer and Fantom workstations) and to download sound expansion packs from Roland's Sound Cloud.
Let's start with the basics. Out of the box, the FP-E50 gives you 1,018 distinct tones to choose from:
Piano: 38 tones
E. Piano: 34 tones
Strings: 36 tones
Organ/Pad: 184 tones
Synth/Other: 726 tones (including 74 drum sets)
---
SuperNATURAL Piano Engine
Of these tones, the first seven acoustic pianos are powered by Roland's SuperNATURAL piano engine, which uses both samples and modeling technology to reproduce realistic sounds and interactive performance aspects of acoustic instruments.

Prioritizing these seven pianos and including a One Touch Piano button reinforce that this instrument is first and foremost a digital piano.
As with the PHA-4 action, you have probably encountered the FP-E50's core SuperNATURAL acoustic piano sounds in other Roland digital pianos (most notably the Roland FP-10, FP-30X, FP-60X, and RD-88).
I personally like the brilliant character of Roland's Concert Piano preset and find the variations on offer here immediately usable.
---
Roland Piano Designer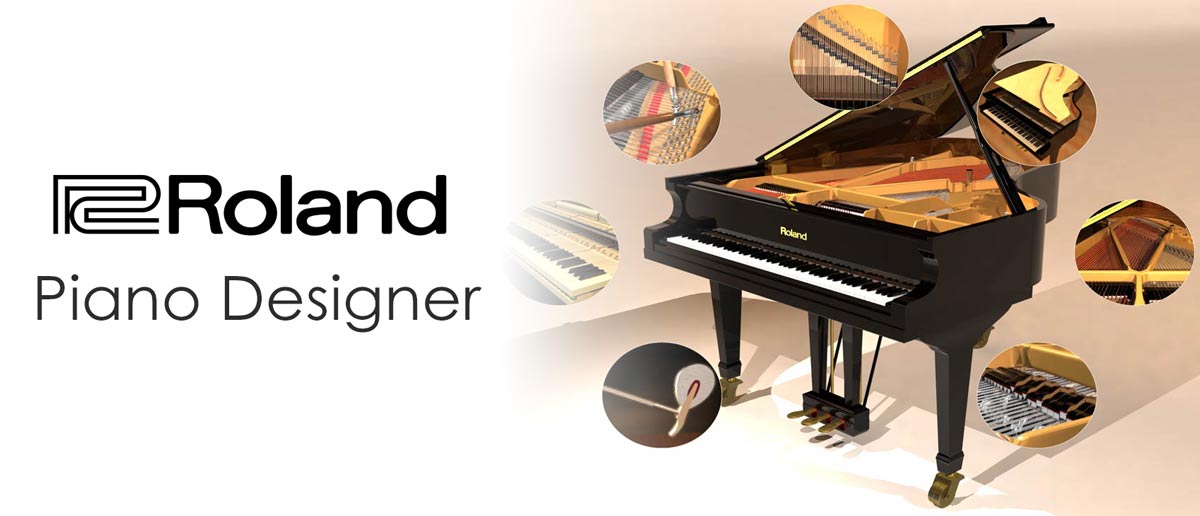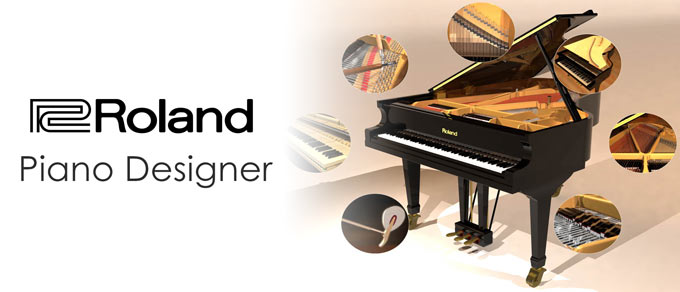 If you want to tweak the pianos, you can access the built-in Piano Designer tool through the menu (Roland's Piano Designer phone app is not compatible with the FP-E50). This tool allows you to adjust the following piano parameters:
Lid (0-6) – sound becomes mellower as lid closes
String Resonance (0-10) – higher settings make sympathetic vibrations louder
Damper Resonance (0-10) – higher settings make sympathetic vibrations louder
Key Off Resonance (0-10) – higher value produces a larger tonal change during decay
Cabinet Resonance (0-10) – higher value produces larger body resonance
Single Note Tuning (-50 to +50) – enables stretch tuning where higher registers are sharper and lower registers are flatter
Single Note Volume (-50 to 0)
Single Note Character (-5 to +5)
---
ZEN-Core Sound Engine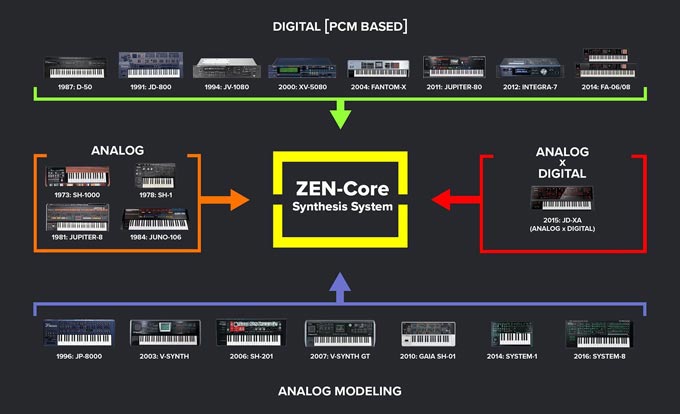 In my opinion, Roland's ZEN-Core engine represents one of the most significant enhancements for this piano.
First announced in 2020, ZEN-Core is Roland's cross-platform synthesizer engine. The ZEN-Core architecture is based on discrete synth voices that Roland calls partials.
Each partial contains an oscillator, multimode filter, amplifier, dual step-LFOs, and effects. You can have up to four partials per tone.
---
ZEN-Core Sounds and Roland Cloud
The 1000+ included tones (almost twice as many as come with the Yamaha DGX-670) are more than adequate, but you may find yourself looking for a specific kind of tone that does not exist in the presets. You can accomplish this in at least two ways:
First, you may want to explore the Roland Cloud. With ZEN-Core you can easily access and import unique tones and sound packs from Roland's Cloud, even sounds that were not necessarily created for the FP-E50.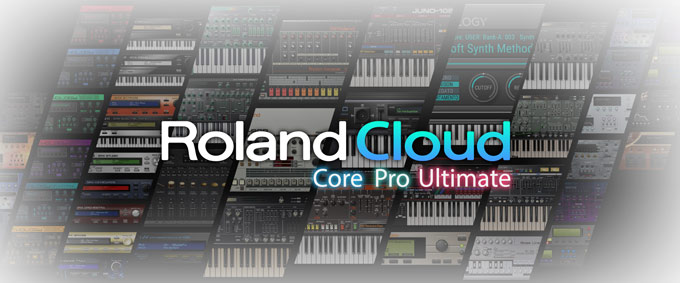 Roland offers a free option and three paid plans (Core, Pro, and Ultimate) to access and use their Cloud, with features and privileges varying by plan.
Roland offers both sound packs (complete arrangement styles) and wave expansions (tones) for purchase.
Second, if you (or a friend) own Roland's Zenology app or compatible Roland hardware you can create new and unique tones to export to a USB flash drive. After connecting the drive to your FP-E50, you can import the sounds directly from the flash drive.
This ability to create totally new sounds starts to blur the line between a dedicated piano instrument and a synthesizer.
---
Shaping the Sound
In addition to the Piano Designer (which is limited to the SuperNATURAL piano tones) you can shape the sound of the FP-E50 with its onboard multiband equalizer.
This permits setting crossover frequencies and adjusting gain (+/- 12dB) for Low, Medium, and High frequency ranges.
The control wheels also help bring many of the non-piano sounds to life. Using the pitch bend with a synth lead and controlling the rotary speaker speed on the organ presets with the mod wheel are two great examples.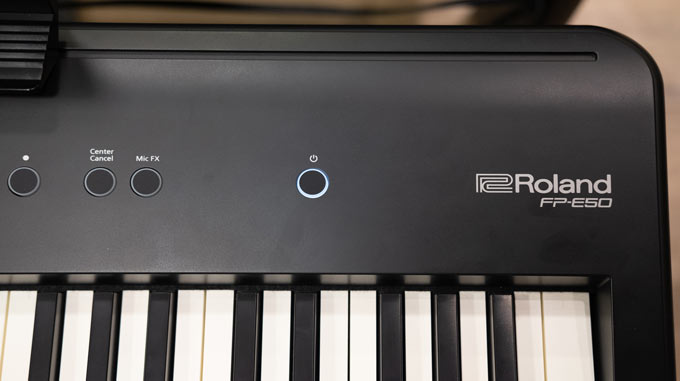 The Ambience effect allows you to shape your sound using one of four types of reverb (Studio, Lounge, Concert Hall, or Cathedral). You can set different types and levels for both the keyboard and microphone channels.
For a real change of pace, make your sound exotic or historically accurate by experimenting with different temperaments.
You can select from Equal, Just Major, Just Minor, Pythagorean, Kirnberger I, Kirnberger II, Kirnberger III, Meantone, Werckmeister, and Arabic tunings.
---
Polyphony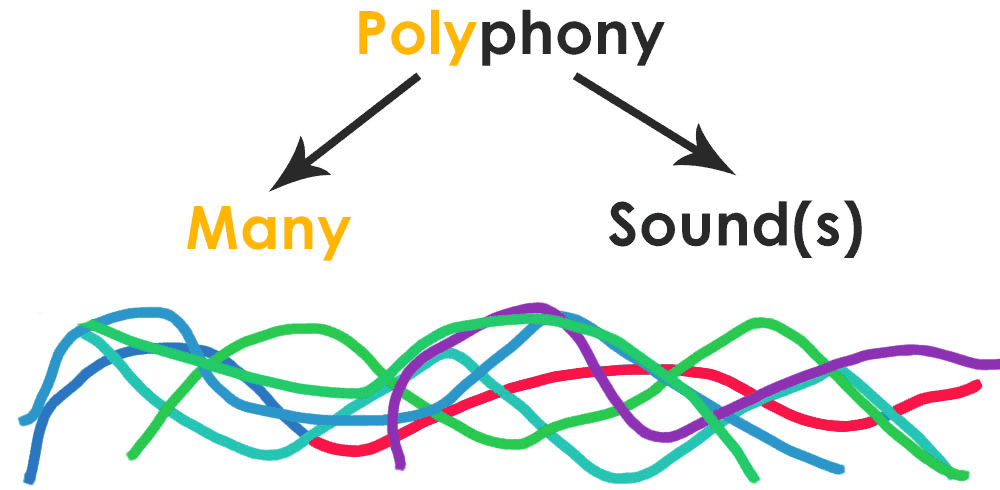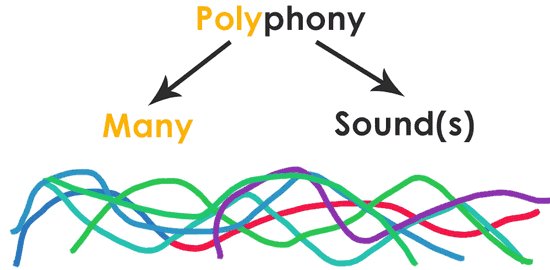 The FP-E50 has 256 notes of polyphony, the same as the other pianos in the FP-X series. With an arranger keyboard this is particularly important and you will appreciate having this many notes available.
---
Speakers
With great sounds like this, you will want them to be heard.
At 11 watts per channel, the FP-E50's speakers do a good job filling a room without distortion, but if you are performing in a venue much larger than a living room or small coffee shop, you should plan on external amplification.
Note that the FP-E50's speakers face downward, which might affect your perception of the sound.
I found them to make the sound more mellow and could see a possible issue depending upon the size of the room in which the piano is located. You can tweak the speaker EQ setting between "Stand" and "Desk" to help compensate for this.
Onboard Features
True to its heritage, the Roland FP-E50 offers most of the features you will find in the FP-60X/90X pianos.
As the first in this series to include extensive auto accompaniment capabilities, we have even more features to discuss.
---
Scenes and Favorites
First let's talk about preset management, as this is the first FP piano to use "scenes." I like to think of a scene as a beefed-up patch.
A scene saves all performance settings including tone selection, keyboard layout (dual/split), auto-accompaniment parameters, chord sequencer pattern, mic effects, wheel and pedal behaviors, and so on.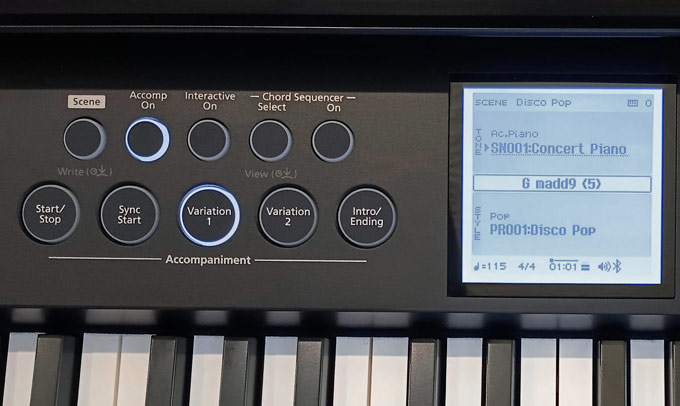 The FP-E50 comes with 107 preset scene styles and has internal space for up to 256 user scenes. You can import/export scenes via USB.
Favorites are used only for storing single tones that you like. With more than a thousand tones to choose from, creating a shorter list of your go-to sounds will save time navigating later.
---
Playing Modes
The FP-E50 allows you to select from among single, split, dual, and twin piano modes.
The single mode sets a single tone to play across the entire keyboard.
Split mode allows you to set a note as a split point and play a different tone on each side of the split.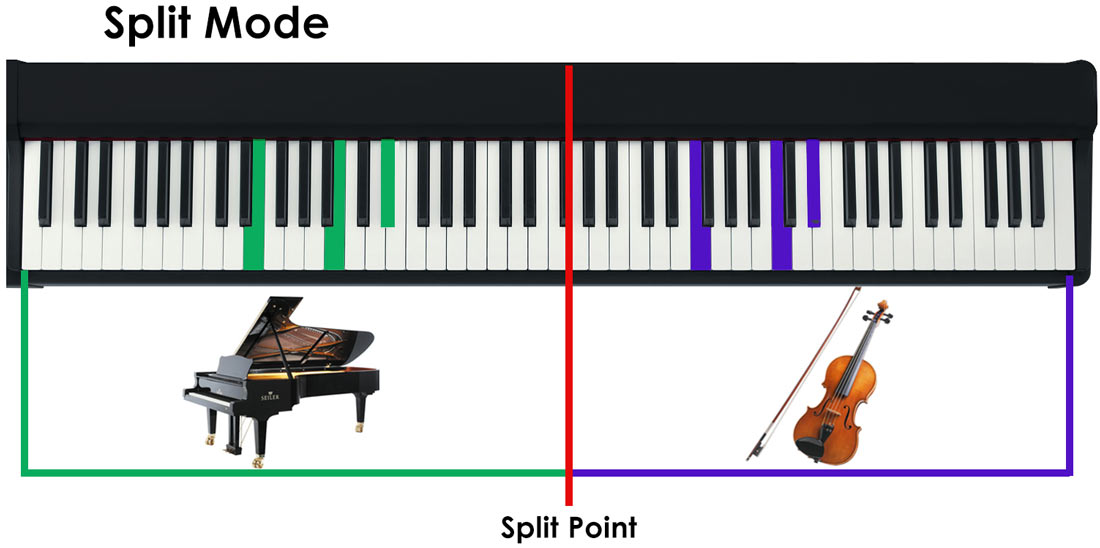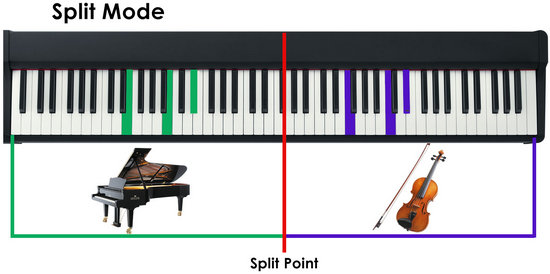 The Dual mode allows you to layer two different tones on the keyboard.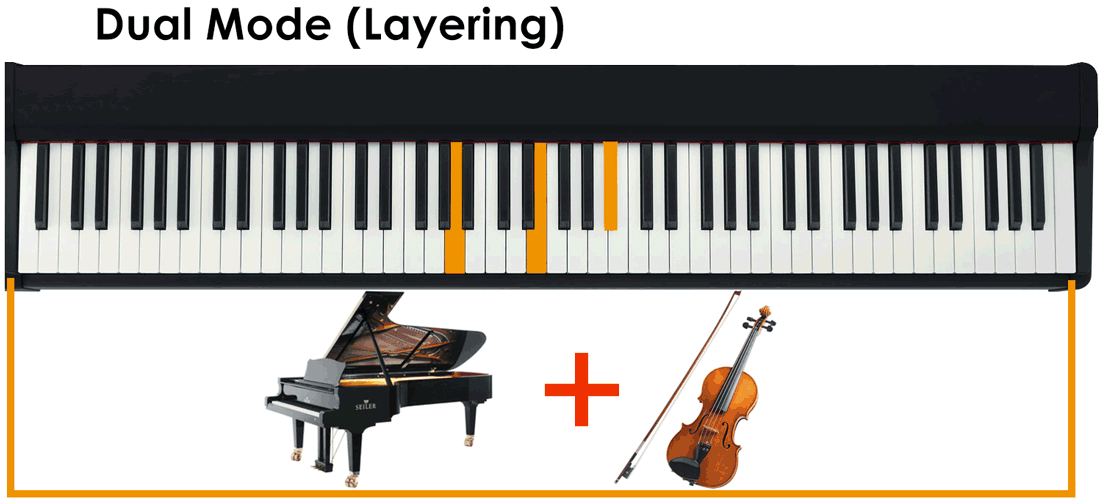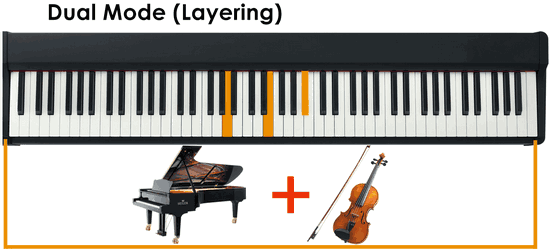 Twin Piano mode divides the keyboard into identical left and right zones so that two people can play the same range of pitches together. This might be useful for teaching, as one person can demonstrate while the other follows the example.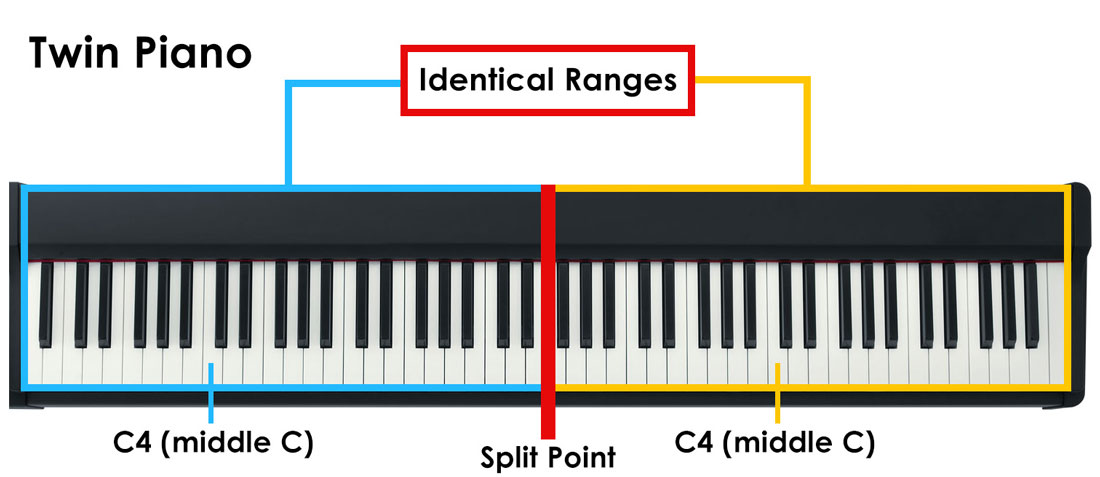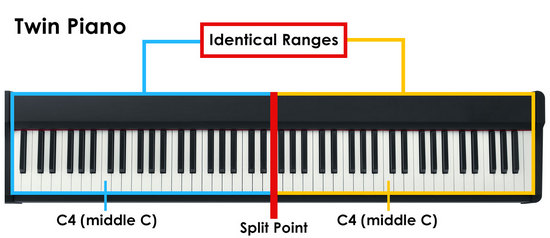 ---
Auto Accompaniment
There are 177 preset styles to choose from, and you can download more from the Roland Cloud. In its basic mode, the accompanist will determine chords based upon your left hand.
Let's discuss some of the ways you can change up the behaviors of the accompanist.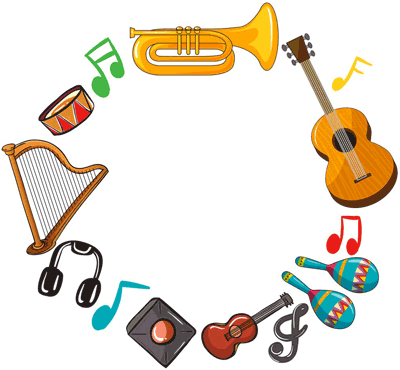 ---
Interactive Mode
Enabling this mode changes the accompaniment based on the dynamics (velocity) you use to play on the zone right of the split point.
Greater intensity in your playing leads the virtual accompanist to move from simple half-note rhythms to normal quarter note rhythms and ultimately to extravagant (more intricate than an eighth note rhythm).
---
Chord Sequencer
The chord sequencer determines exactly which chords the accompanist will play in order. The FP-E50 contains 140 preset chord patterns and allows you to create and store onboard another 256 chord patterns of your own.
You can select a chord sequence that matches the style of your accompaniment, a generic chord sequence, or one of your own.
The FP-E50's display can show the chord pattern in real time as you play, such that you can use it to follow along and anticipate coming chord changes. You can edit chord sequences onboard or export them via USB (CSV format) for editing in a spreadsheet program.
Using a spreadsheet program you could conceivably create a separate chord sequence for each section or song in an upcoming gig to create backing tracks.
---
Additional Customization
The arranger also has some fairly intuitive options to enable it to start as soon as you start playing, to introduce some variability in the nature of the accompaniment, and to play intro and ending parts.
If you want to dig deeper into the arranger, you can tweak several aspects of how it responds to your playing such as chord detection behavior, bass inversion patterns, fills, and the like.
---
Recording Songs


The FP-E50 comes with 3 internal demo songs: City Pop, Hip Jazz, and Soundtrack.
You can also record songs of your own. The built-in audio recorder captures all audio including the keyboard, accompaniment, song, and microphone tracks to a WAV file (44.1KHz, 16-bit non linear format).
The piano does not internally record MIDI data.
There are 390 minutes of internal memory available with a maximum recording time per song of 200 min. Overdubs are supported, but not punch in/out recording. You can also save your songs to a USB flash drive.
---
Other Front Panel Functions
Transpose – Sets the piano to play in a different key than the one played on the keyboard using the menu or the keyboard to set the root key.
Metronome/Tempo – Self-explanatory. Tap tempo is available.
Center Cancel – Reduces the volume of the center of the stereo field (such as vocals, melodic instruments and so on) during playback and can be applied to audio or Bluetooth audio files that play on the song player, as well as on the signal from the Input Stereo jack.
Mic/FX – Allows you to apply effects to the microphone channel. Available effects range from compression and noise gating to automatic harmonies, pitch shifting ("Voice Transformer") and even a vocoder ("Voice Designer").
Connectivity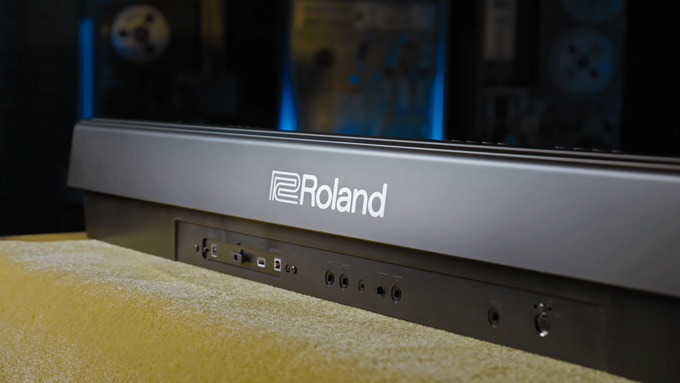 The FP-E50 has plenty of connection options available for home studio use, live gigging, and just general fun.
You will find standard unbalanced L/R line outs with 1/4" jacks, suitable for connecting to an amplified or PA system.
There is also an unbalanced 1/4" jack with adjustable gain for a microphone input.
A USB type A port is provided to connect a flash drive for importing or exporting sounds, chord sequence files, online sound packs, etc.
The USB type B port connects the piano to your computer, allowing you to transmit and receive MIDI data.
This jack also supports the transmission of audio over USB to your DAW. This is a feature you may not appreciate until you have run out of inputs on your USB/MIDI interface.
A standard 1/4" pedal jack allows you to connect the included DP-2 pedal switch or any other compatible damper or expression pedal to the FP-E50. If you opt for the permanent stand and KPD-70 pedal unit, there is a proprietary pedal connector here too.
If you want to play along with your favorite music, you can connect via Bluetooth or the 1/8" audio input jack. The Bluetooth connection is specified to support MIDI (although I have been unable to test this).
As someone who owns several headphone adaptors going both directions but who can never find the right one at the right time, I am overjoyed to find both 1/8" and 1/4" stereo headphone jacks on the front of this piano.
Accessories
The Roland FP-E50 arrives with the following accessories:
Owner's manual
AC power adaptor and power cord
Attachable music rest
DP-2 pedal switch
Please verify that the AC Adaptor voltages are correct for your region before powering up the piano.
---
Pedals
The FP-E50 fully supports half-pedaling, but you will need to invest in a more capable pedal than the included DP-2 to unlock this feature (Roland recommends their DP-10).
As the FP-E50 does not have additional 1/4-inch inputs for Sostenuto and Soft pedals, the RPU-3 does not appear to be a viable option.
---
Stand
As with other slab pianos, the FP-E50 can pretty much be played on any surface (table top, desk, keyboard stand) that will support it. Your intended use will dictate the style of stand.
I would suggest a portable X- or Z-style stand if your main use for this piano is gigging. I personally prefer heavy duty Z stands that feature additional horizontal support to minimize wobble.
If you plan to keep your piano as primarily a home instrument, you might consider the Roland-recommended KSFE50 keyboard stand and KPD-70 pedal unit, which will provide an attractive and traditional spinet look to the instrument.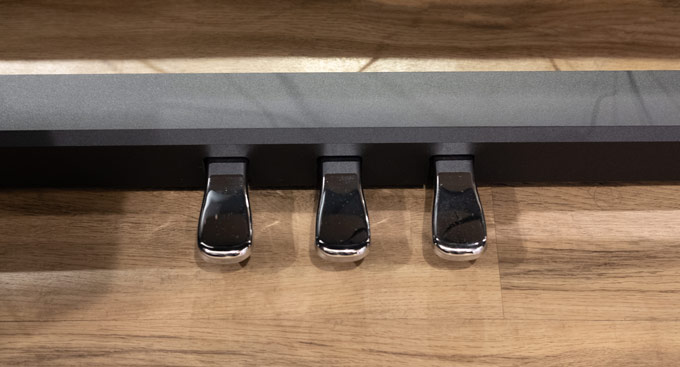 Please note that whether you use a single damper pedal or a triple pedal unit such as the KPD-70, you can customize pedal functions from within the Pedal Setting menu in the piano.
---
Microphone
One of the great features of this piano is the ability to include vocals in both your live performances and recordings. You can select a variety of effects to enhance your voice.
The microphone input is an unbalanced 1/4-inch jack, so you will need an XLR-phono adapter to use a decent vocal microphone.
Also, please note that the FP-E50 does not provide phantom power, so you will need to use a dynamic vocal mic instead of a condenser mic (and you can't go wrong with a Sennheiser E935 or Shure SM-58).
---
Headphones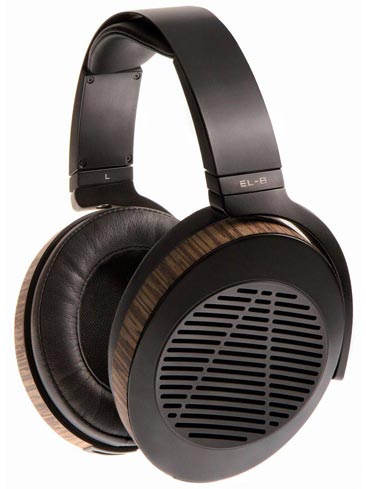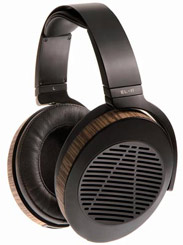 Headphones come in very handy when you want to practice in private, focusing solely on your playing and not disturbing others nearby.
Moreover, a good pair of headphones will provide a clearer and more detailed sound compared to the onboard speakers.
Check out this guide to learn how to choose the best-sounding headphones for your keyboard.
Summary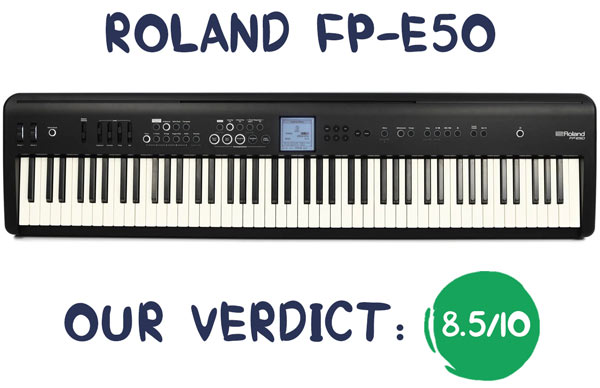 Pros
Tremendous versatility for the price
PHA-4 Standard action
More than 1000 sounds
ZEN-Core engine and expandability
Full connectivity package
Editable (especially offboard) chord sequencer
SuperNATURAL pianos
Readable display
Cons
Speakers facing down
Lack of encoder knob
---
Trying to do many things well runs the risk of failing to achieve distinction in any one of them. The FP-E50 addresses this by assembling several established technologies with some novel arranger functionality in an attractive and affordable package.
Simple performance controls, connectivity, portability, and a huge palette of acoustic and electronic sounds all make the FP-E50 equally capable as both a stage piano and a living room entertainment centerpiece.
Scene management and cross-platform tone capabilities of ZEN-Core offer a gigging musician the chance to use many of the sounds and functions of Roland's higher-end stage pianos and workstations at a fraction of the price.
The microphone FX and chord sequencer capabilities alone make the FP-E50 a compelling option for solo performers.
Home users and beginning piano students alike should find the PHA-4 Standard action and SuperNATURAL engine adequate for developing and maintaining good piano technique.
The auto-accompaniment features enable further exploration of composition and arrangement possibilities. True beginners should note that the only teaching feature on the FP-E50 is the twin piano mode.
Is the FP-E50 uniquely distinctive in any of its functions? Not really.
You can readily find better options such as the Roland RD-88 (portable stage piano), the Roland FP-90X (classical piano), or the Yamaha DGX-670 (arranger).
But if having a "good enough" combination of all three at an affordable price is what you want, it would be hard to beat the FP-E50.
Check the availability and current price of the Roland FP-E50 in your region:
---