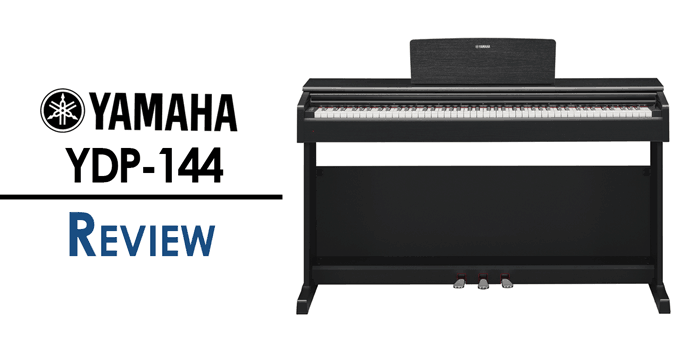 For many, the Japanese company Yamaha is THE household name for pianos – acoustic and digital alike.
Yamaha's grand pianos have been featured on countless records, with their C3 grand being among the most-used grand pianos ever.
Even when it comes to digital pianos, Yamaha is well known for delivering great sound and build quality, being one of the most sought-out brands for digital pianos at all skill levels.
The YDP series, also known as the Arius series, is Yamaha's main line of quality, affordable digital pianos, aimed at beginner- and intermediate-level players.
At the start of 2019, Yamaha updated their YDP line with the new YDP-144, YDP-164 and YDP-S54 models, replacing the YDP-143, YDP-163 and YDP-S52 models of the last few years.
With all of these new instruments, you get an updated sound engine, bringing this series one step closer to more expensive counterparts in the CLP-series (aka Clavinova).
With that said, is the YDP-144 a good choice for beginners? As an intermediate player, is the YDP-144 a decent choice for a digital piano? What about people who've purchased the YDP-143 and are thinking of an upgrade?
In this review, we'll be answering all these questions.
Yamaha YDP-144 Specs
88-key fully weighted keyboard with matte black keytops
Graded Hammer Standard (GHS) action
Touch Sensitivity (Hard, Medium, Soft, Fixed)
Sound: CFX Sampling
Simulated Sound Nuances: Damper/String/Key off resonance
192-note polyphony
10 instrument sounds (3 pianos)
50 preset piano songs + 10 demo songs
Modes: Duo, Dual
Lesson Function (ability to practice each hand's part separately)
2-track MIDI recorder
Metronome, Transpose, Fine-tuning
Intelligent Acoustic Control, Stereophonic Optimizer, Acoustic Optimizer
Speakers: 8W + 8W (2 x 12cm)
Connectors: USB to Host, Headphone jacks (2)
USB Audio Interface function
135 x 42 x 81 cm (53.4" x 16.6" x 32")
38 kg (83 lbs. 12 oz.)
Release Date: March 2019
Check the availability and current price of the Yamaha YDP-144 in your region:
Design
If you've used the previous YDP-143 model, you'll notice that the overall design hasn't changed, (though that is certainly not a bad thing).
All the good has carried over, though some of the complaints I've had with the previous model still apply.
As you would expect from a digital piano, the YDP-144 comes with a full-size, 88-key keyboard, along with a pair of stereo speakers built in. This makes it perfect for home-based use and practice.
The YDP-144 comes in at a hefty 83 lbs., 12 oz (38 kg). In terms of size, the dimensions are 53.4" x 16.6" x 32" (W x D x H).
If you are thinking of getting this for stage use, then you're out of luck. The YDP-144 was designed from the ground up to be left at home, and the sturdy design certainly reflects that.
Yamaha has always been known for making quality, well-built instruments, and the YDP-144 continues that design trend.
Thankfully, the YDP-144 retains the YDP-143's relatively slim design, so it fits nicely into smaller rooms.
There are even slimmer offerings from other companies though, and if space is truly an issue, consider checking out the Casio PX-870 or Roland F-140R.
As with most console pianos, you will need to assemble the YDP-144 yourself, though some vendors may offer assembly services upon delivery.
The installation process is well-explained and well-illustrated in the user manual, and all the parts are provided and marked.
If you can assemble an IKEA chair, then you can probably build the cabinet provided here. Do keep a Phillips-head screwdriver handy for the installation process.
Further reinforcing the home-use aspect, the YDP-144 comes in 3 colors.
You have the classic black, modern white and a beautiful rosewood color (which I personally adore). These colors are typical for most digital pianos, and the best choice will come down to your personal preference.
The body is made from particleboard, but it still feels really solid. The light matte finish also ensures that you won't be leaving fingerprints all over the exterior.
The pedals feel great too, with soft, sostenuto and damper pedals built into the body. These connect into the pedal jack located below the digital piano body.
The damper pedal also supports half-pedaling, ensuring that you'll get a realistic playing experience while playing.
There isn't much to comment about here, it's just a great triple-pedal setup with a superb feel and responsiveness.
There's no arguing that a digital piano allows for more control. You aren't stuck with a single piano sound, and you can even modify sound parameters to suit your own preferences.
Controls are limited to a volume knob and some buttons placed to the left and right of the keyboard.
The limited number of controls means that you'll need to access many functions by using key combinations, sometimes involving the piano keys themselves.
This challenge is further exacerbated by the lack of a screen or specific indicators. Without playing the keys, you can't even tell what sound is selected.
While this is a common occurrence in most budget-friendly digital pianos (like the Kawai KDP110 and the Casio PX-870), it's still quite unfortunate that Yamaha didn't seek to improve on this aspect.
For example, Casio's PX-870 includes some guiding indicators above the keys, which is a simple solution that manages to sidestep the problem of cumbersome controls.
For now, you get a basic confirmation sound once you've changed a setting. This isn't much in the long run though, and it really just serves as a band-aid to the problem rather than a solution.
With that said, I do like how the buttons and knobs feel.
Having a dedicated volume knob, as opposed to a volume slider, is executes volume swells quite well.
The buttons are also responsive, having a noticeable and satisfying click accompanied by a simple noise from the speakers, meaning you won't be stuck wondering whether you pressed the button.
Owning a Clavinova series digital piano myself, I'd say these buttons and knobs are of a similar quality, which is great. Too bad the overall control scheme is somewhat lacking.
Other notable inclusions on the YDP-144 are the sliding key cover and the music rest.
Both, much like the buttons, feel great to move and are clearly made to be as durable as the rest of the digital piano. Yamaha has always delivered impressive build quality, so it's no surprise that the YDP-144 excels in that regard.
Overall, I'd say the design of the YDP-144 is a mixed bag. While you do get solid build quality and a good-looking cabinet, you're stuck with the lackluster control scheme that Yamaha retains from the previous generation.
Even so, designs are but a small part of the overall product. We'll be covering the more important aspects of a digital piano in the following section.
Keyboard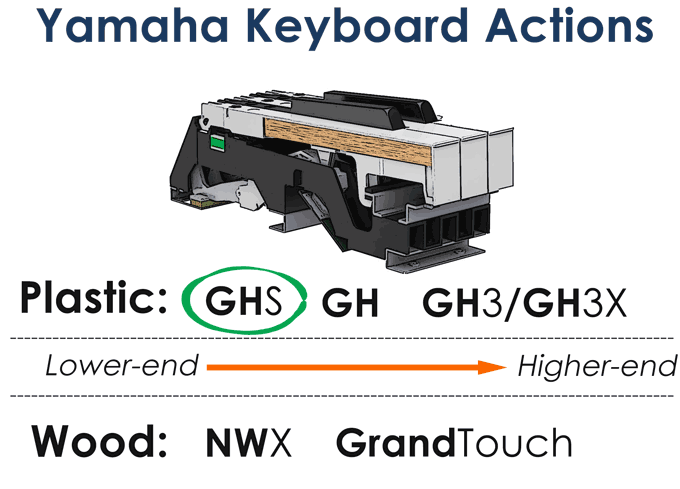 The main feature you should be looking at when purchasing a digital piano is the keyboard. The Yamaha YDP-144 is priced between the usual entry- and intermediate-level prices.
From the price and design choices, Yamaha is clearly targeting people who are looking to upgrade from their lower-end practice keyboards.
Many people start out with low-cost keyboards that feature basic sounds and unweighted keys, so an upgrade is a logical step once they've mastered the basics.
The Yamaha YDP-144 features the company's standard GHS (Graded Hammer Standard) keyboard, the same keyboard featured on the previous YDP-143.
It has 88 full-size and fully weighted keys, meaning they seek to emulate the feel of a real acoustic piano.
These keys come with their titular graded hammer action, which means keys on the lower end have a heavier touch than those at the higher ranges, adding to the realistic feel.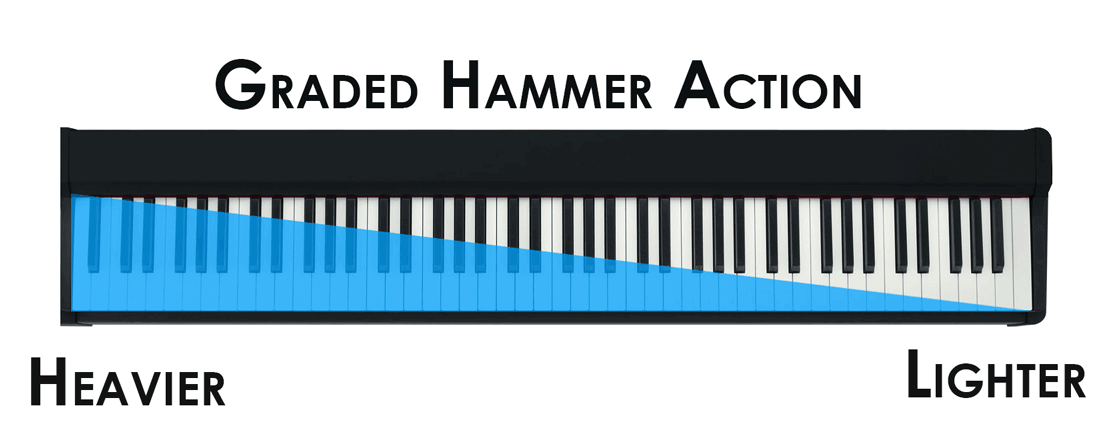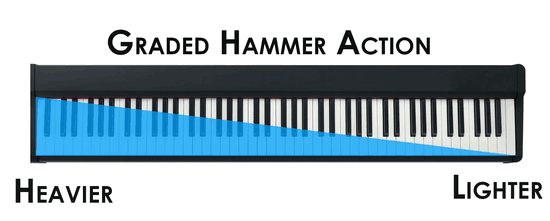 For touch-sensitivity, you get 4 different options: soft, medium, hard and off.
The YDP-144 defaults to the medium setting, and I'd say it's an ideal preset setting that feels natural to play, with clear distinctions between soft and hard keystrokes.
It should be noted that the GHS is Yamaha's entry-level action, found on their beginner models like the P-45 and P-125.
They are definitely a step up from the synth-action keys you find on low-cost practice keyboards, but don't expect too much from them.
The GHS keys are plastic, but they do have a nice matte finish on the black keys, despite lacking the synthetic ebony and ivory keytops of the YDP-164.
I must admit that I'm very happy with the overall build quality of the YDP-144, and the keys feel sturdy and well-made, despite being made from plastic.
The real problem happens once you actually play them. The GHS action feels a bit too springy/mushy (for lack of a better word) for my liking.
While real pianos do have 'kickback' due to string action, these fail to capture the nuance I would expect.
Instead, the unnatural feedback hinders playing by making things harder to control. This is doubly true if you try playing into the keys due to the action being relatively short.
You'll feel the weight when you're playing, but the way it's implemented leaves a lot to be desired.
While you are getting the expected heft and realism of real keys, everything that happens pass the initial press downwards is not something I'm fond of.
While the GHS key action is fine for beginner piano students, there are more realistic feeling key actions in this price range, in my opinion.
Among the other options, I personally prefer the feeling of Korg's RH3 (featured on the D1, C1 Air), Kawai's RHCII (featured on the KDP110), and Roland's PHA-4 Standard (featured on the RP-102, F-140R) keyboard actions.
These feel better to play, at least to me. Again, I'd like to reiterate that it really comes down to personal preference, and my opinions may very well differ from your own.
If you really like the sounds offered by the YDP-144, do try out the YDP-164, which features the superior GH3 key-action with better responsiveness and more authentic feel.
Sound
Yamaha-made instruments have always featured a signature sound, one that always sounds high quality.
The past YDP-143 generation relied on Yamaha's Pure CF sound engine, which sounded great for its time, but has slowly been surpassed by its rivals, such as Roland's intricate SuperNATURAL piano modeling/sampling hybrid engine.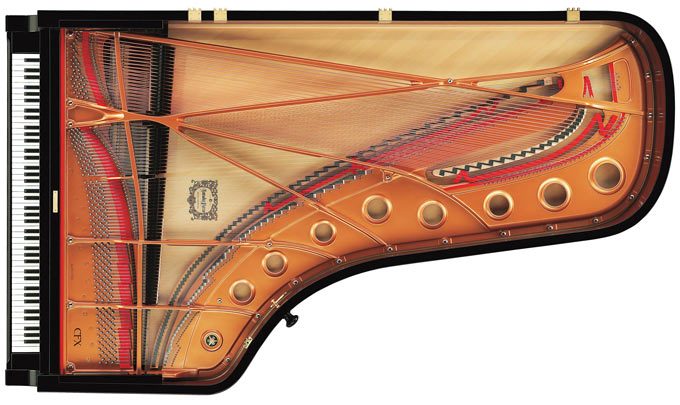 To update the YDP instrument line, Yamaha has imported their sampled flagship 9' CFX concert grand piano with its unique and expensive tone.
Previously, this sound was only included in the Clavinova digital piano series, so offering the same sound in the Arius instruments is a great value addition.
This concert grand is famous for its brilliant, high-end, resonant bass and has gone on to become known as the greatest concert grand of the modern era.
Yamaha doesn't advertise modeling as much as their competitors, but there's no denying their results.
The CFX grand pianos sound realistic and beautiful. Take a listen:
The clean highs and distinct bass are replicated beautifully through the speakers, and Yamaha includes their Intelligent Acoustic Control and Stereophonic Optimizer technology to ensure you're always getting the best sound possible, whether through speakers or headphones.
Sample-based technology might seem outdated when you consider the possibilities offered by piano-modeling technology, but there's a certain subset of pianists (myself included) who still prefer the mic'd up sounds offered by sampled pianos.
It boils down to personal preference, but to me, there's a certain magic that comes with a well-sampled piano.
While I've made my distaste for the GHS keys known in the previous section, the concert grand sounds included with this model do make up for it.
You'll hear subtle nuances when playing with dynamics, and the natural reverb of a concert hall sounds hauntingly realistic, even when playing on speakers.
Continuing on with the detailed sampling, Yamaha has also captured the damper resonance of the real piano, meaning pressing down on the damper pedal still results in a realistic response from the digital 'strings.'
Apart from that, you get string and key-off resonances as well, which further enhances the playing experience.
These minute details were not part of the previous YDP-143 model, and it definitely makes the YDP-144 a better digital piano.
Do note that the YDP-143 lacks the tweaking options offered by some of other competitors in the same price bracket, but I wouldn't necessarily consider this a big drawback.
The sounds are great out of the box (and its simplicity is definitely a plus if you just want to sit down and play without much hassle).
---
Other Sounds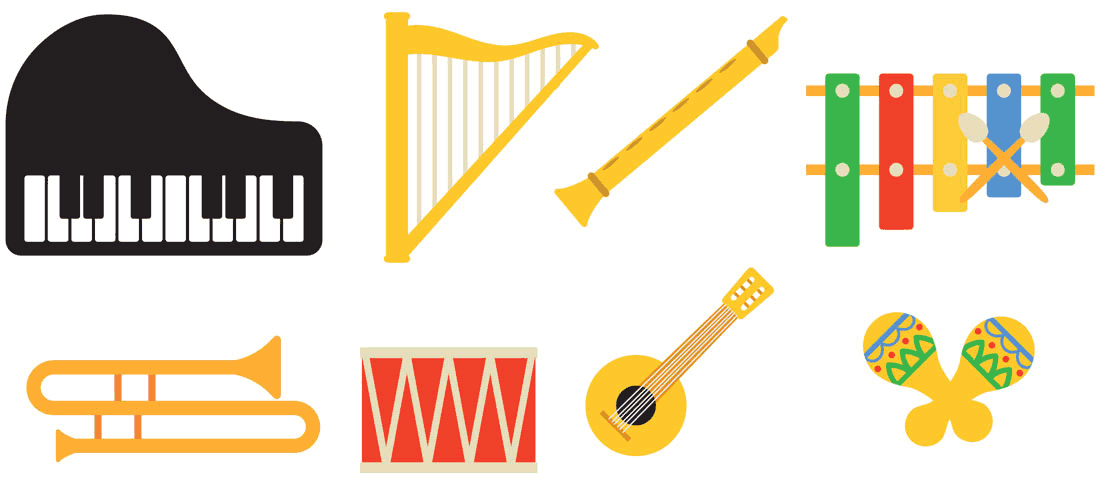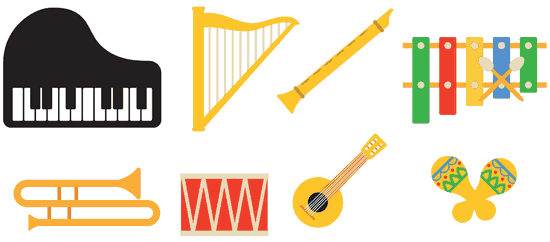 The other sounds are also pretty decent.
For those who didn't know, Yamaha made the classic DX7 synthesizer, which was so overused in the 80s that its ingrained in all our minds.
The 2nd electric piano sound captures the DX7 sound perfectly, even including the subtle chorus effect that everyone recognizes.
The same applies to the Fender Rhodes-style electric piano. Unlike KORG and Roland, Yamaha never captured the bite of the Mark II Fender Rhodes.
Instead, you'll get the mellow tones offered by a slightly-aged Mark I, with the same chorus effect as the DX7 adding to its character.
The harpsichord and vibraphone sounds are the same you get from the YDP-143, and I've always been partial to Yamaha's versions of these sounds.
Same goes with the Pipe and Jazz organs, the latter including a realistic rotary speaker effect that sounds splendid on the built-in speakers.
Finally, the string ensemble sounds great when layered with other sounds, though less realistic when played in isolation.
We'll discuss the layering mode in an upcoming section, but rest assured, the sounds you're getting here are well-sampled and sound terrific.
---
Effects
The Yamaha YDP-144 comes with 3 built-in effects that you can modify to taste.
The Reverb has 4 different algorithms to choose from:
Recital Hall
Concert Hall
Chamber Reverb
Club Reverb

Most sounds default to the two hall reverbs, and they sound realistic, with lightly diffused highs that prevent the overly 'sparkly' sounds you'd expect from an untamed reverb.
The club algorithm is another highlight, being a room algorithm that captures the intricate 'closeness' that comes from a large concert grand in a small enclosed environment.
You can also control the intensity of each reverb algorithm in increments of one within a range of 0-20, modifying the thickness and lushness of the reverb to suit the needs of each song.
The Intelligent Acoustic Control (IAC) technology is another modifiable effect, and you can modify the intensity of the effect to suit your preferences.
The IAC adjusts the sound quality of the currently-selected instrument based on the overall volume. This ensures that you always hear the details of the sounds, even at low volume.
The IAC effect is most prominent when playing dynamic piano pieces that use a wide range of octaves. At a high intensity, the IAC acts as a compressor, ensuring that the overall volume is consistent throughout.
However, there's clearly something special going on, as its far more transparent than a usual compressor. Regardless, just know that the IAC makes your playing sound cleaner. Purists can of course turn it off.
Finally, the Stereophonic Optimizer simulates the feeling of playing an actual piano. This is especially obvious when using headphones.
Pianos are naturally a short distance from the player, yet headphones place the pianos right beside the ears of the player.
To solve this, the Stereophonic Optimizer simulates distance and space, making the piano playing experience feel more realistic.
Unlike the other effects discussed, you only have a binary 'on' or 'off' choice for the Stereophonic Optimizer.
---
Polyphony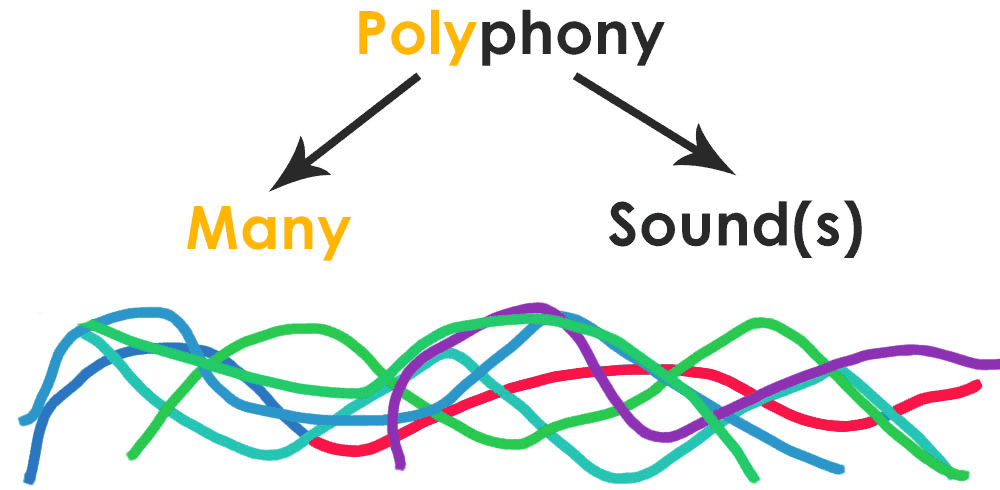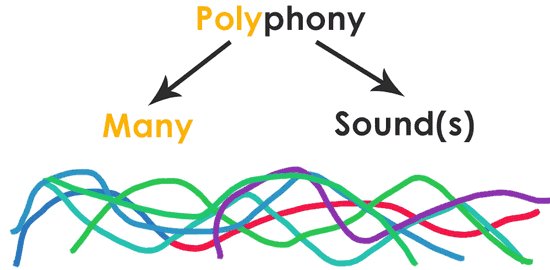 The YDP-144 has 192 notes of polyphony, which is more than enough to play any song without cutting notes out. Even using the Layer mode, you won't have notes cutting off at inconvenient moments.
A good rule of thumb to follow is to look for a minimum of 64-note polyphony, which should be enough to play even complex classical pieces without any issues.
---
Speakers
The Yamaha YDP-144 comes with two 8W amplified speakers, providing you with a wide stereo image.
This might seem a bit weak when compared to the YDP-164's 20W speakers, but rest assured these still retain the power and clarity featured by its bigger brother.
The speakers here are a step up from the previous YDP-143's dual 6W speakers, and the added power makes it even fuller sounding and louder.
The speakers are downward-facing, but there are also narrow speaker grills right above the keys, which allow the sound to come from different directions creating an immersive listening experience.
At high volumes, I didn't notice distortion, though it should be noted that these speakers get very loud when pushed, so be sure you don't annoy your neighbors before you start cranking it up.
Overall I'd wouldn't say that the speakers on the YDP144 are overly impressive or exceptional compared to the competition, but they do their job and do it well.
Features
While you do have enhancements in terms of sound, the YDP-144 retains the same feature set as the previous YDP-143.
Unfortunately, nearly all the functions of the YDP-144 require combinations of button presses, some of which are extremely obscure.
While these issues will slowly diminish as you begin memorizing the key combos, I'm not exactly a fan of how I always need to have the manual by my side.
One method for remedying the complicated controls is Yamaha's Smart Pianist app for iOS and Android.
Most of the essential functions can be accessed with this app, which really does make the experience smoother. We'll discuss this in the Connectivity section of this review.
For now, let's cover the available functions on the YDP-144.
---
Modes
The YDP-144 comes with a layer and duo mode.
You access the Layer Mode (aka Dual Mode) by selecting two sounds at the same time. While in layer mode, all keys trigger two sounds simultaneously.
This is a fun mode that comes as a standard on most keyboards, and it's particularly welcome on the YDP-144 thanks to the high-quality sounds available.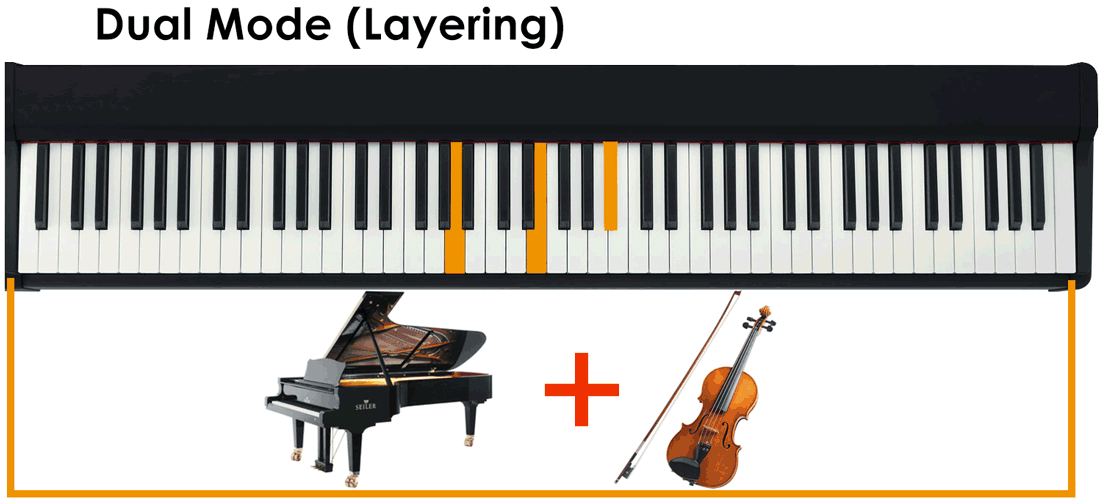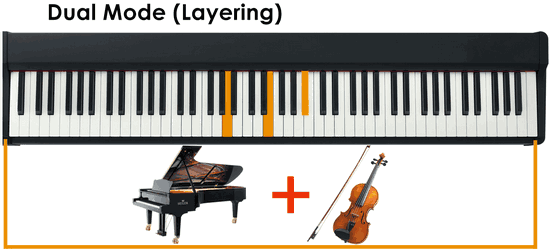 A piano layered with strings is probably the most popular combination, and it's clear that this is the intended use for the lush legato strings.
Yamaha's authentic DX7-style sounds are also an ideal companion to the grand piano sounds. Despite the limited number of sounds available, layer mode does create extra opportunities.
Duo mode allows two different players for playing the same instrument, with one on the left and the other on the right.
This is a useful feature for piano lessons, enabling the teacher to sit beside the pupil and provide guidance through personal demonstration.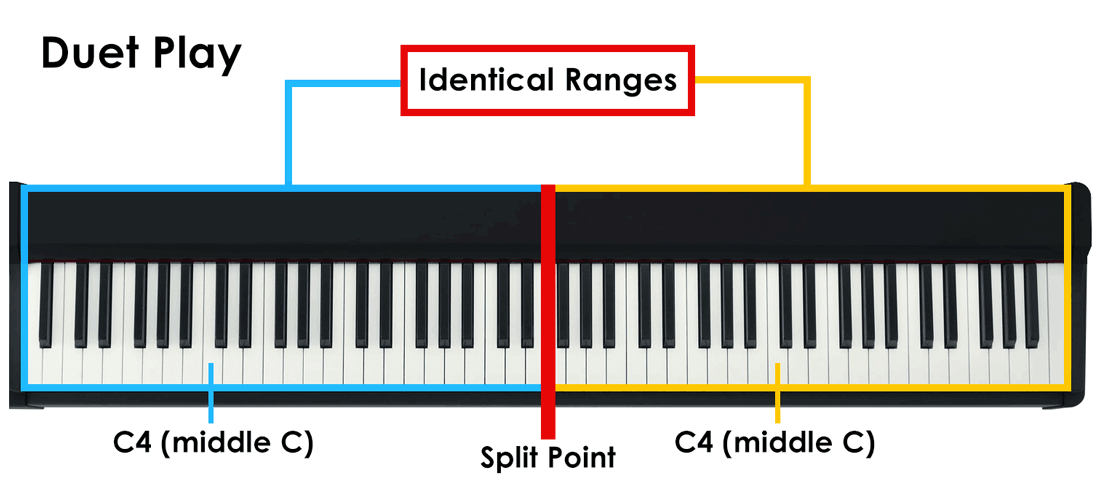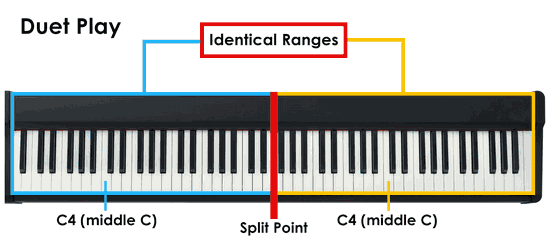 In duo mode, the pedal functionality changes as well, with the soft and damper pedals applying sustain to one side at a time, and the sostenuto pedal applying sustain to both sides simultaneously.
What's more, you can tweak the volumes of each side in duo mode individually.
A minor omission here is the split mode, where both sides of the keyboard can be split to play different sounds. However, since this keyboard is aimed at the practice market, this isn't a major omission.
---
Functions
As expected from most digital pianos, there are many functions you can change or activate with the onboard controls.
Some of these controls are not modifiable using the Smart Pianist app, but thankfully those are less-used settings that shouldn't need to be modified constantly.
The functions that can be modified include:
1) Damper Resonance. Allows you to choose whether damper response simulation for the piano sounds is on or off.
2) Transposing. This allows you to change the played key. Transpositions can be changed from -6 to +6 semitones in increments of one
3) Master Tuning. The central tuning of the keyboard can be changed in steps of 0.2 Hz. The default pitch is the standard 440.0Hz for Middle A.
4) Metronome. Pressing the metronome button activates the built-in The tempo, time signature and volume of metronome sound can be changed.
5) Speaker On/Off. Allows you to choose whether the speakers are enabled, regardless of whether headphones are connected.
6) Auto Power Off. This is enabled by default and allows the instrument to power down automatically after 30 minutes of in-operation.
There are no temperament options for the YDP-144, and by default this uses stretched tuning, which is standard among all concert grands. The lower notes are tuned slightly flat and the upper notes are tuned slightly sharp.
---
Song Recording and Playback
The YDP-144 comes with 10 voice demo songs and 50 classical pieces. On top of that, you can load up to 10 songs (SMF format 0 or 1) into the instrument for a playback.
You can also record your own songs using a 2-track MIDI recorder. This is helpful if you want to record individual left-hand or right-hand parts for practice.
After recording, you can modify individual parts. You can change the voice, volume balance, reverb depth, damper resonance, tempo and reverb type.
Note that multiple parts can be recorded in succession.
Using a connected computer or app, you can also save your songs as MIDI files via Yamaha's Musicsoft Downloader.
Connectivity
Ultimately, the Yamaha YDP-144 is basic when it comes to connectivity options. This isn't much of a surprise, since it's aimed at beginners for home practice. Even so, you do get all the essentials.
Primary inclusions are two ¼" stereo jacks, designed for use with headphones.
These can also serve as Line Outs which allow you to plug the keyboard into external amplifiers or speakers.
If you want to capture the actual sound of the YDP-144, connecting these to an audio interface is also a possibility, though, in that case I'd recommend using the built-in USB Audio Interface function.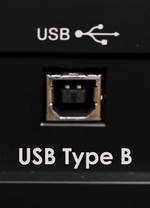 You also get a USB to Host port below the piano, which allows you to connect the YDP-144 to supported devices.
You can use this to exchange MIDI via USB-MIDI with supported software such as Garageband, Flowkey, Simply Piano, etc.
Note that to connect an iOS device, you'll need to rely on a Lightning-to-USB camera adapter or the Yamaha wireless MIDI adapter.
The wireless option may be less cumbersome, but with more latency.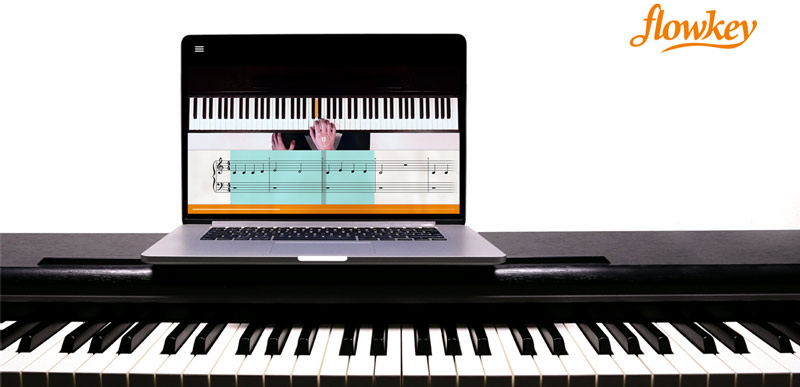 A pedal jack is included, though it is not the standard 1/4" jack you'll find on most pianos. This one is designed to work with the included 3-pedal system in the cabinet, hence the proprietary nature.
Remember how I mentioned the complicated controls?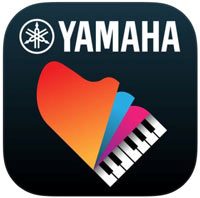 If you really want to get the best experience, you will want connect the YDP-144 to an iOS device to use Yamaha's Smart Pianist.
This application is available on iOS  (the Android version is expected to be released in June 2019), so if you've got a phone or tablet, you'll be able to use it.
The Smart Pianist application, once connected, allows you to tweak parameters and control the keyboard using a well-designed graphical user interface.
This is significantly better than the cumbersome controls I've mentioned previously.
For example, you can change what sounds are being played with just a few presses.


You can also adjust the metronome tempo with a numerical keypad input, instead of pressing complex key combinations. You can even view scores and turn pages with the soft pedal.
I find it quite unfortunate that Yamaha doesn't provide built-in Bluetooth functionality since many of their competitors offer this feature without the need for extra peripherals.
---
USB Audio Interface
A rare inclusion in digital pianos, the YDP-144 includes the functionality for audio data transfer and playback. This allows you to play back songs or notes from supported hardware or your computer.
Something quite nice about this functionality is that you can directly use the sounds from the YDP-144 in your DAW without the need for another audio interface.
As someone who likes to record pianos into my DAWs, this is an excellent alternative to using VST instruments such as XLN Audio's Addictive Keys, and I'm a huge fan of this functionality.
Accessories
Of course, the screws required for assembly also come in the box, and this is pretty much everything you need to begin playing immediately once you've assembled the YDP-144.
---
Headphones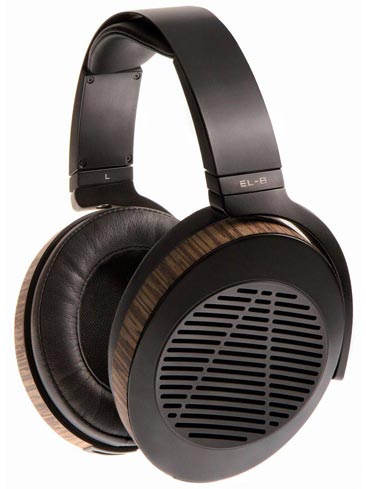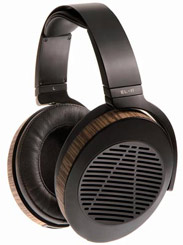 Headphones come in very handy when you want to practice in private, focusing solely on your playing and not disturbing others nearby.
Moreover, a good pair of headphones will provide a clearer and more detailed sound compared to the onboard speakers.
For a guide on how to choose best-sounding headphones, check out our in-depth guide.
Summary
Pros
Superb build quality
Great feeling and looking pedal system
Weighted and graded keyboard
Beautiful and exquisite tone of the CFX concert grand
Simulated damper/string/key off resonance
192-note polyphony
USB Audio Interface function
2-track MIDI recorder + 50 preset songs
Cons
Less-than-stellar GHS key action
Terrible control scheme without the app
Minimal effects, limited tweaking options
No Bluetooth
---
In conclusion, the Yamaha YDP-144 is a great digital piano with the disadvantage of bad controls and unimpressive key action.
Is it a worthy successor to the YDP-143? Definitely. The newly sampled CFX concert grand sounds excellent and the improved speakers really help it shine through.
Apart from that and the added Smart Pianist app support, it's pretty much the same instrument as the previous YDP-143.
With that said, it's somewhat disappointing that Yamaha didn't try to improve on this aspect, as there's definitely a lot of room to grow.
There's a reason why most people recommend investing in the best key-action for your price range.
With modern advancements in digital audio, you can 'upgrade' your piano's sound quality with VST plugins, which can be played on your laptop or desktop computer.
Plugins such as Native Instruments' The Giant, Modartt's Pianoteq and Spectrasonics' Keyscape are constantly pushing the envelope with their fidelity, and MIDI enables you to easily use your digital piano of choice to control these sound sources.
You're essentially swapping out your sound engine for something better, while keeping the same keyboard you initially bought.
Another complaint about the YDP-144 is that it does nothing to improve the YDP-143's complicated controls.
We might have given this a pass in our YDP-143 review, but it's been three years since its release and its competitors have improved by leaps and bounds in the same amount of time.
Sure, you can rely on the Smart Pianist app to fix existing problems, but you need a separate purchase to connect the app to the piano.
Meanwhile, other companies such as Roland and Kawai offer Bluetooth connectivity, which makes connecting to smart device a breeze.
I'd argue the CFX concert grand is one of the best sampled grand pianos you can get in this price range, and you won't need to do much tweaking to make it sound good either.
However, the Yamaha YDP-164 includes the same sounds and also comes with Yamaha's GH3 key-action, which I feel is far superior, as well as a more powerful 40W speaker system.
If you have the chance, I'd definitely recommend checking out this option.
Here are the key differences between the YDP-144 and its older brother YDP-164 (next model up):
Yamaha YDP-144
GHS Keyboard Action
2 x 8W Speakers
Weight: 83.7 lbs
Yamaha YDP-164
GH3 Keyboard Action (simulated ivory/ebony keytops)
2 x 20W Speakers
Weight: 92.6 lbs
Piano Effect: Smooth Release
---
Check the availability and current price of the Yamaha YDP-144 in your region:
Alternatives
Yamaha YDP-144 vs  Casio PX-870  (Full Review)
The Casio PX-870 is the flagship digital piano in Casio's Privia series, and it is certainly priced to compete with the YDP-144.
Casio markets the PX-870 as having the most authentic piano sound in the series.
The key action here feels great and my only minor gripe is its relative noisiness that may become an issue when playing at low volume levels.
Unlike the Yamaha's GHS keyboard, the Casio's Tri-sensor Scaled Hammer Action II has textured keys that simulate the feel of ivory and ebony.
The way how the keys move and respond to your key presses is also something I like better compared to the Yamaha action.
To achieve realistic piano sound, the PX-870 featured Casio's famous AiR sound generator that ensures smooth and multi-dimensional piano sound of a grand piano.
The engine also simulates several acoustic characteristics such as key-off resonance, hammer response, lid and action noise. These are high-end modeling techniques that really make the piano come to life.
While I like the CFX sounds and their amazing detail in sampling, I'll admit that the PX-870 has some really good piano sounds.
Available tweaking options also means you can make the sounds your own, as opposed to having non-changeable piano parameters in the YDP-144.
Ultimately, the choice will depend on what you find the most natural-sounding to your years. I'm leaning more towards the character of the CFX grand, but let me know in the comments which one you like better.
In terms of preset tones, the PX-870 has nineteen sounds to the YDP-144's ten. It also has sixty preset songs to the YDP-144's fifty, and you also get a bolder and fuller sound with four10W speakers.
Now, let's recap and compare the YDP-144 and PX-870 side by side.
Yamaha YDP-144
10 Built-in Sounds
50 Preset Songs (classics)
2 x 8W Speakers
192-note Polyphony
Depth: 16.6″
Weight: 83.7 lbs
Damper/String Resonance, Key Off Simulation
USB Audio Interface (USB port can transfer both MIDI and Audio data)
Casio PX-870
19 Built-in Sounds
60 Preset Songs (+ 10 User)
4 Speakers (40W)
256-note Polyphony
Depth: 11.7″
Weight: 75.6 lbs
Damper/String Resonance, Key Off Simulation, Hammer Response, Lid Simulator, Key Off/On Action Noise
Onboard Audio Recorder
17 Temperament Types
Chorus Effect (4 types)
Concert Play Feature (10 songs)
---
Yamaha YDP-144 vs  Roland F-140R  (Full Review)
The F-140R is one of the more affordable digital pianos in Roland's product range.
Roland has always been well-known for their complete feature sets, and the F-140R does not disappoint.
The F-140R features Roland's PHA-4 Standard hammer-action keys with escapement and ivory feel.
This is arguably the best entry-level key action available out there, and it definitely feels superior to Yamaha's offering on the YDP-144.
With these keys, you're getting a great level of realism, better responsiveness, and longer pivot point compared to the Yamaha.
The F-140R also comes with a whopping 316 sounds, which is a far cry from the YDP-144's ten sounds.
This isn't even a case of quantity over quality, since most of the sounds are stellar. Sure, not all of them are perfect, but a large majority of them are well-sampled and -synthesized.
Variety is a crucial asset for creative writing, so having more options is always a plus.
While both digital pianos come with dual speakers, the F-140R excels with its 12W speakers. Both share the clarity and power you'd expect, but if you need volume, the F-140R sneaks ahead.
The F-140R also comes in slimmer, lighter package and includes the oddly omitted in the YDP-144 split mode.
Having Bluetooth MIDI is also a major plus, especially since the YDP-144 requires a separate dongle to implement this functionality.
Finally, the F-140R comes with a small screen and supports the saving and playback of MIDI and WAV files from flash drives.
If you get the opportunity to try it out, it's worth considering.
Yamaha YDP-144
10 Built-in Sounds
50 Preset Songs (classics)
2 x 8W Speakers
192-note Polyphony
2-track MIDI recorder
Depth: 16.6″
Weight: 83.7 lbs
USB Audio Interface (USB port can transfer both MIDI and Audio data)
Roland F-140R
316 Built-in Sounds
189 Preset Songs (classics)
2 x 12W Speakers
128-note Polyphony
1-track MIDI recorder
Depth: 13.5″
Weight: 76 lbs
Bluetooth (MIDI)
Split Mode
Supports MIDI and WAV files playback from a flash drive
72 accompaniment styles (2 variations)
Small screen for easier navigation
---
Yamaha YDP-144 vs  Kawai KDP110 (Full Review)
The Kawai KDP110 is the most affordable console style digital piano in Kawai's arsenal. It's priced very closely to the YDP144, so consider it a direct competitor.
The KDP110 features the RHCII key action, which one of Kawai's lower-end plastic key actions.
Nonetheless, it feels really good for its price and I enjoyed playing it as much as Roland's PHA-4 Standard action, and Korg's RH3.
The keys are on a lighter side, but they feel incredibly responsive, fast,  and dodge the 'mushy' feel of GHS keys.
The sound has also been one of Kawai's strengths, and the KDP110 does not disappoint here either.
The rich, expensive tone of the Shigeru Kawai SK-EX concert grand has been captured beautifully on the KDP110, and the Piano Designer feature makes sure that you have full control over the elements of the sound.
The KDP110 includes fifteen built-in sounds to the Yamaha's ten, and has two 20W speakers, which beats the YDP-144's 8W speakers as far as fullness and loudness of the sound go.
For beginners, the Kawai KDP110 has over 250 songs and lesson functionality, making it ideal for self-taught musicians.
The YDP-144 supports multi-track MIDI recording and playback, whereas the KDP110 only supports single-track recording.
The Yamaha YDP-144 includes special USB audio interface technology, which the KDP110 lacks.
On the flip side, the KDP110 has Bluetooth MIDI functionality and includes dedicated MIDI in/out ports, making for more versatile connectivity options.
The YDP-144 is bit lighter, but the KDP110 is slightly slimmer. Both digital pianos feature different piano intricacies, so it really comes down to personal preference.
Yamaha YDP-144
10 Built-in Sounds
50 Preset Songs (classics)
16W Speakers
2-track MIDI recorder
Depth: 16.6″
Weighs 83.7 lbs
Damper Resonance, Key Off Simulation, String Resonance
USB Audio Interface (USB port can transfer both MIDI and Audio data)
Kawai KDP110
15 Built-in Sounds
5 Music Books (over 250 songs)
40W Speakers
1-track MIDI recorder
Depth: 15.9″
Weighs 86 lbs
Damper Resonance, Key Off Simulation, Topboard Simulation, Hammer Delay, Stretch Tuning
Bluetooth (MIDI)
Virtual Technician (13 adjustable parameters)
MIDI In/Out ports