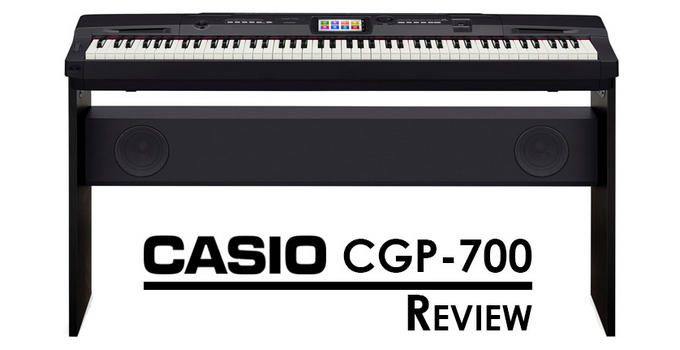 Today we'll be taking a closer look at the Casio CGP-700 from Casio's Compact line.
The main reason the CGP-700 is not in the Privia line is that it has a different sound source (MiX), while all the Privia pianos share the AiR sound source.
CGP stands for Compact Grand Piano, which stresses the piano-centric features of the CGP-700, including the Tri-sensor Hammer Action Keyboard II, high-quality grand piano samples, duet mode, etc.
Moreover, the keyboard boasts a powerful 6-speaker sound system and comes with an integral (removable) stand, which, in theory, makes the CGP-700 great not only for home use but also for gigs.
So let's dive in and take a closer look!
Casio CGP-700 Specs
88-key fully weighted keyboard with simulated Ivory & Ebony keytops
Tri-Sensor Scaled Hammer Action II
Touch Sensitivity (3 types, Off)
Sound: MXi (Multi-Expressive Integrated) Sound Processor
128-note polyphony
550 instrument sounds (28 pianos)
Modes: Split, Dual, Duo (Duet Play)
Lesson Function (ability to practice each hand's part separately)
200 accompaniment patterns (+ 305 music presets)
16-track MIDI recorder (up to 100 songs), punch-in recording
USB Audio recorder: WAV (44.1 kHz, 16 bit, stereo)
Metronome, Transpose, Fine-tuning, Octave Shift
Temperament – 17 types; Stretch Tuning – On/Off
Speakers: 20W + 20W (12cm x 2 + 5cm x 2; 12cm x 2 – stand built-in speakers)
Connections: USB to Host, USB to Device, Headphone jacks (2), Line Out, Audio In, Sustain Pedal jack
132.2 x 29.3 x 14.1 cm (52" x 11.5" x 5.5")
11.7 kg (26 lbs); with stand – 25.7 kg (56.7 lbs)
Check the availability and current price of the Casio CGP-700 in your region:
Design
The Casio CGP-700 is a fairly compact digital piano that comes with a wooden stand (the optional triple pedal bar is not included).
The piano looks modern and professional. It's made of solid matte plastic and is only available in black.
Not only does the stand provides good support for the keyboard but is also a part of the CGP-700's speaker system.
There are two large speakers built into the stand in addition to four speakers on the keyboard itself.
At home, you'll probably want to use the CGP-700 with its stand as the speakers in the stand make a huge difference to the sound.
But if you want to take the keyboard out to a gig or on a trip, you can easily remove it from the stand and transport without any problems.
Alternatively, you can rotate the stand outwards (the speakers face the audience) and use the CGP-700 for small to medium performances without any external amplification.
Fully-assembled the keyboard weighs 56.7 lbs, which is quite a lot. But the keyboard alone (without the stand) is only 26 lbs, which makes it easy to lift and carry.
Thanks to the slim design, the piano would be a perfect choice for small spaces.
It's actually one of the most compact digital pianos on the market. The length of the piano is 52″ and the depth is only 11.5″ inches.
Take a look at the table below to quickly compare the CGP-700's size to some other popular digital pianos:
Some of the latest Privia keyboards are equipped with a 5.3" color touchscreen. And even though the CGP-700 is not a part of the line, it has one too. And it's really impressive, considering the price of the instrument.

The touchscreen makes the whole process of navigating the CGP-700 easier and much more enjoyable.
The user interface is very friendly and well laid out.
You can quickly select tones, rhythms, sound effects, record your performances, change settings with just a touch of a finger. The display will also show the main current settings.
Aside from the display, there are 27 physical buttons, which are quite small and look elegant. There are also a volume knob and a pitch bend wheel.
Overall, it's the most user-friendly and convenient controls I've ever seen.
Keyboard
The CGP-700 features Casio's famous Tri-Sensor Scaled Hammer Action Keyboard II.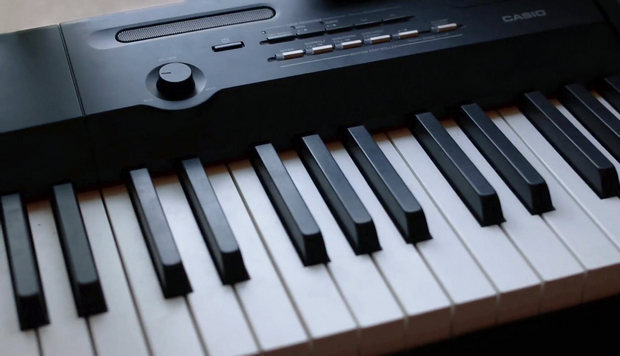 For now, all the Casio digital pianos under 2000$ are equipped with this keyboard action, and there is a reason for that.
The CGP-700 has 88 fully weighted keys, which are the same size as piano keys.
The keyboard uses a springless hammer system meaning there is a little hammer connected to each key that simulates the movement of the hammers in a real piano.
Thanks to the graded hammer effect, you get a heavier feel in the low register and a lighter feel in the high register, a characteristic found on acoustic pianos.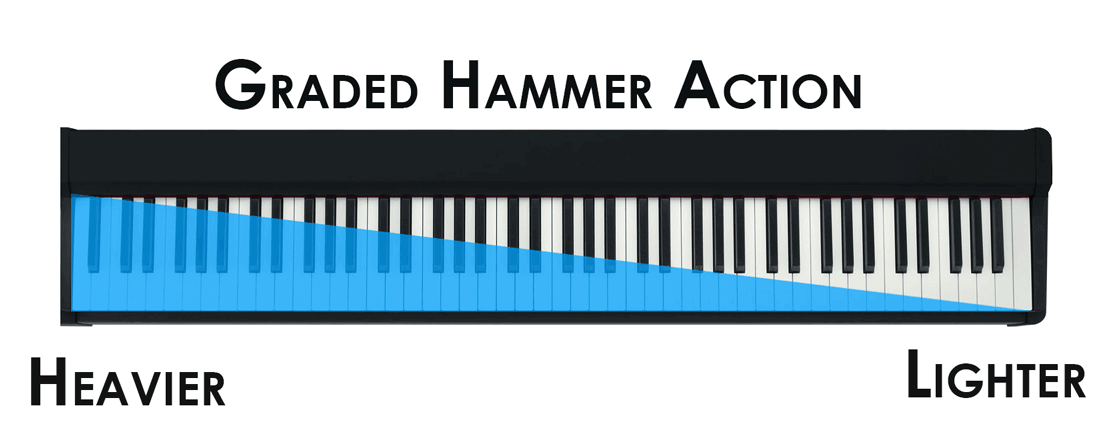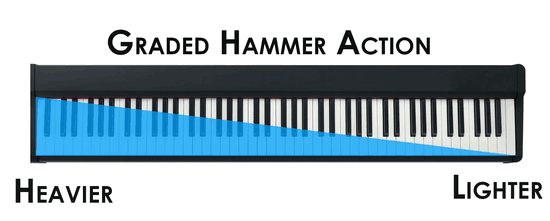 Under each key, there are 3 electronic sensors (most keyboards have 2) that accurately detect the velocity of your keystrokes and allow for faster note repetition when playing fast passages.
The 3-sensor technology is more common for high-end $1500+ pianos, but Casio took a different approach and decided to equip all of their pianos (including entry-level models) with this technology.
Another great feature of the keyboard is its simulated Ivory & Ebony keytops.
So instead of a glossy finish, the keys have a matte textured surface that provides a confident grip and absorbs moisture when your fingers get sweaty.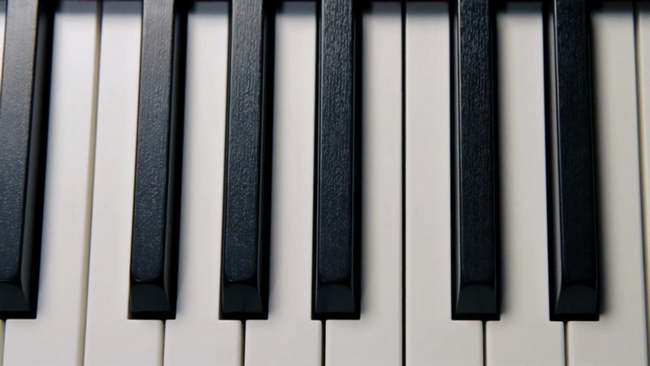 The keyboard of the CGP-700 is touch-sensitive and responds differently depending on how hard or soft you strike the keys.
This allows you to produce a wide dynamic range from the soft pianissimo to the powerful fortissimo. You can also adjust the level of touch-sensitivity to suit your playing style.
There are 3 touch-response preset settings you can choose from: Light, Normal, and Heavy.
You can also disable touch-sensitivity so that the instrument produces the same level of volume regardless of how hard or soft you play.
Sound
At the heart of the CGP-700 is the MXi (Multi-Expressive Integrated) sound processor.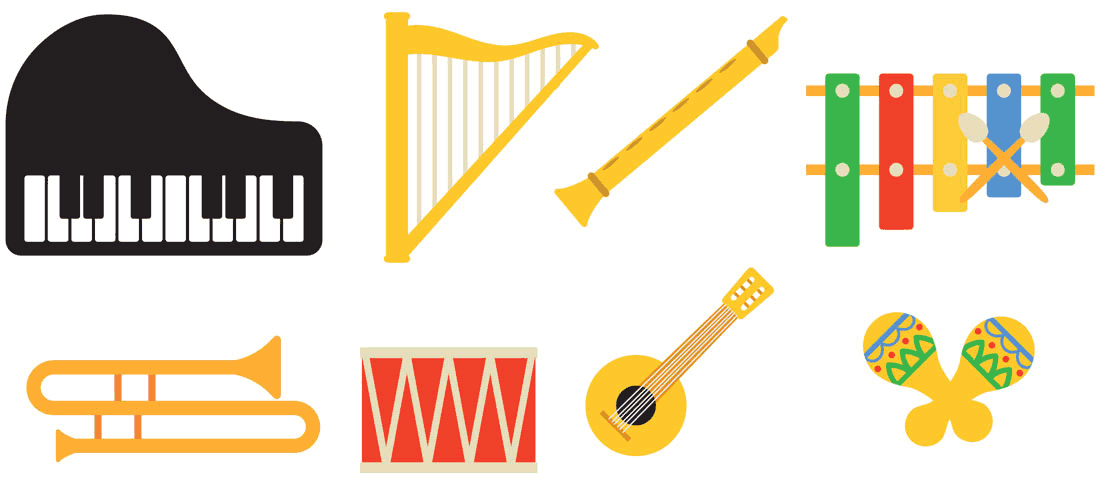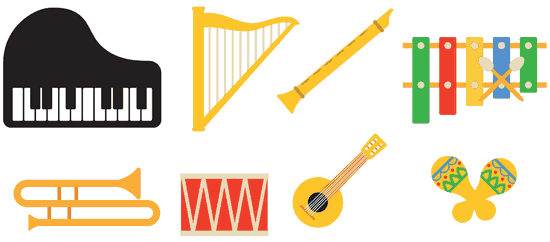 The MXi is a little bit different from the AiR sound source found on most of Casio's digital pianos.
It offers a wide variety of sounds, sound effects, rhythms, styles, etc., but when it comes to piano sound, it's not as sophisticated as the AiR.
Unlike the AiR sound engine (some versions), the MXi doesn't offer linear morphing, string resonance simulator and key-off simulator that would make the sound more natural and realistic.
The difference is not that significant and I'm sure not everyone will be able to hear it.
But if you want the most realistic and acoustic-like piano sound, take a look at the PX-360 or the PX-870 featuring the AiR sound engine.
With that said, the CGP-700 uses the same high-quality stereo samples of a 9-foot concert grand piano. And it sounds really amazing, just listen to this performance:
Aside from piano sounds the CGP-700 offers hundreds of other instruments.
It's just amazing to have so many sounds in just one instrument. This gives you a lot of room for creativity and you'll never get bored of playing the keyboard.
Moreover, you can use various sound effects to tailor the sound to your taste. There are 17 reverbs, 16 choruses, 6 types of delays and adjustable brilliance.
Reverb is probably the most popular of the above and what it does is simulates the acoustics of various environments making the sound bigger and bolder.
There are rooms, halls, stadiums and other reverbs that will make you sound as if you were playing in those places.
On the left side of the keyboard, you'll also find a pitch bend wheel that you can use to raise or lower the pitch of the notes being sounded.
Using the pitch bend you can get some cool effects like guitar vibrato, choking, etc.
---
Speakers
The CGP-700 is equipped with a staggering 40W speaker system, which produces rich, powerful sound.
There are four speakers on the keyboard itself and two low-frequency speakers located in the stand.
If you want to transport the CGP-700 or use it on stage, you can remove its stand and use the keyboard with a portable X-type stand, but the sound quality will not be as good.
Alternatively, you can rotate the stand outwards and use its speakers as monitors when performing.
In this way, you can use the keyboard for small/medium performances without using any external amplification.
The piano can get loud enough to fill a big living room. And the good thing is that the sound is clear even at max volume.
---
Polyphony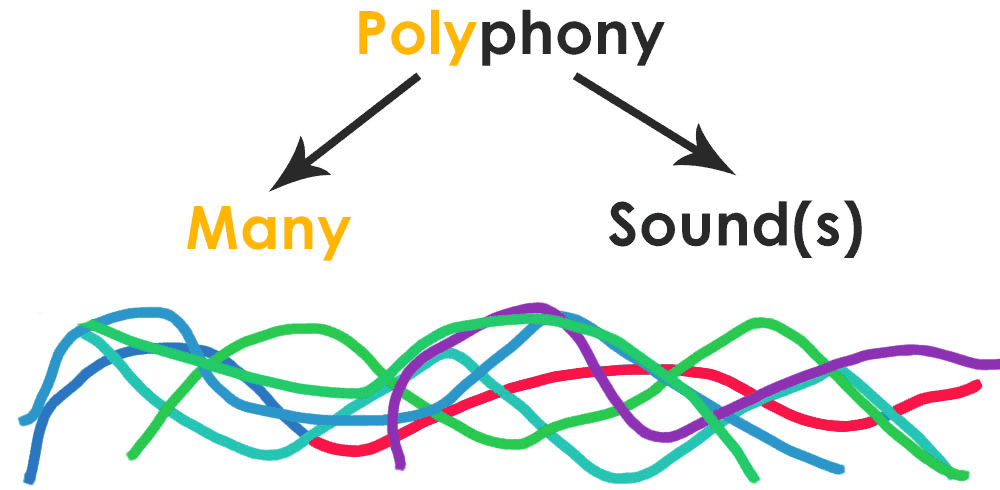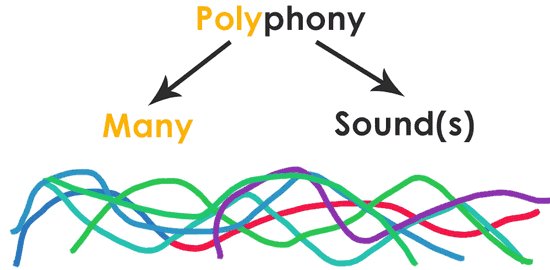 The CGP-700 has 128 notes of polyphony. It's an average amount of polyphony that the majority of digital pianos have in this price range.
In most cases, the 128-note polyphony will be enough for playing complex multi-layered pieces without running out of memory.
Features
Modes
Layering (Dual Mode)
Not only does the CGP-700 have 550 built-in sounds but it also allows you to create new complex sounds by layering two different instruments on top of each other so that they sound simultaneously.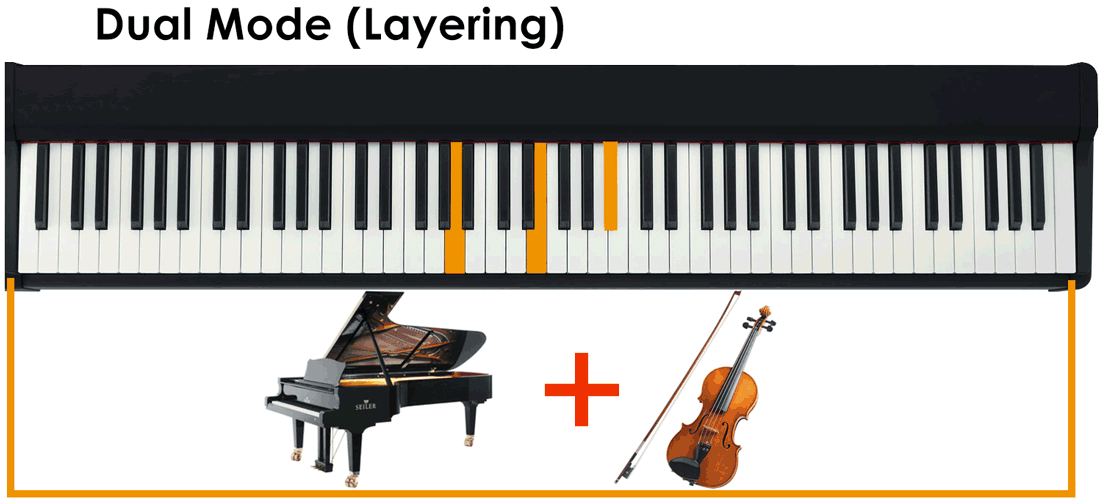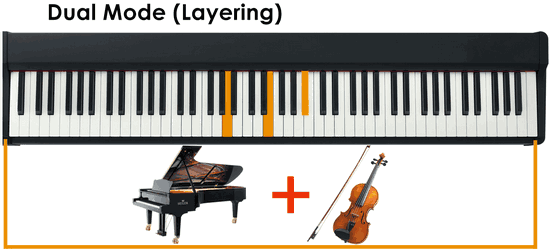 You can adjust the volume balance between two layered sounds to make one sound more prominent than the other.
Considering there is a massive range of sounds to play around with, you'll be able to create some interesting and unique combinations that no one has heard before.
A piano tone over the top of strings is a classic combination that you can't go wrong with.
Split Mode
The split mode allows you to split the keyboard into two sections to play a different sound in each of them.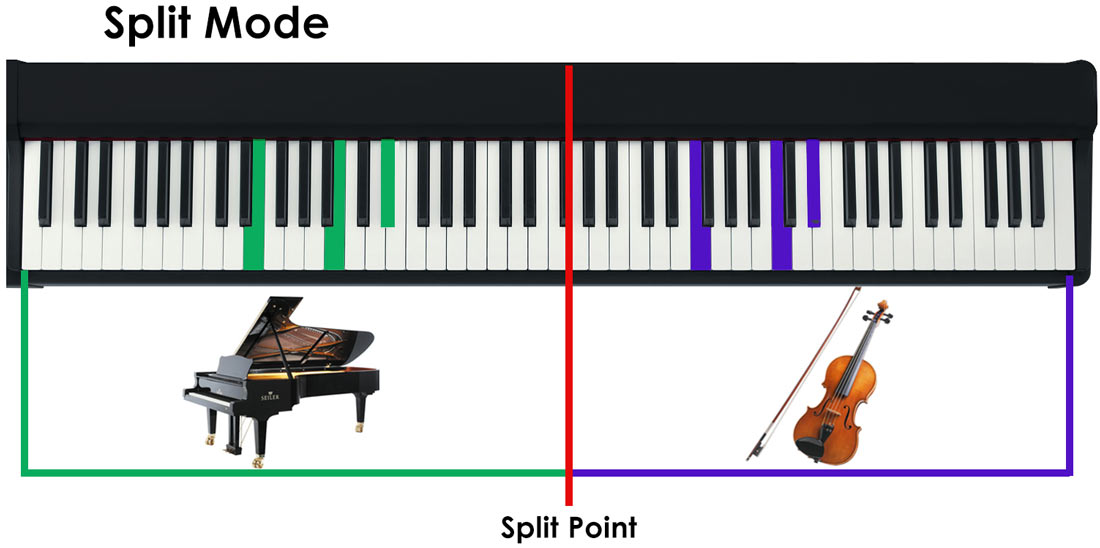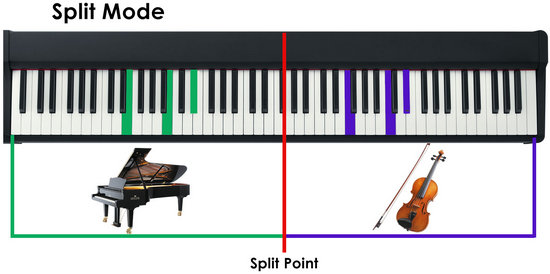 For example, you can play guitar with your left hand and piano with your right hand at the same time.
You can even split layered sounds, which will allow you to play with four different instruments at the same time.
The split point can be shifted from the default F#3 position.
Duet Play
Duet Play function allows you to split the keyboard into two equal sections with the same pitch ranges (each section has its middle C).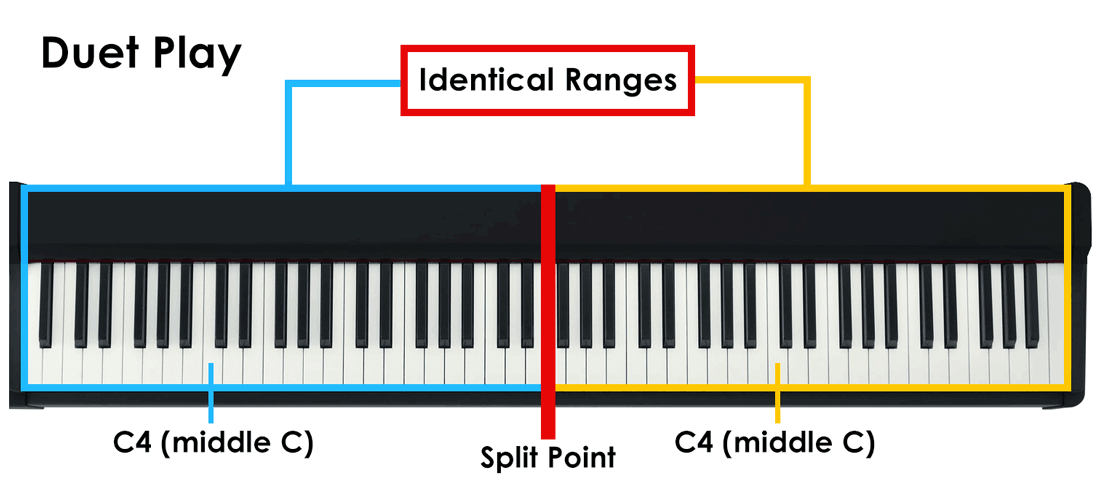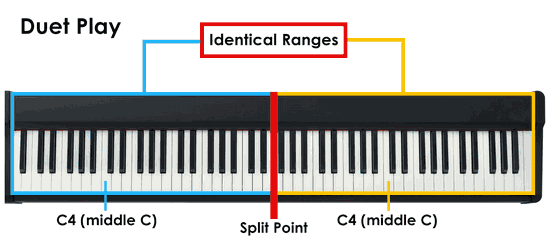 It means that two people can play the same notes on different sides of the keyboard at the same time.
Duet Play is particularly useful when you use it with your teacher or tutor who will be able to play you some tunes on one side of the keyboard, and you'll be able to follow along on the other.
---
Recording and Playback
There are two different ways to record your performances on the CGP-700: MIDI and Audio recording.
MIDI recording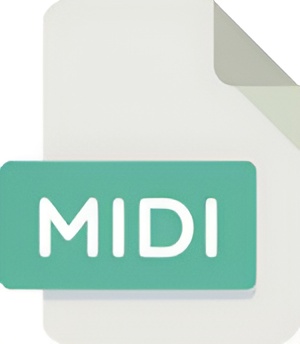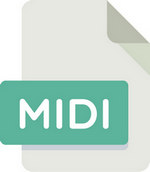 When you're using MIDI-recorder, you're not recording the actual sound of the instrument, but the performance data (tone, key press/release, touch pressure, etc.).
That's why it's possible to edit many parameters after the recording is done. For example, you can change the tone, tempo, or even correct the wrong notes.
The CGP-700 is capable of recording and storing in its internal memory up to 100 MIDI songs.
Each song can consist of up to 16 tracks on which you can independently record right- and left-hand parts as well as different instrument parts creating multi-layered musical arrangements.
You can listen to the playback of an already recorded track(s) while recording the next one.
After you've recorded the needed amount of tracks, you can play them all back as a single song or play around with the recording turning off some of the tracks.
Another useful feature is called punch-in recording, which will allow you to re-record a specific part of a track if you need to improve or correct something.
Audio recording
Audio recorder is another function you can use to record your performances.
Here, we're recording the audio signal from the piano.
In comparison to MIDI files, you can't change anything in your performance after the recording is finished.
The output audio file is recorded in WAV format (Linear PCM, 16bit, 44.1 kHz, Stereo) and can only be saved to a USB Flash drive (internal memory cannot be used).
WAV is a much more common format than MIDI (SMF) and can be played on most smart devices including laptops, phones, audio players, etc.
You can also share the recordings on social media or burn them to a CD for family and friends.
---
Transpose, Octave Shift & Tuning

The CGP-700 has 3 different functions you can use to adjust the pitch of the piano.
The transpose function allows you to shift the pitch of the entire keyboard in semitone steps.
For example, using this function, you can hear a song in a different key without having to change your fingering. You can also use transpose to facilitate playing songs written in a "difficult" key (e.g. D#, many black keys).
The octave shift function allows you to shift the pitch in octave units. This function is also available in the Duet Mode.
Using the tuning function, you can adjust the tuning of the piano from the standard A440 pitch in 0.1 Hz steps.
The feature is particularly useful when you need to match the pitch of another instrument or audio source (tape, old piano).
---
Other Functions
Unlike most digital pianos, the CGP-700 has an accompaniment function.
There are 200 accompaniment rhythms that will accompany your performance with a full backing band that reacts to the cords you play.
For chord specifying you can choose one of the following chord fingering modes:
One-touch preset feature will quickly find the optimal tone and tempo settings to use for the currently selected accompaniment pattern.
The CGP-700 also has 305 music presets that provide one-touch tone, rhythm, chord and other settings optimized for specific musical genres.
There are nine groups of genres available: pop, jazz, dance, rock, classic, traditional, ballad and Latin.
Auto-harmonize feature offers you 12 types of harmony effect that will be applied to the notes played in the right-hand section of the keyboard (melody).
What the auto-harmonizer does is adds additional notes of higher or lower pitch to the notes you play making the sound fuller and deeper.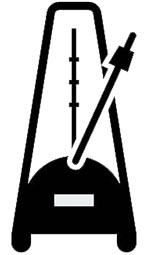 The CGP-700 has an onboard metronome with adjustable beat, tempo and volume.
The metronome comes in handy when you have a hard time keeping a consistent tempo throughout a piece.
It will click at a certain speed allowing you to effectively practice your rhythm and time-keeping.
The standard Equal Temperament of the CGP-700 can be changed to one of the various temperaments more suitable for playing classics, Indian music, etc.
There are 17 temperaments on the CGP-700 including Pure Major/Pure Minor, Mean-tone, Kirnberger 3, Werckmeister, etc.
Connectivity
CGP-700 offers a wide range of connectivity options for a variety of situations.
On the front, you'll find two 1/8" (3.5mm) stereo jacks that you can use to connect up to two pairs of headphones simultaneously.
Once you plug in the headphones, the speakers will automatically shut off allowing you to practice at any time without bothering others.
The CGP-700 is equipped with two types of USB terminals – USB type A and USB type B.
The USB type A is used to connect a USB stick to the piano to quickly and conveniently exchange music data and files.
For example, you can transfer your MIDI recordings from the piano's internal memory to the flash drive and vice versa.
Audio (WAV) recordings, on the other hand, can only be saved to the flash drive (internal memory is not available for that).
The piano also allows you to play back both MIDI and WAV files directly from your flash drive.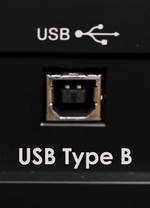 The USB type B port can be used to connect the CGP-700 to a computer for exchanging MIDI data and files.
This connection will allow you to use the piano as a MIDI controller to create music with apps like GarageBand or to learn the piano with FlowKey, etc.
There are actually many other apps that can expand the functionality of the CGP-700 in terms of learning, composing, recording, editing, notation creation, etc., depending on the kind of software you use.
To connect you'll need an A-B USB cable , which doesn't come with the piano and sold separately.
Line Out R, L/Mono jacks
These 1/4" standard jacks can be used to connect the piano to external audio systems or amplifiers as well as mixers, audio interfaces, etc.
So if you plan to perform on stage or use the piano in the studio, the CGP-700 will not let you down.
Audio In stereo mini jack
Using a 3.5mm Male to Male cable, you can connect your smart devices (tablets, phones, audio players) to the CGP-700 and play songs/audio files through the CPG-700's speakers.
The only thing is that your device must have 3.5mm Aux Out (headphone jack).
Damper Jack
This jack is used to connect the included or any other sustain pedal with 1/4″ plug.
Accessories
Stand
The piano comes with a nice wooden stand with 2 additional speakers, so you don't need to spend extra money on buying a stand.
However, for stage performances, you may want to consider a collapsible X-type stand, which is much more portable and easier to transport.
Moreover, it's usually much lighter in weight than the included stand (30 lbs).
Here are 3 high-quality X-type stands I recommend for the CGP-700:
---
Pedals
The piano comes with a basic sustain footswitch, which will satisfy most beginner players.
The pedal is pretty flimsy, it doesn't support half-pedaling. It doesn't feel or look like a piano pedal at all.
The good thing about the pedal is that it's portable and thus perfect for gigs.
For home use, I'd recommend something more realistic and reliable.
The SP33 is an optional triple pedal board designed for the CGP-700 and its stand.
The unit features 3 piano-style pedals, which produce the same effects as sustain, soft and sostenuto pedals on an acoustic piano, plus it supports half-pedal operation.
The SP33 is the best option for those who need a realistic piano experience and are going to use it as an alternative to an acoustic instrument.
As a bonus, the pedal board strengthens the stand and makes it more stable.
However, if you don't want to spend too much extra money, I recommend taking a look at the much more affordable M-Audio SP-2 sustain pedal.
The pedal feels and looks very similar to a real piano pedal and has a high-quality metal construction with rubber bottom.
No doubt, the SP-2 is a much more realistic pedal than the included one.
---
Bag
When you detach the CGP-700 from its stand, the keyboard is not much different from portable pianos like the Yamaha P-115 or the Casio PX-160 in terms of mobility.
No wonder the CGP-700 is widely used as a gigging keyboard with its various sounds, features and a convenient touchscreen.
So if you plan to use the keyboard for gigs or social events, you may want to consider buying a gig bag to protect it during transportation/carrying.
For its 88-key keyboards, Casio offers an inexpensive yet reliable bag perfect for light travel and solo gigs.
The Casio PRIVCASE Privia Case will fit the CGP-700 just fine, even though the model is not listed in the bag's description.
The Kaces 15-KB Xpress Series Keyboard Bag would be a great alternative to the Privia case if you're ready to spend a little bit more.
It provides reliable protection with extra-strength stitching and metal hardware. It also has two large pockets for accessories.
---
Headphones
Headphones come in very handy when you want to practice in private, focusing solely on your playing and not disturbing others nearby.
Moreover, a good pair of headphones will provide a clearer and more detailed sound compared to the onboard speakers.
Check out this guide to learn how to choose the best-sounding headphones for your digital piano.

Summary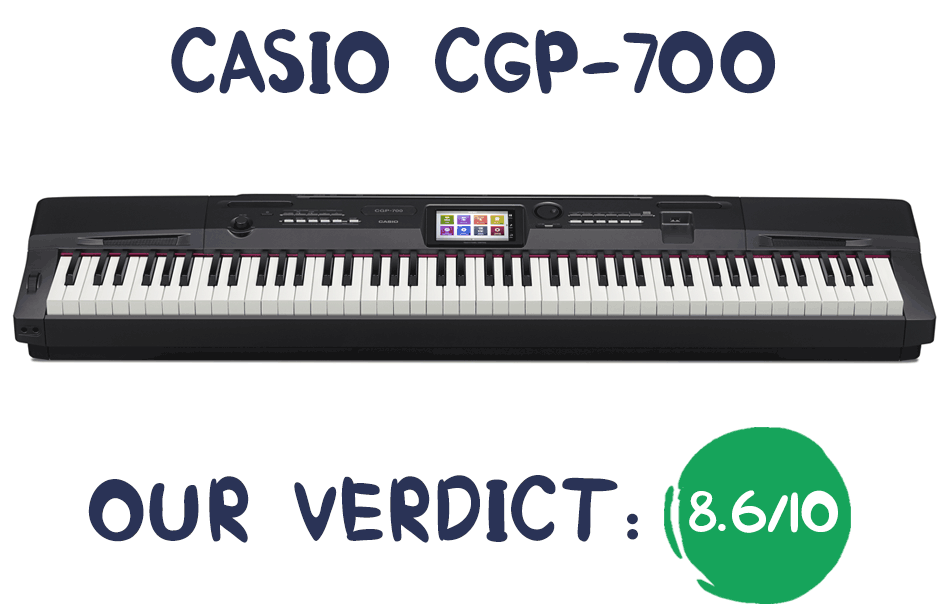 The Casio CGP-700 turned out to be quite a delightful instrument.
I enjoyed playing around with the numerous features and functions and was pleasantly surprised with how affordable it is.
I also think the CGP-700 is a truly versatile keyboard and here is why.
Firstly, the piano is perfectly suitable for gigs. Since the CGP-700 features a 5.3" color touchscreen, it's much more convenient to use it on stage than keyboards that require pressing button+ key combinations to change a sound or setting.
Secondly, the CGP-700 is just as good for home use as it is for performing live. The piano comes with a nice integral stand and is equipped with powerful 40W speakers that produce a high-quality and powerful sound.
I like how Casio managed to keep a balance between various arranger features and piano-centric features important for piano players.
So I don't see any reason why the CGP-700 wouldn't be suitable for piano players and those who learn to play.
The piano features fully weighted keyboard with 88 touch-responsive keys, which provides a fairly realistic playing experience and makes it very easy to transition from acoustic to the Casio and vice versa.
You will not be disappointed with how it sounds either.
The MXi sound engine uses high-quality samples of a 9-foot concert grand and even though the sound is slightly less detailed than what the AiR processor offers it's still on a very high level in terms of realism and expression.
The huge plus, of course, is the CGP-700's 6-speaker sound system, which makes the sound even more impressive and provides a wide range of dynamics.
But there is more than just realistic piano sound and feel. The CGP-700 has a great set of extra features that any musician will appreciate.
There are 550 built-in tones and 220 accompaniment styles that are so much fun to play around with.
If you're considering this instrument for a child, I'd definitely recommend it.
The CGP-700 will keep them interested for years and encourage to explore various musical styles and different instruments, not just piano.
Wrapping up, the CGP-700 is best suited for those, who don't just need an instrument with an authentic piano sound and feel, but also a creative partner for music making and a source of entertainment.
So if you only plan to use the keyboard for playing it as a piano and don't really need all those extra sounds and features, you'd probably be better off with more straightforward digital pianos like the PX-160 or the newly released PX-770 and PX-870 models.
The latter two will also provide a more authentic and detailed piano sound.
Check the availability and current price of the Casio CGP-700 in your region:
Alternatives
Now, it's time to look in detail at some of the competitors to the Casio CGP-700.
Casio CGP-700 vs  Yamaha DGX-660 (Full Review)
The Yamaha DGX-660 is probably the main competitor to the CGP-700. The keyboards provide similar capabilities, share the same target audience and have the same price.
So let's dig a little bit deeper to find out whether the Yamaha is a better option.
Just like the CGP-700, the DGX-660 comes with a matching stand (no speakers built into it)
The keyboard features a monochrome display, which compared to the CGP-700's 5.3" color touchscreen looks a little bit outdated and is not as effective.
While the DGX-660 offers a whole universe of sounds, styles, sound effects, and features for music production, it also provides an incredible piano playing experience.
There are 3 main things responsible for that:
1) Graded Hammer Standard keyboard with 88 full-size touch-responsive keys.
Unlike the CGP-700's tri-sensor keyboard, the GHS utilizes 2-sensor technology and doesn't have Ivory & Ebony textured keys.
2) Pure CF sound engine with piano tones sampled from the Yamaha CFIIIS concert grand. And this is where the DGX-660 has a little advantage over the Casio.
To my taste, it sounds slightly more accurate than the CGP-700, but again it's just a matter of personal preference.
On the other hand, nothing compares to the CGP-700's 40W speaker system, which produces a louder and fuller sound than the Yamaha with its 2 x 6W amplifiers.
3) 192 notes of polyphony for seamless performances without any note "drop-off". And even though the 128-note polyphony of the CGP-700 is enough in 99.9% of cases, the DGX-660 is still the winner here.
As for the extra sounds and features, the DGX-660 offers 554 instrument sounds (CGP-700: 550 sounds), 205 accompaniment styles (CGP-700: 200 styles), layer and split functions, 41 reverbs, 44 choruses and 26 harmonies (CGP-700: 17 reverbs, 16 choruses).
The DGX-660 has a 6-track MIDI recorder and audio recorder, while the CGP-700 allows you to record up to 17 tracks per song and is also capable of audio recording.
In terms of connectivity, the keyboards have the same set of ports, except that the DGX-660 doesn't have Line Out jacks, but has a Mic In jack instead.
Wrapping up, the DGX-660 offers slightly more sounds, styles and effects as well as a higher polyphony count and arguably better piano sound.
The CGP-700, on the other hand, offers a much more powerful sound system, a more convenient 5.3" touch screen and arguably a more realistic keyboard action.
---
Casio CGP-700 vs  Casio PX-360
The PX-360 is almost identical to the CGP-700, so I'll be brief.
The main reason you might prefer the PX-360 over the CGP-700 is that it comes with the AiR Sound Engine that allows for more realistic piano sound by adding string resonance, key-off and hammer response simulation.
To me, the difference is subtle, but you can hear it, especially when listening through headphones.
In addition, the PX-360 has Line In and MIDI In/Out jacks, which the CGP-700 doesn't offer.
Another important thing is that the PX-360 doesn't come with a stand and only has 8W + 8W onboard speakers, while the CGP-700 has 6W+ 6W speakers AND a stand with 2 x 14W additional speakers.
As for the rest, the PX-360 and the CGP-700 are identical, and considering that the PX-360 is slightly more expensive than the CGP-700 I'm not totally convinced that it's worth it.
What do you think?
---
Casio CGP-700 vs  Casio PX-560 (Full Review)
The PX-560 is the most advanced and expensive keyboard in the Privia line.
And even though the CGP-700 and PX-560 are in different price ranges, there are lots of players having a hard time deciding between these two models.
So why would you want to spend a few extra hundreds and get the PX-560? Well, there are several things that you should consider.
First and probably the most important difference between these keyboards is that the PX-560 is equipped with the AiR sound source with acoustic simulation that reproduces various aspects of an acoustic piano sound and allows you to adjust them to your taste.
Here are the parameters you can adjust:
These little details do make the PX-560 sound more realistic.
I especially liked its rich string resonance that I felt was a bit lacking on the CGP-700.
Another important advantage of the PX-560 is that it offers lots of options for sound customization, editing, and recording.
The keyboard features 650 preset tones (+400 user tones), 220 accompaniment rhythms (+30 user), 305 music presets (+ 100 used).
To tailor the PX-560's sound to your taste, you can use dozens of sound effects and tools, which I find extremely useful for music production.
There are 17 types of reverb, 16 choruses, 6 delays, over 140 editable DSP effects, 4-band master equalizer, as well as a modulation wheel, arpeggiator, and 3 control knobs to modify notes while you're playing.
It probably would take me a year to tell you about all the aspects of sound the PX-560 allows you to adjust to get the exact result you want.
When it comes to sound quality, the PX-560 features 4 speakers with two 8W amplifiers.
It's enough to fill a medium sized room, but the CGP-700 with its 40W speakers sounds just amazing and beats the PX-560 in this aspect. Moreover, the PX-560 doesn't come with a stand.
At the same time, the PX-560 has 256-note polyphony (CGP-700: 128 notes) and a few additional ports including Midi In/Out ports, Line In jacks and an assignable pedal jack.
If it's just recreational playing, learning, or gigging then you would probably be better off with the CGP-700 and won't need all those extra features on the PX-560 anyway.
On the contrary, if you're interested in music production and you want to be able to play around with various settings and effects and change them on the fly then the PX-560 is the way to go.
The PX-560 would also be perfect for gigs, especially if you're playing complex multi-layered pieces with multiple instruments and sound effects.