The name Casio might mean different things.
The general public likely knows Casio as an electronics brand behind calculators and digital watches.
But today, we'll be focusing on Casio Music, their music development branch. As makers of digital pianos and keyboards, they've made a name for themselves in this crowded marketplace. This is no mean feat, considering they're facing off against giants like Yamaha and Roland on their home turf.
Casio wasn't always a big name in the digital piano business, but their recent innovations are very well-received. Rest assured, their modern instruments do deserve their spots in our Top Lists.
About Casio
Casio was founded a year after World War 2 in 1946 by the Kashio family, which gave the company its namesake. The story began with Kazua, Tadao, Toshio and Yukio Kashio.
In a post-war world, technology was in demand, and countless companies were formed to capitalize on the new scene.

The Kashio brothers aimed to produce electronics and digital technology aimed specifically at the masses.  This meant keeping prices affordable, while still maintaining the Japanese standard of quality.
Specifically, Toshio Kashio had a dream. As an amateur musician himself, he wanted to make electronic musical instruments that catered to his fellow enthusiasts. This dream was unachievable at the time, but he kept it in mind for years to come.
Their first foray into the music industry wouldn't happen until 1978. At the time, Casio was a massively successful company and had the market cornered when it came to inkjet printers, calculators, and their Casiotron watches. Toshio knew that if there was ever a time to make his dream a reality, it was now.
Despite his enthusiasm, he knew that Casio couldn't fight against the other synthesizers and digital pianos from companies like Roland or Yamaha. Instead, Casio focused on innovation and affordability.
While high-end users weren't interested, more budget-conscious musicians jumped on the bandwagon.
The first instrument Casio released was the miniature Casiotone 201 in 1980, which was the first portable keyboard ever released. This used rudimentary synthesis to create 49 sounds. While the sounds were unrealistic, it was fresh, and the Casiotone sold surprisingly well.
This ushered in a stream of new instruments that worked around the same design ethos. Casio's music department focused on value-for-money without sacrificing build quality.
For budding musicians, this was a huge boon, as the price barrier to entry was practically removed.
Casio then entered the realm of digital pianos and keyboards. This included their Celviano AP-7 furniture-style digital piano in 1991, and the CTK-520L keyboard in 1996, which was the first keyboard to incorporate light-up keys.
The modern era of Casio instruments truly began in the 2000s. The Privia PX-100, the CDP-100 and the CTK-4000 were released in quick succession. These series are still going strong to this day, and are still some of the bestselling instruments in their categories.
This catches us up to modern-day Casio. As you can tell, Casio has had a consistent vision throughout their history, and it has propelled them to where they are today.
Now, let's look into Casio's product line-up across all budget categories, and see how they stand out.
Casio Product Lineup
Now that we've covered the components of Casio's instruments, its time to talk about their products. Casio has a fairly wide range of instruments, so talking about each of them individually is simply unfeasible.
Instead, we've separated products into categories based on their design and intended audience. Each series will then get a short summary and links to the corresponding reviews whenever available.
We'll be working from the bottom up, covering the budget keyboards first, before discussing the heavyweight hybrid digital pianos.
Portable Keyboards
Portable keyboards are aimed at beginner pianists. As the name implies, these keyboards use simple synth-action keybeds. Often, you don't even get a full range of 88 keys.
Build quality generally consists of solely lightweight plastic, which is either a blessing or a curse depending on how you're intending to use these keyboards.
Also, we can't really hate the low-price tag. These keyboards are easily available for less than $300, which is perfect if you're new, and don't want to invest in something that might not be a long-term hobby.
---
SA series
Instrument Type: Mini Keyboard
User Level: Beginner
Price Range: $40 – $80
Models:
SA-50 / SA-51
SA-80 / SA-81
Casio's SA-series has been around for quite a while and seems to be a popular choice for parents wanting to get their newborns into music. These keyboards harken back to Casio's early products, down to the small form factor.
These keyboards are far from suitable if you're learning to play the piano, as the keys are tiny, and you don't get much realism.
The keys aren't even responsive to playing dynamics! However, if you just need a basic scratchpad to play around with, these are perfectly valid.
The only complaint I have is the lack of USB MIDI. It would have been nice to get some connectivity to expand the use of these keyboards past their novelty factor.
---
Casiotone CT series
Instrument Type: Portable Arranger Keyboard
User Level: Beginner
Price Range: $100 – $500
Models:
Casiotone CT-S200
Casiotone CT-S300
Casiotone CT-S1
Casiotone CT-S400
Casiotone CT-S500
Casiotone CT-S1000V
This is one of the newer additions to Casio's product line-up, which uses the same name as Casio's first ever keyboard line. These keyboards were created to be affordable and easy-to-use.
There is something for every novice here. The CT-S200 gives you modern, good sounds with a decent keyboard for below $150, making it a hard deal to beat.
If you want velocity sensitivity, you can opt to upgrade to the CT-S300 instead, which made it onto our list of best budget keyboards.
It's true that these keyboards lack sophisticated arranger features and studio-ready sounds, but for a beginner, the most important thing is to get started. In that regard, the Casiotone offers incredible value for money.
A few years later after the release of the entry-level CT-S200 and CT-S300, Casio introduced the more advanced CT-S400, CT-S500 and CT-S1000V, which offer more tones, rhythms and reverb types. They are great for those who want to take their playing to the next level and have a bit more money to spend.
The CT-S1000V is the most advanced model in the series and features new Vocal Synthesis technology, which produces a singing voice through a combination of lyrics and voice tone.
Now, that the CTK series has been discontinued, Casiotone is Casio's main portable series that competes with Yamaha PSR series.
---
Casiotone LK series
Instrument Type: Portable Arranger Keyboard
User Level: Beginner
Price Range: $100 – $250
Models:
Casiotone LK-S250
Casiotone LK-S450
Another throwback to Casio's early works, the LK series is a long running series that uses light-up keys as a teaching tool. For visual learners, this method is an effective way to learn new songs fast.
These models use synth-action keys, but they are designed with red lights behind them, acting as a visual aid. While I'd much rather prefer more realistic keys, it's hard to argue when the asking price is so low.
The previous LK keyboards were somewhat outdated, but the most recent Casiotone LK-S250 and LK-S450 are a much-needed update, giving you the same learning experience with more modern sounds and body construction.
Overall, this series is very similar to the Casiotone CT keyboards aside from the light-up keys.
---
CT-X & WK series
Instrument Type: High-end Portable Arranger Keyboard
User Level: Beginner
Price Range: $200 – $500
Models:
CT-X700
CT-X800
CT-X3000
CT-X5000
WK-6600
WK-7600
The CT-X/WK series is best described as the Casiotone series on steroids. While the Casiotone series makes compromises to hit the beginner price bracket, the CT-X/WK series ups the ante, and gives players better sounds and a lot more features to work with.
The CT-X series consists of 61-key models, while the WK series offers 76-key instruments.
Beginners might be quite overwhelmed by the larger number of controls, but experienced players will welcome the added customizability. Faders and buttons make performing a lot easier, giving performances a more dynamic edge.
The biggest upgrade here is the inclusion of Casio's AiX Sound Source engine (CT-X only), making these keyboards comparable to more expensive digital pianos, at least in terms of sound. Synth action keys are still the norm though, so this isn't the perfect piano substitute.
The modern CT-X5000 moves the bar even higher. This keyboard includes dual 15W speakers and bass reflex speakers, which allow you to hear the details of the sound without requiring expensive external speakers or amplifiers.
---
Portable Digital Pianos
While the previous options we've discussed are impressive in their own rights, they aren't ideal for learning and mastering the piano.
We generally look for 3 things in digital pianos. We need weighted keys, a good piano sound, and full-sized keys. If we manage to get 88 keys, all the better.
For the budget conscious, you'll likely be looking into portable digital pianos.
These pianos are sometimes called slab digital pianos, due to their shape and portability. With that said, you can often find a furniture-style stand as a separate purchase.
---
CDP-S series
Instrument type: Portable Digital Piano
User Level: Beginner to Intermediate
Price Range: $500 – $850
Models:
CDP-S110
CDP-S160
CDP-S360
The CDP-S series is a recent addition to Casio's product line up and is an affordable option if you're willing to settle for second best. The Privia series is better in nearly every way but also comes at a higher asking price.
The CDP-series is basic and mainly focuses on delivering a no-frills experience at an affordable price. We reviewed the CDP-S160 here, and you can read about our complete thoughts there.
Essentially, these digital pianos are designed to be slim yet polished, using the redesigned slim form-factor Scaled Hammer Action II keys and an updated Dynamic Stereo sound engine.
This is a marked improvement over budget keyboards, and make these viable options for piano practice.
If you're already happy with a budget arranger keyboard, you might be interested in the CDP-S360.
This includes arranger features alongside all the other upgrades from the CDP-S series, making it our go-to recommendation for people who want a more polished arranger experience.
---
PX series (Privia line)
Instrument type: Portable Digital Piano
User Level: Beginner to Advanced
Price Range: $500 – $1200
Models:
PX-360
PX-560
PX-5S
PX-770
PX-870
The Privia series is Casio's most popular digital piano line, and it's easy to see why.
These instruments combine the excellent Tri-Hammer Scaled Hammer Action II keys with the AiR Sound Source engine to provide a great overall playing experience.
Even though we list this line under the "Portable Digital Pianos" category, it has both portable and console digital pianos in its product range.
For people serious about learning the piano, the PX-770 is our top pick. It might not be the most advanced Privia model, but it is one of the best value-for-money console options available out there.
These digital pianos are pretty basic when it comes to features, often only coming with less than 10 sounds and having minimal customization. However, the feel and sound quality more than make up for it.
Naturally, more expensive options exist, such as the more fully-featured PX-560 and the furniture-style PX-870. These cater to more specific needs and come with more features to justify the price hike.
---
PX-S series (Privia line)
Instrument type: Portable Digital Piano
User Level: Beginner to Advanced
Price Range: $700 – $2700
Models:
PX-S1100
PX-S3100
PX-S5000
PX-S6000
PX-S7000
While the PX-S series technically falls under the Privia banner, their unique design ethos deserves their own section.
This is the new slim form factor digital pianos from Casio that use the Smart Scaled Hammer action to achieve a shorter front-to-back length.
We already discussed the controversial aspect of these keys above, so we won't repeat ourselves.
The AiR Sound Source sound engine is used to great effect, and Casio somehow managed to make the speakers work out despite the smaller size.
We reviewed both the PX-S1100 and PX-S3100, and praised them for innovation and design. Their predecessors, the PX-S1000 and PX-S3000, which featured the same design, were awarded the prestigious Red Dot Design Award in 2020 — an impressive achievement.
The Privia lineup has expanded with the latest additions of the PX-S5000, PX-S6000, and flagship PX-S7000 models. All three feature the newly designed Smart Hybrid Hammer Action and the powerful AiR sound engine.
The PX-S7000 boasts a retro-futuristic design that's both refreshing and functional, with a 6-speaker sound system—unheard of in a piano of this size—and an LCD touch screen display. It also offers the sounds of three distinct concert grand pianos: Hamburg, New York, and Berlin.
---
Console Digital Pianos
Console digital pianos feature large (or compact) furniture-style cabinets that emulate how real acoustic uprights look like.
This isn't just for show either, as these larger cabinets are used to incorporate a more sophisticated speaker system, giving an overall larger soundscape, which makes play more natural.
This does mean you lose out on portability, but I'd consider the trade-off perfectly acceptable.
These digital pianos are marketed under the Celviano name, but even then, there's stratification between the two primary prefixes. We'll cover both of them below.
---
AP series
Instrument Type: Console/Home Digital Piano
User Level: Intermediate to Advanced
Price Range: $1100 – $2800
Models:
AP-270
AP-470
AP-650
AP-710
I think the best way to describe the AP-series as a furniture-style Privia. Apart from the more advanced speakers, there really isn't a lot to differentiate the two.
You get the same Tri-sensor Scaled Hammer Action II keys, and the AiR Sound Source engine.
This isn't a slight against the AP-series. Both the keys and the sound engine are great and really do benefit from the more detailed full-range speakers. Just be sure that you realize the similarities, as a Privia might be the better choice if you're limited in terms of space and money.
Something that's underrated about this keyboard style is the sliding cover. If you live in a dusty environment, this is a godsend.
Some of the more recent AP models (AP-270, AP-470) come with a few new sounds that the Privia series doesn't have, including the excellent American Grand Piano tone.
The flagship AP-710 model comes with a high-end AiR Grand Sound Source used in their premium Grand Hybrid (GP) series.
---
GP series
Instrument Type: Digital Hybrid Piano
User Level: Advanced
Price Range: $4300 – $6300
Models:
We made references to the hybrid grand pianos earlier, and the GP-series is where Casio's engineering truly comes to fruition.
These cabinet-style digital pianos feature top tier keys and sound engines, alongside the most advanced sound system available on any Casio instrument.
The GP-line uses the Natural Grand key action, which is made from real wood, and engineered to match the mechanics of real keys, down to the release time and weightage.
The AiR Grand sound source aims to recreate 3 legendary concert grands and uses custom software not available on other products from Casio. In the latest models, a dedicated Hardware Resonator is used to simulate resonances.
The speakers also deserve special mention. They are set up to deliver a realistic listening experience, and software-side enhancements ensure that the sounds are real-to-life. Even the lid acts as a control, changing the samples and EQ curves to recreate how a concert grand reacts to different lid positions.
---
You've now got a good idea about Casio's offerings, but what happens under the hood?
Well, digital music instruments have 2 main aspects which contribute to their playability.
The sound engine attempts to recreate the sonic characteristics of a real piano (among other instruments), whereas the keyboard action handles the physical sense of touch.
We made references to said technologies during our product discussions, and you might be a bit confused if you're not too familiar with the industry.
In this section, we'll have a more in-depth introduction to Casio's currently available technologies, and how they fit in.
---
Casio Sound Generation
Casio's roots as an electronics manufacturer show in the way they make their instruments.
They began by making synthesizer-style keyboards that forwent realism for sonic variety but have gradually moved towards making digital pianos that cater to pianists of all skill levels.
Unfortunately, pianists are hard to please, especially those who learned on acoustic pianos. There is a sweet spot that nails both the sound and feel of a real piano, and most companies have spent millions into developing their own bespoke solutions.
If you've tried one of Casio's early Celviano or Privia digital pianos, you might have been disappointed. While other companies had access to large sample libraries and advanced modeling technologies for the time, Casio was playing catch up due to their music department's relative infancy.
Thankfully, Casio has an active R&D department, and they've made strides in improving their sound quality and key actions.
---
AiR Sound Source

AiR (Acoustic and Intelligent Resonator) powers Casio's Privia line. The name shows that the key components of the sound engine are a combination of sampling and software-side modeling.
Casio also includes what they call Multi-dimensional Morphing. This affects how samples play out based on your playing dynamics. This could be described as simple velocity curves, but the added control makes performances much more expressive and realistic.
As a comparison, many digital pianos simply trigger samples at different volume levels based on how hard you strike the keys, which is passable, but far from ideal.
Casio also leverages high capacity memory and lossless audio compression. This means longer samples and more multisamples. Note decays and resonances to be recreated accurately, and higher multisample counts mean you hear less repeated samples being triggered.
Finally, the AiR engine also features an acoustic resonance simulator. This simulates how strings vibrate sympathetically, either through harmonic modes or through a pressed-down damper pedal. Unlike other digital pianos, resonances are simulated on a per-key basis.
---
AiR Grand Sound Source
This is Casio's current top-tier sound engine, featured on their latest Celviano hybrid digital pianos.
The AiR Grand Sound Source aims to accurately replicate 3 different 'legendary' pianos (Berlin, Hamburg, Vienna), capturing the nuances and minute differences that give make different concert grands feel distinct.
We already discussed how the AiR engine smartly uses samples, and that's further emphasized with this upgraded engine.
Finally, this sound engine focuses a lot on capturing resonance in a grand piano. String Resonance is a common sight on even budget digital pianos, but the Celviano Grands include other customizable resonances like Damper, Aliquot and Open String Resonance.
Some models even feature a dedicated hardware resonator to handle resonances independently.
---
AiX Sound Source
The AiX sound engine (Acoustic Intelligent multi-eXpression) is geared towards arranger and performance keyboards. As the 'multi' in the name implies, this sound engine focuses on more than just acoustic pianos.
AiX was first featured on the CT-X5000 and X3000 keyboards in 2018, and built upon Casio's experience with the Celviano and Privias.
Specifically, Casio wanted to extrapolate their resonance algorithms to more than just pianos. The CT-X line models resonating bass strings, drums, strings, and so on.
Similarly, Casio's audio compression capabilities are retained with the AiX engine, utilizing the same lossless compression featured on the top-tier AiR Sound Source engine. More space leads to more instrument sounds and more sonic variety.
The sound engine also includes 100 Digital Signal Processor (DSP) effects, which gives users further customization. For perfectionists and performers, being able to select custom effect chains is a huge boon.
Casio's R&D engineers claim that they're aiming to give professional-quality sounds to players of all skill levels, and the AiX sound engine is a step in the right direction.
---
AHL Sound Source
AHL Sound Source (Acoustic & Highly-compressed Large waveform) is an older sound engine, but it's still used in Casio's budget keyboards, such as in the CTK-3200 and the CDP-235R.
As per usual, this shows that Casio focused on cramming as many samples as they can, even when space is limited. For an arranger keyboard, this is important, as accompaniment involves simultaneous playing of multiple different samples.
Naturally, this sound engine doesn't have the futuristic multi-dimensional morphing or resonance simulators, but it's still a solid choice for one-man-band performers or beginners who just want to play.
---
AIF Sound Source
AIF Sound Source (Acoustic & Intelligent Filtering System) is technically no longer in production, but older Privia models ship with this sound engine. For example, this was first included on the PX-200 and PX-320 in 2007.
This sound engine uses high-quality stereo samples and software filtering to give emulate the feel of acoustic pianos. The sharp-eyed among you might see some similarities with the AiR Sound Source engine, just more primitive.
While the engine and samples feel dated today, they are still a step above cheap arranger keyboards in terms of polyphony and sample quality. If you're in the market for used Privia models, do not scoff at the AIF label.
---
Acoustic Simulator
As with a lot of digital pianos utilizing modeling, companies give you a few options that let you tailor the piano sound to your liking.
This is something included in more modern models, probably a by-product of the increasingly powerful reliance on software modeling.
In general, the Acoustic Simulator lets you modify the following parameters:
String Resonance
Damper Resonance
Damper Noise
Key On/Off Action Noise
Hammer Response
The same options won't necessarily be present on all of Casio's instruments. If you've tried digital pianos from other brands, you might be familiar with the concept. For example, Yamaha has Piano Room, and Roland has the Piano Designer.
If you happen to have some of Casio's higher-end digital pianos, you might have access to the lid position parameter that changes both the volume and timbre of the piano sounds, as well as a few other less common parameters such as Open String Resonance, Aliquot Resonance, etc.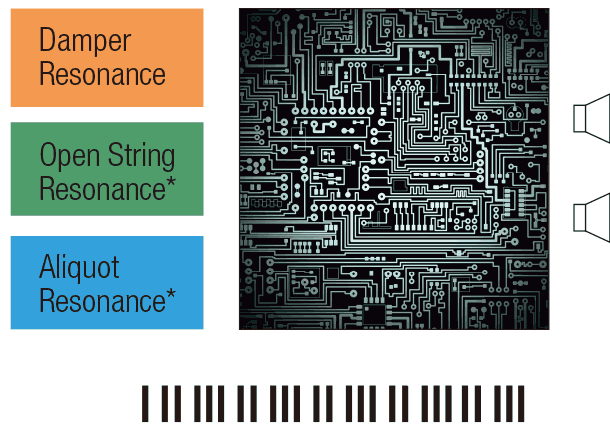 Usually, the more expensive the instrument you're buying, the more customization options you're going to get.
Personally, I don't use these modeling options much. However, demanding pianists and perfectionists will love having the extra options.
Casio Keyboard Actions
Casio's roots as an affordable instrument designer made it hard to classify their 'style' of keys, and their recent release of the slim form-factor PX-S and CDP-S series makes it even harder to draw a line between realism and playability.
Some models aim to emulate real concert grands, whereas some simply use keys designed to minimize cost without sacrificing playability. Now, let's talk about each model in more detail.
---
Synth Action 
On Casio's budget keyboards, such as the cheaper CTK-line, you get synth-action keys. Casio doesn't name these keys, so we'll just cover them under this category.
Synth-action keys are unrealistic. They are unweighted, and sometimes feel hard to control if you're used to the mechanical feedback of a real piano. However, synthesizer players love these keys (hence their namesake) thanks to the fast return speed and springy feel.
---
Scaled Hammer Action I
This is a slightly older hammer action used in the older Privia PX units, such as the PX-200.
This key action isn't as solid as its more modern counterpart, but it is still a decent choice if you're looking into buying a used model.
The main differences are in accuracy and feel, but part of that is undoubtedly due to the older sounds and construction.
In terms of feel, these keys are still perfectly usable as a beginner, but more demanding players might find it somewhat lackluster compared to more modern digital pianos. For what it's worth, the keys are also graded, another plus in terms of realism.
---
Tri-sensor Scaled Hammer Action II
If you're trying out one of the more modern Privia digital pianos, such as the PX-870, or some of the non-hybrid Celvianos, like the AP-710, you'll get the modern iteration of Casio's classic Scaled Hammer key action.
This key action uses three sensors to detect keystrokes more accurately, ensuring that repeated key presses get accurately triggered.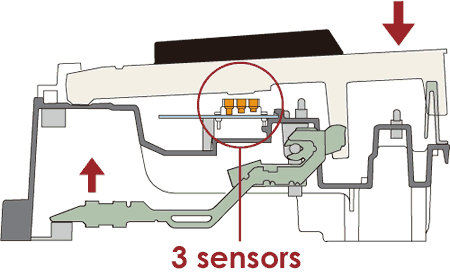 This also makes sample triggering more accurate, as it can detect the key travel between the point where you let go, and when the key returns to its initial position.
An action mechanism also recreates the feel of a real piano's hammer action efficiently with the weight of the simulated hammer, using no springs in its construction.
On supported sound engines, a Key Off Simulator controls how long a sample rings out based on the speed at which a key is released.
This operates independently from the AiR sound engine's multi-dimensional morphing volume curves, adding another layer of nuance and control that many digital pianos lack.
Finally, this key action is graded. The lower keys feel heavier than the keys in the upper register, just like in a real piano.
---
Smart Scaled Hammer Action
This is one of Casio's newest innovations and is used on the lower-end models of the PX-S line, which are marketed as slim and compact digital pianos.
This key action is designed to be shorter to accommodate the smaller chassis. This does naturally come with a few caveats, such as a reduced pivot length and a minimized hammer mechanism. However, we personally think Casio did a pretty good job and managed to find a good balance between playability and compactness, as you can read about in our PX-S1100 review.
The feel of the keys is divisive. Keyboardists trained on unweighted and hammer-action keys will feel right at home without needing to adapt, as the keys manage to retain the Scaled Hammer Action II's feel overall without sacrificing playability.
One thing that is unique is the use of software as a substitute for the third sensor. The software does some inference behind the scenes to track your keys' position between being pressed and let go. This surprisingly works and manages to accurately register fast repeated keypresses.
On the other hand, classical pianists have commented about the lighter black keys, which might be an issue depending on your playstyle. The shorter pivot length might also be noticeable if you tend to play into the keys.
I like where Casio is at with these keys, and I'm hoping their R&D department engineers a solution to the complaints.
---
(Slim) Scaled Hammer Action II
This key action is used on Casio's recent slim update to the CDP-S line. Just like the previous action, this model is designed to be slimmer, shorter and more compact than its competitors.
These keys are the less fully-featured counterpart of the Smart Scaled Hammer action, and there isn't a lot of information about how it actually works, so we'll talk about it in terms of feel.
The action feels surprisingly similar to its more advanced counterpart and the main difference between them is the absence of that "smart software sensor" found in the Smart Scaled Hammer action.
In theory, this should mean that the accuracy on repeated keypresses would be compromised but in practice, I didn't notice much difference.
Namely, it does sometimes feel a bit unnatural due to the smaller size and as a result, the shorter pivot length and lighter black keys. However, it is still a solid choice if you're looking to upgrade from unweighted synth-action keys.
Being one of the most affordable hammer key actions out there, it's hard to beat it in terms of both feel and playability without sacrificing affordability.
---
Natural Grand Hammer
This is Casio's top-of-the-line key action, and it is included on the current generation flagship Celviano Hybrid Grands.
The biggest selling point of these keys is the feeling of touch. Unlike the typical plastic keys found on other key actions, this uses wooden keys made from quality finished wood.
The 'seesaw' mechanisms also use a shaped hammer action that follows the same motion path as a grand piano, which adds to the authenticity even further.
Casio even allows you to observe the keys beneath a transparent panel, showing how proud they are of this design. This confidence is well-founded too, as they tried to merge piano building techniques with clever engineering.
Triple sensors are used to capture more aspects of a key's movement, and also ensures fast repeated key presses aren't missed. Casio also designed the pivot points to be exactly the same as on real acoustic pianos.
If you're interested, do check out the Celviano product page to find out how they designed the key action. The physics are explained in an easy-to-understand way and really shows off some ingenuity in the engineering.
But how do the keys actually play? Well, they're amazing, especially when combined with the Celviano line's excellent speakers and sounds.
Conclusion
Casio hasn't always been a notable instrument maker. In their early days, they were always seen as a more affordable alternative to more prominent brands like Yamaha and Roland.
However, with consistent improvements over the years, and attempts at innovation, Casio has risen through the ranks. Their instruments consistently made it onto most of our top lists, and we stand by our decisions.
Casio might have started off as a successful budget instrument maker, but they're now a prestigious digital piano designer, as evidenced by their impressive Celviano hybrid grands. These pianos are excellent, and really show that Casio's engineering department knows what they're doing.
It sounds like a clichéd line, but Casio really does make products for everyone. I'm excited to see what comes next, especially with their recent push for small form factors.
If you've ever used a Casio product, feel free to leave your thoughts in the comment section below. What do you like (or hate) about Casio instruments? We'd like to hear from you.
---
You might also like:
The Worst | Best Digital Piano & Keyboard Brands Guide


The Ultimate Guide to Buying a Digital Piano


Best Digital Pianos & Keyboards (All Price Points)
Digital Piano vs Keyboard vs Synthesizer (Full Comparison)