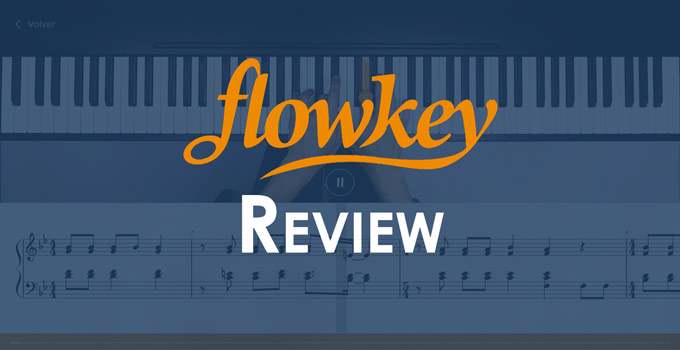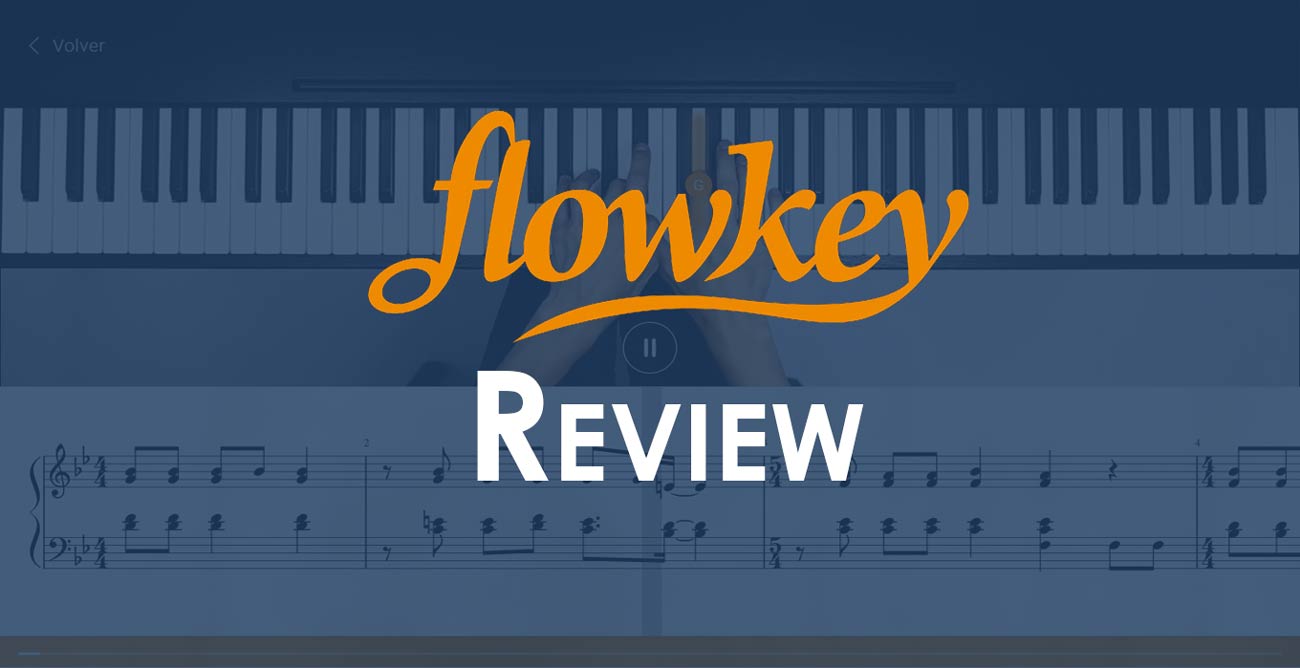 Flowkey is a multi-platform piano learning app to learn and add pieces to your repertoire.
It is an excellent tool for beginner learners, featuring songs in a variety of categories including classical, pop, film & TV favorites, jazz, Christmas, rock, as well as moods including happy and melancholic pieces.
The app includes intermediate and advanced pieces, but overall is aimed towards players who are not yet comfortable with reading sheet music.
Flowkey also features informational videos on piano posture, sight reading and learning basic music theory.
The app is $19.99/mo, and has cheaper options depending on how long your subscription lasts. This is much more affordable than learning from a piano teacher, whose average prices ranges from around $35-50 per hour.
You can start a free trial version before committing to a subscription.
The app will ask you if you're new to piano, or have any prior experience, and what goals you wish to achieve with the app in order to personalize your learning journey (learn new songs, improve your music theory, begin learning the piano, etc).
You can use an acoustic grand or upright piano, or a keyboard that can be plugged directly into your device.
Your device's microphone will pick up notes heard on your acoustic piano (or keyboard using its speakers or an amplifier), or via MIDI notes if plugged in directly to your device from your keyboard.
Please refer to our connectivity guide if you need help connecting your keyboard.
Free Version

vs

Subscription Plan
With a free membership to Flowkey, you'll have access to:
Limited access to courses: this includes a complete 'Introduction to the Piano', and partial lessons to other courses including 'Playing with Both Hands' and 'Intermediate Piano Playing'
Access to eight free songs: this includes a few popular songs like 'Hallelujah' and 'Claire de Lune'
Access to support that usually replies within 24 hours.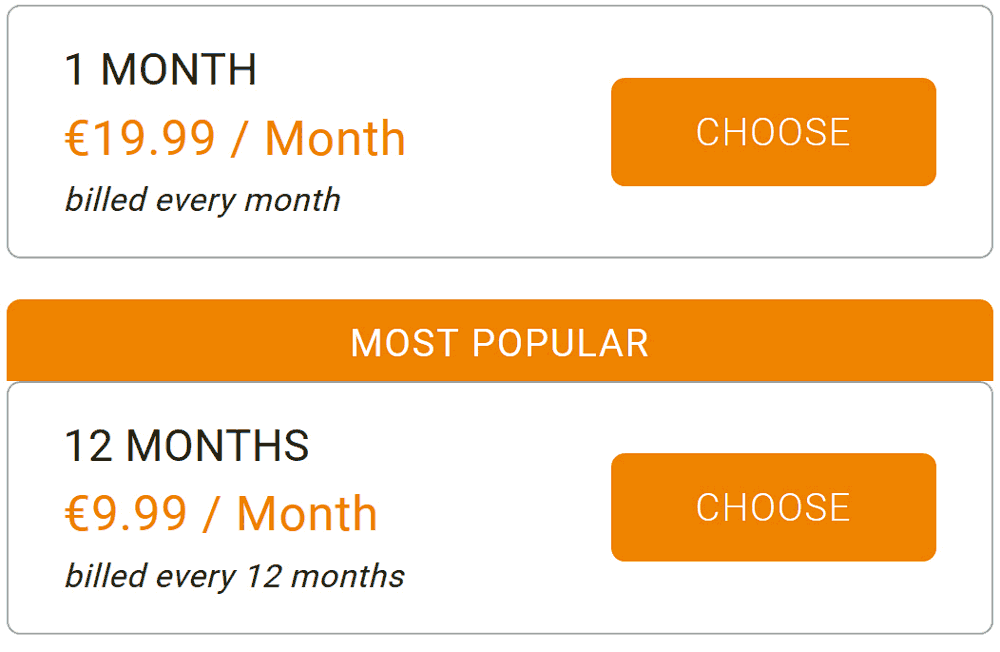 With a paid subscription plan of Flowkey, you'll unlock:
Access to all courses and lessons: some premium lessons include 'Music Reading Training', and 'Playing Songs with Four Chords'
Access to the entire song library (over 1000 songs) in every category: some premium songs include 'Hedwig's Theme from Harry Potter' and 'Moonlight Sonata'
The Learning Process
The app focuses heavily on learning a variety of songs, and it is great to see so many categories including 'Game Music' and 'Asian Pop', instead of just 'Classical' and 'Pop Hits'.
The wide selection of songs and categories available within the app makes Flowkey a great tool to expand your repertoire in a fun, rewarding way (Flowkey logs your progress as you play and learn through a song).
However, it is vital to learn proper piano technique in the early stages of learning the piano, otherwise you may spend unnecessary time on correcting wrong technique.
There are multiple skill levels to choose from including beginner to pro, but from using this app, it seems it would benefit beginners who aren't yet fluent in reading sheet music.
Advanced players will generally steer away from using apps and turn straight to sheet music to learn new pieces.
Flowkey uses arrangements of original songs and pieces, therefore some arrangements are easier than what an advanced player may be looking for.
As aforementioned above, when you start up the app it will ask you a few quick questions to personalize the experience for you.
These questions include: Do you have any piano experience prior to using the app? What type of piano do you have access to (acoustic or digital)? Do you aim to learn new songs or music theory?
The music theory courses offered are the basics, so if you're looking for advanced courses, it's best to look elsewhere.
After you've answered the questions, you'll be asked to sign up with a free or premium account.
Remember that the free account is limited to a few songs in their library, so if you're searching for a particular piece to learn it may be best getting the premium subscription.
Flowkey's UI is simple and easy to use. Once you're set up you can start learning songs or watching some short videos on basic music theory.
The library is sorted into genres and tabs of recommended pieces, new releases, and most popular.
Not sure where to start? Simply click on a song thumbnail to listen to a preview.
This is a neat feature that really helps beginners on how the piece should sound when played, and if they like the piece enough to dedicate time towards learning it.
When I was learning piano, it always helped to listen to someone perform the piece and hear if I am playing it correctly – with Flowkey, you won't need to access a different app to listen as the preview is already included!
If you like the song you're previewing, you can save it for later by clicking on the heart icon over the thumbnail, or click "Learn this song" to begin!
It will then load a player of a split screen view with sheet music at the bottom and someone playing it on the piano at the top. This is incredibly handy for those who are still learning to read notation and also helps as a guide.
Playing Modes
The play along feature is a great way to speed up the process of learning a new piece. The video has a split screen of the notation along with the pianist performing.
There is a bird's eye view over the pianist which allows you to not only see the notes being played on the piano, but also can help with what fingering to use.
Turning the wheel cog above the onscreen piano roll allows you to choose "Wait Mode", "Slow Mode" and "Fast Mode" where you can use different practice methods to experiment with.
You can switch to "wait mode" where the app picks up the notes as you play them and goes at your own speed.
Using your device's microphone for the app to hear your playback can be a little difficult as you may need to press the keys harder than usual for the mic to pick up the notes you are playing.
If you play the notes too fast, the app cannot keep up, therefore this method seems to be a lot more effective for an early practice stage where you are just beginning to learn the notes.
Connecting directly via USB (or MIDI) seems to react much better and you can play at any dynamic and speed. "Slow Mode" and "Fast Mode" allows you to play along with the app in various speeds.
"Slow mode" has the option of slowing down a song by 50% or 75%, and "fast mode" is really just the piece at the original tempo.
Unfortunately, Flowkey doesn't have a metronome feature to keep you in time, and the player is forced to rely on the cursor moving on screen.
If you're struggling with a particular part of the song, you can loop a small section and practice a phrase by repetition.
This is handy in learning difficult passages, but not necessary, as you can (and should) do this in practice without the use of an app to guide you.
Theory Courses Review
Basic music theory is very important to learn the piano. You cannot perform if you aren't able to recognize various articulations, dynamic markings or rhythms.
Flowkey added a feature that allows you to watch short videos and read a short passage on learning theory.
If you are a beginner and learn songs only by using apps and video tutorials, you usually just see a sequence of keys you need to press, rather than actually reading rhythms and paying attention to tempo.
This could become a bad habit and hinder your concept to grasp rhythmic notation.
Luckily, the app features two short courses on rhythm that will help improve your time-keeping skills and help you "feel" the song instead of just playing the note when it hits the cursor on-screen with the app's play along mode.
Out of the course selection on Flowkey, the "Introduction to the Piano" may be the best fit for those who want to quickly learn how to play the piano.
There are a few videos on reading sheet music, playing very easy pieces, learning the left hand, reading notes of the bass clef, and rhythm practice.
Most of the in-app courses are aimed at beginners and intermediate players. I doubt many advanced players will benefit from these.
Final Thoughts
Overall, Flowkey is a great introduction to the piano. It is easy to setup so you can start playing piano right away. The user interface is simple and intuitive with a sleek design.
Flowkey helps beginners improve reading notation and increases their piano repertoire in a fun and modern way. However, a teacher will help with posture and technique, which is something the app cannot provide.
This app is best used along with private piano lessons, once you have learned basic fingerings and posture.
I advise against using the app as your only tool for learning, but reach out to teachers and other resources to guide you (videos online, texts, and music sheets).
Flowkey keeps learning the piano fun and allows you to carry some of your song library wherever you go whether you have the app installed on your computer, phone or tablet.
---
Pros
Fun way to learn new songs, while tracking your progress and keeping you motivated
Access to a large variety of songs
Well-designed and intuitive user interface
Choose different speeds to learn a song including Slow Mode or Fast Mode
Select a passage to loop in order to learn more difficult chords or phrases
Practice one hand at a time
Video of someone playing the song as well as the sheet music at the bottom is on screen while you learn the song in real-time
More affordable than a piano tutor
Portable collection of songs in your app's library
Cons
Informational videos and piano techniques are better to refer to a piano teacher about
Arrangements not in absolute tempo – the performer is playing musically with a rubato feel in some phrases of the pieces, therefore may be tricky for a beginner to follow along
Does not teach you about composition
Connection via your device's microphone does not playback well (recommended to use USB/Bluetooth MIDI connection when playing in "Wait Mode")
No built-in metronome within the app
---