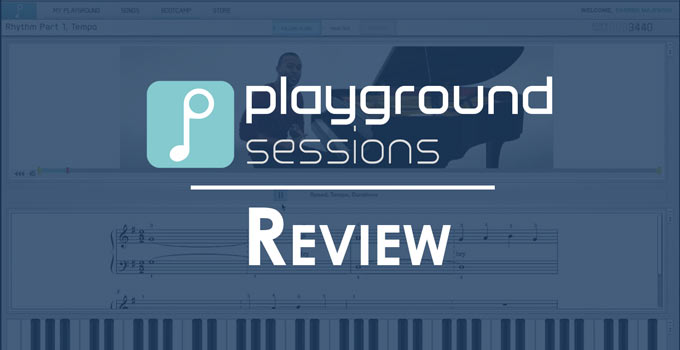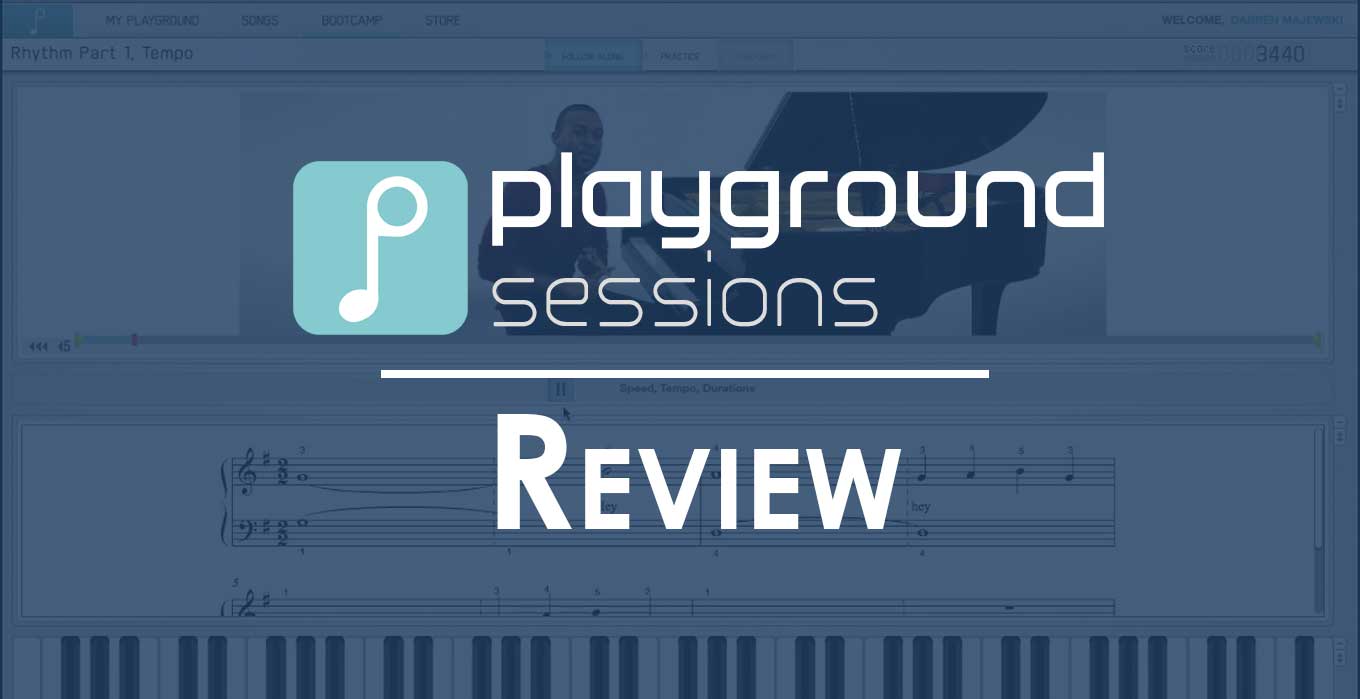 Playground Sessions co-creator and music legend Quincy Jones says that the goal of his course is "to make learning piano as much fun as playing."
The course is based on the idea that those who love listening to music are already familiar with musical concepts – they just don't know it.
Therefore, it uses popular songs to demonstrate principles in a way that is easy to understand and enjoyable.
Playground Sessions is certainly fun, but is it an effective teacher? Let's find out.
Getting Started
Playground Sessions is subscription-based, and you need to have an active membership in order to access the lessons and songs.
You can choose from a monthly, annual, or lifetime membership, with the latter being the best value.
To get started, you'll need a digital piano or MIDI-compatible keyboard.
Though Playground Sessions recommends a 61-key keyboard, if you really want to learn how to play the piano, an 88-key is the way to go.
Since they have a wider range and weighted keys, 88-key keyboards are much closer to the feel of an acoustic piano, which is important for technique.
To connect your keyboard to your device, you will need an A-to-B USB cable or a MIDI-to-USB cable, depending on the connections of your keyboard.
Most keyboards will require you to download a driver from the keyboard manufacturer's website for it to be recognized by the Playground Sessions app.
You will have to download the app onto your device of choice before you can access the lessons. The individual lessons do not download with the app, so you will need to download them individually as you go.
While I initially thought this would be annoying, they don't take long and not having to download them all at once makes the initial software download quick as well.
Features
Playground Sessions has several different elements that contribute to the overall learning experience.
Interactive Lessons
Found under the "Bootcamp" tab in the app, these lessons contain excerpts from well-known songs chosen to teach you a specific concept, with written instruction and game-like practice.
The difference is that you're not just pretending to play an instrument – you really are playing the piano!
While in Instant Feedback Mode, notes will turn red or green based on whether or not you play them accurately. You're given points and rewards based on how well you do.
These lessons come with many features that make your practice sessions personalized and varied.
You can listen to the piano demo of either or both hands, play with or without accompaniment, turn on the metronome, add finger numbers or note names to the sheet music, and even record yourself playing.
You can also customize the sheet music to be at an optimal reading size for you.
A feature that I like a lot is that you can set a slow practice speed and it will slow down the demos, metronome, and game accordingly.
As my piano teacher was fond of saying, if you want to play fast, you need to practice slow, so this is a valuable tool.
The lessons are taught in steps, at first giving you a skeleton version of the whole song, with each step adding in notes until you are playing it as intended. This is a unique way of teaching.
While it's common for traditional methods to recommend practicing hands separately before putting them together, the melody line or bass line is usually practiced in its entirety from the beginning.
For those who wish to move faster, there is the option of skipping to the later steps.
---
Video Lessons
The video lessons are taught by celebrated YouTube pianist David Sides and Grammy winner Harry Connick Jr.
They make the lessons entertaining with personal anecdotes and props, and it's always enjoyable to watch them demonstrate their considerable skills.
The video lessons are used to introduce main concepts and are followed by interactive lessons that go into more depth and let you practice what was taught.
However, since there are more interactive lessons than video tutorials, the teachers don't demonstrate everything that you are supposed to learn, which may be difficult for some students.
While the explanations are good, you must pay close attention to see what notes the teachers are playing.
---
Songs
Playground Sessions comes with a large library of songs to choose from in addition to the lessons. Genres include Pop, Classical, Rock, Christian/Gospel, Country, and Latin.
The monthly and annual subscriptions include credits for five songs each month, which should be enough for beginners.
The lifetime membership allows you to get 40 free songs in total. For those who find themselves wanting more to practice, additional songs are available at $1.99 each (except for Christmas carols and classical pieces, which are free).
The songs are labeled Rookie, Intermediate, or Advanced, and their difficulty is further ranked easy, moderate, or hard within the broader categories. This makes it easy to choose songs that are precisely at the level you're looking for.
Each song comes with interactive sheet music so that you can practice them with the same game-like, flexible method used in the lessons.
You can also print the sheet music up to three times. Some of the songs have a video tutorial, including Sides' famous arrangement of "Apologize" at all three main levels.
---
Forums
This is a place for users to share tips, stay up to date on Playground Sessions news, ask questions, and lodge complaints.
The "Bootcamp Lessons" and "Song Store" boards contain queries such as "Anyone else find Rookie New World Symphony tricky?" and "Can someone help me figure out how to play this note?", with course representatives and users alike chiming in with advice and support.
The Curriculum
Playground Sessions' lessons are divided into three bootcamps: Rookie, Intermediate, and Advanced.
Rookie Tour
The Rookie section, which is for complete beginners, is the longest at 84 lessons. It starts with a video lesson by Harry Connick Jr that introduces you to the notes on the piano, finger numbers, and proper posture and hand position.
Once you're familiarized with the piano, you'll begin a series of lessons that will get you practicing reading notes on the staff and finding them on the piano.
These are simple lines of music using one hand at a time, but they sound great because you can play them with background accompaniment.
At this stage, you aren't playing the song so much as playing practice exercises that fit into the song.
You won't play with both hands at the same time until lesson 29. This is a far cry from piano methods for adult beginners like Faber's Adult Piano Adventures series that has you coordinating the hands as soon as possible.
This section of the course gives you lots of practice with basic rhythms, reading notes, changing hand positions, accidentals, and key signatures. There are also a few lessons introducing playing by ear.
A few of the songs that you'll be learning with in the Rookie section are "I'll Be There" by The Jackson Five, "Someone Like You" by Adele, and "Für Elise" by Beethoven.
---
Intermediate Tour
Out of the 61 lessons in the Intermediate Tour, 38 deal with chords and triads.
Using a combination of video tutorials and interactive lessons, you'll learn about major and minor chords, their inversions, and chord progressions.
At first, the lessons have you learning chords in different keys by playing left-hand triads along with a backing track, before eventually adding in a right-hand melody for you to play.
It's worth noting that while this section deals heavily with triads, they are taught only in the context of songs and not as technique exercises, like they would be in traditional piano methods.
The latter part of the Intermediate Tour introduces interesting rhythms like swing, syncopation, and triplets, which you get to practice with Ed Sheeran's "Shape of You" and Vangelis' "Chariots of Fire", to name a few.
In this section, you'll also find video lessons introducing pedaling, transposition, and Sides' specialty, recognizing which chords are in a song just by hearing it.
---
Advanced Tour
The 21 lessons in the Advanced Tour cover 16th notes, dotted rhythms, voices in the musical texture, arpeggios, and dominant sevenths, with a quick lesson on improvisation.
The backing tracks aren't as elaborate in this section, which goes to show that the music you're playing is starting to sound good on its own.
In this section, you'll learn with Beethoven's "Moonlight Sonata" and Journey's "Don't Stop Believing", among others.
---
Courses
These are supplemental lessons that are unlocked as you move through the curriculum. You won't see the Courses tab when you download the app; it will appear when you have unlocked your first course.
The courses give a more in-depth look into concepts like reading music, coordinating hands, and scales and triads as technique exercises.
Pros and Cons
Let's take a look at some of the stronger and weaker points of Playground Sessions.
Pros:
Popular music – The songs are well-known and current, spanning many genres.
Not only will everyone be able to find something they want to play, it's easier to learn the notes and rhythms of a piece when you are already familiar with it.
Customization – You choose the songs you want to learn, and the variety of ways to practice available in the interactive lessons means that you can find the practice method that works best for you.
Progress visualization – The "My Playground" section of the app keeps track of your progress, including time spent practicing, lessons completed, and points, stars, and badges earned. This makes it easy to set goals and stay on top of them.
Gamification – Similar to video games like Guitar Hero, Playground Sessions measures how accurate your playing is and scores you accordingly.
Also adding to the game feel are rewards, levels, and built-in capabilities for sharing your scores and competing with friends.
Backing tracks – Each song and lesson comes with a backing track of instruments like drum, strings, and guitar with which you can play along.
This makes even simple lines of music sound great and gives you the satisfaction of playing in a band. It really is quite fun to play along with the tracks!
Cons:
Sparse video lessons – There are far more lessons that don't have video than ones that do. Although usually a video lesson introduces a topic that is expanded upon in subsequent interactive lessons, many people learn better with a demonstration, and there are concepts, like arpeggios, that don't even have a video lesson.
Weak on theory and technique – You don't start on theory beyond basic note naming and rhythm until ¾ of the way through the Rookie Tour, and even then, it is surface-level.
Technique like scales and triad exercises are taught as supplemental courses rather than important aspects of practice, and musical symbols, terms, and dynamics are left out altogether.
Few visual aids in the videos – Beginner students, especially visual learners, may find it difficult to understand the lessons just from listening to the teachers.
Does not work for acoustic pianos – This is a necessary limitation, but nonetheless, those with acoustic pianos will not be able to use the course as intended.
You could watch the videos and use the lessons without interacting directly with the platform, but then you're missing out on the main aspect of Playground Sessions.
No emphasis on musical expression – The instant feedback mode makes sure that your notes and rhythms are accurate, but it does not measure how musical your playing is.
You aren't given space to slow down for effect or directed to play louder or softer, so you could end up playing like a robot.
No original sheet music – As several users note in the forum, even the classical pieces are arrangements rather than exactly as the composer intended them.
A course representative in the forums claims that this is because the original versions go beyond the level of difficulty that Playground Sessions reaches.
Who Is This Course Best For?
Playground Sessions recommends their program for learners ages seven and up.
The lessons are easy enough for beginner kids, and the backing tracks and gameplay make it fun enough to keep them interested.
However, unlike traditional piano lessons, foundational concepts are only taught once, so kids may need supplemental material and/or a parent helping them understand.
It should be stressed that since Playground Sessions does not emphasize skills like theory and technique, and because of the usual drawbacks of online piano methods (less personalized, no feedback on musicality, etc.), it is not a replacement for traditional piano lessons unless your goal is to play popular songs for fun.
I recommend Playground Sessions for those who see learning to play the piano as a fun hobby rather than something that they want to work hard to master.
Final Thoughts
With a name like Playground Sessions, it's no surprise that it's aimed at having fun while learning. And I would consider it a success on both counts, as long as the student's goals align with those of the course.
What Playground Sessions does well is mitigate some of the problems of learning to play the piano without a personal teacher.
For example, the progress visualization helps hold you accountable for practicing, and the Song Library gives you a choice in what you want to learn.
However, as I mentioned above, that's not to say that it teaches you everything a piano teacher would.
Playground Sessions starts slowly, and the most advanced pieces are still quite elementary in the grand scheme of piano music.
You need to be in it to have fun playing your favorite songs rather than to become an expert pianist.
The popular music and gamification will appeal to many, and you will come out of Playground Sessions with exciting songs to play and the ability to learn more.
It will also give you a good foundation for continuing on to more advanced, in-depth courses.
---