As a piano manufacturer, Kawai needs no introduction. Much like its Japanese contemporary Yamaha, Kawai is known for making some of the best world-class concert grands that are featured in performance venues across the globe.
In the realm of electronic musical instruments, Kawai has had a solid track record. One of the highlights we remember fondly is the ES110 from 2017, which remains one of our top recommendations for affordable digital pianos.
The ES line has been quite stagnant for a good 4 years, which is a lifetime in the context of technology. In the same timespan, other manufacturers like Roland and Korg have been pushing the bounds of modeling, design, and value-for-money.
In 2021, Kawai announced a much-anticipated update to the ES product line, the ES920 and the ES520. These instruments supersede 2015's ES8, a fan-favorite portable digital piano that is, unfortunately, beginning to show its age.
We've already covered the sister product to the ES920, the ES520. While the ES520 makes a few compromises, it still managed to carve out its own niche in the crowded marketplace, and it's an instrument we can heartily recommend.
Today, we'll cover the ES920, which is the new flagship of the ES line. It'll be interesting to see how this stacks up against the already excellent ES520, and whether the upgrades are enough to justify the price hike.
Kawai ES920 Specs
Keyboard: 88 full-size fully weighted keys
Responsive Hammer III (RHIII) action with Let-Off
Touch Sensitivity (Heavy 1-4, Normal, Light 1-4, Off, User 1/User 2)
Display: 128 x 64 pixel OLED
Sound: Harmonic Imaging XL (HI-XL)
256-note maximum polyphony
38 instrument sounds (Acoustic & Electric Pianos, Organs, Strings, Harpsi/Mallets, Bass)
Internal recorder (10 songs, 2 track recorder)
Dual Mode, Split Mode, Four Hands Mode (Volume/Balance adjustable)
MIDI connectivity (Bluetooth, USB, In/Out Jacks)
100 rhythms
Metronome, Transpose, Temperament & Tuning
Speakers: 20W + 20W (8 x 12 cm) x 2
Connections: Line In (1/8″ Stereo), Line Out (1/4″ L/Mono, R), Headphones x 2 (1/4", 1/8"), MIDI (In/Out), USB to Host, USB to Device, Damper, Damper/Soft/Sostenuto (for GFP-3/F-302), Pedal (for F-302)
Dimensions: 134 x 37.5 x 14.5 cm (52.6" x 14.7" x 5.7")
Weight: 14.5 kg (32 lbs)
Release Date: September 2020
The full specs can be found on Kawai's official site here
Check the availability and current price of the Kawai ES920 in your region:
Design
The ES920 is not what you'd necessarily call a compact digital piano (though it depends on what you compare it to).
It is 52.7″ (W) x 14.7″ (D) x 5.7″ (H). My first impression at a glance was that it looked a bit too large, though that's mainly the fault of the tall 'forehead' dedicated for the speakers.
As for weight, the ES920 clocks in at a nice 37.5 lbs (17.0 kg), just 5.5 lbs (2.5 kg) over the ES520, and it's just 75% of the previous ES8's 49.6 lbs (22.5 kg).
Fun fact, the ES920's dimensions are exactly the same as the ES520. In fact, it's hard to tell the two apart unless you know what to look for.
Let's talk about the elephant in the room. With the update to the ES product line, Kawai went with a new design philosophy, and some of the changes weren't all that well-received by the community.
Specifically, those who loved the ES8 for its premium feel believe that the ES920's new plastic chassis is a perceived downgrade.
This is something people rightfully called a downgrade when compared to the original ES8's fully metal body construction.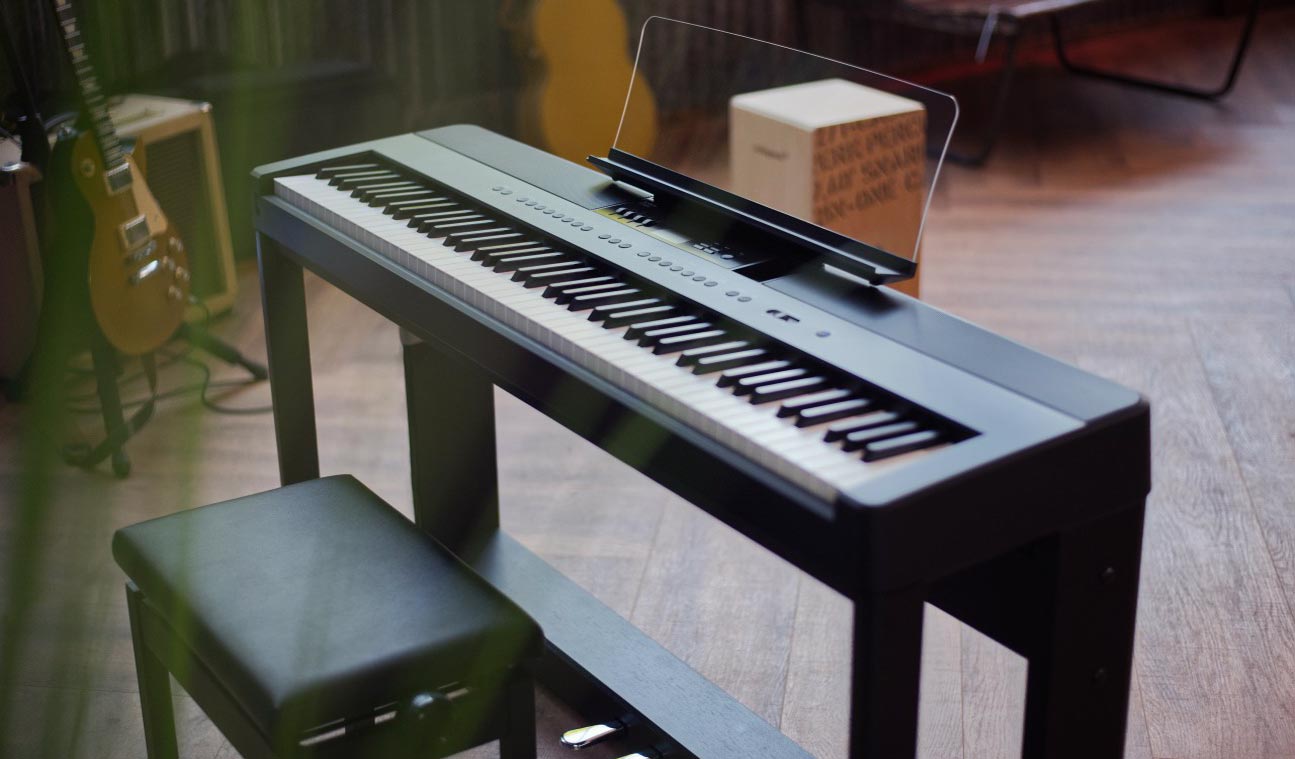 I'm a bit torn regarding the changes.
While I definitely prefer metal whenever possible, I do understand where Kawai is coming from. Kawai justifies the material switch as being motivated by weight reduction, which is a valid point considering the ES920 targets stage users as well.
Plastic doesn't just confer benefits in terms of portability. We've seen many well-built digital pianos recently that still stand the test of time despite having a plastic body (such as the similarly priced FP-90X).
During testing, the ES920 didn't flex despite me applying considerable force on opposite ends of the keybed, and by tapping the surface, it's easy to tell that the chassis is thicker than it seems, which is more than sufficient to protect the ES920's internals.
If you're still apprehensive, just know that the ES920 doesn't use the same material as cheap keyboards like the Casiotone CT-S100.
Instead, it uses sturdy, higher-quality plastics that should be able to withstand a few bumps here and there without showing visible signs of damage.
In terms of aesthetics, the ES920 comes in two colors: black and white. I'm personally a fan of the white variant, as the ES920's simple design stands out a lot more with a bright color scheme.
Let's now discuss the user interface. The ES920 takes the layout of the ES8, and modernizes it.
The front panel itself is simple, but effective. All buttons have easily readable text labels, and everything is laid out in a sensible way. I managed to make my way around the ES920 without actually requiring the manual, which is always a good sign.
The new buttons feel tactile without overt clickiness and have a subtly recessed shape that feels good to the touch. Some buttons also include embedded indicator lights, which intuitively show what state you currently have active.
The volume rocker comes in the form of a slider, which comes with a nice bit of resistance that allows for precise changes to be made on the fly.
The screen and navigation tools have been moved upwards, separating them from the rest of the controls. This gives more room for the bottom controls, which means the buttons are more spaced out, a plus for user-friendliness, particularly on stage.
The screen is a step up over the ES8's low-resolution 2 x 16 character-only LCD. The new 128 x 64 display is a high-contrast OLED, which should work fine in both low-light and bright environments.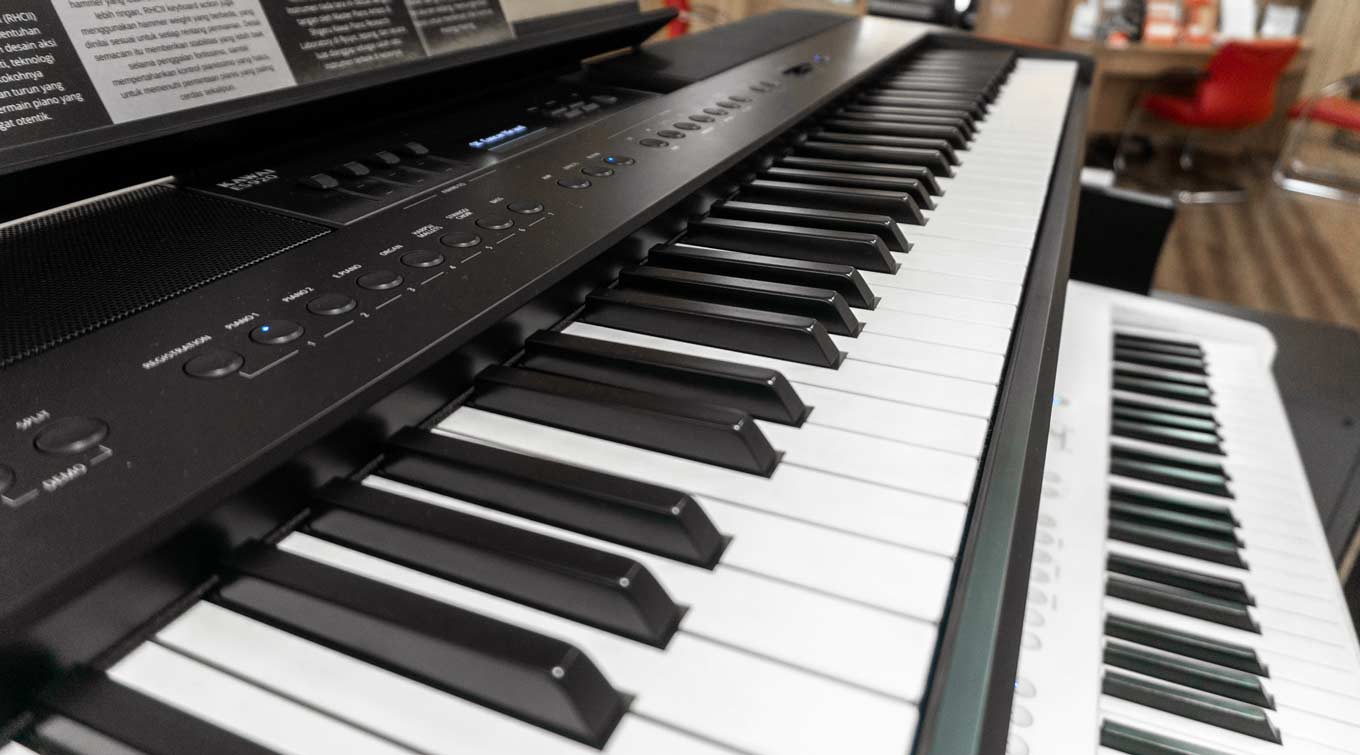 The screen and the related controls are flanked by the speaker system, which comes with a grill for protection against dust and debris.
So far, this sounds exactly like the ES520, and that's because they share the same basic design.
Overall, the design of the ES920 is simple but effective at what it sets out to do. It's well-built, easy to use, and just an overall enjoyable experience.
I only have two minor nitpicks, both of which are completely subjective.
First, the OLED screen feels underutilized, as it is only ever used to display text, a missed opportunity given the relatively high resolution. Some diagrams to add context to some more complex menus might have been helpful.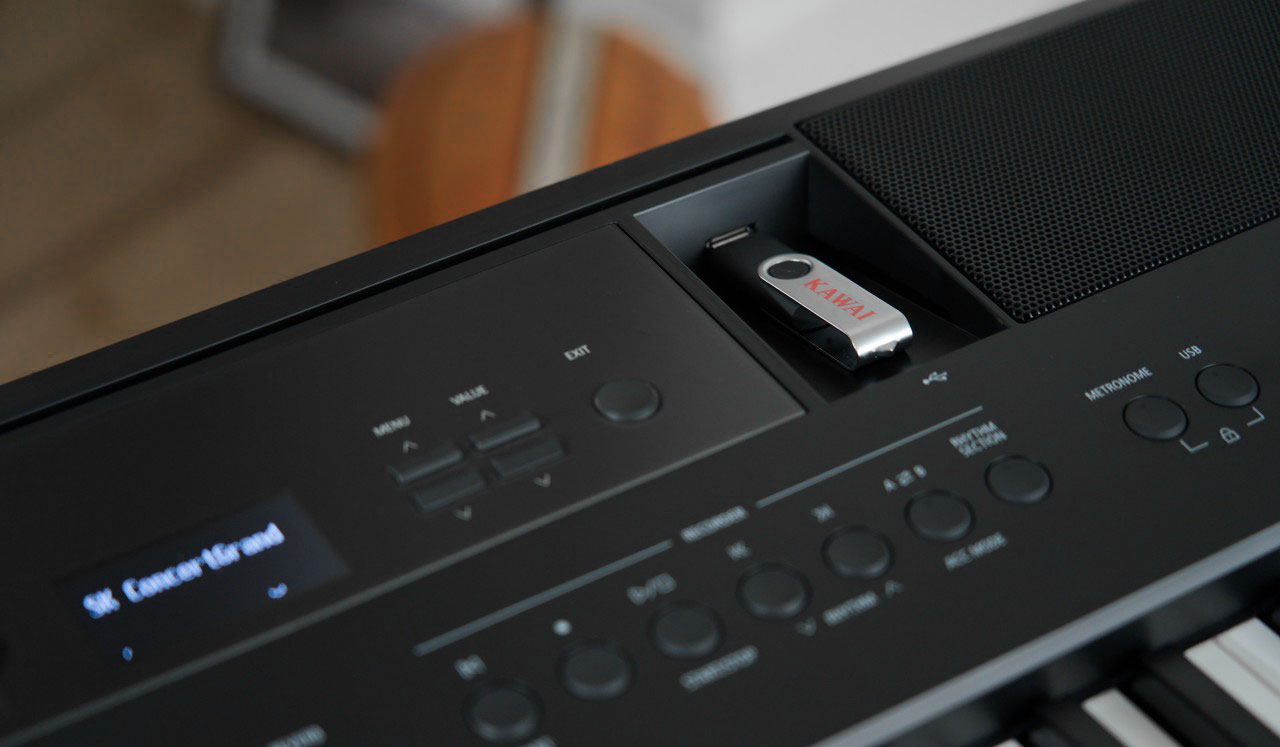 Also, the clean, sleek design seems betrayed by the massive gaping hole for the USB stick. The otherwise uniform shape suddenly has a sudden cutout that just feels out of place.
I learned to ignore it over time, but I wish the USB stick reader remained to the right of the keys where it was on the ES8, where it was non-intrusive and unnoticeable.
Keyboard
One of the ES920's flagship features (and the main upgrade over the ES520) is the Responsive Hammer III (RH3) keyboard action. This is the same action featured on Kawai's MP7SE stage piano, the CN29 console digital piano, and the original ES8.
The RH3 key action ranks highly in our list of key actions, particularly if we limit the selection to plastic-only keybeds. While it isn't the absolute best Kawai has on offer, it is one of the best you can get without paying for Kawai's wooden actions like the Grand Feel (GF) keys.
The RH3 sets itself apart by adding extra components to the familiar triple sensor hammer mechanism that has become the industry standard.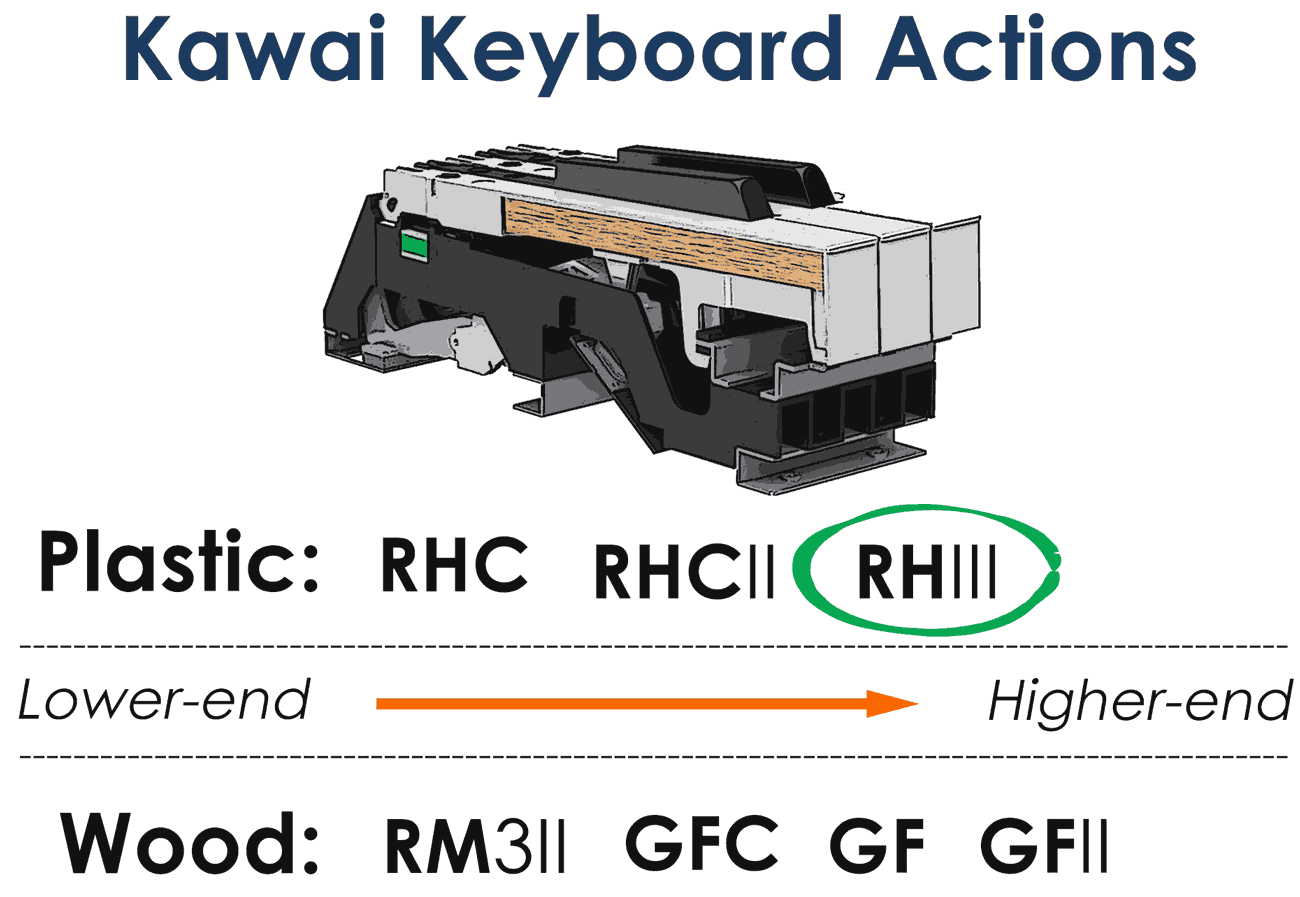 Using triple sensors means the RH3 key action plays well on fast passages, or when you're playing parts with soft dynamics.
The responsiveness is further enhanced because of a feature Kawai calls 'Let-off', which is essentially what other manufacturers call 'escapement'. This simulates the sensation of a 'notch' when playing gently, something that happens when playing real acoustic pianos, adding to the authenticity when playing pianissimo parts.
Similarly, the RHIII key action also features counterweights embedded at the ends of the keys, which help balance the weights to lighten the touch of the keyboard when playing lightly, which gives more control and nuance over other conventional actions.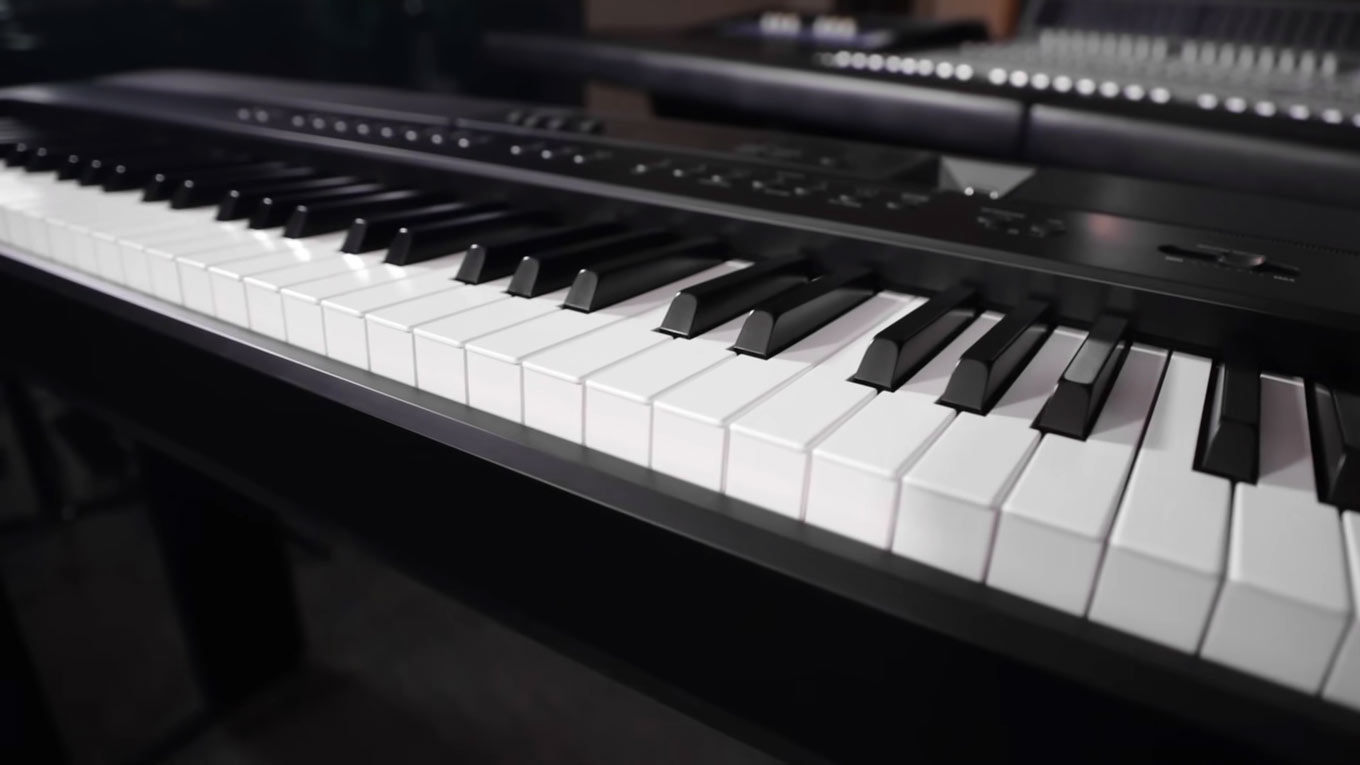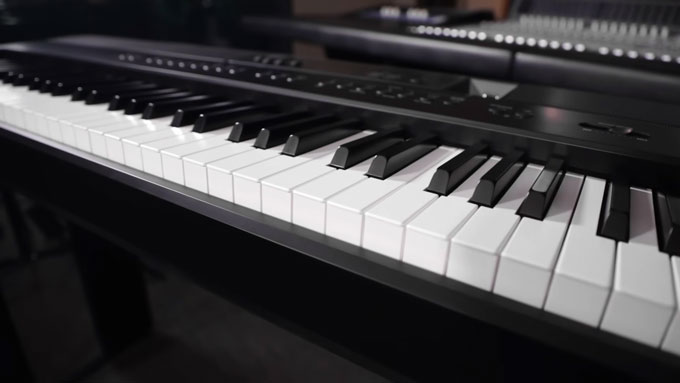 In terms of weight, the RHIII feels very authentic, which is no small feat considering it's completely made of plastic. Other cheaper plastic key actions either feel overly lightweight (like the ES520's RHC II action) or have a bit of stiffness that keeps them from being perfect (Roland's PHA-4 Standard).
The closest competitor to the RH3 action I can think of is Roland's PHA-50, which edges out a victory in terms of weight authenticity. However, it's also worth noting that the PHA-50 is a hybrid wooden action, and thus has an advantage when trying to replicate the feel of wooden acoustic piano keys.
Apart from feel, the ES920's keyboard is graded, which means that keys feel heavier in the lower registers, and progressively get lighter while moving up the keyboard.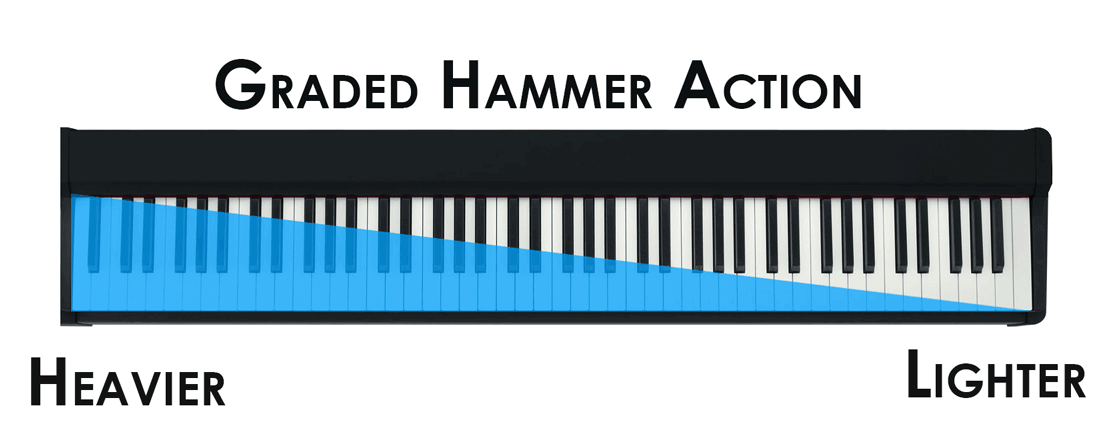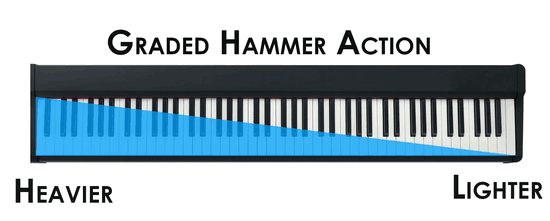 The keys surfaces are also textured (Kawai calls this 'Ivory Touch'). This is in contrast to the ES520's microtextured matte surfaces. People who have sweaty palms (like me), might find the textured keys quite nice for some added grip.
Overall, the RHIII key action is great, and easily one of the best plastic key actions money can buy. If you're looking for a digital piano that feels good, it's hard to do better than this without breaking out the big bucks.
One of my main complaints about the ES520 was its RHC II key action, which felt a bit out of place on an otherwise uncompromising premium instrument. The ES920 fixes that gripe and goes the extra mile by including one of Kawai's best available keybeds.
If you're thinking of getting the ES920, be rest assured that you're getting one of the best feeling keybeds in this price bracket.
Sound
The ES920 uses Kawai's Harmonic Imaging XL (HI-XL) sound engine, which is the same sound engine found on the original ES8. This is in contrast to the Progressive Harmonic Imaging (PHI) sound engine found on the ES520.
The HI-XL engine uses more sample memory than the PHI engine and includes more velocity layers to further add to the realism.
Also, a Kawai rep noted that the HI-XL normally uses longer samples as well, which would reduce the risk of looping, and allow for higher quality audio playback.
In total, the ES920 comes with 38 sounds, 4 more than the original ES8 and its sister product, the ES520.
If you wanted to know where the 4 extra sounds are assigned in comparison to the ES520:
2 more Piano sounds (SK-5 GrandPiano and Pop Grand 2)
1 more E.Piano sound (Another Wurlitzer-esque variant)
An extra pop string ensemble
---
Concert Grand Sounds
One of the ES920's main selling points is the Kawai SK-EX (Shigeru Kawai – EX) and EX sounds, which are both Kawai's premier concert grands that are highly sought after.
The EX ConcertGrand preset was the default sound used on many Kawai instruments in the past, including the ES920's predecessor, the ES8. It sounds good enough thanks to Kawai's meticulous sampling, but it definitely feels outclassed by the ES920's new default preset, the SK-EX.
For reference, the same SK-EX samples can be found on Kawai's top-of-the-line digital pianos like the CA99.
If you're not familiar with the SK-EX's pedigree, the Shigeru Kawai grands are analogous to modern classics like Yamaha's CFX and the Steinway Model D. The SK-EX's tone is designed to be balanced and versatile, capable of fitting into classical pieces and pop music alike.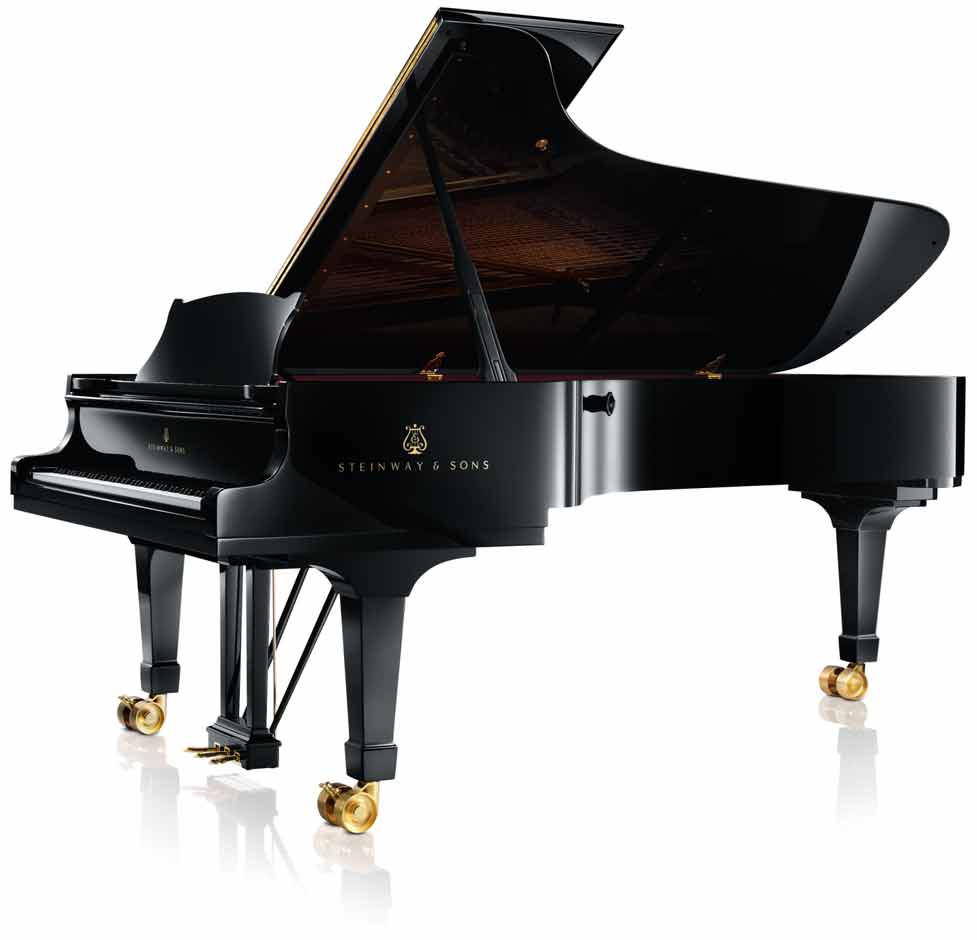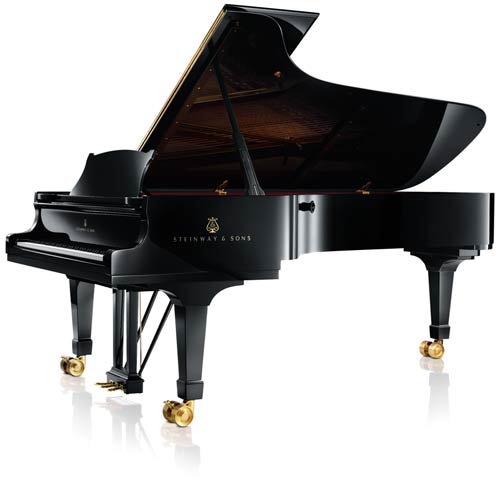 So, how do the actual samples on the ES920 sound? In short, they're fantastic.
Considering we reviewed the ES520 first, I already knew what to expect, but I was still impressed by how good the ES920 sounded right out of the box.
The SK-EX preset, even through the built-in speakers, sounds clear and allow for a good degree of dynamic range.
One of the hardest things for digital pianos to get right is the link between playing dynamics and sample playback. The software processing chain that selects a piano sample based on your playing velocity often takes some getting used to.
I'll stand by what I said in the ES520 review. This specific preset is one of the best sounding concert grand pianos you can find in this price bracket. Whether you're listening through headphones or the powerful speakers, you're getting a gorgeous digital rendition of the real deal.
The ES920-exclusive SK-5 preset shares a similar characteristic to the SK-EX, but has what I perceive to be a cleaner bass tone and a more intimate sound, likely due to the real SK-5's smaller size. It's a nice bonus that helps round out the ES920's piano palette.
Unfortunately, the rest of the piano sounds just aren't as detailed as the main 3. While I can see them being used for some genre-specific needs, you'll likely be better off using the SK-EX or SK-5 presets with some choice of EQ and the built-in FX.
To sum it up, the ES920's piano sounds are its strongest asset. The versatile and gorgeous SK-EX preset will likely be your go to, and it just works so well. If you aren't convinced, try listening to a few sound demos. I'm pretty sure you'll be just as impressed as I was.
---
Virtual Technician
The HI-XL's modeling component can be edited through the Virtual Technician section, which allows you to customize nearly every aspect of the virtual piano.
While the presets do sound great right out of the box, a bit of fine-tuning might help you get to your ideal sound. Through the Virtual Technician, you get access to the following settings:
Settings exclusive to the ES920 are marked with an asterisk (*):
Touch Curve – Controls how the piano sounds react to different playing intensities
Voicing – Preset hammer properties, influencing the tonal character of the piano sounds
Damper Resonance – Simulates strings of unpressed keys vibrating in resonance
Damper Noise – Volume of the damper noise when the sustain pedal is pressed down
String Resonance – Simulates resonance of harmonically related strings of held notes
Undamped String Resonance* – Adjusts resonance of topmost undamped strings
Key-off Effect – Volume of the damper touching the strings before vibrations are stopped
Fall-back Noise – Amount of sampled key fall back noise played when a key is released
Hammer Noise* – Sound that is heard when the hammer strikes the strings
Hammer Delay – Delay length between keys being pressed and a hammer striking strings
Topboard – Position of the concert grand's lid
Decay Time – Speed at which held-down notes decay
Minimum Touch – Threshold for dynamics that prevents sounds from being produced
Temperament – Tuning system used
Temperament Key – Base key signature of non-equal temperament
Stretch Tuning/Stretch Curve – Whether the piano samples are tuned to be flatter at the low registers and sharper at the upper octaves
User Temperament – Custom temperament tunings per-key
User Key Volume – Custom volume per-key
Half-Pedal Adjust – Point at which the damper pedal begins to sustain sounds fully
Soft Pedal Depth – Strength of the soft pedal effect if using a triple pedal setup
---
The list of options is quite extensive, as it is a mildly stripped-down version of the same modeling software included in Kawai's higher-end instruments.
I did not spend a lot of time here, as the presets sound good without needing user intervention. But it's great to have the option to adjust various sound elements so that it best suits what you're playing and the mood you're trying to create.
I did play with the Voicing option, which allows you to quickly switch between hammer properties to change the overall tonality of a preset. There are 6 preset options ranging from Mellow to Bright.
I found myself gravitating towards the 'Dynamic' voicing type, which switches from a mellow to bright tone depending on your playing dynamics. This is obviously unrealistic, but it's a lot of fun to add an extra dimensionality to performances.
For the tweakheads who love exhaustive customization, the ES920's Virtual Technician has you covered.
---
Other Sounds
Despite the high-quality present in the piano sounds, the other included instruments aren't as impressive. I'd describe them as a mixed bag, as most of them don't reach the lofty heights set by the flagship SK-EX samples.
The 6 available E. Piano presets are generally quite good. Despite the small number of sounds, they cover most of your bases when it comes to music. There are 3 Fender Rhodes-style presets, and a couple of synthesized piano sounds (DX7 style included) to round things off.
For Organs, I wasn't as impressed, and only the Jazz Organ stood out as being notable. The rest of the sounds do cover their specific niches, but they sound a little outdated, especially when pitted against the incredibly detailed pianos of the ES920.
When it comes to raw sonic detail with regards to the non-piano sounds, I would give the edge to other piano manufacturers. Kawai's sound engine seems to lack the same detail as other similarly priced digital pianos when applied to non-piano sounds.
Similarly, the rest of the sounds (basses, strings, and synths) aren't anything to write home about. The way I'd describe them is that they're functional, but not production-ready. They're there to round off the sonic capabilities of the ES920, but little more.
If you're looking for a stage keyboard that can do it all, you'd be better served by other instruments in this price bracket or even dedicated stage keyboards.
With that said, I believe the ES920 has an ace up its sleeve to mitigate these flaws.
---
Effects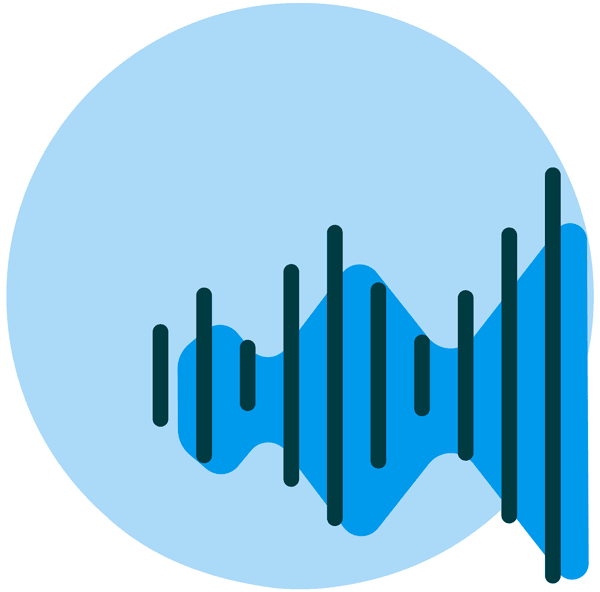 The Kawai ES920 comes with a surprisingly comprehensive and versatile FX section.
The ES920 has 3 main effect slots that you can customize, the Reverb, Multi-FX, and the Amp Simulator.
The Reverb section can be used to add a sense of space to your sounds. There are 6 algorithms, ranging from small rooms to large cathedrals. Each reverb also comes with tunable depth and time, allowing you to dial in the exact parameters you want.
The Multi-FX section, labeled 'Effects' on the ES920, is the most versatile inclusion. This section includes 16 different effect types designed for key-based instruments. Examples include delays, choruses, tremolos, phasers, compressors and rotaries.
As with the reverb section, each effect type has its own tweakable parameters.
Finally, the Amp Simulator is a gold mine for E. Piano or Organ players. There are 3 main algorithms simulating classic mic'd up amp/cab combos, and are a surefire way to add character to your sounds.
There is also a 2-band EQ and overdrive settings for further fine-tuning.
Some of the ES920's presets come with these effects engaged by default, so you don't necessarily need to deal with in-depth customization if you just want to get on with the playing.
To sum this part up, the effects section on the ES920 is excellent. It sounds good, has a ton of options, and is intuitive to use. This is how an effects section should be done, and I certainly hope other manufacturers take notice.
If you do end up using the ES920 for its organs and electric pianos, you'll almost certainly benefit from learning the FX section. Even the most basic E. Piano can sound way better with a touch of overdrive and tremolo.
---
Speakers
The ES920 has dual 20W speakers. These speakers are front-facing, and located beneath the grating on the front panel, flanking the screen on both sides. Do note that these are the exact same speakers found on the ES520.
I've already spoiled the fact that these speakers are good when discussing the piano sounds. Let's try to justify how it works out so well.
When compared to similarly priced digital pianos, 20W speakers are still quite impressive. Having a high wattage doesn't just translate to more volume, it also means the ES920 is less prone to distortion, which is always a plus.
For gigging purposes, you can easily use the ES920 in a medium-sized room without needing external amplifiers or speakers.
I'll also give props to the speaker's tuning, as the tones produced by the speakers come really close to matching what I hear through my monitor headphones.
I really can't overstate how good these speakers are. Kawai clearly knows that the ES920's strongest asset is its sounds, and the speakers are clearly tuned to reproduce the sonic qualities of the SK-EX samples.
As a side note, I like how the ES920 comes with a Wall EQ option. This is essentially a toggle that optimizes the ES920's speaker system for use beside a wall.
This seems like a needless addition, but it is definitely nice that Kawai makes no assumptions about where you're going to use the ES920.
---
Polyphony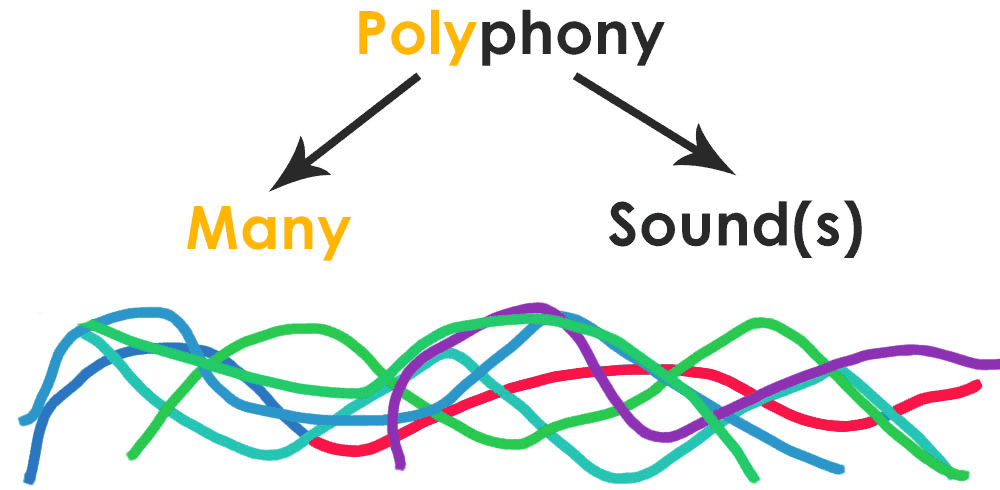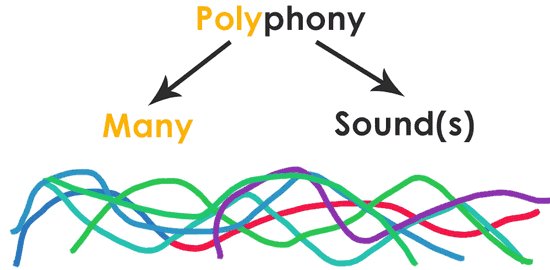 Polyphony measures how many notes a keyboard can simultaneously play before earlier notes get cut off, and as expected, more is always better.
The ES920 has 256 notes of maximum polyphony, which is more than enough to work with regardless of songs, and works even if you overuse the ES920's sound layering functionality.
* For reference, the ES520 has 192 notes of polyphony.
---
Conclusion on Sounds
With regards to sound, the ES920 excels at pianos, while somewhat lacking in other regards.
The SK-EX concert grand that acts as the default preset is one of the best sounding piano recreations you can get, and the speakers help bring out all the qualities you'd expect from an actual acoustic grand.
There isn't an exhaustive list of extra sounds (and not all of them live up to the quality of the pianos), but there's enough variety to get you through simple gigs and practice. If you're willing to put in the effort, the FX section can further build on the ES920's sonic palette.
I do wish Kawai pulled out all the stops and included some extra well-sampled presets to truly make the ES920 a well-rounded instrument, but it definitely is a missed opportunity.
38 presets is a really minimal amount compared to the competition. Whether or not this counts as a negative will depend on your expectations.
If you're looking for an instrument that excels at being a digital piano, the ES920 doesn't have much in the way of competition. The pianos are great, and everything else in the instrument complements this.
If sonic variety is a necessity or something you don't want to sacrifice, then you'll likely need to look elsewhere. The similarly priced Roland FP-90X, for instance, comes with 362 different sounds, which can cover a lot more ground than the ES920's 38.
Features
The ES920 comes with a complete set of features that adds more functionality to its arsenal. Here they are.
---
Functions
The function menu can be navigated using the onboard screen and some menu diving. Here, you can make some useful modifications to the ES920's operation.
Here are a few settings worth looking into:
TONE CONTROL – A preset-based equalizer that allows you to fine-tune the frequency response of the ES920's outputs.
BRILLIANCE – A mode under the Tone Control menu, emulating how more basic digital pianos allow the user to set the 'brightness' of the output.
TUNING – The central tuning of the middle A can be modified in increments of 0.5 Hz, in the range of 427.0 Hz to 453.0 Hz.
DAMPER HOLD – Changes how sustained sounds like organs and strings react when the sustain pedal is held down.
TRANSPOSING – This allows you to change the played key within a 24 semitone range.
METRONOME – Plays a steady rhythm for practice purposes, tempo and time signature can be set.
If you aren't a fan of menu diving, you can also modify these settings using Kawai's PianoRemote control application on your Bluetooth-linked smartphone.
---
User EQ
One of the main identifiable differences on the ES920 is the presence of a dedicated 4-band equalizer with physical controls. This is easily the best way to make tonal changes on-the-fly, and something stage users will definitely appreciate.
The physical sliders go from -6 dB to 6 dB, which is a lot of room to work with. You can also change the frequencies of each band through the function menu.
If you're not exactly knowledgeable about conventional EQ curves, you'll still be able to access presets designed by Kawai through the Tone Control menu.
To my knowledge, you can't save your own custom EQ curves, which is a missed opportunity for stage pianists who need song-specific equalization.
---
Modes
The ES920 includes 3 main modes: Dual, Split, and Four Hands Mode.
Dual mode is what we commonly know of as 'layer mode', and allows users to play two sounds simultaneously with each key press. For example, you might want to layer an acoustic piano with a synthesized piano for a richer tone.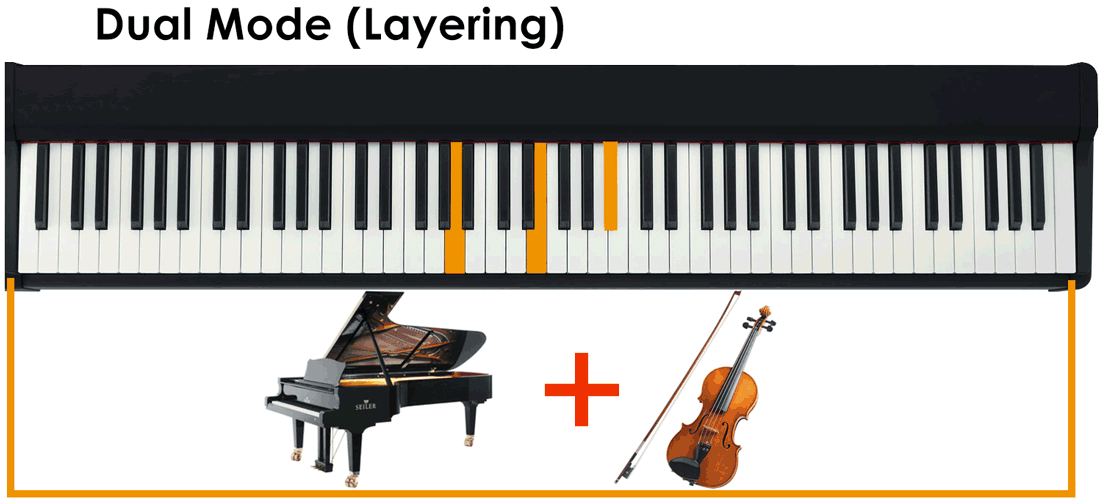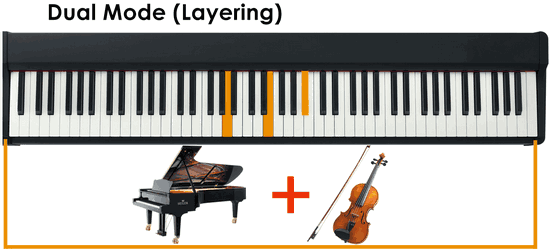 Split mode, as the name implies, allows users to split the keyboard into a left- and right-hand section, each with a different assigned preset.
The split point can be changed as required. Normally, you'd use this by assigning a bass preset to the left-hand side, and an e. piano on the right.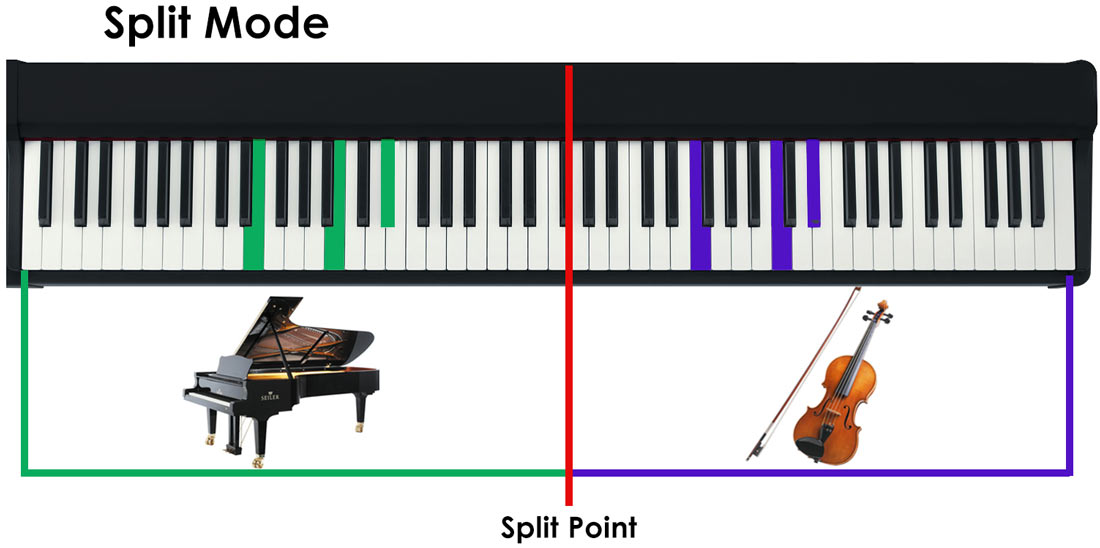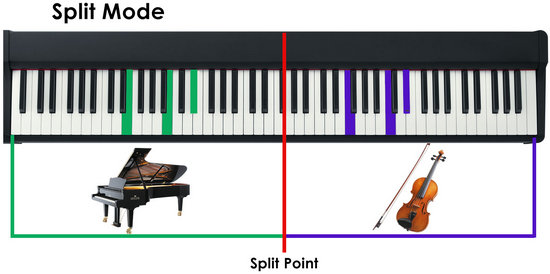 Finally, there is Four Hands mode, which splits the keybed into two sections with the same octave range. For teachers, this is an effective way of doing demonstrations while sitting alongside students.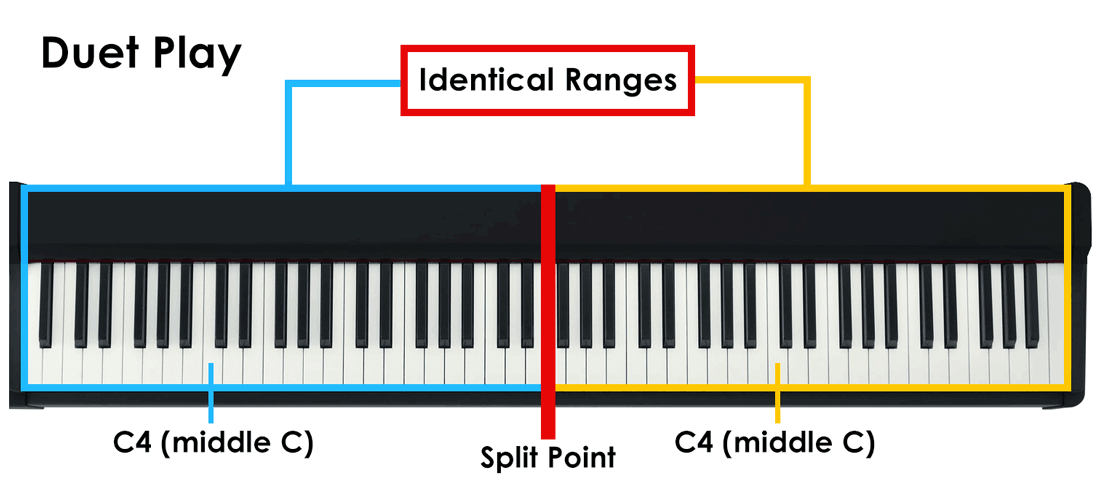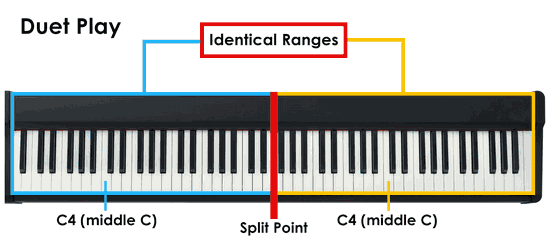 On every mode, the volume of individual sounds can be changed individually.
---
Rhythms and Accompaniment
The ES920 comes with a very comprehensive Rhythm section, especially when compared to the ES520's bare-bones implementation.
The 100 rhythms can be used as a viable alternative to the metronome for practice purposes, and that's the limit of what the ES520 can do.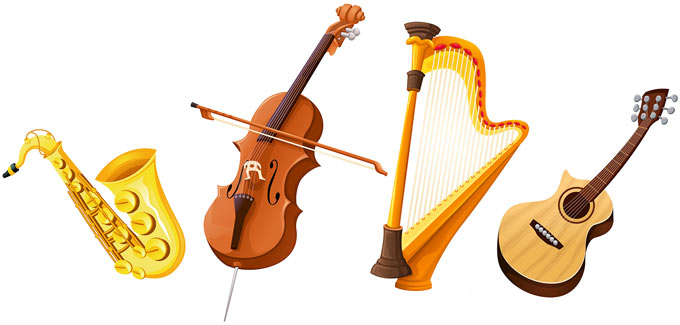 However, the ES920 comes with a full-on accompaniment section, that tracks your left-hand chord playing and composes a full musical arrangement with bass, guitar, organ, brass and other style-specific instruments.
If you've ever used an accompaniment keyboard like Yamaha's PSR-373 or the DGX-670, this will all feel familiar.
With that said, there are a few limitations. Switching between parts isn't as intuitive as it is on dedicated accompaniment instruments with more buttons, and changing settings like the chord tracking method or part volume takes a bit of effort (and the manual).
Despite those gripes, the ES920's accompaniment mode is a fun addition that expands the ES920's feature set. The genre selection covers a lot of ground, ranging from rock to latin rhythms, and I definitely had a fun time trying it out.
---
Song Recording and Playback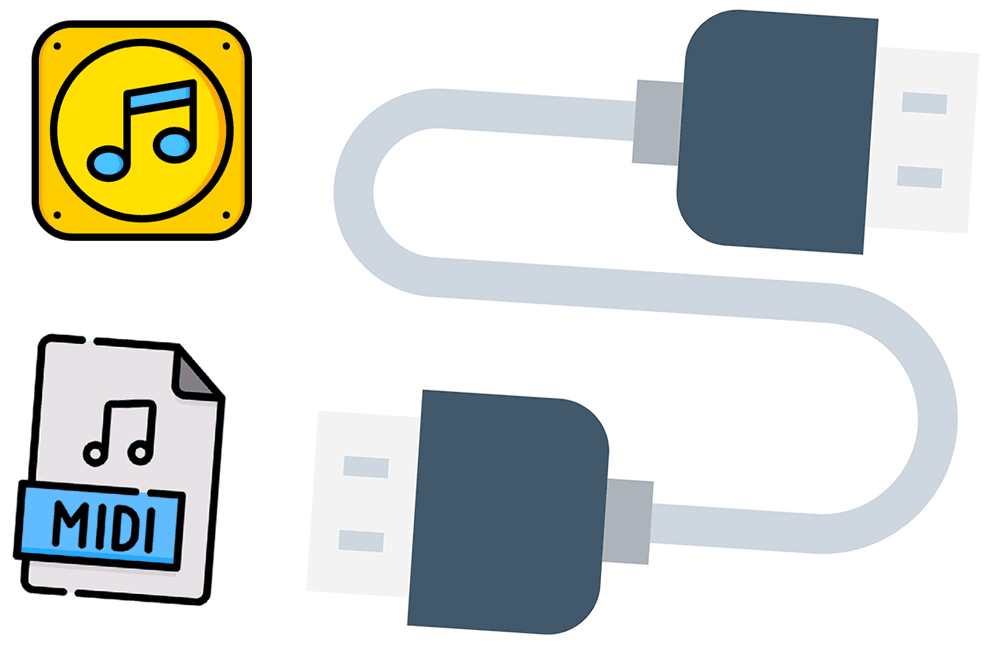 For quick sound demo purposes, Kawai included 23 demo songs, which are chosen to showcase the capabilities of different presets.
The ES920 also comes with a fairly capable song recorder, saving songs onto a USB stick or internal memory. Recording a song is simple enough, but there are also a lot of useful extra features included on the ES920.
Let's first cover the basics. While you can record 2 parts per song, and you can use basic overdubbing to add even more tracks, though I wish there was some undo functionality to make editing easier. As it is, you'll be best served getting things right on the first try.
In terms of formats, songs saved onto the ES920's internal memory are saved as Kawai's proprietary MIDI format, whereas those saved on the USB stick are in audio (MP3 or WAV) format.
Using the audio formats, you get easy compatibility with DAWs, and also the ability to infinitely add more parts to an audio file through overdubbing. However, this also means your effects, sound choice and mistakes are frozen and uneditable.
Regardless, I still think the song recorder is a nice way to jot down ideas without connecting the ES920 to your computer. While it has its limitations, people do say that limitations breed creativity.
---
PianoRemote App
I briefly brought up how you can use Kawai's PianoRemote app to change settings without using the onboard controls.
The PianoRemote app is available on iOS and Android, and is the main control app for most of Kawai's digital instruments, including the ES920.
While the app has a below-average rating (2.0/5 stars on Google Play at time of writing), my experience was fairly seamless.
The app itself is well-designed, especially in comparison to some of the other 'form over function' apps like Roland's Piano Every Day. The layout is easily understandable, and the beautiful UI also makes things a lot more easy to understand.
However, I'll note that the app doesn't feel necessary.
I've already praised the simple, accessible user interface built onto the ES920, and I'll reiterate that point. Any instrument that I can use without even looking at the manual gets a plus in my books.
---
Bluetooth Connectivity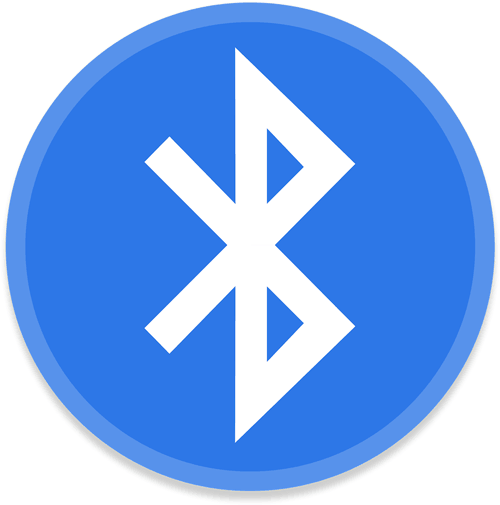 The ES920 comes with Bluetooth Audio and MIDI functionality.
Bluetooth Audio allows you to stream audio from connected devices through the ES920's excellent speakers. This is a nice alternative to using the AUX connection if you don't want to carry around an extra cable (or if you're using a smartphone without a headphone jack).
Bluetooth MIDI lets you use the ES920 with music-making apps on smartphones, tablets and other smart devices. If you own apps that benefit from having a dedicated control keyboard, I'd suggest trying this out, though do beware of latency.
Do note that Bluetooth audio streaming only works in one direction, meaning you can't send audio from the ES920 to external speakers using Bluetooth. This is due to the latency issues inherent with Bluetooth devices.
Connectivity
Naturally, Bluetooth isn't the only way to connect external devices to the ES920. Kawai includes a complete host of options, allowing you to integrate the ES920 into any production or performance environment.
A pair of stereo 1/4″ outputs are included, and are used to connect the ES920 to external speakers or amplifiers. If you want a mono signal, the Left jack doubles as a Mono output when the right jack is left unconnected.
To use headphones, the ES920 has two headphone jacks on the front, a 1/4″ and 1/8″ variant. This inclusion of both conventional connections is a definite positive, and ensures that the ES920 will work with just about any pair of headphones.
A 1/8″ auxiliary input jack is available, and acts as an alternative to the Bluetooth Audio streaming method. Using this jack, you can connect your audio playback devices to hear the audio through the ES920's speakers.
For studio integration, there are also the 5-pin MIDI In and Out ports, which allow the ES920 to communicate with legacy gear, for example to work around the ES920's limited soundset by using an external sound source, such as Roland's Integra-7.
The ES920 also includes a USB to Host port, which uses the USB Type-B connector. This allows you to use the ES920 as a MIDI controller for digital audio workstations on a laptop. Unfortunately, the ES920 does not come with an integrated audio interface, so you'll need to fork out a bit more for an external audio interface to use the ES920's internal samples in your DAW.
As mentioned earlier, the ES920 also has a USB flash drive port on the front panel, and accepts any USB stick formatted in FAT or FAT32. This will be used to save songs in your audio format of choice.
A 1/8″ damper pedal jack is provided, and it's where you'll connect the included F-10H sustain pedal. If you have your own personal go-tos, this jack should work with most standard off-the-shelf damper pedals as well.
Finally, there is the custom triple-pedal jack, which is designed to be used with the F-302 or GFP-3 pedals from Kawai. This gives you access to the combination of damper, soft and sostenuto pedals, which might be essential depending on your piano playing preferences.
All in all, I'm quite happy with the ES920's connectivity options. Everything a serious pianist would need is here, though you might lament the lack of a built-in audio interface if you work a lot with music software.
Accessories
The default Kawai ES920 package comes with the following accessories:
Owner's manual
Music rest
F-10H damper pedal
AC adaptor (PS-154)
You'll likely be familiar with this at this point, but always check the AC adapter voltages, and ensure that they match your country's local power outlets. This is especially true if you're purchasing the ES920 from an overseas retailer.
The music rest is something I'll discuss briefly, as it's actually quite nice. While it is plastic, the clear, transparent surface feels surprisingly sleek, and somehow sets itself apart from most of the tacked-on plastic slabs you get from most portable pianos.
The included F-10H damper pedal is also great, supporting half-pedaling right out of the box for more expressive performances.
Overall, the ES920 comes with all you need to start playing at home. However, stage performers and classical-focused pianists might want to get a few extra purchases to round out the package.
---
Pedal
For most people, the F-10H sustain pedal that comes with the ES920 should be perfectly usable, being well-built and expressive.
However, more advanced or classically trained pianists might need soft and sostenuto pedals to cover all their bases.
The ES920 supports two triple-pedal setups, the F-302 and the GFP-3.
The F-302 pedal bar is designed to fit onto the HM-5 furniture-style stand, whereas the GFP-3 works best as a portable (and affordable) option, particularly if you're using your own portable stands.
Do note that the ES920 only works with Kawai's triple pedals, as the 3-pedal jack uses a proprietary connector.
---
Stand
On the ES920's product page, Kawai recommends getting the HM-5 furniture-style stand, which comes in black and white to match your ES920's color scheme.
The stand is made with a combination of wood and metal and looks great despite its simplicity. If you're looking to make the ES920 a centerpiece of your living room, this is an excellent choice.
This also works best with the F-302 pedal bar, which slots onto the lower end of the HM-5.
If you're not a fan of the looks (or price tag), Kawai does note that the ES920 works with generic stands (though they playfully call said stands 'uninviting').
If you're a stage performer looking for a lightweight option, here are a few of our recommendations.
---
Headphones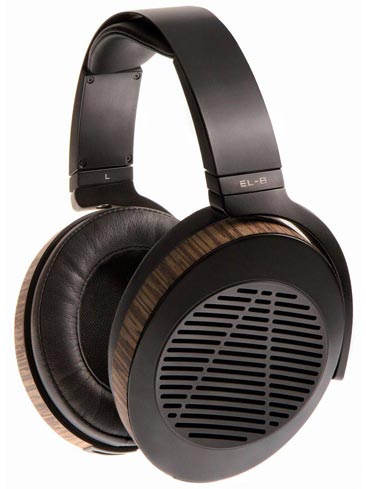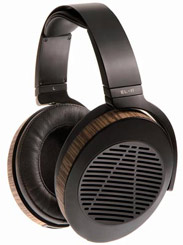 Headphones come in very handy when you want to practice in private, focusing solely on your playing and not disturbing others nearby.
Moreover, a good pair of headphones will provide a clearer and more detailed sound compared to the onboard speakers.
Check out this guide to learn how to choose the best-sounding headphones for your keyboard.
Summary
Pros
Sleek design and construction
Well thought out user interface
SK-EX concert grand samples sound amazing
RH3 keys make playing the ES920 a joy
Incredible speakers
Great customizability of piano sounds
Cons
Very limited sound selection
Non-piano sounds feel a bit dated
---
There really isn't a lot to complain about with the ES920. It is a digital piano that doesn't set out to break the mold, instead trying to do the basics as best it can. As far as I can tell, the ES920 succeeds.
The ES920 doesn't have an exhaustive list of features like similarly priced competitors, nor does it have a seemingly endless list of presets. One could say that the ES920 does the bare minimum, but it definitely does things well.
Combined with the RHIII key action, HI-XL sound engine and the speakers, the ES920 really delivers one of the best playing experiences of any portable digital piano we've recently reviewed.
The issues just come in if you're looking for an instrument that goes the extra mile.
If you're a stage keyboardist that relies on having a wide palette of sounds to play with, the ES920 disappoints due to its miniscule sound set (that doesn't necessarily retain the quality of the flagship pianos either).
Also, for studio-focused session musicians, the ES920 lacks the USB audio interfaces that are slowly becoming an industry standard. This means you'll need to do some extra legwork to get the clean SK-EX pianos into your recordings, which feels like a step we could do without.
So, is the ES920 for you? It depends on your needs.
If you're looking strictly for a digital piano, you can't go wrong with the ES920. It sounds great, plays well, and is just one of the best slab-style digital pianos we've reviewed in recent years.
If you want a digital piano that goes the extra mile, you'll be better served by alternatives from other manufacturers.
To wrap it all up, the ES920 is one of the best digital pianos we've seen in 2021, with a heavy emphasis on 'piano'. It doesn't set out to do a lot, but it excels in just about everything it aims to do.
Check the availability and current price of the Kawai ES920 in your region:
Alternatives
Kawai ES920 vs  Kawai ES520 (Full Review)
We recently reviewed the ES520, and considering how similar the two instruments are, I'd say it's worth discussing if the ES920 justifies the price hike.
In terms of sound (which I consider to be the best aspect of the ES920), the ES920 is better thanks to its better sound engine, but not by as much as you'd expect.
To use a numerical analogy, if the ES920 is a 10, the ES520 is a 9. They're both great, the ES920 is just that little bit better.
Both the PHI and HI-XL are sample-based engines, and they ultimately are using the same underlying samples. While you'll definitely benefit from the HI-XL engine's better features, don't expect a generational leap.
In fact, I legitimately did not realize there was a difference before doing a side-by-side comparison. The ES920's engine sounds better with more definition in each sample (particularly in terms of clarity in chords), but you really have to be listening to realize that.
The bigger difference comes in the keys.
The ES520's RHC II key action is a little dated and falls short of other similarly priced key actions like Roland's PHA-4 Standard. On the other hand, the RHIII on the ES920 feels a lot better, and in my opinion, alone justifies getting the ES920 over the ES520.
I'd put it this way, the ES920 will feel natural to anyone used to acoustic pianos, whereas the ES520 takes a bit of getting used to due to its relatively light weight.
The ES920 also comes with bonus features like the physical 4-band EQ and rhythm accompaniments. Apart from what I've mentioned, the ES520 and the ES920 are basically indistinguishable.
---
Kawai ES920 vs  Roland FP-90X (Full Review)
In the review, I pointed out how the ES920 might not work for everyone, particularly those looking for a more versatile instrument. The similarly priced Roland FP-90X is our recommended alternative.
Let's talk about the one aspect in which the ES920 is better, the piano sound.
The FP-90X uses the technically impressive PureAcoustic Piano sound engine, which does not use samples, and models the piano tones from scratch. It does sound great, especially through the dual 25W speakers.
However, the common complaint with Roland's modeled pianos is how bright they are, and I tend to agree. This is especially obvious if you're listening through headphones. With that said, it all comes down to personal preference, and there are lots of musicians who love how Roland's modeled pianos sound.
In this regard, the ES920's intricate sampling of the SK-EX concert grand wins out.
However, the FP-90X has another sound engine, Roland's SuperNATURAL, that powers the other 342 non-piano presets. Despite how it may look, this is definitely not a case of 'quantity over quality'.
These non-piano presets are legitimately great and help make the FP-90X a viable stage instrument that covers nearly every genre of music (even electronic!). Comparatively, the ES920's 38 total preset count seems anemic.
Both digital pianos also have key actions that are excellent, though I'd have to give Roland's PHA-50 the edge. Roland uses a hybrid plastic and wooden construction that helps give the FP-90X's keys a natural feeling that is a joy to play.
Though, I will admit that it was hard to pick favorites. These keys are another situation where the differences are so miniscule (and subjective) that your opinions might differ. Both of these instruments are the respective company's flagship products, so quality is certainly on the table.
To oversimplify the choice between the ES920 and the FP-90X, go with Kawai if you want the best piano-focused experience, and go with Roland if you want an instrument that is more versatile.