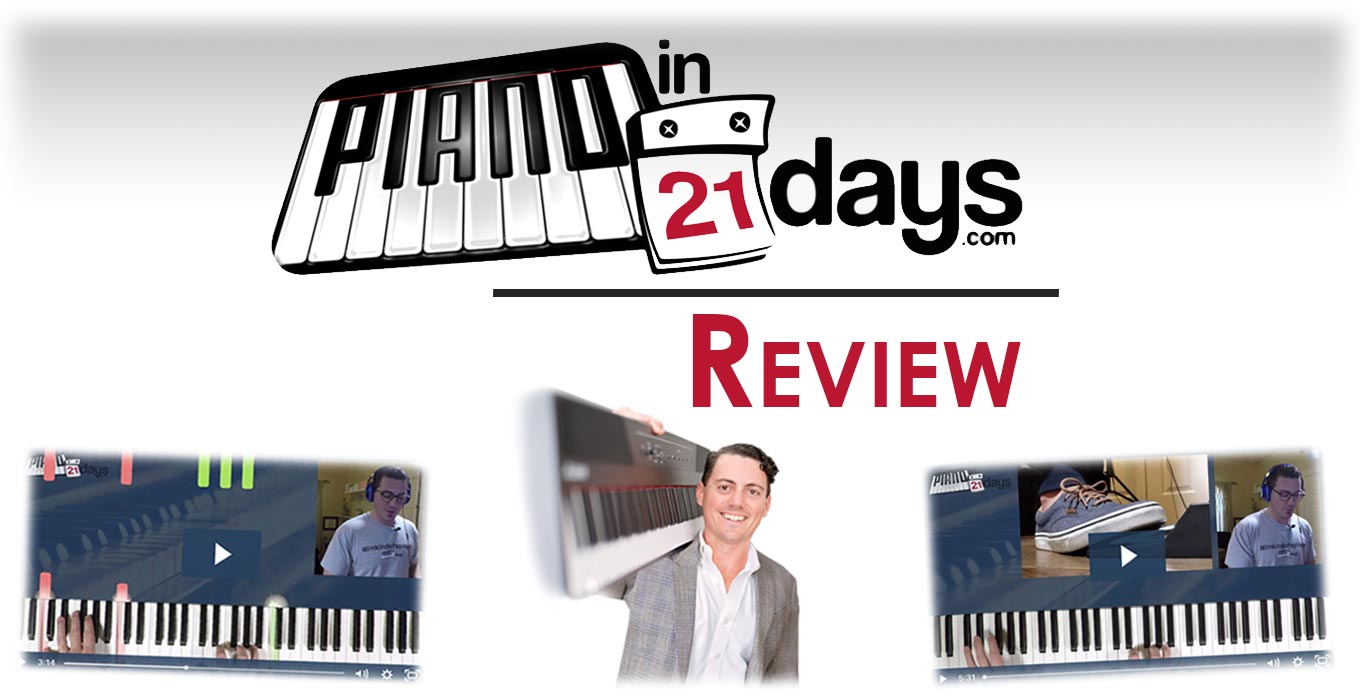 Piano in 21 Days is a video-based course created and taught by Jacques, a former engineer whose goal is to share the simple, streamlined method that took him from slow progress with piano lessons to playing whatever songs he likes with ease.
He recalls a time he was asked to play the piano after years of lessons and only had a few pieces to play – a situation that will be familiar to anyone who relies only on sheet music. Piano in 21 Days was created as an alternative to traditional methods so that students will never not have something to play.
In fact, Jacques claims that most piano methods are for those who eventually want to play professionally or be a concert pianist, with not much material available for people who just want to play for fun.
While most students complete the course on their own timelines, it was designed to be completed in 21 days, with the end goal of being able to create your own songs and arrangements so that you can just sit down and play.
Can a total beginner really learn how to play the piano in 21 days? I dug deeper to find out.
Getting Started
Before you commit to the full course, Jacques encourages students to try out his method by downloading a free five-day eBook that he sends to your email address.
If you like it, then you can buy the full 21-days with three packages ranging from $97 to $497. There are payment plans available, and students receive lifetime access to the course.
Piano in 21 Days doesn't require that you go out and buy any fancy cords or gadgets – since the videos are accessed through the website, all you need is a device capable of playing them, like a computer or tablet, and a piano or keyboard.
To use this course, you need a piano or keyboard with at least 49 keys (though I highly recommend 88 weighted keys) and a sostenuto (sustain) pedal.
5-Day eBook
This functions as the free trial of the course. It goes through the content of the first 5 days of the course, only in written form instead of through video lessons.
Day 1 introduces the seven white keys, their names, and where they are on the piano. The practice goal is to be able to play white keys on command based on a prompt from either flash cards or an audio exercise.
Days 2 and 3 teach chords C major, F major, G major, A minor, E minor, and D minor. You're taught to find them using the individual notes within them and also using a formula based on the number of keys between the notes.
Day 4 focuses on adding a left-hand octave to the chords.
Day 5 promises to teach you 36 songs, which it delivers on by introducing chord progressions, including a four-chord progression that can be used to play many different songs.
Once you complete the eBook, a link will take you to the "Next Steps" page, where you'll see an intro video and be encouraged to sign up for an online workshop.
In the workshop, Jacques shares more about his story and why he created Piano in 21 Days, as well as student stories.
He also introduces you to the piano, including what major and minor chords sound like in popular songs. If you finish the workshop, he gives you the first 5 video lessons for free.
Piano in 21 Days Video Course
There is one short video lesson per day. The videos show Jacques talking in the corner of the screen, as well as an overhead view of the keyboard and scrolling colored bars to show what notes are being played and for how long.
The videos are usually accompanied by flash cards, an example song, and/or an audio exercise. Each day also tells you what to practice and what you should be able to do before moving on.
Days 1 to 5 are basically the content of the eBook in video form, but anyone looking for a review of white keys, major and minor chords, and chord progressions will want to complete them anyway.
Days 6, 15, 18, and 20 have been grouped together here because they all deal with improvisation. Beginning with chord patterns on day 6, these lessons take you through playing songs in different octaves, adding arpeggios, and four-note chords.
Day 7 is a quick lesson on the song-learning process, starting with finding the chords and finishing by breaking free of the original song and putting your own twist on it. "Superman" by Five for Fighting is the practice song in this lesson.
Day 8 is on to black keys. This lesson and practice session is just like day 1, only with black keys instead of white keys.
Day 9 has students walking their fingers up and down the whole piano using various finger patterns. This is for getting comfortable moving around the piano and between keys.
Days 10 and 11 teach you more about major and minor chords. You'll learn all the rest of the major and minor chords, as well as transposition.
Day 12 is your intro to using the sostenuto (sustain) pedal. It goes over the basics of pedaling, including the fact that you generally use the pedal 95% of the time while chording.
Day 13 teaches you to add a fifth to the left hand, though it doesn't refer to it as such. Instead, it says to count up seven notes (semitones) from the root.
Days 14 and 16 are all about advanced chords. This includes 2nd chords, 4th chords, suspended chords, 7th chords, and slash chords.
Day 17 introduces chord inversions. However, it does not get into different inversions like first and second, instead merely teaching the idea that a chord is a chord regardless of the order the notes are in.
Day 19 ventures into the land of technique by teaching about scales. Rather than put them in the context of their key signatures, you're taught to find scales based on a formula similar to the one used to find chords. These are presented not as an exercise to improve finger dexterity, but as a new set of notes that will fit well in an improvisation.
 Day 21 discusses three options for moving on past this course: adding a melody line, playing songs exactly as played by artists, or learning from sheet music.
Complementary Courses (Ultimate Package only)
If you opt for the "Ultimate Package" of Piano in 21 Days, you're getting access to several complementary courses designed to enhance everything you've learned in the main course.
---
Melody and Ear Training in 21 Days
The main Piano in 21 Days video course teaches students how to play the chords that make up a song so that you can sing the melody over them.
The Melody and Ear Training course is the continuation of the main course. It teaches you how to add the melody to the chords so that the songs are recognizable.
Since Jacques doesn't usually play the melody along with the chords, he brought in pro pianist Steve Lundgren to teach the Melody and Ear Training in 21 Days course.
Over 21 lessons, Steve covers the different "feels" that songs can have, how to play a melody in each "feel", how keys work in the context of a song, and a new method for learning songs.
As a bonus, you also learn how to play Christmas tunes using your new techniques.
There are also 3 ear training lessons whose goal is to teach you how to find melodies by ear. This is done with a few exercises like pitch matching, breaking melodies into smaller pieces, and identifying the general size of an interval.
This course assumes that you have already completed the main course, so it asks you to use things like your improvisation techniques and formulas for finding scales that you already learned.
---
Hand Coordination Course
This course is actually taught by Josef Sykora from the YouTube channel Creative Piano Academy.
Over six lessons, he teaches exercises for getting both hands on the same page. The exercises are all about rhythm – he'll have you counting out loud, tapping out rhythms, and practicing patterns between the hands.
Everything taught here can be applied to the songs that students learn in the main course.
Bonus Material
The "Ultimate" package comes with several bonus courses, including Guitar in 21 Days, Vocals in 21 Days, Easy Jazz Piano Course, and Classical & Sheet Music Course.
These courses are video only, without flashcards or guided practice. There is also a written workbook version of the Piano in 21 Days course, which is basically an extension of the free five-day eBook.
Facebook Student Center
Students of Piano in 21 Days are encouraged to join the private Facebook group, where students share videos of their progress and trade tips. Jacques also hosts live videos where he answers questions from students.
The group has a positive vibe, with encouraging comments and lots of user engagement.
Pros and Cons
Here's what I thought was great (and not-so-great) about Piano in 21 Days.
Pros:
Gets students playing almost right away – With a 21-day curriculum, there isn't much time to waste not playing. The four-chord progression on day 5 opens up a world of songs to beginners.
Guided practice – Knowing what to practice and having doable practice goals makes sure that students practice the right thing and move at a good pace.
Personal connection – Jacques provides students with his phone number and email, and is active in the Facebook group. Students also connect and encourage each other, creating a community feel.
Bite-sized lessons – The videos are short and each day's content is enough so that you make progress, but not so much that you feel overwhelmed.
Cons:
Ignores hand position – While there is a short discussion of proper piano posture, there is nothing on playing with good hand position. Watching the student videos in the Facebook group reveals that many students play with fairly flat hands and straight fingers—both things that in person piano teachers usually keep their eyes out for.
Lack of theory – I realize that no theory is one of this course's selling points, but at times it seems like it ignores even theory that could be useful in the context, for example, tones/semitones or intervals while using the formulas to find chords.
Who is Piano in 21 Days Best For?
The number one type of student that I recommend this course for is those who are discouraged or intimidated by the piano.
If you've had little success with traditional lessons or feel like you have no musical talent, Piano in 21 Days is for you. It's also great for those who don't have a lot of time to spend in lessons and just want to play songs that they like.
It really can't be stressed enough that Piano in 21 Days is for students who are all about playing for fun, especially popular music.
Those whose primary goals are to read music, play classical pieces, or learn music theory should go with another online course like Piano Marvel or consider taking traditional lessons with print methods.
Final Thoughts
Based on student comments, Piano in 21 Days does appear to be successful in getting students to play confidently in a much shorter period of time than can be expected with traditional lessons.
However, it seems to normally take longer than 21 days, with Jacques himself encouraging students to take their time if they need to.
Jacques is anti-sheet music, which stems from his less-than-stellar experiences with traditional piano lessons. He stresses that it takes a long time to learn a song with sheet music, even after years and years of lessons, and that most people aren't blessed with the ability to learn a piece from sheet music quickly.
I am not so quick to dismiss the value of reading music – I would argue that learning music quickly by sight reading is something that is usually attained with practice and that Jacque's negative experiences with reading music are not universal. But that doesn't make this course's method of chords and improvisation any less valuable, especially for those who have no interest in sheet music and just want to learn asap.
Piano in 21 Days definitely feels like a shortcut to playing the piano, which is why it seems to be so popular with those who don't want to spend years in lessons.
It may be light on things like technique and theory, and it won't have you playing Mozart, but it's heavy on exploration and playing for your own enjoyment, which is really what music is all about, isn't it?
---