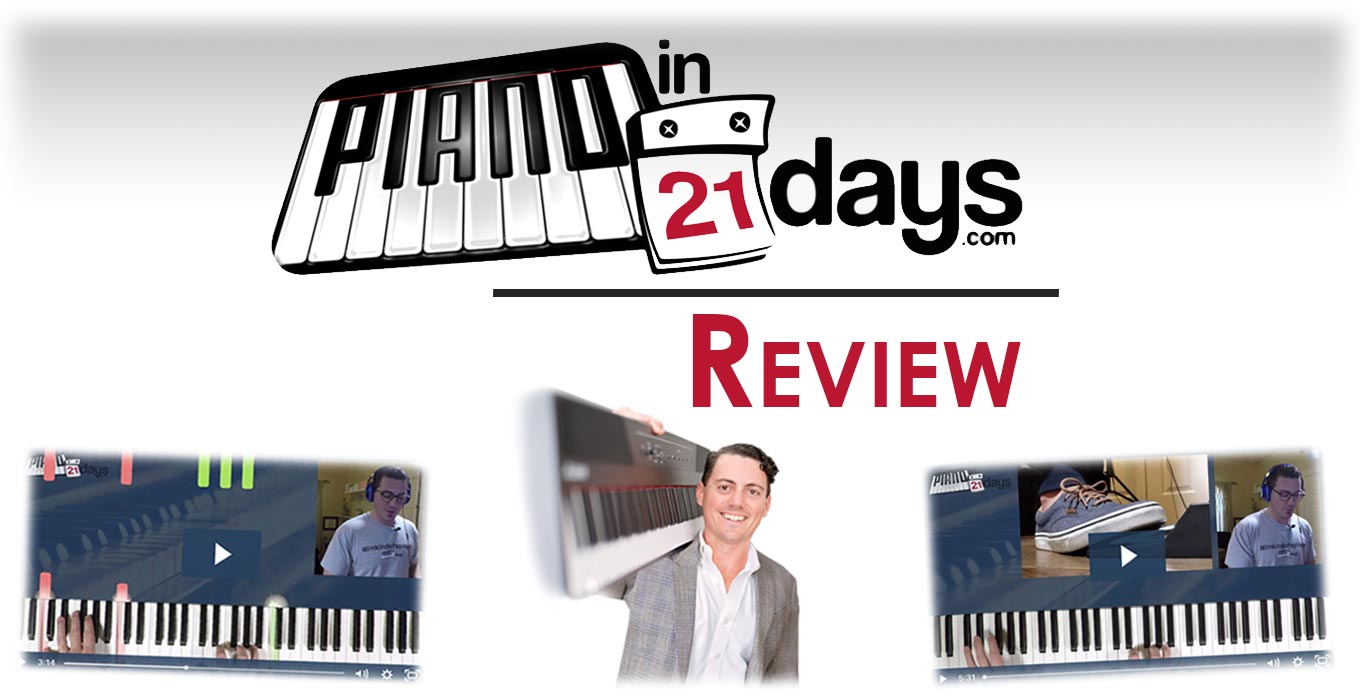 Can you really learn piano in 21 days?
This is the claim that Jacques Hopkins makes, with his online course called – you guessed it – Piano In 21 Days.
He developed the course after being frustrated with his own piano skills – he'd had years of lessons as a child, but could barely remember anything as an adult, and wanted to know how more skilled, seemingly 'natural' pianists did it.
For anyone wanting to learn quickly or set themselves a short-term focused goal, this could be ideal. Let's take a look at what Piano in 21 Days offers.
Who Is This For?
Although seemingly not aimed at any particular age group, Jacques notes that 80% of his students are over 50. The style of the videos and content may not be appealing to young children, and there is 'no babyish, children's music'.
The course is also suitable if you're busy – when you sign up for the full program, you get lifetime access, so those 21 days do not have to be consecutive ones.
What Do I Need?
You will need a piano or keyboard to practice on. Jacques also recommends using a sustain pedal. If you don't already own one, Jacques has a section on his website called 'Piano Buying Guide' to help you out.
You will also need a suitable web browser to access the online material. A lot of it is downloadable, and although I didn't test it, there is also a Piano in 21 Days app available.
How Much Will It Cost?
Piano in 21 Days has several price points. As I mentioned, the first part of the course has a free option, making the workbook downloadable for free. This is a good option to get a taste of the style, however might not be very appealing to those looking for more video content.
The Essential package is the next price point, including the workbook and the video course. This will cost you 6 payments of $97, or one payment of $497. If you paid the one-off payment, this works out at about $24 per lesson.
The Ultimate package is the top package, including the video course, workbook, as well as access to the player community and communication with Jacques himself, including two 1-on-1 lessons with him.
It also includes several other 21-day courses, covering topics like ear training, classical music and blues playing. This will cost you 12 payments of $97 or one payment of $997.
If you ended up doing every lesson it offers, and paid the one-off payment, this works out at less than $11 per lesson.
Platform Overview
I used the Ultimate package to access all the features for this review. Once logged in, I was taken to the dashboard, which laid out all the products I had access to.
You'll also find 'Other Resources' at the bottom of the page, linking you to the Facebook community, piano-buying tips and ways to gain support or contact Jacques.
As we're focusing mainly on the core 'Piano in 21 Days' course, I clicked Access Now to start it. This will take you to the main course page, which splits its lessons into 'Days'.
Each lesson starts with an introductory video, with material like flashcards or workbooks accessible via hyperlink.
Interestingly, Jacques promises that his core course features 'no sight reading, no sheet music, a faster easier process' – so let's take a look at how he gets you playing…
The Course
It should be noted that one of the first pages in the Piano in 21 Days is a disclaimer stating there's no guarantee you'll learn piano in 21 days, and that results vary according to the individual and their focus.
However it does promise you'll learn without 'tedious drills or years of boring practice', applying concepts to move quickly through learning stages, to 'unconscious competence', i.e. playing the piano well without having to think too much about it.
You can then mark the lesson as complete when you're comfortable with the material, to mark your own progress.
After an introduction, the first lesson takes you over the basics of identifying white notes on the keyboard. This comes with a handy audio exercise where Jacques calls out notes and you have to identify them, giving you the option to do the exercise at several speeds.
However, self-monitoring is required here, as you'll have to check yourself whether you're identifying the right notes.
Lessons 2 and 3 move you quickly to playing major and minor chords, now introducing backing tracks to play along with, again the idea being that you try them at different speeds until you're comfortable at the fastest speed, and then ready to move on.
Lessons 4 and 5 then introduce the left hand, and coordinating hands together. Jacques is reluctant to get players to play chords in the left hand, which may be inconvenient for future playing, but is fine for beginners for now.
The videos are high-quality, with shots of both Jacques and the keyboard, complete with a 'piano roll' style graphic to help identify the upcoming. notes more clearly.
Lesson 6 is devoted to pedal technique, with more time spent on it than most piano courses would, but this is a huge plus for those with little to no piano knowledge – good use of a sustain pedal can really make piano sound more impressive, as any jobbing pianist knows.
Lesson 7 also introduces improvisation sooner than other courses might – but have no fear, it's still focused around chords and inversions, and lends a nice edge of creativity to quite cerebral activity.
Jacques has a natural style in these videos, lending personal anecdotes and gentle explanation to the proceedings.
The next few lessons build on the previous, introducing black notes, arpeggios, keys and different chord progressions, but all centered around chord-based playing, identifying notes, and improvisation.
Jacques rarely uses formal music terminology and focuses on explaining the concepts and patterns, which will be more accessible for most.
Only on Lesson 12 is some form of notation introduced – but it's very simple chord charts which are easy to follow if you're familiar with the song, and have got the hang of chords.
Lesson 13 introduces transposing, a tricky skill even for experienced musicians to do on the fly. It does let you know about transposing functions on keyboards, which while very useful, isn't as helpful for musical know-how.
The initial lessons do focus on simpler traditional tunes like 'Amazing Grace' and 'Happy Birthday', but then later introduces more modern standards like Adele and Frozen.
These simpler tunes may bore some players, but the focus on familiar pop chord progressions will be very useful for many songs in the future.
The rest of the course builds on the chord knowledge, and teaches simple 'improv' tricks to spice up your playing rather than just straight chords – inversions, different octaves, different rhythms.
I also appreciate that it gives you a rough framework for learning any song, once you've learnt to recognise chords and identify familiar progressions.
However this wouldn't be as effective with classical tunes – which is where the other courses come in…
---
Boot Camp Ride Along
If you're someone who benefits more from a classroom-style environment, check out the Boot Camp Ride Along section.
It covers largely the same content as the core Piano in 21 Days course, but the videos feature Jacques teaching in a live, Zoom-classroom-style setting.
Although you won't get the benefit of live feedback, you can benefit from the other students and their questions. It's worth heading over if you're struggling with a certain section of the core course, and need a slightly different perspective.
---
Hand Coordination Course
If you're struggling with coordinating your right and left hands – a stumbling block for many new players – the Hand Coordination course focuses on exactly this.
It's a short course with exercises and tips to get you up to speed, and could also be done alongside the core course. It's led by guest teacher Josef Sykora, who has a chilled out style, if you fancy a change of face.
---
Melody & Ear Training In 21 Days
I was happy to see this subject included as I think ear training is possibly the most useful thing a musician can do! It prioritizes 'feel', introducing different rhythms and styles, including syncopation, country and waltz, to get players used to recognizing them.
It introduces the structure of keys, and some ear-training exercises, but those who really struggle to pick out melodies might find that it's not quite enough.
This is led by guest tutor Steve Lungrin, who has a conversational style.
---
Jazz, Blues & Cocktail In 21 Days
Jacques responded to requests from his students by creating this Jazz, Blues & Cocktail course for those who wanted to branch out stylistically.
I would definitely recommend completing the core course and feeling comfortable in your playing before trying this, as it introduces a lot of new chords, scales and voicings.
It may also be worth doing the Melody & Ear Training course beforehand, so you're comfortable finding melodies.
However, never fear, it's still very light on the sight-reading, focused on chords and providing those handy piano roll visuals. It's led by guest teacher Noah Kellman, who clearly knows his stuff.
---
Classical & Sheet Music In 21 Days
For those who want to branch out from chord-based playing, learn classical music or improve sight-reading, this is for you! It's a gentle introduction to all the foundations of sheet music – clefs, rhythms, time signatures, staves and key signatures.
I also think it's a huge plus that it takes you through a Chopin prelude – a simple but effective piece, so by the end you can have the satisfaction of having learnt and read a classical piece, rather than just endless boring sight-reading exercises.
Again this is led by Noah Kellman, and I think it's a solid introduction to all the sight-reading concepts, though to really feel comfortable with them will likely take you much more than 21 days.
Other Resources
For those of you on Facebook, there's a community page to interact with other Piano In 21 Days students. There's also the option, as I mentioned earlier, to contact Jacques directly via email with any questions, which is a nice personal touch.
For those wanting a smaller community, this might appeal, but for those looking for dozens of extra features and interactions, this may seem a bit bare.
Final Thoughts
This is an attractive platform, with high-quality videos and a personal feel led by Jacques Hopkins.
Its focus on chord-based playing with little formal theory or sight-reading will strongly appeal to those scarred by childhood piano lessons. The full package also offers a nice variety of extra courses.
There's a decent variety of songs used, but not loads, however the chord-based approach will hopefully set you up to be able to go out and work out how to play popular songs for yourself.
There's no interactive features or live feedback, so those who prefer a more interactive or game-style approach may find themselves bored with watching lots of videos.
The 21-day approach does require willpower and won't work for everyone, but they've spaced the material out and delivered it in such a way that it's definitely achievable.
---
Pros:
A personal feel, with a variety of teachers
Little to no sight-reading or formal theory required
Chord-based approach focused on getting you to work out songs yourself
A variety of courses available
A nice learning pace, not information overload
Cons:
Not many community features
No interactive features or live feedback
Not a wide variety of songs available to learn
Results may vary in the 21 days approach
---