We've gone through a streak of reviewing a ton of different console-style digital pianos, with Kawai's KDP-series and Yamaha's YDP lineup doing quite well in our reviews, being excellent options that anyone looking for an instrument doubling as a furniture piece.
Today, we're reviewing Roland's RP107 and the F107, a pair of digital pianos that targets the budget-end of the console-style digital piano market.
We're very much interested to see how Roland's recent upgrades in their portable instruments (as seen in their excellent FP-X series) would translate into these budget instruments.
If you're feeling a bit of deja-vu, as if we've already covered these instruments, you might be thinking of our reviews of the RP701 & F701.
The RP-107 and the F-107 we're reviewing today are the cheaper variants of those instruments, though you'd be forgiven for missing the reversed numbering scheme.
Check the availability and current price of the Roland F107 in your region:
Design
The RP-107 and F-107 are essentially the same instruments under the hood. The differences only come in their physical design.
These instruments inherit the DNA of Roland's previous console-style digital pianos, specifically the F-140R and RP501R, which were refreshed as the RP701 and F701 that we reviewed back in 2022.
Let's start by discussing the two instruments, and how they differ.
---
RP-107
The RP-107 is your conventional console-style digital piano, looking like an upright piano without the cabinet. If you're looking for something that will add to the ambience of your living room, I'd say the RP-107 is the way to go.
The RP-107's dimensions are 54.2″ (137.8 cm) (W) x 16.1″ (41 cm) (D) x 38.6″ (98.2 cm) (H), and it clocks in at a hefty 82.0 lbs (37.0 kg). This is in line with what you'd expect from budget furniture-style digital pianos.
The body itself is wooden, and it does manage to feel quite solid despite the price.
There is no flexing whatsoever across the keybed, and the wooden body certainly feels durable. The texturing might not be as 'posh' as the RP701, but I'm more than willing to make a few compromises for cost savings.
The RP-107 only comes in black. If you want more variety, you're going to have to go with the RP701, which comes in 4 different colors.
F-107
Meanwhile, the F-107 is a more streamlined package. It has a low-profile body that results in less volume, which results in an instrument that is just sleeker overall.
One of the cool tricks used to achieve this is the music stand, which uses a folding design that doubles as a music stand. I've always found this design quite ingenious, and it's a sleek look that manages to feel both modern and stylish.
This also means the F-107 is smaller than RP-107 , coming in at 53.5″ (136 cm) (W) x 13.6″ (34.5 cm) (D) x 30.6″ (77.8 cm) (H), with a weight of 76.0 lbs (34.5 kg). If you're someone who's working with limited space, I'd recommend going with the F-107 over the RP-107 .
Apart from the cover design, the F-107 shares the same qualities of the RP-107. It's well-built with zero flexing thanks to the wooden body construction, and should serve you well enough over the years should you decide to purchase it.
Much like the RP-107, the F-107 only comes in black.
---
Overall, both instruments feel solid, though they definitely don't share the same premium consistency of their more expensive counterparts. For example, the music rest is made of plastic, which is in stark contrast to the rest of the wooden chassis.
Which instrument you decide to go with will ultimately come down to your aesthetic preferences, and any space-related concerns you might have. Both of the instruments are fundamentally the same apart from these visual differences.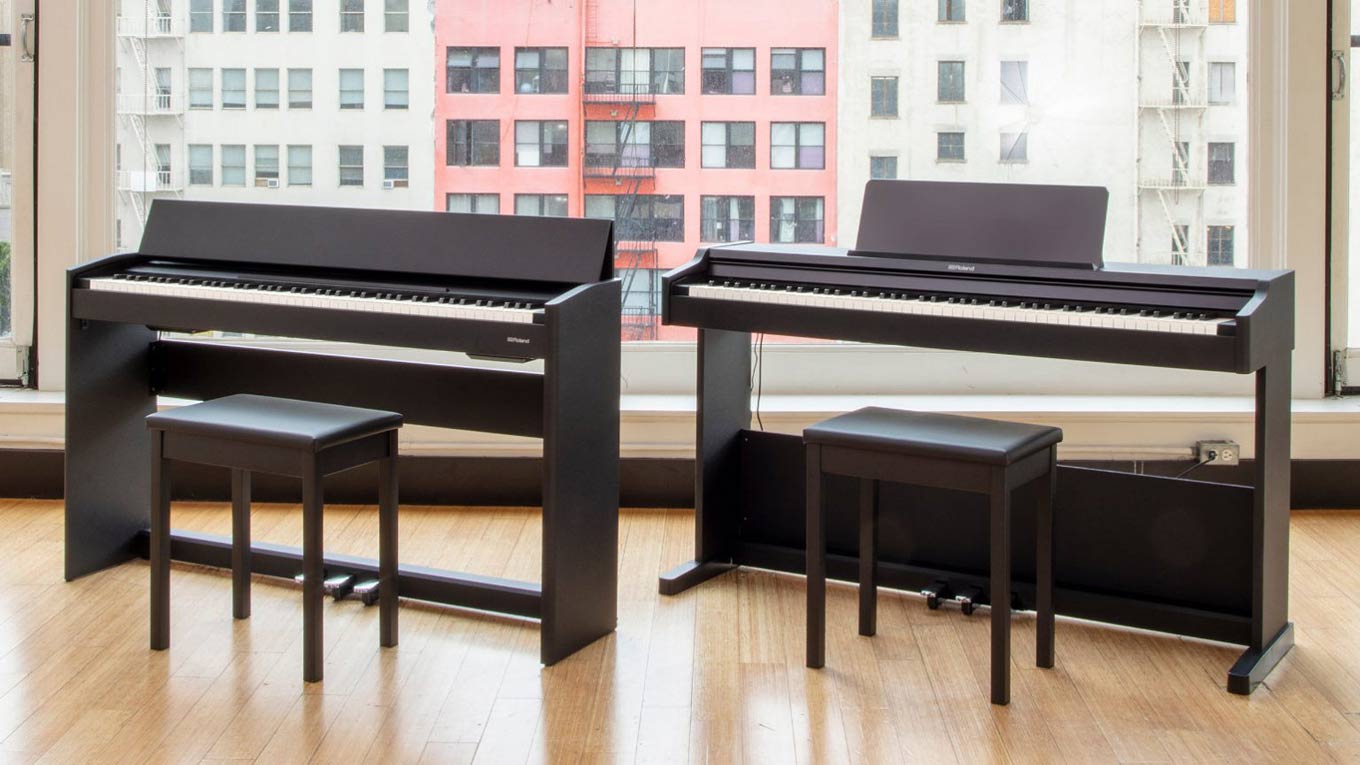 The control scheme featured on the RP-107 and the F-107 are basically identical. It's very minimal, only consisting of 4 buttons located to the left of the keybed. To make changes to settings, you'll need to rely on button/key combinations.
For example, if you wanted to switch between sounds, you'd hold down the "Settings" button, then hit a key corresponding to the sound you'd like.
While the use of button/key combos results in a clean look overall with very few "techy" components blemishing the beautiful construction, I find that it sacrifices a bit of user-friendliness.
On the higher-end RP701 and F701, Roland got around this issue by incorporating an OLED screen with more buttons, which ultimately makes for a self-explanatory experience that didn't necessitate having the manual on-hand.
That's not to say Roland skimped on quality. The buttons have a tactile click, and the power button also comes with a backlight that indicates whether or not the instrument is active. While the buttons are a little small, it does add to the overall clean, minimalist vibe Roland is going for.
I'm not a fan of how the volume controls are button-based. There are 5 lights to the side of the volume control that indicate how loud the outputs are at any given time, but that doesn't really give you the granularity of control that you'd get from a slider or knob.
Ultimately, I believe these controls leave a bit to be desired in the usability perspective.
Despite my myriad complaints in terms of controls, I'd give the RP-107 and F-107 a pass on overall design, as they're perfectly functional as a budget keyboard, especially when there's other aspects in which they excel.
Keyboard
In my opinion, the key strength of the RP107 and the F107 are their keys.
A digital piano aims to reproduce the feel and sound of a real acoustic piano, and the two key factors that build towards this goal are the keys and the sounds.
This is particularly tough at the budget price-points, as many state-of-the-art features do come with a higher manufacturing cost.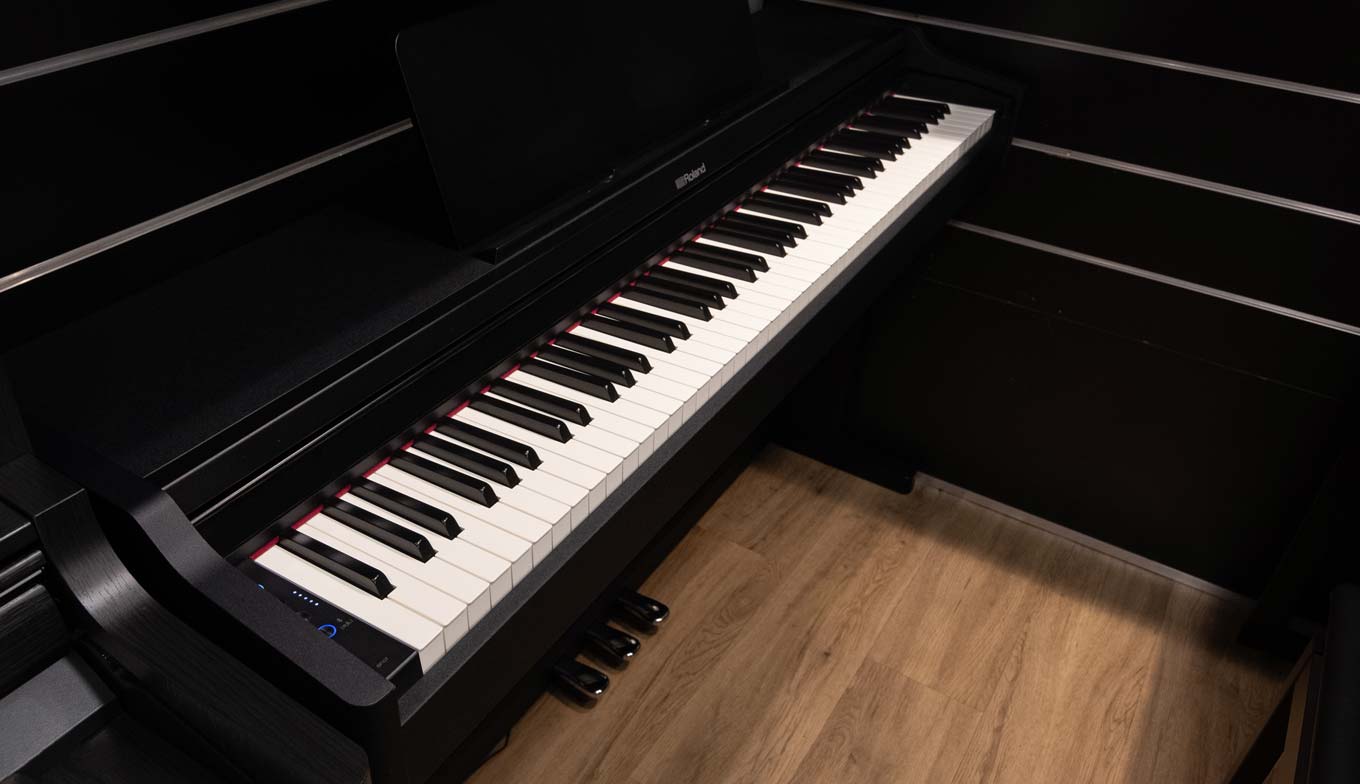 The RP107/F107 comes with Roland's PHA-4 Standard key action, Roland's go-to choice for most of their low- to mid-range digital pianos. The same keys were used on the RP701 and the F701 we previously reviewed.
While these are some of the cheaper keys in Roland's arsenal, I wouldn't dismiss them.
The main draw of the RP107's keys is how they feel. Roland markets the PHA-4 Standard keybed as "natural and realistic", and I'd say this is an apt description.
In terms of weight, the PHA-4 Standard keybed dodges the overly lightweight keybeds commonly featured at this price point, and delivers a playing experience that should feel familiar enough to anyone raised on real acoustic pianos.
Both the RP107 and the F107 also feature a graded keybed, where lower octaves have heavier weights than keys at the upper registers.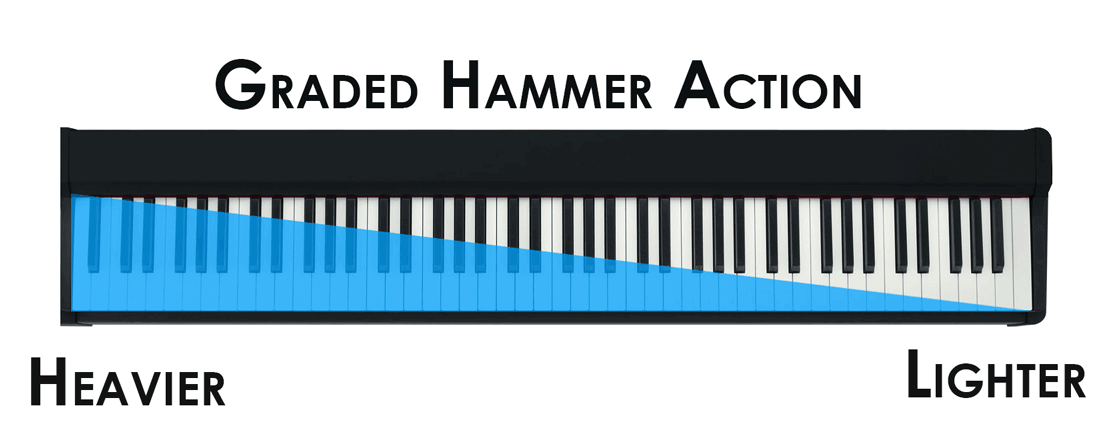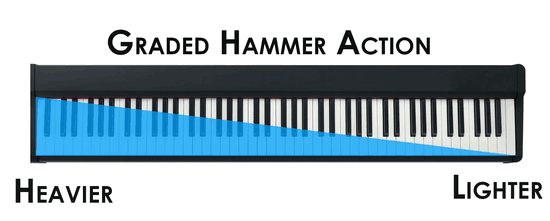 These keys also deliver in terms of their responsiveness. The PHA-4 Standard action uses triple-sensors to track each key's position, which results in a more accurate experience compared to the competition. It is also one of the few pianos at this price bracket that features simulated escapement.
The good 'feel' also extends to the keytops as well. While the PHA-4 Standard's keys are fully plastic, they also come with some texturing on the surface, giving the keys a more premium feel, while also doubling as additional grip for people with sweaty hands.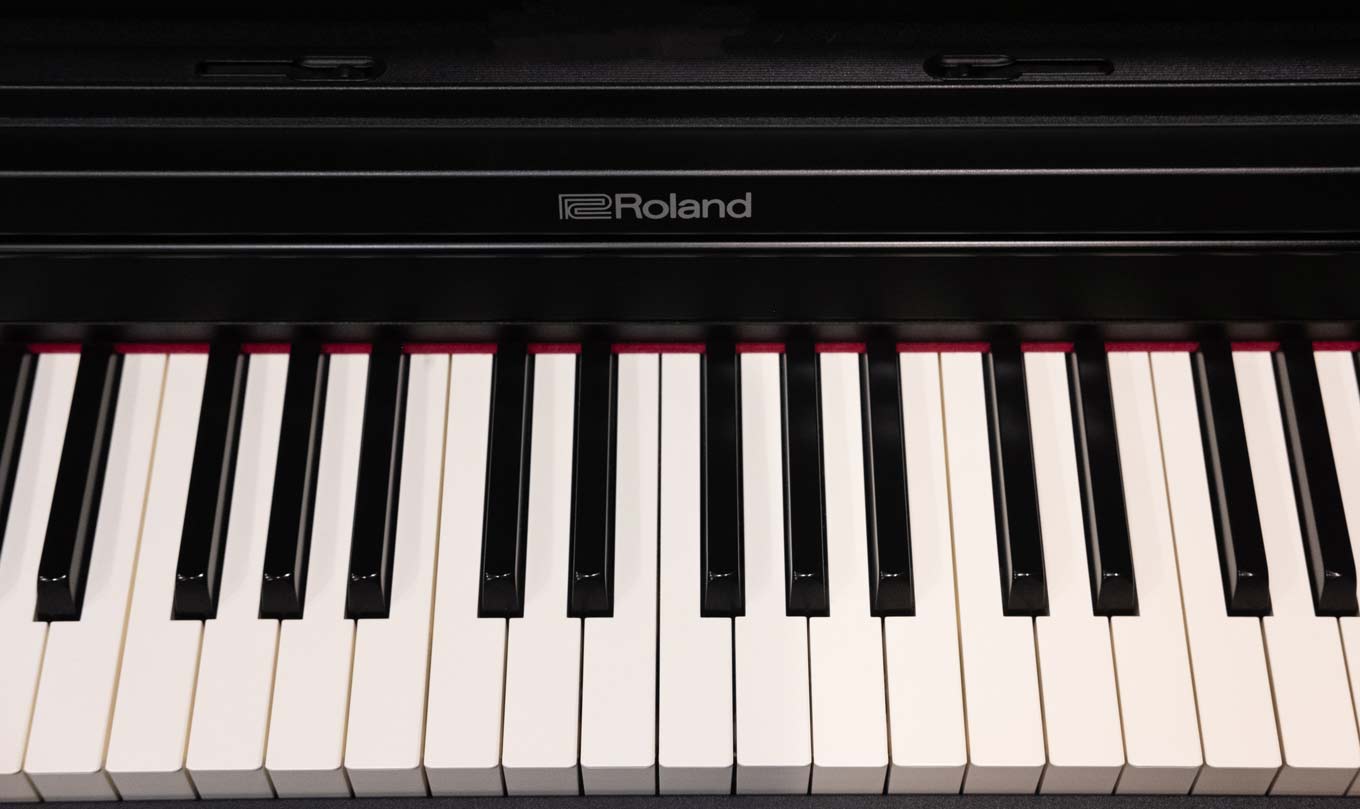 Before we close things out, a common complaint people tend to have with the PHA-4 Standard key action is the weight.
Some people find the PHA-4 Standard keys to be a little heavy. This wasn't a concern for me, but I'd recommend trying it out in-person to see if you're in the same boat.
Overall, the RP107 and the F107 both feature an excellent keybed that feels great to play. I'd even go as far as to say that this is the best keybed you can find amongst console-style digital pianos at this price point.
Sound
Apart from keys, we also need to evaluate a digital piano based on its built-in sound set. Thankfully, Roland has a long-running pedigree in this specific field.
The RP107 and the F107 are both powered by Roland's SuperNATURAL sound engine, and include a total of 15 built-in tones*.

(*Roland managed to sneak in a few extra bonuses when you use the companion app, which expands the sound set with a whopping 255 extra General MIDI 2 sounds.)
These sounds include:
Piano: 4 acoustic pianos
E.Piano: 3 electric pianos
3 Mallet instruments – harpsichord, celesta and vibraphone
2 Organs – pipe and jazz
Orchestral Strings
Soft Synth pad
Jazz Scat – vocal sounds of "Doo", "Doot", "Bap" and "Daw"
Since 2020, Roland has also updated their sound engine with improved fidelity. A huge part of this comes from the new Behavior Modelling Core (BMC) chipset, which allows for more detailed modelling and sonic playback. These upgrades do translate into tangible benefits.
Let's discuss the sounds in a bit more detail.
---
Pianos
Roland's SuperNATURAL pianos tend to be quite distinctive.
Unlike the wide, natural recording style you'd get from competitors like Yamaha and Kawai, Roland's pianos tend to sound more 'in-your-face', opting for a more close-mic'd sound that is more reminiscent of studio recordings.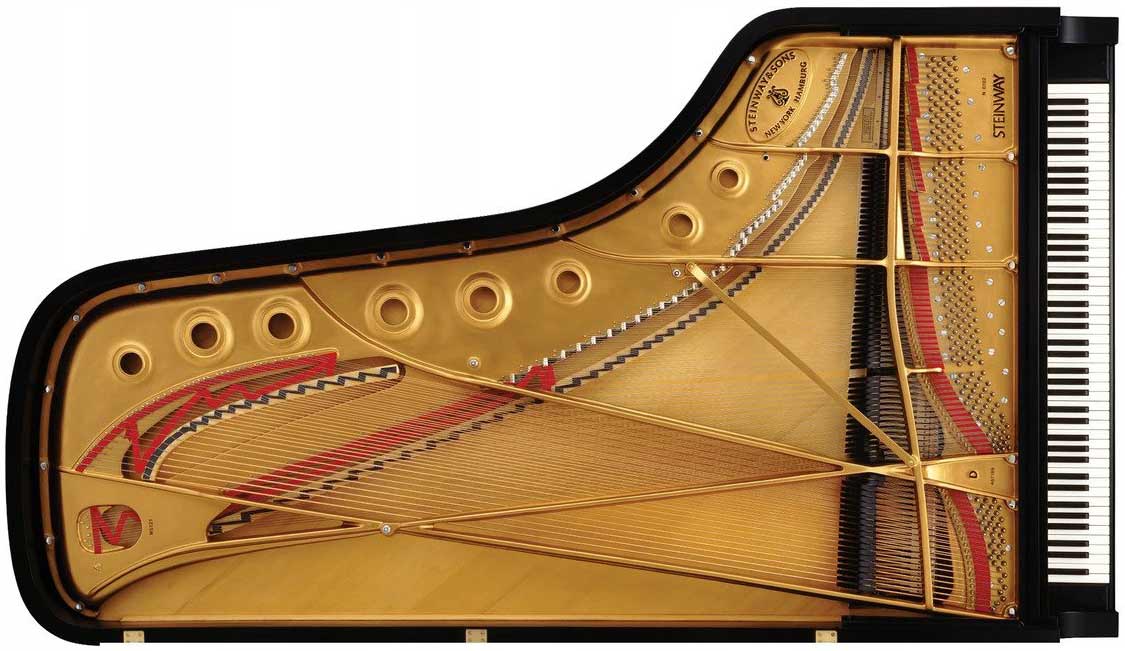 This results in a piano tone that can be easily described as 'clean'. There's not a lot of air in these samples, and you're getting a very raw sound that is perfect for practice purposes, and could even work as accompaniments in modern band-based setups.
While earlier, pre-2020 SuperNATURAL pianos tended to sound overly bright and thin (almost as if there was a V-shaped equalizer curve), the new chipset fixes most of these gripes, giving these piano tones a more balanced frequency response, which makes it quite pleasing to the ear.
These sounds also feel responsive, managing to capture subtle differences in dynamics. The marriage of the PHA-4 Standard keys and the SuperNATURAL sound engine is a solid combination, and I can see why it is Roland's go-to combo for many of their instruments.
However, this sonic profile isn't for everyone. Some people find the SuperNATURAL samples to be a bit too 'synthetic', and I can see where they're coming from.
Roland's piano sounds are akin to studio recordings, whereas most other digital pianos tend to go for a recital-hall-esque sound, with a larger-than-life sound that makes you feel as if you're sitting in front of a real piano. This is particularly true for the Kawai KDP75 and the Yamaha YDP-145 that we recently covered.
Personally, I do like the SuperNATURAL pianos for practice purposes. The almost sterile sound means there's very little between you and your playing, which means any mistakes you might make are clear as day. Similarly, the studio-like sound also works well for my preferred genres of rock and pop.
However, if you're someone who prefers a darker, classical sound with more ambience, the SuperNATURAL piano might leave you wanting for more.
This is why we generally recommend testing these instruments out in person, as you can't decide to swap out your digital piano's built-in sound once you've made the purchase.
---
Other Sounds
The rest of the categories round out the sonic palette on the RP107 and the F107.
The non-acoustic pianos are probably the highlight amongst the built-in sounds. These include a Fender Rhodes-style piano, an FM-synth-style sound, and an 80s-inspired synth piano sound. These are mainstays for any keyboardist and should be perfectly usable for practice purposes.
The harpsichord and mallet category is acceptable, giving classically trained pianists a few sounds that might be necessary for their curriculum.
The 2 included organs are fine, though I find myself preferring the Jazz Organ preset thanks to its convincing rotary speaker emulation. However, do note that the rotary speed cannot be changed.
The strings and pads are both solid, giving you a rich, sustained sound to build upon. Roland's expertise in synths does shine here, with the pad preset being particularly versatile without being overpowering.
Finally, there's the 'Jazz Scat' preset, which I'll skip, as I don't really know how to effectively use it.
Overall, I'd say the RP-107 and the F-107 have a decent selection of sounds. While there do seem to be some notable absentees, such as bass sounds, I'd say that what's available is more than enough for most pianists and keyboardists.
There's also the 'GM2' soundbank, which is only accessible after connecting the companion app. While the 255 sounds in this category are more basic compared to the rest of the sounds they are more geared towards being used as accompaniment tones, which we will cover in more detail in the Features section of this review.
---
Effects
Both the RP-107 and the F-107 share the same barebones effects section, consisting of the 'Ambience' and 'Brilliance' effect.
The 'Ambience' serves as the reverb unit. It includes a single hall algorithm, having 10 distinct levels. The intensity of the effect controls the depth and size of the reverb effect simultaneously. This effect can add some additional air and space to your sounds.

The 'Brilliance' effect acts as a high shelf EQ. This includes 21 distinct values, ranging from -10 to +10. This gives users some degree of control regarding the frequency response curves of each preset.
If you use headphones, there is also the 'Headphone 3D Ambience' effect. This is only active when headphones are connected, and only applies to piano sounds.
This uses some stereo enhancements to make it feel as if you're positioned in front of a piano. It is subtle enough that I left it on throughout my playtest.
---
Polyphony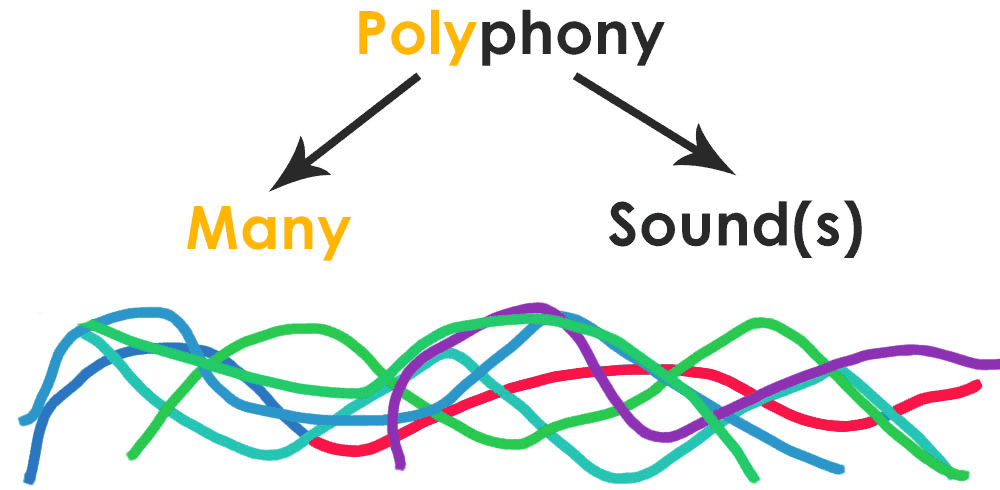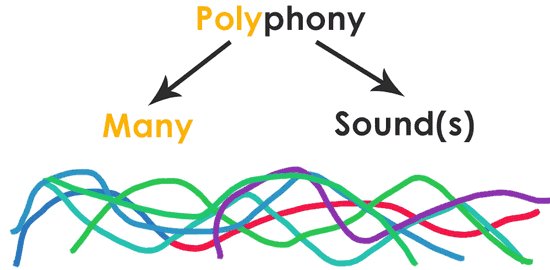 Both the RP107 and the F107 come with 256 notes of polyphony.
Thankfully, having a max count of 256 notes means you'll almost never hit the limit.
Even when playing layered multisample sounds with long sustained phrases, I didn't encounter any issues during the playtest.
---
Speakers
The RP107 and the F107 both feature the same pair of 8W speakers, sharing the same wattages and dimensions.
The speakers are downwards-firing, which is the standard approach for most furniture-style digital pianos.
While 8W doesn't sound like a lot, the speakers do manage to provide a good bit of projection. The RP107/F107 should be capable of filling out a small room even without external amplification. However, these speakers do seem to get a little distorted at higher volumes, so be wary.
In terms of the frequency response, I'd say these speakers are fine. At intermediate volume levels, they deliver a neutral sound that feels balanced from bass to treble.
However, the mids and bass do seem to suffer when you push the gain. I'd recommend external amplification if you need more volume.
It's worth noting that both the RP107 and the F107 lack dedicated 1/4" stereo outs. If you do decide to go the route of external amplification, you'll need to break out some converters.
Features
Despite the lack of dedicated controls, the RP107 and F107 do include some additional features that take it beyond other furniture-style digital pianos.
We'll start with a quick rundown of the modifiable parameters and functionality available on both the instruments.
---
Functions
Some notable settings on the RP107 and the F107:
TRANSPOSING. This allows you to change the played key. For example, you can transpose down 2 semitones, and your C-key playing will sound like an A#-key.
METRONOME. Pressing the metronome button activates the in-built metronome. The tempo can be set using the dedicated buttons.
METRONOME SETTINGS. You can change the time signature, downbeat, pattern, volume and tone of the metronome.
MASTER TUNING. The central tuning of the middle A can be modified from 415.3 Hz – 466.2Hz.
All of these features are modifiable using the button/key combinations, but you can instead opt to use Roland's Piano app via a Bluetooth connection, which offers an alternative control scheme that also has the benefit of having a larger, touch-based interface.
Apart from these functions, there are some other features worth discussing in detail.
---
Modes
The RP107 and the F107 both include 2 different modes. There's dual and twin.
Dual mode acts as the 'Layer' mode you'd normally find on most digital pianos. When this mode is active, you can select two different tones which can be simultaneously triggered on each keypress, allowing for a richer tone.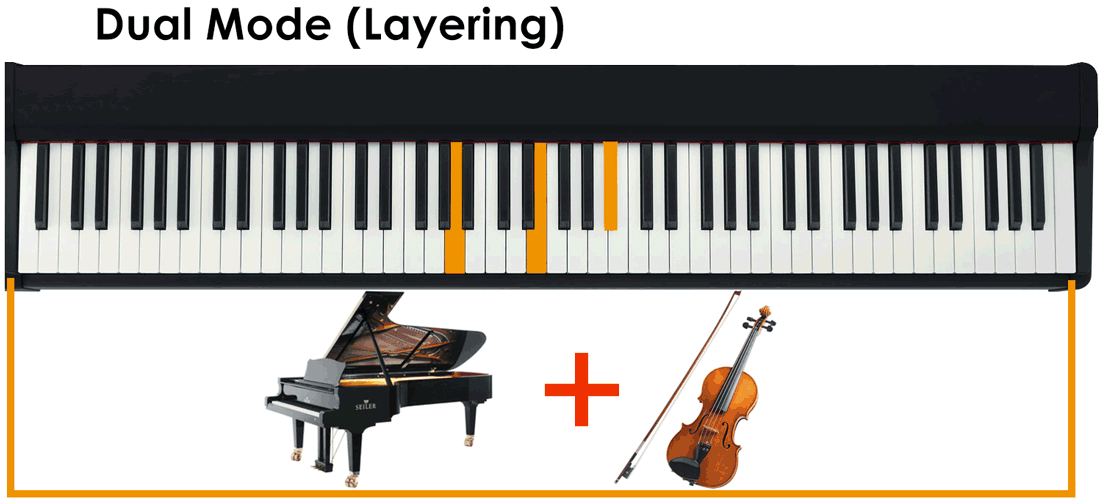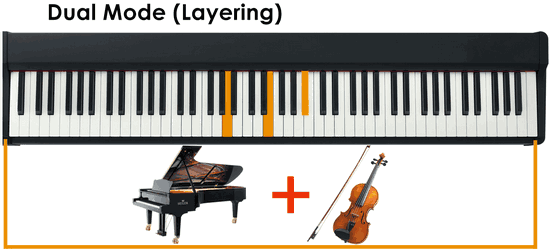 Meanwhile, Twin mode is designed for one-on-one teaching sessions. When active, the keyboard is split into two halves of equal octave ranges. Teachers might find this useful for demonstrations while sitting alongside their students.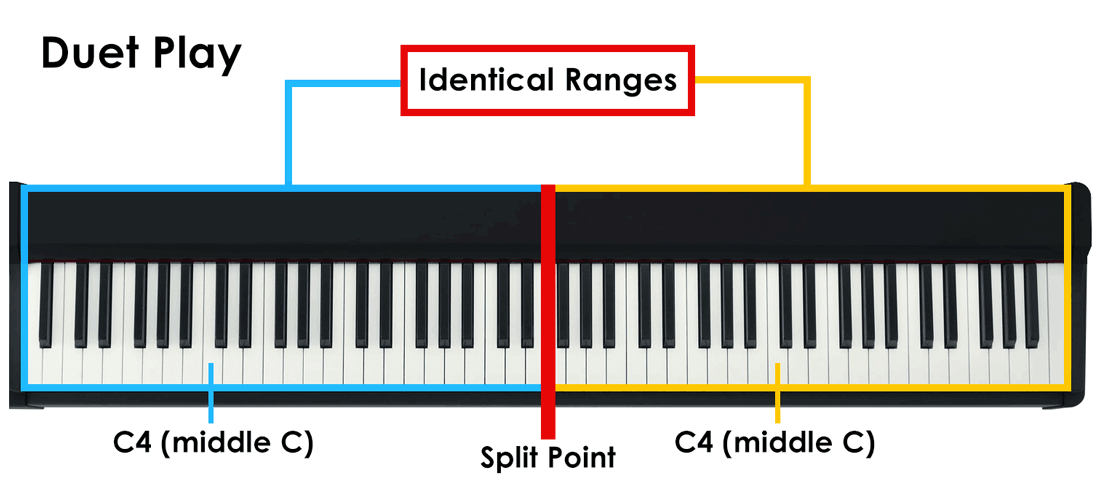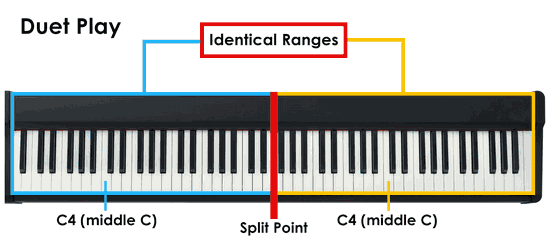 There is the notable absence of split mode, though I guess it is understandable, since these models lack bass presets, so there's no pressing need for a dedicated mode for keyboardists.
---
Song Recording and Playback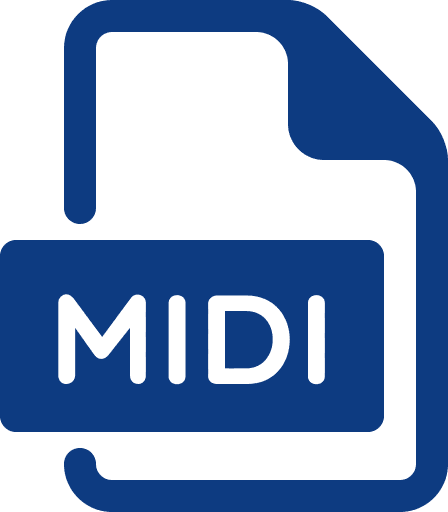 Song recording functionality is included, and you can export songs onto an external USB drive.
The onboard recorder is extremely basic, only supporting single-track recording, so there's no way to add to existing songs via overdubbing.
While you won't be composing symphonies on the RP107, it does serve its purpose as a simple scratchpad for capturing ideas in the spur of the moment.
Songs are recorded as standard MIDI files, so you can move your recordings onto a dedicated digital audio workstation for further editing via the USB drive transferability.
---
Roland Piano App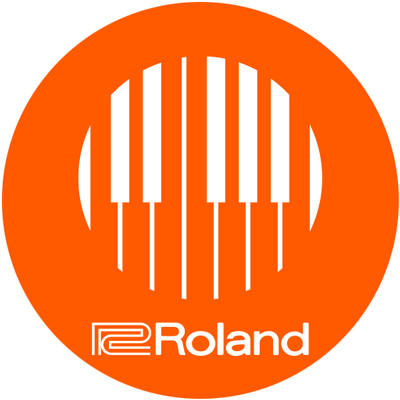 As we've alluded to over this review, you can link the piano to your smart devices via the Roland Piano App, which allows you to access controls without subjecting yourself to the button/key combinations.
The app is freely available on Android and iOS.
In terms of necessity, I'd say the app serves its purpose. If you share my (somewhat irrational) dislike of complicated control schemes, using your smart device as a 'remote' with a touchscreen does feel a lot more simple.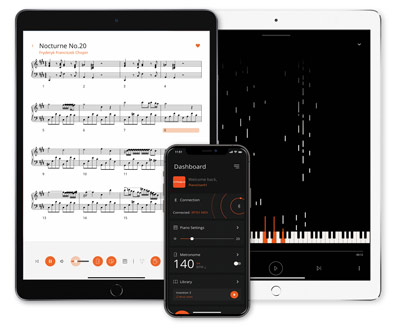 I used to have a few issues with the previous Roland companion app (Piano Every Day), but they seem to have been solved with the new Roland Piano App. The interface feels sleek on my smartphone, and I found the overall experience to be streamlined and efficient.
Even if you don't find yourself wanting for a better user interface, I'd say the app is still well worth downloading, as it unlocks some hidden features that Roland doesn't document anywhere.
---
Accompaniment Rhythms
I'm still quite amazed that Roland doesn't market their accompaniment features in their recent digital piano releases.
Ever since the FP-30X, Roland has been secretly including a huge number of rhythms and accompaniment features in their digital pianos, and it's a huge value add.
Do note that these features are locked behind the app, you cannot access these without a linked smart device.
By using the app, you can start playing backing accompaniments with full-on left-hand tracking and chord following. This is a huge plus in my books, especially since it allows you to follow along with keyboard-focused courses.
If you've wanted to be a one-man-band, this is an awesome addition that makes the app all the more worth it.
---
Bluetooth Connectivity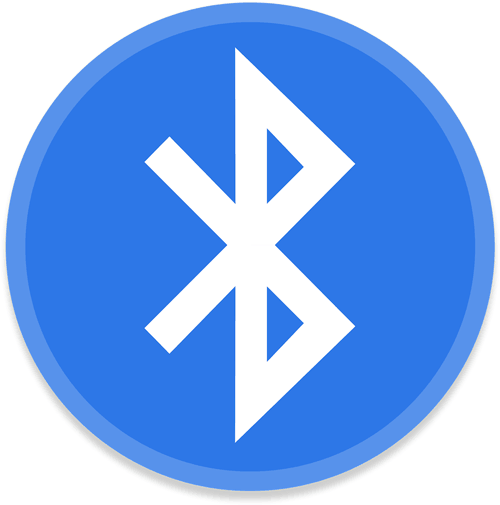 Apart from allowing you to use the apps, the RP-107's Bluetooth functionality can also be used to interact with other apps. Bluetooth Audio and MIDI are both supported.
Bluetooth Audio allows you to playback audio from your smart devices through the built-in speakers, which might be useful if you want to play along to a backing track.
This is necessary, as the RP107 and the F107 both lack an AUX input jack.
Bluetooth MIDI allows you to use the keyboard as a MIDI controller for your smart device's music apps, or simply allow you to record without requiring the USB flash drive for transferability.
---
Connectivity
The RP107 and F107 both come with fairly bare-bones connectivity options, though I'd say that it includes just about all you'd need.
Two headphone jacks act as the main outputs of the RP-107 /F-107. These include a 1/8″ mini-TRS jack and a 1/4″ TRS jack, so you'll be able to use any standard headphone type you might have without needing to fumble around with converters.
Do note that there are no dedicated 1/4″ stereo output jacks, so you'll need to use the headphone outs if you want to rig the RP107 up with external amplification.
A USB type-A port can be used to connect a USB flash drive. This can be used to export your recorded songs as MIDI files, which can then be transferred to a PC for editing or archiving purposes.
There is also a USB type-B computer port, which supports both USB audio and MIDI.
This enables you to use the RP107/F107 as a MIDI controller in a digital audio workstation, and the fact that USB Audio is also supported means you can directly record sounds off the instrument without needing any audio connectors.
Accessories
The base RP107 and F107 both come with the following accessories:
Owner's Manual and Safety Leaflet
Assembly Manual
AC adaptor
Power cord
While the accessory list might seem a bit bare-bones, there really isn't much you'd need beyond what's included in the box. Do remember that the RP107 and the F107 are console-style digital pianos, so they come with the furniture stand and triple pedals.
My local retailers seem to include the piano bench with every purchase too, so you should be good on that front as well.
Headphones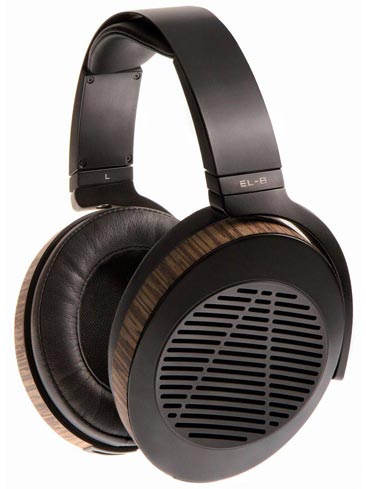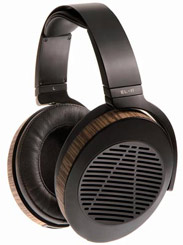 Headphones come in very handy when you want to practice in private, focusing solely on your playing and not disturbing others nearby.
Moreover, a good pair of headphones will provide a clearer and more detailed sound compared to the onboard speakers.
Check out this guide to learn how to choose the best-sounding headphones for your keyboard.
Summary
Pros
Excellent PHA-4 Standard key action
Great, clean SuperNATURAL piano sounds
Secret accompaniment features via the app
USB Audio Interface support
Cons
Button/key combinations as the control scheme
Limited sound selection (General MIDI 2 sounds aside)
No Split Mode
---
The RP107 and F107 are simple instruments that give you the quintessential Roland digital piano experience.
While you are missing a few nice-to-have features, like dedicated controls and a premium-grade chassis, what you do get is more than enough for all but the most discerning players.
While I did have my gripes with the RP107 and the F107, most of them can be summed up as wishing that these were more like the more expensive RP701 and F701, which come at the cost of a higher asking price.
Roland has managed to carve out a unique niche for themselves in the budget digital piano market. While other manufacturers are competing based on their piano samples, Roland's PHA-4 Standard key action is just better in almost every regard. While there are potentially better options, you certainly won't be getting them in the same price bracket.
Ultimately, I consider the RP107 and the F107 to be a good choice for budget-conscious pianists at the beginners or intermediate level, especially for the long-term.
While you might outgrow Roland's SuperNATURAL piano sounds over time, you'll still have a good set of keys that can work well for practice, recording, and even performances.
Check the availability and current price of the Roland F107 in your region:
Alternatives
Roland RP107 vs  Kawai KDP75 (Full Review)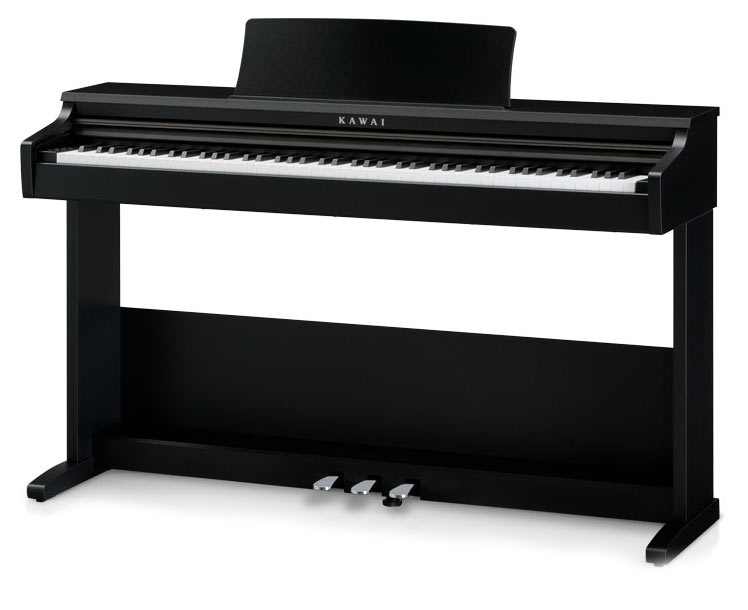 I briefly discussed how the SuperNATURAL piano sound was a bit divisive. Roland's studio-style, close-mic'd sound isn't everyone's cup of tea, and that's alright.
If you're in the market for a furniture-style digital piano that has a wider sonic profile, and some recital hall-like air, I'd recommend checking out Kawai's KDP75.
The piano samples come from Kawai's SK-EX (Shigeru Kawai – EX) piano, which is one of their most popular instruments, gracing many concert halls.
Despite the relative simplicity of Kawai's Harmonic Imaging (HI) sound engine, the beauty of these samples do shine through, making the KDP75 one of the best sounding digital pianos we've reviewed at this price point.
However, sound alone doesn't make a digital piano great. The KDP75 comes with Kawai's Responsive Hammer Compact (RHC) action, which falls short of Roland's PHA-4 Standard key action.
The main difference here is the lighter weight and dual-sensor construction, which results in a playing experience that is functional, but falling slightly short of the 'great' category.
It's hard to really pinpoint a straight up winner between the KDP75 and the RP107. Each seems to make up for the other's weak spots, with Roland having the better keys, and Kawai having a more pleasing sound.
If you do find yourself choosing between these models, I'd highly recommend giving both of them a test run to find out which you prefer. It's also worth noting that the KDP75 has a lower MSRP, so you'll likely be able to get it for a cheaper price if you're shopping around.
---
Roland RP107 vs  Yamaha YDP-145 (Full Review)
Yamaha's YDP-145 is another recently released instrument that targets the same market sector as the RP-107. Yamaha has the benefit of brand recognition on their side, and their YDP-145 does have a few tricks up its sleeve that make it a viable alternative to the RP-107.
Much like Kawai's KDP75, the biggest draw of the YDP-145 is its piano tone, which samples Yamaha's flagship 9' CFX concert grand. There's even a pinch of VRM Lite modelling in the current models, which was ported down from their expensive Clavinova pianos.
When compared against Roland's SuperNATURAL pianos, the YDP-145 sounds richer in comparison, having a wider soundscape with more air, which is a stark contrast to Roland's more close-mic'd sound.
While neither is strictly better in any clear-cut way, Yamaha does sound more 'natural', whereas Roland's sounds more 'clean'.
The YDP-145's biggest downside is its keybed, which uses Yamaha's much maligned Graded Hammer Standard (GHS) action, which is their entry-level offering that unfortunately can't hold a candle to Roland's PHA-4 Standard.
The biggest issue with the GHS keys is their 'mushy' feel, where keys feel a bit sluggish when returning to their initial position after letting go. This takes some getting used to, and this is not helped by the shorter pivot length. I'd call these keys 'decent' at best, and they are the weakest part of the YDP-145.
That's really the biggest gripe I have with the YDP-145. Much like the Kawai KDP75, you're getting (subjectively) better sounds with a few downgrades to the keybed. If you're at all interested in Yamaha's piano sound, I'd once again recommend testing these out in person to see which you prefer.
Worth also noting that the YDP-145 and YDP-S35 both come in black and white, so there's more room for choice compared to the Roland RP-107/F-107.