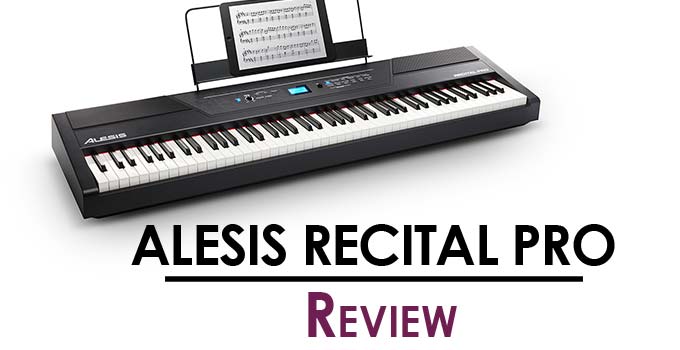 We previously covered the Alesis Recital, and it was a keyboard that we had mixed thoughts about.
We couldn't deny the allure of a semi-weighted keyboard for such a low price, and its sales figures certainly don't lie. Unfortunately, the build and sound quality of the Alesis Recital wasn't necessarily up to snuff.
If you're willing to pay some extra on the base price tag, you can get the Alesis Recital Pro, which is a more advanced version of the Recital. Especially since it features fully-weighted keys.
In this review, we seek to answer the question: is the Recital Pro worth the extra cost?
After all, we did note in our prior review that other, better options do exist, some of which being ideal for beginners and novices too.
Alesis might not be a household name, but they've made a name for themselves by focusing on value over build quality. This doesn't earn them points with the pro-consumer crowd, but budget-conscious people often have it in their minds as a cost-saving measure. No wonder why Alesis has become such a popular brand to consider.
Affordable price aside, let's find out if there's anything special about the Recital Pro.
Alesis Recital Pro Specs
88 full-size hammer-action keys
Touch Sensitivity (3 types, Off)
128-note polyphony
12 Preset Tones
Effects: Reverb, Chorus, Modulation, EQ, Pedal Resonance
20 Preset Songs (10 piano demo + 12 voice demo songs)
Modes: Layer, Split and Lesson (Duo)
Metronome, Transpose
Speakers: 20W Woofers, 10W Tweeters
Connections: 2 x Line outputs (1/4″), Headphone output (1/4"), Sustain Pedal input (1/4"), USB to Host port: USB type B (MIDI)
W x D x H: 51.6" x 13.8" x 5.5" (131 x 35.1 x 14 cm)
26 lbs (11.8 kg)
Release Date: 2017
Check the availability and current price of the Alesis Recital Pro in your region:
Design
As you can see from the table above, the Alesis Recital Pro is much bulkier than its non-Pro counterpart, mainly due to the fully weighted keys.
The differences also come in the form of build quality. While I'd be hesitant to call the Recital Pro 'well-built', it's still better than the original Recital. I complained that the Recital suffered from creaking due to the lower-grade plastic, the Recital Pro avoids that pitfall.
However, I'm not going to give it a straight pass with regard to build quality. If you apply some force to the front panel, the unwanted sounds rear their ugly head.
Thankfully, this doesn't happen with the keys, so it's a minor gripe.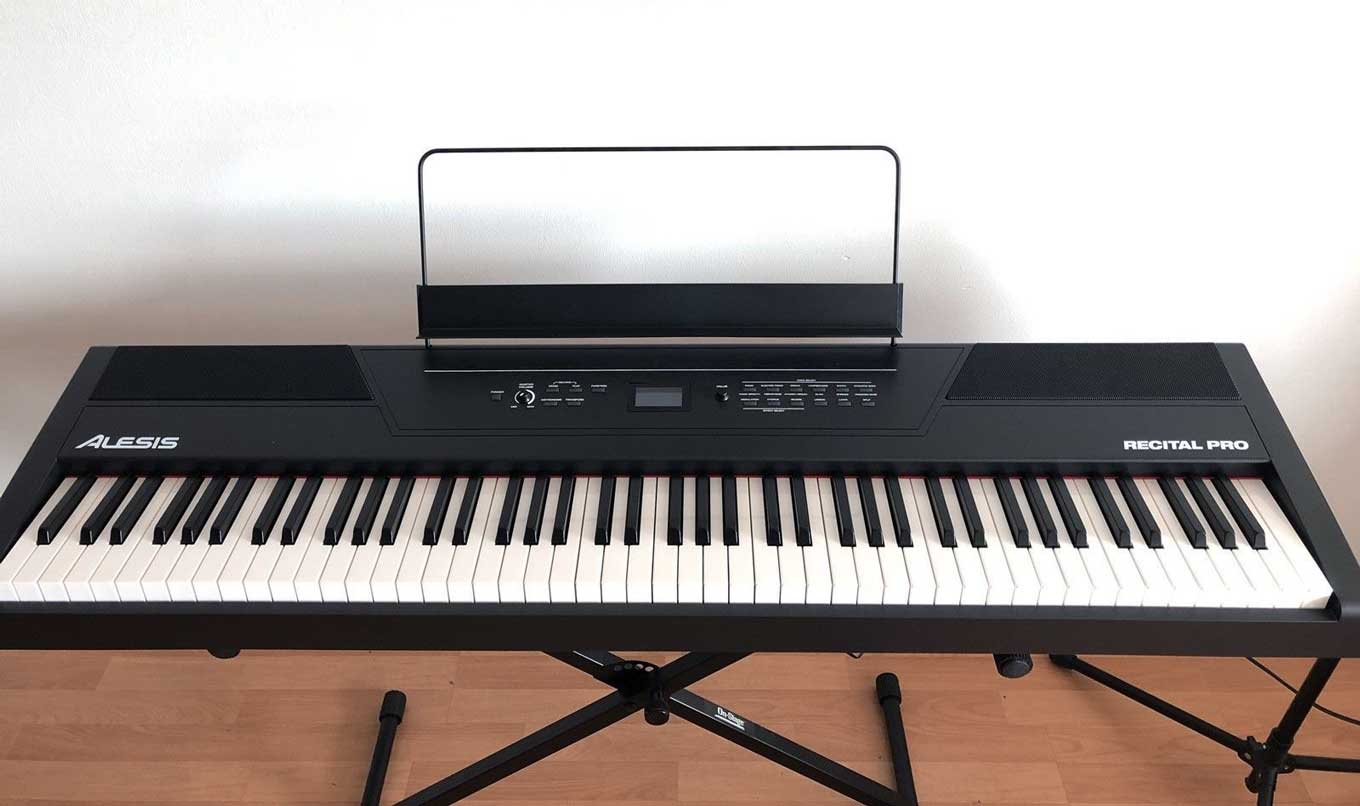 The body of the Recital Pro is primarily matte plastic, and has a small part that uses the same faux-metal style that I personally dislike.
The main problem with the front panel 'metal' is that it's susceptible to fingerprints, which is a problem since you'll be jabbing at the front panel to change settings a lot.
Apart from that, the most obvious difference is the backlit front-panel display.
One of my complaints about the Recital was the lack of any visual aids, which made navigation a bit difficult. Imagine changing metronome settings, without knowing what tempo you're on.
It was an inconvenience on the Recital, and I'm grateful that Alesis fixed this in the upgraded version.

The new display is similar to the single-color backlit displays you'd find on budget arranger keyboards, so it's basic. However, it does work well enough.
Considering the Recital Pro comes with a few extra features under the hood, I'm glad they included the display.
Finally, let's talk about the buttons. The layout is relatively similar to the original, with knobs and buttons flanking the display in the middle, so everything seems to be just as you'd expect from a budget keyboard.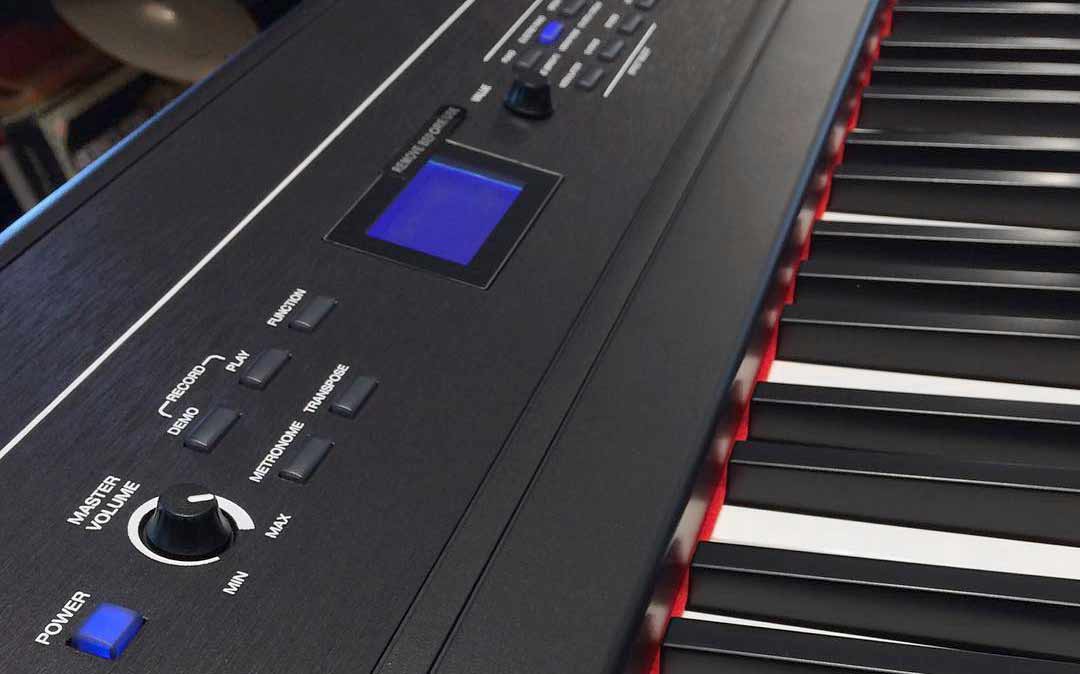 The buttons and knobs themselves aren't exactly what I'd call 'quality', but they work. The buttons are clicky, and the knobs are loose with little resistance. Either way, they're functional, but I'm docking a few points because of the higher price point.
A notable bonus here is the music rest, which is sturdy, and well-built.
Overall, I'd say the design didn't change too much between versions. It's essentially the same with a few added buttons and a display. Thankfully, simplicity is the name of the game here, so the layout works just fine.
Keyboard
The Alesis Recital Pro has 88 fully weighted keys, which at first glance, seems like a step up over the keys on the original Alesis Recital, which were semi-weighted.
This is a massive selling point, as not many keyboards at this price range feature fully weighted keys. However, hold your horses before clicking that checkout button.
If you've read our review for the Alesis Recital, you'll know that you shouldn't just trust the label. While the original had semi-weighted keys, they were miles off from matching the best semi-weighted keyboards like the Nord Stage 3 73.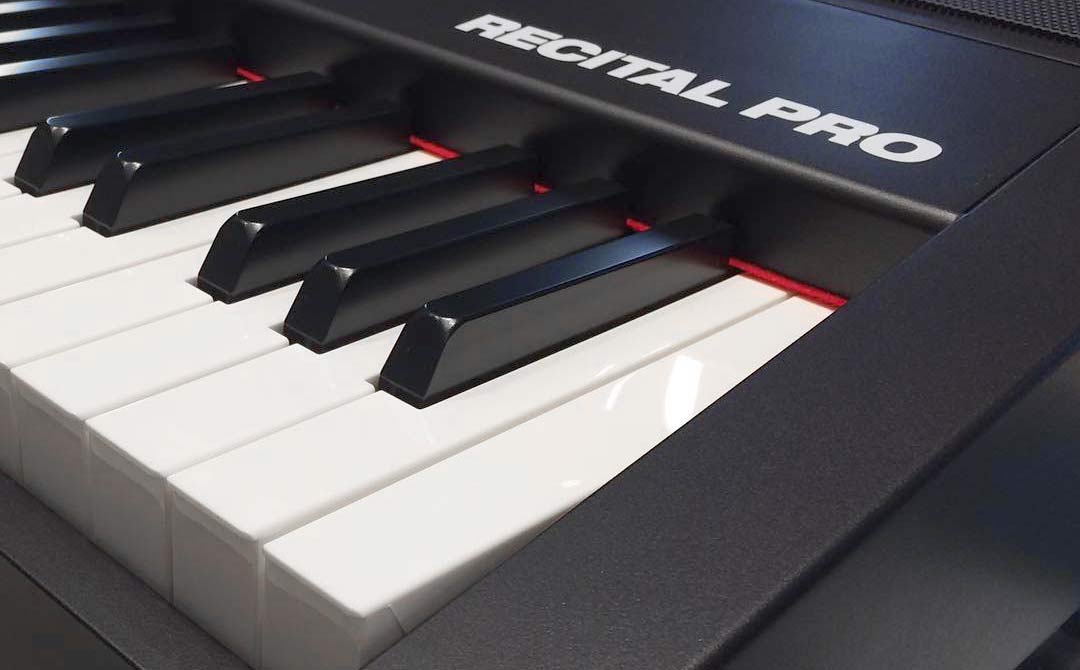 Back to the Recital Pro, the fully-weighted keys really aren't anything to write home about. It does feel heavier than the Recital, but the same problems still persist, and I'd hesitate to call these keys particularly good.
The problem here is the mushiness, that was also present on the original Recital. This happens when you play 'into' the keys for expressiveness.
At the deeper end of each keypress, there's a feeling of cushioning, which makes it somewhat difficult to accurately judge the actuation points. Essentially, this does not feel natural.
All negativity aside, the keys aren't all bad. There's a pleasant bounce to the keys that happen once you let go of each keypress, though I'd hesitate to call the feeling 'hammer action', as they're marketed as. Again, these aren't realistic, but they are usable.
While you can adapt to things with time, I do feel this lack of realism proves to be more of an issue with the Recital Pro. After all, you're paying a price premium for the weighted keys (and the required engineering to implement them), so I'd expect to get what I pay for.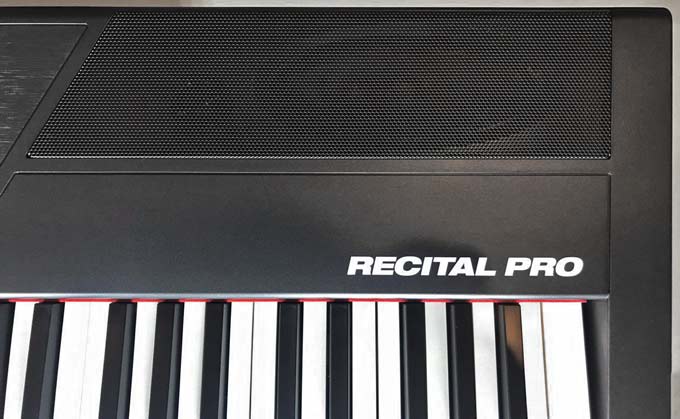 Whether or not these keys are worth it depends on what you're looking for. If you're a beginner and want something cheap to build up your muscle memory and musical knowledge, this can work.
On the other hand, if you're a more advanced player looking for an affordable, expressive keyboard. This isn't an ideal option, and as we'll cover in the upcoming sections, there are a few other downsides to consider too.
Sound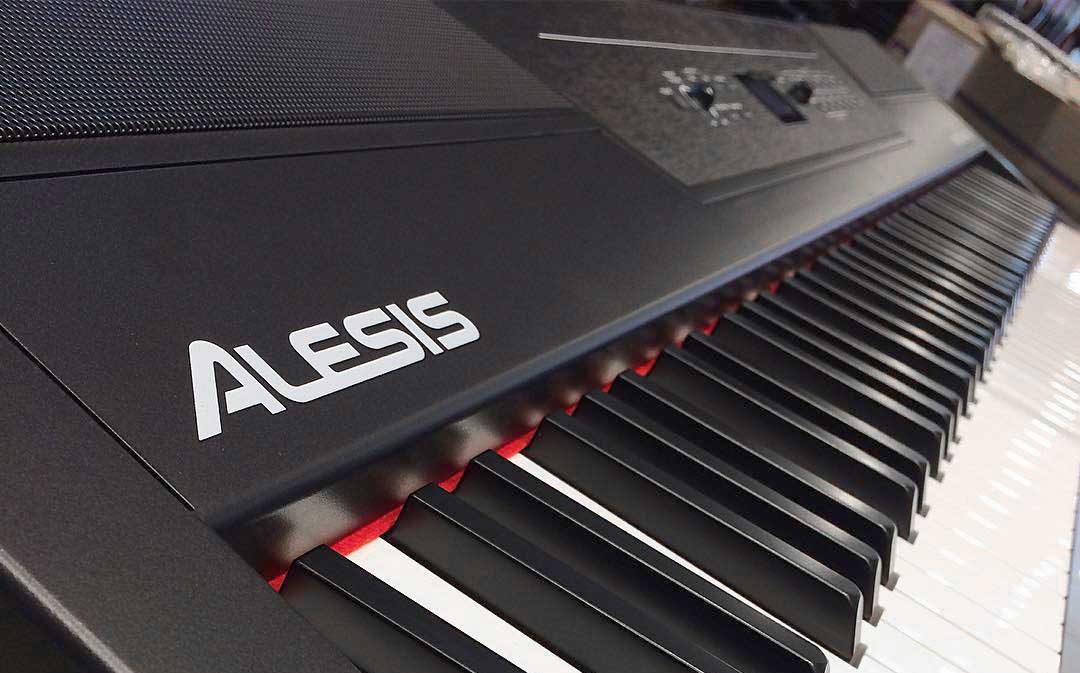 The Alesis Recital Pro's sounds are a bit of a mixed bag. You do get 12 sounds, but they aren't what I'd call particularly impressive.
Sharp-eyed readers might find it weird that I praised the sounds on the Alesis Recital, but dislike them on the Recital Pro despite having shared presets.
The reason for this is price. While the Recital lies in the forgiving sub-$300 price point, the Recital Pro costs more and should be judged against other more competent keyboards in the same price bracket.
The piano sounds are probably what you'll be most frequently using. The samples used are clean, and they do sound quite good off the built-in 20W speakers. However, I have a grip about how they sound.
There's a hollowness to the piano sound, particularly with the mids. Then, there's also the short sample length to consider. Each time you play a key, the sounds don't last particularly long.
In fact, with the sustain pedal held down and fortissimo dynamics, you only get around 2.5-3 seconds of sound, which is noticeably shorter than I'd like.
I find myself missing the piano sounds of Yamaha's budget keyboards, and even some from Casio's newer budget line-up. Those keyboards might not have impressive keys, but they do have more pleasing sounds, at least in my subjective opinion.
The electric piano, bass, organ and synth sounds are copies from the original Recital, and they're all usable.
The bass sounds are nice to have, as you can use them alongside the Split mode of the Recital Pro to practice left and right hand splits.
Just like with the original Recital, the synth sound is a standout, and I'm just as equally impressed here.
The synth sound is really pleasing, and has a Virus-style smoothness and warmth. I'd even go as far as to say that this is the best preset on the keyboard (which is a problem, since the piano should be the biggest star).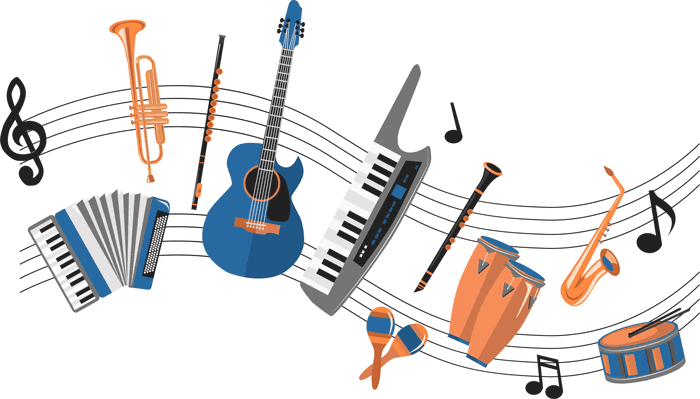 The other sounds are generally quite usable too, but they aren't anything to write home about. The added sounds like strings, bass and clavs are welcome for variation, but they do feel a little like they're tacked on.
Though I do welcome the addition of the Strings. These shine best when you layer them with the acoustic or electric piano sounds using the included Layer mode. The classic ballad combination is something the original keyboard sorely missed.
---
Effects
The effects on the Alesis Recital include an Equalizer, Modulation, Chorus and Reverb, these are nice options of adding a sense of space to your sounds, and they're welcome additions nonetheless.
The equalizer is very basic, and only has a few preset curves to work with. This isn't much, but I guess it'll allow you to adapt your sounds to different sound systems. While I'd prefer customizable EQs, I'll give this a pass.
In total, you get:
8 Reverb algorithms
12 Preset-specific modulation effects
8 Choruses
Pedal Resonance
The reverb algorithms are surprisingly fully-fledged, including stage, room, and even plate reverbs. While I didn't tweak these a lot, it's nice to have some extra options. This specific effect is what I'd consider to be key, as it counteracts the short sample tails.

The choruses add detuned copies of the original signal to the output and are commonly used to add a layer of width to sounds like the electric piano or organs.
These choruses range from subtle to extreme flanging, so customization exists for tweakers.
The modulation effects are tailored for each sound preset. For example, the piano gets a tremolo effect, and the organ gets a rotary effect.
If you do end up getting the Recital Pro, do read the manual to find out what each sound can do, as some sounds even get a variable effect depth.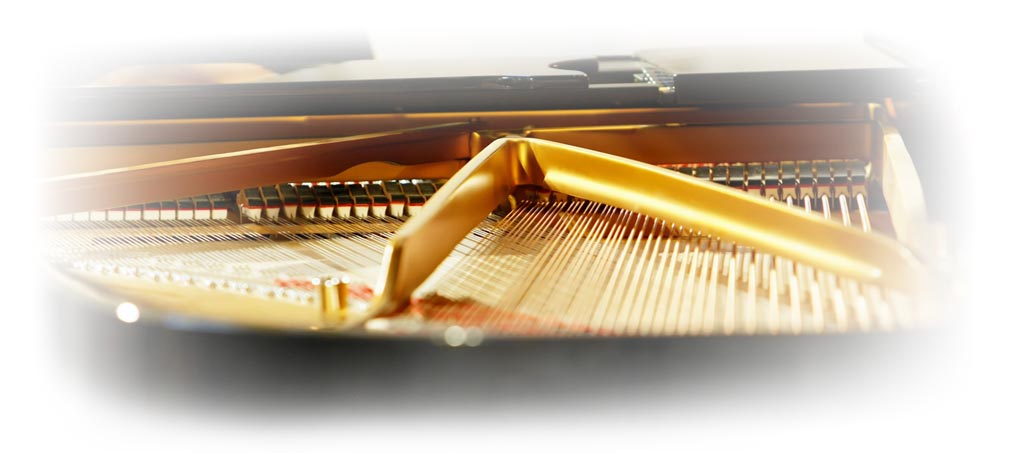 Finally, the Recital Pro includes pedal resonance, which simulates how notes continue to reverberate when the sustain pedal is pressed down.
While I can't really hear the difference on the speakers, the manual does claim that this introduces extra harmonics and minute details that add characteristics from real acoustic pianos. Regardless, there's no harm to leaving it on.
---
Polyphony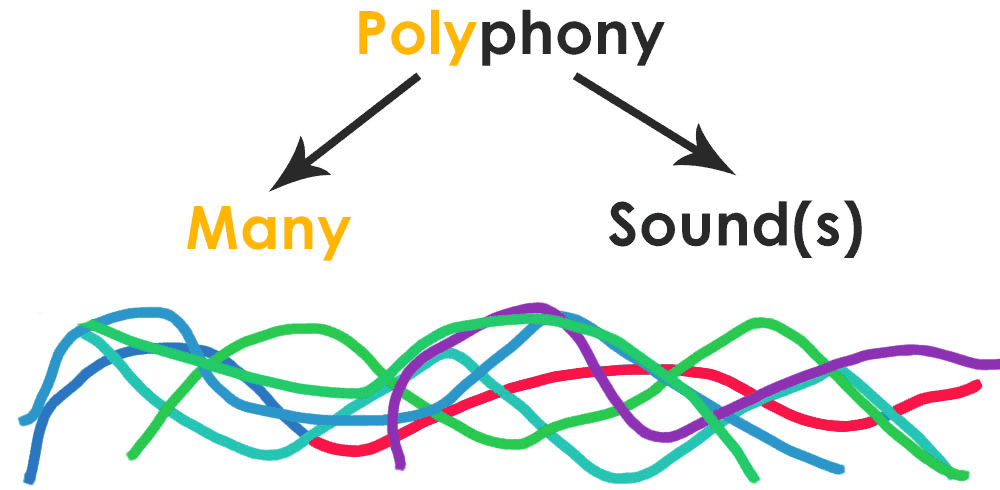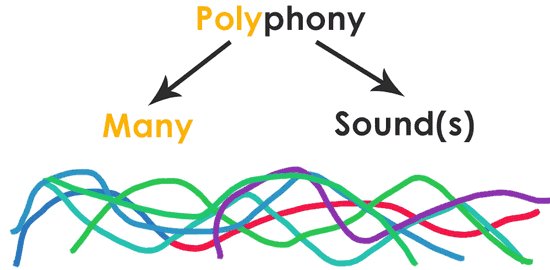 The Alesis Recital Pro has 128 notes of maximum polyphony, and that's quite impressive. In fact, most other budget keyboards have a polyphony count of 64 notes, so kudos where kudos is due.
---
Speakers
The Alesis Recital's speakers are arguably its strongest asset. The Alesis Recital Pro has dual 10W woofers and dual 20W tweeters.
All 4 speakers are powerful considering the price point, and having separate bass and treble speakers mean you have a cleaner soundscape during play.
In fact, the speakers don't suffer from any distortion artifacts, even at max volume. Of course, you probably won't need to go that high, but it's nice to know that you have some headroom to work with if you intend on playing in live venues.
Clean speakers are always a plus in my books, and while I do have my gripes about the included soundbanks, the speakers are definitely a quality inclusion.
Features
The Alesis Recital Pro has a few extra features when compared to the original Recital, but it's still quite light overall.
---
Modes
The Recital Pro has a Layer and Split mode, which are essential tools for practicing keyboard-specific parts.
Layer mode allows you to simultaneously play two sounds at the same time and can help add some richness to your playing.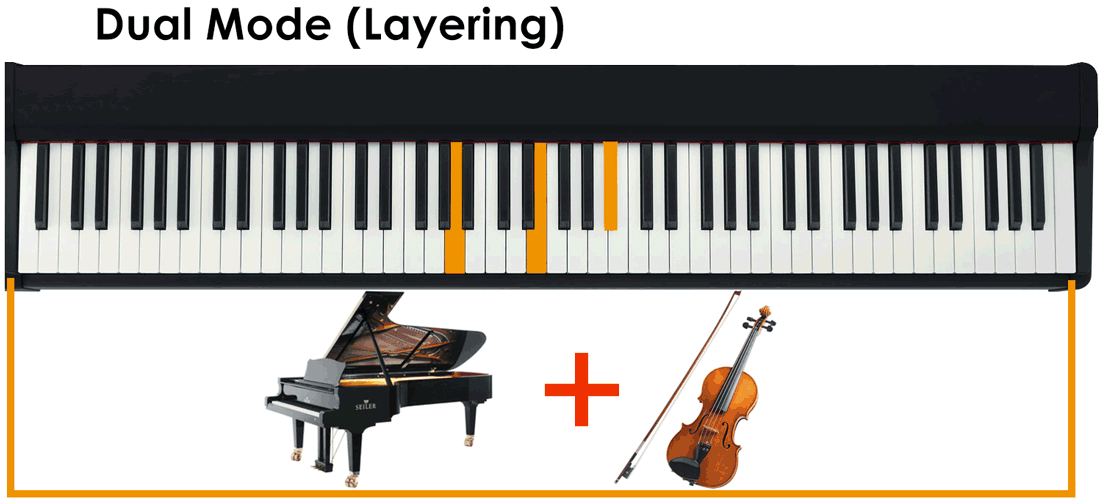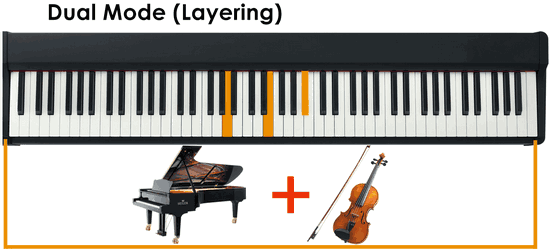 By default, the two sounds have an octave between them, so there's no risk of sound clashing (though you can change this in the settings).
The classic combination for layer mode is the classic strings + piano combo, and you can do it on the Recital Pro.
Split mode splits the keyboard into two halves, and each side gets a different assigned preset. Mostly, this involves the bass assigned to the left and another sound on the right. This is a common set up for stage performers, so it's nice to have the option to practice.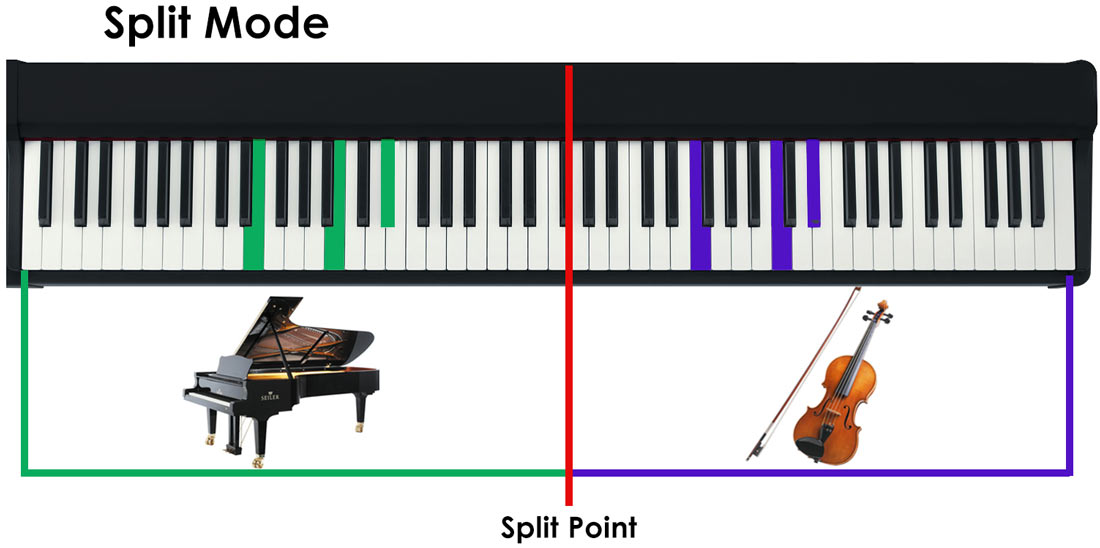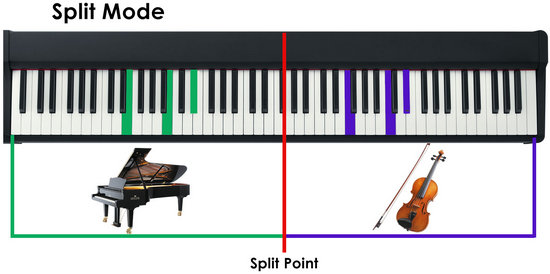 A Lesson mode is also included and allows teachers to sit alongside their students by splitting the keyboard into two halves of equal octave ranges.
The teacher can easily demonstrate parts this way, and one-on-one sessions will likely be more effective this way.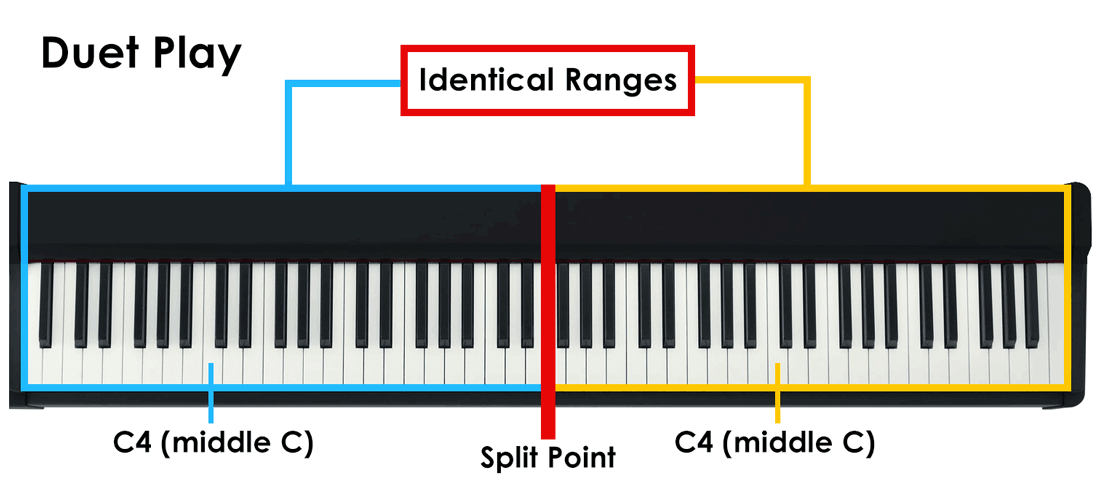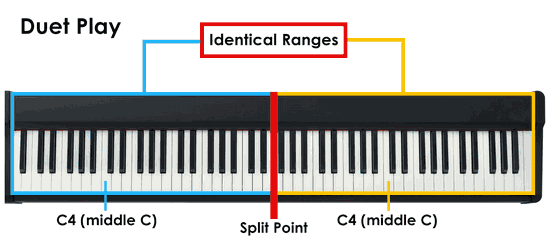 ---
Functions
The Recital Pro doesn't really have a lot of features, but all the necessary features are available.
The features include:
Transposition. You can either move up or down a full octave in 1 semitone increments to adapt to unfamiliar key signatures.
Metronome. A standard metronome is also included to facilitate practice.
Touch Sensitivity. 3 different intensities are included, and an OFF option is also provided for fixed velocity.
Notably, there is no option to change master tuning from the default 440Hz. However, I don't mind this at all, as beginners should get used to the standard 12-tone equal temperament tuning system.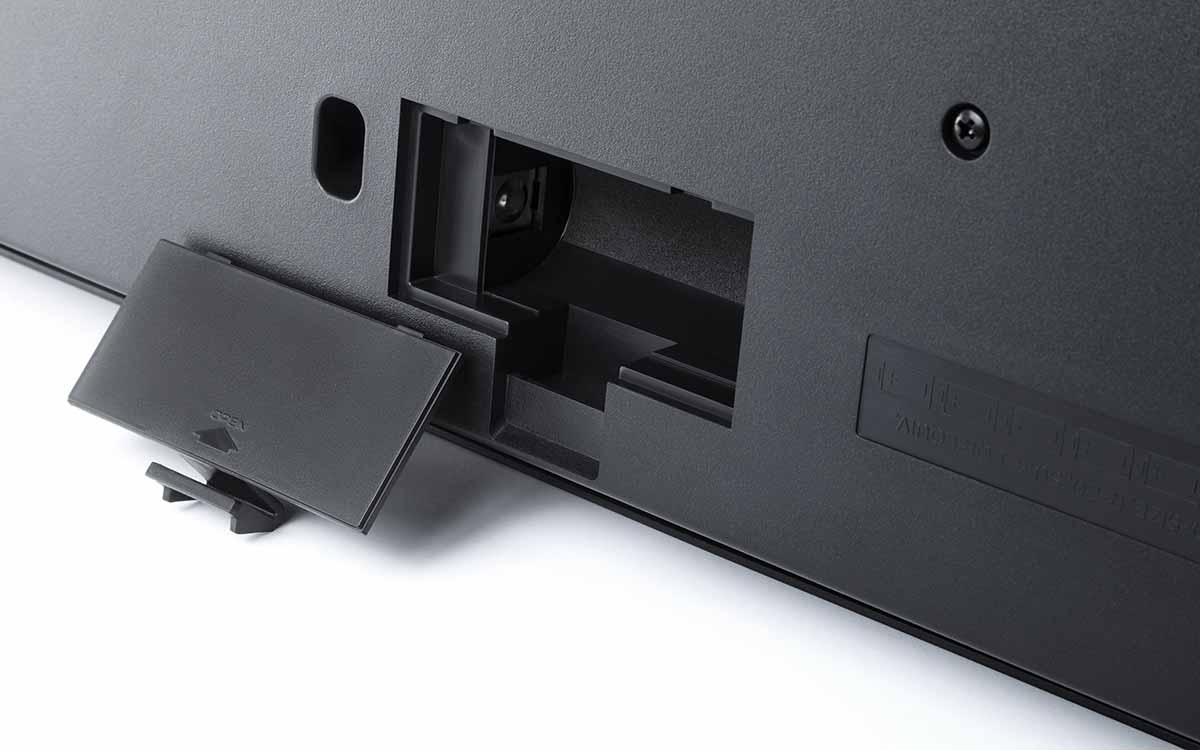 Another notable feature is the compartment for batteries on the bottom of the instrument. The Alesis Recital Pro can be powered off 6 D cell batteries, which means you can take this on the go if necessary.
Do remember that this isn't a lightweight keyboard though, and D cell batteries aren't exactly cheap either. I definitely recommend using the DC power supply instead, though it's nice to have a battery-powered option.
Connectivity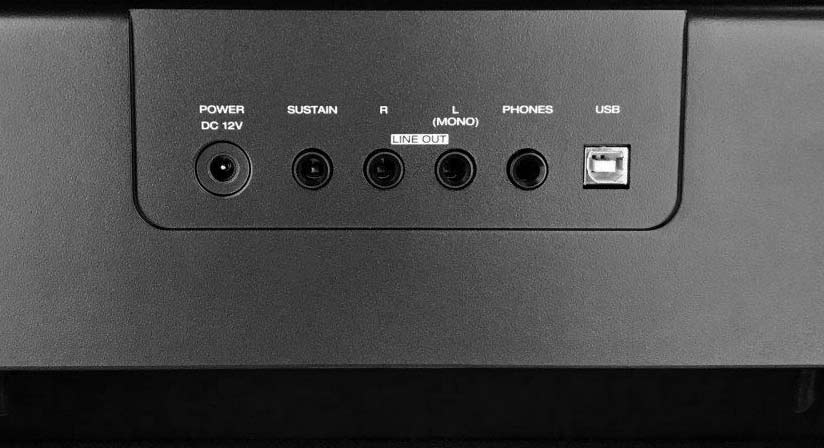 The Alesis Recital Pro contains the standard connectivity options, and the strange inclusion of RCA outputs on the OG Recital have been swapped out with the more conventional TRS outs.
The sustain pedal jack is necessary for adding in a damper pedal, which is mandatory if you want to practice piano parts.
Unfortunately, the basic package of the Recital Pro doesn't come with a damper pedal, so do factor that extra purchase into your budgeting.
Stereo outputs are included, and they're finally included as 1/4″ TRS jacks. If you intend on using external amplifiers, this is the ideal setup.
Also, if you want to work with headphones instead, there is a headphone jack that uses a 1/4″ TRS jack. This allows you to practice without disturbing anyone around you.
At last, there's a USB to Host port that uses USB Type B, allowing you to connect the Alesis Recital Pro to your computers to integrate the Recital Pro into your DAW workflow. From the internal firmware, you can even assign the MIDI output to different channels.
Unfortunately, some useful connections are absent. There's strangely no auxiliary stereo mini jack, which would allow you to practice to a backing track off your phone or a music player.
This is unfortunate, especially since this connection comes as a standard on most modern keyboards. This means you can't fully harness the power of the speakers with external sounds either.
Accessories
What you see is really what you get with the Alesis Recital Pro, and you'll need to get some extra stuff before you're ready for practice.
---
Pedal
I couldn't find any bundles that include a sustain pedal, so you'll need to get a separate pedal purchase before you can start practicing.
There's no support for half-pedalling, so you'll be fine with just about any sustain pedal you can find.
As usual, we recommend the Nektar NP-2, which is an affordable, solidly-built sustain pedal that is shaped like a real piano pedal too. The M-Audio SP-2 is another great option.
---
Stand
Alesis doesn't have any corresponding stands for this particular model, so I recommend getting an affordable, universal X- or Z-stand, such as the previously recommended RockJam Xfinity Double-X stand.
---
Headphones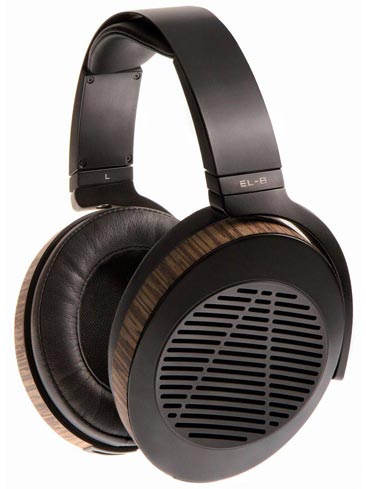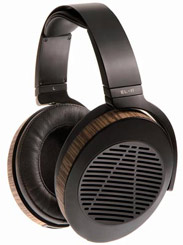 Headphones come in very handy when you want to practice in private, focusing solely on your playing and not disturbing others nearby.
Moreover, a good pair of headphones will provide a clearer and more detailed sound compared to the onboard speakers.
Check out this guide to learn how to choose the best-sounding headphones for your keyboard.
Summary
Pros
Fully-sized 88-key keyboard
Improved sound selection over the original Recital
Good variety of sound effects
128-note polyphony
Built-in MIDI recorder
Can run on batteries
Cons
Fully-weighted keys aren't particularly impressive
Main piano sound arguably isn't as good as the competitors
Build quality is passable at best
---
If you've read through our review, you've probably noticed the many notes I made comparing the Recital Pro to its more primitive counterpart. However, you probably noticed that my general sentiment is that you'd be better off with the OG Recital.
The biggest upgrade on the Recital Pro are the keys, though as I've noted throughout the main text, I do have some reservations about them.
They're weighted, but they don't feel as good as other fully-weighted keys, such as those from budget offerings from Yamaha or Casio.
Another notable feature on the Recital Pro are its speakers, and I am still impressed at how they can get so loud without distorting. These speakers hit well above their weight class, though it should be noted that the included sounds aren't all winners.
I really wish the added 'Pro' moniker included an upgraded sound set, especially with regards to the piano sound you'll be using most often, but it wasn't to be. I guess more mature brands such as Yamaha and Casio have the edge in terms of experience in this regard, but I really hope Alesis steps up their game in future products.
I do appreciate the added screen and controls, as well as the expanded sound selection though, and the Recital Pro definitely feels like a more complete product than its original counterpart.
For beginners, do bear in mind that your goals should be to build up the basics of musical knowledge. I personally feel like the keys here aren't the best option for that, for reasons I covered in the keyboard section.
Similarly, intermediate performers might prefer keyboards that offer more 'stage-ready' sounds than the Recital Pro. It's also unfortunate that you don't get an AUX in jack, which would allow you to use external sound sources through the great speakers.
I have seen people advocating for the use of the Recital Pro as a MIDI controller, and I agree that this is a great use of it.
Fully-weighted keys generally cost a lot more than their non-weighted counterparts, so this is a great value buy, though just bear in mind that you'll need time to adapt to things. Once you manage though, you are getting semi-realistic keys with decent dynamic response.
If it came down to it, I would personally go with the Recital. Though I would also prefer any one of the other budget keyboards we've recommended thus far, just for value for money.
If weighted keys are an absolute must, I wouldn't mind paying more for something better either.
Check the availability and current price of the Alesis Recital Pro in your region: