With today's technology, creating a studio environment in the comfort of your own home has become a reality for so many. Creating a mockup of EDM, orchestral, jazz, ethnic and pop music — among many other styles — on a personal computer has become a possibility.
The backbone of these genre's sound is often the drums. From rock to electronic video game kits, composers rely on a variety of drums to add desired percussive elements and grooves to their pieces.
It's pretty unlikely that you have room for a standard drum kit sitting in your studio apartment and even more unlikely that you have agreeable neighbors.
Luckily there are a variety of drum VST plugins to choose from, all within reach of a few mouse clicks.
Quick Recap on VST Plugins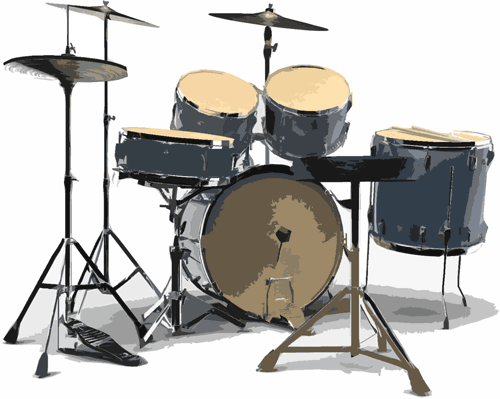 Before diving into the best drum VSTs themselves, let's do a quick recap on what VSTs are, why you should use them, and what things to consider before pulling the trigger on any particular library.
Using a VST Plugin VS a Real Drum Kit?
Advantages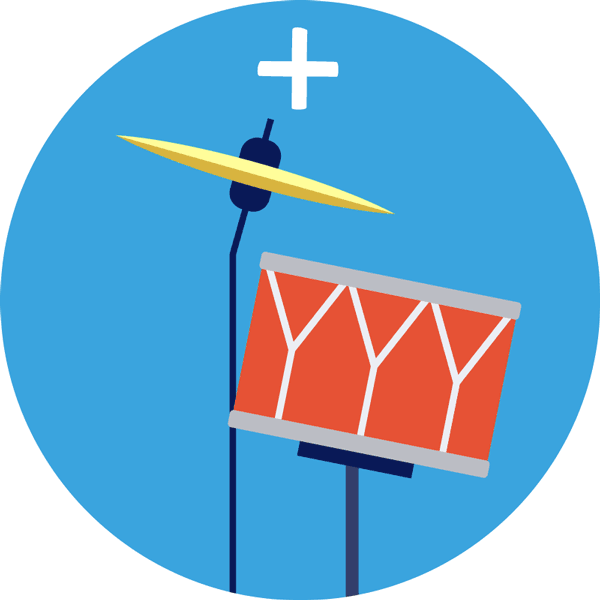 Access to a variety of different drum samples depending on desired style such as: using jazz brushes, a metal kit with a double pedal, or an electronic drum kit
Simplicity — you don't need a bunch of microphones to record your real kit when you can just use a sample instead. You're also able to avoid the upkeep that comes with an acoustic drum kit (tightening/tuning of drum skins, cushions in the bass drum, and any other rugs to dampen or soften the sound of your kit)
Having more space in your living conditions by choosing not to purchase a drum kit and instead rely on samples (this could be simply because you're not a drummer, it may be a heavy expense on your wallet, or this is just your personal preference — it is still ok to have your drum kit AND own drum samples)
Basic introduction to drum grooves: most drum sample libraries also include rhythmic passages as a source of inspiration or even just operate as drag and drop segments for your track. If you don't play the drums, these passages can help you out with learning and employing simple or more complex grooves.


---
Disadvantages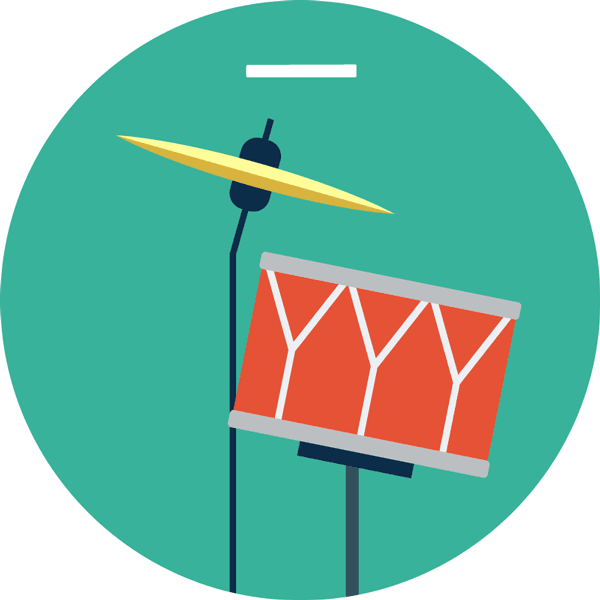 If you are new to music and rely on technology to teach you the basics, it can be hard to improve as a composer. If you aim to become a professional composer/just want to become more theoretically accomplished it's best to look to playing and writing music with various instruments alongside study and notation instead of just placing samples together.
You are limited to your VST's settings and samples. For example, if you are composing something within your DAW your drum library may lack a realistic-sounding snare roll, meaning that what could be a key part of your song goes begging.
The process of learning about VSTs falls into music technology and production. This is a whole subject in of itself, just like mastering real drum grooves or playing the guitar. Learning VSTs and making a set-up from scratch can be complicated and daunting. I'm hoping this article lightens the load, but understand that it can be complicated, especially at first. Hang in there!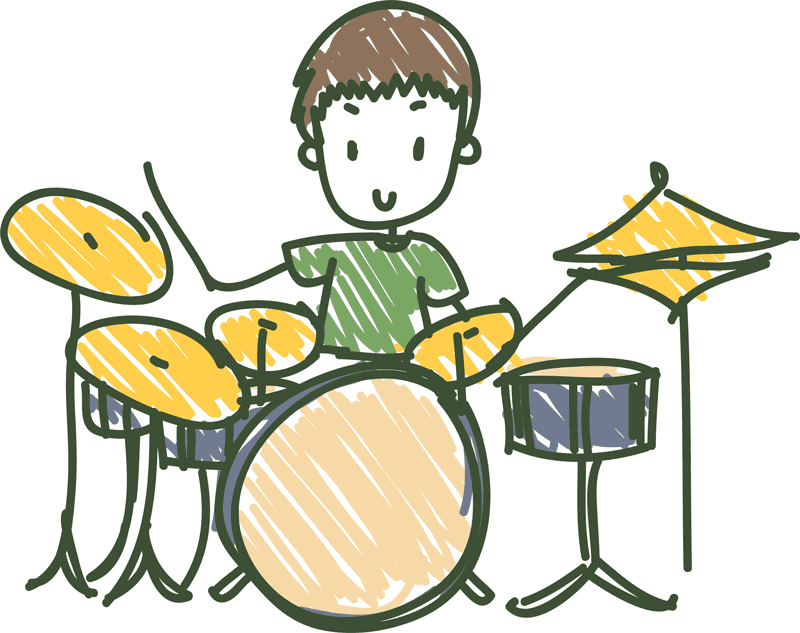 ---
How Do I Choose the Best Drum VST Plugin?
What drum VSTs you go for relies heavily on the genre or style you are composing for. You may look into electronic drums for EDM or video game scores, or softer, mellow kits for jazz ensembles.
You are likely to own a few different drum libraries for this reason. A good place to start would be to consider what kind of composition or song you are writing, or if you simply want a standard, all-round kit.
The Best Drum VST Plugins
XLN Addictive Drums 2
---
Addictive Drums 2 is an industry standard when it comes to drum libraries. You can expect most of the world's leading composers to have experience with the Addictive Drums collection. The libraries come in a variety of titles including rock, pop, indie, jazz, or electronic.
The good news is that you don't need to be a drummer to utilize Addictive Drums 2 sample libraries.
Each library comes with kit presets and pre-recorded grooves for instant inspiration. You can get working in seconds! Whether you need as much help as possible when writing drums or a seasoned professional, Addictive Drums 2 is very user-friendly in achieving desired results. Let's dive in.
One of the standard kits that this library contains has been recorded with the acclaimed Fairfax kit at LA studio formerly known as Sound City.
A really nice feature that they've input is that the package includes 130 presets, both with clean, raw samples, alongside processed, already-mixed plug-ins. The preset window can be filtered to show a certain genre of presets, and you can even save your own presets.
To quickly differentiate presets that are clean to heavily processed, the library has added a nifty feature called Sound Ideal. There is a slider that ranges from Natural to Extreme.
The Natural end of the scale will show clean, unprocessed presets, whereas the Extreme side will show heavily-processed, pre-produced presets. This combination addresses one of the frequent criticisms of drum libraries in that they contain too much reverb.

The AD2 program allows easy access for you to tweak one of their in-built drum presets, or to build up a custom kit of your own. The mixing tools in the preset drums are straightforward, meaning less time is spent in the tech and more time composing.
There are separate adjustable knobs to tweak the levels of the snare, kick, high-hat, as well as the overhead and room microphones. Increasing or decreasing the knob will raise or lower the volume respectively. These knobs are ultimately changing the separate levels of the snare, kick, and bass on a minuscule scale without affecting the volume level of the whole kit.
The Edit tab will take you to a window with even more settings to customize including EQ, distortion, tape, and noise. These are adjusted per drum part (snare, bass) and per microphone (overheads, room) for even further tweaking and unique custom settings.
There is a Snapshot feature in the bottom right of the window which will record your current settings. If you change settings, you can always look back at the snapshot within the UI and compare your current settings to a previous snapshot. This feature helps you get that perfect kit sound for your mix.
Next to Edit, the Kit tab in the window is used to create a custom kit. Here you will see options for the individual parts of a kit: bass, snare, toms, cymbals, etc. You can load up different recorded samples for each of these parts. You can even link two parts together by using the link button which looks like an infinity symbol (∞).
For example, you can link the snare drum and the "Flexi" slot together and have them play together. The two will combine and create a new, interesting sound. You can choose to change the percussive instrument in the Flexi slot, rotating between wood blocks, tambourines, or hand claps, etc.
This feature is not limited to two parts — you can link the same part to multiple elements of the kit.
Now that we've covered getting the desired kit sound, what about the grooves? Maybe you're looking for something outside of your "bass-on-beats-1-and-3, snare-on-beats-2-and-4" comfort zone, or perhaps you have no idea where to start.
In the Beats tab on the top right of the window you will find a variety of grooves where you can search stylized beats with their own set of variations. You can even place what drum part goes on what beat to get finely tuned results according to your composition. This is done in the grid search.
For example, you may want your kick drum to land on beats 1, 2 and 4 (in 4/4 time). The list of grooves will be filtered to show grooves containing this pattern. You can easily audition these sounds before importing the MIDI into your sessions via drag and drop. While most drum libraries come with a list of pre-made grooves, AD2's is particularly advanced and malleable.
As mentioned above, there are some really neat features that cater to beginner or professional composers and producers looking to add that perfect kit to their project. This library stands out with its user-friendly interface that comes with advanced settings to create a customized sound and beat. It is industry-standard and the drum presets sound amazing with little to no effort.
The Addictive Drums 2 collection is a great addition to your sample libraries and if you're into creating just one style the individual packages are relatively cheap (around $90 per pack).
The complete collection is about $700. There are also Custom and Custom XL packages where you can yourself choose the packs to be included. For a more in-depth comparison between the AD2 packages, refer to this page.
The library works standalone, so you don't need a host like Kontakt to power it.
Heavyocity Damage
---
Heavyocity's Damage library gets its iconic name from literally recording exploding cars, terrorizing junkyards and dropping large objects from a great height. Fun, right?
The library's sound palette contains these obscure percussive sounds as well as traditional kits and a variety of wooden and metal percussion.
Many musicians refer to this library as an epic, cinematic option for drums. It is used in film trailers where dramatic, large sounds are needed, mimicking the "Hans Zimmer" style. Film composers such as Harry Gregson-Williams, Brian Tyler, and John Debney commend the library as a great tool for epic, industrial-orchestral fusion drums.
The library comprises 30GB of content with a whopping 26,500+ samples which includes 58 kits and over 900 single loop presets. That's a lot!
Damage is categorized into two groups: rhythmic suites and percussive kits.
Rhythmic suites contain loop menus and single loops. Loop menus include stylized loop presets, and single loops allow for more control settings within the chosen loop. The control settings include tweaking the mix of the processed loop, and changing its MIDI via the MIDI to Host feature.
There is a trigger FX option, where you can trigger specific effects while using a MIDI controller. The loops range across 4 different genres: epic organic, epic tech, industrial and mangled pop. The loops are customizable through the AMP Sequencer so you can create your own unique patterns.
The percussive kits have been categorized into 5 different genres: epic organic drums, ethnic drums, metals, hybrid FX kits, and damage kits.
In the main tab of the interface there are two windows with a waveform visual. The top window shows the sound you are pressing on your MIDI controller, while the bottom window shows the audio tail of the sound with the Mod wheel function. Each sound has its own feature that is altered by your MIDI controller's mod wheel, such as a high pass filter or a distortion effect.
Global controls make it relatively easy to adjust the mix of a kit without leaving its interface. With a click of a button, you can create a distorted or a lo-fi effect. Heavyocity has created a unique effect known as the "punish" knob which combines compression and saturation to create a more vibrant and engaging sound.
There's also a tab called "Stage" which lets you position the drums where you want them in the stereo field. This allows for maximum control within the mix.
Because a lot of the drums and loops come pre-mixed and processed, there's not much work required on the composer's end for creating an epic-sounding drum mix. That said, the loops and kits can be tweaked for further customization and experimentation.
Overall, Damage is a fantastic choice for cinematic, and industrial-orchestral fusion kits and percussive sounds. The sound palette makes it a favorite for composers, producers and sound designers. It is a must-have for those looking to incorporate epic, trailer music-style drums to their mixes.
Toontrack EZdrummer 2
---
Toontrack's EZdrummer 2 is a powerful VST that is simple to use and creates great-sounding drums. There are 5 kits in EZdrummer 2 which are divided into two sound libraries — modern or vintage — as well as an auxiliary percussion library featuring instruments such as tambourines, finger snaps and hand claps, shakers, cowbells and maracas.
The modern drum kits consist of selections from the DW, Gretsch and Yamaha brands. The vintage kits feature two Ludwig drum sets. These drums were recorded at Mark Knopfler's British Grove Studios in London and the resulting sound has a distinct presence in your mix without being overpowering.
The engineer behind the library is the multi-award-winning Chuck Ainlay, known for his work with the Dixie Chicks and Dire Straits. This library is best suited for songwriters looking to amplify their tracks with drums full of depth and flavor.
EZdrummer 2 provides the user with a groove library incorporating a range of styles and time signatures, from swing ballad 3/4 to up-tempo straight 4/4.
There are four tabs on top of the interface: drums, browser, search and mixer.
The Browser tab filters grooves into song structure formats, making it quick and easy to find grooves that are best suited for a verse, or for a chorus. The user is even able to create a folder and place their favorite grooves in there.
The Search tab is an indispensable tool for songwriters looking to lay down the backbone of their track immediately. There is a button within the search tab's window called "Tap 2 Find", where you can tap in a rhythm using your mouse or connected MIDI controller. Once you have tapped in your rhythm, EZdrummer 2 will automatically quantize the groove and display similar groove presets from the built-in list.
There is even a percentage displayed of how well your custom rhythm and the listed beats match up. For example, you may have tapped a rhythm that already exists in the beats library so it will present a "100%" match in terms of similarity.
You can search manually using the filter provided instead of tapping out your rhythm. Some filters include genre, time signature and type (fill, ending, straight, swung, etc).
You can also choose not to show a particular search filter by right clicking and excluding that from your search results. For example, right-clicking on "Hi-Hat Open" will not show grooves that feature an open hit-hat. This is a unique feature that reinvents the search system.
The Drums tab allows the user to play around with the specific drums of their kit, switching between brands to customize and achieve the optimal tonality for their track. You can also switch between 'flexi' drums such as tambourines and hand claps.
Finally, the Mixer tab is fairly straightforward — allowing the user to mix and affect the specific drum's eq, FX such as reverb, compression and distortion, mic positioning/bleed and panning.
EZdrummer 2 also allows the user to record custom MIDI tracks to create their own unique grooves. You can record over a preset or record your own groove from scratch using a MIDI controller or an electronic drum kit. You can then edit the recorded MIDI within the EZdrummer 2 interface and also drag the MIDI into the "Tap 2 Find" search feature to hear other similar grooves.
This short video walks you through EZdrummer 2's new Song Creator feature:
Toontrack's EZdrummer 2 is suitable for songwriters looking to work efficiently and find that perfect groove for their track.
The sounds of the various drum kits are high-quality and can fit perfectly into your song, regardless of style. I find that the focus is on the grooves rather than building a custom kit sound, which works well for creating songs on the fly.
Toontrack Superior Drummer 3
---
Similar to the EZdrummer 2 series, Toontrack's Superior Drummer 3 is an enhanced drummer bringing you over 230GB of raw samples recorded with eleven separate room microphones to create an immersive surround sound configuration.
Features seen in EZdrummer 2 such as "Play Style", "Tap 2 Find" and "Song Creator" are included in Superior Drummer 3 along with an improved search functionality. The library is engineered by George Massenburg, known for his discovery of parametric equalization, and recorded at Galaxy Studios in Belgium.
The library features 7 kits along with 25 snares, 16 kick drums and approximately 250 electronic drum machine sounds. There are various mix-ready presets in multiple styles and 35 built-in sound effects.
Superior Drummer 3 is designed similarly to EZdrummer 2 with a few upgrades and some shiny new features. The interface is expandable and scalable, meaning you can change the size of the view and content inside the interface's window to suit whatever monitor you're working on. This is nice, especially for laptop screens that don't offer much viewing space.
In college, I used a VST on my Macbook and the size of the screen was too large length-wise for my 13-inch Macbook, so I could never utilize the tools at the bottom of the window. It was so frustrating! It goes to show you that even small, subtle features can create a positive impact on your workflow.
Within Superior Drummer 3, you can load any other Toontrack instrument you own into the kit without leaving the window. Just navigate to the "Add X-Drum" on the top left of the window and search for the instrument desired. You even have the option to import audio to add in your own custom samples and create a unique drum kit.
There are approximately 600 electronic sounds included in the library for users to stack and blend different sounds to customize their kit.
In the right section of the window are the property boxes where you can tweak the sound of specific parts of the drum kit. This includes drum tuning, reversing the sound, pitch FX, and more.
You can go one step further and adjust the sound of a drum based on its articulation. For example, you may adjust the snare's rimshot sound to have a slightly different tuning or velocity curve than a regular hit. This allows for detailed fine-tuning of your customized drums to create a particular sound for your drum track.
The Grooves tab has been enhanced for Super Drummer 3. It keeps all the features from EZdrummer 2 and improves the workflow by allowing multiple song tracks to audition several different grooves at once; combining the browser and search function in the same window; introducing a tempo and time signature editor within the song tracker; and also establishes the grid editor which works like a MIDI editor and allows you to move rhythms, quantize, adjust velocities, and edit CC data.
The Tracker tab is a new feature introduced in Superior Drummer 3. This tool converts pre-recorded audio files into MIDI and utilizes the sounds within Super Drummer 3. The tracker's interface looks similar to a DAW, so it should be self-intuitive for most users. Once you import your audio files, tracker automatically detects the part of the drum kit heard and turns it into editable MIDI.
If you wish to change the instrument that tracker automatically detected, you can manually switch the target sound to any other part of the kit. This is a really great feature with a lot of depth, so if you are interested in using this tool within your songs, you can check out more here:
Toontrack's Superior Drummer 3 lives up to its name — it is superior to its more affordable counterparts such as EZdrummer 2. The library is a powerful tool to add drums to your tracks with a huge number of customizable and unique features.
It is a little more expensive than EZdrummer 2 but packs more into the bundle.
If you are looking for a little more versatility or simply need to convert a lot of audio into MIDI using Superior Drummer 3's sounds, this library is a fantastic option.
Native Instruments Studio Drummer
---
Native Instruments Studio Drummer features samples recorded on premium drum kits. The library focuses on incorporating an acoustic drum kit into your track along with mixing options and a large library of grooves with fills complementing styles including funk, rock, blues, indie and country.
Each sample has up to 25 different velocity levels, allowing for a broad dynamic range to be used. The three premium drum kits that were recorded for the library include the Pearl Masters Premium Maple kit, Yamaha Maple Custom Absolute kit and the Sonar SQN Drum System. These kits were recorded at Teldex Studios in Berlin and contain over 17GB of drum samples.
You can view more about the drums here, which specifies what cymbals and drum parts were used.
The Stadium Kit brings the roomy sound of a premium recording room, the Studio Kit creates grooves with a smaller, dry studio sound and the Garage Kit boasts a dirtier, aggressive sound.
When it comes to incorporating acoustic kits into your tracks, this library is perfect to get started. If you're crafting a heavy rock track, you might want to use the grungier Garage Kit. Or if you need something clean and crisp and that's where the Studio Kit shines.
I really enjoy using this library and have used the Studio Kit in a lot of my video game tracks. Here is a demo which features the Studio Kit using quieter velocities:
The kit is mixed in the background and creates a dry, clean sample which is what I desired for the composition.
In the bottom of the interface window, you will see a tab called Grooves. Here you can sort and find the perfect groove for your session. The grooves are categorized in 11 different styles including pop, funk, jazz, hard rock, metal, blues & country, indie rock, and others. Selecting one of the styles will bring up a new window of grooves in various tempos and variations.
There is a tightness parameter in the bottom pane where you can adjust the playing style of the drummer, for instance, if you want the groove to be behind the beat which might suit a more bluesy composition, simply turn the knob towards the left. The right will create the opposite effect and 'tighten' the style, feeling like the drummer is playing slightly ahead of the beat.
The swing parameter creates a simple and quick way of adding a jazzy or compound meter to your groove. The tempo parameter allows you to double and half the speed of your groove.
The drums are recorded with separate microphones on each of the main parts on the kit, which makes it incredibly useful to balance out the levels on your kit. The cymbals too bright and in-your-face? Lower that fader! You can also balance out levels of the overhead, room, and mono mics.
As with other drum libraries, Studio Drummers features a variety of built-in effects including EQ, envelope shaper, transient master, bus comp, tape saturator, and convolution reverb where you can adjust the room reverb to studio, church, halls, or smaller rooms.
Native Instruments DrumLab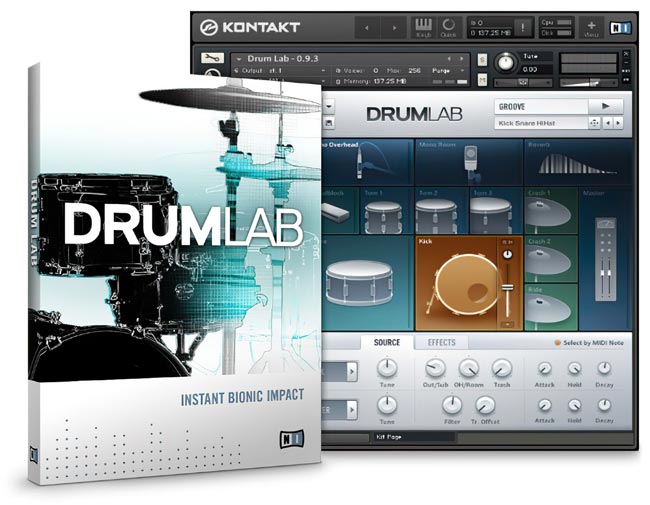 ---
DrumLab by Native Instruments is a drum library focused on fusing traditional acoustic kits with electronic sounds. It gets its name from an idea that you are a "beat scientist" in an experimentation lab.
It's a way to get creative and produce your own signature sound when it comes to drums. The user interface is quite simple and intuitive in designing custom kits. DrumLab uses an advanced layering technique that adds 80 electronic layers that are matched and pitched with the acoustic samples.
The drum samples were performed by professional drummer Derico Watson and produced by Grammy-winning producer, Kenny Barto. The library contains 5.26GB of content featuring 60 sound presets, 90 grooves with 10 variations each, with 58 acoustic samples and 80 electronic layering sounds.
The library itself is quite unique as it contains only one instrument — the customizable drum kit. It's the various patches and samples involved in its kit breakdown and electronic layers that allow for broad experimentation. Here is the breakdown of the kit's samples included:
Kick: 9 variations
Snare: 10 variations
3 Toms: 6 variations
Hi-hat: 7 variations
Ride cymbal: 2 variations
2 Crash cymbals: 4 variations
5 percussion sounds from 20 different instruments
A set of perfectly mapped and matched electronic layers for kick, snare, and hi-hats: 20 variations each
Within the main window of the VST, there is a Source tab in the bottom pane. When you select a part of the kit, for example the bass drum, you are able to edit it individually.
There are two menu items to select in the Source pane, for example "Gaudy Kit", and "Swoosh Layer". These patches can be explored, then fused for a more acoustic or electronic sound by balancing the fader to the left of these options. There are parameters such as tuning, microphones, high pass and low pass filter and attack, sustain and decay envelopes.
The top set of knobs focuses on the acoustic patch, while the bottom set focuses on the electronic patch.
The Effects tab introduces further tonal alterations, including transient control, compression, saturation, EQ and reverb — familiar effects when it comes to drums.
The way in which you change the kit's sound is not limited to what this library includes, as you are able to send each part of the drum kit to separate outputs for use with external plug-ins (for example, you may wish to use your DAW's built-in compression plug-ins, or you may have purchased third-party plugins such as Altiverb or Valhalla Shimmer).
Down at the bottom of the window is a tab called Grooves. Clicking this will take you to a new window which features DrumLab's Groove Library.
It should be noted that grooves, beats and loops are terms used interchangeably within different drum libraries and refer to a pre-recorded drum groove that is usually editable in MIDI. The Groove Browser is where you can find and filter a drum groove that suits your music. You can audition the groove alongside your current recordings before easily dragging and dropping it into a MIDI file within your session.
In the Groove Browser window, you can select grooves that are categorized as smooth, tight, fat, dirty, special, or raw. You can select a tempo and double or half its speed, and also change the swing parameter if you need your beat to swing rather than be straight.
There's also a mapping options window next to Grooves where you can play around with MIDI settings. You can set what notes on your MIDI keyboard play which part of the drum kit, set velocity shapes and range and you can even map your drums to match that of other popular libraries such as Addictive Drums.
The bottom option in this window allows the user to select whether they want samples always loaded or unused samples not loaded. This saves on computer memory by not unnecessarily processing sounds.
DrumLab is a great tool for creating customized, composite sounding drums. Due to its lack of samples relative to other drum libraries, DrumLab inspires you to get creative with acoustic and electronic blended sounds, encouraging the creation of a drum tone that is uniquely yours.
Native Instruments Battery 4
---
Native Instruments Battery 4 is a drum sampler for creating electronic and urban drum beats. The library comes installed with 143 kits that are focused on electronic and hip-hop production.
The interface of Battery 4 looks a little different to the ones we've covered above. The main window consists of a group of cells in a grid-like fashion, such as Kick Funk 1, or Snare Funk 4. You can right-click on these cells to direct it to a bus or output, which makes routings quick and simple to set up.
The cells have their own color-coding system. Each cell color represents a part of the drum kit. For example, all bass drum cells will be red while all snare drum cells are yellow. When you select a cell, the settings where you can adjust effects also change color to match the corresponding cell. This helps when you are trying to work quickly without always checking to see what cell you are editing.
You can also assign colors yourself to better suit your workflow. You are able to load custom samples into the sampler and assign them their own colors.
Simply dragging and dropping MIDI into Battery 4 allows you to set up your sounds to performance MIDI controllers. Battery 4 uses all current sample file formats including .wav, .aiff, .nki, and .txt. For a more comprehensive list, please see this link.
Battery 4 has a browser list integrated in the UI which can sort through different patches for different parts of the drum kit. There is a search feature where you can search for specific keywords to filter out list items more efficiently. Once you are happy with a cell's sound patch, you are able to further edit and make changes accordingly.
Down below there are tabs called Main, Effects, Modulation, Setup, Editor, and Master. Main features settings and effects that are commonly used when tweaking drums.
There's a volume envelope which adjusts the Attack, Hold, Decay, Sustain, and Release (commonly known as ADSR envelopes); a transient master, EQ, sidechain, velocity parameters, reverb, filter, compressor and sends.
A really neat feature that Battery 4 has implemented is the Editor tab where you are able to musically edit a patch sound. You can cut, trim, lengthen, as well as fade, silence and reverse the audio of the sample being played.
This also acts as a loop editor by switching the loop function on and you can edit in real-time how the loop will sound (for example, you may trim the audio so it only plays and loops the first half of the sample rather than including an audio tail).
The Editor and Effects tools are incredibly helpful as you don't need to use third-party plug-ins or even leave the Battery 4 window to achieve the sound you're looking for.
Overall, Battery 4 is a good choice for composers wanting to create their own beats and have an understanding of electronic or hip-hop music production.
Final Words
These drum libraries are a great addition to a composer's palette of samples. We've laid out some of the more popular and well-known companies and libraries and I hope that this guide helps you decide on the drums your home (or professional) studio is waiting for! If you still can't decide, here is a question to guide you — what is your next project, or what do you WANT to work on?
If the answer is a huge, cinematic, awe-inspiring track, maybe Heavocity's Damage library is for you! If you're currently working on an indie rock song, try Toontrack's EZdrummer 2 (and their Indie Folk EZX Expansion) or Native Instruments' DrumLab. Remember to use your ears as your best judgement.
There are many drummers who might like the grungy, edgy metal kits, but there's always going to be a special place in my heart for those clean, crisp studio drums. I personally like to add a high-pass filter to my envelopes and help brighten the sound of cymbals and tighten up the snare drum.
Remember to have fun with it, experiment and be inspired!
---
You might also like:
Virtual Instruments: In-Depth Guide + Best Free VSTi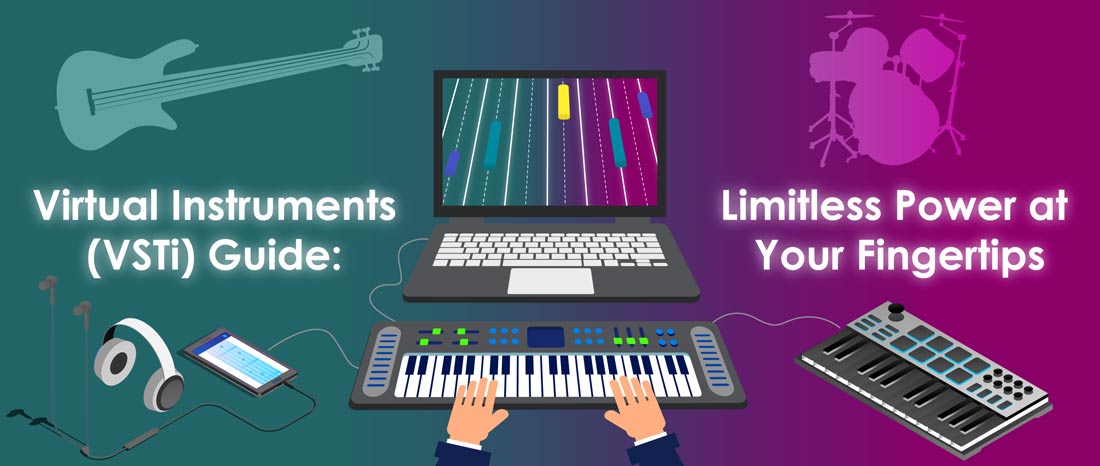 How to Use a MIDI Keyboard: VSTi Plugins, Recording, DAW Basics
How to Write a Song: A Full Guide to Arranging Music