Today we're doing another "Pro Series" review, and this time we're going to take an in-depth look at the Casio PX-560.
The PX-560 is the most expensive and technologically advanced digital piano in the Privia line. The keyboard was released in late 2015, but, only recently it started getting the attention it deserves.
At this price point, you'll hardly find another digital piano that is as good for stage and studio use as it is for home playing.
Without further ado let's dive into the review so you can get a better idea of what I'm talking about.
Casio PX-560 Specs
88-key fully weighted keyboard with simulated Ivory & Ebony keytops
Tri-Sensor Scaled Hammer Action II
Touch Sensitivity (3 types, Off)
5.3-inch color touch screen
Sound: Multi-Dimensional Morphing AiR Sound Source
256-note polyphony
650 built-in tones, 100 Hex Layer tones
Acoustic Simulator: Linear Morphing, Damper Resonance, Hammer Response, String Resonance, Key Off simulator
Modes: Split, Dual, Duo (Duet Play)
17 Reverbs, 16 Choruses, 6 Delays, 20 DSP parameters, 4-band EQ
16-track MIDI recorder, Punch-in edit; Audio recording (WAV)
220 accompaniment styles, 305 music presets
Arpeggiator, Metronome, Transpose, Fine-tuning, Octave shift
Temperament: 17 types, Stretch tuning: On/Off
Speakers: 8W + 8W (2 x 12 cm + 2 x 5 cm)
Connections:  Headphone jacks (2), MIDI In/Out, USB to Host, USB to Device, Line Out, Line In, Audio In, Sustain pedal jack, Assignable pedal jack
132.2 x 29.3 x 14.7 cm (52" x 11.5" x 5.7")
12 kg (26.5 lbs)
Check the availability and current price of the Casio Privia PX-560 in your region:
Design
The PX-560 is a full-fledged portable digital piano with fully weighted keys and onboard speakers.
In fact, it's one of the most compact digital pianos available on the market today.
The PX-560 is 51.9" wide, 11.5" deep and 5.7" high, which makes it fairly easy to transport and fit into most keyboard bags (for 88-key instruments).
The weight of the piano is only 26.5 lbs, which is super light, considering the hammer-action keys and built-in speakers.
The PX-560 is made of a combination of matte black and blue plastic, which gives it a fresh and interesting look especially compared to those all-black plastic keyboards.
The build quality is fine, but it's not the PX-560's strong suit, so don't expect anything exceptional here.
The PX-560 is obviously not as sturdy as some higher-priced models with metal construction, but it's a reasonable trade-off for the light weight, in my opinion.
Control knobs also felt a bit cheap and plasticky, but it doesn't really affect their functionality, just my personal impression.
The Casio PX-560 is available only in one finish (blue + black).
The control panel is another strength of the PX-560.
At the center of the keyboard, you'll find a 5.3" color touchscreen, which we've never seen in an instrument in this price range before.
Casio have really raised their game with this, and it's also a good stimulus for other manufacturers to grow and innovate.
No doubt, the touch screen is a huge advantage of the PX-560 as it takes the user experience to a whole new level.
It's especially important for a keyboard like this where there are tons of settings and parameters you can adjust, which would be quite hard to do without a display.
In addition to the touchscreen, there are 27 physical buttons, volume knob, dial, modulation wheel, pitch bend wheel, and 3 assignable knobs.
So you can be sure you'll be able to easily access all the main functions and settings during a live performance or a studio session.
Another important feature is that you can save your own settings in registration memory and recall them instantly whenever you need them.
You can store up to 96 different setups at the same time.
Keyboard
Unlike many other manufacturers that use different keyboard actions in their digital pianos depending on the price, Casio equip most of their Privia models with the same keyboard called Tri-sensor Scaled Hammer Action Keyboard II.
It's a pretty smart move because in the sub-$1000 price range it's hard to find a keyboard that would offer tri-sensor technology and ivory simulation as this keyboard does.
The PX-560 features 88 fully weighted keys that use little hammers to reproduce the feel of a real piano action.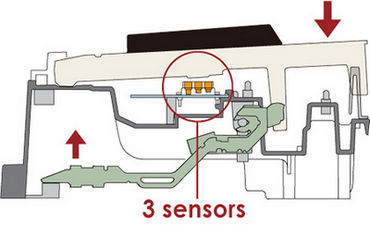 It also utilizes triple sensor technology, which is more commonly found in $1500+ digital pianos.
Each key has three sensors that sequentially detect each keystroke and facilitate playing thrills and pieces with a lot of note repetition.
The keys in the right-hand area feel "lighter" than the keys in the lower registers just as you would find on an acoustic piano.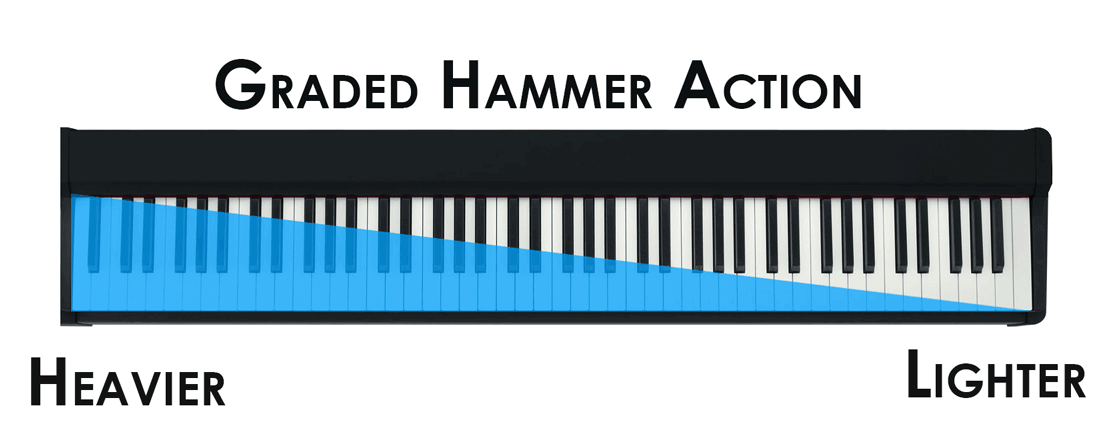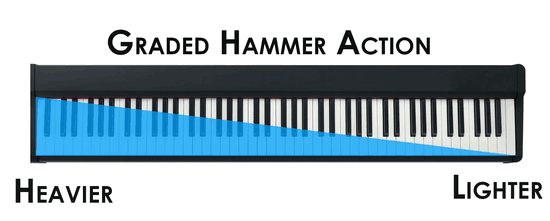 The keyboard is touch-sensitive and responds differently depending on the force of your keystrokes. When you play harder, the instrument will produce a louder sound and vice versa.
Moreover, you can adjust the level of touch-sensitivity within three preset settings: Light, Normal (default), Heavy.
You can also turn off touch sensitivity so that the keyboard produces the same amount of volume regardless of how hard or soft you play.
Another important feature of this keyboard is that the keys are covered with a textured material that simulates the feel of real Ebony and Ivory, which enhances control and helps absorb excessive moisture from fingers.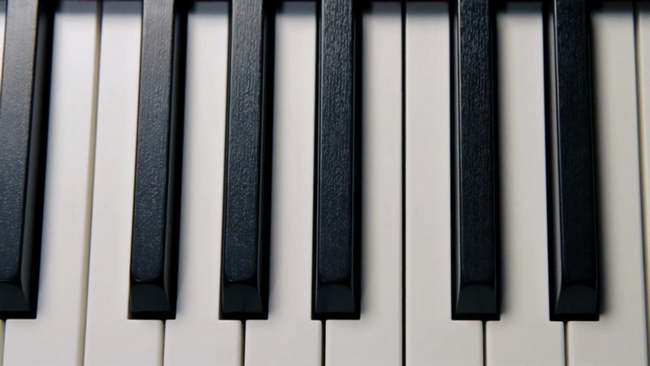 I definitely like it more than those generic shiny keys found in most digital pianos in this price range.
Tri-sensor hammer action II came out back in 2012 and has been very popular since then. To my taste, it beats Yamaha's GHS action in terms of realism and can give a good fight to Roland's PHA-4 Standard and Kawai's RHC action.
Sound
All Privia digital pianos feature Casio's proprietary Multi-dimensional Morphing AiR Sound Source, and the PX-560 is no exception.

The AiR sound engine uses 88-key multi-layered samples, which means each note of a grand piano was recorded several times at different volume levels to naturally reproduce a wide dynamic range of a grand piano.
Moreover, with this new generation, the AiR uses lossless audio compression. The memory capacity has also been increased by three times, which allowed Casio to use longer, higher-quality samples.
In total there are 650 built-in sounds that open a lot of possibilities for sound design, and actually, make the PX-560 similar to synths and workstations in that aspect.
But since the PX-560 is a digital piano in the first place, it has a really natural, rich piano sound.
There are over 20 different piano tones built into the instrument, which include Grand Pianos (Concert, Modern, Bright, Studio, Mellow), Rock Piano, LA Piano, Honky-Tonk, and more.
Unlike some lower-priced Privia models, the PX-560 also features Acoustic Simulator, which adds important organic elements to the sound and makes it even more realistic.
You can adjust the volume of damper resonance, string resonance, and alter hammer response according to your preferences.
Aside from piano, there are over 600 tones including some really cool electric pianos, organs, string ensembles, guitars, synths and many more.
Some tones are really good and realistic, others not so much and require some additional adjustments to make them sound a bit lusher and less dry.
But, to be honest, having all these sound customization options you can turn any of the preset tones into some really interesting and unique sounds and save them as your User Tones.
---
Sound Customization
Now let's talk about what sound parameters you can tweak and adjust to get the exact sound you want.
First of all, you get standard effects like reverb (17 types), Chorus (16 types) and Delay (6 types).
In addition, there are 20 so-called DSP (digital signal processing) effects that include a compressor, limiter, enhancer, phaser, rotary, tremolo, distortion, and more.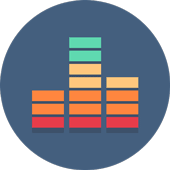 If that's not enough, you can use 4-band Master EQ to reduce or gain frequencies within particular frequency bands (low, mid1, mid2, high).
On the left side of the keyboard, you'll also find pitch bend and modulation wheel, which you can use to bend pitch and apply other effect in real time.
Okay, sound effects are good but what if you don't like the tone itself and want to make it better.
Well, in that case, you can edit the tone itself and save it as one of 200 User Tones. Yeah, that's right, the PX-560 offers a pretty impressive set of options to edit built-in tones.
There are dozens of parameters you can play around with to get to your "perfect" sound.
First of all, you can change the envelope of the sound, which includes initial level, attack, release, and depth of the envelope itself.

Then there are filter (cutoff, resonance, velocity sense) and amp (volume, velocity sense) parameters that can be also edited in the envelope mode.
LFO (Low Frequency Oscillator) editable parameters are applied to pitch, filter, and amp, and allow you to specify parameters such as wave type, pitch rate, delay, depth.
On top of that, there are portamento (for tone gliding) and pan parameters.
I could go on and on and on, it's really an impressive set of parameters that you can change and modify to create new tones and improve the exciting ones.
The cool thing is that you do all this editing using the big color touchscreen, which totally changes the experience of sound customization (in a very good way!).
The LCD just makes things much easier because you can see what changes you do to the sound (graphically), what parameters you adjust and how they alter the sound.
So, even if you never heard of terms like a sound envelope or LFO, you can still have a lot of fun playing around with these parameters and creating some pretty cool sounds.
---
Polyphony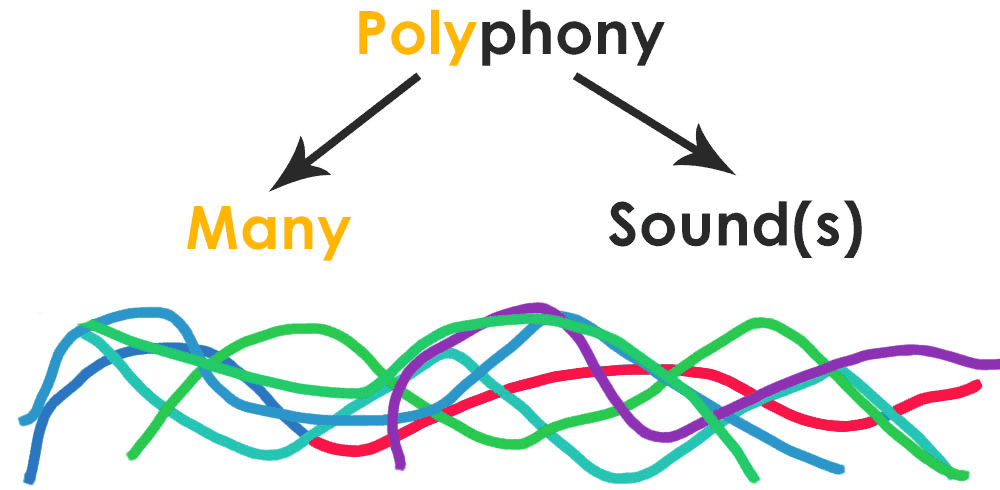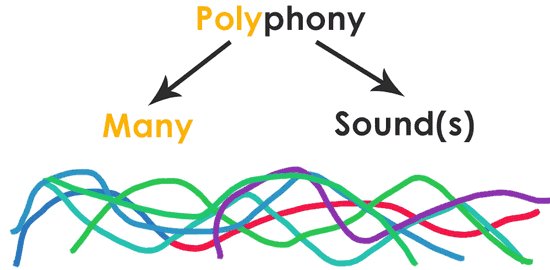 The Casio PX-560 has 256-note polyphony, which is pretty much the maximum you can get on a digital piano.
Only some Roland pianos have 384-note polyphony, but it's not to say that you need that much.
It's great that Casio offers 256-note polyphony in this keyboard because it makes it very easy to layer multiple sounds and sound effects without ever running out of notes, and hearing every detail of your performance.
---
Speakers
You'll hardly find a synth or a workstation keyboard with built-in speakers, but since the PX-560 is primarily a digital piano, it has a very decent sound system onboard.
There are 4 speakers (2 x 12 cm + 2 x 5 cm) with a total output of 16W.
It's not the most powerful speakers in the world, but it's more than enough for self-monitoring and light acoustic gigs.
In fact, some enthusiastic owners of the PX-560 measured its loudness and got 91.5 decibels (from about 3-foot distance), which is about the same volume you get on an acoustic piano.
The quality of the sound also made a good impression. Deep, powerful bass, and crisp high-frequencies allow for accurate reproduction for all kinds of music genres.
Of course, don't think that you'll get professional-quality audio from built-in speakers of a portable keyboard such as the PX-560, but for its size and power output, it sounds very decent, no questions asked.
Plus, you can always hook it up to a pair of good external speakers or a pair of headphones to get the best sound quality.
Features
Modes
The PX-560 offers impressive capabilities for layering and splitting multiple sounds.
Not only do you get Layer and Split modes for playing two different sounds at the same time, but also Casio's unique Hex Layer feature, which allows you to layer up to 6 different tones on top of each other, and fine-tune tons of parameters for each of them.
Layer Mode allows you to combine two different tones (including Hex Layer Tones) so that they sound simultaneously whenever you press a key. The volume balance between the tones can be adjusted.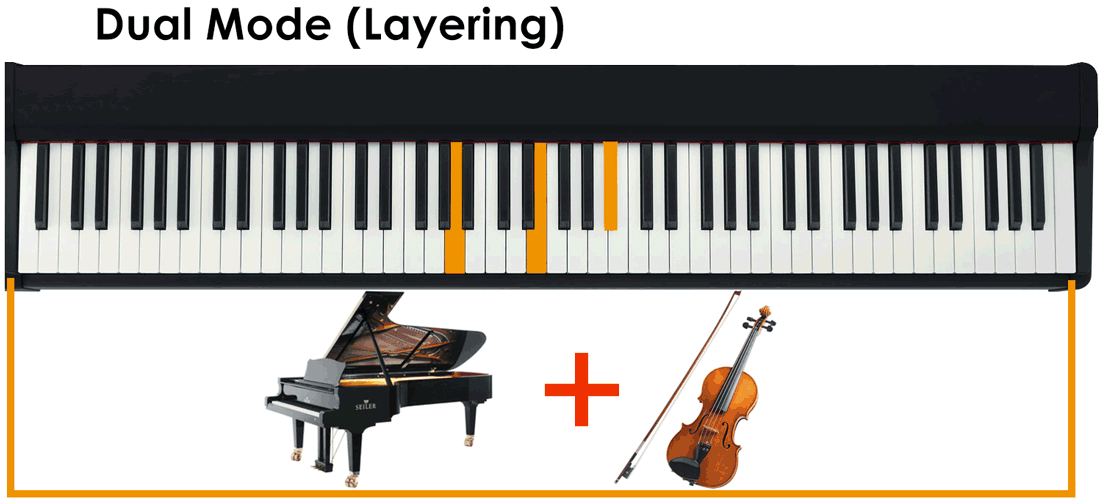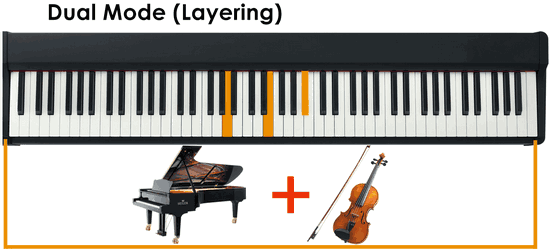 Split Mode divides the keyboard into two parts and allows you to choose a different tone for each of them, which means you can play one tone with your right hand and the other one with your left hand.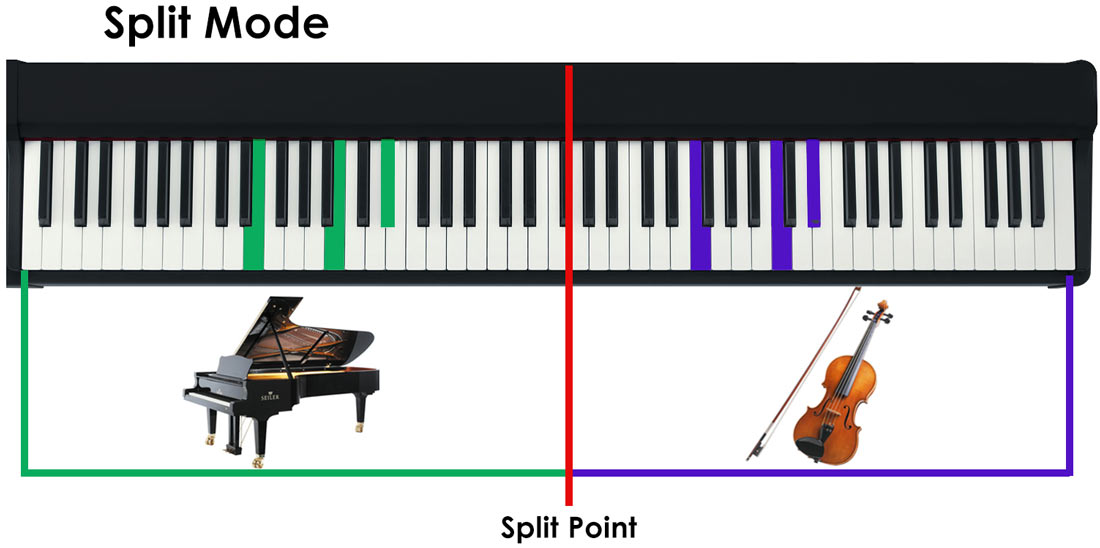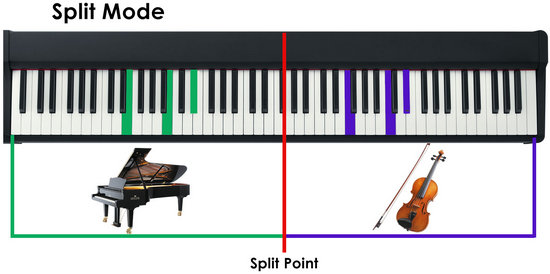 The split point can be shifted up and down depending on your needs.
Well, if you take two Hex Layer tones (each containing 6 sounds), layer them together (layer mode) and assign them to each side of the keyboard (split), you can get a total of 24 different sounds available at your fingertips at the same time.
What sets the PX-560 apart from synthesizers that also can do multi-layering is that you can actually adjust the pitch, amp, filter, LFO and many other parameters for each of the tones you're layering.
The best way to better understand how Hex Layer Tones work and what you can do with them is to watch the informative video below:
Another mode that's present on the keyboard is called Duet Play.
The mode allows you to split the keyboard into two equal sections each having the same pitch/octave range with its own middle C.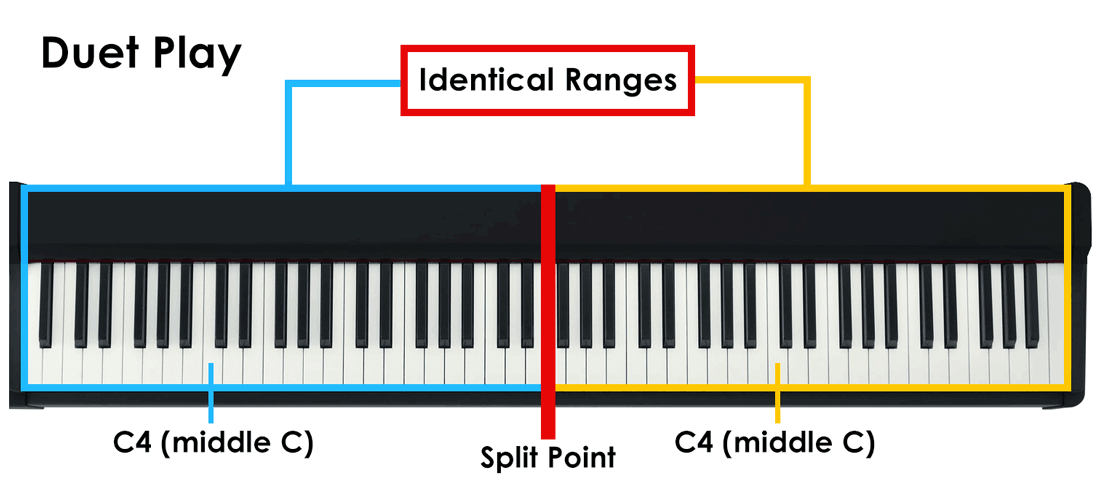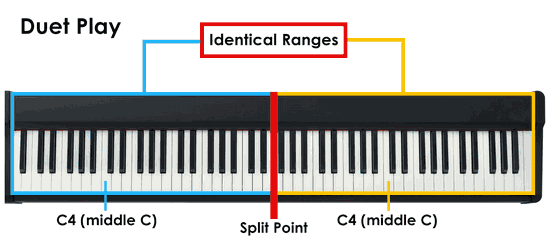 It's almost like having two pianos next to each other. You can use this mode to play piano duets or to use it with your tutor for practice.
One person can sit on one side of the keyboard and play some tunes, and the other one can follow along playing the same notes on the other half of the keyboard at the same time.
---
Auto accompaniment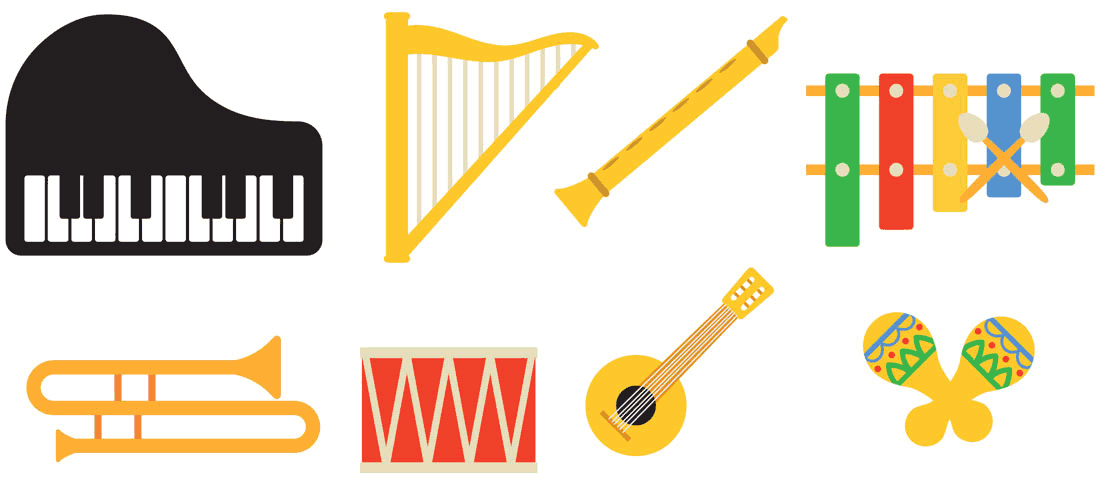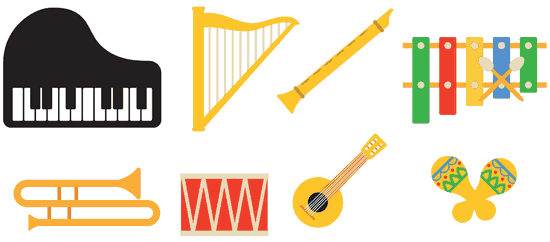 The PX-560 is equipped with an auto-accompaniment function, which offers 200 styles that cover a wide range of music genres.
Just pick a style from the list, and the matching accompaniment (drums, guitar, etc.) will be played whenever you play a cord with your left hand.
There are six auto-accompaniment patterns including intro, normal fill-in, variation fill-in, ending. You can customize them and switch between them during your performance.
By default, to manage the backing band, you need to specify chords with your left hand, but it isn't the only option.
The PX-560 offers 5 chord fingering modes you can use for chord specification:
The PX-560 has 305 built-in music presets that make it much easier to find the best settings for your performance. Each music preset is optimized for a specific music genre and provide you with the optimal tone, rhythm, chord settings for that particular genre.
---
Recording and Playback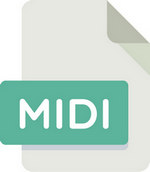 Not only does the PX-560 share some traits of synthesizers but it also can serve as a powerful sequencer. There are two types of data you can record with the PX-560.
The onboard MIDI Recorder allows you to record up to 100 songs (up to 16 tracks each) and save them in the internal memory.
Each time you're recording a track you can choose to play all the previous ones you've already recorded.
Once you've recorded all the tracks you want, you can either play them back together as one song or mute certain tracks if needed.
If you want to improve or correct a specific part of the song you can easily do that using punch-in recording, which allows you to rerecord a specific part of a song without changing anything else.
If you want to record the actual sound (audio data) of your performance you can use the built-in Audio Recorder, which records the sound in .WAV format (16bit, 44.1kHz, Stereo).
The great thing is that you can play back a song you recorded with the MIDI-recorder while recording your performance in audio format.
After you've recorded the audio file, it will be saved to a flash drive, which you'll need to connect to the keyboard's USB type B port (audio recordings cannot be saved to the internal memory)
The advantage of an audio recording over a MIDI recording is that the audio file you get in the end is much easier to play back on smartphones, mp3-players, and other devices.
MIDI songs, on the other hand, can be played either from the instrument itself, or from a computer using software that can interpret MIDI data.
The PX-560 supports playback of SMF (format 0/1) and WAV files directly from a flash drive.
---
Other Features
Arpeggiator
The feature is not commonly found in digital pianos, but as you may have already understood, the PX-560 is not an ordinary piano. So what does the arpeggiator do?
It takes the notes you play and repeats them in a pattern creating an arpeggio.
So for example, you can play a chord and what you'll hear is an arpeggio where the notes are played in a sequence (one note at a time).
The arpeggiator can be used in many different ways starting from arpeggiating the chords you play and ending with creating various arpeggio effects and percussion patterns.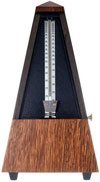 The built-in metronome has adjustable tempo, beat, and volume.
There are also such standard features such as transpose, tuning, and octave shift function, which you can use to shift the pitch of the entire keyboard up and down in semitones, octaves, or 0.1 Hz increments.
Connectivity
The Casio PX-560 offers a whole range of ports and jacks for connecting to various external devices.
On the left side of the keyboard, you'll find two stereo mini jacks (3.5 mm) that you can use to plug in up to two pairs of headphones at the same time.
The headphones will shut the onboard speakers and allow you to practice at any time without bothering others around.
On the front panel, you'll also find a USB type A port, which is where you'll need to plug in your flash drive to save audio recordings or play back songs.
The rest of the connectors are located on the rear panel.
There you'll find USB type B port, MIDI In/Out terminals, Line In jacks, Line Out jacks, Audio In mini jack, damper pedal jack, and assignable pedal jack.
The USB type B port is what you'll need to hook up your keyboard to a computer or a mobile device to exchange files or MIDI data.
By doing that, you'll be able to take advantage of various music apps that will further expand the capabilities of the PX-560, whether it's learning apps like FlowKey, or music production software like GarageBand and LogicPro.
For computer connection, you'll separately need to buy an A to B USB cable, which doesn't come with the keyboard.

In the case of iPhones and iPads, you'll need the Lightning to USB Camera adapter, which is a bit more expensive than A to B USB cables.
MIDI In/Out 5-pin terminals come in very handy when you want to exchange MIDI data between the PX-560 and other musical instruments or MIDI-devices.
Since the PX-560 is equipped with dedicated Line Out jacks, you'll be able to connect various audio equipment such as speakers, amplifiers, mixers, etc., to it, which is especially important if you're going to use the keyboard on stage.
The PX-560 even has Line In jacks, which means you can connect other musical instruments and devices to the PX-560 and mix them with your performance.
The Audio In jack works similar to the Line In jacks, but instead of the two standard 1/4" jacks, you get one stereo mini jack, which is far more common for mobile devices and mp3-players as an output jack.
And in this case, you'll only need a 1/8" Male to Male cable to connect your device to the PX-560 and play songs stored on it through the piano's onboard speakers.
Finally, there are two pedal jacks that can be used to plug in a sustain, soft, or sostenuto pedal.
Assignable pedal jack can also be used to connect an expression pedal to control the volume of sound effects. In the "Pedal Edit" settings you can assign which parameter you want to control using the pedal connected to this jack.
Accessories
Stand and Pedals
The Casio PX-560 comes with the SP-3 sustain pedal. It's a very basic box-style footswitch that looks and feels nothing like a real piano pedal.
Its main advantage is that it's very light and portable, so it would be a great pedal for musicians on the go.
For home use, I'd definitely recommend getting something sturdier and more realistic, especially if piano playing is your main focus.
The M-Audio SP-2 would be an affordable yet high-quality alternative to the included pedal, which features a piano-style design and more accurately reproduces the feel of an acoustic piano pedal.
For the PX-560 and some other Privia models, Casio also offers the CS-67P furniture-style stand and the SP-33 triple pedal unit, which would be a perfect choice for home use.
Right now, there's a very attractive deal available on Amazon, where you can get a bundle with the CS-67 stand + 3-pedal unit + bench for not much extra.
---
Bag
Since the PX-560 is a very popular choice for gigging musicians I thought it would be a good idea to list some of the keyboard bags I recommend for this keyboard.
For light travel and those on a budget, I couldn't think of a better option than Casio's branded PRIVCASE Privia Case , which is a great casual bag with enough padding to not worry about scratches during transport.
If you're willing to invest a bit more money to get a higher quality bag with thicker padding and an additional compartment for accessories, you may want to consider the Gator GKB-88 SLIM bag.
For long-distance travel by plane or train take a look at the GTSA line of Gator hard cases. The Slim 88-Note modification should fit the PX-560 just fine.
---
Headphones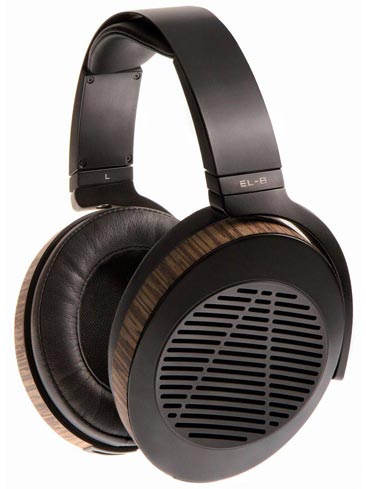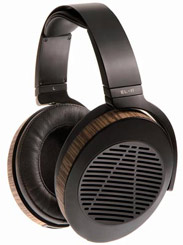 Headphones come in very handy when you want to practice in private, focusing solely on your playing and not disturbing others nearby.
Moreover, a good pair of headphones will provide a clearer and more detailed sound compared to the onboard speakers.
Check out this guide to learn how to choose the best-sounding headphones for your digital piano.

Summary
It's time to draw some conclusions here and share my personal thoughts about the instrument.
First off, the Casio PX-560 proves one more time that Casio has an edge in the entry-level and mid-range piano segment and arguably provides the best bang for the buck compared to other manufacturers.
At this price point, you'll hardly another digital piano that would have that many synth and arranger features combined with a really good piano sound and natural 3-sensor key action.
Since the PX-560 is kind of a combination of a workstation and a digital piano, it's a very versatile instrument that can handle various musical situations starting from solo piano playing and ending with music production and live performances.
Obviously, if you're looking for an instrument mainly for piano playing and don't need those multiple sound customization and editing options, the PX-560 would probably not be the most reasonable choice for you.
For example, the PX-360 model, which is identical to the PX-560 in terms of piano playing and shares a lot of features with it, has slightly fewer adjustable parameters and simpler controls.
In particular, the PX-360 has no arpeggiator, no modulation wheel, no assignable knobs, no hex layer feature, and 128 notes of polyphony instead of 256.
So overall it's a bit more straightforward and affordable keyboard but just as capable when it comes to piano playing and not too technically complicated gigs.
Check the availability and current price of the Casio Privia PX-560 in your region:
Alternatives
Casio PX-560 vs  Casio PX-5S
The Casio PX-5S is probably the first alternative to consider if you're looking primarily for a stage piano rather than for a home instrument.
The PX-5S is the only stage piano in the Privia series. A lot of musicians who liked Privia pianos but needed something more stage-oriented were very excited when it first came out.
Even though the PX-560 isn't a direct successor of the PX-5S, it's kind of an improved version of it.
While it inherits a lot of features of the PX-5S, it also offers a bunch of new features and upgrades that weren't present in the PX-5S.
Still, the PX-5S remains a very popular choice among gigging musicians, and when it comes to live performances, this keyboard beats the PX-560 is some aspects, providing more options for real-time control and mixing.
First, let's start with the main advantages of the PX-5S over the PX-560.
Now let's talk about what upgrades and improvements come with the PX-560 and why you might want to consider it over the PX-5S.
As for the rest, the pianos are pretty much the same. When it comes to piano playing experience, the pianos are nearly identical.
They share the same Tri-sensor Hammer Action Keyboard II and piano sounds sampled from a 9-foot grand piano (+ string resonance, damper resonance, key off simulation, etc.)
So which instrument is better?
Well, this, of course, depends on how you're going to use your keyboard.
For home use, you'd probably be better off with the PX-560 that has onboard speakers, built-in rhythms, 16-track recorder, and 5.3" touchscreen.
On the other hand, if you're looking for a stage piano, don't need any built-in speakers, and want as many options for sound control, mixing, and layering sounds, the PX-5S seem like a better option.