If you've been a musician for a while, you probably remember Korg's classic SV-1.
This popular stage piano has graced many bars and stages across the world, mainly thanks to its striking looks and good feature set for the time.
However, anyone who's spent time with it will probably be able to identify a few issues. At this point, most problems can be attributed to its old age, but it's quite impressive to find the SV-1 topping sales charts and wishlists, especially since there are far better options out there.
And before we dive into the details, here is one of my biggest red-flags about the SV-2. The Korg Grandstage exists, and has the same MSRP as the top-tier SV-2, which puts them in direct competition with each other.
Both instruments don't just have similar feature sets, they even sound alike. Throughout the review, I'll try my best to highlight the differences between the two.
Considering our praise for the Korg Gradstage, it'll be interesting to see how the SV-2 stacks up. With that out of the way, let's dive straight into the review, and find out if the SV-2 is worth it.
Korg SV-2 / SV-2S Specs
Real Weighted Hammer Action 3 (RH3)
88/73 full-size fully weighted keys
Touch Sensitivity: 8 velocity curves
Sound Engine: EDS-X (Enhanced Definition Synthesis – eXpanded)
72 Preset Tones (6 base sounds x 2 sets of 6 variations)
128-note polyphony
Modes: Layer, Split
Effects: EQ, Modulations, Reverbs, Delays, Amp Simulation, Vox Wah, Vibrato, Tremolo and more
Speakers: 2 x 15W  (SV-2S only)
Connections: USB to Host (type B), MIDI In/Out ports, 2 x XLR balanced outputs, 2 x unbalanced outputs (1/4″), headphone output (1/4"), 2 x line inputs (1/4″), 3 Pedal inputs (damper, expression, footswitch)
W x D x H: 53.4" x 13.7" x 6.2" (135.6 x 34.7 x 15.7 cm) – 88-key version
44.9 lbs (20.4 kg) – SV-2 88 | 47.3 lbs (21.5 kg) – SV-2S 88
Release Date: February 2020
Full specs can be found on Korg's official site here
Check the availability and current price of the Korg SV-2 in your region:
Design
The Korg SV-2 comes in 4 variants. You can choose between 73- and 88-key variations, which in turn, have variations with speakers, and without.
Apart from that, the only difference between each variant is the weight, dimensions, finish, and key count.
Our review is mainly based around the 88-key Korg SV-2 with speakers. Having speakers on our unit didn't affect the weight too much either.
As mentioned in the comparison chart above, adding speakers increases the weight by a negligible amount, barely passing the 47 lbs (21 kg) mark. The weight is in line with the other stage pianos, so things seem standard so far.
What sets apart the Korg SV-2 is how it looks. While it's hard to usurp the unmistakable silhouette of the Nord keyboards, the SV-2 still manages to turn heads with its sleek, curved retro styling.
In my opinion, Korg's instruments generally go with functional looks over something striking. I personally wouldn't consider the Kronos or Grandstage particularly eye-catching, so the SV-2 serves as a great trend breaker.
The distinctive curved top panel is probably the most recognizable feature of Korg's SV lineup, and despite having added speakers on my review variant (something the original didn't have), it still manages to look coherent.
Props to Korg's designers for handling this part well.
On to build quality, the SV-2 is generally very good (though with one major flaw).
The same sense of quality is retained with the knobs and buttons. The distinctive retro styling isn't just for show, as these controls have a good amount of heft and feedback to them, making every movement precise and tactile.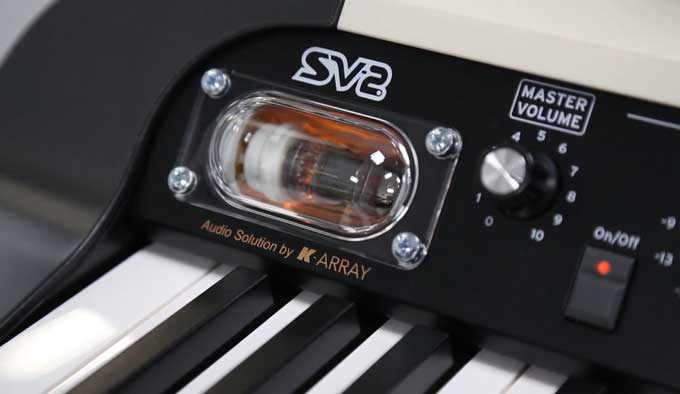 The other defining feature of the SV-2 is the tube valve located to the left of the front panel. On the original SV-1, many debated as to whether the tube actually affected the audio signal (it did), but many saw it as a simple cosmetic gimmick. Especially since it was prone to breaking down over time (as you'd expect from any valve tube).
With the SV-2, the tube seems to have been improved. This time, the tube tends to run less hot, with the illumination effect being strictly LED-based.
While it's still somewhat of a visual gimmick, the warmth it adds to the audio signal is worth it. It's hard to say how long the tube will last, but even the SV-1 averages multiple years before needing servicing, so you should be in good hands.
The big flaw in build quality I mentioned is the bottom of the SV-2.
While the rest of the body is generally sturdy, its underside uses cheap-feeling particleboard, the same materials used in the original SV-1. This isn't visible from the audience, but I do suggest being extra careful when moving it around, as MDF boards aren't known for being very sturdy.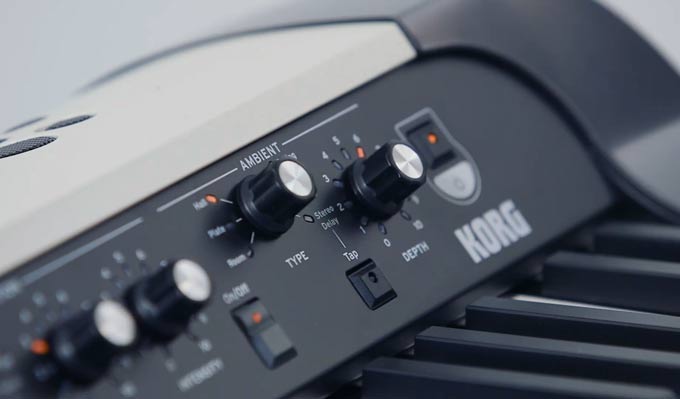 The control scheme is also well-designed overall. With a focus on hands-on control, the front panel is laid out in a way that makes a lot of sense.
You don't need to have the user manual with you to use this keyboard, and that inherent intuitiveness is something I really do like.
If you've tested out the Korg Grandstage, you might find yourself having a sense of deja-vu, and that's not a bad thing. The straightforward nature of the Grandstage is something we liked, and having an added layer of retro-styling does add to the novelty factor.
The problems I have with the controls are some unintuitive design choices.
For example, if you have a 3-voice sound designed using splits and layers, mixing each individual sound's volume isn't straightforward, as you need to push down on the equalization knobs for a second before being in mixing mode, which seems clunky.
You need to use the software editor to make a lot of changes that are seemingly commonplace, which seems to be strange. The reliance on external software isn't necessarily bad, but I wish the 'hands-on' approach was followed through entirely.
Finally, you don't have pitch bend or modulation wheels, a downright sin for stage-focused instruments. This is somewhat understandable considering the sound library included on the SV-2, but it would be great to have a mod-wheel for controlling organ rotary speeds, or a pitch bend wheel to use external synthesizers alongside the SV-2.
Depending on how you use a stage piano, these might just be minor gripes, but I find them somewhat unacceptable, especially since most other stage pianos (and even budget keyboards!) have controls nailed down to a T.
All in all, you're getting a beautiful, well-built, and hands-on focused stage piano, though there are a few caveats here and there that you should consider.
With that said, if you primarily want an eye-catcher, the Korg SV-2 still has one of the most iconic silhouettes out there.
Keyboard
Much like most of Korg's other high-end instruments, the SV-2 uses Korg's RH3 keybed, which is the exact same keybed found on the Korg Grandstage we reviewed previously. The same keys are also found on the original SV-1.
For reference, the same keys are also used in Korg's cabinet-style digital pianos, so while their age might imply that they're outdated, don't be fooled. These are tried and true actions that we've praised multiple times prior.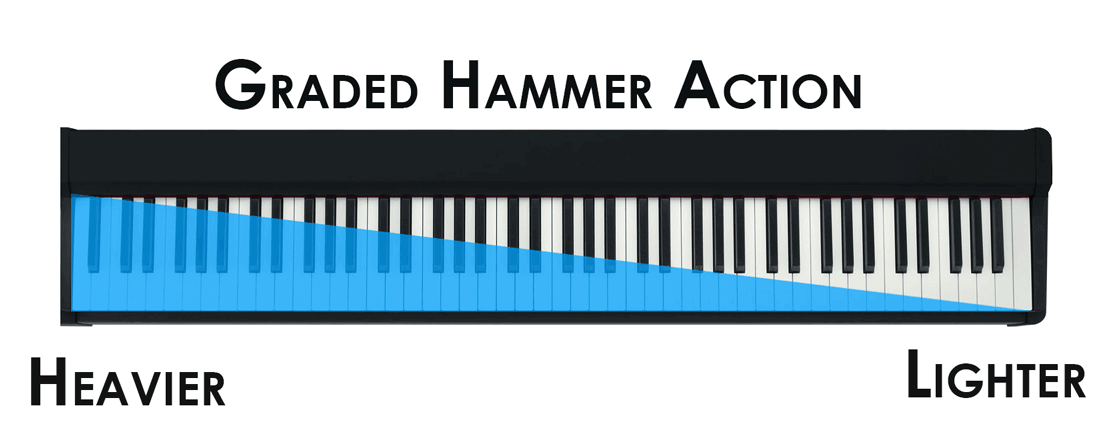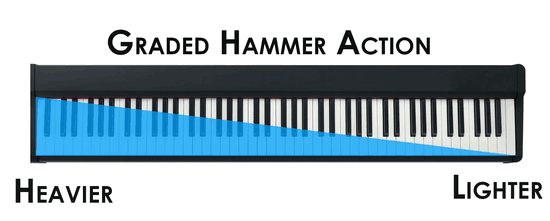 The keys are made in Miyama, Japan, and feature a graded action, meaning keys at the lower end are heavier than those in the upper range.
While some might bemoan the keys being purely plastic, I find that they feel just as good as the hybrid wooden keys found on Roland and Yamaha's similarly priced stage pianos.
How the keys feel is the most important aspect, and while this action is more than a decade old, it still remains one of our personal favorites.
The white keys have a synthetic glossy acrylic top, whereby the black keys use a matte black finish. This semi-textured feeling gives off a more premium vibe, and also adds a bit of slip-resistance, which is something people with sweaty hands will appreciate.
Depending on how ingrained your muscle memory is, you might notice the slightly shallower key travel of the RH3 action. These keys have a 1 mm decrease in depth, which is unnoticeable to me, but might be worth noting if you're a purist.
When it comes to acoustic and electric piano parts, the RH3 action is at its best. With synthesizer and organ parts, I find myself wishing the keys were slightly lighter but then again, synth and organ sounds aren't the focus here, so it's understandable.
Before we end this section, you should know that you're also missing aftertouch. This isn't a huge deal due to the lack of focus on synthesizer sounds, but it's still something worth noting, in case you wanted to use the SV-2 as an external instrument controller.
Sound
While the SV-1 sounded good at the time, it does show its age when pitted against modern keyboards and pianos. Thankfully, this is rectified in this new updated version.
The SV-2 uses an upgraded version of the previous EDS synthesis engine, known as EDS-X, and the improvements over the decade-old sounds is clear as day.
The sounds on the SV-1 were of a lower sample quality than we'd expect from modern era digital pianos, and it showed. Particularly, the piano sounds were lacking in terms of sustain time and definition, which put it at a disadvantage when compared to its more modern counterparts.
With the SV-2 and its expanded 72-sound preset library, you're getting double the amount of sounds of the original SV-1.
A complaint many had with the original was the feeling of being limited, and 72-sounds is quite a lot to work with, especially since they feature improvements in Korg's sound generation technology over the years.
You might be wondering why Korg didn't use the same SGX-2 and EP-1 engine used in the Korg Grandstage. This difference is one of the main differentiating factors between the two, and as such, I was curious to see how different things would be.
However, doing this review soon after I worked with the Grandstage highlighted a few similarities in sonic quality, as both instruments sound extremely similar. Considering how good the Grandstage sounded, that's a definite plus in the SV-2's favor.
---
Pianos
For acoustic pianos, Korg includes 24 variations split across 2 banks, which include your bread and butter Bosendorfers (Austrian), Steinways (German), Yamahas (Japanese) and many more.
Most of the grand pianos are sampled with multiple microphones to fully capture the sense of scale, and also include modern software-side features like string resonance, pedal noise, and other minute details that add to the lifelike quality of the sounds.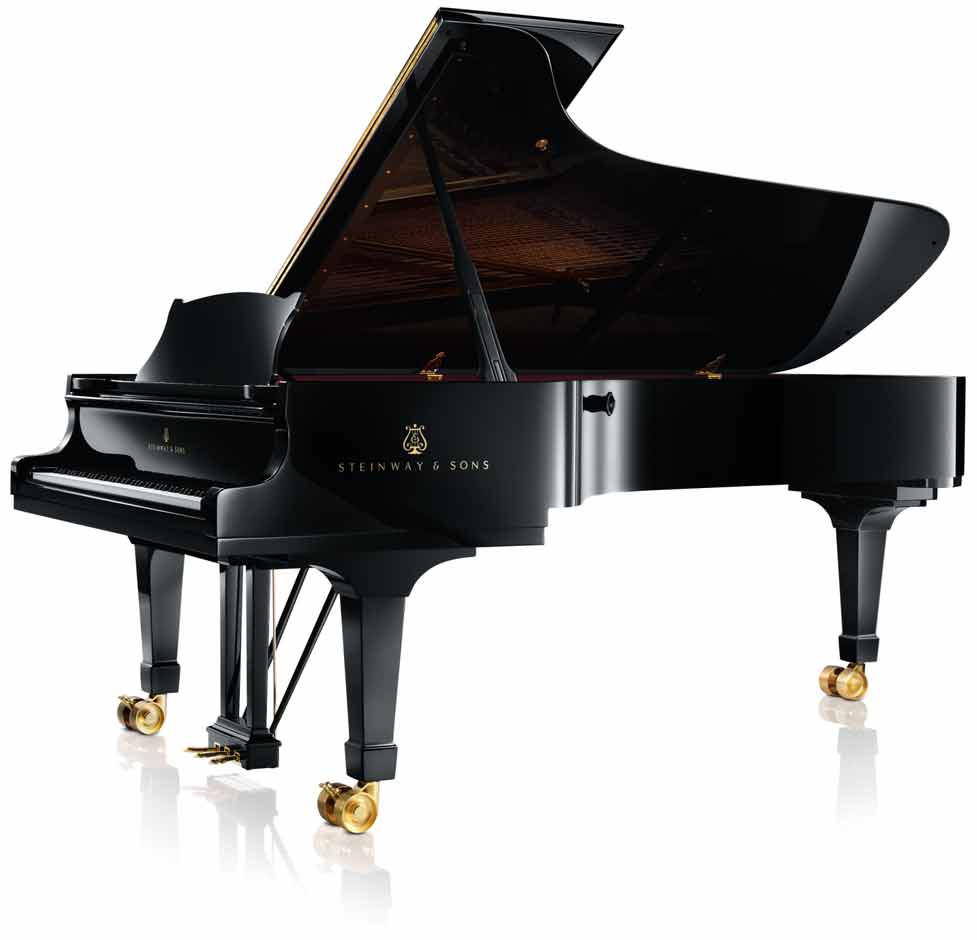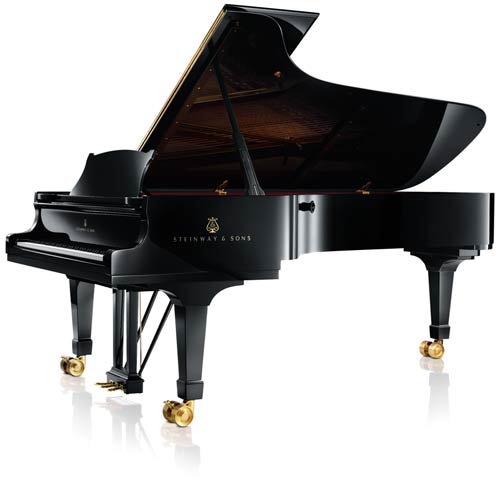 As usual, I find myself liking Korg's 'Japanese Grand' preset most often. This isn't outright stated, but I suspect this is a sampled Yamaha C-series concert grand, which is well known for its clean, never-overpowering sound that easily adapts to most genres and playing situations without requiring too much effort on mixing.
That's not to say the other sounds are bad. The default sound is the 'German Grand', which is likely a Steinway concert grand, and features the brand's signature massive, yet controlled sound.
The deeper, booming sound of the 'Austrian Grand' preset might also appeal to people who play classical pieces.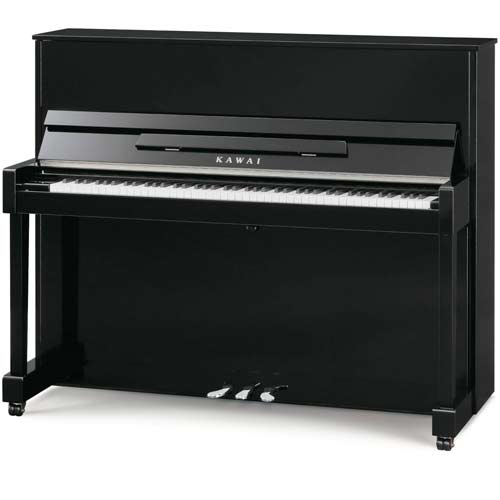 There are also upright acoustic piano variations if you want a more intimate sound, and these feel quite a bit better than the original sounds off the SV-1.
These manage to recreate the ambience you'd want from a real upright, and when coupled with the right reverb settings, these can sound very realistic.
Most of the pianos have ambient noise as a separate mix channel too, which allows you to control how loud you want your pedal and key noise to be.
While I didn't find much to complain about with the defaults, you could just as easily tweak it to fit your personal preferences.
Finally, it's also worth talking about the less conventional sounds on the Piano 2 sound bank. These aren't sampled from true acoustic pianos, but they're still worth looking into for genre specific requirements.
Notable inclusions here are the Electric Grand, which seems to be an old Yamaha CP-80, which has an iconic hollow tone that works wonders when used as a ballad accompaniment.
There's also the classic Korg M1 Piano, which was ubiquitous in old-school dance tracks thanks to its uniquely dynamic, yet level tonality.
Essentially, if you're primarily a piano player, the Korg SV-2 has a great selection of sounds for you to work with, and most of them sound great.
---
Electric Pianos
Of course, no stage piano is complete without including the classic electric piano sounds. There are, again, 24 sounds split across 2 banks, and I had high hopes for these sounds going in.
The original SV-1 was well known for pulling off some great EP sounds, especially when used alongside the built-in valve amplifier.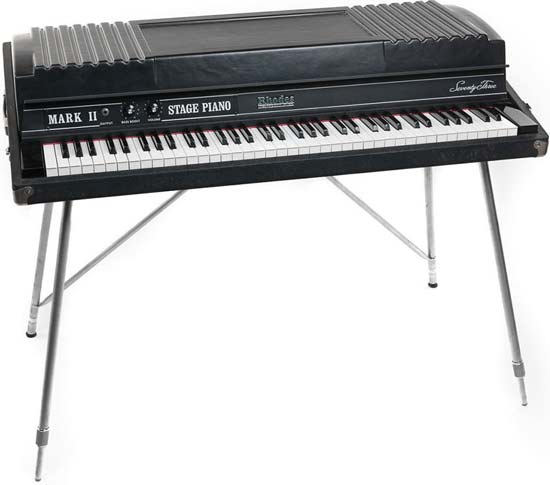 The 1st bank delivers on its heritage beautifully and is likely the main reason you're even looking into the SV-2. This sound bank features your Rhodes and Wurlitzers, and boy, there are a lot of them to work with.
Something many manufacturers fail to capture is the inherent buzz of keys returning to their initial position, but Korg delivers.
The noisier tones of the reed-based Wurlitzer are also included, and they sound great, with a bit of inherent distortion expected from a pre-amped signal. These, when used in conjunction with the amplifier simulator, deliver a driven, punchy sound that can fit right into rock songs.
While I personally prefer cleaner, 'smooth' Wurlitzer samples (such as Yamaha's), it's really a matter of personal preference.
I'd be hard pressed to believe that this isn't the same EP-1 sound engine featured on the Grandstage. The same sound qualities I loved from that instrument are recreated here.
The other half of the EP sound bank are the synthesized EPs, and I'm glad to report that they retain the same degree of quality as their electromagnetic counterparts.
When we think of synthesized EPs, the obvious one that comes to mind is the classic Yamaha DX-7, with its sound that ruled the pop music of the 80s.
That's included here, and from what I can tell, it's emulated through synthesis, rather than being sampled. Regardless, it does sound authentic, and will likely be used as a layer during your ballad song playthroughs.
This bank also features the German-made Pianet, which is a less conventional electromagnetic piano sound, which retains the Wurli-style sound, while having its own unique edge. I don't see myself choosing this over the previous presets, but options are of course welcome.
---
Claviers
I'm not the biggest fan of Clavs, but the general consensus about the included Clavs is that they're pretty good.
To get the best effect out of these sounds, you'll need to work with the amplifiers and filter effects to nail down the right amount of 'wah' and bite.
I managed to get a satisfactory tone with a bit of fiddling around, but I can't necessarily attest to the authenticity of the sounds. If clavs are your main thing, do try out the SV-2 yourself.
This bank also features harpsichords and organs. The former are what you'd expect, and not really too much to write home about. I'm not exactly sure how many people use harpsichords on stage, but it's there if you want it.
The latter is what's truly impressive. You get decent emulations of Rock, Jazz, and pipe organs, as well as an emulation of a VOX Continental organ.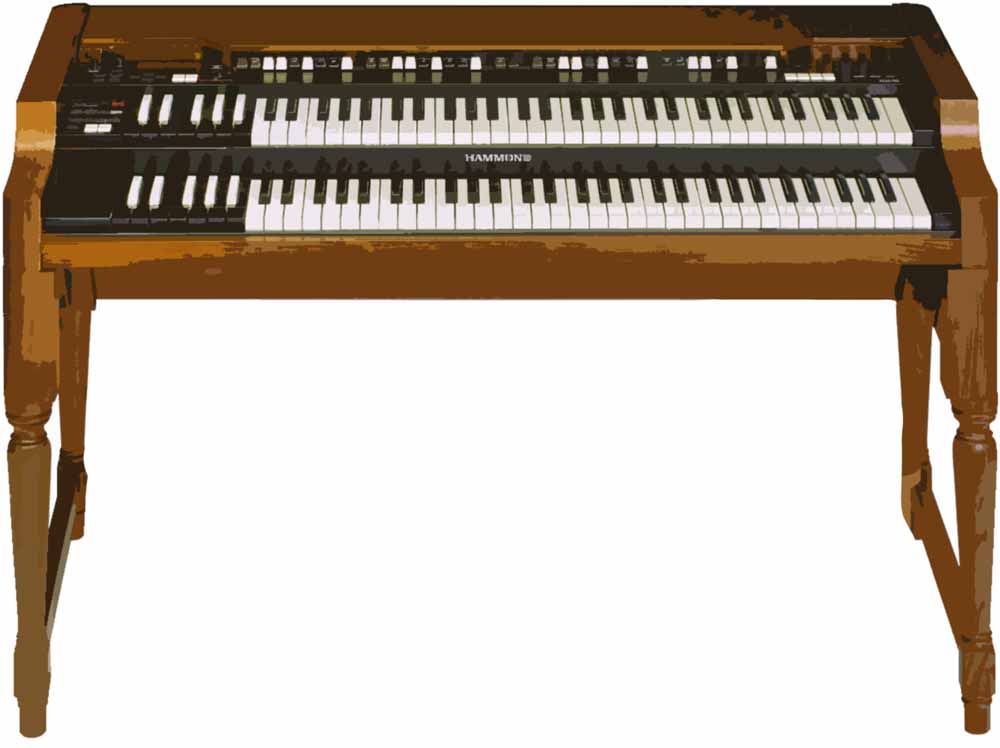 These are all fairly realistic, especially the VOX model. Korg owns VOX after all, and they just released a revision model of the Continental back in 2017.
The problem with the organs here is the lack of any physical drawbars, or even a mod wheel. While I can accept not being able to manipulate harmonics on the fly, I wish I had a bit of control with regards to the rotary speeds.
---
Other Sounds
This bank generally focused on sustained, orchestral sounds that are rich in harmonics to enhance other sounds.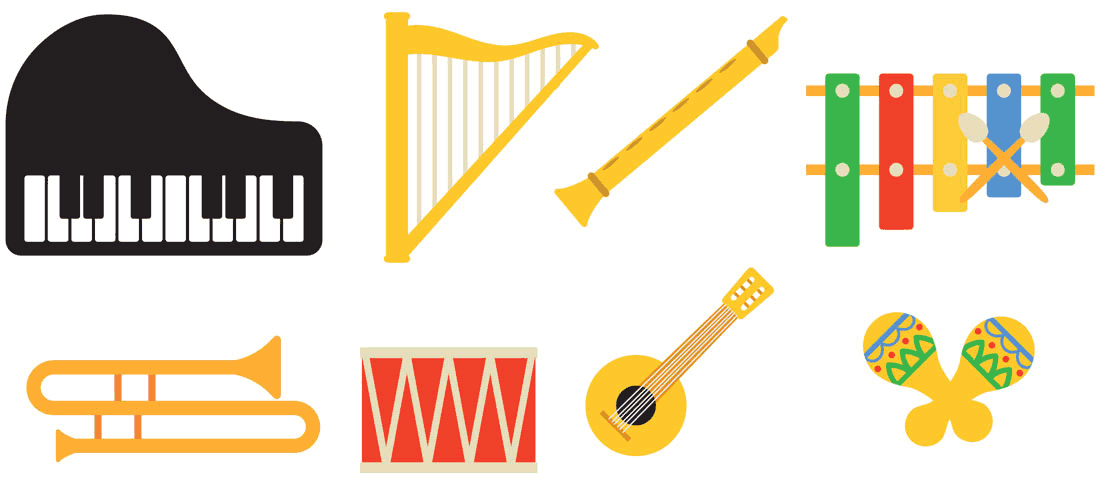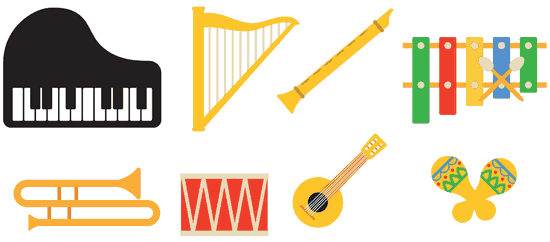 Strings are featured here, and are nicely sampled. While I wouldn't say these sounds are ready to be used in trailer music composition, they are perfectly functional for layering over other sounds.
While it's cliched, I often use these layered with the piano sounds to get that typical ballad tone.
The pads are described in the manual as being 'typical', and that's an apt description.
I feel it's a bit of a missed opportunity to not have these pads be more harmonically rich, but then again, if that's what you were after, you probably shouldn't be buying a key-instrument focused stage piano.
Finally, there's brass, and also some pizzicato strings here for some added variation if you want.
---
Effects
We already talked about how the SV-2 uses a more hands-on control scheme.
Most of these controls modify the effects, so let's talk about those effects.
We'll be covering things in a linear way, following the signal chain which your sound signal runs through. For the sake of conciseness, I won't be discussing the individual effects in detail, but just know that all of them are great.
Korg makes excellent effects, and you're in good hands.
Your sound first goes through the 3-band equalizer. These bands are bass, mid and treble, and allow you to switch between boosts of cuts in increments of 3 dB.
While it's not as good as the Roland RD-2000's parametric equalizer, it's still a good way of doing some on-the-fly mixing.
Next, your sound goes through the Pre-FX section, which emulates stompbox effects.
These include a compressor, booster, U­Vibe, vibrato, tremolo or wah. The wah pedal also includes auto- and pedal-variations, switchable with a dedicated button.
These are all commonly used effects that see use with electric pianos.
For example, you might want to add some tremolo for movement, or boost the input signal for some added drive.
Next, your signal runs through the valve-supported amp simulations. The valve tube that lights up is linked to this audio signal chain, which gives sounds a certain warmth when you engage the amp sims.
Guitarists should know that tube-based distortion is really pleasing, and when you use these amps alongside the electric pianos, your playing dynamics is further emphasized.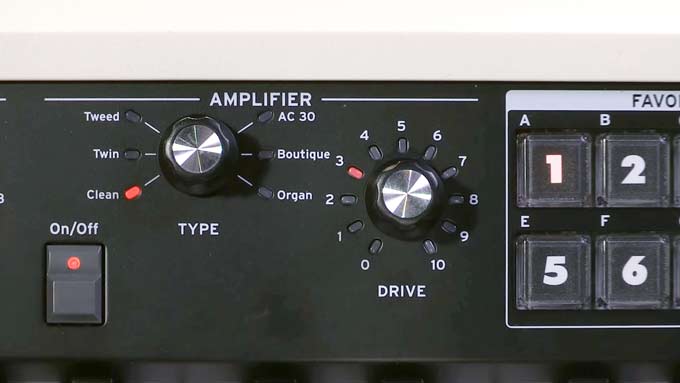 There are 6 included amplifier models, including a fairly accurate representation of the classic VOX AC30. Using the knob to switch between each of the models is an efficient way of auditioning presets, and the Drive knob then allows you to dial in specific overdrive amounts.
After running your sounds through the amplifier simulation, the signal then gets passed through the valve tube, before running through a cabinet sim.
The cabinet sim is linked to the amplifier type, but you can edit this through the software editor. I do wish I had a way of modifying this with the front-panel controls though.
The modulation section is next, and it features 3 chorus variations, a phaser, a flanger, and a speed-switchable rotary speaker. This adds a subtle sense of space or movement to your playing.
Finally, your sounds run through an ambience effect, which contains reverb and delay effects. There are room, plate, hall and spring reverbs, whereas there are tape echos and stereo delays too. The delays can be synced to a tempo via the tap button.
While I wish I had the ability to engage both a delay and a reverb simultaneously, that's really the only true complaint I have.
---
Software Editor
I usually cover external software in the Features section, but I think the bundled editor software merits its own section here.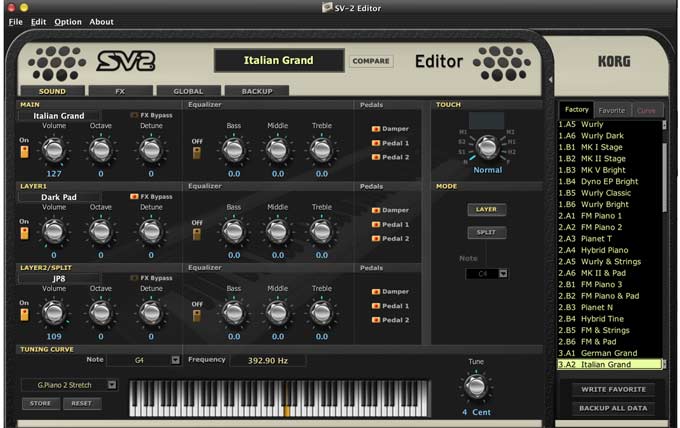 I talked about how you need to use this to customize split points, and as I mentioned in the Effects section, the software editor also gives you the ability to change cabinet simulators, but that's only the tip of the iceberg.
If you've used Native Instrument's Kontakt before, this interface should be familiar.
You stack instruments and effects in a rack-style interface, and many knobs are available to be turned via your mouse clicks for parameter modification.
If you do decide to dive into the details, the software editor is way more fully fledged than you'd expect.
For instruments, you get to choose from the massive list of included presets, which includes synths, guitars, orchestral instruments and more.
These aren't accessible from the main SV-2, so you'll have to save these into favorite sections. Also, most effects have in-depth editing options that are not available from the front panel.
For example, you can manually tweak the resonance of phasers and flangers, or control the individual bands of an amplifier.
I'm not even discussing the impressive selection of amps and cabs either, there really is an immense amount of customization to be had.
I wish Korg included these editing features on the front panel controls SV-2, though I understand that sacrifices had to be made for simplicity's sake.
The big problem I have is the lack of mobile app support. I expected something like Casio's Chordana Play app, which would make things more accessible, and perhaps even allow changes to be made on the fly.
At the very least, you can audition sounds easily when connected, so you can hear your changes simultaneously while editing.
As it stands, the software editor is an impressive, arguably integral part of the SV-2, and it's mind-boggling that it isn't highlighted on any of the marketing materials.
---
Speakers
The SV-2 variants with speakers (SV-2S) comes with stereo 15 W speakers, each being 2.5" with a 3" passive radiator.
Speakers are very important for digital pianos built around home-based use, but the same doesn't apply for stage pianos.
If you're on stage, two things are important, namely sound projection and self-monitoring.
Most stage pianos opt to forgo speakers. After all, if you need to fill a room with sound, you'll either be using a PA system, or an amp-cab combo for the best effect.
However, if you do end up getting the variations of the SV-2 with speakers, you do get quite a lot of bang for your buck.
As we discussed previously, the speakers don't add much to the weight, so portability isn't affected too much.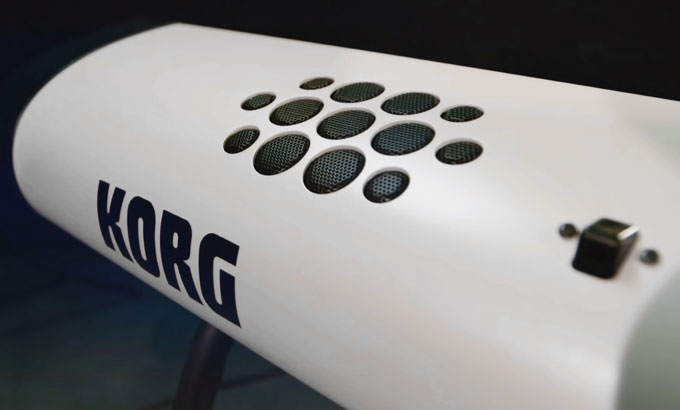 What you do get are top-firing speakers (tilted back) with a good amount of gain. I personally find these to be really great sounding speakers, with clean tonality throughout, and clean, non-overpowering lows that plague most built-in speakers.
The projection means you can use the SV-2 for practice without hooking it up to an amplifier, and that's something I do like.
---
Conclusion on Sounds
As far as everything goes, the sounds on the Korg SV-2 are one of its strong suits, particularly when it comes to key-based instruments such as acoustic or electric pianos. The effects are also geared around the same purpose.
The valve tube is one of the main selling points, but I wouldn't buy the SV-2 strictly for this. The valve does add an undeniable warmth, but the amp sims themselves are already fairly good at adding warmth to your sounds.
I'm making this statement because the SV-2 shares quite a lot of similarities with the Korg Grandstage. The latter has more sounds in its preset library, and it also has more robust editing and a larger selection of effects, all for a near identical price.
I really want to make it clear that there are superior options out there that deliver a similar experience to the SV-2 with more added features and bonuses.
However, the SV-2, right out of the box, delivers a simple, yet enjoyable keyboard playing experience, and that has to count for something.
Other Features
Since the Korg SV-2 is focused on performances, it goes without saying that performance features are a must.
---
Splitting and Layering
Splitting and layering can only be done from within the software editor, which is a massive downside to any stage piano.
When you're unable to make on-the-fly edits, that makes this less flexible, unless you're willing to bring a laptop along.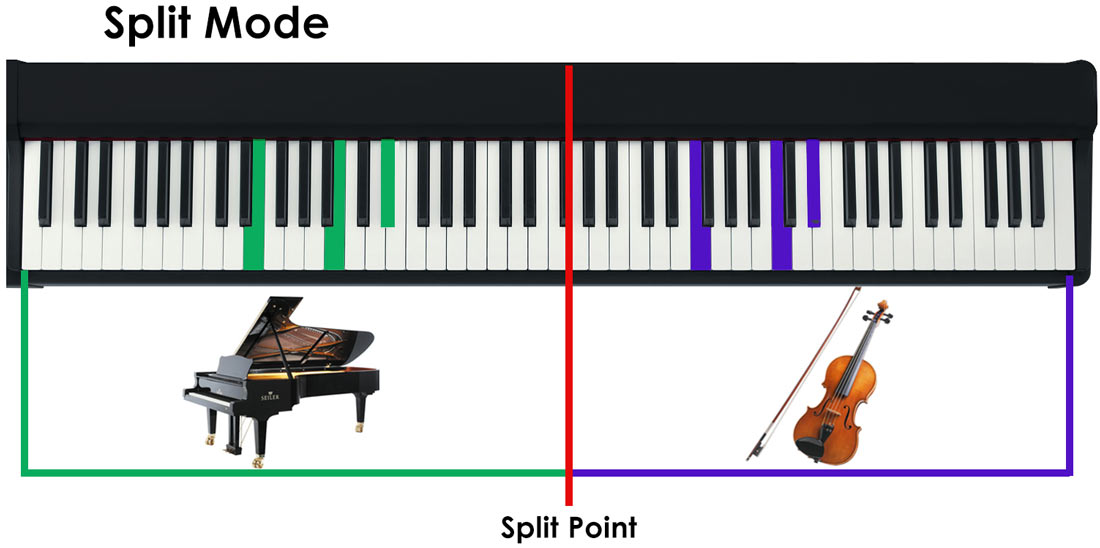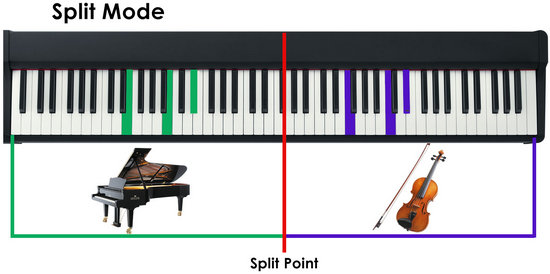 There is no easy way to make splits or layers without using the software, which is tough, especially since other instruments make this so simple.
While you can make the argument that I'm spoilt by other products, I think bucking a well-established trend isn't necessarily a good thing.
Case in point, the Korg Grandstage. Making presets on that keyboard was so simple that I'm surprised Korg didn't just add a dedicated split/layer switch on the SV-2 to make things equally convenient.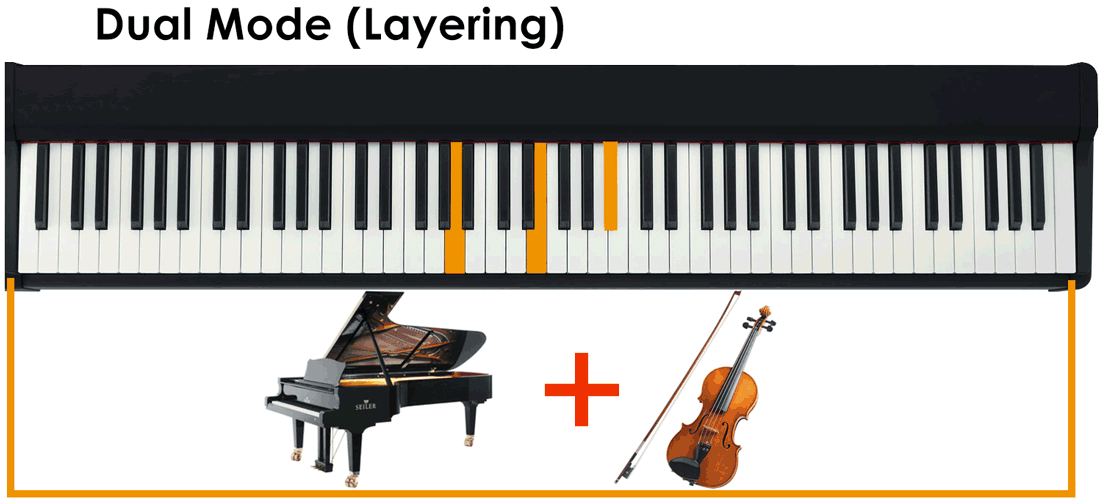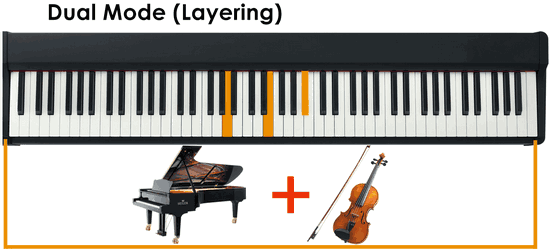 While there are some native sounds that feature layers and splits, but these are only a small part of the 72 total sounds. You will need to plan things out early on, otherwise you might find yourself stuck.
This is a strange design choice, especially since the rest of the SV-2 is simple enough to use. So, if customizing sounds with a hands-on approach is what appeals the most to you, you might want to look elsewhere.
---
Seamless Transitions
This feature is something that's been cropping up more in recent years.
Essentially, when you switch between presets, the previous sound does not get abruptly cut off. Instead, seamless transitioning allows said sound to decay naturally, including the natural reverb inherent to said sound.
However, there is a minor limitation with this, particularly when the amp simulator is being used. Apparently, the way the audio routing works means that you do not get seamless transitioning when the amp sim is engaged.
Either way, this is a small, yet very useful feature that most pianists don't realize they need, especially if your parts require a lot of preset switching.
---
Preset Management (Favorites)
The 8 central buttons allow you to save up to 64 favorites, split across 8 sound banks.
These custom sounds can be saved either from the front panel or from within the software editor. 64 presets isn't exactly a lot, but it does allow you to save some custom presets that you've tailored to your own liking.
This is particularly important here, especially since you'll likely be using the software editor to make your own sounds. For each preset, tuning curves, program levels, split point, and touch curves are saved separately.
Connectivity
When it comes to performing on stage, having the right connectivity options is a must, and Korg handles this very well with the SV-2. We'll cover the ports from left to right.
The USB to Host port uses a Type B connector and is what you will use to connect the SV-2 to your PC or Mac. This is also how you'll connect the SV-2 to the software editor.
A speaker on/off toggle switch is conveniently available on models that include the stereo speakers, allowing you to adapt to your needs.
A damper pedal jack allows you to connect a damper pedal to the SV-2. If your pedal supports half-dampering, you can also use it.
Two other 1/4" pedal jacks are available if you want to utilize expression or switch pedals. These do need to be customized using the software editor, but they can allow you to control any assignable parameter.
I wish this was more intuitive using the onboard controls, but it's still a nice option to have.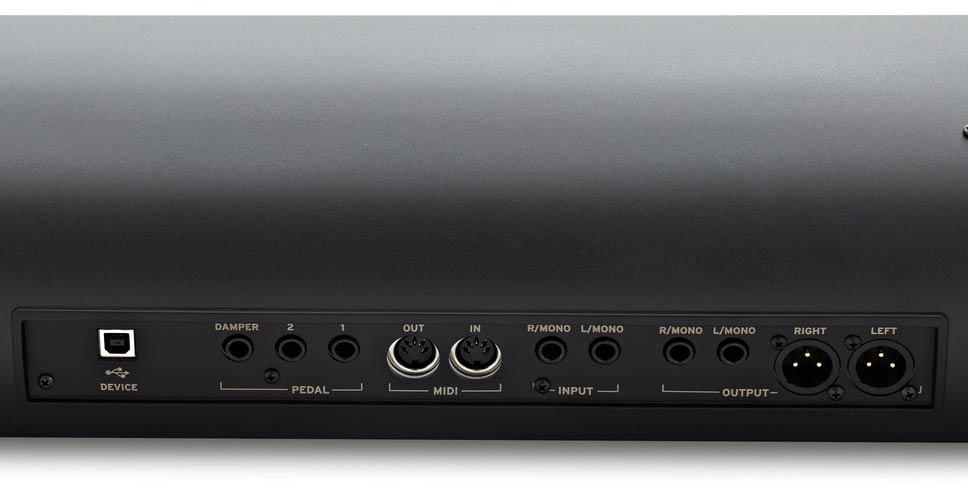 The Korg SV-2 also features legacy 5-pin MIDI In and Out ports, which are used for syncing the SV-2 up with external instruments.
If you have external instruments, or perhaps music players, you can use the stereo 1/4" input jacks to run the audio signal through the SV-2's main outputs.
If you're an amplifier-based performer, the Korg SV-2 also includes stereo 1/4" line outs, which are conventionally used to run the SV-2's audio output through external speakers.
Finally, there are stereo balanced XLR outputs, which dismiss the need for a DI box. This is the preferred method for connecting to PA systems, so props to Korg for including this.
On the front panel, there is also a 1/4" headphone jack, which you might want to use for monitoring purposes. Alternatively, this is a method of practicing without disturbing your neighbors.
Accessories
I'd say the accessories that come with the
Korg SV-2
are more than enough to get you started.
The music stand is, in my subjective opinion, really beautiful, and it manages to mesh with the retro curved design of the SV-2. It's also solid, and shaking is kept to a minimum.
If you end up getting the SV-2 for use at home, this is something you'll probably leave on constantly.
Finally, remember to check if the AC adapter is compatible with your country's voltages, especially if you're importing the Korg SV-2. This is particularly relevant this time, as it's selling like hot cakes.
Now, here are a few extra recommendations that might make the experience more complete.
---
Damper/Sustain Pedal
The included DS-2H damper pedal is so close to the DS-1H pedal that we always recommend, and it really is a world of difference away.
While it's functional, it lacks the same responsiveness and half-dampering support that makes the DS-1H one of our favorites. I suggest investing in a superior damper pedal if you do decide to go with the Korg SV-2.
This DS-1H is slightly smaller, but it is solidly built, and also supports half-damper capabilities, which is something you'd likely want for extra expressiveness.
---
Expression Pedal
Since there's no modulation wheel on the SV-2, you might want to work with an expression pedal to modulate parameters during play.
For example, you can modulate filter frequencies, rotary speed, and other aspects of the sound without taking your hands off the keys.
I personally recommend the Nektar NX-P expression pedal, which is one of the cheapest pedals available online.
It is solid yet lightweight, and works with practically any keyboard out there thanks to its universal polarity switch.
Summary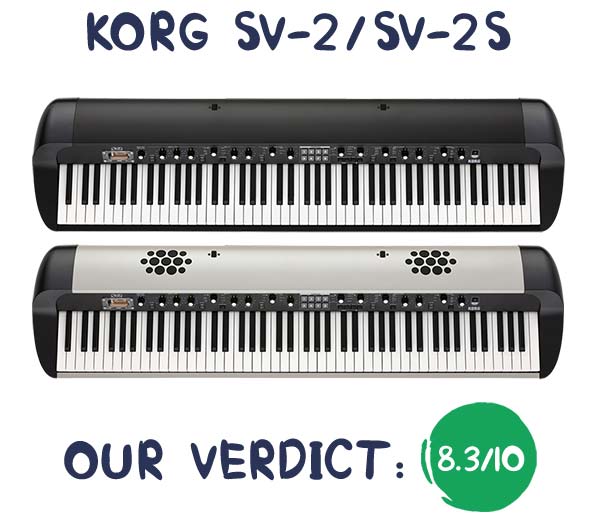 Pros
Well-built
Looks absolutely gorgeous
Great sounding Pianos and Electric Pianos
Amp sims are some of the best among stage pianos
Hands-on control scheme
RH3 keybed is one of the best
Cons
Lackluster onboard editing options
Requires external software to maximize its capabilities
Some controls are cumbersome to use
---
The Korg SV-2 is a good, modern take on the stage piano formula. In fact, while I went into this review expecting a carbon copy of the Korg Grandstage, I ended up being quite surprised.
I'll get the elephant out of the room first. I don't like how Korg forces you to use the external software to really get the most out of the SV-2.
As someone who likes to really dive deep into personalizing presets, not having convenient ways of making splits and layers is somewhat of a deal-breaker.
However, I'm not the exact target audience. I'm someone who prefers the stage piano formula popularized by Nord, with high customization and the ability to do a lot of editing with the onboard controls.
This is the same style used by most of our recently reviewed stage pianos.
The SV-2 follows the older design ethos, where simplicity is placed in the forefront, and it's targeting keyboardists and pianists who want an instrument that does what it says on the tin.
That's perfectly alright, and I expect the SV-2 to sell very well. The sounds available onboard are clearly tailored towards key-focused players, and that's fine.
The problem I have is that there are other equally viable products at this price point.
For example, the Korg Grandstage, which has a similar sound engine with more robust editing capabilities.
While you lose out on speakers and the beautiful body shape, you get something that's more versatile, and plays equally well (as it also uses the RH3 keybed).
The one thing that throws a wrench into the works is the software editor of the SV-2. If you factor in the editor and the natively inaccessible sounds, the SV-2 suddenly becomes a powerful keyboard. And even now, I'm still torn between the two.
In the end, I'd say that whether the SV-2 works for you depends solely on your needs and wants. As it stands, the SV-2 is a beautiful stage piano with a heavy focus on key-based instruments.
The included sounds are all well sampled and sound great, and the included amp sims make it one of the best options for electric piano players.
Even without diving into the software, I was having a blast playing electric piano parts through the amplifier simulations and onboard tube valve.
Even without effects, you can tell that all the built-in sounds are sampled very well. The SV-2 continues Korg's tradition of excellent sounding instruments.
This is one of the times where I'd say testing things out is mandatory. A quick 30-minute playtest with the SV-2 should be able to let you know if it's what you're after.
If you want power and flexibility, I recommend checking out our Roland RD-2000, Korg Grandstage, and Yamaha CP-88 reviews to see if those might be preferable choices for you.
These are more modern takes on the stage piano formula, with a focus on flexibility and customization.
So, do we recommend the Korg SV-2?
Well, yes. Despite all my complaints about limitations and bad control schemes, I can't deny that the SV-2 is an excellent instrument.
Just be sure that it's what you're looking for before pulling the trigger on that checkout button.
Check the availability and current price of the Korg SV-2 in your region: