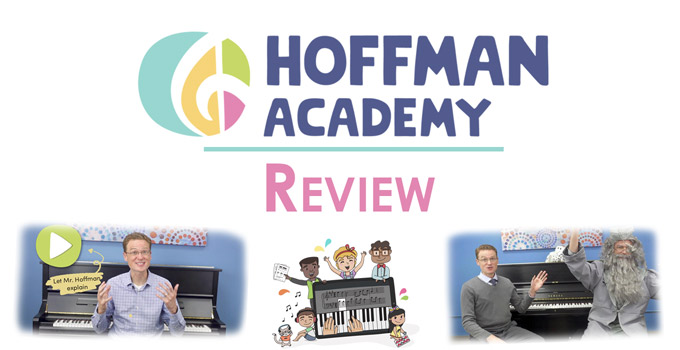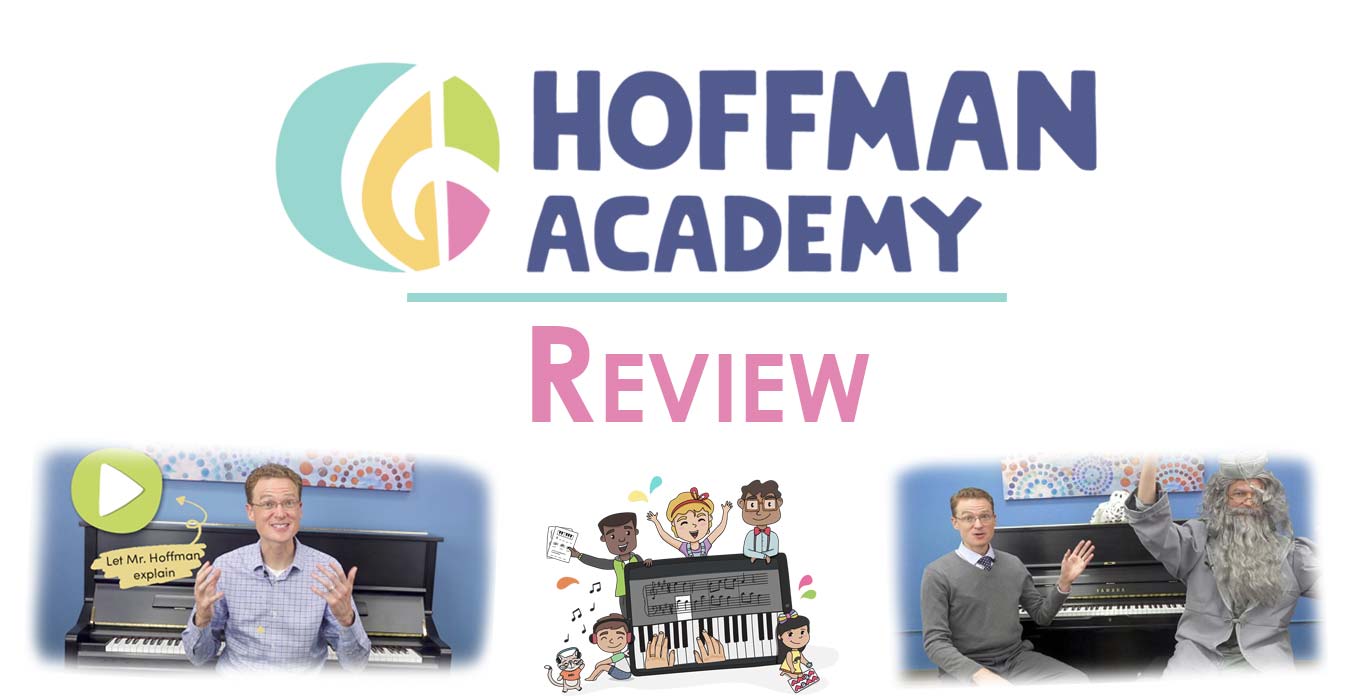 If you're looking for a kid-friendly online piano method that teaches piano in a fun way, you may just want to check out Hoffman Academy.
This is a video lesson-based course that aims to "empower learners with the knowledge and techniques they need to become true musicians."
Mr. Hoffman himself teaches the video lessons, and he goes to great lengths to teach a variety of concepts in fun ways.
Let's delve deeper into Hoffman Academy to find out what else it has to offer.
Getting Started
Hoffman Academy has both a free membership and a Premium membership Use promo code LEARN to get a 10% discount!, which costs $18/month, $179/year, or $495 for a lifetime membership. Additional students can be added at a reduced price.
While all the video lessons are available for free, the printable sheet music and worksheets, games, and practice sessions are only accessible with a Premium membership.
You can sign up for the 30-day free trial of a Premium account without having to input your credit card information – no risk of winding up with an unexpected charge if you forget to cancel.
The lessons are accessed through the website, so any device with a web browser and screen big enough to comfortably view the lessons will work.
Another nice thing about this method is that since it's video-based, there is no need to have a digital piano or deal with cables.
The program will work with whatever piano or keyboard you have, though it's always best to learn on an 88-key, weighted digital piano or an acoustic piano.
Features
Hoffman Academy has a variety of features that keep practicing the piano interesting.
Video Lessons
The 10 to 15-minute video lessons are the main aspect of this course. In them, Mr. Hoffman explains and demonstrates concepts with the help of visual aides like a virtual staff and an overhead view of the keyboard.
Each lesson contains a few complementary new ideas and techniques to practice, rather than just having one concept per video. This makes each video a standalone lesson, much like an in-person lesson would be.
Mr. Hoffman ensures that the lessons are fun and interesting by using familiar songs, mini games on the keyboard, and even props and costumes.
For example, he brings a giant wooden bullfrog to the lesson on "Frog in the Middle". And, he always ends lessons with a quick finger puppet show related to that lesson's content.
Underneath the lessons, you'll see a button for printable material, which is where you can print the sheet music for the songs learned in the lessons.
You can also find all printable materials under "Materials" in your account section.
---
Practice Sessions
Provide tasks to guide students through practicing what they learned in the lesson. These tasks can be anything from listening to the piece while tapping along to playing one of the games.
However, the majority of the practice sections are devoted to prompting the student to practice their piece slowly, with the metronome, hands separately, and then hands together.
The audio file for the piece is always provided so that students can hear what it's supposed to sound like.
These guided practice sections are excellent for those who may not know how to practice most effectively, or need something to keep them moving along and free from distraction.
I can imagine that most kids fall into one or both of those categories.
---
Games
Hoffman Academy has four games that help students develop their skills in 4 different musical areas: theory, rhythm, the staff, and ear training.
Alphabet Towers is the theory game, and its purpose to practice note orders, steps, and skips. Students must drag the names of notes in order and stack them vertically in the windows of an apartment building.
Depending on which windows are available, students may have to stack backwards or skip notes. Notes sound as they are dropped in the window, which is good for learning what steps, skips, and natural scales sound like.
Mystery Melodies is designed for students to develop their ear. This detective-themed game has players gathering "clues" by selecting the card that has the melody that they just heard.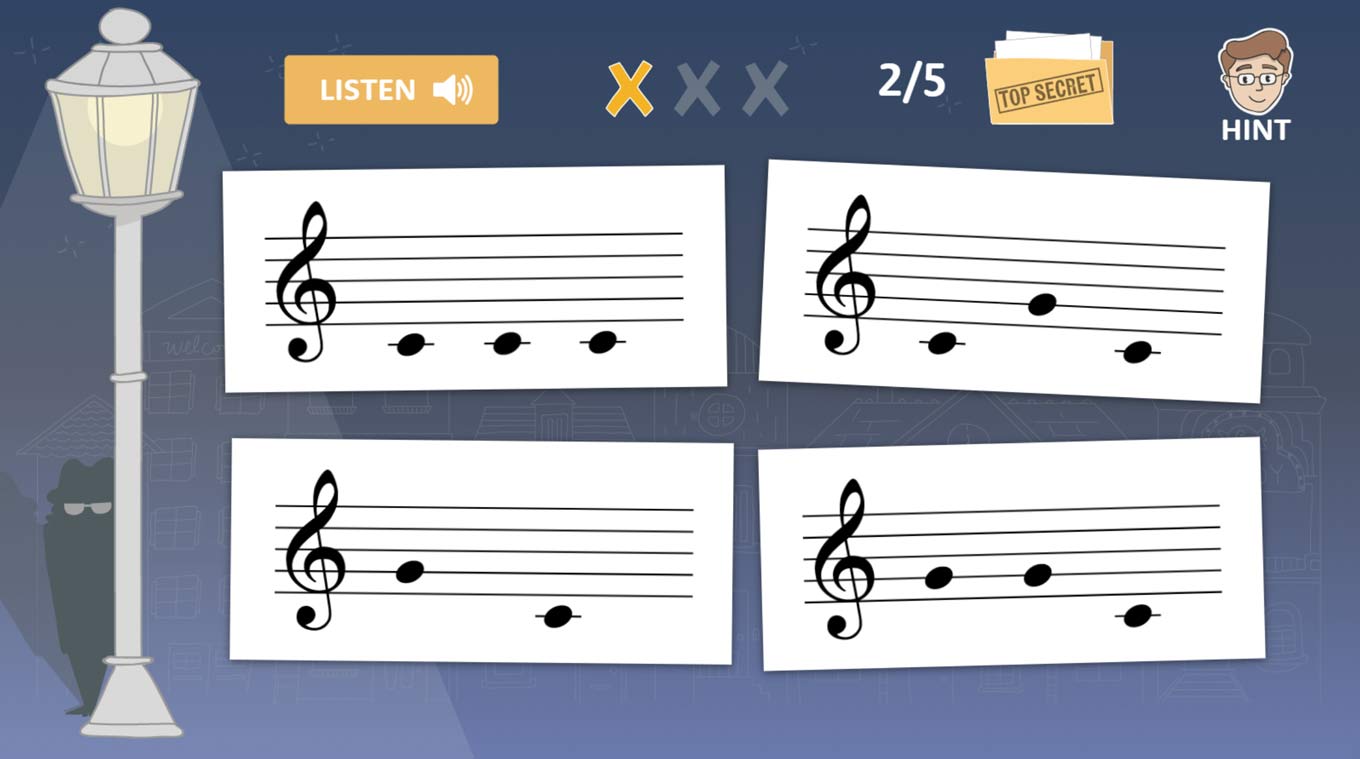 Once five clues are gathered, the case is closed and the game is won. This is a fun game and an excellent way to learn to associate melodies with what is notated.
Rhythm Train is – you guessed it – the rhythm game. Students listen to a rhythm and then drag cards that correspond to that rhythm onto the train in the right order. Different instruments and tempos are used in order to help develop rhythmic understanding.
Staff Crawler helps students develop their sight reading skills by playing notes to help Iggy the Inchworm reach his lunch.
The early levels display a one-line staff for getting the hang of identifying steps and skips and using guide notes. Once this is mastered, the game brings in the five-line staff and both the treble and bass clefs.
All of the games start out easy and then get more difficult as students progress through the levels.
The Curriculum
The course consists of 16 units with 20 lessons each, as well as a Popular Music unit.
Unit one kicks things off with lessons on the first five notes of solfege, finger numbers, naming the white keys, C and D pentascales, and an intro to improv and rhythm. Students play their first song, "Hot Cross Buns", right away in lesson one, and by lesson 20, will be using two-note chords to accompany a melody.
Unit two introduces triads, chords I and V7, grand staff basics, and builds on previously learned concepts like solfege, rhythm, and pentascales.
Unit three gets students playing more major and minor pentascales and expands their knowledge of the staff, including sight reading and notating a song by ear. New rhythms, time signatures, and accidentals are also introduced.
Unit four brings in articulation, composition in binary form, intervals, and dynamics. Songs learned include "Ode to Joy" and "Lavender's Blue".
Unit five furthers students' knowledge of reading music by teaching upper ledger lines as well as notation symbols like the fermata and ties. Highlights of this unit include improvising an accompaniment using chord symbols and playing a duet.
Unit six teaches the lower ledger lines, circle of fifths, and new rhythm concepts like pick-up notes and syncopation. Students will also have fun improvising using the blues scale.
Unit seven builds on previously learned concepts like sight reading, dynamics, chord symbols, and major and minor triads. Also, the all-important concept of practicing slowly to play quickly is introduced in this unit.
Unit eight gets in some fancy fingerwork with finger crossovers and thumb crossunders, as well as some exercises for finger dexterity. This unit also serves as an intro to Bach, as students will learn about his life and music and play a simplified version of his "Musette in D".
Unit nine moves on from the pentascale to the one-octave scale and arpeggios. New concepts include key signatures, compound meters, and tetrascales.
This unit is focused on independence and balance of the hands, which is practiced by playing staccato in one hand and legato in the other, and by voicing a melody with either hand.
Unit ten is heavy on chords and theory. Students will invert chords, create chord progressions, and identify diatonic chords.
Unit eleven moves on to analyzing chords in a score, playing a two-octave scale and arpeggio in Bb major, learning how to use the damper pedal, and advancing techniques for improvising off a lead sheet.
Unit twelve highlights include additional two-octave scales and arpeggios, how to harmonize a melody using diatonic scales, and composing a piece in ternary form.
Unit thirteen challenges you with introducing triplets, chromatic scales, and even working on creating your own original arrangement of a song.
Unit fourteen gets into finer details, looking at reading and executing ornaments like trills and mordents, and working on phrasing and pedal techniques.
Unit fifteen will work out your fingers with some finger power exercises, as well as working on elements of structure and improvisation to aid your own compositions.
Finally, unit sixteen rounds things off with scales, arpeggios, and a look at some virtuoso pianist exercises.
The Popular Music unit is a collection of video tutorials on music that is popular with kids, like Disney's "Into the Unknown" from Frozen II and the Addams Family Theme song, as well as a few Christmas carols. The level of difficulty varies, and some songs have more than one level to choose from.
The Store
The Store section contains a variety of learning materials and sheet music, all of which are free with the Premium membership, but are available for purchase without.
The learning materials include practice challenges, parent guides, and plenty of fun and simple games to encourage kids to learn.
The Sheet Music section contains all the Hoffman method books as well as learning add-ons like Teacher Accompaniments, and sight-reading practice books.
There's also over 500 sheet music songs available – these are largely classical pieces, with a few others in genres like folk and holiday. There isn't much in the way of modern and pop music there, which will be disappointing for some.
Pros and Cons
What's great and what could be improved? Let's take a closer look.
Pros:
Fun! – Costumed characters, puppet shows, musical games—Mr. Hoffman's lessons have what it takes to keep kids entertained while learning.
Teaches proper posture and hand position – Online methods often fall short in this area, but Mr. Hoffman teaches how to sit correctly and how hand and wrist movement affect sound.
Holistic teaching approach – Lessons have students singing, doing hand actions, and practicing their music listening skills. This speaks to the philosophy of developing well-rounded musicians, not just pianists.
Provides skills to read advanced sheet music – Students will be equipped to read all the articulations, dynamics, terms, and ledger lines that a piece of music may throw at them.
Cons:
No teacher feedback – While it's obvious that Hoffman Academy doesn't have the instant feedback provided by other game-style programs, I did not see an option to send in student videos to receive feedback.
Limited repertoire – The units each teach five to seven songs and the Popular Music unit has 24 fun songs. The Store section has many more songs available,  but avid students will be disappointed if they are interested in more diverse genres.
Who Is Hoffman Academy Best For?
Hoffman Academy is designed for children, and this is reflected in everything from the song choices to the pacing. I recommend this program for kids under 12 that are just beginning to play the piano.
While an adult could definitely learn how to play the piano with this method, unless they are particularly fond of kids' songs and puppet shows I recommend that they opt for a more adult-oriented online program or traditional print method like Alfred's Basic Adult Piano Course.
However, while the comments under the lessons are mostly from kids wanting to say hi to Mr. Hoffman, I did notice a few adults.
This is a good method for beginners, so it really just comes down to the kind of music you like to learn with and whether or not you mind kid-oriented lessons (I did find the short puppet shows to be absolutely adorable).
Final Thoughts
I'll be honest, I'm impressed with Hoffman Academy Use promo code LEARN to get a 10% discount!. This program avoids many of the weak areas common to online piano methods, such as repetitive lessons and practice methods and lack of training in posture, musicality, and technique.
The Hoffman method is deliberately very well-rounded. It focuses on often-ignored areas like solfege and ear training without skimping on more common pursuits such as sight reading and improvisation.
While this course does not reach advanced levels, it provides a thorough background in music theory and techniques that will easily carry students into more advanced music.
This course is definitely a solid option for parents looking for a more economical alternative to traditional, in-person piano lessons.
---