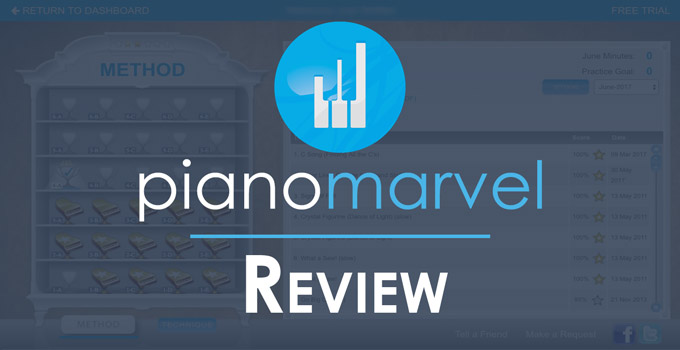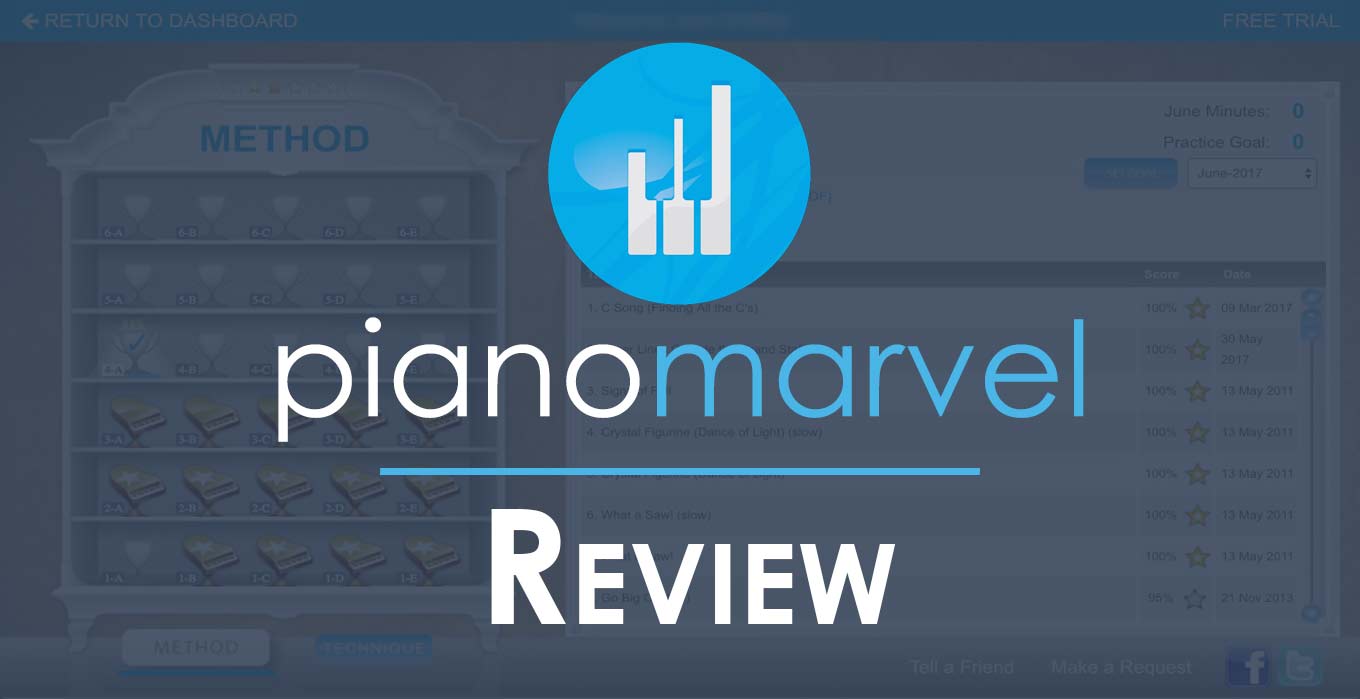 Piano Marvel claims to be the fastest way to learn piano – four times faster than traditional methods.
Used by individuals, piano teachers, schools, and universities, it is advertised as a complete piano learning system for all levels and ages.
It connects your piano with your computer or iPad to deliver bite-sized lessons while tracking your accuracy and progress.
With many different elements such as lessons in technique and ear training, sight reading tests, and a large song library, Piano Marvel certainly is comprehensive, and as a bonus, it comes with a drums course as well.
This course has a lot going for it, but let's find out if it's the method for you.
Getting Started
Piano Marvel is a subscription-based program. For a premium account, you can choose a monthly fee of $15.99 or pay by the year at $110.99.
If you want to try it out before committing, you can opt for a free account, which gives you access to the level one lessons and songs.
The individual method books used in the lessons are also available for purchase in the Piano Marvel store at $12 a piece, but the course itself offers much better value.
This course works with Mac or PC computers using the web app, and iPads. The app walks you through the set-up and has many videos that show you around the course and familiarize you with its features.
You can use Piano Marvel with an acoustic piano or a digital piano or keyboard.
I strongly recommend a weighted 88-key piano for this course, as a shorter piano will limit the pieces you can play, and an unweighted keyboard doesn't help you develop proper technique.
With an acoustic piano, you learn in what they call "book mode". This means that you have access to the lessons and songs, note hints, video lessons, and manual progress tracking, but not the assessment features.
With a digital piano or keyboard, you get the full benefit of the course. Called "assessment mode", connecting your piano to your device allows the program to measure your accuracy during practice and tests.
To connect your digital piano, you will need either a USB cable or a MIDI-to-USB cable, depending on the piano. You may need to download a driver from the keyboard manufacturer's website.
Features
Let's take a look at some of Piano Marvel's main components.
Method and Technique Lessons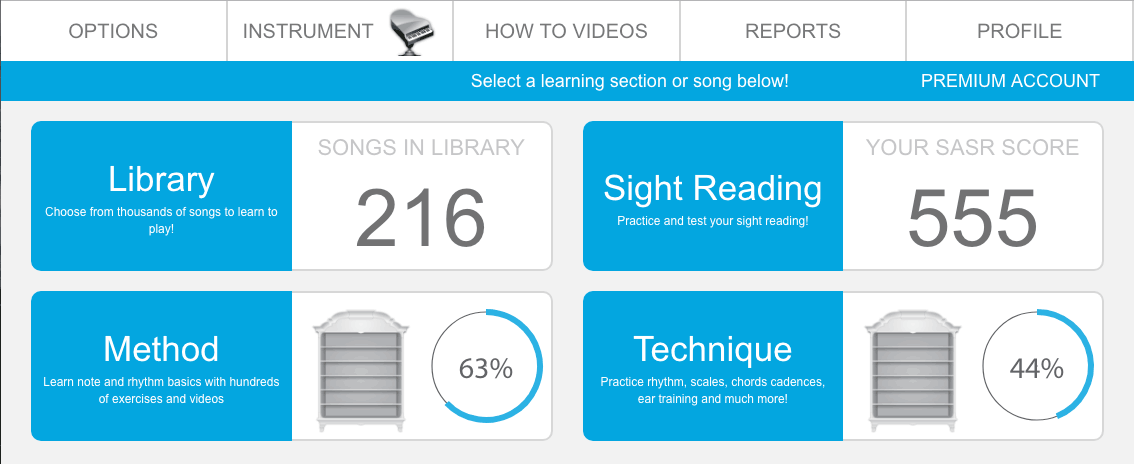 Within the app, you'll notice two tabs labeled "Method" and "Technique". This is where the learning happens.
Each of these contains six levels divided into 30 sections, which are further broken up into 20 lessons per section.
There is usually a video tutorial above each lesson that that summarizes the skills you'll be learning, and a printable book that explains lessons in-depth and contains all the sheet music used in the lessons.
Method and Technique are designed to go hand in hand, with skills that are taught in the Method section reinforced in the Technique section.
These are intended to encourage and motivate students to complete lessons without mistakes.
There are a few different modes within the lessons that help students practice effectively.
Prepare mode, or "wait for me" mode, assesses the accuracy of your notes at your own pace, and Assess mode measures how accurately you play both the notes and rhythms. Correct notes turn green, and incorrect notes are shown in red on the staff.
Practice mode breaks the piece into short sections so that you can practice individual sections.
This mode is particularly valuable since when learning something new it's easy to fall into the habit of always starting at the beginning, resulting in a stellar first half and a weaker finish.
The "Play Controls" tab brings up many adjustable settings, including volume, accompaniment, tempo, and a metronome.
---
Song Library
The music library has thousands of songs that you can download for free. They are from many genres including jazz, holiday, contemporary, and rock n roll, but most of the pieces fall in the classical category.
Some of the pieces come with video lessons or a link to the song being performed.
To discover music, you can sort by level, including beginner (levels 1-3), intermediate (levels 4-6), advanced (levels 7-10), and professional (levels 11-18).
The library includes pieces that come from the curriculum of print piano methods like Premier, Alfred, and the Hal Leonard Piano Solos series.
Besides pieces, the song library provides bootcamps with reading exercises, and even sample sight reading and harmony exams from piano method BachScholar.
In addition to the practice modes I went into above, the songs come with a "slicing" feature that I see as a really valuable practice tool. The different kinds are:
Whole slicing – Play the whole piece through one hand at a time.
Chopped slicing – Divides the pieces into short segments that you play hands-together.
Minced slicing – Play the short segments hands-separately.
Once a section is complete accurately, you are awarded a star. According to Piano Marvel, once you've earned all the slicing stars for a piece, it should be performance-ready.
---
Progress Tracking
Piano Marvel keeps track of how much you practice, and you can set practice goals for each month. It also shows you how many days in a row you have practiced. If you're like me and hate to break a streak, this could be great motivation.
It also tracks your SASR score over time, and how well you do on each of the lessons.
If you have a piano teacher, your teacher can access this information as well to see if you are hitting your practice goals and what skills you are struggling with.
---
Standard Assessment of Sight Reading (SASR)
This is a feature unique to Piano Marvel. The SASR is a sight reading test available at beginner, intermediate, and advanced levels that measures how well you can play a piece right after seeing it.
Here's how it works: You're given 20 seconds to look over the song, and then you must play it as accurately as you can.
There are multiple pieces within the test, but if you score lower than 80% accuracy three times, the test is over.
There are thousands of songs in the SASR song vault with new ones added daily, so the test is always new.
---
Support for Teachers
While Piano Marvel can be used on its own, it strongly encourages you to have a teacher as well, to the point where any review would be incomplete without a mention of their teacher-centric features.
There are videos on the app that show piano teachers how to use the software as a teaching aid, and Piano Marvel also holds teacher conferences and webinars.
The Piano Marvel website even has a "Find a Teacher" page to help you find an online teacher. If you know a teacher with whom you want to use the software, Piano Marvel will train that teacher to use their program.
One really cool feature for teachers is the ability to create their own lessons. They can load their own arrangements from Finale to Piano Marvel for students to practice within the program.
Teachers can also organize songs, lessons, and videos (both internal and imported) into folders so that students know exactly what to practice.
I'd like to stress here that while Piano Marvel does seem to be a great tool for teachers, don't lose hope if you want to learn on your own. This course is no less suited to solo learners than other online piano methods meant to be used alone.
---
Challenges and Competitions
Piano Marvel holds contests like their annual YouTube Competition and Christmas Challenge, which both have prizes of cash or an iPad up for grabs.
All you need to do is record and upload a video of yourself playing to YouTube.
This is a point in favor of this course as a self-taught program, since a virtual competition provides motivation as well as a simulated performance experience, both of which are often missing from self-directed courses.
The Curriculum
Here's a closer look at what you'll be learning in each of the lessons.
Method
This is where you do most of your learning, and where you will spend a large portion of your practice time.
It's worth noting that while there are six levels here, the pieces in the song library go up to level 18. However, the foundations taught here can be applied to learning more difficult pieces – it'll just take a whole lot of practice.
Level One – Covers intro to the keyboard, finger numbers, and posture. The exercises introduce basic rhythm, a few notes, 4/4 time, 6/8 time, and musical terms and symbols like staccato/legato, dynamics, and repeat signs.
Level Two – In this level, you'll learn new hand positions, steps/skips, pickup notes, accidentals, syncopation, inner ledger lines, and 2/2 and ¾ time and their conducting patterns.
Level Three – This is the intro to scales, teaching you the C, G, and F major scales, and the g and f harmonic minor scales.
It also teaches whole/half steps, intervals, chords I, IV, and V7, major/minor, the sostenuto (sustain) pedal, relative majors and minors, key signatures, 12 bar blues, key changes, and crescendo/decrescendo.
Level Four – Covers triads and inversions, musical phrasing, pedaling technique, more musical terms, transposition, and the circle of fifths. New scales and triads taught are D, A, Bb, Eb, and Ab major.
Level Five – This level is all about reading more advanced sheet music, including things like reading two hands on the one staff, finger substitution, crossing hands, and reading two of the same stave.
It also covers Alberti bass, arpeggios, dotted eighth notes, and swing. New keys are a, e, d, and g minor, and F# major.
Level Six – This is your intro to the Baroque, Classical, and Romantic eras. It also covers the minimalist composition technique, ornaments, and the f minor scale and triads.
---
Technique
The technique lessons reinforce the lessons in the method section and have flashcards and ear training exercises.
The books and lessons generally follow along with the method section and give you more practice with the concepts that you learn there.
However, there are a few things that come out of left field, like the choir warmups in level 6, which I suppose are to help those who want to play the piano for a choir.
The flashcard exercises are located at the end of the trophy and are best used as review. Notes, intervals, and chords pop up on screen and you must play them within the given time limit.
The ear training exercises are designed to help you listen to a note, interval, or chord and know what it is. They will have you singing in solfege, naming intervals and chords, and playing melodies after listening to them.
Pros and Cons
Here are some of my favorite features of Piano Marvel, as well as a few areas that could be improved upon.
Pros:
Encourages well-rounded practice – The difference practice modes and sections encourage helpful practice techniques like clapping, counting out loud, practicing slowly, practicing in sections, and scales. These aren't the most fun methods, but they are the most effective.
Teaches musical terms and signs – Unlike most online piano methods, Piano Marvel teaches the details of sheet music, including terms and symbols. Not only does this allow students to read music from other sources, it encourages musical playing by making student aware of things like variation in dynamics, phrasing, and style.
Strong on theory – The method and technique books have students naming notes and chords, doing rhythm clapping exercises, and identifying key signatures, which provides a strong foundation in theory.
Ear training – This is something that is usually done with teachers in traditional methods, so it's great that solo learners can fulfil this important requirement on their own.
Contains original, advanced sheet music – The upper-level pieces in the song library really are at an advanced level, and you are playing the music as it was written by the composer, rather than an arrangement. This is unusual for an online piano method.
Printable music – All the sheet music in the lessons and the library can be saved as a pdf and printed. This is great for when you want to practice without the program.
Cons:
Assumes you have a teacher – There are features that were obviously designed with teachers in mind, for example, tests and certificates that would be difficult to administer/award to yourself.
Lesson music is fairly uninteresting – This course uses simple, familiar children's tunes like "Mary Had a Little Lamb" in the lessons, which some students (especially older ones) may not find too exciting.
Little genre variation – Most of the pieces in the song library are in the classical genre, and after moving on from simple tunes, the lessons focus on this kind of music as well.
Only teaches harmonic minor – Students will come out of this course unaware that natural minor and melodic minor exist, since it only deals with harmonic minor.
Barely touches hand position and posture – There is one page in lesson one with one simple drawing of proper piano posture and hand position. This is unlikely to be enough to cultivate proper technique.
Who is Piano Marvel Best For?
Piano Marvel gives you a really solid foundation in theory and reading music, which is important for those who are serious about the piano.
However, if you are interested in quickly being able to sit down at the piano and have something fun to play, which many older beginners are, this may not be the course for you.
Since it was designed to be used alongside piano lessons, it mimics traditional piano methods more closely than other online piano courses.
This means that it doesn't include as much improvisation, chording, and popular music as is typically found in courses aimed at older beginners.
So, you have to want to learn how to play classical music to really enjoy this course.
The target demographic of Piano Marvel seems to be children guided by a teacher. However, overlooking the kids' music used to teach lessons, it is also suitable for teenagers and adults.
Final Thoughts
In general, I was impressed with Piano Marvel as a tool for learning how to play classical piano music and read sheet music.
It is very comprehensive and hits a lot of the areas that tend to be lacking in online piano methods, such as theory, musical terms and symbols, and ear training.
While this program is meant to be used in conjunction with in-person lessons with a piano teacher, self-motivated teenaged or adult beginners could easily make a lot of progress on their own.
Even though they recommend a teacher, Piano Marvel actually has mitigated a lot of the usual downsides to online methods, such as lack of motivation and no training on musicality.
As long as you watch some additional videos on proper piano posture and hand position, this could be a great place to start your piano journey.
---