Korg is arguably most well known for their workstations, with the Korg Kronos (and by extension, its younger siblings, the Krome and Kross) being one of the most well-known workstations on the market.
That's not to say the Grandstage is the first stage piano Korg ever made. Their iconic, vintage SV-1 stage piano has seen huge success over the years.
Their more recent effort is the Vox Continental performance keyboard named after the legendary Vox Continental organ, which comes with a striking red finish and some amazing organ sounds.
However, when discussing stage pianos, the golden standard is probably everyone's favorite Nord Stage and Nord Piano line, which we've previously reviewed.
In our opinion, Clavia has nailed the balance between flexibility and ease of use, providing powerful sound generation tech hidden behind a simple-to-use user interface.
We've also covered the Roland RD-2000, which has a slightly more complex user interface, though it has become one of our favorites due to its workstation-style power, excellent keybed, and solid sound set.
Finally, our most recent stage piano review covered the Yamaha CP-88. The CP-series doesn't beat around the bush, and you'll simply select presets and play.
There's not a lot of fluff, and that, in my eyes, gave it a focus on playability over power, which could be ideal for most people.
How does the Grandstage stand up to the competition, and more importantly, is it worth getting over the similarly priced RD-2000? Let's find out.
Korg Grandstage Specs
Real Weighted Hammer Action 3 (RH3)
88/73 full-size fully weighted keys
Touch Sensitivity (9 types, OFF)
Sound: SGX-2, EP-1, CX-3, VOX, Compact, AL-1, HD-1 sound engines
Polyphony: varying from 36 to 240 voices depending on the sound engine
500 Preset Tones
Modes: Split, Layer
Effects: Reverb, Delay, Master EQ (3 bands) + section-specific effects
Connections: USB to Host (type B), USB to Device (type A), MIDI In/Out, Headphone jack (1/4″),  Main Out 1/4″ jacks (R, L/Mono), Main Out balanced XLR jacks (L, R), 3 Pedal jacks
W x D x H: 51.6" x 14.1" x 5.5" (131.1 x 35.9 x 14 cm) – 88-key version | 43.3" x 14.1" x 5.5" (110 x 35.9 x 14 cm) – 73-key version
44.1 lbs (20 kg) – 88-key version | 37.5 lbs (17 kg) – 73-key version
Release Date: July 2017
Full specs can be found on Korg's official site here
Check the availability and current price of the Korg Grandstage in your region:
Design
Before we begin, we'd like to note that the Korg Grandstage comes in 88-key and 73-key variants.
Apart from differences in weight, dimensions, and key count, the instruments are completely identical. Here's a quick breakdown of the differences.
When it comes to stage pianos, design can make or break the product. We'll focus this section on 2 important aspects: build quality of the instrument and control scheme.
Build quality and materials are extremely important for any instrument you lug around.
On one hand, you want something durable, which makes heavy metal desirable. On the other, you want something that doesn't break your back, which means lightweight materials are preferable.
In terms of weight, the Korg Grandstage is a little on the heavy side (the 88-key variant is a kilogram heavier than the Stage 3 88), though 20 kg is bearable enough for most musicians.
The dimensions are also a tad bit wider than the other stage pianos we've reviewed, though a few centimeters here and there isn't much.
Regardless, it doesn't look bad, and it harkens back to Korg's previous stage piano, 2009's SV-1, thankfully without the tube novelty that wore out its welcome really fast.
Korg's focus on looking vintage isn't exactly striking, but one can't fault an instrument for subjective looks.
On the rear panel, you'll also find the Korg backlit logo with adjustable color and brightness. You can set it to light up in white, red, pink, blue, green, purple, or gold. There's also the "Cycle" setting that will change the color over time.
Looks aside, the body feels solid, and there's no flexing or noises no matter how hard I apply force. While I didn't do a drop test, I'm confident enough to say that the Grandstage will survive a rough gigging lifestyle.
Now let's talk about the most important thing with stage pianos, the front panel controls.
Controls are key when it comes to stage pianos. Being able to design performance patches with an intuitive user interface, as well as being able to recall them on demand while performing, is what makes a stage piano truly worthwhile.
The Grandstage does things like Yamaha did with the CP88/CP73 and gives you a 'What You See is What You Get' interface with minimal features hidden behind walls of nested menus. The Grandstage is straightforward to work with, a plus in our books.
The knobs and buttons feel great, though that's to be expected from Korg.
The knobs are generally stepped, as they're mostly involved with preset selection and management. Regardless, they have a slight bit of resistance which makes navigation a breeze.
For the non-stepped knobs (involved in parameter and effect changes), Korg's recent focus on synthesizers shines through, and the balanced feel of resistance and precision is something that feels just right.
While you won't be using the knobs during performances, having accurate control means you can easily fine-tune your sounds.
Having backlit encoders is a nice bonus, especially when you're making changes under dim lighting conditions.
Buttons are subtly "clicky" and the 16 preset selector buttons on the middle are likely going to be your most-used controls.
The subtle red backlight is here as well, and ensures you'll always know what preset is currently active, and that the other presets will be within reach.
Finally, pitch and mod wheels feel solid and are on the chunkier side when it comes to weight. If you're a performer who favors a slower comeback time on your pitch-bends, you'll feel right at home with the Grandstage.
Now, let's talk about sections. The Grandstage gives you 2 sections to work with, labeled Keyboard and Ensembles. I wouldn't give the labels too much thought though, as the same sounds are accessible on both sides.
Each section allows you to access sounds via a category and variation knob, which is like how Yamaha's CP-line does it.
However, having an encoder knob to scroll through each category feels way more intuitive than using switches, and it's a good thing too, as you've got 500 presets to scroll through.
The preset selection is also paired with an OLED panel that names each preset for reference (as opposed to the CP's numeric-only display).
The OLED display seems small at first, but the text is surprisingly easy to read thanks to a good amount of contrast.
So, when it comes to controls and build quality, the Korg Grandstage is simple and durable. While I'm all for workstation-style deep editing, playability is what's important.
Now, let's talk about the feel of the keys.
Keyboard
The Grandstage uses Korg's Real Weighted Hammer Action (RH3) keybed, which is the same key action found on the Korg D1 we previously reviewed. Similarly, these keys were used on the Grandstage's brother, the SV-1 stage piano.
The RH3 action is also featured on the flagship Kronos-line too, and I'm very happy to see them on the more affordable Grandstage.
These keys were custom-made in Miyama, Kyoto, and have a graded action that makes the lower keys feel heavier than the upper keys.
While the keys are purely-plastic (as opposed to the hybrid wooden keys found on the Rd-2000 and the Yamaha CP88), the feel is what's important.
The white keys use a synthetic glossy acrylic, whereas the black keys have a matte black finish. This semi-textured feel gives the keys a premium surface feel and is also resistant to slipping if your hands are prone to sweating.
As I mentioned in the Korg D1 review, the keyboard itself feels great when played.
The keys are a little bit lighter than those featured on the PHA-50 keybed of the RD-2000, but not by much.
Responsivity is top-notch, and while you're not getting other premium features like escapement, I can't say you're missing out.
The main thing to note about the RH3 action is that it's slightly shallower than the competition, though this is by no means a bad thing (and its peers barely eke out a win with an extra 1mm of depth).
While pianists might feel barely out of their element, electric piano and synth EP players will certainly appreciate it.
While the fully-weighted keys aren't my favorite for synth and organ parts, the many fans of the Kronos can attest to the RH3 action's versatility. Given time to adapt, the RH3 action should perform admirably.
I'd go as far as to say the RH3 keys are in the top three of all the stage pianos we've reviewed thus far.
Yamaha's Natural Wood action feels a bit sluggish by comparison due to increased heft, and Nord keyboards, while posh, aren't known for their incredible keys (though the Nord Piano 4 and Nord Grand are pretty good).
The main competitor for keybed "top dog" is Roland's PHA-50 as on the RD-2000.
The medium-weight of the PHA-50 action is versatile (enabling organ sounds, with drawbars too!), yet the RH3 on the Grandstage excels at key-based instruments.
While I personally rank the PHA-50 action at the top, it could have gone either way. Definitely try out both the RD-2000 and the Grandstage to see which action you prefer.
Nord is still the only company to include it, and I'm mildly disappointed that Korg didn't add it in to take advantage of their synthesizer engines.
Speaking of the sound engines, let's dive into the Grandstage's main draw, the sounds.
Sound
Sound is placed at the forefront in Korg's marketing materials, and 7 sound engines are nothing to scoff at. The included sound engines are listed as follows:
Before we dive deep into the sound engines, let's be frank – you're not going to get full use out of the actual sound engines.
On the Kronos (which is where these engines originally came from), you had a wide array of parameters to modify, and you could sculpt out your own tones with time.
That's not the case with the Korg Grandstage. In fact, one might even call the marketing misleading, potentially leading buyers to conclude that they're getting all the bells and whistles present on the Grandstage's workstation brethren.
While that is somewhat disappointing, the Kronos isn't just praised for its editing capabilities. The true power of these sound engines is in their sonic capabilities. The Grandstage simply harnesses that power in its 500 presets.
So, how does the preset selection sound? Overall, it sounds downright amazing, barring a few duds here and there (which is to be expected considering the preset count). We'll go through the engines and their presets by section.
---
Acoustic Pianos – SGX-2
This is the reason to get the Grandstage. The SGX-2 engine is one of the best grand piano sound generators out there, and it's a huge part of the Kronos' continuing success.
The Grandstage includes the engine in the form of 6 acoustic piano presets.
The presets include 6 grand pianos (the Grandstage, Italian, German, Japanese, Berlin, and Austrian) and 2 uprights. Note that some of these pianos are separate purchases on the Kronos, such as the EXs12 Austrian Grand.
As you might have expected from a premium stage piano, the sound engine features all the bells and whistles you'd find from the big names.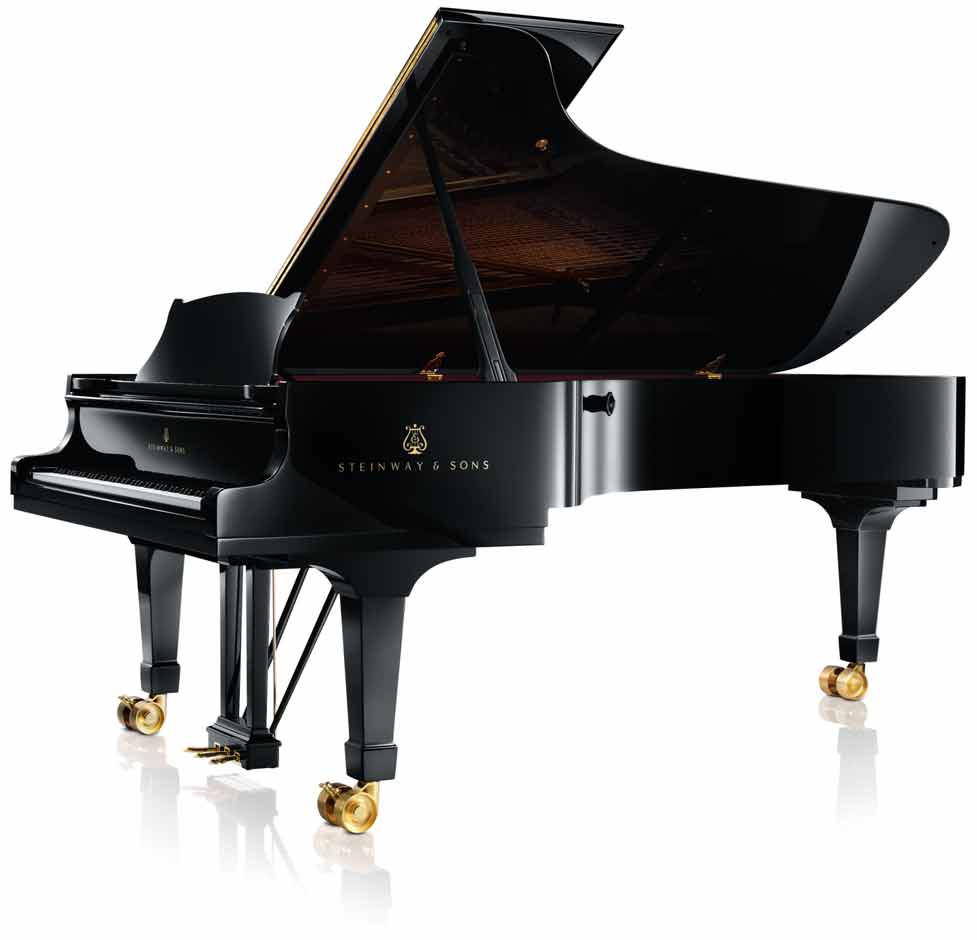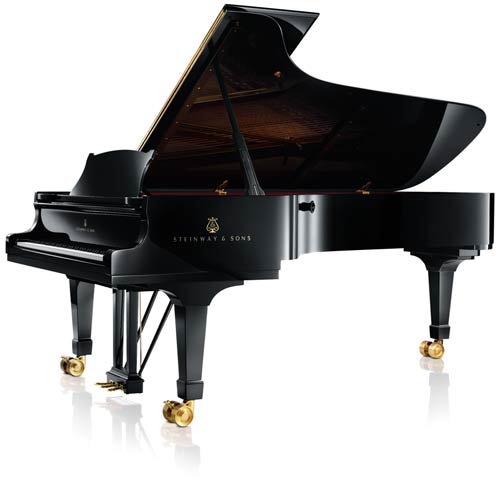 This includes simulated string resonance (sympathetic and pedal), mechanical noise (tweakable within the settings menu) and monoaural recorded samples.
Korg uses un-looped stereo samples for all keys and features, up to 12 velocity levels per key, which is a high degree of dynamic variation.
During play, sounds were fluid enough, and I couldn't hear any velocity switching on dynamic passages or inconsistencies between the notes, which is always nice and separates good digital piano sounds from the norm.
The grand piano sounds themselves are also great. The default Grandstage is versatile enough, though I found myself choosing Kronos's default Japanese for most of my tests (likely a Yamaha C-series, well known for its clear neutral tone).
The Italian is also a modern-style grand, with a cleaner tone, slightly more intimate than the rest.
The 'Steinway' German preset was initially what I expected to be the 'big' piano sound, but the samples all felt a little harsher than I'd expect.
Potentially, that'll be where I turn to for a heavy tone, but I'd say it's the dud of the pack.
For more intimate pieces, the Berlin preset has a faux-upright feel captured by close-mic'd samples, and it's likely where you'll turn to for jazz accompaniment.
The 1st upright preset is a little more neutered and feels ideal for chord-based accompaniment alongside a singer. The 2nd upright is another preset that felt 'meh,' having a lackluster high register with a looped decay.
6 great sounds out of 8 are nothing to scoff at, and the Grandstage is at its best when acting as a piano.
The SGX-2 engine might not be as well-known as mainstream products like Roland's SuperNATURAL, but the sound speaks for itself. The Grandstage can give even full console digital pianos a run for their money when hooked up to a good speaker system.
---
Electric Pianos – EP-1
Electric Pianos are a mainstay for stage-based performers, and having the variety makes for a very versatile instrument.
The EP-1 engine allows the Grandstage to cover quite a lot of ground and includes emulations of the Fender Rhodes (Mark I, II, V, and a Dyno-modded variation), a Wurlitzer, A Horner Pianet, and the evergreen sound of Yamaha's CP-series electric grands.
The sounds themselves are top-notch as well, particularly the Fender Rhodes presets. I've always been partial to the Mark II, and the preset here is so detailed that it even captures the force feedback buzz when the keys return to the initial position.
Even the Mark I (which I've always found Yamaha does best) is captured beautifully, managing to show off the original's dynamic range from a muted bell sound up to a distorted top end.
The Wurlitzer preset is authentic enough and carries an innate distortion that captures the common amp setup of the original.
While I've always been more partial to the Rhodes, playing on the RH3 keys is nice and feels authentic, thanks to the pure plastic keys and shallower key travel.
Clavinets aren't exactly my forte, though you can get some nice bite out of the included presets that cover the full 4 tone options from the original.
Add in the inherent auto-wah + amp sim effects and you've got classic rock sounds right at your fingertips.
The Yamaha CP-series presets sound good but feel like they've been combined with other sounds that add an innate chorus that can't be removed.
I personally find that these sounds suffer in terms of usability, though the 'dry' presets might work in ballads.
If ballads are what you want, the DX-style FM synth sounds are present, and there are a ton of presets that layer these alongside more solid piano sounds to get an otherworldly effect.
As a DX7 lover myself, I found these sounds functional, though they feel slightly less responsive than competitors due to extra muddiness.
Personally, I'd say the Yamaha CP88 and the Roland RD-2000 win out in synthesized electric pianos, though Korg has them beat with its sampled offerings.
If you want good electric piano sounds (especially Rhodes emulations), definitely try the Grandstage.
---
Organs – CX-3, VOX, Compact
The Nord Stage is generally regarded as the king of organs, and for good reason.
With each iteration, Clavia has been merging its C2-line of digital organs with the Stage, and the degree of drawbar control isn't something most companies offer.
Korg does have an edge though, as they've acquired VOX, the famed creators of the VOX Continental electric organ (in fact, Korg released a revision of the 1960's classic back in 2017 to mild success).
So, how does the engine hold up?
Nord wins by a long shot. Even the RD-2000 wins out by offering drawbar control via its faders.
Don't get me wrong, the sounds aren't bad. I'd even say they're great, particularly the Hammond and VOX emulations.
The engine simulates overdrive nicely, and it's probably the biggest differentiator of the Grandstage versus the competition.
Sadly, part of the expressivity of electric organs comes from injected movement via drawbar changes and rotary speaker speed modulation.
While the latter is available, it's hard to pull off chord-riff combos when you need to keep one hand on the pitch wheel (which controls the rotary speed).
Regardless, the CX-3 engine is identical to that in Korg's VOX Continental reissue and delivers pleasing tones. You've got your Hammonds, Farfisas, and VOX organs covered, and those will be enough for nearly all use cases.
If you're more into acoustic sounds, there are pipe organs, and even more exotic selections such as accordions. They feel like they're here to push up the preset count though and are clearly just filler.
While I'm a bit miffed at the lack of aftertouch, it's still a Nord exclusive feature, so I won't complain. To maximize the potential of these presets, get an expression pedal, and assign both toggle buttons.
---
Synthesizers – AL-1
I have high hopes for any Korg synthesizer, and the AL-1 engine is the basis for the engines behind the Korg Kross, an instrument I love as an affordable powerhouse.
The sound selection here is decent enough and includes a good selection of pads, leads, and basses.
Most of the sounds are well designed, which is a good thing considering you don't get a lot of wiggle room, barring filter modulations and envelope changes.
Pads are where Korg synthesizers excel, and it's where the Grandstage's AL-1 engine shines. There are rich sounds that serve as standalone atmospheric backdrops and more controlled sounds are gorgeous when layered beneath the piano tones.
Basses are also well done, with an emphasis on punchy basses with a warm Moog-like tonality to them. I'm happy Korg didn't waste slots for growls and Reese basses, so props on them for prioritizing functionality over flair.
Leads are where things get a little iffy for me. There are some good sounds here, and many of the simpler presets are excellent at piercing through the mix for synth solos, with dynamic response and MoD-wheel-controlled vibrato. Yet, there are a lot of presets that sound good in isolation but don't fit into a band context.
Sadly, this is also where the limited editing capability rears its ugly head. The RD-2000 suffered similar issues, but we could always dive into the sound designer for in-depth tweaking. That's not even mentioning the Nord A1 synth included in the Nord Stage.
Here, what you see is all you're going to get.
Regardless, I'd say the Grandstage's synthesizers 'suffer' from the same problem as its organs. They sound excellent, but the lack of fine control does hurt it somewhat.
---
Sampled Instruments – HD-1
The rest of the sounds are generally pretty good. Strings are rich, brass hits hard, and choirs are lush. These sounds aren't drenched in reverb like their contemporaries, which leaves them open for further sculpting via the effects section. A definite plus.
You even get Mellotron and some Fairlight samples as a bonus, which are faithful to the originals, barring the extreme registers.
Apart from that, you get the usual suspects sampled well, including Guitars, Bass, SFX, and hits.
While there isn't much to highlight, the electric guitars are surprisingly realistic. Sadly, woodwinds don't make an appearance, so bear that in mind.
---
Controls and Effects
I'll say this about the Grandstage – controls and effects are basic. It's even more limited than Yamaha's CP88, and I already found that somewhat restrictive.
With each sound, you get 10 editable parameters, all accessible via a combination of pressing down the 'Edit' button and turning the Variation knob. These settings are:
Octave shift: Up or Down 3 octaves
Tuning: Up or Down 100 cents
Release Envelope
4 Sound Parameters (Depends on Program)
Reverb Send
Damper Pedal Active
Pitch bend, MoD Wheel, Foot Pedal, and Switch Pedal Active
In my opinion, the limited sound editing is a blow against the Grandstage. 4 parameters per sound isn't a lot, and that a maximum, some sounds don't even let you change anything.
If anything, this is a huge waste of the Kronos' powerful sound engines, and I'm still hoping, 2 years after the initial release, that Korg will consider patching in more settings through firmware updates.
Regardless, what's available is perfectly fine for a preset machine. These settings are on a per-sound basis and allow you to customize splits well enough (you don't want bass notes to sustain infinitely when the damper is pressed down, and you might not want the pitch bend to affect your pad).

The Reverb Send allows you to mix in the wet signal from the Reverb/Delay chain, and it's nice that the Effect chain isn't global, so you can be flexible with your performance patches.
Speaking of the Reverb/Delay chain, it includes 4 reverbs and 4 delays:
Hall Reverb
Stage Reverb
Room Reverb
Spring Reverb
Simple Delay
Cross (Ping Pong) Delay
Tape Delay
Pitch Mod Delay (Faux Chorus effect)
There isn't much to talk about here. You can change the algorithm type, the timing, and the depth of the effect. It's a simple setup, but familiar to most stage piano users.
What's weird is the timing control. The Grandstage uses a tap tempo button, which is standard for delays, but the same thing sets the reverb decay time, which is a little awkward, and I never truly got used to it during playtesting.
After the Reverb/Delay effect, the sound enters the equalizer, which is a simple 3-fader setup.
The 3 faders correspond to a low-shelf, a mid-bell, and a high-shelf filter. Each band can boost or cut up to 12 dB and is good enough for performance mixing.
You will need to rely on the sound man for detailed mixing though. The RD-2000's full-band parametric equalizer is still the king for in-depth sound control.
The Dynamics knob might seem like a clone of the Nord's one-knob Compressor at first glance, but that's not true at all. This is particularly obvious when you try engaging this 'effect' on sounds that have 0 velocity dynamics, such as organs.
The Dynamics knob on the Grandstage seems to act at a MIDI level, either compressing or expanding your playing dynamics.
It's hard to explain, but the knob zeroes at the center position. Turning it to the far-right makes every keypress feel strong and loud; whereas turning it to the far left makes things softer and emphasizes the difference between soft and hard playing.
Personally, I left the dynamic knob centered (deactivated) most of the time. A lack of a dedicated compressor does sting a little, as you'll find it a bit harder to achieve than modern radio-ready sound when playing in a band.
Thankfully, some presets sound like they've got compression baked in, so keep an ear out if that's what you prefer.
If you want a more familiar velocity control, the system settings allow you to choose between 9 different velocity curves.
The default Normal setting worked fine for me, and I honestly didn't feel the need to change things further.
Notable exceptions in the effects department are the lack of chorus, phasers, and other modulation effects.
Korg did include these mainstays within presets but having the ability to use them on demand would have been welcome.
Features
When it comes to actual performance features, the Grandstage feels a bit basic when compared to its peers. Here's a quick rundown of the available features.
Splitting and Layering
A must-have feature for stage pianos. Splitting and layering are done the usual way on the Grandstage.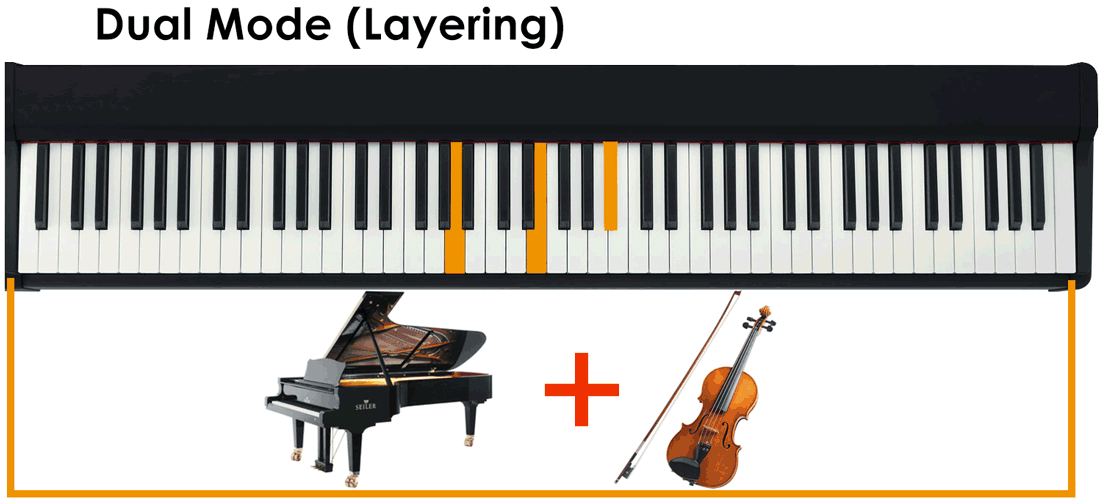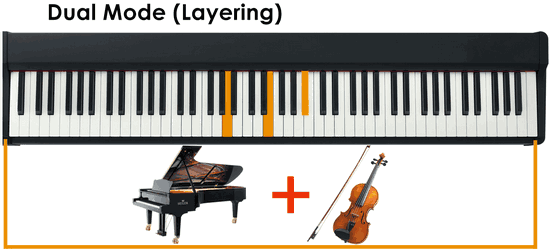 Preset designing is a breeze. Layers are created by activating both sections, and splits are made by holding down the dedicated split key and pressing whichever key you'd like to have as the split point.
A dedicated swap button also allows you to switch the assigned sounds in split mode. While this system is simple (and lacks multiple split points as present on the Nord Stage and the RD-2000), its simplicity will appeal to most users.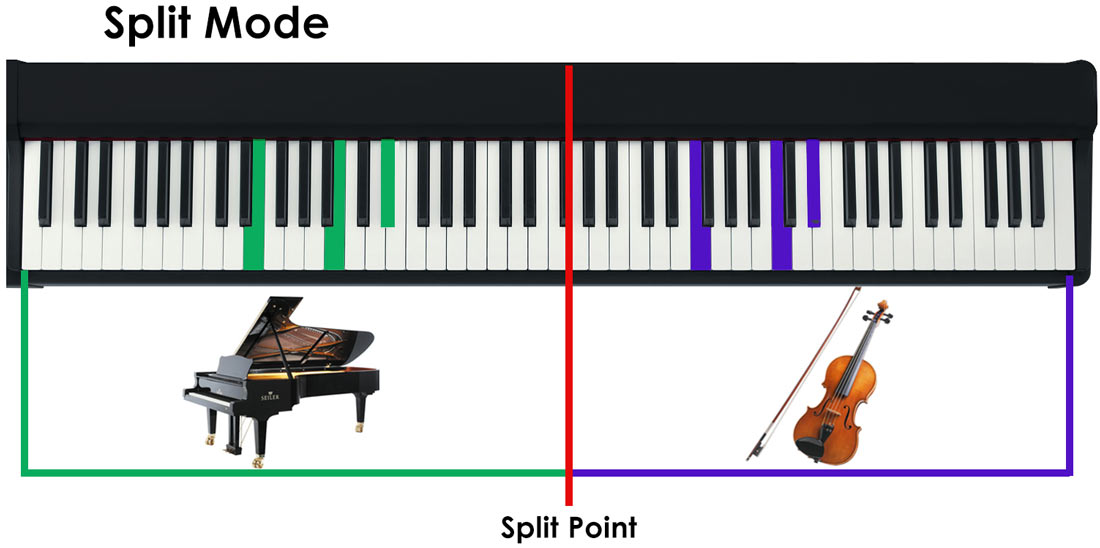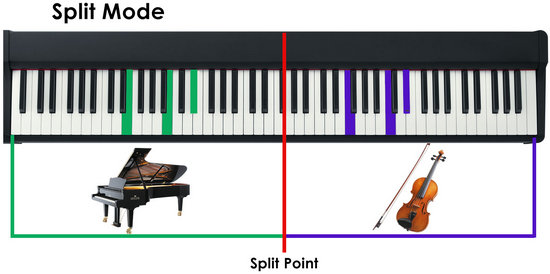 It should be reiterated that each sound has an independent send level to the Reverb/Delay unit, which is a plus when it comes to flexibility.
---
Seamless Transitions
This minor feature was hyped up as a standout addition to the Stage 3, and it's nice to see more companies adopting it into their own performance instruments.
With seamless transitions, you can avoid sound cutoffs while switching through presets, and previously played sounds that are still in their release stage will continue to ring out.
For keyboardists who go through multiple presets at a time, reducing the glitchy cutoffs is a must, and I'm glad to see it included on the Grandstage, especially with the 2-sound per favorite limit.
---
Preset Management (Favorites)
Since we're on the topic of favorites, let's talk preset management.
The 16 buttons located on the center of the Grandstage allow you to save sounds, and there is a total of 64 slots.
Each Favorite (Korg's terminology for patches) saves the 2 sound sections (including transpose and send amounts), split settings, and reverb/delay settings.
64 doesn't seem like much, but it's more than enough for me. Also, remember that each preset isn't complicated and shouldn't take long to recreate.
If you want to move your presets across Grandstage instruments or save an offline backup, you can save the current soundbank on the rear panel USB flash drive slot.
Connectivity
Connectivity is another way the Grandstage performs well. We'll cover the ports from left to right.
A USB to Host port allows the transfer of USB MIDI data, and lets you use the Grandstage as a MIDI controller.
A USB flash drive port enables you to back up your presets and settings.
Legacy 5-pin MIDI IN and OUT connectors are available. If you're working with external MIDI-based gear, these are helpful additions.
Foot controller options are provided and automatically detect the polarity of the pedals (which is an underrated feature that is very intuitive, other companies should do this!).
You get jacks for a Damper Pedal, a Switch Pedal, and an Expression Pedal jack.
Stereo outputs are provided in both balanced and unbalanced forms.
Two 1/4″ TS jacks are included, useful for connecting the Grandstage to amplifiers or speakers. These are standard outputs, and mono support appears on the left channel.
Stereo XLR outputs are also present and provide a pair of balanced outputs that don't suffer from noise and grounding issues.
People who have done stage performances might be familiar with the necessity of DI (Direct Inject) Boxes, and XLR outputs negate their need.
It's worth noting that the Grandstage includes a LIFT-GND (Lift/Ground) switch, the first time I've seen this on a digital piano.
This is another feature from DI boxes that provides an alternate method for negating noise due to the ground loop. It's another nice bonus to have.
Accessories
The accessories that come with the Korg Grandstage are more than enough to get you started.
The DS-1H sustain pedal is a model we constantly recommend. It supports half-pedaling, feels solid, and is an all-round excellent sustain pedal that will serve you well, even beyond the Grandstage.
The included music rest is somewhat divisive in terms of looks, being notably 'unique' and arguably 'weird.' Looks aside, it's a lot more solid than generic X- or Y-stands, and slots in nicely with the rear music stand holes on the Grandstage.
Finally, I'll give the usual spiel about checking if the AC adapter is compatible with your country's voltages, especially if you're importing the Grandstage.
Apart from that, we get a few extra recommendations that are optional but can certainly help complete the experience.
---
Stand
Note that some retailers include a high-quality Z-style stand (Standard M-SV) with the Grandstage purchase, so make sure to check all the details to know exactly what you're getting.
The inclusion of the stand is usually reflected in the price of the instrument, so if you don't need the stand, you might be able to find the Grandstage for cheaper.
---
Expression Pedal
A lack of aftertouch means you'll need to resort to the mod wheel for parameter changes during play, which requires you to take your hands off the keys. This is cumbersome, so an expression pedal is a worthy investment.
You can use your feet to control what is basically an extra mod wheel, and that makes for some expressive performances, especially with the organ and synth sounds.
I recommend the Moog EP-3, which is one of the best expression pedals available online. If you're looking for something more affordable the Nektar NX-P would be my recommendation.
It is solid yet lightweight and works with practically any keyboard out there due to its universal polarity switch.
---
External Amplification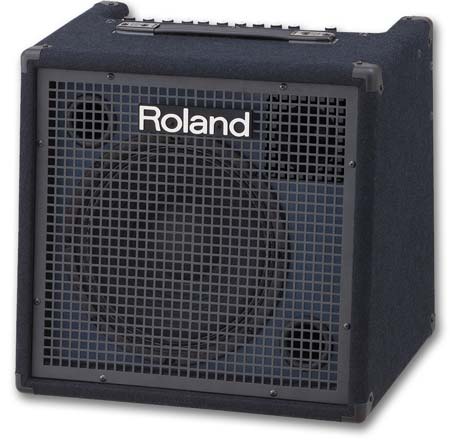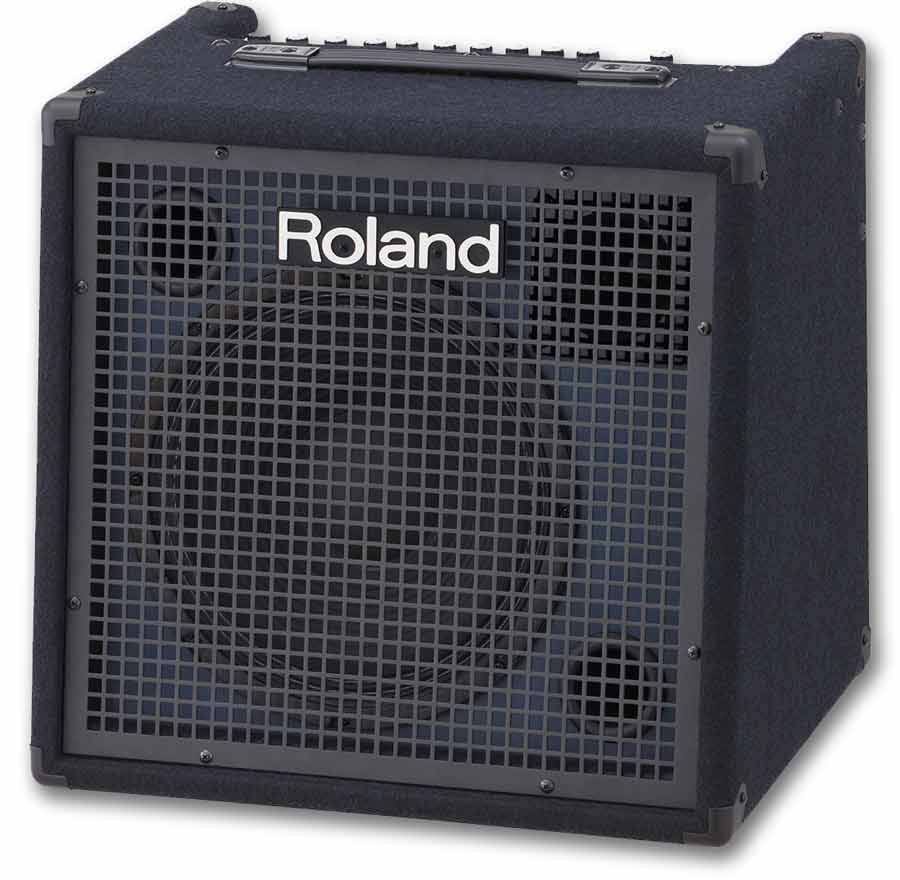 Like most stage pianos, the Korg Grandstage doesn't have built-in speakers, which means you'll have to rely either on headphones or an external amplification system such as a keyboard amp, a PA speaker, or something else.
---
Headphones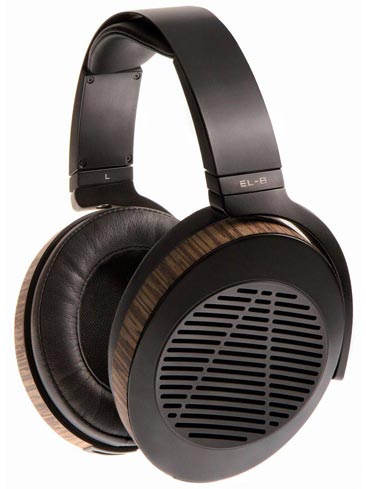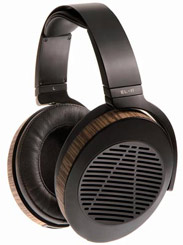 Headphones come in very handy when you want to practice in private, focusing solely on your playing and not disturbing others nearby.
Moreover, a good pair of headphones will provide a clearer and more detailed sound compared to onboard speakers.
Check out this guide to learn how to choose the best-sounding headphones for your digital piano.

Summary
Pros
Well-build, made in Japan
Some of the best Pianos, Electric Pianos, and Organs
Great selection of presets from the Kronos
RH3 keybed is responsive and versatile
Easy-to-use user interface
Controls feel solid
Complete connectivity package
Cons
A criminally small amount of editing options
Only a single Reverb/Delay effect
Limited features
No expandable sound library
---
The Korg Grandstage is a rare beast. It's a stage piano that sounds stellar and is stupidly easy to use (in fact, the manual is less than 20 pages minus the legal jargon and warnings!).
I was expecting something like Yamaha's modern CP88, but I was surprised to find that things were even more stripped down. Even if you've got zero experience with stage pianos, you'll have no issues using the Korg Grandstage.
I'll be frank, the sound designer in me was hesitant at first. I loved the Nord Stage 3 and the Roland RD-2000 for their sonic flexibility, and Korg's affordable Kross workstation was one of my favorite gigging and studio choices.
Having a maximum of 4 parameters to work with, with only a single effect, felt extremely limiting.
However, my fears were misplaced. Korg's 7 sound engines (again, ripped straight from the Kronos) are amazing and shine brightest with key-based instruments, especially pianos.
I'd go as far as to say that these are the best acoustic and electric piano sounds you can find on stage pianos right now.
Having reviewed (and praised) the Nord Piano 4 in recent months, I can say the Grandstage stacks up nicely, and even exceeds the Piano 4 in some regards thanks to its RH3 keys, which I prefer over the functional Fatar keyboard of Nord instruments.
The RH3 keys are the other main highlight and feel good despite lacking hybrid wood structures found on the competitors.
The keys are accurate and responsive, and their weight is balanced to work well with both acoustic and electric pianos, even delivering convincing organs.
Finally, I couldn't help but love the simplicity. Out of all the stage pianos I've tried so far, the Grandstage is the most approachable. You don't need the manual at all. UI design is important in this day and age, and Korg has done well here.
Unfortunately, simplicity also means compromises.
The 500 presets are good enough and hide a lack of true synthesis and effects well enough. For most stage piano use scenarios, you'll be perfectly fine with what the Grandstage offers.
It's just a shame that the sound engines aren't accessible. The Kronos' sound engines are extremely powerful. Even raising up the parameter count to 8 per sound could let performers get closer to their ideal sound.
The effects also leave a bit to be desired. I might be spoiled by the dedicated effect sections offered by competitors. Yet having only a single Reverb/Delay combo effect doesn't cut it.
While the reverb algorithms sound good, I would have liked to see a dedicated chorus, amp sim, or rotary speaker emulation. Of course, your mileage may vary.
Finally, you may have noticed the short feature section compared to our other stage piano reviews. The Grandstage is really basic and doesn't have stuff like the Nord Piano's fade function, the RD-2000's live mixing, and the singular split point. These are by no means necessary, but it's worth noting that competitors do offer more 'bang for your buck.'
To sum it all up, the Grandstage sounds good, plays well, and is extremely easy to use. I'm wasn't kidding when I said it's one of the best sounding stage pianos, and I'm willing to overlook the slim feature set as a result.
In the end, I highly recommend the Grandstage for pianists who want a wide palette of good-to-go sounds. It sounds awesome, and if you don't need the extra bells and whistles, the Grandstage is an easy choice.
Check the availability and current price of the Korg Grandstage in your region:
Alternatives
There a lot of powerful stage pianos on the market to choose from. The main competitors to the Grandstage are as follows:
We're soon going to make a full roundup article where we'll compare all the best stage pianos out there.
In the meantime, check out the video below to see how the Grandstage compared to some other popular stage pianos.