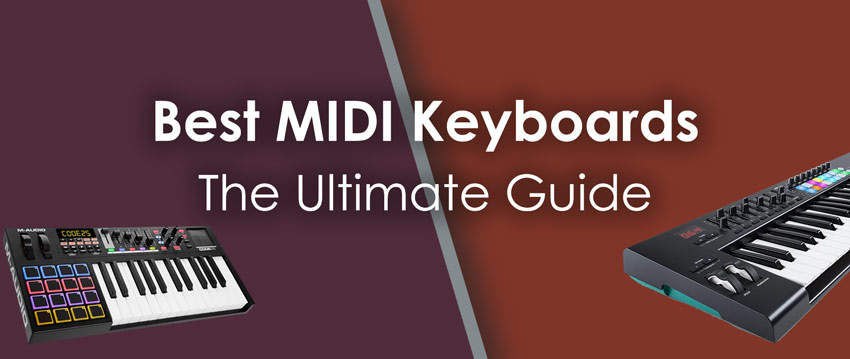 As our website name implies, we focus mainly on pianos, specifically the electronic variants that serve as viable learning and practice tools for all skill levels.
Our most recent article challenged us to pick out a beginner's training tool for under $150, which was no small feat.
One of the options we offered was a combination of a MIDI Keyboard alongside a VST plugin. This was an interesting take on things, as we've yet to cover MIDI keyboards and controllers.
Not long ago we also introduced you to the world of VST plugins and VST instruments in particular. These plugins are ideal companions to the MIDI keyboards we'll cover in this article.
There's a lot to consider when it comes to MIDI keyboards, especially since our prior knowledge about companies like Yamaha, Roland, and other prolific digital piano manufacturers don't apply.
Our Selection Criteria
Unlike our usual lists, we'll be a bit more lenient with our choices. There won't be the typical 88 weighted key rule here, because as we just discussed, we aren't looking for the best piano replacement.
For MIDI keyboards and controllers, we are looking for:
Good build quality
Nice-feeling keys (which means it must have keys)
Pitch-bend and modwheel
Velocity/pressure sensitivity
---
That's a short list due to the important factors you need to consider. At the least, this ensures that any recommendation we make will feel well-built and playable, and you won't regret your purchase.
However, you'll need to make a few decisions yourself. Some MIDI controller models come in different keybed sizes, ranging from a miniature 25-keys to the full piano-sized 88, and the models are essentially the same apart from the number of keys.
Hence, you'll need to judge the following on your own merits:
The preamble is out of the way, you now have an idea about how MIDI controllers work, so let's look at our top picks.
Arturia KeyStep – Best Portable MIDI Keyboard (25- to 32-key)

---
Arturia made a name for itself as one of the top developers for software emulations of classic synthesizers. They then moved onto hardware with their highly successful Minibrute synthesizer, praised for its solid build quality and excellent sounds.
Arturia's focus on expanding its product line was what brought around the KeyStep. This is a portable MIDI controller geared towards laptop-based users who are consistently on the go.
This category is dominated by mini-keys, more likely associated with toys over fully-fledged instruments.
Most people may see recommendations for the ever-popular Akai MPK Mini, or even the Novation Launchkey Mini, both well-reviewed MIDI controllers.
However, the KeyStep wins simply because of how good it feels. The keys, while small, feel a lot more premium, and have a decent amount of travel and springiness.
When compared to the alternatives, there is no competition. The MPK Mini and Launchkey Mini feel cheap and unresponsive, whereas the KeyStep legitimately feels like a real keyboard.
32 keys isn't a lot, but it's still better than the 25-keys offered up by the competitors. It's also important to remember that these are meant to fit into laptop bags. Size and weight must be kept at a minimum here.
If you want a point of reference, I'd say the KeyStep feels like a good unweighted arranger keyboard. That's not much of an endorsement but believe me when I say there isn't much better at this size.
The KeyStep was also designed with full-on connectivity in mind, and it shows in the number of options on offer.
USB MIDI is the obvious one, but 5-pin MIDI and even CV/Gate voltage signals are provided. If you're using legacy gear or modular synth modules, the KeyStep has you covered.
Build quality is also best-in-class here. The KeyStep is plastic, but feels sturdy and is well suited for rugged laptop bags. The knobs and buttons feel much better than the competition.
Where it falters is in the lack of controls. The pitch bend and mod wheel exist as touch strips, which I feel is much better than the MPK Mini's joystick and the Launchkey Mini's nothing (though the new MK3 includes touch strips as well).
That's the limit of positives for controls. The onboard knobs are all used for the sequencer and arpeggiator functions (which are robust for such a compact package), and the buttons are for transport controls only.
Pads are also notably absent, though neither the Launchkey nor the MPK Mini's pads feel especially good.
While you won't go wrong with the KeyStep, I would suggest testing out alternatives if given the chance. The Launchkey Mini might be worth it if you're using Ableton Live as your main DAW.
Pros
Best compact mini keys on the market
Good build quality
5-pin MIDI and CV/Gate support
Cons
Lack of knobs and buttons
---
Alternatives
We talked briefly about the MPK Mini and the Launchkey Mini above. We don't consider them viable controllers, but you can always try their bigger counterparts, the Akai MPK225 and Launchkey 25.
These dodge the problem of mini keys, but I still give the KeyStep the edge in that regard. The good controls are even more prominent here though and might just push you over the edge.
You could also consider the Arturia MiniLab, an even more miniaturized variation of the Arturia formula, but it has knobs and pads at the cost of 5-pin MIDI and CV.
This is a purely computer-based solution, but it still feels far superior to the competition.
Nektar SE49 – Best Budget MIDI Keyboard (below $200) 

---
While the Arturia KeyStep is great, it's not something I'll use for playing complex parts like chords or piano pieces. The 32-key limit means I have only 2.5 octaves to work with, which is extremely limiting.
That's why we recommend the Nektar SE49. 49 keys aren't a lot either, but Nektar more than makes up for it with their playability and simple control scheme.
Nektar as a company was founded to make MIDI controllers that closely integrated with DAWs, specifically Reason, giving you the ideal experience of being able to operate without even glancing at your computer screen.
This laser focus lends itself to specific DAW audiences but is not ideal for a general consumer. Thankfully, Nektar excels at good keyboards, and that same level of quality is seen with the SE49.
It's worth noting that this category is highly contested. The Roland A-49 is a slightly more expensive option that's a bit older, but it is well praised for offering good value for money.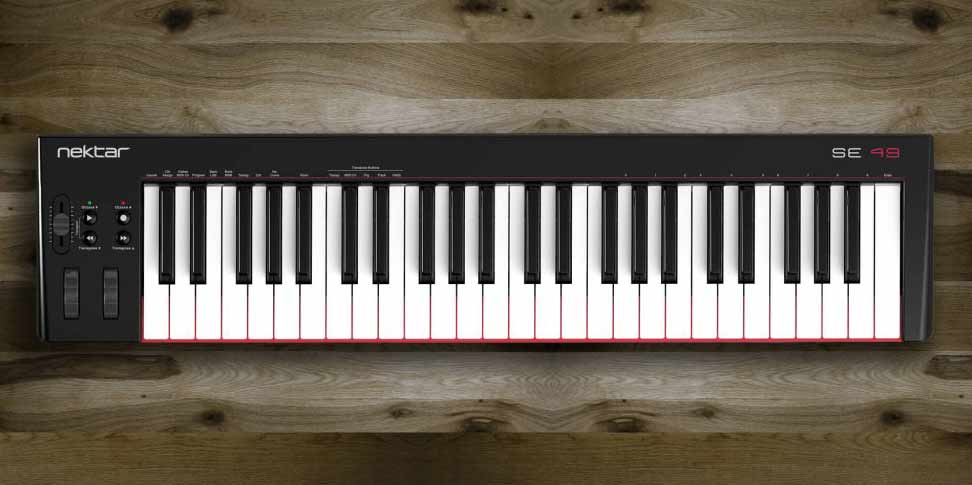 The M-Audio Keystation series, on the other hand, lags in terms of playability but features 5-pin MIDI support.
In fact, that's the first blow against the SE49. You're operating strictly on USB MIDI here. If you've got MIDI modules in mind, you might want to consider the Keystation.
Apart from that, the SE49 is plagued by the absence of more controls. A fader, pitch and mod wheels, and 4 buttons (which double as octave switchers) are all you get. And again, no pads – yikes!
However, the SE49 makes up for this by including one of the best unweighted keyboards I've played. Only the semi-weighted keys on the Novation Impulse (which costs 4 times more) beats it.
In my opinion, this beats out other options in this price range by simply feeling the best. I can play piano, synth, and organ on the SE49 without much issue.
The Keystation falters on account of its weak keybed, and while the Roland A-49 feels good with synths, it doesn't feel as good with glides and glissandos.
The only thing that would have made the SE49's keys perfect would be aftertouch, but it straight up doesn't exist with the competitors at this price point, so I won't hold it against Nektar.
Even the controls, limited as they are, feel high-quality. The pitch bend and mod wheels feel very precise despite their cheap look, which was unexpected.
Even the Keystation 49 costs more, and I'd argue that it's a worse deal unless you desperately require 5-pin MIDI. Seriously, go with the SE49. As far as price to performance ratios go, this is tough to beat.
Pros
Great keybed for the price
Very affordable
Decent build quality
Cons
USB MIDI only
No aftertouch
Lack of controls
---
Alternatives
In terms of alternatives, the Keystation series as well as the Oxygen line (if you need more controls) have variants with more keys, which might make it seem like the obvious choice if more keys are needed.
However, Nektar also makes the Impact GX61, which is cheaper than the Keystation 61 while featuring an upgraded build quality over the SE49.
Alternatively, if you're willing to spend more, I recommend checking out the M-Audio Code series and the Novation Launchkey series (non-mini versions). These are all well-praised options that justify the extra price, giving you aftertouch, semi-weighted keys, and so on.

---
We've been skimping on excess controls so far, which seems counterintuitive to the design of MIDI controllers. However, we stand by the fact that keys are the most important aspect of any keyboard.
Regardless, for people who want a lot of knobs and buttons, the Arturia Keylab is the way to go. We've already introduced Arturia, so you know their pedigree as one of the top names in computer music.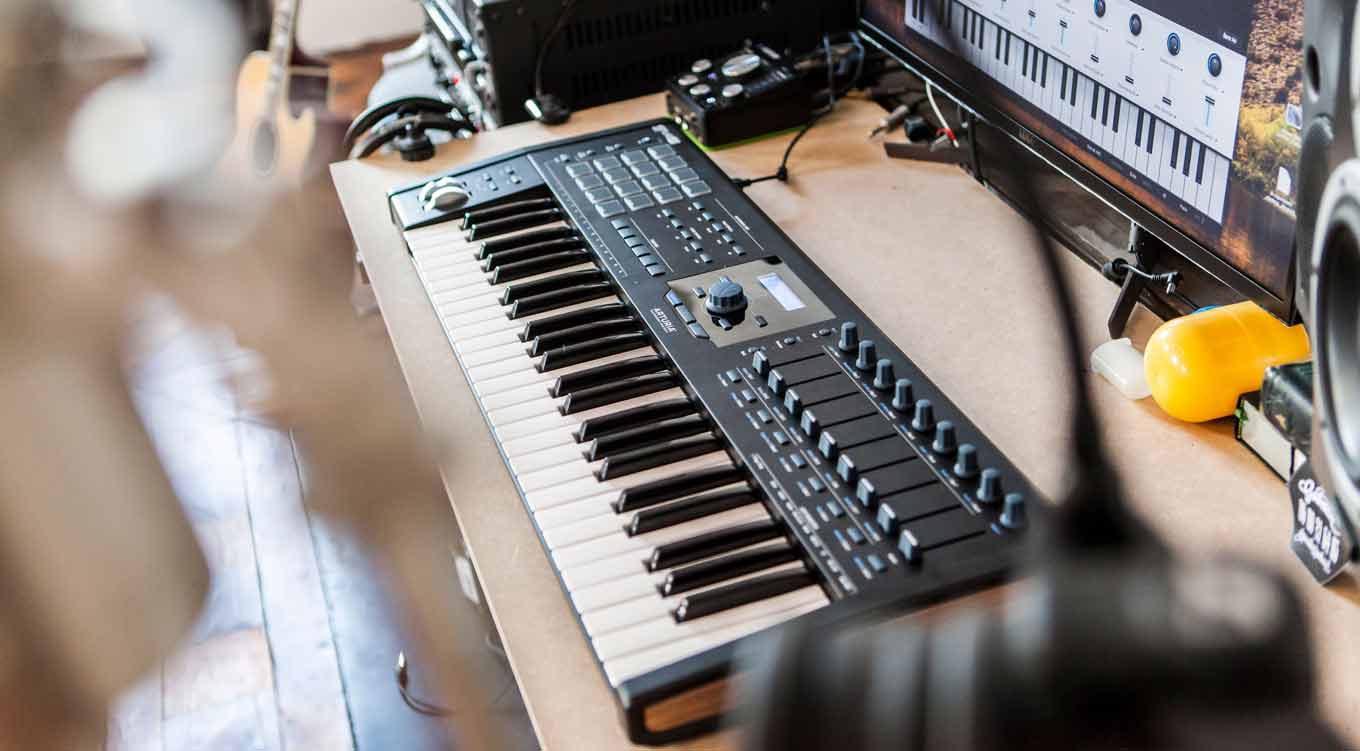 The KeyLab series is split into the mainline series (KeyLab 49, 61, and 88 which is weighted) and the Essential series (KeyLab Essential 49 and 61).
The differences primarily regard the layout and the Essential line's reduced number of controls. We'll consider the series, but our opinions will be based on the KeyLab 49 MKII, which we believe is a better option.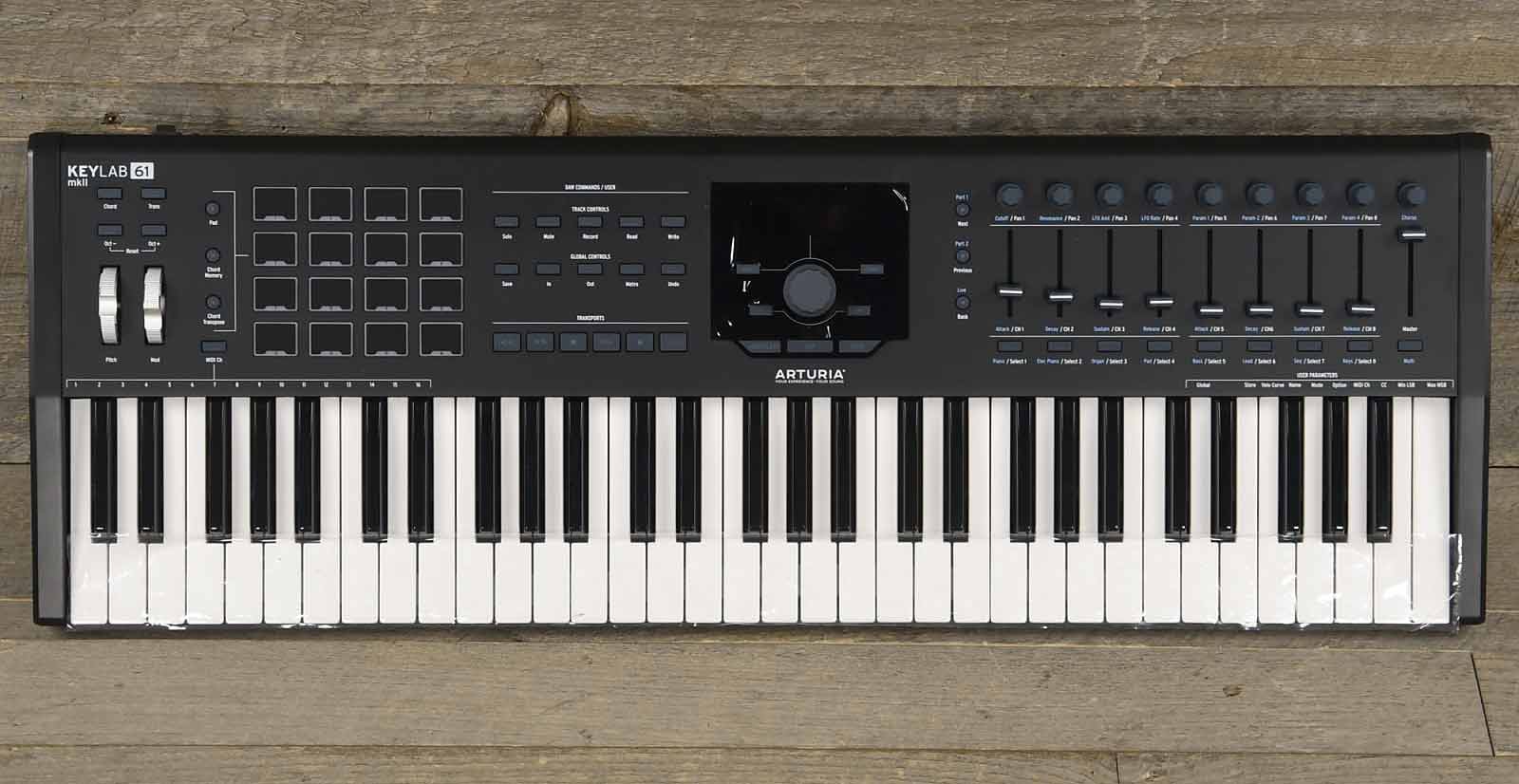 The KeyLab takes the KeyStep design ethos and cranks it up to eleven. You get the same robust build quality with bonus wooden sides, a full-sized keybed, and actual controls beyond the transport buttons.
The keybed itself feels good and roughly identical regardless of which model you choose. Considering Arturia managed to make good on a mini-sized keyboard, I'm not surprised that their fully-grown brethren excel, too.
The keys here feel great and are a great fit for any playstyle once you've gotten used to them.
The KeyLab 88 is the only exception, featuring an ungraded piano-style weighted keyboard. While I did find it good, I think there are better options out there.
Even the FP-30 (which admittedly features Roland's PHA-4 Standard action) feels better despite a much lower cost.
Everything here feels physically sound. The pitch and mod wheels are physical and have a light response and quick return time that feels somewhat like the Nord-style keyboards many of us covet.
Pads are also included (4×4 matrix on the mainline, and 4×2 on the Essential). The pads are less Akai MPC-style resistant, and more like the Native Instrument's Maschine-style responsiveness.
This is a personal preference, but I find myself enjoying these a lot more than those on the Akai MIDI keyboards.
The faders, knobs, and buttons feel like they came off real hardware mixing boards, and there's even a simple LCD screen to provide visual feedback when necessary.
The magic with the LCD screen is that the KeyLab comes with preset configurations for well-known DAWs and hardware synthesizers.
No matter what DAW you use (apart from FL Studio, which feels like a weird omission considering its popularity), there's a default setup you can use and modify to taste. Arturia even provides printed labels you can use to change the button descriptors.
Since you have MIDI and CV/Gate connections, you can also use preset configurations with most hardware synthesizers, modern or otherwise.
Using this with the Prophet 6 available in the store was seamless, and I saw a lot of recognizable names in the menus.
Overall, I'd say the KeyLab is the best in its class. While some might consider the price to be a negative, there are many worse keyboards that cost more, and you really are getting a lot more than you pay for.
Pros
Full connectivity options provided
Good keys and controls
Versatile configuration with provided presets
---
Alternatives
For a higher price, you can get the Novation SL MKIII-series keyboards, designed specifically with Ableton Live in mind, integrating its 8×2 pad matrix and multiple color-LCD screens with the workflow directly.
While I love the SL MKIII as an Ableton Live user, it doesn't integrate as well with other software and hardware. I'll still note it down here as an excellent choice though.
The AKAI MPK249/261, Novation Launchkey, and the Nektar Impact LX series are MIDI keyboards available at a cheaper price, and they're solid choices if the KeyLab feels too expensive.
I personally favor the Impact LX over the other two, but Akai is known for making sturdy products that last a long time.
These options aren't exactly excellent, but they offer a good amount of controls for the price. The KeyLab is slightly ahead when it comes to playability and integration.
Novation Impulse – Best Semi-Weighted MIDI Controller

---
Novation is another veteran MIDI controller. Their earliest controllers focused on providing as much control as possible. In fact, the 'father of controllerism' Moldover himself began by heavily modifying one of the earliest Novation SL keyboards to make his dreams of complete control a reality.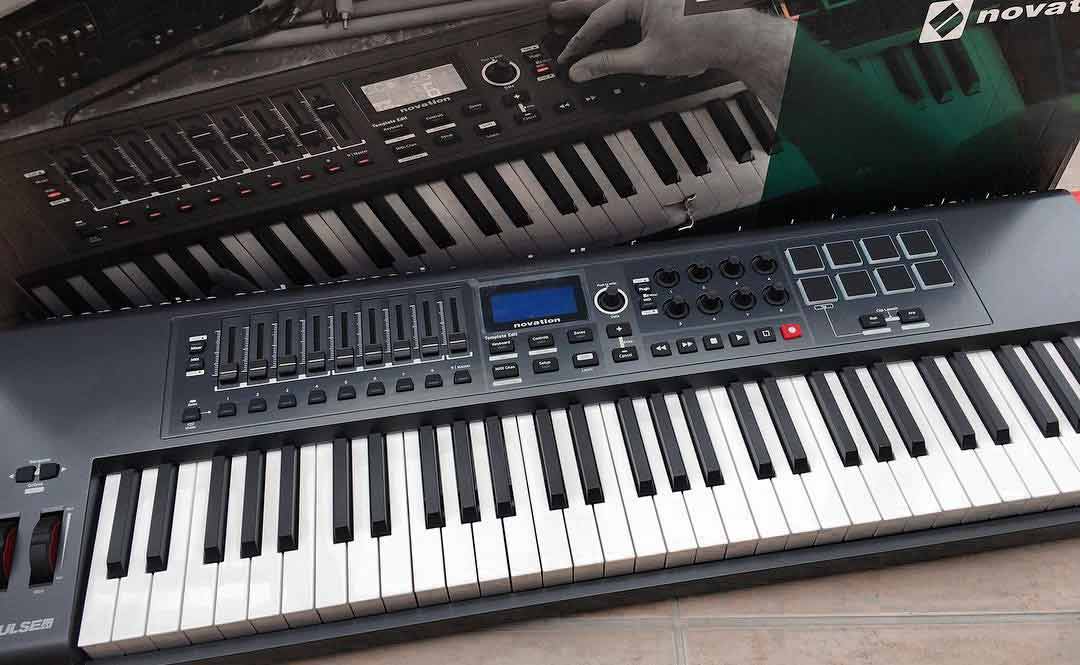 Novation is most well-known for its Launchpad line, which featured simple 8×8 pad controllers made for sample triggering, and these were surprisingly successful for performance purposes.
Many now write off Novation as just 'the Launchpad company,' but their legacy speaks for itself. They know what people want and they're good at making things that work well.
We already spoke briefly about the latest MKIII SL iteration, but that's not the only product to consider.
The Novation Impulse is an old MIDI controller, but the keyboard is one of the best I've played, and it even comes close to surpassing the semi-weighted 73-key variation of the Nord Stage 3.
Let's talk about the keys first. They are semi-weighted and come in 25-61 key variations. The 61-key model is the one we'll refer to.
Basically, semi-weighted keys feel somewhat like light piano keys, making them a happy medium between weighted and synth-action keys.
I personally prefer them over straight-up unweighted keys because of their versatility. Being able to play both piano and synth parts convincingly without changing your technique is quite useful, as you won't need to switch between controllers just to get your ideas out.
The keys here are still the best semi-weighted keys I've played, despite being released in 2012, and I still recommend them. Velocity response and aftertouch are good, though aftertouch feels slightly uneven on the black keys.
Either way, keys aren't the Impulse's only advantage. There is a good amount of controls here such as pads, faders, and buttons, which unfortunately feel less premium due to their age. The SL does have the edge here, especially in terms of integration.
However, Novation's built-in Automap software works well enough for most plugins and DAWs, though some of the more recent plugins aren't supported.
Most of the common ones are still used to this day though, and I didn't find many failures while using it.
As you've probably noted throughout this article, controls take a back seat to good keys for us. The Impulse is a great keyboard at a good price, and one might even call it a good 'impulse' buy, pun intended.
Pros
One of the best semi-weighted keyboards available
All the controls you need
Cons
Everything apart from the keyboard feels a bit dated
---
Alternatives
There's a better option if you're willing to sacrifice a lot of controls and pay a lot more. Native Instruments is the biggest name in the business, and their plugins and hardware integrate well with each other.
Their new Komplete Kontrol S series includes semi-weighted keyboards courtesy of Fatar.
If that name sounds familiar, it's because they're responsible for the keys on all Nord keyboards, as well as the new up and coming company Dexibell.
The 49- and 61-key variants of the Komplete Control (henceforth known as the S49 and S61) are virtual carbon-copies of the Nord Stage 3 73's semi-weighted keyboard, and I have to say they're hard to beat.
These keyboards also include a high-resolution OLED display that gives you direct control of NKS supported plugins, something no other MIDI controller can attest.
The only major downsides to this keyboard are a hefty price and a limited number of controls. Even so, the screen + knob combination is efficient and hampered only by a lack of full-fledged support from non-Native Instruments plugins.
Kawai VPC1 – Best Weighted Keys
---
Kawai needs no introduction as prolific acoustic and digital piano makers, having been around since 1927.
For the longest time, people resorted to actual digital pianos for that accurate replication of feel. Options like the Akai MPK88 existed but never compared to the more professional touch of actual digital pianos.
While getting an affordable yet well-reviewed digital piano (such as the excellent FP-30) is a valid option, you need to pay top dollar for wooden keys and responsive sensors. Kawai's VPC1 felt like the natural answer to that problem.
The VPC1 is the most limited MIDI controller on this list, as there isn't much to work with in terms of controls. You get a power button, USB MIDI and 5-pin connections, and the full-sized 88-key keyboard.
No faders, no buttons, nothing at all. This might seem blasphemous, but you'd be surprised to find that companies like Akai and M-Audio are attempting to recreate this minimalist product with their own Akai Road 88 and the M-Audio Hammer.
Sadly, they don't come close. The Kawai VPC1 has the best keyboard of the bunch and is worth the price of admission.
If you look up the price, breathe deeply. Over $1,000 seems like a lot until you realize you're getting the RM3II wooden key action.
These keys are far from plastic blocks and compare to the Grand Feel key actions featured on Kawai's flagship console-style digital pianos (which cost many times more).
With the RM3II action, you get a simulated acoustic feel with graded hammers, counterweights on keys, synthetic ivory-textured surfaces, and triple sensor detection for repetitive key presses.
A triple pedal setup also comes with the controller, providing soft, sostenuto, and damper pedaling in one package. As with Kawai's digital pianos, these feel realistic and support half-damper functionality.
You even get to customize your own velocity curves using the VPC editor software.
This is the best piano-style weighted key action you can get in a MIDI controller. The competition (especially the Akai Road) comes close, but it's not worth saving if you want the closest to the real deal.
More so than anywhere else, you'll need to pair this with a good software piano. Again, I recommend you check out our breakdown of all our top piano VST plugins to find one that works best for you.
Pros
Best fully weighted key action on a non-digital piano
Excellent build quality
Piano-style design
Cons
Price
Relatively heavy
No controls
---
Alternatives
While the Akai Road 88 seems enticing due to costing 3/4 of the price, I'd say the M-Audio Hammer or the Studiologic SL88 Grand is a better value-for-money option.
The latter comes with Fatar's premium TP/40 Wood action, which feels superior to the SL88 Studio with a lighter and more basic action, the TP/100LR.
The actions still feel worse than Kawai's RM3II, but they have a few bonuses that justify the downgrade.
It also helps that they cost less than half the price of the Kawai VPC1.
---
If there's one takeaway from this whole article, it's that MIDI controllers are all about giving the user control.
Knobs, buttons, and faders seem archaic, but they're an easy method for interacting with sound parameters to add expressivity.
However, those feel more like an engineer's tool, as opposed to that of a musician. Roli is a company formed to tackle that issue head-on. Their products, from the Roli Lightpad Block to the Roli Seaboard, don't have knobs or buttons.
Instead, they use the simple concept of aftertouch and add extra dimensions to enhance performance capabilities.
Imagine controlling a synthesizer's filter cutoff point by moving your finger up and down the keys. Perhaps even controlling pitch bend by moving your fingers horizontally!
This is all possible with the Seaboard, and it's something quite unique. If you've ever used Korg's famous Kaoss pads, this feels like that, but in keyboard form.
Touch is the name of the game here, and Roli even designed their own software plugins to take full advantage of their keyboard. These come with every Seaboard model you can buy, and while they're complicated, the sounds are worth the effort.
The problem here is the price. The cheapest Seaboard Block is many times the price of other 25-key controllers, and the Seaboard Rise 49-key variant costs nearly as much as the Kawai VPC1! That's no small investment.
However, this is innovation the way we like it. It's hard to say how things will change in the coming years, but we're looking forward to more innovative products like the Seaboard from other companies.
---
Honorable Mentions
The Roli Seaboard requires you to significantly alter your playstyle, so what if you like your current keyboard?
Well, a lot of other products act as accessories to enhance performance, rather than replace your current rig. These include the ring-based MIDI controller from Enhancia that reacts to movement dynamically, sending CC changes as you move your hands.
On paper, this seems less cool than the Seaboard, but it might be worth looking into if you're hitting a creative wall in your performances and want to spice things up.
Are MIDI Keyboards a Valid Replacement to Digital Pianos?


MIDI keyboards are valid practice tools for budding pianists and keyboardists. While the setup may turn some away, the cheaper price is a bargain. We won't get detailed here, but you can make it work.
Our stance remains, if you want to learn the piano specifically, you need a good set of realistic keys and sounds. MIDI keyboards aren't suited for this goal.
So, if your goal is to become a pianist, I'd suggest going with some of the selections from our other lists. Weighted MIDI keyboards exist (as we'll cover below), but they're expensive and don't offer any sounds.
Sustain Pedals
Sustain pedals are omitted on all but the Kawai VPC1, so you'll need to shell out a bit more cash to unlock full functionality. Something worth considering when purchasing pedals for MIDI controllers is whether you require half-pedaling.
Pedals with half-damper support cost a bit more but are well worth the extra price to enhance realism on supporting plugins like Keyscape.
Our favorite damper pedal that supports half-pedaling (and our favorite sustain pedal in general) is Korg's DS-1H. This small pedal is built like a tank and will last you many years even if you chuck it around.
It's also not a square block-style pedal, which is something we prefer. The DS-1H feels good, with a decent amount of resistance so you can rest atop it, but not so much that you'll struggle to push downwards.
If you decide that half-pedaling is unnecessary, your options open greatly. We recommend the Nektar NP-2 for its cheap price and good build quality. The M-Audio SP-2 is a good alternative as well.
Final Words
MIDI controllers are interesting if you're willing to dive deep, and I hope we've given you an idea of what to look for. If you've gotten this far, I want to strongly recommend you consider your main purposes.
While we stand by our stance that keys are the most important aspect, there are other factors to consider.
You're not limited to single products when it comes to controllers, and as we said early on, the sky is the limit. As always, we recommend going into stores to test out your purchases beforehand whenever possible. A good feel is something we always look for and being subjective means that what we like might not be your personal favorite.
Regardless, we hope you've enjoyed this breakdown of MIDI controllers. If you want to know more about piano VSTs and plugins, we invite you to review our previous coverage for a pro's thoughts on the matter.
---
You might also like:
The Ultimate Guide to Buying a Digital Piano


Best DAWs Today: How to Choose Your First DAW?
Best Studio Monitors: The Ultimate Buying Guide
Build a Home Recording Studio With Me: Step-by-Step Guide