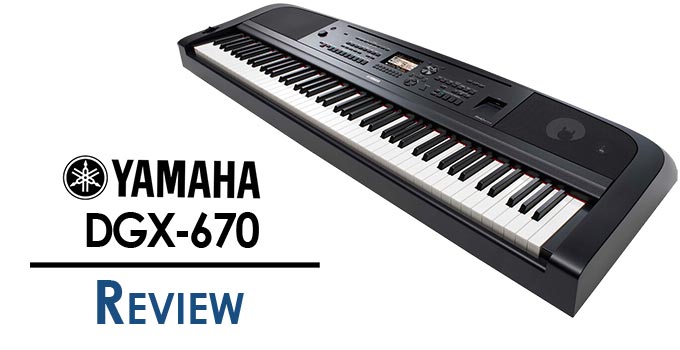 Yamaha's track record with digital pianos over the past few years hasn't been as smooth as their earliest endeavors.
While many of their product lines remain at the top of the best-seller lists, they haven't necessarily been the most technically impressive or innovative.
That's not to say Yamaha's releases were bad, far from it. Yamaha's high-end digital pianos are consistently some of the best-sounding instruments you could buy, provided you could afford them.
It's the budget and mid-range products that were touch and go.
This changed with the relatively recent release of the PSR-E373. While the instrument itself looks like another minor upgrade to the PSR-series, Yamaha struck gold with a simple formula change.
Instead of using the same old chipsets and sounds, Yamaha ported over sounds from their high-end instruments. This includes a concert grand derived from their $2500 Tyros, making the PSR-E373 an impressive value proposition.
Therefore, it's unsurprising that they're attempting to replicate the success with the Yamaha DGX-670. Let's see how this worked out.
Yamaha DGX-670 Specs
88-key fully weighted keyboard with matte black keytops
Graded Hammer Standard action
Touch Sensitivity (Hard2 / Hard1 / Medium / Soft1 / Soft2)
Display: 480 x 272 LCD (+ score/lyrics display function)
Sound: Yamaha CFX
256-note polyphony
630 built-in sounds (601 panel, 29 Drum Kits)
263 styles (Single Finger, Fingered, Fingered On Bass, Multi Finger, AI Fingered, Full Keyboard, AI Full Keyboard, Smart Chord)
100 preset songs
Modes: Split, Dual
Effects – Reverb: 58 types, Chorus: 106 types, DSP: 295 types, Master Compressor: 5 types, Master EQ: 5 types
16-track MIDI recorder
USB Audio recorder: WAV (44.1 kHz, 16 bit, stereo)
Metronome, Transpose, Fine-tuning
Speakers: 6W + 6W (12cm x 2 + 5cm x 2)
Connections: USB to Host, USB to Device, Headphone jack, Aux In, Mic In, Sustain Pedal jack
W x D x H: 139.7 x 44.5 x 15.1 cm (55" x 17.5" x 5.9")
21.4kg (47 lbs)
Release Date: January 2021
The full specs can be found on Yamaha's official site here
Check the availability and current price of the Yamaha DGX-670 in your region:
Design
In terms of design, the DGX-670 underwent a massive overhaul, and I definitely have to say that it's a marked upgrade over the prior DGX-660.
While previous DGX models felt like a budget-level PSR-E series instrument (albeit with better keys and a dot-matrix screen), the DGX-670 feels a lot more premium.
The biggest difference in newer models is the body construction. While the chassis is still made of plastic, it has a textured but smooth feel that makes it akin more akin to Yamaha's P-series, which is a definite plus.
One justifiable reason for having a more streamlined, lightweight construction is the 'Portable Grand' label, which the DGX-670 shares with its predecessors.
With that said, I personally consider the 'Portable' label to be a bit of false marketing. The DGX-670 is massive, coming in at a whopping 55"(W) x 17.5"(D) x 5.9"(H) and a bone-crushing 47 lbs (21.4 kg). For reference, this is heavier than premium stage pianos like the Nord Stage 3 88 (19 kg), which has a fully metal body!
If you're a gigging musician, do take the weight into account.
This is one of the heaviest 'portable' pianos you'll see on the market, and 47 lbs is a lot of strain to put on your shoulders.
In terms of body construction, the DGX-670 is decent. While I wouldn't call these plastics durable or gorgeous, it is well-built, and you shouldn't be facing issues like flexing or creaking during use.
The DGX-670 comes in black and white, and both look similar. On the white version, the text remains perfectly visible thanks to good font choice, so I'd say your choice comes down to personal preference.
---
Controls
If you've read any of our reviews in the past, you'll know that we really like well-designed user interfaces. This is especially pertinent for keyboards that come with a ton of features. If you can't access the multitude of functions effectively, then they're basically useless.
Thankfully, the DGX-670 ticks all the boxes for a well-designed user interface.
The DGX-670 features a redesigned control scheme. The new layout feels more similar to Yamaha's PSR-SX900, which is one of their premium arranger instruments.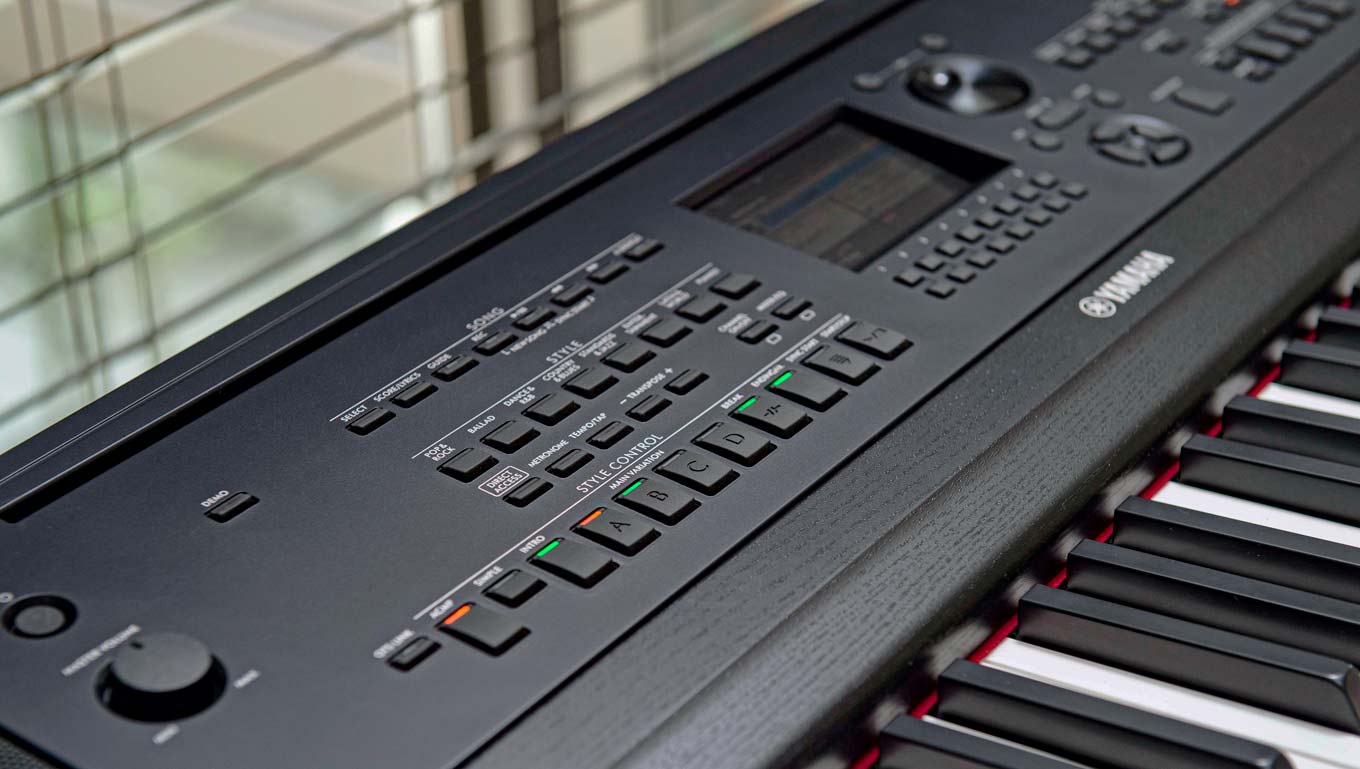 Buttons are the primary means of interacting with this interface, and they are decent. The rubber buttons might suffer a bit in terms of tactile feedback, but they are solidly held in place and do not wobble.
As a side note, I'm not a fan of rubbery-feeling buttons due to bad prior experiences with their longevity, but this isn't something I could test.
For most of the context-sensitive buttons (such as the arranger part selection), there are also lights that indicate the status of said function, which is a nice touch that helps in terms of usability.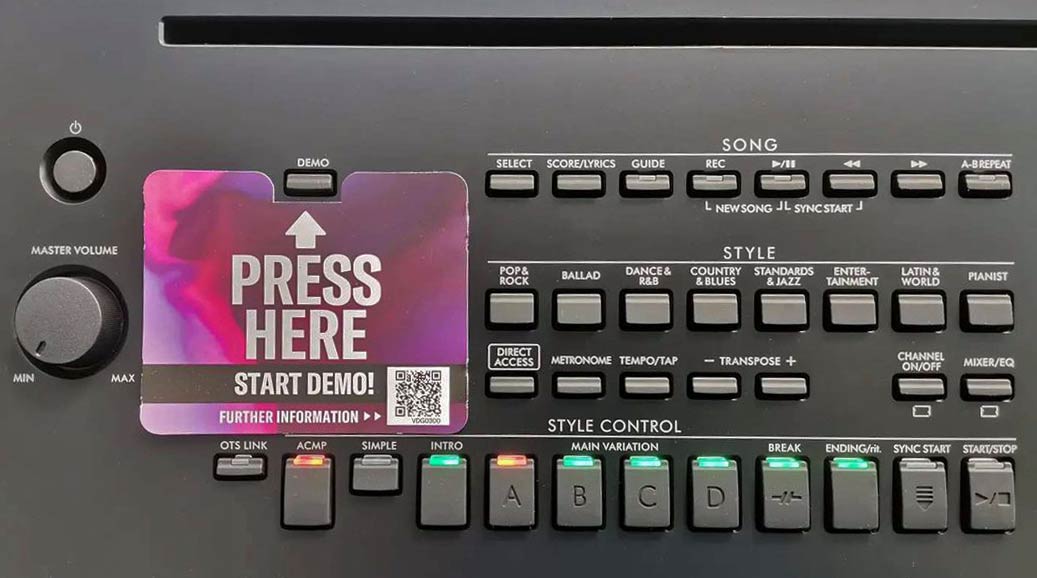 For navigation and volume, you have two knobs. These seem to be holdovers from the prior DGX-660, but I can't complain. Knobs are one thing the past DGXes got right.
Finally, let's talk about the screen, which is my favorite part about the DGX-670.
Past DGX models used a monochrome 320×240 display, which was functional, but quite dated. On the other hand, the DGX-670 comes with a 480×272 color display, making it sharper since the size of the screen remained the same.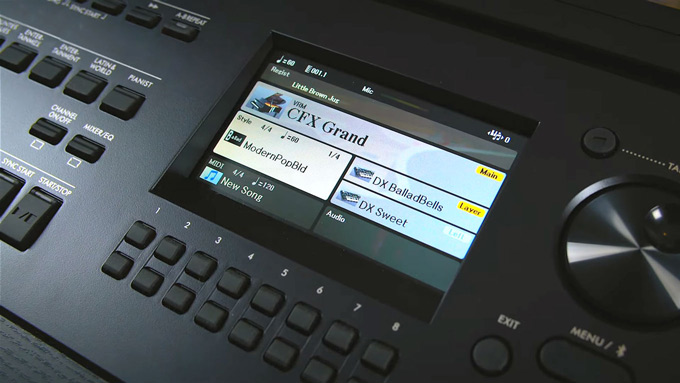 Adding color to a display might seem like a gimmick at first, especially since most of the functionality remains the same. However, having an extra dimension of contrast makes visual cues easier to implement, and the menus end up being a lot easier to read and interpret.
The layout also plays into the smooth feeling of the navigation. I personally needed the manual in order to make sense of the DGX-660 (as well as other similar instruments like the Korg Krome EX). This is no longer the case with the redesign.
The numpad for sound switching is gone, and you now have category switches like you'd find on stage pianos. Some people might lament the loss of the ability to quickly switch sounds by typing in their IDs, but you have a more modern alternative, which is registrations and folders.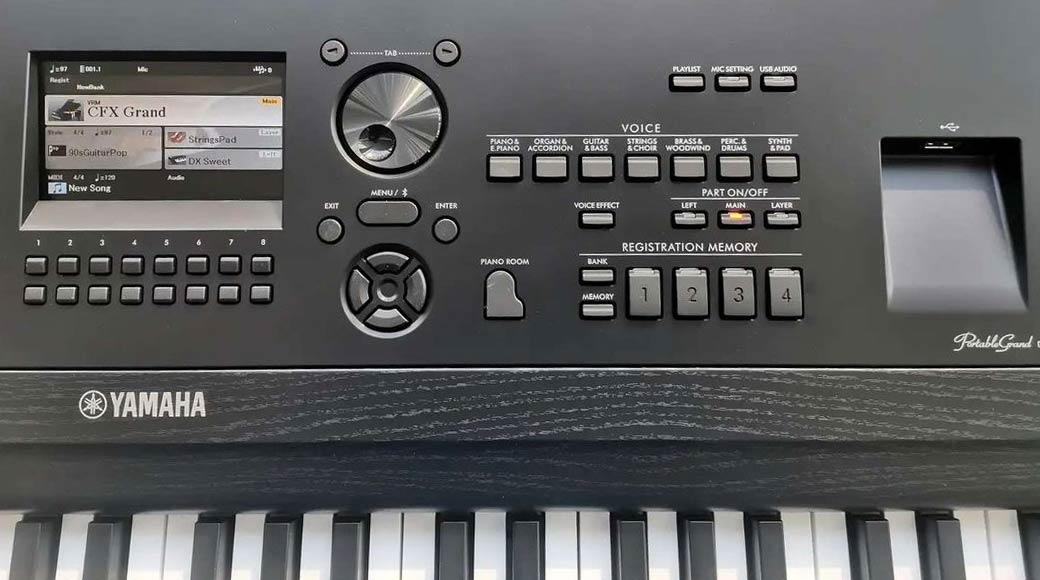 For style accompaniment control, there are more buttons now. I'm personally not a fan of the 'multi-purpose buttons' that feature on a lot of keyboards, as they can be quite confusing. The DGX-670, in contrast, feels straightforward, which makes it a lot easier to learn and master.
To sum it up, the user interface of the DGX-670 is excellent, and makes it very easy to control. If there's something you want to do with the DGX-670, chances are you'll be able to figure it out even without the manual, no small feat for such a feature-packed instrument.
Keyboard
The DGX-670 uses Yamaha's Graded Hammer Standard (GHS) action, which is Yamaha's go-to for their budget instruments aimed at the beginner to intermediate level, such as the YDP-144 console piano.
The 88 keys are full-sized and weighted. As the 'GHS' name implies, the keybed is also graded, where lower keys have a heavier feel compared to those in the higher registers.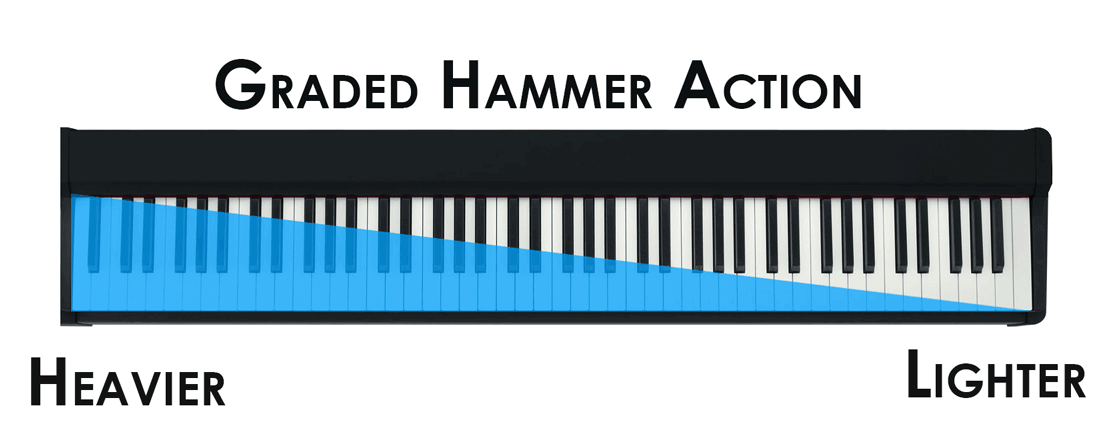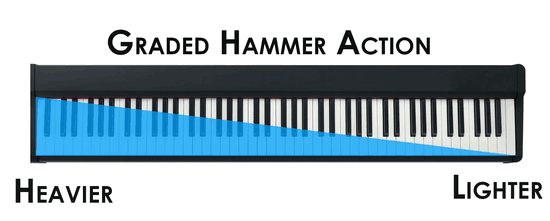 Both the black and white keys are made of plastic, and have a smooth, shiny texture (the black ones have more of a satin feel to them actually ).
As someone with sweaty hands, extended use becomes a bit difficult, and it might take some getting used to if you're reliant on the grip of textured keys.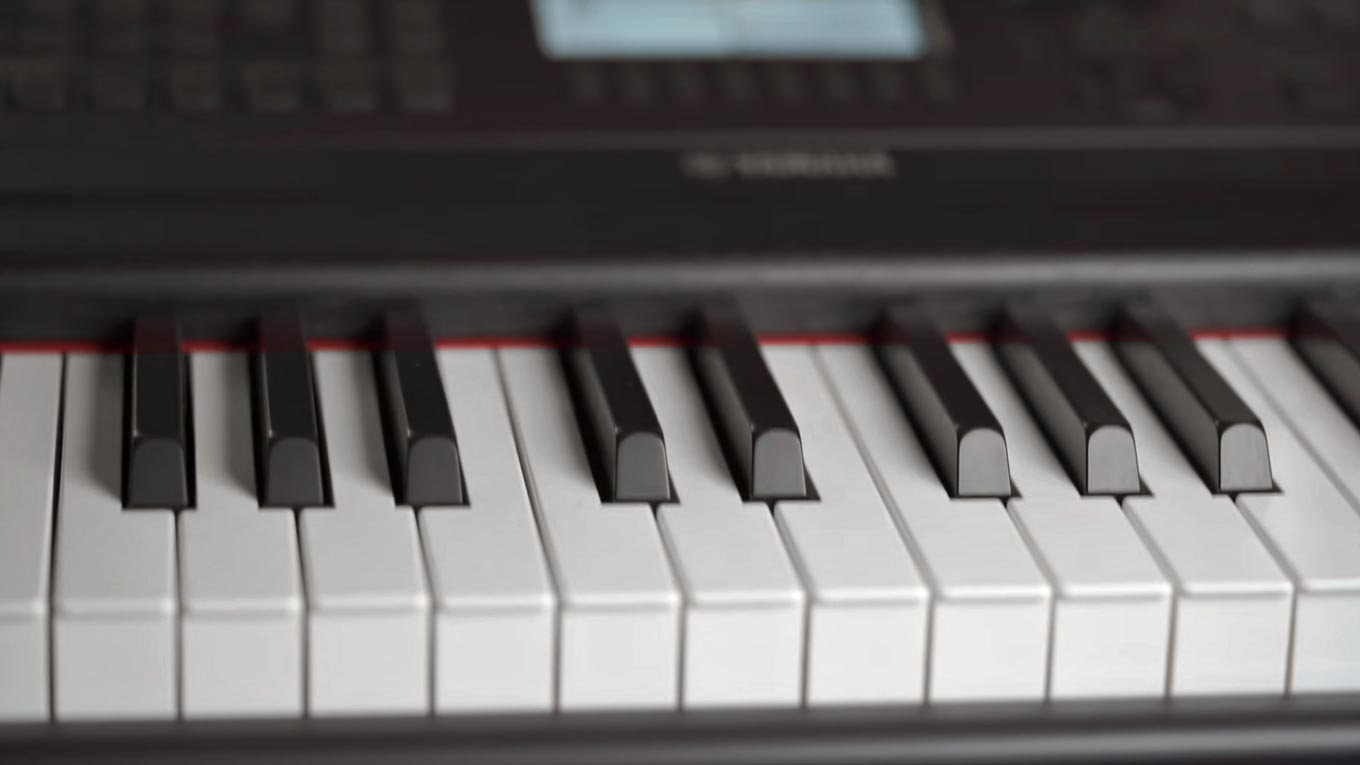 The point of a realistic key action is to simulate the feel of a real acoustic piano, and at the base level, the GHS keys certainly achieve this. Dynamics are achievable, and you can also tweak the velocity curve if you dislike the default settings.
However, I wouldn't call the keys amazing.
As we've covered before, the GHS action suffers from some issues. In terms of tactile feedback, the keys have a return that feels a bit springy, which does affect playing.
With that said, the key action is functional, and arguably a good fit for the varied sound palate of the DGX-670. While piano sounds benefit from having some weight on the keys, organs and synths might actually benefit from the less realistic action.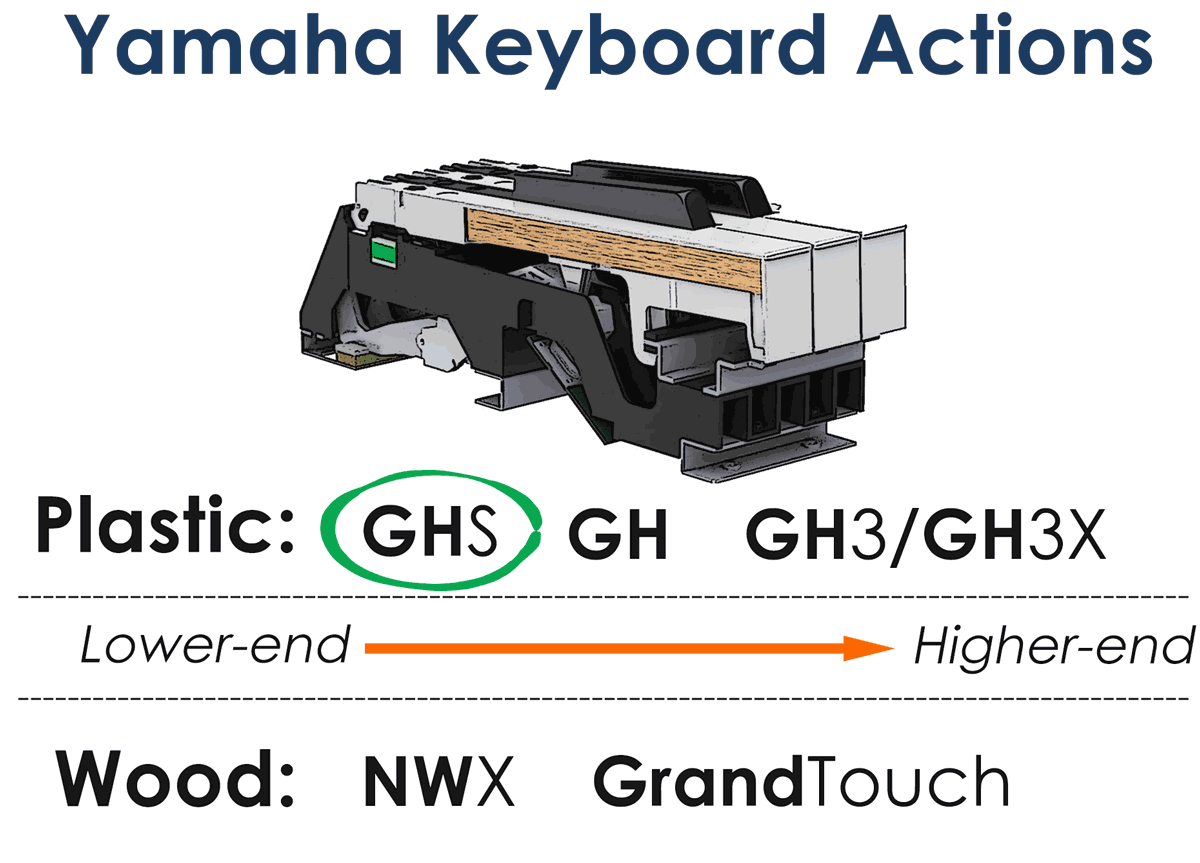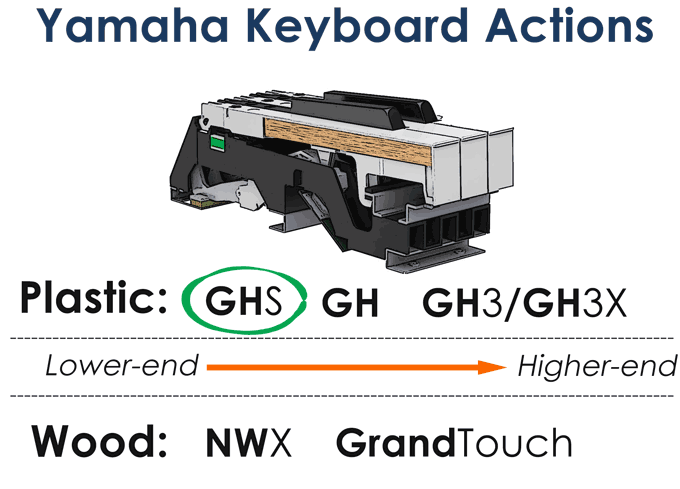 I wish the DGX-670 included the GH3 action, which was featured on the YDP-164. This is a step up over the GHS action and definitely feels better as far as realism is concerned.
Discussions online are theorizing that Yamaha deliberately used an older key action to not alienate users of higher-end keyboards, and that theory might hold some weight.
Sound
Apart from the key action, the sound of a digital piano is the other key aspect that makes a digital piano worth purchasing.
On the DGX-670, you get a total of 601 sounds and 29 drum kits. In comparison, the last DGX-660 only had 539 sounds and 15 drum kits.
Here are the categories followed by a brief description:
Piano & E.Piano – Includes pianos, harpsichords and electric piano sounds.
Organ & Accordion – Includes electric and pipe organs, as well as some bass variants.
Guitar & Bass – Includes acoustic and electric guitars, as well as basses (including synthesized varieties).
Strings & Choir – Includes orchestral strings and certain exotic stringed instruments like the koto. Also includes a small number of choir voice presets.
Brass & Woodwind – Includes sampled and synthesized variants of non-stringed orchestral instruments. Also includes an assortment of other wind-based sounds like harmonicas and whistles.
& Drums – Includes drum kits used in accompaniment mode and some sound effects.
Synth & Pad – Includes synthesized leads, pads and sequenced arpeggios.
General MIDI and General MIDI 2 sounds – Alternative soundset used for compatibility.
When discussing the sounds on the DGX-670, it's worth talking about the various different sound generation engines being used. It might be confusing for first-time users to realize that there are duplicate sounds with different type labels.
---
Virtual Resonance Modelling (VRM)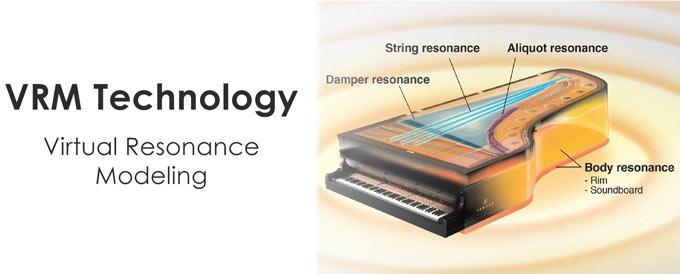 A semi-modelled piano sound engine, designed to be used for concert grands and upright pianos. This sound engine is copied from Yamaha's top-of-the-line CLP Clavinova pianos (though not as fully-featured as the top-tier digital pianos).
There are a total of 9 VRM acoustic piano sounds on the DGX-670.
For example, when a key is sounded with the damper pedal pressed down, the overtones cause the surrounding strings to vibrate as well, resulting in some soft ringing harmonics.
This is not something that can be simulated by samples alone, and this is something most other companies have implemented as well.
---
Super Articulation (S.Art)
Super Articulation sounds are special presets made using multiple different types of samples. This sound engine was first featured on the Genos, while a lite version was featured on the recently released PSR-E373.
This sound engine works by tracking your playing. Aspects that you can control include your playing dynamics and whether you play legato or staccato.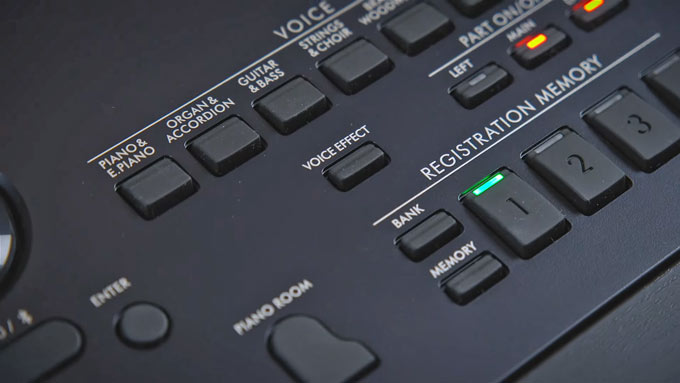 In its simplest form, you can switch between two different sample types depending on whether you play soft or hard.
For example, with most guitar sounds, if you play normally, you get the typical sound of a guitar string vibrating. However, if you play notes in fortissimo, you trigger a different sound variation, such as one that includes slides.
The S.Art sounds can also be assigned to a pedal. For example, with a slap bass sound, you can add dead notes to your playing by hitting the assigned pedal. Do note that to my knowledge, this is only achievable using the matching triple-pedals.
There are a total of 49 Super Articulation voices on the DGX-670.
---
Natural!
The following Natural!, Cool!, Sweet!, Live! and MegaVoice sounds were taken from Yamaha's Tyros workstation.
Natural! sounds apply specialist sampling techniques. This isn't really discussed in detail, but from what I can tell, sounds marked with the 'Natural!' label are sampled in stereo and seem to be mixed to suit a classical context, as well as including some baked-in room reverb.
This seems to be primarily focused on live acoustic instruments, such as pianos.
There are a total of 11 Natural! voices on the DGX-670.
---
Cool!
Cool! sounds are primarily focused on electric instruments such as electric pianos, organs and electric guitars.
The interesting thing about these sounds is that they are recorded through real amplifiers, in contrast to certain other sounds that might be passed through software-based amplifiers and simulations.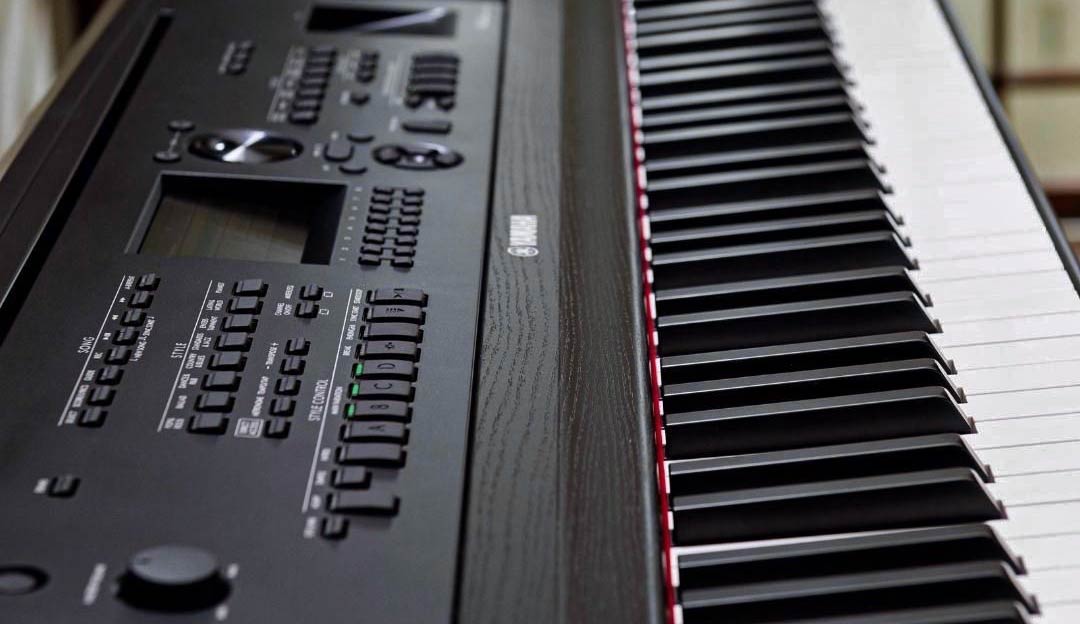 The problem I have with these sounds is the overlap with S.Art sounds. In the case where I want to use a bass guitar, I'm stuck choosing between the dynamic S.Art versions and the sound of the Cool! variants.
Regardless, more choice is never a bad thing. There are a total of 53 Cool! voices on the DGX-670.
---
Sweet!
Sweet! sounds are mono samples with recorded vibrato. These sounds also come with some baked-in ambience for a more natural sound.
Thankfully, the recorded vibrato is generally subtle and helps add a bit of a natural feeling to your playing rather than being overbearing.
There are a total of 26 Sweet! voices on the DGX-670.
---
Live!
Live! sounds are stereo acoustic instruments mixed to sound at the forefront, making them perfect for a lead part. These include pianos, guitars and orchestral parts.
There are a total of 68 Live! voices on the DGX-670.
---
MegaVoice
The MegaVoice sounds are not designed to be played normally on the keyboard, instead, they are designed for play during accompaniments and songs. At the most basic level, this can be described as the S.Art sounds, but at a drastic level.
For example, while the S.Art sounds switch between different playstyles on the same instruments, the MegaVoice presets can even allow you to switch between completely different instruments.
This is useful when you need to switch between different sounds on the fly. Although, the DGX-670 does offer other methods to do this, and those are arguably more flexible thanks to the more detailed editing you can do.
There are a total of 23 MegaVoices on the DGX-670.
---
Live! Drums
Live! Drums, much like the Live! presets discussed previously, are drum sounds with stereo samples and a more front-and-centre mix. If you're a finger-drummer, these will likely be your go-to.
Note that these are also used as the drum sounds for the accompaniment modes and rhythms as well.
---
Regular
The rest of the sounds are labeled 'Regular', and are not really labeled to have any specific sound engine. However, they do seem similar to those found on the prior DGX-660 unit, which uses the Pure CF sound engine.
This category covers all of the other sounds, and despite not having a fancy label, they don't sound half bad.
There isn't any fancy sample enhancement or recording techniques in play here, but as we've talked about earlier, Yamaha's samples are consistently good.
Covering each individual sound type in detail will take way too long, so I'll focus on the piano sounds, and cover a few other sounds I found noteworthy.
---
Pianos
The VRM-based pianos are easily the most impressive part of this sound bank. The CFX Concert Grand preset (VRM-based, not the Natural! version) is of particular note, as it really does sound impressive.
This isn't surprising, as the CFX Concert Grand preset is pulled from Yamaha's current high-end Clavinovas, which cost multiple times more than the DGX-670's asking price. As a value proposition, this makes the DGX-670 very much worth it.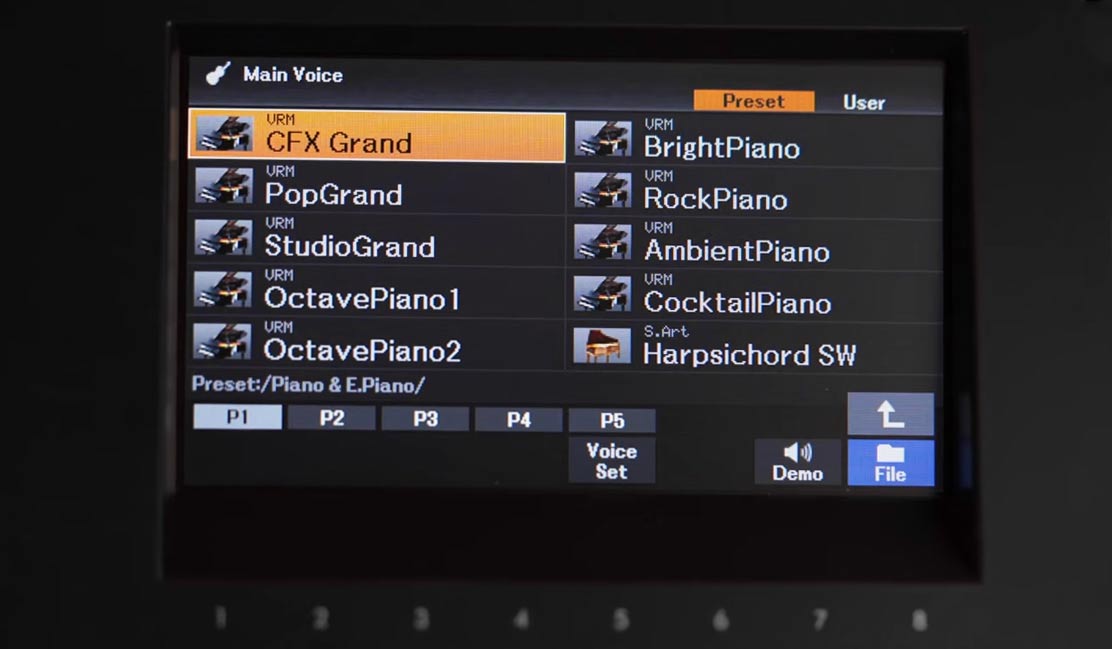 The piano sound itself is really well-sampled, as expected from the original makers of the CFX concert grand. The CFX concert grand is well-known for its clean, balanced sound that slots well into both classical and modern contexts, and the sampled version is no different.
As previously noted, some of these piano presets use Yamaha's VRM technology to add further realism to the sounds
Other piano presets are also available, but I found myself defaulting to the CFX Grand for most of my piano needs.
Notably, you can also modify the piano sound through Yamaha's Piano Room software. Accessible through the dedicated button, you can bring up a dedicated menu that allows you to make changes to the piano sound with visual feedback.
The options on offer here pale in comparison to similar offerings such as Roland's Piano Designer. However, people like me who don't fully understand the intricacies of piano construction will likely appreciate the more straightforward menu with less clutter.
Modifiable settings include:
Piano Type
Lid Position
Environment
Master Tuning
Brightness
Touch Sensitivity
VRM
My favorite setting to tweak is the Environment. While this is a simple reverb unit with a special name, the algorithms used sound great and can be an effective way of changing the feel quickly.
It's also worth noting that an Electric Piano is also available under the Piano Type setting. This isn't accessible as a voice from the default list, so be sure to try this electric piano out, it's no slouch, and is comparable to the other E. Piano presets.
---
Other Notable Sounds
I've always had a soft spot for Yamaha's E. Piano sounds, particularly their beautiful DX sounds, which emulate their classic FM synths that defined the sounds of the 80s. While other companies come close, Yamaha's always had the edge in authenticity.
Yamaha's guitars are some of my favorites in the industry, and most of the voices here are great. While the acoustic guitars sound natural thanks to the extra dynamism provided with the S.Art sounds, the electric guitars are also a ton of fun, especially if you play around with the pitch wheel.
The organs are also excellent, particularly the electric and jazz organs.
Some of the S.Art variations of these sounds have a variable rotary speed, which feels really great to play, as controlling the speed by velocity is much more reactive than using a mod-wheel.
Finally, there's the solo brass and woodwind sounds. Yamaha hasn't been shy about showcasing the Saxophone preset in their online demos, and that's because it's legitimately great.
Once you get used to the different articulations and how to control them, you can get performances that sound eerily realistic.
If you do get a chance to test the DGX-670, try to test out as many of the sounds as you can, as there are a ton of great gems hidden in the sound banks.
---
Effects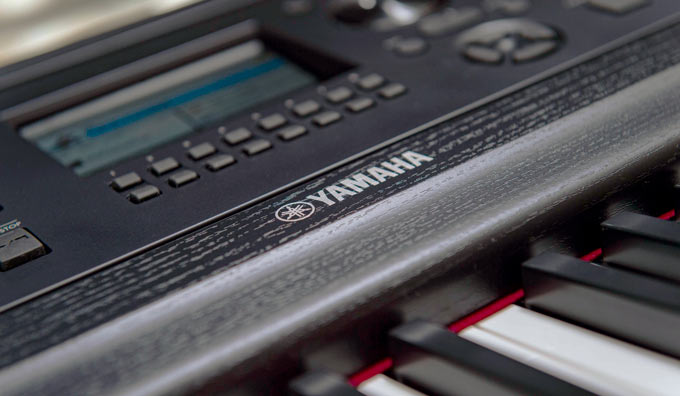 The effects on the DGX-670 don't seem to get a lot of attention, and that came as quite a surprise to me. The whole effects chaining system feels reminiscent of fully-fledged stage pianos, and a quick glance at the underlying architecture shows that it's really powerful.
Let's talk about what you can do with the effects.
---
Reverb
Reverb effects help add a sense of space to the sounds you play. This is separate from the Environment setting of the Piano Room menu, meaning you can work with reverbs on other sounds as well.
The dedicated reverb unit comes with 58 different algorithms.
Depending on the algorithm you select, you can modify different settings that change the character of the reverb.


---
Chorus
This section includes modulation effects such as choruses, flangers, phasers, tremolos, and also rotary speaker emulations. These add a sense of richness and movement to your sounds and are commonly used to make electric pianos, organs and synthesizers sound wider.
In total, there are 9 reverbs, 7 delays, and 16 modulation effects in this section. Holdovers from the prior DGX-660 unit are also available under the 'Legacy' label.
---
DSP Effects


The DSP effects section comes with a ton of different options. In terms of categories, you have reverb, delay, distortion, EQ, compressors, modulation, downsampling, and wah-wah.
If you're like me and enjoy tweaking sounds to make them unique, you'll have a blast with these effects. Some of the new effects are pulled from Yamaha's workstations, and they definitely sound the part.
The interesting part about all these effects, regardless of which section they belong to, is that they have tweakable controls.
These aren't just simple dry/wet mix knobs either, you have a similar degree of customization you'd expect from a workstation like Yamaha's own MODX series.
For example, with the reverb units, you can control the reverb length, diffusion, delay time, high-frequency dampening, high-pass filters, low-pass filters, density, feedback and so on.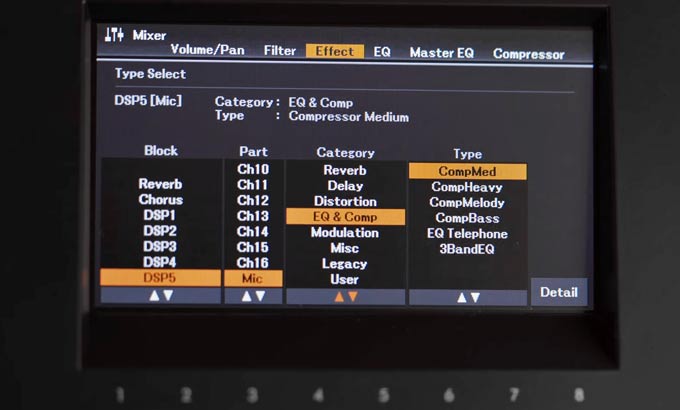 This might be overwhelming if you aren't familiar with FX use, but fortunately, most of the effects I tested come with good sounding defaults. It's just nice to have more control if you want it.
You can load up to 5 DSP effects alongside the reverb and chorus.
While there's a lot of tweakability, it's not that easy to make the changes. There's a bit of menu diving involved, and the elegance I praised about the user interface seems to go out the window when it comes to FX modifying.
However, this isn't the focus of the DGX-670, so I'll take it as a nice, welcome bonus.
---
Master EQ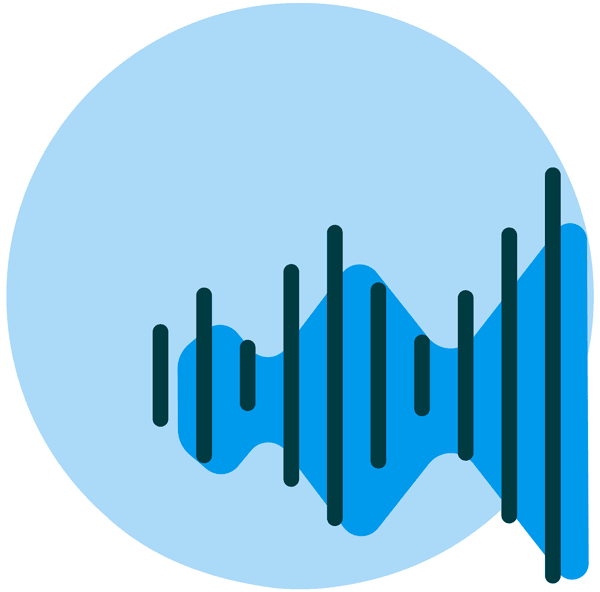 Adding all these effects might make the output audio a bit messy. To solve this, you have access to an EQ and compressor situated right before the output.
The EQ itself is a 5-band EQ with preset frequencies of 80Hz, 500Hz, 1.0kHz, 4.0kHz, and 8.0kHz. While you can't change the frequency bands, you can change their width (via the Q control) and their amplitude.
Apart from that, this EQ can also be used as a sound-shaping tool, which might be relevant if you use the DGX-670 alongside a band.
---
Master Compressor
Finally, there is a master compressor to control the dynamics of the master output.
The compressor has all the basics, including a threshold, ratio, and makeup gain control (though the labels might seem a bit weird for experienced users).
If you prefer to mix visually, the master compressor has a nice visual representation of the gain reduction.
---
Summary on Sounds
The DGX-670's is great when it comes to its sound bank. The new voices pulled from high-end instruments really shine, and you're really spoilt for choice with the 601 sounds. As you'd expect, not every sound is a winner, but the good sounds far outnumber the duds.
The effects section is also surprisingly impressive, rivaling those found on stage-focused workstations like Yamaha's own MODX.
While most people will be getting the DGX-670 for its arranger and accompaniment capabilities, you can still use it as a very competent sound module if you don't mind some menu diving.
If anything, I have to give props to the DGX-670 for its flexibility.
As a pure digital piano, the DGX-670 works well with the CFX Grand and the GHS keys.
As an arranger instrument, the large palette of competent sounds are a good complement.
If you're willing to put in some preparation time (and put up with its weight), you can even use the DGX-670 as a competent gigging piano too.
---
Polyphony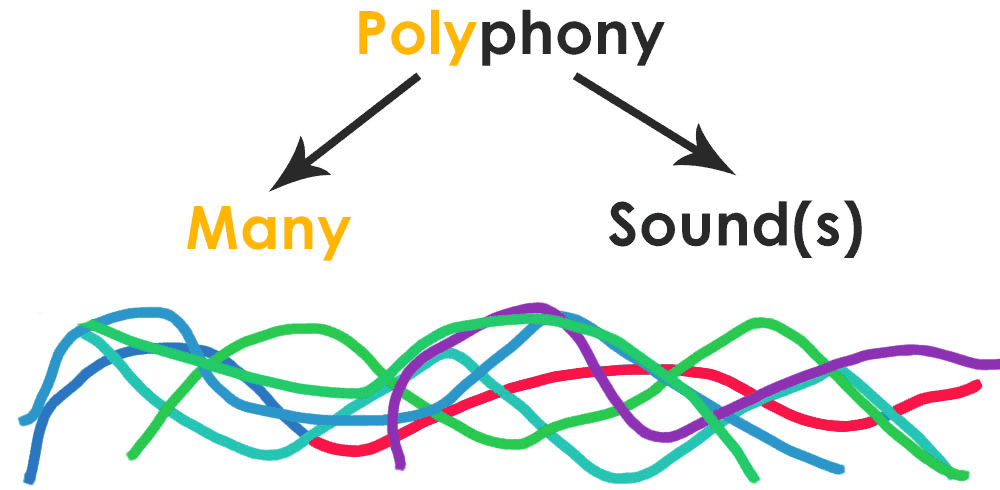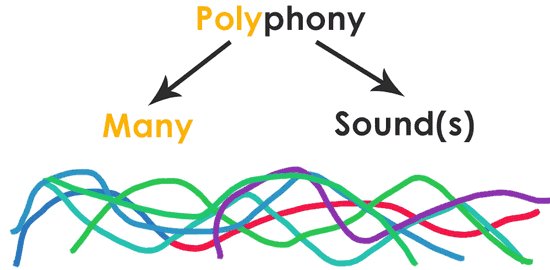 The DGX-670 comes with 256 notes of polyphony, a slight step up over its predecessor's 192 notes.
Arranger keyboards significantly benefit from having a high polyphony count, especially once you start using the accompaniments and rhythms.
Every sound played adds to the polyphony usage, and considering how busy some of these can get, you'll be thankful that you have this much to work with.
---
Speakers
The Yamaha DGX-670 uses a set of 4 front-facing speakers to project its sound. On either side, the DGX-670 has a dual speaker setup consisting of a 12 cm main speaker and a 5 cm tweeter.
Having 4 speakers is generally seen as a good thing, as specific frequency ranges have their own dedicated speakers. However, the DGX-670 suffers from having only 6W per side, which is not a lot of power to work with.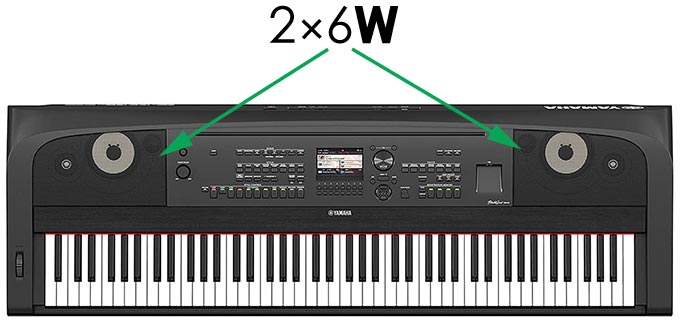 In actual use, the DGX-670's speakers sound a bit underwhelming. The lackluster speakers did not do the voices any favors, and a lot of the beautiful subtleties of the different sound engines get lost when you hear them through the onboard speakers.
With that said, you can still use the speakers fine for home-based practice. When you're playing at a reasonable volume, the dynamic response of the speakers works out, and you can do piano practice just fine, with mistakes and different playing intensities coming through loud and clear.
In terms of projection and amplitude, the speakers can get quite loud, but the sound quality suffers. Pushing the volume up higher only made the issues worse, as the sounds began to sound muddy once things got busy.
For general practice, I would recommend using a pair of good headphones for the best audio experience, as the sounds really do shine given the right hardware.
Features
While the DGX-670 is labeled as a Portable Grand Piano, its heritage is actually one of Yamaha's midrange arranger pianos. Thanks to this, it has a lot of other features worth discussing.
---
Modes
The DGX-670 doesn't exactly have the typical one-button layer and split modes you'd normally find on digital pianos, but they are possible through the different voices per part.
First, let's explain how the DGX-670 treats a 'part'. Each part has 3 different sections, the 'Main', 'Layer', and 'Left' part.
The Main part is the sound currently selected. For example, when you boot up the default CFX grand preset, the CFX samples are your Main part.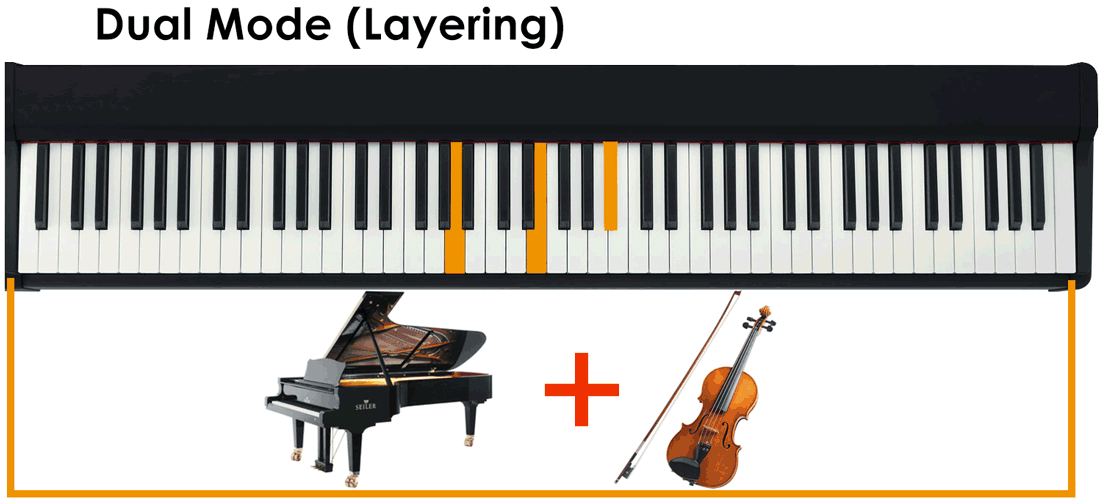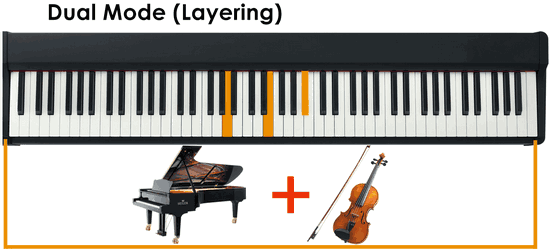 The Layer part is another voice layer that plays alongside the Main part. If you wanted to layer some string sounds with the previously mentioned CFX grand, you would assign that as your Layer part.
Finally, if you wanted to split the keyboard into two halves, you would assign a sound to the Left part. This sound will only be played if you play notes to the left of the predefined split point, which you can choose.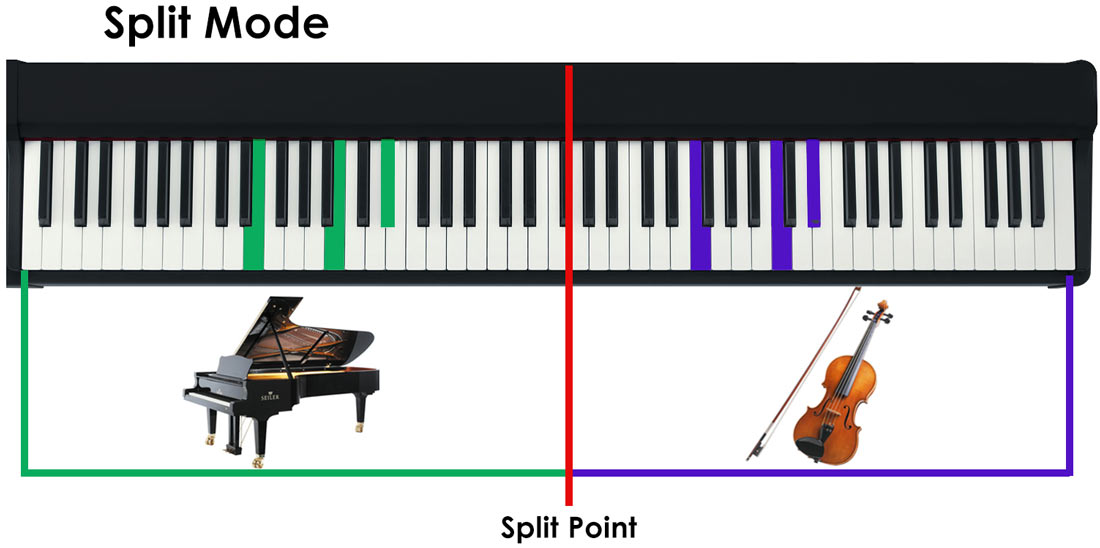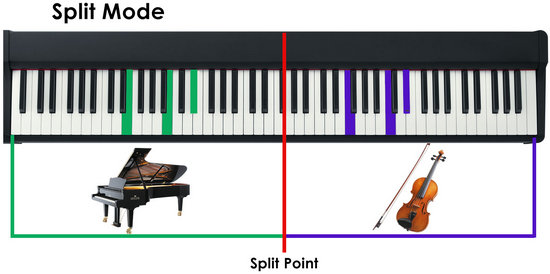 Assigning parts like this takes a bit of getting used to, but it becomes quite intuitive once you get over the learning curve. Also, most styles come with predefined combinations that suit the mood of the accompaniment, so you won't need to spend too much time in the menus.
---
Accompaniment Mode
If you're unfamiliar with how accompaniment mode works, it basically simulates you playing with a band by tracking the chords your left-hand plays and building a complete instrumental loop on top of it.
This sounds magical, but the tech has been around for nearly two decades. The true maturity of this software comes from how realistic the back tracks sound. We've come a long way from the unrealistic sounds of the early 90s, and the DGX-670 can sound quite convincing.
If you want to see what the DGX-670 is capable of, most demos on Youtube showcase its prowess in the hands of experts.
The styles themselves are set up in such a way that you won't need much tweaking. Once you find a style you like, it'll automatically load the corresponding voices, backing instruments, and effect settings, making this a very straightforward experience.
---
Playing the Styles
To start playing along to the styles, hit the SYNC START button, and play the first notes of your song. The software will do the rest by tracking your chords.
On the subject of chord tracking, by default, the DGX-670 tracks your chords across the entire keybed using the AI Full Keyboard mode, which is different from how most arranger keyboards do it. This can be changed in the menus, but I found it 'smart' enough and didn't run into any mistakes even when using more 'colorful' chords.
Most of the classic chord tracking methods are available, so if you're taking one of the official arranger keyboard certifications, the DGX-670 will suffice for all levels.
Using the style controls, you can progress your song through different sections. There's the A to D sections, which raise the intensity of the backing as you go up the letters, and there are the intro, outtro and break toggles, which initiate the corresponding sections.
If you're coming from the PSR-E373, having 4 different main parts might feel very liberating, as it's double the two variations you get on the PSR-E373.
I find it quite fun that switching between the A to D sections isn't just a binary toggle. When you switch, a fill plays before transitioning fully into the next selected section, which is way more dynamic than needing to hit a separate fill button.
Each style consists of up to 8 parts, which include rhythm, bass and other instruments. For example, with a funk style, not only will you have the drums and slap bass, but you'll also get funk guitars and brass that comes in at higher intensities.
If you prefer more simple backing tracks, Yamaha offers two toggleable 'modes' that give you a more stripped-down version of the rhythms.
When the ACMP button is toggled off, only the drums play, whereas with the SIMPLE button toggled on, only the drums and bass remain.
---
Mixing Parts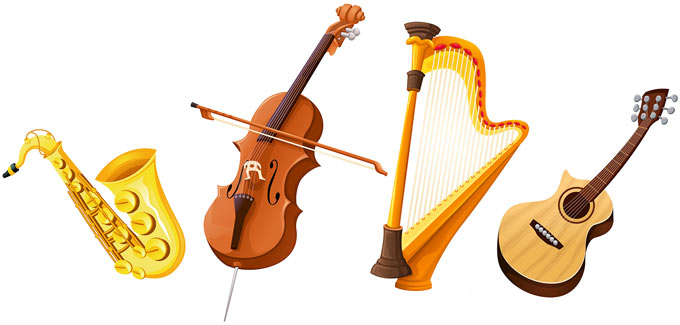 Speaking of things being busy, you might not like the default sound mix. This is where the mixer comes in.
In the mixer section, you can tweak the volume of each part in the style, and also apply the previously mentioned part EQ and DSP effects.
While most of the styles seem to sound fine right out of the box, I do feel like the backing instrumentals tend to be a bit loud, which might overtake the main lead sounds you play.
Thankfully, making these changes is super quick. There's a MIXER/EQ button on the front panel, and the volume faders are quick to work with thanks to the screen and button layout.
---
Adaptive Styles
Adaptive Styles, from what I can tell, is a new feature which debuts on the DGX-670.
While the fancy name sounds like some AI-based robo-band, it's actually a lot more simple, and dare I say it, elegant.
Under basic operation, you'd switch between the A to D sections by hitting a button or the corresponding pedal. Yamaha believes that this is quite an antiquated way of doing things and instead changes between style sections automatically.
The change points are determined based on the intensity and number of notes you play. I wasn't convinced that this would work, but actually trying it out feels quite natural. As with the button-based switching, the section changing isn't instantaneous, and the grace period between bar-end fill and new section gives you a lot of leeway.
Not all styles support this, and you can only test this out with styles that have the 'Adaptive' tag, but I can certainly see this being a viable future for accompaniment modes.
---
Style Creator
Personally, this was the feature that hyped me up the most prior to my playtest. Normally, with arranger keyboards, you're limited to the default styles the manufacturer designed and curated.
While I'm happy with the styles of the DGX-670, I like the chance to flex my creative muscles. The Style Creator allows me to do just that, though there is the asterisk of a learning curve.
Using the style creator, you can, in theory, create your own custom styles. I tried my hand at creating my own loop, and it… sort of worked out.
I started by recording a drumbeat using finger drumming. Then I added a bassline that followed the kick and snare. Finally, I added in a synth sound and some strings to fatten up the loop. After applying some volume balancing, I was done.
This seems simple enough, and you can repeat this for every different section, playing variations to make things sound different. If you find drums or bass parts too hard to play in a single go, you can also add to existing recordings, building it up over multiple loops.
From what I can tell, there are no quantization options (which locks your playing to a grid), and there is no way to sequence. This is somewhat understandable, as the DGX-670 isn't a workstation, but it makes designing custom styles a bit more difficult than I'd like.
Most likely, you will be using the Style Creator to mix and match elements of other styles, which is a bit complicated (even with the manual by my side). After a bit of tinkering, I managed to switch out the drum loops of some styles with other pre-existing loops.
---
Unison and Accent
Unison mode makes the backing instruments follow your toplines, resulting in a richer sound by repeating your lead melodies with multiple instruments.
Accent mode adapts the backing rhythm, adding dynamic stops or fills based on your playing intensity.
I personally think Accent mode works fine. It takes a lot of getting used to, as you need to know how the accents sound in order to effectively incorporate them into your playing.
However, once I memorized the custom fills and made some mental notes about my desired arrangement, I managed to get some pretty dynamic sounding loops.
For Unison mode, I'm not that convinced. I found this mode to be somewhat obnoxious, especially since I found the backing instruments to be a bit loud by default. The first time I made it work, I was wowed by the reactivity, but the novelty wore off soon enough, as it was basically just a glorified layer to my right hand.
---
Song Recording and Playback
If you wanted to record your performances, the DGX-670 comes with a multi-track recorder, which is a big upgrade if you're coming from typical digital pianos that only include a 1- to 2-track recorder.
On the DGX-670, you can record up to 3 keyboard tracks, and also the 'style' tracks which cover the accompaniment rhythms and instrumentals. Despite having 16 total tracks to work with, the styles and rhythms apparently occupy the remaining 13 slots, so you can't record your own custom parts.
The recordings are saved as MIDI, which enables you to modify the recordings after the fact, such as through muting and rerecording specific parts. You can then save the recorded songs onto an external USB drive for storage.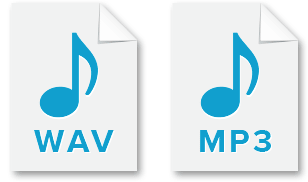 Since the DGX-670 comes with a score-view, you can also see your recordings in the form of a musical score. While this is novel, I can definitely imagine some cool use cases where a teacher shares custom scores with their students.
You can also bounce your songs out as audio (WAV, 44.1 kHz, 16-bit, stereo), which is a nice feature if you don't want the hassle of connecting the DGX-670 to a DAW.
---
Microphone Connectivity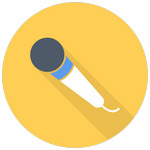 If you are/work with a vocalist, the DGX-670 comes with a microphone input, and also includes some common vocal mixing effects that preclude the need for an external vocal mixer.
The mic mixer menu includes most of the common live microphone settings:
3-band EQ
Compressor
Noise Gate
Reverb
Chorus
Noise Reduction Level
These are all you generally need for voice-based mixing. We already talked about how to use an EQ, compressor, reverb and chorus in the prior sections, and the functionality here is similar.
The noise gate mutes the mic unless the input exceeds a certain volume. This is useful if you're using the microphone in a noisy environment, as only your vocals will get picked up.
If you want to customize your vocal effects further, you can also apply the DSP effects as discussed in the Sounds section.
The noise reducer is geared around announcements. When it is engaged, your accompaniment and playing will be 'ducked' or reduced in volume when someone speaks through the microphone.
---
USB Audio Playback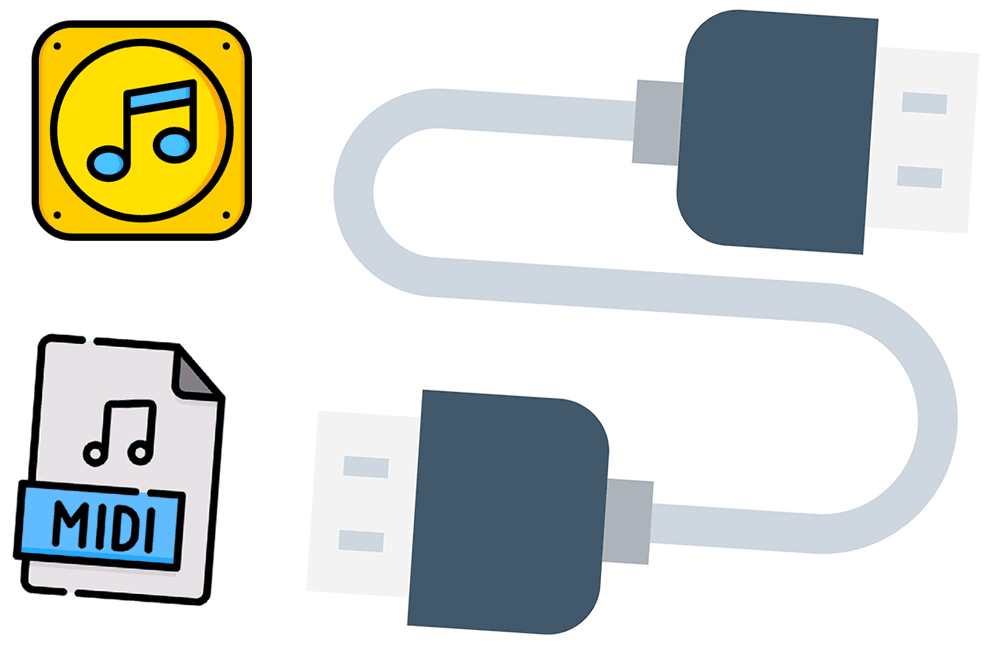 If you choose to playback songs from a USB drive, Yamaha offers a few settings you can use to tweak the audio input.
You have time stretching and pitch shifting options, which, I'll be frank, did not sound good. In theory, this allows you to pitch the song up or down octaves without changing the playback speed, or vice versa. In practicality, it works, but the sound quality isn't good.
There is also Yamaha's Vocal Cancel, which seems to apply a wide EQ cut and some phasing tricks to the song to reduce the volume of the vocals.
---
Score/Music Notation Display
I didn't play around with this much beyond the included songs, but the DGX-670 allows you to view the music scores of songs. This even works with imported MIDI files too.
If a song happens to have a corresponding lyrics file (seems to be proprietary), even the lyrics can be displayed on-screen. While most session musicians have begun to use iPads, it's nice to see the DGX-670 including features like this without any extra cost.
Connectivity
In terms of connectivity options, the DGX-670 ticks most of the boxes but misses out on what's arguably the most important jack for an instrument like itself.

A 1/4″ TRS jack serves as the headphone output, which also acts as the main output for connecting to amplifiers due to the lack of dedicated stereo outs.
The microphone input is a 1/4″ TRS jack. There is no physical gain control, but this can be tweaked from within the software menus.
The DGX-670 comes with some basic Bluetooth connectivity options.
If you want, you can play songs or backing tracks straight from your Bluetooth-linked devices. However, MIDI over Bluetooth is not supported, unfortunately.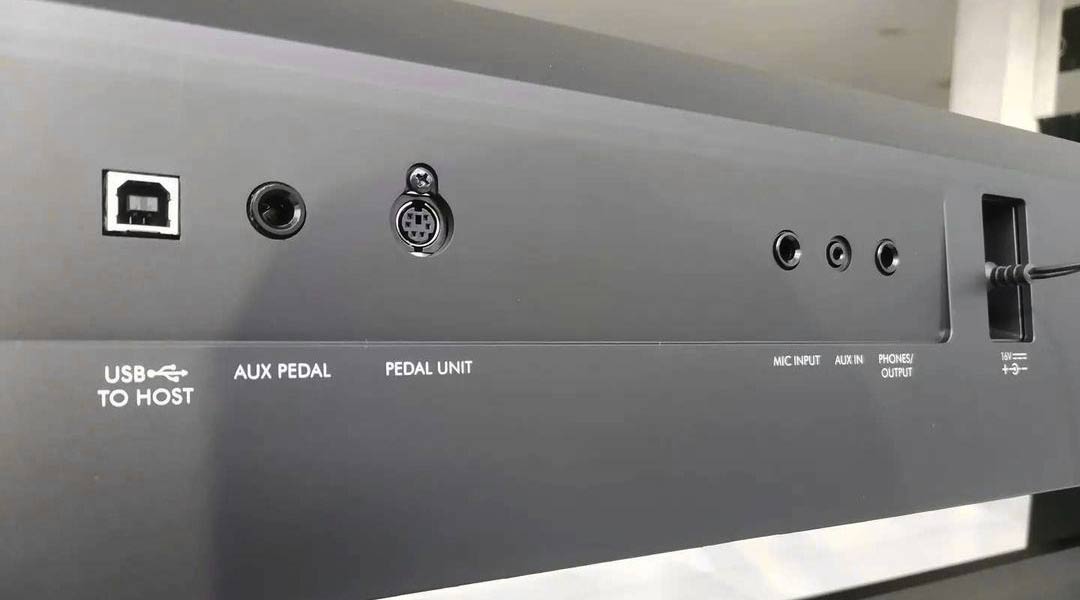 If you don't want to rely on the Bluetooth connection, you can also use the AUX input jack, which is of the 1/8″ mini TRS variety.
The Type A USB to Device port on the front panel is where you connect USB sticks for song saving or audio playback.
Finally, there is a Type B USB to Host port on the back panel, which allows you to transmit both MIDI and Audio to computer-based recording software. This means you can use the excellent onboard sounds in your DAW without the need for an external audio interface.
You've probably already noticed this, but the DGX-670 is missing dedicated stereo outs, which is a huge bummer considering its excellent sound set and potential to be used for gigging purposes.
Regardless, if you're willing to work with converters, you can work around the limitations.
Accessories
The base DGX-670 model comes with the following:
Owner's manual
AC adaptor and power cord
Music rest
Footswitch
As always, I have to remind prospective buyers to check the AC adapter voltages, ensuring that they are safe for use with your country's mains. This is especially important if you are importing the DGX-670 from an overseas retailer.
In terms of usability, the base DGX-670 package comes with all you need to start playing. The footswitch is a bit underwhelming as a sustain pedal, but it does work.
I would recommend getting the DGX-670's matching stand (L-300) and/or triple-pedal setup (LP-1) if possible. While it isn't absolutely necessary, the triple pedals have a lot of utility (that you can customize!).
---
Headphones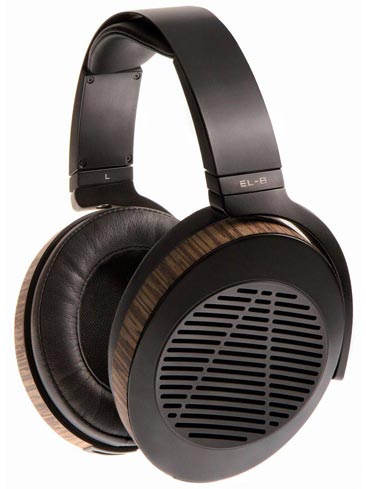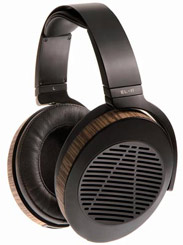 Headphones come in very handy when you want to practice in private, focusing solely on your playing and not disturbing others nearby.
Moreover, a good pair of headphones will provide a clearer and more detailed sound compared to the onboard speakers.
Check out this guide to learn how to choose the best-sounding headphones for your keyboard.
Summary
Pros
Well-designed user interface
Wide variety of great sounds
Yamaha CFX samples included
A lot of customization options
Solid connectivity
Lots of fun features
Cons
GHS key action is just okay
Speakers are weak
Isn't really 'portable'
No dedicated stereo outputs
---
The DGX-670 really is a marked upgrade over its predecessors, in fact, I think Yamaha should have rebranded it as the DGX-770 considering how much of an improvement it ended up being.
While some aspects of the DGX-660 remain the same, such as the GHS key action and low wattage speakers, almost everything else underwent a massive overhaul for the better.
In my opinion, the two best aspects about the DGX-670 are its sounds and the accompaniment features.
A lot of the new sounds on the DGX-670 come from high-end Yamaha instruments like the Tyros workstations and the Clavinova digital pianos, both of which cost multiple times more than the DGX-670. The speakers might not do the sounds justice, but through a pair of headphones, these new samples sound excellent.
The accompaniments also benefit tangentially from the good samples, as better instruments mean more detailed backing tracks. On that note, you can make accompaniments that sound much more involved than with prior DGXes, thanks to the extra style sections.
There's also a lot of customization you can do with the DGX-670, which rivals those of workstation keyboards. You can add effects, do detailed per-part mixing, customize split points, save multiple registrations, and even make your own styles.
All of this is accompanied by a well-thought-out user interface redesign that makes using the DGX-670 a lot easier. The streamlined approach is also used with the software side, as most functions you'd want to use are easily accessible.
Something that I haven't covered a lot in the review is the price for the DGX-670. All of these features come at a surprisingly low price, competing with many bare-bones digital pianos aimed at beginners.
That's not to say this is the perfect instrument for everyone.
The GHS key action is passable, but there are better alternatives out there. If you're primarily a piano player who wants a good keybed for practice, you might be better off getting something else. I really wish Yamaha went with their GH3 keybed for the DGX-670, but it is what it is.
Also, the 'Portable Grand' label on the DGX-670 is a lie. Even without the furniture-style stand, the DGX-670 is insanely heavy. If you're a gigging musician who needs to constantly be on the go, the DGX-670 can work, but your back and shoulders will probably suffer in the long run.
If you're a pianist first and foremost, I would think twice before pulling the trigger. The CFX Concert Grand is very well-sampled, but the lackluster speakers and GHS keybed means you can get better options elsewhere, potentially for a cheaper price, especially if you're willing to forgo accompaniment features.
Ultimately, I'd say Yamaha is on a roll. The DGX-670 is a very feature-packed instrument that sounds good, controls smoothly, and is jam-packed with features. It'll be interesting to see how future Yamaha instruments continue down the path of being value-focused.
Check the availability and current price of the Yamaha DGX-670 in your region: