Roland is a brand that needs no introduction. They've been a dominant force in the music industry for the longest time, and you can read about their history in our brand overview here.
The Juno name might not be familiar to non-enthusiasts, but its sound is something you'll certainly have heard before. Reel 2 Real's I Like to Move It, of Madagascar fame, has a rolling bassline designed on the Juno-106.
The Juno synthesizers were very popular, and that success can be attributed to one thing, their price tag. Unlike the high-end Jupiter synthesizers, the Junos gave budget-savvy keyboardists access to Roland's warm, polyphonic sounds.
The star of today's review, the Juno-DS, continues the workstation-style design. However, the current market is filled with great digital pianos and keyboards focused around performing musicians (including Roland's own RD-2000).
Does the Juno-DS still have a place in this crowded marketplace? Let's find out.
Roland JUNO-DS61 Specs
61 synth-type touch sensitive keys
128-note polyphony
Presets: Over 1200 Patches, Over 30 Drum kits
256 User Memory Patches, 8 Drum kits, 128 performances
1 Wave Expansion Slot
Effects: Mulit-effects, Chorus, Reverbs, Mic Input Reverb
Audio Playback: WAV, AIFF, MP3
Modes: Layer and Split
Rhythm Patterns (30 groups x 8), Arpeggiator (128 presets)
Pitch bend/Modulation lever, 4 control knobs, 4 level sliders, 8 multicolor pads
Connections: USB memory port (type A), USB computer port (MIDI/Audio), MIDI ports (In, Out), Audio In jack (1/8″), Line outputs 1/4″ (L/Mono, R), Mic In jack (1/4″), Headphone jack (1/4″), Pedal Hold jack, Pedal Control jack
W x D x H: 39.7" x 11.8" x 3.8" (100.8 x 30 x 9.7 cm)
11.7 lbs (5.3 kg)
Release Date: September 2015
Full specs can be found on Roland's official site here
Check the availability and current price of the Roland JUNO-DS61 in your region:
Design
Roland has always been on top of their game when it comes to design and build quality, and I'm glad that the same level of polish is maintained, even in their less pricey products.
In terms of weight and dimensions, the Juno-DS is just as you'd expect from typical performance keyboards.
While you won't have much trouble carrying even the 88-key model on your back, I would invest in a good bag or transportation for longer trips.
Naturally, the 61-key model is lighter, and I personally consider it the ideal model for someone who's constantly on the move.
Below you can see the differences between the JUNO-DS61, JUNO-DS76, and JUNO-DS88.
The Juno-DS is primarily plastic, with a few smooth aluminum sections where the controls lie. This is consistent with the old-school Juno synthesizers released back in the early 1980s.
While dropping the Juno-DS will undoubtedly cause a few scars to show, it's built well enough the withstand the general life of a performing musician. The build quality of the Juno-DS is solid all around, and there really isn't much to complain about.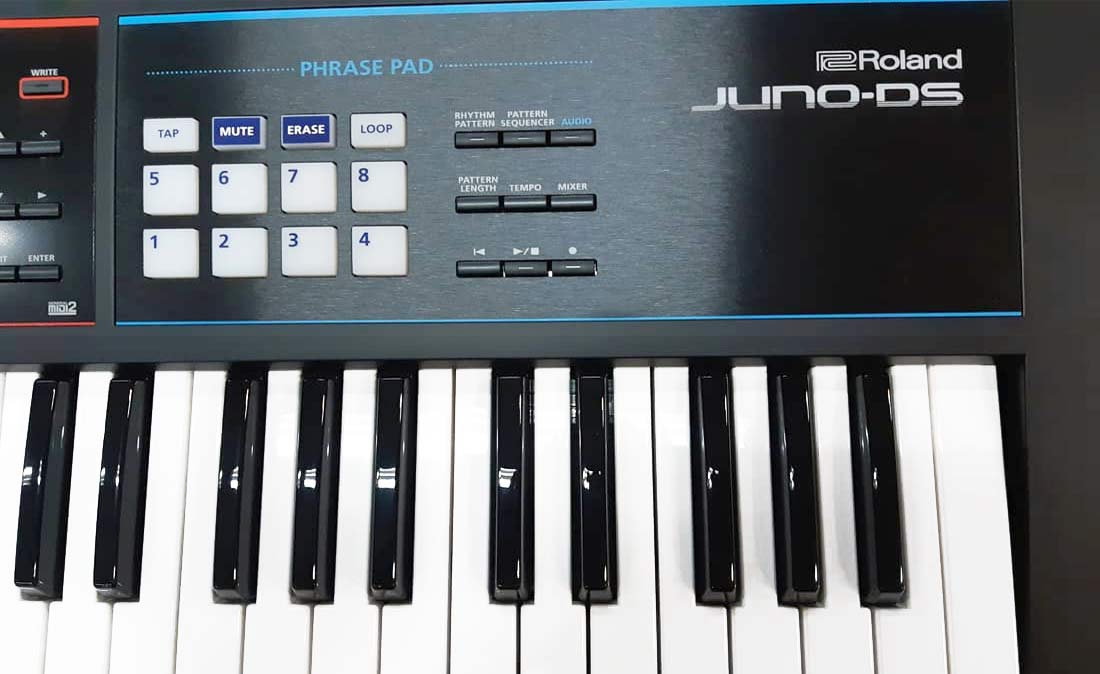 In terms of looks, the color scheme of the Juno-DS is also inspired by the original, being primarily black with a few red, white and blue highlights.
These colors seem to be spray painted, which means they will come off if you scrape them. Bear this in mind, as wear and tear are inevitable.
The Juno-DS's controls are primarily buttons, knobs and faders. I feel that the buttons are a little bit too loud and clicky, but that's down to personal preference.
On the other hand, the knobs and faders are great, and have a nice bit of resistance to enable precise parameter changes. The same precise, tactile feel is also present in the large encoder knob and the square drum pads.
The keyboard is primarily split into three main sections, and the layout makes sense once you get used to it.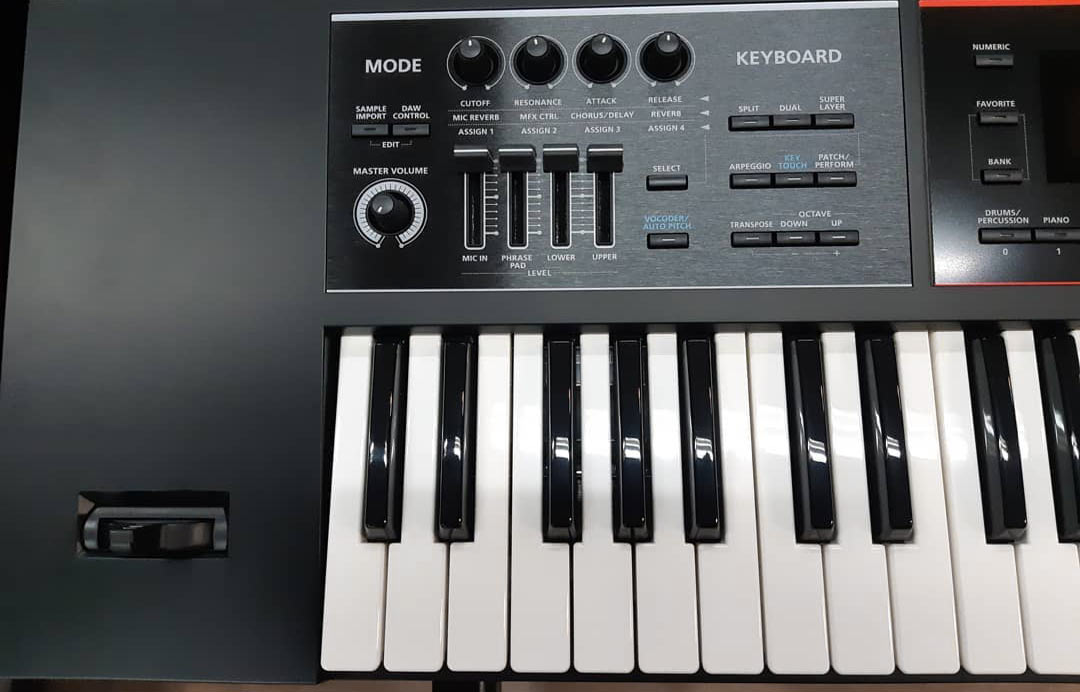 The first section is the knob and fader section, which allows you to modify basic parameters involved in sound design.
While I do like how all the necessary controls are grouped together in a way that makes sense, I do have some gripes.
Mainly, I feel that the faders and knobs are a bit too close together. People with larger fingers might find it hard to turn knobs all the way in a single go.
The second section is where the backlit LCD screen and patch selection happens. The large encoder knob is precise, and you also have the necessary arrow keys to navigate through the menus.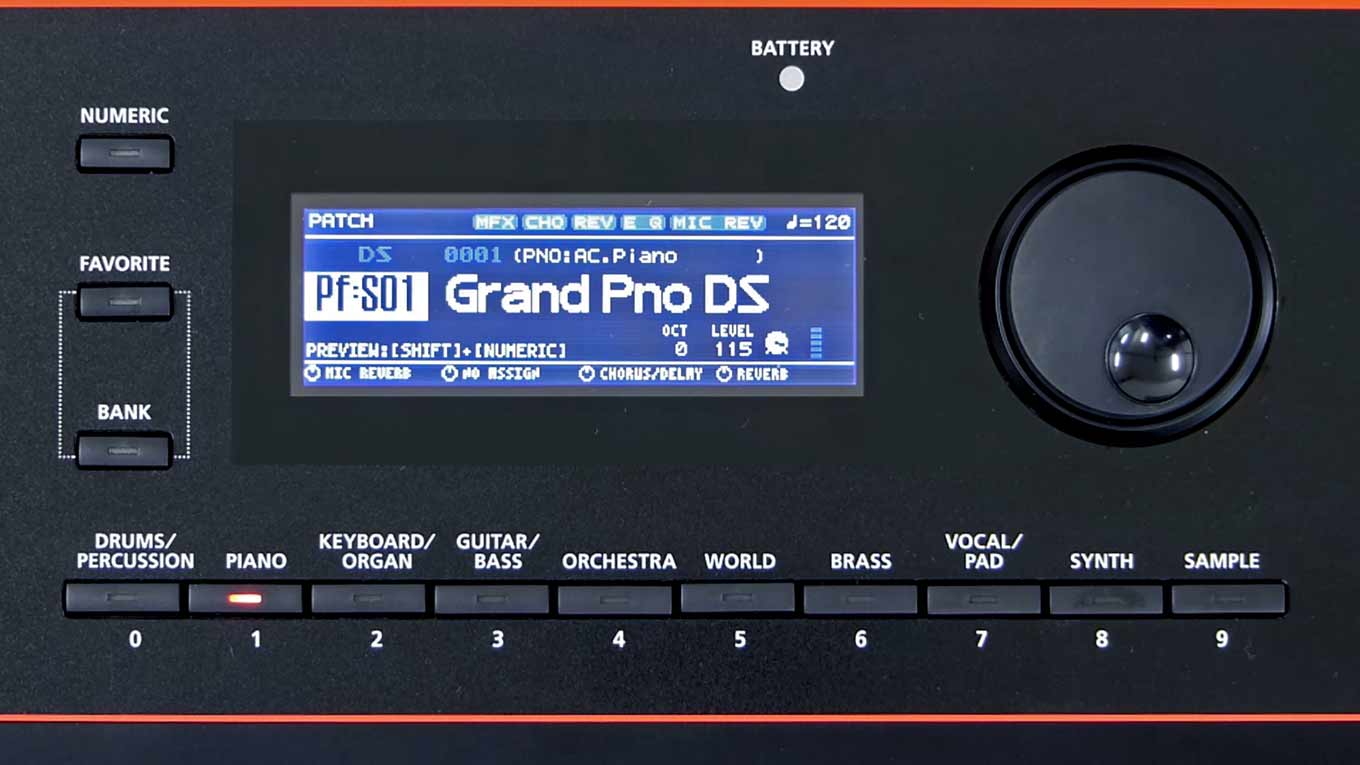 The screen itself is quite large and shows all the information you'd need whilst performing without feeling overly crowded.
Finally, the third section is the Phrase Pad section, which is utilized to great effect. These look like typical drum pads at first, and they can indeed be used to trigger audio samples such as drum hits. However, they can also be used to mute or trigger rhythm tracks, samples and recorded parts.
Even when you're using the Juno-DS in its default mode, these pads act as a volume preview, lighting up in increments to indicate how loud you're playing.
There's a lot of neat features here, and while most of them are extraneous for the typical stage player, you really can't blame a manufacturer for adding in a few bonuses here and there.
Finally, there's Roland's classic pitch-bend and modulation combo stick.
For people used to modulation and pitch-bend wheels, this might feel a bit strange at first, but it's really easy to fall in love with this. Just switch on a synth lead preset, and you'll be blown away by how natural it feels to add in vibrato.
Just remember, the modulation 'wheel' in this case always returns to its initial position. This is a non-issue if you only want to use the keyboard as is. However, if you intend on using this as a controller for external gear or software, do remember this quirk.
In general, the Juno-DS is well-built, and if you're into the minimalistic, subdued look, it looks great.
Now, let's find out if the keyboard feels as good as the rest of the controls.
Keyboard
The two different variants of the Roland Juno-DS use different keyboard styles, and both are good keybeds.
These keys, unfortunately, do not feel as good as the premium PHA-50 keys from the Roland RD-2000. This might be a cost saving measure, but the sacrifices do change the feel.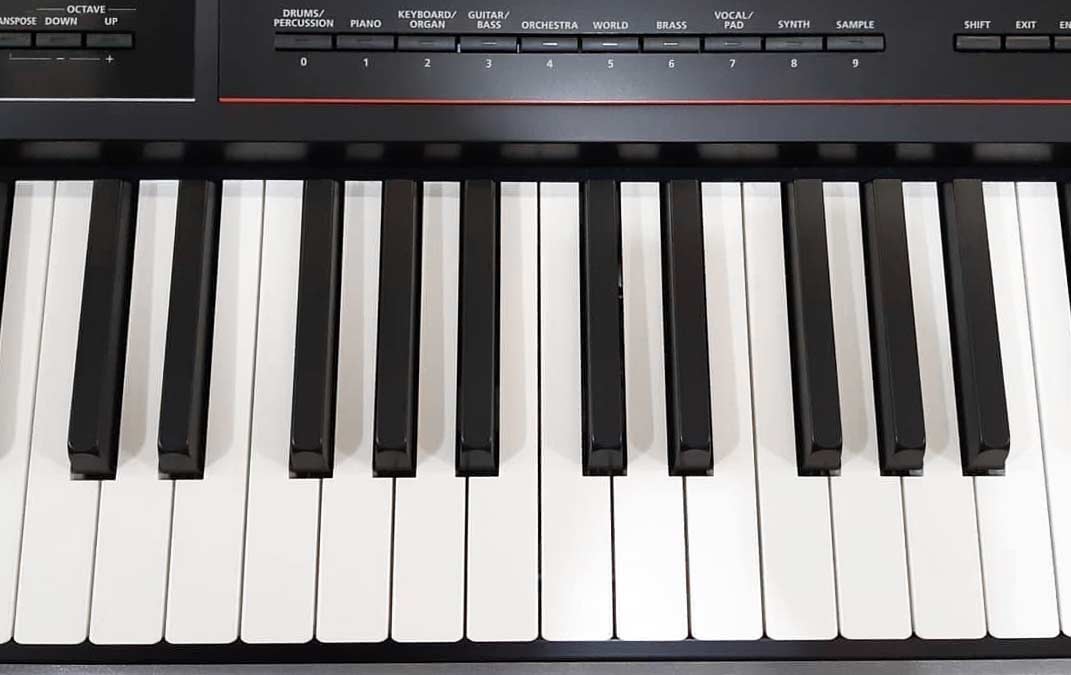 These keys are a bit weighty for non-piano sounds, and the default velocity curve also seems to be a bit less responsive than I'd like. In the end, I found that a lighter touch sensitivity setting was preferable, and helped remedy most of my qualms.
The main problem I have is a slight disconnect between the weight of the keys and the reactions of the sounds.
These keys feel similar to Yamaha's GH3 action, which is inherently quite heavy, yet those keys manage to recreate the weightiness of each press with their sounds. On the contrary, the Ivory Feel-G keys feel like they're triggering samples of lighter keys.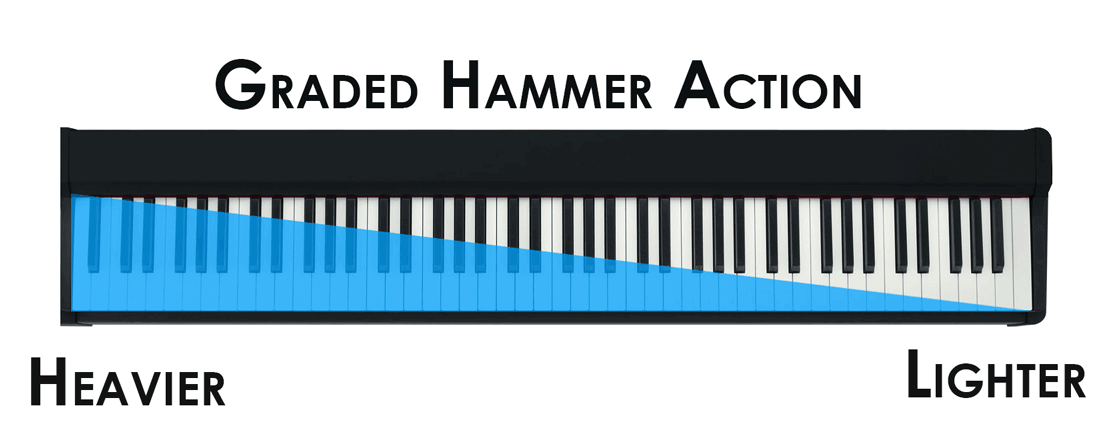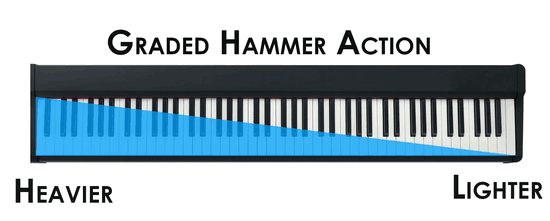 For what it's worth, the keys aren't bad. I just prefer Roland's PHA-line of keybeds over the Ivory G. You do get a synthetic ivory feel to the white keys though, which helps if you're someone who has sweaty hands. If you need an 88-key keyboard, try testing this out to see if the keys are to your tastes.
This is far from the realistic feel of the Ivory Feel-G keybed, but it is a surprising joy to play. Piano parts, synth leads… These keys manage to work for all the included sounds.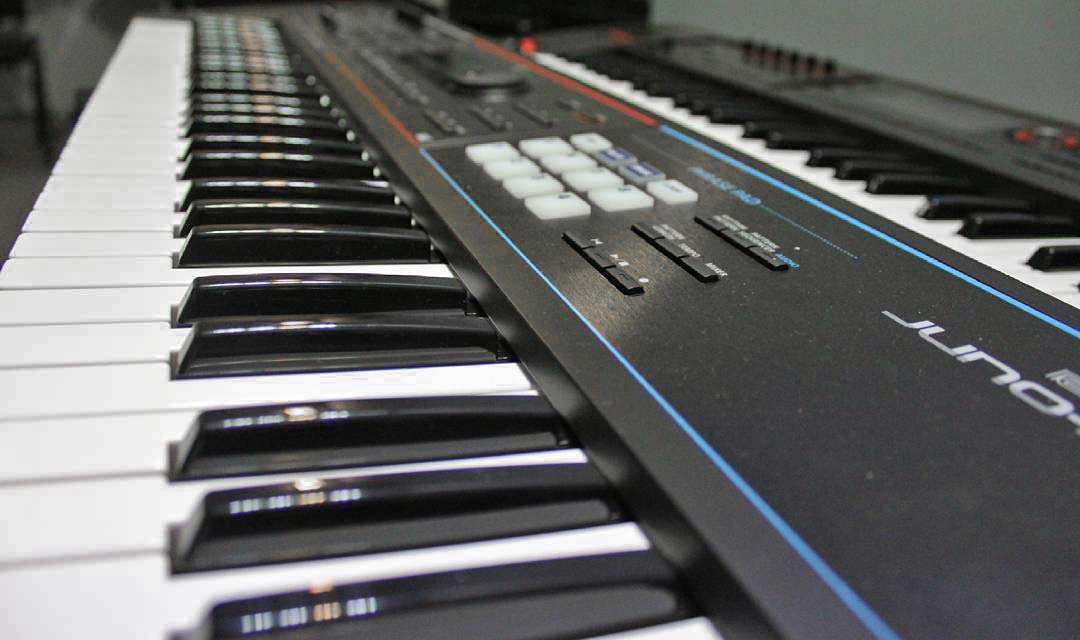 The velocity curve somehow feels natural, even when playing piano parts. I usually need a bit of time to get used to unweighted keys, but I adapted to these keys really fast. I'd attribute this to good velocity curve tuning, so props to Roland for that.
Naturally, you don't expect amazing realism from unweighted keys, and that's a factor you will need to consider when getting the Juno-DS61. I personally find myself liking the unweighted keys more, which is why I opted for this model over the Juno-DS88 for my playtest.
Again, these keys will take some getting used to, but I find their responsiveness is well worth the effort. There's also the added benefit of this variant being more compact and much lighter, which is ideal for performers on the go.
For performance keyboards, having keys that are versatile is important, especially since you have hundreds of different sounds to work with. Either way, the Juno-DS has good keys that work well with the included sound library.
Sound
The sounds are without a doubt, the strongest aspect of the Roland Juno-DS.
For purposes of this review, I used monitor headphones to reference the output signal.
The Juno-DS features around 1000 sounds, and these include sounds primarily ripped from other Roland keyboards.
I also like how Roland includes a short demo of each sound, so you can understand how the sound works in context.
The sounds are accessed from the buttons below the LCD screen, and each button covers one specific category of sounds. We'll run through each category one by one.
---
Patches
Drums/Percussion
It's unfortunate that this is the first category, as it's one of the weakest. The drum kits don't sound bad per se, but they don't hold a candle to the industry standard drum sounds.
For example, while articulations are included, there aren't as many different samples, which make the drums sound a bit unrealistic.
The drum kits are sample-based, which means you can load your own samples if you're so inclined.
Of course, you likely won't be using these sounds through the keyboard. Instead, you'll be utilizing these sounds through the step sequencer or the built-in rhythms. It's nice to know that this option exists if you want.
---
Piano
The piano section is the default section that's active every time you turn on the Juno-DS. This section covers the acoustic concert grands, electric pianos, and some layered tones.
Roland has always excelled with acoustic piano sounds, and that same pedigree is continued with the Juno-DS.
Coincidentally, this keyboard relies on classic PCM samples, which is different from the typical SuperNATURAL sound engine used in Roland digital pianos.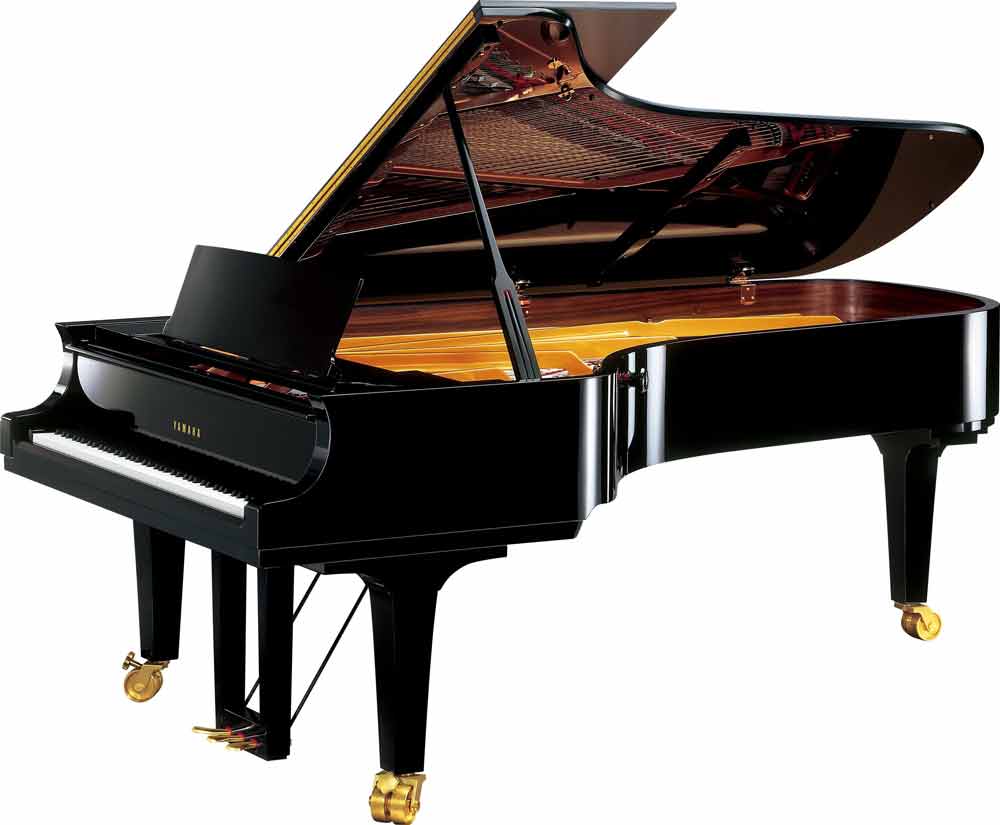 The lack of Roland's top of the line sound engine might seem like a massive downgrade, but you shouldn't worry too much.
While you lose out on the realistic modeled sample decays, that doesn't change the fact that the main samples are still high quality.
These sounds might not be the best for classical piano pieces, but if that's what you're looking for, you probably shouldn't be looking at the Juno-DS.
The same sound bank also includes your cookie-cutter Wurlitzers and Rhodes. As is generally the case, Roland includes great Wurlitzer sounds, which include some pleasant bite with some amplifier sounds included in.
There are also some synthesized piano sounds. These include the classic FM synths and even the classic Juno Piano sound, which are featured on countless 80s records.
These sounds aren't too hard to get right, seeing how they're digitally synthesized.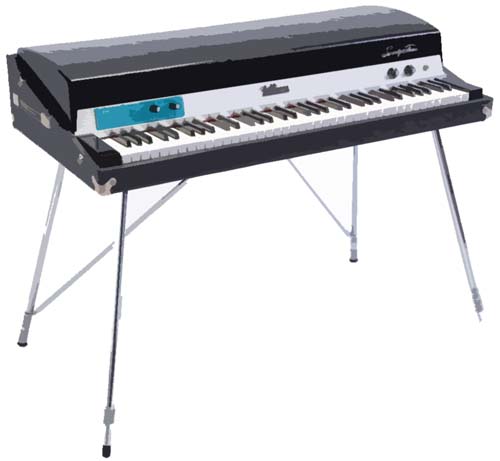 All in all, this sound bank includes a ton of great sampled pianos, both acoustic and synthetic. While some might berate the lack of the SuperNATURAL sound engine, or even the V-Piano engine, don't worry too much.
It's true that you can't model your piano down to the details, but that's not a big deal. Give a few audio demos a listen, and let the sounds do the talking, I'm sure you'll be impressed.
---
Keyboard/Organ
This section primarily features organ sounds, and it has a dash of other key-based instruments, such as clavs, harpsichords, xylophones, and other similar instruments.
The organs come in a large variety of forms, and they're really fun to play. You might be disappointed with the lack of physical drawbars at first, there are a lot of organ presets to choose from.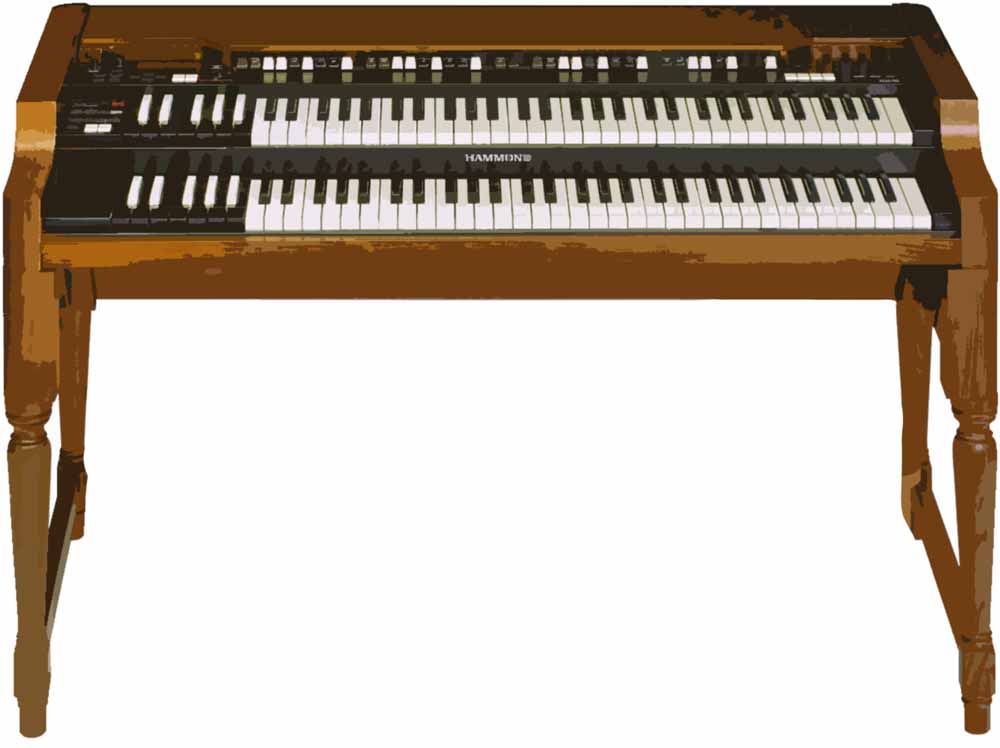 If you're willing to dive deep, you'll likely find some sounds that fit well with the songs you're playing.
Also, don't be too discouraged by the lack of rotary simulations on most presets. You can personalize your effect chains to help remedy that issue. We'll get into that further in, but the effect chains here are really something.
There is one thing to consider when talking about the organs. If you're using the 88-key Juno-DS88, the heavy keys might make them less ideal for organ sounds. In this regard, the models with unweighted keys might be more ideal.
The clavs managed to impress me, though I guess that's to be expected, considering Roland has managed to capture the dirty tonality that is necessary for rockabilly songs.
The velocity sensitivity is used to add nuance and dynamics to your playing, without being overly sensitive. Again, the customizability that the effect chains allow shows its potential here as well.
Harpsichords and other mallet-based instruments are as you'd expect. These have limited usability, but for people who require them, they are in line with other digital pianos on the market.
---
Guitar/Bass
As someone who plays guitar on the side, I've never been the biggest fan of keyboard-based guitars. Most keyboardists fail to capture the basics of how real guitars work, and that comes down to the full-length keyboards.
However, I have seen excellent performances that substitute electric guitars with keyboard-based replacements.
The key to achieving this sense of realism is a combination of technique and sound. I'm glad to report that the Juno-DS nails the latter (unfortunately, skills aren't included in the price tag).


You have a large selection of tones, ranging from nylon-stringed classical to modern-day distorted metal guitars.
In isolation, all these sounds manage to nail the sonic characteristics of real 6-string guitars, so you'll be fine if your song needs a replacement guitarist.
The bass subcategory is an interesting one. The expected electric bass sounds are available in different articulations, such as slap, pick and fingerstyle.
These sounds should be the bread and butter of most keyboardists, and can be used with split mode for a bit of variation.
The same sound bank also covers the synthesized basses. If you intend on playing electronic dance tunes live (or even arranging EDM beats with the Phrase Pads), you'll find some good presets to work with.
There's way too many bass presets to cover, but a few gems include the SH-101 (your standard bass sound done well), the Juno Reso bass (of Juno fame), and the TB Dist preset (for the classic TB-303 acid sound).
---
Orchestra
The orchestra category covers your go-to string sounds, as well as some orchestral hits and stingers.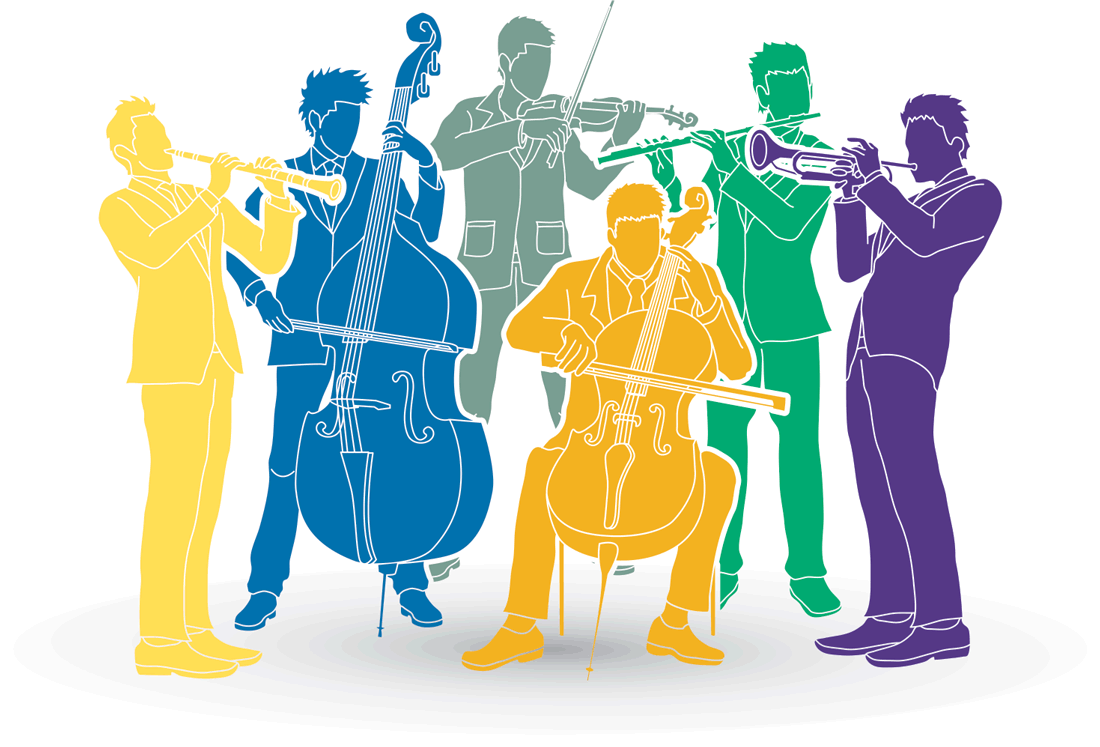 The strings are the main focus, and rightfully so. These sounds will mainly be used as background chord holds for songs, and for that purpose, they work great.
The large trove of preset sounds mean you have a good selection of different playing intensities and spectral richness to choose from.
The sounds are a bit limited in terms of articulations though, as legato seems to be the main focus.
I personally find myself gravitating to the 2nd preset (St.Strings) for general playing and layering. The default preset is a bit more intense than I want, which makes it less ideal for band-based contexts. Of course, this comes down to personal preference. Adding a touch of large-scale reverb helps these sounds come to life.
I also recommend checking out the Jupiter Str. preset, which strides the line between synth pad and orchestral strings quite nicely.
The rest of the presets cover orchestral percussion. I didn't spend too much time on these, but I'm not one to complain about extra variety. If you need to create some atmosphere, try searching here.
---
World
World sounds cover a lot of exotic instruments that aren't normally included in western music. A few examples include sitars, kalimbas, pipes and harps.
There are also some random odds and ends here, such as grooves and phone sounds. I don't think you'll be spending a lot of time with these sounds, but I'm not going to complain about extra bonuses.
---
Brass
This category includes full brass sections and solo brass instruments. Synth brass sounds are also included here.
I don't usually work with brass sounds a lot, but these are very impressive. Touch sensitivity doesn't just control volume. Most presets include brass stabs at high velocity, which make performing with these sounds a real joy.
If you wanted to recreate the feel of classic funk records, I'd say these are well worth looking into. If you get the chance to playtest the Juno-DS, do give the 2nd preset (BreakOutBrs) a shot. You might be impressed by how responsive this sound feels.
If you're used to typical static brass presets, this will feel like a breath of fresh air.
Similarly, synth brass sounds are rich and can be further enhanced with the SuperLayer button for even more width.
I do hear some similarities with Roland's Gaia synth, so these sounds are likely recreated using digital oscillators, which is a plus in my books. I also recommend toying around with the filter envelope to personalize the sound further.
I'd go as far as to say that this section is one of the highlights of the Juno-DS.
---
Vocal/Pad
Under this subcategory, you're getting choirs and synthesized pads.
Choirs are really hard to get right, and apart from Yamaha (who arguably plays things too safe), I rarely find myself liking keyboard choir sounds.
The main problem I have is the lack of realism and a sense of things sounding unnatural. Sadly, the Juno-DS doesn't buck that trend. I'd go with strings instead if you need to fill up space.
Thankfully, the pads are excellent. Roland was one of the first companies to fully embrace polyphonic synthesizers, and as such, their synths formed the forefront of early pads.
There are a lot of great pads here, and I really do recommend using them as opposed to defaulting to strings. Even layering the pads alongside the piano can add a good bit of atmosphere.
To sum this section up, skip the choirs, but do check out the pads.
---
Synth
With the synth category, you'll find leads, sequenced synths, arpeggiated parts, and some synth-keys. This category is what many people would describe as bleeps and bloops, and I'd agree with that to a certain extent.
However, the leads are really good, and sound great, especially once you start playing with the filter parameters.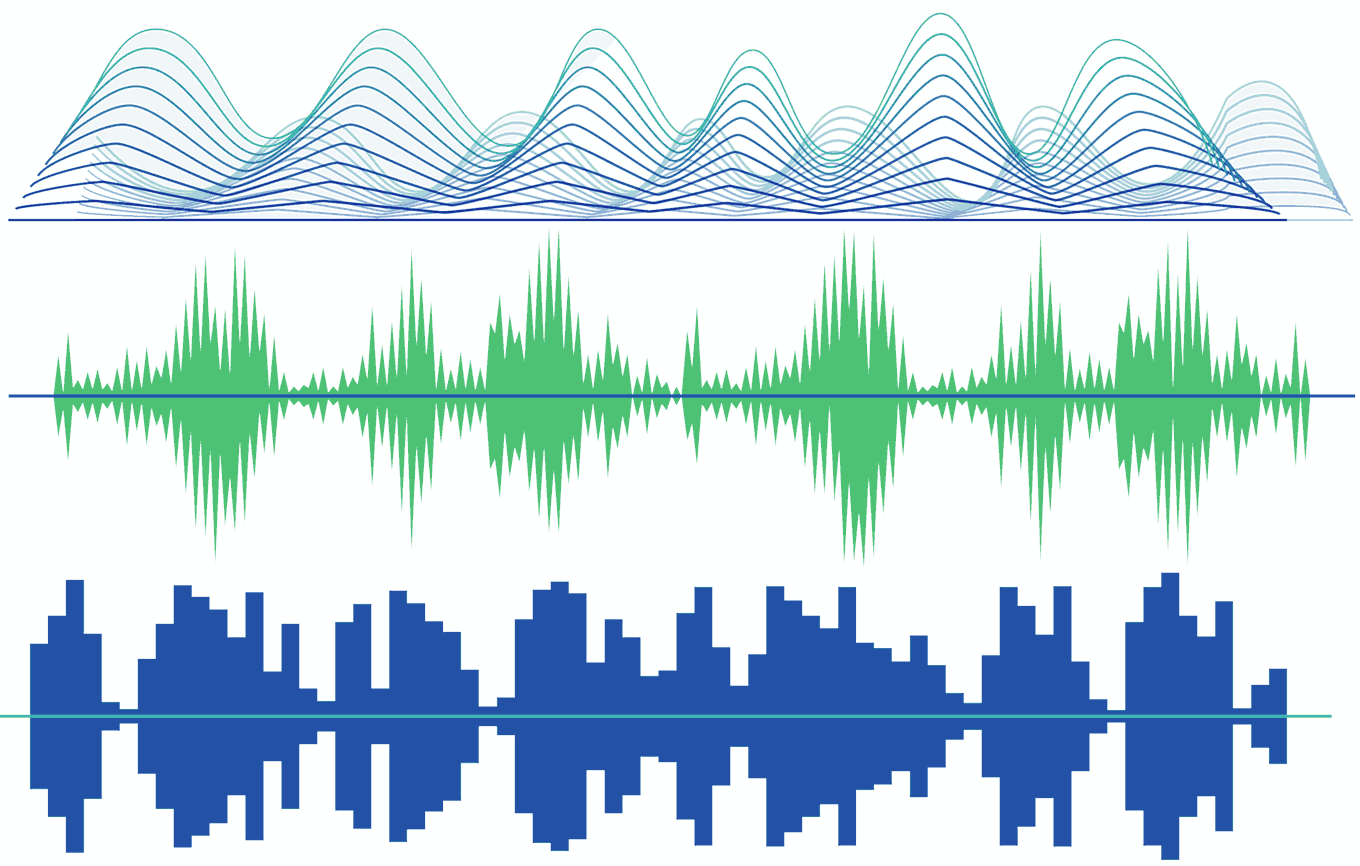 I feel that Roland's pitch stick works best with synth leads, and being able to add in vibrato by moving the stick up vertically is also really fun. If you need to add a rich, versatile mono-synth to your gigging rig, the Juno-DS has you covered.
Arpeggiated sequences might be a bit less useful. Take my advice, don't use them as is. Instead, try customizing the arpeggiator's parameters to make each synth suit your song.
Some of these presets have strange settings that sound great in isolation, but would never work in an actual context.
If you intend on diving into this category, remember that you have a limited degree of editing potential. While the Juno-DS isn't a fully-featured synthesizer, you can still tailor sounds slightly.
---
Sampling
If you've tried sampling in the past (or even retro-style sampling with Korg's recent Volca Sample), you'll know that it's quite fun to stretch out a single sample over the entire keyboard.
This is where the Sample button comes in. You can import your custom samples onto the Juno-DS, and play around with it on the keyboard. Of course, there are a ton of waveforms included onboard if you can't be bothered with the hassle.
As much as I support creative sample use (especially with the advent of Splice Sounds), I doubt you'll be using the Juno-DS as a real sampler. The limited customization really isn't ideal if sound fidelity is your end goal.
Either way, I'd consider this section a fun intro to sampling, but not something I'd want to use live.
If you do want to work with your own samples, I'd suggest working with performance software, such as Ableton Live through the Juno-DS's DAW control mode instead.
---
Expandability
If you somehow find yourself bored with the onboard voices, you can look into the sound libraries on Roland's Axial website. These extra libraries can be loaded onto the Juno-DS by adding in some extra waveforms or presets to the mix.
At the time of writing, there are a lot of expansion packs you can load up. I would recommend checking out the EXP-09 Complete Piano Collection and the EXP-06 Studio Collection for an expanded sound library.
The nice thing about the Axial sound repository is the auditioning. You can test out each expansion pack through Soundcloud links. This is a quick way of identifying the sound libraries worth downloading. Do test things out.
---
Polyphony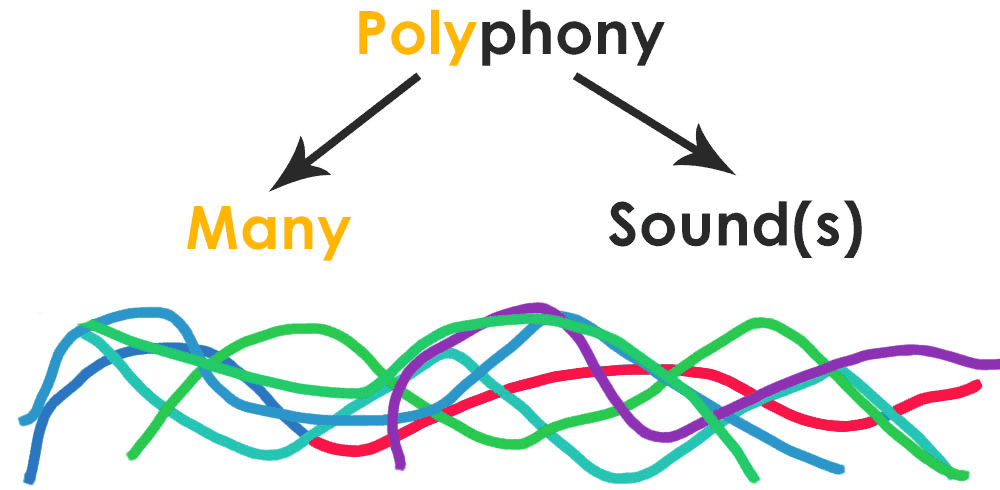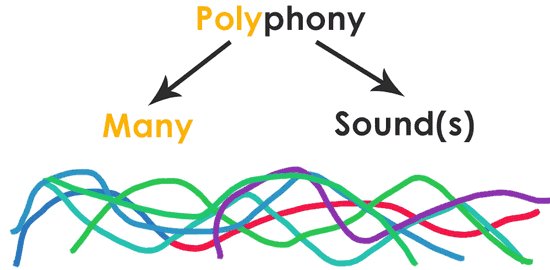 The Juno-DS has 128 notes of polyphony.
Now that that's done, let's cover the effects.
---
Effects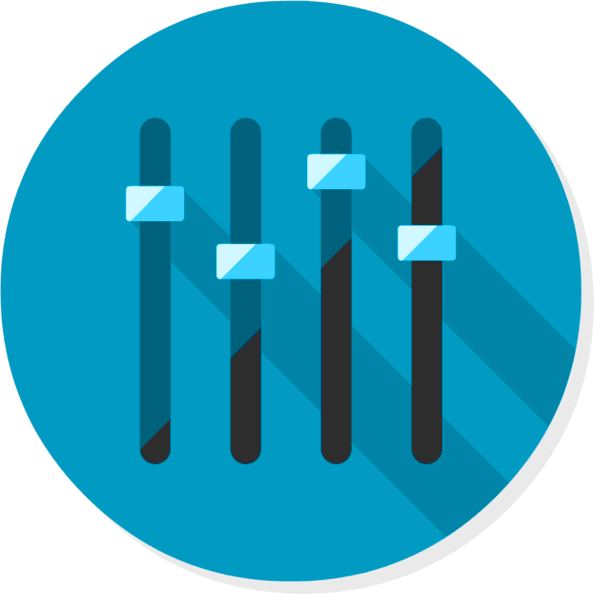 For each patch, you can select one multi-effect (MFX), one chorus, and one reverb.
In performance mode, you can use up to 3 multi-effects per performance patch.
Each specific effect has a different set of modifiable parameters, though I would have liked a better method of scrolling through the parameters for easier editing. As it is, it is a bit cumbersome to tweak the settings to taste.
---
Reverb
At first glance, the reverb unit seems surprisingly basic, only including 4 algorithms. However, in reality, these are better described as 'units', rather than algorithms.
For instance, the Reverb unit has 8 different types, ranging from rooms to halls and even delays.


The SRV modes emulate Roland's classic SRV digital reverb hardware units, which seem to have a bit of warmth to them, though it is hard to say whether this is through software emulation, or just some equalization.
Finally, there's a GM2 reverb, which is undeniably the most basic of the lot. This mode is the default for all the General MIDI 2 sounds, so it's probably best to avoid using this if possible.
---
Chorus
There are 3 main modes for the chorus effect.
The main chorus mode is basic, and can be used to dial in some extra width to your sounds.
Naturally, there's also a GM2 Chorus mode, which is also the default for most General MIDI 2 sounds. It doesn't exactly sound bad, but I prefer the standard chorus' versatility.
Finally, there is a delay mode. This delay effect is basic, but it does work for adding in some slapback. All the necessary parameters are included, so it's functional.
However, sharp-eyed people might feel weirded out that Roland didn't include a tape-echo effect, but in reality, this is included under the MFX section.
---
MFX
The multi-effects section is massive, and I really recommend reading the manual to know what options there are. There's a total of 80 different MFX, each with their own modifiable parameters.
I won't cover things individually, but these are all modeled through digital signal processing (DSP). In fact, these are the same effects included on the Roland RD-2000.
Again, it's not easy to change these parameters, but there are a ton of gems in here. Some examples included in these effects are different delays, flangers, bitcrushers and so on.


I personally really liked using the Tape Echo, Lofi Radio, and Guitar Amp Sim effects. These are the three that I really enjoyed using during my playtest.
However, I'll also admit that I didn't run through all of the effects (80 is a huge number, after all).
The Tape Echo is an analogue delay effect, and the difference between this and the usual delay effect is that there's some subtle time shifting, which naturally happens when tape is involved.
This also indirectly causes some pitch shifting, which makes the delay sound very pleasing.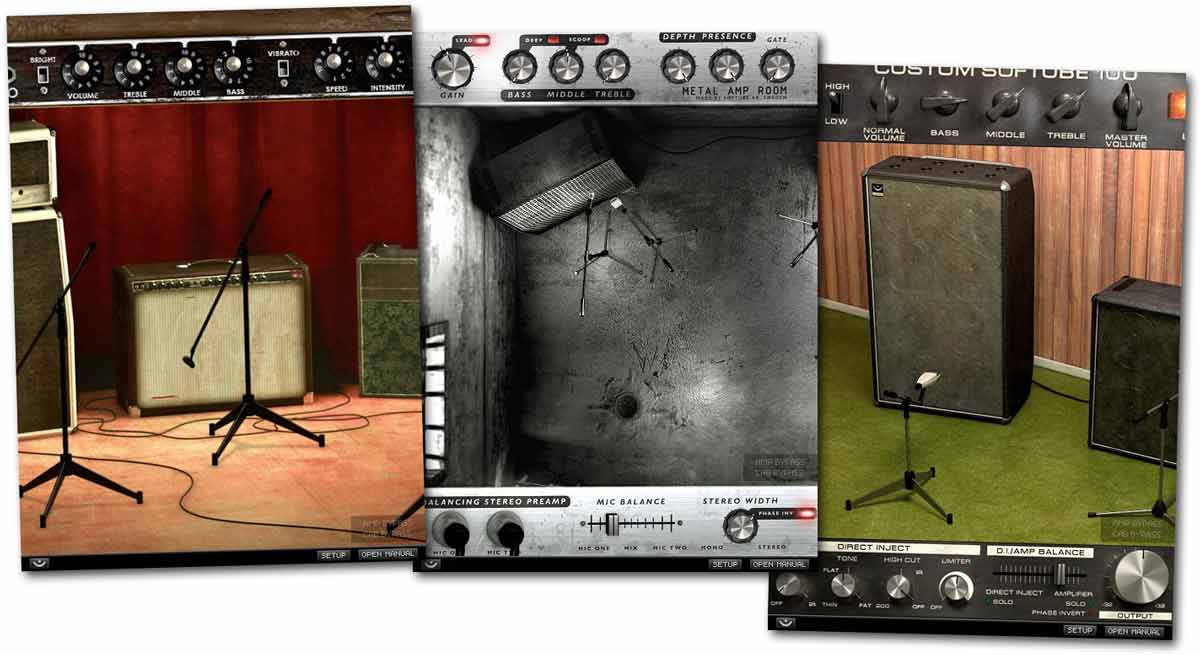 The amplifier simulations are really good. These are perfect when combined with the electric piano sounds. I was already satisfied with the Wurlitzer presets, but running the sounds through amplifier simulations make things even more great.
These amps excel in their ability to nail down overdrive. Essentially, louder playing is more distorted than softer playing. This is something that most amp sims fail to recreate.
The Lofi Radio effect seems to combine the shiftiness and subtle distortion to create the tones you'd expect from modern day lofi hip hop tracks. This effect recreates the feel, and it is easy enough to use.
While I don't see myself using this in a band context, it is a nice way of making sounds feel a bit more 'retro'.
---
Superlayer
This might seem like a strange button at first, but it's quite unique. Roland synths in the past included a similar function, and I'm glad to see it included on the Juno-DS.
Essentially, when you activate this mode, the currently selected sound is duplicated multiple times, detuned slightly against each other, and hard panned to add a sense of width.
This makes sounds artificially richer, and is an easy way of adding 'interest' to a sound.
This can be a bit hit-or-miss though, as the detune and panning might induce phasing issues. Be sure to have preparatory tests before-hand to ensure sounds work out before using them on stage.
---
Master EQ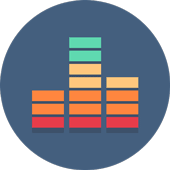 Finally, Roland has a Master EQ placed right before the main output.
The equalizer on the Juno-DS is a basic 3-band equalizer. This allows you to clear out some resonant frequencies before the sounds go through the main outputs.
This is particularly important if you end up using some effects that are hard to tame, such as the resonant filters or amp sims.
Other Features
Naturally, a keyboard based around performances also needs to have more than just good sounds and a solid palate of effects. In practice, you'll need some features necessary for performance preparations.
---
Splitting and Layering
Splits and layering are necessary for any stage performer, and the Juno-DS makes things relatively simple with dedicated buttons and a helpful user interface. This is also referred to as Performance Mode in the manual.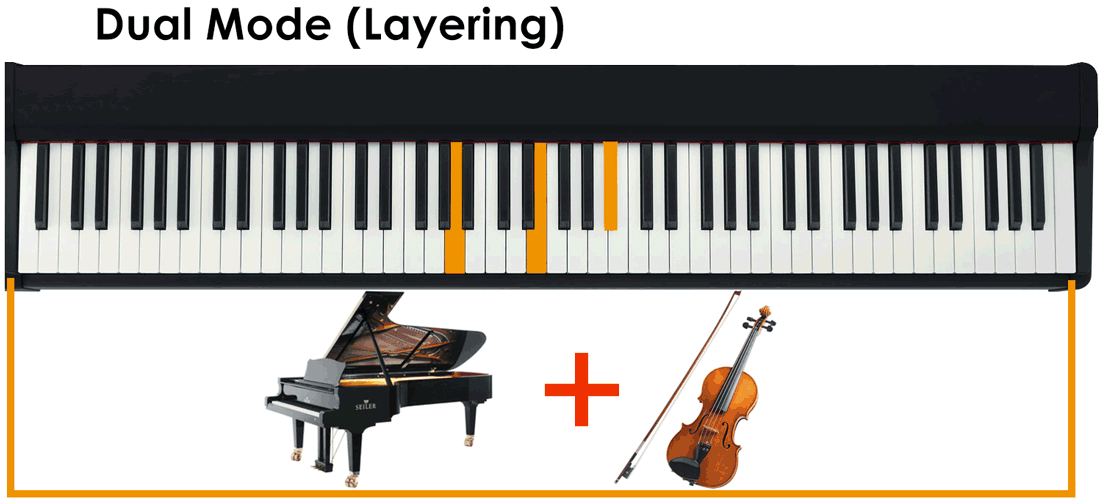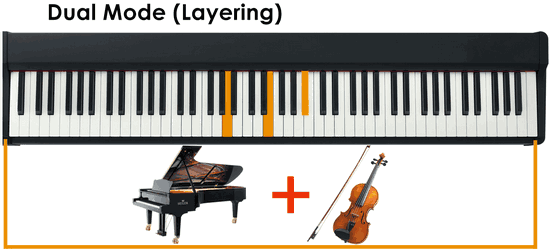 Layer mode exists as Dual mode on the Juno-DS. This is engaged with the dedicated button. By hitting the button, the main screen will show each of the two selected sounds. Using the arrow keys makes switching each sound really simple.
Similarly, Split mode is included, and this also has a dedicated button. The menu screen also changes to show the split. Setting a custom split point is easily done by holding down the Split button and pressing the corresponding split point.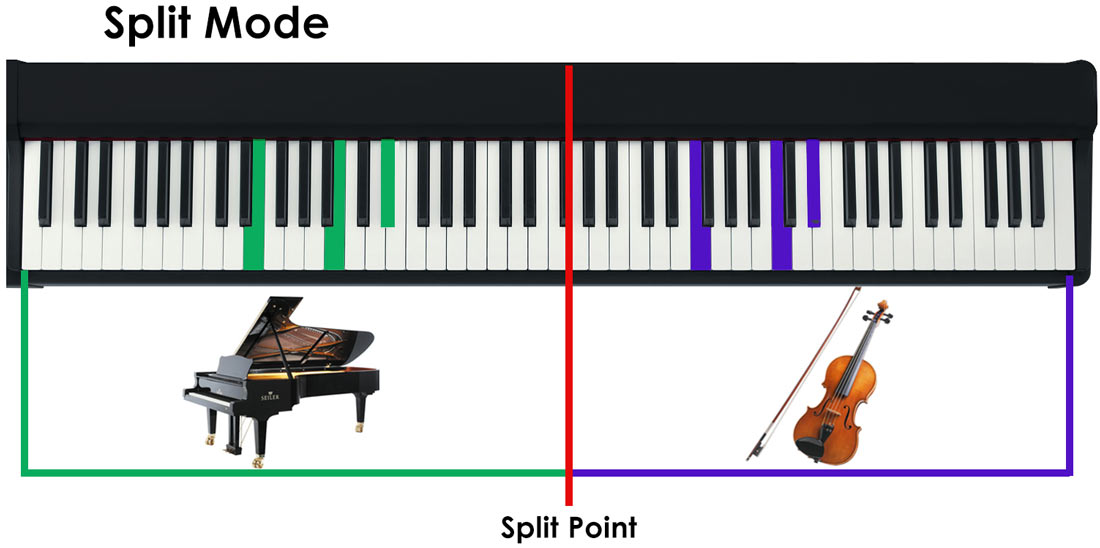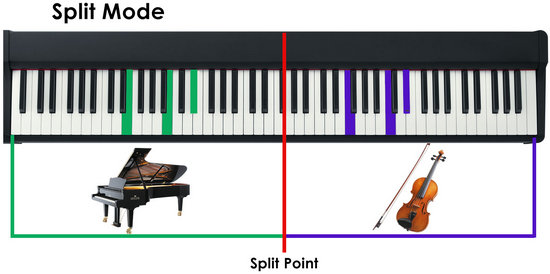 You typically can only get 2 sounds per split or layer, which is standard for most keyboards, but you can access Performance Edit mode to get up to 16 sounds which you can layer or split to your content. Just bear the 128 key polyphony in mind.
You should also note that you can mix each part of your split or layer through the dedicated faders. This also allows you to make changes on the fly. Naturally, you can tweak the transposition settings as well.
---
USB Audio Interface
USB MIDI is standard issue on pretty much every keyboard, and it's no surprise that the Juno-DS has this as well. However, Roland also includes a 24-bit USB Audio Interface on the Juno-DS.
This allows you to integrate your DAW into performances without needing an external audio interface. The drivers can be download off Roland's website, and everything after that is handled seamlessly.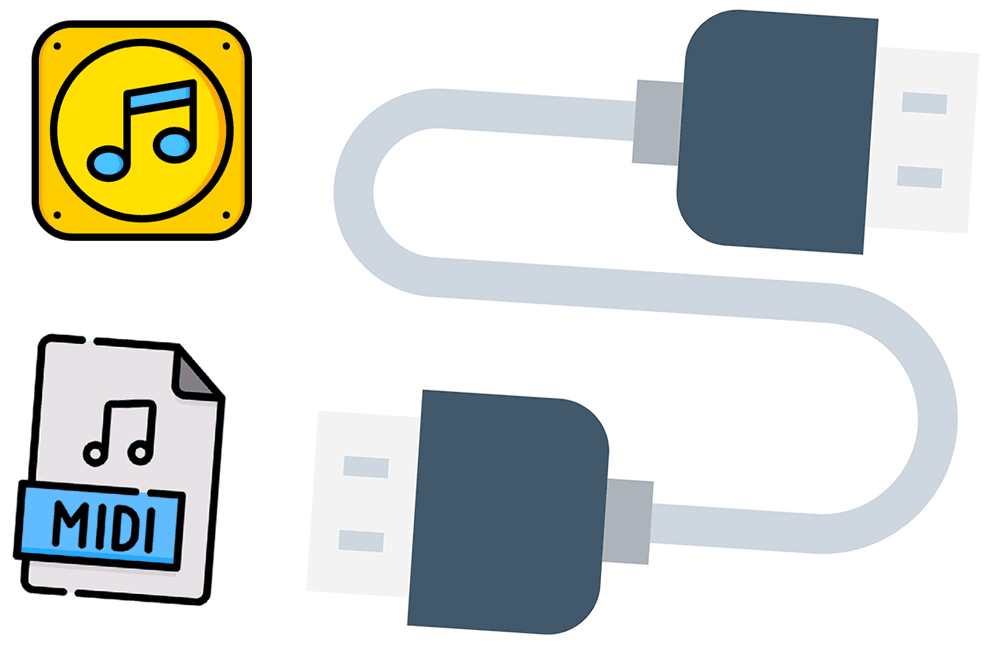 Now, you can route audio from your DAW straight through the Juno-DS' main outputs, or vice versa. While the setup might seem complicated at first, I'm always happy to have an extra bit of convenience.
As someone who uses keyboards live alongside software synthesizers, this is always a plus in my books. It also makes high-quality recordings of your Juno-DS that much easier!
---
DAW Control
The front panel controls have a button labeled DAW control, and this loads preset DAW control configurations, allowing you to assume more direct control over your DAW parameters.
I wasn't able to test out the included configurations, as I don't use any of the 3 supported DAWs (Sonar, Cubase and Logic Pro). However, I did try out the user-definable mode.
Linking the Juno-DS to Ableton Live, I managed to recreate my own basic setup, with instrument switching and transport controls.
In all honesty, the widespread adoption of the MIDI Learn protocol in most software means dedicated DAW controls aren't all that necessary. However, the mode is there if you need it.
---
Phrase Pads and Recording
I didn't spend a lot of time discussing the pads and what they're capable of, and there's really quite a lot to unpack. However, I will say that these functions aren't really what I'd consider 'useful' for stage performers or arrangers.
Apart from that, you can activate phrase mode, where each pad corresponds to a currently playing loop. These loops can be selected from the built-in library, or recorded (with quantization enabled).
The demo video below describes how you can do this.
This means you can record up to 8 parts. The pads then allow you to dynamically start, mute, or stop these tracks.
I'll note that the recording process is really cumbersome. You need to define your recording length prior to starting, and the navigation in this menu is quite bad. If you're unfamiliar with the general terminology of recording, you'll most likely be lost.
While it is fun to noodle around, I don't see these pads being usable in a performance context. You can't switch loops around easily, which means you're locked into the same progression throughout.
Something interesting you can do is load audio files onto each pad, and trigger them. This can be set up to handle one-shot samples and loops, which could help if your performances involve a backing track.
I'd personally prefer an external playback device, but the option is welcome. As someone who's used to Ableton Live's Session mode, which allows you to build up complete performances easily, this feels really bare bones.
There are a few other interesting ways how you can use the pads on the JUNO, which is not mentioned in the manual. For more information refer to Victor's comment below the article.
---
Microphone, Vocoder and Auto-Pitch
The Juno-DS has a mic input on the rear panel, and it also has a variable volume knob that allows you to adapt your gain settings.
The mic signal is then routed through the two onboard effects before being sent through the output.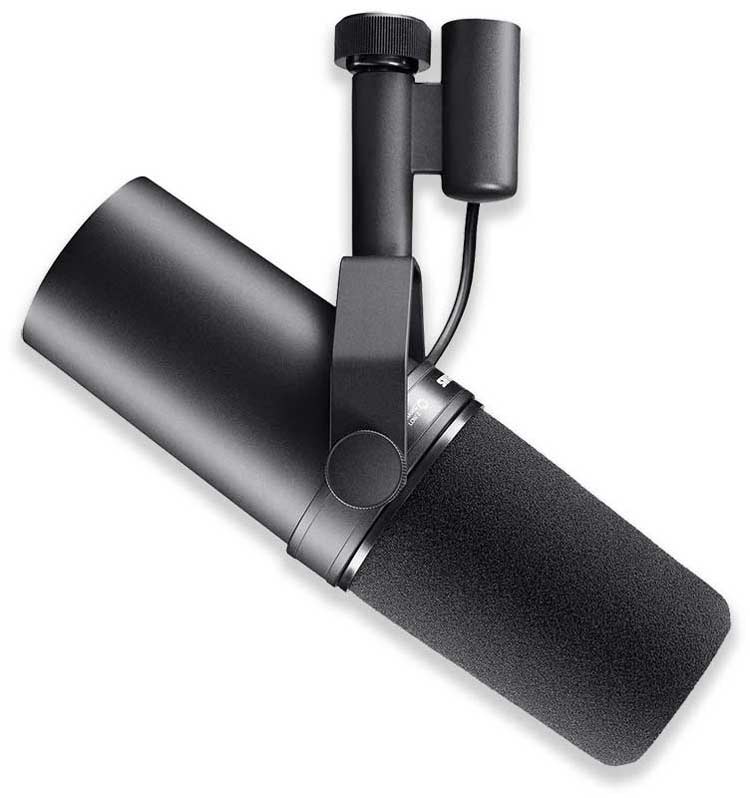 The vocoder effect is quite good, if a bit sensitive to noise (though that could be because of my own microphone's deficiency).
If you're not familiar with what a vocoder is, give any Daft Punk song a listen, and you'll hear its unmistakable sound on their vocals.
To use the vocoder effect, you vocalize through the mic (pitch is not important), and play notes which you want to 'force' your voice into on the keyboard. This will feel unnatural, but it's quite fun once you get the hang of it.
On the other hand, auto-pitch is straightforward. This attempts to force your voice onto the closest matching pitch. This is also commonly referred to as Auto-Tune. However, it's not as accurate as I'd like.
For one thing, dedicated pitch correction software and hardware units generally allow you to select a specific key, but this locks you to the chromatic scale.
Either way, the mic input is a nice addition to have, especially if you are busking. You can also change the mic's volume settings from the front panel with a dedicated fader.
Connectivity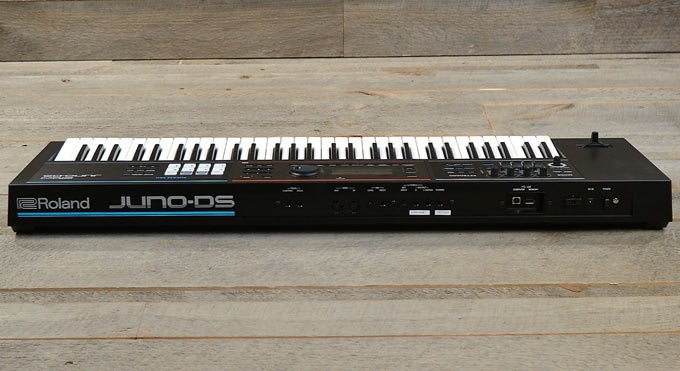 The Juno-DS is clearly made to be used on stage, and as such, it includes a full suite of connectivity options.
The two 1/4″  jacks (L/Mono, R) are used when connecting the Juno-DS to external amplifiers and speakers, and they work fine for that.
If you do intend to use the Juno-DS on stage PA systems, it might be worth investing in a DI box to avoid issues related to grounding.
Next, you have a 1/4″ stereo headphone out, which can be used for on-stage monitoring. This is also a good way to have practice sessions without disturbing the people around you.
A 1/8″ mini-TRS jack auxiliary input is also provided. You can use this input to connect external playback devices to the Juno-DS, and run it through the main outputs. This is great if you want to play along to a backing track.
5-pin MIDI In/Out ports are included, which allows you to use the Juno-DS with legacy gear.
For example, you can link up the Roland Integra-8 rack-mounted unit to the Juno-DS using these ports to take advantage of the expanded sound selection.
Two pedal jacks are included and are used to connect a damper pedal and expression pedal respectively. Most Juno-DS packages do not include either pedal, so be sure to take this into account whilst making your purchase.
As discussed earlier, there is a 1/4″ TRS Mic Input jack, which enables you to use a microphone with the Juno-DS.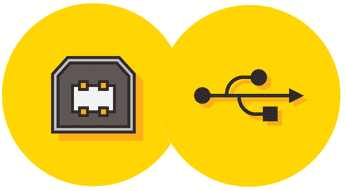 With the USB Flash Drive port, you can load your own samples onto the Juno-DS. These samples can then be used with the Phrase Pads for audio playback.
Supported audio file formats include everything from MP3s to 16-bit WAV files.
Finally, a USB Type-B port lets you make use of the onboard USB MIDI and Audio Interface capabilities. If you want to use the built-in DAW control mode, this will also be necessary.
Accessories
The Roland Juno-DS comes with the following accessories:
This is really basic, but I can understand wanting to cut costs to meet the budget price point of the Juno-DS. You will need to make a few extra purchases to utilize the Juno-DS to its fullest though.
A quick note on the AC adapter. Always check to see if the AC adapter matches your country's specified mains voltage, especially if you're importing the Juno-DS from overseas vendors. The last thing you'd want is to damage the internals.
---
Damper Pedal
If you intend on playing the piano or keyboard sounds, you'll know how essential a sustain pedal is. Roland does not include their DP-10 damper pedal with the Juno-DS, so you'll need to buy one separately.
The DP-10 is well-built, relatively cheap, and supports half-pedaling.
While the Juno-DS itself doesn't have half-damper support, it's still a worthwhile investment.
---
Expression Pedal
An expression pedal acts as an alternate modulation wheel and lets you modify parameters on the fly without needing to take your hands off the keys.
This means you can dynamically change settings like the filter cutoff with your feet.
I personally recommend the Nektar NX-P, which is one of the cheapest expression pedals available online. It's solid yet lightweight and works with practically any keyboard out there due to its universal switch system.
Summary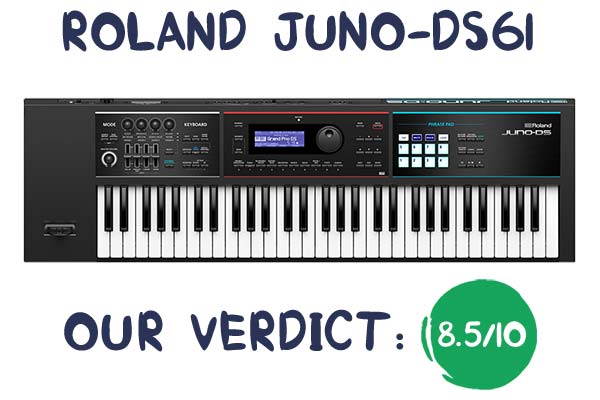 Pros
Nice-feeling keys (both unweighted and fully weighted versions)
Excellent sound library
Great effect selection
A lot of bonus features
Easy-to-use on-stage controls
USB audio interface
Cons
(Juno-DS88) Weighted keys are a bit heavy
Not all features are useful
Controls can feel a bit cramped
---
I was pleasantly surprised with the Juno-DS during my playtest.
You might be surprised to hear that, especially since the discussion on the extra features seemed to be a bit negative, even going as far as to say that the features aren't that useful. That's a shame, but it's nothing major.
The phrase pads and mic-only effects are fun to play around with, but both fall short of being truly usable for performances. I personally would consider these nice bonuses and nothing more.
However, this is a keyboard focused on stage performances. When it all comes down to it, a stage keyboard just needs to sound good, and be simple to use. The Juno-DS ticks these boxes handily.
The onboard sounds might not be powered by Roland's prestigious SuperNATURAL sound engine, but they still manage to sound great.
As stated in the review, don't fall into the trap of buying a keyboard for its feature labels. Let the sounds to the talking and your ears do the judgment.
The controls also feel solid. While the layout could have made do with a bit more spacing, it's straightforward, and that makes it ideal for people who aren't looking for a workstation-style experience.
Making a patch isn't rocket science, and I'm sure most people will be able to get by without needing to read the manual.
Personalizing said patches is also quite satisfying. While it seems limiting to have only 3 effects per patch, the MFX section has a trove of unique effects to work with, and if you're a tweakhead like me, you might find yourself getting lost in the options (though I have to say, the screen isn't the best for modifying effect parameters).
That's not to say this is the best stage piano I've tried. I'm still a diehard fanboy of Roland's RD-2000 and the Nord Stage 3.
Those instruments are the cream of the crop, and they manage to do just about everything right. Yet their prices put them out of reach for the general public.
However, the Juno-DS lands around the $1000 MSRP mark and that's hard to beat. Its most similar competitor, the Korg Kross 2 61, goes over the $1000 price point, which makes the Juno-DS a very appealing option for any aspiring stage musician.
To close things off, I wholeheartedly recommend the Roland Juno-DS. If you're after an easy-to-use stage keyboard that sounds great and plays well, it's hard to beat the value for money offered by the Juno-DS.
Check the availability and current price of the Roland JUNO-DS61 in your region: