Casio's 2021 refresh to their 'S' series of instruments came at an interesting time.
We recently released our reviews of the PX-S3100, the PX-S1100 and the CDP-S360. All these instruments came out within 2 years of their original models, and all showed minimal feature-set upgrades.
This product line focuses heavily on the slim form factor (which is the 'S' in the lineup's name). The high end PX-S series claims that it is the slimmest digital piano on the market, and 4 years on, it's still a title they're holding on to.
We previously reviewed the CDP-S100, and while we were pretty impressed with the budget-friendly price tag and space-efficient form factor, it'll be interesting to see how it stacks up to the more recent competition.
For clarity and convenience, I will be referring to both units as the CDP-S160 in the following review, as they're essentially the same instrument, barring a few minor differences.
The key differences between the CDP-S110 and the CDP-S160, apart from regional availability, are as follows:
The CDP-S160 includes optional triple pedal support, though the compatible SP-34 is only available as a separate purchase.
The CDP-S160 includes a 1-track, 1-song MIDI recorder.
The CDP-S160 also includes Duet Mode, which is a mode geared towards teaching.
With all that out of the way, let's see how the CDP-S110 and the CDP-S160 fare!
Casio CDP-S110 / CDP-S160 Specs
Scaled Hammer Action Keyboard Ⅱ
88 fully weighted keys
Touch Sensitivity (3 types, Off)
Sound: Dynamic Stereo Sound Engine
64-note polyphony
10 preset tones
Effects: Reverb (4 types), Chorus (4 types)
Modes: Dual Mode (Layer), Duet Mode (CDP-S160 only)
1-track MIDI recorder (CDP-S160 only)
Metronome, Transpose, Fine Tuning, 17 Preset Temperaments
Speakers: 8W + 8W (12 x 6 cm – oval)
Connectors: USB Type B, Headphone jack (1/8″), Audio In jack (1/8″), Damper Pedal jack, Pedal Unit jack (CDP-S160 only)
W x D x H: 52.05" x 9.1" x 3.9" (132.2 x 23.2 x 9.9 cm) – for both models
23.1 lbs (10.5 kg) – for both models
Release Date: October 2021
Below you can check the availability and current price of the Casio CDP-S160 in your region:
Design
If you've read our PX-S1100 review, you'll know that I'm a big fan of the PX-S series' minimalistic and futuristic design.
The CDP-S360 went with the more traditional but functional design of arranger keyboards, a necessity for users to access its expansive feature set.
Meanwhile, the CDP-S160 goes with the classic digital piano design trope of using as few physical controls as possible. Unfortunately, this means the CDP-S160 features my least favorite user interface style: button/key combinations.
The CDP-S160's front panel controls are very limited. You have 3 buttons and a volume knob. To access the many features of the CDP-S, you'll need to hold down the function key and hit the piano key that corresponds with the function you want to edit.
Don't get me wrong, I understand that a lot of corners need to be cut to hit the low price points of the CDP-S160. I just prefer a more convenient, accessible and intuitive user experience.
For what it's worth, Casio did their best to make things user-friendly. The CDP-S160 includes printed labels above each key (unlike Yamaha's budget digital pianos, which are unusable without having the manual on-hand), which helps as a visual guide.
Each time you edit a function, there are also auditory cues that indicate the current level of said setting.
I do find certain features to be a bit too complicated for general use. Case in point, the metronome uses a 'keypad' with the white keys between E4 to C#5, which in theory, allows you to dial in the exact BPM you need. For simplicity, I found myself defaulting to my smartphone's metronome app instead.
Speaking of smartphones, the CDP-S160 is compatible with Casio's Chordana Play app, which converts your smartphone into a touchscreen interface, which is one way of getting around the limited on-device controls.
Apart from that gripe, the CDP-S110 and the CDP-S160 are both decently well-designed. Both instruments are very slim, which is no small feat considering the inclusion of a weighted keybed, which is a mechanism that is quite large and space-hungry.
In terms of dimensions, both the CDP-S110 and the CDP-S160 are the same size, clocking in at 52″ (W) x 9.1″ (D) x 9.9 (H) cm and weigh 23.1 lbs (10.5 kg).
The low weight is achieved using lightweight plastics for the overall body construction, though my limited allowed testing seems to indicate that it is quite sturdy, with no flexing even when applying force to both ends of the keybed.
The front panel uses a matte finish that prevents it from being a fingerprint magnet, and the controls feel tactile enough.
The buttons have a noticeable click at their trigger points, and the volume knob has enough resistance for precise changes to be made.
At first glance, the CDP-S160 seems to appeal to gigging musicians due to its portability and heritage (the CDP-S360, PX-S1100 and PX-S3100 are all excellent choices for performers). However, I'd caution against that impression.
If you disable the auditory cues when hitting the function keys (via the Beep setting), you'll still be stuck second guessing yourself when switching between sounds.
Unlike the CDP-S360, there is no screen to provide visual feedback, which adds a layer of unreliability to performance setups.
Overall, I'm a bit mixed with the CDP-S160's design. While I'm not a fan of button/key combos, they're a hindrance you can get used to, and the CDP-S160 isn't exactly an instrument with a ton of features. However, adding a few more buttons, (like Roland's FP-30X) would have made this a much easier recommendation.
Keyboard
The CDP-S160 and the CDP-S110 both utilize the Scaled Hammer Action Keyboard II key action, the same found on its predecessors. Do note that this isn't the same key action found in the PX-S series.
In terms of feel, I'd say the CDP-S160's keys are alright.
The keys are made of plastic, but include a surface texture that emulates the look and feel of ebony and ivory. For people with sweaty hands, you'll definitely appreciate the added bit of grip.
The keys are also graded, which means the low registers have a heavier feel compared to keys at the higher octaves. This, along with the weighted keys that emulate the hammer-based string striking mechanism in real digital pianos, results in an experience that definitely succeeds at being somewhat realistic.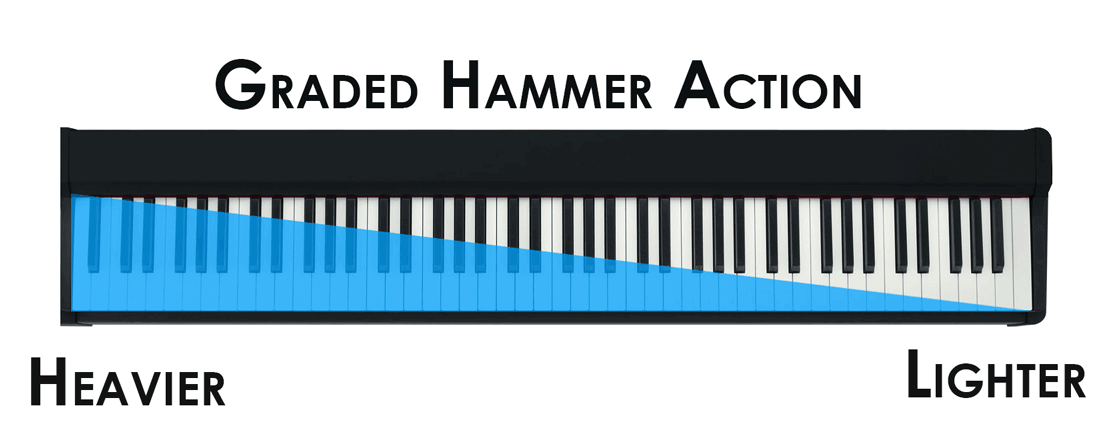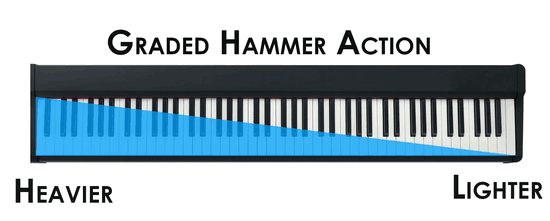 To achieve the slim form factor, Casio redesigned their key actions to fit into the shorter depth of the CDP-S160. This means a shorter pivot length, which comes with its own set of issues. It is harder to play at the upper points of the keys.
If you're someone who plays into the keys, this might take some getting used to.
These keys are also a bit less responsive than the PX-S series, an issue that is particularly noticeable when you play phrases that include fast repetitions. This is likely due to the absence of the PX-S series' software-assisted sensor, which allowed keys to be retriggered even from intermediate positions.
Before we wrap things up, let's discuss the controversy about the weight of the keys.
The CDP-S160's keys are already a bit lighter than the keys found on other similarly priced digital pianos. However, the issue is that the black keys are slightly lighter than the white keys, which is a deal breaker for many classically-trained pianists.
However, it should be noted that many other reviewers have noted that this isn't as big of a deal as people are making it out to be. If you're someone who isn't trained on real acoustic pianos, you might be more adaptable to these inconsistencies.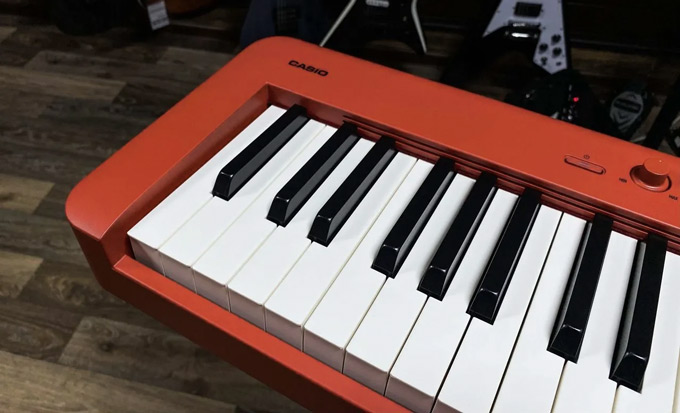 Ultimately, I think this is a matter of personal preference, which is why I consistently recommend forming your own opinions with an in-person playtest (or make use of those return policies for online purchases!).
To sum up the CDP-S160's keys, they're okay. There are some valid criticisms to be had, and justifiably so, however, as a beginner-focused instrument, the CDP-S160 definitely works.
Sound
The CDP-S160 comes with the bare essentials in terms of sounds. Unlike the feature-rich CDP-S360 with its huge set of 700 presets, the CDP-S160 only includes 10 presets.
Casio's Dynamic Stereo Sound Engine powers each of these presets, and it is the same engine that powered the prior CDP-S100 model, as well as the more advanced CDP-S360.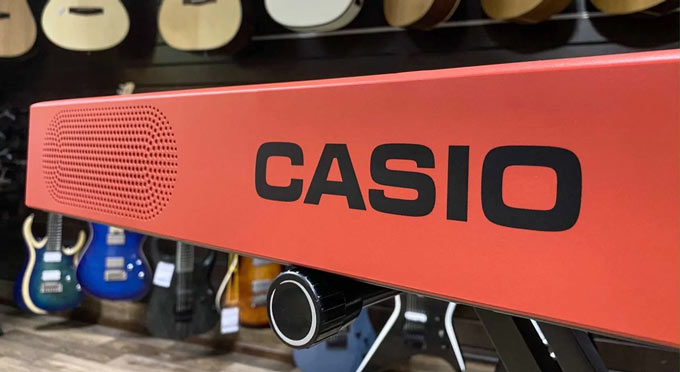 It is worth reiterating here that the CDP-S160 and the CDP-S110 are identical in terms of their sound sets, so you won't be missing out if you're in a region where the other model is unavailable.
The sounds on the CDP-S160 include:
3 Grand Pianos
3 Electric Pianos
1 Harpsichord
1 String Ensemble
1 Pipe Organ
1 Electric Jazz Organ
This isn't a lot to work with, but they do cover most of the bases required for a keyboardist's arsenal. You'll easily be able to integrate the CDP-S160 into your practice routines.
---
Piano sounds
The acoustic piano sounds are the best of the bunch, with the default "stage piano" preset being a solid mainstay that works well enough for practice and performances, regardless of your genre of choice.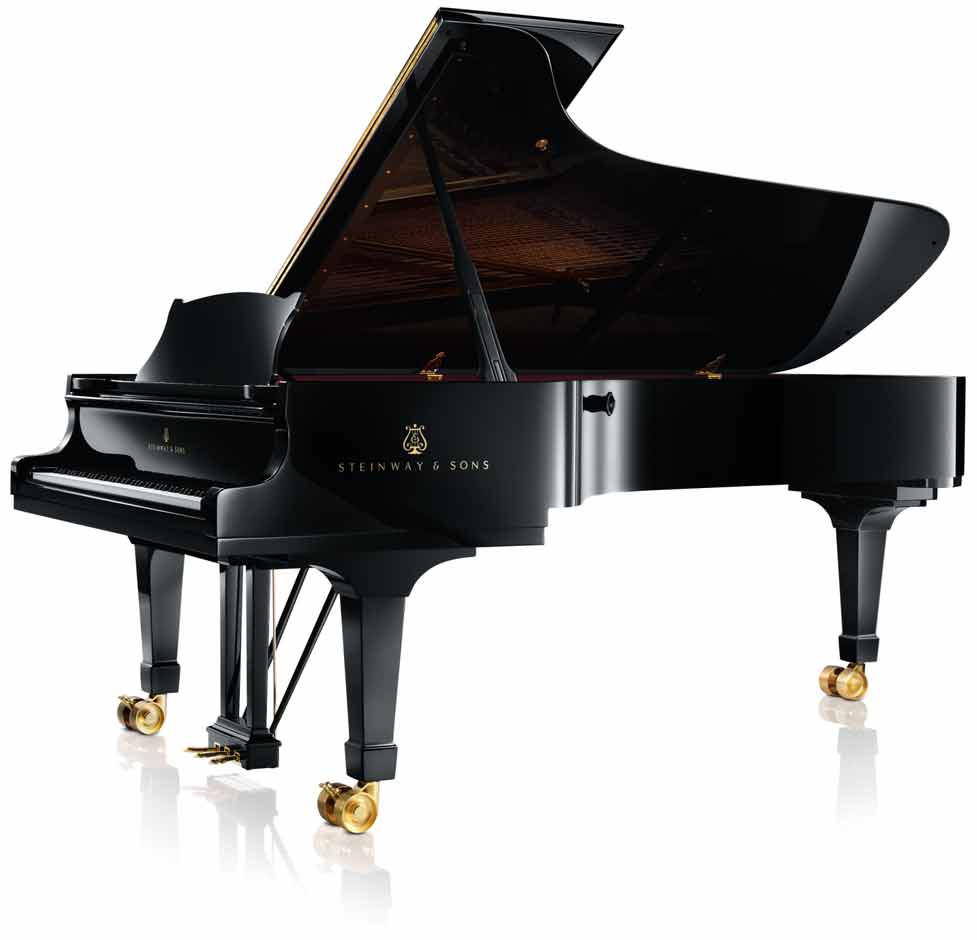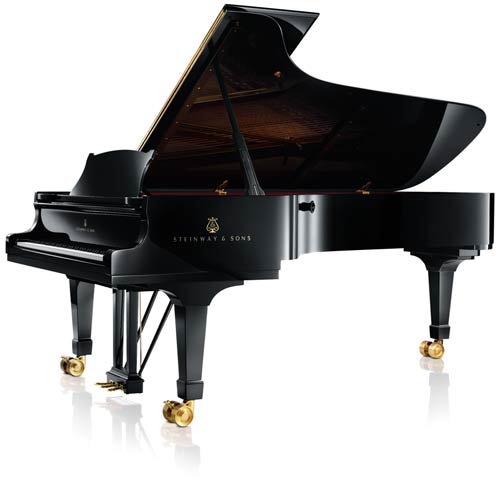 The 3 piano presets here are different variations of the same sampled concert grand, including a mellow variant for more subdued songs, and a bright variant if you need to cut through the mix in a band context.
In terms of samples, they appear to be identical to those found on the PX-S1100. However, the CDP-S160's pianos seem to have less velocity layers, which means the same sample is stretched across a larger dynamic range.
Casio claims that the CDP-S160 features upgraded samples, and I've seen a few users reporting a more natural decay of sustained notes. However, I personally found these purported changes to be extremely subtle. If there are any upgrades, they are minimal at best.
Personally, I much prefer pianos with some natural reverb for a sense of space, but for practice, the clarity of a close-mic'd sound is ideal, as you'll catch every detail of your playing, mistakes and all.
Thankfully, the CDP-S160 includes a customizable reverb unit that allows you to dial in a sense of space as necessary.
All in all, I'd consider the CDP-S160's pianos to be perfectly fine. Depending on your personal preferences, you might prefer Yamaha's balanced, natural tones or Roland's distinctive, bright sonic signature.
However, the CDP-S160's defaults are a nice middle ground that most people should be able to work with.
---
Other sounds
The other sounds on the CDP-S160 are a bit of a mixed bag, and most fall into the trap of being strictly situational, and you might struggle to actually integrate them into actual performances.
The electric pianos are the best of the bunch. The 3 presets cover your Fender Rhodes, Yamaha DX7, and Wurlitzer needs completely, and are all very convincing emulations of the originals. If you're finding them to be a bit dry, try engaging the chorus effect for some extra width.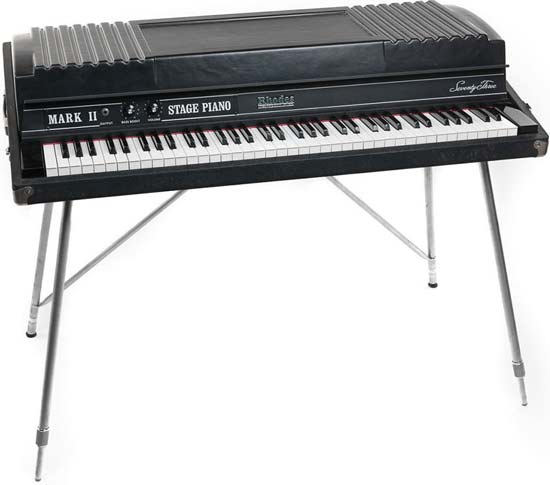 The harpsichord, strings and organs are not as good. The former two are less responsive to playing dynamics, and the latter lacks the customizability of rotary speakers, which reduces the versatility that I'd expect from gig-focused sounds.
However, I do want to note that these sounds are still perfectly serviceable for practice purposes. If the CDP-S160 is all you have, you can still practice instrument-specific techniques, such as organ glides, on the CDP-S160 thanks to its lighter keys.
My main complaint here is the lack of other mainstay sounds. There are no bass sounds, so you can't practice bass/key splits. The CDP-S160 also lacks synths and pads (there's no pitch bend wheel either), so you can't practice synth solos.
If you're someone who requires more than just the standard acoustic piano sounds, I'd suggest looking elsewhere.
---
Effects
The CDP-S360 comes with 2 effect types, a Reverb and a Chorus.
The Reverb unit comes with 4 algorithms, and can be toggled on and off. The algorithms range from small rooms to large spacious halls, and can be used to add a sense of space to your sounds.
While there are no tweakable settings apart from algorithm type, I understand that modifications would be hard on the key/button control scheme.

Similarly, the Chorus unit comes with 4 different modes, ranging from a light, subtle chorus to a heavy, flanger-esque effect. Similar to the reverb unit, these are strictly an on/off deal, so no dry/wet sliders for fine-grained control.
Casio clearly wants to keep things simple, and I'm perfectly alright with that. Even as someone who really wants to tweak things to perfection, I found the CDP-S160's predefined reverb and chorus settings to be perfectly usable.
---
Polyphony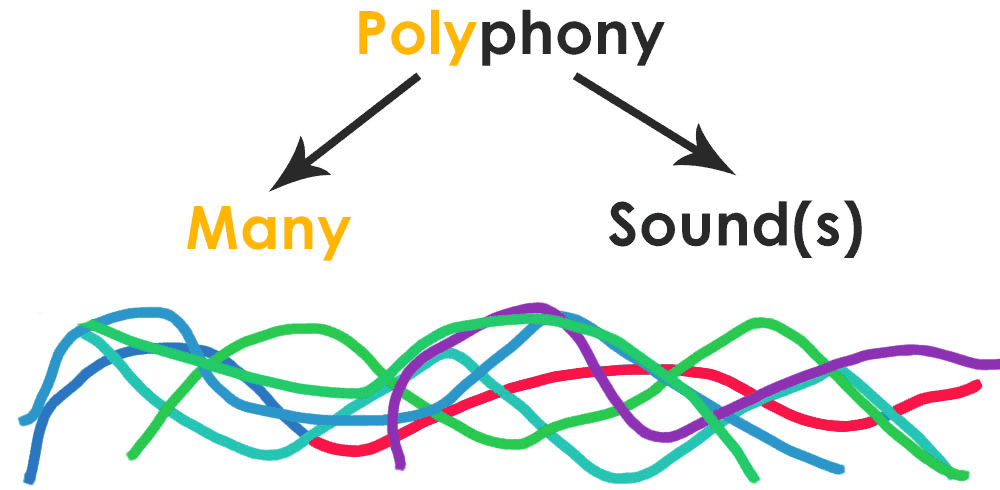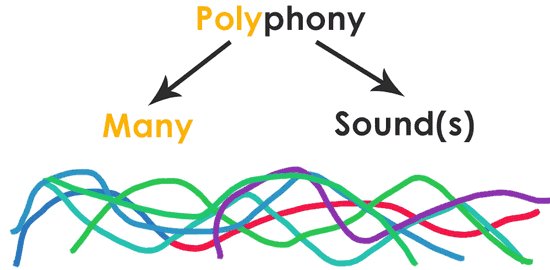 The CDP-S160 and CDP-S110 both come with a maximum polyphony of 64, which drops to 32 notes for tones that rely on stereo samples.
I find it odd that Casio retained the 64 note polyphony limit in the refresh, as the CDP-S360's update doubled the polyphony count to 128. Why was the CDP-S160 excluded from the same treatment?
64 notes is honestly extremely anemic, and 32 notes for stereo presets (such as the default piano sound!) verges on unacceptable.
It's true that the cutoffs are subtle unless you know what to look for (kudos to the team behind the sound engine team), but I would definitely prefer having a higher polyphony limit to work with.
---
Speakers
The CDP-S160 includes a pair of stereo, back-firing 8W speakers.
Based on the spec sheet and a few rudimentary tests, they appear to be the same speakers on the CDP-S360.
8W doesn't seem like a lot, but it's pretty good in comparison to the other digital pianos in this price bracket. Wattage also isn't a direct measure of how good speakers sound.
The speakers themselves sound decent, giving off a clear sound with a slight bit of headroom. If you're not pushing the volume to unreasonable levels, you should be free of distortion.
I've been giving a lot of props to the engineering team at Casio, but they definitely deserve it.
If you plan on using the CDP-S160 for gigs, I would recommend getting an external amplifier instead, as the speakers don't seem to be loud enough to fill a room.
Features
Let's cover what the instruments can do beyond being a basic digital piano.
Do note that there are some differences between the CDP-S110 and the CDP-S160 here, so we'll be emphasizing the differences where relevant.
---
Modes
The CDP-S160 includes 2 modes, Layer and Duet Play.
Meanwhile, the CDP-S110 only includes Layer mode.
Layer mode (aka Dual mode) is a standard feature on most digital pianos, and allows two tones to be played simultaneously.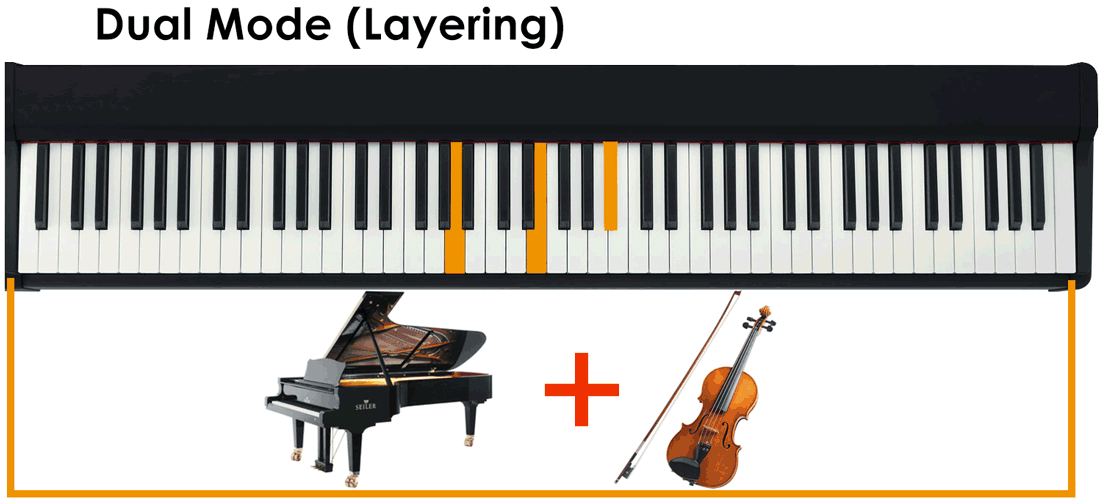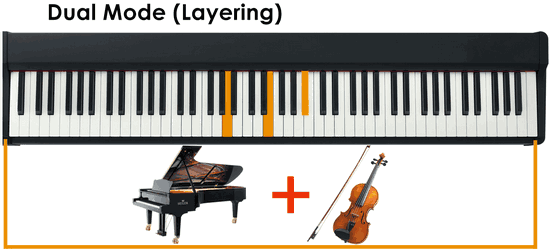 A typical application is the go-to ballad tone, where a grand piano is layered with strings to make a wide, rich sound that serves as a gorgeous backing for a vocalist.
Duet Play mode splits the keyboard into two halves of identical octave ranges.
For teachers who teach one-on-one lessons, Duet Play mode allows the teacher to sit alongside their students for more convenient demonstrations.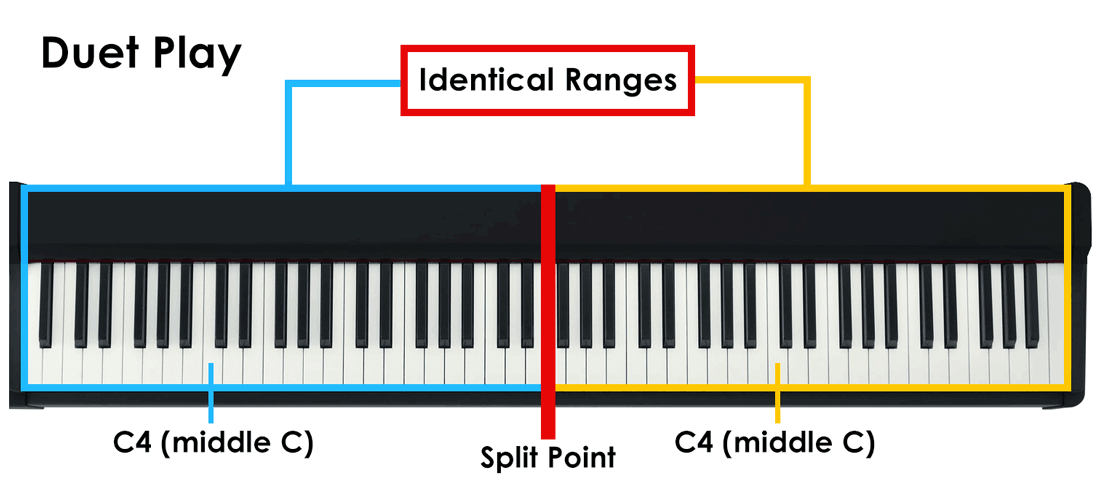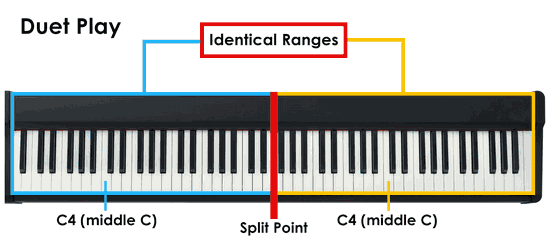 Experienced readers might notice that Split mode is absent, despite the splitting functionality being present, as indicated by the inclusion of Duet mode.
In this case, I'm not too perturbed, as there are no bass sounds that complement the Split function.
---
Functions
The key features on the CDP-S160 include the following:
TRANSPOSING. Transpositions can be changed from -12 to +12 semitones in increments of 1 semitone.
MASTER TUNING. The central tuning of the keyboard can be changed in steps of 0.2 Hz, from 415.5 to 465.9Hz. The default pitch is the standard 440.0Hz for Middle A.
TEMPERAMENT. There are 17 total temperament settings, beyond the standard Equal Temperament that serves as the default. (CDP-S160 only)
---
Song and playback recording
*This feature is only included on the CDP-S160.
The CDP-S160 includes a basic built-in MIDI recorder. Only one song can be saved, and up to 5000 notes can be recorded in total.
The recorder is definitely a lot more basic than other offerings in the same price bracket. You can't do overdubbing (recording extra notes over an existing recording), and you can't save your songs to a USB drive (which you can do on the CDP-S360).
Regardless, the CDP-S160's song recorder serves its purpose as a rough scratchpad for jotting down ideas. While I would have liked the extra bells and whistles of the CDP-S360's more involved recorder, I do understand the limitations that had to be worked around (low polyphony count being the main offender).
Connectivity
The CDP-S160's simple feature set also applies to its connectivity options, as you only get the bare minimum in terms of external connectivity.
First, there's a USB Type B port. This allows you to connect the CDP-S160 to compatible smart devices, or even your laptops to use as a MIDI controller.
For users of DAWs, do note that the CDP-S160 only comes with USB MIDI functionality (no audio), and you cannot use the built-in sounds without an external audio interface.
Next, there is the damper pedal jack, which is compatible with the included SP-3 sustain pedal. The jack is also compatible with other generic damper pedals, so you can also replace the included slab-style pedal with a pedal-shaped one.
On the CDP-S160, there is a pedal unit jack, which allows you to connect triple pedal setups, such as the compatible SP-34 pedal.
These pedals give a more accurate representation of an acoustic piano's pedals, including the soft and sostenuto pedals that are otherwise absent.
*Do note that the CDP-S110 does not have the pedal unit jack.
---
For connecting headphones, there is a mini 1/8″ jack. As the CDP-S160 lacks any dedicated audio outs, you'll also need to use converters to link the CDP-S160 up with external speaker systems.
The CDP-S160 also includes an auxiliary 1/8″ audio in jack. If you have music players that you want to use for backing track playback, you can use the CDP-S160 as an external speaker via this method.
Note that neither the CDP-S160 nor the CDP-S110 support Bluetooth connectivity. Unlike the other 3 instruments in the 'S' lineup's 2021 refresh, there is no support for the WU-BT10 Adapter.
If you're only planning to use the CDP-S160 as a practice instrument at home, you'll be fine with what's on offer here. On the other hand, if you're in the market for a performance-focused instrument, I would recommend looking elsewhere.
Accessories
The CDP-S160 and the CDP-S110 both come with the following accessories:
Owner's Manual
SP-3 Damper Pedal (no half-pedalling support)
AC Adaptor
Music Stand
These are the basics you need to start playing, though we've included a few recommended purchases down below.
---
Sustain pedal
The CDP-S160 includes the SP-3 slab-style pedal, which is essentially a foot-triggered switch. These pedals are fine for practice purposes, but many people prefer damper pedals that look and feel like true acoustic pianos.
The SP-3 also lacks support for half-pedalling, which is a feature that the CDP-S160's piano sounds do inherently include.
If you're in the market for a pedal-shaped alternative, we recommend the Korg DS-1H, which is well-built, durable, and also supports half-pedalling. I've been using this pedal for multiple years, and can personally attest to its longevity.
Alternatively, if you want to make use of the CDP-S160's triple-pedal support, you could opt to get the Casio SP-34, which is the triple pedal setup compatible with the CDP-S and PX-S series.
Do remember that the SP-34 won't be compatible with digital pianos from other brands for when you inevitably upgrade down the line.
---
Keyboard stand
Casio recommends getting the CS-46 or CS-68 keyboard stands as a separate purchase, but the slim form factor of the CDP-S160 means you can easily use any generic X- or Z-stand on the market.
---
Headphones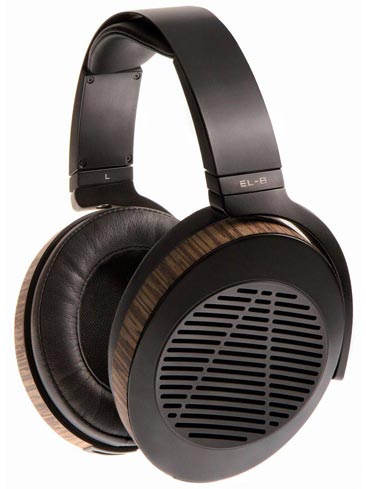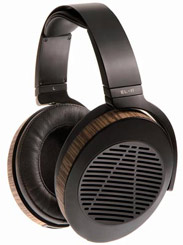 Headphones come in very handy when you want to practice in private, focusing solely on your playing and not disturbing others nearby.
Moreover, a good pair of headphones will provide a clearer and more detailed sound compared to the onboard speakers.
Check out this guide to learn how to choose the best-sounding headphones for your keyboard.
Summary
Pros
Slim form factor and portability
Decent sounds
Good feeling keys despite the size constraints
Cons
Key action has its flaws
Very limited sound selection
Low polyphony count of 64 (that goes down to 32 on the default piano preset!)
---
Honestly, I wasn't all that impressed by the CDP-S160 (nor the CDP-S110). The previous CDP-S100 review we did was much more positive, and that can mainly be attributed to it being released at a time where other manufacturers still hadn't refreshed their lineups.
Back then, the CDP-S100 managed to win simply by having better sounds than the competition and a lower price tag. The slim form factor was a nice bonus, but definitely not the main reason people bought the CDP-S100.
Let's start by talking about what the CDP-S160 does right. The included tones are generally quite good, with the 6 out of the 10 included presets being what I'd consider radio ready. Similarly, I do like the keys, as evidenced by my consistent praise of the Casio engineering team.
However, there are just too many compromises here for me to confidently recommend the CDP-S160.
That Casio retained the original's anaemic polyphony count is baffling, especially since its sibling product, the CDP-S360 got the bump to 128 notes.
There's also the lack of Bluetooth connectivity. Now, I'm a bit of a dinosaur. I'm a huge proponent of onboard controls and auxiliary audio inputs. However, I do like using apps as an alternative control scheme to button/key combinations.
On the CDP-S360, this was a simple affair, just plug the adapter, and I was good to go. To do the same on the CDP-S160, I need a USB Type B to Type C connector, which is not something you're likely to have on hand.
If you're using a smartphone that deprecated the headphone jack, you'll also be out of luck if you wanted to play some backing tracks through the CDP-S160's speakers.
Many times during my CDP-S160 playtest, I found myself appreciating the CDP-S360 that much more. It really is the better instrument, as practically every complaint I've raised regarding the CDP-S160 is fixed on the CDP-S360, and you're getting so much more for less than $100 bucks extra!
To sum up the CDP-S160 and the CDP-S110, I'm a bit disappointed. These are basically the same instruments as the original 3-year-old releases, and it feels like Casio simply incremented the numbers to bring things in line with the 3 other products in the 'S' series.
Check the availability and current price of the Casio CDP-S160 in your region:
Alternatives
Casio CDP-S160 vs  Casio CDP-S360 (Full Review)
Naturally, with how much I've compared the CDP-S160 to its sibling product throughout the review, it's unsurprising that the CDP-S360 is my top recommendation.
The CDP-S360 is designed similarly to the CDP-S160. However, it basically fixes every gripe I had. The CDP-S360 features a good control scheme, a higher polyphony count of 128, and it has 700 preset sounds to work with.
There's also the CDP-S360's arranger features, that allow you to play with rhythms and chord-tracked music backing. If you're someone who wants to take up keyboard courses, the CDP-S360 is easily the way to go.
Considering that you can get the CDP-S360 retails for less than $100 more than the CDP-S160, I think it's a no brainer to at least give this option some thought.
---
Casio CDP-S360 vs  Roland FP-10 (Full Review)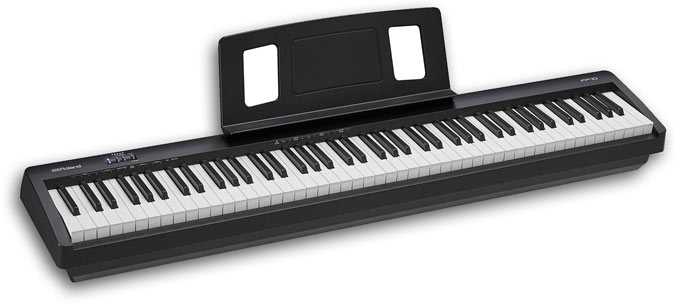 The FP-10 is priced into a similar price bracket as the CDP-S160, though admittedly is slightly more expensive. Do note that the FP-10 was exempt from Roland's FP-X lineup refresh, and is still the original model initially released in 2020.
The FP-10 is quite similar in terms of features to the CDP-S160. It has 15 sounds, stereo 6W speakers, and a basic control scheme. There's also Bluetooth support in case you want to work with your smartphone wirelessly.
However, it does come with Roland's PHA-4 Standard key action, which is generally regarded as one of the best budget-level key actions, so much so that they're actually featured in higher-end products, such as the RD-88 stage piano.
These keys are much more convincing emulations of the real deal, as they are not constrained by the limitations of requiring small form factors. In terms of feel and weight, the PHA-4 Standard keys are, hands down, better than Casio's Scaled Hammer Action Keyboard II action.
If the minimal feature set of the CDP-S160 is all you need, I'd recommend testing out the FP-10 to see if the keys/sounds are more to your liking.