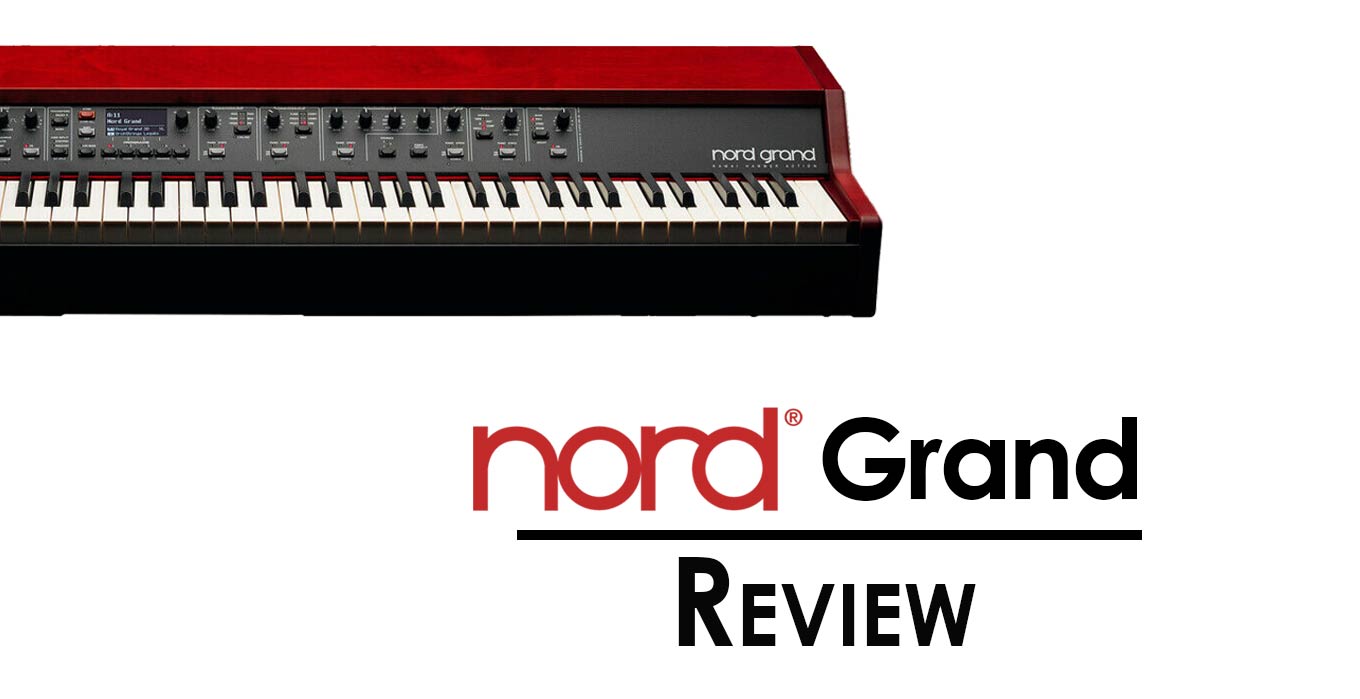 It's hard for me to say for sure if the Grand is Nord's flagship. There are already the Nord Piano 4 and Nord Stage 3, and quite a few others in the Nord lineup.
So…what is a Nord Grand? Why is it more expensive than top-of-the-line Roland, Yamaha, and Korg digital pianos? And why did I buy one?
To answer this last question, I need to explain a bit about myself and this review.
I'm by training a classical concert pianist (via The Juilliard School in New York), but over my 45-year career I've added singer, voice teacher, and choral conductor to my activities, among others.
I've used electronic instruments and computers in my work since the early 1990s. I sing, teach, conduct, and play professionally, and though I use an acoustic grand for much of my work I'm still acutely aware of the unique features digital pianos can bring to the picture, and use them often.
My feeling is, a prospective buyer would be more interested in how another buyer is using it, particularly someone who makes a living with it. In other words, this review will not be "it does this! It does that! It has 23 knobs and 36 faders and sounds great!", but rather…
What is the Nord Grand?
It's a tool. It helps me with most of my projects. How it looks affects me less than what it does and how well relative to my professional needs.
Here's a brief description: it's a hybrid between a console-style digital piano and a stage piano.
This is reflected in what's on the front panel: many fewer controls than you would find on a stage piano or keyboard, but many more than on a digital meant for the living room. A good number of patches, a handful of effects, a lot of memory, no automatic rhythms, no spaceships, machine guns, barking dogs or other silly sounds.
It's finished in what I call Swedish Red, and the case is made of wood. It can work well as a stage piano (I used it as such last weekend).
It's also expensive, as these things go. Mine cost €3199 ($3800). It comes with the keyboard itself, triple pedals, the power cable, and the manual.
If you want a travel stand, a furniture stand, a music rack, a travel case, or speakers made for home use that match the keyboard, these are all extra, and not cheap.
I bought the music rack, travel case, and speakers made for home use; I bought a third-party stand, which I now regret. The final tab was well over €4000.
Check the availability and current price of the Nord Grand in your region:
The Buying Decision
The strengths of the Nord Grand (to me at least) are the quality of its sounds, the flexibility of its storage (more on this later), the logic and simplicity of its layout, its action, and the perception of quality that comes both from the instrument itself and from the Nord Keyboards website.
The weaknesses are not really weaknesses at all but just the compromises Nord made to make this a different class of instrument.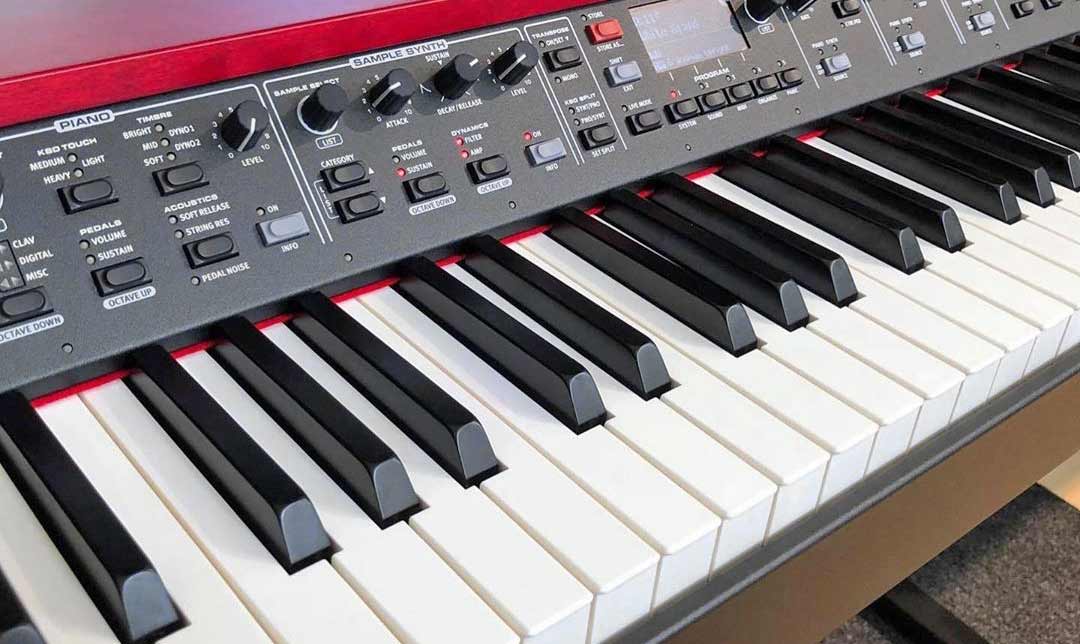 Just for perspective, my previous digital piano was a Roland RD-700, which I loved, but used maybe 30% of what it was capable of.
In the Nord Grand, I'm aware of what it doesn't have (thousands of sounds, dozens of effects, the ability to create new sounds on the fly down to the smallest detail). However, I'm also aware that I'm using much more (60%? 70%?) of what it's capable of. This made me realize that the Nord Grand was made exactly for someone like me.
I compared it live in a Paris store against a Kawai MP11SE, Roland RD-2000, and similar products from Yamaha, Korg, Casio, and Dexibell.
What I found is that the Nord Grand is so different from its supposed competition that it's probably in a category either by itself or with only the Kawai MP11SE. In the end, I reduced it down to the Kawai and the Nord.
The final test (my third time in the store) was just these last two. I brought in my fiancée as well, also a professional pianist, to get her input.
The Kawai sounds good, plays better than the Nord, is heavier and bulkier, and is really not intended to be transported. It was clear to both of us that the Nord Grand was, for us, the best piano in the store.
The Beast Comes Home
I've owned the Nord Grand now for seven months. Setup and such were simple. I find it reliable, durable, no surprises.
I really like the variety of acoustic piano sounds, and the fact that I can get rid of the ones I know I won't use and replace them with others from the Nord website for free.
I'm impressed with the build quality of not just the piano, but everything else that came from Nord, reinforcing my perception of high overall quality. That extra money that it cost thus translates into a better value, and that's what it's about in the end.
I've been using the piano as an alternate to practicing on my grand piano, whether it's just for a different feel and sound, or to work with headphones.
The Nord Piano Monitors work well and sound fine, but they're clearly not made to be used by anyone other than the pianist (i.e. not to be used as for PA or larger rooms). For that you will need an external amp, for which I bought the QSC K12.2, which sounds just killer with the Nord Grand.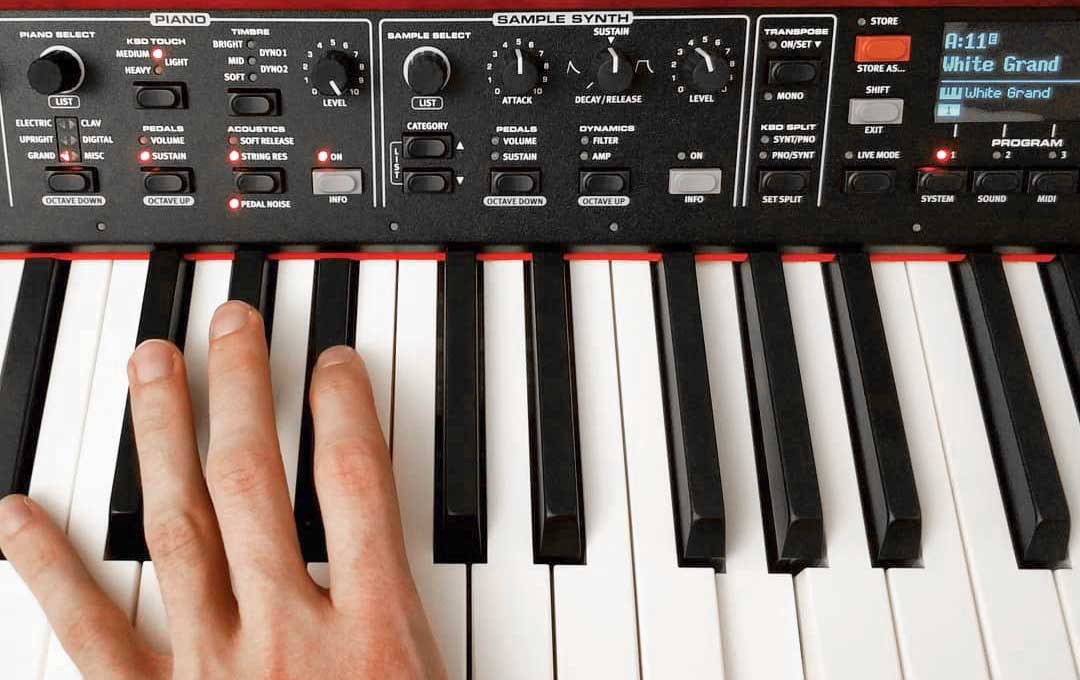 Its key action is surprisingly light and fast, and even though you can "adjust" the touch on the front panel, in fact you're doing no such thing, you're changing the velocity curve. Usually I just leave the sensitivity set on medium.
I'm a fairly big guy and I like to get physical with a piano when I play heavier classical repertoire, and when I play the heavier stuff on the Nord Grand it shows no signs of complaining when I really lay into it.
One thing I particularly enjoy, though, is its sensitivity when playing softly, which will be my segue into the next section of this review.
The Accompanist's Accompanist?
One of the cornerstones of my career as a concert pianist has been as a vocal accompanist. I've given somewhere near 3,000 concerts in public over my career along with hundreds of hours of TV broadcasts, and I'd say more than half was done accompanying singers. (No great surprise that I became a singer myself.)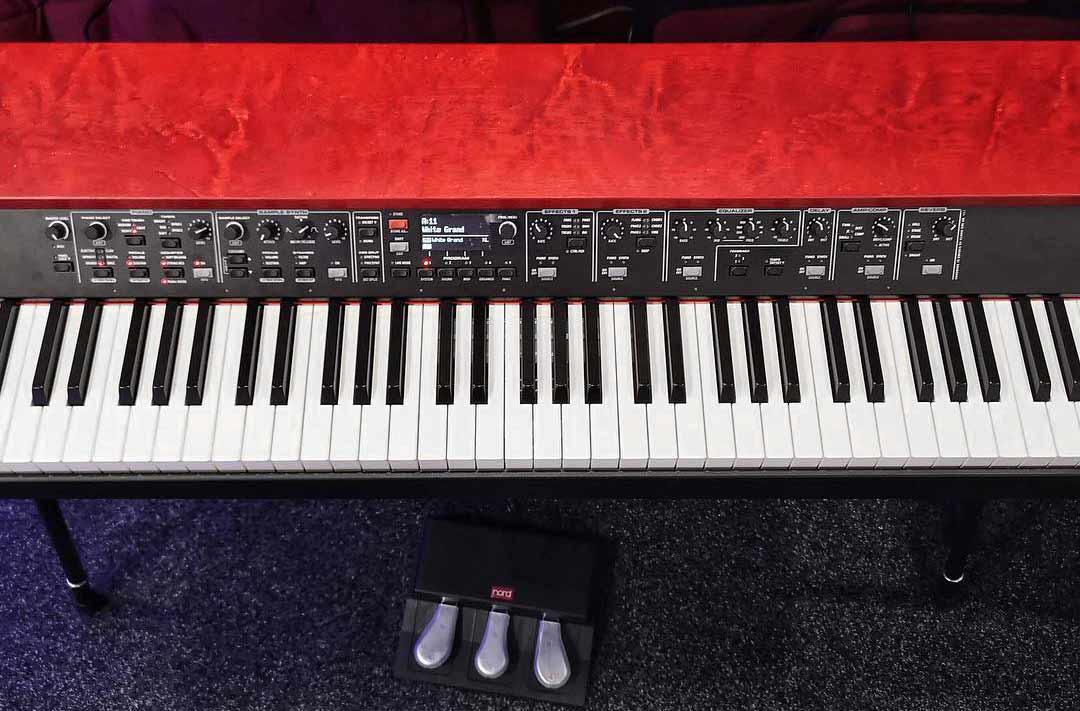 An accompanist isn't just someone who backs up a singer; an accompanist is a particular kind of specialist who is uniquely attuned to playing with singers and is required to have very specific skills.
The quality of the instrument becomes really important; if, for example, I'm going to mimic or reflect the shadings of a Lieder singer singing a Schubert song cycle, I not only need to have enough technique and imagination to do that, but also a piano that allows me translate what's in the singer's mind and heart, as well as mine, immediately with no fuss. Not all pianos can do this, even some very good ones.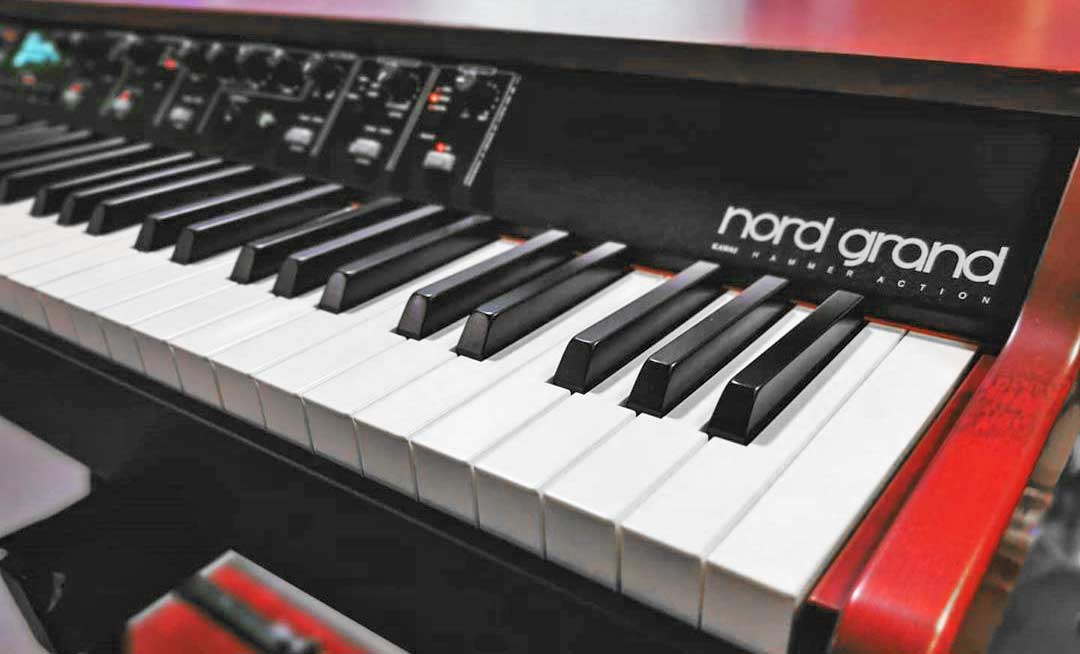 Enter the Nord Grand. For it to be effective, I want to be able to execute all that's in my imagination. As an accompanist, I tend to inhabit the world of pianissimo to mezzo forte nearly all the time, and so I need a piano that can express as many different levels of sound and colors as possible within that spectrum.
The Nord Grand is the first digital I've ever played that can do this, both in terms of action and sound. (Obviously a good pair of headphones is helpful, but I'm assuming you're not going to attach $20 headphones to a $3800 piano and expect to be seduced by what you hear!)
Among my current projects, I'm accompanying a soprano in an all-Brahms recital, where I will also play two of Brahms' piano pieces as solos, and an all-Kurt Weill program with a German mezzo soprano, in which I will accompany her, myself, and us together.
I need a lot of shades of piano and pianissimo, depth of tone, and some power for the Brahms program, and some edginess, a slight jazzy percussiveness, and a lot of color for the Weill program. The Nord Grand gives me all of this – and makes me consider abandoning an acoustic piano for the Nord for the actual concerts.
Normally I'd never think of using a digital when a decent acoustic piano was available, but for the first time in my career, the equation has shifted.
So, how is it to be the singer and be accompanied by the Nord Grand?
Since I do both professionally, it's interesting to feel the difference in perspective. To answer that question, I tried three different methods of hearing the sounds coming from the Nord Grand: a large speaker (a QSC 12.2), Nord's own matching speakers for the Grand on fixed brackets, and a good pair of headphones (a nice pair of Sennheiser phones, nothing too crazy).
While the phones and the QSC speaker are interesting, both at home and on gigs, the most rewarding experience for me comes from the Nord monitors.
They mount on included brackets that attach easily with included hardware. They have their own power source – the left speaker needs an electrical outlet, and a connecting cable goes from the left to the right monitor.
You have the possibility of connecting an Aux In with a dedicated volume knob on the back of the left speaker, as well as an RCA jack out to a subwoofer, if you want. That could be interesting if you have a recording that you want to play (or sing) along with.
The stereo cables are included to connect the Grand to the monitor.
The brackets that attach to the monitors are angled specifically inward and up toward where a keyboard player's head would be, but can be swiveled to left or right for fine adjustments.
With the restrictions on crowd size and distancing here in France being slowly relaxed, performances in halls and other public buildings are becoming a possibility again (I had eleven concerts canceled during the quarantine).
I'm no spring chicken, I'm in my early 60s, and I had thought that my days lugging digital pianos and speakers and stands and cables and pedals and all that were over. This axe is making me reevaluate this decision.
Favorite Settings and Patches
One of the things that seduced me into buying the Grand was the unique possibility to completely change the samples stored in the Grand and use only the sounds I wanted.
The Grand is unique in Nord's lineup, in that it has 2Gb of storage available for Nord Piano Library sounds (the Nord Piano 4, by comparison, has 1Gb).
There is a small catch: the memory is divided in two, for Piano sounds (2Gb), and for Synth sounds (512Mb). So no, I'm sorry to say, you can't just repartition the memory and stuff it full of 2.5Gb of only Piano and acoustic instrument sounds.
That's too bad, but it's not a deal-breaker. After hearing samples of some of Nord's downloadable piano sounds, I'm looking forward to playing Mozart on a fortepiano, playing different repertoire on different pianos, etc.
When you first turn on the Nord Grand, it defaults to a "White Grand" sample, which sounds good but is not exactly my cup of tea, as well-sampled as it is. I find myself using the "Royal Grand 3D" sound all the time, with the Reverb on and set to Stage and set to 2 on the dial.
On the Piano section, I have pedal noise on, soft release and string resonance both on, timbre set to mid, keyboard touch set to medium, and (of course) the panel locked – with the angled controls so close to the keys, it's quite easy to change a setting or suddenly be playing Bach on a bassoon.
I don't mess with the EQ – maybe I should? – but these settings sound really good and take great advantage of the piano's versatility and responsiveness.
The Playing Experience
That last remark on versatility and responsiveness was another segue. That's one of the first things I noticed when I first played the Grand in a store.
The action is quick and even but has a much more satisfying feel than the almost toylike Piano 4, the relative stiffness of the Roland, the absolute mush of Yamaha.
In fact, the only serious competitor the Nord Grand has in terms of playability is the Kawai MP11SE, and there's a good reason for that: Kawai makes different grades of piano mechanisms for digital pianos, and their best one goes in the MP11SE, and it's noticeable.
Unlike most portable digital pianos, it uses a wooden seesaw key action mechanism that closely resembles that of an acoustic piano.
The key action used in the Nord Grand (most likely RHIII), on the other hand, is a more typical plastic folded key action. However, it's worth mentioning that it's the best plastic key action in Kawai's arsenal as of today.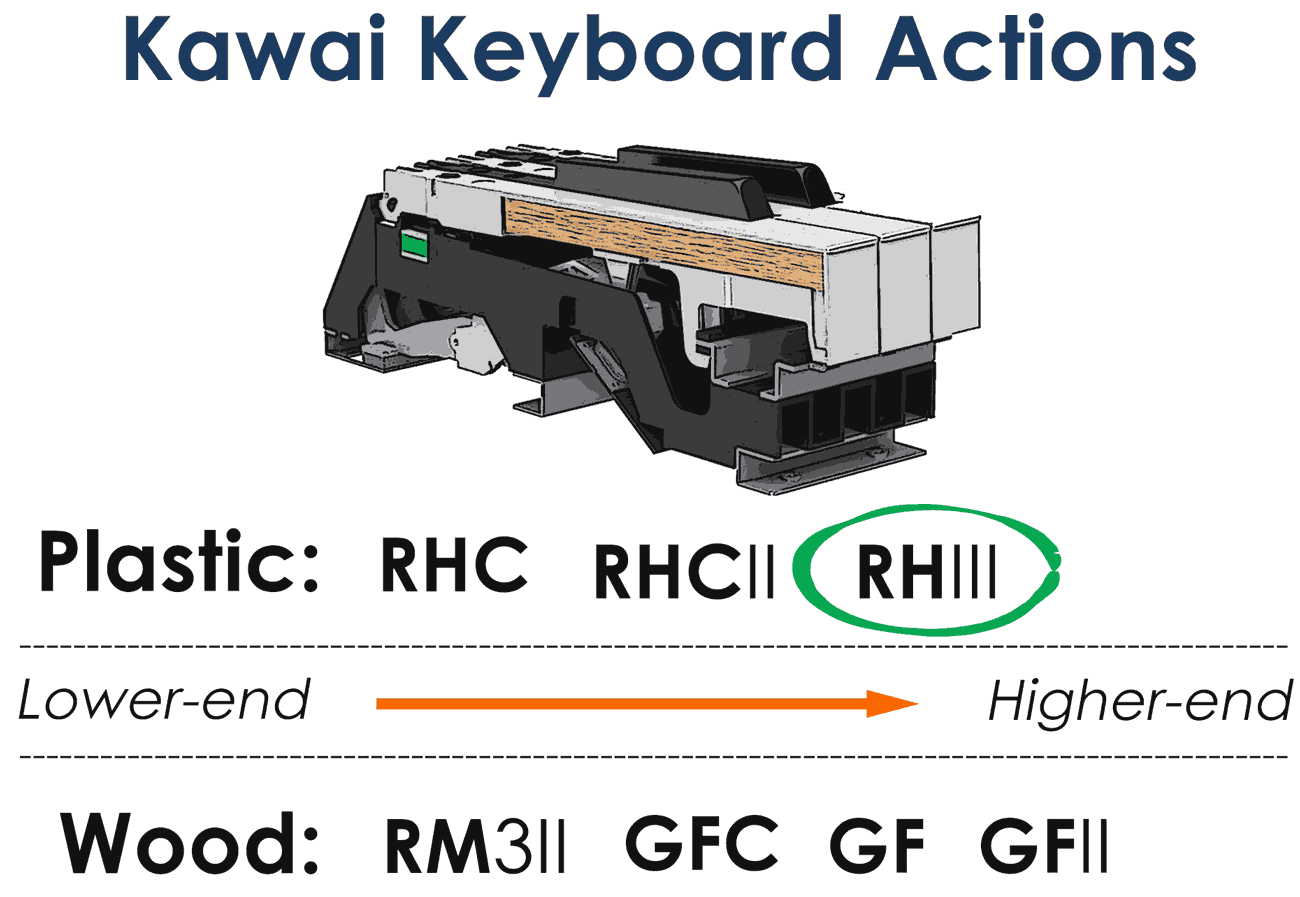 In a perfect world, I'd want the best Kawai action in the Swedish digital piano, but at least for now that's not happening. I find I can control the shading of my playing really quite well on the Nord Grand, and it doesn't take a long time to adjust.
The real wild cards for all of you are more I think in what you use to amplify the sounds, and the acoustics of your room.  As we all know, these variables will affect your playing, whether you're on a fine acoustic grand or a digital.
The one bone I have to pick with the feel of the Grand is the lack of an escapement sensation.
On an acoustic grand, if you play a note softly and then release and replay the note while keeping contact with the key, you will feel a slight resistance near the bottom of the key – actually, you can feel it just by pressing a key down slowly and steadily.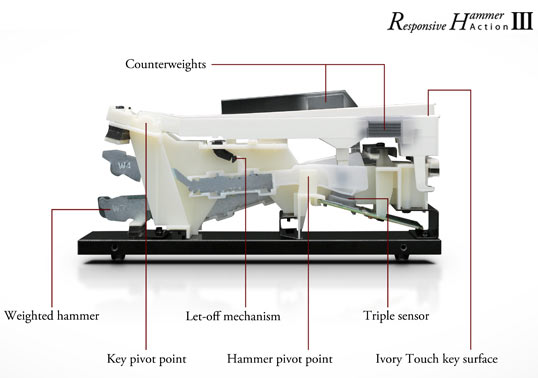 The Nord Grand supposedly has something that mimics the feel of escapement on an acoustic piano, but it's so slight and weak that I find it a bit annoying. I wish there were a way to adjust it, either in redesign or in software, but alas.
The Front Panel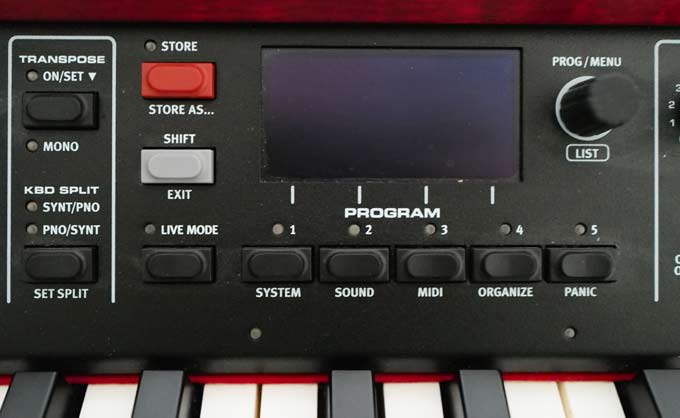 Compared to most stage pianos, the Nord Grand's controls are positively spartan. You'll get many more knobs, faders, buttons, etc. on a real stage piano like the Roland RD-2000 or the Nord Stage 3.
It's as if Nord is sending a message: the prospective buyer of this piece of equipment doesn't need the last word in ability to massage or create a sound – if that was the case, that buyer would buy a dedicated stage piano.
The Nord Grand can be a stage piano, but that's perhaps not who it's meant for.
From left to right, after a master level knob with a MIDI message light and a panel lock button, the front panel is clearly and neatly divided into ten zones: Piano, Sample Synth, Transpose/Split controls, a memory and program control with a small but very readable display … and the rest is gravy: Effects 1, Effects 2, EQ, Delay, Amp/Compressor, and Reverb.
The fact that the effects section is half of the front panel should tell you a lot about the intended use: you're going to be able to install the sounds you want, and the rest is condiments and seasoning.
If you really want to massage the sounds themselves, Nord offers free software that allows you to make some changes to suit yourself (assuming you know what you're doing) and then re-store the changed sounds in the Grand.
But the architecture is designed so that this will happen on your computer, not on the Grand. It is not a sound creator's axe or a digital workstation. It's just a very fine digital piano that makes other nice sounds as well, and can adapt itself to your needs quite well within that more limited box.
The Back Panel
Really simple, almost basic. A power switch (so annoying it's back here!), jacks for volume/control pedal and sustain pedal, a USB-B port, MIDI In, and MIDI Out.
Further right, a mini monitor in jack (for your external sound source), 1/4-inch right and left outs (that go to your monitors/external amplification), and a 1/4-inch headphone jack (so annoying it's back here!).
The mounting brackets for the monitors and the keyboard stand also attach to the back panel.
Included Extras
The pedals, a cheap but effective stretchy keyboard cover, power cable, USB cable, manual. Note that depending on your region the included accessories might be slightly different.
For example, the official Nord website doesn't mention the keyboard cover and the USB cable as included accessories.
What More Do You Need?
Of course, buying a digital piano is a bit like buying a digital camera or phone – the money only just starts flying out the door when you buy the object itself. But what are the essentials?
Nord makes a number of useful (but costly) accessories, some of which are thankfully included in the price of the piano (their fantastic set of pedals, complete with sostenuto pedal, and a keyboard cover), some of which aren't but are necessary (a sturdy stand, a good pair of honest headphones), and some of which are just silly (the matching wood furniture base that's yours for just €600, ouch).
I was using a regular music stand at first, but I ended up buying the Nord Grand music stand" (another €160, another ouch). There's also a cheaper more basic music stand available in black.
In the end, I'm of the mindset that if you're going to spend over €3000 on a digital piano, you might as well get the accessories that go with it and that are recommended. The only exception for me was the wood base.
I also recommend buying a proper bench for this thing. Singers in two choirs I conduct bought me a super-duper adjustable piano bench that I really like, but I might not have bought that myself (almost €500). I really would recommend against a cheap bench, though.
Pros and Cons
I'm a satisfied buyer, so of course it's hard to be really balanced.
That said, there are a few areas where I wish Nord would improve the Grand. I'll just break it down as best I can.
Pros:
Quality and quantity of sounds, really the best that I know of
Ability to add or remove sounds as one wants, via computer
Very good build quality (but careful, the case is wood)
Good Kawai action, quite responsive, even if it isn't their very best
Good ability to tailor touch and sound
Excellent pedals included (with half-pedal support)
Very good monitors with mounting brackets (€600 extra), a must…unless you own something better already
Cons:
Action feel, while good, is second-best, but your mileage may vary
Annoying position of the power switch and headphone jack (back panel)
Very weak escapement sensation when playing soft repeated notes
Optional music stand positions too far from player, by at least 10cm
Accessories in general, while good, are really expensive
Why you'd buy it: it's unique, it's engineered to be the best for demanding musicians, it's far cheaper than a comparable quality acoustic grand. It wasn't a real hard decision for me… I just shivered a bit when my fiancée and I handed over our credit card.
Why you wouldn't: Price, the competition is pretty good, the accessories are really steep. If the Nord Grand didn't exist and their best piano was the Piano 4, I might have bought a Roland RD-2000.
Nearest competition: Nord's own Piano 4, the Kawai MP-11SE, the Roland RD-2000. There are other offerings too, from Yamaha, Dexibell, Casio, etc., but the Nord Grand is truly a flagship product in its class, and aside from the Kawai and Roland, the others definitely don't present as flagship products.
Best use: At home, for practicing, teaching, recording. A very good and highly-padded travel case is available if you want to take it on gigs, but the wood sides and top may make you pause.
A gouge here, a drummer's cigarette burn there … you get the picture. But I've taken it out and had no trouble at all, though I was watching the thing like a hawk the whole time. I will consider taking it on the road in the future if the quality of the gig and the quality of the sounds and action required are a match.
Final Thoughts
For the right player, in the right situation, and with the necessary credit line or bank account, this is a unique, well balanced, well thought out, well designed solution.
I don't see this as an upmarket, luxury, or even premium purchase. All or most of Nord's keyboards are Swedish red; aside from that, there is nothing blingy or flashy about the Grand.
It will only be noticed by those who know what it is. It's not like driving a Ferrari or walking around Beverly Hills with a gold Rolex on your wrist, as nice as those things may be. This is, again, a specific tool for someone with specific needs.
And even if you're not exactly in the Nord Grand piano buyer sweet spot, but if you're a professional or serious amateur pianist, you owe it to yourself to at least know what this instrument is. How it is, what it is, why it is. How good it sounds and feels. What it can do that's so different from everything else.
So go find one on a sales floor somewhere…admittedly not easy, there aren't that many of them. Then, once you've tried it, the price will begin to make sense. And then, maybe the price will start to not matter, because if this is the right tool for you, you'll find a way to pay for it.
Check the availability and current price of the Nord Grand in your region: