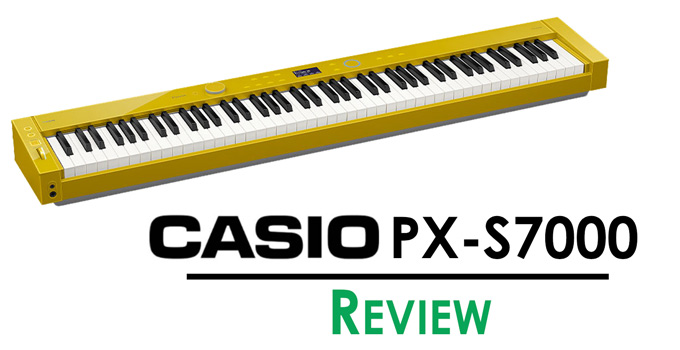 Casio's PX-S lineup has had its fair share of ups and downs.
We were huge fans of the baseline PX-S1100 and PX-S3100, winning our hearts via their innovative design and bang-for-your-buck value.
However, the more recent PX-S5000 felt like a miss. While its improvements were welcome, they failed to shine through due to the baggage of the PX-S1100 weighing down on it, a missed opportunity in the open niche for advanced pianists
Check the availability and current price of the Casio PX-S7000 in your region:
Design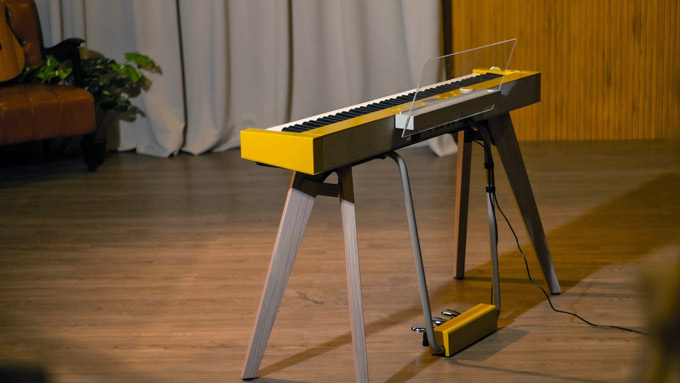 As the flagship representative of the Casio PX-S lineup, the PX-S7000 continues the signature futuristic design of its predecessors. True to the 'S' in the name, the PX-S7000 is slim, sleek and compact.
In terms of dimensions, the PX-S5000 is 52.7″ (134 cm) x 9.5″ (24.2 cm) x 4″ (10.2 cm), and clocks in at an impressively lightweight 32.6 lbs (14.8 kg).
While the PX-S7000 is a bit bulkier (both in terms of size and weight) than its earlier counterparts, it still sits comfortably amongst the upper echelons in terms of portability.
The PX-S7000 also retains the series' signature design language, which I'd describe to be 'clean' and 'futuristic'.
The front panel is glossy and clean, with only a minuscule number of controls (such as the volume knob, expression controls and data wheel) being visible when the unit is turned off.
Once turned on, everything lights up, and capacitive touch controls become apparent thanks to their white backlights. This overall design is quite similar to the PX-S3100, offering you a nice way of interacting with the myriad features we'll be getting into.
The PX-S7000 comes in 3 colors, black, white, and "harmonious mustard". The muted yellow tone of the mustard variant does seem the most unique and striking to me. Do note that the glossy surface is a fingerprint magnet, so having a microfibre cloth would be advised.
In terms of controls, the PX-S7000 ticks all of the right boxes. The inclusion of a screen and data wheel makes navigation and interactivity a lot easier, which makes utilizing the many features of the PX-S7000 a lot less daunting.
For example, with the PX-S5000, to find a specific piano sound, I'd need to hit the button multiple times, listening to the test tone to figure out if I've reached the sound I wanted. Here, the guesswork is removed, as the screen displays all of the relevant information.
Similarly intuitive is the encoder wheel that sits to the right of the screen. I love how it acts as a data wheel and directional pad (up/down/left/right) at the same time, giving you the best of both speed and precision.
The backlit full-dot LCD screen is also well thought-out, dynamically switching between two different views depending on your use case.
The "F Button Set" deserves special mention, as it's something unique to the PX-S7000.
To the left of the screen, there are 4 buttons marked from F1 to F4, and these are programmable via the onboard interface to do just about anything. This includes engaging an effect, switching sounds, or even transposition, you're only limited by your creativity.
Do note that many of the light-up buttons are capacitive touch controls instead of physical buttons. I can see this being an issue for musicians who favor tactile feedback (or the visually impaired), but the detection accuracy was flawless during my playtest.
The inclusion of a pitch-bend wheel and dedicated 'expression' buttons to the side further lends the PX-S7000 to a keyboardists' repertoire, enabling more expressive play for specific sounds, such as electric guitars, saxophones, or synthesizers.
Finally, the PX-S7000 can be powered off 8 AA batteries. While an endurance test wasn't possible for us, Casio does claim approximately 4 hours of continuous battery life, though I'd only use this if you're truly unable to rely on wall power.
I love the design of the PX-S7000, and Casio's team deserves a ton of praise. If I had to choose a word to summarize the PX-S7000's design, it would be 'intuitive'.
Whether you're a gigging keyboardist, or a purely classically-trained pianist with no interest in tweaking, you'll feel right at home with the PX-S7000, even without a manual.
Keyboard

The PX-S7000 uses Casio's Smart Hybrid Hammer Action Keyboard, which is the same key action found on the PX-S5000.
Note that this is not the same as the Smart Scaled Hammer action found on the  PX-S1100 and the PX-S3100 (as well as their predecessors).
These keys use a 'smart' dual-sensor action, which uses computational logic to track your playing. Despite being "just" a two-sensor action, I didn't encounter any inconsistencies during play, and it felt just as responsive as most well-regarded triple-sensor actions.
The selling point of this action is the inclusion of wooden inserts in the primarily plastic construction (hence the term 'hybrid' in the name). Note that these aren't full wooden cores embedded into the keys, these are just strips appended to the sides of each white key.
While adding wood might seem like a gimmick, it does actually help with the authenticity of the feel. The additional materials help make the keys feel more realistic, and they also feel more 'stable' compared to the plastic-only keys found on the PX-S1100.
The key texturing uses a simulated ivory finish for the white keys, and ebony for the black keys. These also get the premium treatment compared to the cheaper PX-S1100, getting a more subtle and realistic texture that provides additional grip.
Before we wrap things up, we do need to bring up this key action's divisive nature.
You can find our full thoughts in our PX-S1100 review, but the gist is that the slim form factor required some creative engineering, which ultimately resulted in the shorter pivot length discussed above.
In practice, this means the keys don't have a balanced weight response across their entire length. Although the differences are minor, this might be a deal breaker for some advanced, classically trained pianists who require more authentic physical feedback.
With that aside, I am someone who doesn't mind these supposed 'compromises', and this is an opinion shared by other, more seasoned reviewers as well. The Smart Hybrid Hammer Action feels great in play and should work well for all but the most demanding pianists out there.
Sound
The PX-S7000 runs the Multi-Dimensional Morphing AiR engine, the same audio source that powers all other digital pianos in the PX-S lineup.
In total, the PX-S7000 comes with a whopping 400 sounds, nearly 20 times the measly 23 you were getting with the PX-S5000. These include:
9 Grand Pianos – variants of Hamburg, New York and Berlin Grand sample sets.
11 "Best Hit" Pianos
19 Miscellaneous Pianos – uprights, layered pianos etc.
28 E. Pianos – electric pianos of all types, including synths, Rhodes, Wurlis etc.
28 "Classic" E. Pianos
4 Clavinets
4 Harpsichords
6 Vibraphones
21 Electric Organs
7 Pipe Organs/Accordions
7 String Ensembles
20 Synth Pads
8 Choirs
15 Guitars
15 Bass – real and synth variations
6 Solo Strings – violin, viola etc.
16 Brass Sounds – ensemble and solo.
14 Reed Sounds
8 Pipe Sounds
23 Synth Leads
151 General MIDI Tones
8 Drum Sets
This is a lot to work with, and even when you subtract the 151 General MIDI (GM) tones, as these are generally of a lower quality than the other bespoke samples, you're still getting a lot to work with.
---
Concert Grand Sounds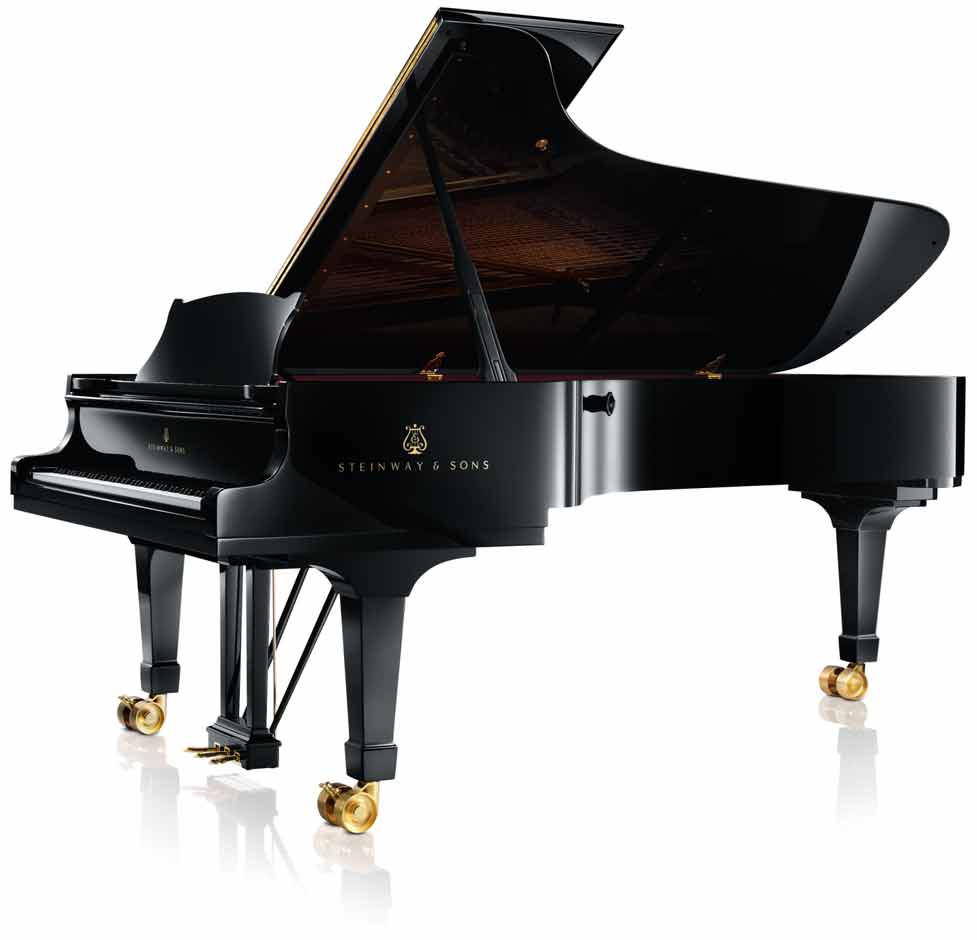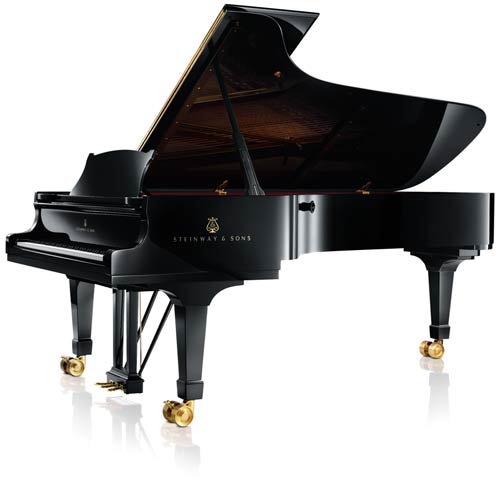 The PX-S7000's strongest sound set is easily its grand piano sounds. The highlights are the Hamburg, New York, and Berlin grands, which are ported down from some of Casio's high-end instruments, such as their Celviano Grand Hybrids.
These pianos are a huge step up over the comparatively basic samples found on the baseline PX-S1100.
While these pianos aren't directly named, their sounds are reminiscent of Steinway concert grands, sampled in different locations as per their names. This piano is well-renowned for its signature smooth sound that blends well into both classical and contemporary pieces.
The default sound is the Hamburg Grand, a well-sampled piano tone that delivers a wide soundscape with a high-fidelity, multi-mic setup. As the main sound you'll be using, this is an excellent choice, giving a versatile piano sound that works well for general use.
The New York and Berlin variants primarily differ in their recording setups. The New York model seems to be a bit darker, likely more suited for classical pieces, whereas the Berlin Grand has a more pronounced bass, almost reminiscent of a Bossendorfer.
All in all, these 3 main pianos are excellent, and they are a joy to play. I found myself sticking to the Hamburg grand for most of my testing, as it was best suited for my repertoire of pop accompaniment.
For versatility, there are also other, non-concert grand pianos under the micellaneous category, though they are noticeably less detailed as the primary concert grands.
---
Acoustic Simulator
The piano sounds on the PX-S7000 feature a certain degree of acoustic modeling functionality thanks to its AiR sound engine.
This includes 7 tweakable settings with 10 different levels of intensity. These include:
String Resonance
Damper Resonance
Open String Resonance
Aliquot Resonance
Damper Noise
Key On Noise
Key Off Noise
These settings will likely be a boon for people who want to dive deep into designing their perfect piano tone. When you combine this with the involved effects section of the PX-S7000, there's a lot of fine-tuning you can do.
The customization here does, however, pale in comparison to other more involved modeling engines, such as Roland's SuperNATURAL engine.
---
Other Sounds
The non-piano sounds are a bit of a mixed bag. From testing, I found that key-based instruments were generally excellent, while other sounds like guitars or strings were less detailed and better suited for being in the background.
The electric piano selection is varied, consisting of just about anything a gigging keyboardist would want. Whether you want a Rhodes, Wurli or synth-based pianos, Casio has you covered with high-resolution samples.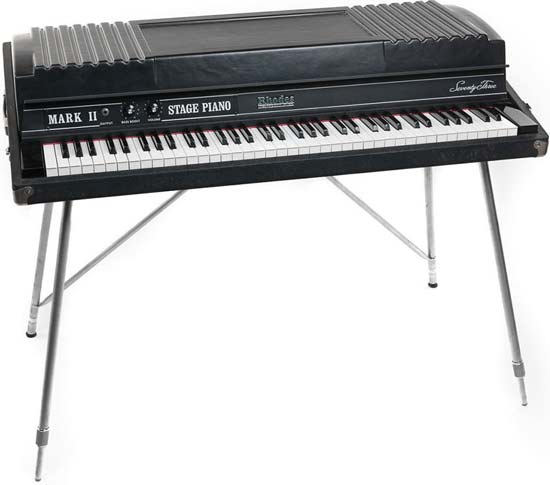 The lighter key action actually works particularly well here, giving you a level of finesse that might not be possible on heavier actions. As with other models in the PX-S lineup, I had a lot of fun playing through the Rhodes preset with its pleasing grit and overdrive.
My only gripe is that Casio's synth pianos are a little too bright for my tastes, though this is something easily remedied with the onboard equalizer.
The organ sounds are also good, particularly the standout electric jazz organ, which feels right at home with the lighter key action.
Gigging musicians should note that the organs' rotary effect is not tweakable, though you can switch between preset 'slow' and 'fast' settings, which is at least a step up over the other models in the PX-S lineup.
The remaining sounds, such as the orchestral sounds, guitars, and everything else are alright, though I can definitely tell that they didn't get as much attention as the main piano and key-based instruments.
I wouldn't use these sounds for front-and-center accompaniments, though they can work in a pinch.
---
"Best Hit" Grands and E. Pianos
Going into the PX-S7000, I expected the "Best Hit" pianos to be a gimmick, simply added in to pad out the tone count to a round 400.
I was absolutely wrong, and these sounds are arguably the best part about the PX-S7000.
The novelty of these sounds is that they recreate the acoustic and electric piano tones present on hit records. I wasn't able to catch them all, but I definitely recognized Coldplay's "Clock", Vanessa Carlton's "A Thousand Miles" and The Doors' "Riders on the Storm".
While the Hamburg and E. Piano samples are versatile, they are mixed to be generic, meaning they might not have the exact timbre or equalization that slots straight into your performances. The saying "jack of all trades" comes to mind.
With the "Best Hit" tones, Casio used their excellent samples as a foundation, and customized them to match certain hit songs, and the results are definitely quite impressive.
The fact that I could identify the inspirations without even glancing at the tone titles is a testament to their authenticity.
The novelty doesn't just wear off after the game of "Name That Tune". These sounds are radio-ready and can be used as bases for your own performances. I love this, as it makes way more sense than giving us 'bright' and 'mellow' variants that most people never use.
---
Effects
The PX-S7000's effects include a hall simulator/reverb, surround mode, a chorus, and brilliance.

The hall simulator/reverb simulates a sense of space for your voice presets. There are a total of 16 algorithms, ranging from rooms to stadiums. Much like the pianos, a few of these algorithms are also ported down from Casio's high-end instruments.
Surround mode also attempts to simulate a sense of space, and seems to add a bit of artificial widening to the sounds. This is more noticeable through headphones, but I didn't think this was necessary.
The chorus effect comes with 12 different algorithms, ranging from a simple light chorus to a heavy flanger effect. This is engaged by default for many of the E. Piano sounds, and can add a subtle sense of space without being overbearing.
Finally, there's the brilliance effect, which serves as a simple way of boosting the treble response of sounds. There's not a lot you can change here, but it is a nice way to get a brighter sound to cut through a mix in a pinch.
While I'm generally all for "quality over quantity", I did find the limited selection particularly odd, as the PX-S7000 features an impressive collection of microphone effects. It feels like a missed opportunity that Casio didn't enable these as general effects.
---
Speakers
The PX-S7000 comes with a quad 8W speaker setup. Note that this, and the PX-S6000, are the only instruments in the PX-S lineup that go beyond a standard stereo setup, giving a wider, more pronounced soundscape.
These speakers, though low-wattage for their price point, sound great thanks to Casio's well-tuned design, delivering a balanced sound that fulfills the promise of high-end piano samples. This solves one of my biggest gripes with the PX-S5000, which shipped with the same Hamburg Grand samples.
The issue with the PX-S5000 was that its onboard 8W speakers were incapable of delivering the full fidelity of the Hamburg Grand. It was like having a plate of quality spaghetti, but seasoned with dollar-store ketchup, it just didn't do the sounds justice.
With the PX-S7000, this is not an issue. Casio have been improving their speakers since the initial release of the PX-S1000, and the gradual upgrades are at their best with the PX-S7000. Casio even includes a way to tune the speakers to specific room types through the Piano Position Setting.
With that said, these speakers aren't perfect. The size constraints mean there are still limitations to contend with, and these speakers do tend to distort when pushed beyond safe levels.
This isn't a big deal, but I'd strongly recommend external amplification if you want to perform in noisy spaces.
---
Polyphony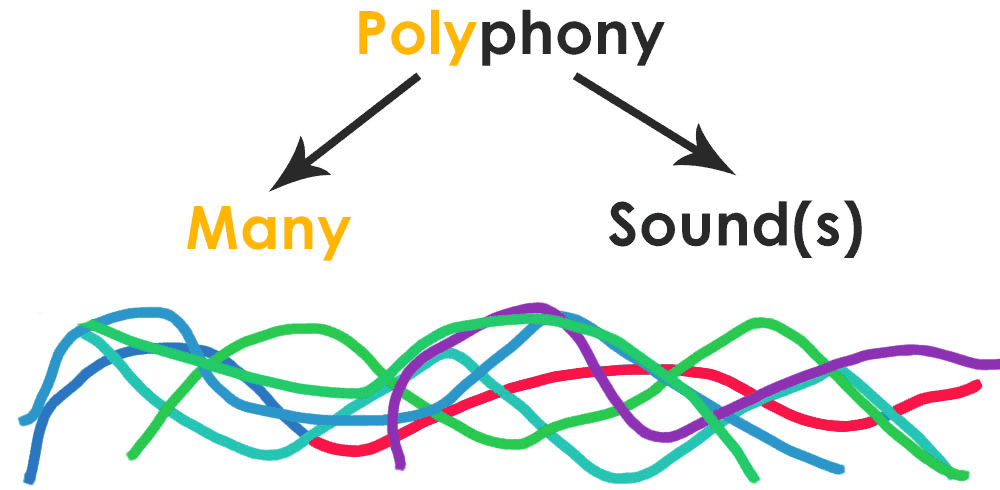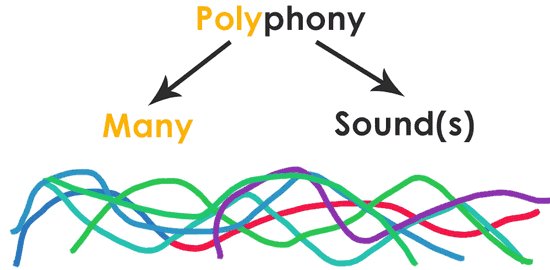 The PX-S7000 has 256 notes of maximum polyphony. This is a good amount that should easily cover most songs, even when using layered sounds.
Features
In terms of features, the PX-S7000 comes with the same functionality as the rest of the PX-S lineup, and more. This includes Bluetooth functionality via the complementary WU-BT10 wireless connector.
---
Functions
These are a few notable settings on the PX-S7000:
STRETCH TUNING. Stretch tuning, which is on by default, can be turned off.
METRONOME. Tempo and time signature can be set, with common classical tempos such as Largo, Lento etc. being included.
TRANSPOSITION. Changes the notes triggered by each key, in a range of 12 semitones up and down.
MASTER TUNING. The frequency of the A4 note can be changed from the default 440 Hz to any value between 415.5 to 465.9 Hz, in 0.1 Hz intervals.
OCTAVE SHIFTING. Changing the octaves of individual parts when using split or layer mode.
TEMPERAMENT. Includes 17 different preset tunings.
TOUCH SENSITIVITY. 5 different intensities to fine-tune the velocity sensitivity of the keys.
---
Modes
The PX-S7000 includes the standard 3 main modes: Layer, Split, and Duet Play Mode.
Layer Mode triggers two sounds simultaneously with each key press. For example, you can layer strings with the piano to get a ballad-style tone.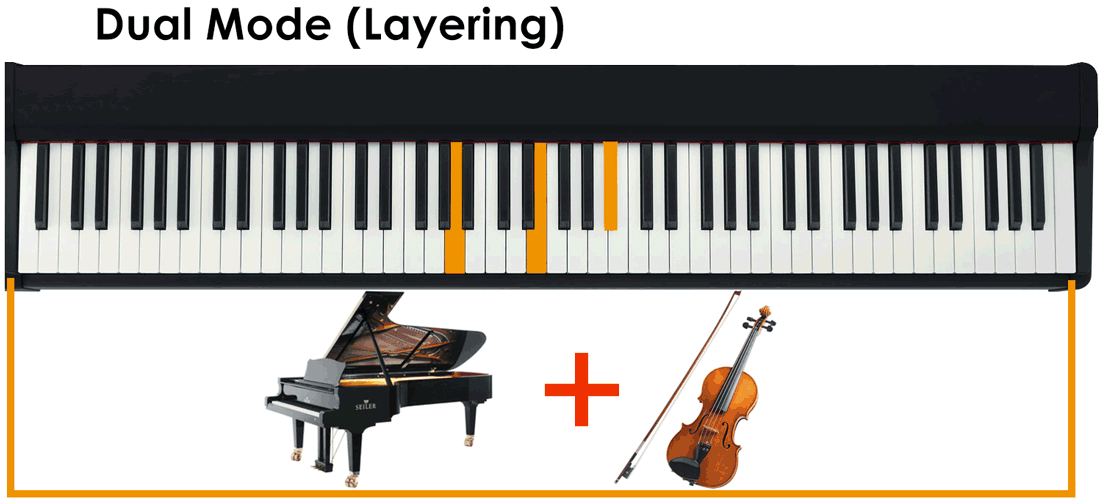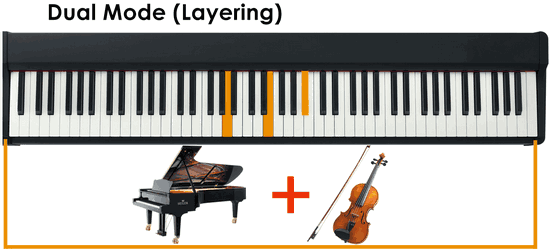 Split Mode, splits the keyboard into left- and right-hand sections, each with a different selected preset. The split point is modifiable, though only the right-hand split can use layer mode.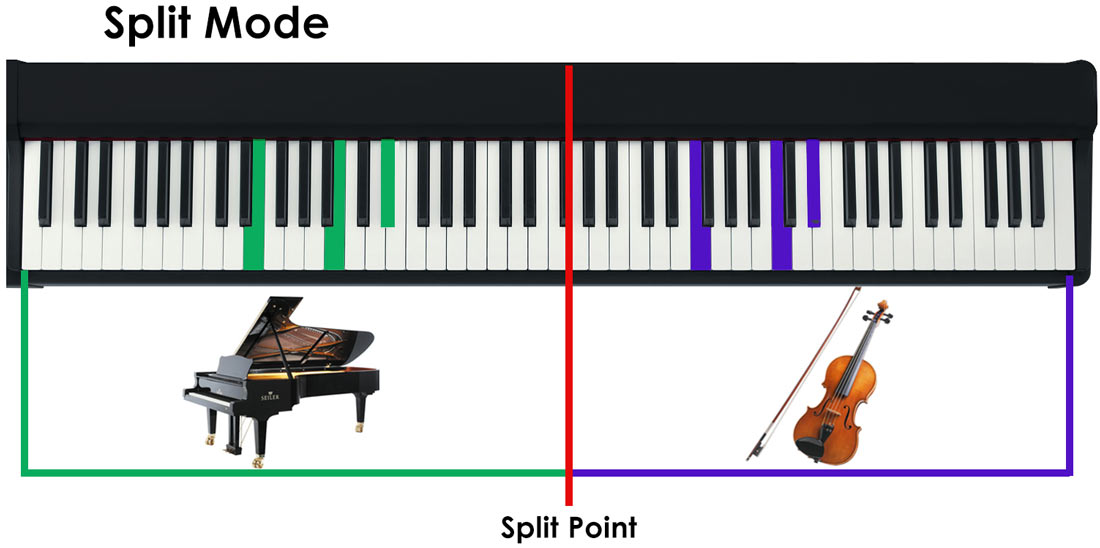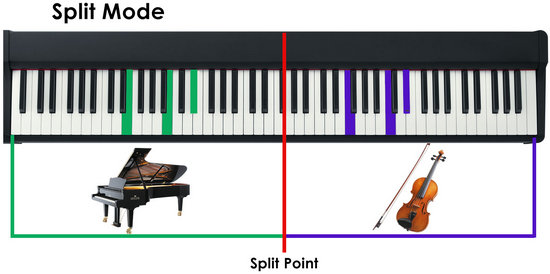 There is also Duet Play Mode, which splits the keyboard into two sections with identical octave ranges. This makes it easier for teachers to sit alongside their students, facilitating easier demonstrations.
---
Mic Input and Effects
The PX-S7000 comes with a TRS (1/8″) microphone input, which has a surprisingly comprehensive list of effects (even more than the instrument effects you can use with the tones).
The mic input comes with a handy volume control knob by the side of the rear input jack, allowing you to tune the gain for your specific microphone models.
The effects section consists of a total of 12 categories, ranging from equalizers and limiters to chorus and phasers. From my testing, these effects were versatile and solid, and can definitely be used for live vocal performances.
Something that is missing here is the lack of phantom power, which means you can't use condenser microphones with the PX-S7000.
This does make sense in the context of performances, but if you want an all-in-one recording solution, you'll need to look elsewhere.
---
Arpeggiator
The PX-S7000 includes a built-in arpeggiator with 50 patterns.
By default, the arpeggiator can be engaged by hitting the 'CONTROL' button to the left of the keys.
Now, if you play chords or any time you press multiple keys simultaneously, the PX-S7000 will trigger each key sequentially in a specific order.
This doesn't make much sense for sounds like pianos or organs, but it is key to achieving some conventional synth sounds in electronic music.
---
Song Recording and Playback
The PX-S7000 comes with 60 built-in songs available for lessons, with left- and right-hand parts being toggle-able. You can also use the built-in song recorder to record your own compositions.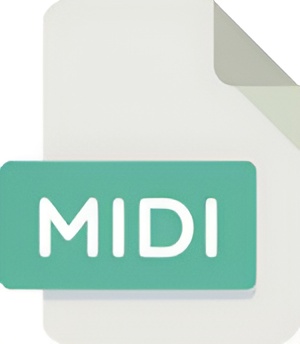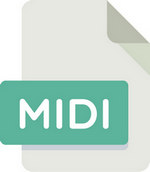 Songs can be recorded as MIDI or Audio. MIDI songs can consist of up to 5 songs with 30,000 notes, and audio tracks have a maximum length of 25 minutes. These limits are also subject to system memory.
MIDI songs can also consist of up to 2 tracks, allowing for some basic overdubbing, or splitting left- and right-hand parts over different recording sessions.
Songs can be moved off the PX-S7000, or recorded directly to a USB Flash Drive, you can also use the Bluetooth or USB connectivity options to record songs directly onto your devices, such as a digital audio workstation (DAW).
---
Bluetooth Connectivity
The PX-S7000, much like the other instruments in the PX-S lineup, still doesn't include built-in Bluetooth functionality. However, it does come with the WU-BT10 Wireless Adaptor, which slots into the USB Type A port as a Bluetooth receiver.
This connection supports both audio and MIDI. This means the PX-S7000 can work as an external Bluetooth speaker for song playback, while also being capable of working with supported Android/iOS applications, such as Casio's companion app, Casio Music Space.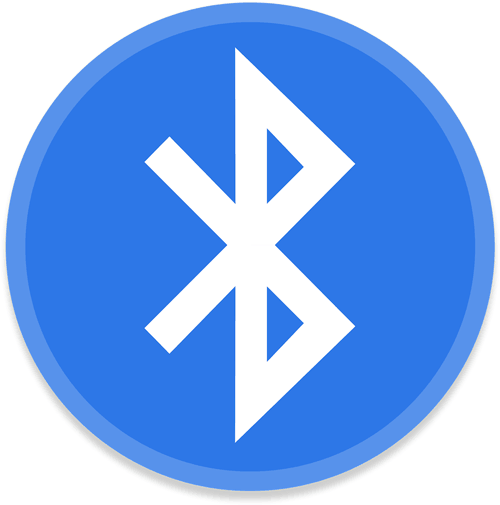 The Bluetooth functionality works well, and pairing with my smartphone worked well enough.
However, considering that most of the PX-S7000's contemporaries support Bluetooth without an external dongle, I do find it weird that Casio didn't follow suit. This doesn't affect the functionality, but having a dongle sticking out feels at odds with the PX-S7000's clean, minimalist design.
---
Casio Music Space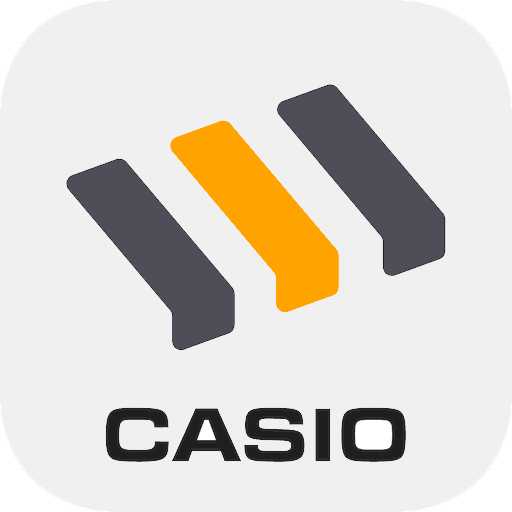 Casio's companion app for the PX-S7000 is Casio Music Space. This replaces the Chordana Play app, which was Casio's mainstay for most of their digital pianos.
This app includes features carried over from the Chordana Play app, such as the Piano Roll, Score Viewer, Music Player and Remote Controller. What's new is the Live Concert Simulator.
The Remote Controller basically allows you to control the PX-S7000 without relying on the onboard controls, instead using your smart device's touchscreen. This isn't all that necessary with the PX-S7000 thanks to its self-sufficient control scheme.
The Piano Roll, Score Viewer and Music Player functions are also great options for interactive learning, even allowing you the option of integrating your own MP3s and MIDI files into your practice routine.
Finally, there's the Live Concert Simulator, which claims to "analyze any performance" and "add a new dimension to your playing".
This is a tall order, but I found it to be a little gimmicky, basically adding a layer of ambient noise to your playing. It's cool, but not something that enticed me.
Regardless, 4 great features out of 5 still make the app worth checking out.
Connectivity
In addition to the Bluetooth connectivity, the PX-S7000 also includes a few analog connection options at the rear panel.
The PX-S7000 comes with two headphone jacks on the front of the unit, adjacent to the keys. The top connection is a Mini TRS jack, whereas the bottom uses a 1/4″ TRS connector.
This setup works for simultaneous listening, while also allowing you to use any headphones without the need for adapters.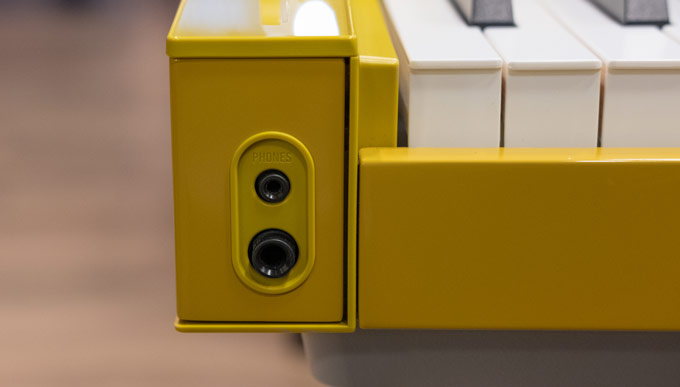 For external amplifiers or speakers, the PX-S5000 provides stereo 1/4″ line outputs, adaptable for mono utilization if needed.
For gigging musicians, this is all you'd need. Recording musicians might bemoan the lack of balanced XLR outs, though that's easily worked around with a DI box.
Damper pedal and expression pedal jacks are also included, allowing for compatibility with most standard sustain pedals available in the market. Polarity can also be changed in the onboard settings menu.
A 'pedal unit' jack is also present, allowing the PX-S7000 to connect to the triple pedal setup of the included wooden stand. This only works with Casio's proprietary connector, so triple-pedal setups from other brands likely won't work.
For mic inputs, there is a mono 1/4″ Mic In jack, which should work with any dynamic microphone on the market. Note that phantom power is not available, so condenser microphones won't work here.
There is also a USB Type A port, which is primarily used for the Bluetooth connectivity via the WU-BT10 adapter. This same port can also be used with flash drives for transferring recorded songs.
Finally, there is the USB Type B port enabling interaction between the PX-S7000 and a host device. This aspect is great for recording artists wanting a MIDI controller.
USB Audio support is absent though, so you'll need an external audio interface to use the Hamburg samples in your own recording setups.
Overall, the PX-S7000 has all you'd need for home and gigging use. While there are some things that I'd like to have, such as USB Audio and balanced XLR outs, those are minor complaints that can easily be worked around with external gear.
Accessories
The default PX-S7000 package comes with the following accessories:
Owner's Manual
Matching Stand
3-pedal Unit
Key Cover
Music Rest
WU-BT10 Bluetooth Adapter
AC adaptor
The PX-S7000 comes with all you'd need to use it for home use. Though performers might need a few additional purchases that we'll recommend below.
I do want to give special mention to the stand, which is of particularly high quality. This 29 lbs (13.3 kg) wooden stand is sturdy and well-designed, allowing the main keyboard to sit snugly at the top with little to no extraneous movement.
The fact that this stand and 3-pedal setup come as a complementary addition to every purchase is a great bonus and is a huge part of why I'd consider the PX-S7000 to be perfect for home use.
---
Pedal
While the triple pedal setup that comes with the PX-S7000 is great, it's not all that portable due to being linked to the heavy stand. For gigging performers, having a robust, portable pedal is rather important.
Casio suggests considering the triple pedal SP-34 as an additional purchase, designed for other products in the PX-S lineup. This is solid, and works well despite its compact size, even supporting half-damper operation.
With that said, some performers might find the additional soft and sostenuto pedals to be unnecessary, and a generic damper pedal with half-dampering support might be all you'd need. Casio's own SP20 is a decent option, though I do find it a bit too light, and it also lacks half-pedal support.
Instead, I would recommend Korg's DS-1H, which is a workhorse pedal that has served me well over the years, while also matching the PX-S5000's compact form factor.
---
Stand
While the PX-S7000 has an incredible included stand, it's far from portable, being almost as heavy as the keyboard itself.
Instead, performers might want to look into these viable options, which will work well for performance purposes.
---
Headphones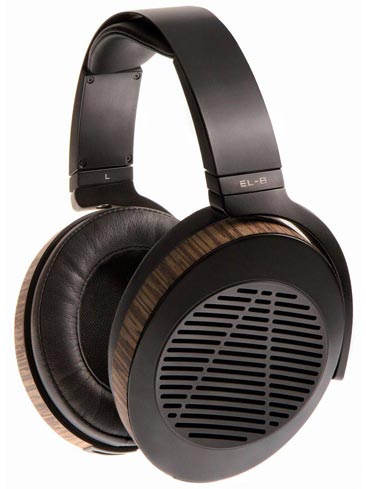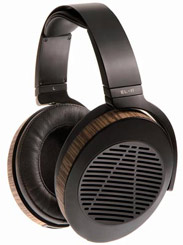 Headphones come in very handy when you want to practice in private, focusing solely on your playing and not disturbing others nearby.
Moreover, a good pair of headphones will provide a clearer and more detailed sound compared to the onboard speakers.
Check out this guide to learn how to choose the best-sounding headphones for your keyboard.
---
Summary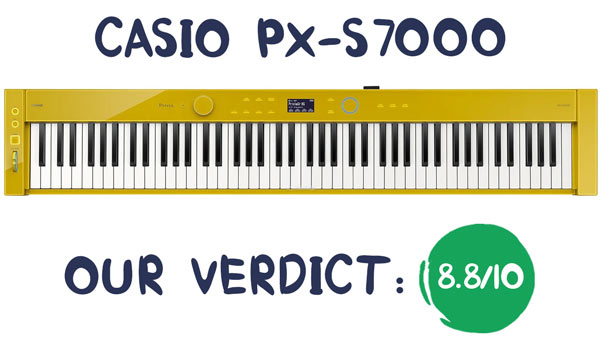 Pros
Continues the PX-S lineup's excellent portability-focused design
Excellent piano and electric piano sounds
Intuitive control scheme that suits home- and gig-based use
Can be battery powered
Comes with a gorgeous matching stand, pedal unit and key cover
Cons
Same PX-S key action which isn't for everyone
Lacks a few performance-specific features
---
The PX-S7000 is a very impressive digital piano, and I see it as the peak of what Casio has been building towards ever since the initial release of the humble PX-S1000.
With every previous release in the PX-S lineup, it felt like we were making compromises in the name of slimness and portability. While we praised the innovation, it always felt important to mark all of those scores with an asterisk.
Casio's design ethos with the PX-S7000 seems to focus on being 'uncompromising', and that enthusiasm does manage to shine through. The sound library, control scheme and frankly beautiful design all coalesce into a product that is very hard not to love.
The design alone deserves the bulk of the praise. I can confidently say that most people will be able to find their way around the PX-S7000 without having a manual on hand, which is particularly impressive considering the amount of customization you can do.
With that said, there are a few minor quibbles that keep me from considering the PX-S7000 a slam dunk.
The key action is still going to have its detractors, as there's still no getting around the PX-S7000's shorter pivot length. Performance-focused keyboardists might find the lack of effects and an EQ to be a drawback.
There's also the Bluetooth dongle, which is almost begging to get lost in a post-gig scramble.
None of these gripes are deal breakers by any means, but I still strongly recommend trying out these keys in person (or making use of online retailers' return policies), just to be sure that you won't mind the keys.
All in all, whether you're a performing musician or someone who wants a practice piano that doubles as an attractive furniture piece, the PX-S7000 is well worth considering.
Check the availability and current price of the Casio PX-S7000 in your region:
Alternatives
Casio PX-S7000 vs  Roland FP-90X (Full Review)
Roland's FP-90X is the opposite of the PX-S7000 in just about every way.
While the PX-S7000 features a slim, portable, and minimal, the FP-90X is a large and hefty workhorse. While you could lug the FP-90X around, it's not going to be easy with its 52 lbs (23.6 kg) weight.
The FP-90X uses Roland's PHA-50 key action, which is commonly cited as being the most authentic piano action in the market due to its weight and feel. Unlike the PX-S7000, this uses a full pivot length, and features simulated escapement.
In terms of sound, the FP-90X uses Roland's PureAcoustic Piano engine for the piano sounds, which is a purely modelling-based approach that allows for infinite polyphony and in-depth modeling.
While I preferred the PX-S7000's samples, the FP-90X's pianos still sound good despite being fully synthesized, partially helped by the powerful 4-speaker setup.
For non-piano sounds, the FP-90X uses the tried-and-true SuperNATURAL sound engine, and this is where the FP-90X shines. Roland's pedigree in digital instruments is apparent here, and their non-piano sounds are still steps and bounds above the competition.
The FP-90X is no slouch in the design department either. The original FP-90 earned a Red Dot award, and the FP-90X retains the same overall design, just with some minor improvements.
Unlike the PX-S7000, the FP-90X uses physical controls, giving you a ton of buttons and faders to play with. While it might not have the same versatility as the PX-S7000's data encoder wheel, the FP-90X still feels intuitive to work with.
There are other minor advantages as well, such as MIDI In/Out jacks, a built-in USB Audio Interface, and the front-panel 3-band equalizer. These might make the FP-90X more appealing for gig and session musicians.
As the antithesis of the PX-S7000, the FP-90X still performs extremely well. While the FP-90X isn't as innovative as the PX-S7000, it is one of the best examples of a digital piano done well (especially considering its lower MSRP).
---
Casio PX-S7000 vs  Kawai ES920 (Full Review)

Kawai's ES920 is an instrument that straddles the middle ground between the PX-S7000's portable profile and the FP-90X's bulk.
As a refresh to the well-received Kawai ES8, the ES920 went with a plastic chassis, which cut the weight down to a respectable 37.5 lbs (17.0 kg).
While the ES920 isn't as slim or lightweight as the PX-S7000, the ES920 does bring more to the table, and I don't just mean its significantly lower MSRP either.
The key difference here is Kawai's RH3 key action, which sidesteps the issue of shorter pivot lengths thanks to its larger chassis. Escapement and counterweights help give the RH3 action an air of authenticity, which is particularly impressive given that it is purely plastic.
There is also Kawai's signature SK-EX sample courtesy of their Harmonic Imaging XL (HI-XL) sound engine. These sounds are recordings from Kawai's signature Shigeru Kawai instruments, and it's easily one of my favorite piano samples available on the market.
When the keys, sounds and excellently tuned 20W speakers are combined, the ES920 ends up delivering a beautifully authentic piano-playing experience.
The tradeoff here is the lack of variety. While the SK-EX samples are amazing, the ES920 only comes with 38 sounds, and most of the non-piano sounds aren't all that impressive either.
Regardless, the ES920 does excel at being a digital piano, which makes it a perfectly valid choice if the PX-S7000 isn't working out for you.