Hot off the heels of our PX-S7000 review, it's time to cover the last instrument from Casio's 2022 PX-S series refresh.
The PX-S7000 was easily the highlight, delivering a value-packed instrument that sounds good and plays well. Meanwhile, the PX-S5000 felt underwhelming, being an upgrade to the excellent PX-S1100 that just didn't do enough to stand out.
I was wrong. After my playtest, I came away pleasantly surprised.
In this review, we'll focus on how the PX-S6000 manages to set itself apart from the rest of the PX-S lineup, and highlight certain areas where it manages to surpass the rest of the PX-S series, even the top-of-the-line PX-S7000.
Check the availability and current price of the Casio PX-S6000 in your region:
Design
Since the beginning, the PX-S series was always built around a slim design (hence the 'S' in the name), and they've always come with a sleek, futuristic look.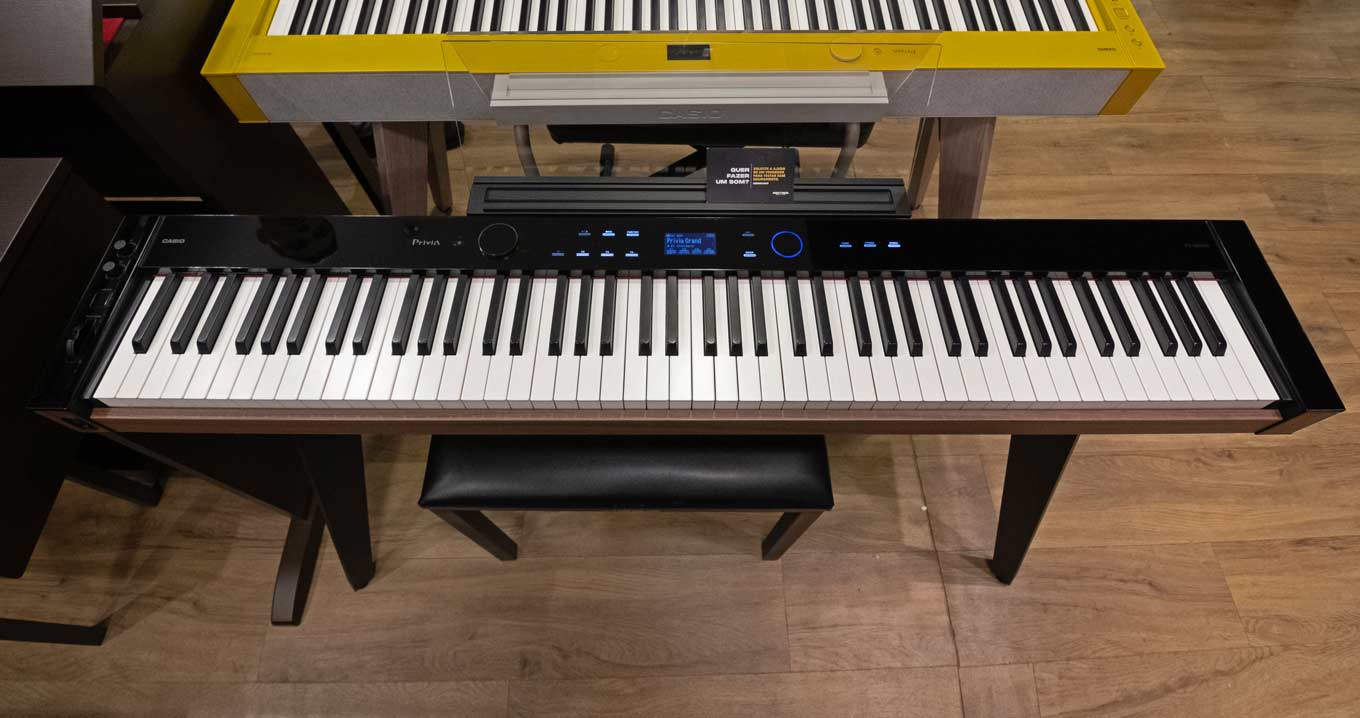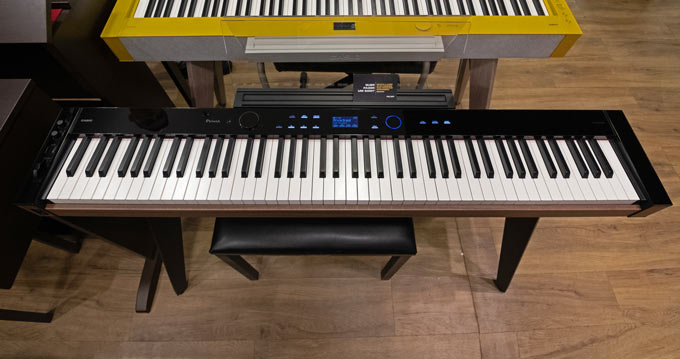 In terms of dimensions, the PX-S6000 is 52.75″ (134 cm) x 9.52″ (24.2 cm) x 4.01″ (10.2 cm), and weighs 32.6 lbs (14.8 kg).
These are the same measurements as the PX-S7000, likely due to the practically identical chassis. This is definitely a good thing, as I'd consider the PX-S7000 to be the pinnacle of Casio's modern design, striking a balance between portability and usability.
The same clean front-panel design of the PX-S7000 is retained. Featuring a glossy surface and very few visible controls. When turned off, all that is visible is the volume knob, expression controls and data wheel.
Once you turn the PX-S6000 on, the rest of the controls light up, revealing the backlit capacitive touch buttons. There's a good number of buttons on offer, allowing you to navigate through the PX-S6000's many menus.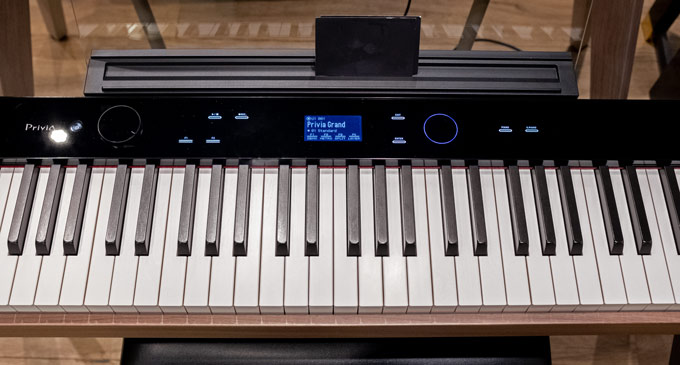 With the sole black color option, the PX-S6000 nails the minimalist vibe it's going for, as the buttons are completely invisible when the unit is turned off. Just note that the glossy surface is a fingerprint magnet, which almost necessitates a microfibre cloth.
In terms of controls, the PX-S6000 is intuitive. The screen and data wheel allow you to easily navigate through the many nested menus without getting lost, which is a necessity given the deep and varied feature set.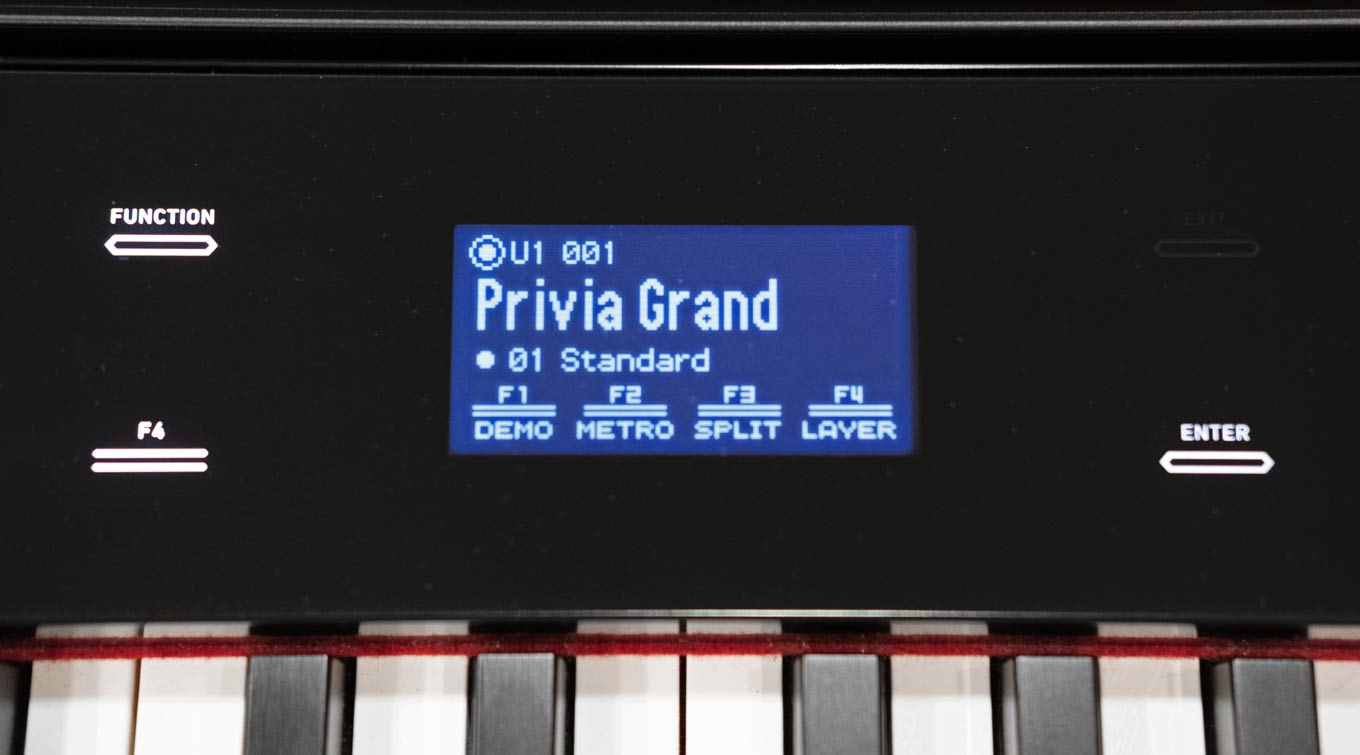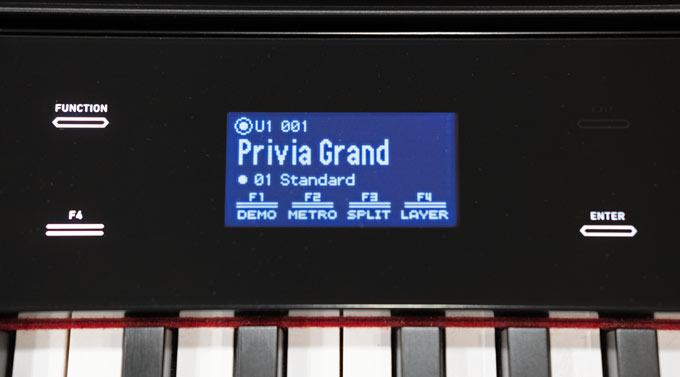 This is a night-and-day difference to the PX-S5000. There, to choose a specific sound preset, there would be a lot of guesswork involved as there's no feedback beyond a simple test tone. Here, I can quickly glance at the backlit LCD screen, and know where I'm at instantly.
The encoder wheel also adds to the ease of use. It pulls double duty as a data wheel (providing a rotation-based interface) and directional pad (up/down/left/right), giving you both speed and precision.
The screen provides two main interfaces. There's the standard view which shows you a short summary, and this the list-view which dynamically activates when you're scrolling through deeper menus.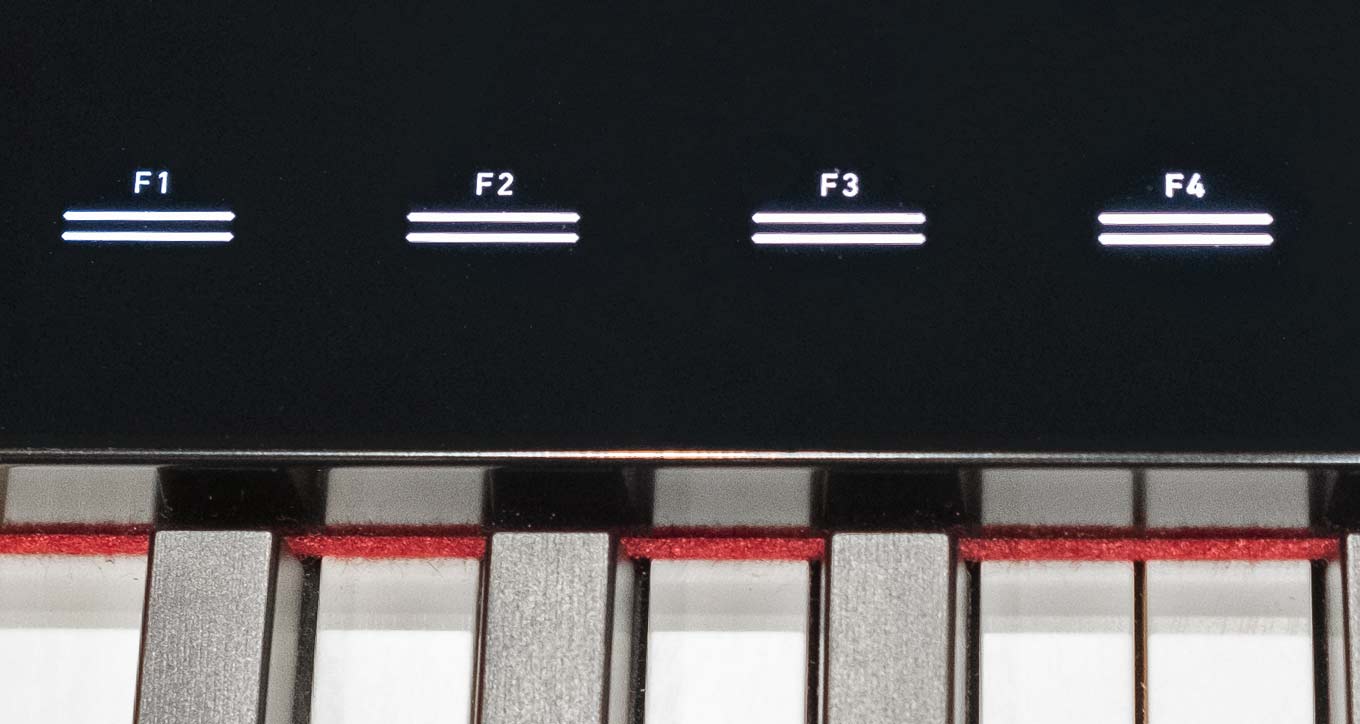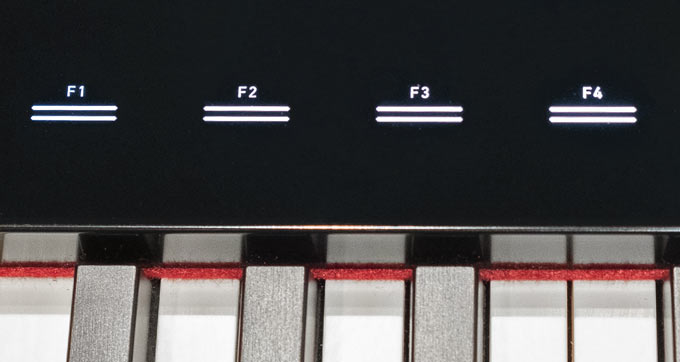 There's also the simple yet effective "F Button Set", which refers to the 4 buttons to the left of the screen. These buttons can be programmed to do almost anything you can think of. You could switch on effects, switch through sounds, modes, among other things.
One thing worth noting about the PX-S6000 is that it's targeting a different audience, specifically gigging musicians, in addition to the conventional home-based users.
Specifically, the PX-S6000 makes a minor change to the PX-S7000's front panel.
While both include a pitch bend wheel, the PX-S6000 replaces the basic expression buttons with two dedicated expression knobs, giving more control to players who need it.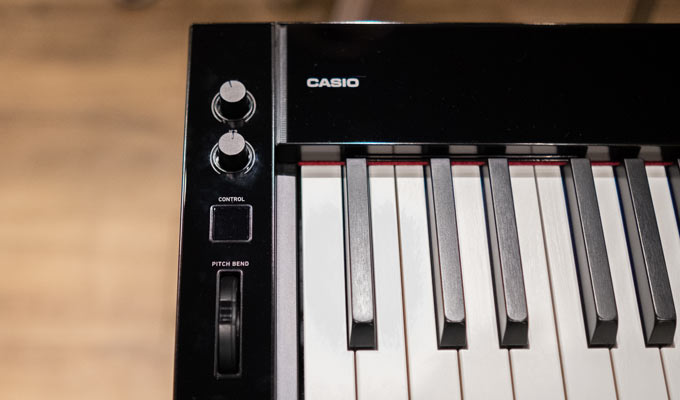 The PX-S6000 can also be powered off 8 AA batteries, which Casio claims provide 4 hours of continuous play, serving as a viable alternative for wall power.
All in all, I like the PX-S6000's design. It takes the already excellent design of the PX-S7000 and adds a few slight modifications that make it better suited for live performers who want a bit more control.
Keyboard
The PX-S6000 uses  Casio's Smart Hybrid Hammer Action keyboard, the same key action found on the PX-S5000 and the PX-S7000.
Do note that this differs from the Smart Scaled Hammer Action found on the PX-S1100 and the PX-S3100 (as well as their predecessors).
This key action is relatively unique because it is a 'smart' dual-sensor action. While the rest of the industry has converged on 3-sensor actions for their superior accuracy, Casio has designed a 2-sensor action that utilizes computational logic to track your playing dynamics.
With the PX-S6000, Casio upgraded the PX-S1100's plastic-only keys to a hybrid material construction, using a mixture of plastic and wood. Do note that these are not solid wooden cores but just wooden strips added to the sides of each white key.
This might seem like a simple gimmick, but the subtle changes do result in a more authentic feel, with an added sense of realism thanks to the more evenly distributed weight, which I'd describe as being more 'stable' compared to its more basic predecessors.
Something Casio doesn't mention in its marketing is the improved cushioning, which makes the PX-S6000 feel a lot more pleasant to play compared to the PX-S1100, resulting in a playing experience that feels less fatiguing.
Finally, no review of the PX-S series would be complete without the obligatory mention of the key action's controversy. I did a deep dive in our PX-S1100 review, going through the compromises made in the pursuit of the slim form factor.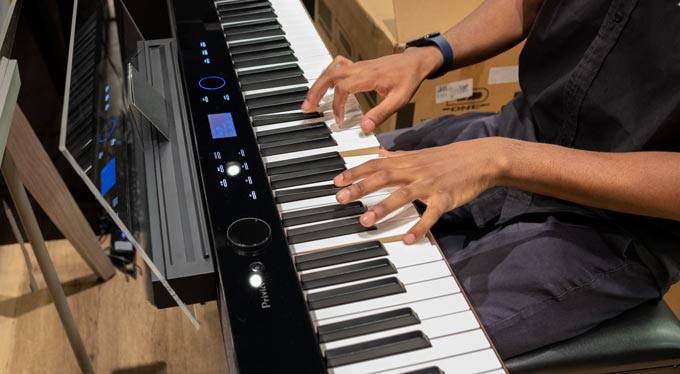 The main culprit is the shortened pivot length, which results in an uneven weight distribution across the keybed.
While some keyboardists might be able to adapt to the minor differences, this might be a deal breaker for classically trained pianists who require authentic physical feedback.
Personally, I found the keys to be perfectly playable after a little bit of getting used to, though the keys are a bit on the lighter side. In some respects, the PX-S6000's lighter keys actually complement its soundset, feeling right at home for the E. Piano, organs and synths.
Sound
The PX-S6000's soundset is powered by Casio's Multi-Dimensional Morphing AiR engine, the same audio source that powers all other digital pianos in the PX-S lineup.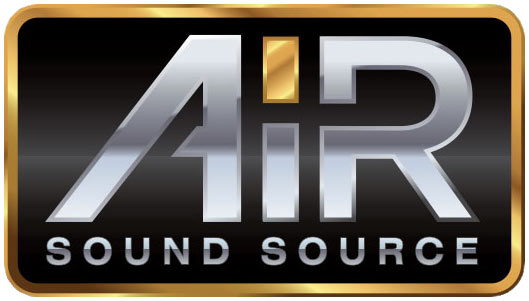 The PX-S6000 can be considered a slightly stripped-down PX-S7000, featuring 350 sounds (compared to the PX-S7000's 400). These include:
3 Grand Pianos – variants of the Hamburg Grand sample set
12 miscellaneous pianos – uprights, layered pianos
13 E. Pianos – electric pianos of all types, including synths, Rhodes, Wurlis
17 "Classic" E. Pianos
4 Clavinets
4 Harpsichords
6 Vibraphones
21 Electric Organs
7 Pipe Organs/Accordions
7 String Ensembles
20 Synth Pads
8 Choirs
15 Guitars
15 Bass – real and synth variations
6 Solo Strings – violin, viol
13 Brass sounds – ensemble and solo
14 Reed sounds
7 Pipe sounds
20 Synth leads
127 General Midi Tones
8 Drum sets
Compared to the PX-S7000, you get fewer sounds from certain categories (notably the grand piano category), though the general versatility remains intact.
350 sounds are nothing to scoff at, even when you subtract the 151 General MIDI tones, which are lower quality than the more bespoke samples. For the PX-S6000's purposes of being a versatile stage instrument, you'll have more than enough to work with.
---
Concert Grand Sounds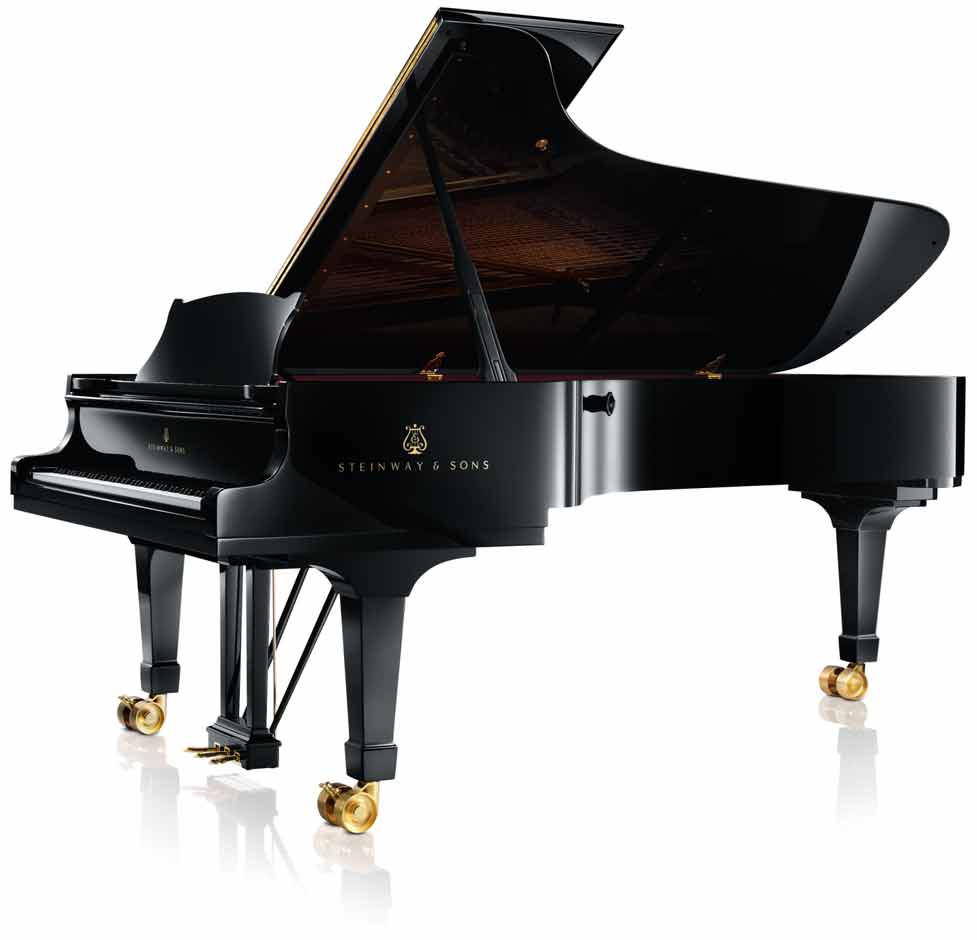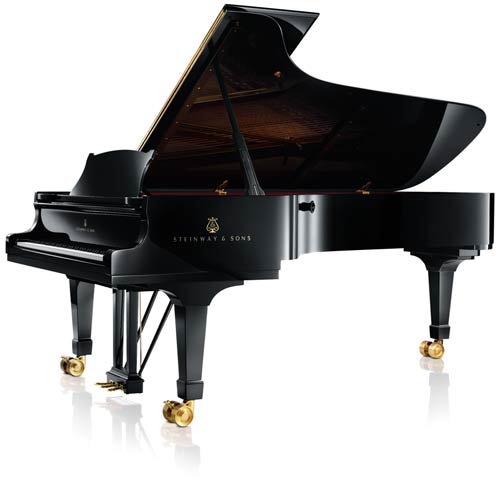 The PX-S6000's main strength lies in its grand piano tones. The sound source is Casio's German Hamburg Grand sample, which is ported down from Casio's high-end instruments, such as their CELVIANO Grand Hybrids.
While the sampled piano isn't directly named, the sound is reminiscent of a high-end Steinway, which is a world-class concert grand used in many recital halls across the globe.
In terms of its sonic signature, this piano is commonly described as 'smooth', fitting well into both classical and contemporary pieces.
Casio's sampled version sounds excellent. The samples have a wide, airy sound that has a good amount of detail. Compared to the baseline PX-S1100, these sounds are of higher fidelity and sound more natural.
During my playtest, the default concert grand preset worked nicely for most of my repertoire, whether band-based accompaniments or solo piano pieces. It's a good default preset with a good amount of versatility.
Compared to the PX-S7000, you do lose out on the German and New York grand samples, though I did mention in our PX-S7000 review that the default Hamburg sample was my general go-to sound, so it's not that big of a loss.
However, the "Best Hit" concert grand pianos from the PX-S7000, which relied on the German and New York variants, are absent on the PX-S6000, and their presence is sorely missed, as they provided an easy way to get radio-ready sounds without the need for additional tweaking.
---
Acoustic Simulator
The concert grand on the PX-S6000 does come with a certain degree of acoustic modeling functionality thanks to its AiR sound engine.
This includes 5 tweakable settings with 10 different levels of intensity. These include:
String Resonance
Damper Resonance
Damper Noise
Key On Noise
Key Off Noise
While the customization here pales in comparison to other, more involved modeling engines like Roland's SuperNATURAL engine, it's still a nice bit of customization for people who want to dial in their ideal piano sound.
---
Other Sounds
As was the case for other PX-S digital pianos, the non-piano sounds are a bit of a mixed bag.
Through my testing, I found that key-based instruments were generally excellent, though the other sounds, like guitars and strings, didn't share the same quality, being more suited for background layering.
The E. Piano selection is easily the highlight, featuring classic pianos like the Rhodes, Wurlitzer and even synth-based pianos. These sounds also feature a few built-in effects, making them good to go for just about any performance.
There is also the Classic E. Piano section, which seems to be a copy of the "Best Hits" selection from the PX-S7000. This section features E. Piano tones designed to match hit songs from the years gone by. I love this, as it instantly puts recognizable sounds right at your fingertips.
I wasn't able to identify all of them, but I did recognize Ray Manzarek's overdriven tone from The Doors' "Riders on the Storm". The fact that you have these battle-proven sounds at your disposal makes the PX-S6000 a very competent instrument for your E. Piano needs.
The organ section also features some strong inclusions, such as the standout electric jazz organ, which suits the lighter key action very nicely.
The remaining sounds on the PX-S6000, such as orchestral sounds, guitars and synths are serviceable, but you can definitely tell that they lack the key-based instruments' attention to detail. While I would hesitate to use these sounds in a solo accompaniment, they can work nicely in more crowded arrangements.
My only single nitpick is that some of these sounds feel a bit too bright, compared to the more neutral tone of the acoustic pianos. There's an easy fix for that though, thanks to the PX-S6000's surprisingly comprehensive FX section.
---
Effects
The PX-S6000's effects include the PX-S series mainstays, such as the hall simulator/reverb, surround mode, a chorus, and brilliance.
In addition, it also features an exclusive Digital Signal Processor (DSP) effects section, which is absent even on the flagship PX-S7000.
The hall simulator/reverb is used to add space, placing your presets in a simulated space. There are a total of 16 algorithms, ranging from rooms to stadiums.
Surround mode serves as a form of stereo enhancement, and adds a slight bit of artificial widening to the sounds. This is more noticeable through headphones, but I was happy leaving this off throughout my playtest.
The chorus effect comes with 12 algorithms, ranging from a simple light chorus to a heavy flanger effect. This is engaged by default for many of the E. Piano sounds and can add a subtle sense of space without being overbearing.
There's also the brilliance effect, a high-shelf EQ to control the treble response of sounds. There's not a lot you can change here, but it is a nice remedy for some of the brighter presets or to cut through a mix in a pinch.


Finally, the DSP effects section is where customization is taken to an extreme, featuring 31 DSP effect units which can be applied to any sound as required, including wahs, distortions, rotary simulations, and a lot more.
Each effect unit also comes with tweakable parameters, which allow you to dial in the exact sound profile you're looking for.
Casio ships 100 preset DSP effect chains, which can include up to 4 effect units per preset, though you can also create your own custom chains, which can also be controlled on the fly with the F-buttons and expression knobs.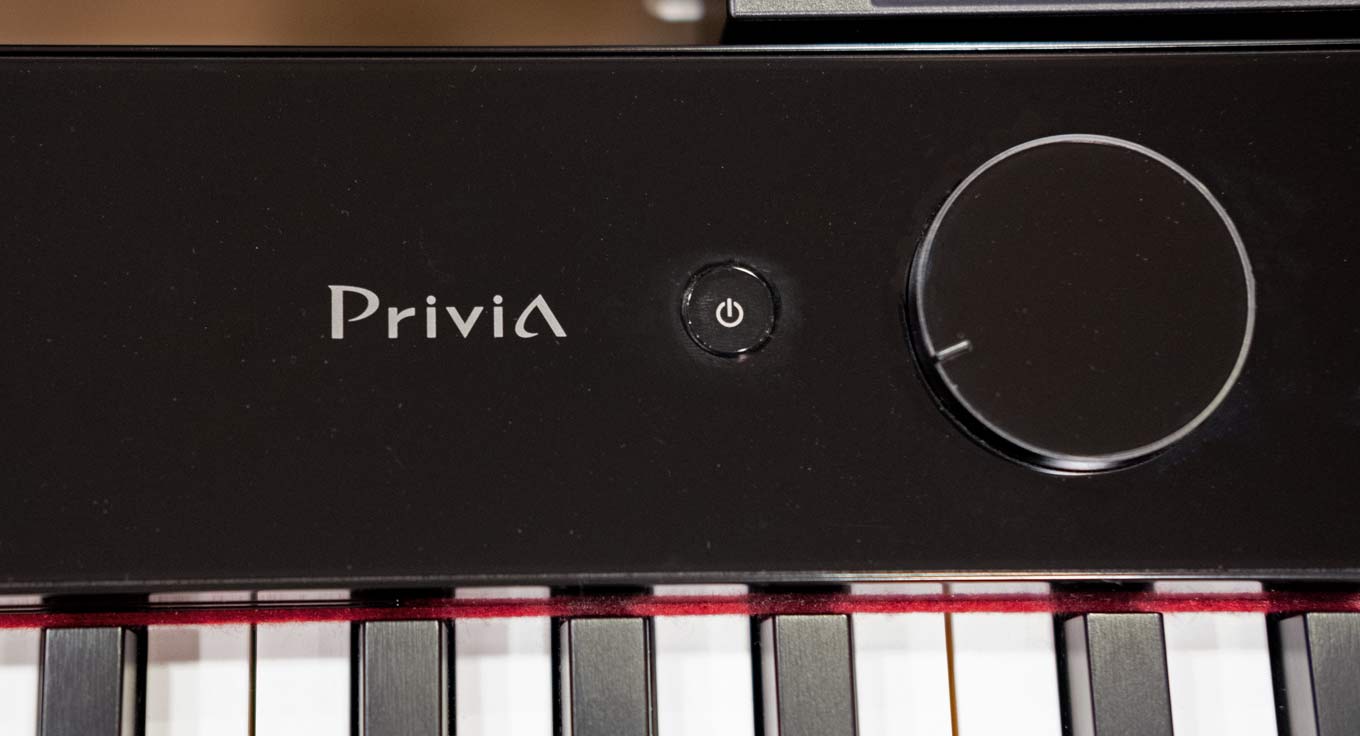 I'm very impressed with the amount of control Casio is offering here. Demanding keyboardists who want in-depth control will certainly not be disappointed. I'd go as far as saying that the PX-S6000 exceeds the flagship PX-S7000 in this regard.
In terms of sonic quality, I found these effects to be of solid quality, complementing most of the presets nicely. As someone who likes sculpting his own presets, the PX-S6000 hits all the right notes for me.
---
Speakers
The PX-S6000 comes with a quad 8W speaker setup, the same speaker array from the flagship PX-S7000.
Despite the low wattages of these speakers, they do sound good thanks to Casio's tuning, which gives off a balanced sound, allowing you to hear the nuanced detail of the high-end Hamburg Grand samples.
This was my biggest gripe with the PX-S5000, which used a dual 8W speaker setup that failed to showcase the fidelity of the same Hamburg Grand samples.

Casio has been continuously improving their compact speaker setups since the initial introduction of the PX-S series back in 2020, and the PX-S6000 features them at their best.
Casio even includes a way to tune the speakers to specific room types through the Piano Position Setting.
With that said, these speakers aren't perfect. These speakers do tend to distort when pushed to higher volume levels. This isn't a big deal, but I'd strongly recommend external amplification if you perform in larger venues.
---
Polyphony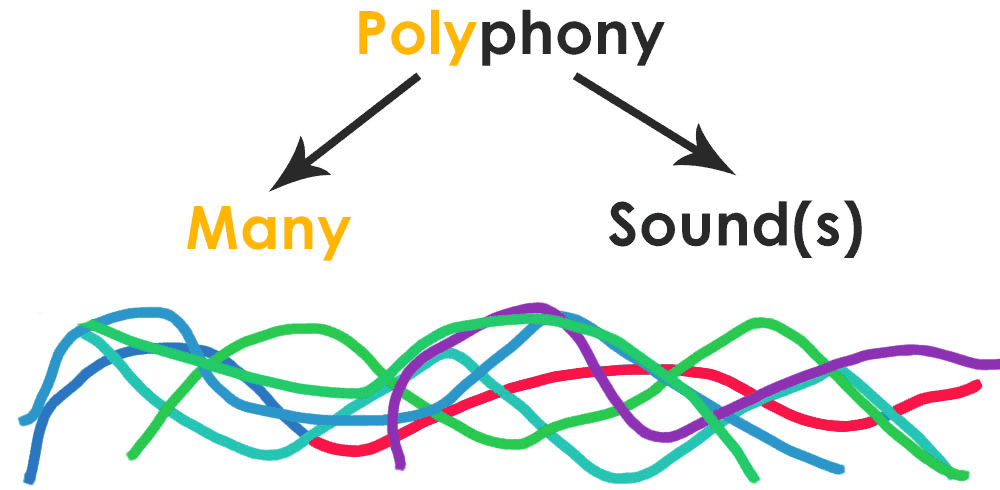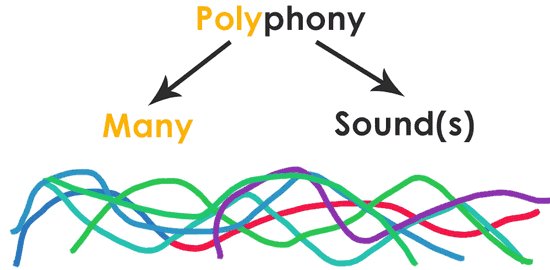 The PX-S6000 has 256 notes of maximum polyphony. This is a good amount that should easily cover most songs, even when using layered sounds.
Features
In terms of features, the PX-S6000 comes with the same functionality as the rest of the PX-S lineup and more. This includes Bluetooth functionality via the complementary WU-BT10 wireless connector.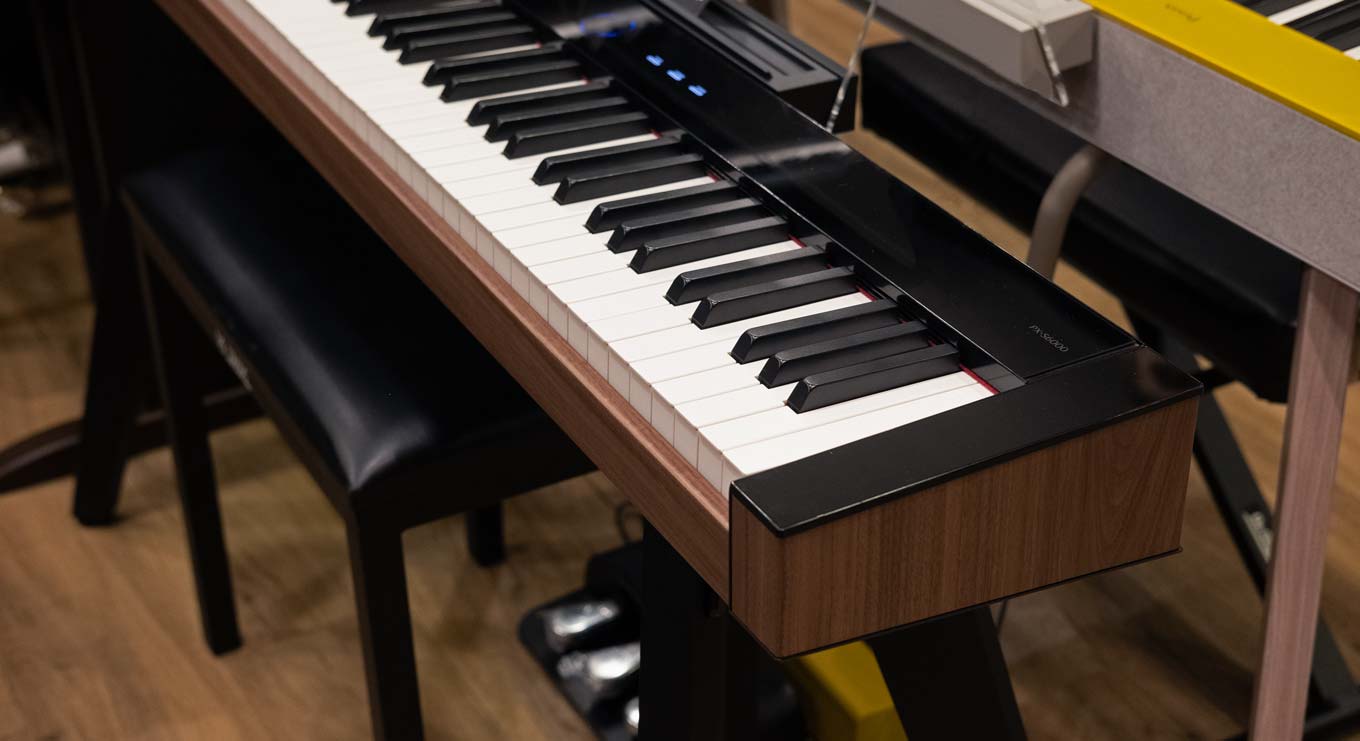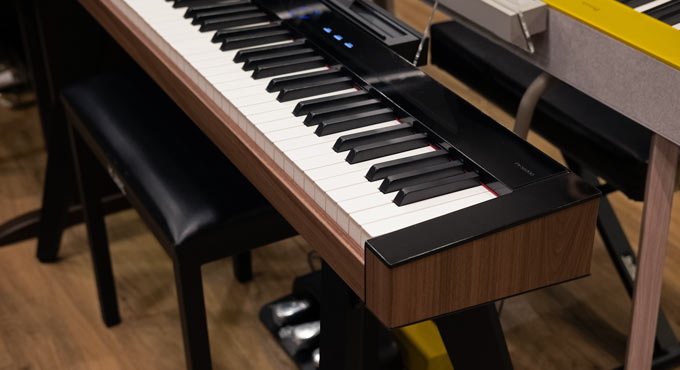 ---
Functions
These are a few notable settings on the PX-S6000:
STRETCH TUNING – Stretch tuning, which is on by default, can be turned off.
METRONOME – Tempo and time signature can be set, with common classical tempos such as Largo, Lento etc. being included.
TRANSPOSITION – Changes the notes triggered by each key, in a range of 12 semitones up and down.
MASTER TUNING – Frequency of the A4 note can be changed from the default 440 Hz to any value between 415.5 to 465.9 Hz, in 0.1 Hz intervals.
OCTAVE SHIFTING – Changing the octaves of individual parts when using split or layer mode.
TEMPERAMENT – Includes 17 different preset temperament types.
TOUCH SENSITIVITY – 5 different intensities to fine-tune the velocity sensitivity of the keys.
---
Modes
The PX-S6000 includes the standard 3 main modes: Layer, Split, and Duet Play Mode.
Layer mode makes each keypress trigger two sounds simultaneously. For example, you can layer a concert grand preset with an E. Piano to get a rich, wider tone.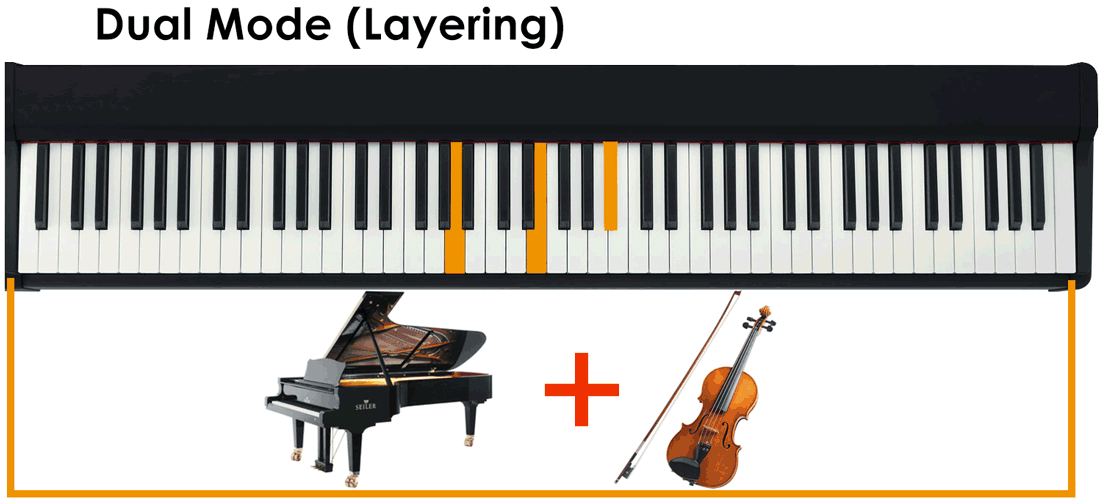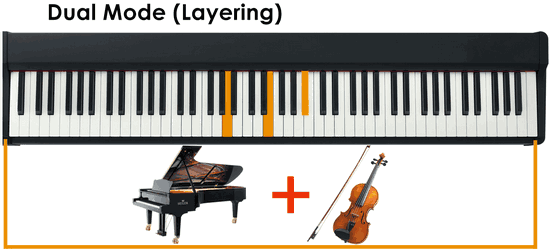 Split mode splits the keyboard into two halves, each with a different assigned preset. The split point is modifiable, and layer mode can be engaged for the right-hand part.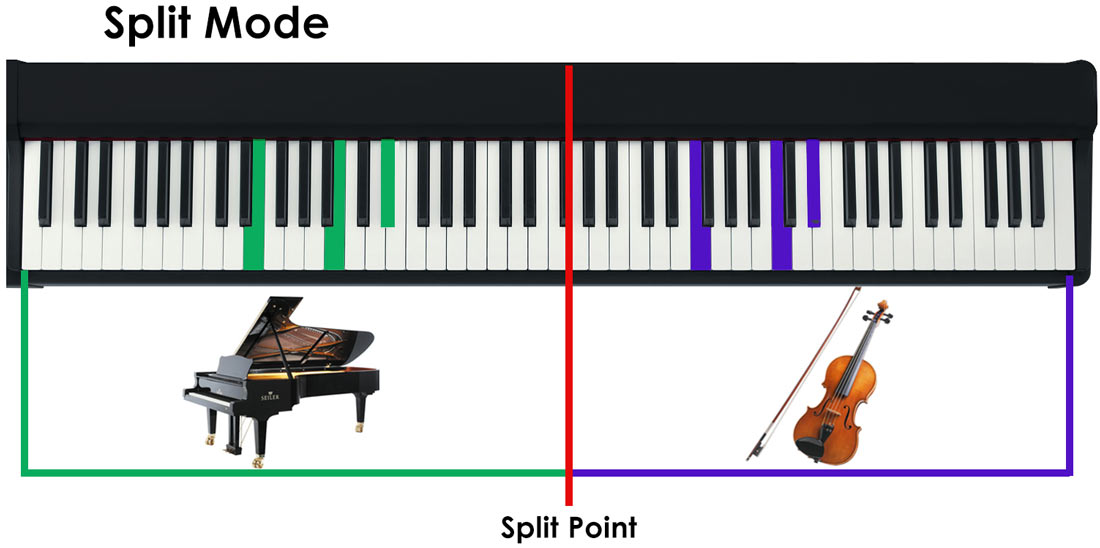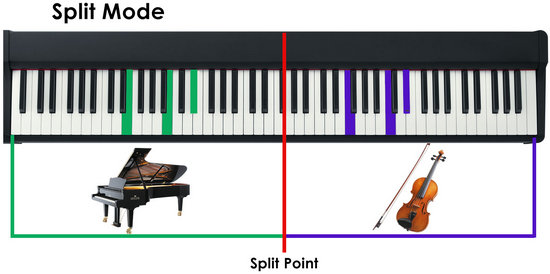 There is also Duet Play Mode, which splits the keyboard into two sections with identical octave range. This is more relevant for home-based tutoring, making it easier for teachers to sit alongside their students, facilitating easier demonstrations.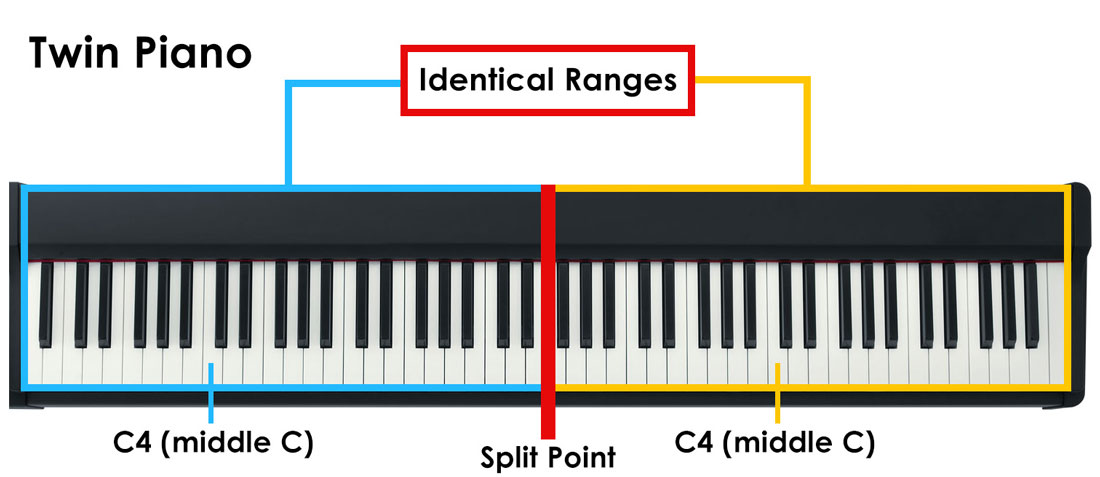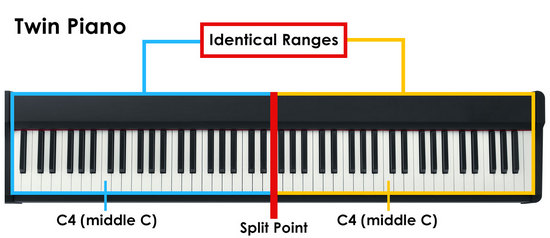 ---
Mic Input and Effects
The PX-S6000 comes with a TRS (1/8″) microphone input, which has a surprisingly comprehensive list of effects (the same as the PX-S7000).
The rear mic input includes a volume control knob to the side, allowing you to tune the gain response to your specific microphone model.
There are 12 types of effects available, including equalizers, limiters, choruses and phasers. These are decent and can work well for live performances.
Do note that phantom power support is absent, which means condenser microphones are not supported. This makes sense in the context of live performances, but if you want an all-in-one recording solution, I'd recommend getting an external DAW.
---
Arpeggiator
The PX-S6000 includes a built-in arpeggiator with 50 patterns.
The arpeggiator can be engaged by activating the corresponding F-button. Once active, playing any chords or any combination of keys will trigger an arpeggiator sequence based on the keys you have pressed.
Synthesizer players should be intimately familiar with this functionality, and it's nice to see it included here for the synth pad and lead presets.
---
Song Recording and Playback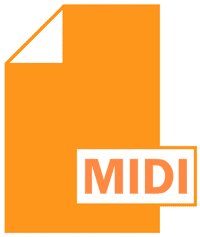 The PX-S6000 includes a built-in song recorder.
Songs can be recorded as MIDI or Audio. MIDI songs can consist of up to 5 songs with 30,000 notes, and audio tracks have a maximum length of 25 minutes.
MIDI songs can also consist of up to 2 tracks, allowing for some basic overdubbing or splitting left- and right-hand parts over different recording sessions.
Songs can be moved to or recorded directly to a USB Flash Drive.
---
Bluetooth Connectivity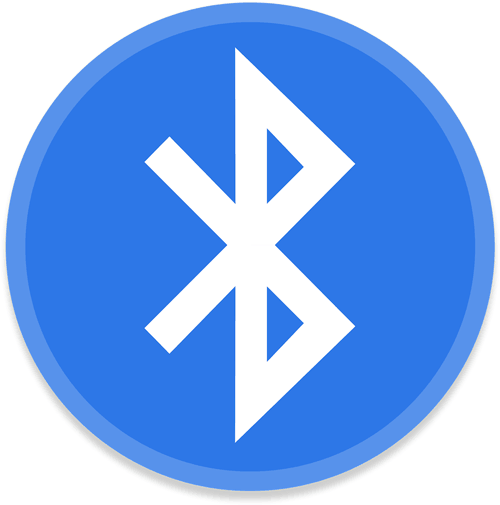 The PX-S6000, much like the rest of the PX-S lineup, still lacks built-in Bluetooth functionality. However, every unit does ship with the WU-BT10 Wireless MIDI and Audio Adaptor, which slots into the rear USB Type A port as a Bluetooth receiver.
Both Bluetooth audio and MIDI are supported. This means the PX-S6000 can work as an external Bluetooth speaker for song playback while also being capable of working with supported Android/iOS applications, such as Casio's companion app, Casio Music Space.
If anything, I still find the external Bluetooth Adapter to be a bit weird. Most other manufacturers build Bluetooth functionality right into the chipset, so the fact that Casio still insists on using an external dongle feels weird. While functionality isn't affected, I'd be careful, as a USB dongle can easily get lost in a post-performance shuffle.
---
Casio Music Space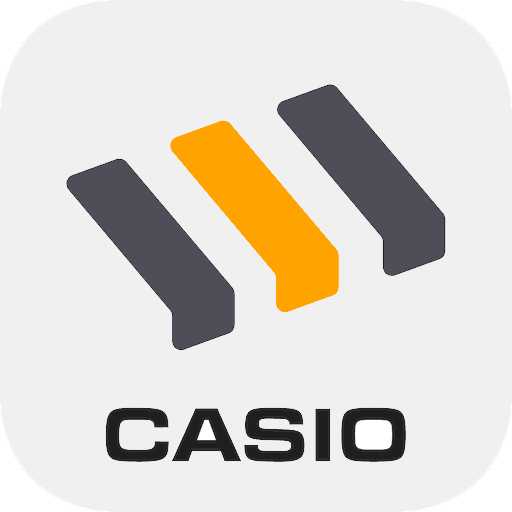 Casio's companion app for the PX-S6000 is Casio Music Space, replacing the Chordana Play app, which was Casio's mainstay for most of their digital pianos.
The app's features include the Piano Roll, Score Viewer, Music Player, Remote Controller, and the Live Concert Simulator.
The Remote Controller is a substitute for the onboard controls, granting access to the PX-S6000's feature set through your smart device's touchscreen. Thanks to the intuitive control scheme, I didn't find this necessary, but it is an alternative for those who need it.
The Piano Roll, Score Viewer and Music Player are also options for interactive learning, even allowing you to integrate your own MP3s and MIDI files into your practice routine.
Finally, there's the Live Concert Simulator, which claims to "analyze any performance" and "add a new dimension to your playing". This is a tall order, but I found it to be a little gimmicky, basically adding a layer of ambient noise to your playing. While this was interesting, I didn't find it particularly useful.
Regardless, 4 useful features out of 5 still make the app worth checking out. I'd consider this app to be a nice bonus that isn't compulsory, as the PX-S6000 already works nicely right out of the box.
Connectivity
As a performance-focused instrument, the PX-S6000 includes a good selection of analog connection options on its rear panel.
The keyboard comes with two headphone jacks on the front of the unit, adjacent to the keys. The top connection is a Mini TRS jack, whereas the bottom uses a 1/4″ TRS connector.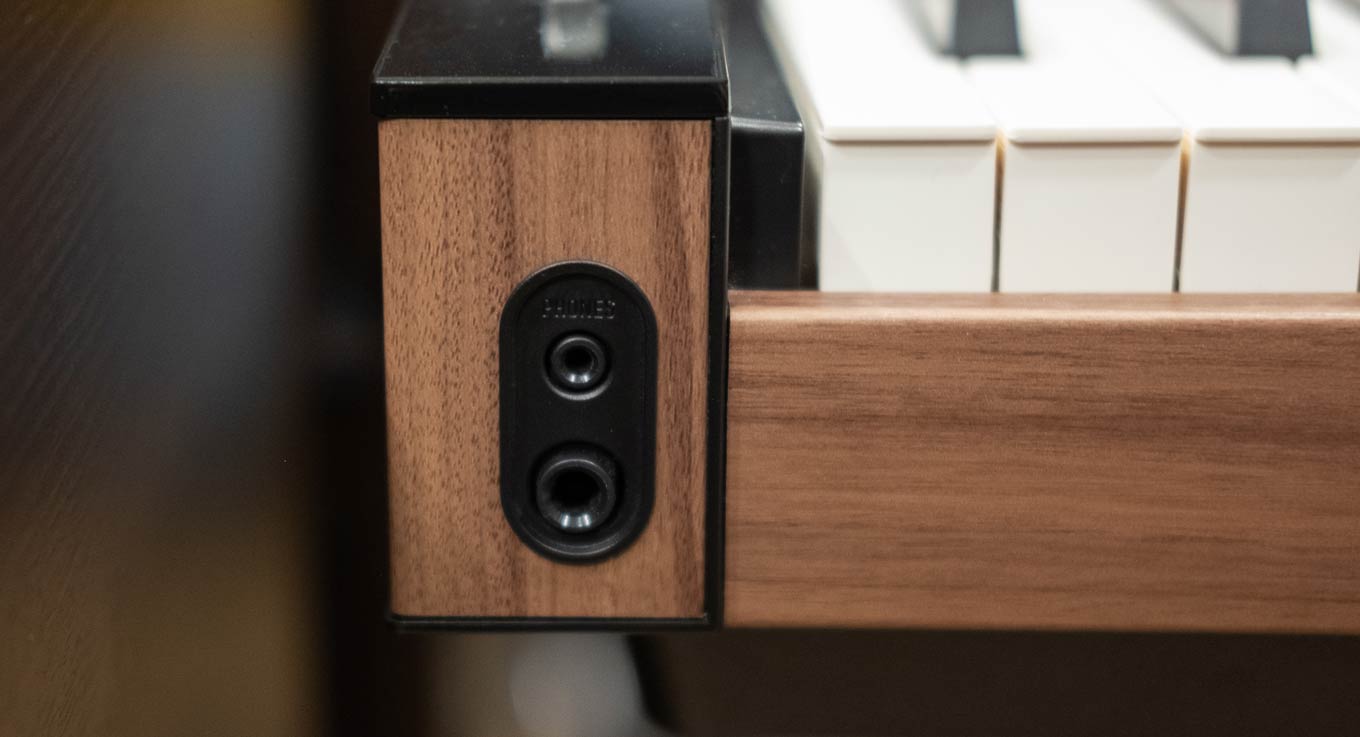 For external amplifiers or speakers, the PX-S6000 provides stereo 1/4″ line outputs, with support for mono-outs as well. It would have been nice to get balanced XLR outs, but that's something easily remedied with an external DI box.
Damper pedal and expression pedal jacks are also available. Polarity can also be changed in the onboard settings menu, ensuring support for most standard pedals.
A 'pedal unit' jack allows the PX-S6000 to connect to supported triple pedal setups like the SP-34. This only supports Casio's proprietary connector, so triple-pedal setups from other brands likely won't work.
For mic inputs, there is a mono TRS Mic In jack, which should work with most dynamic microphones you can find.
The USB Type A port is primarily used for Bluetooth connectivity via the WU-BT10 adapter. However, it can also be used for USB flash drives, allowing for storage of recorded songs.
Finally, there is the USB Type B port enabling interaction between the PX-S6000 and a host device, such as a PC. This allows the PX-S6000 to act as a MIDI controller.
All in all, the PX-S6000 has all you need for home and gigging use. While I'd like to have additional options like a built-in USB Audio Interface and balanced XLR outs, these are easily remedied with external gear.
Accessories
The default PX-S6000 package comes with the following accessories:
Owner's manual
Music rest
WU-BT10 Bluetooth Adapter
SP-3 Switch Pedal
AC adaptor
The PX-S6000 comes with the bare minimum of what you'd need to start playing, but there are a few additional purchases that might help it better slot into its role as a gigging piano.
---
Pedal
The SP-3 switch pedal that comes with the PX-S6000 works, but only just. The basic feature set of this pedal means it lacks half-pedal support, and the shape is also less than ideal.
I strongly recommend getting an alternative pedal that takes full advantage of the PX-S6000's feature set.
Casio's SP20 is a decent single-pedal option, though I find it a bit too light while also lacking half-pedal support.
Casio recommends the SP-34 as an option, which is a triple-pedal setup designed for other products in the PX-S lineup. For its compact size, it does work surprisingly well.
However, most people might not require the soft and sostenuto pedals of the SP-34, which end up becoming additional bulk.
Thankfully, the PX-S6000 supports most generic damper pedals on the market. Thus, I'd recommend Korg's DS-1H, a workhorse pedal that has served me well over the years while also matching the PX-S6000's form factor thanks to its smaller footprint.
---
Stand
Casio recommends getting the CS-90P stand as a separate purchase. This is quite similar to the PX-S7000's gorgeous stand, which we praised in our prior review.
If you intend on using the PX-S6000 as a stationary, furniture-style digital piano, this is well worth the purchase.
However, the CS-90P is rather heavy, which makes portability a concern for gigging musicians.
Instead, performers might want to look into these conventional suggestions focusing on portability. The PX-S6000's small size means it can easily work well with most stands on the market.
---
Headphones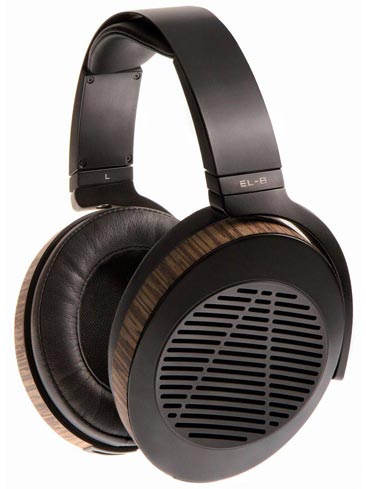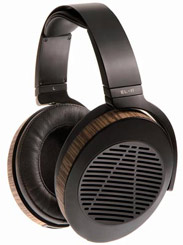 Headphones come in handy when you want to practice in private, focusing solely on your playing and not disturbing others nearby.
Moreover, a good pair of headphones will provide a clearer and more detailed sound compared to the onboard speakers.
Check out this guide to learn how to choose the best-sounding headphones for your keyboard.
Summary
Pros
PX-S series' signature portability-focused design
Intuitive control scheme perfect for gigging musician
Excellent piano and key-based sounds
In-depth effects section (surpassing the PX-S7000!)
Cons
PX-S key action might not be for everyone
Not as in-depth as dedicated stage pianos
---
The PX-S6000 is a digital piano that is intuitive, looks gorgeous, and most importantly, sounds good. Despite its name and price point, it also manages to avoid feeling like a downgrade to the excellent PX-S7000.
You are losing the PX-S7000's high-end New York and German Hamburg concert grand samples, but you are getting some excellent live performance features in exchange.
In this respect, the PX-S6000 actually manages to exceed the PX-S7000, offering gigging musicians more customizability than you'd get from conventional digital pianos, encroaching on the territory of gig-focused stage pianos.
As a musician who really enjoys tweakability and live-performance features, going to the PX-S6000 from the PX-S7000 felt liberating. I found myself using the F-button sets and the expression knobs a lot more, adding an additional dimension of creativity to performances.
However, I don't think the PX-S6000 will be replacing our go-to stage piano recommendations just yet.
Casio's scaled key action will still have its detractors, as its shorter pivot length might be a deal breaker for some. Similarly, the capacitive touch buttons might not inspire the same confidence as other instruments with tactile physical knobs.
Finally, the connectivity options feel a bit limited, lacking built-in non-dongle Bluetooth and USB Audio. With all that said, none of these gripes take away from the PX-S6000's capabilities.
The only potential deal breaker is the divisive key action, so I'd strongly advise trying these keys out in-person (or making use of online retailers' generous return policies), just to be sure that these keys work for you specifically.
While it might not have the same capabilities as laser-focused instruments that cater to a specific use-case, it still manages to impress as a jack of all trades.
Alternatives
Casio PX-S6000 vs  Kawai ES920 (Full Review)

The Kawai ES920 is a similarly priced alternative for people interested in the PX-S6000's capabilities as a digital piano specifically, namely in terms of being a concert grand emulation.
While the ES920 can't necessarily compete with the PX-S6000 in terms of portability, it does make good use of its added bulk and size.
Kawai's RH3 key action is used here, and it definitely takes the win in terms of feel, despite its fully-plastic construction.
The larger breadth of the instrument means there are no compromises in pivot length here, and Kawai's inclusion of escapement and counterweights help give the RH3 a more realistic feel during play.
There is also Kawai's signature SK-EX concert grand preset, powered by their Harmonic Imaging XL (HI-XL) sound engine.
These sounds are recordings from Kawai's signature Shigeru Kawai instruments, and it's easily one of my favorite piano samples available on the market.
When you combine the keys, the sounds, and the well-tuned 20W speakers, the ES920 delivers a beautifully authentic piano playing experience which the PX-S6000 just can't keep up with.
The tradeoff here is the lack of variety. While the SK-EX samples are standouts, the rest of the ES920's anemic 38 sounds just don't share the same level of quality. In terms of variety and customization, the ES920 is no match for the PX-S6000.
Regardless, the ES920 does serve its purpose as a gorgeous-sounding digital piano, which might just be enough if you don't need the bells and whistles that the PX-S6000 is offering.
---
Casio PX-S6000 vs  Roland RD-88 (Full Review)

Roland's RD-88 is an alternative that I'd recommend for people who like the idea of the PX-S6000's performance capabilities.
If you want an instrument for stage use, it makes sense to look into a dedicated stage piano, and the RD-88 is one of the more popular options, due to its more affordable price point.
Similarly, the PHA-4 Standard key action is one of the most well-liked key actions at the budget price point thanks to its authenticity and realism.
The RD-88 also does not disappoint in terms of versatility. Over 3000 presets are available, and Roland's pedigree in electronic instruments shines through with the general quality of the presets, even non-piano sounds.
Combined with the in-depth effects section, there's a lot of room for sound sculpting.
With that said, not all is good in terms of the user interface. While controlling the RD-88 during performances feels straightforward and intuitive, getting to that point isn't easy.
The sound design process on the RD-88 is legitimately painful, primarily due to the lack of an encoder knob, forcing you to navigate via arrow keys. This makes sound design and fine-tuning a huge pain, requiring a large initial time investment during pre-show prep.
Also, while Roland's sound set generally delivers excellent quality, their pianos (powered by the SuperNATURAL engine) are a bit less detailed when matched up against other manufacturers. I find SuperNATURAL pianos to be a bit dry and prefer Casio's Hamburg samples.
However, if you're willing to work around these issues, the RD-88 will not disappoint. This is a very capable stage piano in the right hands and will certainly be enough to satisfy all but the most demanding sound designers.