If you've spent any amount of time on our website, you'll probably know that we love Roland instruments. In particular, their digital pianos are top-notch, and their FP-30 and RD-2000 both exceeded our expectations in their respective reviews.
With the recent announcements at NAMM 2020, Roland unveiled a few new products. While we're excited about the Jupiter-X line and new Fantoms, the RD-88 is arguably the most exciting newcomer.
In case you haven't read our review on the RD-2000, the RD line is Roland's performance-focused stage piano line of products.
The series first premiered way back in 1986, and has had an on-and-off release schedule since then.
Stage pianos are tough to evaluate, as their target demographic is wide. For example, the RD-2000 was up our alley, especially with its wide palette of available sounds, and crazy customizability.
However, the same flexibility comes at a cost. The user interface feels cluttered, and you'll need to go through a lot of work to get your ideal sounds.
Not to mention the cost, the RD-2000 wasn't cheap. Even established gigging musicians would find it hard to shell out that much for an (admittedly powerful) instrument.
The new RD-88 takes the stage piano design ethos in a more affordable direction, and we're here to find out if the compromises are truly worth it.
Roland RD-88 Specs
88 full-size fully weighed keys
PHA-4 Standard Keyboard: with Escapement and Ivory Feel
Sound Engines: ZEN-Core, SuperNATURAL Piano, SuperNATURAL Electric Piano
Presets: Over 3000
Internal Memory : 400 scenes
Effects: Chorus, Compressor, Delay, Reverb, EQ, Sympathetic Resonance
Modes: Layer and Split
Rhythm Pattern, Song Player, DAW control
2 x assignable wheels, 8 x assignable knobs, master volume knob
Speakers: 2 x 12 cm woofers, 2 x 2 cm" tweeters (6W +6W)
Connections: MIDI Out port, USB to Host port (MIDI/Audio suppot), USB Memory (type A) port, Headphone jack (1/4″), Output jacks 1/4″ (L/Mono, R), Mic In jack (1/4″), Line In jack (1/8″), Pedal (Damper, FC1, FC2) jacks
W x D x H: 50.6" x 10.2" x 6.3" (128.4 x 25.8 x 15.9 cm)
29.8 lbs (13.5 kg)
Release Date: March 2020
Full specs can be found on Roland's official site here
Check the availability and current price of the Roland RD-88 in your region:
Design
Personally, I'm not a fan of the RD-88's design. This doesn't mean it's bad though, it just doesn't fit in with my personal tastes.
In the looks department, the RD-88 looks weirdly cheap. I usually don't mind matte black surfaces, but the uniform palate on the RD-88 somehow feels a little bit off.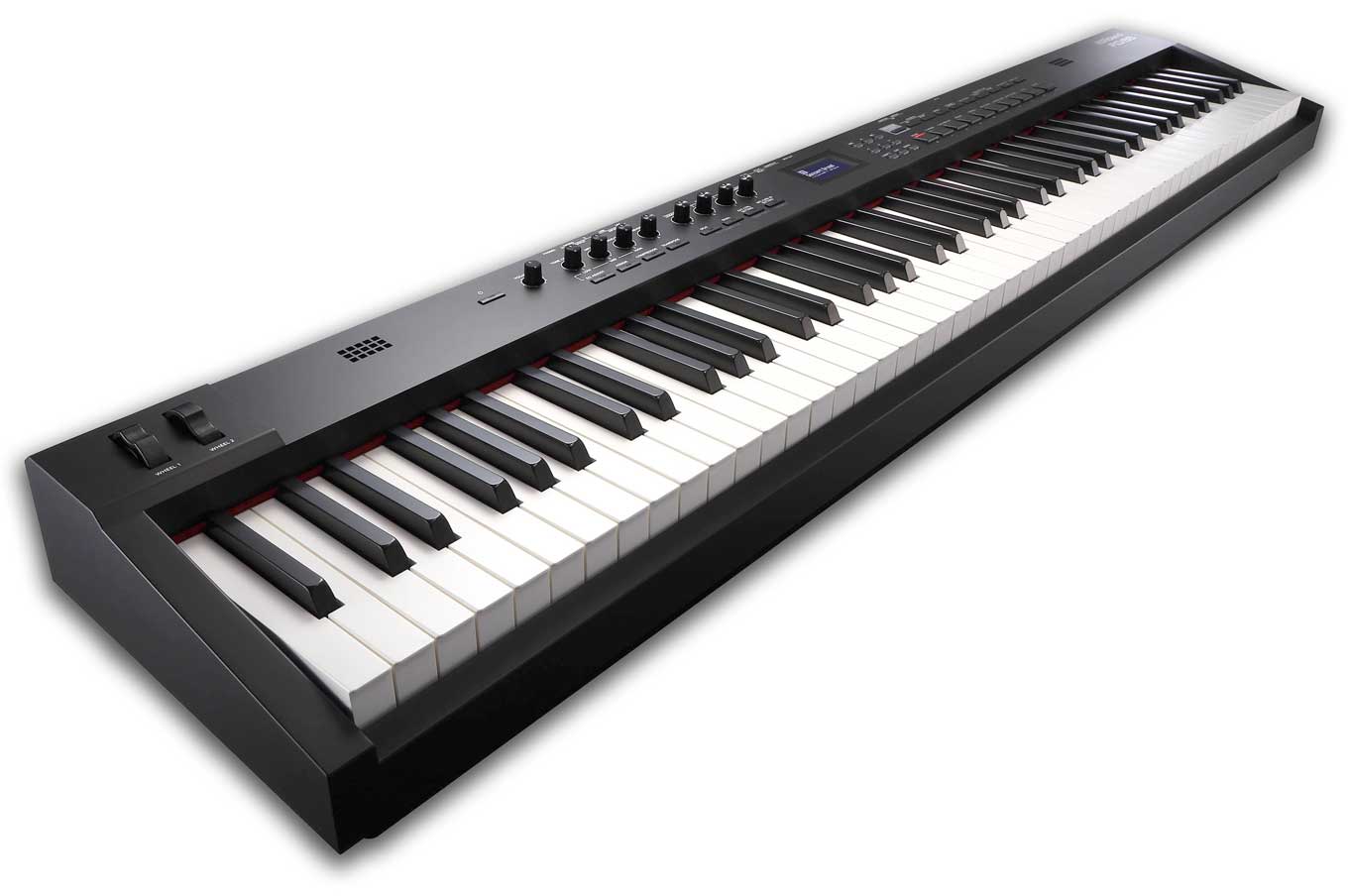 I'll excuse this subjective flaw because of the price, but I really don't consider the RD-88 a 'looker'. For what it's worth, you'll avoid the common problem of fingerprints.
That's not to say its badly built though. Roland's usual eye for quality is retained here, and I'm happy with the RD-88's durability. From what I can tell, this is an instrument that will stand the test of time.
One of the big selling points of the RD-88 is its slim profile and relatively lighter weight. Stage pianos are generally less heavy than digital pianos geared towards home-based use, and that's mainly due to the omission of heavy components such as speakers.
However, most stage pianos aren't exactly easy on your spine, going as high as 44 lbs (20 kg) in some cases. This is a threshold the RD-88 manages to avoid quite handily.
For reference, the RD-88 weighs a comfortable 29.7 lbs (13.5 kg), and has a slimmer profile of 50.6″ (W) x 10.2″ (D) x 6.3″ (H).
This is even more impressive when you consider that Roland includes stereo 6W speakers on this instrument.
Having speakers isn't necessary, as you'll be using external amplifiers or speakers during performances, but it's very helpful if you want a convenient way to audition sounds at home. That's something that was absent on the RD-2000.
I am quite happy with the portability factor of the RD-88. This isn't the first time we see slim form factor keyboards (see our Casio PX-S3000 review to see an extreme example with a custom keybed), but the RD-88 achieves all of this without sacrificing playability and functionality, so props to Roland on that.
Let's talk about the controls of the RD-88, buttons and knobs are the main medium of interaction with the internals, and as you'd expect from Roland, they feel great.
Knobs have a decent bit of resistance, allowing precise changes to be made, and buttons have a tactile feel to them with a slight click off each press.
I am quite pleased with the monochrome screen. It's primarily black and white, but there's enough contrast to ensure that you'll always see what you need even on stage. I do have my gripes about its size, but it manages to show a good amount of information without feeling overly cramped.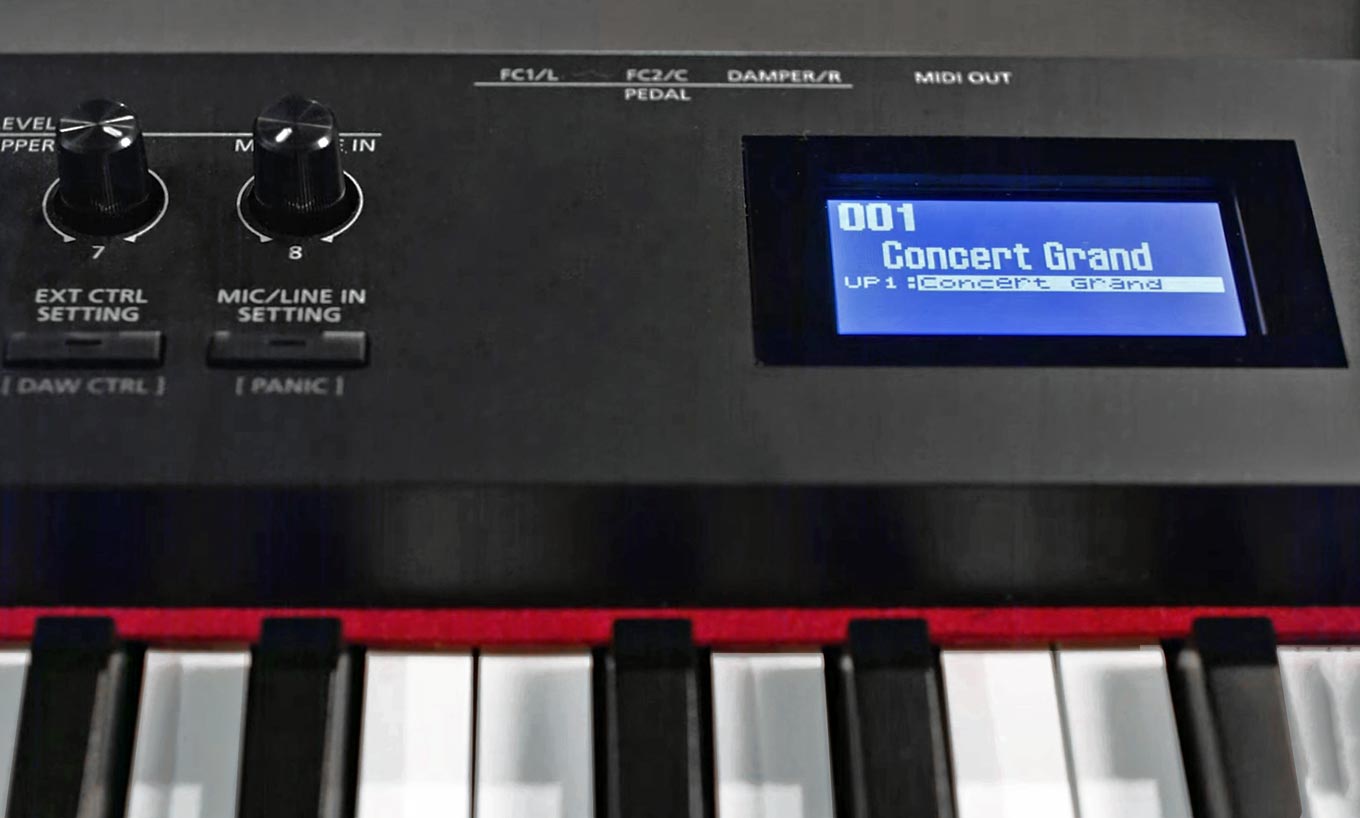 The knobs and buttons also have a good bit of separation between them. If you've read our previous reviews, you'll know that we found the controls on Roland's RD-2000 and Juno-DS to be somewhat cramped, and I'm glad that the RD-88 avoids that pitfall.
What does concern me is the control scheme itself. Normally, stage pianos use large encoder knobs for sound switching and navigation, which is efficient and convenient.
We just recently reviewed the Juno-DS, which is another budget performance-focused keyboard from Roland, and that showcased how good user interface design goes a long way.
With that said, I do want to note that switching through sounds isn't too hard, and you can quite easily get used to things, especially since sounds are split into categories specific to different labeled buttons. It is annoying to constantly hit the down button to move through large categories, but you can get used to it.
The problem is if you're someone who likes to tweak parameters. We loved the RD-2000 for its in-depth editing options, and the same capabilities are also here (albeit in slightly less fully featured forms).
Moving through sound and effect parameters using the arrow buttons is painful, and I personally hate using the DEC and INC (decrease and increase) buttons to make large valued changes.
Does this make the RD-88 unusable? Absolutely not, but it is something that greatly affected my enjoyment.
Stage pianos are generally just used after doing the set up behind the scenes, meaning your required sounds are already saved as easily accessible presets.
If you're willing to go through the hassle early on, you should be fine. It just hurts that an older, cheaper instrument from the same company (the Juno-DS) does things so much better.
Finally, there is a pitch and modwheel combination located at the upper left of the keyboard. Both of these are a little on the small side, but they feel solid and play really well.
I personally prefer having these controls to the direct left of the keys, but I understand that Roland made this change to accommodate the shorter design.
Keyboard
The RD-88 uses Roland's PHA-4 Standard action, which is the same action found on Roland's popular FP-10 and FP-30 digital pianos.
Those are great budget-friendly options for beginners, and the FP-30 even made it onto our list of top digital pianos under $700 thanks to its great keys.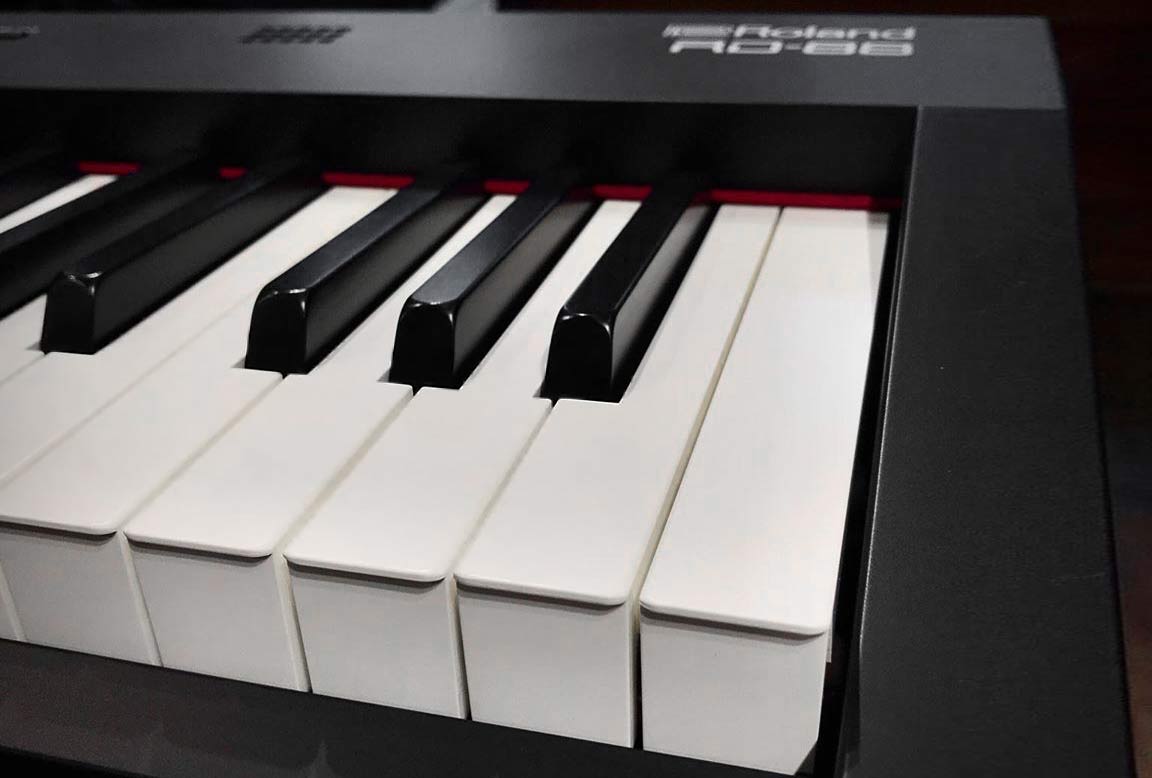 For reference, the RD-2000 uses the PHA-50 hybrid wooden action, which I personally really liked for its versatility and feel. In contrast, the PHA-4 Standard action is purely plastic, but that doesn't negatively affect its feel too much.
Even though I wouldn't call the RD-88 a 'budget' digital piano, the keys are still perfectly acceptable here.
In our personal rankings, the PHA-4 Standard is one of the most realistic plastic key actions, being in line with Kawai's RHC/RHCII and Korg's RH3 action.
The PHA-4 Standard keys might be plastic, but they are made to feel like ivory keys with a bit of coating. The realism factor comes from the weight you feel behind each keypress, which is something other budget key actions fail to recreate.
The name 'Progressive Hammer Action' (PHA) also means that the keys are graded. Keys on the lower end are heavier than those on the upper registers, which further adds to the realism.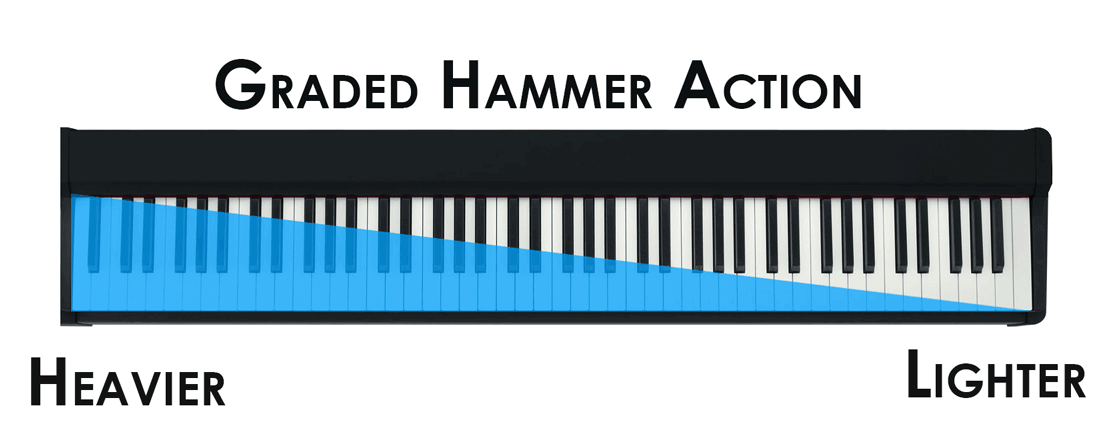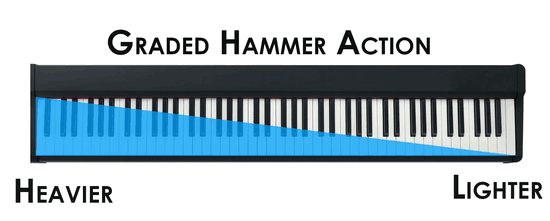 There's even escapement modeling on these keys. This emulates the subtle notch felt when you gently press the keys on an acoustic piano.
Normally, I'd consider the PHA-4 Standard action to be an easy choice, especially in the budget category. However, we should also consider the pricing of the RD-88.
While there are other choices I'd consider, most stage piano fail to hit the sub-$1500 price point. For around $600 more, you can get the Korg SV2-73, which has Korg's excellent RH3 action at the cost of a full-range 88-key keyboard.
Then, there's also the Korg D1, which takes an even more minimalist approach, delivering good keys and sounds.
One thing worth noting is that the PHA-4 Standard action is one of the heavier key actions, though it isn't as extreme as Yamaha's digital pianos.
This means you might struggle to play synthesizer and organ parts at first, though you can get used to it with time. Fast note repetitions and trills are also not as easily played compared to some lighter key actions.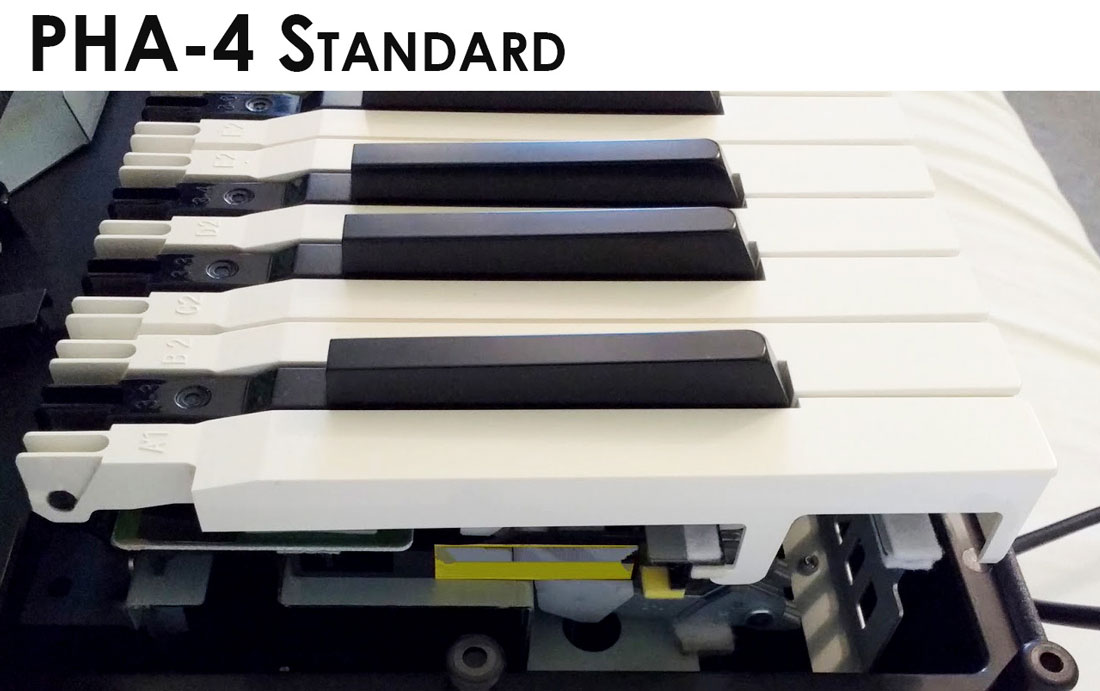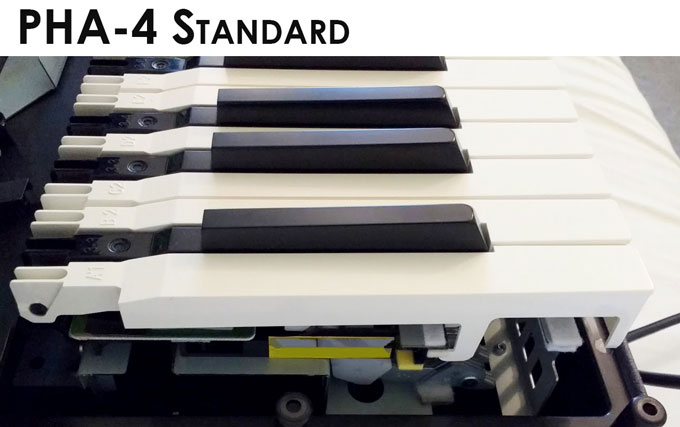 Overall, the PHA-4 Standard key action is just straight up solid, and it's one of the strong suits of the RD-88.
However, it's worth noting that you should not buy the RD-88 solely because the keys feel good. The same keys are available on cheaper options, such as the Roland FP-30. The FP-30 is geared around home-use, but it has the same keys, and still comes with some great built-in sounds.
Sound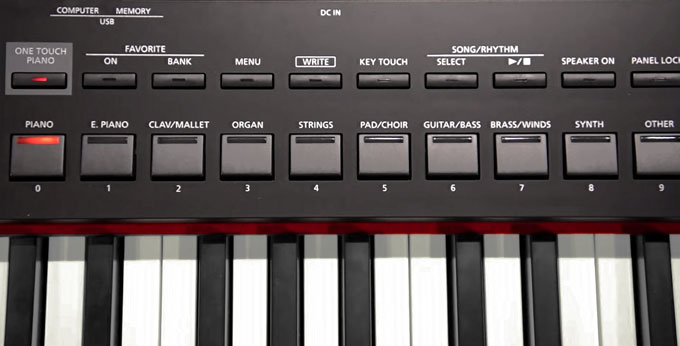 The RD-series' main selling point was always the sounds, and I am still very impressed by the RD-2000's excellent combination of the V-Piano and SuperNATURAL sound engines.
The RD-88, unfortunately, does not include the V-Piano pure modeling engine, which is a slight disappointment to me.
However, it makes up for that with Roland's new ZEN-Core sound engine, which powers the synthesizer sounds on Roland's newer instruments.
If you're not convinced, the same sound engines power Roland's newest flagship Fantom workstations which shows Roland's confidence.
I'll cover the sounds through each category, and highlight some of my personal favorites.
---
Pianos
Before my own tests, I watched a few online videos to get a feel of how the pianos sounded on the RD-88, and I was ready to be disappointed, but my worries were unfounded.
A lot of the sounds are very dry and have little to no reverb applied. This makes them sound overly bright and thin, which is as far from the ideal piano sound as you can get. The built-in speakers are also unable to recreate the wide frequency range of the pianos.
In reality, dialing in a bit of reverb makes these pianos sound a lot better. I will admit that I'm not a massive fan of the SuperNATURAL piano's brighter edge, but having these higher frequencies mean your playing can more easily cut through a band mix, allowing your playing to stand out more.
Do note that sympathetic resonance can be simulated as well, though this exists as an effect. This simulates how strings react when the damper pedal is pressed down.
For example, when you play a certain key, strings nearby may also vibrate, ringing out. You can also dial in how intense this effect is, as well as the timing of said resonances.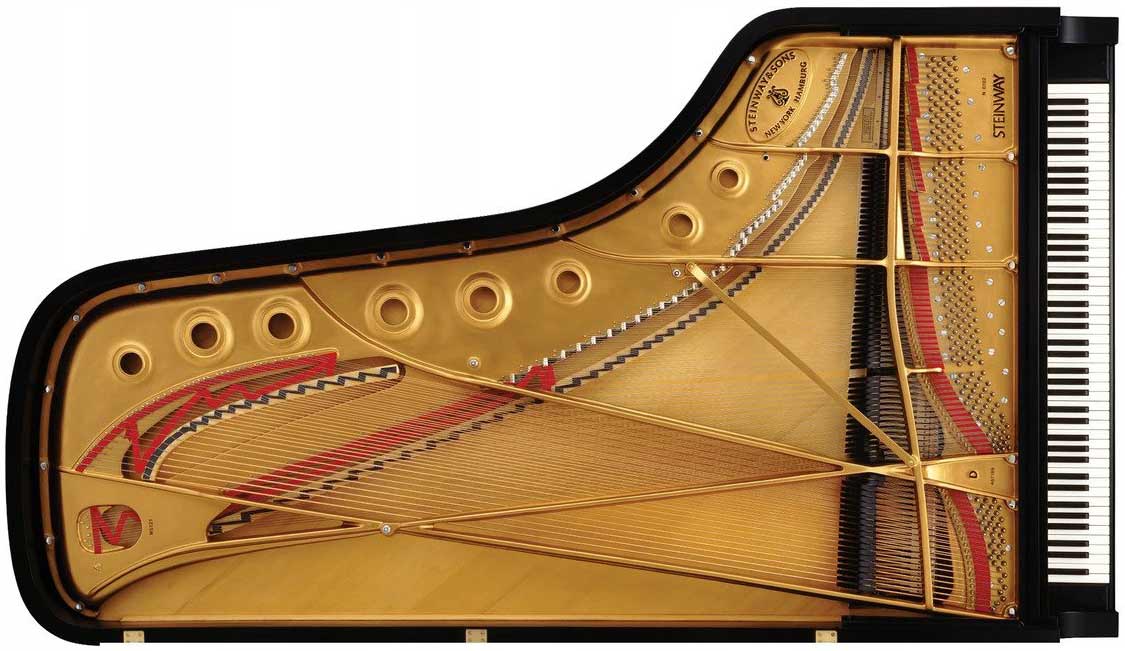 I would describe the default concert grand preset to be like a Yamaha C-series sampled with close mics, which doesn't give it a flattering, large scale sound.
You absolutely need to dial in some reverb, or things end up sounding unnatural, almost as if you were playing inside a soundproof room with no reflections.
You'll likely be sticking with the default preset for most use cases, but do give the other sounds in this category a try. Some presets, such as the E. Grand, provide variations to the typical sound palate, and worth trying out.
For tweakers, you might be disappointed with the lack of Roland's Piano Designer, which allows you to tweak the modeled piano sounds in-depth, but I don't mind things too much.
Stage pianos are geared around versatility, and the included piano sounds already give a good amount of flexibility.
---
E. Pianos
Electric pianos are one of Roland's strong suit, and the same can be said for the RD-88. Most digital pianos pull off convincing recreations of the two quintessential electric pianos, the Fender Rhodes and the Wurlitzers, and the RD-88 is no different.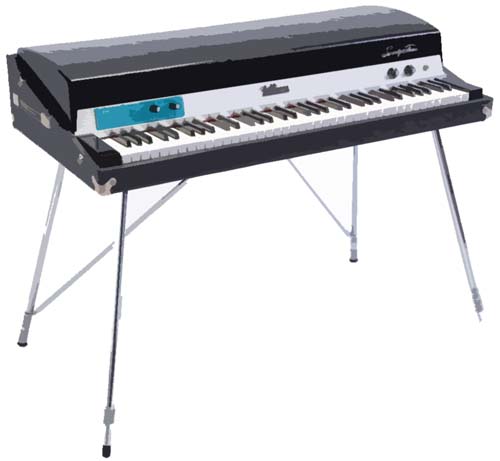 As someone who enjoys Wurlys, I like the Wurlitzer presets, specifically the Tremlolo Wurly (though I don't like needing to scroll through so much to get there).
Reed-based electric pianos have a distinct, dynamic bite to them, and Roland captures these nuances nicely through their samples.
Naturally, the Rhodes presets (marked under Reed) are also good. I personally still prefer Yamaha's Rhodes samples, and I haven't yet found anything that captures both the soft, muted tones at low playing intensities, as well as the biting heaviness at the high end. The RD-88's reeds are a bit too heavy for my tastes.
Note that some of the electric piano presets have modifiable key noise and tone controls. This is one of the pros of using SuperNATURAL modeling, and I always welcome extra customizability.
Finally, there are also synthesized pianos in this category. The 1975 presets seem to be a classic Yamaha CP keyboard, and the FM EP is the classic DX7 sound that defined 1980s pop.
These are standard inclusions in most keyboards, and having them means you'll be able to handle most songs regardless of time period. Try adding a bit of chorus for some extra width.
---
Clav/Mallets
The mallet sounds include the usual suspects, such as harpsichords, xylophones, celeste, steel drums and so on. These sound alright, so you'll have your flexibility.
Even the basic presets are great, allowing you to add custom effects through the MFX section. You can customize your amps, filters and so on.
The presets also react well to different playing intensities, giving off the classic bite with heavier playing. If you need clavs on the cheap, the RD-88 has you covered.
---
Organs
The organs are another highlight of the Roland RD-88. This might seem like a strange statement, especially on a keyboard that lacks physical drawbars, but hear me out.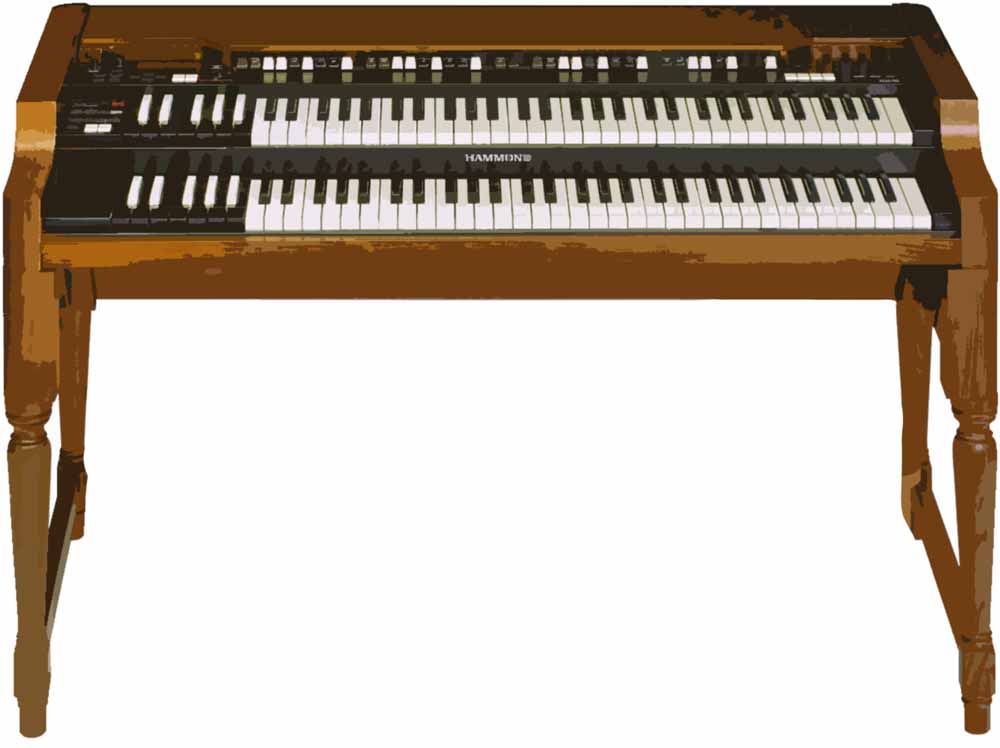 I've been disappointed by so many digital piano's organ presets due to the lack of variable rotary speakers speeds, and the RD-88 dodges this problem beautifully.
One of the knobs turns into a rotary speaker speed control, and it's just really easy to use.
The knob also has a unique speed curve, where faster speeds are limited to the upper limit of the knob, allowing you to further emphasize crescendos, while also giving you detailed speed options at the lower end.
Some organ sounds also feature drawbar editing, albeit at a very limited degree, which is still nice to have. I just wish that the same amount of customization was available over all presets.
In general, I was quite happy with the organ sounds.
---
Strings
Strings are self-explanatory, and you should be perfectly fine with what's included. Most of the included strings sound lush and wide, which is to be expected.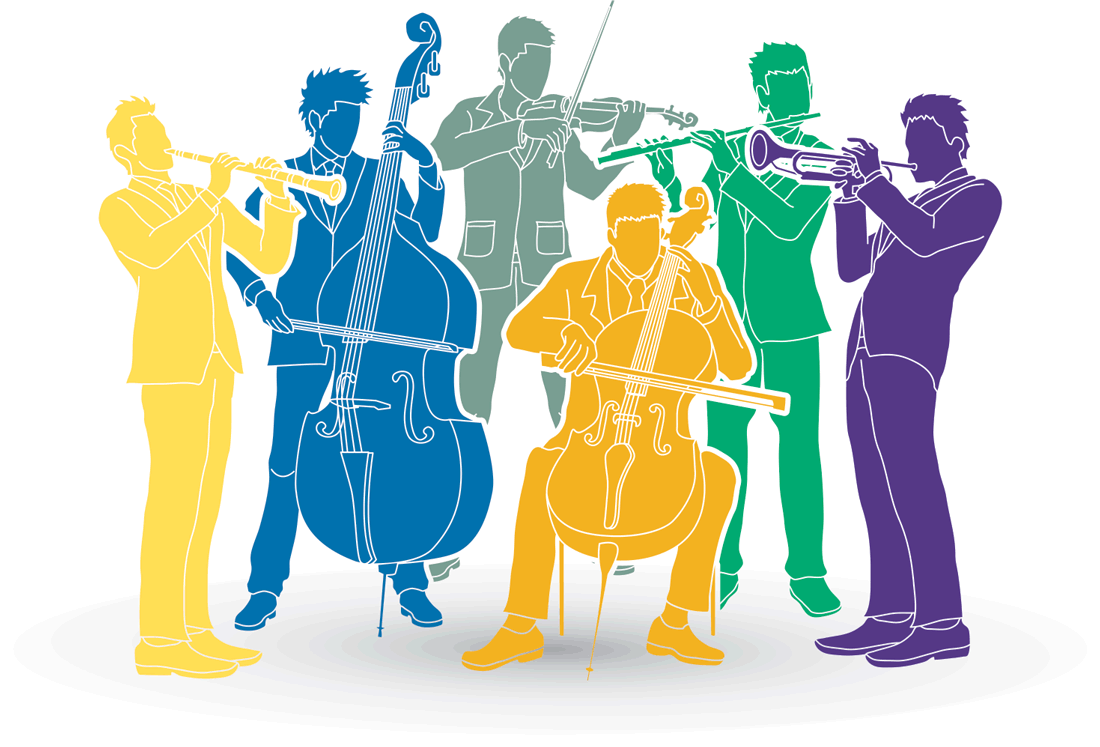 The earlier entries in this category are variations on a full string orchestra and can be used to fill out space in any song.
The latter half includes synthesized strings, and these are more interesting, at least in my opinion.
It is not stated whether the synth strings are synthesized through the Zen-Core sound engine, so I'll refrain from commenting too much. Just know that what's here is good.
---
Pads/Choirs
Let's talk about the choirs first. I find these unrealistic, and would probably never use these in a performance, but that can be said for practically every choir preset out there.
Choirs are much more complex than simple samples, and I'd recommend checking out software solutions if you need to have choirs.
As briefly discussed above, pads are one of Roland's strong suits, and there are a few good presets here, such as the default Soft Pad, which gives a very subtle but beautiful bed for other instruments to build upon.
Roland is pushing their Zen-Core engine so hard, but I'll wait to see if extra presets come in the future. At the very least, the included presets right now sound great, and I'm eager to see how things develop from here.
---
Guitars/Basses
I generally dislike keyboard-based guitars, and I think anyone who plays the guitar will agree. However, with a bit of practice and understanding, keyboardists can play 'guitars' quite convincingly.
I find that Roland's electric guitars are generally quite good, especially if you play whilst taking into account how real guitars have limits. The MFX section also allows you to customize your sounds further through amplifiers and effects too.


While none of the included sounds (which feature everything from nylon strings to electric) will replace your band's real guitarist, they can work well enough for a few one-off sections in songs.
On the other hand, the basses include both electric basses and synthesized basses.
The electric basses cover different articulations and are generally quite good. If you want to do the classic bass/keyboard split, this has you covered.
Roland makes some of the most coveted synthesizers out there, and I'm glad that their heritage is reflected in this category as well.
---
Brass/Winds
The Brass presets are good, and feature sounds that include great brass stabs that make playing very dynamic.
For some presets, velocity sensitivity doesn't just modify volume, hitting down on the keys hard triggers a staccato brass stab.
Synth brass sounds are also included, and include a lot of rich presets that nail the detuned feel from older records. I personally love the JP8 Brass preset, which aims to recreate the classic Jupiter 8 preset heard on countless records back in the day.
Wind instruments are okay. These are sampled acoustic instruments, and feature flutes, saxophones, and so on. I'm indifferent to most of the sounds under this sub-category, but if you need these sounds, they're there.
---
Synths (Zen-Core)
The RD-88, alongside the Jupiter X and new MC grooveboxes, have their new Zen-Core sound engine marketed quite heavily, and the sounds here are quite good, ranging from lush analog sounds to clean EDM-focused synth sounds for dance music.
In theory, the Zen-Core engine will be shared across many different Roland instruments, and you can, in theory, import sounds from one instrument to another.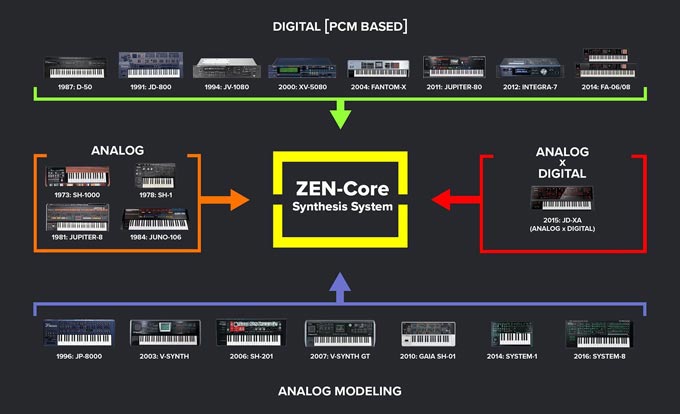 This isn't something I could test, but Roland does claim that you could design sounds on the Jupiter X synthesizer, and import it onto the RD-88.
The included synth library is quite massive, especially since there's the promise of this being expandable.
There are a ton of great sounds that capture the sensibilities of electronic music from different times, and I highly recommend giving this category a run through if you need some synthesizer sounds for your performances.
I think it is to be expected that this library will get further expanded, as most of Roland's instruments have expandable sound libraries through their Axial online sound repository.
Though, I am excited by the prospect of sound sharing. Most software synthesizers have communities providing an endless stream of custom presets, and it'll be interesting to see how the Zen-Core ecosystem shapes up.
As it stands, I'm happy with the built-in synth sounds, and I'm eager to see what comes next.
---
Conclusion on Sounds
The RD-88 has a good number of sounds, and most of them are good options for performers and studio musicians alike. While there isn't a lot of customization to be had, I'm still perfectly content with what's available.
If I had to nitpick, I would wish that sounds all shared similar modifiable controls. It's not made obvious which organ sound has a modifiable rotary speaker, and which electric piano has key noise controls.
Even the manual doesn't cover this, so you'll need to explore these on your own time.
I also dislike the controls which are quite annoying in use, but I've already covered that, and I'll excuse it on one basis.
Considering this is one of the cheaper stage pianos that don't sacrifice much in terms of keys and sound quality, I'm willing to accept a few compromises here and there.
---
Speakers
The dual front-facing 6W speakers are a nice bonus, and I can see myself using these for practicing at home, but they're a bit thin for my tastes, and might not be able to recreate most of the frequencies of the richer sounds, such as synthesizers and electric pianos.
Either way, these aren't the main draw of a stage piano, and as such, I won't complain too much. I am glad that Roland managed to cram speakers into the package without adding too much extra bulk though, so props for that.
---
Effects
Most of the effects here can be activated or modified through the menu screen, and you can send sounds to each effect through the dedicated send knobs.
---
Reverb
Reverbs come in the form of 7 different units, including emulations of both hardware and software. These units each have different algorithms to choose from.
For example, the SRV-2000 emulation has algorithms ranging from room to halls and plates, and the Integra7 reverb has 5 different algorithms.
The SRV-2000 emulation attempts to model Roland's classic SRV digital reverb hardware units, and the Integra7 reverb emulates the reverb effect from the Integra-7 rack-mounted sampler.
These were the main reverbs I toyed around with, but there are other units as well, such as the GM2 and GS reverb. Naturally, I particularly loved the hardware emulations and their simulated warmth.
---
Chorus (Delay)
The chorus section includes different variations of modeled choruses and delay units.
The chorus comes in 2 main variants, the default chorus the SDD-320 multi-mode chorus and the CE-1 BOSS pedal emulation.
These are all simple choruses with basic parameters, but they do sound great. I'm personally quite partial to the CE-1, which has a variable intensity.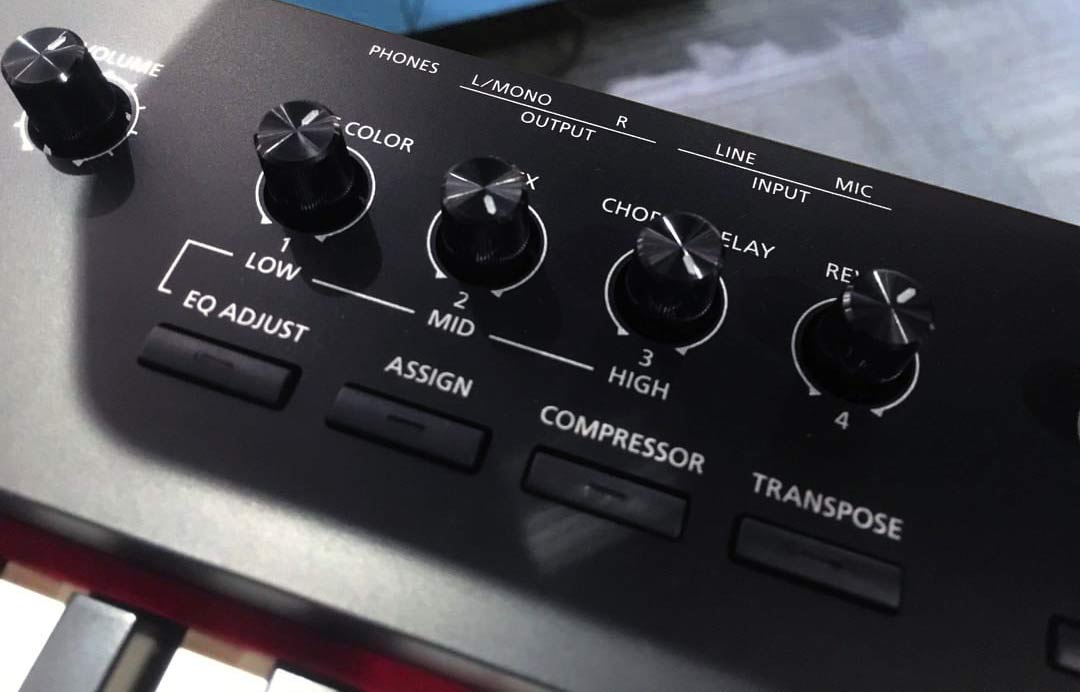 The delays include multiple different variations, ranging from simple linear delays to complex multi-tap delays. These have a lot more parameters to work with, such as feedback, damping, delay panning and so on.
Thankfully, the delays also come include time-sync and tempo-sync, which makes things much simpler.
While I do wish we could have both choruses and delays active simultaneously, I'm still happy enough with the degree of customization.
---
Equalizer Section
The built-in equalizer is a basic 3-band equalizer. The 3 bands each have a changeable frequency and gain (from -24 dB to +24 dB).
The mid band also has a modifiable Q-value, which changes the width of the bell-shaped curve.
This is a similar setup to most live mixers. While I do miss the highly customizable parametric EQ from the RD-2000, it's a compromise I can accept, especially since each layer can have its own custom EQ curve, which is always a plus.
Naturally, there is a Master EQ as well.
---
Compressor
The RD-88 has a dedicated compressor that affects the master output and acts as another method of controlling dynamics.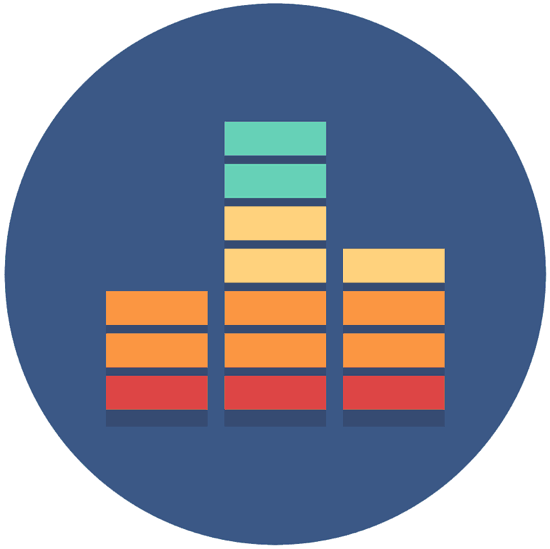 I personally use compressors a lot when working with sounds with different layers, as it ensures that peaking is avoided. The compressor doesn't have multiple algorithms like the RD-2000, but it's still impressively powerful.
It's a modern-style multiband compressor, which has 3 different bands with modifiable split points. Each different band then has a different compressor applied to each.
The compressors are also quite detailed, allowing you to modify the attack, release, threshold, knee, ratio and output.
However, I'll admit that I have some reservations about this. If all you need is a basic modifiable compressor, the extra fluff here might mean you spend a lot more time in the menus.
If you just need a single-band compressor, here's a trick. Set the two split points at the lowest and highest points respectively, and you 'cheat' by having the mid band be the only active compressor.
---
MFX and IFX
The modulation FX (MFX) and insert FX (IFX) sections are practically identical. The difference is where they lie in the effect chain.
The MFX only happens pre-chorus and delay, whereas the IFX happens right before the master EQ.
The main versatility of this section lies in the huge selection of effect types. This section contains just about everything, including recreations of vintage effects, filters, phasers, choruses, compression units, delay, bitcrushers, pitch shifters, and combinations.
You have a total of 73 to choose from, and they are all labeled helpfully to facilitate navigation.
Each different effect type has a different set of parameters to work with, and discussing them would make this review way too long, instead, I'll leave it up to you to dive into the crazy world of personalizing your own sounds.
For example, you can add a guitar amp sim to the clavs to add more bite to the sounds. Alternatively, you could add phasers, choruses or phasers to specific sounds to add further width to your sounds.
These effects are one of the highlights of Roland's stage pianos, and I'm glad that it's also included on the RD-88. While the controls make tailoring these effects slightly more convoluted than I'd like, it's still very much worth it.
---
Conclusions on Effects
The RD-88 is surprisingly fully featured when it comes to its effects. The different reverbs, delays and choruses are beautiful, and the different insert effects are also impressive.
You really can make sounds your own through experimentation, and I have to give props to Roland for what they've done.
The RD-88 even includes a lot of standard mixing options, such as a multi-band compressor and a 3-band equalizer. These allow you to further shape your sounds, or even control hard-to-tame frequencies.
Other Features
We've seen how versatile the RD-88 is in the sound department. Now, let's dive into the utility functions and performance-focused features of the RD-88.
---
Splitting and Layering
Both splitting and layering are key features for any performance-focused keyboard, and the RD-88 does this part really well.
Any configuration you have can be saved as a scene, which saves all your selected sounds and configured settings.
Each scene can consist of up to 3 sounds (2 sounds in one region and 1 on the other). This is simple, but it does handle most of your possible use cases.
Activating the split and dual (layer) mode is simple thanks to the dedicated buttons on the front panel.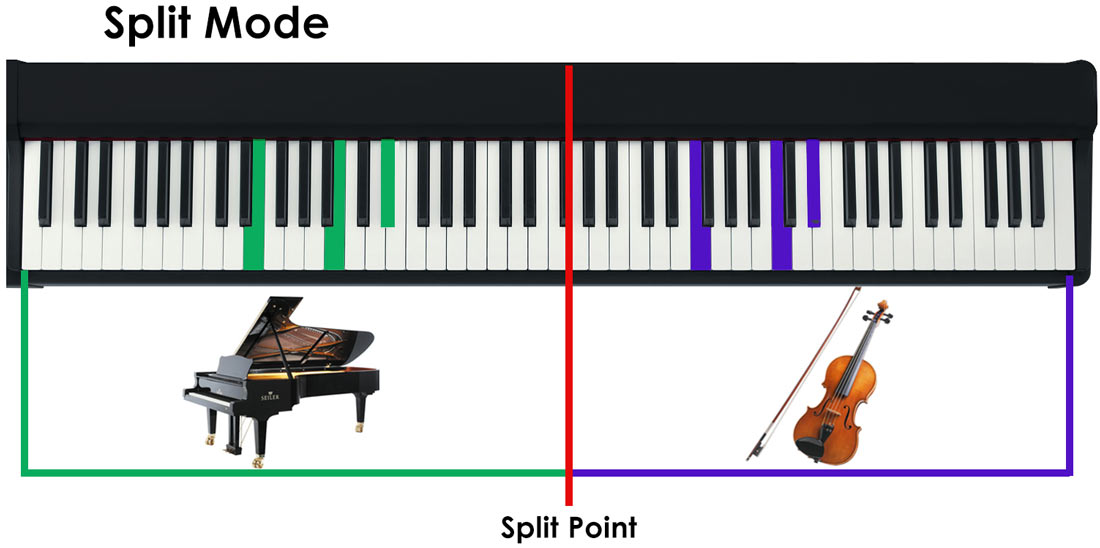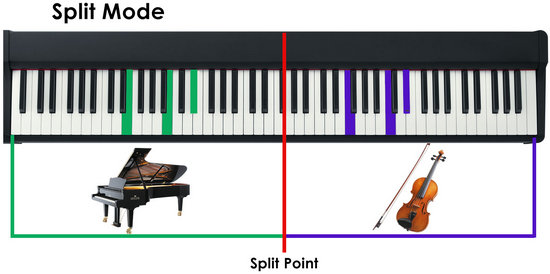 The screen handily shows you what sounds you currently have selected, and you can choose which section to modify using the navigation buttons.
You can also specify the split point by holding down the split button and hitting the new key which you want to act as the new split point.
You can also mix each section individually thanks to the independent equalizers and effect chains. The knobs can also be changed to act as volume knobs for each section, which is nice if you want to make some quick changes on stage.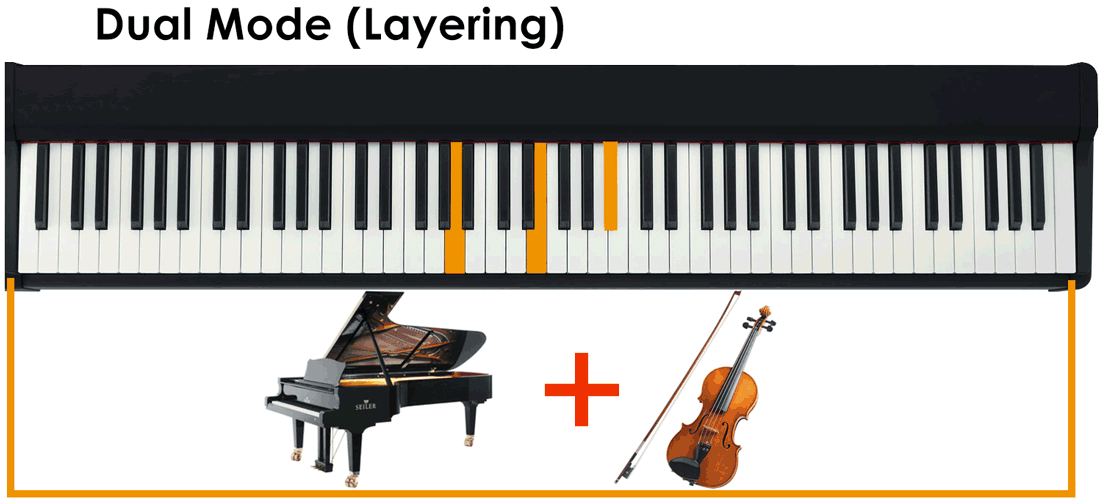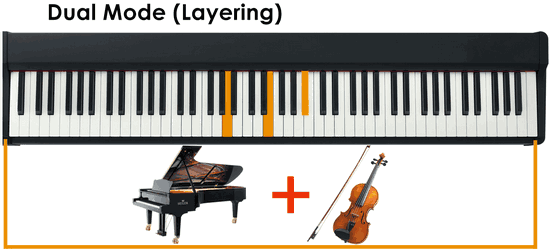 All in all, everything here is straightforward, and I managed to get my usual combination sounds without too much hassle.
It's also possible to have sounds from Apple's Mainstage software chosen as part of the scenes. We'll discuss this further in the upcoming sub-section, but Roland does claim that this is made to be as seamless as possible.
---
DAW Control
While Roland markets the RD-88's Mainstage integration heavily, you can still use the RD-88 with other DAWs.
While the integration isn't as simple with other DAWs, you can still assign the knobs and buttons to specific parameters using a simple MIDI Learn protocol.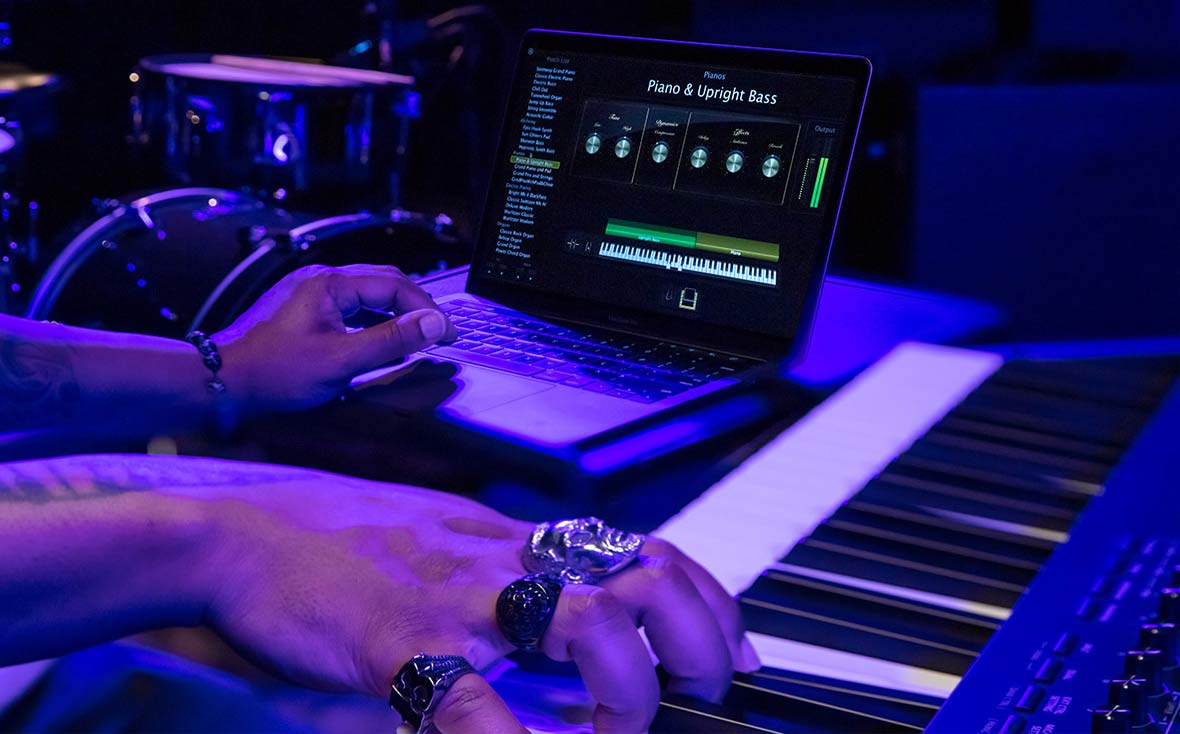 If you don't want to jump through the hoops of setting things up, the RD-88 also comes with a control profile for Apple's Logic Pro DAW as well.
I wish other DAWs, like the popular performance-focused Ableton Live, were included, but I managed to get my Ableton Live performance project to work without wasting too much time on the setup.
The RD-88 also has multiple MIDI output channels too, which enables you to do some creative routing if you're so inclined.
---
USB Audio Interface
USB MIDI is a typical inclusion on most keyboards, and that's the case for the RD-88 as well.
This is how you'll integrate laptop-based software into the RD-88's workflow, and all you need to do is install Roland's drivers, and things should work out easily.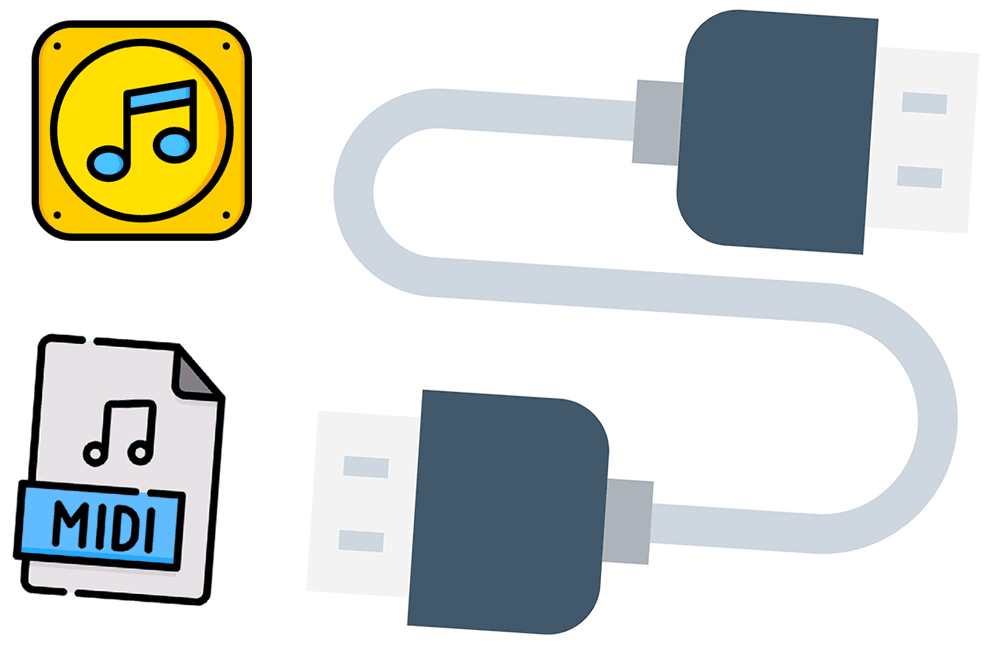 However, the RD-88 also comes with a built-in audio interface, and allows you to integrate external sounds into your performances.
I couldn't find any specifications about the bitrate or sample rate, but it's safe to assume that this is a 24-bit 192 kHz audio interface, like the one found on the RD-2000.
Naturally, you should attempt to utilize elements of DAW control (like MIDI CC assignment) to maximize your performance capabilities.
---
Mainstage Integration
I'll admit that I couldn't test this out, as I use a Windows laptop running Ableton Live as my gigging machine. However, what I've seen shows that the integration is really tight knit.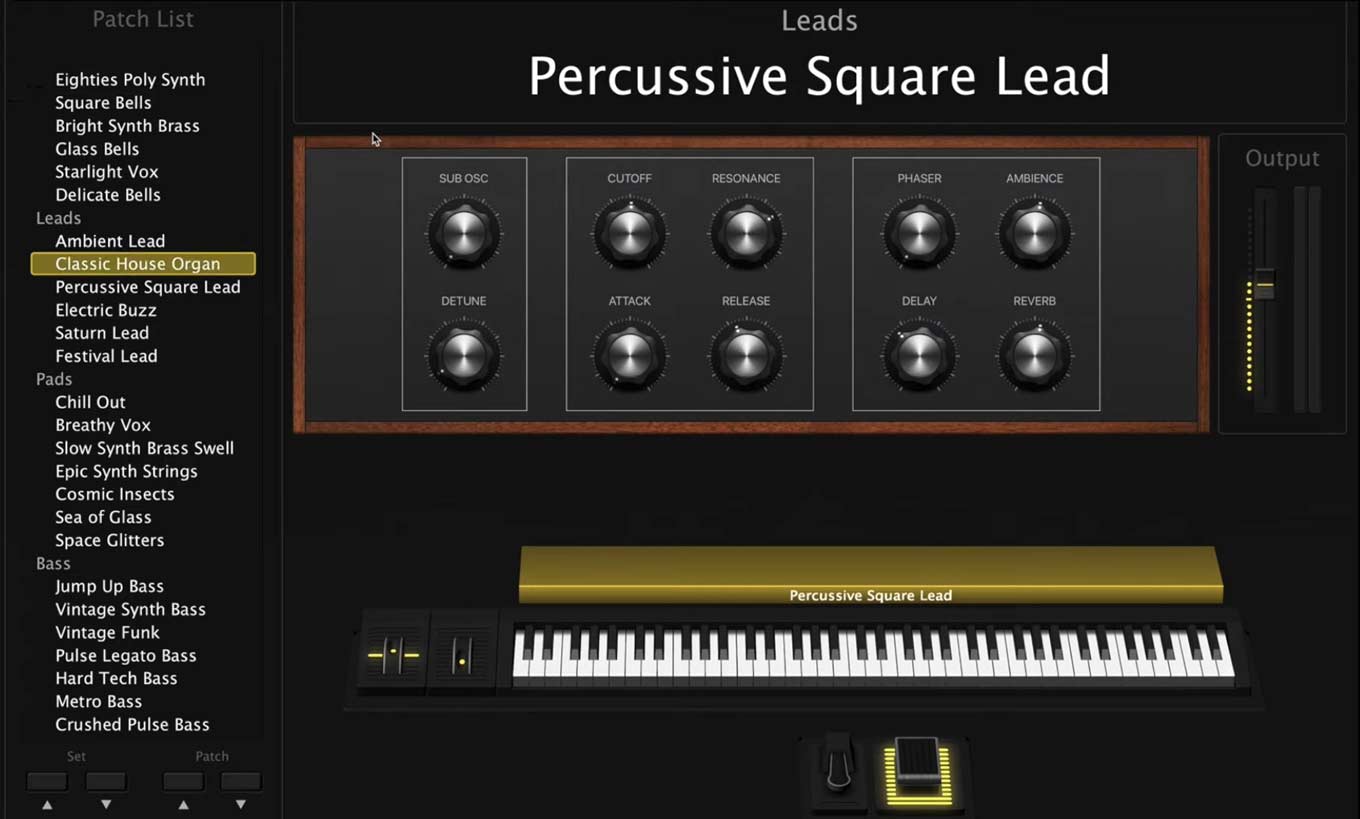 For those unfamiliar, Mainstage is essentially Apple's Logic Pro DAW without the sequencing capabilities, making it an ideal sound source for keyboardists who don't want the complexity of a fully-fledged DAW.
Once you have your drivers set up, you can switch the RD-88 to DAW Control mode, and have Mainstage available as an option. Then, the screen shows you a list of the many Mainstage presets, which you can scroll through.
The cool thing is that your presets are all named, and you can also access the preset parameters using the knobs via the Assign button.
This is a huge plus for anyone who uses Mainstage, as you don't need to have your screen active on the side. The fact that the RD-88 also comes with a USB Audio Interface means you really just need your Macbook and the keyboard to handle all gigging situations.
---
Rhythms
Much like the RD-2000, the RD-88 comes with built-in beats and grooves. The quality on offer here is quite impressive, being powered off quality samples that blow most cheap arranger keyboards out of the water.
However, rhythms are not the main focus, and switching through the patterns isn't as easy as it is on dedicated arranger keyboards.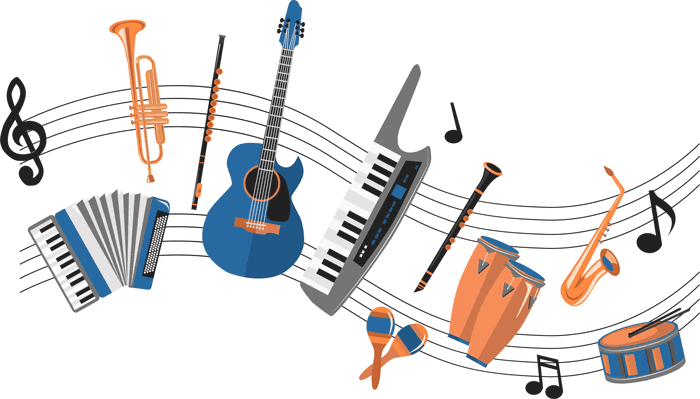 You'll generally be stuck with loops that can't be meaningfully changed, which makes them good practice partners, but little more than that.
I'm not going to complain about having some extra bonuses though, and I did have fun using the genre-specific beats for some extra spice during routine practices.
---
Mic Input
If you happen to be a singer as well, you might be happy to hear that Roland has a mic input included on the RD-88. This also comes with a built-in pre-amp.
Sadly, there's no Phantom power or XLR inputs, so you'll likely be using this with dynamic mics like the Shure SM58.
What's nice is that the mic input has its own dedicated gain, EQ and reverb controls, which is more than most other stage pianos include.
Connectivity
Any stage piano wouldn't be complete without connectivity options, and the RD-88 comes with all the standard requirements of any gigging musician.
Two output jacks (1/4") are included and are the main way you'll be sending your stereo output signal to external speakers. I do miss the balanced XLR outputs from the RD-2000, but that's a problem you can easily solve with a DI box.
If you're just designing presets at home or practicing, you can opt to use the Phones jack, which is a stereo 1/4" TRS type. This lets you use your headphones to monitor the RD-88's outputs.
Next, there's the previously mentioned 1/4″ Mic In jack, which will take any TS microphone and run the signal through the main outputs.
An auxiliary mini TRS Line In jack is also provided. You can connect external playback devices to the RD-88. For example, you could connect your music player to practice alongside a backing track.
Three TRS pedal jacks are included. The Pedal jack takes any sustain pedal, such as the included switch pedal, whereas the FC jacks take foot controllers. These can range from expression pedals to other switch pedals.
A 5-pin MIDI Out port is included, and as previously discussed, you can send MIDI through different output channels if you intend on working with legacy gear.
Do note that there is no MIDI In or MIDI Thru through the 5-pin ports. You'll need to work with USB MIDI for that.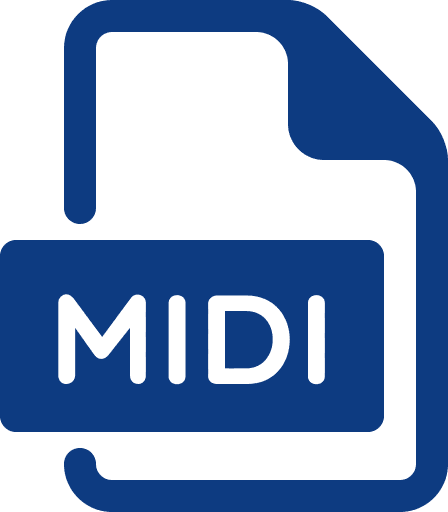 Speaking of which, you can use the USB Computer port to access both USB MIDI and Audio. Just remember to have the drivers installed and selected in your software of choice.
A USB Memory port allows you to backup your settings and presets to a USB Flash Drive (not included in the purchase).
Any USB 2.0 compliant flash drive should work, so you'll be fine with any generic flash stick you have lying around.
Accessories
The Roland RD-88 comes with the following accessories:
Owner's Manual
AC Adapter
Switch Pedal
Much like with the RD-2000, this is overly basic, and you'll likely need a few extras to make the most of the RD-88.
With regards to the AC adapters, you should always check to see if the AC Adapter matches your country's main voltages, especially if you're importing the RD-88 from overseas vendors. Damaging the internals could cause catastrophic failure, and is something you'd do well to avoid.
The switch pedal is quite disappointing, as it is a simple flat switch-based pedal. It works, but you might want to get one shaped like a real pedal if that's what you're used to.
---
Sustain Pedal
The included switch-based sustain pedal leaves a bit to be desired, and as such I'll recommend a more conventional pedal-shaped alternative as a separate purchase.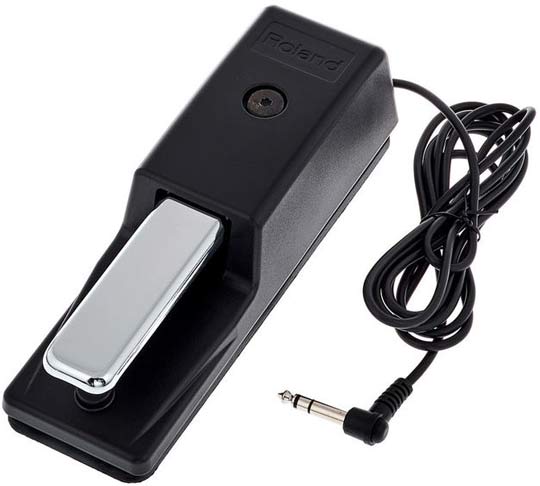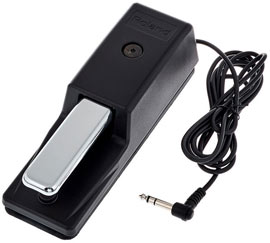 Our general recommendation is Roland's own DP-10 pedal, which is well built and supports half-pedaling.
---
Expression Pedal
Expression pedals are really useful for performers, as they allow you to control settings in real time without taking your hands off the keys.
For example, you could change the rotary speed on organ sounds without reaching over the knobs.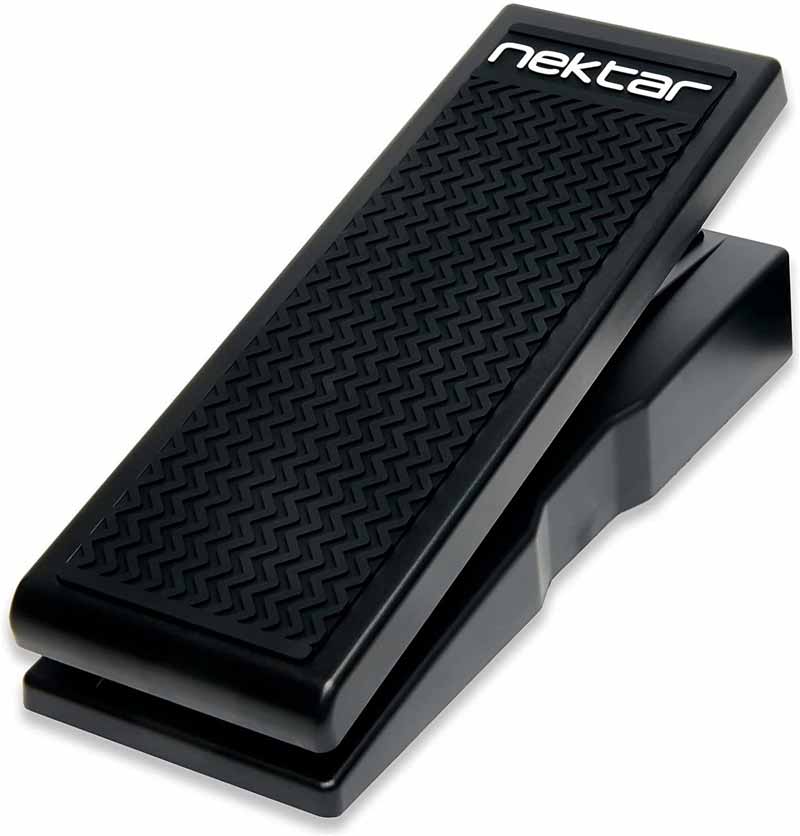 I generally recommend the Nektar NX-P, which is well-built despite being one of the cheapest available expression pedals online. There is also a universal polarity switch, ensuring that you'll always be able to use it.
If you're looking for something even more robust and high-quality, check out the Moog EP-3.
---
Keyboard Stand
For stage pianos, stands are a mandatory purchase, and the RD-88's light weight and small form factor means you can get away with using any generic X- or Z-stand.
However, if you want to work with Roland's recommendations, you could get the KS-12 keyboard stand, which is very sturdy and relatively portable.
Summary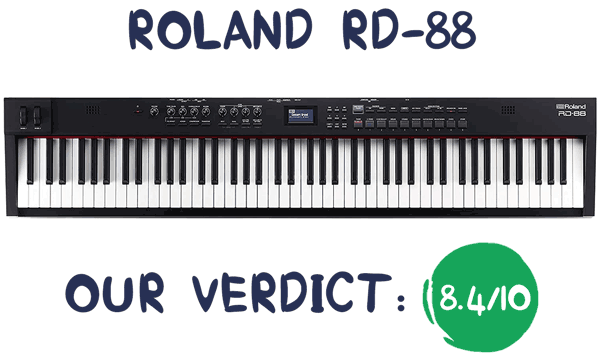 Pros
One of the cheapest stage pianos on the market
PHA-4 Standard keys are good as always
Built-in sounds are generally all winners
Great selection of effects
Good mixing capabilities with EQs for each layer
USB Audio Interface
Mic In port
Cons
Navigation is straight up horrible
Overly clean piano sound might not be for everyone
---
I really am torn with the RD-88. It does so many things right, and it seems to be tailor made for someone like me.
I'm a player who loves having a lot of control over my sounds, and the RD-88 offers a lot of sound sculpting capabilities alongside a decently wide palette of good base presets.
It's also very easy to set up performance presets, or as Roland opts to call them, 'scenes'. The workflow from the RD-2000, which I praised as straightforward, is recreated quite well despite the stripped-down design.
The big issue I have are the controls. The arrow keys and button-based value modifiers are really inefficient. Even the simple act of going through different presets can be quite annoying, and that kills the creative aspect of preset creation.
I really wish some of the empty space was used to add an encoder knob. It's really unfortunate that Roland went with this control scheme, as it soiled my enjoyment with the RD-88. In my opinion, this single issue could be a deal breaker for many people.
The RD-88 does many things right, and if you can get past the barrier of navigation, you're left with one of the cheapest stage pianos that actually have a lot of power under the hood.
Having EQs for each individual layer is often overlooked, and a multiband compressor means you can go crazy with experimentation without worrying about unwanted peaking.
The RD-88 does sound design better than a lot of its more expensive contemporaries, and I really have to give props to Roland for squeezing every bit of 'power' into the RD-88. I didn't include the future potential of the Zen-Core sound engine in the evaluation, as that's not something that's relevant at the time of writing.
However, I will admit that I'm excited at the prospect of a shared ecosystem between different Roland instruments, and I'm interested to see where Roland will take the concept once its Jupiter X synthesizer and new Fantom workstations get released.
If anything, I do want to note that the default piano sound might not be for everyone, and since this is a stage piano, you should bear that in mind before making your purchase.
I personally found it perfectly acceptable, especially with a bit of light room reverb, but more classically inclined musicians might find it overly sterile and bright.
Check the availability and current price of the Roland RD-88 in your region: