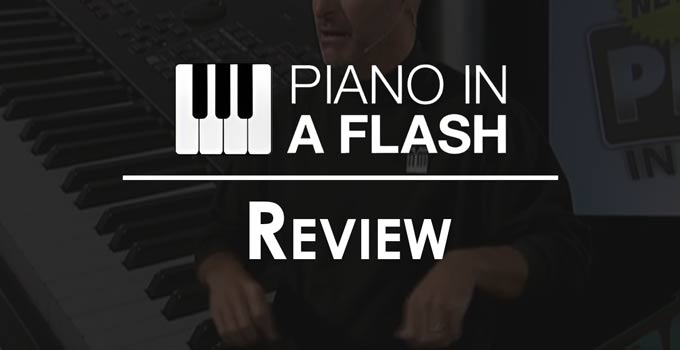 Have you ever wanted to learn piano in a flash?
Well, the Piano in a Flash course promises to give you just that – although it depends how long your idea of a 'flash' is.
The Piano in a Flash course was developed by Scott Houston, someone you may know as 'The Piano Guy', whose face has popped up on various US television series, and whose course claims to have helped thousands of happy learners.
It's primarily marketed to adult learners and focuses on a pop music approach rather than classical – focusing on chords and learning songs quickly, rather than over-stressing music theory. Let's take a look.
What Do You Need?
All you need is a piano or keyboard for learning, and an up-to-date web browser and internet connection to view and download the materials.
(When I tried it, some of the videos didn't load with my Safari browser, but once I switched to Chrome, it was fine.)
The book materials – the Course Book and Song Book – are available to view and download online, though if you prefer, you can use the physical copies, which are included in the price of the course, though if you're outside the US, you'll have to pay for shipping.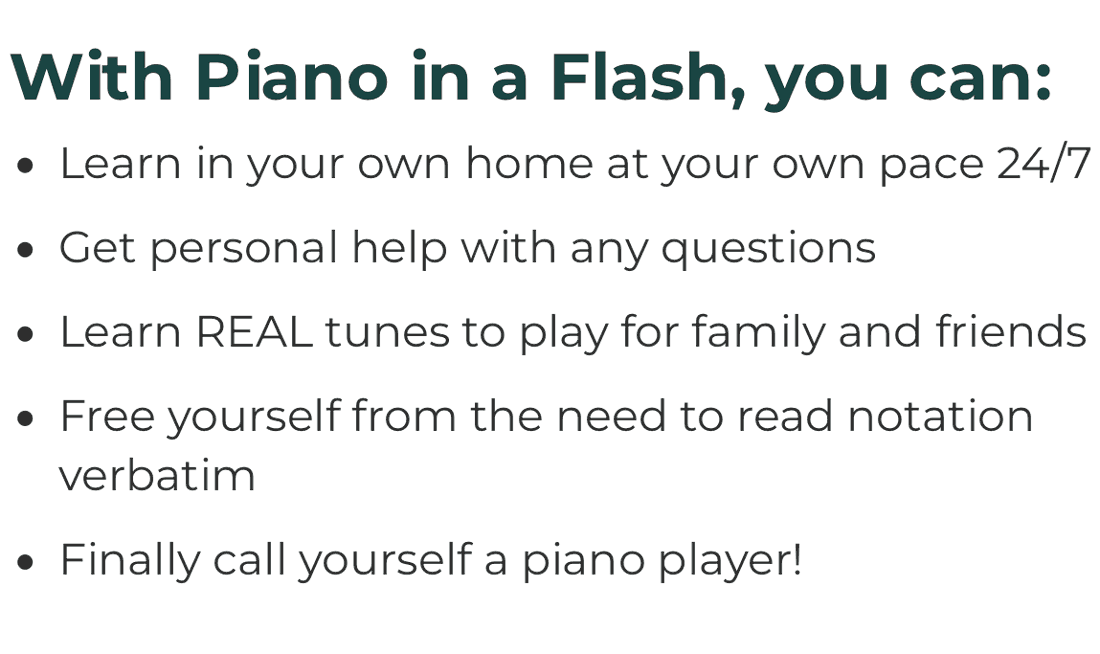 Unlike other apps, there is no need to connect a keyboard directly to a tablet or laptop. This is an advantage for those less technologically inclined, though perhaps a disadvantage for those wanting real-time feedback.
Pricing
There are three pricing options available, with the cheapest starting at $179 for one course, and the full six-course bundle at $899.
Each course contains about 8 classes, with each class containing about half an hour of material – so each course will take around 4 hours to complete, or the equivalent of 8 weeks of half hour lessons.
The prices may seem high, but Piano in a Flash compares them to traditional piano lesson prices, which tend to start around $30 per lesson as well as material costs, and prides itself on delivering 'insane value' for money.
(If you're interested, I did some rough maths – the $179 individual course works out around $22 per lesson, and the full course bundle works out around $18 per lesson.)
These prices put off those who are unwilling to spend significant amounts of money. However they have the advantage of being one-off payments – no monthly subscriptions required. And for the price you pay, you do get a substantial amount of material.
Piano in a Flash also do offer a free intro course and webinar as a taster, and a 30-Day Money Back Guarantee on all courses.
Who Is This Aimed At?
Piano in a Flash primarily markets itself towards adult learners, for example…
Adults who've always wanted to learn but never had time
Adults who learned a bit as a child and want to resume
Adults who want to learn but are put off by traditional classical technique and music theory
The Piano in a Flash is not unsuitable for children either – they will appreciate the simple notation and the focus on playing quickly.
However, children may get bored with the talking-heavy videos, and the old-fashioned song choices may not appeal to them.
So How Does It Work?
Once you've purchased your course or bundle, you gain access to the Piano in a Flash online learning platform. When you log in, all your available courses are displayed.
Absolute beginners are recommended to start with Course 1, those who are already familiar with some chords and lead sheets are recommended to start with Course 2.
There's no direct recommendation for any more experienced players, but the advantage of the purchasing the full 6-course bundle is that you don't have to complete them in order – if one course proves too easy, just open up the next.
The 'Help' icon in the bottom right corner opens up a window with commonly-asked questions, and a live chat feature for anyone requiring support.
When you select a course, all of the classes in that course are displayed, as well as a 'Resource' tab containing some of the document resources. (But not all of them – other resources are displayed once you actually open up the videos.)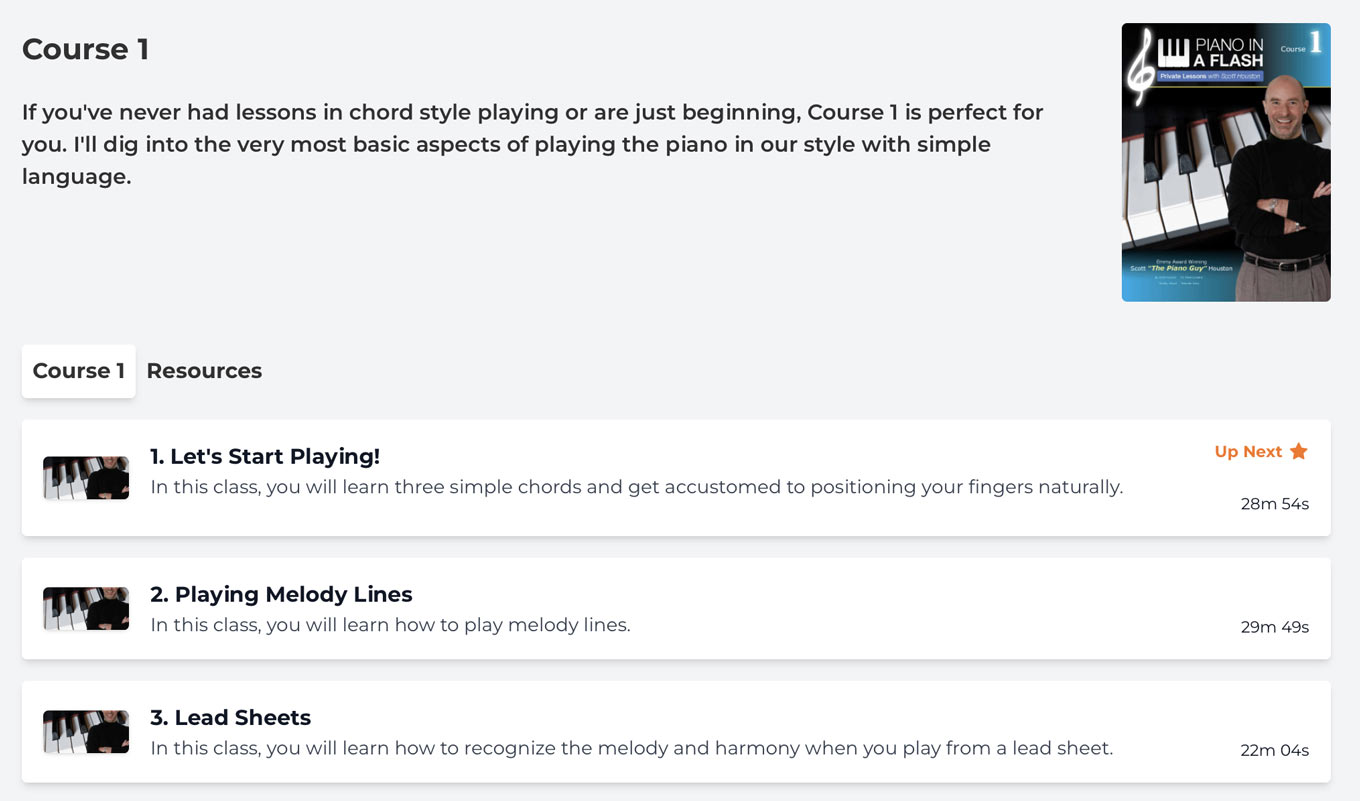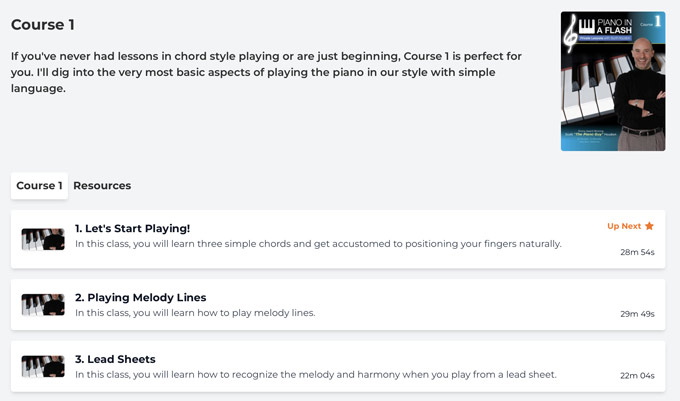 Once you've selected a class to take, it then displays a list of the videos in that class, which total about half an hour's worth of videos.
They're a mixture of explanatory videos featuring Scott talking about the subject, and shorter demonstration videos, showing him demonstrating the exercise or piece.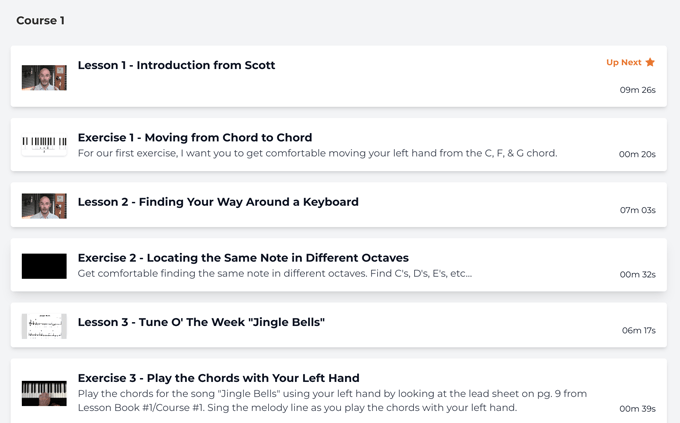 Once you select a video to watch, the page for that video opens, along with links to the document resources for that class and/or course. However if you open up one of the document resources, it appears over the video, blocking it from view.
So if you'd like to study the document resources while watching the video simultaneously, you'll probably have to open up several tabs or windows on your browser, which can get a bit fiddly. You may prefer to download the videos or use the physical books while watching the videos.
What If I'm a Complete Beginner
If you're a complete beginner, then you'll be starting off with Course 1!
Course 1 begins with a friendly introduction from Scott, who describes his piano-learning philosophy, which leans away from traditional classical technique and more towards pop and gig-playing style, focusing on chords.
Course 1 introduces you to the C, F, and G chords, and the basics of finding your way around a keyboard – make sure you spend some time on this if you've never identified notes on a piano before!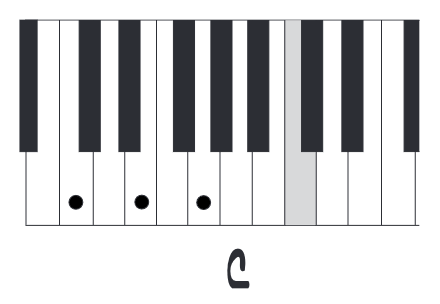 The focus is to get you playing quickly, and Scott's relaxed approach is very encouraging – he's not overly prescriptive about fingering and proper technique, and recommends whatever feels comfortable.
Course 1 then quickly gets you learning Jingle Bells, but don't panic – the sheet music uses a simplified form of notation with the notes clearly labelled, so once Scott's got you comfortable with naming notes on a keyboard, it should be much easier.
You then quickly learn how to play this using two hands, with simple chords in the left hand, which feels quite quick but can be really rewarding for a beginner pianist.
The course then goes on to introduce some basic theory concepts such as clefs, staves and 7th chords – so anyone with some theory knowledge already should probably skip the course.
But the main focus is on understanding lead sheets, which is far less intimidating for anyone who struggles with theory and reading music.
By the end of the first course, you'll have played through simple versions of the songs…
Jingle Bells
Happy Birthday,
When the Saints Go Marching In
Feliz Navidad
As well as others! They're perhaps not the most exciting songs, but focusing on songs that you're already very likely to know is a helpful head-start, meaning you're worrying less about working out the melodies and rhythms.
The videos alternate between shots of Scott's face, and overhead shots of his hands on the piano, which is helpful.
The videos also do feature a lot of Scott talking, so your enjoyment of this course may hinge on how much you take to Scott – he has a lovely informal and friendly style, but those of you who prefer to get right stuck in may find the classes dragging.
What If I Already Know A Bit Of Piano?
Course 2
If you have completed Course 1 already, or have some familiarity with how chords and lead sheets work, Piano in a Flash recommends you start with Course 2. It builds on the foundation of Course 1, adding in some more advanced chords, some different chord arrangement techniques, and dips a toe into the realm of blues and jazz.
Again, Course 2 provides some good aural and ear training material – I can't stress how valuable this is for musicians, so I would really recommend focusing on these sections.
It contains some exercises on chord inversions, and recognizing the sounds of them, and recaps on 7th chords. Scott also ties this together with the mechanics of piano playing, for example a class that focuses on playing a bass note down the octave.
Course 2 also introduces playing chords in the right hand, and a few new left-hand playing patterns. As in Course 1, the notation is simplified, with notes being clearly labelled with their names, so unconfident sight-readers need not despair.
Any fans of the blues will have a great time with Course 2 – the first song studied is 'Hound Dog', and players are introduced to the classic 12-bar-blues structure, and a few blues-style playing patterns.
Scott even introduces 'run-up' and 'slide' techniques, which are techniques for slurring notes together, very common and characteristic in blues and jazz playing.

Less dexterous players may find this challenging, but I thought it was a nice touch and added to Scott's 'play like a real musician' approach. However, I must admit, if you're not a fan of the blues or find it too old fashioned, Course 2 may struggle to keep your attention.
Another nice element of Course 2 is Scott's focus on 'Accompaniment' vs. 'Solo' style playing – any players hoping to play with a band or accompany someone (or themselves!) singing should find this illuminating.
He stresses the difference between them, and how and when one should emphasize the melody vs. the chords.
Again, I think this is a great aspect of Piano in a Flash, the focus on learning piano in the style of a live player working in contemporary music genres. I think this approach aligns with a lot of people's piano learning goals than classical technique does.
---
Course 3
If you'd like to start on Course 3, here's a quick overview of the material covered.
The course builds a little more on the theory already covered, introducing the concepts of rests and 'road maps' of songs – using D.S and D.C signs to signal repeats.
But the notation remains simple, focusing on chords and the right hand melodies, with the notes clearly labelled. Some new chords and time signatures are also covered.

An aspect of Course 3 I found quite surprising was the introduction of transposing songs, which is moving them to another key, usually to suit a different singer's voice.
Transposing is something that even professional musicians can struggle with, so I wondered if it was too ambitious. If you're not familiar with the Roman Numeral system for naming chords, definitely head back to Course 2 to check that out.
It's an incredibly useful skill if you can get the hang of it, and a very practical one for musicians that want to play live and with groups, so I applaud Scott for including it.
And don't worry, it's a gentle introduction to transposing, meant to make you aware of the relationship between different keys.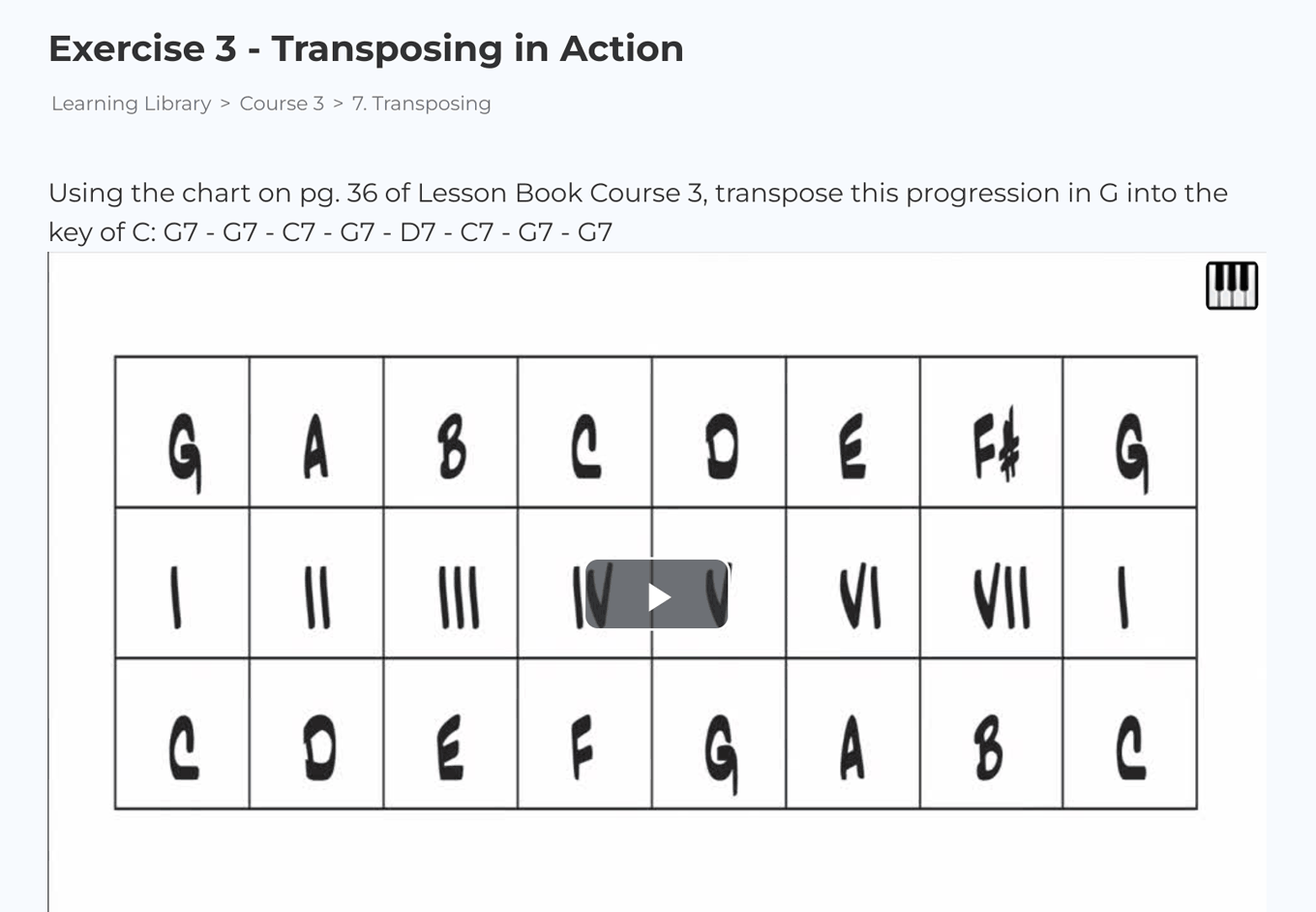 The songs covered in Course 3 are mostly of the same style as previous courses, folk songs and standards popular in the 1950s – 1970s.
However, for anyone hungering for something slightly more modern, the course does include 'Every Breath You Take' and 'Memory' from the musical Cats!
---
Course 4
If you feel confident to play many of the standard chords, you might want to check out Course 4! It introduces some really juicy chords, covering augmented and diminished chords as well as the difference between major and dominant 7ths.
It also lays out the building blocks of how major scales are formed, which is a slightly dull but necessary part of Western music education.
Course 4 also features more ear training than previous courses, which I personally think is one of the most useful things a musician can do.
Scott covers several melodic intervals and gets you to try and sing them and recognize them through your own sense of pitch. However, this might take a lot of repetition for anyone who struggles with their musical ear, and doing these sorts of exercises with a video is perhaps more frustrating than with a live partner.
This course also introduces the concept of certain 'endings' (cadences if you know your theory) and again focuses on feel, encouraging you to play around rhythmically and try various songs in 'straight' and 'jazzy' feels.

It also covers Broadway vamps, which I thought was a fun touch – a 'vamp' being a short passage in a song that can be repeated as long as possible until a singer is ready. Again, these are useful concepts for people who want to focus on playing live.
The songs used remain a bit dated, but there's 'Bali Ha'i' for any musical theatre fans and even a bit of the 'Star Trek' theme for any piano-playing Trekkies out there!
---
Course 5, Course 6 & The Bonus Series
Courses 5 and 6 add some more layers to the material covered, and would particularly benefit any players looking to focus on jazz and blues.
Course 5 introduces some classic jazz endings, imitating the style of greats like Duke Ellington and Count Basie.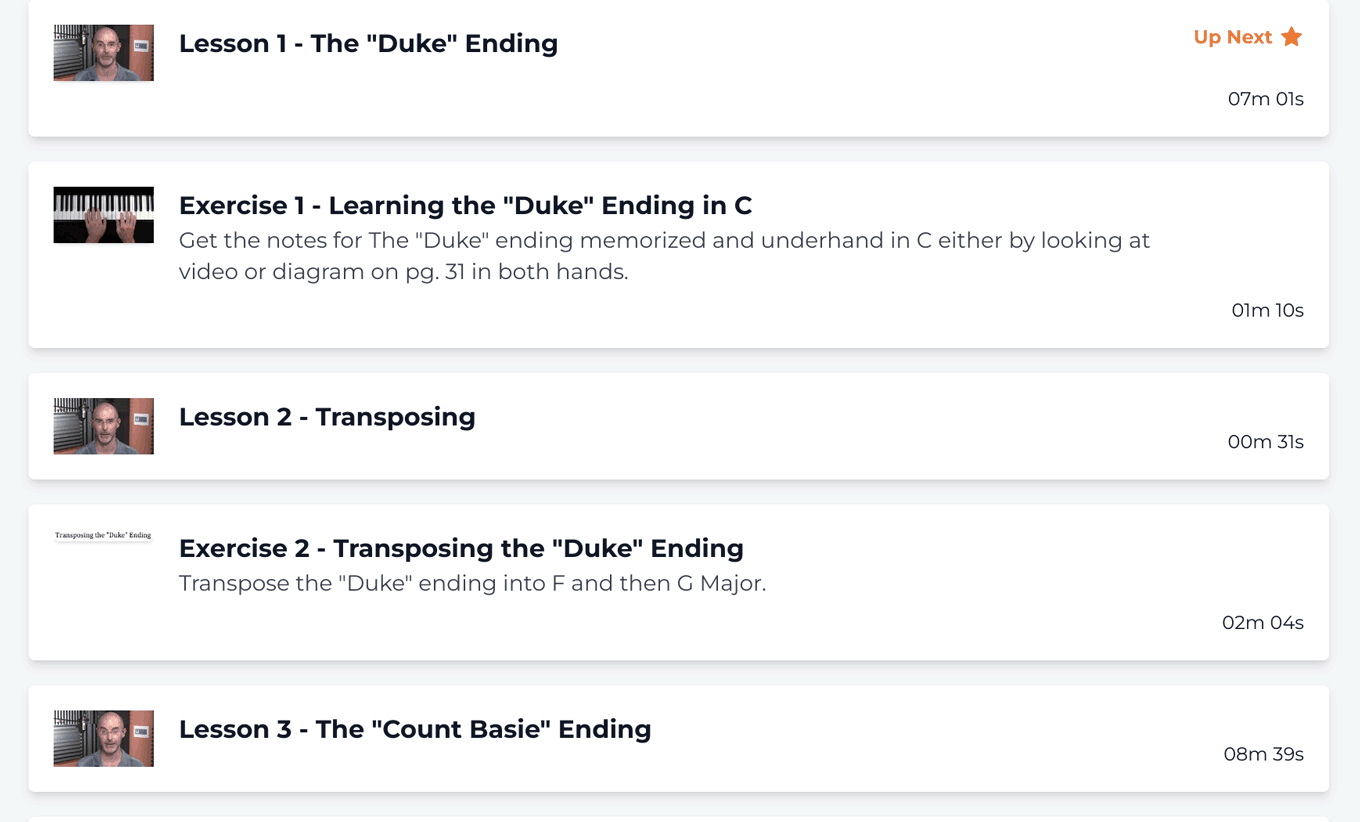 It also covers some fingering for scales – this is the sort of thing that would be covered very early on in classical technique, so it's interesting to see it introduced fairly late in this series. It all depends on how useful you find it!
Course 6 covers some more practical concepts including some tips on playing with a bass player, and more on transposing and modulating.
I particularly want to flag the section on improvisation – again a really useful and common technique for jazz and blues playing. Improvisation isn't often taught – it's something that is often just 'picked up' or 'made up as you go along'.
But for players who find it scary (and it can be!) I think it's really great to have Scott directly explain improvisation and give you some starting points to try.
The full course bundle also features the bonus series – a set that purely focuses on individual songs, starting each song from basic chords and melodies, then building them up with more complex patterns.
It's great for anyone who just wants to get some songs under their belt and cares less about the theory side, however I would only recommend it for those who already have some grounding in piano, or who have already completed at least Courses 1-3.

The songs covered include Autumn Leaves, Georgia On My Mind, and even Don't Know Why – a fairly modern one!
Conclusion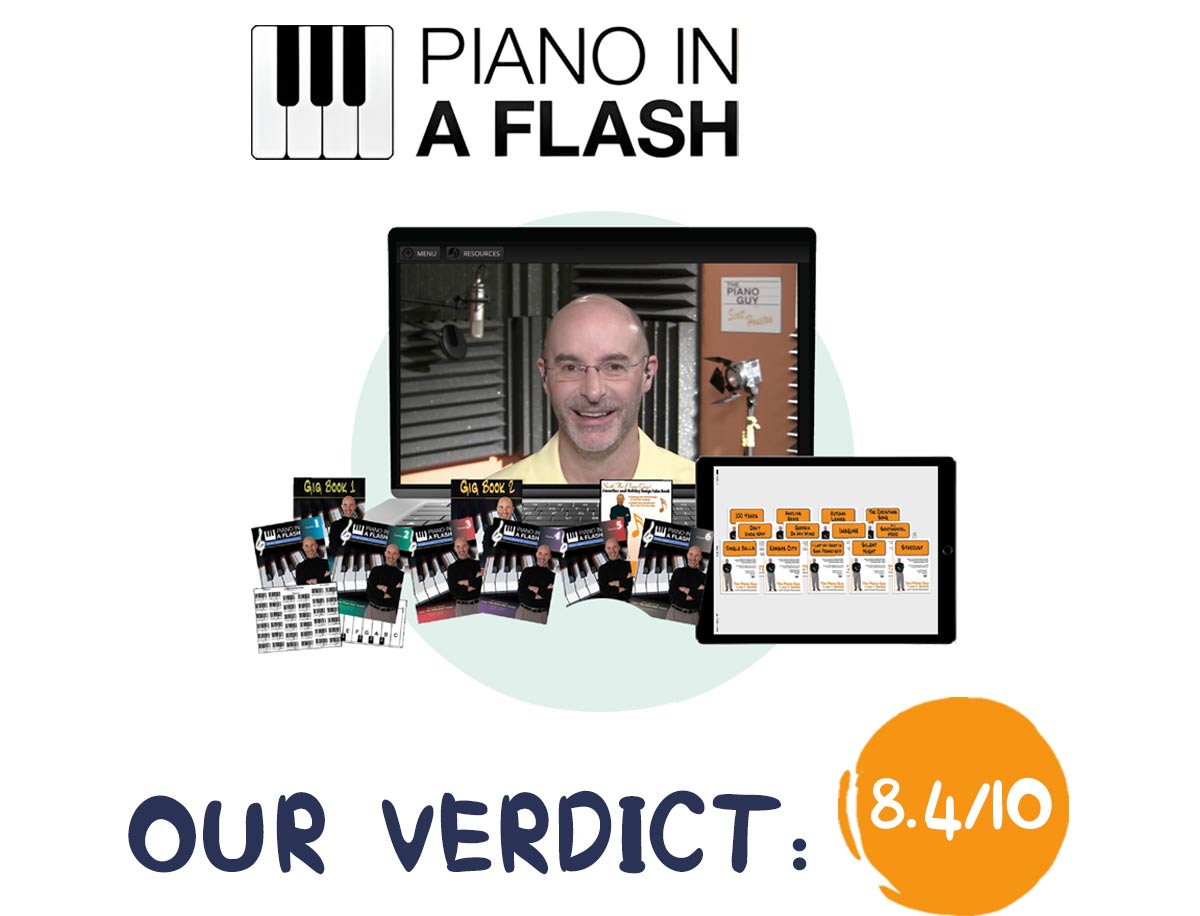 ---
Pros
Gets you playing quickly
Value for money compared to lessons
Relaxed approach to theory
Scott gives it a personal touch and a friendly face to guide you
Particularly suitable for anyone interested in playing with bands, or in jazz or blues style
Cons
Old fashioned songs taught
No live teaching or live feedback
A lot of time spent watching videos can be fatiguing
If you don't like Scott Houston's style, you won't like this!
---
In conclusion, this is a solid piano course which covers a surprisingly wide variety of concepts. Its playing-focused vision and relaxed approach to theory makes it great for anyone who finds theory intimidating and just wants to get playing.
Scott has a friendly and funny style and clear enthusiasm for teaching and getting people playing, however if you don't take to Scott, this course will be a struggle.
---