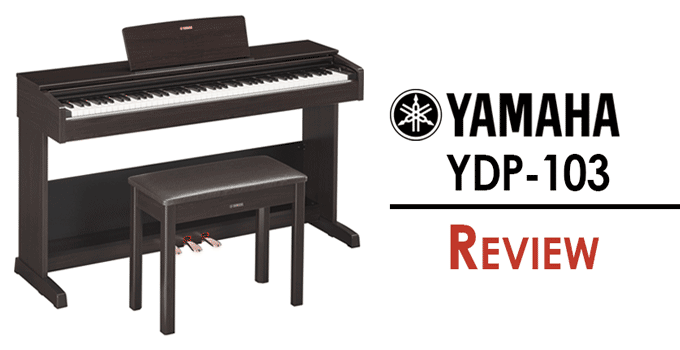 Not so long ago Yamaha expanded its Arius line of home digital pianos with a new model – the Yamaha YDP-103.
It's Yamaha's most affordable digital piano housed in a cabinet, and it's one of the cheapest console pianos on the market.
The YDP-103's bigger brothers are the YDP-144 and the YDP-164, which were introduced in 2016. They remain the most popular models in the Arius line.
The YDP-103 appears very basic in its nature and doesn't offer anything new or groundbreaking.
Yamaha simply took the successful P-45 model and put it in a furniture style cabinet. You can check it yourself, the P-45 and the YDP-103 have identical characteristics.
So let's take a closer look at this instrument and find out if it's indeed a good entry-level piano or there are better options out there to consider.
Yamaha YDP-103  Specs
Cabinet design, 3 piano pedals (half-pedal support)
88-key fully weighted keyboard with matte black keytops
Graded Hammer Standard action
Touch Sensitivity (Hard, Medium, Soft, Fixed)
Sound: AWM Stereo sampling
64-note polyphony
10 instrument sounds (2 pianos)
10 preset piano songs + 10 demo songs
Modes: Duo, Dual
Metronome, Transpose, Fine-tuning
Speakers: 6W + 6W, oval (12cm x 6 cm) x 2
Connectors: USB to Host, 2 Headphone jacks, Sustain Pedal jack
135 x 42 x 81 cm (53.4" x 16.6" x 32")
37.5 kg (82 lbs. 11 oz.)
Check the availability and current price of the Yamaha YDP-103 in your region:
Design
The YDP-103 comes safely packaged in a large heavy box, which includes all the parts (base, pedals, keyboard) and the Yamaha BC-100DR bench.
The bench is pretty basic but it does its job. Unfortunately, there's no storage for books inside it.
The YDP-103 requires some basic assembly, which is pretty standard for all digital pianos of this type.
The whole process shouldn't take more than 30 minutes. All you'll need is a Phillips screwdriver to assemble the base and then attach it to the keyboard itself.
The piano is quite heavy on its own (about 82 lbs), but it's even heavier in the box.
Although you will probably be able to assemble the entire thing on your own, I do recommend asking someone to help you out, especially when you'll be putting the keyboard on top of the base.
For more information on how to assemble the YDP-103 (or any other Arius model) refer to the video below.
The size of the piano is similar to that of other digital pianos with a traditional design such as the Roland RP-102, Kawai KDP110, etc.
Take a look at the comparison table below to compare the YDP-103's dimensions to those of its competitors.
The YDP-103 comes with 3 pedals just like a regular piano. The damper pedal supports half-pedal operation, which allows you to gradually change the amount of sustain you want to apply.
What I like about Yamaha pianos is their build quality. The piano is not made of real wood, but it has a wood grain finish, which looks and feels very nice.
The unit I tested was made in Indonesia. Even though the YDP-103 is in the lower price range, it doesn't feel cheap at all.
The materials used are pretty high-quality, and the piano itself is sturdy and doesn't wobble even when you pound on the keys.
The YDP-103 also has a sliding key cover, which helps protect the keys from dust and dirt.
When it comes to control elements, the YDP-103 is very straightforward. It only has two buttons and a volume knob.
All the functions and features of the piano can be accessed by pressing particular keys while holding the Function button. It's probably not the most convenient way to navigate the instrument, but it's a common practice for all digital pianos, not just Yamaha's.
The YDP-103 is only available in Dark Rosewood finish (YDP-103R is the full name of the model).
Some may be disappointed with the lack of color options and Black color in particular.
But I actually like the Dark Rosewood color, and it's a pretty universal color I should say. It looks a bit darker than on the pictures, and from a distance, it's almost black.
Keyboard
The YDP-103 features 88 fully weighted touch-sensitive keys.
The keyboard is called the Graded Hammer Standard (GHS). It uses actual little hammers to simulate the action of a real piano.
You can find this keyboard on pretty much all entry-level digital pianos from Yamaha including the P-45, P-115, YDP-143, etc.
It's a good entry-level action, which provides a fairly realistic touch and feels similar to real acoustic piano keys.
With that said, the GHS keyboard action has been around for quite a while, and I think it's time for Yamaha to upgrade it.
There are currently a number of keyboard actions on the market, that, to my taste, feel more realistic than the GHS, which include Roland's PHA-4 Standard, Casio's Tri-sensor Hammer Action II, and Kawai's actions.
But again that's just my opinion. People have different preferences when it comes to the feel of the keyboard, and some actually prefer the GHS action over those of other manufacturers.
The YDP-103's keyboard has the 'graded' effect, which means the keys in the lower register feel heavier than the keys higher up the keyboard simulating the feel of an acoustic piano.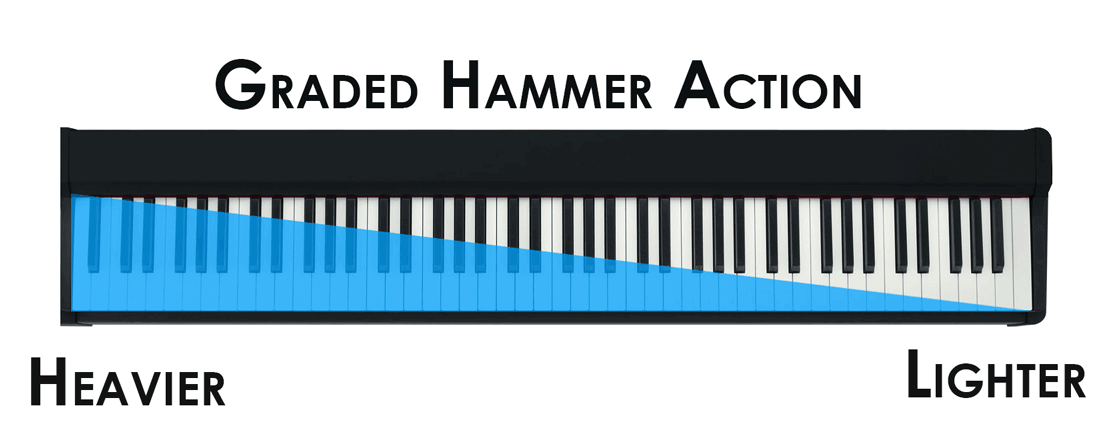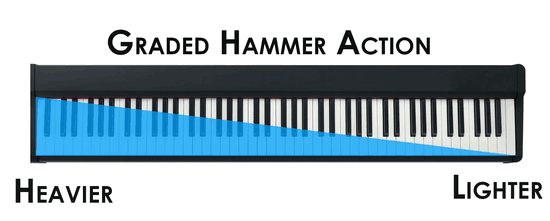 The keyboard is also touch-sensitive and responds to the force with which you struck a key. The volume will change depending on how hard or soft you play.
You can additionally adjust touch sensitivity to suit your playing style. There are 4 preset touch sensitivity settings: Hard, Medium (default), Soft, and Fixed.
When the "Fixed" setting is selected, the volume will not change regardless of how much force you apply to the keys.
At the same time, the "Hard" setting will give you the most dynamic variations starting from the softest pianissimo and ending with the impressive fortissimo (you'll have to play very hard to get the loudest sound).
For those who like a lighter touch, the "Soft" setting will be ideal.
The setting will make it easier to play for those who are not used to fully weighted keyboards and only dealt with synth-type actions in the past.
The GHS keyboard doesn't offer any kind of Ivory or Ebony simulation on the keys.
The white keys are smooth plastic; the black ones have a black matte finish on them, which feels very nice and prevents fingers from slipping off in high moisture situations.
Sound
When buying a digital piano sound is the second most important characteristic that requires extra attention.
At the heart of the YDP-103 is AWM Stereo Sampling technology, which is also widely used in Yamaha budget digital pianos and keyboards.
It's the most basic tone generator out of three Yamaha currently uses. The other two are the Pure CF Sound Engine, and CFX Sampling.
The AWM uses the actual sound of a grand piano recorded at different velocity levels to naturally recreate a wide dynamic range of the acoustic instrument.
The YDP-103 has two different grand piano tones as well as 8 other instrument sounds.
The main Concert Grand Piano tone offers a warm natural sound that a lot of players like in Yamaha instruments.
The second piano tone has a bit brighter and clearer character, which makes it perfect for band situations when you need your piano to cut through the mix.
Listen to this beautiful cover of Ed Sheeran's song recorded from the YDP-103:
---
Speakers
Obviously, with a good pair of headphones, the sound unfolds and becomes more detailed and well-rounded than when you're using the onboard speakers.
Speaking of speakers, the YDP-103 has two 12 cm x 6 cm oval speakers that have a total output of 12W.
Not the most powerful speakers in the world, but loud enough to fill a medium-size room without using external amplification.
The speakers are placed inside the cabinet, which allows the sound to resonate for even richer depth.
So despite the fact that the YDP-103 and the P-45 share the same characteristics, the YDP-103 will sound a bit bigger and richer thanks to its cabinet design.
---
Polyphony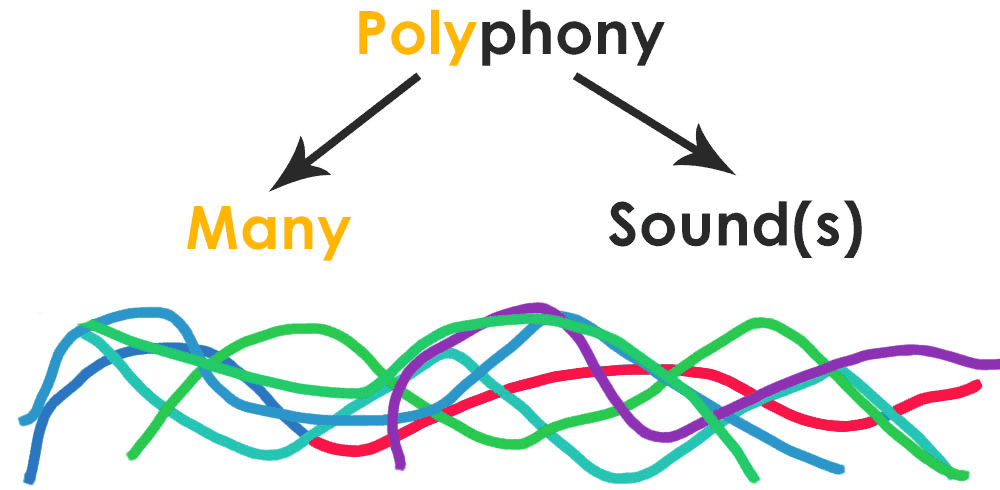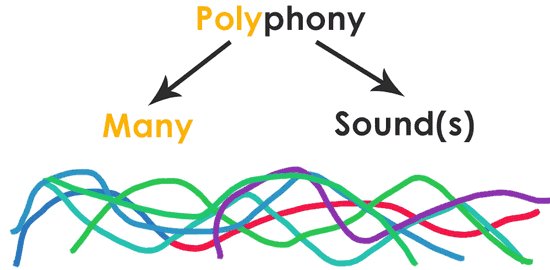 The YDP-103 has 64 notes of polyphony. It's a minimum amount of polyphony that I recommend having on a digital piano.
Generally, the more polyphony you have, the better. 64-note polyphony is enough for playing piano, and other instrument sounds as well as for some basic layering (Dual Mode).
There aren't actually that many features on the YDP-103 that can use up a lot of polyphony, so 64 notes should more than enough to fulfill your needs.
Features
When it comes to features, the YDP-103 turns out to be a pretty "basic" instrument.
For those who want an instrument solely for piano playing, it's probably more of a plus than a minus.
But if you're a more experienced player, you'll probably want more options to enjoy and explore music, such as MIDI/audio recording, preset rhythms, a variety of built-in songs, lesson mode, etc.
---
Modes
The YDP-103 has two modes that you can use to layer instrument sounds together or to play two-piano repertoire.
Dual
Dual Mode can be used to layer two different sounds to get a more complex and rich tone so that whenever you press a key two instrument sounds will sound at the same time.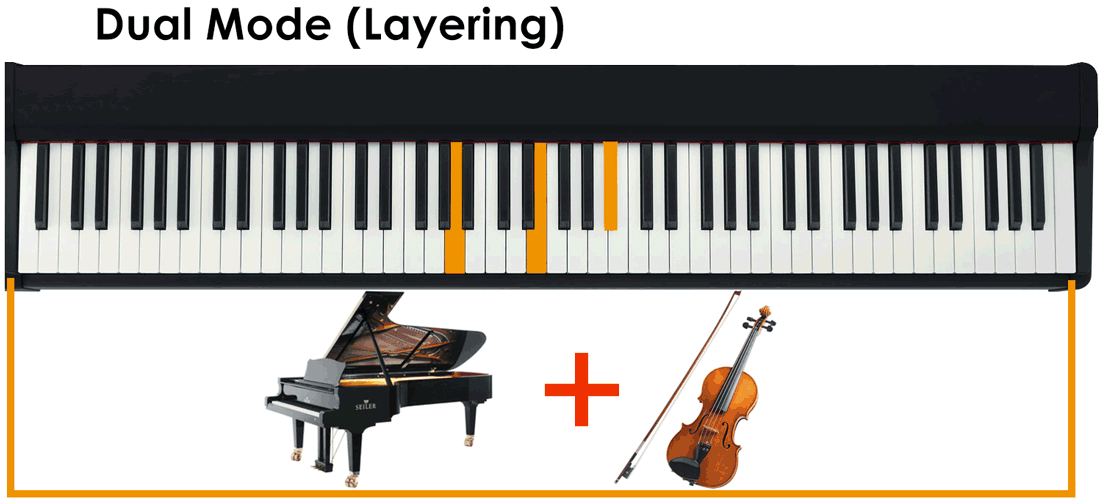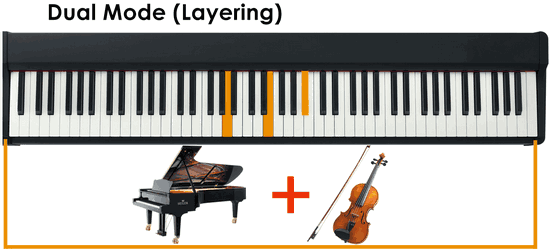 You can experiment and combine any of the 10 built-in tones (piano + strings, e.piano + harpsichord, etc.)
Duo
Duo Mode divides the keyboard into two equal sections with identical pitch ranges (two middle Cs), which allows two people to play within the same octave range and perform piano duets sitting next to each other.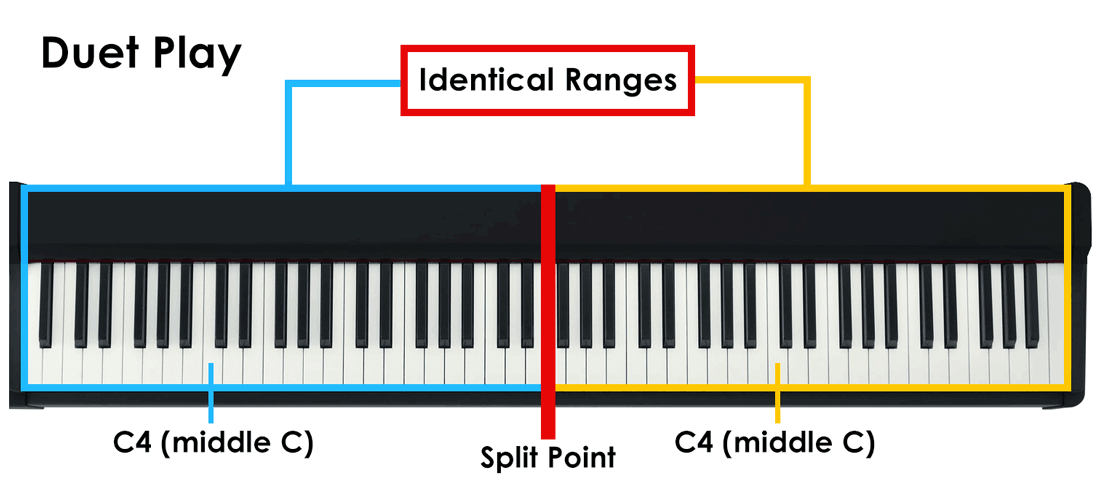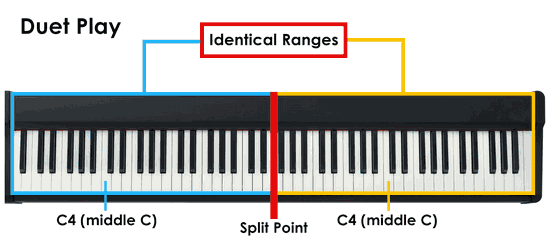 The mode is particularly useful in class situations where a teacher can sit next to a student and play some tunes, and a student can follow right along on the other side of the keyboard.
Split Mode is not available on the YDP-103.
---
Music Library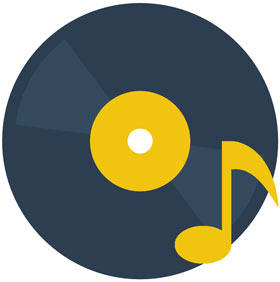 The YDP-103 has 10 Demo Songs and 10 Preset Piano Songs that you can play back and play along (the tempo of the playback can be adjusted).
Unfortunately, the YDP-103 doesn't have a MIDI recorder, which would allow you to record and playback your performances right onboard.
Lesson mode is also not available on the YDP-103.
---
Other Features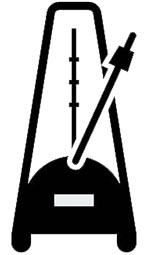 The YDP-103 has a metronome, which is a great tool that will help you develop your rhythm and improve your time feel.
You can easily adjust the beat, tempo, and volume of the metronome using the "Function button + key" combinations you can find in the manual.
To adjust the pitch of the YDP-103, you can use either Transpose or Tuning function.
Transpose function allows you to raise or lower the pitch of the keyboard in semitone steps.
You can use this function to play a song in a different key without changing your hand's position. You can also transpose a song written in a difficult key to a different key to make it easier to play.
Tuning function can be used to fine-tune the pitch of the instrument in 0.2Hz steps to match it closely to that of another instrument or CD recording.
Connectivity
Everything is pretty standard, when it comes to the YDP-103's connectivity.
The piano is equipped with two 1/4″ stereo headphone jacks and a USB to Host port, which are located underneath the keyboard and are actually easy to overlook.
The USB to Host port can be used to connect the YDP-103 to a computer or to an iOS device to take advantage of various educational and music-making apps that open a whole world of possibilities for music creation, learning, and entertainment.
To connect the piano to a computer, you'll need an A-B USB cable that can be purchased in any electronics store for very cheap.


In the case of an iPhone or an iPad, you'll need to additionally buy the Lightning to USB camera adapter.
For iOS devices, Yamaha has developed a free app called Digital Piano Controller, which allows you to easily navigate the sounds and features of the YDP-103 using an intuitive on-screen interface.
Unfortunately, the YDP-103 doesn't have Bluetooth connectivity, so the only way to connect to an iOS device is by using the Lightning to USB adapter I mentioned earlier.
Alternatively, you can use the Yamaha Wireless MIDI adapter, but expect latency to be higher than when using wire adapters, which can be a problem in some cases.
Accessories
The good thing about console digital pianos compared to portable ones is that you don't need to buy accessories such as a stand or a pedal unit additionally.
In the case of the YDP-103, you don't even need to buy a bench because it comes with the piano.
However, there's one thing that you'll want to pay a special attention to. I'm talking about headphones, of course.
---
Headphones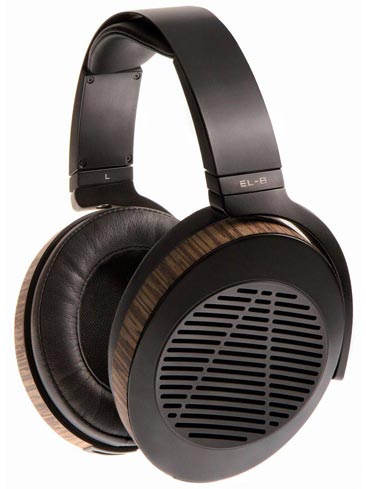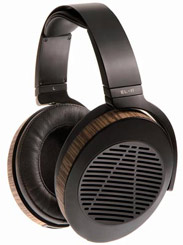 Headphones come in very handy when you want to practice in private, focusing solely on your playing and not disturbing others nearby.
Moreover, a good pair of headphones will provide a clearer and more detailed sound compared to the onboard speakers.
Check out this guide to learn how to choose the best-sounding headphones for your digital piano.

Summary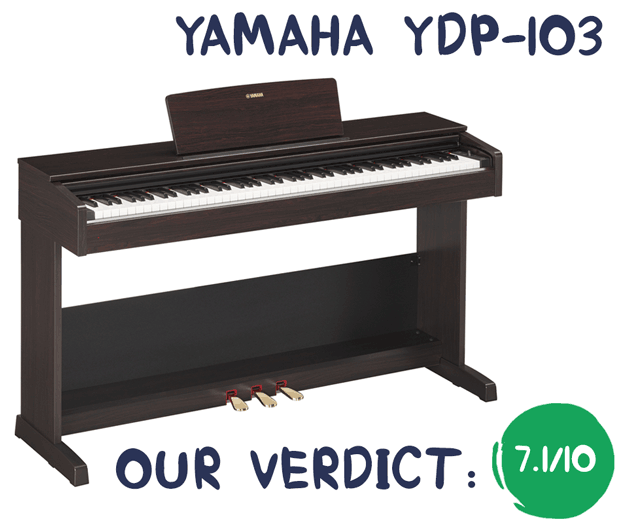 All in all, the Yamaha YDP-103 is a good entry-level instrument that has everything you need to start learning the piano. It would also be a fine choice for recreational playing.
In the meanwhile, if you're an intermediate to advanced player, you'll likely run into a number of limitations that the YDP-103 has.
First of all, it's the lack of extra sounds and features. The piano has only 10 built-in sounds, doesn't have a MIDI-recorder, lesson mode, or split function.
Moreover, the YDP-103 comes with Yamaha's most basic sound engine and hammer-action keyboard which are good for the money but for more experienced players may seem lacking in realism and sound nuances (key-off resonance, string resonance, etc.)
I'm sure the YDP-103 will be a popular alternative to the P-45 model for those who prefer a traditional look and a solid construction with 3 piano pedals over a portable design.
Speaking of alternatives, I recommend checking out the Yamaha YDP-144 (next model up), the Casio PX-870, and the Roland RP-102.
Those cost more than the YDP-103, but you'll get a more realistic playing experience as well as a bunch of useful features that the YDP-103 lacks, including MIDI/audio recording, built-in songs, rhythms, etc.
Check the availability and current price of the Yamaha YDP-103 in your region:
Alternatives
Here are some of the popular alternatives that people often consider along with the Yamaha YDP-103.
Also, feel free to refer to our Best Digital Pianos Under $1000 guide where we talk about these pianos in even more depth.
Yamaha YDP-103 vs  Yamaha YDP-144 (Full Review)
The YDP-144 is the next model up in the Arius family and comes with some significant improvements over the YDP-103.
The most important one is regarding sound quality and realism.
The YDP-144 comes with the CFX Sampling technology, which uses samples of the Yamaha CFX 9′ concert grand piano. And it's a big step up from the AWM engine of the YDP-103.
The YDP-144 also has 3 times more polyphony (192 vs 64 notes), which allows you to create more complex tunes with several instrument sounds playing on top of each other without worrying about note drop-outs.
Further improvements of the sound include Intelligent Acoustic Control and Stereophonic Optimizer, which improve sound quality at low volume levels and when you use headphones.
Both pianos have 10 onboard sounds. The key actions are also the same, the YDP-144 features the GHS action keyboard.
With that said, the YDP-144 has slightly more powerful speakers (16W vs 12W) and reproduces string resonance and damper resonance, which makes its sound richer and more realistic.
The YDP-144 also has a 2-track MIDI recorder, which allows you to record your performances and play them back.
You also get a music library with 50 piano songs that you can play back and practice each hand's part separately by turning off the left- or the right-hand part.
---
Yamaha YDP-103 vs  Casio PX-870 (Full Review)
This newly released digital piano from Casio is a direct competitor not only to the Yamaha YDP-103 but to the more expensive YDP-144 model.
I think the PX-870 provides the most buck for the back in the ∼ $1000 price range. In recent years, Casio has considerably improved the technology they use to produce digital pianos.
Those days when the company was only associated with cheap plastic sounding keyboards are long gone.
Today, Casio dominates the entry-level segment of digital pianos mainly because their instruments offer a lot of value for a very reasonable price.
The Casio PX-870 is the flagship of the Privia line and actually beats the YDP-103 in almost all aspects.
The PX-870 has more built-in tones (19 vs 10), and its upgraded piano tone includes various organic elements of piano sound such as string resonance, key off simulator, damper resonance, key on/off action noise, etc.
The PX-870 also has 256-note polyphony, which is exceptional for pianos in this price range.
Add to this a powerful 4-speaker sound system (20W + 20W), and the Casio PX-870 becomes an amazing-sounding instrument that's really hard to beat at this price point.
Not only sound, feature-wise the PX-870 is way ahead of the Yamaha.
The piano is equipped with a 2-track MIDI recorder as well as an audio recorder, which allows you to not only record the MIDI data but also the actual sound of your performances.
The piano has 60 preset songs (+ 10 download songs) that can be used for listening and left & right-hand practice.
Concert Play feature will allow you to play along with 10 different tunes that were recorded from a live orchestra, which is really a lot of fun.
For those who are looking for a more affordable option, I recommend taking a look at the PX-770 model, which is a bit less advanced than the PX-870 but it still has a lot to offer for the price.
---
Yamaha YDP-103 vs  Roland RP-102 (Full Review)
Until recently Roland didn't offer any console digital pianos under $1000.
At the end of 2017, the company introduced the RP-102, which has become Roland's most affordable digital piano with a traditional cabinet design.
Since then, the RP-102 has become a strong competitor to other digital pianos in its class, including the Yamaha YDP-103 (YDP-144), the Casio PX-870, the Kawai KDP110, etc.
The RP-102 is very similar if not identical to the portable FP-30 model but comes with a furniture style cabinet.
The piano features the SuperNATURAL sound engine (with string resonance, key-off resonance, and damper resonance) with 128-note polyphony, which delivers a very rich and expressive sound.
The RP-102 is equipped with the PHA-4 Standard keyboard with Ivory Feel and Escapement feature.
In the review of the FP-30, I mentioned that the PHA-4 Standard is one of the best keyboard actions in its price range. It feels nice to the touch and is very responsive.
If I were to rate the key actions of these 3 pianos according to my taste, it would probably look like this:
PHA-4 Standard > Tri-sensor Hammer Action II (Casio PX-870) > GHS (Yamaha YDP-103 & YDP-144)
They don't differ that much in terms of realism, because all of these pianos are in the same price range, but they do feel slightly different to each other and, to my fingers, the PHA-4 is a bit more enjoyable to play.
The two features that put the RP-102 aside from its competitors is a large built-in Song Library and Bluetooth connectivity.
The piano has over 200 piano tunes and exercises, including Czerny, Hanon, scales, etc.
Unfortunately, the RP-102 doesn't have an onboard MIDI recorder, but it's not really a problem with Bluetooth connectivity it has.
Using Bluetooth, you can wirelessly connect the piano to your smart devices and use various music apps for music recording, editing, learning and more.