I'm happy to report that I've finally been able to put my hands on the latest models of Yamaha's Arius line.
And today we'll be taking a closer look at a mid-range Arius digital piano, the Yamaha YDP-143, which has replaced the previous YDP-142 model.
I know it's been a while since it was released in April 2016. BUT
The YDP-143 remains one of the most popular choices in its price range, and I don't think Yamaha will be replacing it with a newer model any time soon.
As for today, the Arius family consists of 4 models with a traditional style cabinet:
and 2 models with a modern slim cabinet:
YDP-S34 (slim, modern-design version of the YDP-144)
YDP-S54 (slim, modern-design version of the YDP-164)
I've already shared my thoughts on the entry-level Yamaha YDP-103, which you can read here.
The YDP-143 is the next model up in the line, and, together with the YDP-163, they are currently the best-selling Arius digital pianos.
The YDP-143 comes with a number of important upgrades over the YDP-103, which makes it a more attractive instrument for experienced players.
Without further ado, let's jump right into the review and see exactly what the piano has to offer.
Yamaha YDP-143 Specs
88-key fully weighted keyboard with matte black keytops
Graded Hammer Standard action
Touch Sensitivity (Hard, Medium, Soft, Fixed)
Sound: Pure CF Sound Engine
192-note polyphony
10 instrument sounds (3 pianos)
50 preset piano songs + 10 demo songs
Modes: Duo, Dual
Lesson Function (ability to practice each hand's part separately)
2-track MIDI recorder
Metronome, Transpose, Fine-tuning
Intelligent Acoustic Control, Stereophonic Optimizer, Acoustic Optimizer
Speakers: 6W + 6W (oval 12cm x 6cm speakers)
Connectors: USB to Host, Headphone jacks (2)
135 x 42 x 81 cm (53.4" x 16.6" x 32")
38 kg (83 lbs. 12 oz.)
Check the availability and current price of the Yamaha YDP-143 in your region:
Design
The Yamaha YDP-143 is housed in a traditional looking cabinet designed to enhance the décor of any room without taking up too much space.
The sliding cover will keep the keyboard away from dust and dirt when you don't play it.
Compared to an acoustic piano, the YDP-143 is much easier to move around, which is a big plus for those who need to transport it occasionally.
The pianos is 53.4″ wide and 16.6″ deep, which is pretty standard for instruments of such a design.
Digital pianos with a more modern look (e.g. Yamama YDP-S, Casio Privia line) are usually a few inches slimmer and even easier fit into smaller rooms.
Take a look at the comparison table below to see how the YDP-143 compares to other popular digital pianos in terms of size:
Yamaha is known for its excellent quality control. There have been very few issues with their digital pianos, and it's a fact.
Their built quality is always great, and the instruments usually last for years.
The YDP-143 is no exception. Although the YDP-143 is a mid-range model, I was very pleased with the quality of this piano.
Add to this a 3-year manufacturer's warranty, and you get a pretty good value here.
The piano arrives unassembled in a big well-packaged box.
In the box, you'll find the keyboard itself, 3-pedal bar, bench, and all the parts that you'll need to assemble into the base.
Keep in mind that the piano weighs around 83 lbs and the box you get is over 100 lbs, so bear in mind that you may need another person to help you with unpacking and assembling.
With that said, the assembly is not too complicated, and the instructions are very clear.
You basically need to assemble the base, and then screw it to the keyboard itself using a Phillips-head screwdriver.
The YDP-143 comes with 3 piano pedals that operate just like sustain, soft, and sostenuto pedals on an acoustic piano.
The sustain pedal also supports half-pedal function.
The piano is made of particleboard, but it's of very good quality and doesn't feel cheap at all.
The piano is covered with a grain wood finish and available in two colors: Dark Rosewood (YDP-143R) and Black Walnut (YDP-143B).
Both colors look nice and elegant, so you can't really go wrong with either. It's worth noting that Dark Rosewood is so dark that it seems almost black when you look at it from a distance.
There is also a White matte finish, but, unfortunately, it's not available in the US.
The control panel is pretty standard. There are 7 buttons on the left side of the keyboard and a Volume knob + a Power button on the right.
The YDP-143 doesn't have a display, so it's not always easy to figure out what setting is being used.
Moreover, most functions and settings are accessed by using "button + button" or "button + key" combinations, which are not necessarily intuitive.
So initially you'll have to look them up in the manual until you memorize the combinations you use most often.
To make things easier, the piano will produce a confirmation sound whenever you change a setting (can be disabled).
There is also an option to connect your iPhone or iPad to the piano and use the Yamaha controller app with an intuitive interface to navigate the YDP-143.
We'll talk about that in more detail in the 'Connectivity' section of the review.
Keyboard
The Yamaha YDP-143 comes with a full set of 88 fully weighted keys, which feel similar to real piano keys.
It's the same Graded Hammer Standard (GHS) keyboard that we saw on the YDP-103 as well as on the P-45 and P-115 (portable models).
I've said a lot about the GHS in previous reviews, so I'll be short here.
As I said in the YDP-103 review, to my taste, there are more realistic keyboard actions on the market today, including ones from Kawai and Roland.
That said, the GHS is still a solid, reliable action, which feels good enough for most beginner and intermediate players.
Another advantage of the GHS keyboard is that it's pretty quiet, and doesn't make loud clicking noises when you play it.
The keys are weighted with a heavier touch in the lower end and a lighter touch in the upper end, just like an acoustic piano.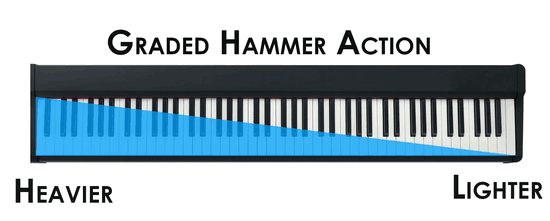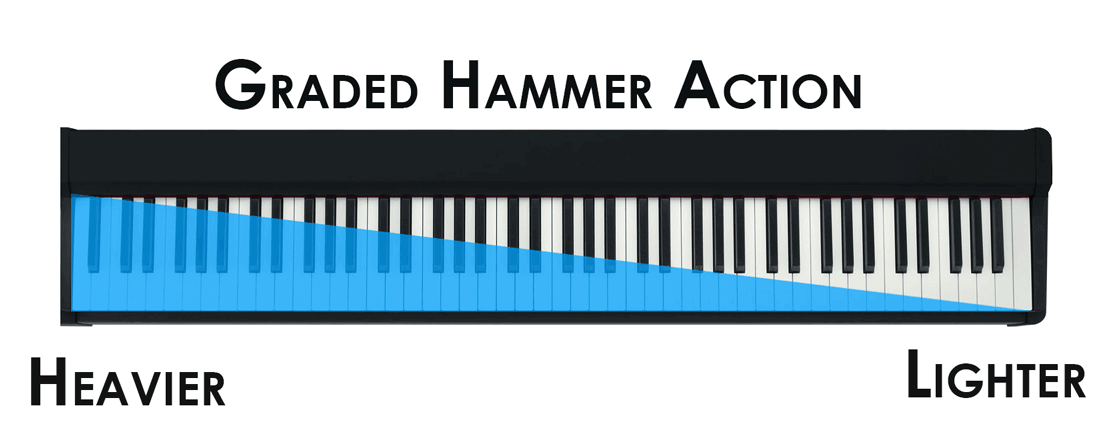 The touch sensitivity of the keys can be adjusted according to your playing preferences.
Depending on how much force you want to apply in order to produce the loudest sound you can choose a softer or harder touch.
There are 4 preset settings available: Soft, Medium (default), Hard, Off.
The GSH doesn't offer synthetic ivory keytops found on some more expensive models like the YDP-163.
The white keys on the YDP-143 are made of smooth plastic, the black ones have a matte black finish on them, which enhances playing control and prevents mistakes.
Sound
The main distinction between the YDP-143 and its smaller brother (YDP-103) is tone generator.
The YDP-143 is equipped with the Pure CF sound engine, which is a big step forward from the AWM sampling technology.
The Pure CF sound engine is also used on higher-priced pianos such as the YDP-163 and P-255 .
The Pure CF provides a rich natural piano tone sampled from the Yamaha CFIIIS 9′ concert grand piano.
Each note was recorded several times at different velocity levels to recreate a wide dynamic range found on a grand piano.
There are 3 different piano tones available on the YDP-143.
The first one is a Concert Grand tone, which, in my opinion, sounds the most full and realistic.
It has Yamaha's somewhat mellow character and offers a pretty good dynamic range with deep reverberation.
When listening through headphones, the sound becomes even more detailed and beautiful. Just have a listen!
I was a bit disappointed that the main Grand Piano tone didn't have string resonance and key-off simulation, which would certainly make it sound more natural and "live".
The 3rd Grand Piano tone has a brighter and sharper character, which helps cut through a mix in a live environment.
To add extra depth and ambiance to the sound, you can use 4 different reverb types.
There are Recital Hall, Concert Hall, Chamber, and Club.
For each reverb type, you can additionally adjust the depth to make the effect more or less pronounced.
I tried the Concert Hall and Recital Hall settings, and I really liked how spacious and true-to-life the sound becomes, especially when playing fast dynamic music.
There are two new features available on the YDP-143, which are designed to improve the sound in various situations.
Intelligent Acoustic Control (IAC) feature adjusts the quality and controls the sound in low volume situations to make both bass and treble notes clearly audible.
I didn't really notice that much of a difference when playing with the IAC turned on.
Some might notice some change, but still, it's quite subtle. Either way, the instrument sounds great with or without IAC.
Stereophonic Optimizer is a really cool feature that's used when you're playing and listening to the piano through headphones.
To make the sound more natural and spacious, the Stereophonic Optimizer adjusts the spacing and the separation of the sound, which results in a more realistic and immersive experience.
Speakers
The speaker system of the YDP-143 consists of two oval speakers (12 cm x 6 cm) located on each side of the piano.
The total power output is 12W (6W per side), which doesn't seem like a lot, but in practice, it's more than enough for playing at home and even for small performances in front of your family and friends.
The quality of the sound is very decent for 12W and enhanced by Yamaha's proprietary Acoustic Optimizer.
The sound is full and well-balanced over the whole frequency range.
I didn't notice any distortion at the max volume, but in most cases, you won't probably use it at full volume at home, especially if you have close neighbors.
Polyphony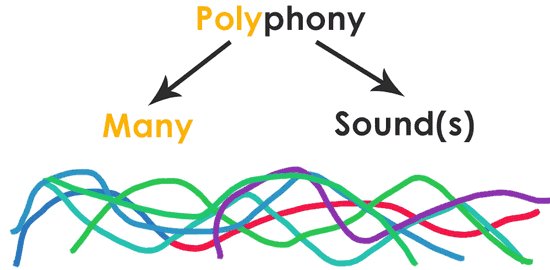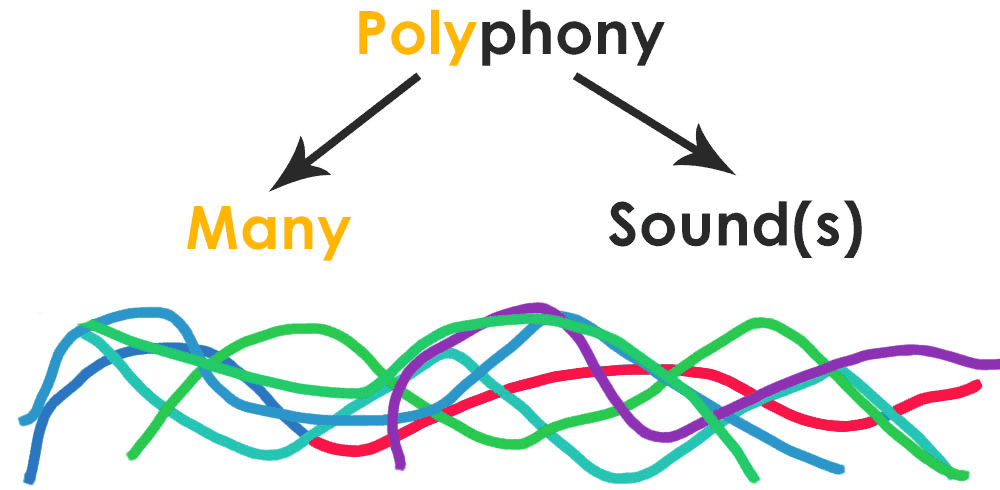 With the YDP-143, polyphony is not something you should be worried about.
The piano has 192-note polyphony, which will allow you to implement the most complex and sophisticated sound effects and use multi-layered backing tracks without running out of notes.
Just so you know, for simple piano playing you won't need more than 64 notes of polyphony to hear all the sound nuances without sudden cutoffs, even when you play fast and use the sustain pedal a lot.
Features
The YDP-143 is a quite straightforward digital piano, nothing too fancy but it has enough features to learn and master a variety of sounds, styles, and songs.
Modes
Along with the main full-keyboard mode, there are two modes you can use to play multiple instrument sounds at the same time and to practice piano duets.
Dual Mode allows you choose two different instruments that you want to layer, and then when you play the keyboard, you'll hear these two sounds layered on top of each other creating a rich, beautiful tone.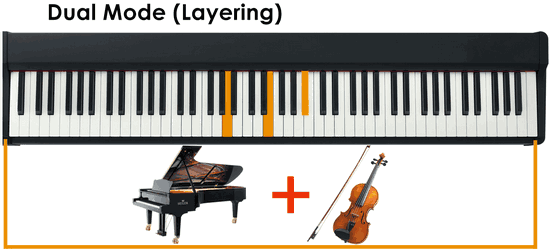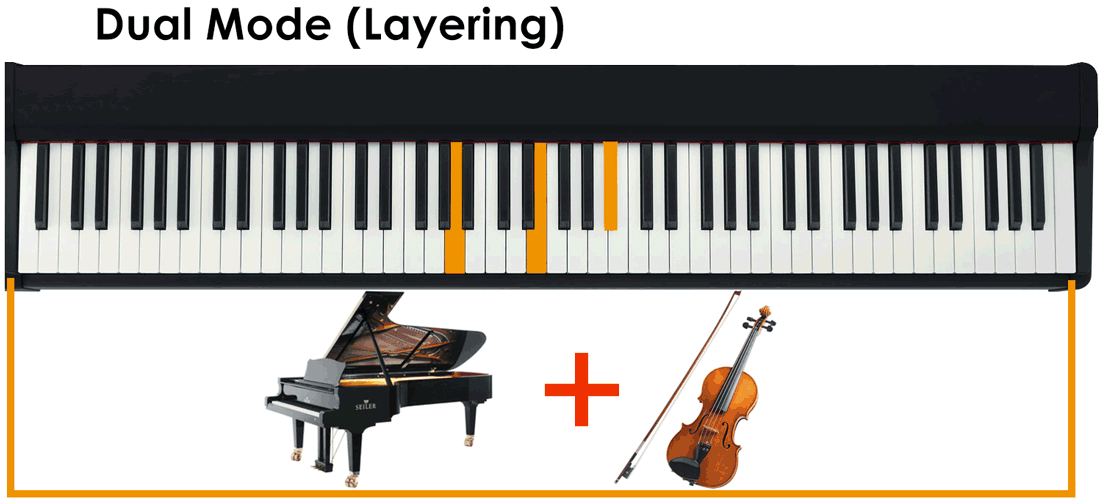 You can layer any of the 10 built-in sounds. Moreover, the mix balance of the two sounds can be easily adjusted.
Duo Mode is perfect for those who want to practice four-hand or play two-piano repertoire.
It's also a very useful tool for teachers, which can be used in classes with their students.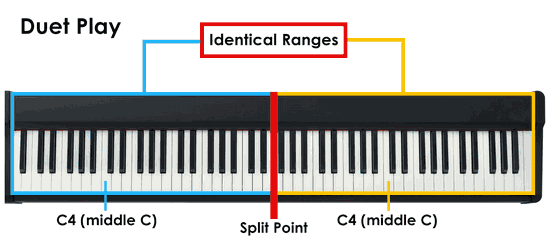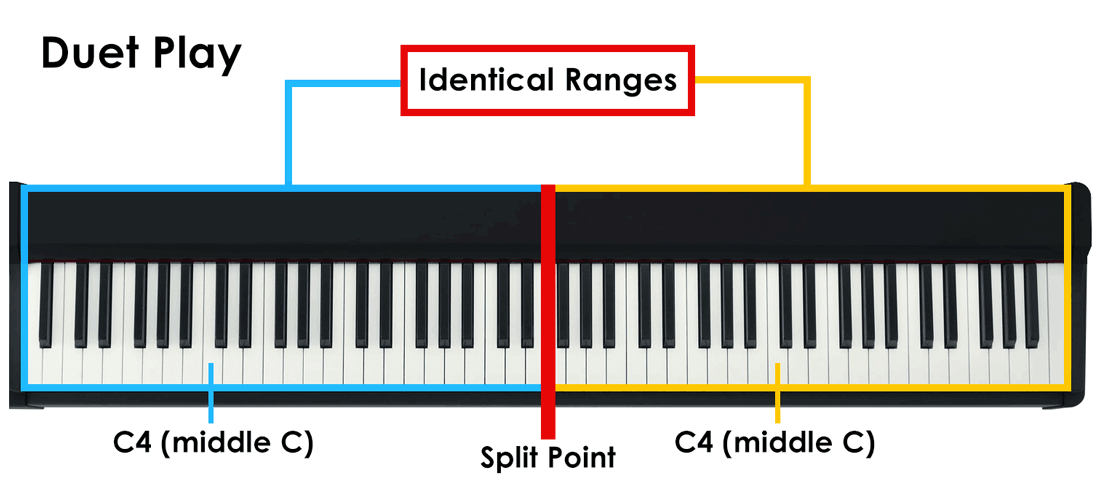 A teacher can play some notes on one side of the keyboard and a student sitting right next to him or her can play the exact same notes on the other side of the keyboard, which is very convenient.
Duo Mode will split the keyboard into two identical parts with the same pitch ranges so that each half gets its own middle C.
Music Library
The YDP-143 comes with 10 Demo and 50 piano songs that you can use for your listening enjoyment as well as for practice.
For each of the 50 songs, you can turn off the right- or left-hand part and practice it while the other part is playing back.
Moreover, you can load up to 10 User Songs into the instrument using your computer.
In other words, you can find your favorite songs in MIDI format (SMF) on websites like YamahaMusic, MIDIworld, etc., transfer them to the piano, and use in the same way as preset songs, which gives you much more freedom in choosing what to learn and to play.
Recording & Playback
Another useful feature the YDP-143 has is a 2-track MIDI-sequencer that you can use to record and play back your performances right onboard without using any additional devices/software.
Each song consists of two tracks, which you can record separately and play them together as a single song.
For example, you can record the left-part on track 1 and the right-hand part on track 2, or you can record multiple instrument parts on separate tracks to create more complex multi-layered pieces.
Other features
Basic features like metronome, transpose and tuning functions are also available on the YDP-143.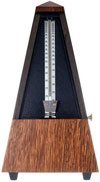 Metronome, as you probably know, is a learning and training tool that helps a lot in determining if you're playing accurately.
Do you tend to play slower? Faster? Do you slow down when you play more quietly? Do you play faster on loud notes?
Not only will you be able to answer these questions but also improve your rhythm and time-keeping skills, which will make your playing more accurate and sharp.
Transpose function can be used to shift the pitch of the entire keyboard up and down in semitone steps.
Some people use it to facilitate playing songs written in difficult keys, others use it to play a song in a different key without changing their fingering.
Tuning function allows you to change the pitch of the instrument in 0.2Hz steps.
Connectivity
On the bottom of the YDP-143, you'll find two 1/4" stereo jacks, which can be used for connecting some headphones.
You can also use these jacks as an alternative to Line Outs to plug in external amplifiers, PA systems, audio interfaces, etc.
To connect the YDP-143 to a computer or an iOS device, you'll need to use the USB to Host port located on the bottom of the piano.
An A to B USB cable you'll need to connect to the computer is sold separately from the piano.
After connecting to the computer, you'll also need to download the Yamaha USB-MIDI driver.
After that, you'll be able to exchange files and MIDI data with your computer and use various music-making and educational apps (e.g., Flowkey, GarageBand) to enhance your playing and learning.
The YDP-143 is also compatible with the various free app that Yamaha offers for iOS devices.
For example, the Digital Piano Controller app provides a graphic, easy-to-use interface to control different parameters and functions of the piano, which partly makes up for the lack of a display.
Unfortunately, Yamaha doesn't offer any apps for Android users, which is kind of frustrating since it's the second most popular mobile operating system in the world and I believe for some it might be an issue.
To connect to an iPhone or iPad you can either use the Lightning to USB Camera adapter, or the Yamaha Wireless MIDI adapter, which will allow your Apple device to connect to the YDP-143 via Bluetooth.
But be prepared that latency times will be higher compared to the wired connection via the Lightning to USB Camera adapter.
Accessories
Since the YDP-143 is a console digital piano, there are actually not many accessories you'd need to buy separately.
For example, you don't need to spend extra money on a stand or pedals because they already come with the piano.
Oh, I almost forgot, the Yamaha BC-100DR bench is also included, so you don't have to worry about that either.
What you'll still want to buy separately is headphones, especially if you prefer to practice in private or simply want to experience a more immersive and higher-quality sound.
Headphones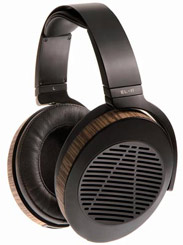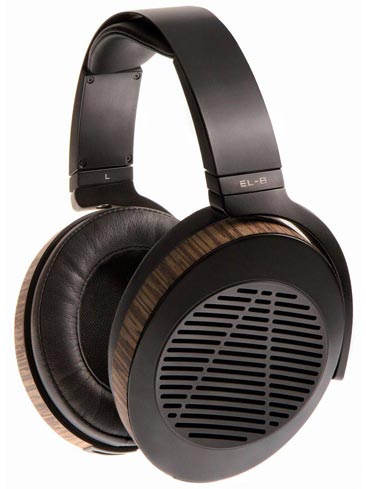 Headphones come in very handy when you want to practice in private, focusing solely on your playing and not disturbing others nearby.
Moreover, a good pair of headphones will provide a clearer and more detailed sound compared to the onboard speakers.
Check out this guide to learn how to choose the best-sounding headphones for your digital piano.

Summary
Now it's time to wrap everything up and here are my final thoughts.
I do believe that the piano is a worthy successor to the previous YDP-142 model.
Even though only a few things were improved, the Yamaha YDP-143 continues to be a solid choice in its price category, no questions about it.
With that said, the market of digital pianos today is more competitive than ever.
Other leading brands such as Roland, Casio, Kawai are constantly improving their technology and releasing new models, which creates healthy competition and pushes giants like Yamaha to further improve their instruments and make them more realistic.
So I wouldn't say the YDP-143 is a unique or irreplaceable piano on the market today, but it's still a nice, reliable instrument that will serve you and your family for years to come.
When it comes to making digital pianos, Yamaha know their business.
It's one of the oldest and most reputable brands of musical instruments, so you can be confident when buying their instruments.
The YDP-143 has a solid construction, great build quality, and provides an authentic piano playing experience that anyone will appreciate.
The piano would be a perfect choice for a beginner as well as intermediate pianists.
It also would be a fine choice for those who are seeking a compact and affordable family piano that several people of different levels can play and learn on every day.
There are still a number of things that could be improved in my opinion. It would be great to see more built-in tones and more options for adjusting sound parameters and effects.
Onboard Bluetooth connectivity is also something Yamaha should look into, considering that many of its competitors already have it.
Moreover, it was a bit of a surprise that the YDP-143  doesn't have a String Resonance and Key Off simulation that more advanced pianists would very much appreciate.
Check the availability and current price of the Yamaha YDP-143 in your region:
Alternatives
Yamaha YDP-143 vs  Yamaha YDP-163 (Full Review)
The question I hear very often is whether to buy the YDP-143 or spend a bit more and go for the YDP-163 , which is the next model up in the Arius family.
Well, first of all, there aren't too many differences between these pianos.
But chances are those differences will carry the most weight when you'll be making your final decision. The YDP-163's biggest upgrade over its smaller borther is the keyboard itself.
The YDP-163 comes with Yamaha's premium keyboard called the GH3. It's a big step up from the YDP-143's GHS action and a great choice for seasoned pianists.
The GH3 uses graded hammer action, which provides an authentic and accurate feel very similar to that of an acoustic piano.
Unlike the GHS, which uses 2-sensor detection system, the GH3 implements 3-sensor technology that allows for faster note repetition and more accuracy.
The keys are covered with synthetic ivory which helps absorb moisture from your fingers, enhances control, and just feels nicer to the touch.
Some people don't quite like the GH3, calling it stiff and hard to play.
Luckily, I was able to test and compare the two actions side by side, and I really enjoyed playing the GH3.
Yes, the keyboard is certainly on the heavy side and feels heavier than some acoustic piano actions. I've been playing acoustics for most of my life, so I didn't have any discomfort playing the GH3.
In fact, I liked it much more than the GHS action of the YDP-143, which doesn't feel quite as solid and realistic to me.
This proves one more time that there's no "perfect" or "best" action and it all comes down to one's personal preferences in the end.
There's no universal standard to determining what's the best keyboard. It's all very subjective.
Another difference is that along with the new action, the YDP-163 has become heavier and weighs 9 lbs more than the YDP-143.
Last but not least, the YDP-163 has two oval speakers with a total output of 40W.
The size and the quality of speakers are the same, the only difference is the power output. While, the difference may seem huge on the paper (40W vs 12W), in practice, it's not that big.
Yes, the YDP-163's speakers perform better in bigger/noisier environments and have a more rounded, deeper sound.
But you'll still need external speakers if you want to perform live on stage. For home use, either piano will suffice, no questions asked.
Let's quickly sum up the differences:
That's pretty much it when it comes to differences between the YDP-143 and YDP-163.
In terms of sounds, features, and functions they are completely identical.
Yamaha YDP-143 vs  Casio PX-870 (Full Review)
Casio have recently updated their Privia line with a new flagship model – the PX-870.
There are a lot of things that were improved compared to the previous PX-860 model.
Overall the PX-870 turned out to be a wonderful instrument, which comes with lots of features that other digital pianos in this price range don't offer.
Some of the main features of the Casio include:
Incredible 4-layer piano sound with a simulation of string resonance, key-off, damper, hammer response, lid, action noise and more.
Tri-sensor Hammer Action II with Ivory and Ebony simulation
256-note polyphony
40W projection speaker system (4 speakers)
Onboard Audio & MIDI recorder
Yamaha YDP-143 vs  Yamaha P-115 (Full Review)
You didn't expect to see the Yamaha P-115 here, did you?
Well, although this digital piano is in a slightly different category, I've been asked a lot about what is a better choice, the YDP-143 or the portable P-115.
And in this particular case, I recommend focussing merely on the design, because otherwise, they are practically the same pianos.
The P-115 would suit you better if you appreciate mobility and plan to use your digital piano at concerts and events.
Thanks to its portable design, the P-115 opens up a lot of possibilities for traveling and performing live without having to worry about how to transport a big instrument such as the YDP-143.
For that reason, the P-115 is a perfect choice for gigging musicians and those on the road.
At the same time, if you're only going to use a digital piano at home, I'd go for the YDP-143, which is design exactly for home use.
Despite the fact that they're almost identical in terms of sounds and features, with the YDP-143, you're getting an elegant console cabinet with 3 pedals and a fuller, more resonant sound.
The P-115, on the other hand, has more built-in sounds (14 vs 10), dedicated line out jacks, and 10 pianist styles (accompaniment).
From the price perspective, the P-115 is obviously a winner here, so if you have a tight budget, the P-115 would probably be a more reasonable choice for you.
Keep in mind, that with the P-115 you will have to buy a stand and a bench separately. The 3-pedal bar is also sold separately.
Yamaha YDP-143 vs  Kawai KDP110 (Full Review)
Coming soon!