Yamaha's PSR-series is primarily an arranger keyboard line, but it is most well-known for its budget options.
If you've ever checked out beginner keyboard recommendations, you've probably heard of the PSR-E363 or PSR-E353, which are some of the most commonly recommended budget arranger keyboards for beginners.
Despite the PSR-E363's enduring popularity, I would never label it as an amazing keyboard. I don't expect too much at this price point, but there are a few inherent problems with the limitations of budget arranger keyboards.
For context, the biggest complaint people had about the PSR-E363 and its predecessors was the sound engine (which is a decade old at this point).
While I've always found Yamaha's samples to be perfectly usable, that was just my personal preference, and I was also in the minority.
Even so, I knew that the PSR-E363 was running on fumes, and the sounds were in desperate need of an update to bring it up to par. That brings us to the Yamaha PSR-E373, one of the most hyped-up updates to this long-running product line.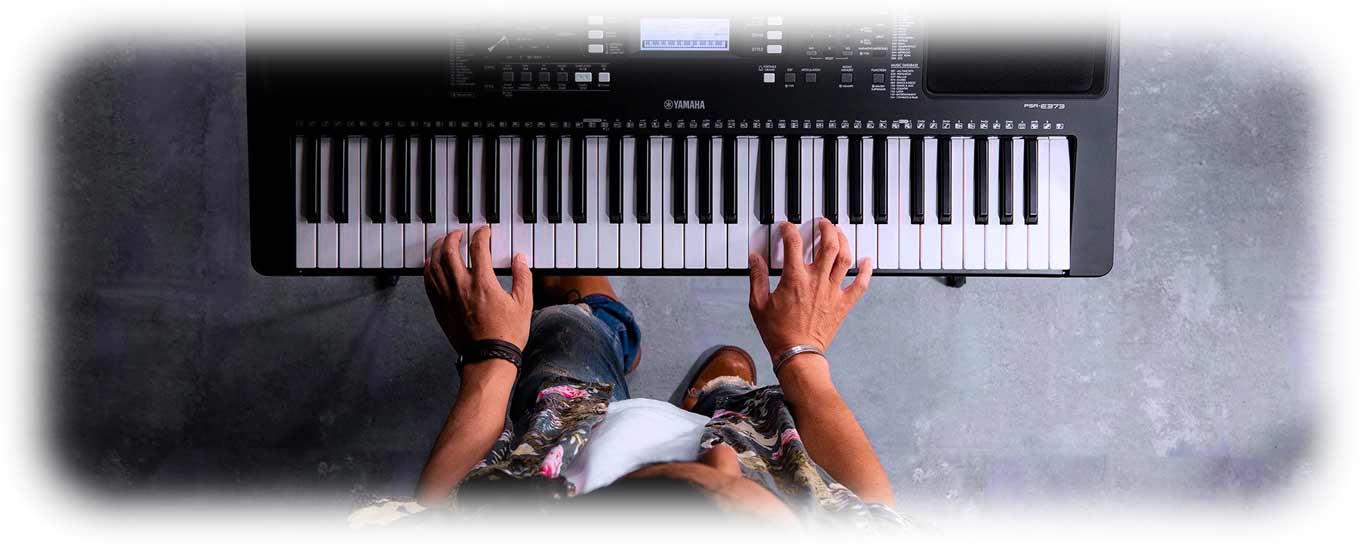 Yamaha promised quite a lot with this new keyboard, and I was very interested to see how much actually changed. After a lot of waiting, I finally got my hands on a test unit.
I'll spoil my general impressions here. This isn't another boring, iterative upgrade to the tried and tested PSR-E3X3 series. Yamaha did a lot of things right here, and I'll do my best to cover every significant change and determine if this keyboard lives up to the marketing hype.
Similarly, there's the YPT-370, which is functionally identical to the PSR-E373, just with an alternate coloring and layout. Depending on your region, this might be the model available for sale.
Yamaha PSR-E373 / PSR-EW310 Specs
61/76 unweighted synth-action keys
Touch Sensitivity (3 types, Off)
Sound: AWM Stereo Sampling, 622 preset tones
48-note polyphony
Modes: Split, Dual, Duo
Effects: DSP (38 types), Reverb (12 types), Chorus (5 types), Master EQ (6 types), Harmony (26 types)
2-track MIDI recorder
205 Accompaniment Styles, 150 Arpeggio Types
154 Preset Songs + Lesson Mode (Keys to Success)
Connections: Headphone jack (1/4"), Sustain Pedal jack, AUX IN (stereo mini jack), USB to HOST (MIDI + Audio)
W x D x H: 37.2" x 14.5" x 4.6" (94.5 x 36.9 x 11.8 cm) – E373 | 45.3" x 14.5" x 4.6" (115.1 x 36.9 x 11.8 cm) – EW310
10.1 lbs (4.6 kg) – E373 | 11.9 lbs (5.4 kg) – EW310
The full specs can be found on Yamaha's official site here
Check the availability and current price of the Yamaha PSR-E373 / EW-310 in your region:
Design
At first glance, the PSR-E373 doesn't look all that different from the PSR-E363. However, there are some subtle differences that feel obvious once you fire it up.
The body is primarily sand-blasted black plastic, which achieves a nice balance between portability and durability.
I obviously didn't test this out in person, but experience with an old PSR-E363 tells me that this is good enough to help it survive a few bumps without showing scarring.
Considering that the PSR-E373 is aimed at young kids, having a bit of survivability is always a plus.
Just like many portable keyboards, the PSR-E373/EW-310 come with a compartment for batteries, which means you can easily take your keyboard outside and play some tunes on a nice sunny day.
The control layout follows the standard arranger keyboard convention, with buttons flanking a backlit monochrome LCD screen in the center of the keyboard.
The LCD screen is one of the first changes I noticed. Previous models featured an orange backlight with bad viewing angles, which was a minor gripe I had with the PSR-E363. On the new PSR-E373, the backlight is now white with a bluish tint, which is a lot easier on the eyes.
The buttons are made from rubbery plastic, which does lack the tactile feedback I usually expect. From experience with preceding models (and an overly excitable cousin), I know that these buttons can take a ton of abuse without breaking down.
They're also well-sealed, which prevents dust from wreaking havoc on the internals.
Apart from that, there is also printed white text, which acts as a visual aid to guide you through using the keyboard. Considering that this keyboard comes with a large sound and rhythm library, it's a welcome convenience factor.
The white text also contrasts the black front panel very nicely, which is a plus for use under low-light conditions.
Finally, there are some printed images that show what drum sound is assigned to each key. This corresponds to the industry standard General MIDI drum layout and is helpful for beginners who want to familiarize themselves with keyboard drumming.
Either way, I'd say the PSR-E373 is a solid arranger keyboard. If you've used a prior PSR-model, you should feel right at home. While I do have my complaints, it really isn't fair to compare this to more expensive models.
Keyboard
The keyboard is one of the two most important aspects on any keyboard. A keyboard equipped with super-realistic samples isn't worth anything if it's equipped with an unresponsive, mushy keyboard.
The PSR-E373 features 61 unweighted synth-action keys, and include velocity sensitivity as a feature. This means that sounds can change based on how hard or softly you play the keys.
I was pleasantly surprised by the keys on the PSR-E373. There wasn't any mention of improved keys in all the marketing material, but these keys are definitely much improved over those on the prior PSR-E363.
While the keys are unweighted just like the PSR-E363, they feel a lot firmer and springier, which makes the PSR-E373 feel more premium.
In my opinion, this is a significant upgrade, but you likely won't notice it if you don't have an older model to do a side-by-side comparison.
One of my main complaints about the PSR-E363 is how the keys feel 'mushy', and how you can't truly play into the keys like you would a real piano.
With the higher tension on the PSR-E373's keys, it's easier to accurately predict when the sample triggers, which just makes the keyboard feel more fun to play.
That's not to say the keys are perfect. I feel like they are a little bit lighter than I'd like, which makes it harder to adapt to if you're used to heavier fully-weighted keys.
Regardless, I still consider them a marked improvement over the prior PSR-E3X3 series' keybed.
While these keys are far from realistic, they are more than enough for beginners to start out with. Part of learning to play the piano is getting used to key positions, and the full-sized keys on the PSR-E373 let newer players learn this transferrable skill.
The default pressure sensitivity level feels natural to me, and Yamaha's velocity curves are top-notch as usual.
However, if you want a bit more customization, you can dive into the settings menu to choose between the Soft, Medium and Heavy presets, as well as a fixed option.
The PSR-E373's keyboard is a much-needed improvement to Yamaha's typical unweighted key setup, and I can honestly say that it's one of the better keybeds I've ever seen on budget arranger keyboards.
Sound
Apart from the keybed, sounds are another key component of any digital instrument. These are particularly important in a practice instrument, as beginners won't know what they're doing wrong if they can't hear what they're playing.
Sounds have always been a sore spot when it comes to budget arranger keyboards. These instruments generally go with the 'Quantity over Quality' approach, which is fun for noodling around, but not all that useful in a real use case.
While most of the sounds on the previous PSR-E363 sounded serviceable, I'd never use them in a real performance. On more expensive digital pianos, different samples are triggered when you play sounds at different dynamic intensities, which makes things sound more expressive.
I'm glad to report that the PSR-E373 bunks this trend. The PSR-E373 includes a whopping 622 tones, which is an upgrade over the PSR-E363's 574 sounds.
The PSR-E373 still runs on the decade-old Advanced Wave Memory sampling engine, but I wouldn't rush to judge a keyboard solely based on its sound engine.
Any sample-based sound source is only as good as the included samples, and Yamaha has really stepped up their game with the PSR-E373.
---
Tones
Piano
The biggest news is that Yamaha ported over sounds from their higher-end models. The default piano sound is a copy of the Live! Concert Grand Piano voice from the more expensive PSR-EW410 (which in turn was pulled from Yamaha's $5000 Tyros).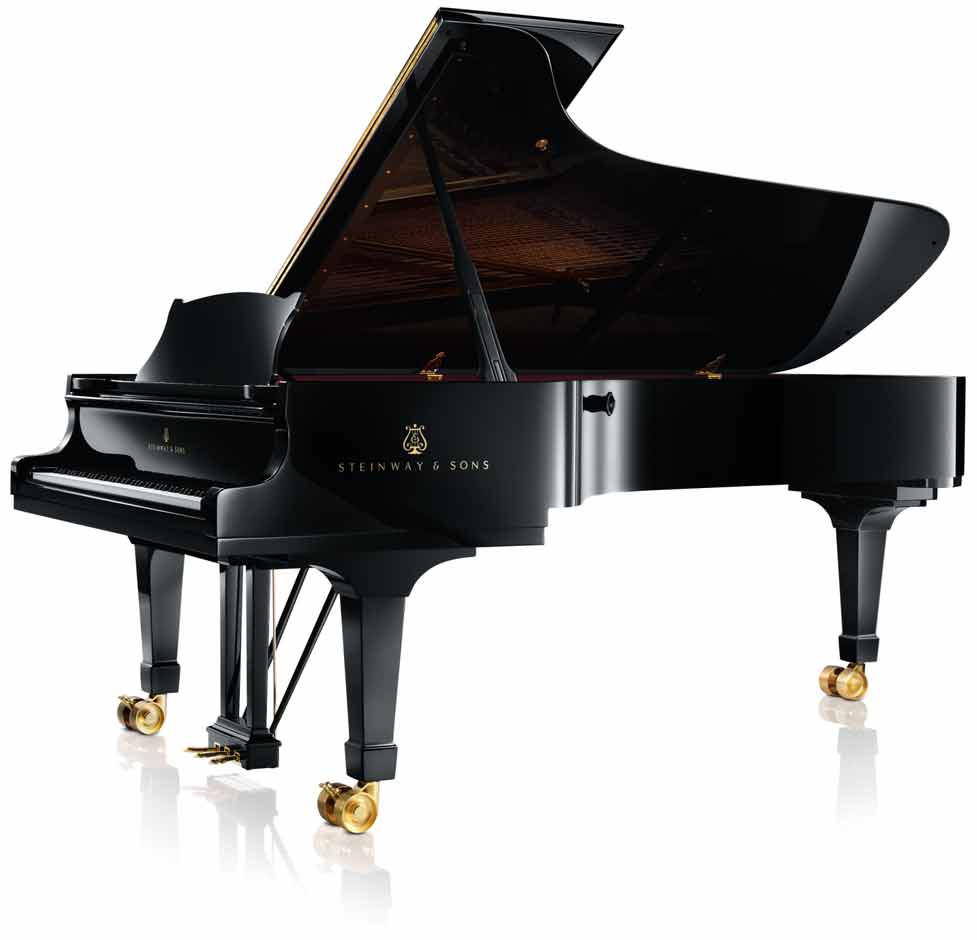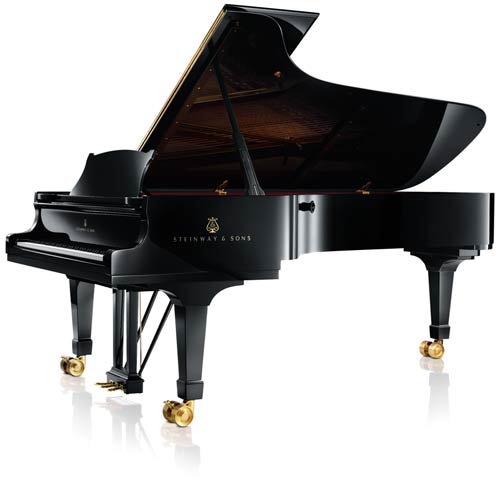 This is the default sound you get upon booting up the PSR-E373, and it's also always accessible via the Portable Grand button to the right of the LCD screen.
It responds really well to different playing dynamics and has a clean tone which is a huge improvement over the PSR-E363's somewhat muddy and hollow piano sound.
I'd say these sounds are nearly comparable to Roland's budget-level SuperNATURAL grand piano sounds, featured on their FP-10 and FP-30 digital pianos. This is no small feat, considering that the FP-line takes the alternate 'quality over quantity' approach.
The single complaint I have about the piano sounds is the unnatural sustain, but that's something you won't hear unless you're purposefully listening for it.
When you play a key while holding down the sustain pedal, the sound starts off completely naturally, but after decaying naturally in volume, it sustains infinitely until you let go of the pedal.
Under usual circumstances, you'll be periodically letting go of the damper pedal, so this effect is negligible. Just bear this behavior in mind if you like dragging out your outros.
Apart from that, I'm really happy with the new piano sounds. They sound natural and clean, which are two aspects where the previous PSR-E keyboards faltered.
If you're on a budget and want a solid piano sound, the PSR-E373 is the best choice available.
---
Other Sounds
The PSR-E373 is no slouch in the rest of the sound department either. The same higher-fidelity sound quality is retained across other categories as well.
The electric pianos are a highlight. Much like their acoustic counterparts, Yamaha has improved on their sonic fidelity, and you end up getting some gorgeous, lush electric pianos that blow the competition out of the water.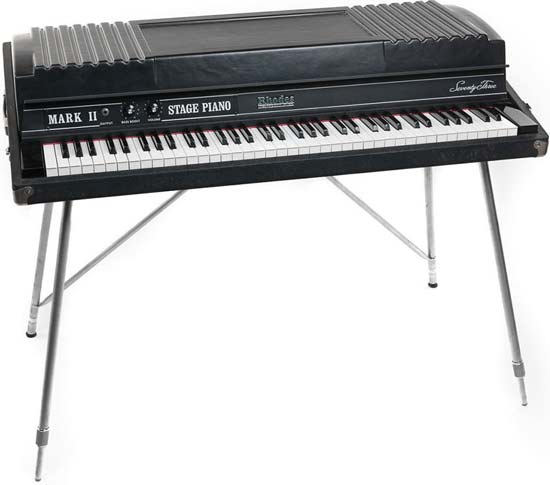 The same goes for most other acoustic sounds, such as brass, strings and drumkits. Many of these sounds still respond great to velocity and switch between different samples based on your playing dynamics.
For example, a flute sound might use soft legato samples at pianissimo range before switching over to forceful notes at the fortissimo range.
Synthesizer sounds were always a strong suit of the PSR-series, and that degree of quality is retained in this model as well.
You can cover a wide range of the sonic spectrum using the PSR-E373, which makes it a really good value buy if you dabble in a multitude of styles.
There is one small caveat with these improved sounds. Despite listing over 500 distinct sounds, a lot of these sounds use the same samples, just being routed through different DSP effects.
Do bear in mind that this is far from a negative, as the new DSP effects are arguably the most exciting addition to grace this piano.
Also, I'm still not a fan of the large subset of XGlite sounds. XGlite is Yamaha's reimplementation of the General MIDI 2 standard, and these sounds are clearly inferior to the 'panel voices', which are designed specifically for the keyboard model they're included on.
---
Cool!, Live! and Sweet! Sounds
Cheesy names aside, these are Yamaha's spotlighted sounds on most of their keyboards. Any sound with these labels are simply more detailed presets that use more involved sampling techniques to get a higher degree of realism.
For example, the Cool! SuitcaseEP preset uses stereo sampling to give you a more realistic stereo-field, and the Sweet! Violin preset uses more samples spread across different velocities to make the violin sound closer to the real deal.
The default piano sound is also one of the Live! sounds. So yeah, these are essentially fancy ways of highlighting which sounds got more attention.
If you get the chance to playtest the PSR-E373 in person, I highly recommend testing out these sounds to see what it's capable of.
---
Super Articulation Lite Sounds
Another interesting improvement is the inclusion of 11 new Super Articulation Lite voices, which are stripped down variations of Yamaha's Super Articulation voices from their higher-end keyboards like the Genos and Clavinova CSP-150.
SAL is a fancy way of describing dynamic sample switching. For example, when you're using a nylon stringed guitar sound, you can hold down the 'Articulation' button to the right of the LCD screen to play harmonic notes instead.
This is a great way of injecting some extra expressivity to your playing, but it's not necessarily the most convenient. Since these sounds are only accessible with the press of a button on the front panel, you need to move your hands to get to them.
Luckily, Yamaha thought of this, and you can dive into the functions menu to assign your sustain pedal to articulation mode, allowing you to emulate articulation switching using your feet (but notably, this disables the sustain functionality, so it's a trade off you'll need to consider).
For the other 500+ sounds, the articulation button triggers a basic vibrato effect, which varies wildly in usability. You'd never want to use it with the piano sounds, but it's incredible on organs and synth sounds.
The single nitpick I have about this is the lack of velocity-specific articulation triggering, much like the high-end keyboards they initially came from.
However, I understand that beginners might not have the necessary dynamic control to achieve the desired effect.
In general, this is an awesome addition for both beginners and experienced keyboardists alike, and I hope to see this included in other models down the road.
---
Effects
DSP Effects
The PSR-E373 comes with a total of 38 DSP effects.
As someone who primarily uses stage pianos, I really enjoy the ability to add effect chains to sounds. Adding on some chorus or distortion to say, an EP sound, can give it a lot of character, and make it fit perfectly into a song.
The previous PSR-E363 came with the usual chorus and reverb effects, wahich were fine, but left a lot to be desired.
Following on with the design ethos of porting down features from higher-end keyboards, the PSR-E373 includes a new suite of DSP effects. For context, even the PSR-EW410 (the source of the awesome concert grand) has a measly 10 DSP effects.
The effects themselves are not that customizable, as you can only switch between binary on and off states. However, they're legitimately great, and I had a blast trying out different combinations during my playtest.
Something which really impressed me was the distortion effects.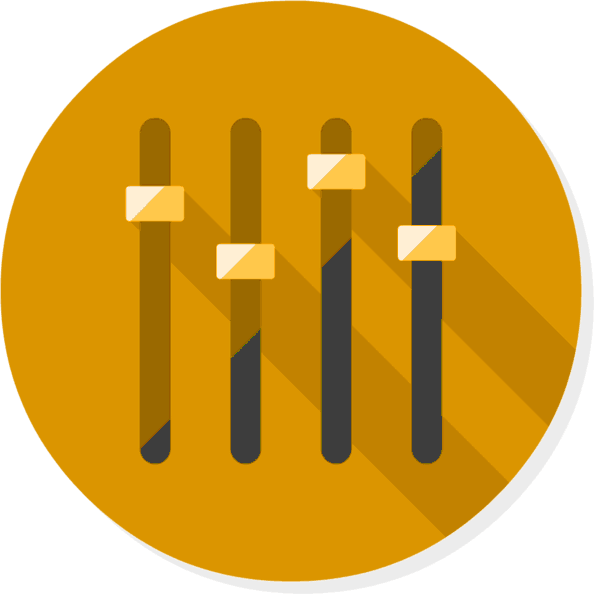 Running the EPs and clavinets through the simulated guitar amplifiers gives a very heavy rock tone which has a lot of character.
It will definitely need a bit of equalization before its stage ready, but the fact that Yamaha allows you to go that far is great.
Apart from that, there are chorus variants, tremolo and rotary speaker effects, amongst many others. You even have some tweakable effects like a variable delay and 3-band EQ.
---
Reverb, Chorus and EQ
Separate from the DSP section is the classic Reverb and Chorus section.
This seems to be the same effects from the prior models, which is activated right before the output.
The Reverb comes with 12 different algorithms, which allows you to add a sense of space to your sounds by simulating the sound source being placed in different virtual spaces. I've always been a fan of the default Hall preset, and it returns with the new PSR-E373.


The Chorus has 5 different algorithms. Specifically, there are 3 subtle conventional choruses and 2 intense flangers. I generally just use these with the EP presets, and the choruses are nice when used in moderation.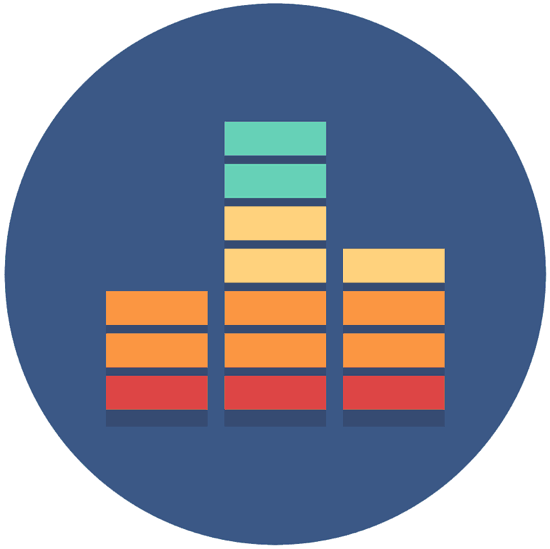 (Do note that there's a ton of other chorus effects in the DSP Effects section, but using these global chorus effects means you have a free DSP slot to freely use.)
Finally, the master EQ is one of the weaker aspects about this keyboard, as you can't customize them like you would the 3-band EQ in the DSP section.
However, it does have preset modes tailored for piano sounds, speakers and headphones.
---
Rhythms
Considering that arranger keyboards are designed around one-man-band performances, the rhythms that correspond to the different styles and songs are very important.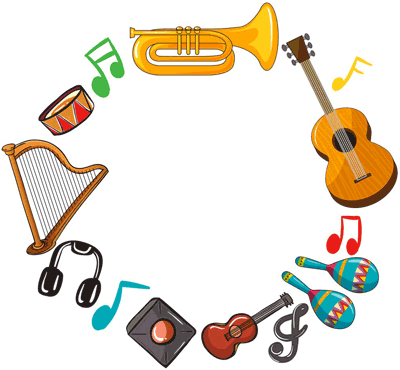 These rhythms are essentially preset drumbeats programmed with the built-in drum voices.
Despite more than 75% of the rhythms being repeats from earlier models, they end up sounding better due to the higher audio fidelity.
Some of the new rhythms even make use of the new DSP effects engine too. Interestingly, a few of the presets even feature dynamic filtering, where higher frequencies are gradually brought in and out during the intro and outros.
---
Conclusion on Sounds
It's hard to describe the improvements in words, but the PSR-E373 just sounds better than its predecessor. Every preset just sounds cleaner, and it never feels 'hollow' or 'muddy', which was a complaint I had with earlier PSR-series keyboards.
If I had to theorize how Yamaha achieved this leap in quality, I'd attribute it to their new 'tone generator LSI', which is Yamaha's patented tone generation electronics signal chain. Even repeat sounds from prior models sound better on a side-by-side test.
The PSR-series has always been well known as a versatile keyboard, and that really comes down to the large selection of available sounds.
Now that we have customizable effects and articulations, an already powerful keyboard just got even better.
---
Polyphony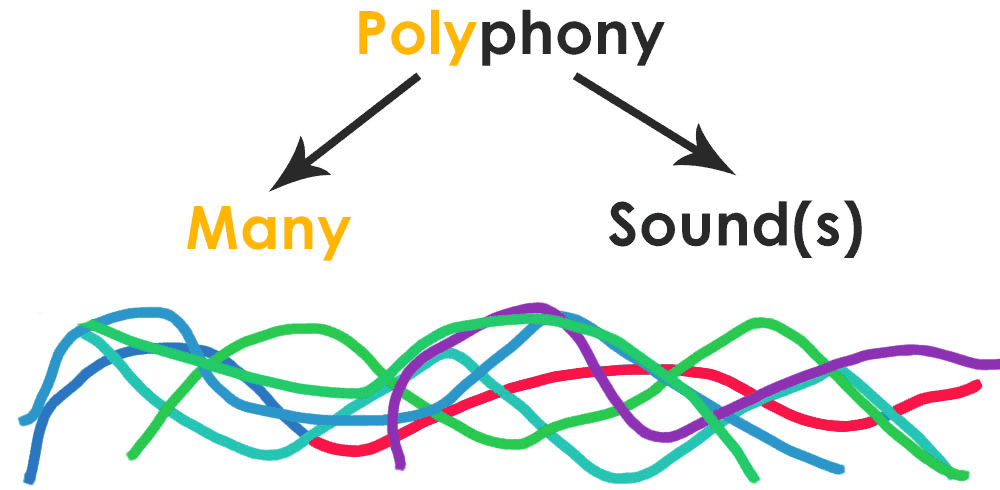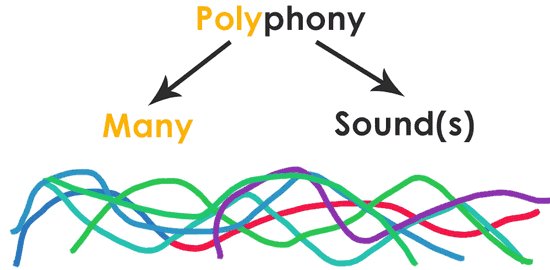 The Yamaha PSR-E373 has 48 notes of maximum polyphony, the same as the PSR-E363. The same comments in our past review still apply, and this is a very low amount, especially by 2021 standards.
This becomes even more of an issue when you start to consider the accompaniment features, which also utilize the limited polyphony.
A polyphony count of 48 means you can only play up to 48 sounds at once before you hear abrupt cutoffs. The way Yamaha counteracts this is by some clever programming.
The accompaniment features don't use heavily sustained notes, and the percussion samples are short.
I did manage to force the cutoffs to happen, but that took me using a layered sound and leaning on the keys with my elbow (which sounded horribly unmusical). This is not a general use case, so you should be just fine during normal operation.
---
Speakers
The Yamaha PSR-E373 includes dual 2.5W speakers, which are perfectly usable for home-based practice, but probably insufficient to handle live venues of significant size.
These are the same speakers featured on the other PSR-E3X3 models, but thanks to the better sound engine, these speakers end up sounding better.
As always, I consider clarity to be the most important factor for practice speakers, and the Yamaha PSR-E373 does that perfectly.
Features
Since the PSR-E373 is an arranger keyboard, it has more features than your standard digital piano. Let's highlight what this keyboard can do.
---
Modes
Layering and split modes have become standard issue for most digital pianos and keyboards, and it's unsurprisingly included on the PSR-E373.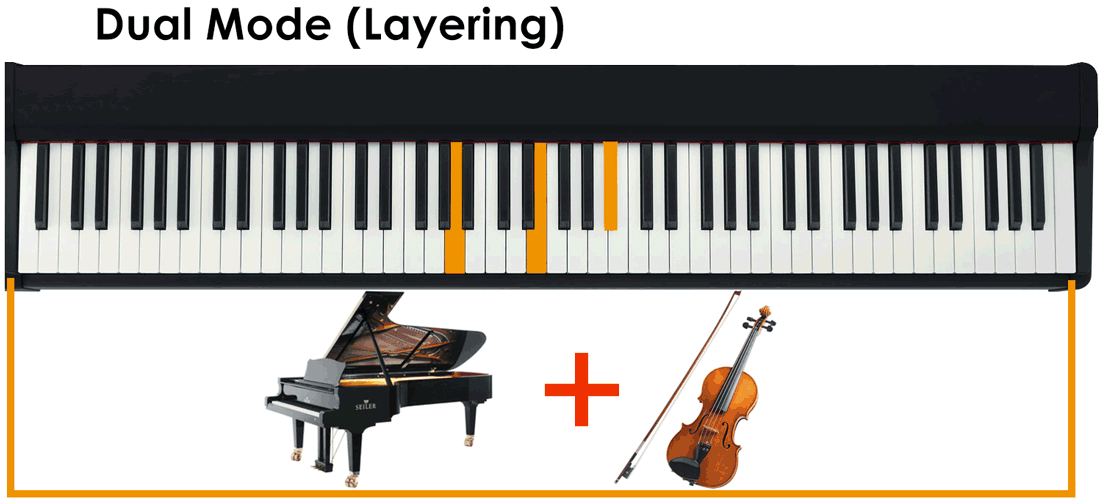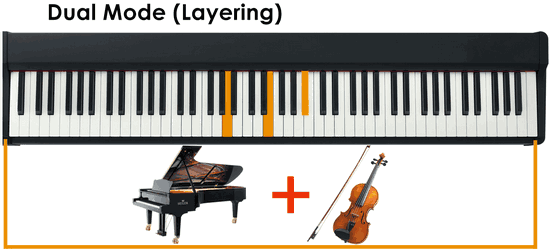 Dual mode allows you to layer two sounds to be played simultaneously and is commonly used to add some richness to keyboard parts. Note that the Articulation button and DSP effects only affect the primary sound.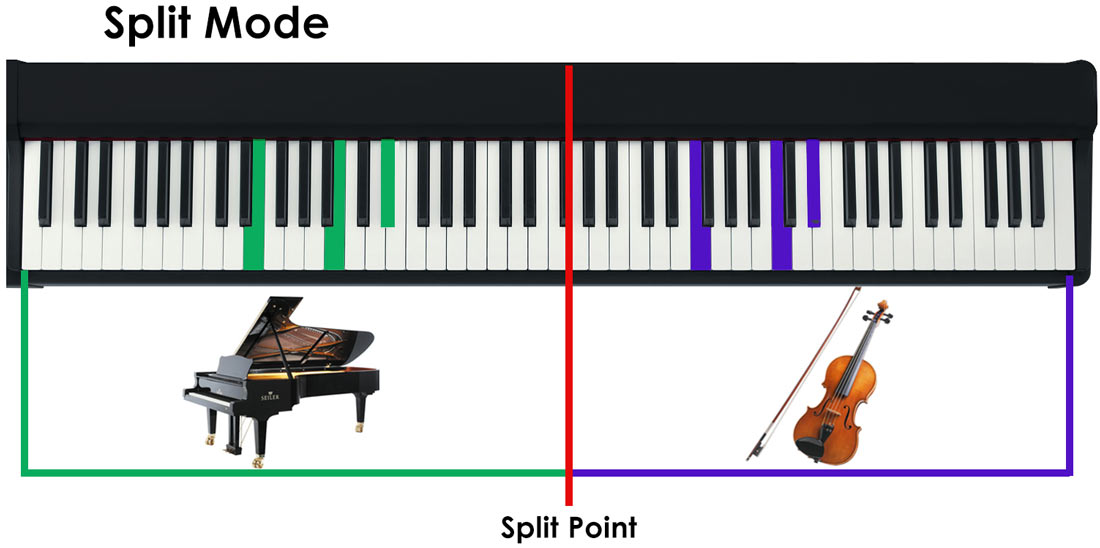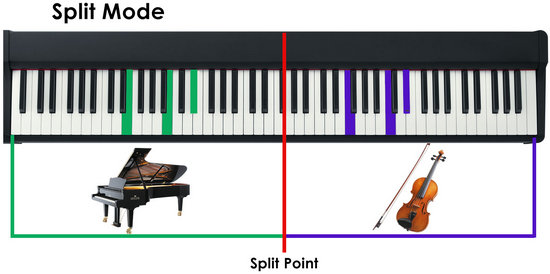 Split mode lets you define a split point (defaulting to F#2), and have different sounds on the left and right side of the keyboard. Commonly, a bass part is assigned to the left, and an EP is assigned to the right.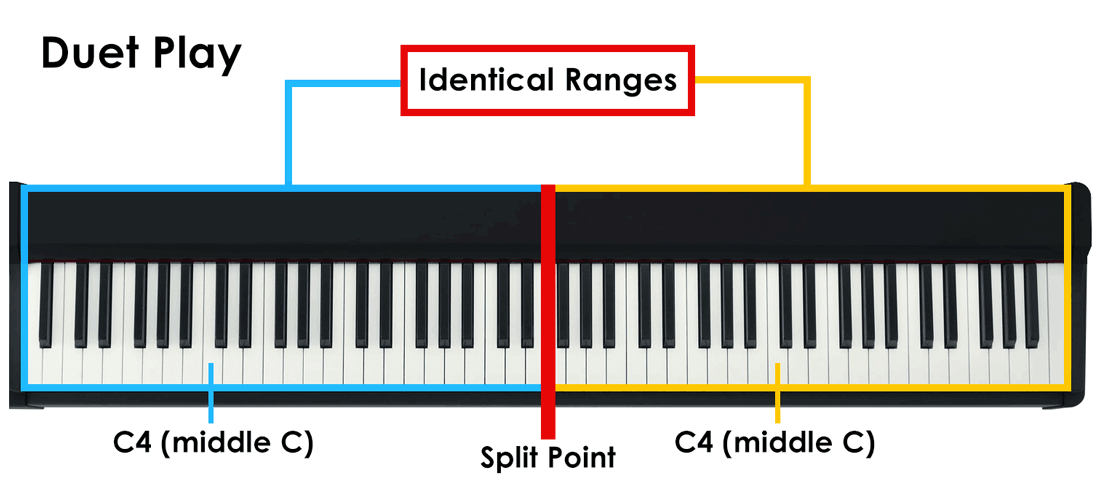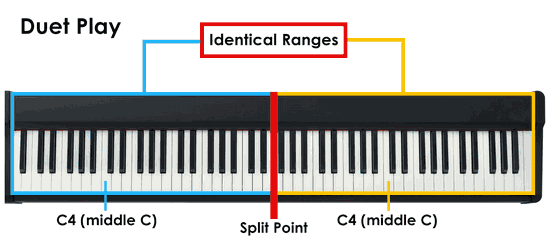 Finally, Duo mode is useful for one-on-one lessons where teaches sit beside their students for a hands-on demonstration.
This mode splits the keyboard into two halves of equal octave ranges, and is engaged by pressing the 'Left Part' button while turning on the keyboard.
---
Song Recorder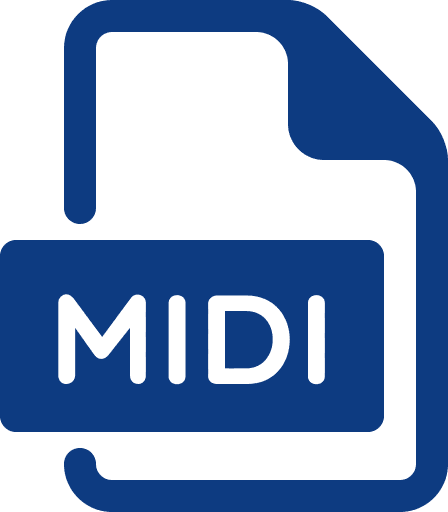 The PSR-E373 comes with a 2-track MIDI recorder, accessible via the Left and Right buttons on the front panel.
If you want to record the keyboard's accompaniment, that defaults to the Left recording channel, which leaves you with the Right channel for use.
You can record up to 5 songs stored internally, and each song can hold around 10,000 notes.
---
USB Audio Interface
Normally, the USB to Host port is simply responsible for sending MIDI data, and the PSR-E373 does that perfectly well.
Recording the keyboard's audio output normally is a hassle. You needed an audio interface, which would likely set you back more than the MSRP of the keyboard itself! Even then, you needed to contend with signal degradation through cables, and the complexities of working with a single-cabled stereo signal.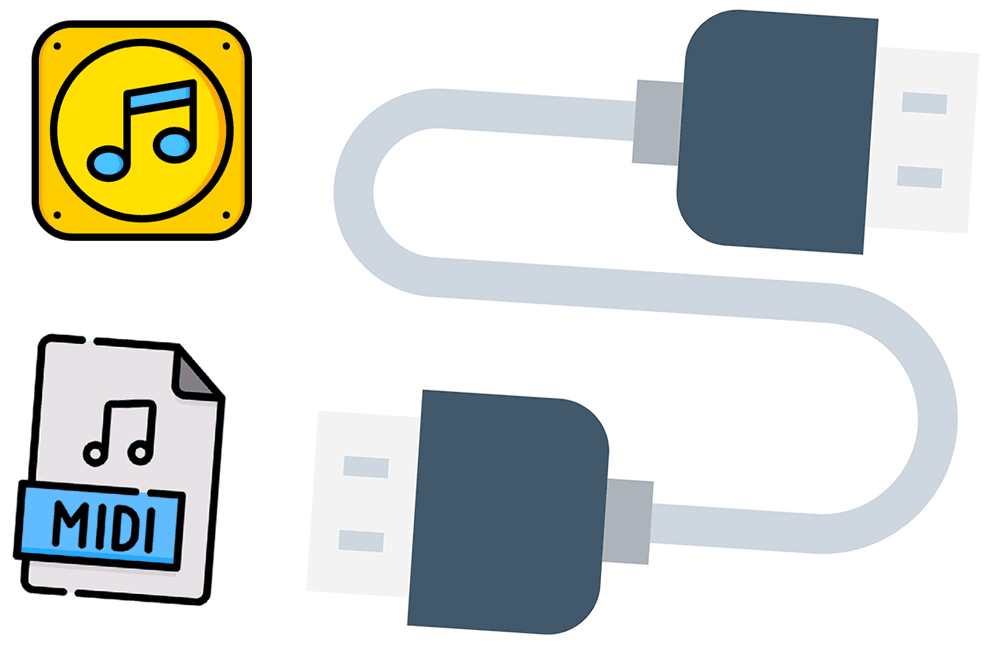 The PSR-E373 has an audio interface built-in, which means you can easily send audio between the keyboard and your computer.
If you're into the social media craze, you could even use Yamaha's Rec'n'Share app with the PSR-E373 to record your playing before sharing it with your friends and family.
---
Arranger Features
I commonly refer to these features as accompaniment features, and that's the best way to describe what these features actually do.
Put simply, engaging these features allows you to achieve performances that sound like a full band. This performance style is also the key part of many keyboard certification courses, such as Trinty Guildhall's Keyboard course.
To start, you select a style or song from the large list of available choices, and assign your tempo (either with the dedicated Tap Tempo button or manually). By then hitting Play, a drumbeat starts and your left-hand chords are tracked to generate a musically coherent 'accompaniment', hence the name.
Put simply, the accompaniment features a rhythm-synced bassline and some other musical elements that follow your chords. It's really quite intuitive, and you can even choose different chord tracking algorithms depending on what your song demands.
The PSR-E373 comes with 205 styles, an upgrade over the PSR-E363's 165 styles, and as previously mentioned, the accompaniments sound great thanks to the new sound engine and better samples.
The featured styles are extremely varied, covering genres from modern day Pop and Rock to Latin styles like Samba and Bossa Nova. Even more esoteric styles like Indian and Arabic music are featured. If you're into electronic music, there are also some great beats to improvise to.
If you are interested in the Trinity Guildhall Keyboard course, do remember that the PSR-E363 lacks a few of the more complex left-hand tracking modes, which locks you out of completing the Grade 5 syllabus.
---
Arpeggiator
An arpeggiator takes your keypresses and uses a sequenced pattern to transform held notes into a looping rhythmic phrase.
I'll admit that I didn't explore the arpeggiator too much, but what little time I did spend with it showed that it was incredibly powerful.
While the usual suspects like Up and Down are included, there are also genre-specific patterns, and even drumbeats too.
My playtest time was limited, but I'm sure that with a bit of experimentation and practice, I could use these patterns to enhance the accompaniment features further, but even the quick glimpse I got showed that this is an impressive set of patterns.
---
Preset Registrations
On the PSR-E373, you can save up to 9 different presets on the 1-9 keys.
These registrations cover the full state of the keyboard, including the selected style, voice and tempo.
You can even see which key has a saved preset on the LCD screen, which is something new on the PSR-E373.
---
Functions
The Function menu is quite in-depth, and we already covered a few features like foot-pedal articulation assignment and arpeggiator settings earlier in this review.
Here are a few commonly modifiable settings which you might want to change.
TRANSPOSITION. You can either move up or down a full octave to adapt to unfamiliar key signatures.
OCTAVE SHIFT. You can transpose up or down 2 octaves to adapt different voices to different sound registers.
METRONOME. While rhythms are a lot more fun, a standard metronome is also included to facilitate practice.
MASTER TUNING. The central tuning of the middle A can be modified from 427.0 Hz – 453.0Hz. The default is 440 Hz.
Connectivity
The back panel of the PSR-E373 is quite bare-bones, but all the essentials are included, with a few extra features buried under the hood.
The 1/4″ TRS headphone jack lets you use headphones for silent practicing, and also let you connect the keyboard to amplifiers for live-show use.
The sustain pedal jack is a must for any serious piano player and allows you to use any standard 1/4" damper pedal with the keyboard.
Unfortunately, Yamaha does not include a free sustain pedal with the PSR-E373, so you might need to budget a bit more to complete the package.
The 1/8" AUX In stereo mini jack enables you to connect your music players or smartphones to the keyboard, essentially turning the PSR-E373 into an amplifier.
If you want to play along to backing tracks, there is also a Melody Supressor effect that attempts to remove lead vocals too (though I found it to be quite bad at doing its job).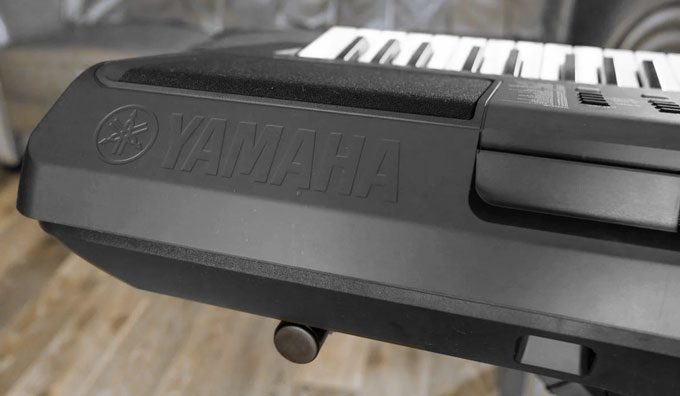 Finally, there's the USB to Host port, which uses a USB Type B port. This sends MIDI and Audio data to a supported computer or smartphone.
USB MIDI is no stranger to most keyboardists, but as covered earlier on, you can also record the direct output of the PSR-E373 using this port.
I do wish Yamaha included Bluetooth connectivity, as more and more smartphones are losing their headphone jacks. However, that's a really petty nitpick, and it's hard to complain at this price point.
Accessories
The PSR-E373 doesn't include too much right out of the box, so you'll need a few extra purchases to transform this into a complete package.
---
Damper Pedal
A sustain/damper pedal is a must for any aspiring pianist, as timing your sustain holds is a pivotal skill.
Yamaha doesn't include a damper pedal with the baseline PSR-E373 model, but that might change if you're buying from distributors.
As always, we recommend the Nektar NP-2, which is often the cheapest sustain pedal available off distribution sites and is very well-built.
Its universal nature also means you can use it with just about any other keyboard or digital piano you'll ever buy in the future.
---
Stand
Yamaha sells the matching L-2C stand, but it is a bit of the expensive side. The PSR-E373's standard size means it will work well enough with any generic X- or Z-stands.
---
Headphones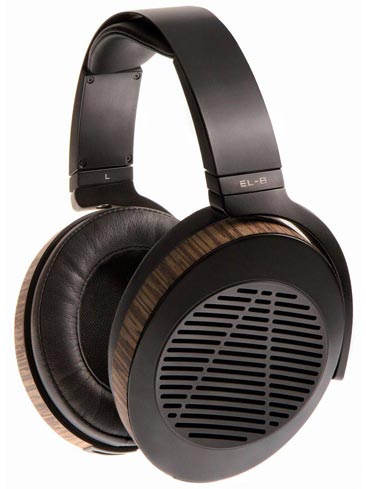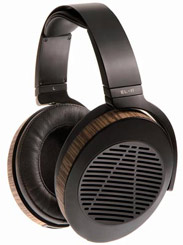 Headphones come in very handy when you want to practice in private, focusing solely on your playing and not disturbing others nearby.
Moreover, a good pair of headphones will provide a clearer and more detailed sound compared to the onboard speakers.
Check out this guide to learn how to choose the best-sounding headphones for your keyboard.
Summary
Pros
Incredible sounds by arranger keyboard standards
Excellent accompaniment features
Improved keyboard
New DSP effects
USB Audio support
Can run on batteries
Cons
Limited polyphony
Doesn't include advanced chord tracking modes
Headphone jack is on the back
No sustain pedal included
---
I'm one of the rare individuals who preferred Yamaha's PSR-E363 over Casio's cheaper, and arguably more powerful offerings. I always felt that Yamaha had the edge in terms of sounds, but that seems to be the minority opinion.
This does leave us with a tough question. Is the PSR-E373 the ultimate beginner keyboard? It may sound like a cop out answer, but it really depends.
At PianoDreamers, our focus is on people who want to learn the piano and not arranger keyboards.
If you want to train yourself up to become a pianist, the Roland FP-10 is still our favorite. This is primarily due to its hammer action keyboard, which allows beginners to get used to proper finger-strength use and dynamic control.
However, if you don't mind missing out on realistic keys, and just want a massive feature set to lose yourself in, the Yamaha PSR-E373 is tough to beat.
You get an extensive sound library, robust accompaniment features, a good degree of customization with the DSP effects, and even the ability to record through the built-in USB Audio Interface.
The PSR-E373 is an amazing keyboard, and it will definitely push budget keyboards down an interesting path. As of today, Casio's closest competitor just can't match the PSR-E373 in terms of sound.
I fully expect competitors like Roland and Casio to answer with their own budget keyboards with improved sound engines.
With our recent reviews of Roland's RD-88 and Casio's PX-S series, we know that these companies have incredible sound generation techniques that go way beyond Yamaha's purely sample-based approach, and having those technologies in a budget keyboard will only benefit us, consumers.
Check the availability and current price of the Yamaha PSR-E373 / EW-310 in your region:
Alternatives
Casio CT-X700

In terms of MSRP and features, the Casio CT-X700 is the closest competitor to the Yamaha PSR-E373.
Previously, this was compared to the PSR-E363, and many people had a much more favorable viewpoint towards the CT-X700. It's not hard to see why, as the CT-X700 had more features, the cheaper price, and the subjectively superior AiX sound engine.
Casio was undoubtedly more popular among beginners, but I fully expect that to change with the PSR-E373. While the difference in price still favors Casio, the PSR-E373's incredible sounds are miles ahead of the CT-X700.
If price is your only consideration, the CT-X700 is still perfectly fine (as is any discounted PSR-E363). However, if you're willing to pay a little extra, the PSR-E373 is hands down the superior instrument.