Just a few months after replacing the P-115 with the new P-125, Yamaha introduced the highly anticipated P-515, which replaced the popular P-255 model, and is now the flagship of the P-series.
As for now, Yamaha's P (portable) range includes the following models:
In terms of realistically replicating the sound and feel of an acoustic, the P-515 takes its place as a top contender within the price range.
Also, the P-515 comes with two of Yamaha's best sampled pianos – the CFX concert grand and the Bosendorfer Imperial grand which replaced the older Yamaha CFIIIS concert grand samples ( Pure CF sound engine).
These major differences make the P-515 a big step up from the P-255.
It's worth noting that unlike other digital pianos in this price range, this one has a built-in 16-track MIDI recorder, giving you freedom to create right there on your piano.
So if you're a composer/songwriter, this might be an important factor for you when choosing a digital piano.
Now, let's take a closer look at the Yamaha P-515 and everything is has to offer.
Yamaha P-515 Specs
88 fully weighted wood keys (white) with Ivory & Ebony simulated keytops
Natural Wood X (NWX) with Escapement
Touch Sensitivity: 5 types, Off
128 x 64 dots LCD
Sound: Yamaha CFX, Bösendorfer Imperial, Binaural Sampling
256-note polyphony
40 Instrument Sounds (11 acoustic pianos) + 18 Drum/SFX Kits + 480 XG Tones
6 reverb types, 3 chorus types, 12 effect types
VRM (Damper Resonance, String Resonance, Aliquot Resonance), Key Off Samples, Smooth Release
Master EQ, Sound Boost, Intelligent Acoustic Control (IAC), Stereophonic Optimizer
Modes: Dual, Split, Duo
16-track MIDI recorder (250 songs)
WAV audio recorder (44.1 kHz, 16 bit, Stereo)
40 rhythms (x 2 variations)
Metronome, Transpose, Fine-tuning
Speakers: (15W + 5W) x 2 | (Oval (12 cm x 6 cm) + 2.5 cm (dome)) x 2
Connectors: MIDI In/Out, USB to Host (supports MIDI and Audio), USB to Device, Headphone jacks (2), Line Out (R, L/Mono), Line In, Pedal Unit, Bluetooth 4.1 (Audio only)
133 x 37 x 14 cm (52.3" x 14.5" x 5.5")
22 kg (48.5 lbs)
Release Date: September 2018
Check the availability and current price of the Yamaha P-515 in your region:
Design
The Yamaha P-515 comes in a big cardboard box, which includes the keyboard itself, a clear perspex music rest, and a sustain pedal.
This digital piano has a sleek, contemporary design which is totally portable as long as you're just carrying it to the car – at 48.5 lbs (22 kilos), you don't want to be walking any distance with it.
This is a pound (half a kilo) less than the Kawai ES8 and 3.5 pounds (1.5 kg) less than the Roland FP-90. So, portable for gigs it is, but maybe not for a backpacking vacation.
While this can sit comfortable on a portable keyboard stand, there is an optional console stand (Yamaha L515) which comes in black or white (to match the piano, which also comes in either black or white).
The stand needs some basic assembly and is designed to hold the P-515 piano snugly and steadily while you play.
Although the P-515 comes with a footswitch, there is an optional triple pedal unit (Yamaha LP1) if you want to reproduce the feel of a real piano more closely.
Serious pianists will definitely want to go for this option. The three pedals are for Sustain (right pedal), Sostenuto (sustains depressed notes but no subsequently pressed notes) and Soft pedal (Una Corda) for quiet playing.
The sustain pedal that comes with the piano is the Yamaha FC4A with the design of a real piano pedal.  It has some nice weight to it, and the bottom is anti-slip, so you're not chasing it all over the floor.
Although this pedal will not support half-pedal function, the LP-1 pedal unit or the single FC3A pedal do.
Aside from being a world-class instrument, the piano with its stand makes a good-looking, statement piece of furniture.
The light blue LCD screen is 128 X 64 dots. Sounds and effects are selected via 23 rectangular buttons that light up with a blue strip when pressed.
The P-515 is also compatible with Yamaha's Smart Pianist app, which you can use to switch between different sounds and settings using your smart device (see Connectivity section).
Unfortunately, there's no function to save your current setup (sound/style, settings) to a registration memory to be able to switch between different performance settings with just a touch of a button, for example during gigs (both the Kawai ES8 and Roland FP-90 have this function).
Keyboard
The keyboard has 88 keys made of high-quality wood with tops made of synthetic ebony and ivory. The black keys are textured.
The P-515 uses the fully weighted NWX action which has until now only been available with the Yamaha Clavinova series.
It provides the feel of real weighted wooden keys with the escapement action giving a responsive touch when you play quietly. The keys drop away from the string-point in the same way it would on an acoustic grand.
During play, the feel of the keys is smooth and consistent across the keyboard. The response is excellent when playing fast musical passages, effortlessly enabling speed in difficult pieces.
Some piano players find the NWX action tiring as it takes more work to depress the keys, preferring the GHS action for its lighter touch.
I can't say that I noticed the action as being particularly heavy or labor-intensive – but my own preference leans toward a heavier action on a piano in general. Beginners – and particularly children – would want a lighter action.
In any case, touch responsiveness is adjustable so you can choose the touch response that suits you and even change touch sensitivity for different pieces of music or different players.
There are 5 touch response settings available. Plus, you have the option to turn it off completely, meaning the piano will produce the same volume regardless of how hard you play the keys.
This is always going to be an individual preference of course, but the ability to adjust should take care of the action being too heavy.
With any digital piano, the keys can sound clunky and feel shallow, but I found the keys on this piano the least clunky sounding I've played, and they have some depth to them when you press them.
If you play it with no sound, you will hear the dull thud of the keys a little bit, but when the volume is halfway up or more, you don't notice it.
Between the feel of the keys and the sound of the piano, it can be tricky to find a digital piano that will be the best of both worlds for you.
So as some players have commented, they might like the feel of one DP over another, but end up going for the one they don't like the feel of so much, because they love the sound more. For others, it might be the other way round.
Sound
The P-515 comes with two flagship piano sounds – the Yamaha CFX and the Vienna-built Bosendorfer Imperial. Both beautiful, rich, convincingly full-sounding pianos.
The Bosendorfer is perhaps just a tad richer and might lend itself better to classical and romantic music, while the CFX is somewhat brighter and more flexible, sounding great for jazz, blues, and contemporary music.
But since both pianos are fully tweakable, you can design either one to fit what you're playing at the time.
This piano also comes with Yamaha's CFX concert grand piano sound sampled by Binaural Sampling and enhanced by Stereophonic Optimizer technology for headphone use.
This is designed to give you the feeling of being immersed in the sound as if it was actually emanating from the piano rather than through the headphones.
Of course, what headphones you are listening through is crucial.  The better they are, the more convincing and satisfying the sound will be.
There are a further 9 different acoustic piano sounds varying from a Studio Grand to a Honky Tonk as well as 7 electric pianos, various organs, including jazz and church.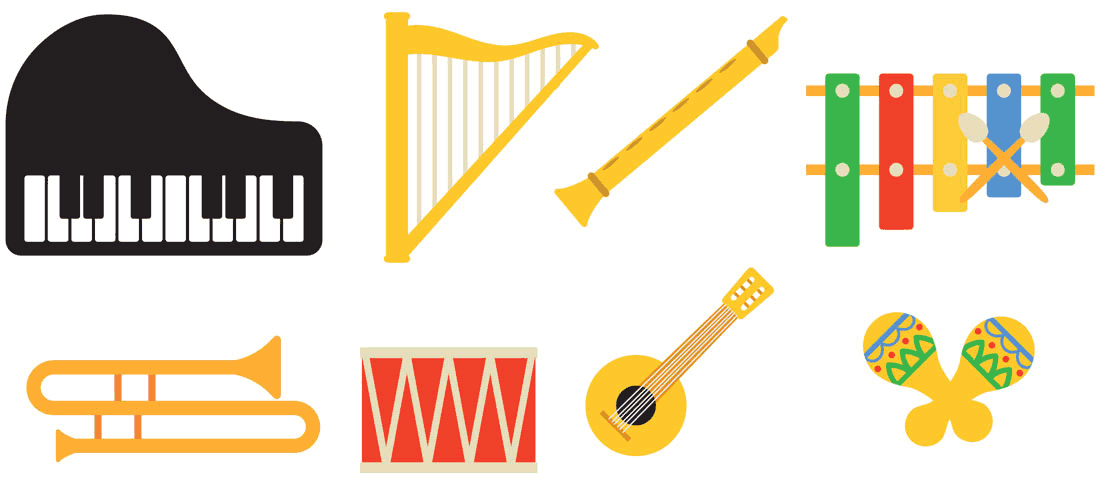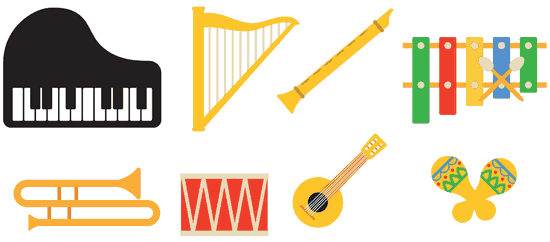 There are 2 harpsichords, one sounding classical, one a bit more contemporary.  A beautiful vibraphone, strings and choir.  There are also some guitars and basses.
The bass and cymbal combo is a lot of fun for a mellow jazz bass. And you can of course create your own drum tracks.
Take a look at the video below to get an idea of how lovely the P-515 sounds:
Apart from the high quality sounds that I've mentioned already, there are a further 480 instruments and sound effects you can access by pressing the "Others" button.
This gives you a wide variety of XG sounds including all main orchestral instruments in the brass, strings, woodwinds and percussion families. There are some fun sound effects in there too.
---
 VRM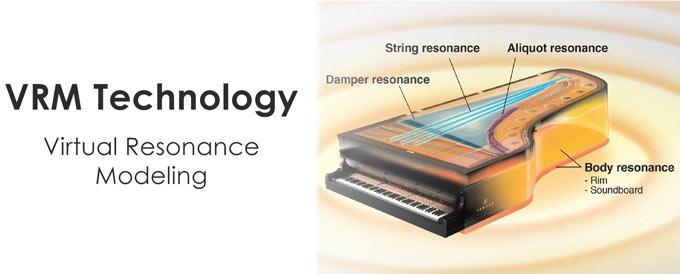 The Yamaha P-515 features VRM (Virtual Resonance Modeling) technology which reproduces the organic interaction between the strings, dampers and the case of the piano like an acoustic, giving the sound depth with realistic overtones.
All these choices give you a lot of freedom to tweak your piano sound to your exact preferences, and then change it all for another project.
The P-515 also offers key-off samples which replicate the subtle sound occurring when you release a key depending on how fast your fingers leave the keys. This works for pianos, electric pianos, clavichord and harpsichord.

---
Effects
After selecting an instrument, you can then select which environment you'd like to put your piano in via the "Piano Room" which you access with the press of a button.
You can do several things within the Piano Room.
Change the position of the piano lid on the initial screen, giving you a louder sound the more you open the 'lid'.
Adjust the "Brightness" of the sound of the piano.
Adjust the "Touch" – meaning if you require a lighter touch to the keys, you can select "Soft1" or "Soft2" or if you'd like more resistance, you can select "Hard1" or "Hard2". The default is Medium.
Adjust the Master Tune (useful for playing along with another instrument or a CD, for instance).
Still within "Piano Room", you can select your choice of Reverb.
There are 6 types of reverb available:

Recital Hall (mid-sized)
Concert Hall (brilliant reverb of a large hall)
Chamber (elegant small room)
Cathedral (high-ceiling stone-made cathedra)
Club (lively jazz club)
Plate (bright vintage reverb of a recording studio.
---
Polyphony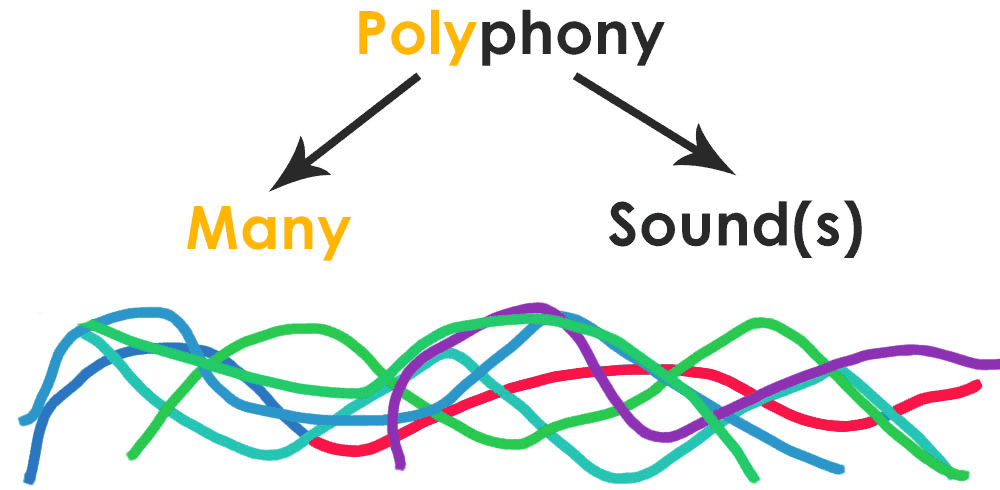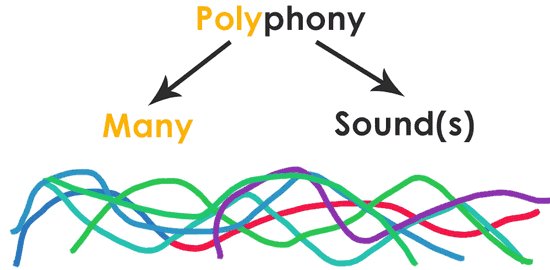 The P-515 has 256-note polyphony. Put simply, this means that however many notes you play at one time, they will all sound.
Although compared to the Roland FP-90, which has 384-note polyphony it seems a lot less, it's arguable that 256-note polyphony is more than enough for every pianist.
---
Speakers
The two speakers are located each side of the piano case. Each one is a 15 watt amp drives. They are oval and measure 12 cm x 6 cm. In addition, there are two dome-shaped 5W tweeters that ensure clear and accurate high-frequency response.
I love the bass on this piano, especially on the Bosendorfer.
Bosendorfer happen to be my favorite acoustic pianos, and they always have a meaty bass. But this might be due in part to Yamaha's new proprietary Twisted Flare Port technology.
Within the speaker, the sub-woofer flares and twists, diffusing the air flow through the port to reduce air turbulence, delivering a clearer and more accurate low frequency.
The sound quality via the onboard speakers is pretty good for a digital piano of this size. Playing it loud, the sound remained clear with no distortion.
Comparable to the Kawai ES8 which also has two 15W speakers (no separate tweeters), both of these pianos have great speaker systems perfect for personal monitoring or small performances in front of your friends and family.
The Roland FP-90 beats both these pianos' speakers by 10 watts a piece, plus has two 5W tweeters just like the P-515.
However, since you can play as loud as you'd ever need to on the P-515, and have the option to plug in amplified speakers, I don't think it's something to sweat over.
You can use "Sound Boost" if you want to make the piano louder without losing any quality from the speakers. There are three types you can select.
The first produces smooth dynamics which can be good for fast playing.
The second is a clearer and smoother sound than the first type. This can be good for singer/songwriters.
The third type is brighter and more powerful than the second type. The attack is faster, making it a good choice if you're playing in a band.
Features
Modes
Like most digital pianos now, you can load two sounds at once and play them blended, or "layered" which means both instruments sound across the whole keyboard at the same time.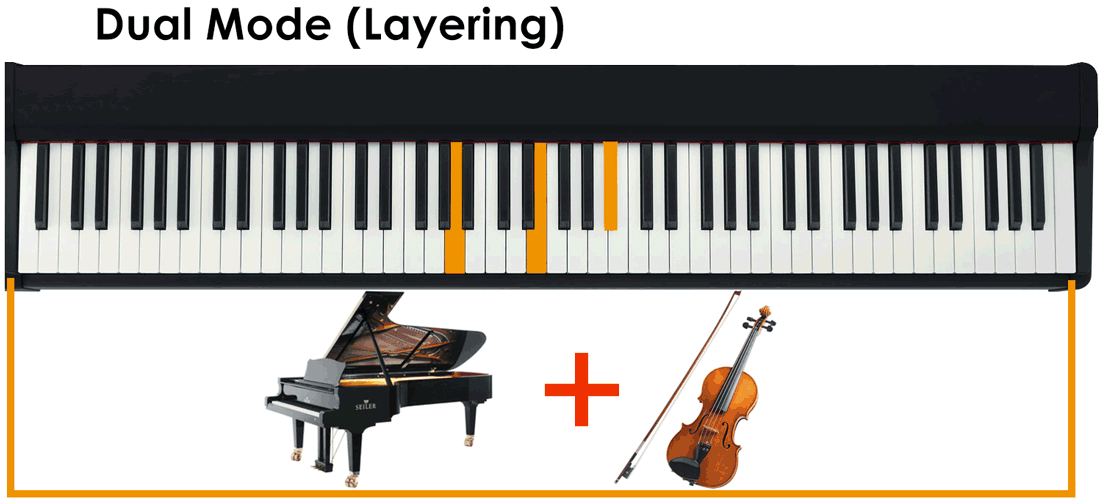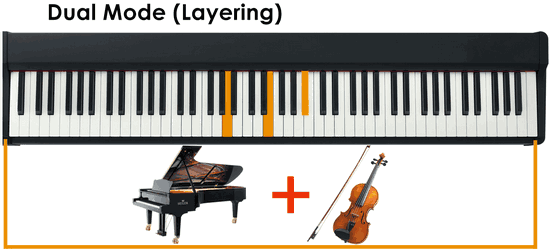 Alternatively, you can split the keyboard into two sounds.  You can choose where to split the keyboard by holding down the Dual/Split button and hitting the key that you'd like to be the split point.
Select the two sounds. For instance, have the lower half play a bass, and the upper half play piano, or whatever two instruments you want.
The top voice displayed on the screen will play the top half of the keyboard, while the voice displayed underneath will play the bottom half of the keyboard.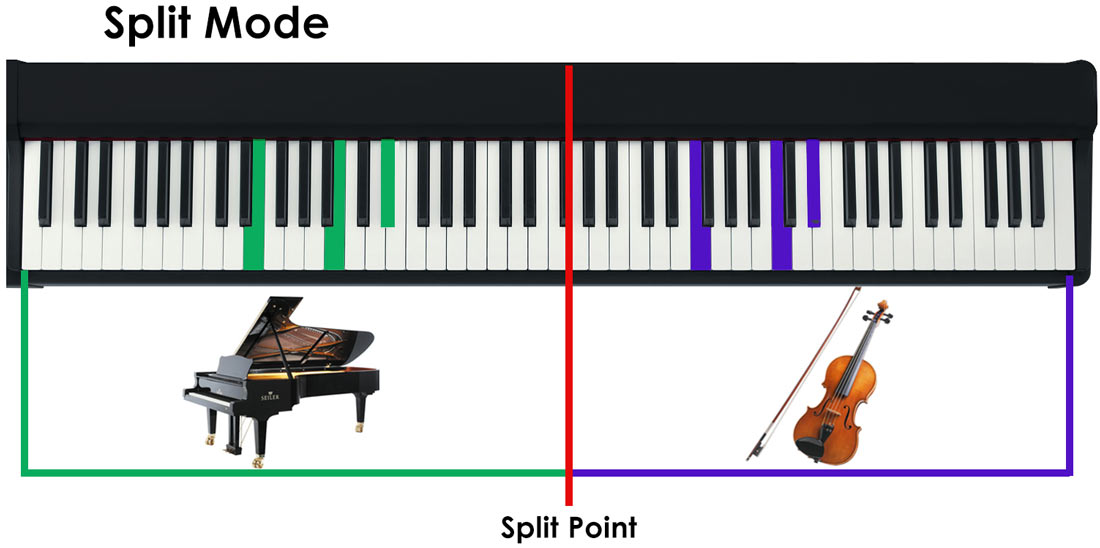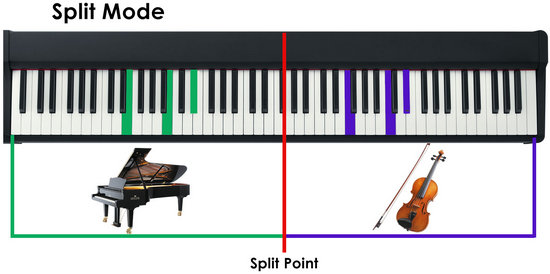 If you're feeling very adventurous, you can use Dual and Split at the same time by pressing the button three times.
Duo Mode is also available on the P-515, which means you can split the keyboard into two equal parts with the same pitch ranges and its own middle Cs. This allows two people (e.g. a teacher and a student) to sit side by side and play the same notes simultaneously.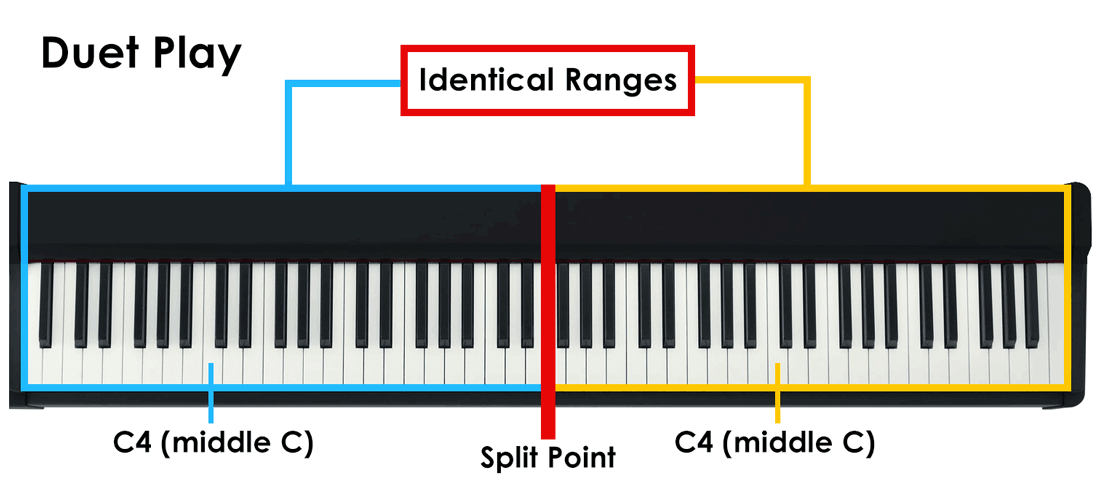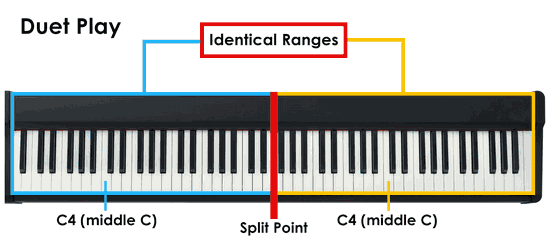 ---
Preset Songs 
21 songs demonstrate the different instrument sounds.
A further 50 classics come with this piano ranging from Bach to Beethoven, and from Chopin to Debussy with the most known and loved classics.
Perfect if you are socializing rather than playing, and want some background music. All accessible from the press of a button.
Preset Songs are divided into right-hand and left-hand parts.
By using Song data, you can practice the left hand alone by turning on the right-hand part, and practice just the right hand alone by turning on only the left-hand part. This allows you to practice parts separately while hearing the other part.
---
Recording & Playback (Audio + MIDI)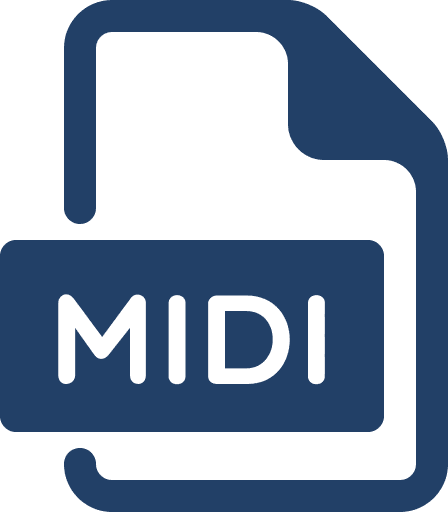 It's worth spending some time on this 16-track sequencer, which is quite surprising to see on a digital piano (as opposed to a music workstation)
You can record and store up to 250 MIDI songs in the internal memory (each song containing up to 16 tracks but no more than 500KB per song).
You can then export your recordings to edit on a computer via USB flash drive or the USB to Host port, further expanding your potential sound bank with sounds on your computer (e.g. via VSTs).
You can do a lot with 16 tracks. To record a basic demo, you might want drums, bass, guitar, piano and strings.
That still leaves you 11 more tracks to get creative with!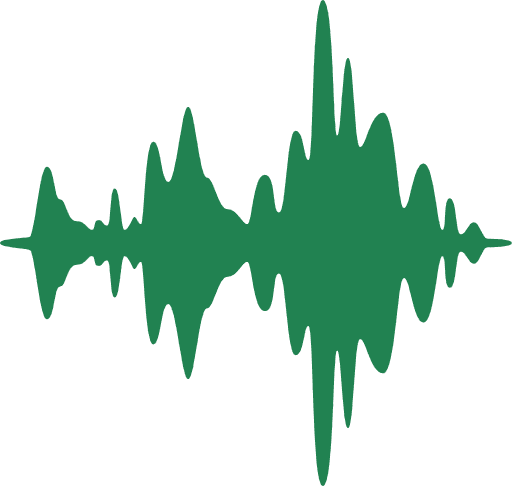 The P-515 is also capable of recording audio data, which means you can record your performance in audio WAV format (44.1 kHz, 16-bit, Stereo) and save it to USB flash drive.
Then you can transfer your WAV file to your computer and burn it to CD or share it on social media, via email, etc.
This also works the other way around – you can transfer your favorite songs onto your flash drive and load them into the P-515.
It can play back MIDI files in SMF (Format 0, Format 1) and WAV files in 44.1/16-bit.
---
Other Features
Metronome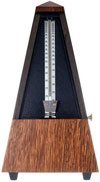 As with most digital pianos these days, the P-515 has an easy to use metronome for practice with adjustable speed (from 5 to 500) and time signature.
There are also 40 different drum tracks you can select to play along with. You can choose a music style, such as Pop or Jazz, and use this instead of the metronome to making practice more fun, or as a basis to develop a new song.
Transpose
Like most high-end digital pianos, this one has transposing capability with half-step (semi-tone) increments to +12 or -12.  A recorded song can also be transposed.
This can be tremendously useful at times, especially for singing to a recorded song if the original key is too high or low for the singer, and you don't want to have to learn to play the song in another key.
Alternatively, you can transpose the entire keyboard and play it live, which means you can play in the key you know, but it will sound at an alternative pitch.
Tuning
These days we use "Equal Temperament" tuning, and this is standard on all keyboards and digital pianos. But, top-grade instruments like to give you the option of other tunings that were used in previous centuries.
The P-515 offers six other temperaments besides the default one, including Pure Major, Pure Minor, Pythagorean, Meantone, Werckmeister, and Kirnberger.
You can also fine-tune the instrument in ~0.2 Hz steps, which is useful if you're playing with other instruments that are not exactly in tune, or if you're playing along with pre-recorded songs that might not be quite in tune.
Here is a great video review of the Yamaha P-515 by Rudi from Better Music:
Connectivity
There are plenty of ways to connect the P-515. On the front left hand side of the keyboard (just below the keybed) you'll find two standard stereo headphone jacks (1/4″) .
This can be very useful if you're playing duets, or someone else wants to listen in while you're playing.
The P-515 also has the USB to Device port on the top of the unit, within easy reach, rather than at the back, which usually means moving the piano or crouching in difficult positions behind it.
You can use this USB type A to exchange files between the piano and a computer via a flash drive.
The rest of the ports are located at the back of the piano.
The USB to Host port (aka USB type B, USB MIDI) can be used to connect your keyboard directly to a computer, or a smart device using an adapter.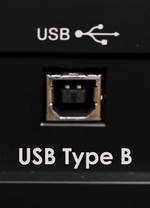 What I find a really unique and useful feature is that the Yamaha P-515 has a built-in USB audio interface which allows you to transfer audio data via a USB connection (usually the USB connection on a digital piano only allows you to exchange MIDI data).
Using this, you can send audio from the piano to your computer, or receive audio from your computer into your piano without the need of an external Audio Interface.
Next we come to the MIDI In/Out ports, which traditional musicians will appreciate. You can use these as an alternative to the USB Host port to connect to a computer or use it to connect to another keyboard or an external audio interface.
Moving along we come to the Aux In and Aux Out.
The Aux Out 1/4″ jacks (R, L/Mono) can be used to plug in various sound equipment such as amplifiers, PA systems, mixers, audio interfaces to get a better/more powerful sound, record, etc., which is particularly important for live performances.
The Aux In, on the other hand, can be used to play back the audio data (song, backing track, beat, etc.) saved on your computer or smart device through the P-515's onboard speakers.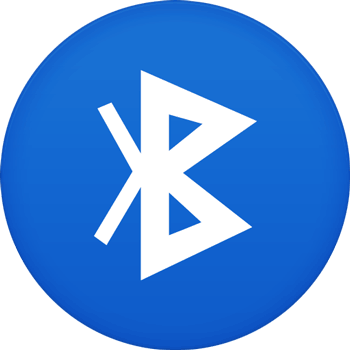 Alternatively, you can use Bluetooth connection to stream your favorite music from your phone or computer wirelessly without using any extra cables.
This could be a great way to play along with songs you're learning, or to sing along with, either backing tracks or full version songs from YouTube.
Unlike the Roland FP-90, the P-515 doesn't have a MIC input, but you can record your voice via a mixer.
---
Smart Pianist App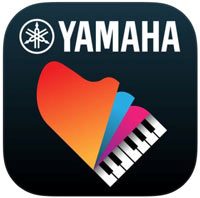 Once you've connected your keyboard to an iOS device (either via USB to Host port or MIDI In/Out), you can take advantage of Yamaha's powerful app called Smart Pianist.
On your phone or pad screen you'll see a (rather beautiful) piano graphic of the CFX Grand.
Swipe left to change to the Bosendorfer piano, and again to get the Studio Grand, then the Upright and finally the Honky Tonk.
Swipe the lid open on any of the grands to get a larger sound. These are actions you can  take on the built-in screen on the piano, but with an iPad it's less fiddly.
The app has balance sliders so you can control the volume of each instrument you're playing when using Dual or Split mode.


You can also record audio right to your device. Another thing worth noting is that you can get an instant chord chart from this app after importing a recording (e.g. from your iTunes library)
As of today Smart Pianist app is only available on iOS device. Android version is coming in June, 2019.
Finally, the last two ports are a Sustain Pedal input and an input for the optional pedal unit.
Accessories
There are a number of optional accessories available for the Yamaha P-515 that you may want to consider.
Stand
The Yamaha P-515 doesn't come with a stand of any kind, so you'll have to buy one separately.
If you're going to use the P-515 mainly at home, you should consider getting the optional Yamaha L515 furniture-style stand.
It looks really nice and elegant, plus it will add more stability to your setup.
If you're looking for something more portable and affordable I recommend these high-quality X- and Z-type stands:
---
Pedals
The Yamaha P-515 comes with a nice piano-style pedal, which will start you off on the right foot.
Unfortunately, the supplied pedal doesn't support half-pedal operation, meaning it's just an on/off foot switch.
So if you're an experienced musician and use half-pedaling on the daily, you'd probably want to invest in a pedal that supports it.
The best pedal I recommend for the P-515 that will provide continuous half-pedaling support is the Yamaha FC3A.
Another option would be to buy the LP1 triple-pedal unit that attaches to the L515 stand we talked about earlier.
---
Headphones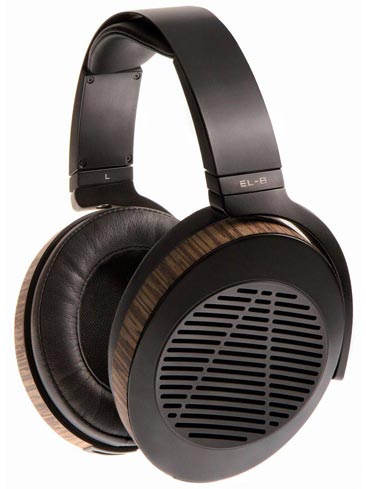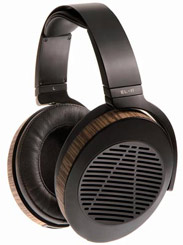 Headphones come in very handy when you want to practice in private, focusing solely on your playing and not disturbing others nearby.
Moreover, a good pair of headphones will provide a clearer and more detailed sound compared to the onboard speakers.
Check out this guide to learn how to choose the best-sounding headphones for your digital piano.
---
USB Wireless Adapter
The thing that I find quite surprising is that the Yamaha P-515 only supports audio via Bluetooth and not MIDI.
This means you won't be able to wirelessly connect the piano to a smart device or computer and use it to control MIDI-compatible apps such as GrageBand, FlowKey, etc.
You can still do it by connecting via the USB to Host port. But if you want a wireless connection, the only option you have is to use one of Yamaha's USB Wireless adapters to enable Bluetooth MIDI connectivity.
There are actually several devices compatible with the P-515 that can achieve that.
You can get either the UD-BT01 or the MD-BT01.
The UD-BT01 connects to the USB to Host port of your keyboard via a USB A to B cable (sold separately). You'll also need a USB AC adapter for this setup to work.
But since the Yamaha P-515 has MIDI In/Out ports, I'd actually recommend getting the MD-BT01, which just connects to the MIDI ports and doesn't require an additional power source. This means less bulk and no extra cables.
Summary
Pros
Well crafted Natural Wood keys with synthetic Ebony/Ivory
Incredible sounding Yamaha CFX and Bösendorfer Concert Grand Pianos
CFX Binaural Samples
A variety of preset tones (538)
Powerful onboard sound system (4 speakers, 40W)
16-Track Sequencer
Record MIDI or Audio
Built-in USB Audio Interface
Cons
Quite heavy to transport
No Mic In port
No registration memory for saving your current performance settings
Bluetooth doesn't support MIDI
---
The Yamaha P-515 has quite a lot going for it – especially the two high-quality grand pianos which are the highlight.
With the tweakability of those prime pianos you have a fairly limitless amount of piano sounds to choose from. Plus you have another 38 and 480 XG voices to play with.
To go along with the high quality sounds, you've got the high-quality wooden action normally used in the Clavinova range, and this is the most affordable digital piano to offer wooden keys in this price range.
Here is another great demonstration of the Yamaha P-515 by Tony from Bonners Music:
The built-in 16-track sequencer is a bonus if you're looking for an easy way to record right there at the piano. The selection of sounds make this a creative gem, although if you might have a DAW and plenty of VST sounds this might not be so important to you.
Another big plus (at least if you're looking for a piano to record from) is that it has a built-in USB audio interface. This saves buying one (they cost upwards of $100) and saves space and cables.
The Binaural sampling is another feature that more serious pianists might consider important when choosing a digital piano.
If you do a lot of practice or composing using headphones, the Binaural sampling will enhance the quality of sound via headphones.
As a practice piano, I would definitely be happy using this piano, with or without the headphones.
It would also be fine for an intimate setting performance of classical music but If you wanted to use it for a solo performance in a larger space, you might need to hook up external speakers.
For accompanying singers or choirs, this could be a great choice, especially if it was staying in one place most of the time.
I think it would certainly be a good choice for playing in a band – the only draw-back being the weight. Like the Roland FP-90 and the Kawai ES8, this is quite a heavy piano – but it IS the lightest of the three!
Overall the P-515 offers a ton of value for the price you pay for it. It's basically a portable version of the Yamaha CLP-745, which has a similar keyboard action and sound engine, and comes with pretty much the same feature set.
Check the availability and current price of the Yamaha P-515 in your region:
Alternatives
The closest competitors to the P-515 on the market today are the Kawai ES8 and the Roland FP-90, which are slightly more expensive than the Yamaha and considered top-class instruments. Let's take a closer look at how they stack up to each other.
Yamaha P-515 vs  Roland FP-90 (Full Review)
Being the flagship of the FP series, the FP-90 packs all the best technology in Roland's arsenal and provides an incredible playing experience, which is hard to beat.
The FP-90 is equipped with Roland's top-of-the-line hybrid wooden action (PHA-50), which I find very enjoyable to play. To me, it feels a bit lighter than Yamaha's NWX action.
While I do prefer heavier actions, the PHA-50 feels slightly more natural and better balanced compared to the NWX action.
The physical feel of the keys is similar. Both have wooden keys with plastic tops, and both have escapement action.
The biggest difference you'll probably notice in the sound department.
While the P-515 comes Yamaha's two flagship grand pianos – sampled Yamaha CFX and Bosendorfer Imperial pianos, the Roland FP-90 takes a different approach.
At the heart of the keyboard is the SuperNATURAL sound modeling engine that essentially recreates the piano sound from scratch as you play rather than plays back pre-recorded samples.
This means the sound you play is a bit more nuanced and you have more control over it. On the other hand, some people find the sound somewhat synthetic and soulless.

There are lots of things to say about both technologies and which one you prefer will ultimately come down to personal choice.
I personally enjoy the modeled sounds of the FP-90 and think they can give a good fight to the top-class sampled sounds of Kawai or Yamaha.
But it's also important to mention that these days it's quite hard to find high-end digital pianos that use purely the sampling approach and no modeling.
Take the Yamaha P-515 and its VRM modeling technology, which adds different types of resonance to the sound.
Same with Kawai and their Virtual Technician feature that allows you to change various piano elements such as damper noise, string resonance, fall-back noise, etc.
So, it's somewhat a hybrid approach that most high-end digital pianos take these days.
Moving on to the preset sound libraries, the P-515 has 40 voices, plus 18 drum sounds, and an additional 480 GX sounds.
The FP-90, on the other hand, boasts 72 main sounds, 8 drum sets, and 270 additional voices. If having a wide range of different instrument sounds is important to you, the P-515 might seem slightly more tempting in this department, but overall, it's not a massive difference.
The speaker systems are also slightly different as the FP-90 puts out 50 watts while the P-515 "only" 40 watts. So if having the ability to put out that much more sound is important to your needs, this could be a factor. The speaker design itself is very similar between the instruments.
Keep in mind that the P-515 has a "sound boost" function which should help the instrument better cut through the mix in a live situation.
For performing musicians, it may be a big plus that the Roland FP-90 comes with 8 sliders, which allow you to adjust parameters like Song Volume, Mic Volume, Frequency Ranges (Low, Mid, High) on the fly.
When it comes to connectivity options, the FP-90 has pretty much all the jacks as the Yamaha. However, if mixing vocals into your recordings is a necessity to you, the FP-90 has the mic in jack, which is unusual for a digital piano.
The P-515 doesn't have a mic in jack, but you can still mix in your vocals by using a mixer.
Another good thing is that the FP-90 not only supports the audio via Bluetooth but also MIDI. So you can wirelessly connect the FP-90 to your computer/smart device and control various music apps such as GarageBand and Flowey.
The P-515 weighs a whole 4 pounds less than the Roland, but when we are talking about 48 and 52 pounds, respectively, I'm not sure that 4 pounds makes that much of a difference.
Either of these pianos are considered portable, but they are quite heavy.
Considering that the Yamaha has a USB Audio Interface function and a 16-track sequencer, and the Roland has neither of these things, it seems really good value for money.
I would say that the feel and sound of the piano haven't been compromised in any way to accommodate these features.
Below you can see how the keyboards compare to each other as well as their unique features.
Yamaha P-515
538 Built-in Sounds
16-track MIDI recorder
40W Speakers
Weighs 48.5 lbs
256-note Polyphony
USB Audio Interface
Binaural Samples for Headphone Play
Roland FP-90
350 Built-in Sounds
1-track MIDI recorder
50W Speakers
Weighs 52 lbs
Limitless Polyphony (for piano modeled sounds)
Sliders for Live Control
Mic In Port
MIDI over Bluetooth
30 Registrations for Saving Your Performance Settings
---
Yamaha P-515 vs  Kawai ES8 (Full Review)
The ES8 is another serious contender when it comes to digital pianos in this price range. Being the flagship of Kawai's portable range of digital pianos, the Kawai ES8 comes with the RH3 key action, which is the best plastic action in Kawai's arsenal.
While it doesn't offer wooden keys, it feels very responsive and expressive partly thanks to the counterweights inserted into each key to balance the weight of the hammers.
The action is also a tad lighter and faster than the NWX, so it's a little bit easier to play fast passages and thrills with the RH3.
Overall, to my taste both the RH3 and Roland's PHA-50 feel slightly more accurate and realistic compared to the NWX.
Moving on to the sound department, the ES8 comes with three main piano sounds delivered by the Harmonic Imaging XL sound engine.
The first two of them are Kawai's most expensive 9-foot concert grand pianos (the SK-EX and the EX) and the other one is the SK-5 grand piano.
The same sounds are used in the premium Kawai CA series (CA78, CA98, etc.).
Just like the P-515, the Kawai ES8 comes with various piano organic elements that you can adjust to your liking.
There are a number of unique parameters there such as Damper Noise, Hammer Delay, Decay Time, Stretch Tuning and some others, which the P-515 doesn't offer.
Having played a good number of Kawai digital pianos over the years, I do believe that they offer one of the most realistic piano tones on the market.
So if you're looking for a full natural piano sound, you should definitely add a Kawai to your list of contenders (regardless of what price range you're looking at).
I could talk for a long time about the fantastic piano sounds on the ES8 and try to compare them to the P-515's sounds, but there's really no point of doing that.
We all have different tastes and what sounds better to my ears may not sound better to you.
So I suggest you check out the video below to compare how the instruments sound side by side (let me know in the comments which sound you like the most).
The Kawai ES8 does not have Bluetooth connectivity nor does it have the USB Audio Interface function.
The ES8 can only record 2 MIDI tracks (the P-515 can record up to 16 tracks) and recording audio can only be done using a flash drive.
The rest of the connectivity is similar between the P-515 and the ES8.
If you're considering portability, the Kawai weighs in at 50 pounds, which is right in the middle of the P-515 and the Roland FP-90.
Not a big difference, and if you're looking for top-of-the-line action and sound in this price range, this is going to be the weight to expect.
Below you can see how the keyboards compare to each other as well as their unique features.
Yamaha P-515
538 Built-in Sounds
Piano Room (11 adjustable parameters)
40W Speakers
16-track MIDI Recorder
40 Preset Rhythms
Weighs 48.5 lbs
Binaural Samples for Headphone Play
Audio via Bluetooth
Kawai ES8
34 Built-in Sounds
Virtual Technician (17 adjustable parameters)
30W Speakers
2-track MIDI Recorder
100 Preset Rhythms (2 variations)
Weighs 49.6 lbs
Counterweights In The Keys For Better Touch Response
28 Registrations For Saving Your Performance Settings