Today, we'll be reviewing the Yamaha P-45, an entry-level digital piano with a fully weighted keyboard, 10 built-in instrument sounds, and compact design.
The P-45 and the P (Portable) line in general are Yamaha's response to hugely popular budget pianos from Casio's Privia line. The P-45 is the most affordable digital piano with fully weighted hammer-action keys in Yamaha's arsenal.
The piano has become very popular among beginners and intermediate players for its simplicity and a very attractive price, not to mention the high quality and realism of Yamaha instruments.
Yamaha has also released a special Amazon Exclusive version of the piano, the Yamaha P71, which we'll talk about further in the review (Summary section).
Yamaha P-45 Specs
88-key fully weighted keyboard with matte black keytops
Graded Hammer Standard action
Touch Sensitivity (Hard, Medium, Soft, Fixed)
Sound: AWM Stereo sampling
64-note polyphony
10 instrument sounds (2 pianos)
10 preset piano songs + 10 demo songs
Modes: Duo, Dual
Metronome, Transpose, Fine-tuning
Speakers: 6W + 6W (12cm x 2)
Connections: USB to Host, Headphone jack, Sustain Pedal jack
1,326 x 295 x 154 mm (52.2" x 11.6" x 6.0")
11.5 kg (25 lbs. 6 oz.)
Check the availability and current price of the Yamaha P-45 in your region:
Design
Yamaha P-45 is an 88-key hammer action digital piano with built-in speakers. The piano inherited the compact and lightweight design of its predecessor – P35; they look completely identical.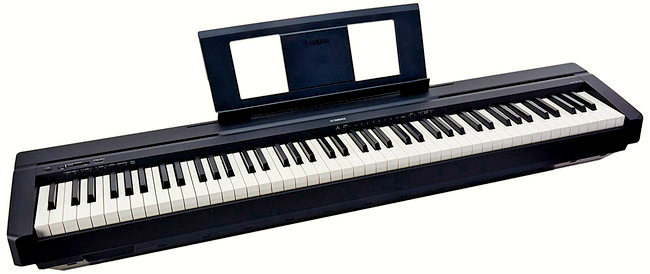 Portability is one of the things I like about the P-45. It will easily fit into smaller spaces and will be a nice addition to your home interior.
The piano is 52.2 inches wide, 11.6 inches deep and 6 inches high. The P-45 weighs only 25 lbs and light enough to carry by one person.
The piano would be a great choice for on-the-go musicians and anyone who appreciate mobility. The instrument will fit into most cars, so you can easily take the keyboard to gigs or on the road.
Don't forget though that the P45 is still a full-sized, 88-key instrument and isn't suitable for long trips by plane/train.
Anyway, if you're going to travel with the piano, I strongly recommend buying a padded keyboard bag to protect your instrument during long/often transportation.
Take a look at the table below to quickly compare the P-45's size to some other popular digital pianos:
The piano does not come with a stand. The size of the piano allows you to place it on a table or any other flat surface, but you can always buy an optional X-type stand or the L85 furniture stand if you want the keyboard to be stationary.
We'll talk about a stand for the P-45 in the "Accessories" section.
Control panel of the P-45 is very simple and straightforward. There are only two buttons and a volume control.
The "Power" button turns the instrument on and off; the other button is called "Function" (Grand piano) button, which you can use to either select Grand Piano sound or access all the other sounds and features of the P-45.
You'll need to simultaneously press the "Function" button + one of the piano keys (with a label above) to select the rest of the sounds, adjust touch-sensitivity, metronome tempo, etc.
This way of navigating is pretty common for entry-level digital pianos.
The P-45 is available in black color only (P-45B).
Keyboard
The P-45 features fully weighted 88-key keyboard, called Graded Hammer Standard (GHS).
It's Yamaha's most affordable hammer action, which you can find in most entry-level digital pianos from Yamaha. The feel and action of the keys of P-45 are very similar to those of an acoustic piano.
The keyboard replicates the feel of the hammers inside an acoustic instrument, using actual little hammers inside the keyboard rather than springs (semi-weighted actions).
The GHS action has heavier touch in the low end and lighter touch in the high end just like an acoustic piano.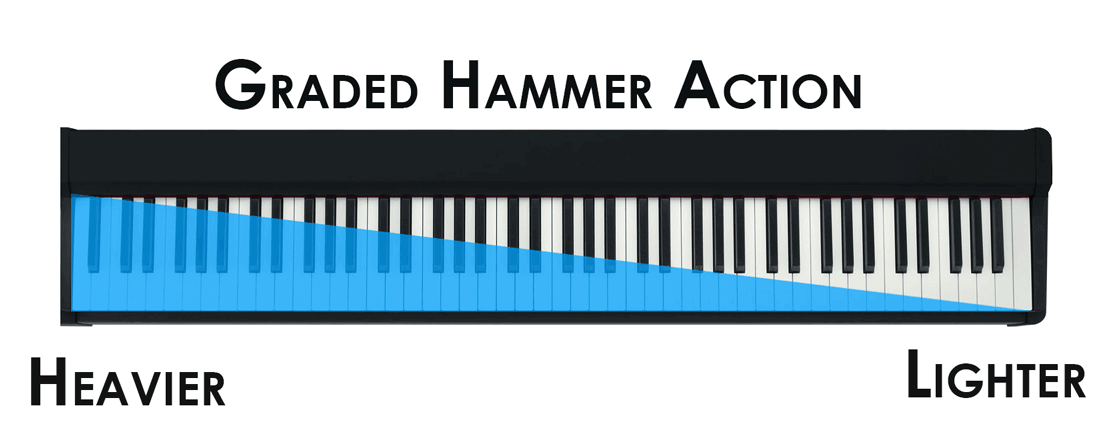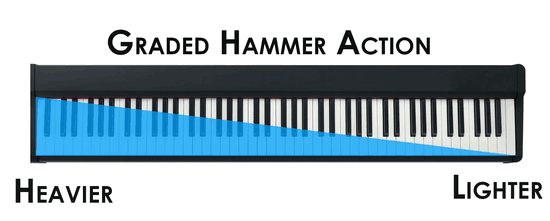 The keyboard is touch (velocity) – sensitive, which means the volume/timbre changes depending on how hard or soft you play the keys, reproducing the rich dynamic range of a grand piano.
You can adjust the level of touch-sensitivity to better suit your playing style. There are 4 preset settings: Fixed, Soft, Medium (default) and Hard.
The "Fixed" setting makes the keyboard not sensitive to the touch, producing the same amount of volume regardless of how hard or soft you play the keys.
The "Hard" setting, on the other hand, will provide the widest dynamic range, where you'll have to strike the keys really hard to produce the loud sound.
Unlike some higher-end models, the keys on the P-45 don't have moisture-absorbing keytops that replicate the feel of Ebony and Ivory.
However, black keys of P-45 have matte finish, which will prevent fingers from slipping off when they become moist.
The white keys are glossy but i wouldn't say it's a problem, furthermore many acoustic pianos have the same glossy keys.
It's also worth mentioning that Yamaha's GHS action tends to be a bit less noisy (noticeable when playing at a low volume or in headphones), compared to the Casio's Tri-sensor hammer action, but in terms of realism, Casio's action is arguably better.
Sound
To accurately capture the sound of an acoustic instrument and create high-quality samples Yamaha uses its well-known AWM dynamic sampling technology.
The sound you'll hear on the P45 is a true stereo sound recorded from a full concert grand piano at different dynamic levels.
The P45 is not great for musicians who need a variety of instrument sounds and sound effects to create music. The piano has only a basic set of sounds, which would satisfy most piano players.
Watch the video below to listen to the P-45's Concert Grand sound:
You can make the sound deeper and more expressive by adding reverberation effect. There are 4 reverb types available on the P45: Room, Hall 1, Hall 2, Stage.
You can also adjust the depth of the effect from 0 (no effect) to 10 (maximum depth).
That's it as far as sound effects go.
Polyphony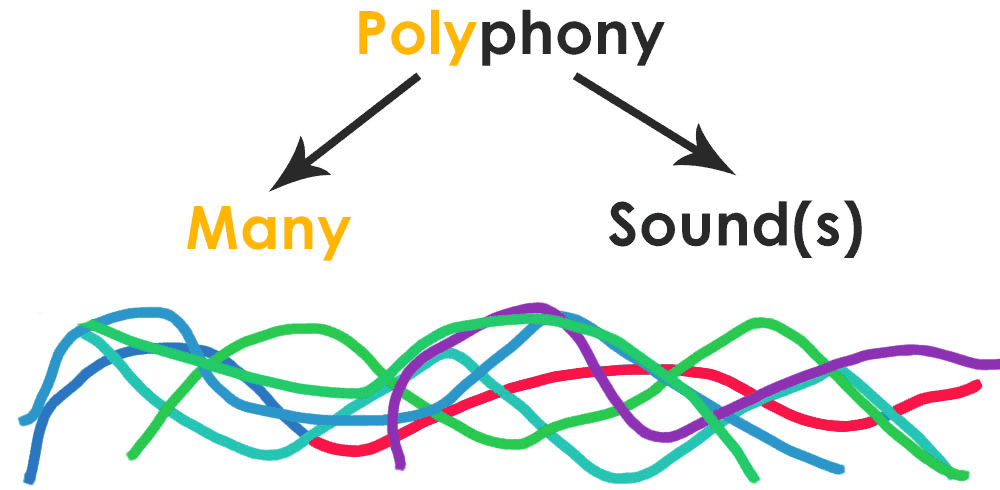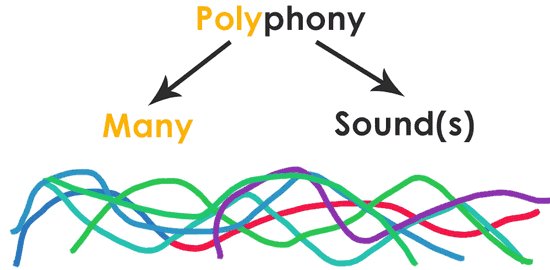 The piano tones have been slightly improved over the previous P35 model. But, the most significant improvement is that the polyphony has been doubled from 32 to 64 notes.
As a result, the piano will be able to keep in memory twice as many notes, allowing for a fuller and richer sound.
While 32-note polyphony may not always be enough for playing complex classical pieces, 64-note polyphony will do in most cases.
Speakers
The P45 features 2 x 12 cm built-in speakers (6W + 6W amp). The sound is loud enough to practice in a relatively small room or to perform in front of a few people, but not more.
For a live performance, playing along with several instruments, you'd definitely need an external amplifier as the sound is weak for such occasions.
The quality of the sound through the onboard speakers is pretty decent, especially considering the size of the instrument. The sound remains clear and doesn't distort even at max volume.
You can get an even better sound by plugging in a good pair of headphones, which will provide a clearer, more detailed sound as well as an immersive listening experience.
Features
The piano has a basic set of features that will satisfy most of the beginners and probably intermediate players.
Modes
Dual Mode will allow you to layer two instrument sounds so that they sound simultaneously across the entire keyboard range. For example, you can layer strings with the piano sound or combine whatever sounds you like to get some new interesting sounds.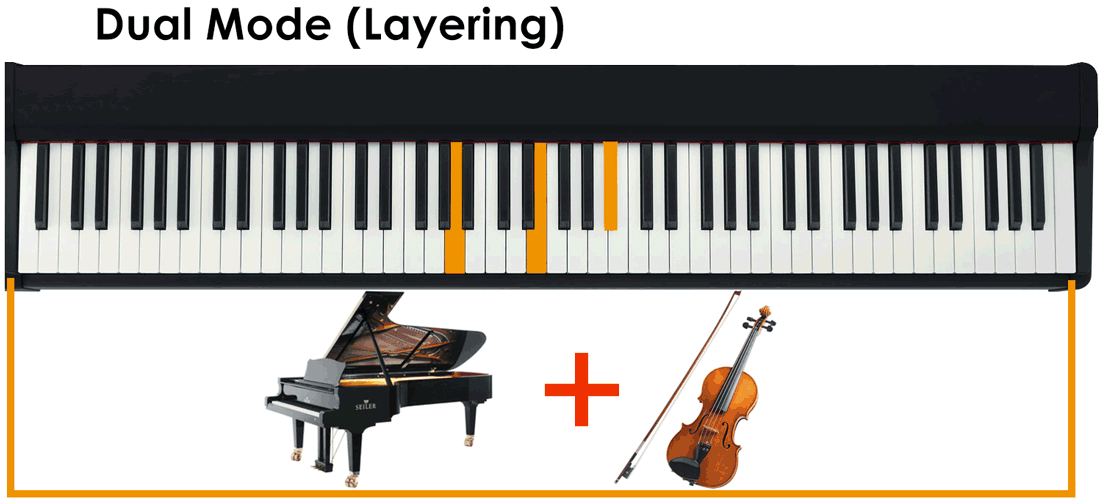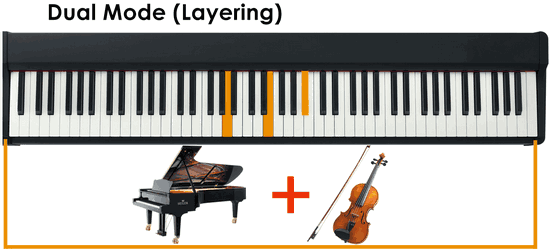 You can also adjust the volume balance between the sounds to make one instrument sound louder than the other.
Duo Mode splits the keyboard into two equal sections that have the same pitch ranges. It allows two people to sit side by side and play the same notes at the same time.
The mode is often used by piano teachers; sitting next to a student they can play some tunes, and the student can follow along on the other part of the keyboard, playing the same notes.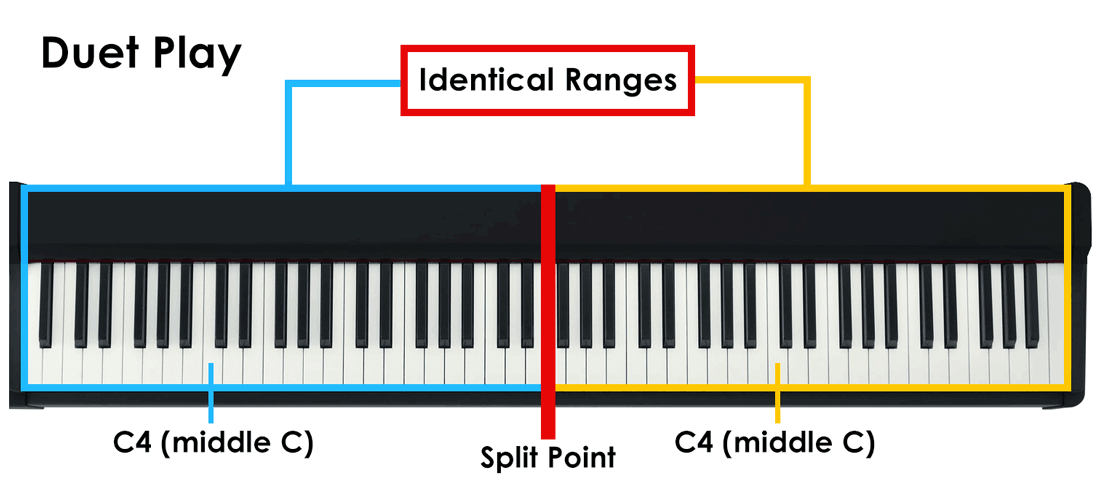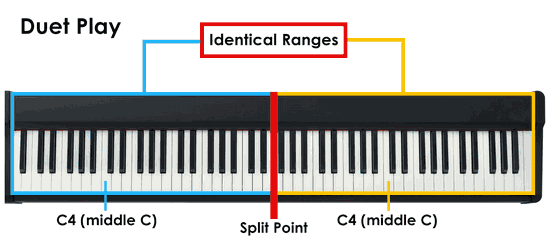 Split Mode, which would allow you to split the keyboard between two different sounds, is not available on the P-45.
---
Transpose and Fine tuning

Like any other digital piano, the P45 doesn't need to be tuned (ever) and comes tuned at a standard A440 pitch.
Fine tuning function allows you to raise or lower the pitch of entire keyboard in 0.2 Hz increments to match the pitch of another instrument or singer, for example.
The P45 also has transpose function that will allow you to change the pitch of the keyboard in semitone steps.
For example, you can shift the pitch and be able to play a song in a different key without changing your hand placements.
Transposing also comes in very useful if you want to play a song written in a difficult key with many black keys involved; you can simply shift the pitch of the keyboard and play the song in a different easier key.
---
Recording and Playback
The P45 doesn't have a built-in MIDI or audio recorder, which would allow you to record and playback your performances. However, you can still use USB (MIDI) connection and, using certain music software, record your music.
---
Metronome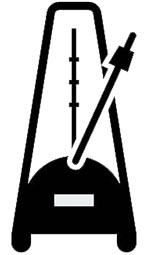 A built-in metronome keeps a steady tempo for you by ticking at a consistent speed. Practicing with metronome helps develop such fundamental skills as time keeping and a sense of rhythm.
The P-45 enables you to adjust the beat (time-signature), tempo and volume of the metronome.
Auto power off function prevents unnecessary power consumption by automatically turning the instrument off after approximately 30 minutes of no operation.
The function can be disabled if needed.
Connectivity
The piano is equipped with all the necessary ports and jacks to connect the instrument to external devices, such as headphones, external amplifiers, sustain pedals, etc.
All the connectors are on the back of the instrument.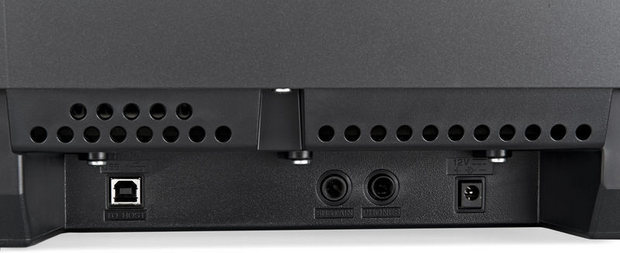 USB (type B) terminal
The big change over the previous P35 model is that instead of Midi In/Out ports the P45 has a USB to Host port, which in most cases is a more convenient option.
It allows you to transmit MIDI data to external devices including computers, tablets (adapter is required), etc.
To connect the P45 to the computer you'd need to buy an additional A to B USB cable. But don't worry, they're pretty cheap.
Once you've connected the piano to your computer, you can use the keyboard as a MIDI controller and take advantage of various music software available out there (GarageBand, FlowKey, Musescore, etc.)
Depending on the app, you'll be able to learn, compose, record and edit your performances, and do many other fun things that the keyboard alone doesn't offer.
Headphone jack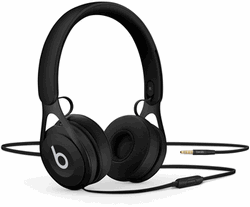 If you prefer to practice in private or want to get a more detailed and accurate sound, you can always plug in a pair of headphones to the P-45's 1/4″ stereo jack.
The built-in speakers will automatically shut off, and you'll be able to play any time you want without bothering others.
The only thing I find inconvenient is that the headphone jack is on the back of the piano.
The jack can also be used as a Line out to connect the piano to external speakers, amplifiers, mixers etc.
Sustain pedal jack
This is where you'll need to plug in an included footswitch, which functions the same way as a sustain pedal on an acoustic piano.
The jack will also work with third-party sustain footswitches/pedals that have ¼" plug (pretty much all of them have).
Accessories
Sustain Pedal
Predictably, the included Yamaha FC5 sustain footswitch works as it's supposed to, but is somewhat flimsy and doesn't look very nice.
It's basically a plastic box-like pedal, which is far from what you'll find on an acoustic piano. Therefore, buying something more substantial and realistic may not be a bad idea.
The M-Audio SP-2 piano-style pedal is an affordable alternative to the included footswitch. It has a durable metal construction and feels like a real piano pedal.
---
Stand
When it comes to a stand for the P45, there are 3 options for you to consider.
The 1st option is not to buy a stand at all. The P45 is compact enough to place it on a desk, table or any other flat surface. For some, it's maybe not very convenient, but still, that option is available.
The 2nd option is to buy a portable X-type stand.
The Starter Bundle includes the Yamaha PKBX2 X-type stand, which will work with the P45 just fine.
However, there are many other great stands in the different price ranges available on Amazon separately from the piano.
One of my recommendations would also be the RockJam Xfinity Heavy-Duty adjustable stand.
The 3rd option is a furniture stand that would be a stationary solution and great for those who don't plan to move the piano around much and want it to stay in one place.
Yamaha offers the L85 wooden stand that fits the Yamaha P-45, P-71 and P-115 digital pianos. The stand is included in the Deluxe bundle but can also be bought separately from the piano.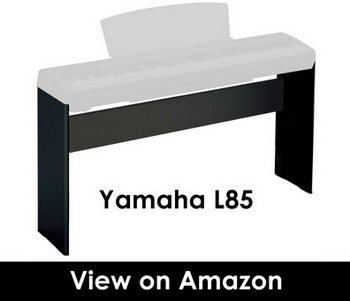 The Yamaha LP5A 3-pedal unit compatible with the L85 stand won't work with the P45 because the piano doesn't have a special pedal unit connector.
---
Case
As I mentioned, it's possible to take P45 on gigs, rehearsals or trips. However, it's important to use some kind of protection for the keyboard to prevent it from damage during transportation.
For its 88-key pianos, Yamaha offers the P-Series Soft Case, which is a great option to consider if you plan to move the keyboard from place to place a lot.
Although the P-45 will fit into the Yamaha bag, there many other durable gig bags out there that will fit the P-45 just fine, including Casio's PRIVCASE Privia Case, Gator cases, and so on.
---
Headphones
Headphones come in very handy when you want to practice in private, focusing solely on your playing and not disturbing others nearby.
Moreover, a good pair of headphones will provide a clearer and more detailed sound compared to the onboard speakers.
Check out this guide to learn how to choose the best-sounding headphones for your digital piano.

Summary
So is the P-45 (P-71) worth the money? I'd definitely say it is.
For its fairly affordably price, you get a very decent digital piano with realistic piano sound and a full-size hammer-action keyboard, which mimics that of an acoustic piano.
It makes the P-45 perfect for learning on and helps build proper finger strength and technique needed for playing an acoustic piano
Portability is another big plus of the P-45. The instrument will easily fit into limited spaces and can be carried by one person.
The P-45 is a great option to consider for a college student living in a dorm room who needs a compact piano alternative at an affordable price.
Unfortunately, the piano lacks features such as a MIDI recorder, Lesson Mode and Accompaniment function, which would be nice to have.
But you're a beginner on a budget and looking for a simple, no-frills digital piano with fully weighted keys, realistic piano sound, the P-45 is a great keyboard to consider.
Check the availability and current price of the Yamaha P-45 in your region:
Alternatives
There aren't quite a few digital pianos that compete with the Yamaha P-45 in the same price range. And if you're willing to invest $100-150 more, there are several great alternatives that you may want to consider.
Yamaha P-45 vs  Yamaha P-125 (Full Review)

The Yamaha P-125 is next model up in the P-series. It's a more advanced keyboard, which comes with a bunch of extra features and upgrades over the P45.
Let's start with the two most important aspects of any digital piano: action and sound.
While pianos share the same Graded Hammer Standard (GHS) action, the sound processor is different.
At the heart of the P125 is the Pure CF sound engine. It uses samples of the Yamaha CFIIIS 9′ concert grand and combined with 192-note polyphony (P-45: 64 notes) gives you a solid, natural piano sound.
The difference is quite noticeable, and on its own makes it worth paying the extra money for the P-125.
The P-125 also has more sophisticated and powerful sound system with 4 speakers (14W), compared to the P-45 with only two speakers (12W).
Aside from the major sound upgrade, you get a bunch of useful features.
Firstly, the P-125 allows you to record your performances using its 2-track MIDI recorder (each hand part can be recorded separately)
Secondly, the P-125 has 50 preset songs that you can practice by playing right- and left-hand part separately.
Other features include 10 accompaniment styles, a Split Mode, Line Out jacks and compatibility with Yamaha's Smart Pianist app.
Lastly, the P-125 has more instrument sounds (24 vs 10) including a Mellow Grand, Vintage E.Piano as well as Wood and Electric Bass.
That's pretty much it when it comes to differences between the P-45 and P-125. And considering the P-125 is not that much more expensive than the P-45…
Well, if you're just a beginner and you're not sure if you're going to stick with learning the piano then paying the extra money may not worth it for you.
On the other hand, if you already have some experience and think that you might need the P-125's extra features and higher quality sound, you'll probably be better off with the P-125.
---
Yamaha P-45 vs  Casio PX-160 (Full Review)

The Casio PX-160 despite being slightly more expensive than the P45 might be an interesting alternative to the Yamaha, especially if you feel that you need a little more than the P-45's basic features.
The PX-160 offers almost twice as many instrument sounds (18) as the P45(10) and more importantly have 2-track MIDI recorder, which will allow you to record and playback your performances right onboard.
The Tri-sensor Scaled Hammer Action keyboard provides Ivory & Ebony touch and is a bit more realistic in my opinion than the P45.
The PX-160 also has more powerful speakers (2 x 8 W) compared to the P45 (2 x 6 W), which in practice provide richer and louder sound.
Check the video below to compare the pianos side by side:
---
Yamaha P-45 vs  Korg B1 (Full Review)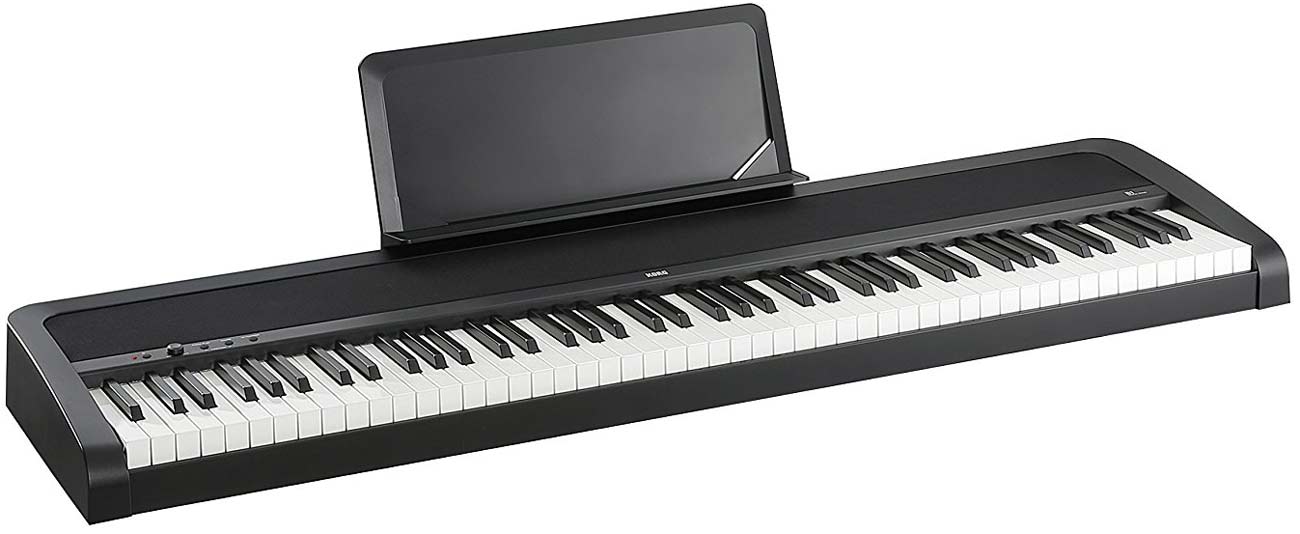 An entry-level keyboard from Korg is actually very similar to the P45 in a way that it's pretty basic and straightforward and without lots of add-ons.
The Korg B1 has only 8 instrument sounds (3 pianos) and no recording capabilities.
Instead, it offers the fully weighted Natural Hammer keyboard and powerful 18 W sound system with Motional Feedback technology. The design of the B1 is also very appealing to my taste.
However, for the same price the Casio PX-160 offers more features and its Tri-sensor keyboard with Ivory-feel keys feels more authentic than the B1's keyboard.
Check the video below for a blind sound comparison between the two pianos: