Greetings, fellow guitar enthusiast! If you're reading this, you're likely on a quest to master the guitar, but the plethora of learning options in 2023 has left you in a quandary.
The conventional route of in-person teaching is facing stiff competition from high-quality online lessons and AI-powered learning tools.
So, let's embark on this journey to help you find the perfect path to your guitar-playing dreams!
New Technologies – New Ways Of Learning
When I first got my electric guitar in the 2000s, finding a guitar teacher meant checking out the coolest rock bands in town and finding which one of those guitarists offered in-person lessons.
I remember how online tabs like Ultimate Guitar were new then. We would pick up tabs from the website to complete our transcribing homework.
I also remember how our guitar teacher, trained in the '80s, frowned upon the idea. He had developed a highly perceptive ear by transcribing guitar solos from cassette tapes, which was the norm in the '80s.
Fast forward 20 years, and you have students holding their guitars, following along to an AI voice that says, "Strum when you see the notes show up on your screen."
The AI-infused app detects even the slightest deviation from the beat by a few microseconds, prompting you to revisit the passage.
While this might sound radically different from the '80s or even the '2000s, the concept of an intelligent listener assessing your performance in real-time and pinpointing mistakes remains unchanged.
That being said, the feedback received from an in-person teacher is still irreplaceable.
Learning to play the guitar extends beyond technical mastery. An in-person teacher has the unique ability to impart their musicality onto the student, a connection that cannot be easily replaced.
So, the question is not "What's the best way to learn the guitar?"
It's "What's the best way for me to learn the guitar?"
Choosing The Right Instrument For You
If you're a carpenter, you can't be at your best without having the necessary tools you vibe with the most. Very similarly, performing well on the guitar requires you to have an instrument that serves you well and truly inspires you.
The classical, acoustic, and electric guitars are extremely peculiar and offer distinct responses, even though the rudimentary technique involved in playing them remains the same.
Let's examine the three main types of guitars under specific categories so we get a better idea about them.
Choosing The Right Learning Path
With the types of guitars out of the way, we can move on to discover the various ways in which you can learn to play them.
Various factors like your preferred learning style, available resources, interaction level, and long-term goals determine the choice of a suitable learning medium.
The four main categories of learning mediums are:
1. DIY methods
2. Traditional in-person learning methods
3. Technological learning methods (online platforms + AI)
4. Hybrid learning methods (mix of the first 3)
Now, let's dig deeper into each method to understand its pros and cons so that you can settle on the best method for you.
---
DIY Methods
This is a do-it-yourself method where you learn by reading music theory from books, asking friends, and learning songs by hearing and transcribing.
It may have the most freedom and the longest learning curve as one has to figure out everything independently.
However, in some cases, this might be the cheapest and most effective option for a beginner.
For example, if you're a beginner passionate about rock music and want to get into a band as a rhythm guitarist, it would require you to mainly focus on guitar playing techniques like power chords and palm-muted chugging.
Since these techniques have many free resources and are easy to pick up, they can be learned DIY.
To simplify things, here are the top books used by DIY guitarists over the decades to self-teach themselves.
These are highly effective books that have stood the test of time and are worth checking out.
---
Now let's take a look at some of the pros and cons of the DIY method.
Self-learning can work well for some individuals. However, being in the presence of professional guitarists and musicians, attending guitar clinics, or learning briefly from an in-person as a supplement can help address its cons.
Old-School & Traditional Methods
Learning from an in-person teacher or going to a music school was the most commonly used method before the advent of the Internet.
While the cost of music institutions would vary, the prices for one-on-one in-person training generally range from $20 to $40 per 30-minute session and around $40 to $90 per 1-hour session.
Prices for group lessons could go down to $10-$20 per session, depending on the strength of the class.
However, these numbers vary widely based on the tutor's reputation and location. You can use services like Tonara and Superprof to find a teacher who suits your needs.
Let's take a look at some of the advantages and disadvantages of the traditional methods.
Group study and private instructors have immense social interaction and personal attention advantages. You'll need to weigh their pros and cons and identify your music goals to understand how to use them.
Technological Methods
Technological advancements have revolutionized the way you can learn guitar.
You now have the option to enroll in online courses, make use of instructional videos and tutorials, or leverage specialized software and apps.
We'll cover these methods in more detail later in the article, but first, let's go through some of the pros and cons of this approach.
Technological methods provide flexibility, access to vast resources, and engaging learning experiences. Nevertheless, it may lack the personal touch and interaction in traditional learning settings.
A balanced approach incorporating technological tools and live instruction could be the most effective way to learn guitar playing.
Let's look at hybrid learning incorporating both technological and traditional learning methods.
Mixing It Up – A Hybrid Learning Approach
A hybrid approach is suitable when you want to enjoy both the personalized experience of a physical teacher and the benefits of technology.
It can propel your learning speed as you utilize online resources to practice.
Let's look at some of the advantages and disadvantages of this method.
Different Ways of Learning The Guitar (Technological Methods)
As we discussed, some new ways of learning the guitar have revolutionized our thinking about the learning process. We've elaborated on the most striking ones below.
1. YouTube tutorials
2. Guitar learning platforms
3. Guitar learning games
4. Artificial Intelligence (AI) powered guitar learning platforms
5. Digital music sheet and guitar tab
6. Smart guitar
7. Virtual Reality (VR) guitar apps
8. Social learning network
Let's explore each method of learning to learn more.
---
1. YouTube Tutorials
There are numerous websites with detailed video tutorials on how to play guitar for learners of all levels.
Currently, YouTube is the most popular platform, offering numerous free tutorials, from playing simple chords to advanced techniques.
First, it's flexible and accessible; hence, it's a great choice if you want to learn for free or want to learn at your own pace. Second, it can be fun, especially learning from your idol.
Third, it has numerous resources that allow you to explore different genres and playing techniques. This is impossible with an in-person instructor who may only be versed in a single technique.
Last, you can explore various instructors in one place and settle on one that you connect with most.
However, most free videos play songs but don't go deep into techniques and music theories behind the songs. You can solve this by accessing paid channels that cover the nitty-gritty of what makes up a song.
---
2. Guitar Learning Platforms
Paid platforms offer distinct advantages over free resources like YouTube.
Most of these platforms provide structured learning, offering organized courses that guide learners from basics to advanced skills. This structure prevents knowledge gaps and ensures a logical progression in your guitar journey.
Interactivity is another key benefit. Online platforms offer features like interactive lessons, quizzes, and feedback mechanisms, enhancing engagement and providing instant correction for mistakes.
Content quality is often superior on these platforms, with professional instructors creating reliable, accurate lessons. You can trust the information and guidance you receive.
Lastly, online guitar platforms foster a supportive community, enabling learners to connect with peers and instructors for motivation, collaboration, and shared experiences.
These advantages make them a valuable choice for effective and comprehensive guitar learning compared to free resources.
Some examples of popular online platforms include: Fender Play, Simply Guitar, TrueFire, etc.
---
3. Guitar Learning Games
For game lovers, interactive games have been created that can help in learning guitar in a faster and more fun way. For example, JamPlay has a fretboard memorization game that tests your understanding of fretboard symbols.
Other popular games are Real Guitar and Trap Hero. Real Guitar is a simulator that offers a virtual guitar you can play when traveling or away from your instrument. Trap Hero specializes in testing rhythm skills and can be played solo or by multiple players.
---
4. AI-Powered Guitar Platforms
You can use AI-powered platforms to learn. The platform analyses your playing style and points out areas to improve. Also, you can learn at your pace and schedule since AI can customize your training session based on your playing trends.
Here are a few examples of AI-powered guitar learning platforms:
---
5. Digital Music Sheets & Guitar Tabs
Music sheets show notes of music played, while the tab shows the position of the note on the fretboard. You can learn to play guitar with applications that offer a music sheet and a guitar tab.
Moreover, some apps provide a large library of songs to practice with and show notes while playing music. Thus, you'll speed up your learning.
Some popular music sheet and guitar TAB platforms are:
---
6. Smart Guitars
The advancement of technology has given birth to smart guitars. These guitars can connect to apps or devices to track your playing and give feedback on progress and areas to improve.
You can learn faster with smart guitar technology. For example, Fret Zealot uses high-tech LEDs on the guitar to tell you where to position your fingers.
Lava Me 3 is another popular smart guitar, which is equipped with a built-in tuner, effects, and metronome. On top of that, it comes with loops, practice apps, a recorder and social-connectivity capabilities.
---
7. Virtual Reality Guitar Lessons
VR can help create various environments where you can play guitar and get feedback. Some popular VR guitar apps are Air Guitar by Unplugged and Rock Band VR.
Air Guitar is great for guitar game enthusiasts as it allows you to play virtual guitar without having an actual guitar. You can also couple it with an actual guitar and play various tracks.
Rock Band VR is great for rock enthusiasts who want to play in a virtual jamming session since it can create a collaboration with virtual bands. It is also useful in training chord progression and strumming speed.
---
8. Social Learning Networks
You can utilize Facebook groups specialized in guitar learning. These groups allow you to learn from others, share your experience, ask questions, and receive guidance from more experienced guitarists.
How Much Time Will It Take To Learn Guitar?
The time it takes to learn the guitar can vary widely depending on several factors.
It's important to remember that learning any instrument is a journey that requires patience, dedication, and consistent practice.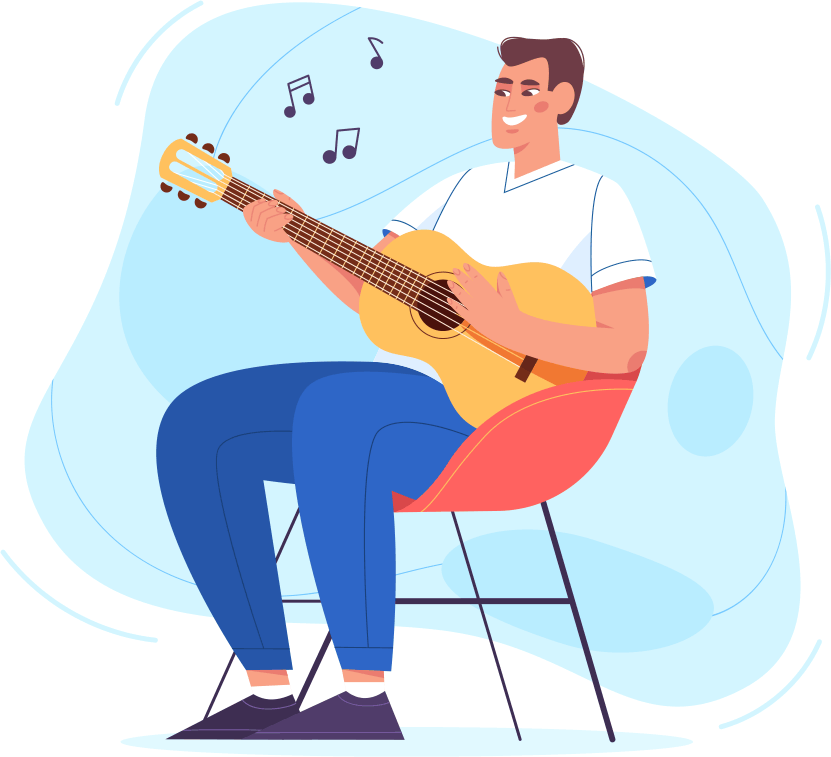 Here are some key considerations that can influence the time it takes to learn the guitar:
1. Previous Musical Experience: Prior experience with music or other instruments may help you grasp certain concepts faster.
2. Natural Talent: Some individuals may have a natural inclination for music, which can speed up learning.
3. Practice Routine: Regular practice is essential. The more time you devote to practice each day or week, the faster you progress.
4. Learning Style: Different people have different learning styles, so finding an approach that suits you can impact your progress.
5. Goals and Ambitions: Your objectives with the guitar also play a role. If you aim to play simple songs, you may progress quicker than someone aspiring to become a professional guitarist.
6. The Complexity of Guitar Playing: Mastering basic chords and strumming patterns can be relatively quick, but becoming proficient in advanced techniques and music theory takes longer.
7. Instruction and Guidance: Having a skilled teacher or utilizing online resources can enhance your learning experience.
Considering these factors, it's challenging to provide an exact timeline.
Some people become comfortable playing basic songs within a few months, while others may take a year or more to reach a certain level of proficiency.
Learning the guitar is rewarding and ongoing, so enjoy the process and celebrate your progress!
---
In conclusion, all learning mediums have a fair share of pros and cons. Remember, everyone has a specific style of learning that resonates well with them. Therefore, take your time to research each method and try several until you find one that best suits you.
---
You might also like:
Best Online Guitar Lessons: Courses, Apps (Tried & Tested)
Best Free Guitar Lessons: Everything You Need to Get Started
The Ultimate Guide to Buying Your First Guitar