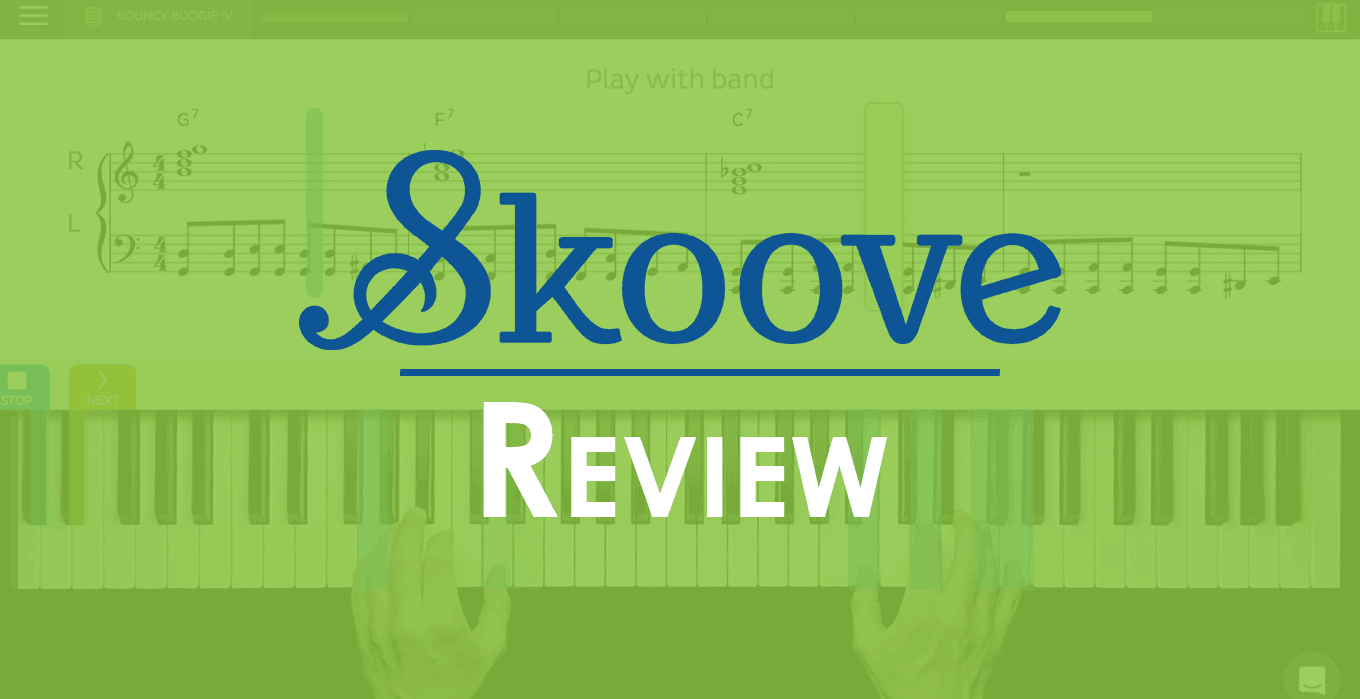 Skoove makes the bold claim of being "the easiest way to learn piano".
This web-based piano method uses popular music to teach musical concepts like reading music and chords, and works with your computer or iOS device to make sure you're playing the right notes and rhythms.
There are no purely mental exercises here – as soon as you learn something, you'll put it right into practice in a fun piano tune.
You'll get started playing simple melodies right away, and learn theory as you go.
So, is Skoove the method for you? As this course is fond of saying, "Let's skoove!"
Membership Options
Skoove is subscription-based program that offers premium memberships of one month, three months, or a year at a time.
The 12-month package at $9.99/month is the cheapest option, and best for casual learners, while more avid students will want to opt for three months at $13.33/month.
For a taste of Skoove before committing to a premium membership, the standard, or free, package includes three free lessons. These won't take you far but will give you a better idea of whether the program will work for you.

What You'll Need
This program works in your browser, so no downloads needed. To access the lessons, you'll need to go to the Skoove website, log in, and click on the "Courses" tab.
The exception is if you are using Skoove on an iOS device like an iPad, in which case it's easier to download the Skoove app.
The interface walks you through the setup process, including calibrating your keyboard, and will ask you whether you're using headphones and what kind of piano you have.
A unique feature of Skoove is that it can work just using the mic on your computer or iOS device, meaning that it's compatible with acoustic pianos as well as digital ones.
There is also the option to connect your device and keyboard with a MIDI or USB cable, which works much smoother in my experience.
Some of the lessons can even be completed with a computer keyboard, but I don't recommend using this feature for anything other than checking them out, since that won't teach you how to play the piano.
You will need an acoustic piano or keyboard, preferably with 88 fully-weighted keys, if you are serious about learning how to play the piano.
How Does It Work?
Much like other online piano courses such as Playground Sessions, Skoove gives you instant feedback on how accurately you play the notes and rhythms.
The lessons teach with the "Listen, Learn, Play" method, which is a great way to train your ear and your sight reading skills.
Each lesson uses an excerpt from a well-known song to teach a musical concept. There is sheet music at the top of the lesson interface and a keyboard underneath with hands that demonstrate the passages.
As a note is played, it is highlighted on the on-screen keyboard and in the sheet music.
The first thing you'll do in a lesson is sit back and listen to what you will be learning how to play, while looking at the sheet music and watching the hands on the keyboard.
Even before knowing much about notes or rhythms, associating what you're hearing with what you see starts to build your understanding. It's also easier to pick up a song when you already know what it's supposed to sound like.
After getting to know the song, you'll learn the notes for each hand separately (if applicable).
At this point, the program will let you know if you are playing a note incorrectly, but it doesn't pay attention to rhythm. This gives you as much time as you need to figure out the notes.
Next, you will play each hand with the correct rhythms, before putting the hands together. Finally, many lessons have a band that you can play along with, making even the simplest of exercises a lot of fun to play.
Each stage in the lesson can be repeated as many times as you need, so you should move on only when you feel ready.
The Curriculum
Skoove features an ever-growing curriculum of 300 lessons over 19 courses. As expected, the first lessons are for absolute beginners, and more complex musical ideas are introduced as the course progresses.
---
Piano Beginner 1, 2, & 3
Piano Beginner 1 introduces students to the piano and teaches posture and basic musical notation and rhythms.
You'll play using finger numbers on the keyboard and notes on the staff, just focusing on the names of a few notes at a time.
While this first course officially only teaches you five notes, it gets to you play many more while seeing them on the staff, so some students will pick them up intuitively. You'll also learn how to improvise on the black keys.
Piano Beginner 2 gets you more comfortable playing hands together and introduces new hand positions and more notes.
In Piano Beginner 3, you'll learn about intervals. The 13 lessons in this course cover only four songs, which you learn a few lines at a time.
By the end, you'll have a few full songs to play, including "Tainted Love" by Softcell and Monty Python's "Always Look On The Bright Side Of Life".
---
Beginner Theory: Sight Reading
This course is described as optional, but I do not recommend skipping it. It reinforces valuable lessons on note reading, rhythms, and the musical staff, as well as giving you lots of practice exercises on musical patterns and sight reading.
I suggest completing this course alongside the Piano Beginner courses and going back to it for refreshers as needed.
---
Piano Songs Beginner
This course is a library of 89 songs at a beginner level, including ones that you have already learned in lessons.
These are mostly pop songs or songs from movies, like Celine Dion's "My Heart Will Go On" and Daniel Powter's "Bad Day", but there are a few well-known classical and jazz pieces thrown in there.
You'll learn these songs using the same "Listen, Learn, Play" method from the lessons, but without as much guidance.
The chord tabs are provided as well, which makes it easy for a guitar-playing friend to accompany you.
---
Piano Intermediate 1, 2, & 3
Piano Intermediate 1 is your introduction to key signatures and chords. While you've already seen some accidentals, here you'll find more formal explanations about how they are related to key signatures and natural notes.
In Piano Intermediate 2, you'll finally get to make sense of the numbers you've been seeing at the beginning of the staff. It teaches time signatures, dynamics, and more chords and their inversions.
Piano Intermediate 3 will have you playing both major and natural minor scales, learning about harmonizing a melody, diminished chords, and transposition.
---
Piano Songs Intermediate
This song catalog contains 73 songs at an intermediate level, with chord tabs.
There are loads of great pieces to choose from, including Coldplay's "A Sky Full of Stars", "Chim Chim Cher-ee" from Mary Poppins, and the Ray Charles classic "Hit the Road Jack".
---
Classic Piano
The Classic Piano course uses arrangements of well-known classical pieces like Beethoven's "Für Elise" and Pachelbel's "Canon in D" to teach arpeggios and cadences.
It also focuses on playing musically by adding your own dynamic expression, something that many online courses are missing.
---
Pop Piano
This course focuses heavily on chords, including basic power chords, harmonizing chords, basic chord progressions, and playing from chord symbols.
It also encourages you to improvise a solo during Alicia Keys' "Fallin'" using a minor pentatonic scale.
---
Piano Songs Advanced
There are only 19 songs in the advanced library, but they include hits like Adele's "Rollin' In the Deep", the ever-popular "The Entertainer" by Scott Joplin, and jazz standard "Autumn Leaves".
It should be noted that while these songs will feel advanced to a new piano player, they are not considered to be advanced in the wider world of piano.
---
Blues & Boogie Woogie Piano
This is definitely a fun one. It's your intro to blues and boogie-woogie, complete with blues scales, patterns, and chord progressions, and dominant seventh chords.
It also includes "Licktionary" lessons that teach you blues and boogie-woogie terms and piano licks.
These lessons work by adding different techniques like grace notes and a walking bass to the same passage of music, giving you a clear picture of how they can change the feel of a song.
The last lesson is a fun challenge – each stage gets you to play a boogie-woogie lick passage increasingly faster, piano battle-style, until your fingers are flying at 260 bpm.
---
Chords & Scales
I expected this course to teach chords and scales as technique exercises, but it actually teaches them in the context of songs.
While this may be more fun, it overlooks how valuable it is to practice scales and chords on their own, a staple of more traditional piano methods.
Here, you'll learn about creating triads, seventh chords, and chord riffs. It also shows you the whole tone scale and a few simple scales which with you can create a "mystical moment and atmosphere".
---
Keyboard for Producers
Lessons on keyboard for producers is something you won't find in many other online or traditional piano methods.
While it's geared toward those interested in producing tracks, anyone interested in harmony or more advanced theory will benefit from this course.
It teaches you about chord voicings and progressions, the mixolydian scale, modulation, and creating harmonic tension, among others.
Users have noted that while the tracks chosen are great tunes, they are a bit dated.
Those particularly interested in this section of the Skoove program may be tempted to skip directly to this course, but if you're new to the piano or music in general, you won't understand the concepts or be able to play the music if you haven't already learned the beginner and intermediate material.
In addition to the above courses, there are four courses that teach you how to play Beatles tunes, Queen hits, Christmas carols, and music from soundtracks like The Pirates of the Caribbean. These are at varying levels.
Pros and Cons
Here are some of the benefits of Skoove, as well as what could be improved upon.
Pros:
Can be used with either a digital or acoustic piano – Most online courses require a digital piano or keyboard. Since Skoove uses your device's mic to identify up to ten notes at once rather than needing a direct connection, you can use an acoustic piano.
Good for learning how to read music – Skoove gets you to associate notes on the piano with notes on the staff right away, and gives you plenty of practice with this skill. It also doesn't let you rely on crutches like note names in the music.
Moves at your speed – You choose how quickly you move through the lessons and how long you want to spend on each of them.
Also, while in the "Learn" stage of the lessons, you can spend as long as you like figuring out which notes to play.
Great visuals – Skoove provides sheet music and a keyboard demonstration with highlighted keys for every single lesson and song.
This is great for visual learners and for making the connection between the keyboard, the sheet music, and the sound.
Modern, easy-to-use interface – When compared to similar programs like Playground Sessions, Skoove has a modern, clean look. It also doesn't have as many things to click on or adjust, which makes it easier to figure out.
Available in six different languages – This is far more accessible to non-English speaking students than other methods, both online and print.
Cons:
Does not show complete sheet music – The lessons display only one line of music at a time, and I could not find an option for printing off or displaying the whole thing.
This means that you'll need to skip to different parts of the song to focus on areas where you need more practice, and if you want to play for someone, you'll either need to memorize the song or have the lesson open.
Leaves out many musical concepts – This program teaches you how to play notes, rhythms, and basic symbols, but leaves out many concepts needed to interpret more advanced sheet music.
No original sheet music – The songs that you learn, even the classical pieces, are arrangements written by the course creators to be playable at the program's level.
For example, one of the advanced pieces is an excerpt from Beethoven's "Moonlight Sonata" in which the rhythm is altered to fit what students will have learned.
Does not encourage scale and chord practice – Skoove teaches chords and scales in the context of songs, not as technique exercises for finger dexterity, which is an important part of piano practice.
Inconsistent note spacing – The notes and rests are not always spaced consistently, which could be confusing to beginners figuring out rhythms and note durations. There are even a few places right before bar lines where the notes run out of space in the bar and are squished together to the point of touching.
Lesson interface is non-adjustable – Unlike other programs like Playground Sessions, there is no way to make adjustments to the lessons for your personal practice style, like changing the tempo, turning on/off hand parts, or adding a metronome.
Who Is This Course Best For?
Skoove recommends their program for students ages 12 and up, but says that younger learners will have fun with it as long as an adult is helping them.
Teenagers and adults will get more out of the lessons, as they are designed to teach concepts by playing them, not just to teach you how to play with muscle memory.
The "Keyboard for Producers" course makes this program ideal for anyone looking to gain a foundation in piano and music theory for the sake of making music digitally. This is something that you won't find in other popular teaching methods.
Skoove has a great selection of pop music, but its lessons on other genres, including classical, are more limited. So, if you are into playing popular music for enjoyment, this course is for you.
Unlike other online piano courses such as Pianoforall, there is little focus on improvisation and chords, so those interested in learning how to play genres like jazz and blues would be better off choosing another method.
Final Thoughts
---
I see Skoove as a bit of a crash course. It will teach you how to read music and get you playing the piano, but unless you're into playing every arrangement in the catalogs, you'll want to move on before long.
The subscription options support the idea that Skoove is meant as a foundational course rather than something to stick with for years.
Skoove is unique in that the lessons introduce concepts rather slowly, but you're shown sheet music right away.
Because it exposes you to concepts before it fully explains them, some students will be able to figure out things like reading music, rhythms, and time signatures quickly. However, others could find this confusing.
This program has many of the drawbacks common to online courses, such as lack of personalized feedback on technique, musicality, and how you're practicing.
However, Skoove overall provides a good foundational knowledge of piano that will be valuable as you move on to more advanced music and courses.
---