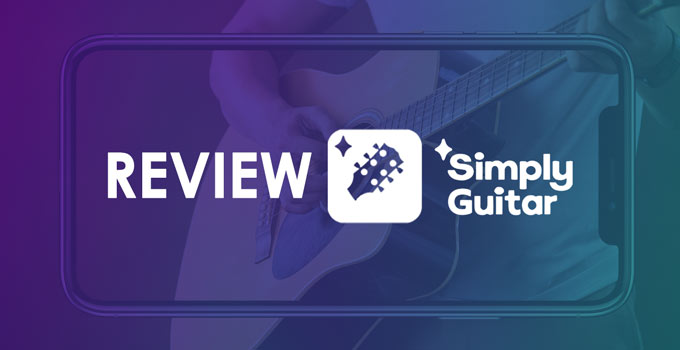 Touting itself as one of the simplest guitar apps to play along with, Simply Guitar has slowly but steadily risen up the ladder of beginner-friendly guitar learning platforms. Building on top of the success of its predecessor, Simply Piano.
With amazing reviews given by early learners from all over the world, I decided to take up a subscription to study the platform in detail.
In this Simply Guitar review, I've laid out all the highlights and shortcomings in a way that helps you decide if it's the right platform for you to start your guitar-playing journey.
Getting Started
Compatibility
The Simply Guitar app is compatible with iPad, iPhone, and all Android devices and can be downloaded for free from the App Store or Google Pay directly.
At a file size of 273.9MB, the app isn't too heavy, and I found no lagging issues while running it on an Android mobile device.
---
Signing Up
Anyone can give Simply Guitar a try with an easily accessible 14-day free trial. All you need to do is sign up with your email and valid credit/debit card details. You won't be billed until the 14th day, upon which you can choose to unsubscribe.
Unlike other platforms which have restricted access, Simply Guitar generously offers all of its material in the free 14-day trial, giving you a good feel for what lies ahead. Signing up for the 14-day trial is highly recommended, as I found no downsides to it.
For PayPal purchases, you cancel under 'Pre-approved payments' or if you made a direct credit card purchase like me, you'll have to send an email requesting your cancellation.
If you do wish to continue, you get offered a $19.99 monthly subscription.
The quarterly membership sells for $59.99 and the yearly one sells for $149.99. With the option of adding up to 5 family members, you can create different profiles with unique musical tastes for a custom user experience for each member profile.
While this does give Simply Guitar an edge in terms of price, other platforms offer a greater variety of resources and video materials for the same price
That being said, you realize that the app is not directly competing with a lot of other guitar platforms. Simply Guitar offers a corrective playback learning system that trains you in a very unique way in comparison to other guitar platforms in the same price range.
---
Learning Paths
As you sign-up and enter the platform, you're greeted with a set of questions on what you would like to get out of this course.
Being primarily a play-along app, Simply Guitar is well-suited for casual players to pick up straight off the bat, with the option to skip things they don't feel inclined to learn.
While by no means extensive, Simply Guitar has a fairly decent collection of genres to choose from:
Rock
Country
Pop
Hip-Hop/R&B
Classical
Curriculum
Once you enter the main menu, you're greeted with an interesting-looking horizontal menu, which branches into chords and lead/soloist.
Depending on what stage of your guitar playing you're at, you can scroll to the right and directly enter the level that you want to begin at. Given that's its designed as a mobile and iPad app, its horizontal interface is easy to swipe through
Out of the all guitar platforms I've reviewed so far, Simply Guitar's user interface is by far the easiest to understand. Swipe right for more advanced stuff!
---
Guitar-Centric Courses
Unlike other platforms that offer ample lessons for bass, ukelele, and mandolin at times, Simply Guitar isn't that flexible. Since Simply Guitar works by listening back to your playing and reviewing it in real time, the tuning system used is of primary importance.
While it is possible to include bass lessons, as the four strings are tuned just like a regular guitar, Simply Guitar hasn't yet included bass lessons in its curriculum. For now, they cater to all types of guitars, i.e., electric, acoustic, and classical.
---
Interesting Tutor Experience
Simply Guitar has come up with an innovative idea for a native tutor who walks us through the basics of a concept before the start of a topic. With simple, concise lessons filled with illustrations and animations, it's easy to follow along in the beginning.
However, as you progress into the advanced stages, you wish there was more tutor intervention. With sparsely placed pre-recorded videos and no options for additional help, the philosophy behind the interactive app isn't consistent.
For example, TrueFire, which is another guitar learning platform, provides pre-recorded video lessons, but it also gives you the option to physically learn from a tutor within the platform at an additional cost.
Since Simply Guitar's lessons are level based, they could maybe have an hour-long masterclass at the end of each level which could be accessed at an added price.
---
The Learning Process 
I wanted to experience the complete platform, so I decided to proceed from Guitar Basics 1 onwards, leading to the advanced levels.
As you enter a level that you want to start at, you're greeted with a series of tasks or challenges that need to be overcome to go to the next level.
With a points-based performance evaluation, similar to that of playing a video game, there is a sense of competitiveness and desire to ace all the challenges, which I found very engaging.
However, if you've had some experience with learning through video content or with a physical teacher, you might find this a bit one-dimensional.
While I'm going to point out some of the hidden gems that this platform has to offer, the aural, visual, and emotional feedback that you get from seeing a physical person play a guitar passage is instantly missed.
If you're a beginner, I recommend using this in conjunction with a physical or online tutor to get the most out of this platform.
What to Expect from the Platform? 
---
Foundation For a Strong Rhythmic Sense
Responding to rhythms in real-time while playing on platforms is generally challenging for a beginner. While you might mentally grasp the rhythm to be played, it might be challenging to coordinate the picking and fretting hand on time.
While tablature is considered to be an easier alternative to sight-reading, it can be just as challenging when it comes to, say, playing a 16th note in-between two rests.
Simply Guitar has made their rhythmic reading so insouciantly intuitive that you barely notice rhythmic reading as a challenge.
The upcoming melody is first played in the empty bars, so you aurally know how the rhythm goes. The backing track follows the moving cursor across the fretboard, where the finger numbers are laid out in bold.
The spacing within the fret is designed in a way that your eyes can perceive the rhythmic spacing without overthinking the rests.
While it seems rudimentary, encouraging the student to play on time while watching the screen, goes a long way in helping a student to be able to record guitar parts on the first take in a DAW, once they start making music.
As I mentioned earlier, there are a lot of hidden gems inside this learning system that could easily be missed.
---
Good Foundation for Chords
There's very little to complain about the chords section as the quality of explanations stays consistent through the advanced levels.
For example, a frustrating fact with guitar chords is that your fingers end up muting the open strings below them when you first learn to play. This creates an unclear sound and is quite frustrating.
While some online video lessons do stress the right amount of pressure to be applied, the tutor here addresses this right at the start, by demonstrating the right wrist curvature for the open strings to ring out clearly.
With the curvature highlighted by supporting graphics, the student's mind gets trained in the right way to approach complicated chords in the future.
But one of the glitches I found was when I accidentally played the E Major instead of the E minor, and surprisingly, the platform didn't detect my mistake. This seemed to occur quite often. However, even slight rhythmic errors are detected well.
The platform seems to miss out on pitch-based errors while detecting rhythmic errors with consistent regularity.
---
Simplified Lessons on Technique
As with rhythm and chords, the tutor does a great job at explaining the basics very well. He goes over the right way to balance your hand with the thumb anchored at the back of the neck, developing good posture right from the start.
Using their trademark graphics, green highlights are drawn over the fingers to accentuate the right kind of curvature for the fingers.
The multi-cam shots reinstate this correct hand posture and set the foundation for a pleasant learning experience.
While this is the case in the beginning, the clear and elaborate lessons on technique don't continue onto the advanced lessons.
---
Innovative Approach to Songs
While there are simple songs from great artists available in everyday guitar repertoire, Simply Guitar has chosen harmonically complex songs, which sound complex but are technically easy to play on the guitar.
It was a thrill to find extremely niche songs in each level, which seem way out of reach at first. But, the way in which the chord progressions are reduced to their fundamentals makes it accessible.
I feel that the clever song selection keeps you motivated for longer, as it's extremely satisfying to play along to something you know is way above your current level. While you're just playing along with one chord, it's still deeply encouraging to keep pursuing.
I refrain from mentioning it as a drawback as I had personally spoken to their support staff and they expressed their plans of adding more songs in the coming future.
I couldn't stress enough on the genius that lies within their reduced song arrangements.
The backing track is arranged in a way that the essence and complexity of the song is felt, but the actual guitar parts you're about to play seem well within reach.
---
Disappointing Experience for Soloists
While the initial lead lessons are fine, the soloist series is unfortunately quite rudimentary. I went through soloist I patiently, as I hoped that the course would catch up to speed here.
However, the difference between each Soloist series is quite minuscule. While I completely agree with the idea of gradual bite-sized lessons, which Simply Guitar follows to a tee, I wish there was a way in which they could gauge our progress too.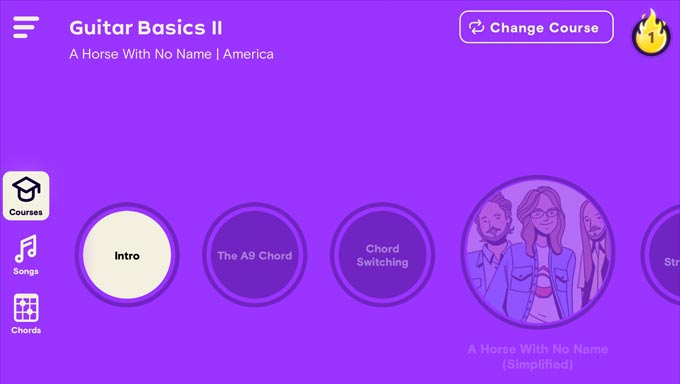 For example, 50-60 percent of the time gets occupied by medals, elaborate celebrations, waiting for the next lesson to load, 8 bars of count-in, 4 bars of count-out, etc. While these are great at the start, they could be cut short as the student advances.
Since Simply Guitar is primarily responding to your guitar audio and keeping track of each note played, it would be a good idea to increase the tempo and complexity of the notes if a user is playing more than 90% correct notes.
That way, it would feel as if the app is actually responding and rewarding your playing with higher challenges.
A Perfect Merger Of Guitar Technique And Repertoire
While a lot of platforms that I've tried fall into the idea that beginner guitar music equates to uncomplicated musicality, Simply Guitar is a breath of fresh air in that regard.
It's important to note that not everyone starting to learn the guitar is necessarily a musical novice. The student could be coming on the back of being a piano player or a drummer, a bedroom producer, etc.
I've noticed that in such cases, people find it boring to have to go through musically simple songs for the sake of learning the instrument from the start.
Since guitar strings are laid out chromatically and separated from each other by fourths, a lot of the technically easier finger exercises happen to occur naturally while playing songs with melodies that are more chromatic in nature.
Simply Guitar seemed to have a very clear understanding of this concept. For example, including a song with three key changes within 12 bars might seem alarming at an intermediate level.
However, the notes of the melody chosen fall on adjacent strings in the most technically simplest way. i.e., one finger per fret across two strings while avoiding the pinky finger, which is the weakest in the beginning.
With such attention to detail, some of the more challenging concepts can be learned without realizing their inherent complexity.
Pros And Cons
Pros:
Since the app listens to what you're playing, the user experience is much more engaging than watching a series of pre-recorded videos.
While not exactly comprehensive, the curriculum is well laid out. With a gradual rise in the complexity of the songs, you feel you're in safe hands and can focus on enjoying the interactive learning experience.
A unique and fun-filled tutor experience, makes sure you get the gist of the concept before getting into the challenges.
Cons:
The decibel levels at which Simply Guitar detects audio are quite high. There were many instances when my notes were missed by the app. Learining on the classical or acoustic guitar could mean having to pick/pluck louder than usual.
As a curious learner, you don't feel challenged enough by the platform.
Since the user experience is primarily akin to that of playing a virtual video game, where your accomplishments are rewarded, it would be better if Simply Guitar could increase or decrease difficulty levels based on your performance.
Final Thoughts
Simply Guitar is best for beginners who can't accommodate regular one-on-one lessons with a physical teacher into their schedule. Being able to operate from your mobile device is a highly convenient way of learning for a lot of people nowadays.
That being said, you'll most likely have to upgrade to a more professional platform once you outgrow Simply Guitar, as it's not the best platform for intermediate to advanced learners.
So if you're a quick learner or someone who is already beyond the beginner stage, I recommend taking the quarterly plan as there might not be enough material to keep you engaged for a year.
---