When it comes to digital pianos, the name Roland inspires a lot of confidence.
Since the beginning of the digital piano revolution, Roland has been responsible for some of the best digital pianos.
Their FP-90, for instance, won a Red Dot design award for its great control scheme!
On September 2018, the Roland FP-60 replaced the FP-50 model and became the new middle point between the affordable FP-30 and the flagship FP-90, offering many features and a complete redesign.
Roland has released more affordable iterations in the FP series of keyboards.
First the FP-30 has enjoyed high success as an entry-level keyboard thanks to its great sounds and excellent keys.
Then there's the FP-10, which crams all the essentials into an affordable package aimed at beginning pianists.
With the FP-90, Roland takes aim at home users, stage performers, and studio keyboardists, providing the best technology in their arsenal.
In this review, we'll be sharing our thoughts on the FP-60 and whether it's worth a buy. Let's jump straight in.
Roland FP-60 Specs
PHA-4 Standard Keyboard: with Escapement and Ivory Feel
88 full-size fully weighted keys
Touch Sensitivity (100 types, OFF)
Sound: SuperNATURAL Piano Sound
288-note polyphony
351 instrument sounds (15 pianos)
Modes: Split, Dual
1-track MIDI recorder, Audio Recorder (WAV)
Playback: MIDI files (Format 0, 1), Audio files (WAV, MP3)
10 built-in songs
Piano Designer (adjustable): String Resonance, Damper Resonance, Key Off Resonance, Lid Simulation, Single Note Tuning/Volume/Character
Metronome, Transpose, Master Tuning
Speakers: 13W + 13W (two 8 cm x 12 cm oval speakers)
Connections: USB to Host, USB to Device,  Bluetooth 4.0/3.0 (MIDI and Audio), Headphone jacks (2), Sustain Pedal jack, Line Out (L/Mono, R), Audio In (stereo mini jack).
129 x 34.4 x 12.5 cm (50.7" x 13.5" x 4.9")
19 kg (42 lbs)
Release Date: September 2017
Check the availability and current price of the Roland FP-60 in your region:
Design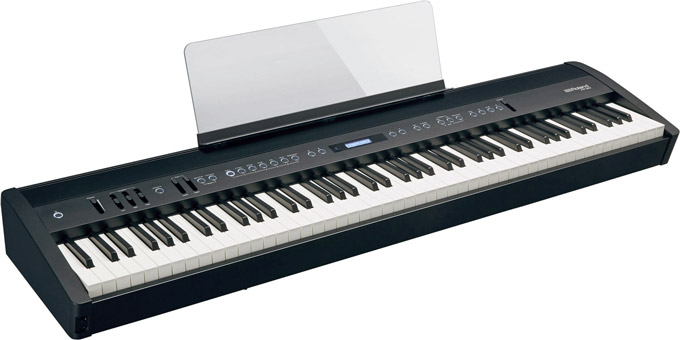 The Roland FP-60 comes with a full-size, 88-key keyboard and includes a pair of built-in stereo speakers. This makes it an excellent choice for home use and practice.
The keyboard weighs 41 lbs., so it's slightly bulkier than most entry-level keyboards (like the FP-30, which weighs only 31 lbs.).
Speaking of bulk, the FP-60 is not a small keyboard. Being 13.5 inches in depth, it's a tad larger than most stage keyboards.
The FP-60 is definitely cut from the same cloth as the even weightier FP-90, but in comparison it's definitely easier to carry around.
Stage-based musicians may want to take this factor into account before making their purchase.
Regardless, this is an excellent keyboard for stage performances. Its features definitely make any bulkiness worthwhile. You may want to invest in a good gig bag for long-distance travelling.
The FP-60 comes with an onboard, 3-band equalizer, allowing for on-the-fly sound shaping.
For instance, you can add some brightness to a warm sound with a few quick movements. This is a unique feature for a digital piano.
Speaking of flexibility, the Roland FP-60 comes in 2 color variations: the classic black unit (which has been Roland's signature since their early Juno units) and white (which emulates the beautiful luxurious grand pianos you see in showrooms).
Both colors come with the same matte body made from quality plastics. These digital pianos are built to last, and the FP-60 will survive stage gigs many times over.
The FP-60 comes with a damper pedal included, the Roland DP-10.
The pedal looks and feels just like a real acoustic piano pedal and has continuous detection functionality for expressive playing.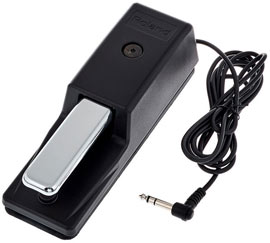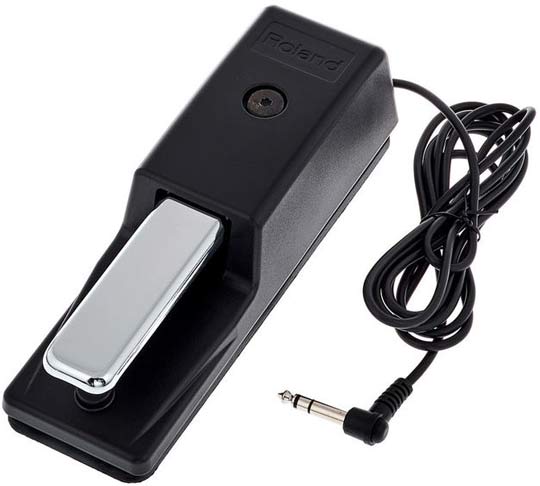 The undeniable highlight of the FP-60 is its controls.
The buttons feel great to the touch and the sliders are tactile.
You should expect no less from the same company that designed some of the best synthesizers in the 1980s. Roland excels in controllability, and the FP-60 is no exception.
Regarding the buttons on the FP-60, they have lit-edges, meaning you can operate them easily in low-light conditions.
If you've ever tried frantically jabbing at the wrong buttons while on stage, then you know that this feature is a godsend.
There is also a simple screen, allowing you to navigate easily through the many available sounds and options.
We'll cover the great layout and features in the Sounds section of this guide; but rest assured that the user experience on the FP-60 is second to none.
All in all, the Roland FP-60 delivers a complete package with great features all around. This is a well-designed keyboard in terms of control and construction.
Keyboard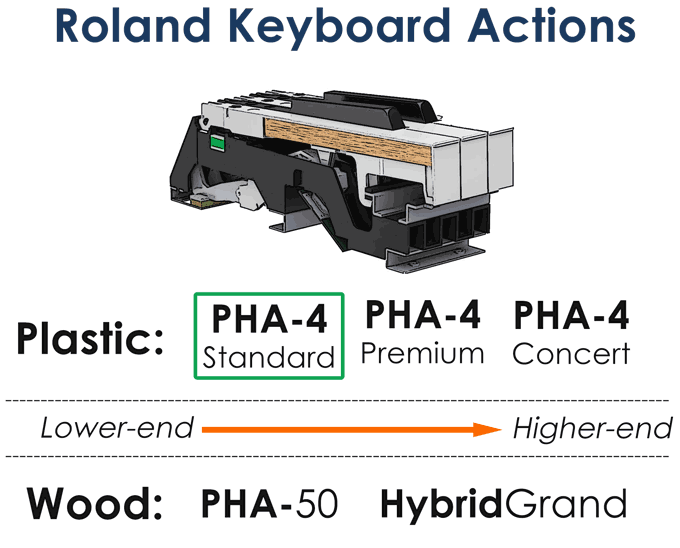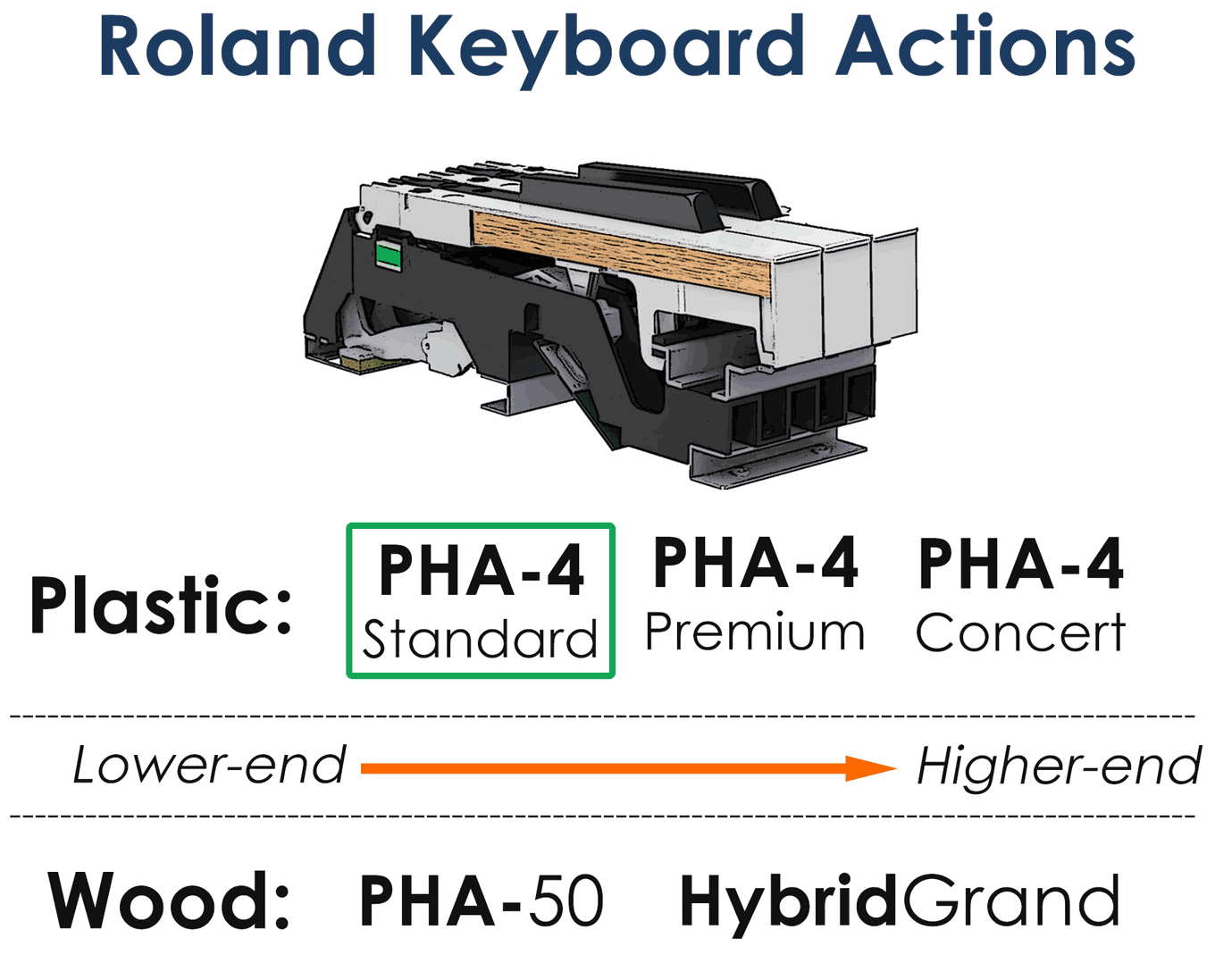 We've covered the FP-60's design choices, but the true deciding factor when it comes to digital pianos is the keyboard.
The Roland FP-60 is priced at an intermediate-level price range, where there's a lot of competition.
The FP-60 features Roland's PHA-4 Standard key action, which are the same keys you get on the FP-10 and FP-30.
While it is somewhat disappointing that we don't get the FP-90's wooden keys or some of the higher-end offerings in the PHA-4 range, such as the PHA-4 Premium or Concert, the keys on the FP-60 are no slouch.
The PHA-4 Standard is known for providing some of the most realistic plastic key action, in line with Kawai's RHCII and KORG's RH3 action (which is famous for being used on the ubiquitous Korg Kronos workstations).
The keys on the FP-60 are plastic, but they feel like real ivory keys. They come with a bit of heft to them and feel very nice to the touch.
Of course, you aren't really hitting strings with each key press. Instead, digital pianos, like the FP-60, use weights to emulate the real deal.
If you really hope to simulate a real grand piano as closely as possible, this feature is a big plus.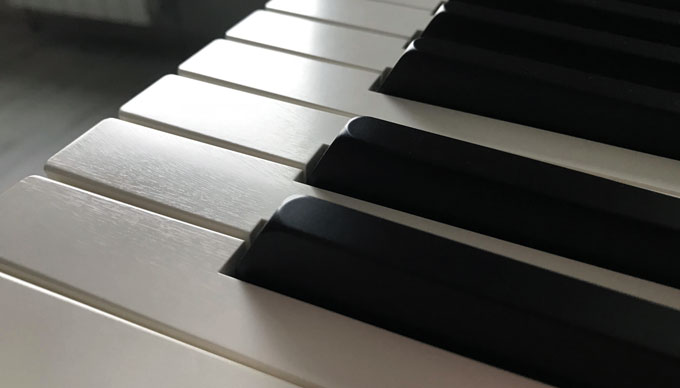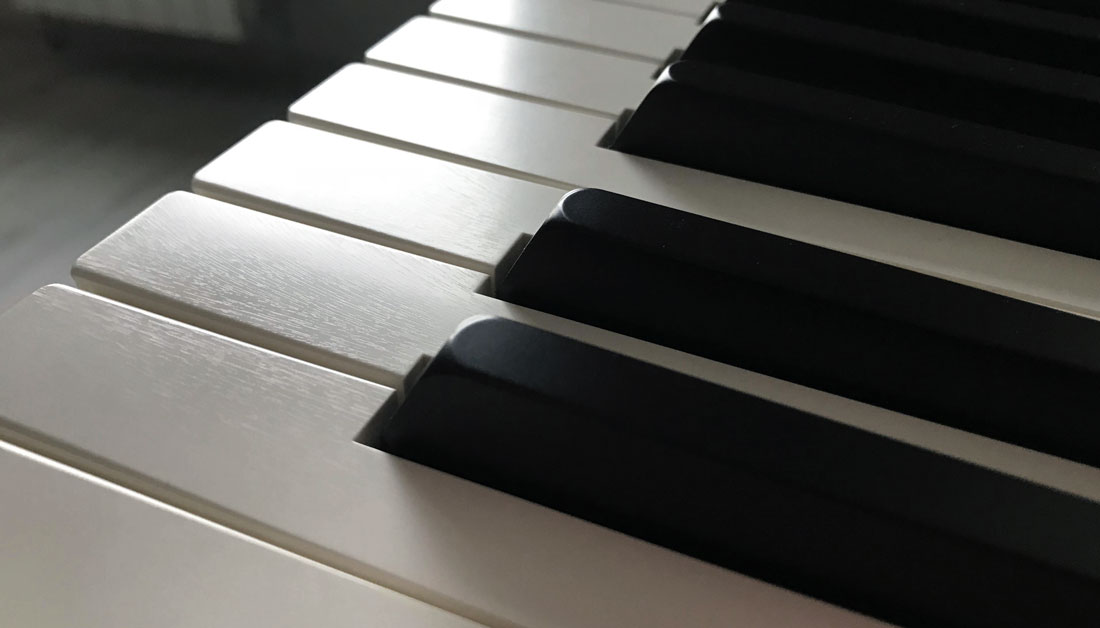 The keys feel great to play, but I wouldn't say they deliver the most realistic keyboard experience in this price range.
The closest competitors are the Yamaha P-515, the Kawai ES8, and the Casio PX-560.
While in my opinion the PHA-Standard feels better than the PX-560 keyboard, the Yamaha P-515 with its wooden NWX key action is a superior representation of an acoustic piano action.
It's a bit heavier than the Roland keyboard, so if you're a fan of heavier action, this will probably be a good fit for you.
The Kawai ES8 with its RHIII (best plastic key action in Kawai's arsenal) also feels more authentic and "accurate" compared to the Roland (a bit heavier too).
Thanks to its longer keys and counterweights, it feels more responsive and is better suited for advanced pianists.
The FP-60 allows for a variable Key Touch setting. Unlike other keyboards that usually have just a few preset settings (Soft, Normal, Hard, etc.) the FP-60 lets you choose a value between 1-100, offering an unrivalled range of customizability.
You can also select a fixed-sensitivity mode, in which all key presses trigger the same amount of pressure, making this an excellent choice for the included synth sounds.
Personally, I find the default setting of the FP-60 to be perfect. Even so, having the option to tweak it as I go is always welcome.
Something quite unfortunate is the absence of a mod wheel and pitch bend knob.
This isn't an issue for home-based users, but for me as a stage performer, it seems like a missed opportunity since the included synth sounds are excellent and would really welcome some added control.
Sound
Speaking of sounds, Roland has always been at the forefront when it comes to sound quality.
Their classic instruments like the 808 drum machine and Jupiter 8 synthesizer are still used widely to this day.
Their digital pianos are no different, using modeling and sampling technology to deliver realistic sounds that rival top-tier keyboards.
The FP-60 uses Roland's proprietary SuperNATURAL sound engine, which uses piano samples as a base and then adds organic elements (e.g. resonance), smooth velocity transitions and long natural decays using sophisticated modeling algorithms.
It should be noted that this is the sample-based version of the sound engine from the FP-30 and not the modeling version that comes with the flagship FP-90.
Many prefer the quote-on-quote "outdated" sampled pianos over their modeled counterparts, but it's purely a matter of preference, and to me they both have their pros and cons.
However, there's no denying that you get an extremely expressive and nuanced sound with the modeled approach (with good implementation), which hard to achieve using samples.
The true flexibility of the SuperNATURAL technology is due to the tweaking options which are available.
---
Piano Designer
There's a ton of subtle details that make a piano sound unique. Using the SuperNATURAL sound engine doesn't just give you great sounds to play with, but it also makes sound sculpting possible.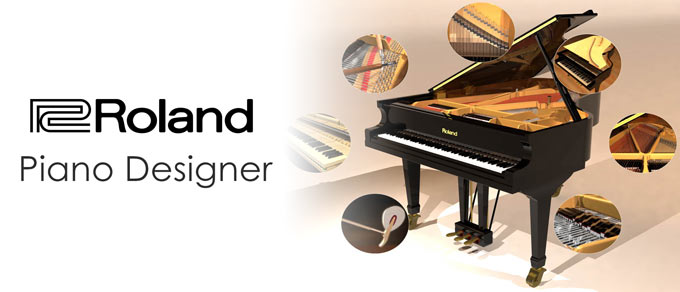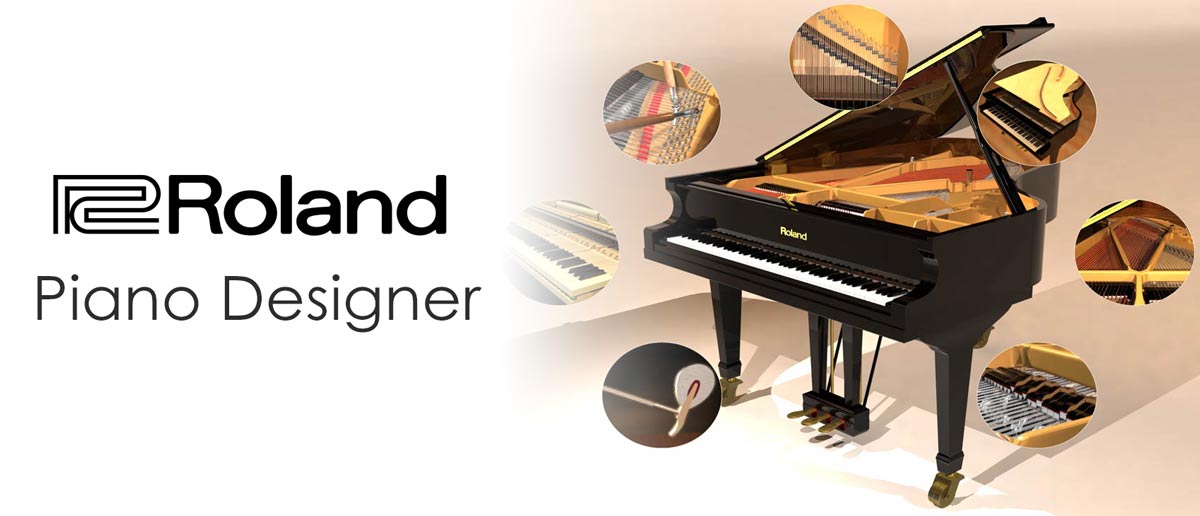 You can edit these parameters using the FP-60's function keys. You can even use Roland's Piano Designer app for iOS and Android for easier control.
These settings enable your ideal piano sound. If you that feel your sound lacks a certain 'something,' then Piano Designer can help you achieve the sound you want.
You can save these altered parameters and other sound settings using the registrations (30 registrations are available) of the FP-60 for quick recall.
In comparison, the FP-30 doesn't offer the Piano Designer feature nor registrations.
---
Other Sounds
The electric pianos sound good as well, and the sampled Rhodes are a blast to play around with, delivering bite and presence that the other keyboards lack.
The DX7-style FM synths and CP80-style pianos are also outstanding.
As a Roland fan myself, the synth pads are a big highlight here. You're getting the signature Roland pad sounds in all their glory, with added velocity sensitivity. The sampled Juno and Jupiter pads are terrific, especially the synth strings.
To select your sounds, simply press the + and – buttons, along with the bank buttons for navigation.
The display helpfully provides the names for each sound, so you'll always know what sound you're currently on.
For effects, the FP-60 is somewhat limited. You only get an Ambience control, which is a basic Reverb effect that does add some space to the sounds.
I'm an avid fan of how the reverb sounds. It's subtle, but in a beautiful way. Your sound is always at the forefront, and the added space works as a sort of sparkle rather than as a swamping reverb that drowns things out.
You also have the included band equalizer, which I have to say is a super alternative to the one-button Brilliance or Brightness options that other digital pianos offer.
The amount of control is great, allowing you to add some brightness, cut out some muddy lows, or even add a bit of presence to your sounds.
I feel the lack of a chorus effect somewhat, though to be fair, some of the pianos and electric pianos come with built-in chorus and modulation effects. So this is only a minor complaint from the effect-lover in me.
On a lighter note (no pun intended!), the jazz organ sounds have an amazing rotary speaker effect, and you can even change the speed of modulation with the Tempo control.
Make no mistake, even with the limited tweaking options on offer, the FP-60 sounds fantastic no matter what.
Just listen to this kid's performance on this instrument. Quite impressive, isn't it?
---
Polyphony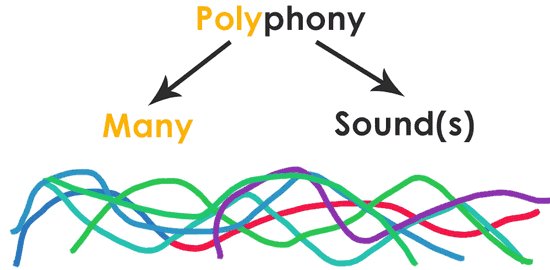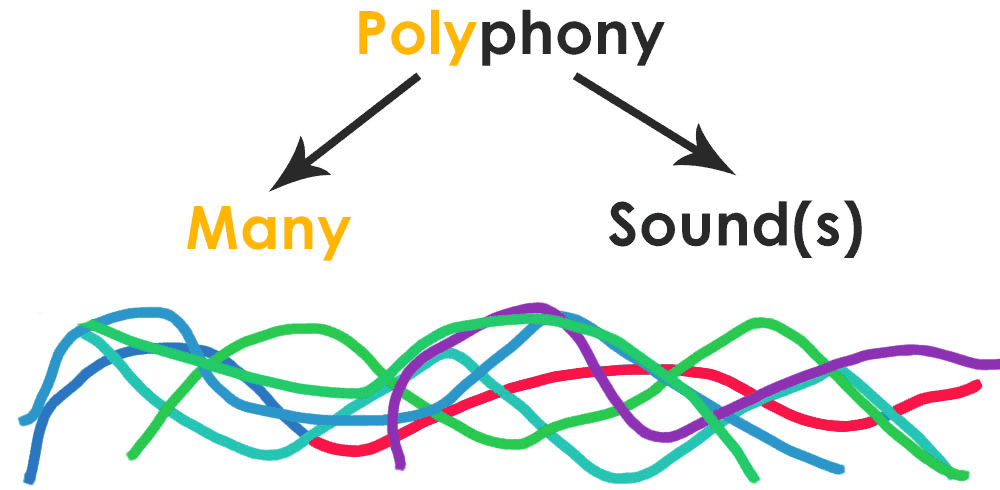 The Roland FP-60 comes with a whopping 288 notes of polyphony, and it's safe to say that you will never max them out during your usual playing.
Even under the heavy Layer mode (which we will cover in the next section), the FP-60 does not cut out. If you find the FP-30's 128 notes of polyphony insufficient, the FP-60 will resolve your problem for sure.
In all honesty, polyphony is rarely an issue. As a rule of thumb, 64-note polyphony is more than adequate for playing even classical pieces without issue.
---
Speakers
The Roland FP-60 comes with built-in 8 x 12 cm "bi-amped" speakers (30W of output power), meaning they provide you with a wide stereo image during normal play.
They sound very decent, which is impressive considering the relative portability of the FP-60.
For stage use, a simple switch on the rear of the FP-60 allows you to turn the speakers on and off at will.
The speakers you get with the FP-60 are front-facing, which means the sound is always projecting towards you rather than downward.
This helps a lot when working on flat surfaces, such as tables and desks, and ensures that you always get a clear sound, without the muddiness that comes from reflections.
The speakers are an upgrade from the speakers of the FP-30 in terms of volume. They are adequate for small halls or venues, even without a dedicated PA system.
That said, the FP-60 comes with complete connectivity options, ensuring that live performances will never be an issue.
Features
The Roland FP-60 seeks to emulate its older brother, the FP-90, in terms of design. It also attempts to improve on the FP-30 and -50's feature set with helpful additions.
While people who love workstations might find the features on offer here to be lacking, there's a lot to love, especially if you have an iPad or Android tablet to take advantage of Roland's apps for even deeper control and expanded functionality.
Modes
Before we get ahead of ourselves, let's cover the modes included in the FP-60. You get a dedicated button to switch between the three main modes, which are standard, layer, and split.
Standard mode is self-explanatory; you play one sound across the entire keyboard.
Layer mode allows you to play two sounds at the same time.
This is a ton of fun on any keyboard; but the rich and lush pad sounds from Roland's classic synthesizers adds to the enjoyment. I love playing pianos layered with strings, and the FP-60 allows this beautifully.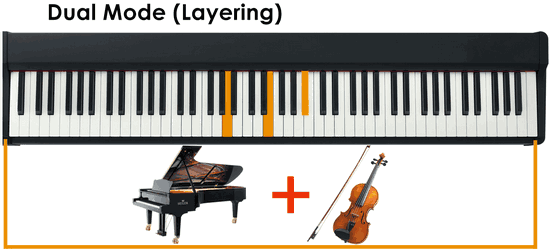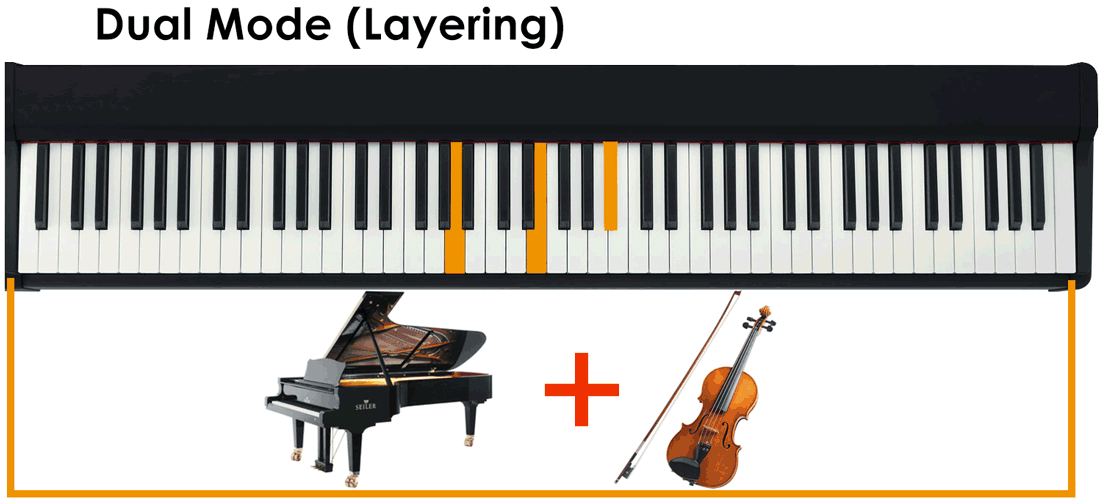 Split mode is helpful for performers. Even home-based players can appreciate this option. This mode allows you to define a "split point," a key on the keyboard that serves as the center.
The keys on the left play one sound, while the keys on the right play another. For these modes, you can tweak the volumes of each layer individually (using sliders), a rare feature among digital pianos.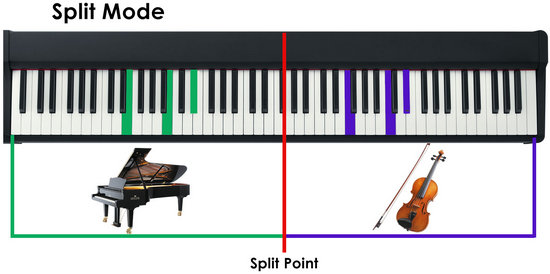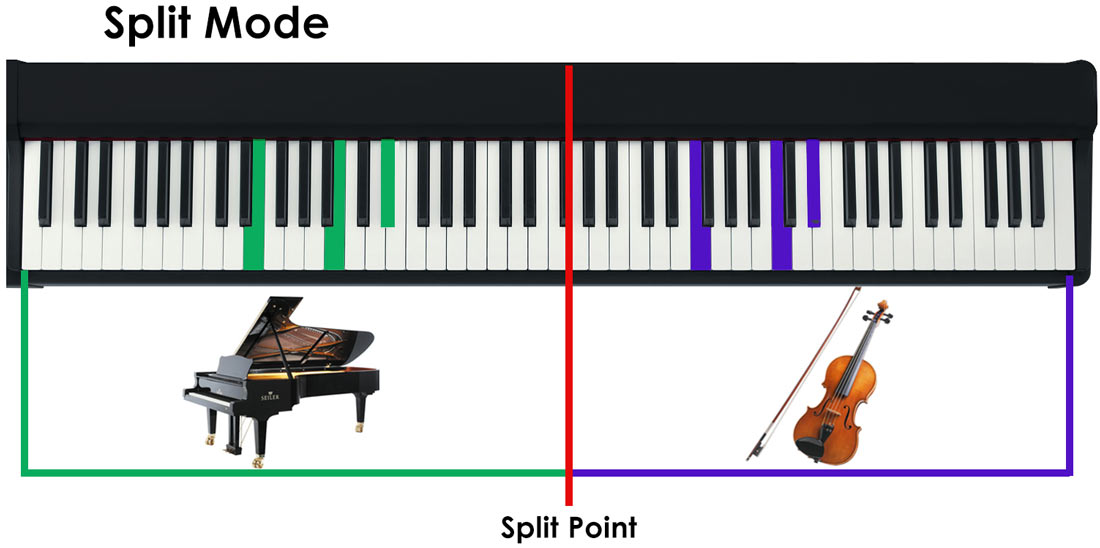 All these functions are easy to use, and you can even save your own setups as "registrations," which is Roland's method for saving presets.
If you have a personal favorite Piano/String combo with your own modified settings using the Piano Designer, as well as a custom Ambience setting, you can save these for easy recall in the future.
This also makes switching during performances that much easier.
---
Song Recording and Playback
While the FP-60 includes a few demo songs, you can record your own. There are two types of data you can record – MIDI and Audio.
Using a 1-track MIDI recorder you can record and save internally your performances with just a few button presses. The internal memory is capable of storing up to 70,000 notes.
You can later transfer these recordings to a flash drive and play them back on your computer using a DAW or a VST plugin. You can also load your own MIDI files into the instrument via the USB port.
Not only can you record MIDI data, but also Audio. To do that you'll need to connect a flash drive to the FP-60, as there's no option to save Audio recordings internally.
The FP-60 records in stereo WAV, 44.1 kHz, 16-bit linear format.
If you have your own files or songs that you want to play back on the FP-60, you can do so by transferring them to a flash drive and connecting it to the keyboard.
The FP-60 supports the following formats for playback:
MIDI (SMF format 0/1)
Audio (WAV, 44.1 kHz, 16-bit linear format; MP3, 44.1 kHz, 64 kbps – 320 kbps)
---
Functions
The FP-60 offers other dedicated functions which can all be adjusted or activated with onboard controls. Thanks to the display, you can modify all settings easily (it gets even easier if you use the Piano Partner 2 app)
The functions that you can modify include:
1) Transposing. This allows you to change the pitch of the keyboard. For example, you can transpose down 2 semitones so that your C-key will sound like an A#-key.
2) Metronome. Pressing the metronome button activates a built-in metronome.
You can set its tempo using dedicated buttons. You can also change the time signature, downbeat, pattern, volume, and tone of the metronome.
3) Mater Tuning. The central tuning of the middle-A key can be modified from 415.3 Hz to 466.2 Hz (the default is A=440 Hz).
4) Temperament. There are 10 selections, including equal, just major, and just minor temperaments, Pythagorean, Kimberger I, II and III tunings, Meantone temperament, Werckmeister temperament, and Arabic temperament. For each temperament you can specify the base key.
Overall I wouldn't say the FP-60 is low on features by any means.
While it would be nice to have a Twin Piano mode for playing duets, and a multi-track recorder for recording multiple parts for each song, this keyboard has more features and functions than an average player would ever need.
Connectivity
When it comes to connectivity options, the FP-60 doesn't disappoint either.
Integrating the keyboard into your studio or live setups will never be an issue. The only true omission I can think of are full-size, 5-pin MIDI connections.
Even so, MIDI via USB is provided, so this is not a problem, especially given the fact that it's quite rare to find regular MIDI ports in a digital piano these days.
For stage performers, the FP-60 comes with two with two 1/4″ Line Out jacks, so it connects flawlessly to external speakers and amplifiers.
You can even opt for Mono sound by connecting to the left channel only, as opposed to left and right stereo.
Note that the FP-60 comes with a dedicated On/Off switch for the speakers, so you can turn them on and off at will.
If you use laptops for your performances, then the USB type B port is ideal, allowing you to integrate your performance software into your performances.
I tested this with Mainstage and Ableton Live and the FP-60 integrates beautifully without the need for drivers.
If you're not a fan of Bluetooth for audio playback, you can use the stereo audio input at the back of the FP-60 as an auxiliary input.
Two headphone jacks (1/4″ and 1/8″) are included for people who want to practice in private. The jacks are located conveniently at the front for quick access.
3 pedal jacks are included. The obvious inclusion is a Damper jack, but you also get a Sostenuto and a Soft pedal jack, making a complete 3-pedal setup possible. You do need to purchase these additional pedals separately.
Finally, a USB type A port is available. This allows you to plug in USB drives to save your recordings and exchange files.
---
Bluetooth Integration
With the FP-60, you get Bluetooth connectivity, which supports both MIDI and Audio data. It's quite rare to find a digital piano capable of both, especially in this price range.
Bluetooth Audio allows you to play back backing tracks (or any other audio files) during practices or performances directly from your phone.
The sounds will come straight through the FP-60's speakers.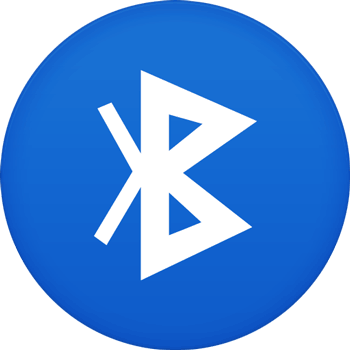 Bluetooth MIDI serves as a valid alternative to the USB port. You can use it to control music apps like GarageBand and FlowKey, but without wired connections.
While I wouldn't use this for accompaniment in a full-fledged DAW due to latency, it's really convenient to be able to record without the need for cumbersome cabling.
As previously described, you can also use Roland's Piano Designer and Piano Partner 2 apps.
The former allows you to edit piano settings (available Piano Designer parameters) in a more convenient interface from your iOS or Android device.
The latter provides remote control functionality, flash cards game, accompaniment rhythms, diary and other useful functions. It also supports the highly-marketed score-turning function using a pedal.
These are all convenient functions that make the FP-60 a more enjoyable experience.
Accessories
This is everything you need to start playing, though some recommended purchases will make this a more complete package.
Stand
The Roland FP-60 does not include a keyboard stand, but it feels right at home on a desk and works with most standard X- and Y- stands, which are universal.
Roland does offer a full-on wooden piano stand, the KSC-72, which also comes in white and black.
This option is geared towards people looking for a home piano and is an excellent choice if you want the usual 'semi-acoustic' look of most non-portable digital pianos.
The FP-60 fits nicely with standard X- and Z-style stands, like the following:
A stand will make performances possible, so it's worth investing in one. If you already have a stand, chances are it'll work with the FP-60.
---
Pedals
The included damper pedal is high-quality and is suitable for playing and performances.
However, if you want a full set of 3 pedals, you can get the Roland KPD-90 pedal board, which works perfectly with the KSC-72 as we mentioned earlier.
This will also improve the overall stability of your setup, ensuring a wobble-free experience.
---
Headphones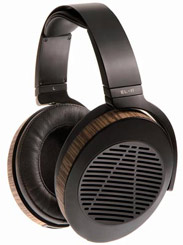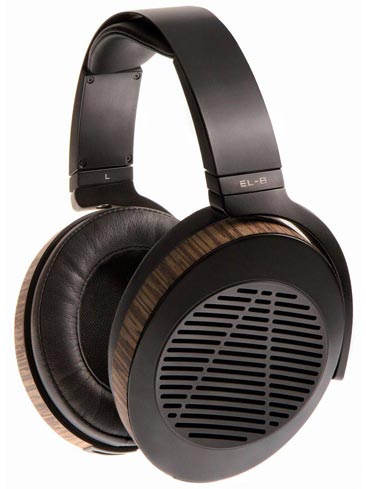 Headphones come in very handy when you want to practice in private, focusing solely on your playing and not disturbing others nearby.
Moreover, a good pair of headphones will provide a clearer and more detailed sound compared to the onboard speakers.
For a guide on how to choose best-sounding headphones, check out our in-depth guide.
Bag
Home use does not involve a lot of carrying around, but for performers, a bag or carrying case is essential.
The FP-60 does not come with a bag, but Roland recommends the CB-88RL, which is quite expensive and can be hard to find.
Consider these options as alternatives:
Summary
Pros
Amazing user interface and controls
Nice feeling PHA-4 Standard keyboard
100s of sounds to choose from
Realistic SuperNATURAL piano sounds with tweaking options
288-note polyphony
Clean and powerful onboard speakers
MIDI and WAV recording and playback functionality
Bluetooth connectivity (Audio + MIDI)
Comes with a high-quality sustain pedal
Cons
Not many effects
No lesson functions

1-track

MIDI recorder
Not much of an improvement over the FP-30 (as far as touch and sound is concerned)
---
To sum it all up, the Roland FP-60 is a great digital piano.
The user interface is second to none, and I hope other competing companies try to replicate the easy-to-use design that Roland has employed.
I've always been a fan of Roland's SuperNATURAL sound engine, and this is arguably its best form, depending on who you ask.
The lit buttons and equalizer sliders are great for performers, and home-based musicians will definitely enjoy the solid construction of the FP-60. It really is an outstanding instrument.
Even so, I can't fully recommend it.
The problem with the FP-60 is its price point. For about $700 less, you can own the FP-30, which comes with the same PHA-4 Standard keyboard and the SuperNATURAL piano sound engine (with slight modifications).
The only drawbacks are the lack of dedicated line outs, a different user interface, and a reduced number of onboard sounds.
That's not much of a difference for being nearly half the price of the FP-60, in my opinion.
For people who want a great-sounding, realistic-feeling digital piano, the FP-60 doesn't add enough to its lower-end counterpart to justify the purchase.
For performers or for people looking to get a flagship digital piano, you can add around $500 to the MSRP of the FP-60 and get the Roland FP-90.
This comes with Roland's top-of-the-line PHA-50 hybrid wood action, SuperNATURAL fully-modeled piano sound, unlimited polyphony, a 4-speaker setup, and added connections.
This is unfortunate because the FP-60 checks all the right boxes.
If you're in the market for a mid-range portable digital piano and manage to find an FP-60 for a good price, I'd recommend it.
At full price, though, I'd recommend the FP-90 instead. It really is the complete package.
Check the availability and current price of the Roland FP-60 in your region:
Alternatives
The primary alternatives to the Roland FP-60 are the Roland FP-30, Roland FP-90 and Yamaha P-515.
Roland FP-60 vs  Roland FP-30 (Full Review)
As far as piano playing experience is concerned the FP-30 is very similar to the FP-60. They share the same keyboard action, and piano sound.
But there are still quite a few differences between these instruments' feature set. Let's take a look.
Roland FP-60
351 Built-in Tones (13 pianos)
Adjustable Keyboard Sensitivity (100 types)
2 Oval Speakers (26W)
288-note Polyphony
Bluetooth (MIDI and Audio)
Weight: 42 lbs
Depth: 13.5″
Piano Designer (7 adjustable parameters)
Temperament: 10 types
3-band Digital EQ
Sliders For Adjusting Parameters on the fly (EQ, Volume)
Onboard Audio Recorder (WAV)
30 Registrations (for saving performance settings)
Output Jacks
Stereo Input Jack
Roland FP-30
35 Built-in Tones (4 pianos)
Adjustable Keyboard Sensitivity (5 types)
2 Dome Speakers (22W)
128-note Polyphony
Bluetooth (MIDI)
Weight: 31.2 lbs
Depth: 11.1″
---
Roland FP-60 vs  Roland FP-90 (Full Review)
The Roland FP-90 is the top-tier offering in the FP-line and serves as the main inspiration for the FP-60.
Roland even claims that the FP-60 is designed to be a more affordable variant of the FP-90.
The FP-90 pioneered the award-winning user interface design, which is essentially the same interface you get on the FP-60, with some minor differences.
The FP-90 comes with Roland's PHA-50 hybrid wood keys. These keys are longer (invisible part) than the FP-60's, and they are wooden as opposed to hollow synthetic ivory-style plastic.
Overall the PHA-50 feels authentic and plays superbly, it's one of my favorite actions on the market regardless of price range.
The FP-90 comes with the full modeling version of the SuperNATURAL sound engine.
Some people prefer the sample-based version found in the FP-30 and FP-60, and while I share their sentiments, there's no denying that the FP-90 still sounds amazing.
The available tweaking options truly allow you to make each piano your own.
You also get more speakers (4 to the FP-60's 2) and more output power, which allows for even louder and bolder sound.
In terms of connectivity, you get a Mic In port, as well as MIDI In and Out ports. Essentially, you have everything you will need for stage and studio use.
Another pro of the FP-90 is the infinite polyphony for piano tones, made possible by modeling technology. For other sounds, you get 384 notes of polyphony at your disposal.
On the flipside, the FP-90 is less portable, weighing 52 lbs., compared to the 42 lbs. of the FP-60.
The Roland FP-90 also costs more, but all the extra the features and improvements you get  are definitely worthwhile.
Roland FP-60
SuperNATURAL Piano Sound (Hybrid: Sampling + Modeling )
PHA-4 Standard
2 Speakers (26W)
Piano Designer (7 adjustable parameters)
Weight: 42 lbs
Depth: 13.5″
288-note Polyphony
Roland FP-90
SuperNATURAL Piano Modeling (Full Modeling)
PHA-50 Hybrid Wood Action
4 Speakers (60W)
Piano Designer (13 adjustable parameters)
Weight: 52 lbs
Depth: 15.3″
Limitless Polyphony (piano tones), 384 for others
MIDI In/Out Ports
Mic In Port
---
Roland FP-60 vs  Yamaha P-515  (Full Review)
Yamaha is known for making some of the best pianos in the business, whether acoustic or digital, and the P-515 is a primary competitor of the Roland FP-60, being placed in the same price bracket.
In terms of sound selection, the Yamaha P-515 features an incredible  selection of sounds (538), almost double the amount of sounds in the FP-60.
There are 11 pianos built in that use Yamaha's flagship CFX and Bosendorfer Imperial sampling as well as VRM (Virtual String Modeling) for added realism.
Speaking of realism, Yamaha used their NWX (Natural Wood X) keys on the P-515, delivering the same natural feeling you get from their Clavinova line.
The P-515 is basically a portable version of the Yamaha CLP-645.
The instrument comes with Piano Room, allowing you to adjust 11 individual parameters for each piano to shape your sound (Roland's Piano Designer only has 7).
While not many people like to go deep into sound settings, there's no denying the flexibility of the P-515 in this regard.
The P-515 also includes many functions that will appeal to composers and songwriters.
On the keyboard, you get a 16-track MIDI recorder that equips you to write full arrangements without an external laptop.
The P-515 also acts as a USB audio interface, allowing you to record into Digital Audio Workstations on your laptop without a separate audio interface.
This is a tremendous benefit, reducing unnecessary clutter. MIDI In/Out jacks are also present on the P-515.
For headphone play, the P-515 features Binaural Sampling technology, delivering even more realistic sounds than the standard stereo offered on the FP-60.
You also get 40 rhythm patterns on the P-515, which allow you even more options for live accompaniment and practice. These are not available on the FP-60.
It also weighs 6.5 lbs. less than the Yamaha alternative, making it a bit more portable.
The FP-60's 3-band equalizer that I've gushed about is a significant addition that I definitely found myself missing on the Yamaha.
Roland certainly deserves the praise they've garnered for their interface design, because navigating and controlling the FP-60 is a breeze.
What's more, Roland's FP-60 comes with registration sets, allowing you to save complete settings for easy recall.
This is an amazing feature for performers and it's not something you get outside of workstation keyboards.
Roland FP-60
351 Built-in Tones (13 pianos)
Adjustable Keyboard Sensitivity (100 types)
2 Speakers (26W)
288-note Polyphony
Piano Designer (7 adjustable parameters)
1-track MIDI recorder
Bluetooth (Audio and MIDI)
Weight: 42 lbs
Depth: 13.5″
3-band Digital EQ
Sliders For Adjusting Parameters on the fly (EQ, Volume)
30 Registrations (for saving performance settings)
Yamaha P-515
538 Built-in Tones (11 pianos)
Adjustable Keyboard Sensitivity (5 types)
4 Speakers (40W)
256-note Polyphony
Piano Room (11 adjustable parameters)
16-track MIDI recorder
Bluetooth (Audio)
Weight: 48.5 lbs
Depth: 14.8″
USB Audio Interface
Binaural Samples for Headphone Play
50 Preset Songs (Classics)
40 Rhythm Patterns
MIDI In/Out Ports