Today we'll be reviewing one of Roland's most popular portable digital pianos, the Roland FP-30.
The FP-30 is the latest "intermediate" addition to the FP-seires, which is known for its compact yet powerful keyboards suitable for home as well as stage use.
Moreover, the FP-30 it's one of the few Roland digital pianos that you can buy for under 1000$.
The FP-30 has been considerably improved over the previous F20 model and comes with lots of new features including the new PHA-4 action, redesigned speaker system, Bluetooth MIDI connectivity and more.
Even though the FP-30 is not the most affordable keyboard in the FP-series, it's the one that offers a perfect price-value ratio.
Unlike its bigger brother and more advanced brother, the Roland FP-60, this keyboard is also lighter and more compact, which is a big plus for musicians on the go.
Without further ado, let's dive straight into the review and see what else this piano has to offer.
Roland FP-30 Specs
88 fully weighted keys
PHA-4 Standard Keyboard: with Escapement and Ivory Feel
Touch Sensitivity (5 types, OFF)
Sound: SuperNATURAL Piano Sound
128-note polyphony
35 instrument sounds (4 pianos)
Modes: Split, Dual, Duo (Twin Piano)
1-track MIDI recorder (3 songs)
Playback: MIDI files (Format 0, 1), Audio files (WAV)
30 built-in songs
Piano Simulation: String Resonance, Damper Resonance, Key Off Resonance
Metronome (8 rhythm styles), Transpose, Fine-tuning
Speakers: 11W + 11W (12 cm x 2)
Connections: USB to Host, USB to Device,  Bluetooth 4.0, Headphone jacks (2), Sustain Pedal jack
130 x 28.4 x 15 cm (51.2" x 11.2" x 5.8")
14.1 kg (31 lbs)
Check the availability and current price of the Roland FP-30 in your region:
Design
Like all the keyboards in the FP series, the FP-30 is designed to be portable and ideal for fitting into smaller spaces.
Indeed, the FP-30 is a very compact digital piano, which, if needed, can be put on a desk or a table without a problem.
The FP-30 has a very similar size to other portable keyboards in this price range. It's 51.2 inches wide, 11.2 inches deep and 5.9 inches high.
At the same time, the piano is slightly heavier than most of its competitors and weighs around 31 lbs.
Take a look at the table below to quickly compare the FP-30's size to some other popular digital pianos:
As you can see the piano is fairly compact and is even listed in the "Stage Pianos" category on Roland's website, so it's safe to say that the FP-30 would be a perfect choice to gig and travel with.
The appearance of the piano has been changed a lot over the previous F-20 model.
Now, it's a contemporary-looking piano with a clean design and a row of nicely illuminated buttons, which give the instrument a fresh look.
The control panel of the FP-30 is pretty simple. There are 13 buttons, which allow you to access the main sounds and functions of the instrument.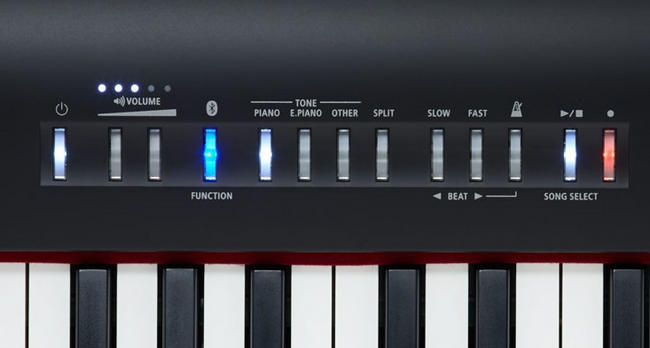 To change most of the settings you'll need to press one of the keys while holding a particular button.
It's not very convenient because at first, you'll have to look up those "Button + Key" combinations in the manual.
However, you can't blame the FP-30 for that because this way of navigating is found in pretty much every digital piano in this price range.
So when it comes to controls, the FP-30 is an average budget keyboard and doesn't offer anything special like an LCD screen, for example.
The keyboard is available in two colors, black and white.
Keyboard
The FP-30 features 88 progressive hammer action keys with Ivory Feel and escapement feature.
Progressive implies that the keys are heavier in the low-end and lighter in the high-end just like on an acoustic piano.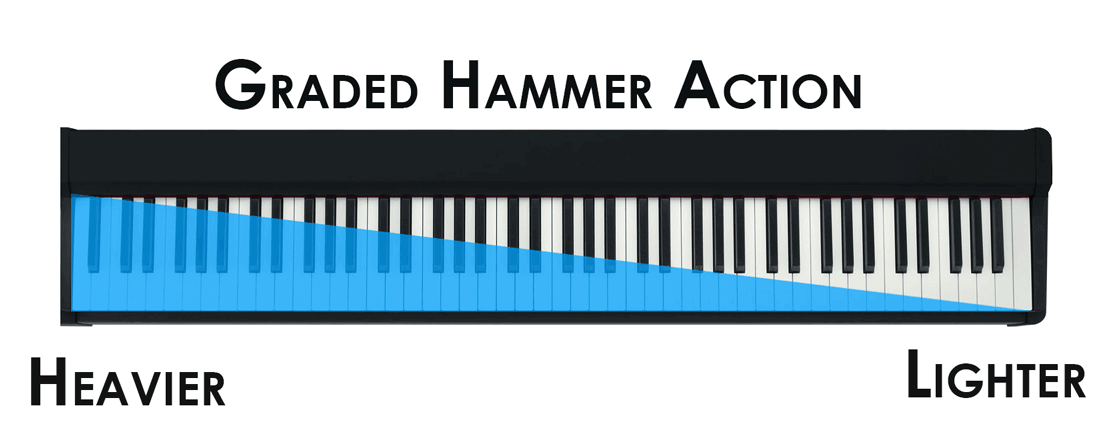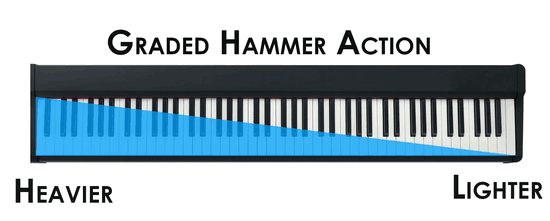 The action of the FP-30 is called PHA-4 Standard, which is Roland's newly developed action of the 4th generation.
It's a successor of the Roland's Ivory Feel-G action (PHA-3), which comes with some significant improvements. In particular, the PHA-4 tend to produce less noise than PHA-3 action and have an improved mechanism.
The interesting thing is that the FP-50, which is almost as twice expensive as FP-30 has the PHA-3 action.
Roland's PHA-4 together with Casio's Tri-sensor Scaled Hammer Action II are the only keyboard actions that offer Ivory Feel keys in this price range.
Both actions feature 3-sensor key detection system, and provide precise and authentic playing experience. With that said, Roland's action felt slightly heavier and more realistic to my taste.
The keys of the FP-30 are touch-sensitive, meaning the harder you strike them, the louder the sound. You can adjust the level of sensitivity to suit your playing preferences.
Most digital pianos offer 3 preset sensitivity settings to choose from. The FP-30 has 5 of them so that you can tailor the touch sensitivity more precisely.
There are Super Heavy, Heavy, Medium, Light, Super Light or Fixed touch sensitivity settings available.
Among all touch-sensitivity settings, the "Super Heavy" will provide the most dynamic variations from pianissimo to fortissimo and will allow you to play with great expressiveness (keys need to be stroke really hard to produce the loudest sound).
When the "Fixed" setting is selected, the volume will remain the same regardless of how hard or soft you strike the keys.
Wrapping up, the FP-30's action is really hard to beat in this price range.
The 3-sensor technology, reliable hammer mechanism, and synthetic ivory keytops provide an incredibly realistic touch and feel of an acoustic piano.
Sound
The Roland's famous SuperNATURAL modeling technology has become the main feature of all Roland digital pianos and the FP-30 is no exception.
About SuperNATURAL modeling

Each of 88 notes of an acoustic piano has not only a different pitch but also a unique tonal character, which changes depending on how hard or soft the keys are struck (dynamics).
Most digital pianos use multi-layered (3-4 layers) samples recorded in different dynamics so that an appropriate sound is played according to the force with which a key is struck.
The SuperNATURAL engine takes full-length samples of an acoustic piano and using modeling technology creates a smooth transition between different samples, notes, and velocities.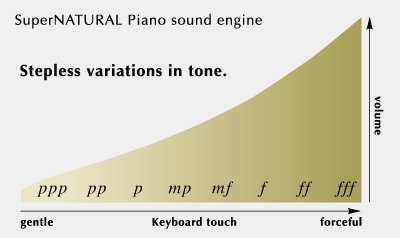 It also recreates the fine details of a piano sound nuances such as string, damper, and key-off resonance. As a result, you get an extremely rich and full sound of an acoustic piano.

First of all, digital pianos can't be out of tune unless a manufacturer uses out-of-tune samples, which sounds absolutely ridiculous and definitely not the case.
The thing is that most of Roland digital pianos are tuned using stretched tuning, which makes higher-end notes slightly higher in pitch and low-end notes slightly lower.
It's a common and totally acceptable way of tuning an acoustic piano and the FP-30 actually sounds the way an acoustic piano should sound.
Just take a look at the video below! The FP-30 sounds just amazing.
Overall, I'd describe the sound of the FP-30 as very rich and bright.
Apart from the piano sounds, the FP-30 offers a whole bunch of other instrument sounds, which will always keep you interested in playing and unleash your creativity.
The FP-30 doesn't offer much room for sound customization. For example, you can't control the amount of string, damper or key-off resonance (they are always on) or change the default temperament.
The things you can adjust is the brilliance of the sound and ambience (reverb effect). The latter effect will give you an impression of playing in a Concert Hall (5 adjustable levels).
Polyphony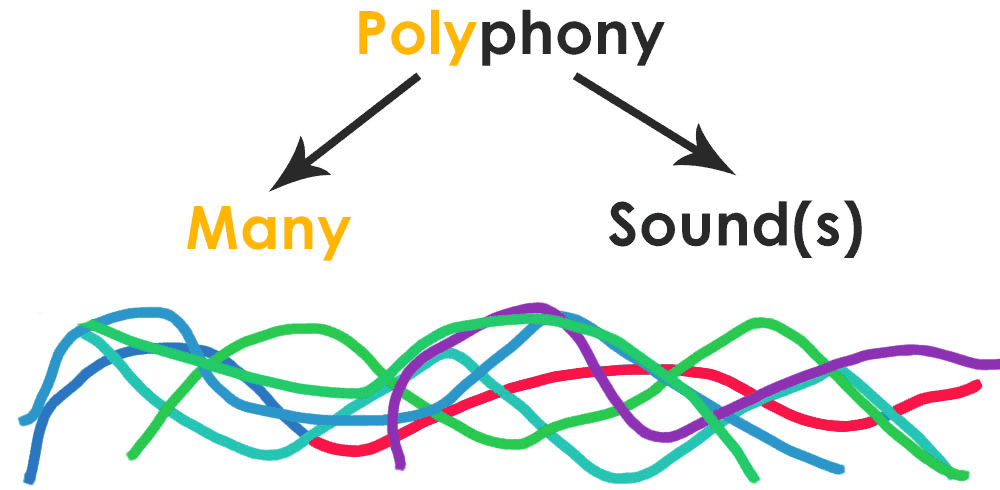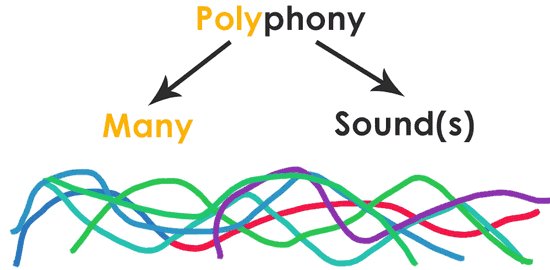 With FP-30's 128-note polyphony, you won't have to worry about notes getting cut off, even when playing difficult passages or playing in the Dual Mode (two layered sounds).
Speakers
The FP-30 is equipped with 2 x 12cm built-in speakers with 2 x 11W amplifiers.
The speakers deliver rich and natural sound with great resonance and bass response. They're powerful enough for casual playing at home and even small performances.
The FP-30 is the only piano in this price range that has such powerful speakers.
Digital pianos from Yamaha, Kawai, Casio, have no more than 2 x 8W power output.
Therefore, the dynamic range (from fortissimo to pianissimo) on the FP-30 is much better, allowing you to be more expressive in your playing.
The thing I didn't quite like about the onboard speakers is that they're downward facing, which makes the sound a bit muted, but after an hour of playing, I totally got used to it.
Anyway, the speakers itself are very decent for such a compact instrument and loud enough to fill a medium sized room.
At the same time, a pair of high-quality headphones would provide an even more detailed and accurate sound as well as the ability to practice in silence without bothering anyone else.
Features
Modes
The FP-30 offers two modes for playing two instrument sounds at the same time by either splitting or layering them.
Split Mode divides the keyboard into two sections and allows you to play a different sound in each of them. You can also adjust the split point where the keyboard is divided.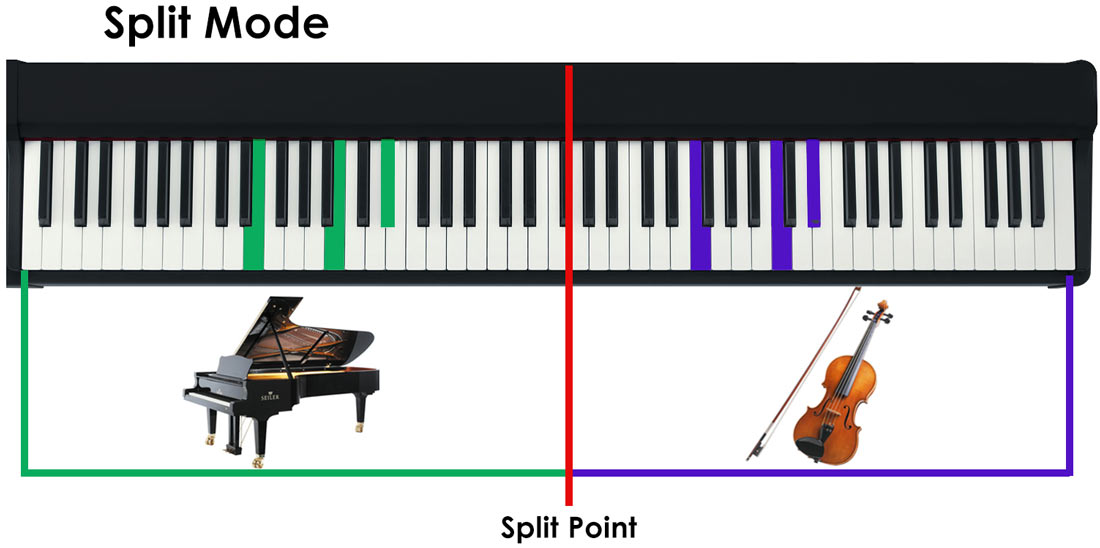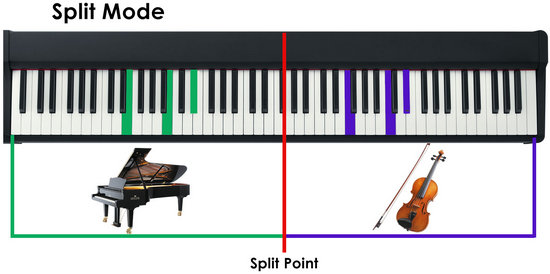 Dual Mode will allow you to layer two different instrument sounds so that they sound at the same time whenever you play a key. For example, you can layer a piano sound with strings or electric piano with harpsichord, etc.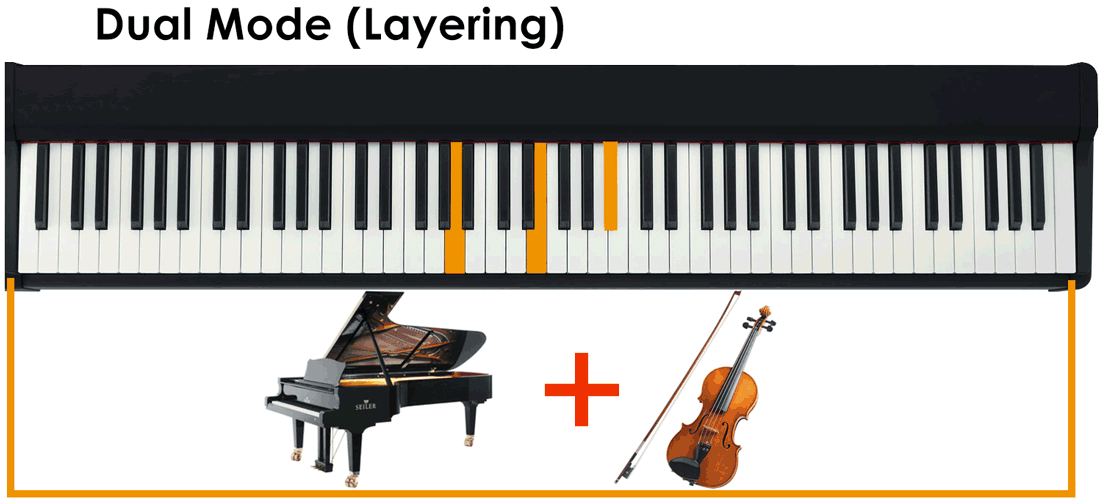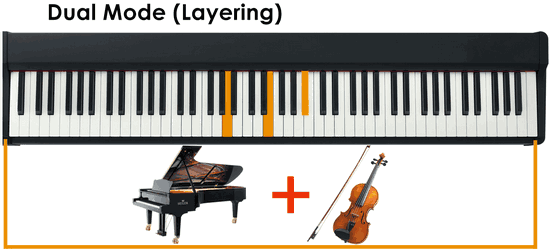 For each of the modes, you can adjust the Mix (volume) balance to make one instrument sound more prominent than the other.
Another useful Mode available on the FP-30 is called Twin Piano (Duet Play). The mode splits the keyboard into two equal parts with identical pitch ranges each having its own middle C, which allows two players to sit side by side and practice together.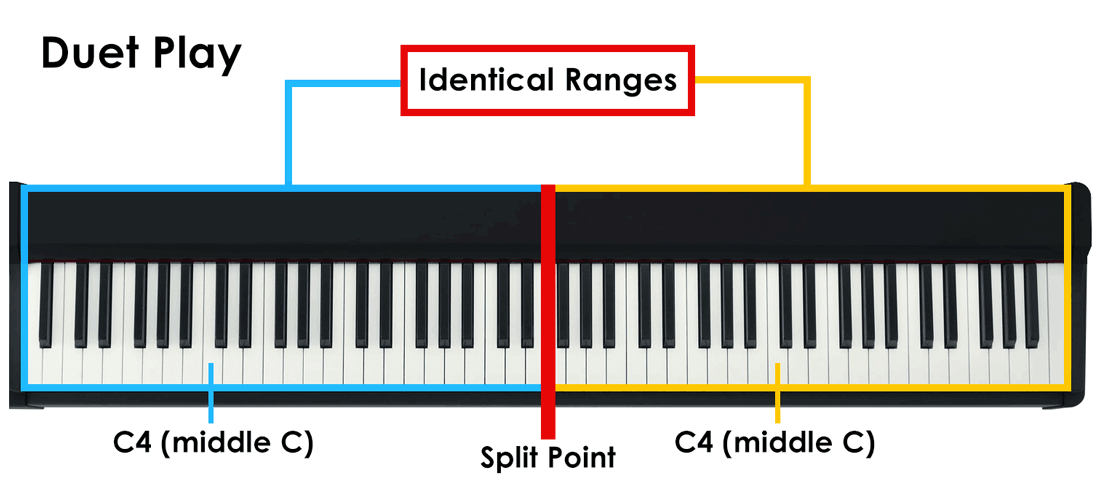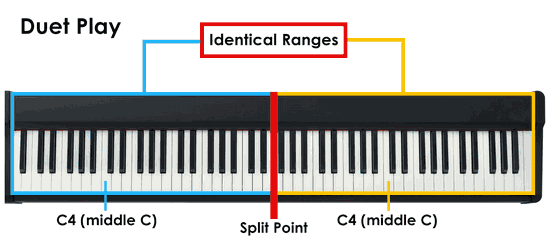 The mode is often used in the class environment where a teacher sits next to a student and plays some tunes, while the student follows along on the other side of the keyboard playing the same  notes.
---
Recording and Playback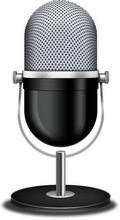 The FP-30 has a 1-track MIDI recorder, which you can use to record your performance and save it to the piano's internal memory or a USB flash drive for a later playback.
Not only can you play back your own recordings and 30 built-in songs from the piano's memory, but you can also play MIDI and WAV files directly from a flash drive. And this is what most of the FP-30's competitors does not offer.
Since the FP-30 is capable of only 1-track recording, you can't record each hand part (or instrument part) to a separate track.
However, you can still create multi-track recordings using certain music-making apps (e.g. GarageBand, FL Studio, etc.) on your computer or tablet.
Transpose, Octave shift, and Master tuning
The FP-30 offers a bunch of functions to adjust the pitch of the keyboard, for example, to match the pitch of another instrument or vocalist.
Transpose function will allow you to shift the pitch up and down in semitone steps.
You can use the function to facilitate playing songs written in a difficult key (e.g. many black keys) or if want to hear a song in a different key without actually learning it in a new key (without changing your fingering).
Octave shift function allows you to change the pitch of the keyboard in octave units.
Using Master Tuning, you can raise or lower the pitch of the entire keyboard in 0.1Hz steps.
---
Other Features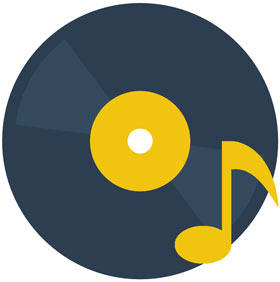 The FP-30 offers 30 built-in songs that you can listen to and play along with.
Unfortunately, you won't be able to change the tempo or turn off one hand's part to practice it.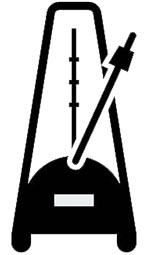 The piano has an onboard metronome, which is a nice practice tool that will help you improve your time-keeping skills.
There are also 8 drum patterns that you can use as an alternative to the simple metronome count.
"Auto off" function will prevent unnecessary power consumption by automatically turning the FP-30 off after a specified amount of time (10, 30 or 240 minutes) of inactivity. The function can be disabled if needed.
Connectivity
On the front, right under the keyboard, you'll find two headphone jacks, a 1/4" (6.35 mm) standard jack and a 1/8" (3.5 mm) mini jack.
So you can connect your headphones without using any adapters no matter whether the headphones have 1/4″ or 1/8″ plug.
I also appreciate the jacks are on the front of the piano as having them on the rear panel is quite inconvenient.
The FP-30 doesn't have dedicated Line Out jacks, so to connect the piano to external speakers or an amplifier you'd need to use one of the headphone jacks.
Let's move on to the rear panel of the instrument where most of the ports are.
USB to Host port. This USB (type B) port is used to connect the piano to a computer for transferring MIDI and taking advantage of various music apps for music production, learning, and entertainmen.
For this type of connection, you'd also need an A to B USB cable , which doesn't come with the keyboard and can be bought separately for a few bucks.
Bluetooth MIDI. Alternatively, you can use Bluetooth MIDI connectivity to wirelessly connect the FP-30 to your laptop or tablet if it supports Bluetooth.
I think it's a very convenient feature as it will allow you to exchange MIDI data without using any adapters, which can be quite expensive (esp. for Apple devices).
There are tons of interesting and useful apps that you can use with the piano for music recording, editing, notation creation and much more.
Roland has developed several apps for iOS and Android devices, which make the learning process more interesting and fun.
Unfortunately, not all of them are compatible with the FP-30.
For now, the Piano Partner 2 is the only app supported by the piano. The app provides several interactive modes for learning and enjoying music with different songs, accompaniments, and exercises.
With the PP2 you can also access the FP-30's various parameters and functions using a intuitive on-screen interface.
USB to Device port. This USB port (type A) can be used to plug a flash drive into the piano.
You can record and save your performance directly to a flash drive so that you don't lose any data (the FP-30 can only store only 1 song in the internal memory, and a new recording will delete all the previously recorded data).
Moreover, you can use this USB port to play MIDI and audio files (WAV) directly from a flash drive (you can also play along with them).
Sustain Pedal jack
The jack can is used for connecting the sustain pedal that comes with the piano. Sustain pedals from other brands should also work, but they should have 1/4" plug.
Accessories
Stand
The FP-30 doesn't come with a stand, so unless you want to put it on top of a table (which I don't recommend due to the down-facing speakers), you'll probably want to buy some kind of stand.
Specifically for the FP-30, Roland designed the KSC-70 furniture-style stand, which is a great stationary solution for home-based musicians.
A more portable and affordable option would be an X-type or Z-style stand, which are much easier to move around and put away when not in use.
Here are a few great X-type stands for the FP-30:
---
Sustain Pedal
The FP-30 comes with the Roland DP-2 sustain pedal. It's basically a box-like plastic pedal, which doesn't look/feel very realistic and it doesn't support half-pedaling.
While the included pedal would probably satisfy a beginner player, others might need something more realistic.
The hugely popular M-Audio SP-2 would be a great alternative to the included pedal.
The SP-2 is a piano-style sustain pedal, which looks and feels very similar to an acoustic piano pedal and has a durable metal construction with a slip-resistant rubber bottom.
For those who are going to buy the KSC-70 stand we mentioned earlier, Roland also offers the KPD-70 3-pedal unit (attaches to the stand), so it makes sense to buy them together to get a full-fledged home setup.
Bag
While for home use a keyboard bag would be absolutely unnecessary, it's an essential accessory for on-the-go musicians that will make the transportation of the keyboard safer and much more convenient.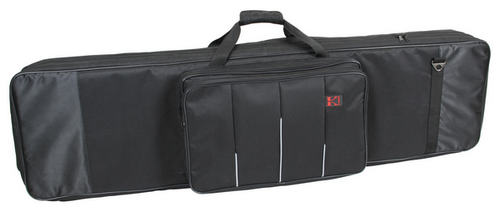 For its 88-key instruments, Roland has designed the CB-88RL carrying bag, which is quite expensive and quite hard to find in the US.
So here are some great gig bags I've found for the FP-30 from other brands:
---
Headphones
Headphones come in very handy when you want to practice in private, focusing solely on your playing and not disturbing others nearby.
Moreover, a good pair of headphones will provide a clearer and more detailed sound compared to the onboard speakers.
Check out this guide to learn how to choose the best-sounding headphones for your digital piano.
Summary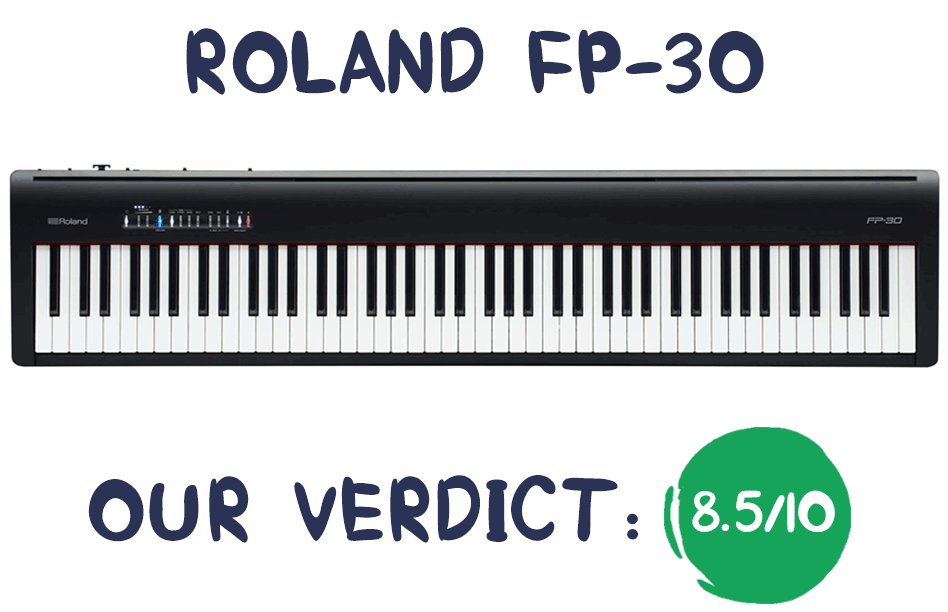 In conclusion, I want to say that the Roland FP-30 is one of my favorite portable digital pianos under 1000$.
The piano offers a lot of value for the money, and I'd still recommend it even if the price was $150-200 more than it is.
The instrument offers an excellent fully weighted action, which feels realistic to the touch and is perfectly suitable for playing and learning the piano on.
The FP-30 is equipped with a good amount of features, including 35 built-in sounds, Dual, Split, and Twin Piano modes, 30 internal songs, an onboard MIDI recorder and more.
These are the features that will always keep you interested and make playing and learning even more enjoyable.
Another and probably the most important aspect of any digital piano is sound. Well, in this case, you don't have to worry about that as the FP-30 sounds amazing.
Thanks to the powerful 22W speakers and the SuperNATURAL modeling technology, which as it turned out isn't just a marketing gimmick, the sound of the piano is indeed very full and rich.
There are also a few more things that make the FP-30 stand out from its competitors.
Firstly, the power output from the FP-30's speakers is considerably higher than that of its competitors. As a result, the FP-30 tend to provide a wider dynamic range and more room for expression.
Secondly, the piano supports Bluetooth MIDI connectivity, which will save you time and money on buying additional adapters and cables.
In this price range, the Kawai ES110 is the only digital piano that has this feature.
Just take a look at this beautiful performance by Tom Crouch filmed in session at London's Lightship95 Studio:
Check the availability and current price of the Roland FP-30 in your region:
Alternatives
The Kawai ES110 and the Yamaha P-125 are the closest competitors to the FP-30. So let's see what they have to offer compared to the Roland keyboard.
Roland FP-30 vs  Kawai ES-110 (Full Review)
The Kawai ES-110 (successor to the ES100) was released at the beginning of 2017 and has since become the main competitor to the FP-30. Indeed, the pianos have a lot in common, including the price.
Both instruments have an excellent piano sound and realistic hammer action – the two most important aspects of any digital piano.
The ES110 is equipped with the relatively new RHC action, which uses 2-sensor detection technology and matte keys (both black and white).
The action is a bit lighter than the FP-30's PHA-4 and feels a bit less realistic to my fingers.
That said, it's still safe to say that the PHA-4 Standard and the RHC are the best keyboard actions you can get in this price range.
When it comes to sound, it's hard to name a winner here.
Both keyboards use high-quality samples of a concert grand piano and reproduces subtle details of piano sound such as damper resonance, damper noise, fall-back noise, etc.
But it doesn't necessarily mean that the FP-30 sounds better than the ES110, it all comes down to your personal taste.
The video below is a great sound comparison between these 3 pianos, which will help you decide which sound you like better:
When it comes to features, the FP-30 beats the ES110 for the most part.
The FP-30 has more instrument sounds (35 vs 19), Twin Piano mode (Duet Play) and adjustable split point in the Split Mode.
The Kawai doesn't have USBs, while the Roland has two USB ports (type A and type B), one for connecting Flash drives and the other is for connecting the piano to a computer.
The FP-30 is capable of playing MIDI and audio (WAV) files directly from a Flash drive, while the ES110 doesn't  offer that (has no USB ports).
In addition, the FP-30, just like the ES110, has Bluetooth MIDI connectivity for even more convenient connection with your smart devices.
I should also mention that the ES110 provides more options for sound customization, allowing you to adjust various aspects of the instrument such as damper resonance, fall-back noise, voicing, temperament, etc.
---
Roland FP-30 vs  Yamaha P-125 (Full Review)

The Yamaha P-125 is a hugely popular intermediate keyboard from a well-established Japanese brand.
The piano is equipped with Yamaha's Graded Hammer Action (the same as in the P-45 model) with fully weighted keys, which provide a fairly realistic playing experience.
The Pure CF sound source uses samples of the famous CFIIIS 9′ Concert Grand and delivers Yamaha's distinctive mellow sound appreciated by many pianists.
And here is another fun and interesting blindfold challenge, which compares the sound of the FP-30 to that of the Yamaha P-125 and Casio PX-S1000.
Both pianos offer Dual, Split and Duo modes, an onboard MIDI recorder (the P-125 can create 2-track recordings, while the FP-30 can't) as well as a metronome, transpose, and tuning functions.
However, for a little bit extra, the FP-30 will provide you with more features and, most importantly, and a more realistic keyboard action.
Moreover, the FP-30 is capable of playing MIDI and audio (WAV) files directly from a flash drive, which I find to be a very useful feature.
Ultimately, it's for you to decide if those extra features are worth the extra money, because we all have different needs, and some players might not need the FP-30's extra features anyway.