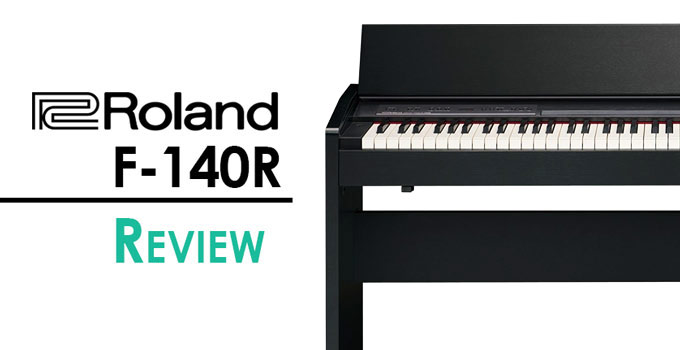 Up until recently, the Roland F-140R was the most affordable console digital piano in Roland's arsenal.
That was before the RP-102 model was introduced in late 2017, which became the latest addition to the company's entry-level range of home digital pianos.
As of today, Roland offers 3 furniture-style cabinet digital pianos at the entry-level price range:
RP-501R (pretty much the same piano as the F-140R, the only difference is traditional cabinet design and a higher price tag)
While these instruments share a lot in common, the popularity of the F-140R hasn't dropped one bit after the release of the RP-102.
In fact, it remains Roland's most popular console digital piano in this price range.
So what makes the F-140R so good? Let's find out!
Roland F-140R Specs
88-key fully weighted keyboard with Ivory simulation
PHA-4 Standard key action with Escapement
Touch Sensitivity: adjustable 5 types, Off
Display: 7 segments x 3 LED
Sound: SuperNATURAL Piano Sound
128-note polyphony
316 instrument sounds (11 pianos)
189 built-in songs (69 piano masterpieces, 100 Czerny, 20 Hanon )
Accompaniment: 72 rhythms (2 variations)
Ambience (10 levels), Brilliance (21 levels)
Piano sound elements: Damper Resonance, String Resonance, Key Off Resonance
Modes: Split, Dual, Twin Piano
1-track MIDI recorder
SMF format 0/1, WAV  playback support
Metronome, Transpose, Fine-tuning
Speakers: 2 x 12 W (2 x 12 cm)
Connectors: USB to Host, USB to Device, Headphone jacks (2), Audio Out (mini jack), Audio In, Bluetooth (MIDI)
136 x 34.5 x 77.8 cm (53.5" x 13.5" x 30.6")
34.5 kg (76 lbs)
Check the availability and current price of the Roland F-140R in your region:
Design
The Roland F-140R is a furniture-style digital piano with a slim modern design.
The piano would be a perfect fit for smaller spaces, dorm rooms, and even hallways.
It requires very little floor space and looks very elegant and clean.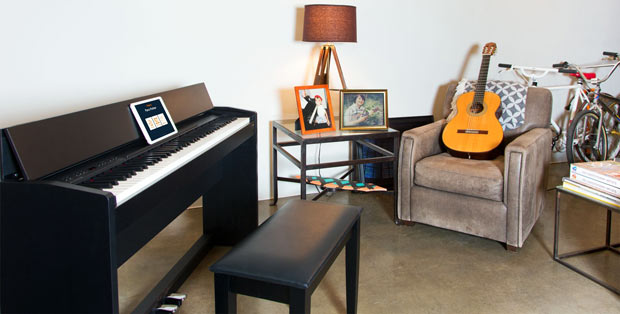 The F-140R is 53.5" wide, 13.5" deep, and 30.6" high.
So, no, it's not one of those cumbersome console pianos with a traditional design that can clutter the space very easily.
Take a look at the table below to see how the F-140R compares to other popular digital pianos in terms of size.
The piano comes safely packaged in a big cardboard box where you'll find all the pieces: the keyboard itself, base and pedal unit.
The piano requires some minimal assembly, but it's a fairly simple process, even if you never did that before.
The instructions are very well-written and clear. You'll basically need to assemble the base and then attach the keyboard to it.
For a better understanding of how the assembly process looks like take a look at the video below.
While it's not hard to assemble the unit on your own, I recommend having someone to help you with unpacking and lifting, because the whole unit weighs around 76 lbs (the box is even heavier).
The piano has a folding key cover, which not only protects the keyboard from dust and mud but also serves as a music stand when opened.
Under the keyboard, you'll also find a headphone hook where you can hang your headphones.
The F-140R comes with a 3-pedal unit, which features all three pedals found in an acoustic piano: Soft, Sustain, and Sostenuto.
The pedals are made of metal and provide a fairly realistic look and feel.
Soft and Sustain pedal support half-pedal operation, which allows for subtler control over the amount of effect, and, as a result, for more expressiveness.
I should also mention that Roland engineers have done a really good job of reproducing long natural decays of a piano's sound.
The notes sustain and resonate longer than usual, which results in a fuller and richer piano sound.
The Roland F-140R is available in two colors: White and Black.
While the F-140R has very good connectivity and allows you to control all its features using Roland's free app (see "Connectivity"), you can also do all that using conventional physical buttons.
There are 13 buttons that provide access to all the main features and sounds of the instrument.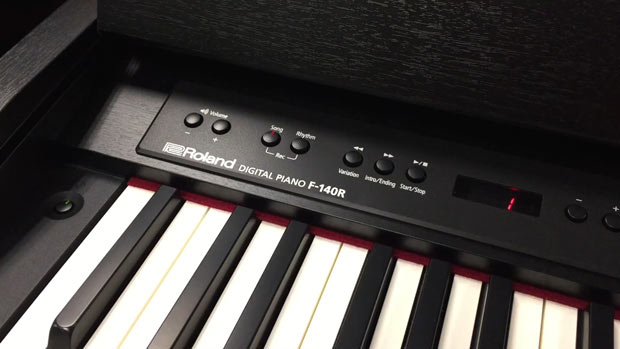 There are dedicated buttons for recording features, rhythm section, metronome, split mode, etc.
The controls are pretty intuitive, each button is labeled, and some of them have built-in LED indicators, which makes it easier to figure out what function is being used.
The built-in display is pretty small but it certainly makes a user experience better, especially considering how many tones and songs the F-140R has onboard.
The display will show the selected tone/song/function as well as measure number, tempo or value.
Keyboard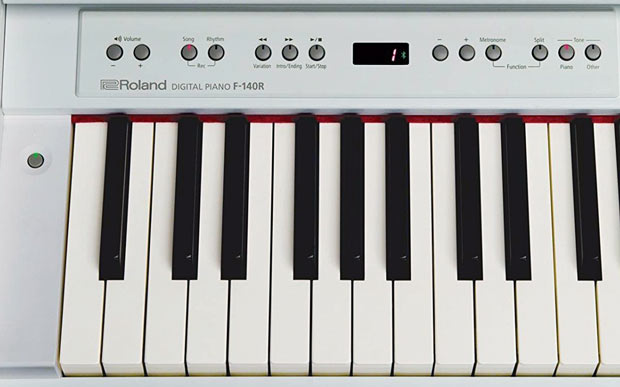 The Roland F-140R features 88 hammer-action keys with Escapement and Ivory Feel.
The keyboard is called PHA-4 Standard, and it's the most affordable weighted keyboard in Roland's arsenal.
That said, it's one of the best keyboards in its price range. I'm sure a lot of players will agree that it feels more realistic than Yamaha's GHS action.
It's also a bit more responsive and "quieter" than Casio's Tri-sensor Scaled Hammer action II.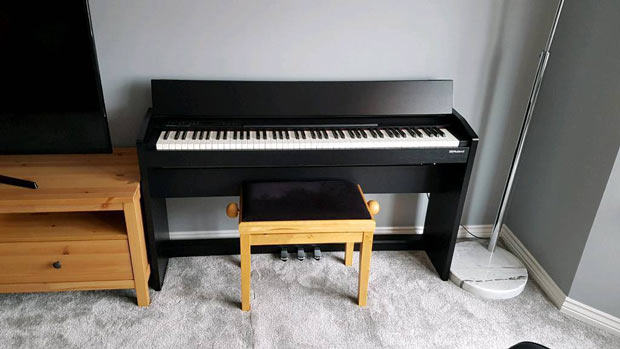 Only Kawai digital pianos might have a slightly better feel, yet it mainly comes down to your own preferences.
So overall the PHA-4 Standard is pretty much on par and often better than most other keyboard actions in this price range.
Thanks to its "medium-weight" action and Ivory feel keys, the PHA-4 feels really nice to the touch and is a joy to play.
The keyboard seemed a bit lighter and faster than Yamaha's GH/GH3 action and Casio's Tri-sensor action, but it doesn't make it less realistic.
It's still a fully weighted action with some great technology inside. So it's fairly easy to adjust to it after playing a real acoustic piano and vice versa.
Now let's get a bit more specific.
The F-140R's keyboard is fully weighted and uses a hammer system to reproduce the feel of real piano hammers hitting the strings in an acoustic piano.
This characteristic is also known as touch-sensitivity or velocity sensitivity.
The F-140R allows you to adjust the touch sensitivity of the keyboard within the 0-5 range.
You can also choose the "Fixed" setting to make the keyboard insensitive to the force with which you're playing.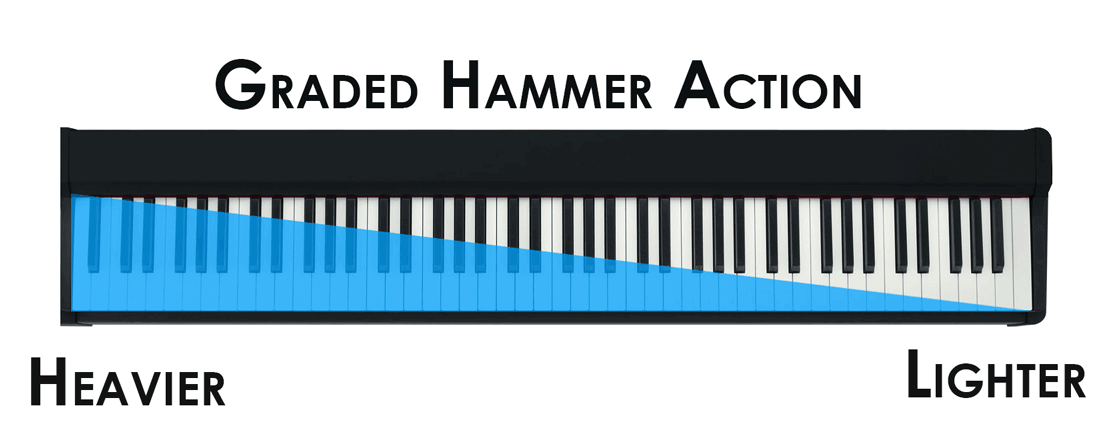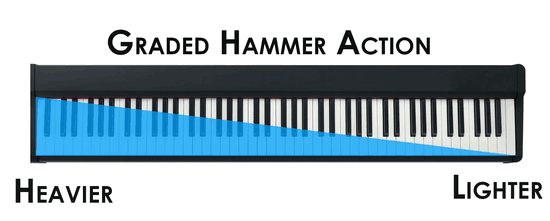 Unlike most digital pianos in this price range, the Roland F-140R uses 3-sensor key detection system, which allows it to more accurately interpret the subtleties of your performance, especially when playing thrills and fast passages.
Another phenomenon found in a grand piano and simulated in the F-140R is called "Escapement", which basically is a subtle clicking sensation you feel when pressing a key about halfway down.
No other digital piano in this price range reproduces this element except for Roland.
Moreover, the F-140's white keys are covered with a textured material that replicates the feel of real ivory, provides a better grip, and helps absorb moisture from fingers.
Sound

The sound of the F-140R is generated by Roland's proprietary SuperNATURAL sound engine, which you may have already heard of. Pretty much all Roland digital pianos use it today.
There are several modifications of the SuperNATURAL sound technology, which is not clearly indicated and explained by Roland.
Higher-end models like the FP-90, HP-603, etc., use SuperNATURAL Piano Modeling, which means the sound they produce is not a sound recorded (sampled) from an acoustic piano, but a "unique" piano sound recreated using sophisticated modeling algorithms.
The F-140R doesn't offer that and comes with so-called SuperNATURAL Piano Sound, which uses multi-layered piano samples recorded from a 9-foot grand piano at different velocity levels.
Nevertheless, in addition to the samples, the F-140R adds some physical modeling that makes the sound even richer and more resonant.
The sound is further improved by important organic elements of piano sound such as damper resonance, string resonance and key off simulation.
Roland digital pianos are known for their rich, bright tones, which most people find very enjoyable to listen to.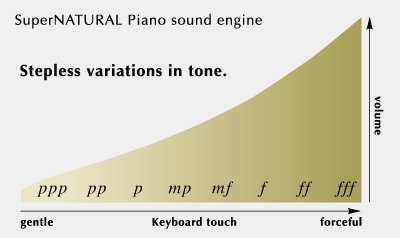 They offer a really wide dynamic range, long natural decay times, as well as string resonance and harmonic overtones found in an acoustic instrument.
The piano tones on the F-140R sound fantastic, that's true. Just take a listen.
With that said, the sound has a tendency to become slightly metallic (too bright) when you hit the keys harder.
Fortunately, there are 11 built-in piano tones, and you'll definitely find the one that sounds great to your ears.
Moreover, you can always adjust the brightness of the sound by adjusting the "Brilliance" within 21 levels.
The thing that sets the F-140R apart from its competitors is the number of built-in sounds.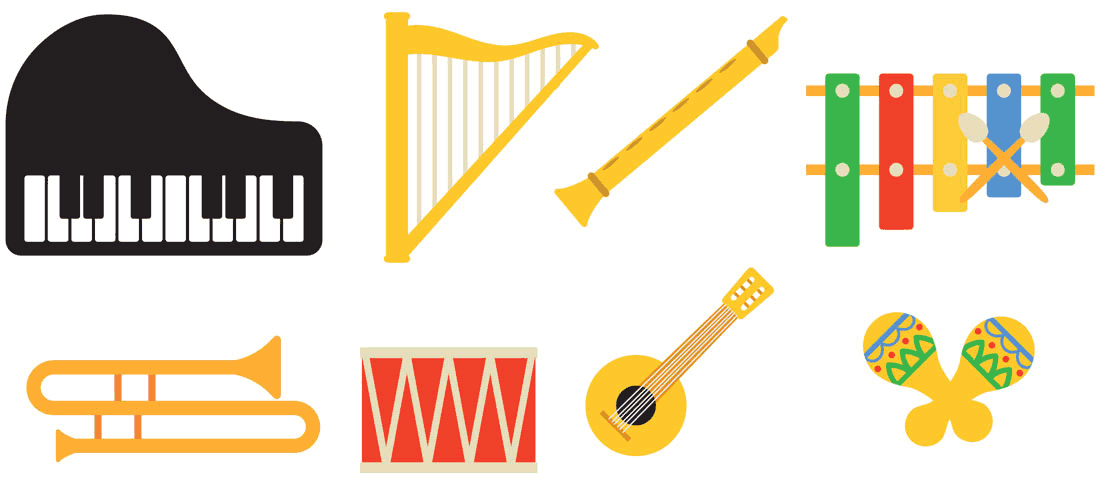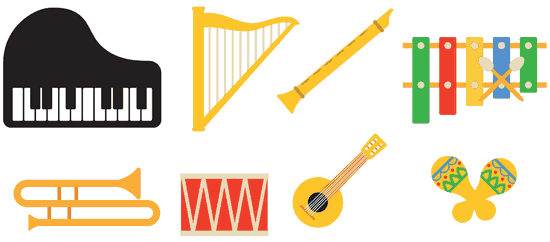 Most digital pianos in this class have 15-30 instrument sounds onboard, which is totally fine if your main focus is piano and you don't need many additional sounds.
At the same time, it's always great to take a break and have fun playing around with other instrument sounds, which will certainly make your practice routine more productive and enjoyable.
The F-140R provides a lot of room to explore your creative ambitions.
When it comes to sound effects, there aren't many of them.
In fact, ambience is the only effect available on the F-140R. You can adjust the spaciousness of the sound within the 0-10 range, which will make it wider and more "live" or narrower and more intimate.
---
Polyphony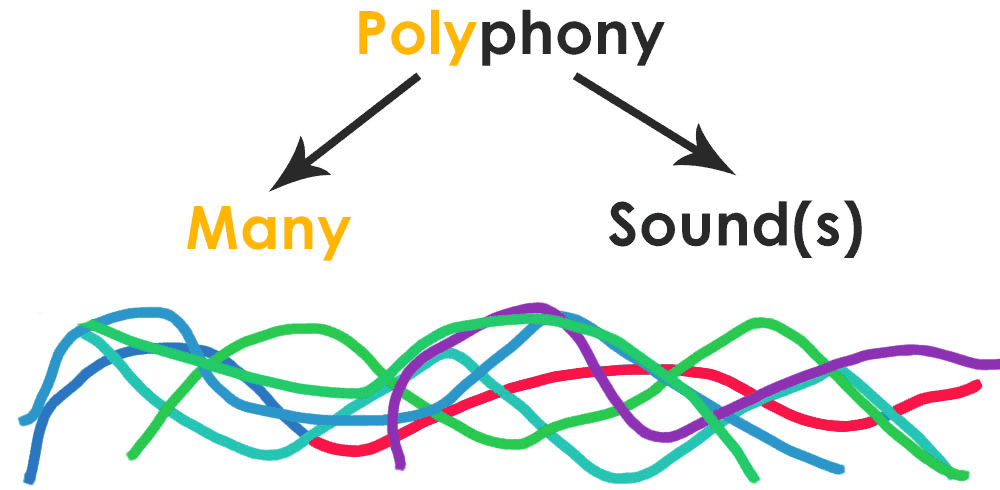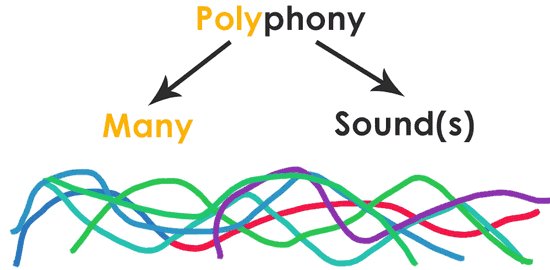 The F-140R has 128 notes of polyphony, which is nothing exceptional but more than enough to hear the sound without any note cutoffs or stuck notes.
It will also allow you to easily layer multiple sounds and play along with pre-recorded tracks without having to worry about running out of polyphony.
Most digital pianos in this price range have either 128 or 192 notes of polyphony, which is enough for most situations.
---
Speakers
The F-140R has a 24W (2 x 12W) sound system, which consists of two 12 cm speakers located on either side of the keyboard.
The speakers themselves are pretty good. They are loud enough to fill a small to medium size room.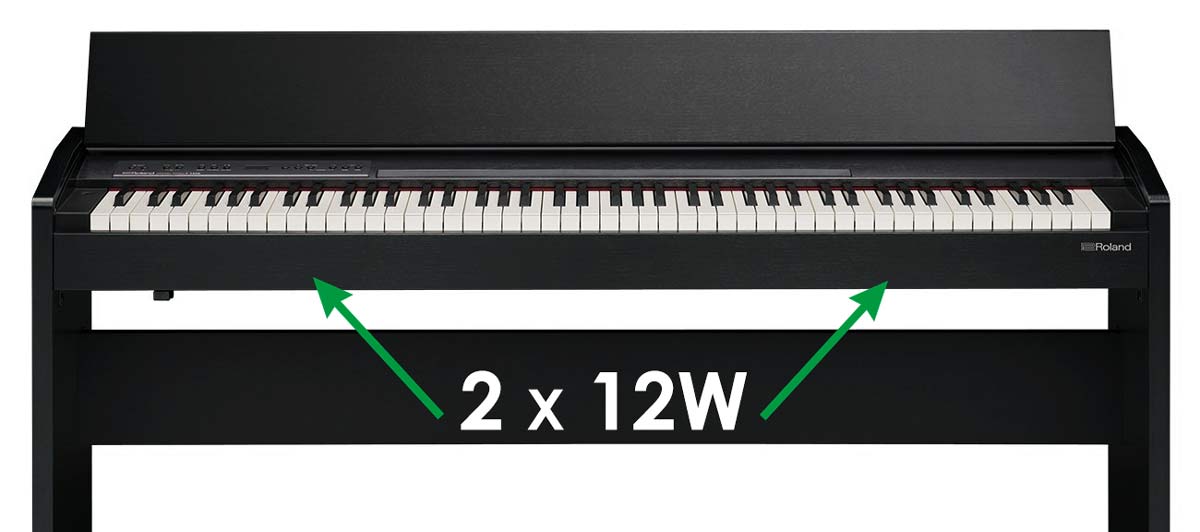 In fact, the maximum loudness is comparable with what you get on an acoustic piano. According to Roland specifications, the F-140R is capable of producing 103 dB of volume.
The quality of the sound is also excellent starting from a deep resonant bass and ending with crystal clear treble notes.
The speakers are noticeably better than those of similar Roland models such as the RP-102 and the FP-30 (portable).
Not only does the F-140R have more powerful speakers, but the sound itself becomes a bit fuller and more resonant thanks to its cabinet design (compared to the FP-30).
Features
Modes
The F-140R has all the main modes found in digital pianos and keyboards nowadays.
Aside from the default "Whole" keyboard mode, you get Dual and Split Modes that allow you to use two different sounds at the same time, as well as Twin Piano mode for practice sessions and piano duets.
Dual Mode is capable of layering two instrument sounds on top of each other so that they sound together as a rich complex tone.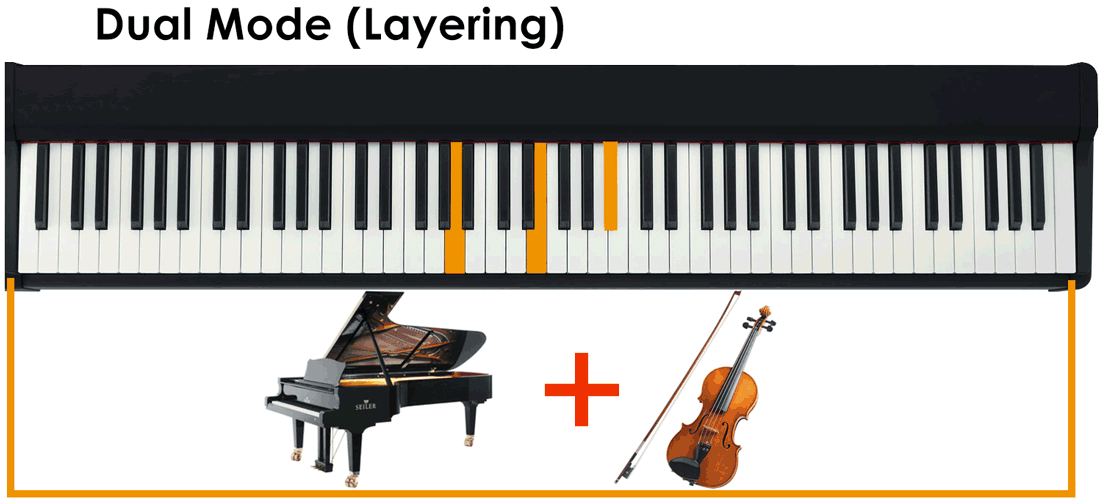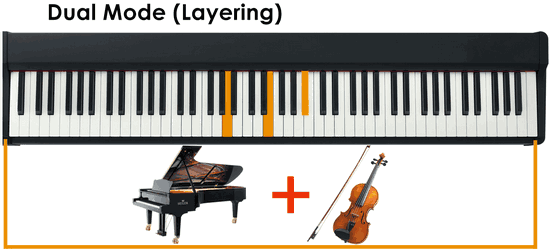 It's especially great to have this mode considering how many different sounds are available onboard, which you can combine as you like.
The Split Mode also allows you to use two tones but instead of layering, they will be split between two keyboard sections so that you can play one sound with your right hand and the other one with your left hand.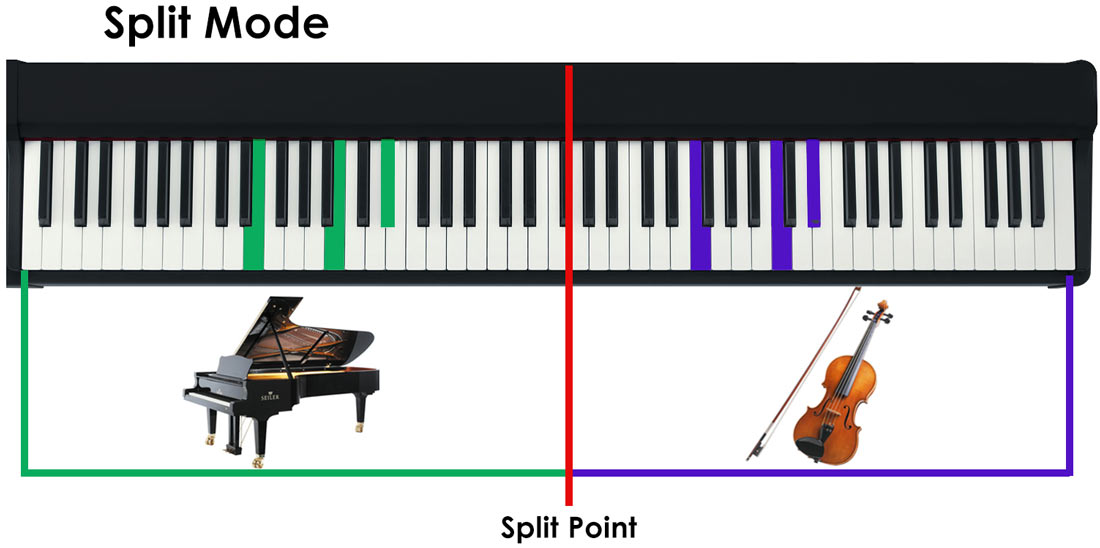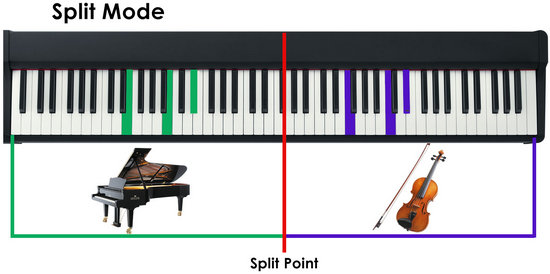 The split point, which is the key where the keyboard is divided, can be shifted to suit your needs.
Finally, the Twin Piano mode can be used to divide the keyboard into two equal parts with the same pitch ranges.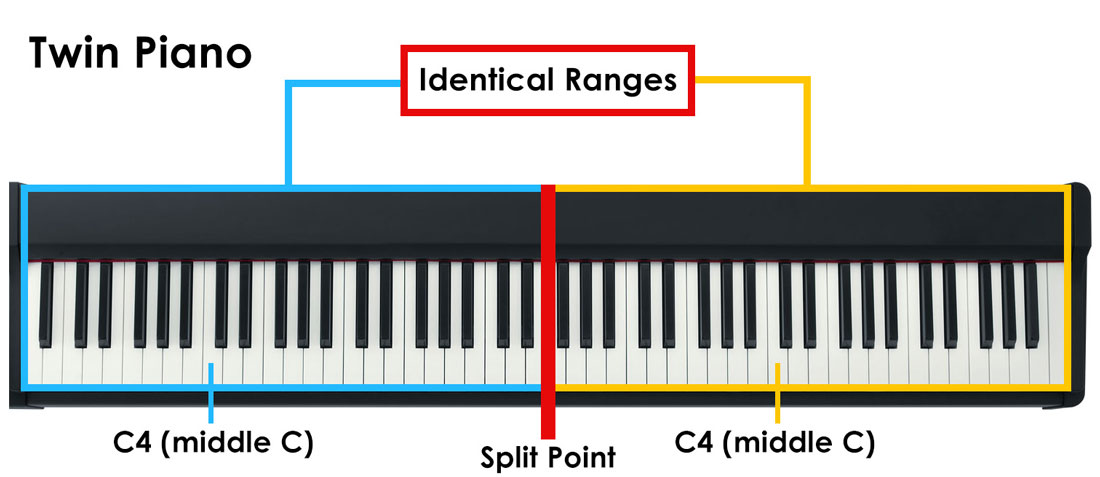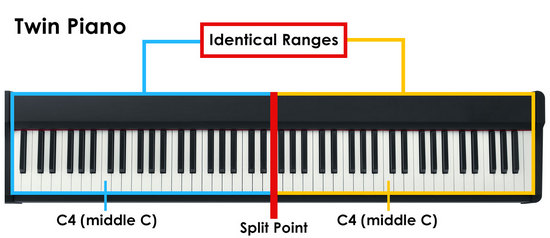 Each section has its own middle C and allows two players to play the same notes at the same time, which comes in very handy when playing piano duets or practicing with your tutor.
---
Recording and Playback
The Roland F-140R has a 1-track MIDI recorder, which makes it easy to record your performances right onboard and play them back whenever you want.
It's a useful feature if you want to check your playing for mistakes or just want to pre-record some tracks for your performance.
The instrument can store up to 10 songs in the internal memory. You can also save the songs to a flash drive for later use.
As for the playback, the F-140R is capable of playing back SMF (format 0/1) and WAV files directly from a flash drive, which is especially useful when you want to practice a particular song or use some backing tracks in your performance.
---
Music Library
Another advantage of the F-140 over its competitors is that it has a big music library onboard.
There are 69 piano masterpieces, 100 Carl Czerny songs and 20 Charles Hanon songs that you can listen to and play along with.
For each song, you can also select which parts will be played and which ones will be muted so that you can play them yourself (while the other parts are playing back).
You can turn off the left-hand, right-hand and accompaniment part.
In addition to songs, you'll also have access to 72 accompaniment rhythms that cover a wide range of genres.
Each rhythm has two variations and includes not only a drum part but also other instruments such as piano, strings, guitar, etc., which will make you sound like a full band.
You can also add intros, endings, fill-ins to allow contrasts and variation in the main rhythm. To manage the accompaniment, you'll need to play chords with your left hand.
You can either use Standard Chord recognition or Intelligent Chord recognition where you can play simplified chords (2 or even 1 key), which is perfect for beginners who are yet to learn chord progressions.
Other Features
The built-in metronome is a great tool to practice your rhythm and time-keeping.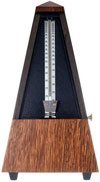 You can adjust the beat and tempo. Unfortunately, you can't change the sound of the metronome (default: clicking sound) or the volume.
Transpose and Master Tuning functions are also available on the F-140R and allow you to adjust the overall pitch of the keyboard in semitone and 0.1 Hz steps.
Connectivity
Roland is known for equipping their digital pianos with a good number of ports and jacks for easy connectivity with other devices. Well, the F-140R is no different.
Underneath the left side of the keyboard (near the headphone hook), there are two headphone jacks and a USB type A port to plug in a flash drive.
One headphone jack is a standard stereo jack (1/4"), and the other one is a stereo mini jack (1/8"), which means you'll be able to connect your headphones regardless of the plug type they have (standard or mini).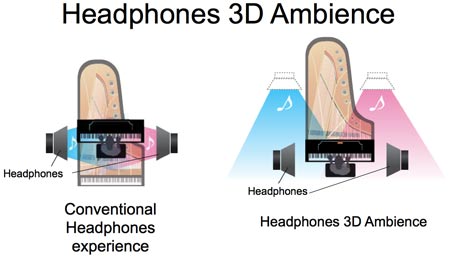 The F-140R supports Roland's proprietary Headphones 3D Ambience technology, which adjusts the spaciousness of the sound and provides a more immersive piano playing experience when using headphones.
The rest of the ports are located on the rear panel of the piano.
There you'll find a USB type B port, which can be used for connecting to a computer and using the F-140R as a MIDI-controller.
You've probably heard of various music apps such as GarageBand, FlowKey, and LogicPro, which provide powerful tools for learning and music production.
For a computer to keyboard connection, you will need to separately buy an A to B USB cable.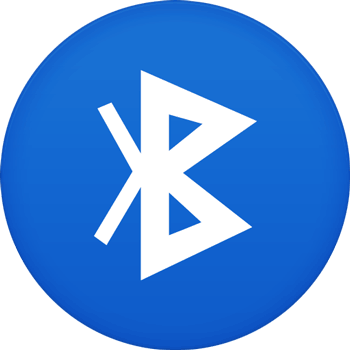 The good news is that if you have a laptop with Bluetooth support or any mobile device (e.g., iPad, iPhone, Android phone), you can connect them to the F-140R wirelessly via Bluetooth and exchange MIDI data without using any cables.
You can also use Bluetooth connectivity to turn pages on a music score app using the pedals of the piano so that your hands never leave the keyboard.
For their digital pianos, Roland have designed an app called Piano Partner 2 that you can actually use in various ways.
The PP2 consists of several sections that include Songs, DigiScore Lite, Rhythm, Flash Card Game, Remote Controller, Recorder, etc.
The Remote Controller feature allows you to select tones and control the F-140R's functions such as a metronome, keyboard modes, recording, etc. using an intuitive graphic interface.
For more info video below:
To connect the piano to external speakers or an amplifier you can use the output mini jack, though you'll probably need a 1/8" to 1/4" adapter.
The input mini jack allows you connect your mobile device to the F-140R and play some music using the onboard speakers of the instrument.
Accessories
The good thing about console digital pianos is that you don't need to spend a lot of extra money on accessories.
With the F-140R you won't have to buy a stand or a pedal unit separately as it's already included with the piano.
The only thing you may consider for buying is a bench and a pair of high-quality headphones.
When it comes to benches, there are a lot of good options available on the market today. Just pick the bench you like, check the reviews, see if it fits your budget and you're all set.
It gets a little more complicated when it comes to choosing the right headphones for your instrument.
---
Headphones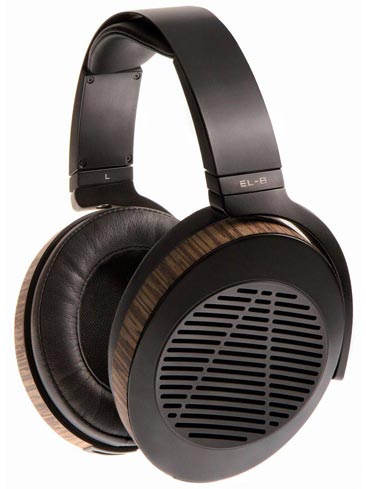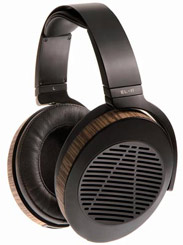 Headphones come in very handy when you want to practice in private, focusing solely on your playing and not disturbing others nearby.
Moreover, a good pair of headphones will provide a clearer and more detailed sound compared to the onboard speakers.
Check out this guide to learn how to choose the best-sounding headphones for your digital piano.

Summary
The F-140R turned out to be a really successful model from Roland and certainly deserves all the good critics it gets.
While there's a number of newer digital pianos that have been released during the last 1-2 years, the F-140R is still among the best instruments on the market you can get in the sub-$1000 price range.
The F-140R does an excellent job of simulating the sound and feel or a real acoustic piano providing players with a wide selection of grand piano sounds and a very responsive and expressive keyboard action.
It's also a very versatile instrument that actually has a lot more to offer than realistic piano playing experience.
Even though onboard Bluetooth connectivity is getting more and more widespread, it's still hard to find a digital piano with Bluetooth support, especially among Yamaha and Casio digital pianos.
Another big advantage of the F-140R is its design.
It's not always possible to fit an acoustic piano or even a traditional style digital piano into smaller rooms, but the F-140R with its sleek, design is probably the most compact instrument you can get as far as console digital pianos go.
That said, the Roland F-140R has a few good competitors that although can't offer as many extra sounds/features provide an excellent sound and feel of a grand piano for a similar price.
Check the availability and current price of the Roland F-140R in your region:
Alternatives
For more information about how the Roland F-140R compares to other digital pianos in this price range, please refer to our Best Home Digital Pianos Under $1500 guide.
Roland F-140R vs  Casio PX-870 (Full Review)
---
Roland F-140R vs  Yamaha YDP-144 (Full Review)
---
Roland F-140R vs  Kawai KDP110 (Full Review)