Not long after the release of their new flagship G1 Air, Korg surprised us with another exciting release…
I'm talking about the Korg C1 Air, of course.
The C1 Air is somewhat a simplified (more affordable too) version of the G1 Air that I recently reviewed and loved!
And to be honest, I didn't expect Korg to make such a bold step and even change the game a little bit.
Sure, Korg makes amazing high-end keyboards and workstations, but when it comes to consumer-grade home instruments, it hasn't been as successful.
Well, until now…
Korg C1 Air Specs
88 fully weighted keys
Real Weighted Hammer Action 3 (RH3)
Touch Sensitivity: adjustable 4 types, Off
LED screen
Sound: Stereo PCM System
120-note polyphony
30 instrument sounds (6 pianos)
40 preset piano songs
Reverb, Brilliance, Chorus (3 types each)
Piano sound elements: Damper Resonance, Key Off Simulation
Modes: Dual, Partner Mode, Split (3 tones)
2-track MIDI recorder (1 User Song)
Metronome, Transpose, Fine-tuning
Speakers: 2 x 10 cm (2 x 25 W)
Connectors: MIDI In/Out, Headphone jacks (2), Line Out, Bluetooth (Audio)
134 x 34.7 x 92.6 cm (53" x 15.1" x 36.5")
35 kg (77 lbs)
Check the availability and current price of the Korg C1 Air in your region:
Design
The elegance and simplicity of this piano's design catch your eye immediately.
You can tell that Korg engineers have done an excellent job trying to make this digital piano look as unique and "fresh" as possible.
While you can argue that all digital pianos look very similar, I will say that it's the details that matter.
The C1 Air has a slim modern-looking cabinet that's very easy to fit even in the tiniest apartment or hallway.
It looks kind of similar to another popular piano in this price range (Roland F-140R). But have you seen those gorgeous front legs?
I really like this element of the C1 Air and it gives the piano a more premium and expensive look.
Until now, we could only find such design elements in $2000+ high-end digital pianos (Yamaha's Clavinova line, Kawai's CA series, etc.) though they're nearly not as compact and slim as the C1 Air.
The piano is only 10.24" deep, which is hands down one of the most compact home pianos I've come across.
However, the anti-tipping brackets increase the footprint by about 3.6 inches, so keep in mind that you won't be able to put it flush to the wall.
Just like an acoustic piano, the C1 Air is equipped with 3 pedals: Soft, Sustain, and Sustenuto.
They have a nice resistant feel to them similar to the real thing.
It's also crucial that the Soft and Sustain pedals support half-pedaling, which allows for subtler control and more expressiveness.
Another important thing to mention is that the C1 Air is entirely manufactured in Japan, which is a synonym for quality in some way.
There are 3 color options available in the US, including white, black, and brown. The wood grain brown finish looks very lovely!
The lid of the C1 has a similar look to what you get on an acoustic piano. It will keep the keys away from dust and dirt and prevent them from occasional damage (spills, falls, etc.).
The nice thing is that the lid has a soft-close mechanism, so you don't have to worry about your fingers being hit by the lid.
The control panel consists of 28 buttons and a master volume knob, which makes it very easy to navigate the instrument.
The buttons have LED indicators, which means you can see which sounds/functions are being used at the moment.
From the aesthetics standpoint, I like it when there are as few buttons/control elements on a digital piano as possible.
At the same time, it inevitably makes it much harder to navigate all the different sounds and settings within the piano.
You'll find that some digital pianos in this price range only have 3-5 buttons, but they are usually compatible with apps that allow them to be controlled from a mobile device (Roland's Piano Partner 2, Yamaha's Piano Controller, etc.)
Korg took a different approach. Instead of developing an app, they decided to create a great user experience by adding more buttons and a small screen. This way you don't even need an app since everything is pretty intuitive and well laid-out.
The only thing I didn't like about the control panel is that its glassy surface gets smudged with fingerprints very easily (black and brown version).
Keyboard
The C1 Air features Korg's top-of-the-range keyboard action called Real Weighted Hammer Action 3 (RH3).
You'll find the same action in Korg's professional keyboards/workstations such as Korg Kronos, Korg GrandStage, etc.
The C1's big brother, the G1 Air, is equipped with this action as well (their keyboards are identical).
The RH3 is an 88-key fully weighted action that uses a graded hammer system with four weight zones, which means the keys on the lower end feel heavier and get progressively lighter as you move up the keyboard.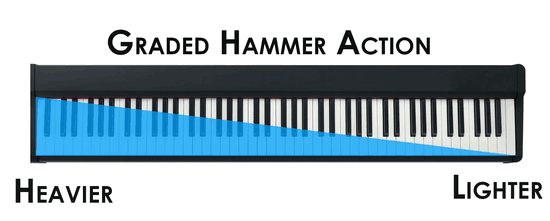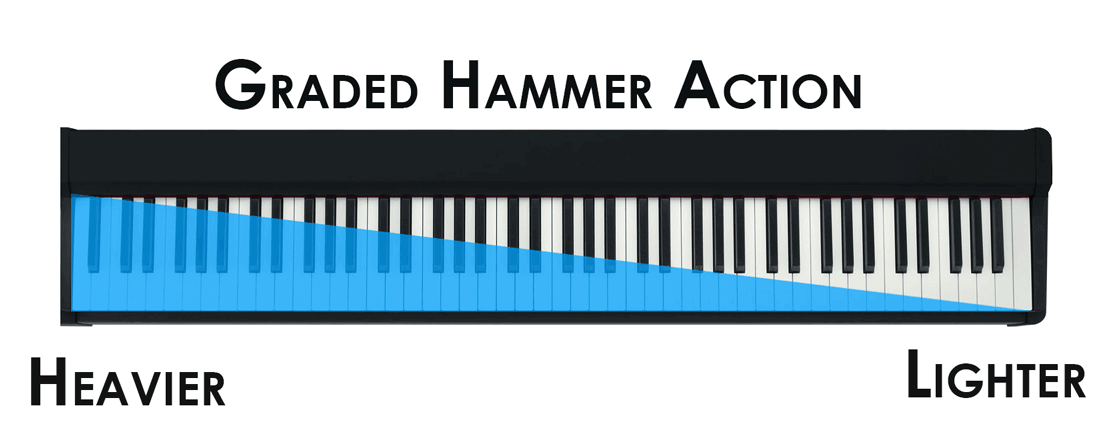 The RH3 is not too heavy but it's not light either, it's more of a medium-weight action, which makes it very versatile and enjoyable to play regardless of your playing style and technique.
It would be a great pick for classical piano players as well as those who like to play around some organs, synth sounds, and whatnot.
The action is pretty quick and very responsive, it doesn't feel clunky or anything like that.
No wonder there are tons of fans of this action out there who aren't ready to trade it for anything else.
The keyboard of the C1 Air is, of course, touch-sensitive, which gives you accurate dynamic control over the instrument. The harder you play the keys, the louder the sound.
You can additionally adjust the keyboard response of the C1 Air using one of the 5 preset settings (Light, Normal, Heavy, Stable, Steady).
Choose the "Steady" setting if you want the sound to stay the same regardless of how hard or soft you play.
Another good thing that I've noticed about the RH3 is that it's relatively quiet and produces very small amounts of noise even at low volume levels compared to, say, Casio and Yamaha entry-level hammer actions.
Nowadays it's getting more popular for digital pianos to have synthetic ivory keys instead of traditional acrylic ones.
While not everyone likes them, to my taste, their textured surface does feel nicer to the touch and improves a grip a little bit. Unfortunately, the C1 Air doesn't offer any kind of textured material on the keys.
With that said, the black keys of the keyboard have a matte finish on them, which feels pretty nice, but again it's not quite like those Ebony simulated keys we see on some higher-end models.
Either way, the key coating is mostly a matter of taste, so let's not be too hard on the C1 Air here.
Sound
At the heart of the C1 Air is the Stereo PCM System, which delivers an authentic sound meticulously sampled from two of the world's finest concert grand pianos.
Two different grand piano tones are also not something we often see in digital pianos in this price range.
Plus, some manufacturers (e.g., Kawai, Yamaha) only use their own grand pianos to sample the sound, which is understandable, since no one wants to "promote" the sound of the competitors, right?
But since Korg doesn't make any acoustic pianos, it's not a problem for them to use whatever grand pianos they want without having to worry that it may damage their reputation in some way.
Which is exactly what they did.
The first piano tone on the C1 is called "German Grand", which is my favorite piano tone on the instrument.
I'm almost 100% confident that this tone was sampled from a Steinway Grand Piano, which doesn't need an introduction.
It's the most beautiful and versatile piano sound on the instrument, which is suitable for pretty much any style or genre.
You'll immediately recognize that bold rich sound and will probably use it most of the time.
The other grand piano tone is "Japanese" grand, and I believe it was sampled from a Yamaha Grand Piano.
While Yamaha makes one of the best acoustic pianos in the world, this tone didn't sound as full and colorful as the German Grand, though it's only my opinion.
The C1 uses stereo multi-layered samples, which means different layers will be triggered depending on the force of your key strokes.
The piano tones are further improved by organic elements such as key off samples (difference in sound character depending on how fast the fingers leave the keys) and natural damper resonance (sympathetic string resonance when you use the sustain pedal).
Unfortunately, the C1 Air doesn't offer String Resonance simulation found on the G1.
Anyway, you'll be impressed with how natural and realistic the C1 Air sounds, so much so that if you close your eyes, you can trick yourself into believing that you're sitting next to a real acoustic piano.
In addition to the two main Grand Piano tones, the C1 Air offers plenty of piano tones and other instruments to help you explore your creative self.
There are 10 sound sections with 3 tone variations in each of them. In total, you get 30 different sounds under your fingerprints.
The only sound settings/effects available on the C1 are brilliance, reverb, and chorus, which you can each adjust within 3 levels.
There are no options for choosing a particular reverb type (Hall, Room, etc.), and overall it would be nice to have more control over those parameters.
In addition to the default "Equal Temperament", the C1 Air provides you with two other tuning systems that you can choose for your performance (Werckmeister III, Kirnberger III).
---
Polyphony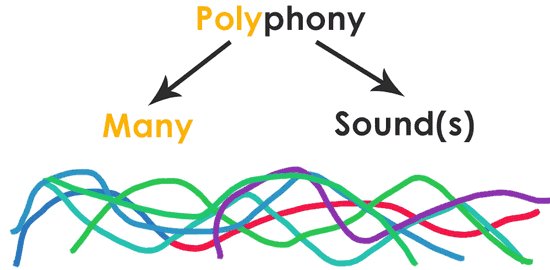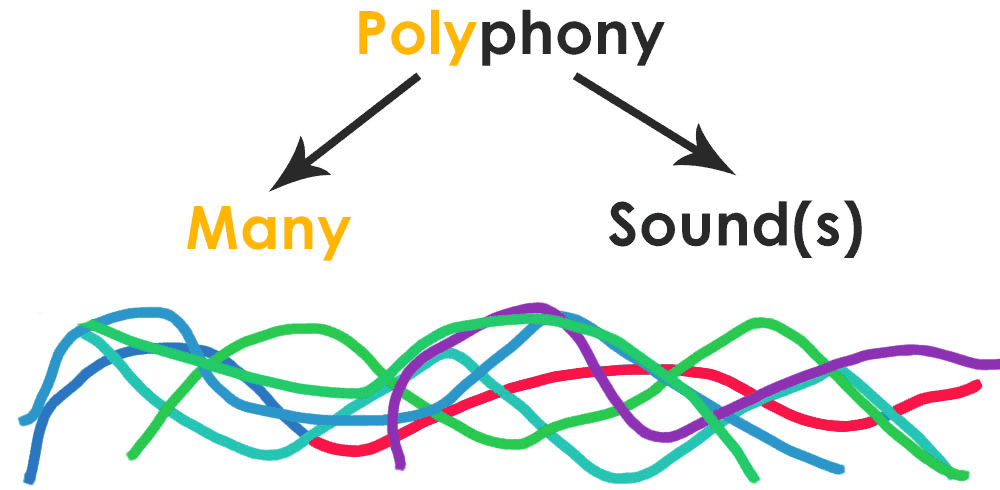 The Korg C1 Air has 120-note polyphony, which is nothing exceptional but gets the job done.
I wouldn't recommend getting too hyped up about this characteristic because more polyphony doesn't automatically mean better sound, it just allows the sound to be produced smoothly and fully.
Anyway, 120 notes are enough for playing solo, layering two tones, and playing along with some accompaniment, so you don't have to worry about voice stealing or note cutoffs.
---
Speakers
Speakers on the C1 Air are definitely something to talk about.
There are two 10 cm (2 x 25W) true-round speakers located on either side of the piano, and I must say they are pretty impressive.
Korg has really raised the bar with their latest releases since most digital pianos in this price range don't offer more than 12-18 W of output power.
Now again more powerful speakers don't automatically make the sound better.
There are lots of factors that play a role in the ultimate sound you hear including the quality of the samples, the quality and the size of the speakers, their location, etc.
At the same time, you do need powerful speakers to be able to get that big resonant sound that we get on acoustic pianos.
Luckily, the C1 Air doesn't disappoint.
Not only the speakers are powerful on the paper (I mean 50W), but they also deliver a very convincing sound.
The video below pretty accurately shows off the capabilities of the C1's speaker system:
The full-range speakers are housed in a specially designed speaker box, which faces the player and allows for a deep, resonant sound that comes through the cabinet and makes the playing experience more immersive and realistic.
Features
Those times, when Korg home digital pianos were very straightforward and light on features, are gone.
I'm glad that Korg has finally implemented an onboard MIDI recording, Lesson mode, and some other new features that weren't available on Korg's older models such as B1, LP-380, etc.
Modes
Besides the regular "Single" keyboard mode, the C1 has other modes that allow you to use the keyboard more effectively.
Layer Mode (aka Dual) can be used to layer two tones so that they sound at the same time.
With this mode, you can achieve some really beautiful sound combinations including some atmospheric Piano + Strings, Organ + Choir sounds, etc.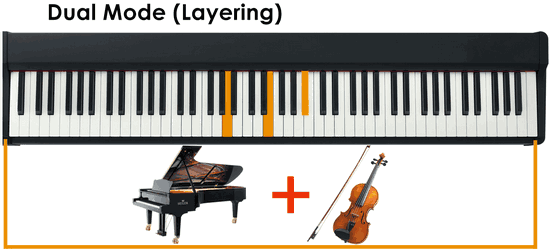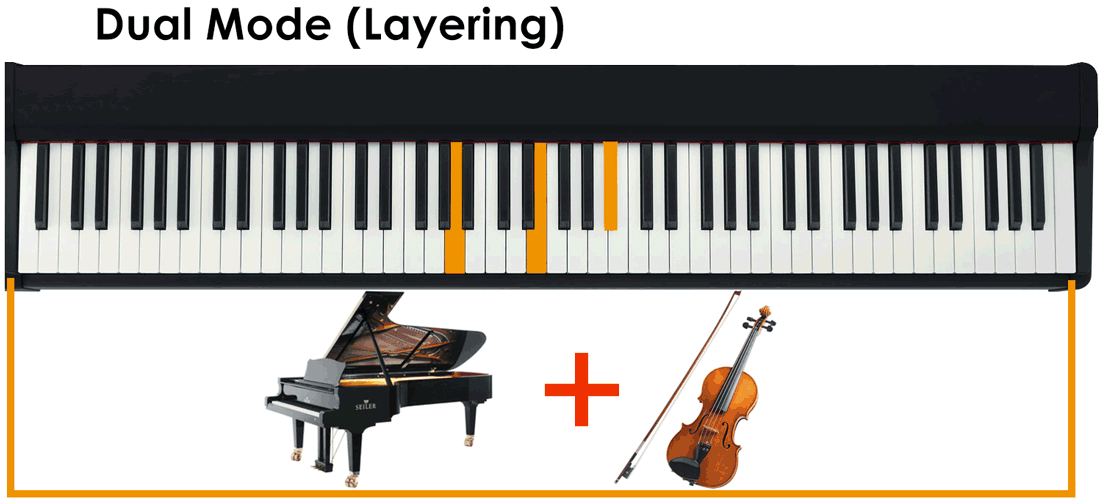 The C1 Air allows you to layer any sounds as long as they belong to different sound sections.
So you can't layer the Japanese Piano tone with the Pop Piano because they're accessed via the same Piano2 button.
You can additionally configure your performance parameters by adjusting the volume balance and shifting the octave for each sound.
The conventional Split Mode where you can split two tones between two keyboard zones is not available on the C1 Air.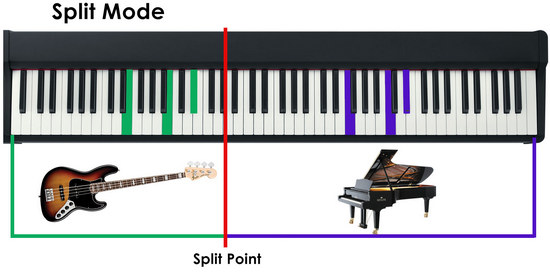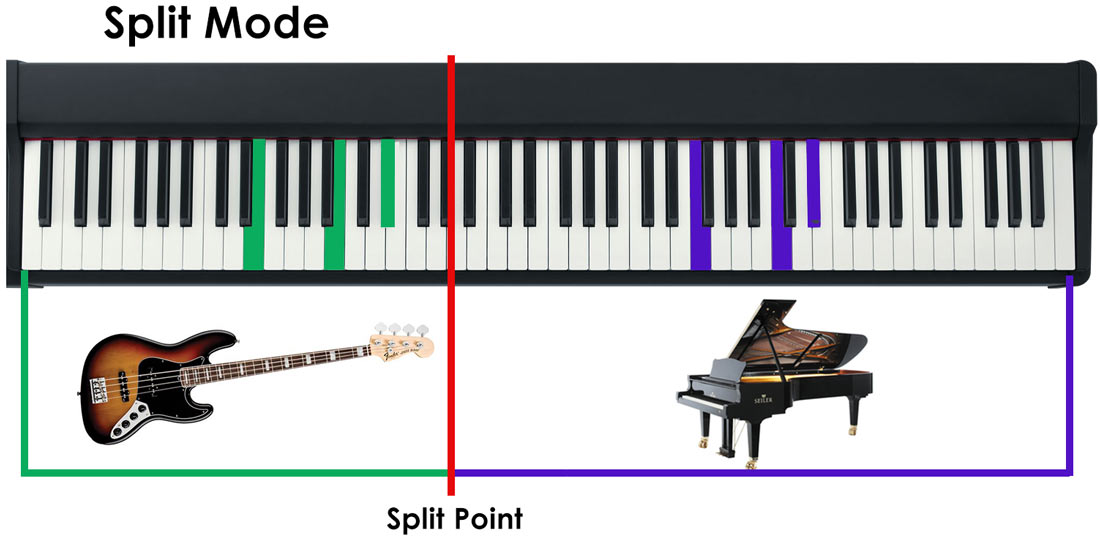 However, the 10th sound section, which is called Bass & Piano, includes 3 tone combinations that will allow you to play a Bass sound with your left hand and a piano sound with your right hand (A. Bass/Piano, E. Bass/E. Piano, Bass & Cym/Piano).
Another useful function available on the C1 Air is called Partner Mode, which you can use to play duets or practice with your tutor or teacher.
What the mode does is divides the keyboard into two equal parts (44 keys each) with identical pitch ranges (each zone has its own middle C) so that two people can sit side by side and play the same notes simultaneously.
---
Recording & Playback
The built-in MIDI recorder allows you to record one user song that can contain up to two tracks.
You can record each track separately and then play them back as one song.
While you're recording the second track, you can choose to play back the first part that you've already recorded.
The C1 Air also supports punch-in recording, which means you can record a new part to an already recorded song.
There is a good selection of classical pieces on the C1 Air that you can use for listening pleasure and practice.
The C1 Air offers 40 piano masterpieces from famous composers including Bach, Mozart, Beethoven, Debussy, etc.
For each song, you can mute the left or right-hand part to practice it while listening to the playback of the other part.
You can also adjust the tempo of a song to practice a certain part more thoroughly.
---
Other Features
Metronome is another useful tool to practice your rhythm and time-keeping skills.
Depending on your needs you can specify the beat, tempo, and volume of the metronome.
Transpose function will allow you to shift the pitch up and down in semitone steps, which you can use for easier fingering or to better fit the vocalist's range.
You can also use the Master Tuning (adjusts the pitch in 0.5 Hz steps) to match the C1 Air pitch to that of another instrument.
Connectivity
When it comes to connectors, the C1 Air is pretty basic.
The connector box is located underneath the left side of the keyboard where you'll find all the ports including MIDI In/Out, Line Out and two Headphone Jacks.
I was quite disappointed that the C1 Air doesn't have any USB ports and uses traditional MIDI In/Out ports instead.
Today almost every digital piano has a USB to Host port, which allows them to be easily connected to a computer and used as a MIDI-controller with various music apps.
While you can do the same with the MIDI ports, you'll need to separately buy a special MIDI-USB adapter, which is not as cheap and common as USB A-to-B adapters.
On the other hand, MIDI ports make it easier to hook up the C1 Air to other keyboards and MIDI devices directly, which might be very useful for some folks.
The headphone jacks both have stereo mini (1/8") plugs and can be used to connect two pairs of headphones at the same time (onboard speakers will automatically shut off).
The Line Out jack will allow you to connect the C1 Air to external audio devices such as an amplifier, PA system, audio interface, etc.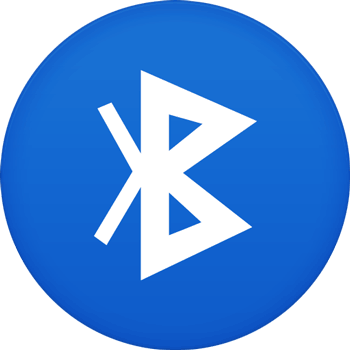 Have you ever wondered why "Air" is in the name of this model?
Well, Air implies that the piano supports Bluetooth technology and allows you to wirelessly transfer audio data (songs, backing tracks) from your mobile devices (e.g., iPad, iPhones, etc.) to the C1 Air and hear them through the piano's built-in speakers.
Keep in mind though, that you won't be able to transfer MIDI data via this connection (as some other digital pianos allow you to do), only Audio data.
Accessories
So now let's talk about the accessories that come with the piano and what else you might need to buy separately.
Well, since the C1 Air is a cabinet style digital piano, it comes with pretty much everything you'd need to start playing it right out of the box, including the 3-pedal unit, stand (cabinet) and key cover.
The only accessories you may want to consider purchasing separately are a bench (you need to sit on something, right?) and a pair of good quality headphones.
When it comes to benches, there are a lot of good options available on the market today. Just pick the bench you like, check the reviews, see if it fits your budget and you're all set.
It gets a little bit more complicated when it comes to choosing the right headphones for your instrument.
---
Headphones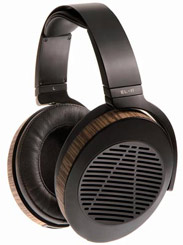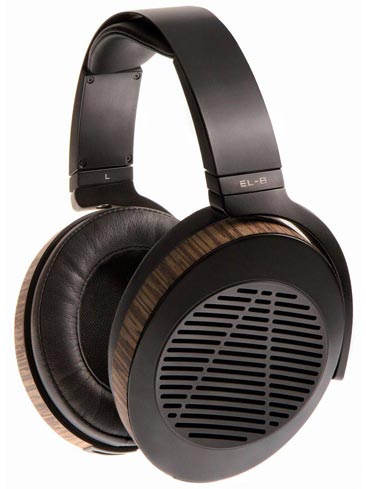 Headphones come in very handy when you want to practice in private, focusing solely on your playing and not disturbing others nearby.
Moreover, a good pair of headphones will provide a clearer and more detailed sound compared to the onboard speakers.
Check out this guide to learn how to choose the best-sounding headphones for your digital piano.

Summary
There are currently lots of great digital pianos available in the sub-1000 price range, and the C1 is definitely one of them.
As you can see the Korg C1 Air is somewhat a "light" version of the G1 Air flagship model.
The pianos have a lot in common including the elegant eye-catching design, RH3 keyboard action, sound engine, Bluetooth audio, etc.
If you like this Korg's new line, but the G1 Air is beyond your budget, the C1 Air will be an excellent choice.
Below you can see the main difference between the two models.
With the release of these two pianos, Korg have shown that they are serious about this segment of the market, and even more, it wants to be among the best there.
I was pleasantly surprised to find a bunch of really useful and anticipated features that Korg never offered on their previous home models, including a MIDI recorder, preset songs, lesson function, Bluetooth, and more.
Other things that I particularly enjoyed in the C1 Air were its very responsive and nice-to-the-touch RH3 action as well as a really good speaker system that will blow most of the competitors out of the water.
In future models, though, it would be nice to see some USB ports, more internal memory for recorded/transferred songs, more options for sound control and sound effects.
Check the availability and current price of the Korg C1 Air in your region:
Alternatives
For more information about how the Korg C1 Air compares to other digital pianos in this price range, please refer to our Best Home Digital Pianos Under $1500 guide.