Kawai has recently introduced a new digital piano from its ES portable series – the Kawai ES110.
The ES line includes only two pianos, the ES110 and the more advanced ES8.
Not only is the ES110 the only portable digital piano from Kawai available under $1000 but it's also the most affordable Kawai digital piano in general.
In 2017, the ES110 replaced the previous ES100 model, which had been very popular and has received lots of positive reviews for its realistic piano sound and feel.
Kawai have added some significant improvements to the ES110, including a redesigned speaker system, Bluetooth MIDI connectivity, and the new RHC keyboard action.
Now let's take a closer look at this promising digital piano from Kawai and see what it has to offer.
Kawai ES110 Specs
88-key fully weighted keyboard with matte black/white keytops
Responsive Hammer Compact (RHC) action
Touch Sensitivity (Light, Normal, Heavy, OFF)
Sound: Harmonic Imaging
192-note polyphony
19 instrument sounds (8 pianos)
3 built-in song books (over 100 songs)
Modes: Split, Dual
Lesson Function (ability to practice each hand's part separately)
1-track MIDI recorder (3 songs)
Sound settings: damper resonance, fall-back noise, damper noise, brilliance, temperament (7 types)
Metronome (100 rhythm styles), Transpose, Fine-tuning
Speakers: 7W + 7W (12cm x 2)
Connections: MIDI In/Out, Bluetooth 4.0, Headphone jacks (2), Line Out (R, L/Mono), Sustain Pedal jack
131.2 x 28.6 x 14.8 cm (51.6" x 11.2" x 5.8")
12 kg (26.5 lbs)
Check the availability and current price of the Kawai ES110 in your region:
Design
The ES110 hasn't changed much from its predecessor, the ES100, in terms of appearance. It's still a fairly portable digital piano with a simple yet stylish design.
The piano will nicely fit into smaller spaces, whether it's a tiny apartment or a dorm room.
It's possible to put the ES110 on a desk or a table, which is not necessarily convenient, but still possible.
The piano is 51.6 " wide, 11.2 " deep, and 5.8 " high.
Take a look at the table below to quickly compare the ES110's size to some other popular digital pianos:
Thanks to the new keyboard action, the piano has become 6.5 lbs. lighter compared to the ES100, which makes it even easier to carry and transport.
Therefore, the piano is very easy to take to gigs and use on the road.

The ES110 doesn't come with a stand, but you can always buy the optional Kawai HML-1 furniture stand designed specially for the ES110 (see "Accessories" section).
The control panel of the instrument is very straightforward with only a few buttons and a volume slider, which gives the keyboard a clean, sleek look.
To access most of the ES110's settings and parameters, you'll need to press a certain "Button + Key" combination. This true for pretty much every digital piano in the 1000$ price range.
The piano has no display. It would be great to have one as it would show you all the current settings and would make interaction with the piano much easier.
But today it's still rare for digital pianos to be equipped with a decent LCD.
You can still take advantage of the ES110's new feature, Bluetooth MIDI connectivity, and use Kawai's free app for iOS devices to control various parameters of the piano in an easy, visual way (see "Connectivity" section).
The ES110 is available in two colors, black and white.
Keyboard
Kawai is known for its high-quality keyboard actions that feel amazingly close to a real piano action. Well, the ES110 is no exception.
The piano comes with a full set of 88 fully weighted keys and the Responsive Hammer Compact (RHC) action mechanism.
It's Kawai's newly designed action, which uses the same principles as the higher-end RHIII action, but is more compact to fit the ES110's case.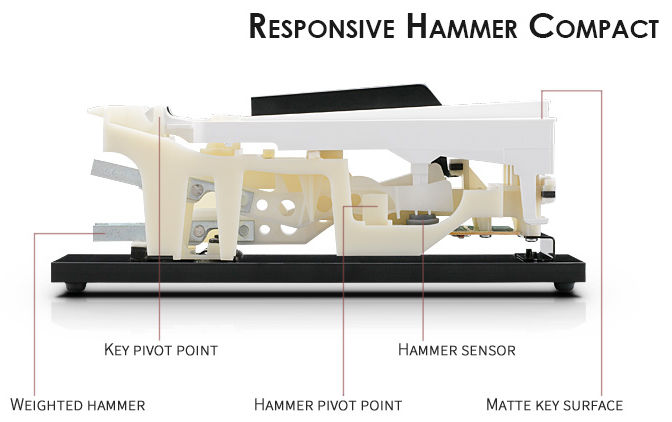 The RHC is one of Kawai plastic-key actions. It utilizes spring-less 2-sensor technology where the actual little hammers are used to create a mechanical movement similar to an acoustic piano action.
The hammers of the RHC are graded where the low-register keys are the heaviest and as you move up the keyboard they become lighter.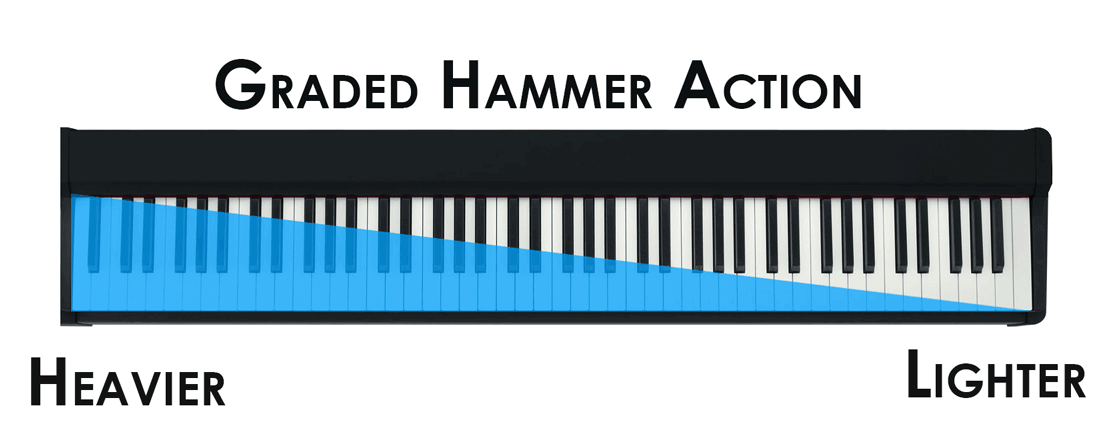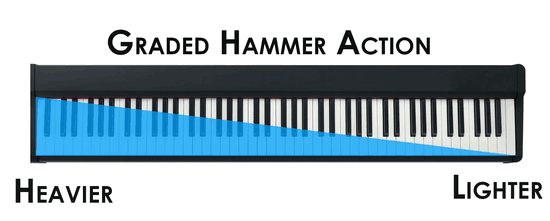 The keyboard is also touch-sensitive, offering a wide dynamic range from the soft pianissimo to the thunderous fortissimo. Touch-sensitivity means that the harder you strike the keys the louder the sound becomes.
The ES110 enables you to adjust the touch sensitivity to best suit your playing style. There are 4 preset settings available: Light, Normal (default), Heavy and Off.
When the touch-sensitivity is set to "Off", the same level of volume will be produced regardless of how hard or soft you play the keys.
The "Heavy" setting makes the keyboard the most sensitive to the touch, providing maximum dynamic range and allowing you to play with even greater expressiveness.
Unlike the RHIII action (more expensive), the keys of the ES110 don't have synthetic Ivory & Ebony keytops with moisture-absorbing qualities, but the keyboard still feels great thanks to the matte finish of both white and black keys.
The thing that put me off a bit with the ES110's keyboard was weird spacing between the keys, which I thought was just a faulty unit. As it turned out, the inconsistent key spacing is a common issue for this model.
It's only a cosmetic issue and doesn't affect the functionality of the keyboard, but still, you don't expect to have such issues on a 700$ keyboard.
Fortunately, it seems that Kawai have fixed this issue by now. At least another two pianos I tried at two different stores had much more regular (yet not perfect) key spacing, which was perfectly acceptable.
Still, it's safe to say that the RHC is among the most realistic and reliable keyboard action in its price range.
It's definitely on a lighter side of the spectrum, so pianist who prefer stiffer key actions may not be impressed by it.
The action is also quite bouncy and not necessarily very "quiet," though the latter is only noticeable when you play at low volume levels.
Nevertheless, the key action itself (key movement, pivot length) feels slightly more realistic than Casio's Tri-sensor Hammer Action II and Yamaha's GHS action.
Sound
The ES110 features Harmonic Imaging sound source with 88-key piano sampling. The technology implies that each key of the piano is sampled individually to preserve their unique tonal characteristics.
The piano sounds in the ES110 are sampled from the Kawai 9-foot EX Concert Grand Piano, but in order to recreate various nuances of sounding Kawai used different recording methods and equipment for each of the 8 piano sounds.
Below you can listen to the main instrument sounds available on the ES110:
The ES110 enables you to further tailor the sound to your taste by adjusting various parameters:
1) Reverb. You can add a reverberation effect to make the sound bigger and more expressive. There are 3 reverb types available on the piano, which simulate the acoustics of a Recital Room, Small Hall and a Concert Hall.
2) Damper resonance. Did you know that when the sustain pedal is depressed, not only the strings of the played notes vibrate, but the strings of other notes do too? The ES110 simulates this effect and allows to adjust the volume of it (Small, Medium, Large or Off).
3) Voicing. This setting will allow you to change the tonal character of the sound to better suit the style of music you play. There are Normal, Mellow, Dynamic and Bright voicing types you can choose from.
4) Fall-back noise. Fall-back noise is basically the sound of the keys returning to its neutral position after releasing, which is found on acoustic pianos. For example, you might want to reduce the fall-back noise volume when playing quiet pieces if it becomes too prominent. There are 4 preset settings available to control this parameter (Small, Medium, Large, Off).
5) Damper noise. The noise of the damper pedal touching and releasing the strings can also be changed (Small, Medium, Large, Off)
6) Brilliance. Each of 8 piano sounds in the ES110 has its own default brightness, but you can also independently adjust this parameter within -10 +10 range.
7) Temperament. The tuning system of the ES110 can be changed from the default 'Equal Temperament' standard to other tuning standards that were widely used during the Renaissance and Baroque periods.
There are 7 temperaments you can choose from:
– Equal
– Pure Major
– Pure Minor
– Pythagorean
– Meantone
– Werkmeister
– Kirnberger
Polyphony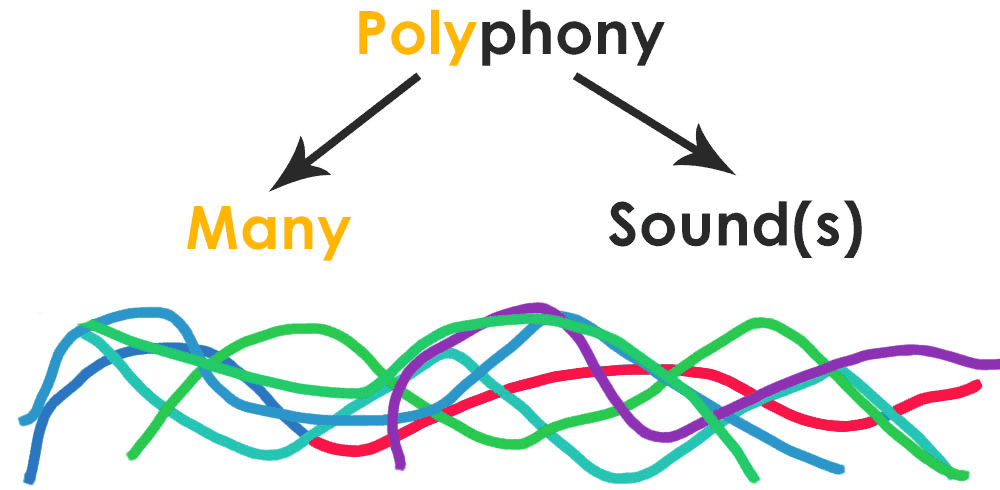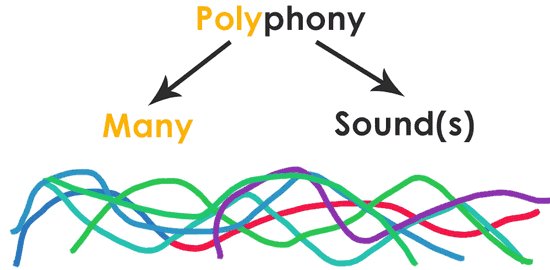 The ES110 is equipped with
192-note
polyphony. Having that amount of polyphony makes it possible to play complex classical pieces and layer multiple sounds without notes cutting off.
In this price range, only Kawai and Yamaha offers 192-note polyphony in this price range, while Roland, Casio, and Korg pianos have 128-note polyphony.
Speakers
The speaker system of the piano consists of 2 x 12cm speakers (7W + 7W amp). The Kawai has improved the speaker system since the previous ES100 model, which by the way sounded very decent.
I've listened to many digital pianos, and the sound of Kawai instruments amazes me each time I play them.
The ES110's speakers accurately produce the sound throughout the full spectrum of frequencies and combined with the high-quality piano samples deliver extremely clear and rich sound almost indistinguishable from an acoustic piano.
Well, it's not as loud as an acoustic piano sound of course, but the ES110's sound is still very convincing.
Headphones will make things even better, offering an even more detailed sound and an immersive listening experience.
The speakers are definitely loud enough to play in a living room in front of a bunch of friends and family members.
The "Speaker EQ" setting will allow you to change (optimize) the sound character of the ES110's speakers depending on whether you put the piano on a table or a stand.
For bigger performances, you'd need an external amplifier/speakers to boost the sound volume. Fortunately, the piano comes with dedicated Line Out jacks so you can plug in various audio equipment without any problems.
Features
Modes
The ES110 offers 2 of 3 modes we're used to seeing on digital pianos most often.
Dual Mode allows you to layer two different instruments so that they sound at the same time whenever you press a key.
For example, you could layer strings on top of the piano tone to produce a rich, beautiful sound. You can actually combine whatever sounds you like.
The the mix volume between can also be adjusted to make one instrument sound more prominent than the other.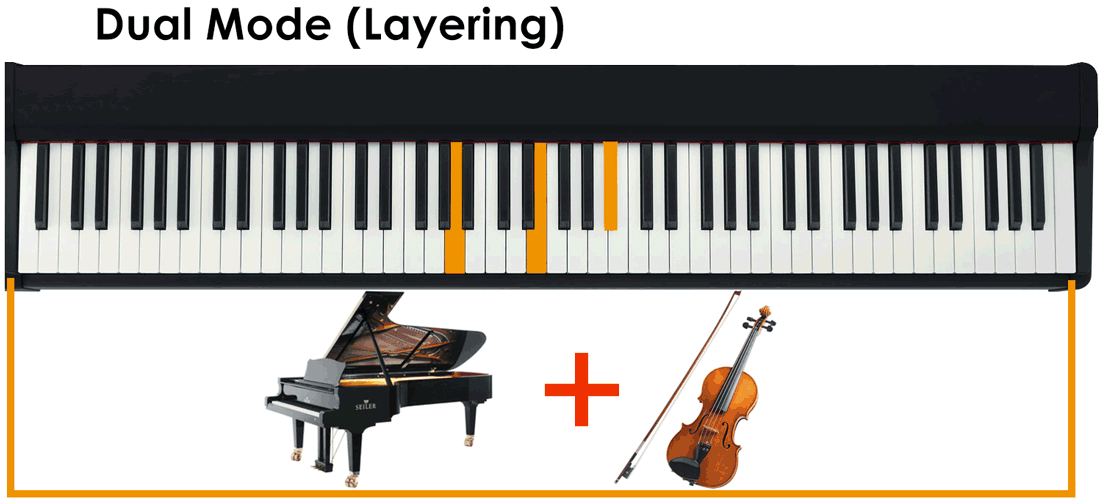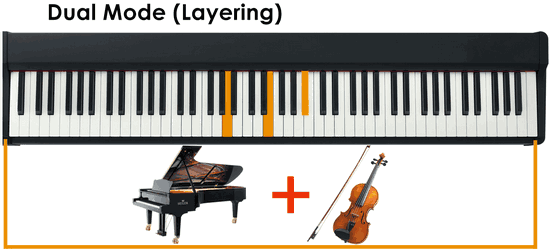 Split Mode will allow you to assign a different instrument sound to play with your right and left hands. The keyboard will split into two equal sections each having a different sound.
For example, you can select the Wood Bass sound for the left-hand area and a grand piano tone for the right-hand area.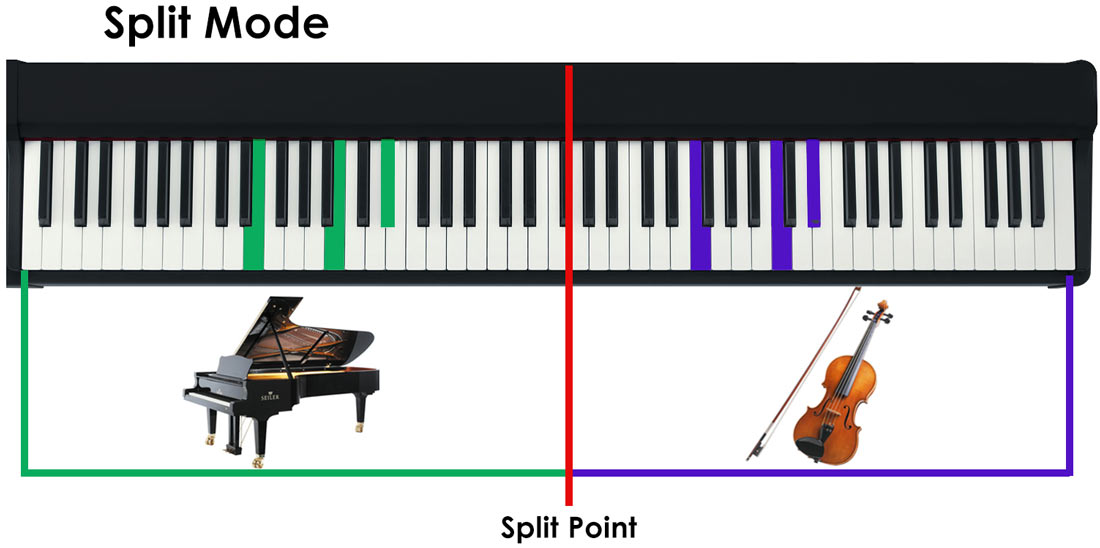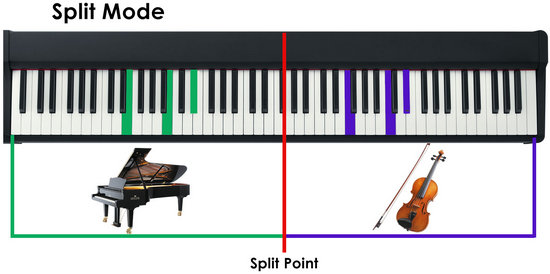 Unfortunately, the piano doesn't offer a Duo Mode (also called Duet Play), which would allow you to split the keyboard into two parts each having equal pitch ranges and its own middle C.
---
MIDI Recorder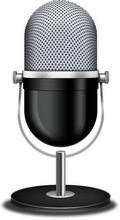 The ES110 has a built-in MIDI recorder, which allows you to record and store in the internal memory up to 3 your performances.
The piano only supports one-track recording, so you won't be able to record each hand part to a separate track or create multi-layered recordings with several instrument parts.
However, you can record one hand part and play the other one live, while listening to the playback of the recording. In other words, not only can you play back the recordings but also play along with them.
Since the ES110 has no USB ports, you can't save recorded performances to a flash drive or transfer MIDI files from a flash drive/computer to the instrument for a playback, practicing, etc.
---
Lesson Function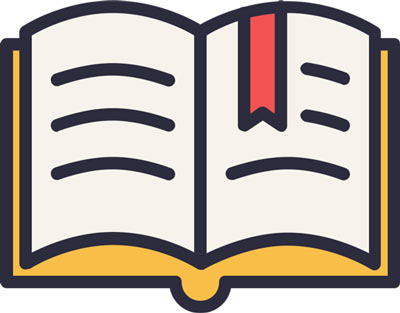 The ES110 has 3 built-in song books (with song recordings) that you can use to learn and practice new songs.
1) Burgmüller 25 (25 Etudes Faciles, Opus 100)
2) Alfred's Basic Piano Library Lesson Book Level 1A
3) Alfred's Basic Piano Library Lesson Book Level 1B
You can listen to each of the songs as well as practice left and right-hand parts separately. The tempo of each song can be adjusted, making it much easier to learn for beginners.
The books themselves are optional, and since the piano doesn't have a display, you might want to purchase them as they contain the sheet music for each of the songs as well as various exercises based on them.
---
Transpose and Fine tuning

Like any digital piano, the ES110 doesn't need to be tuned, but you can still adjust the pitch of keyboard to suit your needs.
Transpose function allows you to shift the pitch of the piano up and down in semitone steps.
The function is particularly useful when want to play a song in a different key but don't want to change your fingering and learn it in a new key.
You can also transpose a song written in a difficult key (e.g., many black keys) into a different key with easier chords, hearing it as you were playing in the original key.
Fine tuning function will allow you to change the pitch of the entire keyboard in 0.5Hz steps, for example, to match the pitch of another instrument or a singer.
Other Functions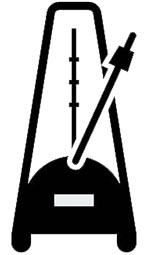 An onboard metronome will help you practice with an accurate tempo and improve your time-keeping skills.
You can freely adjust the tempo, time-signature, and volume of the metronome to suit your needs.
The built-in library of drum rhythms includes about 100 different rhythm styles that you can use as an alternative to the conventional click sound of the metronome.
Auto-power off function helps to prevent unnecessary power consumption. When enabled, it will automatically turn off the piano after a specified time of inactivity (30, 60 or 120 min).
Connectivity
The ES110 has some new connectors that weren't presented in the previous model.
In particular, the ES110 is equipped with dedicated Line Out jacks, which can be used to connect the keyboard to external amplifiers, PA systems, mixers and other equipment you may need for a live performance.
On the front of the piano, you'll find two 1/4 " headphone jacks that can be used for connecting a pair (or two pairs) of headphones for private playing.
MIDI In/Out jacks
The ES110 doesn't have a USB type A (to connect Flash Drivers) or USB type B (to connect to the computer) ports.
Kawai decided to stick with conventional MIDI In/Out jacks, which are used to connect the piano to external MIDI devices. Similarly, you can connect the ES110 to a computer using these jacks.
However, if your computer doesn't have a MIDI interface, you'll need a MIDI to USB cable, which doesn't come with the keyboard.
I prefer having USB to Host (type B) port to connect to the computer because an A to B USB cable you would need for that is cheaper and easier to find than MIDI to USB cables.
However, it's fair to mention that Kawai has partly compensated for the lack of USB ports by equipping the piano with integrated Bluetooth MIDI connectivity.
You can use this feature to connect the piano to various smart devices wirelessly (no cables or adapters required).
It can be your smartphone, tablet or laptop with Bluetooth support.
Once the ES110 is connected to your smart device, MIDI data can be wirelessly exchanged between them, allowing you to use various music apps (e.g. GarageBand, FlowKey, Musescore, etc.) designed to provide additional capabilities for music creation, learning, and entertainment.
For iOS devices Kawai has developed a great app called Virtual Technician where you can conveniently configure the ES110's various parameters (voicing, temperament, touch-response, etc.) in a visual, intuitive way.
Damper Jack
This jack is used to connect the supplied sustain pedal, which works in the same way as a sustain pedal on an acoustic piano. Sustain pedals with 1/4" from other brands should also work.
Accessories
Stand
The stand is not included with the instrument. For the ES110 Kawai offers the optional Kawai HML-1 stand.
It's a solid furniture-style stand that will securely hold the keyboard in place and will be a nice addition to your home interior.
A more portable and gig-friendly solution would be a collapsible X-type stand, which is much easier to move around and put away when not in use.
Here are a few great X-type stands I recommend for the ES110:
---
Sustain Pedal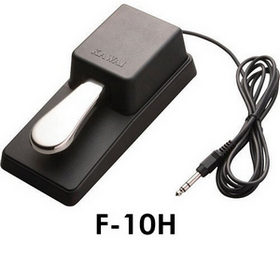 The piano comes with the Kawai F-10H sustain pedal (alone cost about 50$). And this is a rare case when I don't recommend buying a substitute for the supplied pedal.
The F-10H is a high-quality piano-style pedal, which supports half-pedaling and provides a very realistic feel.
By the way, if you're going to buy the Kawai HML-1 furniture stand, you might also want to consider the optional Kawai F-350 3-pedal unit.
If you decide to buy both, the most convenient and cost-efficient option would be this bundle, which includes the piano itself, the HML-1 furniture stand and the F-350 pedal board.
---
Bag/Case
The ES110 is a portable instrument that's why many players enjoy using the piano for gigs and in the studio. Indeed, the ES110 is pretty easy to transport for relatively short distances (by car).
However, doing that without proper protection may damage the piano. A padded keyboard bag will solve this problem.
Kawai offers the optional SC-2 Keyboard Bag designed for the ES100/ES110 keyboards. This is a high-quality and durable bag but also is quite expensive and hard to find in the USA.
Here are some great alternatives that you might want to check out:
Headphones
Headphones come in very handy when you want to practice in private, focusing solely on your playing and not disturbing others nearby.
Moreover, a good pair of headphones will provide a clearer and more detailed sound compared to the onboard speakers.
Check out this guide to learn how to choose the best-sounding headphones for your digital piano.

Summary
It's time to sum up the review and talk about the ES110's competitors.
I'm not gonna lie, the ES110 has made a great impression on me. I believe this is one of the best digital pianos you can get for under 1000$.
The piano is very compact and lightweight, partly because of its new Responsive Hammer Compact action that I especially enjoyed playing.
The 8 beautiful piano tones and various settings that allow you to tailor the sound to your taste make the ES110 stand out from its competitors.
Not to mention high-quality samples of the Kawai EX Concert Grand, which make the ES110 sound incredibly realistic and rich through both headphones and improved 14W speakers.
The things I didn't quite like about the ES110 is the lack of USB ports and built-in recorder that is not capable of multi-track recording.
Kawai has partly made up for the lack of USB ports by equipping the piano with Bluetooth MIDI connectivity, which is indeed a very convenient feature and many people like it even better.
Having a display would also be nice, but you can alway connect your iPhone or iPad to the piano (via Bluetooth) and use Kawai's free app to navigate the ES110's settings and parameters, which in a way compensates for the lack of a display.
So it's for you to decide if the disadvantages I mentioned above are the deal breaker for you or not.
I can only say that the ES110 offers an excellent value for money, and even an experienced player would be pleased with how it sounds and feels.
And this is actually what Kawai is known for – authenticity of its instruments.
Check the availability and current price of the Kawai ES110 in your region:
Alternatives
The Kawai ES110 falls into the beginner/intermediate segment of the market, which is fairly saturated. Being one of Kawai's bestsellers below $1000, this piano has a number of strong competitors that are worth considering.
Kawai ES110 vs  Roland FP-30 (Full Review)


The Roland FP-30 is a very successful model from Roland and a strong competitor to the ES110.
The piano is equipped with the 3-sensor PHA-4 Standard keyboard. Finished with synthetic Ivory keytops, the keyboard offers an incredibly realistic feel and touch and is also very quiet.
The PHA-4 Standard feels heavier than Kawai's RHC action. It's also a bit less bouncy, and the mechanical movement you feel when you press the keys seems to be more authentic compared to the Kawai.
When it comes to piano sound, it's hard to tell which instrument I liked the best.
They both use high-quality samples of a grand piano and reproduce the subtle nuances of a piano sound such as string resonance, damper resonance, damper noise, etc.
Roland uses its SuperNATURAL modeling technology, which provides a very rich sound with beautiful resonances and reverberation.
I'd describe the sound of the FP-30 as very bright and rich, while the ES110 has smoother and warmer sound.
Anyway I always recommend judging the sound with your own ears as the sound perception is very subjective.
Check out the video below to compare the Kawai's sound to that of the Roland FP-30 and the Yamaha P-115 .
When it comes to features, the FP-30 beats the ES110 for the most part.
The FP-30 has more instrument sounds than the ES110 (35 vs 19), Twin Piano mode (Duet Play) and adjustable split point in the Split Mode.
The Kawai's piano doesn't have USBs, while the FP-30 has two USB ports (type A and type B), one for connecting flash drives and the other is for connecting the piano to a computer.
The FP-30 is capable of playing MIDI and audio (WAV) files directly from a flash drive, which is a very handy (and rare for this price range) feature.
In addition to that the FP-30, just like the ES110, has Bluetooth MIDI connectivity for even more convenient connection with your smart devices.
On the other hand, the ES110 has more polyphony (192 vs 128 notes) and dedicated Line Out jacks for connecting to sound equipment (e.g. speakers, PA systems, etc.).
With the FP-30, you'd have to use one of the Headphone jacks for that.
I should also mention that the ES110 provides more options for sound customization, allowing you to adjust various aspects of the instrument such as damper resonance, fall-back noise, voicing, temperament, etc.
---
Kawai ES110 vs  Yamaha P-125 (Full Review)

The Yamaha P-125 is probably Yamaha's most popular portable digital piano, which is often compared to various other keyboards in the 1000$ price range including the Kawai ES110.
The Yamaha P-125 is equipped with the fully weighted Graded Hammer Action (GHS). It's the same keyboard action as you'll find in the P-45 (next model down).
The GHS is good for the money and provides a fairly realistic playing experience, but to me, it doesn't feel as realistic and nice to the touch as the ES110's RHC action.
Being about slightly more affordable than the ES110, the P-125 offers the same amount of polyphony (192 notes), Split, Dual, and Duo modes, 2-track MIDI recorder and 50 preset songs for practice.
Yamaha's Pure CF sound source combined with 14W high-quality speakers delivers a clear rich sound that many piano players love. That said, it's still hard to compete with the ES110 in the sound department.
In my opinion, it still has a little edge over the P-125 when it comes to realism of piano tones (though, it's mostly a matter of taste). Take a listen and decide for yourself which sound you prefer!
---
Kawai ES110 vs  Casio PX-770 (Full Review)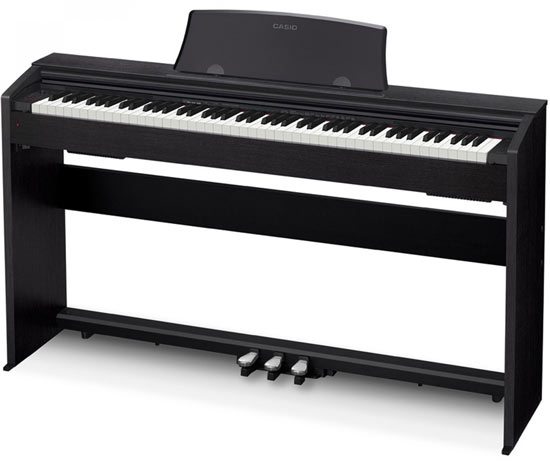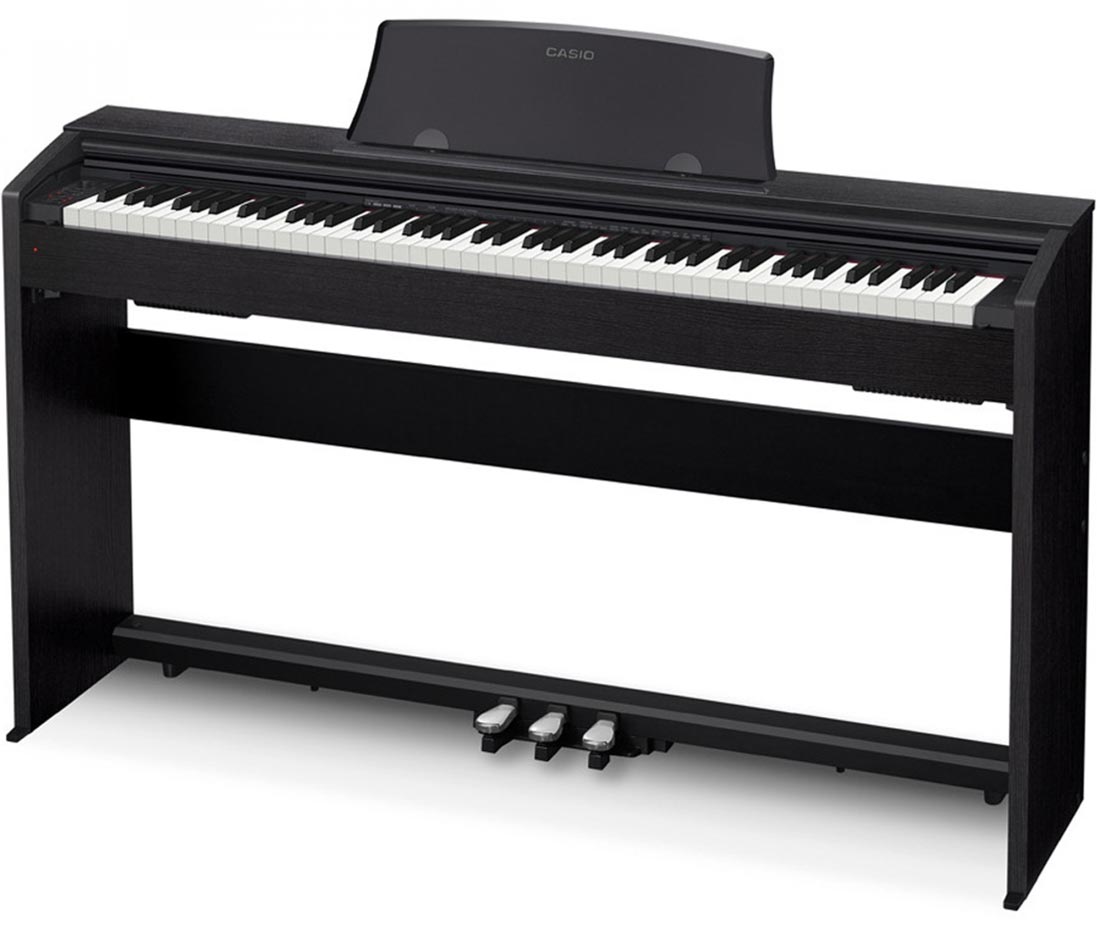 The Casio  PX-770 is the most affordable console digital piano from Casio, which has similar characteristics to the ES110 and is in the same price range.
The main advantage of this piano over the ES110 is that it comes with a furniture-style stand and a triple pedal board. So you don't need to buy these accessories separately (can save you up to $200).
The pianos have almost the same number of built-in sounds (PX-770: 18 vs  ES110: 19).
The PX-770 has 2-track MIDI recorder (the Kawai supports only 1-track recordings), USB type B port for connecting to a computer, and allows to store up to 10 User Songs (in MIDI) on piano's internal memory.
At the same time, the ES110 has a higher polyphony number (192 vs 128), MIDI Bluetooth connectivity, and arguably offers more authenticity in terms of sound and touch.
I should say, though, that Casio's latest generation of digital pianos (Privia x70 series) including the PX-770 also provides a very realistic playing experience with a new 4-layer piano tone and Tri-Sensor Hammer Action II with Ivory & Ebony feel.
Moreover, but due to the console design and slightly more powerful speakers (16W vs 14W) the Casio PX-770 offers slightly deeper and more powerful sound.