Jam Track Central is among the most well-known and well-marketed guitar learning platforms that are available today.
With artist-specific courses taught by some of the biggest names in the virtuosic solo-guitar world, JTC is a name to reckon with.
Signing Up
Anybody can give JTC a try with an easily accessible 14-day trial. All you need to do is sign up with your email. JTC generously offers a lot of material in the 14-day trial, along with one by-default Bootcamp lesson, just so you could get a taste of it.
You could very well purchase a course of your choice from JTC without signing up. These individual downloadable purchases start at 19.99 GBP per course.
The 'Premium' membership is priced at 14.99 GBP/month, which includes streaming of all the exclusive material, 25% off on downloads, and added guidance and tips.
While it might sound expensive for a casual user, it's worth it if you wish to use JTC as your primary platform to take your playing to a professional level.
---
Compatibility
Jam Track Central is compatible with most web browsers, including Google Chrome, Safari, Microsoft Edge, and Mozilla Firefox. Without a dedicated app, users generally stream material or download it once they purchase a course.
Since it's streamed or downloaded material, you can use your PC, Mac, or use your iPad, or Tablet device to watch your video lessons on the go.
---
Guitar-Only Platform
Bear in mind, that JTC only offers courses for plucked classical, acoustic, and electric guitars, with a heavy weightage on the electric.
There aren't any bass or additional mandolin or ukulele lessons. So if you're looking to learn multiple instruments, this might not be the best place for you.
---
Curriculum
If you've been frequenting other guitar platforms, entering JTC might come as a surprise for you. While most platforms come with learning paths that lead to specific genres and playing levels, JTC is made differently.
While this might seem intimidating or unappealing to an absolute beginner, it's actually filling a gap in the market with dedicated lesson packs provided by pro-level guitarists in their specific areas of expertise.
Broadly broken down into lesson packs, online courses, and masterclasses, these pro courses are instantly accessible as soon as you sign in. You click on your course of choice, add the ones you like to your 'JTC Library,' and you're good to go.
Since I actively use various guitar platforms myself, I was quite surprised and confused to know that it was this simple.
With obvious negatives like having no platform-initiated learning paths or quick songs to pick up and start playing, it took me a while to appreciate JTC's simplicity.
---
Course Categories
Besides the backing tracks and IR tones (digital simulations of famous amplifiers) which I'll touch upon next, any course that you're interested in within JTC could be found under any of these three categories:
Lesson Packs
Masterclasses
Online Courses
Lessons
JTC offers a wide range of individual lessons that cover various guitar topics that are specific and unique to the artist. These lessons also called 'Primers' are typically shorter than masterclasses, ranging from 5 to 20 minutes in length.
Each lesson has one primer, followed by exercises, licks, solos, and an accompanying PDF transcript. The instructor focuses on a specific topic, such as technique, a specific genre, or particular soloing ideas.
---
Masterclasses
Masterclasses are lengthier and more comprehensive than individual lesson packs, with each class focusing on a certain topic or genre. Masterclasses are typically 1-2 hours in length and are taught by a single instructor, who covers a range of topics in-depth.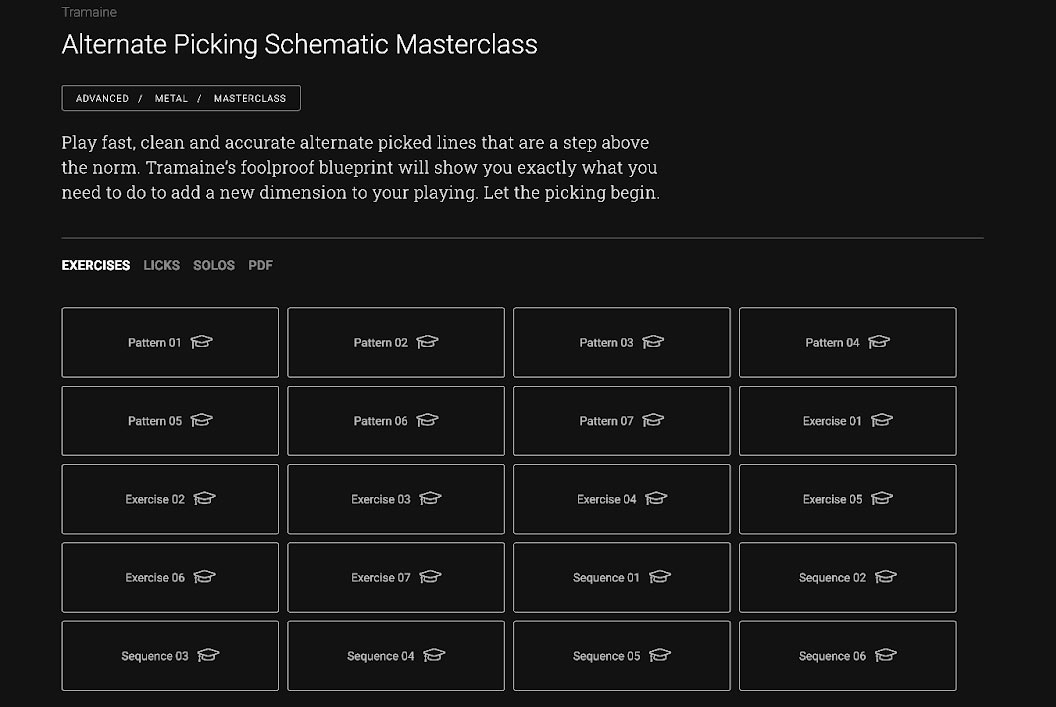 However, JTC has left the structure loose so artists could structure it the way they wish. For example, artist Tramaine's "Schematic" in the image above, is a masterclass, but with only exercises, licks, and the final solos provided with no talking involved.
It made no sense to me as it would've been better off as a 'Lesson pack' to avoid unnecessary confusion.
---
Online Courses
JTC's online courses, which are part of the Premium subscription are the most structured and resemble other traditional guitar platforms. You need to complete one level to go to the next.
Each course ranges from 9-12 modules, which are structured to build upon each other and progress in difficulty. Similar to Bootcamp, in which I'll go into greater detail, you get personalized artist feedback on your playing.
Course Structure
However, building upon the confusion that comes from a lack of structure, a certain course can be a masterclass, that is additionally offered as an online course by the guitarist/tutor. So don't be surprised to find the same course in two places.
---
Selection By Preference
Whether you're under the lesson packs, masterclasses, or online lessons, you can narrow down the courses shown to you, under these four filters:
Here's a breakdown of how artist's lesson packs are organized:
Artist
Jam Track Central lesson packs are designed in collaboration with some of the leading guitarists of today and are focused on teaching their specific techniques and styles.
While such options are available on other platforms as well, they are generally integrated within the difficulty level of a certain genre.
Being open-ended in nature, JTC's courses allow artists to unleash their true originality and come up with unique courses that are specific to their approach.
Some of the renowned artists that JTC have managed to get their hands on, include Tom Qualyle, Guthrie Govan, Matteo Mancuso, Andy James, Justin Derrico, Martin Miller, and Lari Basilio, among others.
You can easily find lesson packs by your preferred artist and learn from their unique playing style.
---
Style
The lesson course packs on Jam Track Central can also be filtered by searching for styles, such as acoustic, blues, jazz, metal, rock, reggae, and fusion, among others. This allows you to easily find lesson packs that cater to your preferred genre or style of music.
If you're a beginner getting swamped by all these various courses, it's best to go into 'styles,' choose your preferred style and switch the 'Level' filter to Beginner. This way, you're most likely to find beginner material in your specific genre.
While this sounds logical, it isn't most often the case. You don't specifically have beginner-centric courses under every style. I'll expand further on this under 'levels.'
---
Product Type
The "Product Type" filter includes additional products that you could purchase besides the three primary products we've discussed till now.
This is the list of additional purchases found under the filter 'Product Types:
Licks Series: The Licks Series teaches specific licks and phrases in a specific style, such as blues, jazz, or rock.
Solo Series: The Solo Series focuses on soloing and improvisation in a specific style, such as blues, fusion, or metal.
Album Backings: Since most guitarists here are of the instrumental guitar type, they have a lot of albums where the guitar is the lead instrument. So 3 songs from each of these albums have been provided as backing tracks with notations for you to create something similar. With the full album audio available in high-quality along with the backing tracks, you have enough room to analyze, imagine, and re-create your own versions.
Box Sets: These are comprehensive packs that cover a wide range of topics and styles and frequently include multiple lesson packs from various artists.
Just Jam: Different from the dedicated album-specific backing tracks, these are high-quality backing tracks for various moods in different keys, and arrangements are provided in these lesson packs, allowing guitarists to hone their skills and their improvisation over the background music.
---
Level
Categorized by playing levels, JTC has three difficulty levels:
Beginner
Intermediate
Advanced
Finally, we come to the skill level categorization. Going from beginner to intermediate to advanced, these categorizations are quite generic, to be honest.
I feel there could've been an introductory level, which caters to the absolute beginner, who has no clue about who these guitar virtuosos are or what their specializations even mean.
At the time of writing this article, there were 79 beginner courses, 578 intermediate, and 252 advanced lessons, with more added each week.
Bootcamp
Besides choosing the courses you're interested in, JTC offers an interactive way of learning called the Bootcamp. It's a place where an artist reviews your version of the exercises and offers individual feedback based on your playing.
Placed at the center of the website by default, it's quite clear that Bootcamp is JTC's flagship product.
---
Primer
While the course structure has been confusing for the most part, the Bootcamp is made differently. I finally saw some resemblance to other platforms where you need to pass a level to be given access to the next.
The Bootcamp invites you with a 'Primer' where the artist gives out his unique perspective on the course ahead. After this, you are introduced to the 'no-talking' musical exercises and licks described in the primer.
For example, I went ahead and cashed my free limited bootcamp points on Igor Paspalj, a guitarist I've been following lately, but haven't had such close access to.
---
Super-Specialized Advice
Igor begins the super-fast shredding 'Primer' by talking about using 2.5mm rock-hard picks that are extremely pointed and stiff in order to give him the machine-like pick attack that he generates in his shredding.
While this might not be too useful in more 'wristy' picking styles like blues or funk, it becomes a key ingredient in achieving the mechanical shred-like sound that Igor is known for.
Though the primer was just 11 minutes long, it was filled with strategic reasoning behind how and why Igor Paspalj places his picking hand at certain angles on the bridge.
The primer was profound and enriching, to say the least. With so much insight dished out in 11 minutes, I could imagine what the hours-long paid masterclasses would be like.
---
Exercises, Licks & Solos
After this 11-minute Primer by Igor, you enter into a world of 'no-talking' exercises, licks, solos, and a 16-page PDF, which includes brief descriptions of the same.
Since this package falls under the advanced category, the playing is super-advanced, with the exercises starting at speeds of a sixteenth note at 135 bpm.
---
Video-Shooting Your Own Playing
Going through the boot camp, you'll be playing all the exercises in the lesson packs in a systematic order. Once you're confident about recording yourself playing these exercises and licks, you can use the lesson's metronome to give you the right tempo.
JTC specifically stress that the quality of your video doesn't matter. All the tutor wants to see is the way your fingers respond to the exercise, your technique, your posture, and your timing.
---
Artist Feedback
Since I signed up for the 14-day free trial, I got a chance to taste what Bootcamp's online artist review actually feels like. While I wasn't allowed free will in my choice of the artist, I was offered Luca Montavelli's "Mastering Pentatonics Advanced" for free.
I wish there were more options. If it were up to me, I would've taken up Igor Paspalj's course, since I was already immersed in it, and trying out the licks.
However, I was quick to get over my disappointment as finishing Luca's course would get me a 15% discount on booking my next tutor. I could surely use that to cash in on getting real-life feedback from the artist I was interested in, Igor Paspalj.
After going through the bootcamp licks and solos, you can personally submit a video of your playing on the platform. Within your purchases, you get a chance to upload your video and get personalized feedback from the artist himself.
As we see below, artist Luca Mantovanelli asks the student to delve deeper into the vibrato while paying attention to his timing. With detailed criticism based on a specific bar number, you're pretty sure that the artist isn't just browsing through your videos!
---
JTC's Flagship Product
The vanity aspect is one of the primary features of JTC's Bootcamp that makes it so appealing to purchase.
These musicians are put in a league of their own by first presenting them as "Guitar Gods," with spectacular visuals and intriguing writing accompanying each lesson.
Branding the courses like shiny flashy objects in a shopping mall, you notice how you switch into 'Shopping Mode' while browsing through the platform, instead of picking a technique lesson that you 'have to' learn, in order to get better at guitar.
A lot of beginners shy away from thinking it's possible to contact their guitar heroes, let alone have them review your playing. Even though these artists do personally provide such services elsewhere, the call to action isn't as compelling as what it is on JTC's Bootcamp.
I feel this is the unique selling point of JTC.
The Visual Experience
While I've reviewed quite a few guitar platforms, this was the first time I noticed the blurring of an unimportant fretting hand run in order to bring focus to the primary picking motion.
As you can see below, the tutor is explaining the concepts of string-hopping, which is primarily a picking-hand topic.
The camera focuses primarily on the picking hand by leaving the fretting hand blurred.
---
Smart Video Looping
While the 'Smart Video Looping' feature, which lets you loop a specific video section, is available on other platforms as well, I found it quite conveniently placed right below the video at all times.
However, the accompanying 'waveform' which is primarily for aligning the guitarists' accents on down or up-beats in super-fast musical phrases, did confuse me at the start as it shows up 'by default.'
With options to add notations, fretboard layout, a metronome, re-size and zoom in and out, JTC's 'Smart Video Looping' seems to have everything covered.
---
IR Cabinet Tones
Impulse Response (IR) tones are digital simulations of real amps with microphones.
Within JTC, you have a wide variety of them, recorded in various genres and the specific styles of the JTC artists. Colin Carmell, who has over 25 years of experience in the music education, fabrication, and production industries, is the brain behind JTC's unique tones.
Not only do the IR Cabinet Tones on JTC sound great, but they really easy to implement within your setup. You can load onto your DAW or use any IR loader or amp simulator to play the IR files.
Pros And Cons
Here are the benefits and drawbacks of utilizing Jam Track Central to learn guitar.
Pros:
Interactive Learning: Jam Track Central's Bootcamp allows you to have your playing critiqued by world-class musicians. You can also loop sections of the lesson, reduce the tempo, and download the lesson materials for future use.
Jam Tracks: Jam Track Central offers a vast library of background tracks that encompass many genres and styles and allow you to practice your improvisation and soloing skills.
Niche Topics: The selection of topics for the lessons is highly creative. Every artist is unapologetically allowed to be themselves here. They teach it in their own style with their own innate idiosyncrasies.
Cons:
Lack of Goals: While Jam Track Central covers a variety of guitar topics not found elsewhere, it may not cater to your specific long-term learning needs or goals as it doesn't have defined learning paths.
Lack of structure: The lack of structure really hinders the learning experience.
Scattered Platform Design: Very difficult to know where to find what you're looking for. Un-intuitive platform design.
Absent Song Section: There aren't any songs where the guitar isn't the lead instrument. Catering to the guitar virtuoso eliminates a lot of audiences who would like to learn rhythm guitar in a casual way.
Wrapping Up
JTC is currently heaven for someone like me who is saturated with freely found intermediate to pro-level material and wants to take the plunge to become a virtuoso.
But for a beginner who is familiarizing themselves with early guitar concepts, JTC might be too overwhelming with way too much freedom of choice, than what is necessary.
---
Not The Ideal Platform For A Beginner
There is a clear lack of structured learning paths for beginners on the platform.
Without guidance, newcomers may feel lost when faced with deciding which of the many available lesson packs to use first and in what order. Because of this, learning may become more difficult and less fruitful for them.
For example, a beginner might purchase a Guthrie Govan or an Andy Timmons pack, and start off as more people have heard of these guitarists.
However, starting off learning from such multi-genre virtuosos can be highly detrimental as their techniques are quite advanced.
In addition, a lack of structure in one's education can result in knowledge gaps and an insufficient understanding of key ideas, both of which can have an adverse effect on a beginner's ability to play more advanced skills in the future.
---
Rescuing the Intermediate guitarist!
However, I found that Jam Track Central is a fantastic place for guitarists of intermediate to advanced skill levels to hone their skills.
With a variety of lesson packs unhindered by the compulsion of having to stay within the realms of a certain style, intermediate players can creatively design their own course.
For example, I can dedicate my time to the Bootcamp, learning the unique finger-picking style of Matteo Mancuso or Daniele Gottardo's unconventional two-hand tapping, which I can't learn in a traditional music school as they break most laws of standard guitar technique.
This feature is particularly useful if you have already exhausted the standard online lesson resources and are looking for more specialized instruction. With Jam Track Central, I have access to a wide range of lesson packs that cater to my specific interests and personal goals.
---