Black Friday and Cyber Monday have ended, but the shopping season is only getting started!
Christmas is just around the corner, which means we need to think about what gifts we want to give to our loved ones.
…And what could be a better gift than a brand new digital piano or keyboard?! This time of the year, there are many Christmas sales going on at Amazon, Sweetwater and Guitar Center.
For those who are on the market for a digital piano or synth, it's a great opportunity to save some money and buy your desired model at a discounted price.
Below, I've listed all the sales and deals available at this moment that I could find.
Digital Piano & Keyboard Deals
Amazon Deals
There are some deals already available in Amazon's Musical Instruments department, including a few digital pianos and portable keyboards.
Based on the previous years, Amazon don't keep the Black Friday sale for long and switch their focus to Cyber Monday as soon as Friday ends. Most of their Cyber Monday deals are the same, so there's definitely a lot of overlapping going on.
Based on the previous years, Amazon reveals most of the deals closer to Cyber Monday, so expect more great deals this week as Cyber Monday approaches.
---
Sweetwater Deals

Yesterday Sweetwater announced their Cyber Monday sale, which they actually extend and call Cyber Week.
This year, a lot of their keyboard deals include some kind of gifts such as a free accessory or an online lesson subscription as opposed to offering a discount on the instrument itself.
This is likely to the fact that manufacturers are hesitant to offer any discounts this year due to the production-related problems where most of the popular models are already in high demand and on backorder.
---
Guitar Center Deals

Guitar Center, one of the biggest and most reputable music retailers in the US (along with Sweetwater) also kicked off their Cyber Monday Sale early this year.
Despite their Cyber Week ending on December 5, you can still find lots of bargains on their Holiday Deals page, including some Casio, Yamaha, Korg, and Roland instruments.
---
Musician's Friend Deals

Musician's Friend is another popular online music retailer that you probably heard about.
This year, not only do they have the special Holiday Headquarters page, but they also offer some unique discounts with the WINTER coupon code.
I'll be listing some of their more prominent deals below along with offers from other retailers.
---
Gear4Music & Thomann (UK, Europe & Canada) Deals

I don't remember Thomann ever having any special deals around Black Friday, but this time is different! Just before Black Friday, they launched their Cyberweek sale, which offerred up to 60% discounts and ended on November 29.
Also, keep in mind that Thomann's prices are already some of the lowest out there.
Gear4Music, which is another major music retailer based in the UK, also have a few interesting deals available on their Black Friday Sale page, and don't be confused by the name of the page, those deals are still LIVE in December.
Amazon UK and Amazon Canada also have several pages of Musical Instrument deals but I haven't yet found many digital pianos/keyboards on sale there.
We're yet to see how many deals on digital pianos we get this holiday season, but I feel that's not gonna be a ton (hope I'm proven wrong).
There has been a lot of disturbance to the market since the pandemic started, which resulted in supply chain shortages across many industries. As a result, a lot of popular digital piano models are on back-order and it's hard to say when the situation will start improving.
Either way, let's hope for the best and see what deals the manufacturers prepared for us this year.
---
Here are all of the deals I found that are already LIVE! 🎹
I intentionally omitted brands like Williams and Suzuki since I don't believe they are up to the mark when it comes to providing a realistic playing experience or matching high quality standards.
---
Portable Keyboard Deals
The GO:KEYS is one of the most creative portable keyboards out there. It made it into our Best Beginner Keyboards guide and according to the polls on our site, this keyboard is among the most popular budget options on the market.
While the Roland GO:KEYS doesn't come with fully weighted keys, it boasts an innovative interface and some interesting features for songwriting and arranging not found in the competitors.
You can read our in-depth review of the GO:KEYS to decide if it's a good fit for your needs.
---
This is an extremely affordable entry-level portable keyboard from Yamaha.
Don't expect too much realism from this thing, but if your budget is very limited or you're considering it for a young kid, this may be a good option to start with.
You can read our thoughts about the Yamaha PSR-E273 here.
---
This is an extremely affordable entry-level portable keyboard from Yamaha.
Don't expect too much realism from this thing, but if your budget is very limited or you're considering it for a young kid, this may be a good option to start with.
---
The Alesis Recital is one of the best-selling portable keyboards for beginners. The 61-version capitalizes on the success of its older 88-key brother. This compact version of the original Recital comes with 61 semi-weighted keys, 10 voices, and dual 10W speakers.
If you've read our Best Beginner Keyboards comparison, you know that the Recital was featured there as one of the top picks, so if you're after an affordable beginner keyboard that doesn't break the bank, the Alesis Recital 61 is worth your consideration.
Portable Digital Piano Deals

This is the most affordable digital piano in Casio's arsenal. Therefore, it's hugely popular among beginners, and it's also one of the slimmest digital pianos in the world!
The CDP-S100 is very straightforward and has minimal features. With that said, it has very nice hammer action keys covered with synthetic ivory and ebony material.
The grand piano sounds are also on point, especially considering the price of the instrument.
This piano made it onto our top list, so I recommend adding this to your list of contenders as well.
Our full review of the CDP-S100 can be found here.
---
The CDP-S350 is a more advanced version of its little brother, the CDP-S100, which comes with more sounds, effects, songs, rhythms, and other useful features that will make your practice routine more fun and interesting.
For a more in-depth comparison between the CDP-S350, CDP-S100 and other popular beginner pianos refer to this guide.
---
This new PX-S model replaced the PX-S1000 in 2021 and is currently the slimmest digital piano on the market. It inherits most of its features from its innovative predecessor, combining the realistic sound and feel in a compact package.
The PX-S models have been consistently ranked in our top lists, including the Best Intermediate Digital Pianos one.
You can also read more about it in our in-depth review here.
---
The PX-S3000 is an older and more advanced brother of the PX-S1000. This digital piano is more of a hybrid between an arranger keyboard and a digital piano. It comes with a small display and includes hundreds of sounds, rhythms, effects, and customization options.
It's a powerhouse. PERIOD. If you're looking for more than just a piano alternative and want to get an introduction to sound design, this is a solid option to consider.
You can read our full review of the instrument here.
---
The Korg XE20SP is a relatively new model on the market and is one of the few digital pianos with a full package of arranger features.
This keyboard came out to compete with instruments like the Yamaha DGX-660 and Casio PX-S3000. It comes with 88 hammer action keys, over 700 preset sounds, 280 accompaniment rhythms, a 12-track sequencer, and a powerful 36W speaker system.
All in all, you get everything you need to unleash your creative powers and work on some tunes.
Console Digital Piano Deals
If you've read our F-140R review, then you'll know that that instrument has a brother, which is called (you guessed it!), the RP501R. It's basically the same instrument as the F-140R but in a different cabinet.
Unlike many other mid-range console digital pianos, this one comes with 316 tones and has some fun features that are not normally found on console digital pianos in the price range.
To see how the F-140R (and RP501R) compare to the market, check out our roundup article here.
---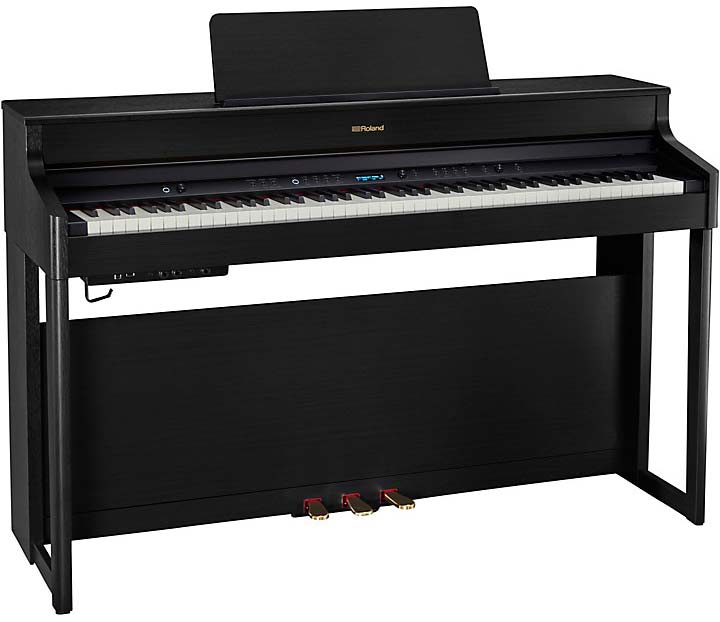 Roland sells this model exclusively through Guitar Center stores. This digital piano seems to look identical to Roland's own HP702, except the latter is available in most regions of the world and has a higher price tag.
We've toughed on Roland's high-end HP range in our Best Premium Home Digital Pianos article.
The MP-200 features the same PHA-4 Standard hammer action keyboard as the RP501R but has a more advanced speaker system, a higher polyphony count, and a few extra features.
---
Compared to the previous models, this digital piano tries to forgo the traditional approach and leans heavily into innovation and interactive features.
The ONE Smart Piano comes with a fully-weighted keyboard, big stereo sound, and unique features for learners and teachers such as LED lights located above each key.
On top of that, you'll get access to hundreds of videos, sheet music, and games via a special interactive app available on both iOS and Android.
Synth & Music Workstation Deals

Back in the day, Kurzweil was known to be one of the drivers of innovation in the digital piano space. Unfortunately, this has changed over time as the company's popularity died off eventually.
This might be changing though with the release of this beast (and a few other promising models), which have been getting a lot of positive feedback from musicians around the world.
It would be easier for me to describe what the Forte cannot do rather than tell you about all the sounds and features that are included. Just know that it's a pro-grade stage piano/workstation that will take care of all imaginable (and unimaginable) music scenarios.
---
Korg's Kronos workstations have been around for years and don't need an introduction. Well, Korg's new Nautilus models inherit all that power from their legendary brother but come in a more affordable package.
Most of the changes are cosmetic though (to cut down the cost), so you still get the power and flexibility of Korg's 9 sound engines and the wonderful RH3 key action. So, if you want to own one of the most powerful and highly regarded music workstations out there without breaking the bank, the Nautilus is the way to go!
---
Korg's entry-level workstation is a great introduction to the world of arranging and music production.
The Korg i3 is fairly portable and compact yet has a lot of power under its belt.
Coming with over 800 instrument sounds, 270 musical styles, 59 custom drum kits and powerful connectivity options, the i3's capabilities are nothing to scoff at, especially considering the form factor and the affordable price.
If you're looking for an affordable instrument to get your feet wet at arranging and music production, the Korg i3 is the keyboard to consider.
---
The Reface series offers four different synthesizers that each have an incredible amount of sounds to create including organs, vintage pianos, FM sounds and so on.
Each model targets a different kind of sound – the Reface CP for example gives you the ability to recreate 70s stage keyboards.
These instruments are very portable yet have a lot of potential when it comes to sound shaping.
1) Yamaha reface CP (Electric Piano)
2) Yamaha reface CS (Analog synthesizer)
3) Yamaha reface DX (FM synthesizer)
4) Yamaha reface YC (Combo Organ)
Don't forget to enter the promo code WINTER to get the discount.
MIDI Keyboard Deals
A very affordable 88-key MIDI controller from Alesis. The keyboard comes with semi-weighted keys, pitch bend and modulation wheels as well as dedicated buttons for the octave transpose function.
If you're looking for a simple full-wi MIDI controller to add to your studio, the Q88 MKII is a solid option.
---
Very compact and no-frills MIDI controller from M-Audio. The 49es is a great affordable option for those looking for a portable MIDI keyboard with full-size keys and minimal features.
There is also a bunch of useful software included with the keyboard, so you'll be able to start learning/making music right away!
---
Featured in our Best MIDI Keyboards guide, Arturia Keylab 61 is one of the best MIDI controllers you can get in this price range.
Despite lacking a few controls compared to the original Keylab, you're still getting Arturia's excellent build quality, and all the 'essentials' to unlock your creativity as a music producer.
---

This 32-key MIDI controller tops our Best MIDI Keyboards guide as the best portable controller. Yes, it's small and has mini-keys, but if you're looking for something mobile and travel-friendly, it's hard to go wrong with this one!
Despite being so small, the KeyStep has excellent connectivity and all the essential controls. Not only does it come with USB MIDI, but it also includes 5-pin MIDI and even CV/Gate voltage connections.
Piano Apps & Courses

Playground Sessions is a subscription-based learning platform that teaches piano in a game-like fashion. Playground Sessions co-creator and music legend Quincy Jones says that the goal of his course is "to make learning piano as much fun as playing."
Based on the polls, it's the 2nd most popular online piano method among our readers out of 10 alternatives. Read our full review of the course to learn more.
---
Skoove is another popular method for beginners with a modern interface and versatile courses covering different genres.
Skoove provides sheet music and a keyboard demonstration with highlighted keys for every single lesson and song. This is great for visual learners and for making the connection between the keyboard, the sheet music, and the sound.
Our in-depth review of Skoove can be found here.
Christmas Countdown