Black Friday and Cyber Monday have ended, but the shopping season is only getting started!
Christmas is just around the corner, which means we need to think about what gifts we want to give to our loved ones.
…And what could be a better gift than a brand new digital piano or keyboard?! This time of the year, there are many Christmas sales going on at Amazon, Sweetwater and Guitar Center.
For those who are on the market for a digital piano or synth, it's a great opportunity to save some money and buy your desired model at a discounted price.
For Home Recording & Studio Gear Black Friday deals refer to this guide.
Digital Piano & Keyboard Deals
Amazon Deals
There are some new deals available in Amazon's Musical Instrument department, but not all of the current sales are listed there.
Now that both Black Friday and Cyber Monday are over, check out Amazon's Holiday Deals page for more
---
Sweetwater Deals
Sweetwater decided to start their Black Friday Sale quite early this year.
On Friday (November 20th) they revealed some of their biggest Black Friday Deals, and now that Black Friday is over, you can enjoy their Gifts that Rock sale.
You may also want to check out Sweetwater's Dealzone where you'll find dozens of cool bundle deals.
---
Guitar Center Deals

Guitar Center, one of the biggest and most reputable music retailers in the US (along with Sweetwater) also kicked off their Black Friday Sale early this year.
Despite their Cyber Week ending on December 4, you can still find lots of bargains on their Holiday Deals page.
---
Musician's Friend Deals

Musician's Friend is another popular online music retailer that you probably heard about.
This year, not only do they have a traditional Hot Deals page, but they also offer some unique discounts with the Holiday Festive coupon code.
I'll be listing some of their more prominent deals below along with offers from other retailers.
---
Gear4Music & Thomann (UK, Europe & Canada) Deals

Thomann's Cyber Week sale ended on November 30, but it doesn't mean it's not worth checking them out for more discounts.
Keep in mind, though, Thomann's prices are already some of the lowest in Europe.
Gear4Music, which is another major music retailer based in the UK, also have a few interesting deals available on their Black Friday Sale page, however I didn't find many good deals there.
Amazon UK and Amazon Canada have dedicated Holiday Deal pages, which are worth checking regularly to see if any new keyboard deals appear there.
Here are all of the deals I found that are already LIVE! 🎹
Brand-Wide Sales

Casio have been dominating the entry-level digital piano market for quite a while now, and slowly but surely they are introducing new innovative products in higher price ranges (e.g. their Hybrid GP series).
The company is no longer associated with cheap plasticky keyboards. They have been consistently releasing new quality digital pianos with an affordable price tag, which pushed the market to new limits.
Casio instruments have been featured on most if not all of our top lists this year and, based on the polls on our blog, they have been among the best-sellers in almost every low-end and mid-range category.
Here some of the popular digital pianos that are now on sale (click on the model to read our in-depth review of it):
1) Casio CDP-S100 | Guitar Center
2) Casio CDP-S150 | Sweetwater | Guitar Center | Amazon
3) Casio PX-S1000 | Sweetwater | Guitar Center | Amazon
4) Casio PX-770 | Sweetwater | Guitar Center | Amazon
5) Casio PX-870 | Sweetwater | Amazon
---
Korg have had some very successful releases in the past several years including the new C1 Air and G1 Air home digital pianos, as well as the entry-level D1 stage piano, and the affordable B2 series.
The Korg Grandstage was another impressive release featuring 7 separate sound engines responsible for reproducing top-notch acoustic piano, vintage electric piano, organ and a variety of other instrument sounds.
I definitely recommend checking out Korg's keyboard range as the discounts are pretty significant and their instruments are high-quality.
Here some of the notable models that are now on sale (click on the model to read our in-depth review of it):
1) Korg Grandstage | Sweetwater | Guitar Center
2) Korg i3 (entry-level workstation) | Sweetwater | Guitar Center | Amazon
3) Korg Krome EX (mid-range workstation) | Sweetwater | Guitar Center
4) Korg Kronos (pro-grade workstation) | Sweetwater | Guitar Center
5) Vox Continental (performance keyboard/organ) | Sweetwater | Guitar Center
Portable Digital Pianos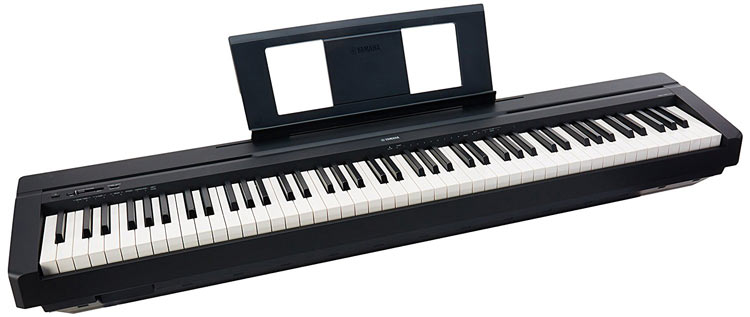 The P-45 is probably the most popular beginner digital piano on the market today.
Even though it was released quite a while ago, it still offers a lot of value for the price and has found thousands of fans over the years.
The Yamaha P-45 has also been a part of our Best Beginner Digital Pianos guide, so this is a solid option to consider for sure.
You can read our full review of the Yamaha P-45 here.
---
If you've decided to purchase the Yamaha P45 but want a more home-friendly look, then you should consider getting this bundle, which includes the matching wooden stand (L85C) and the PKBB1 adjustable bench.
---
Despite being one of Casio's older models, the PX-350 hasn't lost its appeal today. Now, that the PX-160 is discontinued, the PX-350 is the most affordable Privia model that you can get right now.
Being a mid-range Privia keyboard, the PX-350 packs a number of great features and hundreds of tones, which makes it a very versatile instrument that you wouldn't necessarily describe as 'entry-level'.
The PX-350 comes with Tri-sensor Scaled Hammer Action Keyboard II, 250 built-in tones, 180 rhythms, MIDI and Audio recorder, dedicated line in and line out jacks, as well as 5-pin MIDI ports.
Don't forget to enter the promo code CYBER to get the discount.
---
Another interesting deal on one of Yamaha's most popular portable digital pianos (for beginner and intermediate students). Just like with the Casio, the P-115 is somewhat an outdated model. It was replaced by the new P-125 in 2018.
With that said, the successor to the P-115 didn't really bring anything new to the table. The improvements were pretty minor, so if you're looking for an affordable digital piano that is almost as good as Yamaha's current P-125 (mid-range of the P series), definitely check out the P-115.
You can read our in-depth review of both the P-115 and P-125 (where we also talk about the improvements it has over the P-115).
Don't forget to enter the promo code BLACKFRIDAY to get the discount.
---


The Recital is one of the most affordable 88-key beginner keyboards out there. It made it into our Best Beginner Keyboards guide and according to the polls on our site, this keyboard is among the most popular budget options on the market.
While the Alesis Recital doesn't come with fully weighted keys, it boasts a good amount of features not found on other keyboards in this price range including semi-weighted keys, 128-note polyphony, and 20W speakers.
You can read our in-depth review of the Alesis Recital to decide if it's a good fit for your needs.
---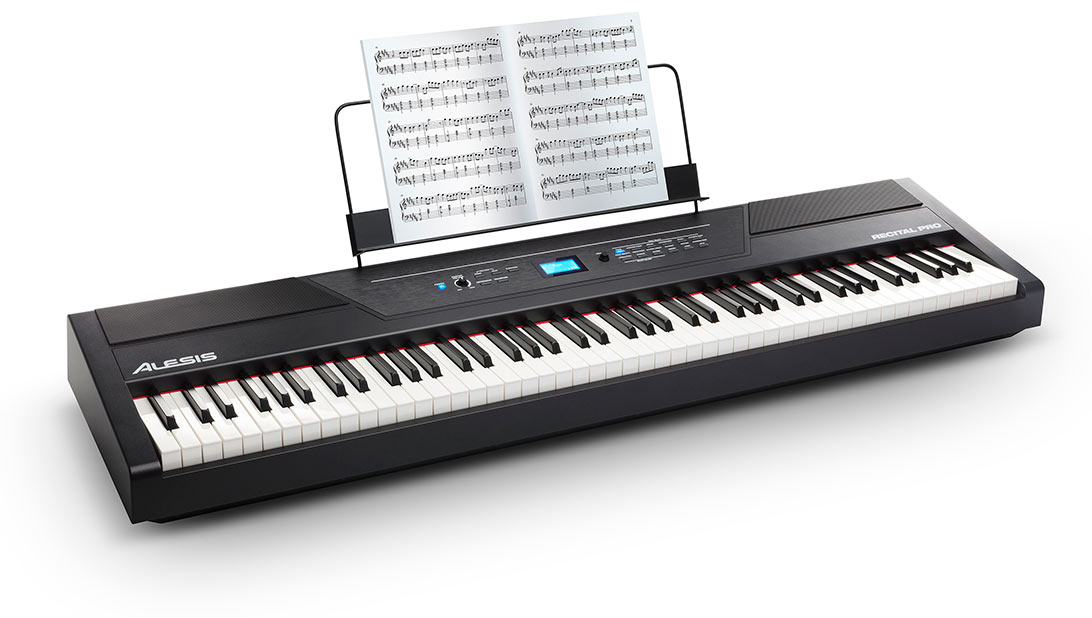 One of the few keyboards in Alesis's arsenal that comes with fully-weighted hammer action keys.
The discount makes it one of the most affordable digital pianos on the market, but it doesn't mean it's too far behind the competition.
While I personally prefer the Yamaha P-45 and the Casio CDP-S models as entry-level choices, the Recital Pro is still a good option if you're on a budget but looking for something with fully-weighted keys and a good feature set (most other keyboards in this price range are very bare-bones).
You can read our in-depth review of the Alesis Recital Pro here.
Synths and Music Workstations
The MOXF series is the icon of the 2010s and doesn't need an introduction. Even though the series has now been replaced by the new MODX series, it's still an extremely powerful and capable keyboard in 2019.
If you're not a fan of big touchscreens and nested menus of the MODX series, the MOXF8 might be an excellent choice.
---
The Reface series offers four different synthesizers that each have an incredible amount of sounds to create including organs, vintage pianos, FM sounds and so on.
Each model targets a different kind of sound – the Reface CP for example gives you the ability to recreate 70s stage keyboards.
These instruments are very portable yet have a lot of potential when it comes to sound shaping.
1) Yamaha reface CP (Electric Piano)
2) Yamaha reface CS (Analog synthesizer)
3) Yamaha reface DX (FM synthesizer)
4) Yamaha reface YC (Combo Organ)
Don't forget to enter the promo code festive to get the discount.
MIDI Keyboards
Native Instruments is the biggest name in the business, and their plugins and hardware integrate well with each other. Their new Komplete Kontrol S series includes semi-weighted keyboards courtesy of Fatar.
The 49- and 61-key variants of the Komplete Control (henceforth known as the S49 and S61) are virtual carbon-copies of the Nord Stage 3 73's semi-weighted keyboard, and I have to say they're hard to beat.
These keyboards also include a high-resolution OLED display that gives you direct control of NKS supported plugins, something no other MIDI controller can attest.
Don't forget to enter the promo code festive to get the discount.
---
Featured in our Best MIDI Keyboards guide, Arturia Keylab 49 is one of the best MIDI controllers you can get in this price range.
Despite lacking a few controls compared to the original Keylab, you're still getting Arturia's excellent build quality, and all the 'essentials' to unlock your creativity as a music producer.
---
Very compact and no-frills MIDI controller from M-Audio. The 49es is a great affordable option for those looking for a portable MIDI keyboard with full-size keys and minimal features.
There is also a bunch of useful software included with the keyboard, so you'll be able to start learning/making music right away!
Piano Apps & Courses

Playground Sessions is a subscription-based learning platform that teaches piano in a game-like fashion. Playground Sessions co-creator and music legend Quincy Jones says that the goal of his course is "to make learning piano as much fun as playing."
Based on the polls, it's the 2nd most popular online piano method among our readers out of 10 alternatives. Read our full review of the course to learn more.
---
Skoove is another popular method for beginners with a modern interface and versatile courses covering different genres.
Skoove provides sheet music and a keyboard demonstration with highlighted keys for every single lesson and song. This is great for visual learners and for making the connection between the keyboard, the sheet music, and the sound.
Our in-depth review of Skoove can be found here.
For Home Recording & Studio Gear Black Friday deals refer to this guide.
Christmas Countdown
[hurrytimer id="16335″]