Casio is a well-known brand in the digital piano business. While they used to have a reputation for producing cheap, plasticky portable keyboards, those times are long gone.
Their latest offerings prove that they can compete with the big companies, like Yamaha, Roland, and Kawai and even be better in many aspects.
The well-known Privia series reflects this commitment, for they have updated this series consistently over the years, making these keyboard options worth considering.
The Privia series has been around for 15 years. To celebrate this longevity, in January of 2019 Casio introduced two new keyboard series, the PX-S and CDP-S.
Both share the same focus – the 'slim' & 'smart' factor indicated by the 'S' in each name.
The CDP-S series follows the previous CDP design ethos, with a focus on affordability. These aren't the most advanced keyboards out there, but they aren't the focus of today's review.
With the PX-S1000 (and the PX-S3000), Casio did something unexpected. They developed a product that wasn't just another digital piano.
They combined innovation (something quite rare in the digital piano world), risk-taking, and their reputation for playability. The result was outstanding.
Elements from the Celviano series have been integrated for acoustic simulation and new piano samples ensure that you're getting more than a repackaged Privia piano.
With that said, new doesn't always equal good. In this review, we'll share our thoughts on Casio's latest offering and on whether it's worth your consideration.
Casio PX-S1000 Specs
Smart Scaled Hammer Action Keyboard with simulated ebony/ivory key textures
88 full-size fully weighted keys
Touch Sensitivity (5 types, Off)
Sound: Multi-dimensional Morphing AiR Sound Source
192-note polyphony
18 instrument sounds (5 acoustic pianos)
Modes: Dual (Layer), Split (Bass only)
2-track MIDI recorder
60 built-in songs (+ 10 User Songs), Part On/Off: L, R
Acoustic Simulator (adjustable): String/Damper/Key Off Resonance, Damper Noise, Key On/Off Action Noise (4 levels, off), hammer response (non-adjustable)
Metronome, Transpose, Master Tuning
17 Temperament Options
Speakers: 8W + 8W (two 16cm x 8cm oval speakers)
Connections: USB to Host, Bluetooth 5.0 (Audio only), Headphone jacks (2), Sustain Pedal jack, Line Out (R, L/Mono), Audio In (stereo mini jack)
W x D x H: 52" x 9.1" x 4" (132.2 x 23.2 x 10.2 cm)
24.7 lbs (11.2 kg)
Release Date: March 2019
Check the availability and current price of the Casio PX-S1000 in your region:
Design
The design of the PX-S1000 deviates from the norm. As previously stated, the 'S' in the name stands for 'slim.'
Indeed, the form factor of the PX-S1000 is impressively compact, coming in at 52" x 9.1" x 4" (W x D x H). It is marketed as the slimmest digital piano in the world, and it's hard to argue with that.
Its slim form factor means you can easily move the PX-S1000 around, whether on stage or at home.
Speaking of portability, the PX-S1000 weighs an impressive small 24.7 lbs (11.2 kg).
This is even lighter than the Yamaha P-45, which used to be one of the most portable digital pianos, at 25 lbs (11.3 kg). What's more impressive is that the PX-S1000 packs a lot more into its small enclosure.
Regarding build quality, the PX-S1000 is quite unique. Other keyboards and pianos in the $600 price bracket often have matte plastic exteriors, which are fingerprint-resistant but little more.
The PX-S1000 features a glossy plastic surface instead, but somehow looks modern and sleek rather than ugly and cheap. It even feels like the glassy backs of some flagship smartphones.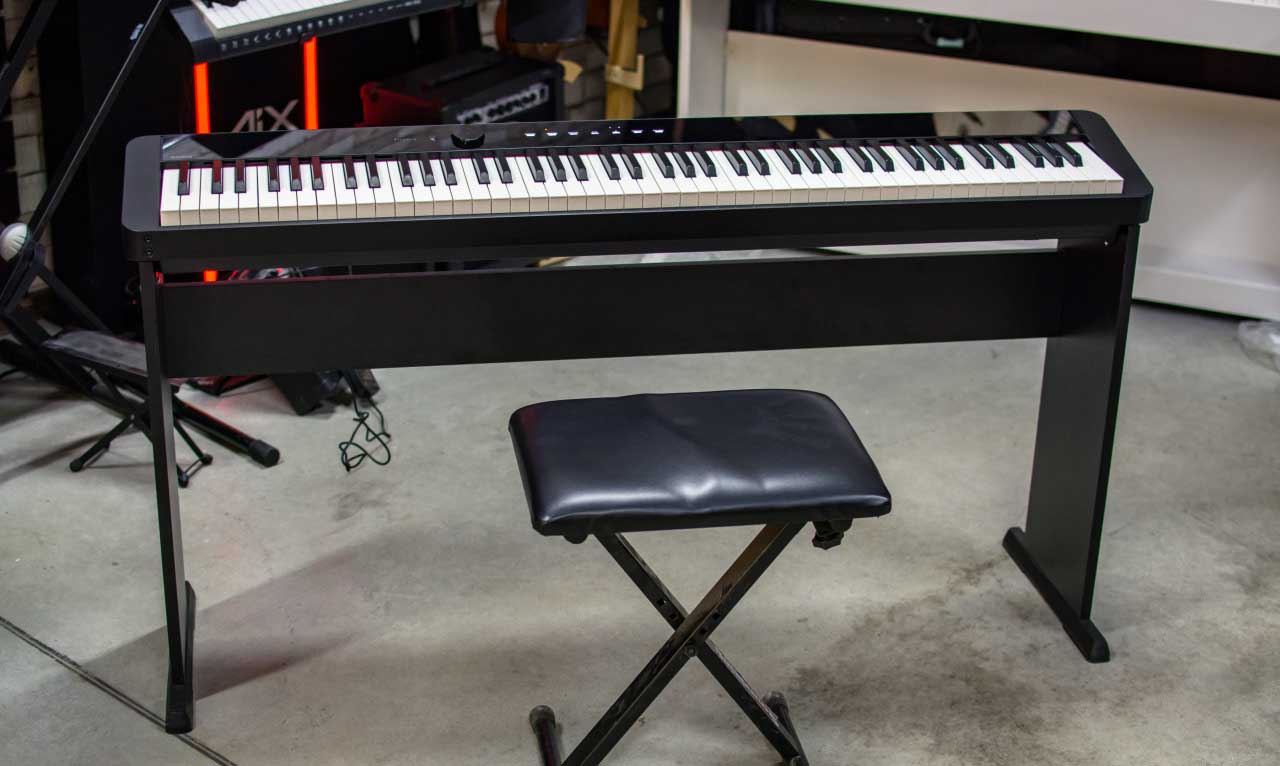 The reflective surface delivers a striking look you can't get elsewhere. Even so, fingerprints and scratches can be an issue.
The chassis is a fingerprint magnet and its beautiful looks are easily dirtied during use.
When off, the PX-S1000 is spotless. The only things you'll see on the front panel are the power button, the volume knob, and a simple Privia logo.
The buttons are touch-based and light up when the PX-S1000 is turned on.
The control elements are clearly marked and visible in low-light conditions, which is a definite plus if you're considering the PX-S1000 as a gigging instrument.
The controls are also visible in bright conditions if you don't have a strong light source reflecting above the buttons.
Note that I reviewed the PX-S1000's black version, which has the clean look when turned off. This keyboard also comes in a white variant and this one gives the button names in black, making them visible when turned off.
Regarding touch-based controls, I have mixed feelings. The user manual makes it clear that you need to touch the buttons with bare fingers since they might not work with gloves.
The buttons utilize capacitive technology, similar to those you find on smartphone screens.
In terms of controllability, the Casio PX-S1000 uses key combinations to access its many features. While I'm not keen on this approach, it is the norm – and the PX-S1000 does offer intuitive features that make navigation easier.
To access a specific sound, like the 2nd electric piano, just press the voice key and the specific piano key corresponding to that sound. The same applies when you're switching between touch sensitivity settings, reverb style, and so on.
While this isn't ideal, I understand why Casio did this. You're getting a lot of features at a low cost, so having no screen is an understandable compromise.
If you prefer a screen, however, the PX-S1000's older brother, the PX-S3000, offers a screen and more buttons.
Regarding intuitive features, Casio offers handy function guides on their website that you can print out and keep close at hand, so you won't need to carry the manual around.
The PX-S1000 also has a convenient feedback sound that plays each time you change the settings successfully.
My favorite feature is the demo note that plays when you're switching between voices, letting you know what specific sound you're currently choosing.
As an example, say I'm scrolling through the different voices; when I hit the key for the 'Strings' sound, a short note using this sound will play, making navigation much easier.
I primarily tested the PX-S1000 with the quick guide nearby and the experience was smooth. With more time, I would have easily remembered the functions without the guide.
If you insist on a well-designed graphical user interface, Casio's Chordana Play app is available for iOS and Android and helps navigation significantly.
We'll cover this in the Connectivity section, but rest assured that the piano performs well, even without the app.
Finally, let's cover one of the distinguishing features of the PX-S1000. Unlike most other digital pianos or stage keyboards, the PX-S1000 runs on 6 AA batteries.
While you can also power the PX-S1000 with your AC mains, this is a plus for performers and buskers.
While I didn't get a chance to test the battery life to its limit, it's long enough for 2-3 hour performances. Casio claims 4 hours of continuous operation on alkaline batteries, which is more than enough for busking in the park.
I'm impressed with the design of the PX-S1000. It delivers on its promise to be the slimmest digital piano in the world, which will definitely be appreciated by pianists on the go.
However, you shouldn't be buying a digital piano just for looks, so let's consider the new keys on offer here.
Keyboard
Casio's Privia line of digital pianos has been around for a long time. Their Tri Sensor Hammer Action II has been a proven key action that is popular and feels realistic.
The only true complaint people have against concerns bounciness and inherent noisiness (which, to be fair, is barely noticeable during play). Overall, I've been happy with the Privia pianos I've played through the years.
With the PX-S1000, Casio opted to use a different key action, one that is designed to fit the slimmer chassis. Casio calls this the Smart Scaled Hammer Action.
To be clear, these are no longer triple sensor actions; they are two-sensor actions instead.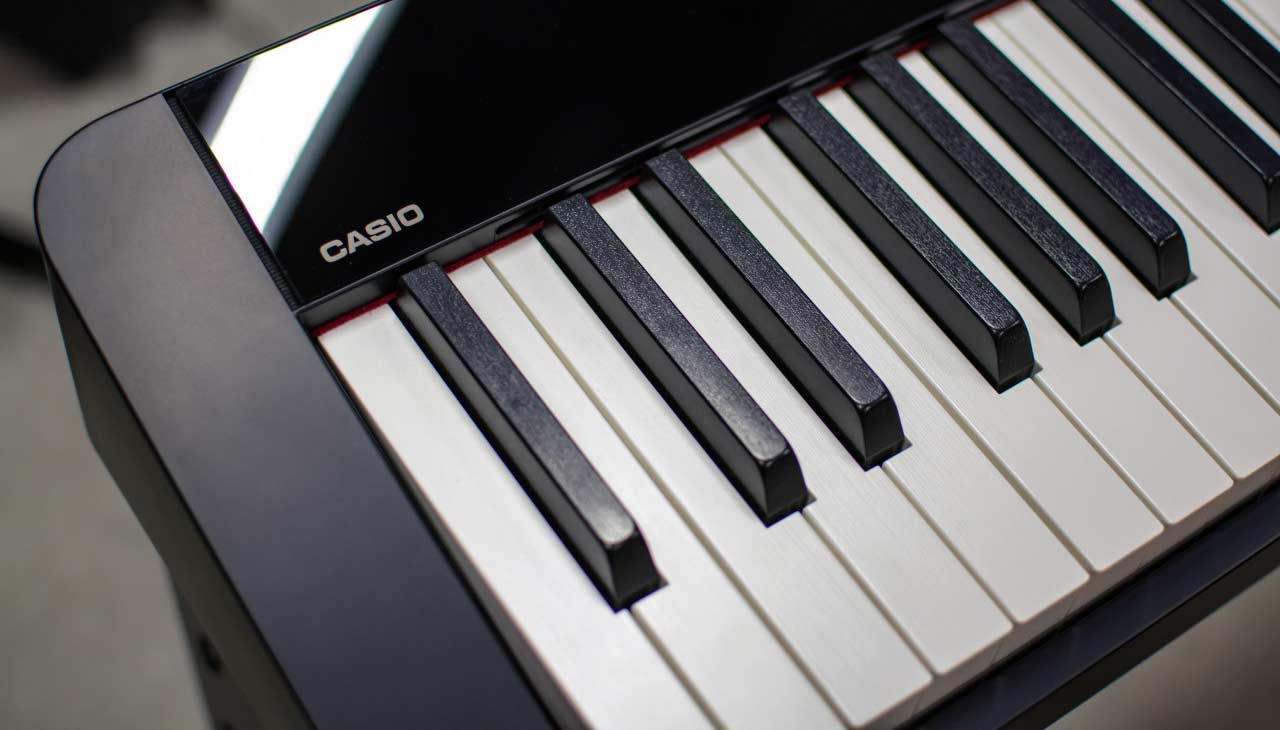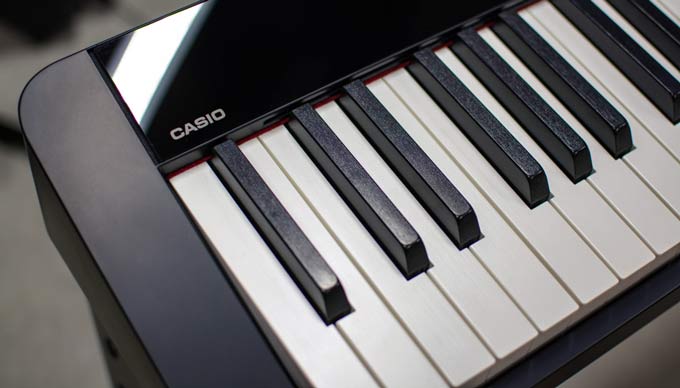 Triple sensor actions have been Casio's mainstay for years. When you press each key, it passes through each of the three sensors, eventually passing the lowermost sensor as you hit the bottom of the key bed.
Once you slowly release the keys, you can retrigger the sound by passing the middle sensor. As such, triple sensor actions offer more accuracy.
Casio opted to go with a new, smart, 2-sensor hammer action due to its better performance showed during thorough tests.
A two-sensor action might seem like a downgrade, but it's not entirely true.
Casio's action isn't called "Smart" for nothing. Between both sensors, a software-based solution determines how deep your keypresses will be.
During play, I found that this two-sensor action is as good, if not better than the three-sensor actions available on previous Privia keyboards.
Judging by fellow reviewer's thoughts after playing the PX-S1000 at the NAMM show, it seems like the PX-S1000 has enjoyed a unanimously positive reception.
The keys themselves are plastic and simulate ivory and ebony, giving them a textured feel ideal for play.
There's a subtle grip on each keypress, and that's something you don't really expect on affordable keyboards in the PX-S1000's price bracket.
A primary improvement of this new action is a silent mechanism that makes it one of the quietest key actions in its category.
There are also a few other minor improvements, including reduced bounciness and a slightly redesigned texture on the keys.
Apart from that, the new action felt quite similar to the previous Tri-sensor Scaled Hammer Action II regarding mechanical movement and physics.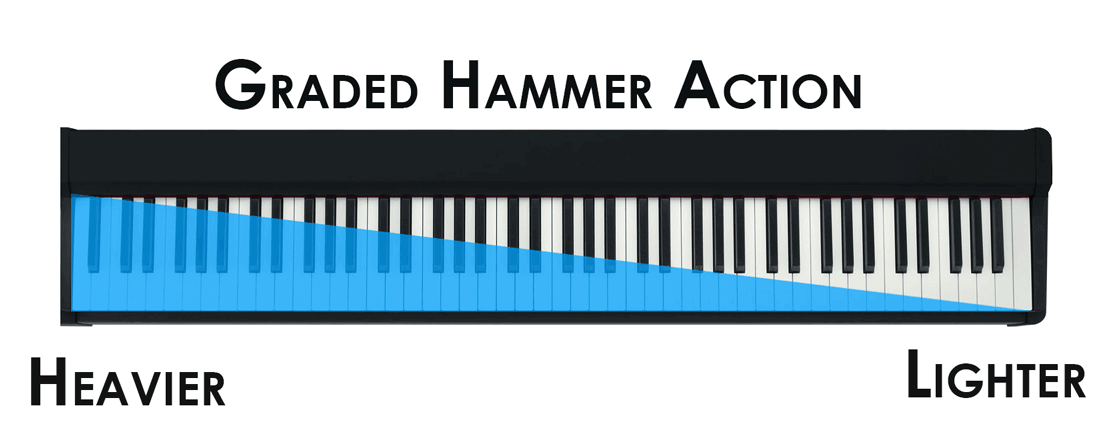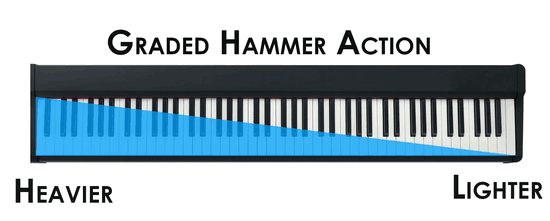 I also noticed a negative about the new action compared to the older one.
To fit the key action into this compact chassis, Casio reduced the size of the action itself (the part that hides below the fallboard), making the pivot length shorter.
This means it's slightly harder to play and control the keys at the back. This specifically occurs when you have to stretch your fingers to play between the black keys, which was a bit disappointing.
I'd rather sacrifice an inch or two of the depth of the chassis in the name of a longer (better) key action.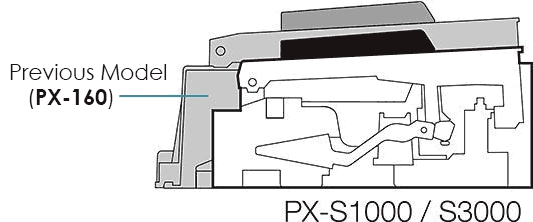 Even so, we always have to make some compromises. If you need portability, the PX-S1000 is one of the best options you can find on the market right now.
With regards to touch sensitivity, there are 5 different levels and an OFF option, ranging from light to heavy. At heavier settings, you need to play with a bit more force to trigger louder sounds.
Comparing the PX-S1000's action to its competitors, it feels somewhat inferior to Roland's PHA-4 Standard, Korg's RH3, and Kawai's RHCII actions as far as responsiveness and control are concerned. It's also easier to play into keys with these actions.
The action beats, however, Yamaha's GHS keyboard action, which, in my opinion, feels a bit basic and plasticky compared to Casio's action. The pivot point length is about the same for both.
Sound
Casio went all in to make the PX-S series new. They even swapped out the sounds from the previous Privia digital pianos for new updated sample sets.
I was pleasantly surprised by the new sounds, and comparing them to the previous Privia instruments shows definite improvement (partly thanks to new and improved Reverb algorithms and Space simulation).
First, let's talk about the grand piano sounds.
The new piano samples come from an unidentified 9-foot concert grand piano, though I do hear some nuances of a Steinway concert grand here, with bright highs and a clean low end.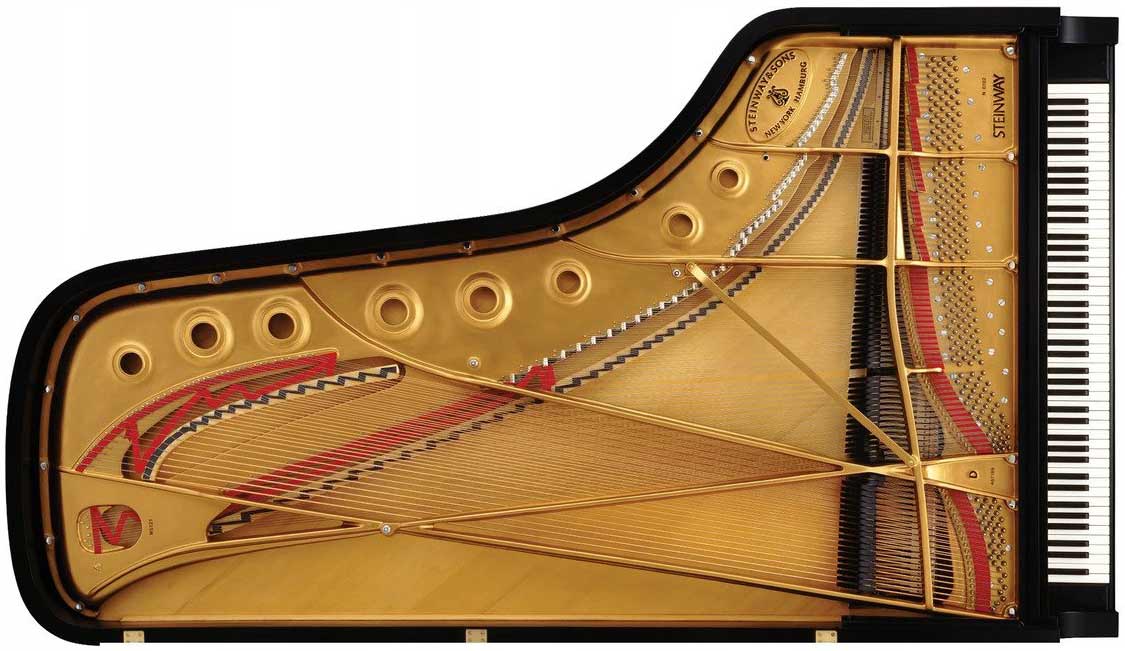 For me, versatility is the main draw of these piano sounds. They give you a concert grand, bright piano, mellow grand, rock piano and jazz piano, all of which sound terrific in different genres.
The Mellow Grand Piano and Jazz Piano sounds are especially good.
Here's a wonderful performance of "Cleir de Lune" played on the PX-S1000:
Samples are just the base of sounds you hear from the PX-S1000. Another surprising inclusion is acoustic modeling, courtesy of Casio's updated AiR modeling tech.
Casio didn't just reuse the tech found in previous Privia iterations. They included some of the modeling techniques from their Grand Hybrid Celviano series, too.
This enables you to tweak multiple parameters to sculpt your sound.
These parameters include key-off response, string resonance, damper resonance, damper pedal noise, and key on/off action noises.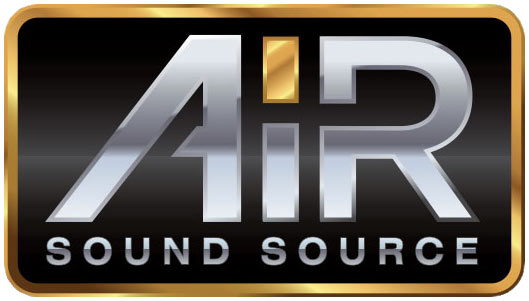 These options are more than mere on/off controls. Each one comes with 4 intensities, ranging from soft to loud. You can even turn them off if you prefer an uncolored sound.
The default settings are well-tuned and provide a clean sound, with subtle details that make the piano sound more realistic.
---
Other Sounds
Casio offers additional sounds in conjunction with the main acoustic piano sounds.
The sampled Rhodes or Wurlitzer electric piano has a dirty bite to the sound, and I love it. Instead of capturing the clean, direct output of a classic suitcase piano alone, it captures an overdriven amp sound.
The "60's Electric Piano" is another variation of the same type of sound, but with a more filtered tone that evokes the feel of 60's ballads.
A "CP-80-style electric piano" sound and DX-7 rounds out the electric piano suite. I do feel that the CP-80 sounds a bit brighter than I prefer, but that's my only complaint, and you can remedy it with the Brilliance effect.
The harpsichord and vibraphone sounds are fine, but the organs are the premier sound, with the Jazz organ featuring an authentic rotary speaker effect.
In isolation, the strings and bass are unspectacular, but they shine in the PX-S1000 split and layer modes, which we'll cover in detail in the features section of the review.
Here's another good sound demonstration:
In summary, the sounds are excellent and even offer sound sculpting options to create your own sounds. My primary complaint is that you can't save presets.
If you like a certain tailored variation of the Rock Piano, with the pedal and key noise turned off for a sterile sound, you can't save that for future sessions.
Once you switch to a different sound, you'll need to make all the changes manually again later. The same applies to changes made to the sound effects.
---
Effects
Regarding effects, the PX-S1000 comes with 3 built-in effects that you can modify to taste.


First, you get what Casio calls "sound mode effects," which deliver the main Hall Reverb and virtual Surround Sound modeling.
Each sound defaults to a specific setting, so you'll need to set your favorites manually each time.
The Surround Sound setting is subtle and comes in 2 variations. I couldn't discern the difference when the surround settings were on, but there was a wider feel to the sound overall.
The effects were definitely more pronounced on the built-in speakers, but subtly.
Apart from reverb effects, you also get a tweakable chorus and brilliance effect.
The chorus has 4 different intensities, which range from light chorus to full-on flanger effect at max intensity.
These effects sound good with electric piano sounds, especially with the DX-7 style sound included with the PX-S1000.
The brilliance setting has a range of -3 to +3, which darkens or brightens the sound according to your settings.
Remember how I said that some sounds were too bright? The brilliance control lets you modify these sounds to suit your tastes.
---
Polyphony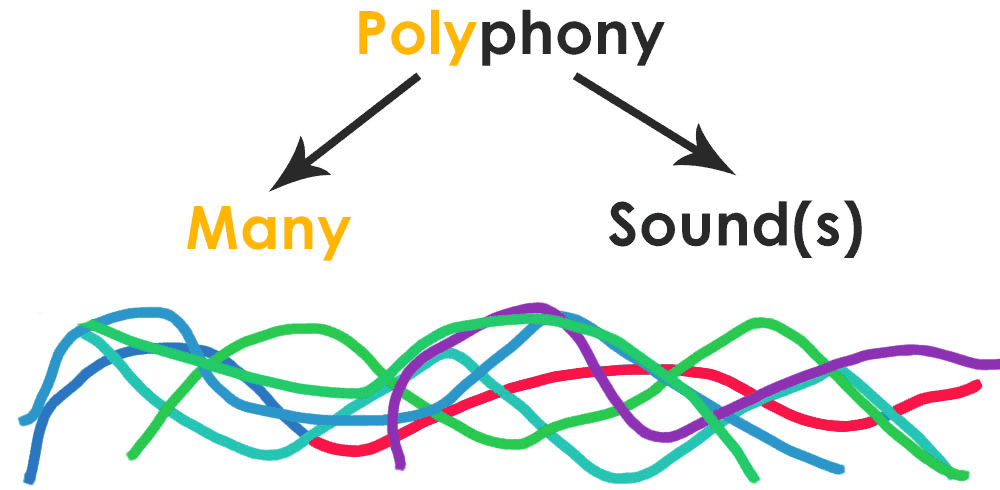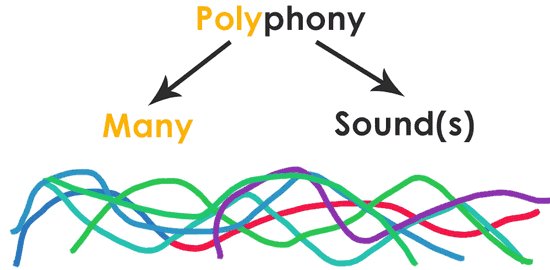 The PX-S1000 boasts 192 notes of maximum polyphony, an upgrade from the typical 128 of prior Privia keyboards in the same price range.
192-note polyphony is more than enough for any song regardless of genre. This high polyphony count ensures you won't run out of notes even when using the Layer Mode.
---
Speakers
Now let's take a second to admire the fact that Casio included speakers on this model in the first place.
Since the PX-S1000's slim form factor was its distinctive feature, it would have been easy for them to omit speakers as other manufacturers would do (like the superb Korg D1).
What's more, the dual speakers on this piano sound stellar. Powered by 8W amplifiers, for a total output of 16W. You can't really ask for much more with a digital piano of this size.
The speakers are back-facing, so if you place the piano against the wall, it will reflect the sound providing a wider soundscape.
Features
Apart from the main features of the PX-S1000, it offers other features you won't find on an acoustic piano.
Modes
The PX-S1000 includes 3 special play modes: Layer mode, Split mode, and Duo mode.
Layer mode is the easiest to explain. It allows you to play two sounds simultaneously. This feature is standard for most keyboards and digital pianos, regardless of price range.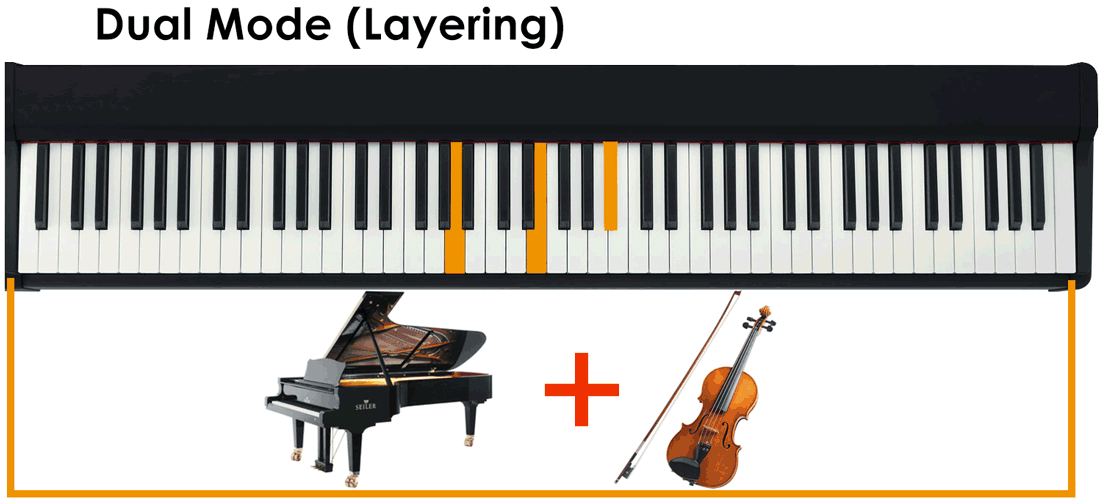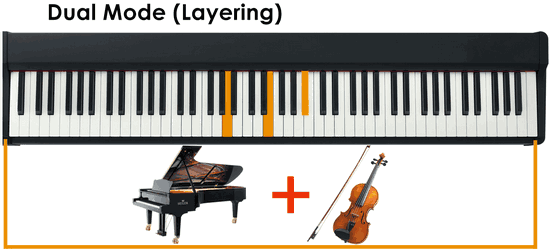 The primary use for Layer Mode is to layer pianos with strings for a ballad-style tone, and the string orchestra feature does this well.
The electric pianos are also good for layering. This mode is a ton of fun, and I recommend using it to spice up your practice sessions.
Duet Play mode is geared towards teaching sessions.
It enables two players to share the keyboard, splitting the left and right keys into two miniature pianos of equal range.
This allows teachers to demonstrate some music while sitting beside a student, but without the range disparity that results from playing in a lower or higher octave.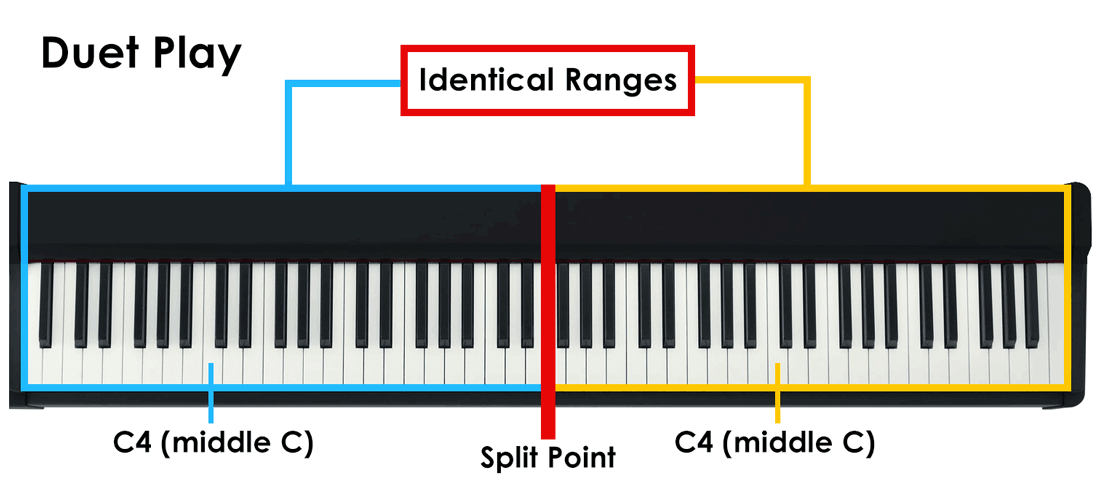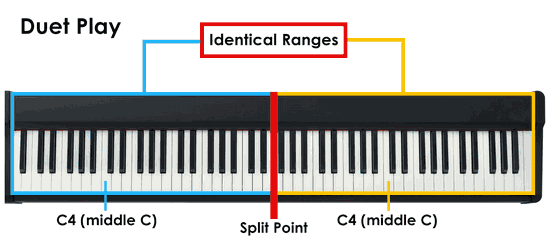 To take full advantage of Duet Play mode, you'll need Casio's dedicated triple pedal unit. Otherwise you'll be limited to the SP-3 sustain pedal, affecting the full keyboard range. We'll talk about this in the Connectivity section of the review.
Split mode is favored by performers because it enables them to load up two different sounds on the left and right of the keyboard. The PX-S1000 makes this mode accessible.
Even so, it's somewhat limited because the left side must be bass. You can only choose your sound on the right-hand side.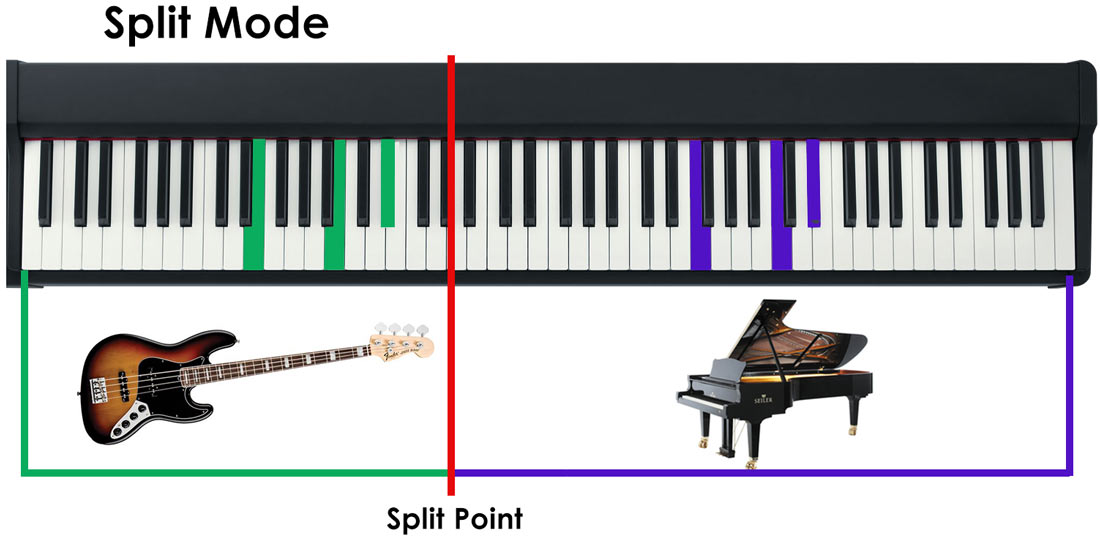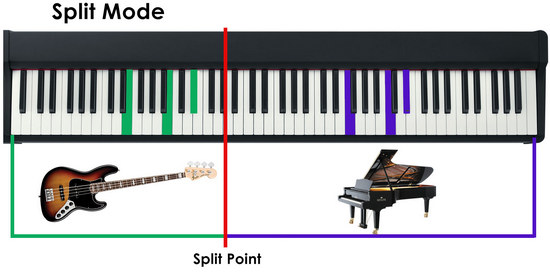 Though this is the primary use of the split mode, people who like to experiment may find it somewhat limiting. At the very least, you can modify the volume and settings of each side individually.
---
Functions 
We've discussed how the PX-S1000 lacks a screen, which would allow for easier editing of individual settings. Instead, you'll need to use button and key combinations to change settings on the fly.
The PX-S1000 has the following functions:
1) Metronome: Pressing the metronome button activates the built-in metronome. Tempo, time signature and volume of metronome sound can be changed.
2) Transpose Function: This allows you to change the played key. Transpositions can be changed from -12 to +12 semitones in increments of 1 semitone.
3) Octave Shift: Raises the octaves of the individual parts in Split, Duo or Layer mode.
4) Fine Tuning: The central tuning of the keyboard can be changed in steps of 0.2 Hz, from 415.5 to 465.9 Hz. The default pitch is the standard 440.0Hz for Middle A.
4) Temperament Options: 17 preset scales for different genres, including Equal Temperament, Pure Major, Pure Minor, Pythagorean, Kimberger 3, Werckmeister, Mean-Tone, Rast, Bayati, Hijaz, Saba, Dashti, Chahargah, Segah, Gurjari Todi, Chandrakauns and Charukeshi. Temperament base note can be selected from C3 to B3.
6) Speaker On/Off: Selects whether the speakers continue playback when Phone Jacks are used.
7) Auto Resume Setting: Makes the PX-S1000 load most recent settings when turned on.
8) Touch Button Brightness: Changes the touch button brightness between 2 different settings.
9) Button Light Auto Off: Makes it so the buttons turn off after a certain period of inactivity.
10) Touch Button Sensitivity: Changes the touch sensitivity between 3 different settings.
---
Song Recording and Playback
The PX-S1000 comes with 1 demo song and 60 built-in songs from different genres. You can also record your own songs using the record button on the touch panel.
Each user-created song can include 2 parts each, which is very helpful for practicing left and right-hand parts in isolation.
You can also mute each part individually (for both preset and user songs) and you can change the sounds between parts during recording.
Tonal settings are consistent throughout. You can't change them between parts without affecting the others.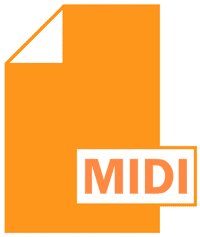 Casio's MIDI recorder is convenient and playback is straightforward. You can even undo overdubbed parts by restarting the recording until you get it right.
Sadly, songs stored in the PX-S1000's memory cannot be transferred to an external USB drive or smart device, which is unfortunate.
What you can do is load up to 10 User Songs onto the keyboard from a smart device or computer via a USB cable.
Also, don't forget that MIDI recording is supported through the back-panel's USB type-B port. Recording MIDI via external software is more convenient, so I wouldn't consider this a massive downside.
The PX-S1000 still includes many features you wouldn't expect in an affordable package. This is made possible by the myriad of connectivity options on offer. Let's talk about them.
Connectivity
The PX-S1000 has all the essential connectivity options, so it works well for both home and stage use.
Two stereo mini jacks (1/8" | 3.5 mm) are included, allowing you to use headphones during late-night practice sessions. The ports are conveniently located at the front of the instrument (left side), for easy access.
By default, the speakers mute when you plug in your headphones in, though you can change this setting with the function keys.
An Audio In mini jack is also included, allowing you to connect your phones or music players directly for convenient audio playback through the built in speakers.
This is an excellent feature that most affordable keyboards bypass, so kudos to Casio adding it.
Stereo Line Out jacks (R, L/Mono) allow you to easily integrate the PX-S1000 into studio or stage environments by connecting to an external audio interface or PA system. The jacks are the standard ¼" jacks, so you won't have incompatibility issues.
You also get a USB to Host (Type B) port, which equips you to connect the PX-S1000 to supported devices. This connects to Casio's Chordana app on your smart devices.
You can use this port to record MIDI via USB-MIDI cable with supported software such as Garageband, FL Studio, and Flowkey.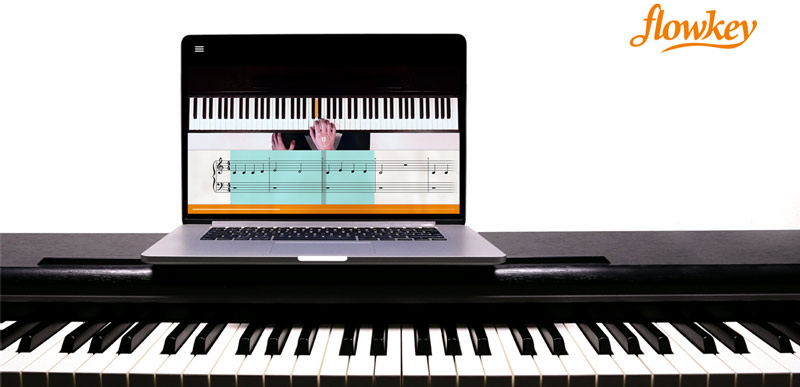 To connect to an iOS device, you'll need to rely on a Lightning-to-USB Camera adapter or on the Yamaha Wireless MIDI adapter.
The wireless option might be less cumbersome, but latency could be a problem.
Bluetooth connectivity is also available but note that it will only work with audio data, meaning you'll be able to stream your favorite audio files stored on a smart device to the PX-S1000, but you won't be able to use MIDI-based apps like Flowkey, Garageband, or Casio's Chordana Play.
Two pedal jacks are included. The Damper Pedal jack is the standard ¼" jack that allows you to use any standard damper pedal with the PX-S1000. The included pedals plug into this jack right out of the box.
A proprietary Pedal Unit jack is also included, allowing you to connect supported 3-pedal setups for further soft, sostenuto, and damper pedals. Not all pedal units work with this jack.
---
Chordana Play for iOS and Android
More and more digital piano manufacturers are leaving out screens to reduce production costs, and it's hard to argue with their logic.
Nearly everyone in the world has a smartphone or tablet with a large, high-resolution screen with accurate touch sensing. Since the PX-S1000 is so affordable, I'm willing to excuse its lack of a screen.
The Chordana Play app overcomes this missing feature by integrating with the PX-S1000, allowing you not only to take advantage of Casio's piano tutorials and song-learning features, but also to control specific functions with a graphical user interface.
The Chordana Play allows you to modify sounds, metronome settings, and even record MIDI on the go. I found this experience to be much more enjoyable with the app installed. It eliminated guesswork.
If you're performing on stage, I'd say the Chordana Play is essential. It permits you to change sounds without having a test tone play, which could be embarrassing if you're not muted.
For novices, Chordana Play's tutorial features are very good. I love the "raining notes" method of learning a song, and it excels at visualizing when to play each note.
While this is a handy bonus feature for intermediate and expert players, beginners will find the Chordana app very helpful, too.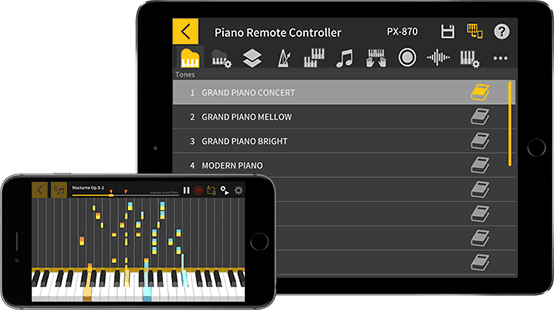 Accessories
Damper Pedal
The included SP-3 damper pedal is a square-shaped pad pedal, which looks and feels far from a damper pedal you'd find on an acoustic piano, failing to take full advantage of the PX-S1000's capabilities.
The piano supports half-pedaling and soft and sostenuto pedals, but the SP-3 only operates as a regular on/off switch.
I'd definitely recommend getting something more substantial and piano-looking.
The M-Audio SP-2 is one of the most popular sustain pedals available out there. It has a piano-style design, excellent build quality and durability.
---
Stand
This package includes neither a stand or gig bag, but the PX-S1000 feels right at home on a desk or generic keyboard stand.
In fact, its slim form factor might even persuade you to use smaller stands.
If you're in the market for a furniture stand, the Casio CS-68P was designed for the CD-P and PX-S portable pianos, ensuring a matching color scheme. It would be a perfect solution for home-based musicians.
For on-the-go musicians, I'd recommend getting an X- or Z-style stand instead. They are much more compact, easy to move around and are usually adjustable.
Here are a few options I recommend:
---
3-Pedal Unit
Casio has designed a new, 3-pedal unit for the PX-S1000 and PX-S3000, namely the Casio SP-34.
It comes with a soft, sostenuto, and damper pedal in a single unit, and also supports half-pedaling.
Depending on how you use the PX-S1000, this could be a necessity or a luxury.
Personally, I don't use the sostenuto and soft pedals much, so a generic pedal that supports half-pedaling works for me.
People focused on classical music that requires proficiency with technical footwork will definitely appreciate the SP-34.
---
Carrying Bag
If you travel a lot and plan to move the PX-S1000 around often, you may want to get a carrying bag or case that will make transportation easier and safer.
Specifically for the new PX-S series (will fit the CDP-S series as well), Casio designed the SC-800, a high-quality protective case that you can get for a little over $100.
---
Headphones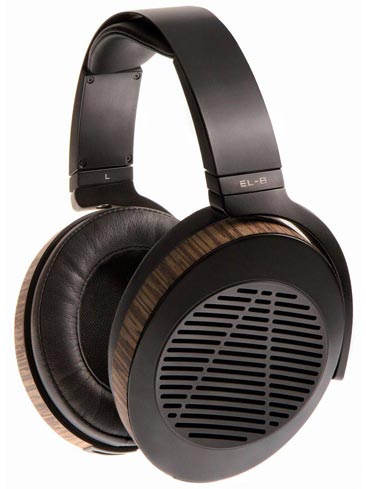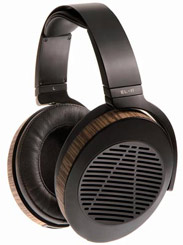 Headphones come in very handy when you want to practice in private, focusing solely on your playing and not disturbing others nearby.
Moreover, a good pair of headphones will provide a clearer and more detailed sound compared to the onboard speakers.
Check out this guide to learn how to choose the best-sounding headphones for your digital piano.

Summary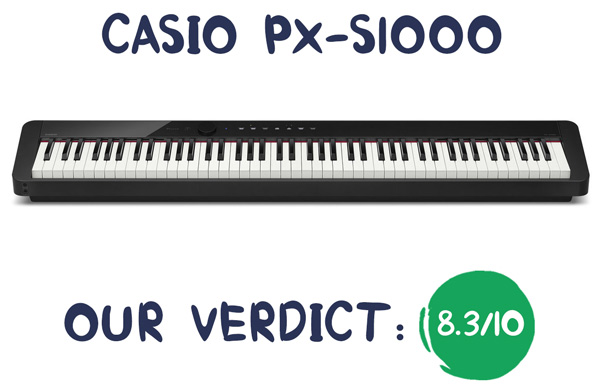 Pros
Unique, futuristic design
Very compact and relatively lightweight
Runs on 6 AA batteries
Solid keyboard action with a nice feel
Natural and very nuanced piano sound with many adjustable parameters
192-note polyphony
Decent onboard speakers (16W)
Bluetooth 5.0 (Audio)
Cons
Key pivot length is quite short
Glossy finish is a fingerprint magnet
No registration memory for saving current settings for later recall
Touch-based controls aren't tactile
No Bluetooth MIDI support
---
The PX-S1000 turned out to be a really innovative instrument, unique from everything that Casio (and other digital piano brands) have made to date.
It somehow crams all of Casio's new features into a slim chassis while still delivering a more-than-satisfying digital piano at an affordable price.
The PX-S1000 features many improvements over the previous Casio instruments, including the innovative Smart Scaled Hammer action, updated sounds, higher polyphony count, additional ports, Bluetooth audio, Chordana app compatibility, and more.
The new piano tones are impressive and sound amazing, whether through headphones, Line Outs, or the built-in speakers.
The simulated acoustic elements do a wonderful job adding subtle little aspects to the sound, making it more nuanced and authentic.
I can't think of any digital piano at this price point that would offer these features AND allow you to adjust them to your preferences.
Another unique feature of the PX-S1000 is that it can run on batteries, which is a big advantage for musicians on the go.
It also helps anyone who wants to play outdoors without extension cords and other paraphernalia.
Room for improvement still exists in the new key action, which has a relatively short pivot point (which shouldn't be a problem for beginners) and the glossy finish that can lose its "like new," scratch-free appearance over time.
I'd also prefer having Bluetooth MIDI over Bluetooth audio since it would allow me to connect wirelessly to the Chordana app and use the remote control feature without buying additional cables or adapters.
Check the availability and current price of the Casio PX-S1000 in your region:
Alternatives
The PX-S1000 is priced competitively and the alternatives include the Roland FP-30 and Yamaha P-125.
Before moving to other brands, let's talk about the PX-S3000, which is the older brother of the PX-S1000.
Casio PX-S1000 vs  Casio PX-S3000 (Full Review)
The Casio PX-S3000 was introduced along with the PX-S1000 model and is basically a more advanced version of it.
The instruments share the same piano tones, keyboard action, and overall design.
At the same time, the PX-S3000 comes with a lot more arranger features, extra sounds, connectivity options and other "bells and whistles".
Let's take a look at some of the key differences between the instruments.
Casio PX-S1000
18 Built-in Tones
2-track MIDI recorder (1 song)
USB type B
60 Built-in Songs (for playback and practice)
Casio PX-S3000
700 Built-in Tones
3-track MIDI recorder (5 songs)
USB type B + USB type A (for connecting flash drives)
Built-in Display
MIDI and Audio playback (from the flash drive)
Audio Recorder (WAV, 16bit, 44.1kHz, stereo)
200 Built-in Rhythms (6 chord input modes)
Auto Harmonize function (12 types)
Arpeggiator (100 types)
Pitch Bend Wheel
2 Assignable Knobs
Fully editable DSP parameters (+100 presets)
A few extra Reverb and Chorus effects
Registration function (96 sets)
Expression Pedal (assignable jack)
---
Casio PX-S1000 vs  Roland FP-30 (Full Review)
The Roland FP-30 is part of Roland's portable digital piano line and also happens to be one of Roland's most popular intermediate digital pianos under $1,000. This pits it against the PX-S1000's pricing.
Regarding the touch and feel of the keyboards, I've mentioned how the PX-S1000 has certain limitations, while the FP-30 arguably feels more natural with its PHA-4 Standard key action.
Roland has always been known for their realistic key actions, so it's nice to see this quality in their low-cost keyboards as well.
The Roland FP-30 sacrifices some portability in terms of size and weight, but it leverages added depth to provide a longer pivot point.
This makes it more enjoyable to play and it avoids the issues of the PX-S1000, which feels slightly unnatural at the deeper points of the keys.
The Roland FP-30's extra bulk also accommodates more powerful speakers (11W dual speakers rather than Casio's 8W speakers).
If portability is your goal, the PX-S1000 is the best choice. It's lightweight (approx. 7 lbs. lighter than the FP-30) and can run on battery power.
The PX-S1000 includes proper Line Outs, which are a big deal for performers. The FP-30 only has a headphone output, which is less than ideal for performers.
The PX-S1000 features an Audio In jack and Bluetooth audio connectivity, making practice a more convenient since you can easily connect your phone or music player to play along.
Meanwhile, the FP-30 comes with Bluetooth MIDI support, which the PX-S10000 lacks. This allows you to record MIDI wirelessly, which you can't do on the PX-S1000.
You can also play back MIDI and WAV playback straight from a flash drive on the FP-30, which can be more convenient depending on your preferred method for storing practice songs.
It's hard to choose between the two, but I'd say it depends on what you want. If you want portability, get the PX-S1000.
If an authentic feel is more important, the FP-30 is probably a better option (though I know people who actually preferred the Casio keyboard, so it depends really).
Casio PX-S1000
18 Built-in Sounds
192-note Polyphony
2 x 8W Speakers
60 Preset Songs + 10 User
Weighs 24.7 lbs
2-track MIDI recorder
Bluetooth Audio connectivity
Sympathetic String/Damper/Key off Resonance, Key on/off Action Noise, Damper Noise (adjustable)
Audio In jack
Can run on batteries
Roland FP-30
35 Built-in Sounds
128-note Polyphony
2 x 11W Speakers
30 Preset Songs
Weighs 31 lbs
1-track MIDI recorder
Bluetooth MIDI connectivity
Sympathetic String/Damper/Key-Off Resonance (non-adjustable)
Supports MIDI and WAV playback from a flash drive
---
Casio PX-S1000 vs  Yamaha P-125 (Full Review)
Yamaha's P-series keyboards are aimed towards piano players of different levels and buyers looking for portable keyboards that feel good to play.
The P-125 is a mid-range digital piano priced in the same range as the PX-S1000. It's a recent update to the aging P-115, which was a very popular portable digital piano in its day.
Even so, the Casio PX-S1000 wins hands down, in my opinion.
The main drawback of the P-125 is a less realistic Yamaha GHS (Graded Hammer Standard) key action. The PX-S1000's key action feels more natural during play.
The Yamaha P-125 comes with glossy plastic keys which are prone to slipping, whereas the PX-S1000 features a textured, synthetic ebony and ivory feel with a more premium quality.
As you might expect, the PX-S1000 is slimmer and weighs less (24.7 lbs. to the P-125's 26 lbs.).
Portability is also better on the PX-S1000, as it can be powered with batteries, while the P-125 requires an A/C main.
While both digital pianos come with piano modeling technology, the PX-S1000 has more tweakable options, namely key on/off action noise and damper noise.
The Sympathetic String/Damper and Key-Off resonances are common to both digital pianos, but they aren't adjustable on the Yamaha P-125.
The PX-S1000 includes recording capabilities, an Audio In jack, Bluetooth audio support, and a good chorus effect.
That's not the say that the P-125 is a straight-up worse digital piano. It has more built-in sounds (24 to the PX-S1000's 18) and a more powerful 4-speaker setup (to the PX-S1000's 2 speaker setup).
You also get accompaniment rhythms on the Yamaha, which is a lot more conducive to practice than a monotonous metronome.
Yamaha also includes USB Audio Interface functionality on the P-125, making it more convenient for record piano sounds into your DAW or supported software.
All in all, I'd choose the Casio PX-S1000, thanks to its better-feeling keys and slim form factor – but the Yamaha's additional features might make it the right piano for you instead.
Casio PX-S1000
18 Built-in Sounds
2 x 8W (2 speakers)
60 Preset Songs + 10 User
Weighs 24.7 lbs
Sympathetic String/Damper/Key off Resonance, Key on/off Action Noise, Damper Noise (adjustable)
Chorus (4 types)
Bluetooth Audio connectivity
Audio In jack
Can run on batteries
Yamaha P-125
24 Built-in Sounds
2 x 7W (4 speakers)
50 Preset Songs
Weighs 26 lbs
Sympathetic String/Damper/Key-Off Resonance (non-adjustable)
20 Accompaniment Rhythms
USB Audio Interface function