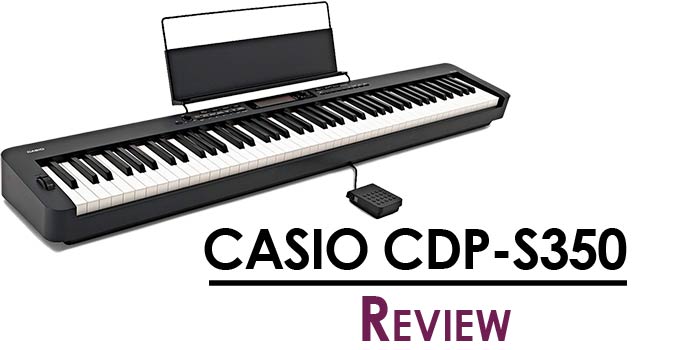 It wasn't that long ago that learning the piano meant investing quite a lot of money, alongside the obvious time and effort.
Thankfully, affordable digital pianos have been improving in quality over the past decade, and there is now a great selection of excellent budget-friendly options that can carry you a far in the world of music.
Casio is one of the big names in the digital piano space, and we previously covered their new slim form factor digital pianos, the PX-S1000 and the PX-S3000. We liked these models and considered them worthy additions to the prestigious Privia line.
However, we also covered the Casio CDP-S100, which although similar, is not a part of the Privia series. Instead, it targets the more affordable end of the market just like all the other CDP-S keyboards.
The CDP-S100 managed to make it onto our list of top sub-$500 digital pianos. This goes to show that it has its merits despite its cost and compromises.
Of course, if you're interested in the CDP-S350, you should know that you're not getting the best of the best. Hence, we're here to help you make an informed decision.
With that out of the way, let's find out if the CDP-S350 is a good value buy.
Casio CDP-S350 Specs
88 fully weighted (hammer action) keys
Touch Sensitivity (3 types, Off)
64-note polyphony
700 Preset Tones, 200 Rhythms
Effects: Reverb, Chorus
152 Preset Songs
Modes: Layer, Split and Duet
200 Rhythms, Arpeggiator, Auto Harmonize, Pitch Bend Wheel
Metronome, Transpose, Octave Shift, Fine Tuning, 17 Preset Temperaments
Speakers: 13 x 7 cm (oval) x 2 (Output: 8W + 8W)
Connections: USB Flash Drive port: Type A, USB to Host port: USB type B,, Headphone output (1/8″), Audio In mini jack (1/8″), Damper/Assignable 1/4″ jack, Pedal Unit jack (proprietary)
W x D x H: 52" x 9" x 4" (132.1 x 22.9 x 10.2 cm)
24 lbs (10.9 kg)
Release Date: January 2019
Full specs can be found on Casio's official site here
Check the availability and current price of the Casio CDP-S350 in your region:
Design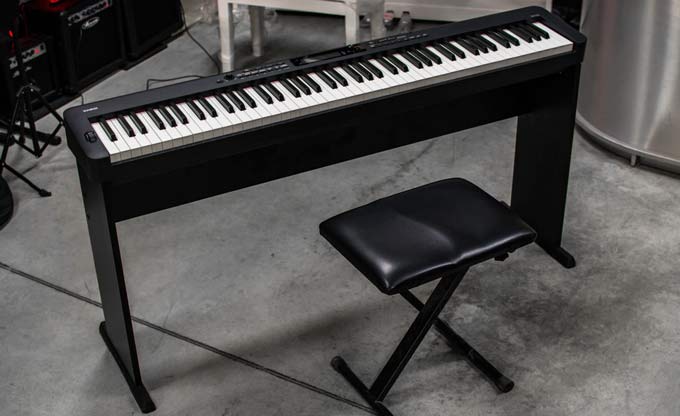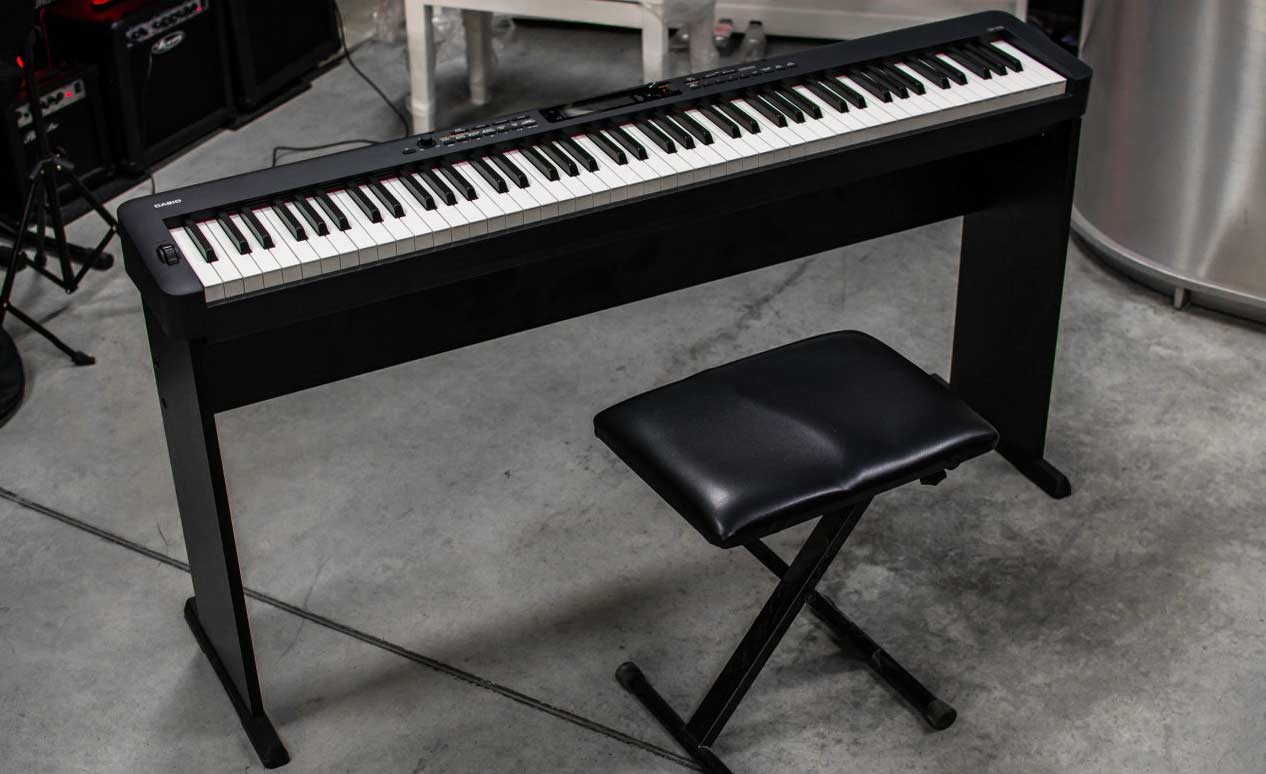 The CDP-S doesn't go with the futuristic, minimalist design of the PX-S series, with little to no clutter and touch-based controls. Instead, it opts for a more traditional keyboard design with knobs and buttons.
However, it still manages to feel modern and sleek, and I really do like the direction Casio took here. The slim factor is done well, and just by looking at the CDP-S350, you can tell that it is smaller than most of its contemporaries.
To put things into perspective, the CDP-S350 has the dimensions of 52″ (W) x 9″ (D) x 4″ (H) – 132.2 cm x 23.2 cm x 9.9 cm, which is particularly impressive in terms of the width. This is achieved through Casio's new slim hammer-action key designs, which we'll dive into the corresponding section.
The CDP-S350 is also fairly lightweight, clocking in at 24 lbs (10.9 kg) (remember, these are weighted keys, so it's natural to expect a little more bulk). It's clear to see that portability was one of the design focuses.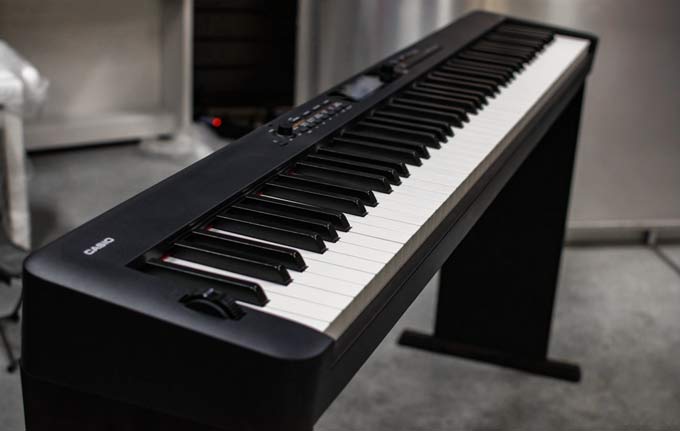 This is further exemplified by the CDP-S350's ability to be powered off 6 AA batteries. While we didn't manage to test it through to the limit, its younger brother, the CDP-S100, managed to clock in an impressive 10 hours from a fresh batch of batteries.
While I wouldn't like carrying this around all the time, it's nice to know that this isn't a back-breaker like most of the other weighted digital pianos out there.
The chassis itself uses a standard matte black finish, made out of plastic. This means fingerprints are not as big of an issue as you'd get from typical glossy finishes. The materials used also feel sturdy, so there's no flex or noises when you apply force.
The build quality is also seen with the controls. The CDP-S350 features physical buttons and knobs, and they all feel solidly built. The buttons have a tactile feel to them, and they're spaced apart enough such that it never feels cramped.
I also want to give props to Casio for including an encoder wheel for navigation. Considering the massive preset libraries included with any arranger keyboard, encoder knobs are ideal for sifting through sounds efficiently. There's a tactile click at each step, and navigation was just really easy to get used to.
For example, if you've activated a specific effect, a small but noticeable image appears on the left of the display. The user interface design makes use of what little space is available very well.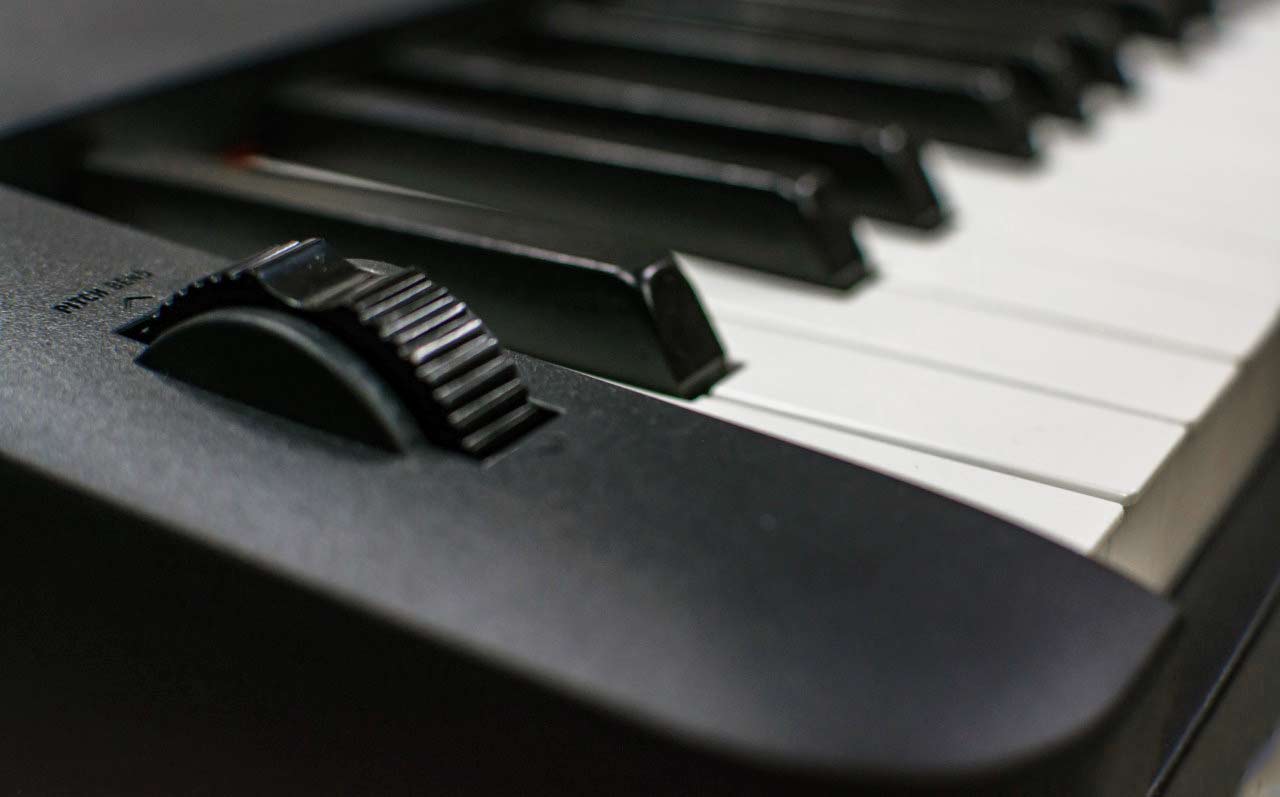 The pitch bend wheel has a bit of a lighter feel to it than most others, but it is flexible, and I do like using it with lead or guitar patches. For reference, if you've used any Roland control sticks before, this has a similar feel.
As someone who likes dedicated controls, I very much prefer the CDP-S350 over the CDP-S100 and its button-key combos. I didn't even need to go through the manual to understand how things work, so intuitiveness is another plus.
Thanks to the CDP-S350's heritage, you can also use Casio's Chordana Play app to control it. This requires a smart device running Android or iOS, and gives you an alternative way of controlling the CDP-S350.
While I don't consider this necessary, options are always welcome.
I was very satisfied with the design of the CDP-S350. If anything, this is a very good example of using limited space to its fullest. The CDP-S350 might be small, but it packs all it needs into its small frame.
Keyboard
The PX-S and CDP-S series was the first appearance of Casio's new key action, which was designed from the ground up to be used in slim form factor keyboards.
This is a significant departure from Casio's usual Tri Sensor Hammer Action found on the Privia digital pianos.
On the CDP-S350, the keys used are different from the PX-S line, but they do share a similar feel.
The distinctive feature of these keys, which isn't obvious at first glance, is that the keys have a shorter pivot length, allowing the overall width of the keyboard to be reduced, thus achieving the compact form factor.
Yellow content box –
Thankfully, this difference really just theoretical. In practice, you'll barely notice any problems.
The keys also have a nice sense of touch to them. While they are made purely out of plastic, the keys have a synthetic ivory and ebony surface, giving them a nice, textured feel that gives some grip whilst playing.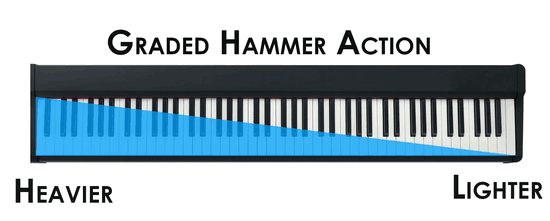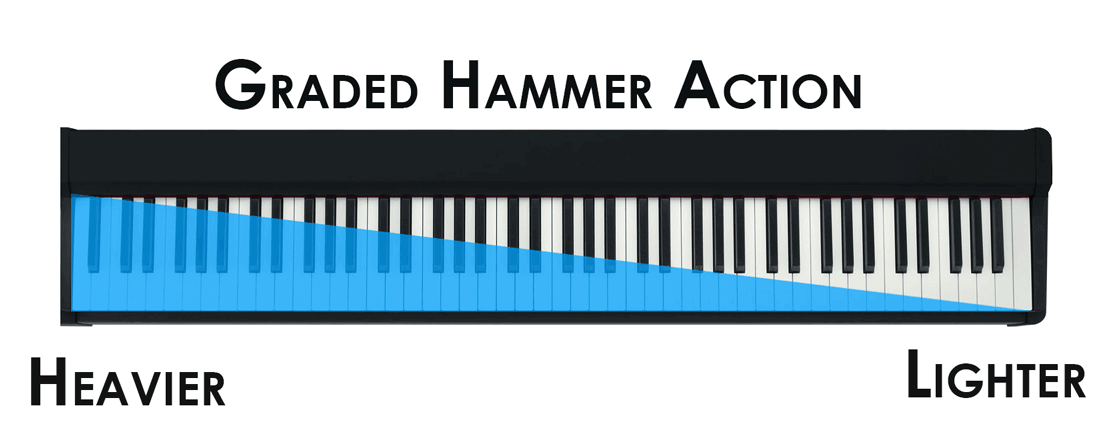 The CDP-S350 also features graded keys, which means they are heavier at the lower registers compared to the higher keys. This emulates how a real piano feels like, and does add to the realism factor.
This doesn't mean the keys are perfect though, and the shorter pivot length means you might find it harder to play the keys at their upper points. This will be more of an issue if you tend to play into the keys.
Overall, the keys are lighter than you'd expect from fully weighted keys, though they are a decent enough approximation of the real deal.
There is also a difference between the amount of pressure needed to push down on the black and white keys, which might take some getting used to.
These are minor gripes that people used to real acoustic pianos, or more premium digital pianos might dislike, so they're worth noting.
However, I didn't have too much trouble during my playtest. Once I got used to how the keys feel, I found them very enjoyable to play, and their lighter nature meant I could also make non-piano sounds feel natural too.
While I do like the keys, I will say that there are better key actions out there, such as Roland's PHA-4 Standard action, which is featured on the similarly priced FP-10.
The inconsistency between the white and black keys might also be a deal-breaker to some, so I highly recommend testing this out to see if it fits your needs.
As it stands though, this isn't just a digital piano. It has a ton of accompaniment features, so I don't mind sacrificing a bit of realism for playability.
To sum up the CDP-S350's keys, there are some sacrifices made to make the keyboard slimmer, but I personally consider them all acceptable compromises. The keys work fine for me, but you might need some time to get used to them.
Sound
When it comes to budget keyboards, the sound library is what gets hit hard. Large sample libraries require quite a bit of resources, and aren't exactly cost effective to implement when the end product is meant to be affordable.
The CDP-S350 uses what Casio dubs a Dynamic Stereo Sound Engine, which they claim delivers 4 times the sample size fidelity of their prior sound engines.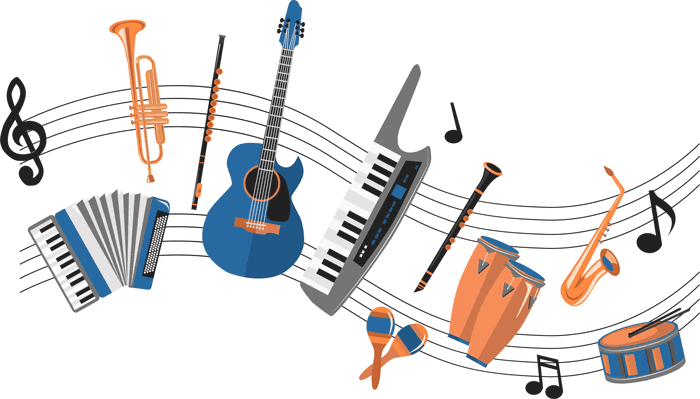 This is the same engine used in the CDP-S100, and as our review pointed out, the sounds are perfectly usable, especially the standout piano tones which are clean and excellent for practice. However, the non-piano sounds did lag behind in terms of quality.
Considering the CDP-S350 includes accompaniment and arrangement features, it's only natural that it expands on the limited 10 sounds on the CDP-S100. In contrast, the CDP-S350 has 700 instrument tones, which makes it a very versatile instrument.
Let's focus on the piano sounds first. They are well-sampled, and overall sound excellent. I believe the same piano sound is used on the PX-S1000, though with fewer velocity layers (which is an understandable sacrifice for budget keyboards).
For practice purposes, the key thing to have are clean, clear sounds, and the CDP-S350's main piano sound delivers.
The other sounds are hit or miss. I expected most of them to be stripped straight from Casio's budget CT-X line of arrangers, but most of what I heard sounded like they were of a higher quality (probably showcasing the better fidelity offered by the revised sound engine).
While I wouldn't use these in full track mixes, they sound alright, especially when used alongside accompaniment features.
---
Rhythms
Speaking of the accompaniment features, let's cover the 200 included rhythms.
Rhythms are likely familiar to anyone who used budget keyboards before. While the uninitiated might just consider these drum tracks to play along to, their strength really shows when used alongside the accompaniment features.
The rhythms themselves cover a good number of genres, ranging from acoustic styles such as rock and samba, all the way to electronic beats and some less commonly seen rhythms.
The beats and rhythms aren't particularly impressive, but they are a lot better than those found on budget keyboards such as the recently released Casiotone line.
Unlike said budget keyboards, the rhythms here sound a lot cleaner, and I'll attribute that to the upgraded sound engine with higher sample fidelity.
The neat thing about rhythms is how they can fit to your tempo, and also have tailored basslines that fit to the chords you play. We'll discuss this further when we come to the Accompaniment subsection under Features.
---
Effects
The CDP-S350 comes with 2 built-in effects, a Reverb and a Chorus.
The Reverb has 10 algorithms, and you have the option to turn it off as well. The algorithms mainly differ in their size parameter, going from a small room reverb to large spacious halls at the max.
While you can't modify specific parameters, they all sound clean and neutral. I generally just stick with the initial settings, as things can get messy at higher levels.
Chorus also comes in 4 different types, along with the OFF option. You get intensities ranging from subtle stereo widening to detuned flanging at the highest point. This effect is best used with sounds like the electric pianos or jazz guitars.
The effects aren't anything special, but it's nice to have options that add some versatility.
---
Polyphony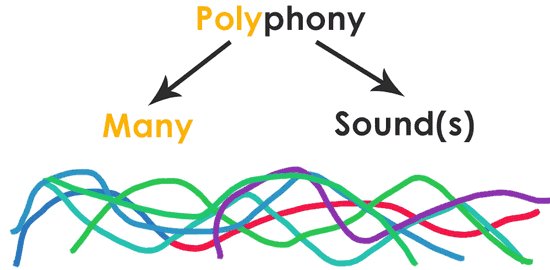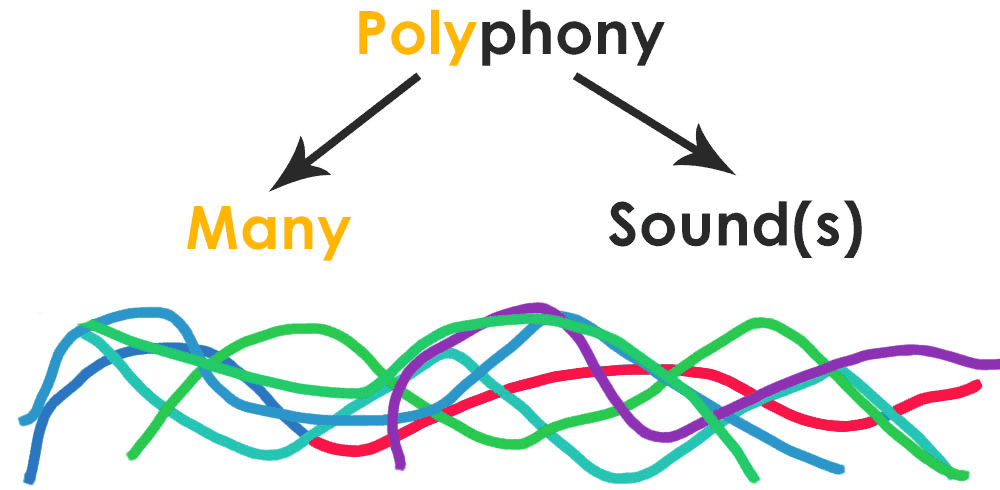 The CDP-S350's maximum polyphony is 64 notes, though this drops to 32 notes for some tones.
64 notes quite low of a polyphony count, though it is expected from budget keyboards. In comparison, keyboards like the Korg B2 offer up 120-note polyphony, which makes it less likely for sounds to cut off.
Thankfully, it seems like Casio programmed the voice usage well. I didn't hear any abrupt cutoffs even whilst using the accompaniment features such as rhythms and bass accompaniment, which was quite surprising.
---
Speakers
The CDP-S350 comes with a pair of 8W speakers. In comparison, digital pianos like the Roland FP-10 and the Yamaha P-45 use 6W speakers.
Of course, speaker wattage isn't an accurate measure of how loud or clear a keyboard sounds, and it's also worth remembering that the CDP-S350 has a slim form factor too, meaning the speakers need to work with reduced real estate too.
However, the back-firing speakers sound powerful, and you can also get a good amount of volume from them without distorting. While some might consider the sounds slightly muffled, I'm still quite impressed with Casio's engineering.
Features
We described the CDP-S350 as a digital piano/arranger hybrid in the introduction, and that's due to the included accompaniment features.
Let's look into the features included with the CDP-S350.
---
Modes
The CDP-S350 comes with 3 modes, Layer, Split and Duet Play.
These are the quintessential modes for most keyboards, and they're both equally valuable for practice purposes.
Layer mode allows you to play two sounds simultaneously and is a standard feature on most keyboards and digital pianos regardless of the price range.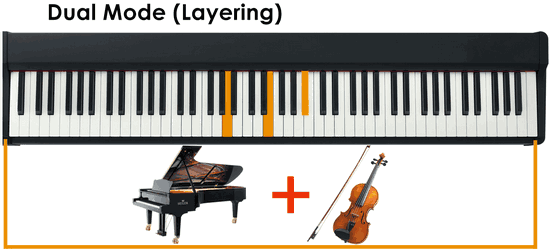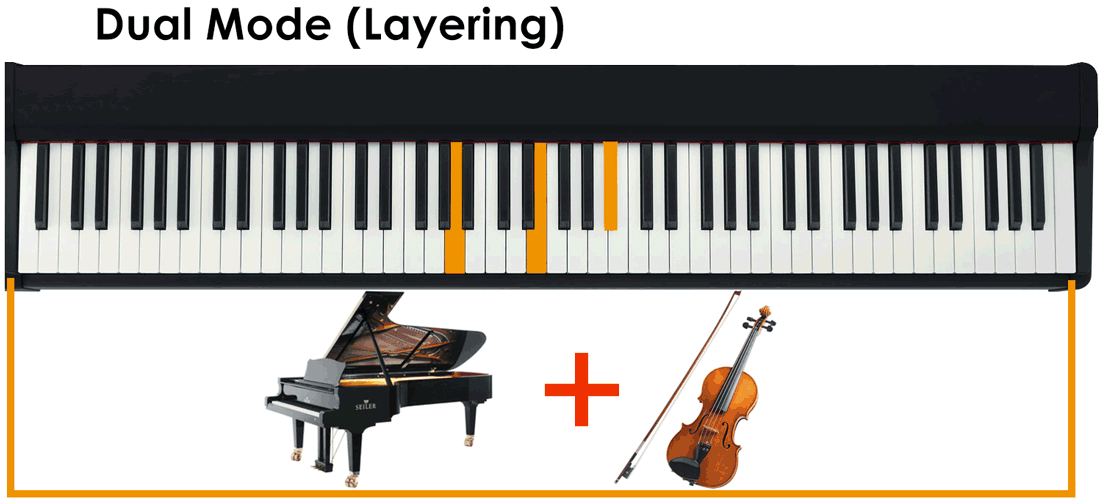 The common combo is the ballad-style keys, which overlays a piano sound with a string ensemble patch, giving a lush, sustained sound.
Of course, you can always try layering different sounds, especially since you have 700 tones to work with.
The Split mode is also included, and its most common use case is to have a bass sound on the left, and a key-based sound on the right.
Playing walking bass with your left hand is a nice technique to have if you intend to enter stage performances, so it's always a nice inclusion to have.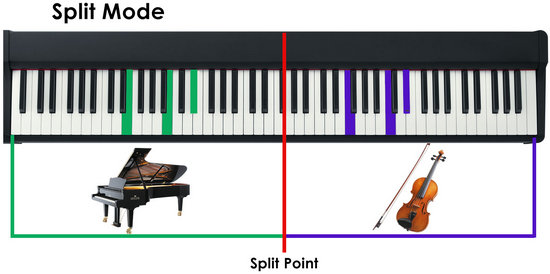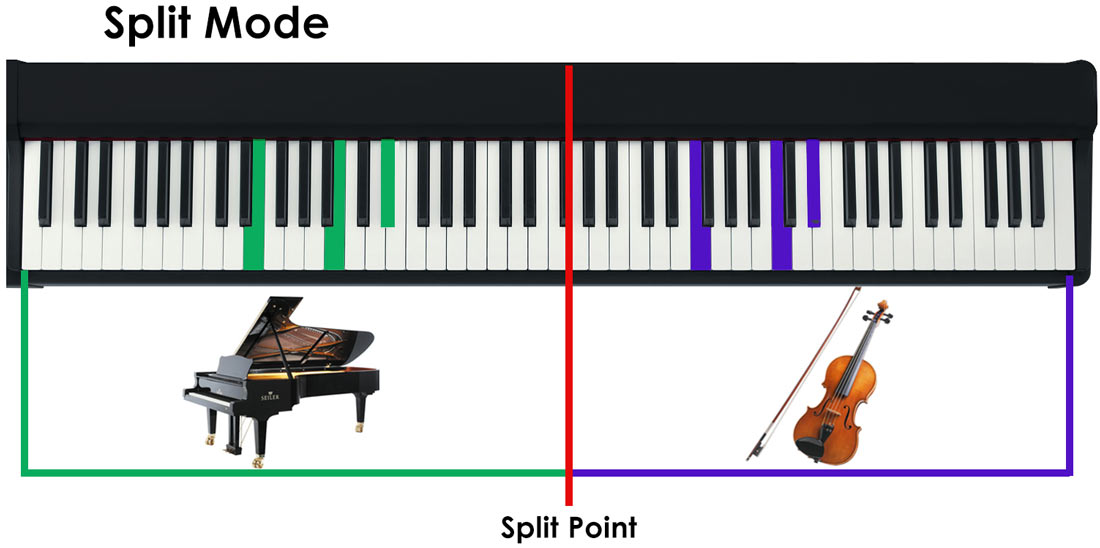 Finally, Duet Play mode splits the keyboards into two equal halves, each having the same octave range. This is a nice way of having a teacher sit alongside the student, and facilitates a good way of demonstrating how to play.
These 3 modes are pretty much all you'd need from a keyboard.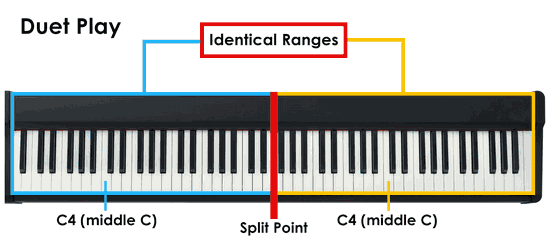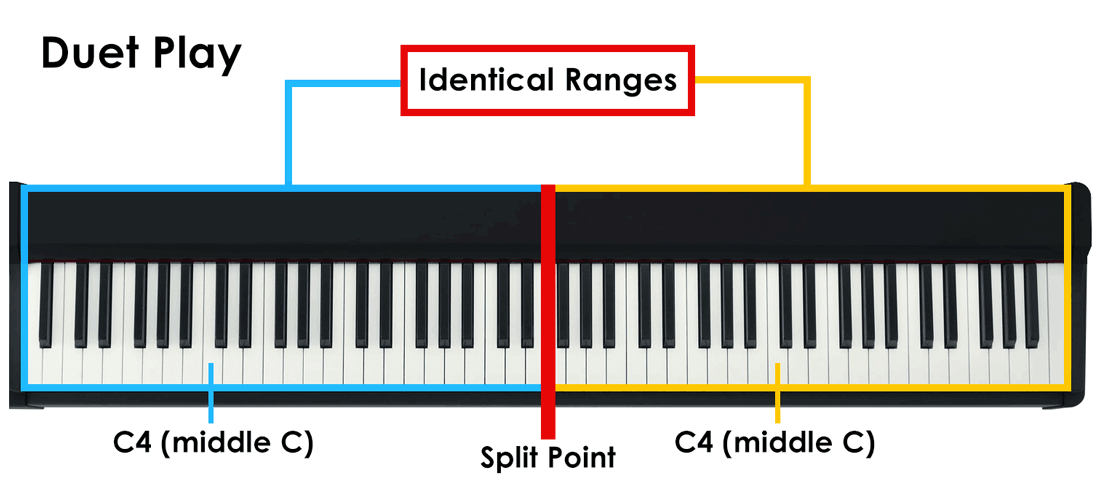 ---
Accompaniment
Now, let's discuss the accompaniment features of the CDP-S350.
Casio's entry-level keyboards have included accompaniment features since the early days, and many keyboard courses have been based around the modes common to arrangement keyboards.
Accompaniment features take rhythms past being simple backing tracks. Using this mode splits the keyboard into two halves, like Split mode, but the left hand controls the built-in chord recognition software.
The internal software then controls the accompaniment, which can be simply described as a 'one-man-band' approach to performing.
You can also add to the accompaniment with your right hand, as it's free to play whichever sound you choose.
For example, if you're going with an electronic drum loop, you can assign a synth lead to your right hand, and play solos to the beat.
Constant rhythm can get repetitive, so this is where the buttons on the front panel come into play. You can trigger fills, variations, and even outros with the corresponding controls, which can make your songs flow more organically.
The CDP-S350 has all you'd need from an arranger keyboard. If you're looking for digital piano that also includes robust arranger capabilities, it's well worth considering the CDP-S350.
As a side note, the CDP-S350 can also be considered as an upgrade to budget-level arranger keyboards (some of which are included in our sub-$300 keyboard article).
The important thing that Casio has (and Yamaha's cheaper options generally lack), is the 'finger on bass' mode, which is a necessity for intermediate level keyboard courses and above.
---
Arpeggiator
Arpeggiators aren't something I'd consider necessary, but they're still nice to have, especially on keyboards that feature guitar and synthesizer sounds.
With an arpeggiator, you can trigger repetitive patterns by holding down chords or key combinations.
The CDP-S350 comes with 100 arpeggiator patterns, and some exotic styles are also included. I personally didn't find these patterns too useful, but as usual, extra options for versatility is nice.
I'll also cover the auto-harmonize mode here, since it's an extension to the arpeggiator functions.
Basically, with auto-harmonize active, as you play a note with your right hand, it adds notes corresponding to the current chord to 'add melodic depth'.
---
Functions
The main functions on the CDP-S350 include the following:
Transposing. This allows you to change the played key. Transpositions can be changed from -12 to +12 semitones in increments of 1 semitone.
Master Tuning. The central tuning of the keyboard can be changed in steps of 0.2 Hz, from 415.5 to 465.9Hz. The default pitch is the standard 440.0Hz for Middle A.
Metronome. Pressing the metronome button activates the in-built metronome. Tempo, time signature and volume of metronome sound can be changed.
Setup Registration. Choosing presets and setting up chord modes and rhythms each time is inconvenient, so the CDP-S350 allows you to save up to 4 presets per sound bank. This is a basic preset management feature, but it allows live performances to have further added variations.
---
Song Recording and Playback
If you want to record your songs or playing, you can record up to 6 user-made songs, each consisting of up to 6 tracks.
The recorder is quite fully-fledged and it does support overdubbing (adding new recorded parts to an already recorded song). The recording features also include individual track muting and copying.
As you'd expect, the recording functions also record the rhythms and accompaniments that you control throughout the performance.
Generally, if you really want to record, you'll probably be using a dedicated DAW on your PC. However, for beginners, this is a good way of getting started.
The songs you record can be transferred over to a PC through a USB stick.
There are also 10 slots (153-162) for user songs that you can transfer to the instrument from a flash drive.
The remaining 152 songs can are built-in, and can be used for practice purposes if you're so inclined. Each hand part can be muted so that you can play it live along with the playback of the other hand part.
Connectivity
As a budget digital piano, the CDP-S350 has basic connectivity options, though they are mainly based around using the CDP-S350 at home.
There are a few omissions that make it a less ideal keyboard for performances, but we'll walk you through a few workarounds.
The first connection is the USB stick port, where you can connect your USB drives to transfer or backup songs. This works all USB drives without much issue.
Next, there's the USB Type B port, which allows you to connect the CDP-S350 to your smart devices (to use with the Chordana Play app) or to your PC, allowing you to use the CDP-S350 as a MIDI controller, integrating it into your DAW workflow.
Next, the damper pedal jack is a necessity, as it's where you'd connect your sustain pedals to the CDP-S350. As you might expect, it's hard to practice piano parts without having a sustain pedal.
Do note that the CDP-S350 supports half pedaling, so getting a pedal with half damper capabilities might very well be worth it.
You then have the dedicated pedal unit jack, where you can connect Casio-specific triple pedal setups, such as the Casio SP-34, which adds a sostenuto and soft pedal to allow you further flexibility during play.
The 1/8″ headphone/output jack is where you'll connect your headphones, allowing you to practice without using the speakers. Since the CDP-S350 lacks dedicated output jacks, this is the port that connects the CDP-S350 to external amplifiers.
Finally, you have a 1/8″ Audio In jack, which is used if you want to connect your smartphone or music players to the CDP-S350. This, in turn, let's you practice to backing tracks.
Accessories
These are the basics you need to start playing, though we've included a few recommended purchases down below.
---
Headphones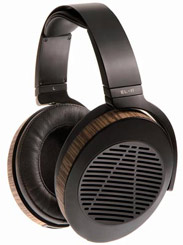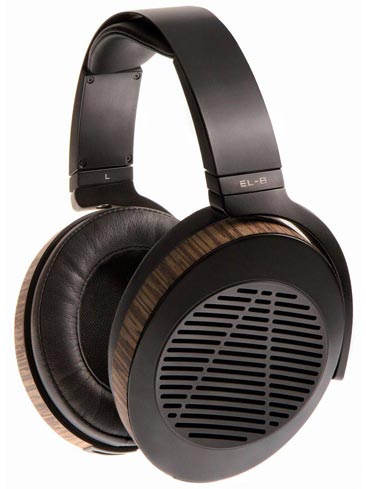 Headphones come in very handy when you want to practice in private, focusing solely on your playing and not disturbing others nearby.
Moreover, a good pair of headphones will provide a clearer and more detailed sound compared to the onboard speakers.
Check out this guide to learn how to choose the best-sounding headphones for your keyboard.
---
Sustain Pedal
The SP-3 pedal that comes with the CDP-S350 is a basic, box-shaped sustain pedal, which isn't the most intuitive design.
It works out for practice purposes, but it lacks the half-pedalling functionality that makes playing piano sounds more expressive.
If you're in the market for a good, pedal-shaped damper pedal, we recommend the Korg DS-1H, which is solidly built, and includes half-pedaling support.
Of course, you can also use the triple-pedal setup, the Casio SP-34, but I consider that an overly specific and expensive purchase. Though, if you do want to buy that, you will get half-pedaling support.
---
Keyboard Stand
Casio has the matching CS-46 and CS-68 keyboard stands as a separate purchase option. However, the slim form factor of the CDP-S350 means you can fit it nicely to nearly any X- or Z-stand on the market.
Summary
Pros
Slim and portable
Excellent control scheme
Wide selection of tones
Good weighted keys for the price
Well sampled piano sounds
Fully-fledged accompaniment features
Cons
Not all sounds are winners
Keys might feel unnatural to acoustic piano players
No line outputs
---
As you've probably gathered from the review, I'm quite happy with the CDP-S350. Casio crammed a lot into the CDP-S350, and I really liked my time testing this out.
I found my experience going from the CDP-S100 to the CDP-S350 to be practically identical to my time migrating from the PX-S1000 to the PX-S3000.
Casio took a good keyboard, and added in their tried-and-true accompaniment features to take the instrument a step further.
It shouldn't work as well as it does, but Casio makes it work. Arranger keyboards generally need a lot of controls, involving a lot of buttons spread on a cluttered interface.
Considering the CDP-S350 is marketed as slim, that adds another hurdle to user interface design, and I'm very impressed with the direction Casio took.
You might remember me referring to the CDP-S350 as a 'digital piano/arranger hybrid'. While not all of the included sounds are impressive, the ones you'll be using most often, such as the pianos, are given special attention.
You don't necessarily get the best of both worlds, but you do get an instrument that's a competent all-rounder.
To sum it up, I love how Casio designed the CDP-S350, and it's a good example of designing controls with limited space. However, I'll also admit that there are better options.
Bear in mind, in the same price bracket, you can get the Roland FP-10, which sounds, and feels excellent. Casio had some big shoes to fill here, so I can see why they went for a more unique design direction.
In conclusion, if what you're looking for is a great arranger keyboard, the CDP-S350 needs to go on your list. Most budget arrangers suffer from common pitfalls, such as unweighted keys, bad sounds, or tinny speakers.
Casio sidesteps all of these with the CDP-S350 and delivers a really competent hybrid arranger keyboard that is well worth looking into, especially with its affordable price tag.
Check the availability and current price of the Casio CDP-S350 in your region: