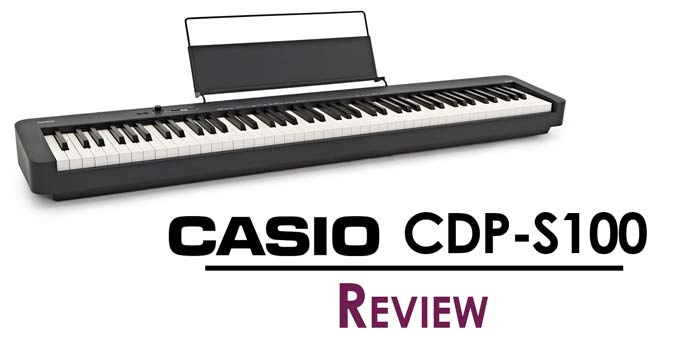 We've previously covered the newest keyboards from Casio.
The PX-S1000 and PX-S3000 were excellent digital pianos that delivered on the promise of brand-new takes on the time-tested Privia series.
As a quick refresher, the PX-S aimed successfully at being the slimmest digital piano ever without sacrificing too much in terms of playability.
Alongside the previously mentioned PX-S series, Casio also introduced the CDP-S series during their 15th anniversary, another slim form-factor keyboard aimed at keyboardists and beginners wanting a more affordable instrument.
The CDP-S100 is priced in the same group as other sub-$500 pianos, like the Casio PX-160, Roland FP-10, and Yamaha P45.
Keyboards and digital pianos in this range don't offer all the features of their more expensive counterparts, but that's not to say they aren't worth considering.
CDP-S100 vs CDP-S150: The Casio CDP-S150 was introduced along with the CDP-S100 and is available only in certain regions. It's almost identical to the CDP-S100 but comes with an onboard MIDI recorder, Duet Mode, and is compatible with Casio's 3-pedal unit (SP-34).
In one dedicated article, we've covered the best keyboards in this price range, so feel free to give that a read before diving into this review.
With affordable keyboards, we're looking for something that plays well and sounds good. We want weighted keys and quality samples. Everything else is a bonus, though it's nice to get some options for features and functions.
Does the new Casio CDP-S100/CDP-S150 fit in with the rest of the bunch? Let's find out. Everything in this review applies to both the CDP-S100 and CDP-S150 models.
Casio CDP-S100 | CDP-S150 Specs
Scaled Hammer Action II keyboard with simulated ebony/ivory keytops
88 full-size fully weighted keys
Touch Sensitivity (3 types, Off)
Sound: Dual-element AHL II sound engine
64-note polyphony
10 instrument sounds (3 acoustic pianos)
Modes: Dual (Layer), Duet (CDP-S150 only)
Metronome, Transpose, Master Tuning
1-track MIDI recorder (CDP-S150 only)
Speakers: 8W + 8W (two 12cm x 6cm oval speakers)
Connections: USB to Host, Headphone/Output jack (1/8″), Sustain Pedal jack, Audio In (stereo mini jack), Pedal Unit jack (CDP-S150 only)
W x D x H: 52" x 9.1" x 3.9" (132.2 x 23.2 x 9.9 cm)
23.1 lbs (10.5 kg)
Release Date: January 2019
Check the availability and current price of the Casio CDP-S100 | CDP-S150 in your region:
Design
While the PX-S series has a striking look, futuristic chassis, and touch-based controls, the CDP-S series follows a more traditional design with the usual buttons and knobs.
Despite differences, the CDP-S100 is still a very slim keyboard.
The dimensions of the CDP-S100 is an impressive 52″ (132.2 cm) x 9.1″ (23.2 cm) x 3.9″ (9.9 cm), slimmer than the PX-S1000 which we praised. The CDP-S100 is also very light, coming in at 23.1 lbs (10.5 kg).
This was the design ethos behind the CDP-S series, and it shows. The lightweight CDP-S100 is easy to move around and allows you to practice anywhere.
This characteristic is further exemplified by the CDP-S100's ability to run on 6AA batteries.
Now you can run the keyboard from the AC mains using the provided AC adapter, but 6 brand-new batteries should give you a full 10+ hours of battery life, which is no small feat considering the CDP-S100 has onboard speakers.
Apart from its slim form factor, the chassis is standard. The materials are plastic, though the surface has a matte texture, so fingerprints are less of an issue.
In terms of sturdiness, the CDP-S100 is decent, with the chassis remaining solidly in place even when applying heavy force. If anything, the CDP-S100 should survive collisions, but perhaps with a few scratches.
The same build quality can be found in the volume knob, which stays in place and does not wiggle around.  A good amount of resistance is also present, allowing precise volume changes.
I also like how the buttons feel, having a soft, tactile click that can be felt (but not heard) when each button is pressed down.
Something worth considering here is that the presence of physical buttons on the CDP-S100 might be important for the visually impaired.
Since the PX-S1000 and PX-S3000 use capacitive touch controls, piano players who rely on touch are disadvantaged since touch controls require the use of visual aids.
In terms of controllability, the CDP-S100 resembles other budget keyboards in this price range, including their button and key combos.
I never liked key combinations for accessing features and functions and will take dedicated keys any day.
Most keyboards relying on key combinations (like Yamaha's YDP 144 and Casio's PX-S1000) require the use of a manual, since there's no on-board guidance.
Though you'll memorize commonly used controls over time, this is not an intuitive arrangement. Even so, the CDP-S100 does it right.
On the front panel, printed text guides above the keys guide you through the process of changing settings.
Even without the manual, it's possible to use the CDP-S100 without issues. Casio even managed to include a numeric keypad-styled input for the metronome tempo.
On top of all that, a helpful tone plays whenever you change a setting. For example, when switching between sounds, a beep sounds that indicates changes have been made.
The same tone occurs in a few variations to indicate effect intensity.
Overall, the control scheme here is nicely implemented. Key combinations may seem complicated, but they do make the front panel a lot less cluttered, which is understandable since there aren't too many features requiring dedicated buttons.
If you can't live without a graphical user interface, Casio's Chordana Play for Piano app integrates with the CDP-S100.
This app is available on Android and iOS and streamlines navigation. We'll cover this in detail in the Connectivity section, but the experience was just fine without it.
There isn't any choice when it comes to coloring, as the CDP-S100 only comes black.
In general, the CDP-S100 follows a slim, standard design that hits all the right design cues and delivers a solid experience despite the limitations that come with a low price.
Keyboard
With the new PX-S and CDP-S line of keyboards, Casio has added a new key action to the mix, and it's different than the trusted Casio Tri Sensor Hammer Action found on the previous Privia line of digital pianos.
With the CDP-S series, Casio uses their new 88-key, fully-weighted keyboard, which they call Scaled Hammer Action II.
It feels very similar to the keyboard found on the PX-S1000 and PX-S3000.
As we've covered in the respective reviews, these key actions are designed to accommodate the compact form factor and have shorter pivot lengths to reduce the overall width of the keyboard.
These keys are two-sensor key actions that track your keypresses passing through each sensor.
Unlike the keys found on the PX-S series, the CDP-S series does not have the so-called "smart" part of the action that relies on a software-based solution to track your keypress depth.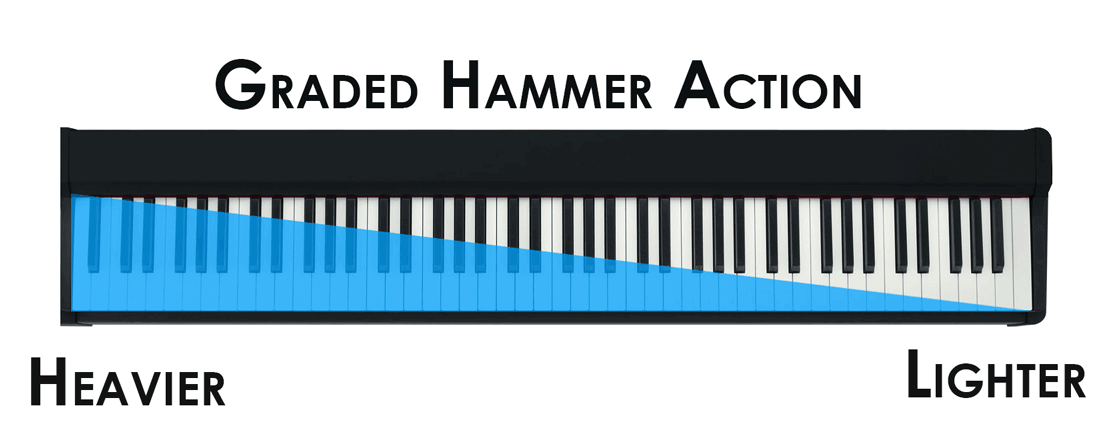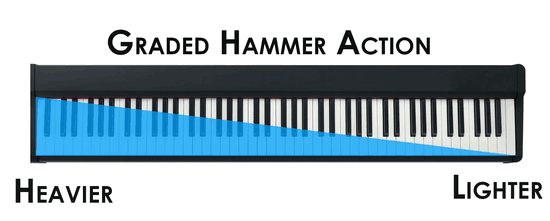 In terms of playability, this results in a slightly lower degree of accuracy, though from personal experience it still feels responsive. The keys are perfectly usable for practice and general playing.
Despite the downgrade from the PX-S series' key action, the impressive feat of engineering that is the shortened width is still present, and the slim width of the CDP-S100 speaks for itself.
Specifically, this occurs at the upper points of the white keys, around 2 fingers from the intersection with the upper panel. If you have a habit of playing into the keys, this might be an issue.
However, if you're a beginner, this is hardly going to be a problem, and this aspect of CDP-100's keyboard is comparable to other entry-level piano on the market.
The keys themselves are plastic but have a simulated ivory and ebony feel, which gives a subtle grip that reduces the risk of slipping during play.
This isn't something you get on most keyboards in this price range, so its inclusion is very welcome.
Overall, the keys play very good, especially when you consider their low price tag. While they're slightly lighter than those found on acoustic pianos, they are a decent approximation of the real deal and work great for practice.
Touch sensitivity is also implemented nicely. The keys respond accurately to repeated key presses as well.
Speaking of touch response, there are 3 different intensity levels plus an OFF option.
Heavier settings require harder keypresses to trigger louder sound samples, and the reverse is true for the lighter setting.
I found myself liking the default setting, which delivered realistic feedback, even relative to the lightness of the keys.
I like this keyboard, even when compared to the rest of the competitors in this price range.
It beats Yamaha's GHS action easily (which lacks textured keys and feels less responsive overall) and feels on par with Kawai's offerings.
However, I still prefer Roland's PHA-4 Standard action as found on the FP-10, and it is the same key action found on Roland's midrange keyboards, which is a steal for the price.
Sound
Budget keyboards aren't always the best when it comes to sounds. Large sample libraries require lots of space and are expensive to implement fully.
However, detailed sounds are important for practice purposes, especially in terms of touch response.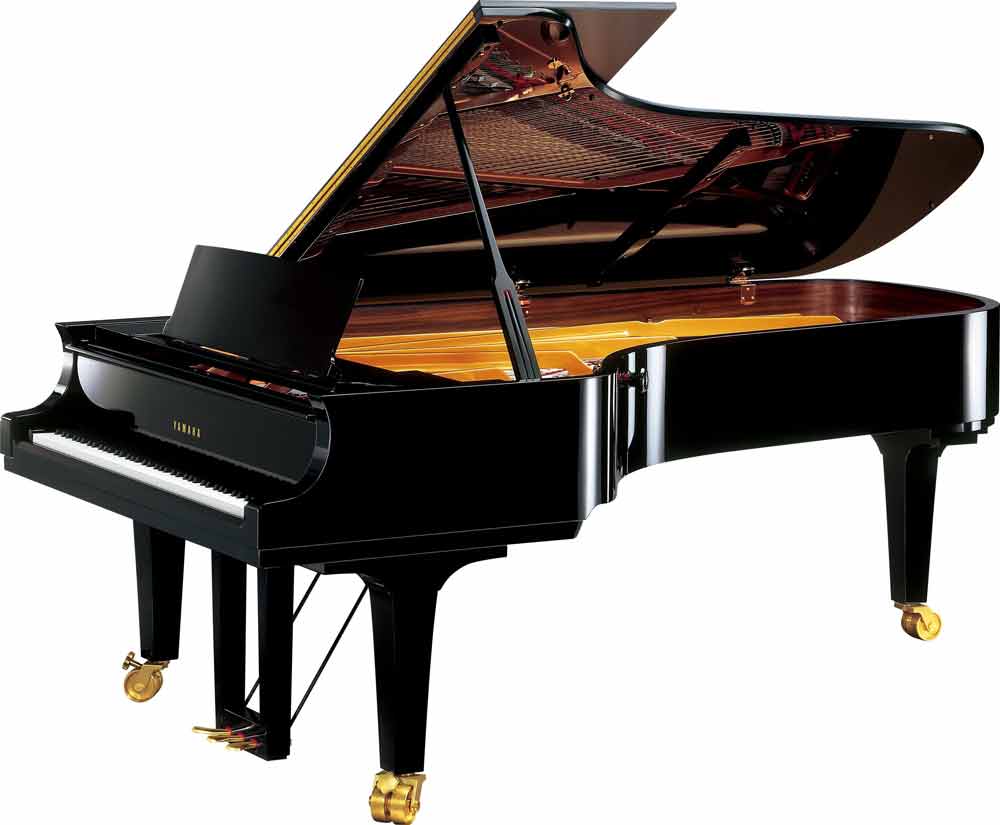 The CDP-S100 uses an updated version of the AHL sound engine from previous keyboards, delivering up to 4x higher-res stereo audio compared to the previous sound engine.
In theory this means higher audio fidelity, but it doesn't seem obvious in reality.
The piano sounds are well-sampled and differ from those in prior Privia digital pianos. Older budget Privias had piano sounds that felt scooped in mid frequencies, so I'm glad the new samples remedy that issue.
The new sounds are sampled from an unnamed concert grand and sound excellent and clean.
I suspect the same samples from the PX-S1000 are used here, though with fewer velocity layers and shorter decay (as expected from a budget keyboard).
The 3 variants are versatile and flexible. The standard piano is the perfect all-arounder and can handle songs from any genre with its clean, neutral tone.
The mellow piano preset is ideal for ballads and backing accompaniments. Finally, the bright piano covers your jazz and blues needs.
Personally, I recommend practicing with the standard preset, as it has the clearest tone of the bunch and allows you to pinpoint mistakes and weaknesses easily.
Pianos aren't the only sounds included on the CDP-S100, and these can be used to spice up practice sessions or practice genre-specific playstyles.
The 3 electric pianos are a good selection of classic sounds, covering everything from classic Wurlitzers to FM synths.
I'm surprised at the responsiveness of these sounds, as playing hard really brings out the bite I'd expect from a real, amped-up Wurlitzer.
The harpsichord is passable at best, lacking the key-off samples that emulate a real harpsichord's response to keys being released. Otherwise, this sounds as you'd expect and will help you practice Baroque-era pieces.
The string sounds are less than stellar, but these will mainly be used in conjunction with the Layer mode where they don't take the spotlight.
Finally, the organ sounds are very nicely done. The keys work as organ slides and the sounds include an authentic emulation of a rotary speaker (albeit unmodifiable).
Essentially, the sound palette on offer is decent enough for practice purposes, with attention clearly given to the piano tones.
All in all, the sounds are suitable and can serve as a valid substitute for beginners who need a digital practice piano.
---
Effects
In terms of effects, the CDP-S100 comes with 2 built-in effects, a Reverb and a Chorus.
The Reverb has 4 algorithms and an option to turn it off as well. The algorithms differ primarily in their size parameter, going from a small room at level 1 to a large concert hall-style reverb at the maximum level.
Each pre-set has a default reverb setting and tweaks weren't necessary during my play test.


Chorus comes in 4 different types, along with the OFF option. The chorus ranges from a subtle stereo widening effect to a lush detuned flanging.
This applies best to organs and electric pianos to emulate running real keyboards through an effects box.
I found that most sounds worked best with the subtle level 1 and 2 settings, with higher levels being a bit too much for my taste.
That's it in terms of available settings.
You should note that beginners shouldn't have effects active at high intensities during practice, as these could end up masking certain mistakes that may end up becoming habits in the long run.
---
Polyphony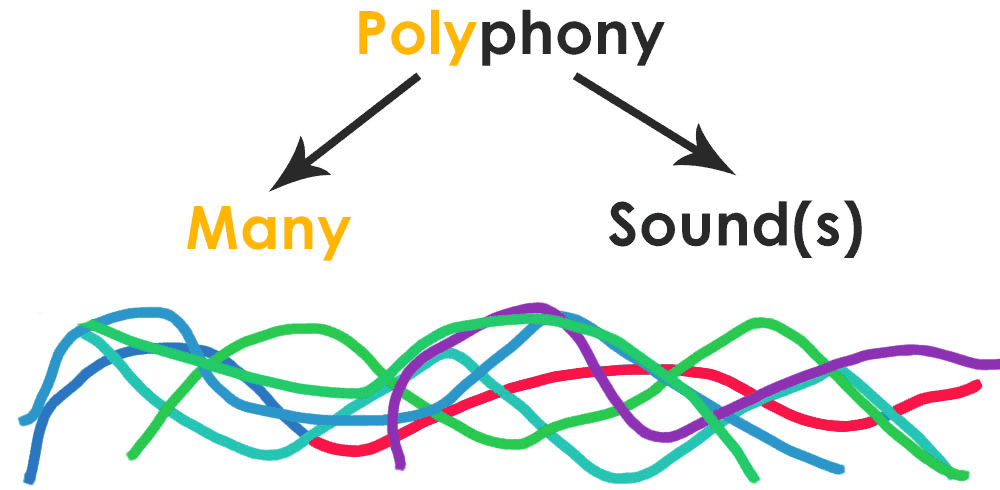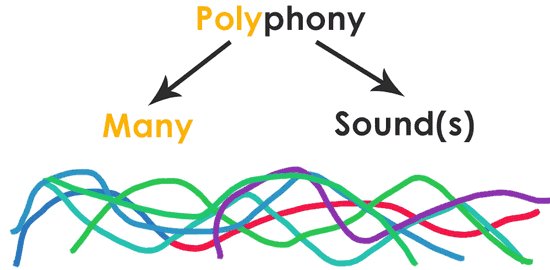 The CDP-S100 has a maximum polyphony of 64 notes, which sufficiently covers all song types, whether classical songs or modern ballads.
While 64 notes is normal for budget keyboards, this is a bit on the low side, especially since most competitors, such as Casio's PX-160 and the Korg B2 offer nearly double the polyphony count (128- and 120-note polyphony respectively).
A higher polyphony means that notes won't cut off during play.
To be fair, it is hard to force cut offs to happen, even with 64 notes, though if you're playing with sustained, layered voices, you might hear a few notes dropping out.
---
Speakers
Much like the PX-S1000, I'm impressed that Casio included speakers on such a slim digital piano.
Even more impressive is that these are powerful, dual 8W speakers, when other competitors like the Roland FP-10 and Yamaha P-45 rely on dual 6W ones.
The back-firing speakers are quite powerful for the size and sound excellent, with no distortion, even at max volume, delivering a clean, wide soundscape.
The speakers have front-facing speaker grills, so you'll be able to hear a clear tone even when it's not placed close to a wall.
Though turning your volume up high isn't recommended, it's nice to know that the option is there if you need some extra volume.
Features
As a budget piano, there aren't many extra features on the CDP-S100, but all the necessities are included.
---
Modes
The CDP-S100 comes with only 1 special play mode, the Layer mode.
Layer mode allows you to play two sounds simultaneously and is a standard feature on most keyboards and digital pianos, regardless of price range.
The main way you'll utilize this play mode is by layering strings with other sounds to get that classic, ballad backing tone. You can also layer the acoustic pianos with the electrics for a wide sound.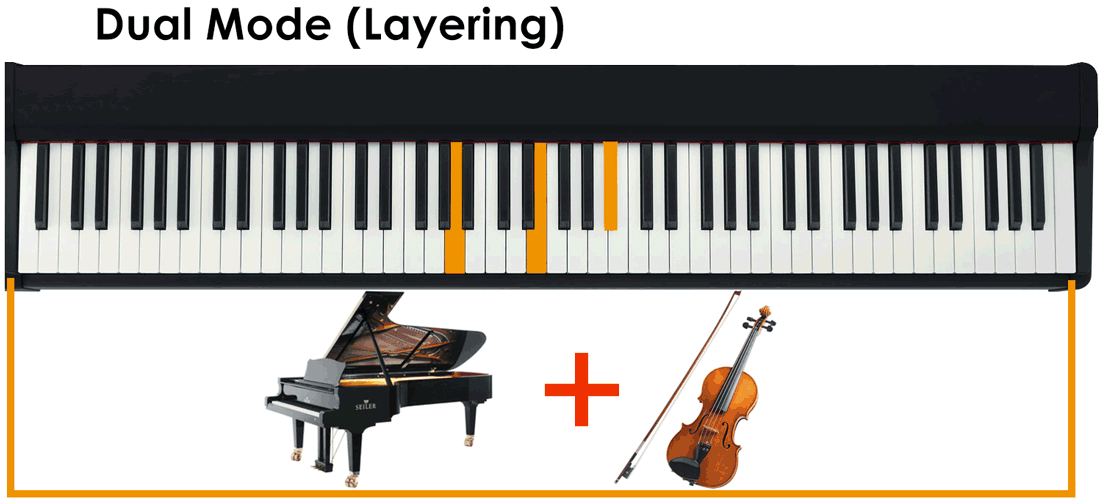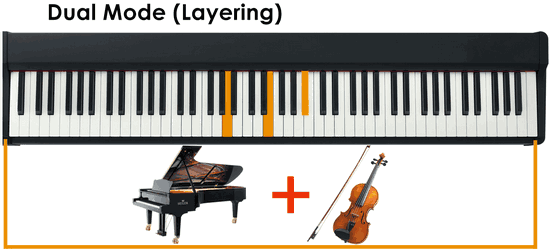 Unfortunately, Split mode isn't an option here, and neither is the Duet Play mode that allows the keyboard to be used by student and teacher at the same time.
---
Functions
The main functions on the CDP-S100 include the following:
1) Transposing. This allows you to change the played key. Transpositions can be changed from -12 to +12 semitones in increments of 1 semitone.
2) Master Tuning. You can change the central tuning of the keyboard in steps of 0.2 Hz, from 415.5 to 465.9Hz. 440.0Hz is the standard default pitch for Middle A.
3) Metronome. Pressing the metronome button activates the in-built metronome. Tempo, time signature, and volume of metronome sound can be changed.
Connectivity
As a budget digital piano, the CDP-S100 has basic connectivity options, primarily focused on home-based use.
However, certain features can also be applied to stage and gig use (though not without jumping through some hoops).

If you want to practice with a backing track, you can connect your smartphone or music player to the Audio In (3.5mm) jack.
To use headphones, a Headphone/Output jack is provided and fits most consumer headphones with its 3.5mm (1/8″) mini jack.
To use the CDP-S100 with an external PA system or amplifier, you'll also use this output, as there no dedicated line out jacks.
Finally, a USB type B port is included that connects the CDP-S100 to your smartphone (for use with supported apps) or to your computer as a MIDI keyboard.
This is also the port you'll use to connect the CDP-S100 to the Chordana Play app.
Finally, a Damper Pedal jack allows you to connect any standard damper pedal to the CDP-S100. While Casio includes a pedal with each purchase, you can use any pedals you already own without any issues.
---
Chordana Play for iOS and Android
We've talked about this app throughout the review and it allows you to control the CDP-S100 with a graphical interface via your smartphone or tablet.
This is a common way for manufacturers to compensate for having no screen. Since the CDP-S100 is a budget keyboard, I can accept the screen's exclusion.
The app itself integrates nicely when connected and allows you to use Casio's piano tutorials and song teaching features.
Chordana Play also lets you control some functions on the keyboard, like switching between sounds and controlling metronome tempo.
While I found this app indispensable during my PX-S1000 review, I'm of a different stance with the CDP-S100.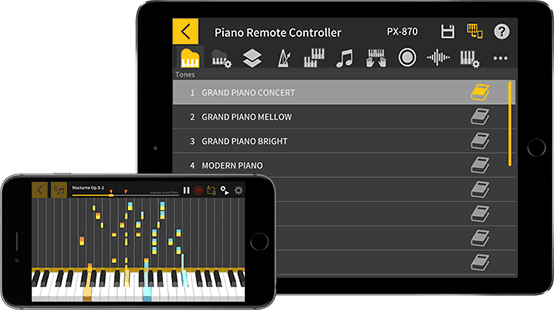 The CDP-S100 includes helpful guides on the keyboard to assist with navigation and setting changes, so the main advantage of using the app is that you can always see the tempo of your metronome.
In short, the app will be helpful for novices thanks to the lessons if offers. Even if you're not using the lesson functions, the control features might make the app worth it in the long run. There's no harm in trying it out.
Accessories
These are the basics you need to start playing, though we've included some recommended purchases down below.
Sustain Pedal
The included SP-3 damper pedal is a basic box-shaped pedal that isn't very intuitive.
While it works well for practice purposes (and the CDP-S100 does not support half dampering), beginners should use the full-sized pedals that emulate the feel of those on real keyboards.
Personally, I always recommend the acoustic-like M-Audio SP-2 sustain pedal, which feels solid and is also very affordable.
---
USB Adapter and Cable
A USB type-B cable allows you to connect the CDP-S100 to your phone (for the Chordana app) or your computer (for DAW or performance software). You may need an adapter to connect to your phone.
---
Keyboard Stand
If you want a matching stand that makes the CDP-S100 feel right at home, consider the matching CS-68PBK (or its white counterpart if you like contrast).
It works with all the newly introduced Casio pianos including the CDP-S100, CDP-S350, and the PX-S series. There's also the more affordable CS-46 stand that should also work with both series.
The slim form factor of the CDP-S100 means you can pair this nicely with nearly any stand available. So, if you're looking for a more portable and affordable solution, consider buying an X- or Z-style stand.
Here are a few solid options I recommend:
---
Headphones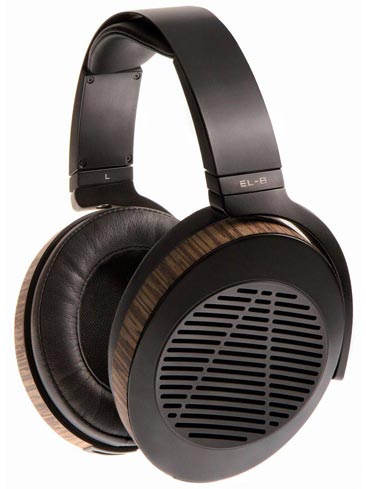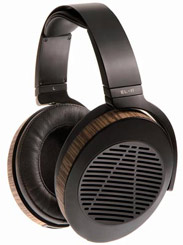 Headphones come in very handy when you want to practice in private, focusing solely on your playing and not disturbing others nearby.
Moreover, a good pair of headphones will provide a clearer and more detailed sound compared to the onboard speakers.
Check out this guide to learn how to choose the best-sounding headphones for your digital piano.

Summary
Pros
Slim and portable
Surprisingly good keyboard for the price
Well sampled piano sounds
Accurate touch sensitivity
Clean sounding speakers
Decent user interface
Cons
No onboard MIDI recorder
Less than stellar connectivity options
Keys have a shorter pivot length
---
As far as budget digital pianos go, the Casio CDP-S100 is a good choice for the price.
The key action and samples included with the CDP-S100 are new and they definitely show it when compared to the somewhat older keyboards in this price range. Overall, I'm impressed with the quality here.
While most of the innovations are ripped from Casio's new flagship PX-S line, that's not a bad thing, as evidenced by our immensely positive reviews for both the PX-S1000 and PX-S3000. As with those digital pianos, the CDP-S100 delivers good value in a compact package.
That said, the fact that this is compact may not be as relevant as you'd think. The PX-S series was designed for stage use, hence the portability factor, but I don't exactly see why the CDP-S series needed the same treatment.
While the compact form factor is nice to have, it comes with the caveat of a shorter pivot length for the keys.
As a beginner, this isn't much of an issue, but advanced players may find the keys slightly jarring, especially if they are used to more premium, authentic keyboards or actual pianos.
This hampers the otherwise excellent playing experience and feels like a sacrifice that ends up hurting the CDP-S100.
The compact form factor also doesn't make much sense considering the limited connectivity options, so it clearly isn't meant to be used on stage.
The main reason I recommend a lightweight digital piano for practice is if you're always on the go, but that doesn't seem like a large enough target demographic to warrant the new design.
Minor complaints aside, there's nothing bad about the CDP-S100.
Back-facing speakers make the CDP-S100 right at home on a desk and you'll enjoy the excellent speaker quality even without a stand (a common issue on keyboards with down firing speakers).
Piano sounds and key feel are subjective matters, and while I'm satisfied with the CDP-S100 in that regard, I recommend that you test things out before making your final purchase.
I strongly recommend considering the Roland FP-10 if you're looking into the CDP-S100.
This uses Roland's well-received PHA-4 Standard key action, which is used in other mid-range keyboards and has Roland's SuperNATURAL piano modeling technology behind the piano sounds, delivering a more realistic sound to my ears.
Check the availability and current price of the Casio CDP-S100 | CDP-S150 in your region:
Alternatives
The market of entry-level digital pianos is getting more and more competitive every year.
New features and technologies that earlier were available only on higher-end models are slowly but surely entering the entry-level digital piano market.
There are a number of strong competitors that you might want to add to your list along with the CDP-S100.
Check out our Best Beginner Digital Pianos Guide to learn more about the best beginner-friendly digital pianos on the market and how the CDP-S100 stacks up to them (including the CDP-S100's big brother, the CDP-S350).