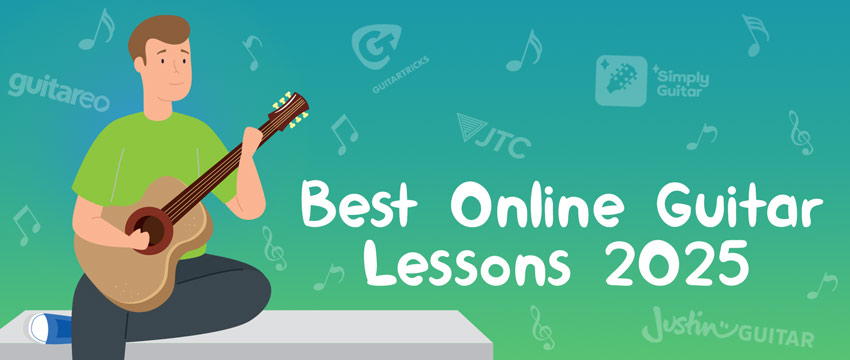 In the old days, hiring a guitar instructor was the only thinkable way to learn about the musical instrument.
Today, online guitar platforms are gaining a respectable reputation as another option for learning. With thousands upon thousands of guitar video lessons and materials to see, learning how to play the guitar is now more accessible than ever.
Aside from learning from highly-qualified instructors, you can also learn from your guitar idols, making learning more exciting.
However, can it match the results that the traditional method offers? And, if so, what are the best online guitar platforms you should try?
Where Do Online Methods Fit In The Musical Journey?
Traditional lessons with an in-person guitar teacher have been a tried and tested method for guitar players who are serious in their development.
Many guitarists who now play professionally in a band or work as session musicians have also come from this training method. Back in the day, this was the only option available, even for those who just wanted to learn and play for fun.
Thankfully, with the help of online guitar platforms, you can design your learning methods to suit your needs and interests and still excel at learning guitar. And as long as you are dedicated to the process, reaching the next level shouldn't be a problem.
Since you can study the course content individually and on your own time, you have control over your development as a guitar player, which can be appealing to many beginners aiming to learn the instrument.
The Potential Drawbacks of Online Lessons
While online guitar lessons offer certain benefits, they also come with associated drawbacks.
The first is a lack of personal interaction, which can be detrimental to a musician's development due to a lack of immediate feedback, guidance, and motivation that an in-person teacher can offer.
The second is the distraction in the environment, which can result in a student losing focus. Lack of focus can affect a person's development as a better musician.
The third and most obvious one is the concern of developing bad techniques. Technically correct guitar playing isn't just about correct fingerings but about a lot of unseen elements that become obvious to a physical teacher.
For example, your posture, the angle of your guitar headstock and whether you place it on your left thigh or right one, along with the balance of body-weight in relation to the weight of the guitar have a foundational impact on your playing.
Besides these, some minute details like your breathing, along with specific muscles where tension builds up, is also better spotted by an in-person teacher.
What About Free Methods?
Learning how to play the guitar with free online resources like YouTube channels can be a great option if you are on a tight budget. However, it's difficult to find a well-structured learning method within free videos.
A lot of the popular free videos are about playing songs.
While they do teach you how to play a particular song, they don't usually break down the nitty-gritty of the music theory and song structure that holds that song together.
This makes a major difference in what a student takes out from their guitar lessons over a period of time.
However, by utilizing online guitar platforms with paid memberships or even subscribing to YouTube channels with additional paid content, you can access a wider range of features, lessons, and topics than what's typically available through free subscriptions.
One such gem is Justin Guitar, which can be found in our dedicated article on free ways of learning the guitar. It's an amazing platform where you'll come across professional grade lessons offered for free, besides the paid downloads and courses.
Our Favorite Online Guitar Methods
Selecting the most suitable approach from the plethora of options available in the market can be quite a challenge. To assist you in making a well-informed decision, I've curated a list of six exceptional online guitar learning platforms, each with its own set of strengths and weaknesses.
As you narrow down your choice, it's crucial to identify your priorities when it comes to learning the guitar.
Are you aiming to master classic rock riffs? Do you envision yourself strumming along in an acoustic setting? Perhaps you're seeking a comprehensive understanding of music theory, or maybe you simply want to learn to play your favorite tunes.
No matter your musical inclination, you'll find a course below that aligns with your preferences. Additionally, make sure to explore in-depth reviews of any platforms that catch your eye, as they will provide you with more comprehensive insights!
Before delving into the reviews, let's start by taking a look at the comparison table below. This overview will give you a quick snapshot of the featured apps and platforms that have secured their place on the list.
Fender Play – Novice-Friendly Guitar Learning 
Created and launched by one of the most famous guitar brands of all time, Fender Play has gained an impressive reputation for being one of the go-to options when we talk about online guitar platforms.
In just more than five years, the platform has already made more than 11,000 video lessons that its students can learn from and enjoy, which are very comprehensive, from beginner to more advanced topics.
However, it's worth mentioning that for those seeking a more liberal learning environment might find it a bit 'salesy.' With 'Fender-only' products used in every case from guitars to amps to pedals as well, the learning environment and platform appear designed to promote Fender products in general.
However, unlike a lot of other guitar platforms, there is dedicated coverage for the ukulele, the electric bass, and the acoustic bass as well. While the number of lessons is nowhere close to the ones on the electric guitar, it's good to know that they've paid attention to everyone's needs.
In fact, this is something that will resonate throughout the platform as you come across tutors from different musical and ethnic backgrounds.
Once you choose your learning path, each path has five to seven levels, and each level comes with 20 to 25-course videos that you watch and learn. Being bite-sized, I found these lessons to be ideal for the short attention span of a lot of learners on the internet.
The platform has a vast library of modern and classic songs with tutorial lessons from specialist guitar instructors, followed by a separate practice lesson where you can play along with the song.
What I liked about Fender Play is that as early as the fourth video on the first level, you can already start playing a song. A lot of the tunes and riffs are occasionally oversimplified to make it accessible to the beginner.
All in all, Fender Play is a great option for those who have no experience yet in playing the guitar but is serious about learning and would love to see drastic improvements in themselves.
It is also for those struggling with music theory and those who want to come back from hiatus.
Guitar Tricks – Versatile Learning for All Levels
If you are looking for an online guitar platform that has vast experience in teaching lots of people how to play the guitar, then Guitar Tricks might be what you are searching for.
With its history of 25 years of how to play the guitar at all skill levels, Guitar Tricks has been one of the go-to channels for those who are interested to learn about the instrument or improve their playing.
One of the platform's strengths is its structure. It has a Core Learning System, which allows you to choose the lessons you want to learn for your skill level, whether a beginner or advanced. You will then have to select the genre of your choice to proceed with your lessons.
Each of the genres has sub-sections of its own, where you will be able to see the lessons, and you will instantly notice that they are highly thought-out and well-organized, ensuring that you will learn all the skills needed in an orderly manner.
The song library is also quite staggering, with a collection of more than a thousand songs.
Another impressive feature of Guitar Tricks is the Artist Studies, which allows students to learn the playing styles from a wide list of legendary guitar players, such as Eddie Van Halen, Jimmy Page, Stevie Ray Vaughan, and more, as the platform's experienced teachers do a deep analysis and discussion on them.
However, there are a few qualms about the platform, one being its streaming issue with its video lessons. You might have a fast and stable internet connection, but might still experience some lags and loading issues, and it can be pretty irritating sometimes.
The second is the lack of dedicated bass lessons.
However, keeping all that aside, Guitar Tricks is a stellar platform for intermediate guitar players who don't need to be micro-managed by an in-person teacher or even those who are frequently traveling and have no access to a guitar but are serious about getting better.
True Fire – Engaging Guitar Education for Enthusiasts
Another online guitar platform on our list that comes with an outstanding history. In more than 30 years, TrueFire has been able to create more than 50,000 lessons, and they are taught by more than 600 guitar instructors from different music scenes.
Similar to most platforms, TrueFire starts off with "Learning Paths" which are categorized into genres, so you can choose your preferred playing style to learn.
But what really distinguishes TrueFire from the rest is the weightage given to bass lessons, along with brief add-ons such as banjo, ukelele, mandolin, harmonica, dobro, and the saxophone (accompanied by the guitar).
While the learning paths provide a set framework for instruction throughout the platform, that's not the only way available. Since TrueFire is aimed at intermediate to advanced players, there are a lot of niche topics which are bundled into courses and offered as a one-time, downloaded purchase.
Speaking of niche topics, singing and playing upright jazz is as specific as you get can get, when it comes to the specialized one-time downloads.
You may not realize it, but TrueFire's attention to detail greatly shortens the time it takes to learn a lick or a song. As seen above in the below, notations and tabs are synced to the video lesson's audio, which means that they pause while the instructor speaks and resume in sync when the playing continues.
However, there are drawbacks to working to make True Fire into such a professional platform. Some newcomers may feel out of place since the courses have an air of professionalism to them and are taught by renowned musicians.
While the self-motivated learner couldn't find anything more ideal, others may feel overwhelmed by the abundance of resources available.
Some newcomers might benefit from a more generalized curriculum before they can fully take advantage of the options presented here since they are still unsure of their preferred path.
With that said, if you are serious about taking your skills to an intermediate or possibly even a pro level, then TrueFire would be an excellent platform for you, thanks to the weight of its faculty and the prolific quality of the instructional material.
Simply Guitar – Interactive Learning in a Gamified Environment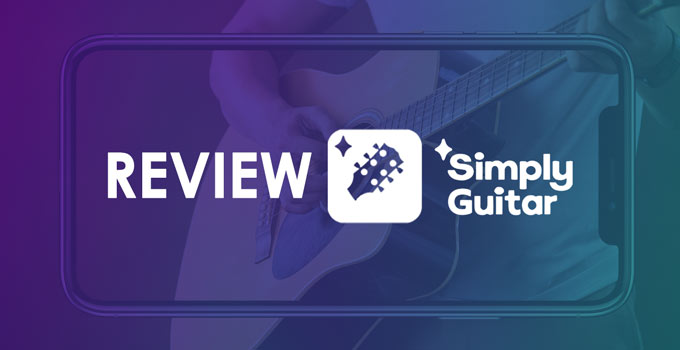 Simply Guitar, which bills itself as one of the easiest guitar apps to use, has quietly but gradually moved through the ranks of beginner-friendly guitar learning platforms.
Simply Guitar is ideal for people who enjoy learning through a "game interface," and it builds on the popularity of its predecessor, Simply Piano.
Because the app listens to what you're playing, the user experience is far more interesting than watching a series of pre-recorded videos on an online site.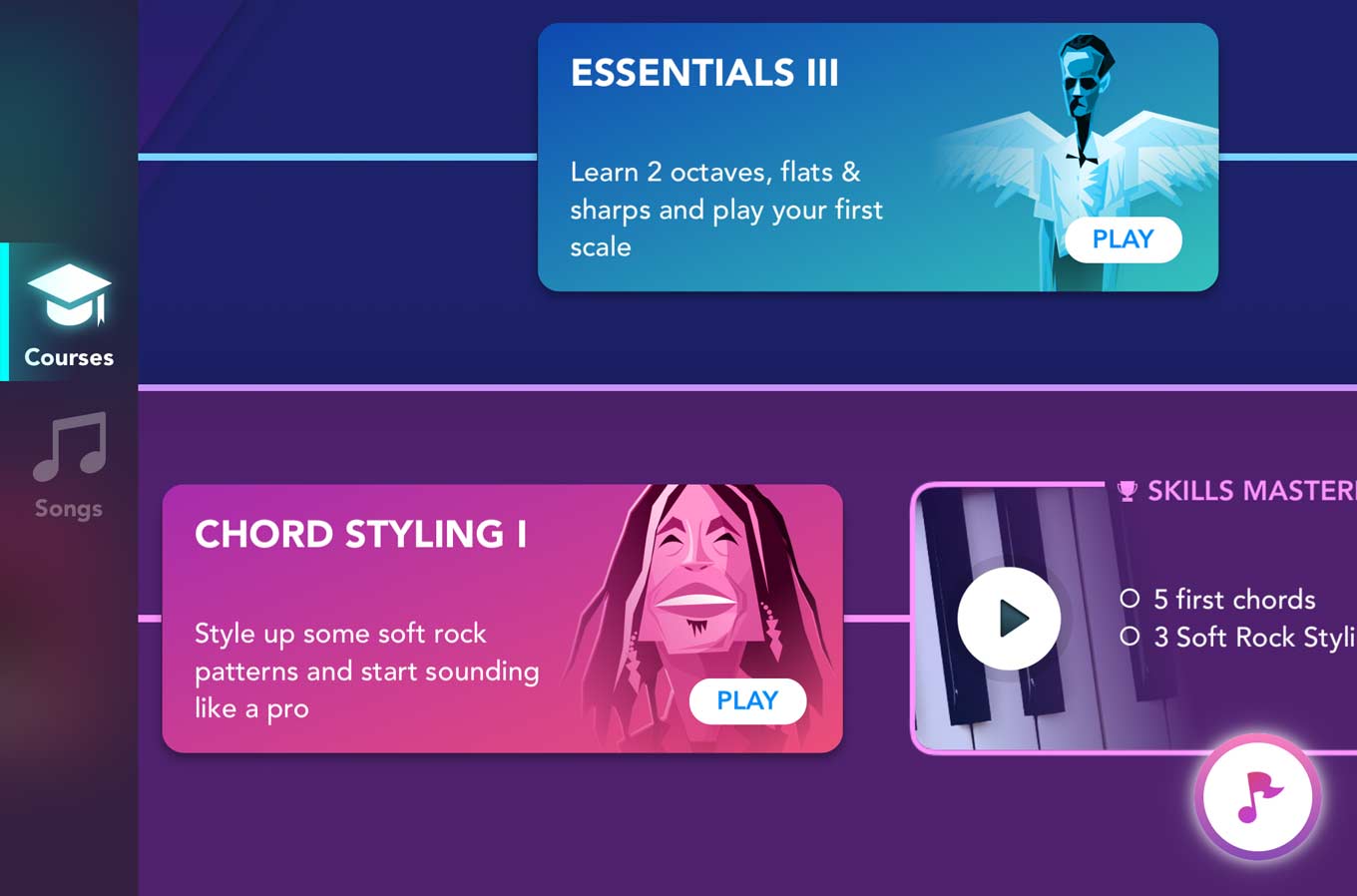 When you reach the main menu, you're welcomed with an intriguing horizontal menu that branches into Chords and Lead/Soloist. Given that's its designed as a mobile and iPad app, Simply Guitar is probably the most easiest platform to navigate through – simply swipe right for more advanced stuff!
As far as the tutors go, Simply Guitar has just one native tutor who walks us through the basics of a concept before the start of a topic. With simple, concise lessons filled with illustrations and animations, it's easy to follow along in the beginning.
With a points-based performance rating, similar to that of a video game, there is a sense of competitiveness and desire to ace all of the challenges that users really enjoy.
While there are only about 250 songs in their guitar repertoire at the moment, Simply Guitar has chosen harmonically complicated tunes that sound complex but are technically simple to perform on the guitar.
I believe the intelligent song selection keeps you motivated for longer because it's really satisfying to be able to play along to something that you know is well above your present level.
However, one of the notable negatives is the high decibel levels at which Simply Guitar detects sounds. My plucked notes were frequently missed by the app, so you may need to pick/pluck louder than usual in order for the app to identify it, which may impede the development of your dynamic expressions.
All in all, being able to operate from your mobile device is a highly convenient way of learning for a lot of people nowadays. However, to cover for its drawbacks, I recommend using Simply Guitar as a  supplement to your in-person classes or online courses.
JamTrack Central – Mastering Guitar Improvisation
If you are looking for a change of scenery and something that is more improvisation-based, then you should try out Jam Track Central.
After signing up, you will immediately notice that Jam Track Central is way less structured than the ones we've seen so far. However, if you can look beyond this issue, it's a stellar platform with some of the most insightful lessons you'll ever find online.
The platform's curriculum is divided into three: lesson packs, masterclasses, and online courses.
Lesson packs are composed of individual lessons taught with a specific topic in a short-format video. They also come with exercises and PDF transcripts for practicing.
The masterclasses are more comprehensive, and their video lessons can take 1 to 2 hours each. Still, a masterclass video is composed of different topics and would be worth watching.
Lastly, its online courses are your more typical format and are more similar to the many online guitar platforms available, as you will have to finish the first level to go to another one. With this feature, you can also get personalized feedback, which is nice.
Aside from these courses and features that Jam Track Central is offering, it also has its flagship feature called the "Bootcamp." It allows you to receive feedback from one of the renowned instructors of its choice.
Although the platform has a vast library of songs you can play along, it's more focused on lead guitar improvisations based on various styles. So it's ideal for you if that's your orientation as a guitar player.
Jam Track Central has a list of instructors to die for, under its belt, such as the likes of Lari Basilio, Martin Miller, Andy James, Guthrie Govan, Tom Quayle, Matteo Mancuso, Andy James, Justin Derrico, and many more.
While one could complain about Jam Track Central's lack of structure within the lessons, it could be argued that to get the most out of such genre-defining players, it's best to leave it lucid.
While Jam Track Central might be the most ideal platform for intermediate to advanced guitar players who have saturated freely available material online, it may not be the best platform for beginners.
The platform as a whole can be very confusing with the absence of level-based goals, especially for those who need more structure and don't exactly know where to begin yet.
Guitareo – Fun & Easygoing Guitar Learning for Casual Players
We kept Guitareo, which is the most fun-filled and light-hearted guitar platform for the end.
Guitareo is the guitar-teaching platform for Musora Media Inc., which also owns some of the most famous music-teaching sites, such as Drumeo, Pianote, and Singeo, and paying for one gets you access to all the rest. This is especially great if you plan to learn to sing along with learning the guitar.
However, sadly and strangely, there aren't any bass lessons included.
The tutors in Guitareo are fun, and the lessons are made in a quirky manner in order to get you playing your first songs as soon as possible. Guitareo's 500 Songs in 5 Days is an excellent course that's worth checking out when you first sign in.
Just like most other platforms, Guitareo has the "Guitareo Method" which comes with ten levels and is arranged in order of difficulty from basic topics, such as tuning the guitar and how to use a pick, to more advanced ones, like using pedals and playing different parts of a complex guitar arrangement.
Each topic comes with video lessons that have a duration of 5 to 15 minutes. I think this is long enough for beginners not to lose focus and get bored when watching the videos.
However, in attempts to make it a fun learning experience for beginners, Guitareo seem to have gone too far at times. This is especially true with their Guitar Quest course, which aims to teach beginners a song in an hour and have them ready to perform it too, which seems a bit of a stretch.
A lot of their content is actually targeted at session guitarists or band members who are looking to improve their fills and rhythm guitar parts to a professional level, which is very rare to find.
Lastly, is that they have excellent community support where you can get in contact with other students and help each other with the problems you face with playing the guitar. With forums, discussions, and Live Q&A sessions, the platform as a whole is extremely interactive in nature.
However, if you are looking for courses that tackle deeper discussions about specializing within specific genres or playing techniques, then Guitareo may not be your best bet.
Overall, Guitareo is a great option for beginner or even intermediate guitar players who want to solidify their foundation as a musician while having great community support and helpful teachers online.
But more than anything else, Guitareo is totally for you if you enjoy its fun vibe which is quite infectious and encouraging to continue your guitar-playing journey on days when you don't quite feel up for it.
Final Thoughts
Even though we've gone through some really creative ways of learning the guitar, there are some things that don't change, whether offline or online, i.e., the need to practice.
With all the options now that you can easily avail, having a solid discipline is still necessary to improve on your journey as a guitar player. Even if you have already subscribed to all the best online guitar platforms, the mindset needed to become a better guitar player still remains the same.
That being said, there are days when you won't feel like practicing. It's recommended to be patient in your development, and make sure to enjoy the process as you take steady steps towards developing as a better guitar player and a sound musician.
---
You might also like:
Picking the Best Way to Learn Guitar (The Definitive Guide)
Best Free Guitar Lessons: Everything You Need to Get Started
The Ultimate Guide to Buying Your First Guitar