Note: Due to rising inflation, the prices of digital pianos have increased by 10-20%. As a result, some of the models discussed in this article may slightly exceed the budget we've set.
---
There are plenty of good options in the sub-700$ price range that, if chosen correctly, can meet the needs of intermediate piano players and provide enough room to grow.
In the past few years, several major manufacturers (Yamaha, Casio, Roland) introduced updated versions of their mid-range digital pianos with 88 fully weighted keys.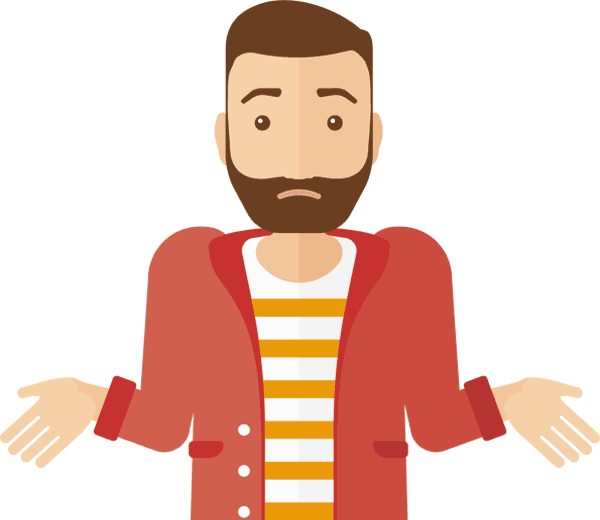 The bad news is that as the market grows and becomes more saturated, it becomes more difficult to decide what instrument is right for YOU.
All those fancy marketing terms that manufacturers use when promoting their instruments make things even more confusing.
Some brands equip their instruments with one of those cheap plasticity keybeds and proudly call it "a digital piano suited for beginners and advanced piano players alike" NONSENSE!
In this article, we are going to get to the bottom of it and find out what are the best digital pianos with fully weighted keys that are suited for intermediate players as well as progressing beginners.
How Did We Choose?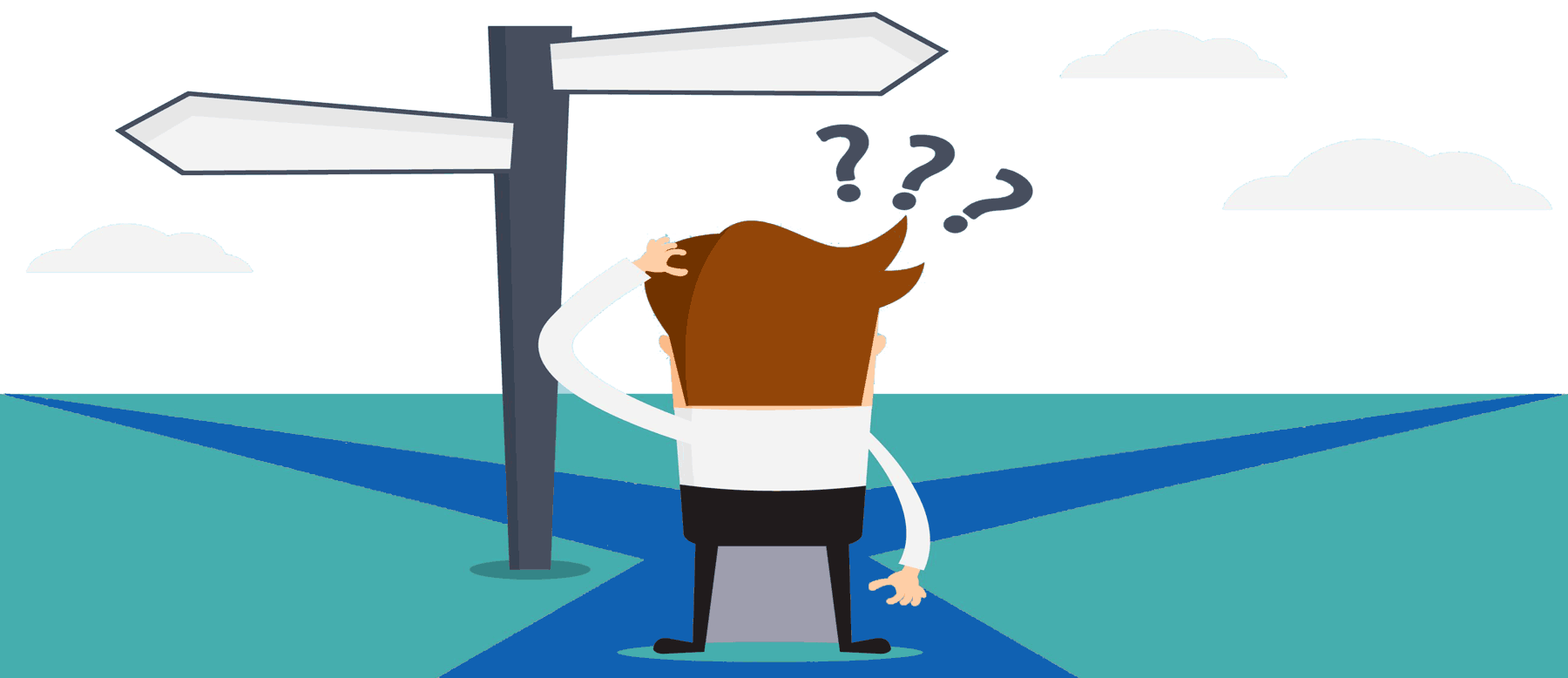 When making this list, we were using the following criteria:
1) Relatively portable, gig-friendly, no integrated stand
1) 88 fully weighted keys (hammer action)
2) Realistic multi-sampled piano sound (at least 3 different piano tones)
3) A wide range of dynamics: ability to play very soft (pianissimo) up to very loud (fortissimo)
4) Polyphony: at least 128 notes
6) Built-in MIDI recorder
7) USB MIDI or Bluetooth MIDI connectivity (or both).
8) Standard functions like metronome, transpose, layer mode, etc.
9) Price ∼ $700
10) Only well-established reputable manufacturers (Kawai, Yamaha, Casio, Roland, etc.)
---
Note that even though most of these keyboards are relatively compact and gig-friendly, there are also perfectly suitable for home use. Most of them can be easily mounted on a table or a desk.
Moreover, there are home bundles available on Amazon that include a matching furniture-style stand and a 3-pedal board designed specifically for each model.
Best Digital Pianos With Fully Weighted Keys (sub-$700 range)
---
1) Roland FP-30X – Arguably the best key action, impressive dynamic range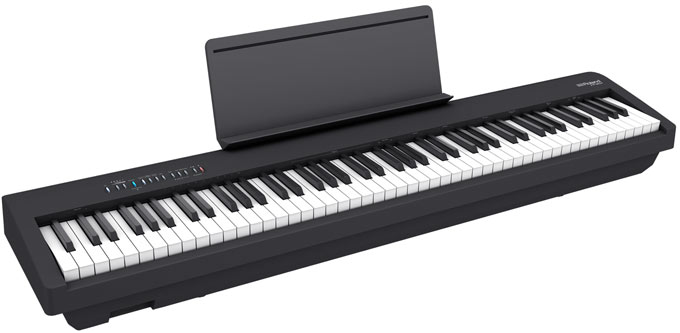 ---
At the beginning of 2021, Roland came out with some exciting news. The new update for their hugely popular FP line of portable digital pianos was on the way. And man was everyone excited!
The new models now have an 'X' added to their name showing off their updated nature.
One of the most anticipated models was (no surprise!) the new FP-30X, which replaced the legendary FP-30 that so many people came to love.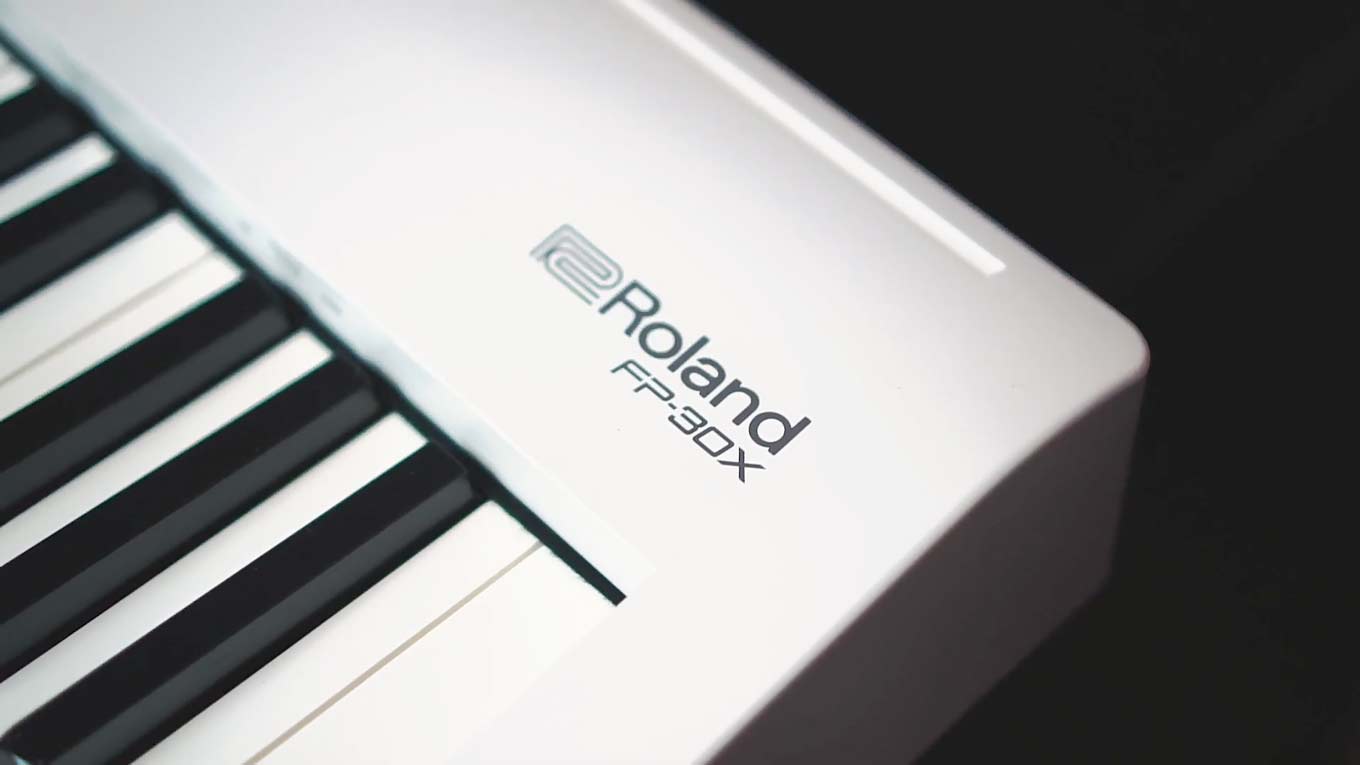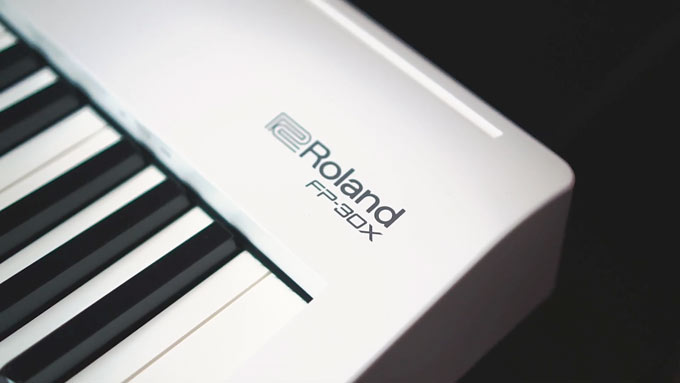 Before the introduction of the FP-10, the FP-30 (FP-30X) was the least expensive model in Roland's FP series and their most affordable digital piano in general.
The old FP-30 model still hasn't lost its appeal in 2023, but of course, we want the 'newest' and the 'latest' (and I don't blame you), so today we'll be focusing on the new Roland FP-30X – the FP-30 on steroids!
For a fairly affordable price, you get a fairly realistic fully-weighted key action and Roland's famous SuperNATURAL sound engine, which together provide an enjoyable playing experience.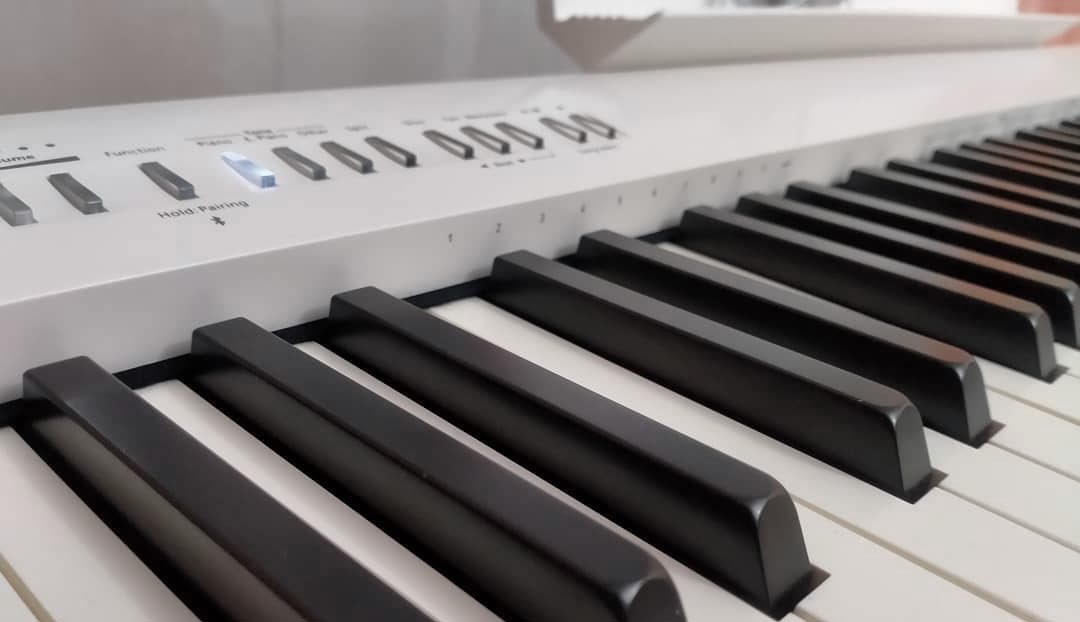 The FP-30X comes with the well-received PHA-4 Standard keyboard with escapement and ivory feel.
The keys on the PHA-4 Standard offer a good amount of weight when you play them and are a little on the heavier side compared to the competition.
Due to the use of individually weighted hammers, the keyboard reproduces the mechanical movements of the piano action quite accurately.
Overall, this is one of the best key actions you can currently get in a digital piano under $1500.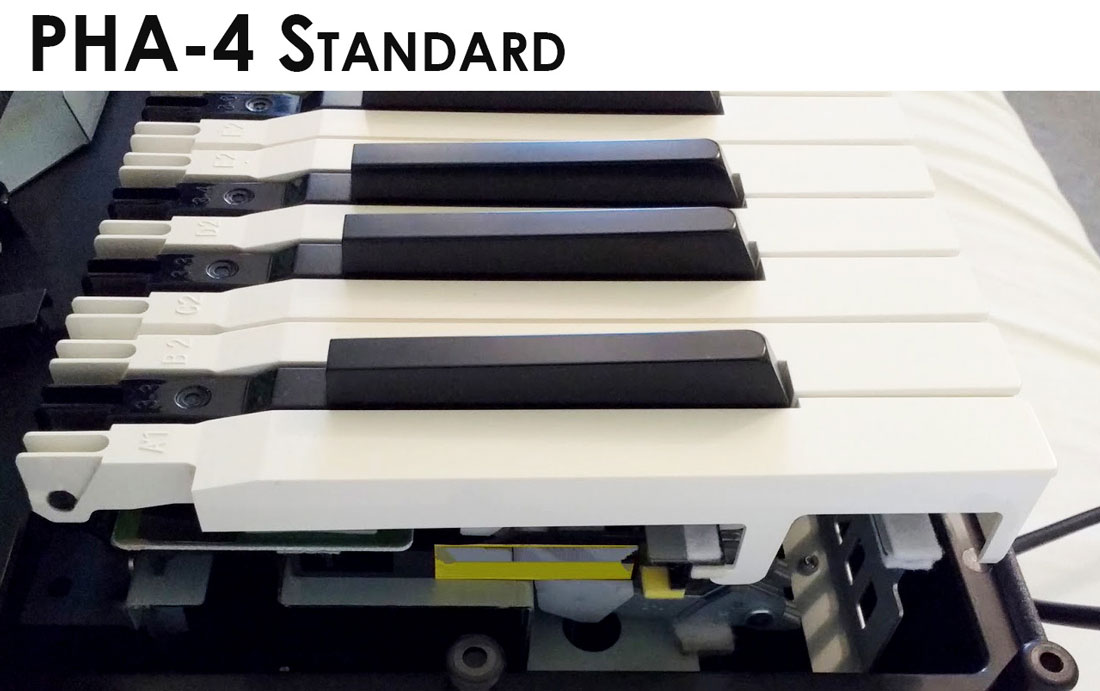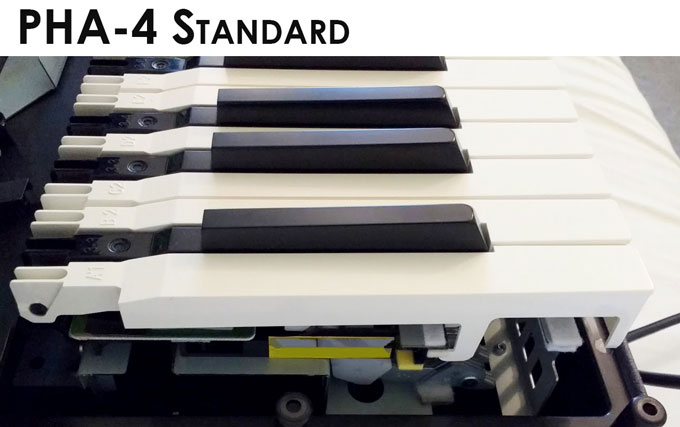 When it comes to sound, the FP-30X is nothing to scoff at either.
At the heart of the instrument is Roland's sophisticated SuperNATURAL tone generator, which combines grand piano samples with physical modeling algorithms to produce a natural, detailed piano sound with long beautiful decays and resonances.
Take a listen!
Thanks to the powerful 2 x 11W speaker system and multi-layered piano samples the FP-30X can boast a very good dynamic range from the soft pianissimo to the thunderous fortissimo.
Out of all digital pianos on this list, the FP-30X offers the most built-in tones (56) and has the most powerful speakers.
While there are a number of useful features available on the FP-30X, including a MIDI recorder, a metronome with preset rhythms, a layer mode, you can further expand the capabilities of the instrument thanks to its great connectivity.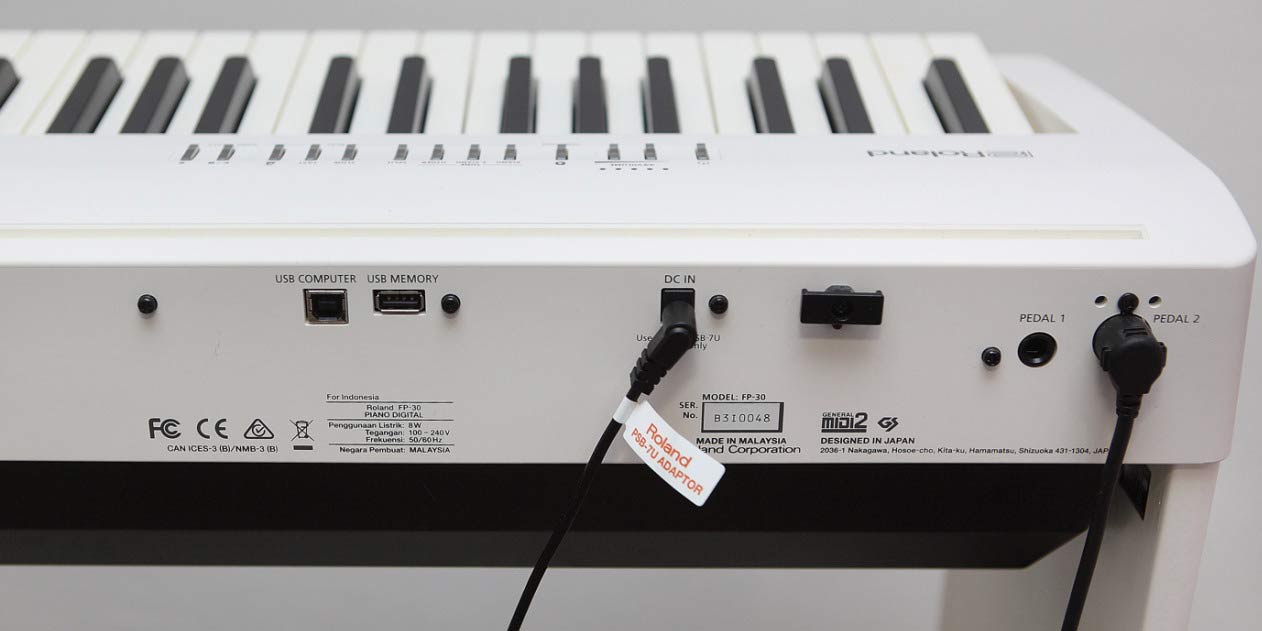 The Roland FP-30X comes with Bluetooth MIDI connectivity. This means you can wirelessly connect them to your computer or smart device to exchange MIDI data with apps like GarageBand, FlowKey, Playground Sessions, etc.
On top of that, the FP-30X supports Bluetooth Audio, which is something that the FP-30 lacked.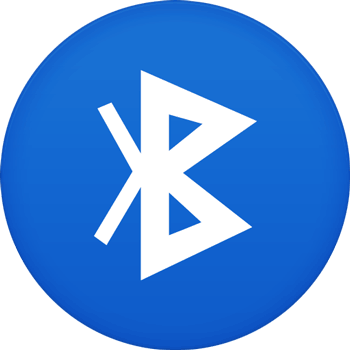 If the FP-30X's user interface seems too clunky (which it kind of is), you can use Roland's own Piano Every Day app designed specifically for Roland digital pianos.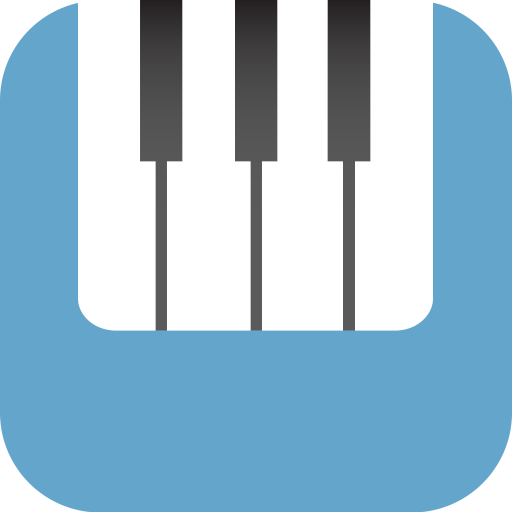 The app allows you to navigate all the sounds, settings, and functions of the FP-30X using an intuitive graphical interface, which makes navigation a breeze.
The FP-30X is equipped with two USB ports, type B (for exchanging MIDI) and type A (for connecting a flash drive)
The most prominent upgrade though is the addition of dedicated line outputs, which means you can now easily connect the FP-30X to external speakers and amplifiers without relying on the headphone jack.
Unfortunately, the FP-30X doesn't have a Lesson function, which means you won't be able to practice the right- and left-hand parts of the built-in/external songs separately.
The good news is that third-party apps will easily solve that problem, allowing you to use and practice hundreds of songs (each hand part independently).
Pros
Excellent keyboard with Ivory feel keys and Escapement
Rich natural piano sound with simulated key-off and string resonance
Wide selection of built-in tones (56)
Powerful speaker system
Great connectivity (Bluetooth MIDI & Audio)
Cons
Slightly heavier than its competitors
Limited layering and recording capabilities
No rhythms (without the app)
2) Casio PX-S1100 – The slimmest digital piano packed with innovations

---
Casio shaken up the market quite a bit when they first introduced their PX-S series at the beginning of 2019. You wouldn't find more unique and innovative keyboards than the new Casio PX-S1100, and its bigger brother, the PX-S3100.
The good news is that despite the expensive looks and a few of advanced features, the price point remains very attractive, so kudos to Casio for that.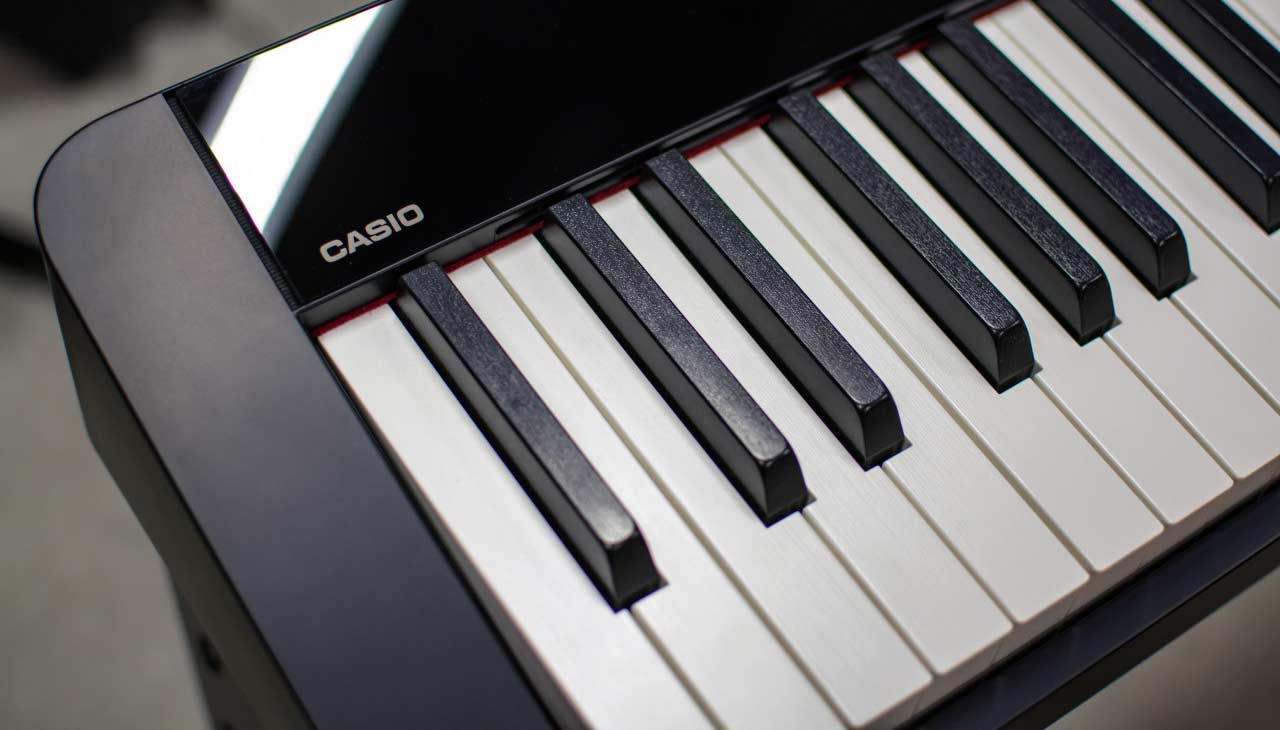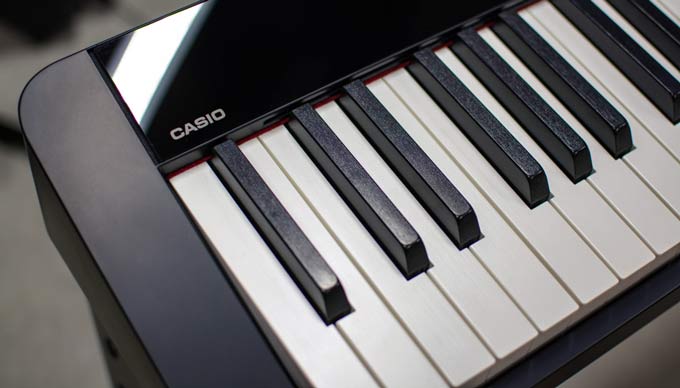 Let's take a closer look at what makes this keyboard so special.
First of all, its design! While this might be not the most important aspect of a digital piano, you can't help but notice how different the PX-S1100 looks from everything else on the market.
Black glossy finish (rather than matte), touch-based illuminated controls and minimalist design make the PX-S1100 really stand out.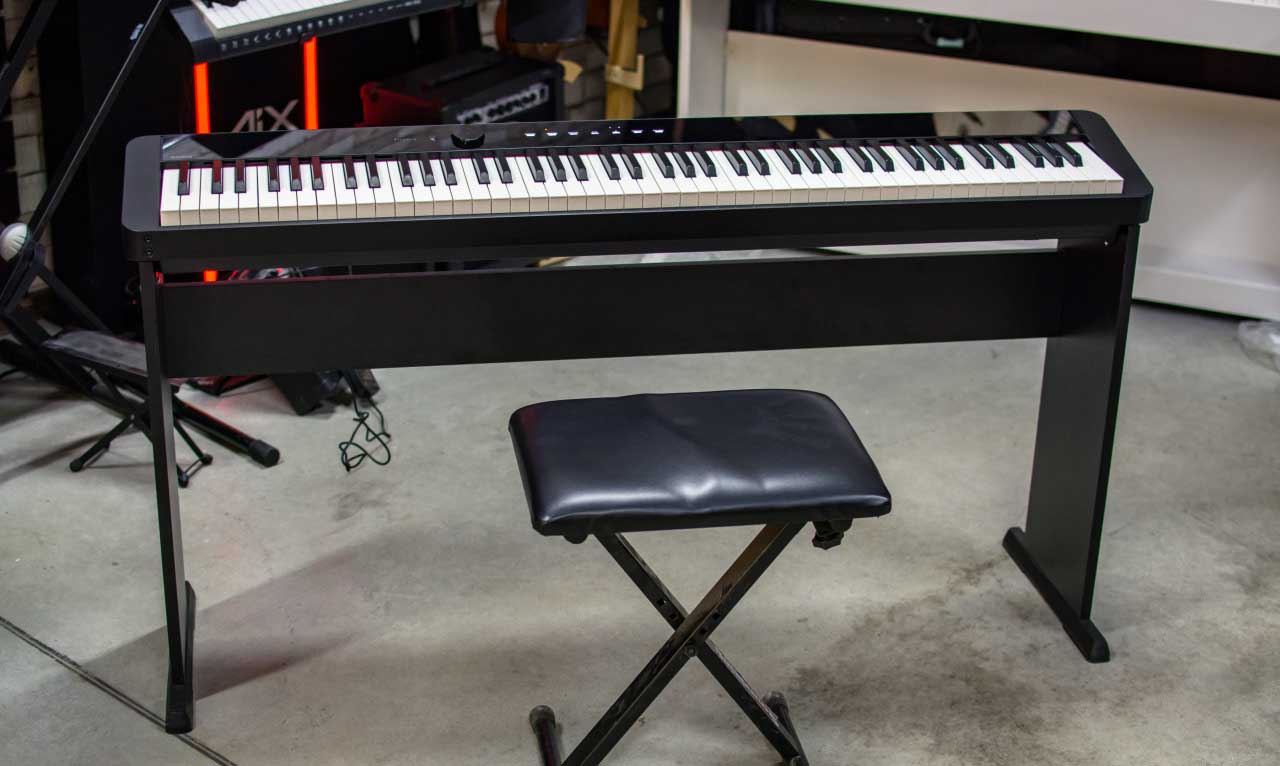 As of the time of writing, the PX-S1100 is also the slimmest digital piano in the world. It's 43% smaller than the PX-160 model, and is incredibly compact and portable.
Nevertheless, Casio managed to fit some good quality speakers into its body as well as a fully weighted keyboard action.
Speaking of action, the newly designed Smart Scaled Hammer Action has also decreased in size compared to the previous Privia keyboards, which negatively affected the key pivot length (shorter than Roland's and Kawai's, comparable to Yamaha GHS's action).
This means it's more difficult to play towards the back of the keys. At the same time, the new key action brings a number of important upgrades.
It has become much quieter, less bouncy, and has individually scaled keys that are covered with textured material that simulates ivory and ebony coating found in some older acoustic pianos.
The sound section of the PX-S1100 was redone from scratch.
The piano samples are taken from a 9-foot concert grand and further enhanced by resonance modeling algorithms taken from Casio's premium Celviano Hybrid series, which gives the sounds that liveliness and sparkle that some digital musical instruments miss.
The focus of the PX-S1100 is on piano, so don't expect too many bells and whistles from this keyboard.
There are 18 built-in tones including some nice electric pianos, organs, and strings. You also get 60 preset songs that you can each learn and practice (each hand independently).
Here's a nice demo of the PX-S1100's sound library:
The PX-S1100 is the only keyboard on this list that can run on battery power, which makes it extremely versatile and mobile. You can take it out to the park or a backyard, turn it on and play without worrying about extension cords and wall sockets.
Another unique feature of the PX-S1100 is an Audio in port, which allows you to stream your favorite songs and backing tracks from your phone or tablet to the keyboard's internal speakers.
Alternatively, you can use Bluetooth Audio (and MIDI), which this keyboard also supports (via the included WU-BT10 Bluetooth adapter).
Also, thanks to the variety of connectivity options, the PX-S1100 would make a great gigging keyboard.
If you're looking for something more advanced, check out the PX-S1100's older brother, the PX-S3100.
They share the same key action and piano sound, but the PX-S3100 offers more tones (18 vs 700) and features including an audio recorder, built-in accompaniment styles, arpeggiator, pitch bend wheel, assignable knobs, editable DSP effects, and more.
Pros
Unique, futuristic design
Very compact and relatively lightweight
Can run on 6 AA batteries
Natural nuanced piano sound with several adjustable parameters
192-note polyphony
Bluetooth (Audio & MIDI)
Cons
Relatively short pivot length
Glossy finish is a fingerprint magnet
Touch-based controls aren't tactile
3) Yamaha P-125 – A solid intermediate piano with a big fan base
---
The P-125 is the new mid-range model in Yamaha's Portable (P) series.
Just like its very successful predecessor (P-115), this keyboard is going to be one of the most popular intermediate fully weighted keyboards on the market considering all the new features and improvements it brings over the previous release.
Yamaha has keyboards in pretty much every price range and product category there is, so it would be a shame not to include one of their most prominent portable digital pianos on this list.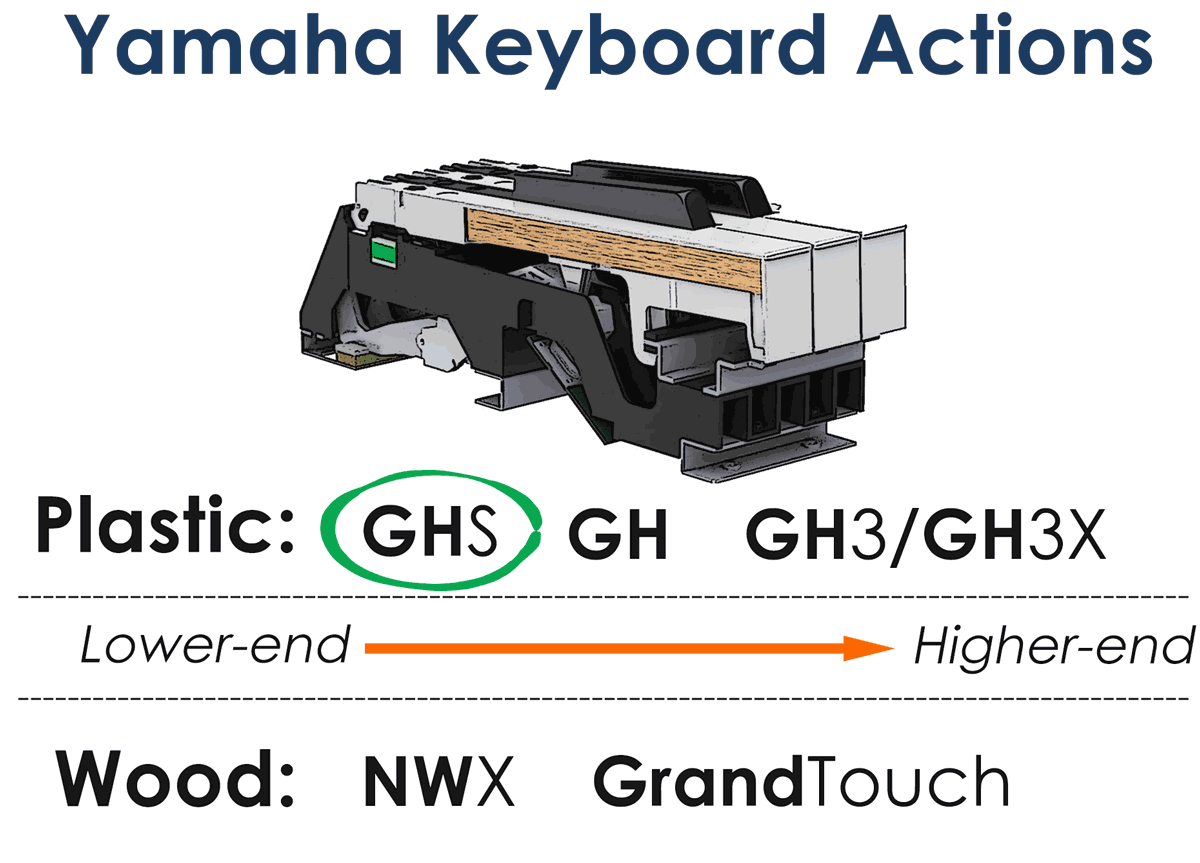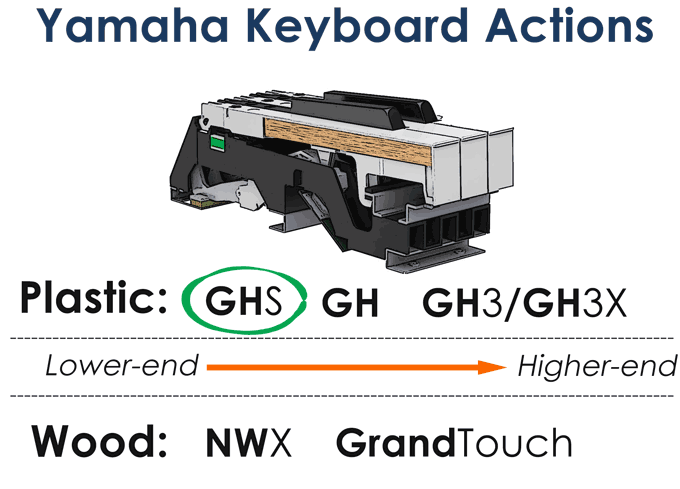 Let's start with the keyboard itself.
The P-125 features the tried and true Graded Hammer Standard (GHS) keyboard action, which Yamaha have been using for years in their entry-level and mid-range digital pianos.
It's Yamaha's most basic fully weighted action, which can also be found in the P-45 (next model down). But it's still a decent action for a keyboard designed with portability in mind.
The GHS utilizes 2-sensor detection system and has smooth plastic keys (no simulated ivory); the black keys have a matte finish which gives them a nice non-slippery feel.
The sound is the area where the P-125 shines the most, in my opinion, and there are three components responsible for that:
The P-125 has a standard set of features, nothing groundbreaking here. Everything from a metronome and transpose function to Split/Dual/Duo modes and a MIDI recorder is available on this piano.
It's worth mentioning that unlike its main competitors that have a 1-track MIDI recorder, the P-125 allows you to record 2 tracks for each song, which means you can record each part (either hand part or musical instrument part) to a separate track, and play both tracks together as a single song.
Unfortunately, the P-125 doesn't offer many options for sound customization. It doesn't offer any temperament options (except for the default Equal), and it doesn't allow you to adjust the elements of piano sound like damper noise, resonance, etc.
An interesting thing that the P-125 has is the USB Audio Interface function, which quite rare overall and is not found on any other instruments in this price range.
This function allows to use the USB port to not only transfer MIDI data but also audio, which makes it possible to record the sound of the P-125 directly into your DAW without the need of any external audio interfaces and unnecessary digital > analog > digital conversions as a result.
Despite the fact that some other pianos on the list have more advanced features such as Bluetooth connectivity, more options for sound customization, and a more sophisticated keybed, the Yamaha P-125 is still a solid intermediate piano for anyone seeking reliable action and authentic piano sound in a compact, gig-friendly instrument.
If you'd like to have more tone options, more learning and arranger features and extra connectivity options, you might want to consider the Yamaha DGX-670, which is similar to the P-125 as far as piano-playing is concerned, but gives you more freedom in how you learn, play, and perform music.
Pros
Relatively compact, lightweight
Beautifully sampled Yamaha CFIIIS grand piano sound
192-note polyphony
Excellent speaker system
2-track MIDI recorder
20 built-in accompaniment rhythms
Dedicated line out jacks
USB Audio Interface function
Cons
Not very impressive key action
No Bluetooth
Very limited sound customization options
4) Kawai ES120 – Natural uncolored piano sound, built-in lesson books

---
The Kawai ES120 is the most affordable digital piano in the company's arsenal, but without a doubt, it's one of the most realistic digital pianos in its class.
Kawai instruments have always been known for their realistic keyboards and authentic piano sounds.
The ES120 is no exception. This model features the Responsive Hammer Compact (RHC) action with 88 full-size keys with a matte finish for a better grip.
Even though the keyboard uses 2-sensor technology and doesn't have simulated ivory/ebony keytops, it feels very responsive and nice to the touch.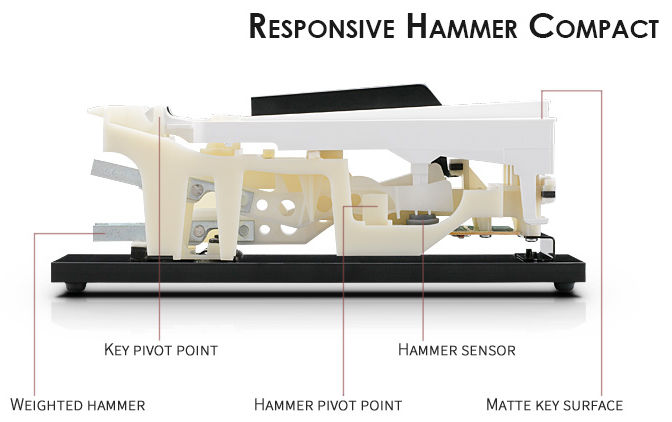 By no means this keyboard is stiff or hard to play, in fact, it's quite the opposite.
The keyboard on the ES-120 is very quick (quite bouncy as well) and has a medium-light weight, which makes it more versatile, especially for those how like to play some organ or synth sounds.
Beginners who haven't yet developed proper finger strength would also appreciate this action, as it's not as fatiguing to play compared as some of the heavier key actions out there.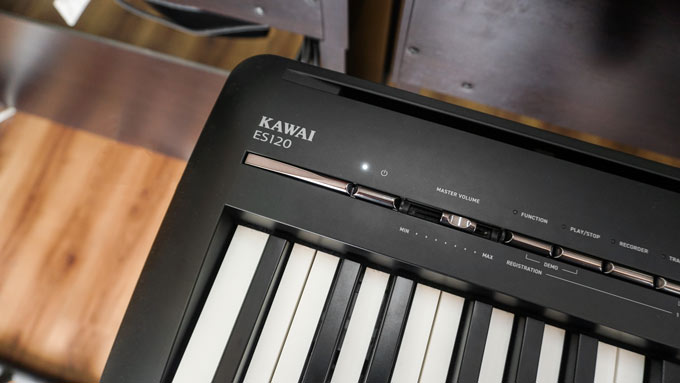 Sound is another area where the ES120 excels at.
The ES-120 uses Harmonic Imaging™ (HI) sound processor, which delivers a very natural, uncolored piano sound sampled from the Kawai 9-foot SK-EX concert grand piano.
There are 8 different piano tones recorded using different methods and equipment in order to recreate various nuances and characters of sound (studio, mellow, modern, etc.).
Moreover, the ES120 allows you to adjust 17 different piano sound characteristics such as damper resonance, fall-back noise, damper noise, temperament.
Apart from the realistic playing experience, the ES120 offers some nice extra features.
The piano comes with 9 built-in music books with over 377 built-in songs and exercises for beginners, which you can practice separately for right and left hand.
Apart from the standard metronome, you get 100 drum patterns to play along with, which makes it much more enjoyable to practice your timing compared to the basic metronome clicking sound.
Unlike its predecessor, the ES120 now includes a USB to Host port instead of the legacy MIDI In/Out ports.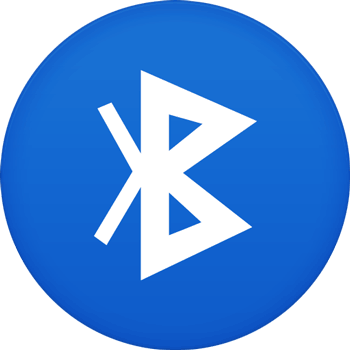 The piano has Bluetooth MIDI + audio connectivity, which means you can connect to any smart device that supports Bluetooth and exchange MIDI data wirelessly without using any cables.
So for example, you can connect the ES120 to the iPad and create music with GarageBand or learn new songs with flowkey, etc.
Pros
Very responsive and easy-to-play RHC action
A wide selection of quality piano tones
Good sound tweaking capabilities
192-note polyphony
100 preset drum rhythms
9 built-in lesson books
Bluetooth connectivity
Dedicated line out jacks
Cons
Limited sound selection
No multi-track MIDI recorder
The action is on the lighter side

---
Didn't expect this, did you? Yes, Korg instruments are often overlooked when it comes to their entry-level and mid-range offerings, and that's a shame because they have been consistently releasing some great affordable digital pianos over the last couple of years, and the D1 is one of them.
The reason why this keyboard wasn't included on the main list is because technically it's not a digital piano. What is it then? you may ask. Well, this is what we'd call a stage piano.
Depending on how you plan to use the instrument, this can be a deal-breaker or just a minor inconvenience. Personally, I always prefer to use a pair of high-quality headphones over onboard speakers, especially when playing lower-end instruments that don't have sophisticated multi-speaker setups. So if the absence of speakers doesn't bother you, the Korg D1 should definitely be on your list.
The highlight of this instrument is Korg's Japanese-made RH3 key action, which Korg usually puts only on their premium workstation and higher-end digital pianos. The key action might seem basic on the surface (no ivory simulation, 2 sensors rather than 3, etc.), but don't get discouraged yet, this is one of the best feeling key actions you'll find in this price range.
I also like the weight of the keys. They are somewhere between 'too light' and 'too heavy', which makes RH3 more versatile and suitable for playing different styles of music.
The 30 built-in sounds don't disappoint either. There are two variations of grand piano tones (sampled from two different grand pianos) as well as some nice electric piano sounds, organs, strings, and other instruments.
The piano sounds include damper resonance and key off simulation, which adds a nice touch of realism to the sound.
Being a stage piano, the D1 is designed to be very compact and portable. With that said, it's not the most lightweight portable instrument you'll find out there…quite the opposite, in fact. It's heavier than all the other keyboards featured on this list.
Even though the D1 doesn't have any built-in speakers (which should in theory reduce some weight) the more advanced key action with longer key sticks means that you can only reduce the weight so much.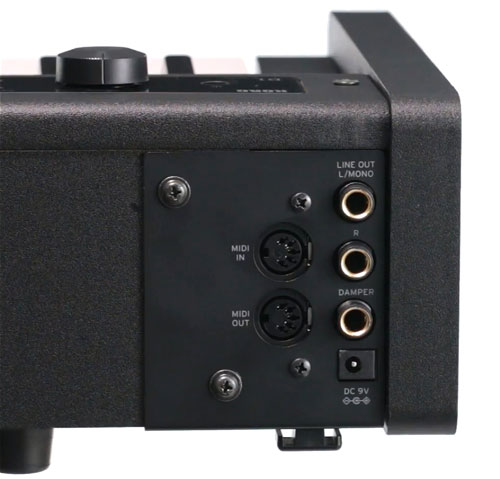 In terms of connectivity, the D1 covers all the basics, except instead of the usual USB port, you get 5-pin I MIDIn/Out connectors. This means that if you have any legacy gear (synths, sound modules, etc.) that you want to connect to the D1, you can do that using these ports.
Overall, the Korg D1 is one of the most (if not the most) affordable stage pianos out there, so it doesn't really have a lot of competitors at the moment. In the meantime, despite the relatively low price tag, the D1 manages to tick all the right boxes, so if you're looking for a simple yet capable stage piano or MIDI controller, the D1 is definitely worth considering!
Why Are Fully Weighted Keys So Important?
What's the big deal about fully-weighted keys (aka hammer action)?
The answer is simple. This is the only type of action that tries to recreate the feel of a real acoustic piano.
If you're serious about learning the piano, or you play a lot of piano repertoire, fully-weighted keyboards are the only thing you should look for, provided of course that realistic playing experience is important to you.
---
Even if you've never played an acoustic piano before, you'll be able to tell the difference between a weighted and unweighted keyboard right away. Yes, the difference is that big.
There are $500 instruments that have weighted keys and then there are $5,000 instruments that also have weighted keys. As you can guess, the difference between those key actions is pretty significant, starting from the design of the action mechanism, length of the keys (the part behind the fallboard) and ending with the material of the keyboard.
Less experienced players may not notice it, but if you've ever sat at a good grand or even upright piano, you'll notice how closer high-end digital pianos come to that feel.
Of course, not everyone is willing to invest $5000 in something that's just a hobby, especially considering that you can buy a good upright for about the same price.
But even if it's a relatively affordable digital piano (such as the ones we covered in this article), it's still important to have a fully-weighted key action.
Not only this will allow you to develop the necessary finger strength and proper technique, but it will also make playing piano pieces that much easier and more enjoyable with more precise dynamic control and greater expression.
This, in turn, will make it easier to transition to an actual acoustic piano further down the line if you decide to do so.
---
Choosing an Intermediate Digital Piano –

Buying Guide
There you have, folks! Note that this list is based on what we believe are the best intermediate digital pianos with fully weighted keys you can currently get.
In case you haven't found the instrument that suits your needs in this article, I'd like to provide some extra information that will hopefully help you find the right instrument.
Here are some of the main terms and aspects of the digital piano world that you'll inevitably run into when doing your research.
KeysAction TypesTouch sensitivityPolyphonyModesLesson FunctionMIDI recorderAudio RecorderAccompaniment Transpose, Tuning USB type A USB type B
Modern acoustic pianos have 88 keys. Most keyboards and digital pianos have 88, 76, 73 or 61 keys.
73 keys are enough to play most (99%) modern pieces. Some advanced (classical) pieces require a full set of 88 keys.

There are 3 most common types of actions:
1) Non-weighted – most organs, synths and entry-level keyboards are not weighted.
2) Semi-weighted – common action for budget portable keyboards (usually cost <300$). Spring-loaded mechanism adds more resistance to the keys compared to the non-weighted action.
3) Fully weighted (hammer action) is designed to replicate the action of a real piano. It uses small hammers (rather than springs) attached to each key to recreate the mechanical movements found inside a real piano.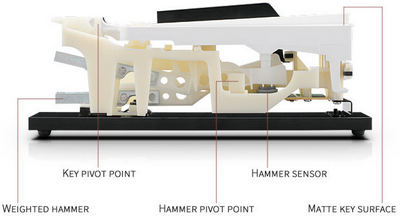 If your main goal is to play piano that you'll definitely want a keyboard with hammer action keys.
It's the key action that feels close to the real piano keys and will help you build proper finger strength and technique, making it much easier to transition to an acoustic in the future (if you decide to).
Touch sensitivity (a.k.a velocity sensitivity or touch response) is a very important feature of any keyboard or digital piano, which ensures that the volume produced by the instrument will change depending on how hard or soft you play the keys.
It's not a big deal nowadays as almost any $150+ keyboard have touch-sensitive keys regardless of its action type.
Much more important is whether the keyboard is weighted or not. Keyboards with fully weighted action often have adjustable touch-sensitivity so you can adjust it to your playing style.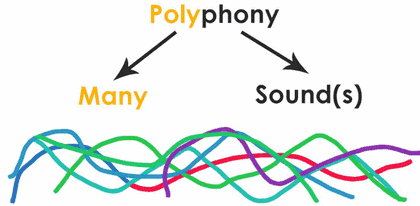 Polyphony is the number of notes a digital piano can produce at the same time.
These days, most digital pianos are equipped with 64, 128, 192 or 256-note polyphony.
You may wonder how it is possible to have 32, 64, or even 128 notes playing simultaneously, if there are only 88 keys and we never play them all together.
First of all, many of today's digital pianos use stereo samples, which sometimes require two notes for each key played.
Furthermore, using the sustain pedal, sound effects (Reverb, Chorus), dual-mode (layering), and even the metronome ticking sound take up additional notes of polyphony.
For example, when you depress the sustain pedal, the earliest played notes continue to sound while you're adding new ones and the piano needs more memory to keep all the notes sounding.
Another example of polyphony consumption is when you're playing along with a song playback (can also be your own recorded performance) or auto-accompaniment.
In this case, the piano will need polyphony not only for the notes you're playing but also for the backing track.
You'll rarely need all 192 or 256 voices of polyphony at once, but there are cases when you can reach 64 or even 128 note limits, especially if you like to layer several sounds and create multi-track recordings.
For an intermediate player it's desirable to have 128 notes of polyphony or more.
Along with the standard "Single" keyboard mode, digital pianos often offer additional modes that allow you to use two instrument sounds at the same time or playing four hands.
Here are the most popular modes that digital pianos have:
1) Split Mode – divides the keyboard into two parts, allowing you to play a different instrument sound in each of them. For example, you can play guitar with your left hand and piano with your right hand at the same time.

2) Dual Mode (Layering) – allows you to layer two different sounds so that they sound simultaneously whenever you press a key. For example, you can layer strings with the piano sound or combine whatever sounds you like to get some new interesting combinations.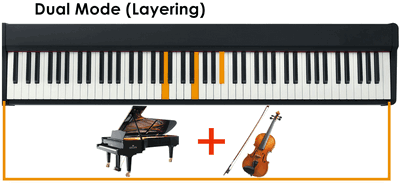 3) Duo Mode (a.k.a. Duet Play, Partner Mode, Twin Piano) – divides the keyboard into two halves with identical pitch ranges (two middle Cs) allowing two people to play the same notes at the same time.
Duet Play is particularly useful when you use it with your teacher or tutor who will play you some tunes on one side of the keyboard, and you'll be able to follow along on the other side, playing the exact same notes at the same time.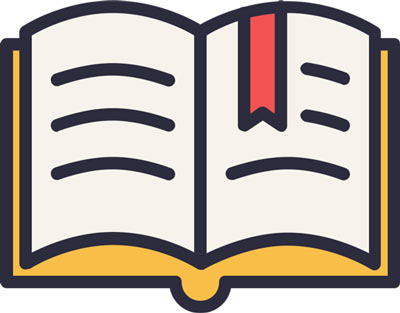 Some digital pianos allows you to turn off the left- or right-hand part (track) of a song (preset or downloaded from the Internet) and practice it, playing along to the playback of the other part.
Pianos that have this function usually have a multi-track MIDI recorder.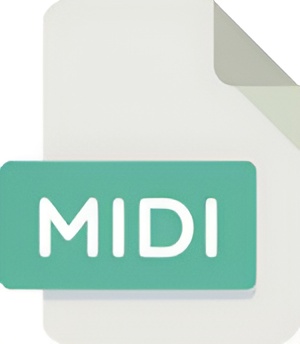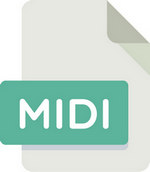 A MIDI recorder allows you to record and play back your own performances without using any additional equipment.
Multi-track recording (2 and more tracks) allows you to record several musical parts onto separate tracks and play them back as a single song. You can also experiment with your recording by turning off some of the recorded tracks.
For example, you can record the right-hand part of the song on track 1, and the left-hand part on track two (while listening to the playback of the first track).
You can also create complex, multi-instrument recordings by recording several instrument parts onto separate tracks and playing them back together afterwards.
MIDI-recording is not the recording of the actual sound of the instrument. Here, we're recording the MIDI data (a sequence of notes, their length, velocity and other parameters).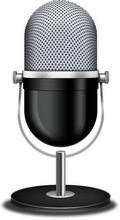 A built-in audio recorder will allow you to record the actual sound of the instrument (native samples) and save it to a flash drive usually in WAV format (Linear PCM, 16bit, 44.1 kHz, Stereo).
You can then share your recording on social media, upload it to SoundCloud, burn to CD, etc.
Audio recordings are more universal than MIDI ones because they provide you with a CD-quality audio file playable on most modern devices, and don't require any additional software, and sample libraries (VSTs) to render a MIDI recording to audio.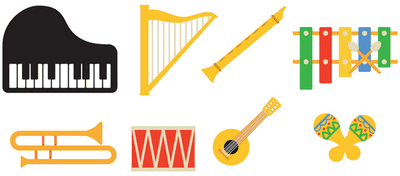 Accompaniment function will enrich your performance, providing full backing accompaniment (rhythm, bass, harmony) that will follow your playing and make you sound like full band.
The accompaniment changes depending to what notes you play with you left hand (chords or even single notes if you don't know full cords).
In other words, you manage your "band" with your left hand (by specifying chords) and play the main melody with your right hand.
Some instruments offer several accompaniment modes, and allow you specify chords using the full range of the keyboard.
1) Transpose function allows you to shift the overall pitch of the keyboard in semitone steps. The function is particularly useful when want to play a song in a different key but don't want to change your fingering and learn it in a new key.
So, for example, if you know how to play a song in F major, you can transpose the pitch and play it in C major without actually learning it in the new key.
You can also transpose a song written in a difficult key (e.g., many black keys) into a different key with easier chords, but still hear it as if you were playing in the original key.
2) Tuning function allows you to shift the pitch from the standard A440 tuning in 0.1Hz or 0.2Hz steps.
You can use this function to match the piano's pitch finely to that of another instrument or music (old piano, recording).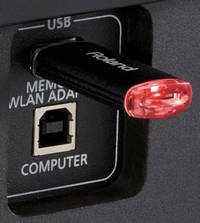 This port is also known as USB to Device port or USB drive port. The port can be used for connecting a flash drive to the piano to exchange files quickly and easily.
For example, you can load MIDI songs into the piano's internal memory for playback or rehearsal (if the piano offers this option).
Alternatively, you can play back WAV and MIDI files (depends on the piano model) directly from the flash drive without loading them into the piano's internal memory.
And finally, you can save your own performances recorded with the instrument to the flash drive as well as load them back onto the instrument when needed.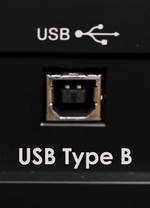 This port is often referred to as USB to Host terminal or USB to Computer port. This port is used to connect your digital piano to a computer or a smart device (using a special adapter) to exchange songs/files, and MIDI data.
This port will allow you to use the piano as a MIDI controller to control various music apps such as GarageBand, FlowKey, Playground Sessions, etc.
There are actually tons of other apps that can expand the functionality of your digital piano in terms of learning, composing, recording, editing music.
Some brands offer their own free apps designed for certain piano models. Such apps usually enable you to control all the settings and functions of the instrument using an intuitive graphical interface.
---

Loading ...
---
You might also like:
If after reading this review you still have doubts about what instrument to choose, take a look at our Digital Piano Buying Guide and other popular articles listed below:
Best Digital Pianos for Beginners (Under $500)
Best Digital Pianos Under $1000 for Home Use
Best Home Digital Pianos Under $1500 (In-depth Comparison)
The Ultimate Guide to Buying a Digital Piano