Note: Due to rising inflation, the prices of digital pianos have increased by 10-20%. As a result, some of the models discussed in this article may slightly exceed the budget we've set.
---
Over the past two years, we've been covering a lot of digital pianos in different price ranges and for different skill sets.
Today, due to a growing number of requests, we're going to take a deeper look at the top-of-the-range console digital pianos under $3,000.
---
Premium Home Digital Pianos: Quick Overview
At this point, you probably already know what a console digital piano is and how it differs from the other types of digital pianos. Even so, let's talk about console digital pianos with regards to this particular price range to see what you can expect from these instruments.
For many people, spending this kind of money on an instrument is a big commitment, so you want to make sure you're making the right investment.
The most important and obvious difference compared to the lower-end models is that premium console digital pianos have bigger, fancier cabinets that more closely resemble an acoustic piano.
Many of them have elegant front legs, top lids (sometimes even openable), multi-speaker sound systems, and other elements that make a digital piano look and feel closer to the real thing.
In most cases, you'll also be able to choose from several finish options.
However, the most important things to evaluate are how good they sound and how realistic their touch is.
This includes top-of-the-line hammer key actions, which sometimes include wooden keys and acoustic-like seesaw action mechanisms.
The samples are also incredibly detailed and rich with dozens of acoustic nuances, seamlessly simulated and integrated into the sound.
All in all, it's safe to say that these instruments will get you the closest to the sound, feel, and look of an actual piano.
Now that we've covered some of the core features of console digital pianos in this price range, let's move on to our top picks, which we think are the most realistic console digital pianos under $3,000.
As usual, we've selected 4-5 digital pianos to focus on, but this time I will also try to go a bit wider and cover some product series as a whole. Many of them have the same design ethos, similar feature sets, and target the same people.
We'll start with Yamaha but before that, let's take a look at the comparison table.
Best Premium Home Digital Pianos Under $3000
---
Yamaha is one of the most recognizable names on the digital keyboard market.
Their vast experience and knowledge in making acoustic pianos give them a big advantage, ensuring that their instruments deliver an impressive, realistic playing experience.
You'll find Yamaha pianos in every price range imaginable. The premium Clavinova line is their answer to the most demanding home-based piano players. The series has been around for several decades and has found thousands of fans throughout the years.
All instruments in the series follow the same concept and differ only in their key action mechanism, sounds, and the total number of features.
Looks-wise, the size of the cabinet is pretty much the only difference. You'll also notice that digital pianos (not only Clavinovas) that have a polished finish cost about 15% more than non-polished finishes.
In July 2020, Yamaha presented their new Clavinova CLP-7xx series, which comes with a number of welcome improvements in both the 'touch' and the sound departments.
The most affordable model in the Clavinova range is the CLP-725. It's fairly basic in terms of built-in sounds and features. However, it does come with the same detailed grand pianos samples as the rest of the models in the series.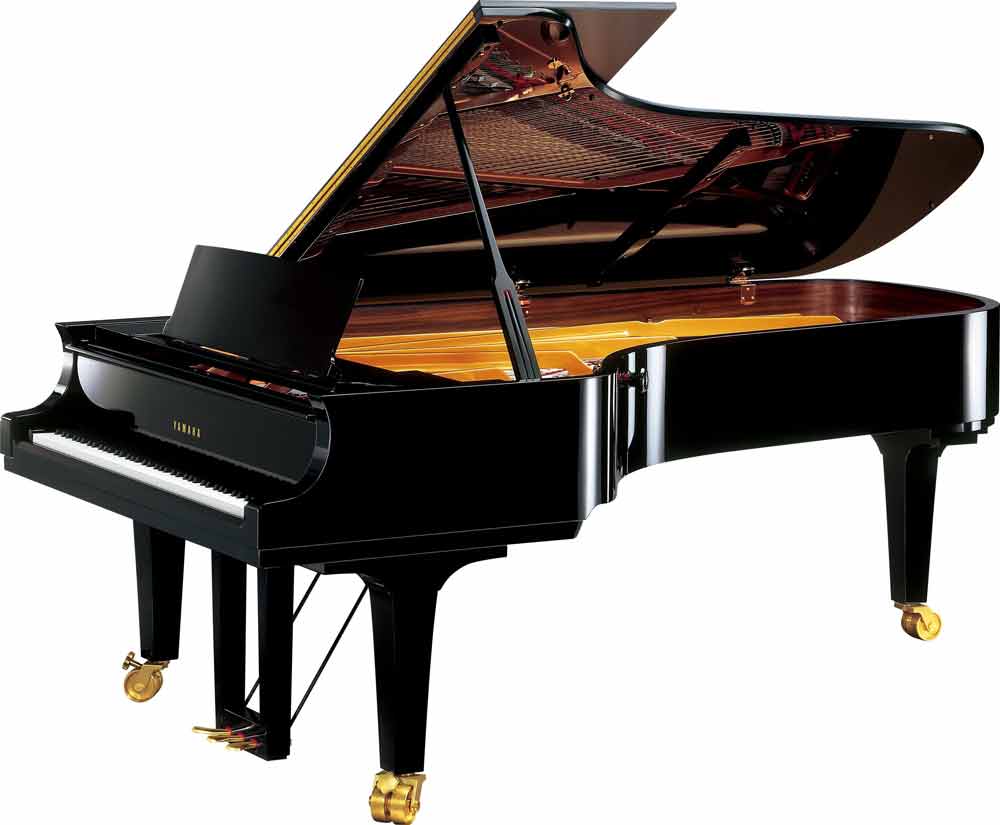 In particular, it features samples of the Yamaha CFX 9-foot grand as well as the Bösendorfer Imperial Grand – the "Rolls Royce" of acoustic pianos.
These instruments don't need an introduction as they continue to be the centerpiece of many famous concert halls and stages around the world.
The CFX is known for its bright, precise tone, while the Bösendorfer has a woodier, softer sound with an impressive dynamic range.
The notable improvement of the CLP-7xx series is that it comes with one additional sample layer for both the CFX and Bösendorfer tones compared to the previous models.
All the CLP-7xx models are powered by the new Grand Expression Modeling technology, which is designed to recreate the subtle sound nuances (accents) based on your playing touch.
Another noticeable improvement is that all CLP-7xx models come with VRM (Virtual Resonance Modeling), which simulates various acoustic behaviors such as string resonance, damper resonance, duplex scale resonance, body resonance, etc.
When it comes to the touch, both the CLP-725 & CLP-735 feature Yamaha's newly developed GrandTouch-S key action, and here's where things get a little confusing.
It looks like Yamaha introduced two variations of GrandTouch-S, one is with wooden white keys (based on the previous NWX action) and the other is with plastic keys (based on the previous GH3X action).
Both actions have a similar design to their predecessors (GH3 family) and therefore feel quite similar. The biggest improvement here is the optimized pivot length of the black keys, which makes it easier to play further into the keys.
Note: Don't confuse the new GrandTouch-S ('S' stands for 'Small') with Yamaha's flagship GrandTouch key action used in the more expensive Clavinova models.
The CLP-725 & CLP-735 feature the plastic version of the GrandTouch-S action. This is a similar action to the one used in the YDP-164 as well as many other Yamaha instruments with the GH3 key action (the main difference is the added escapement simulation in the GrandTouch-S action)
I wouldn't say that this key action is particularly impressive, but it's not bad by any means.
The non-wooden GrandTouch-S has a relatively heavy feel, not too much "bounce back" motion, good key pivot length, and nice-feeling ebony and ivory simulated keytops.
While I prefer the slightly lighter and more responsive wooden GrandTouch-S used in the CLP-745 model, this is still a decent action for the price.
You might be wondering why I chose the CLP-735 to feature on this list if the CLP-725 is such a fine instrument.
Well, that's because aside from the quality samples and decent keyboard, there isn't much to be excited about in the CLP-725. This is why you might want to consider the CLP-735, which is the next model up in the series.
It features the same sound engine and the same key action as the CLP-725, but here's what you'll get beyond that.
An easier and more intuitive user interface due to the inclusion of a small LCD.
More built-in sounds. The CLP-735 has 38 different instrument tones that offer a much better variety than a mere 10 tones on the CLP-725.
Additional sound effects and settings including chorus, brilliance, and 12 additional master effects (depends on the selected tone).
303 Lesson Songs, which allow you to practice each hand's part independently.
A 16-track MIDI recorder with storage for 250 songs. The CLP-725 allows you to record and store only one song that can contain up to two tracks.
An audio recorder that allows you to record and play back your performances in the WAV format (44.1 kHz sample rate, 16-bit, stereo), which is very handy.
6 additional Temperament options on top of the default "Equal Temperament."
More powerful speakers: 2 x 30W (16 cm) vs 2 x 20W (12 cm).
Additional connectivity options: MIDI In/Out, Line Out (R, L/Mono), Audio In mini-jack, and USB flash drive port (for saving your audio recordings).
---
Now, this is a lot of goodies to get with the CLP-735, but it's up to you to decide whether those extra features are worth the price difference. In my opinion, they are. However, chances are that you don't need the extra functionality and sounds, so why pay extra?
The next model up in the CLP series is the Yamaha CLP-745. There's quite a noticeable jump in price that some might find unwarranted considering the small number of changes in the CLP-745 (compared to the CLP-735).
Here are the improvements you get:
The wooden version of the GrandTouch-S key action. The black keys are still plastic, but the white ones are made of real wood, so the response is a little different. For some reason, the action also feels a bit lighter than the plastic version of GrandTouch-S and seems to provide better control.
More powerful speakers: 2 x (50W + 50W) (16 cm + 8 cm) VS 2 x 30W (16 cm).
Onboard Bluetooth (MIDI + Audio)
Wider music stand + metal page holders (plastic in the CLP-735)
---
This may not seem like a lot of upgrades to justify the price jump, but some of them, such as the key action and the speakers, are quite significant. As always, I recommend trying things out in person to ensure you're making the right decision and not throwing your money at something you don't need.
Personally, I can see that some people may find the difference in touch quite negligible and if you're mostly playing with headphones, the more powerful speakers may not be an important factor for you, so the CLP-735 will definitely have its fans. Overall, the CLP-735 along with the CLP-745 offer the best price-value ratio, in my opinion.
Another option that you may have never considered is the Yamaha YDP-184, the flagship of the more affordable Arius series. But don't be discouraged just yet – the YDP-184 actually has much more in common with the Clavinova series than the Arius line.
The main difference from the Clavinova series is that the YDP-184 doesn't come with the Bösendorfer Imperial tone. Plus, there are no binaural samples for the CFX tone. With that said, the YDP-184 costs considerably less than both the CLP-735 and CLP-745, despite their similarities.
Going back to the Clavinova series, the next model up from the CLP-745 would be the Yamaha CLP-775, which didn't seem to be available in the US at first, but now it looks like Yamaha changed their mind.
This model is slightly above the budget we've set, but I mention it because it seems to be a sweet spot between the mid-range CLP-745 and the high-end (and very expensive) CLP-785.
The CLP-775 is identical to the CLP-745 in terms of features, and there are only 4 main differences between them:
The CLP-775 comes with Yamaha's flagship key action called GrandTouch. It features individually weighted keys with simulated ivory and ebony surfaces. The white keys are made of wood and the pivot length is closer to that of a real piano compared to the GrandTouch-S key actions. With that said, I must say that the action is noticeably heavier than the wooden version of GrandTouch-S, so I wouldn't be surprised if some people find the action of the CLP-745 to be more responsive and more enjoyable to play overall.
The speaker system of the CLP-775 consists of 6 speakers (compared to 4 on the CLP-745) and has a total output power of 284W (200W on the CLP-745)
The CLP-775 comes with what Yamaha calls GP Response damper pedal, which is designed to recreate the grand piano-like resistance curve to facilitate more nuanced pedaling techniques.
Finally, the CLP-775 lacks physical buttons (except for the Power button), all the controls are touch-based.
The flagship CLP-785 model is well beyond our budget, but if you're looking for the ultimate piano playing experience you might want to check it out.
The key upgrades over the CLP-775 are the upright-style design, counterweights used in the key action, more built-in sounds, and a more sophisticated sound system.
You may have noticed that there are two CLP models with the letters 'GP' at the end. Those letters stand for Grand Piano and are pretty self-explanatory since the CLP-765GP and CLP-795GP come with a cabinet that resembles that of a baby grand.
The CLP-765GP is a lower-end model, which is almost identical to the CLP-735 (different amp system).
The CLP-795GP, on the other hand, is the most advanced model in the series. It's identical to the flagship CLP-785 model except for the cabinet design and combines both striking looks and performance that you would expect from a digital piano of this caliber.
Below is a comparison table of some of the popular Yamaha models we've discussed today.
---
Kawai is the first brand that comes to mind when you think about high-end home digital pianos. The company is well known and respected in this segment.
I have been a big fan of console models that they've introduced in the past years, and today we'll talk about their advanced home series in more detail.
In particular, let's talk about their premium CA and the more affordable CN series.
While it may seem that CA digital pianos, being Kawai's high-end home series, are superior to the CN models, this is not always the case. Let's find out why!
---
CA Series
When Kawai introduced the simpler, more affordable CA-49 and CA-59 models, the lines between the CN and CA series became even more blurry.
One of the noteworthy features of CA models remains their incredible wooden-key action, something you get even in the lower-end CA pianos.
The flagship models (CA-79 and CA-99), which sell for well over $3,000, feature Kawai's flagship Grand Feel III key action (successor to the Grand Feel II).
This is a full-size wooden key action where each white key is a single piece of wood of about the same size as with an acoustic piano. While this is not considered a hybrid key action, it resembles it closely.
The Grand Feel III is arguably the most realistic key action found in a digital piano regardless of price category (not counting hybrids). While this is fairly subjective, Yamaha with its plastic GrandTouch-S doesn't come close to Grand Feel III in terms of feel and response.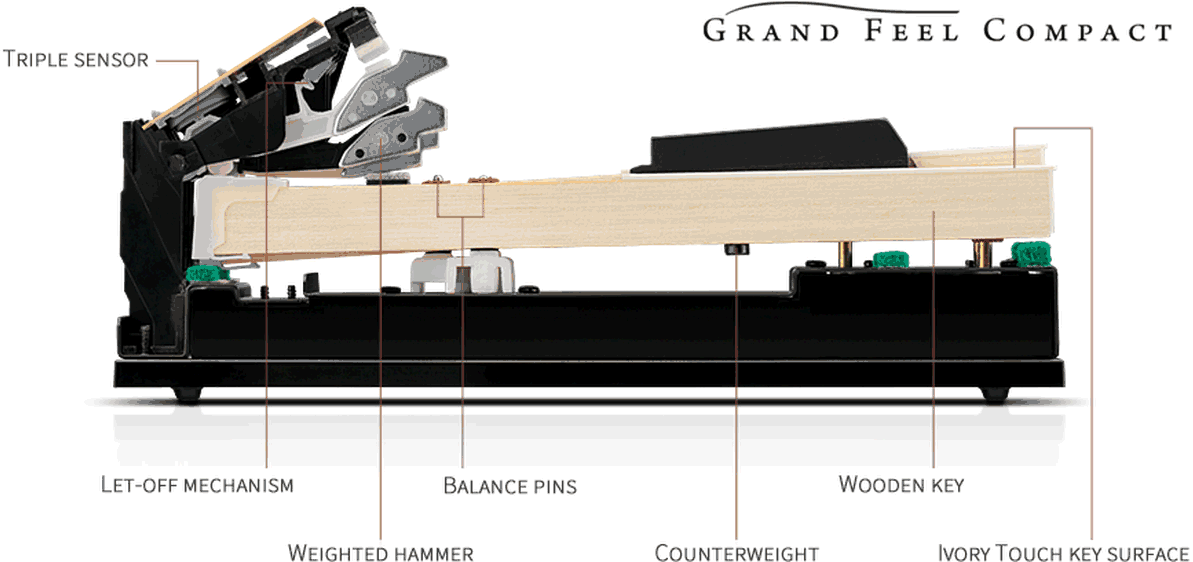 Wooden key actions with a seesaw design like the Grand Feel III have an advantage over plastic folded key actions because their design better resembles the action of an acoustic piano. This, in turn, allows for a longer key pivot length and a more realistic touch.
This action also has a seesaw design with white keys made of one-piece wooden sticks. However, the action is about 15% shorter than the full-size GFIII. In practice, both actions feel great to the touch and are a joy to play.
Despite being shorter, the GFC offers an extended key pivot length, making it easy to play towards the back of the keys. Just like the GFIII, it features individually weighted hammers, counterweights, let-off mechanism (escapement), triple sensor detection, and ivory feel keys.
---
CN Series
The main difference from the CA series is that CN models don't use a wooden key action. Instead, they use a folded plastic key action called Responsive Hammer III (RHIII).
It's the best plastic key action in Kawai's arsenal, which we already covered in our Kawai ES8 review.
Like Kawai's wooden actions, the RHIII is well-regarded in the pianist community and feels nice to the touch. While it's not far behind the GFC and GFIII, the seesaw wooden actions still have a more refined, natural feel, which is hard to explain in words (excellence is in the details).
When it comes to sound, the CA instruments don't always have an advantage over the CN models. In fact, the CN-39 has a more advanced sound generator than the one used in the CA-49.
In terms of the sound capabilities, I'd rank them in the following order:
CA-99 > CA-79 > CA-59 > CN-39 > CA-49/CN-29
Let's focus more on the last four models since they're closest to the sub-$3,000 range.
The CN-29, CN-39, and CA-49 feature Kawai's mid-range sound engine called Progressive Harmonic Imaging (PHI).
The CA-59, on the other hand, comes with the Harmonic Imaging XL generator (also used in the CA-79/99), which provides longer, more detailed samples compared to the PHI.
However, both sound engines use samples of the magnificent Kawai SK-EX and EX concert grand pianos.
At this price point, manufacturers are putting their best technologies in the instruments, so there's not one instrument on this list that is clearly a winner or a loser.
I love the sound of Kawai instruments for their natural, warm tone. They're often recommended for those looking for the most acoustic-like experience.
The CN-29 and CA-49 models are very similar (if not identical) when it comes to their sound and features.
They both have 19 built-in sounds, 192-note polyphony, 40W speakers (4 speakers in the CA-49 VS 2 speakers in the CN-29).
In addition to the detailed samples of the SK-EX and EX grands, you get simulations of string and damper resonance, as well as 17 different sound parameters adjustable within Virtual Technician. These include subtle details like damper noise, fallback noise, top board simulation, voicing, etc.
The CN-39 has a more advanced version of the PHI sound engine, making it more similar to the CA-59 (which uses Harmonic Imaging XL) with regards to its piano sound.
Both pianos come with the SK-EX, SK-5, and EX grand piano sounds, 256-note polyphony, and 19+ adjustable parameters available through the Virtual Technician function.
On top of the string resonance and damper resonance, these two models also simulate undamped string resonance and cabinet resonance.
Even though the CN-39 has a lower-end sound engine, it has several advantages over the CA-59.
In particular, the CN-39 has a much wider selection of non-piano instrument sounds (355 vs. 44), so if you're looking for a wide sound palette that includes drums, synth leads, choirs, guitars, and other non-piano instruments, the CN-39 is worth looking into.
On the other hand, the CA-59 has a more powerful speaker system (100W vs. 40W), more detailed multisamples (due to the more advanced sound engine)…
and let's not forget about its wooden key action, which, in my opinion, is a more important factor than having hundreds of sounds, at least from a pianist's perspective.
Feature-wise the CN-39 and CA-59 are very similar. Compared to the CN-29/CA-49, they offer 24 more sound effects, more Concert Magic songs, more built-in lesson books, a 2-track MIDI recorder, an audio recorder, line out/in jacks, and a USB Flash Drive port.
Comparing these instruments can be a bit overwhelming and confusing since some aspects of the CN pianos are better than in the entry-level models of the CA series and vice versa.
So, let's sum up everything in a more convenient format – a comparison table.
---
We can't end the list without talking about Roland instruments. Unlike Yamaha and Kawai, Roland doesn't necessarily go for that classical acoustic-like playing experience. Instead, their instruments are known for their playability, versatility, and a more modern flair.
Roland offers plenty of home-focused digital pianos for all budgets and needs.
In this article, we'll focus on the mid-range HP and DP series and will quickly touch on the premium LX models, which sell for well beyond our specified budget.
In mid-2019, Roland introduced the new HP700 series (HP702 and HP704), but at the time of writing, the older HP601, HP603, and HP605 are still available. In other words, Roland didn't replace the HP600 series with the HP700 outright.
The new HP700 models don't really bring much new to the table, so I wouldn't consider them as superior to HP600 instruments.
Either way, let's take a deeper look at the sound generators and key actions these instruments use, as these are the most important features.
All HP models, except for the HP702, feature Roland's top-of-the-range PHA-50 key action with hybrid wood/plastic keys, escapement simulation, and synthetic ebony/ivory key surfaces.
While this action is not necessarily going for that acoustic-like feel, it feels very responsive and enjoyable to play.
For now, the HP702 is the only HP model using a lower-end PHA-4 Standard action, often used in Roland's entry-level digital pianos including the FP-30, RP-102, etc.
The action is by no means bad, but it doesn't feel as nice as the PHA-50, at least to me. In particular, it has a noticeably shorter key pivot length, making it slightly harder to play into the keys.
It's also slightly noisier, especially when you strike the keys harder for playing fortissimo, for example. Overall, I'd describe the PHA-50 as being more "fluid" and expressive than the PHA-4 Standard.
Another feature of Roland HP digital pianos is that they feature the advanced version of the SuperNATURAL sound engine called SuperNATURAL Piano Modeling.
Unlike the lower-end version of SuperNATURAL that uses a hybrid sample-based approach, this sound processor uses pure modeling to generate piano sounds.
This means that instead of triggering a pre-recorded sound of an acoustic piano, these instruments create the sound from scratch using complex mathematical algorithms. Since this approach doesn't require storing GBs of sampling data, you'll find that modeled sounds often come with unlimited polyphony.
We won't go too deep into the pros and cons of the modeling approach here since we already discussed this in our Roland overview article.
Be sure to listen to as many sounds as you can, since there's no way to tell which one you'll like better, there are fans of both the sampling and the modeling approach.

What's interesting is that the lower-end HP601, despite having the premium PHA-50 action, is the only instrument in the HP series that uses a more basic (sample-based) version of SuperNATURAL.
At the same time, the HP702, which is also one of the lower-end models, uses the modeling-based SuperNATURAL generator but has a lower-end PHA-4 Standard key action.
The Roland DP-603 is nearly identical to the HP603, except it has a more compact modern-style cabinet. This makes it slightly more affordable than the HP603, presenting an even better price-value ratio.
The HP605, the next model up, resembles the HP603. The main difference is that the HP605 comes with a bigger cabinet and a more sophisticated speaker system, which uses 6 speakers (74W of output power), while the HP603 has only 2 speakers (60W of power).
In practice, this means that the HP605 delivers a fuller, richer bass sound with a more immersive sound field. When playing through headphones, though, you get pretty much the same experience with these models.
The newly introduced HP704″ has a newly designed cabinet, and when it comes to the playing experience, it's very similar to the HP605.
The most obvious difference lies again in the speaker setup. The HP704 has a slightly less powerful sound system consisting of 4 speakers (60W of output power).
Feature-wise these models are very similar. All of them have around 300 built-in tones (53 main tones + basic GM2 accompaniment tones), 350+ preset songs, a 3-track MIDI recorder, an audio recorder, a small display for easier navigation, Bluetooth MIDI and audio, headphones jacks, dedicated line out jacks (HP601 excluded), and an audio-in jack for streaming music into the onboard speakers from your smartphone.
An interesting design feature of all HP models is a special lid position called "Classic Position." It hides all the control elements of the piano, giving it a more acoustic-like, distraction-free look, which is pretty cool.
All in all, you have a lot of models to choose from that are similar in design, features, and playing experience. I'd say the HP603/DP603 and HP704 are the most successful models in terms of the combination of price, features, sound, and touch.
As with other higher-end digital pianos (e.g., Kawai CA & CN), the Roland HP series is not always easy to order online, especially in the U.S. Many models are available in-store only and you can't even see what price they're selling for, which is very inconvenient.
Now, let's quickly talk about Roland's most expensive LX series of home digital pianos. These are by no means affordable instruments for people looking for a no-compromise piano playing experience in a luxurious package.
All three LX models, the LX705, LX706, and LX708, feature the PureAcoustic sound engine, which uses two separate sound processors, one for an American piano tone and the other one for a European piano.
Again, I won't go into much detail here, so check out our Roland guide for more details on the PureAcoustic sound generator.
Another feature of the LX series is their fancy-looking cabinets with advanced multi-speaker systems (4 speakers on the LX705, 6 on the LX706, and 8 on the LX708!).
The LX706 and LX708 also have an improved longer version of the PHA-50 key action, called the Hybrid Grand keyboard.
Thanks to a longer action, the keys are easier to play toward their rear points, making long playing sessions less fatiguing.
---
You may be surprised to see a Casio instrument on this list, but it's here.
The Casio AP-710 is the flagship model of the Celviano line of console digital pianos. It's priced very similar to the Roland DP-603, Yamaha CLP-735, and Kawai CN-39, so consider these direct competitors.
Like all the other high-end digital pianos on this list, the AP-710 shows off the latest and best technologies that Casio has been developing in recent years.
The piano comes with a gorgeous upright-style cabinet, 6-speaker, 2-way sound system, and the most advanced sound generator in Casio's arsenal.
At the heart of the AP-710 is the AiR Grand sound engine ripped straight from Casio's GP Hybrid series.
The piano comes with 26 preset tones, including three district grand piano sounds dubbed from Berlin, Hamburg, and Vienna Grands.
The Berlin Grand piano tone was designed in collaboration with C. Bechstein, a famous German piano manufacturer. In particular, Casio went for the sound of their state-of-the-art D282 9-foot grand, and the result is impressive.
The Hamburg and Vienna Grands are also beautiful with their own unique character.
The sounds offer a very good dynamic range, long natural decays, and simulation of string resonance, damper resonance, damper noise, and a few other acoustical elements.
Overall, the AP-710 is on the same level as the competing models of Yamaha, Kawai, and Roland as far as piano sound is concerned.
Depending on your taste, you may lean towards the Yamaha/Kawai/Roland sound, but I haven't found one particular sound-related aspect of the Casio that's inferior to the other models.
Coupled with the 6-speaker system, the AP-710 sounds fantastic! The only thing I can mention here is that the AP-710 doesn't have as many adjustable parameters for tailoring all the acoustic nuances (noises, resonances) to your needs.
However, this isn't critical since it has all the basics and the default sounds are great out of the box.
Where the AP-710 falls behind its competitors is in its key action.
The piano comes with the Tri-Sensor Scaled Hammer Action II, which is used in nearly all their Privia and Celviano digital pianos.
It's not necessarily a bad action, but you would expect something more interesting from an instrument of this caliber, especially considering that the competitors offer considerably better, more realistic key actions, in my opinion.
We've covered the Scaled Hammer Action II multiple times in our reviews of the PX-160, PX-770, PX-870, and other Privia models.
As you can tell by its name, it's a 3-sensor folded-type plastic key action with a hammer action mechanism and ebony/ivory simulated keytops.
Compared to the key actions covered above, this action feels slightly lighter (especially compared to the Yamaha's GH3X), noisier, and has a much shorter key pivot length, since the action itself is pretty short (typical for lower-end key actions).
Overall, it's definitely not as realistic and enjoyable to play as Roland's and Kawai's key actions, but it feels nice to the touch, even considering its flaws.
Touch is such as subjective thing – you'd be surprised how many people (especially those with less playing experience) prefer lower-end key actions over premium counterparts. The reason is simple: there's no "ideal" action to use as a reference point.
In terms of features, the AP-710 is basic and straightforward, like most digital pianos.
You get a layer and a split mode, a 2-track MIDI recorder, an audio recorder, 2 headphone jacks, line out/in jacks, a USB to Computer port, a USB to Device port, and a few other standard functions.
All in all, the Casio AP-710 is a fantastic instrument for the price, with the main flaw being its less-than-stellar key action. This may turn off the more advanced pianists looking for a more authentic touch that allows for more expression and nuance.
The sound and looks are the strong suits of the AP-710.
Three distinct grand piano sounds with several different 'flavors', a 6-speaker sound system, and 256-note polyphony ensure you're getting a remarkable experience, whether you're listening through headphones or the onboard sound system.
I should mention that Casio does have more advanced instruments in their product lineup. In particular, their Celviano Hybrid Grand (GP) series is a strong competitor to the flagship Kawai and Yamaha instruments, but unfortunately, they're far above the price range we've set for this article.
The most important improvement over the AP-710 is that the GP-310 and GP-510 models come with the spectacular Natural Grand Hammer action, which is on par with Kawai's finest wooden actions and is essentially a hybrid action since it closely resembles the design of an acoustic piano action.
Here's a great video comparison of some of the great instruments we've touched on today, including the Casio GP-310!
You can read more about the GP series and the technologies it uses in our Casio overview article.
Not included on the list but worth mentioning
---
Dexibell is a new player in the digital piano market. It's an Italian-based company formed by former employees of Roland Europe R&D after that department closed in 2013. So it wasn't exactly a "start from scratch" type of situation.
Sound Generation (T2L Sound Technology)
From day one, Dexibell focused on sound and innovations, and they have already achieved great results in a short period of time, which is impressive.
Their cutting-edge set of technologies used in all of their instruments is called T2L (True to Life). It combines sampling and modeling techniques to achieve the best results in recreating an authentic playing experience.
Some unique features of this technology include the "Quad Core" sound engine that includes 320 digital oscillators responsible for generating dozens of small pieces and nuances of each tone, with virtually unlimited polyphony.
In terms of audio quality, Dexibell is at the forefront as well, using 24-bit audio data compared to the industry-standard 16-bit (CD-quality), further contributing to the clarity and accuracy of tone.
While this all can be very exciting on paper, in reality, things don't always work out the same way. This is not the case with Dexibell's keyboards.
While I haven't had a chance to give their Vivo H-series a proper test drive, online demos and my brief experience with their Vivo S7 Pro impressed me with how good they sound.
I will go as far as saying that their instrument tones are one of the best sounds I've heard in a digital piano. This is not limited to only acoustic pianos, their organs, strings – their other non-piano sounds are on-point as well.
---
Dexibell Product Lineup
Dexibell has many similarities with another famous manufacturer of digital pianos, Clavia (Nord).
Like Nord, Dexibell mostly targets stage performers, and their S-series stage pianos are their best-selling, most well-known line.
However, unlike Nord, Dexibell has a line of console digital pianos (H-series) for those who want a full-fledged home digital piano with built-in speakers and a furniture-like cabinet.
Speaking of the cabinet, their H-series digital pianos have a very district futuristic design that's very different from what you find in instruments of other makes.
What's interesting is that these console models use mostly the same tech as their stage pianos, which makes them expensive yet capable instruments.
Some of the features they inherited from Dexibell stage pianos include an expandable sound library with 1.5GB wave memory, a wide selection of reverb and DSP effects, and support for .wav, .aiff, .mp3, audio playback.
You might be wondering why Dexibell H-series digital pianos weren't included in this list if everything I've said so far is mostly positive.
Well, we haven't yet touched on another very aspect of every digital piano – the touch. Here is where things get less exciting.
This is why they have to go to companies like Fatar (an Italian key action manufacturer) to buy key actions for their instruments.
As I mentioned several times on this site, I'm not a big fan of Fatar key actions and their lower-end models in particular, so this, to me, is the main problem with Dexibell's lower-end console digital pianos, Vivo H1 and Vivo H3 (though considering the price and the fact that they all use the same sound technologies Dexibell don't really have "low-end" instruments).
These use Fatar's most basic TP-100 LR key action, which is unspectacular from a pianist's standpoint. It suffers from what many lower-end key actions suffer – short key pivot length, a spongy feel, and an unrealistic response.
All in all, TP-100 LR is not the worst key action out there, but it's definitely not one of my favorites. I wouldn't recommend buying it if your main focus is the piano.
The Dexibell H7, the flagship of the H-series, features a higher-end, heavier, and more realistic action from Fatar, the TP-40 GH.
This would be a much better option for classical pianists, but even this action is inferior to those used in the Kawai, Yamaha, and Roland digital pianos we covered earlier.
All in all, if you're looking for a combination of both realistic sound and touch, the H7 is the only model I would recommend in the H-series. But since it costs significantly more than $3,000, we didn't include this model in this top list.
---

Loading ...
---
You might also like:
If after reading this review you still have doubts about what instrument to choose, take a look at our Digital Piano Buying Guide and other popular articles listed below:
The Ultimate Guide to Buying a Digital Piano


Best Home Digital Pianos Under $1500 (In-depth Comparison)
Best Portable Digital Pianos Under $2000 (for Advanced Pianists)
The Worst | Best Digital Piano & Keyboard Brands (Guide)